Category Archives: Botswana General
What do termite mounds, elephants, river rafts and the Milky Way have to do with unforgettable food experiences?
While most people visiting Botswana expect to experience diverse wildlife & lush landscapes, what they don't often expect is a world-class culinary experience.
Here are our top six recommendations for unique dining experiences in Botswana
The Extraordinary Pizza Oven – Seba Camp
We all know how kids are… they love adventure and are busy exploring things all day long…until it comes to their palates. Once lunchtime arrives, there goes any spirit of discovery. But Seba Camp, deep in the magnificent Okavango Delta satisfies even the fussiest of eaters with their magnificent homemade pizza.
At Seba Camp, just as the kids think their morning game drive is wrapping up, they'll find themselves pulling up to a beautiful spot next to the water, where a stunning surprise bush picnic awaits with soft blankets and pillows for lounging, as well as a play area for the kids. And what piece-de-resistance awaits your adolescent explorers? A termite mound transformed into a pizza oven!
Kids have the opportunity to prepare their own pizzas with the help of a professional cook and an array of toppings (healthy is well disguised!). While pizzas bake in the termite mound oven, kids have time to play, giving parents a chance to close their eyes for a moment, or lazily watch elephants cross the river in the distance. Once the pizzas are wolfed down, the slow cruise back to camp by boat begins.
The Huckleberry Finn Experience – Xugana Island Lodge
Many people know the adventures of Huckleberry Finn who, together with a good friend, escaped the confines of daily life to raft down the Mississippi River. Fewer people know they can recreate the experience over a glass of wine and dinner for two while floating out into a star-lit lagoon from Xugana Island Lodge in the Okavango Delta.
Xugana Island Lodge appears to float above the waters of the Okavango Delta, surrounded by a papyrus-fringed oxbow lagoon. As the sunset fades and the tinkle of bell frogs begins, visitors can leave their island hide-away by pontoon, puttering out into the open water with nothing but the far-off snorting of hippos for company, far from the civilised world.
Once dessert is polished off, set a slow course back to camp, pulling into a jetty lined with hurricane lanterns to show you the way home.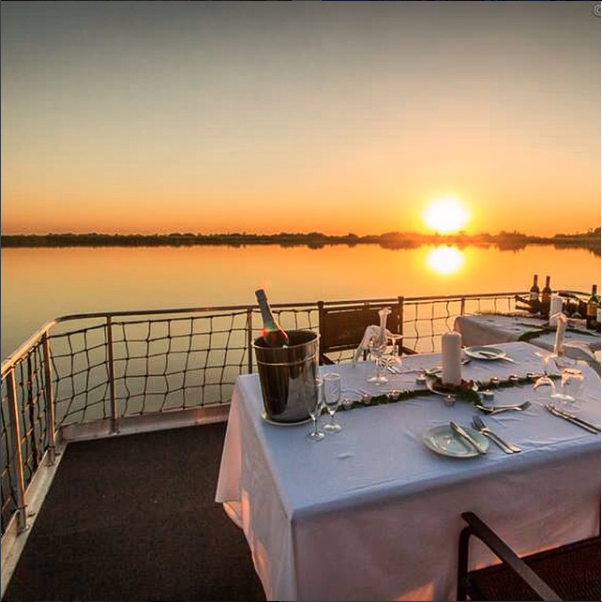 Starlight Dinner of Your 'Wildest Dreams' – Camp Kalahari
In her music video Wildest Dreams, Taylor Swift provides a small glimpse of the Makgadikgadi's breath-taking landscapes. Endless white saltpans surrounded by yellow grasslands dominate the area. In the evenings, as the sun sinks below the horizon, a curtain of brilliantly bright stars drops to the ground in all directions, creating the perfect backdrop for a night out in the nothingness.
At Camp Kalahari, open-air dining with a heavy dose of old-fashioned safari romance is the order of the day. Take a quad bike from camp and drive out towards the empty horizons, where the only objects to ever appear in the distance are the sun and the moon. While night descends, a twinkling of far-off light appears to be a new constellation at first, eventually revealing itself to be a lantern-filled dinner table, covered in fine china and gourmet food.
The silence and majestic surroundings perfectly complement the delicious menu Camp Kalahari serves up to create an unforgettable moment. Once the plates are cleared, you just might find your bed waiting close by, stuffed full of hot water bottles beneath the brightest stars you'll ever see (even in your wildest dreams!)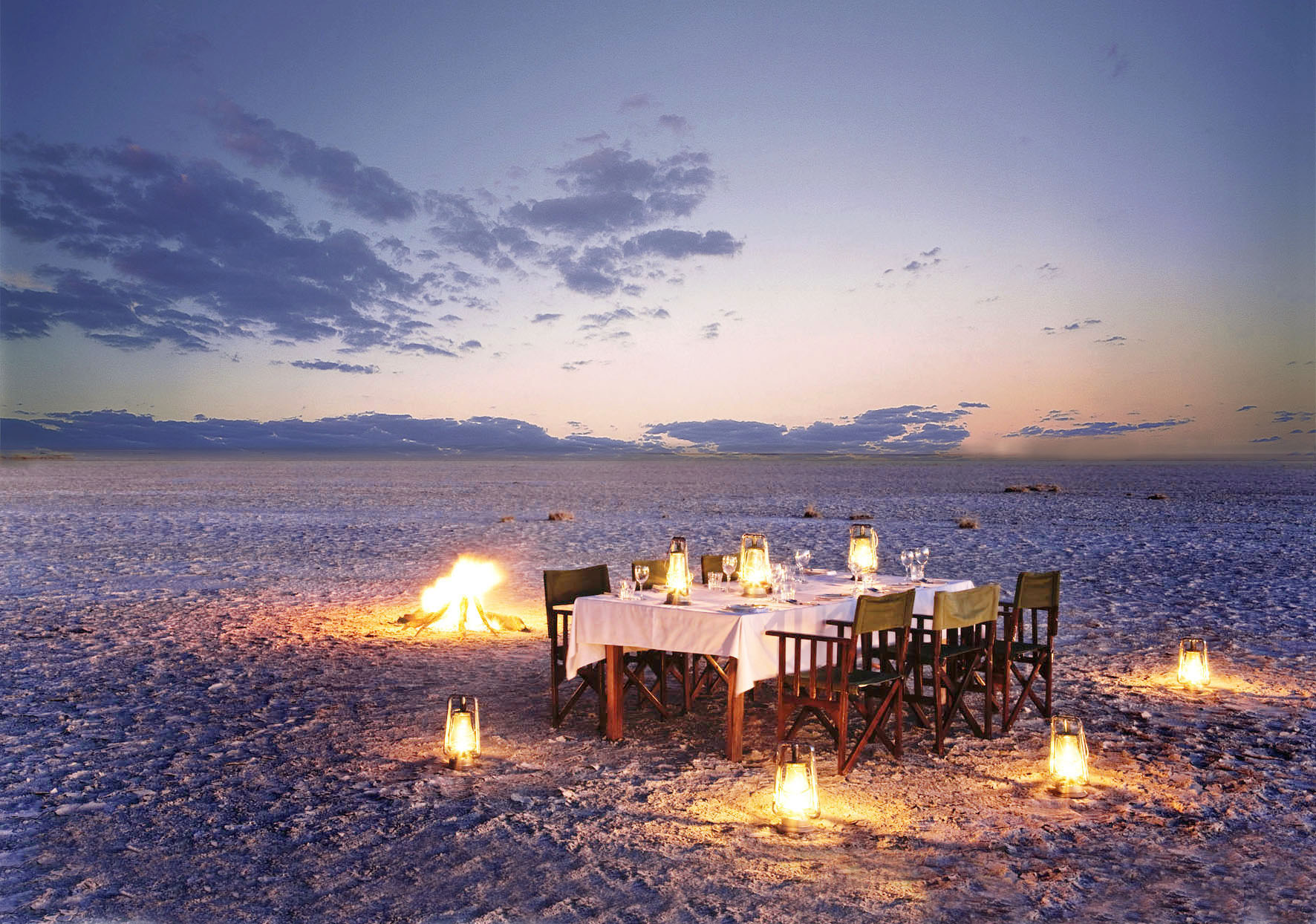 Brunch With the Giants – Stanley's or Baines' Camp
Elephants are one of the most fascinating creatures on our planet. Looming grey giants, they parade across the African savannah, completing the picture of a perfect wilderness. Usually, getting close enough to really appreciate an elephant's size isn't possible – unless you're visiting Stanley's or Baines' camp in the Okavango Delta.
Go walking through the bush with the elephants at Stanley's or Baines' Camp and be escorted by wrinkly-skinned hosts to a fantastic sit-down brunch, literally in the middle of nowhere. Walking with the elephants through the bush and talking to their guides allows you to understand elephants, and their behaviour, providing a real connection with nature. You'll sit down to eat, passing bread and butter along the table under the shade of your elephant hosts' umbrella-sized ears. Alice in Wonderland has nothing on this tea party!
Getting up close and personal with the elephants at Baines' Camp
Lunch at the Intersection of the Linyanti – Zarafa
Whatever waterway you see in the Linyanti, you can be guaranteed that the Zibadianja Lagoon has something to do with it. When water levels are good, this lagoon becomes more of a lake. And when bellies are empty, the best way to explore it is on board Zarafa Camp's luxurious barge, over the course of a decadent lunch.
The Zibadianja provides an intersection for many of Northern Botswana's waterways. Here, the Kwando River hits a fault-line, skimming the top of the lagoon before it changes its name to the Linyanti and makes a break for the Chobe. To the west, the Selinda Spillway reaches up from the Okavango Delta, connecting it to the lagoon in years of good rain. When the lagoon is full enough, it drains water south, feeding the Savuti Channel and eventually spilling out into the elephant-littered grasslands of the Savute Marsh.
Fully equipped with both lounge and dining area, the HMS Zib cruises the lagoon as elephants play in the shallows, birdlife skims the water, and guests enjoy the culinary delights of more-than-capable chefs. Top it all off with a cold glass of chenin blanc and you're guaranteed an afternoon not easily forgotten.
Testing the Waters in the Okavango Delta – Pelo Camp
Leonardo da Vinci once said, "Water is the driving force of all nature". At Pelo Camp, this is truer than ever, as guests merge with the unspoilt nature of Botswana's biggest UNESCO world heritage site during a bush brunch with a difference.
Heading out from camp by boat or mokoro, guests will find themselves perched on tables and chairs in the shallow floodplains of the Okavango Delta, atop bright, white sandbanks for a wet, but refreshing brunch.
Guests squish their feet into the clean, cool waters of the delta under their chairs, whilst savouring culinary delights in one of the most unique places on earth, surrounded by 360 degree views of palm tree dotted islands and open floodplains.
After brunch, a refreshing swim in the shallows of the Okavango Delta is on offer before a leisurely return to camp.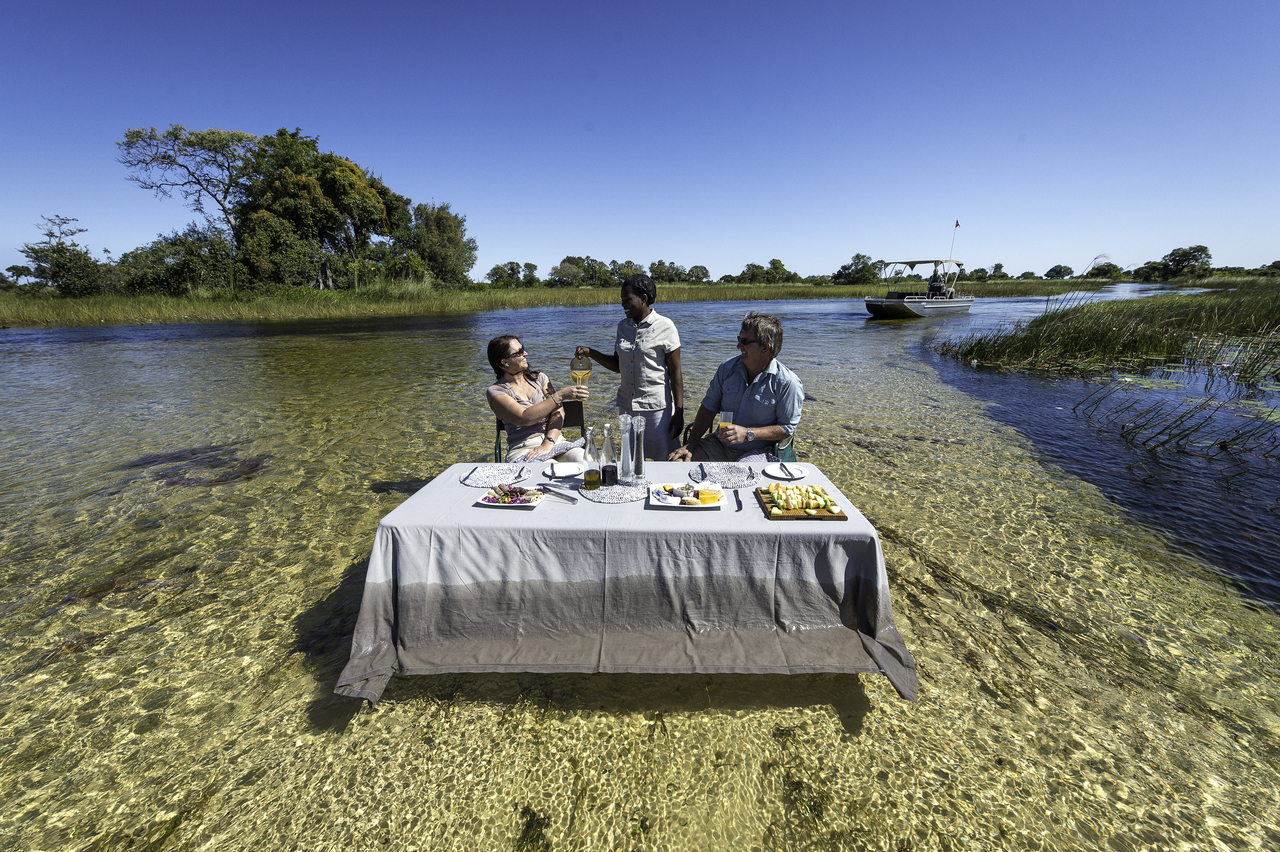 As you may be aware the water levels in the Delta are dropping fast and furiously this season. Boating and mekoro activities are being stopped in most areas as either there is no more water left, or it's packed with crocodiles and hippos who are holding on to the last bit of wet that is available out there, which means: we really don't want to place our guests in the middle of it all on a boat or mokoro.
The Okavango has gone through wet and dry spells as long as time. Local rainfall, Angolan rainfall, small seismic shifts in the underlying tectonics, it all makes for a rather involved and very unpredictable miracle of nature. For the past years, we could all lean back, almost guarantee water activities for most of the year in lots of areas and have our clients looking forward to gliding across the delta on a mokoro and zooming through the papyrus lined channels.
Currently we are looking at a totally different scenario, the Okavango is at its driest since a long time. I'm sure some clients will be a bit disappointed about missing out on their water experience. Did the Okavango cheat us? Maybe we have to change our approach in how we present it? The Okavango Delta is one of Africa's last wildernesses. There is no regulating its flows, it's left to nature, the water comes and goes and the animals adjust to whatever comes along. The delta has hundreds of different faces. Wetter ones, drier ones, and lots and lots in between. Every single season has its very unique upsides. Sure the bush is thick and rather impenetrable in the rains, but it also makes for wonderful lush background, for happy and relaxed animals, lots of babies everywhere, for dramatic skies, and it is all dotted by the summer migrants who come visit.
The dry months are more dramatic, the animals are bound to being close to water, there is high competition for food and the air vibrates around the hot spots. The lines between dry and wet months have started becoming rather blurry, climate definitely has changed. So maybe we should wave good bye to trying to predict the next season as clearly as possible and prepare our travellers as meticulously as we can on what exactly to expect. Let's rather convey a message of being open minded for anything that nature and the Okavango have up their sleeves for us. In average years it might be this and that, but we cannot know exactly, we can only guarantee that it will be wild, untamed, untampered with, that it will be "the real thing".
We need to focus on that Miracle of Nature and understand that change brings new opportunities in the Delta. The game is more concentrated as the water levels drop, and the sightings can be more varied and exclusive. This is the reality of our "Backyard" and rather than missing a water experience, you are part of one of Wildest Africa's greatest natural events.
We are sure that our readers are also interested in our in-house training and how we develop our staff:
While many companies claim that their staff are their best asset and that the development of talent is a key strategic priority, it is rare to find a company where this philosophy is lived out on a daily basis. All too often the development of staff is a task undertaken when "we have time".  In my experience, things are different at Safari Destinations (SD). Staff development at this small but dynamic company goes beyond being a necessity for survival in a developing country with a small population and limited skills.
It is a matter of success and a source of pride.  As the new HR Manager at SD responsible for driving the staff development agenda, I have often heard the following from Lorraine Potter, one of the Managing Directors of SD: "This is a learning opportunity. This needs to be shared with staff. How can we do this?" I arrived to find weekly training sessions an ongoing practice. Talk of developing the product and destination knowledge amongst the reservation's team is foremost in the minds of management as this is key to the company positioning itself as an expert on Botswana and the experiences available to travellers. Material resources had already developed to support the reservation's staff in acquiring this knowledge and learning about the organisation's processes.
One to one mentoring by a senior takes place with all new staff in this team and has been the practice since the early days of the company.  Informal feedback on performance is inherent in these roles with more formal feedback taking place every 3 months in the first year and thereafter, every 6 months.  A recent development is that staff themselves (and not only management) are responsible for the training of new staff.  This is in keeping with the philosophy that we never stop learning and that while we teach, we learn.  With the rapid expansion of the company and inevitable stretching of staff resources, the company restructured and appointed team leaders in the reservation's team in late 2014. But the values and practices, on which the company was first built, have held strong and are fiercely protected by the two Managing Directors, Lorraine Potter and Carina Grüninger. One such value is the commitment "To constantly strive to learn more about our country, agents, suppliers, our jobs, ourselves and each other".  Transforming this commitment into action requires leaders who themselves actively demonstrate their own openness to learning, are excited to learn from others and make the time to learn as well as create the space and opportunity for others to develop and grow.  This is what I have found working at SD. It is the foundation on which the company has grown and been successful and provides fertile ground for the future for as management guru, Peter Senge says: "The only sustainable competitive advantage is an organization's ability to learn faster than the competition".
Botswana may have bragging rights to the world's biggest elephant population, the Okavango Delta (recently named UNESCO's 1000th world heritage site) and salt pans the size of Switzerland, but it also keeps a few lesser-known bucket list tricks up its sleeve. Look beyond the traditional game drive or boat cruise and be rewarded with an unforgettable adventure to compliment the wildlife experience on offer.
1. Al Fresco Slumber Parties
Spend a night outside your tent and get acquainted with the map of the universe overhead. Botswana offers sleep-out experiences as varied as a traveller's many interests. Sleep a stone's throw from an elephants' bedroom (Abu Camp), follow the moon's trajectory over the Makgadikgadi salt pans (Uncharted Africa) or bed down amidst the sounds of the bush and the croaking of frogs in the Okavango Delta (Kanana, Baines' or Xudum).
Test it Out With: Our 8 Night "Botswana Focus – Superior" including 2 Nights The Elephant Camp (Victoria Falls), 2 Nights Ngoma Safari Lodge (Chobe / Ngoma), 2 Nights Kanana Camp (Okavango Delta) & 2 Nights Shinde Camp (Private Concession Bordering Moremi)
2. Get Amongst the Giants
Get up close and personal with the world's largest land mammal. Walking through the Okavango Delta in the shadow of an elephant and learning about their social politics is one of the most awe-inspiring memories you'll collect in the bush. Abu Camp, Baines' Camp and Stanleys' Camp all offer the opportunity to interact with elephants who keep calm in human company.
Test it Out With: Our 6 Night "Three Rivers – Deluxe" Package including 2 Nights Victoria Falls River Lodge (Victoria Falls), 2 Nights Selinda Camp (Linyanti) & 2 Nights Baines' Camp (Okavango Delta).
3. Learn to Survive in the Desert
Botswana boasts one of the oldest communities of hunter-gatherers on earth, the San bushmen. For thousands of years the San have been surviving in the harsh conditions of the Kalahari where most would die of thirst in a few short days. Practice speaking in clicks as the San guide you in the desert and watch in disbelief as they pull hidden food, water and survival tools out of the sand. Meno a Kwena on the Boteti River and Uncharted Africa on the Makgadikgadi Salt Pans are our personal picks for best place to experience the hunter-gatherer lifestyle first hand.
Test it Out With: Our 10 Night 'Adventure Safari – Option 2′ including 3 Nights Meno a Kwena Tented Camp (Boteti / Makgadikgadi), 2 Nights Sango Safari Camp (Khwai), 2 Nights Chobe Under Canvas (Chobe), 1 Night Ilala Lodge (Victoria Falls) and 2 Nights Pioneers Camp (Zambezi National Park – outside Victoria Falls)
4. Blaze Your Own Trail
So you've flown miles into the wilderness in a tiny charter plane, with nothing but bush in all directions, but it still doesn't feel remote enough? Pack up a tent and head off on an exploration of Botswana's waterways. Delve into the deepest Okavango Delta by mokoro from Oddball's Enclave, exploring islands and camping along the way. Alternatively, pick up your paddle and tackle the Selinda Spillway by canoe with Great Plains, stopping en route to rest your weary arms and explore the bush on foot. You might end up with a few blisters, but you'll take home even more stories – and they last longer!
Test it Out With: Our 10 Night 'Botswana Odyssey – Option 1′ including 2 Nights Gorges Lodge (Victoria Falls), 3 Nights Selinda Explorers' Camp (Linyanti), 3 Nights Machaba Camp (Khwai), 2 Nights Kalahari Plains (Central Kalahari Game Reserve)
5. Catch the View From the Top
There's no better way to view the maze of the Okavango Delta than from above. While planes are required to fly at higher altitudes, helicopters can set flight paths tracing water channels from just a few metres above. Try your hand at aerial photography as you hover above herds of plains game and stop to take in your surrounds on a remote island with a glass of champagne in hand. The Mombo concession is our pick for the best place to see animals from above (and the only area with a chance of seeing rhino) whereas taking off from a water camp (such as Baines' or Eagle Island) will give you the best idea of the lay of the land.
Test it Out With: Our "8 Night Botswana Focus – Premier" including 2 Nights Tongabezi – House (Livingstone), 2 Nights Zarafa Camp (Linyanti), 2 Nights Vumbura Plains (Okavango Delta), 2 Nights Mombo (Moremi Game Reserve) FREE UPGRADE TO HELICOPTER TRANSFER INCLUDED BETWEEN VUMBURA PLAINS & MOMBO
For details on the above mentioned itineraries, please log into our Agents' Corner and download full rates, inclusions and exclusions.  For suggestions on how to combine more than one of these experiences in any itinerary, check out our package overview or contact your dedicated consultant.
Upon arrival at Stanleys Airstrip we were amazed about how much water has already arrived in the lower Delta. Just a few weeks ago on our last visit to the delta there were only few waterholes and sprinkles of water between thick bush and palm trees surrounded by sand banks and dried land. Our guide, Ice, welcomed us at the airstrip and on our 40 minutes game drive to Baines Camp we got the first impression that the flood had just arrived the day before. Making our way through waterholes, around termite mounts, through high thatching grass and between Palm trees we arrived at Baines Camp. Located in front of a beautiful lagoon with water all around camp, kingfishers hovering over the water and weavers building nests in the main area. It´s a magnificent atmosphere being in a true delta camp with the calls of the different birds, the hippos calling in the background, the wind whispering through the reeds and the peaceful quietness far away from civilization.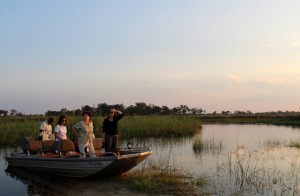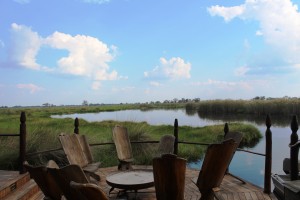 After settling into our room we are ready to go for high tea and excited about our first afternoon activity. To our surprise we are the first guests this season to go on a boat cruise, thanks to the newly arrived flood! The last boat cruise at Baines Camp was almost six months ago and now we are the lucky guests being spoiled with exploring the hidden parts of the delta. Having been on many boat cruises before and enjoying the smooth ride without the typical African bush massage, this one was special. Just the day before dry land and grass was covering the area around the camp. Now water was flowing through the reeds making it possible to see parts of the delta which are not accessible during summer months. The water was still brown and the bottom not visible. Only after a few weeks the reeds, the living microorganisms and the natural filtration will clean the water making it clear. Slowly we make our way through the channels, which is not that easy as the grass which is still floating in the water gets stuck in the propeller of the boat. We have to stop every now and then so our guide can pull out the reeds from the propeller. But this gives us time taking pictures of the scenery and enjoying the silence. The new flood also brings fish and new birds to the area, which we discover on the banks of the channels. Since the water is not that high yet we are able to stop at a small sandbank to have our sundowners. In between reeds, palm trees, papyrus and birds we watch the sun go down while enjoying our gin & tonic. As the sun disappears behind the horizon we make our way back to camp.
To watch the phenomena of the returning flood and what it does to the wildlife is an experience that can hardly be described. This is Botswana, the unpredictable Wildlife and ever changing landscape.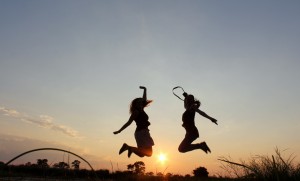 My recent visit to Sandibe Okavango Safari Lodge was a refreshing reminder of how special a green season safari in Botswana can be. Not all parts of Botswana are equal once the rains arrive, so the key is knowing which areas to visit and which to leave for the winter months. Many of the good year-round game viewing areas are in private concessions with higher price tags, but the good news is that discounted green season rates make them more accessible to those on tighter budgets. Visiting these areas in green season will give you a great bush experience, as well as the bells and whistles offered at these camps year-round, but for a fraction of the price.
The Chitabe concession, where you'll find Sandibe, is one area of Botswana which remains great year-round. On a two night stay we saw a cheetah, two prides of lions with their cubs, a female leopard calling for her mate from the tree tops, a pack of wild dog, two male giraffes fighting over a lady friend, countless elephants, plains game and spectacular bird life. The problem we encountered is that my five year old now thinks this kind of game viewing is normal! Although temperatures were soaring, we were treated to a spectacular evening thunder shower followed by the welcome relief of a cool and cloudy day.
I was travelling with my family, including my two young daughters Taylor and Megan. Travelling with small children presents its challenges but is equally rewarding. Megan may only be able to say a handful of words but she can now mimic a baboon beautifully! The staff at Sandibe catered to the kids perfectly and were ready to assist and entertain at every turn. Taylor was welcomed on arrival by a goodie bag filled with safari nick-nacks and squealed with delight when we stumbled upon a cooler box hanging from a tree during our afternoon drive, only to find it filled with home-made ice pops.
Meal times were flexible and the kiddies' menu put my home cooking to shame. Having our own private vehicle and guide allowed us the freedom to come and go as we liked without worrying about other guests and our guide and tracker were constantly engaging the children. For families saving up for a once in a lifetime safari, the minimum age of six years and up ensures kids experience the bush when they're at an age to appreciate and make the most of it.
Sandibe caters brilliantly to the grown-up kids as well. Whilst I have been lucky enough to visit many camps over the years, this was my second visit to &Beyond, and the second time I have been blown away by the food experience. So many operators fall short when it comes to what their kitchens produce, using the excuse that a safari is about the wildlife and not the food. With &Beyond, you can have your cake and eat it – Sandibe delivered to the very highest of standards, both on the game viewing and the culinary treats. Indulging in naughty delights is a big part of what being on holiday is all about and at Sandibe, they know how to make every calorie count.
The design and amenities at Sandibe are both cutting edge and controversial in the safari world. The lodge lacks the true sense of being in the outdoors that you'll get when staying in a more rustic tented camp. I didn't leave with my clothes smelling of campfire smoke, nor did I lie awake excited by the sounds of the night as the hum of air-conditioning blocked out external noises. I did however enjoy the luxury of a plunge pool during the heat of the day and cold drinks in my room during afternoon siestas, as well as the private butler and consultations with the chef during meal times, creating a very personal experience.
Whatever you prefer is a matter of choice and there are many first time safari guests who would take great comfort in the solid structure of the rooms (no canvas walls here!) and the modern comforts on hand. The design of the camp is spectacular, though I'm curious to see how the buildings will age under the challenges of maintaining a camp in the bush. Despite the money and expertise put into the design of the camp, there are a few obvious design flaws some guests may find frustrating. For the level of the camp, the rooms could have more room, and unless you're extremely comfortable with your co-traveller, a lack of privacy in the rooms will require advance coordination of shower times.
All in all we had an incredible weekend and I can highly recommend Sandibe on every level.
Back to the office and my diet on Monday!
Sharing a safari with children will give you completely new eyes for seeing the bush.  A child's excitement at spotting an impala for the first time is infectious enough to rub off on even the most seasoned of safari goers. When you start seeing the bush from a child's point of view, the priority of ticking off the big five quickly fades – replaced by the excitement of watching dung beetles at work and imagining the inner-workings of termite mounds.
A family safari is a whole new discovery of the natural world. Not just for kids, but also for adults who usually focus only on photographing the animals that live in it. Best of all, you'll have time to bond as a family while checking out fresh animal tracks and roasting marshmallows on the campfire.
So, what do you need to know when travelling with children?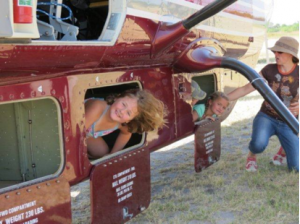 Don't chain me down
Ask a small child if their idea of a holiday is being asked to sit still for four hours, twice a day (or more!) and you'll probably get a firm no. Even the most disciplined of children will have a tough time containing their excitement when bumping into a pride of lions. They'll want to wiggle around a little, point at things and start a conversation about what they're seeing. So let them. Booking a private vehicle is the best way to relax at sightings without worrying about sideways glances from that empty-nester with the massive zoom lens. Private activities give parents space to relax without having to 'shhh' kids over stuff that's really quite exciting (who wouldn't want to tug someone's sleeve and gasp 'look!' when faced with their first elephant?). Private activities also allow you the flexibility to start and end activities at friendlier times for kids who sleep longer & tire out easier.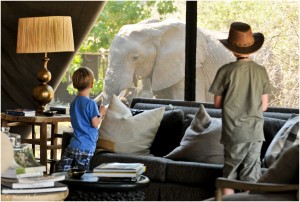 Variety is the spice of life
Mix up the schedule and keep the kids engaged on safari. Head off on a local village visit in Chobe or explore the salt pans with a quadbike and get introduced to the meerkats of the Makgadikgadi. Take the kids walking with the bushmen so they can practice speaking in clicks or give them a bush archery lesson. Many camps in Botswana offer child-friendly activities with some providing specialised programmes just for children. A private mobile safari is another sure fire way to give kids the space they need, as well as guaranteeing your guide's undivided attention.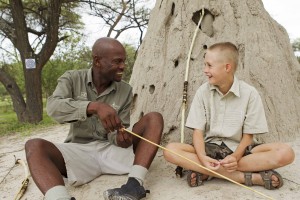 Where the Wild Things Are
Many camps have age restrictions for children to guarantee their safety in the bush, as well as the comfort of other guests in camp. Private vehicles are often a requirement for children under 12, however Chobe is one area where these rules are usually more relaxed. Children are required to share their room with at least one adult to guarantee their safety. Many camps now offer family accommodation to prevent parents splitting sleeping arrangements. Children are generally not allowed on bush walks below 16 years of age or mokoro activities below the age of 12, however certain camps will make exceptions or tweak these activities to make them safer for kids.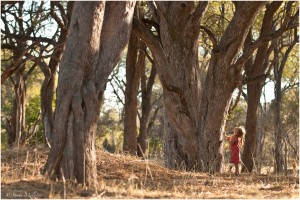 Recommended itineraries for families
At Safari Destinations, we've used our first-hand knowledge of Botswana's camps to create family-friendly safaris which help families get the most from their time in the bush. Download our suggested itineraries from our Agent's Corner or email us at info@safaridestinations.net to ask about the best options for family travel.
When I arrived in Maun a few years ago I didn't plan on getting involved in the tourism industry. Now 6 years and over a hundred camps later, I admit I changed my mind … Botswana infected me with the famous Safari Bug (as all safari goers know, there is no cure for it)!
Safari was a completely new terrain for me and my compassion towards safari tourists was, honestly spoken – really limited. What value would a safari provide, that a journey to a picturesque beach where people can relax in the sun while watching the waves in the ocean, couldn't? But life proved me wrong: I figured out quite quickly that safari is more than getting up REALLY early and sitting in a loud, open and sometimes VERY COLD vehicle. Safari is a passion, it is a life changing experience. And yes it has to offer much more than just lying in the sun getting a tan….
I can tell many stories I experienced during my time at Safari Destinations: being caught in a tree house in the delta (because of a hippo-grassing-blockade underneath), watching a puff adder attacking the wheels of our vehicle, escaping from charging elephants in reverse gear, nearly bumping into a hippo's bum on a night drive, watching an angry lion with his mouth wide open on a game walk, an elephant rubbing his skin on the canvas of my tent (lying inside begging that he doesn't lie down)… just to name a few of my adrenalin-powered moments on safari. But at the same time I also had many touching sightings: a wild dog den with month-old puppies learning how to hunt a vulture, a relaxed elephant shaking palm trees to get nuts from the treetops, a lioness grooming her cubs, a blacksmith lapwing hiding its chicks underneath its wings (at first you wonder why the bird has 6 feet..), a leopard lying on display in a tree just for you to get a beautiful photo, a Sitatunga antelope in the middle of the reeds watching us on a boat cruise and finally, the myriad colours of the most beautiful sunsets on earth.
Now I understand the safari tourists: it's not just about the adventure, it's being surrounded by unspoilt nature while watching beautiful animals in their homes. When you are on safari you start to acknowledge that there are still paradises out there, where time, status & performance don't count. It's more about being in harmony with yourself and nature and the wildlife.
I've been to 107 camps and have seen pretty much every corner of Botswana (and a bit of Zimbabwe). Personally, it doesn't matter if you have a private pool, a fancy 6 course dinner or if you get your cup of coffee delivered to your room in the morning. What makes a safari memorable is being in the wilderness, smelling the bush, listening to nature and absorbing it with open eyes.
Many people will never have the chance to experience such wonders while they are stuck in big cities with millions of people and no opportunity to see true beauty. It's up to those of us who are privileged enough to experience such wildernesses to tell people about them, encourage them to travel and keep them safe for the next generation.
"THERE IS SOMETHING ABOUT SAFARI LIFE THAT MAKES YOU FORGET ALL YOUR SORROWS AND FEEL AS IF YOU HAD DRUNK HALF A BOTTLE OF CHAMPAGNE – BUBBLING OVER WITH HEARTFELT GRATITUDE FOR BEING ALIVE".  Karen Blixen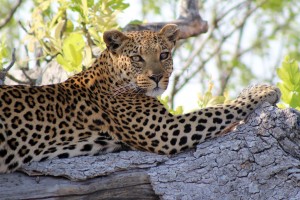 Pom Pom Camp, western Okavango Delta
Last weekend Jessica flew to Pom Pom for a quick 1 night stay to check out the lodge.  Here is her feedback:
Pom Pom is only a short five minute drive from the airstrip. The large main area is really cool, which helps during the hot days. All the tents have a great view over the river and buffalos come very close. The rooms are fantastic. We loved the colors and especially the white curtains in the tents, which we have not seen before. The hot outdoor shower is really big and the water pressure is perfect. Coffee and tea is being served in the tents at wake up time, which makes it really nice to get up.
Activities/ Guiding:
Our guide Rex, very nice and friendly guide met us and took us on the evening  game drive. Our plan was to find lions, we saw fresh lion tracks and followed them. We drove for about 38km trying to find this male lion and while doing that we saw  lots of animals just to mention a few, impalas, red Lechwe, Kudus, wildebeest, Duiker, Giraffe, Tsessebe, buffalos, lots of birds. It was getting a bit late so we stopped for our sundowner drinks. As we set up the table we heard him roaring, so we jumped into the vehicle, left the drinks there, drove off and he was about 150 to 200 m behind us, lying there calling for his brother. What an amazing sight. Rex our guide was not willing to give up on the lion hunt which was great, so our long drive and hunt was paid off eventually. It was so wonderful to hear him roar just about 4m away from the vehicle. The brothers met and it was a phenomenal way to end the evening.
On our morning game drive it was time to find a leopard. Rex took us for a leopard hunt, we saw a lot of animals while on the hunt. We finally found the mother leopard with two cubs but we could only see the one cub, since the other one was hiding. That was just incredible, wonderful game drive. Back on time we dropped two clients at the airport and kept on going on a game drive for about 40 minutes before heading back to camp for brunch.
"People come to Chobe for the elephants, but I say this is one of the best places in Botswana to see giraffes" says James of Chobe Game Lodge.  Whatever you want to call them, a tower, journey, aggregate or corps there's no doubting we're seeing plenty. 'I must've seen at least 180 on a game drive the other day, it was incredible.  You'll often see more of them than the elephants."

I still vote that Chobe is the place of the Elephants.  Eleven year old Emma sitting in the vehicle next to me agrees, so we put a bet on it, splitting our game drive into two camps.  Emma and I sit on one side of the debate, scrambling to tally up elephants as her parents and James count off giraffe wherever they spot a head sticking out from behind trees.
Emma is a star at running our mini elephant census and she doesn't miss a trick.  Breeding herd.  Eight.  At least.  (we add one or two more, just in case we've under-counted by a few legs).  Emma's parents up front are pointing at a giraffe behind a tree, but as we shift our focus to the tree line beyond it becomes two; then three, then four…  This is the thing with giraffes, there's always more.  Having all that height equals an impressive range of vision.  Giraffes can spread out in the bush and effectively keep an eye out for predators.  It seems there are always more on the horizon, slowly chewing leaves and adding themselves to the scorecard.
I won't admit it, but I'm feeling a slight sweat coming on.  I whisper to Emma that we need a distraction as I spot more giraffes coming up on the left.  "Oh WOW!' we exclaim, waving our arms for attention 'what's that on the RIGHT?!  More ELEPHANTS maybe?"  It doesn't work.  Team giraffe are busy counting and suddenly they're in the mid twenties.  This does not look good.  I point feebly at a bush 'oh look, more elephants!'  I say, substituting real sightings with fake ones.  'No wait!' Emma says stopping me, 'there really ARE elephants!" and sure enough, another breeding herd.  Add twelve.  Team elephant is closing the gap.
The afternoon seems to have passed in five minutes.  We realise we've ignored the multitudes of impalas, waterbucks, buffaloes and, more importantly, the start of a sunset slowly melting across Chobe's over-filled floodplains.  As numbers climb into the thirties on both sides, James calls a truce and suggests we make peace over G&Ts as white-faced ducks socialise next to us by the floodplains.  It's a tense detente, but one that Emma and I finally agree is necessary to save team giraffe from embarrassment.
Later, I'm joining my aunt on her first ever game drive with Connie, one of the Chobe Angels.  A few minutes in, we start with the basics.  "This is an impala' says Connie 'you can tell the difference between the males and the females because the males have horns."  It's easy to get blasé about impalas when you've been on a few game drives, but my aunt is captivated and Connie really eases her into the bush experience.
The pace builds quickly when we turn a corner and find a leopard chilling out in a tree, the blue of the Chobe River spread out behind him.  I start telling my aunt how lucky we are when we drive on a little further and find a pride of nine lionesses strolling along the water's edge.    My heart stops in my throat as a big male kudu walks right at them and the lionesses slink down in the grass.  With less than two metres between predator and prey, a lioness springs up and the kudu's instinct to survive kicks in.  He bolts off across the floodplains, throwing up bursts of water and sending birds shooting into the air.  Lucky for the kudu, these girls are still young and haven't fine-tuned their hunting skills yet, despite putting on an impressive show.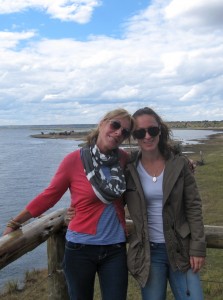 When I begin telling my aunt how lucky we are again, two leopards in a tree appear and I suspect she thinks I'm having her on.  One of the leopards has an impala up the tree and is busy snacking as the sky begins to grow dark.
We head back to Chobe Game Lodge in the fading light, excitedly going over the events of the afternoon when Connie delivers again, spotting five lion cubs sitting in the dust.  Their mothers are gone, probably looking for dinner, as the young cubs watch us from only a metre away.  We've already taken plenty of photos.  This is one of those sightings better enjoyed without a camera and committed to memory instead, as the light runs out on the day.
Where to stay in Chobe
Chobe National Park is Botswana's busiest due to its ease of access from Victoria Falls and via Kasane Airport without requiring any onward charter flights.  Where travellers stay in Chobe will seriously alter the kind of safari experience they receive, whether it's a town stay with park access for activities, within the park itself for a complete bush setting, or a river-based experience in the Caprivi Strip.
KASANE
Properties in Kasane are typically bigger hotels booked on packages with a set amount of activities and meals, often excluding drinks.  These are the most affordable options for exploring Chobe and activities are often out-sourced to third party operators with no guarantee you'll have the same guide each time.   Most Kasane hotels are on the river with their own jetty for boat cruises, though neighbouring hotels share the same route, making them the busiest departure points for getting on the river.   For game drives, guests drive approximately 20 minutes to Sedudu gate and queue for entry with vehicles from other hotels.  The result is that game driving into the park from Kasane results in a busier game drive experience, shared with more vehicles but often at a much more favourable nightly rate.
Kasane Hotels: Chobe Safari Lodge, Mowana Safari Lodge, Chobe Marina Lodge, Chobe Bush Lodge.  Smaller lodges in the area include Kubu Lodge, Chobe Bakwena, Chobe Chilwero and the Old House.
CHOBE NATIONAL PARK
Staying inside the national park creates a much more relaxed safari experience as you can start your game drives earlier and drag them out later, all the while staying in bush (rather than town) surrounds.  Being inside the park also means being the first on the roads looking for sightings in the mornings and the chance to pick up animal tracks on the road before they're covered over with tyre tracks from vehicles.  Chobe Game Lodge is the only permanent lodge inside the park and the only place in Botswana where your boat cruise starts within the park, avoiding the boat traffic from Kasane.  A mobile safari is another alternative for staying within Chobe National Park and experiencing the bush surrounds.
Chobe National Park: Chobe Game Lodge, Chobe Under Canvas and Mobile Safaris (ie. Letaka, Bush Ways)
NGOMA GATE
Lodges on the Ngoma side of Chobe enjoy a bush setting (an hour from Kasane by road), elevated views over the Chobe floodplains and a short transit to the Ngoma gate for game drives.  Although these lodges are outside the park, there are only three on this side of Chobe, meaning you avoid the queues at Sedudu Gate on the Kasane end of the park.  Animals are often spotted directly from the lodges and short night drives are possible in the vicinity immediately around the lodges, due to their location outside the park.  Lodges in this area operate their boat cruises from Kasane Town.  Due to the distance involved, cruises are normally mid-morning (when the river is quieter) as part of a longer day trip through Chobe National Park.
Ngoma Gate: Ngoma Safari Lodge, Muchenje Safari Lodge and Chobe Elephant Camp.
CAPRIVI STRIP/CHOBE RIVER
Staying in the Caprivi is all about experiencing the Chobe River by boat.   To stay in the Caprivi, you'll need to check-in to Namibia even though you'll share the water with boats from Botswana.  There are three options: lodges on Impalila Island, houseboats and Chobe Savanna Lodge.  Lodges on Impalila Island are very close to Kasane, meaning that there's no advantage location-wise for beating Kasane's sunset cruise fleet.  Lodges here are in a prime position for fishing, being close to the rapids and also for birding with quite a few small heronries around the island.  Houseboats moor at various positions on the river opposite Chobe National Park, and benefit from less surrounding boat traffic.  The houseboats use smaller boats for cruising guests up and down on the Chobe River.  There are smaller houseboats with four to five cabins as well as the larger Zambezi Queen.  The Zambezi Queen is quite large, running on set departures, meaning guests stay with the same group for the duration of the two or three night cruises.  Chobe Savanna Lodge is situated across from Puku Flats in Chobe National Park from where buffalo, elephants, giraffes and hippos are often spotted directly from the lodge.  Savanna also enjoys the benefit of a more exclusive river experience being located further into the park.
Caprivi Strip: Pride of the Zambezi, Ichobezi, Zambezi Queen, Chobe Savanna Lodge, Impalila Island Lodge, Ichingo River Lodge.