Category Archives: Botswana General
Sharing a safari with children will give you completely new eyes for seeing the bush.  A child's excitement at spotting an impala for the first time is infectious enough to rub off on even the most seasoned of safari goers. When you start seeing the bush from a child's point of view, the priority of ticking off the big five quickly fades – replaced by the excitement of watching dung beetles at work and imagining the inner-workings of termite mounds.
A family safari is a whole new discovery of the natural world. Not just for kids, but also for adults who usually focus only on photographing the animals that live in it. Best of all, you'll have time to bond as a family while checking out fresh animal tracks and roasting marshmallows on the campfire.
So, what do you need to know when travelling with children?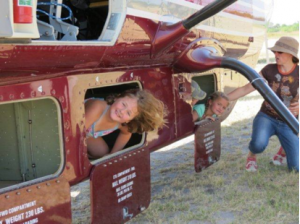 Don't chain me down
Ask a small child if their idea of a holiday is being asked to sit still for four hours, twice a day (or more!) and you'll probably get a firm no. Even the most disciplined of children will have a tough time containing their excitement when bumping into a pride of lions. They'll want to wiggle around a little, point at things and start a conversation about what they're seeing. So let them. Booking a private vehicle is the best way to relax at sightings without worrying about sideways glances from that empty-nester with the massive zoom lens. Private activities give parents space to relax without having to 'shhh' kids over stuff that's really quite exciting (who wouldn't want to tug someone's sleeve and gasp 'look!' when faced with their first elephant?). Private activities also allow you the flexibility to start and end activities at friendlier times for kids who sleep longer & tire out easier.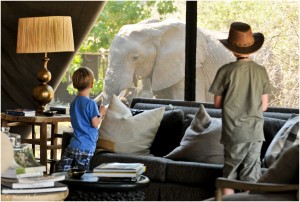 Variety is the spice of life
Mix up the schedule and keep the kids engaged on safari. Head off on a local village visit in Chobe or explore the salt pans with a quadbike and get introduced to the meerkats of the Makgadikgadi. Take the kids walking with the bushmen so they can practice speaking in clicks or give them a bush archery lesson. Many camps in Botswana offer child-friendly activities with some providing specialised programmes just for children. A private mobile safari is another sure fire way to give kids the space they need, as well as guaranteeing your guide's undivided attention.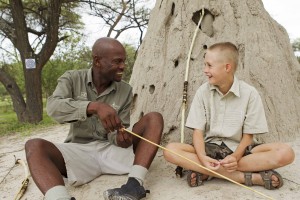 Where the Wild Things Are
Many camps have age restrictions for children to guarantee their safety in the bush, as well as the comfort of other guests in camp. Private vehicles are often a requirement for children under 12, however Chobe is one area where these rules are usually more relaxed. Children are required to share their room with at least one adult to guarantee their safety. Many camps now offer family accommodation to prevent parents splitting sleeping arrangements. Children are generally not allowed on bush walks below 16 years of age or mokoro activities below the age of 12, however certain camps will make exceptions or tweak these activities to make them safer for kids.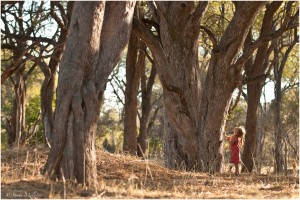 Recommended itineraries for families
At Safari Destinations, we've used our first-hand knowledge of Botswana's camps to create family-friendly safaris which help families get the most from their time in the bush. Download our suggested itineraries from our Agent's Corner or email us at info@safaridestinations.net to ask about the best options for family travel.
When I arrived in Maun a few years ago I didn't plan on getting involved in the tourism industry. Now 6 years and over a hundred camps later, I admit I changed my mind … Botswana infected me with the famous Safari Bug (as all safari goers know, there is no cure for it)!
Safari was a completely new terrain for me and my compassion towards safari tourists was, honestly spoken – really limited. What value would a safari provide, that a journey to a picturesque beach where people can relax in the sun while watching the waves in the ocean, couldn't? But life proved me wrong: I figured out quite quickly that safari is more than getting up REALLY early and sitting in a loud, open and sometimes VERY COLD vehicle. Safari is a passion, it is a life changing experience. And yes it has to offer much more than just lying in the sun getting a tan….
I can tell many stories I experienced during my time at Safari Destinations: being caught in a tree house in the delta (because of a hippo-grassing-blockade underneath), watching a puff adder attacking the wheels of our vehicle, escaping from charging elephants in reverse gear, nearly bumping into a hippo's bum on a night drive, watching an angry lion with his mouth wide open on a game walk, an elephant rubbing his skin on the canvas of my tent (lying inside begging that he doesn't lie down)… just to name a few of my adrenalin-powered moments on safari. But at the same time I also had many touching sightings: a wild dog den with month-old puppies learning how to hunt a vulture, a relaxed elephant shaking palm trees to get nuts from the treetops, a lioness grooming her cubs, a blacksmith lapwing hiding its chicks underneath its wings (at first you wonder why the bird has 6 feet..), a leopard lying on display in a tree just for you to get a beautiful photo, a Sitatunga antelope in the middle of the reeds watching us on a boat cruise and finally, the myriad colours of the most beautiful sunsets on earth.
Now I understand the safari tourists: it's not just about the adventure, it's being surrounded by unspoilt nature while watching beautiful animals in their homes. When you are on safari you start to acknowledge that there are still paradises out there, where time, status & performance don't count. It's more about being in harmony with yourself and nature and the wildlife.
I've been to 107 camps and have seen pretty much every corner of Botswana (and a bit of Zimbabwe). Personally, it doesn't matter if you have a private pool, a fancy 6 course dinner or if you get your cup of coffee delivered to your room in the morning. What makes a safari memorable is being in the wilderness, smelling the bush, listening to nature and absorbing it with open eyes.
Many people will never have the chance to experience such wonders while they are stuck in big cities with millions of people and no opportunity to see true beauty. It's up to those of us who are privileged enough to experience such wildernesses to tell people about them, encourage them to travel and keep them safe for the next generation.
"THERE IS SOMETHING ABOUT SAFARI LIFE THAT MAKES YOU FORGET ALL YOUR SORROWS AND FEEL AS IF YOU HAD DRUNK HALF A BOTTLE OF CHAMPAGNE – BUBBLING OVER WITH HEARTFELT GRATITUDE FOR BEING ALIVE".  Karen Blixen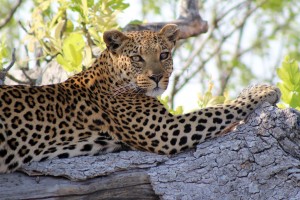 Pom Pom Camp, western Okavango Delta
Last weekend Jessica flew to Pom Pom for a quick 1 night stay to check out the lodge.  Here is her feedback:
Pom Pom is only a short five minute drive from the airstrip. The large main area is really cool, which helps during the hot days. All the tents have a great view over the river and buffalos come very close. The rooms are fantastic. We loved the colors and especially the white curtains in the tents, which we have not seen before. The hot outdoor shower is really big and the water pressure is perfect. Coffee and tea is being served in the tents at wake up time, which makes it really nice to get up.
Activities/ Guiding:
Our guide Rex, very nice and friendly guide met us and took us on the evening  game drive. Our plan was to find lions, we saw fresh lion tracks and followed them. We drove for about 38km trying to find this male lion and while doing that we saw  lots of animals just to mention a few, impalas, red Lechwe, Kudus, wildebeest, Duiker, Giraffe, Tsessebe, buffalos, lots of birds. It was getting a bit late so we stopped for our sundowner drinks. As we set up the table we heard him roaring, so we jumped into the vehicle, left the drinks there, drove off and he was about 150 to 200 m behind us, lying there calling for his brother. What an amazing sight. Rex our guide was not willing to give up on the lion hunt which was great, so our long drive and hunt was paid off eventually. It was so wonderful to hear him roar just about 4m away from the vehicle. The brothers met and it was a phenomenal way to end the evening.
On our morning game drive it was time to find a leopard. Rex took us for a leopard hunt, we saw a lot of animals while on the hunt. We finally found the mother leopard with two cubs but we could only see the one cub, since the other one was hiding. That was just incredible, wonderful game drive. Back on time we dropped two clients at the airport and kept on going on a game drive for about 40 minutes before heading back to camp for brunch.
"People come to Chobe for the elephants, but I say this is one of the best places in Botswana to see giraffes" says James of Chobe Game Lodge.  Whatever you want to call them, a tower, journey, aggregate or corps there's no doubting we're seeing plenty. 'I must've seen at least 180 on a game drive the other day, it was incredible.  You'll often see more of them than the elephants."

I still vote that Chobe is the place of the Elephants.  Eleven year old Emma sitting in the vehicle next to me agrees, so we put a bet on it, splitting our game drive into two camps.  Emma and I sit on one side of the debate, scrambling to tally up elephants as her parents and James count off giraffe wherever they spot a head sticking out from behind trees.
Emma is a star at running our mini elephant census and she doesn't miss a trick.  Breeding herd.  Eight.  At least.  (we add one or two more, just in case we've under-counted by a few legs).  Emma's parents up front are pointing at a giraffe behind a tree, but as we shift our focus to the tree line beyond it becomes two; then three, then four…  This is the thing with giraffes, there's always more.  Having all that height equals an impressive range of vision.  Giraffes can spread out in the bush and effectively keep an eye out for predators.  It seems there are always more on the horizon, slowly chewing leaves and adding themselves to the scorecard.
I won't admit it, but I'm feeling a slight sweat coming on.  I whisper to Emma that we need a distraction as I spot more giraffes coming up on the left.  "Oh WOW!' we exclaim, waving our arms for attention 'what's that on the RIGHT?!  More ELEPHANTS maybe?"  It doesn't work.  Team giraffe are busy counting and suddenly they're in the mid twenties.  This does not look good.  I point feebly at a bush 'oh look, more elephants!'  I say, substituting real sightings with fake ones.  'No wait!' Emma says stopping me, 'there really ARE elephants!" and sure enough, another breeding herd.  Add twelve.  Team elephant is closing the gap.
The afternoon seems to have passed in five minutes.  We realise we've ignored the multitudes of impalas, waterbucks, buffaloes and, more importantly, the start of a sunset slowly melting across Chobe's over-filled floodplains.  As numbers climb into the thirties on both sides, James calls a truce and suggests we make peace over G&Ts as white-faced ducks socialise next to us by the floodplains.  It's a tense detente, but one that Emma and I finally agree is necessary to save team giraffe from embarrassment.
Later, I'm joining my aunt on her first ever game drive with Connie, one of the Chobe Angels.  A few minutes in, we start with the basics.  "This is an impala' says Connie 'you can tell the difference between the males and the females because the males have horns."  It's easy to get blasé about impalas when you've been on a few game drives, but my aunt is captivated and Connie really eases her into the bush experience.
The pace builds quickly when we turn a corner and find a leopard chilling out in a tree, the blue of the Chobe River spread out behind him.  I start telling my aunt how lucky we are when we drive on a little further and find a pride of nine lionesses strolling along the water's edge.    My heart stops in my throat as a big male kudu walks right at them and the lionesses slink down in the grass.  With less than two metres between predator and prey, a lioness springs up and the kudu's instinct to survive kicks in.  He bolts off across the floodplains, throwing up bursts of water and sending birds shooting into the air.  Lucky for the kudu, these girls are still young and haven't fine-tuned their hunting skills yet, despite putting on an impressive show.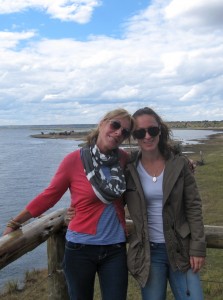 When I begin telling my aunt how lucky we are again, two leopards in a tree appear and I suspect she thinks I'm having her on.  One of the leopards has an impala up the tree and is busy snacking as the sky begins to grow dark.
We head back to Chobe Game Lodge in the fading light, excitedly going over the events of the afternoon when Connie delivers again, spotting five lion cubs sitting in the dust.  Their mothers are gone, probably looking for dinner, as the young cubs watch us from only a metre away.  We've already taken plenty of photos.  This is one of those sightings better enjoyed without a camera and committed to memory instead, as the light runs out on the day.
Where to stay in Chobe
Chobe National Park is Botswana's busiest due to its ease of access from Victoria Falls and via Kasane Airport without requiring any onward charter flights.  Where travellers stay in Chobe will seriously alter the kind of safari experience they receive, whether it's a town stay with park access for activities, within the park itself for a complete bush setting, or a river-based experience in the Caprivi Strip.
KASANE
Properties in Kasane are typically bigger hotels booked on packages with a set amount of activities and meals, often excluding drinks.  These are the most affordable options for exploring Chobe and activities are often out-sourced to third party operators with no guarantee you'll have the same guide each time.   Most Kasane hotels are on the river with their own jetty for boat cruises, though neighbouring hotels share the same route, making them the busiest departure points for getting on the river.   For game drives, guests drive approximately 20 minutes to Sedudu gate and queue for entry with vehicles from other hotels.  The result is that game driving into the park from Kasane results in a busier game drive experience, shared with more vehicles but often at a much more favourable nightly rate.
Kasane Hotels: Chobe Safari Lodge, Mowana Safari Lodge, Chobe Marina Lodge, Chobe Bush Lodge.  Smaller lodges in the area include Kubu Lodge, Chobe Bakwena, Chobe Chilwero and the Old House.
CHOBE NATIONAL PARK
Staying inside the national park creates a much more relaxed safari experience as you can start your game drives earlier and drag them out later, all the while staying in bush (rather than town) surrounds.  Being inside the park also means being the first on the roads looking for sightings in the mornings and the chance to pick up animal tracks on the road before they're covered over with tyre tracks from vehicles.  Chobe Game Lodge is the only permanent lodge inside the park and the only place in Botswana where your boat cruise starts within the park, avoiding the boat traffic from Kasane.  A mobile safari is another alternative for staying within Chobe National Park and experiencing the bush surrounds.
Chobe National Park: Chobe Game Lodge, Chobe Under Canvas and Mobile Safaris (ie. Letaka, Bush Ways)
NGOMA GATE
Lodges on the Ngoma side of Chobe enjoy a bush setting (an hour from Kasane by road), elevated views over the Chobe floodplains and a short transit to the Ngoma gate for game drives.  Although these lodges are outside the park, there are only three on this side of Chobe, meaning you avoid the queues at Sedudu Gate on the Kasane end of the park.  Animals are often spotted directly from the lodges and short night drives are possible in the vicinity immediately around the lodges, due to their location outside the park.  Lodges in this area operate their boat cruises from Kasane Town.  Due to the distance involved, cruises are normally mid-morning (when the river is quieter) as part of a longer day trip through Chobe National Park.
Ngoma Gate: Ngoma Safari Lodge, Muchenje Safari Lodge and Chobe Elephant Camp.
CAPRIVI STRIP/CHOBE RIVER
Staying in the Caprivi is all about experiencing the Chobe River by boat.   To stay in the Caprivi, you'll need to check-in to Namibia even though you'll share the water with boats from Botswana.  There are three options: lodges on Impalila Island, houseboats and Chobe Savanna Lodge.  Lodges on Impalila Island are very close to Kasane, meaning that there's no advantage location-wise for beating Kasane's sunset cruise fleet.  Lodges here are in a prime position for fishing, being close to the rapids and also for birding with quite a few small heronries around the island.  Houseboats moor at various positions on the river opposite Chobe National Park, and benefit from less surrounding boat traffic.  The houseboats use smaller boats for cruising guests up and down on the Chobe River.  There are smaller houseboats with four to five cabins as well as the larger Zambezi Queen.  The Zambezi Queen is quite large, running on set departures, meaning guests stay with the same group for the duration of the two or three night cruises.  Chobe Savanna Lodge is situated across from Puku Flats in Chobe National Park from where buffalo, elephants, giraffes and hippos are often spotted directly from the lodge.  Savanna also enjoys the benefit of a more exclusive river experience being located further into the park.
Caprivi Strip: Pride of the Zambezi, Ichobezi, Zambezi Queen, Chobe Savanna Lodge, Impalila Island Lodge, Ichingo River Lodge.
A safari in Botswana is a true wilderness experience of exploring bumpy tracks in the bush where boundaries are marked by lines on maps and not by fences.  Our famous wildlife areas are untamed places where animals roam freely in their natural habitats.  The bush in Botswana is not a controlled environment and safari goers will get the most out of their experience if they know what to expect from the bush.
There are no Fences
An encounter with an animal on safari is an encounter with the wild.  There are no barriers between you and the wildlife, which not only gets the pulse racing, but also results in a level of risk.  When in the bush, remember that your guide understands animal behaviour and the bush around you.  If you listen to your guide you can be assured of the best possible safari experience, as well as your safety.  When in camp, guests should never walk unattended at night, or go for a walk outside main camp during the day.  Animals roam freely in the bush and can often be spotted strolling along the paths in camp at night, or drinking out of the swimming pool, which is often what makes a safari more exciting.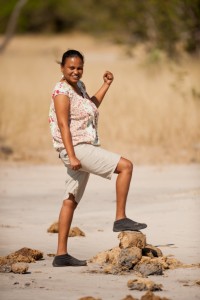 Leave Only Footprints
The bush in Botswana is not tamed by humans.  Camp staff and guides do not intervene in the lives or deaths of animals.  While roads may be maintained for game driving, the bush is otherwise left in its natural state.  Visitors to Botswana need to be careful not to leave rubbish such as cigarette butts or toilet paper in the bush and also not to pick up anything they find on the way, especially animal remains such as teeth, bones or skins.  The exportation of animal remains is highly illegal and a well-intended bush souvenir could end up becoming a ticket to trouble.  It is ok to pick up and look at things in the bush when instructed by your guide, but anything from the bush should be left where it is found and never packed for home.
Driving in the Bush
Due to Botswana's high-yield and low-impact eco-tourism policy, we're lucky to be able to offer a more exclusive bush experience than many of our neighbours.  To keep the experience exclusive, most camps have a policy of no more than three vehicles at any sighting.  This helps to reduce impact on the animal being observed, as well as allowing for guests on the sighting to have a more relaxed time with the animal and better photographic opportunities.  In order to encourage a better experience for all, guides will move on from sightings after 10 minutes or so when there are vehicles waiting.  Self-drivers visiting Botswana should keep this etiquette in mind when visiting the parks and try not to crowd animal sightings, but wait for excess vehicles to move off.  When transiting through the parks always wait for elephants in the road and allow plenty of space for safety when passing.   Self-drivers should respect the rules of no off-road driving or driving after dark, should stay in their vehicle except at marked rest stops and should carry a satellite phone or GPS in the event of any emergency.  If an incident occurs while en route to a lodge, guests should keep in contact with their next accommodation and request assistance if necessary.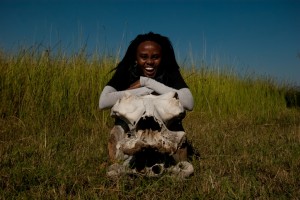 Exposure to the Elements
While on safari it is easy to become dehydrated and exhausted by the elements, especially in the later months of the year when temperatures peak.  Bottled water in Botswana does not contain the same minerals as water at home and needs to be supplemented with juices and soft drinks for proper hydration.  Days on the safari vehicle can be long and the weather changeable.  Dressing in layers with lighter clothing underneath is the key to remaining comfortable and avoiding over-heating and freezing.  Guides pack refreshments for game drives and will be more than happy to stop and hand out beverages as requested.  Bright colours are best avoided in the bush as they prevent you blending with your surroundings during activities, especially during game walks.
If visitors to Botswana have any doubts about what to do while on safari, asking a guide for advice and assistance is the safest way forward to a hassle-free safari.  For a copy of our safari information for guests, please contact info@safaridestinations.net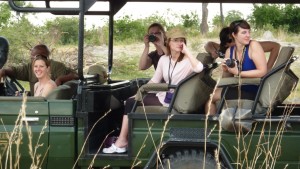 In November Muriel and I had the opportunity to explore the camps in the Jao Concession, we visited Tubu, Little Tubu, Jao, Jacana and the new Pelo Camp. I am happy to share our experience with you:
Kwetsani: Spectacular setting over the lagoon, very 'high and elevated camp' everything is about views, large public deck, many different, intimate corners and tasteful spaces for the clients to withdraw and enjoy the scenery.
Units: due to their height they almost appear as 'tree houses', they will be enlarged and refurbished in the coming weeks, then the camp will be certainly my favorite of the classic collection in Jao.
Management: very passionate, open minded, outgoing, and certainly top service orientated camp manager, Charmaine.
Pelo Camp (pronounce PILU for all Setswana ignorants amongst us, as otherwise it sounds like kidney and not like heart, which is the shape of the island it is on).
New camp only open in high (=dry) season, very romantic, hidden in the thick bush on the island, pure water bases, the only activity is mokoro, so it will make a perfect last to relax in some horizontal safari (the birds' concert is outstandingly entertaining) and concentrate on the small stuff.
The fire place with the bar is the central meeting point, elevated above the lagoon it offers views combined with a warm camp atmosphere.
The public area is a small tent with a terrace, true to the modest style, no big furniture but cushions to lounge.
The dining area is in another small tent, just enough to make clients feels safe without taking the camping feel away.
Units: from the outside it could be just a notch above mobile safari, they almost hide their luxurious interior (top comfy beds, perfect illumination, desk), which gives the camp the charisma of cozy, tented, intimate. Only outside bucket shower (in the cold winter months of June/July people should be informed/warned).
Food: great brunch, a variety a light and tasteful salads, beef sausages, cold pasta, cooked breakfast, fruit and cheeses. Dinner consisted of a veggie soup, excellent Impala stew, veggies and again salad, very pleasant.
Activities: mokoro, the nicest cruise I have ever done for over 2 hrs, safe, hippo free, and in a very lovely surrounding, apart from birder's paradise, with hundreds of lechwe and elephant herds at our sights, we even spotted some shy Sitatunga.
Apart from mokoro, the manager takes clients to his very special Delta Pool for a refreshing swim and pick nick on the sand banks. Also catch+release fishing is possible.
Camp Jao: Just stunning, the jewel of the concession for the pampered, the Balinese palace in the Delta. All emphasis on luxury, spa, food, wine tasting, a perfect end or relaxing start to a safari, I could certainly stay for 5 days in this camp. The whole camp is highly elevated in beautiful old trees, as if the camp was a colony of tree houses connected by swaying boardwalks.
Apart from the spa, there is a proper gym, yoga mats and pilates balls, and a wine tasting parlour, as the unusual features.
Units: the best feature (vs its sisters in luxury Kings Pool/Vumbura Plains) is the shape of the rooms, as they are not deep but long, so from any point of the unit the views over the lagoon can be enjoyed, they are airy and full of light, which takes the weight off the massive wooden furniture and gives it a noble and highly elegant feel.
The public areas are impressive, two pools, one family one adults only plunge pool bordering with the Delta, large shady sitting areas on a 10 m tall deck. The impressive fireplace with unique Balinese drums builds the center of the camp with incredible views over the lagoon and its wildlife, e.g. Lechwe hunting Lions.
Every year we organise numerous educationals for our agents. This year was a record year, Lorraine, Clare and I counted and counted and we think we had over 80 agents travelling around Botswana, Zambia & Zimbabwe on educational visits. Most trips were individually tailor-made trips, based on the needs of the agents. Around Indaba we had 20 agents on safari, one group in Botswana and one in Zimbabwe.
This year one highlight followed the next. Recently Botswana Tourism organized the first "Botswana Tourism and Travel Expo" in Kasane. We were honoured to be part of it. It was hugely successful as it hosted 81 Tour Operators from Germany, Switzerland, Austria, Italy, France and Belgium. These 81 agents were split into various pre- and post-Expo educationals of 4 – 5 nights each. Safari Destinations partnered with Bush Ways Safaris and with Great Plains Conservation and put together three trips.
We always try to show our agents the beauty of the different regions as well as the different products on offer. Last week's agents' safaris included nights at Selinda Camp, Ghoha Hills Camp, camping with Bush Ways Safaris in Savuti, camping with Letaka Safaris in Khwai, both Sango Safari Camp and Machaba Camp in Khwai and a visits to Meno a Kwena Tented Camp on the Boteti River & Jacks Camp on the Makgadikgadi Salt Pans. The agents enjoyed site inspections of three lodges in Chobe (Chobe Elephant Camp, Ngoma Safari Lodge and Chobe Game Lodge) and brunch at Zarafa Camp and Savuti Safari Lodge. They experienced game drives, night drives and a walk with San Bushmen at Meno a Kwena.
All travellers visiting Botswana want to experience the beautiful, remote places they've seen in the TV documentaries.  The real wilderness Botswana has to offer that they don't have to share with lots of other tourists.  A safari in the out-of-reach corners of Botswana is an exclusive experience with a catch 22 about it.  To get to these areas there are no tarred roads.  Aside from the lack of tarmac, the distances are too big or the camps are surrounded by too much water, sitting on islands that can't be reached…which is exactly why travellers want to visit, to experience a wilderness inaccessible to mass tourism.  As a result, travellers need to jump into a light aircraft and let the pilot fly them into the adventure, wilderness & luxury camps that dreams are made of.
Already the name "light aircraft" should give you the hint that we are not talking about an Airbus A380. For most air transfers charter companies use aircraft such as the Cessna 206 or Cessna 210 which can accommodate the pilot and around five passengers. If clients are really lucky they may fly in an Airvan which can transfer seven passengers and one pilot or possibly a Cessna Grand Caravan, which is as big as it gets, accommodating 13 passengers and the pilot. But that's about it. Bigger aircraft would need to overcome a long brake path and can't land on the short graded airstrips in the national parks and private concessions.
With small aircraft comes this issue of fitting both luggage and passengers into the plane. All aircraft has a baggage compartment where the pilot stores clients' luggage during their flight, but these are small and limited, meaning bags need to flexible (not rigid) and packed economically in order to make the most of the space available.
Due to the small payload of these aircraft any other variations in the expected weight in the aircraft need to be factored in far in advance to avoid overloading and breeching safety regulations.  This includes passengers weighing more than 100kgs.
While it may seem an insensitive topic to broach, charter companies calculate their payload and required fuel based on passengers weighing 100kgs or less.  As a result, charter companies need to be aware if passengers weigh more than 100kgs so they can limit the total amount of passengers and baggage accordingly.  The restrictions in loading aircraft that result from flying passengers over 100kgs requires charging for an additional seat to compensate for the inability to carry the standard amount of passengers and luggage as a result.
LUGGAGE RESTRICTIONS:
Luggage dimensions should not exceed 25cm (10 inches) wide, 30cm (12 inches) high and 62 cm (24 inches) long. Anything larger and the luggage will not fit.  Baggage weight (including hand luggage) is limited to a maximum of 20kg. Luggage must be entirely soft-sided.  Hard covered, rigid bags are exceptionally difficult to load and unload and will most likely be left behind.
SD TIP! Due to the cramped space in light aircraft luggage holds, we also recommend taking camera equipment and other valuable items as hand luggage during flights to prevent possible damage.
We know that restrictions are never pleasant but clients need to keep in mind that we advise them of these restrictions in advance so they can arrive prepared and enjoy smooth air transfers as a result. All rules exist to provide the maximum possible client safety and comfort on board.
We understand our clients' needs and know it is often hard to pack light for such a long journey; however clients can be re-assured that camps in remote areas usually include laundry service in the nightly rate. Clients are welcome to use the laundry service to minimise their luggage and rest-assured that the animals in the bush don't mind seeing the same shirt twice.
If clients can't travel without excess luggage we offer to store the luggage at our office in Maun.   The restriction however is that this only works if clients start and end their safari in Maun. If clients end their safari somewhere elsewhere we would need to send the luggage on (e.g. on a flight to Kasane) creating extra costs for clients who have already spent all their spare change on their trip of a lifetime in Botswana.  If excess luggage storage is required, we need to know in advance so that we can make a plan prior to arrival and not during our short meet and greet with your clients at Maun airport.  Please also keep in mind that if your clients are travelling through Johannesburg Airport multiple times, excess luggage can be stored there as well.
To all travel agents & tour operators out there, please brief your clients about luggage restrictions connected to bush flying prior to travel. You can save your clients a lot of hassle if they're aware of what to expect and how they need to be prepared for their journey of their lifetime.
Our Selfdrive Trip from Maun to Khwai and Savuti!
Have you ever wondered what it takes to get off the tarmac and explore the sandy tracks of Botswana's National Parks in a 4×4?  We did.  With our mission set, four of us Safari Destinations girls, calling ourselves the SD Angels departed Maun early on a Sunday morning for a five day self-drive safari through Moremi, Khwai and Savute.
Leaving Maun, the small village of Shorobe marks the end of the tarmac.  From here to the buffalo fence is a big wide stretch of calcrete road where we had our first encounter with someone driving far too fast and almost wiping us out.  We quickly discovered slow is the answer, as people generally tend to drive too fast and run into trouble.
From the buffalo fence there are two ways of getting to Khwai.  You can either go via Mababe Village, staying on the calcrete road or head through Moremi Game Reserve via South Gate.  We decided to go through Moremi as we were in no rush, since the route is more scenic with much better opportunities for spotting wildlife.  The road between the buffalo fence and South Gate is quite narrow, passing through mopane forests and very sandy, so the driving is quite a bit slower and we let our tyres down to about 1.6 bar to deal with the terrain.
Once we reached North Gate and exited Moremi Game Reserve, we crossed over a proper bush bridge made from Gum Poles and into Khwai Village.  To get here took us approx four hours from Maun, stopping for game sightings on the way.  In Khwai, we stayed at both Khwai River Lodge and Khwai Tented Camp, however other options in the area include Sango Safari Camp and Machaba Camp.
For self-drivers, the road network around Khwai is quite disorienting.  As a result, it's best to arrange your game viewing activities with your lodge as the professional guides know the area, where the game is and what signs to look for in tracking animals, resulting in a more enjoyable safari.
Leaving Khwai for Savuti, there are two possible routes.  Different people gave us different arguments and opinions on whether we should take the Marsh Road or the Sandridge Road.  In the end, we took the Marsh road which is longer but a lot more scenic, traversing the Mababe Depression and the Savute Marsh.  There is a lot more wild life on this section of road especially around the Savute Marsh and we saw leopard, cheetah, elephant, wildebeest, giraffe, impala, the list goes on.  This road can become flooded in some areas, and very slippery in the rainy season.  In October, it took us approximately four hours to drive the Sandridge route.
In Savute, we stayed at both Savute Elephant Camp and Ghoha Hills, however other options include Savuti Safari Lodge, as well as SKL's Camp Savuti next to the public campsite.
Returning from Savute, we drove back towards Khwai on the Sandridge road, which was a lot quicker with better road conditions.  Although quicker, the driving is through a lot of Mopane and we only saw elephant and steenbok driving this way.  In the winter months before the rains, this sandy road can get very churned up and a lot of people get stuck.  Taking this route back to Maun and skipping Moremi Game Reserve on the return took us approx 5 ½ hours.
To self-drive successfully through the parks, we recommend a good 4 x 4 such as a Land Rover, Toyota Hilux or Landcruiser.  It's essential the car has 4×4 and has good clearance.  This driving cannot be done in either a 2WD or a 4WD without the height to manage deep sand and water crossings.  For good vehicles carrying the essential equipment as standard and good back-up service in case of emergencies, we recommend Travel Adventures Botswana.  Essential items to pack are a high-lift or air jack, two spare tyres, spade, axe, tow-rope, jumper-lead cables, tyre pressure gauge and air compressor.  If you don't have a long-range tank, you will need extra fuel as driving in sand uses a lot more fuel than travelling on tarmac.  You should always have plenty of drinking water, basic food supplies, a GPS, satellite phone and a well-stocked first aid kit on hand in case of getting lost, stuck or experiencing break-downs.  Of course, you will also need your park entry permits for your vehicle and for yourself, together with any confirmation from lodges you'll be staying at which confirm they've pre-paid park fees on your behalf.
Bush Ways and Mayonnaise
"Who wants mayonnaise? ' Masters asks.  There's a moment of silence where all five of us fail to jump on his offer.  'It's good for the eyes!!!' he says, putting another spoonful on his dinner and passing the jar down the table.  'If you don't see any animals tomorrow, you know who to blame."
We've just arrived in Savute.  It's the end of October, it's HOT and we've just met Masters who will guide us through this area and later on to Khwai.  We've also just learnt Masters' best-kept secret for spotting game, except that he isn't too concerned with keeping his trick in the bag.
We had returned from an incredible sunset over a waterhole which we shared with a cross-legged elephant and a few roan antelope.  As Masters had pulled out the G&T the roan scattered and herds of impala sprinted out of the background.  "See' said Masters 'we were so lucky to see that Roan.  If we'd turned up a little later, we wouldn't have seen anything at all."
We were quickly learning that this was the advantage of being on a mobile safari, spending two nights in each area, driving around the same corners but seeing different things on the horizon each time.  Just when we'd begun to recognise the roads and game patterns in one area, we'd travel to the next campsite and look for it all again on a different backdrop, but with the same guide who understood what we'd already seen and where we'd already been.  If we hadn't seen something yet, Masters usually had a quick solution.   When we put hyenas on our wish-list he pointed to his shirt and grinned, "It's the Bushways logo!  You've already seen one."
In the wide-open space of the Savute marsh we spent our time chasing wildebeest, watching elephants sleeping standing up against trees, a big male lion bending a branch under his chin for a pillow and wild dog collapsed in a mess of legs and ears under the closest shade they could find.  The animals regarded us vaguely but didn't bother stirring as our cameras clicked away.   Despite the intense heat which kept most animals in the shade, we came across plenty of elephants butting their heads against trees, hippos yawning out twisted laughter and a herd of buffalo big enough to be counted at a thousand, give or take a few.  "That's my favourite animal' said Masters 'because with that one…eish…the buffalo doesn't mock charge, so if he comes for you, it's already too late!"  The rest of our group had already heard these tales in Chobe, spending their first night on safari wide awake as buffalo entered the campsite and Masters' tales repeated in their minds.
On the road between Savuti and Khwai we watched green open spaces turn to long yellow grasses and closed-in mopane forest before stopping for tea in open grasslands of the Mababe Depression.  The landscape was yellow and the sky a blazing blue that formed mirages on the horizon.  "As soon as the rain starts, this place is green, green, green and full of thousands of zebra and wildebeest."  It was hard to imagine that we were only a few weeks away from a complete landscape change that would come with the first rains.
Arriving in Khwai, Masters found us seven lions under a tree, across the road from two signs pointing in opposite directions.  "Welcome to Chobe" on the left and "Moremi Game Reserve – 20kms" on the right with no fences in between to impede the animals' movements.
The lions were almost impossible to see, even as we stared straight at them camouflaged in the yellow grass.  "It's because I eat mayonnaise" Masters reminded us.  As we jumped out of the vehicle on the Khwai River for sundowners, there was a burst of activity on the radio and Masters bundled us back in the car "There's a leopard over that way…let's go!" As the sun dipped towards the horizon, we bumped along off-road and came upon a female leopard making contact calls.  We watched her as she jumped up on branches, circumnavigated termite mounds and prowled around the vehicle.  Heading over to our campsite in the now pitch-black night, Masters told us to look for shining eyes as he moved his flashlight across the bush.   Impala, impala…more impala, then suddenly several pairs of eyes caught the light and we found ourselves amidst ten or so spotted hyena fighting over the carcass of a baby elephant.  We sat and watched as their curved ears caught the torchlight and they pulled meat from the carcass, rocking it back and forth in a little tug of war.  "See?' says Masters "Bushways watching Bushways!"
Just as we'd thought we were done for the night, a civet ran across the road in a spotted blur and we arrived back at our campsite to find our tents made up, our showers ready and food almost on the table.
Over dinner we discussed food, "I don't understand how you foreigners each so much' Masters said piling the mayonnaise on his dinner 'if we do that, we get fat." We tried to protest that people don't normally eat us much as they do on safari, but he cut us off, 'did you eat your mayonnaise?  If we don't see anything tomorrow, you know who to blame!"  By now, Masters has made his point and everyone around the table takes a spoonful.
The next day we see the hyenas again, sleeping under bushes as vultures move in on the baby elephant.  In the daylight we can see the tiny protrusions of the elephant's milk tusks from the skull.  We see waterbuck, giraffe, zebra, red lechwe, hippos, warthog, Egyptian geese, bateleur eagles and saddle-billed storks.  We stop for a mokoro excursion in the afternoon and everyone comes back with water lily necklaces and hats.   That night we see the spotted hyena again, munching on baby elephant for the second night in a row.
On our last night we're a little sad to think it's back to the real world where we don't find ourselves in the middle of herds of antelope, elephant, wildebeest and buffalo every day.  We hear hyena calling in the night and lions roaring close by in the morning.  We're all excited over breakfast, hoping to catch the lions before we leave.
For a long time we find nothing.  We visit the spot where we found the lions last.  Nothing.  We drive several tracks looking for spoor.  Nothing.  We turn the next corner and meet a vehicle hurtling down the track, the guide behind the wheel motioning for us to follow.  We pick up the pace and arrive at a clearing in the bush where two lionesses are running across the clearing, herding their cubs off.  "This is interesting' says Masters 'they're nervous about something."  He moves the vehicle and we see three big male lions in the bushes.  "I think they're trying to kill the cubs so they can mate with the females" he says.  We watch as the lioness lead their cubs quickly off, stopping, looking over their shoulders and moving further into the brush.  Masters moves the vehicle to where he thinks they may emerge from the shrub and sure enough, a few minutes later they walk right past us.  Masters giggles and gets on the radio 'they're walking towards our campsite' he says, 'I need to radio the camp staff to get in the car."
"I think they might go to the river for a drink' says Masters, putting the car in gear.  It's a guess that pays off.  As Masters parks by the river we wait a little while and sure enough, the lions emerge.  "The girls might just take their cubs across the river for safety.  Those big male lions will try to track them.  This isn't something you see often, cats don't like getting wet and crocodiles are a threat to them too."
The lioness round up their cubs and take them to the narrowest part of the river, belly-flopping into the water and beginning to paddle.  Very soon, all nine are treading over to the other side.  We're feeling a bit inspired and all cheer 'mayonnaise!' as the lions emerge looking soggy and worried before disappearing into the Moremi Game Reserve on the other side of the Khwai River.  A moment later we're also on the road out of Khwai, heading back to the real world on the calcrete road to Maun.
Bushways Fully Serviced Mobile Safari
6 Nights in Khwai, Savuti & Chobe
Combine with: Victoria Falls and the Okavango Delta on our 10N Authentic Lodge & Mobile with optional extension to Meno a Kwena on the Boteti River/Makgadikgadi NP.
Access: from Maun or Kasane/Vic Falls or Livingstone with Northbound and Southbound departures throughout the year.