Category Archives: Places
Maun Town Residents: The Community Bus is doing its rounds. Snap a Picture, Share it and you could Win!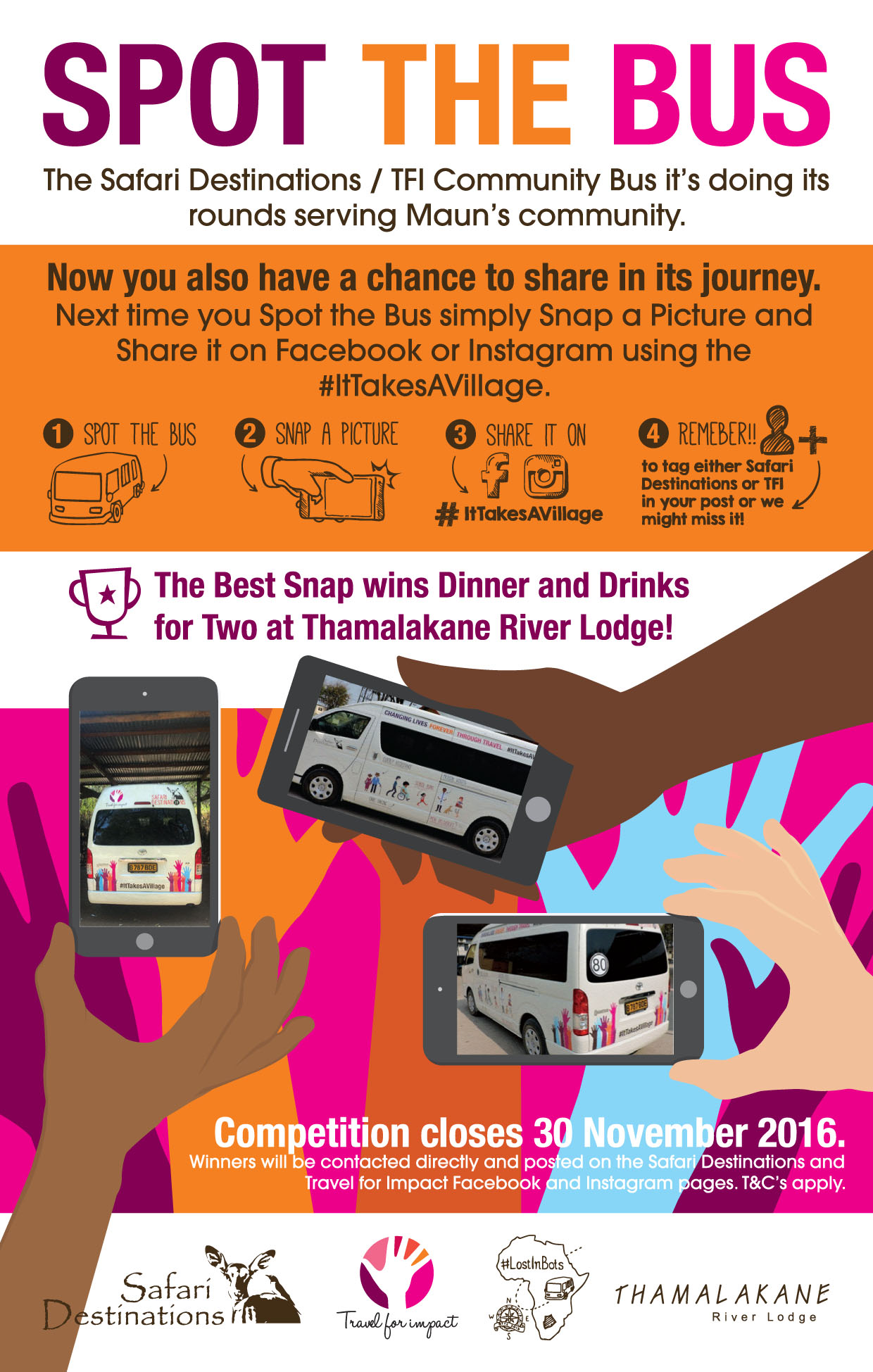 Kadizora is based in the north eastern part of the Delta in a beautiful concession that is fortunate enough to have the Selinda Spilway and Vumbura River running through it.
What next?  In the next week, the water activities will move to the Vumbura River, where there are permanent lagoons, making this a huge advantage for this camp, is having water activities most of the year round.
We experienced a classic safari style, and the food that came out of the kitchen was just too decadent, as usual I left after 3 days feeling like I'd been on an eating safari.  Other highlights from the camp was having elehant all around our tents all night feeding off the Marula trees that shade the main camp, hearing the lions roaring right close to camp at first light, there is nothing quite like that sound in the bush.
By now I'm sure almost everyone following our blogs are aware of our 10FOR50 campaign, celebrating our 10th and Botswana's 50th anniversaries.  A key component of our campaign is to donate 500 Hours to Community Service.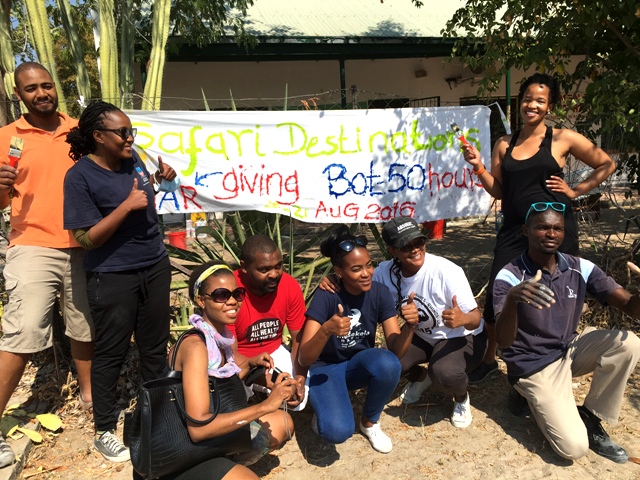 Our Team has been working hard on achieving our goal – so much so that in only four months we've already completed an impressive 305 Hours!
Our late August and September activities comprised a makeover of the reception at WAR (a local NGO offering safety and support to victims of gender based violence) and continued home visits to needy Elderly, identified by AGLOW (a local NGO providing support to the elderly).  We also participated in local fundraisers and education campaigns: the Golden Groups Fashion Show and the Maun Global March for Rhino's Elephants and Lions.
This month, we thought we'd share some feedback from our activities with WAR and AGLOW as related from behind the scenes by our staff members Angie and Chantal.
Chantal participated in Elderly visits with AGLOW. She writes the following moving description of what such visits entail:
"The things we take for granted in our lives were sorely lacking as Lesang the AGLOW coordinator took us to the first port of call.  A dark hut, no windows, a few breeze blocks allowing in tepid light.  A mattress on the floor being the only furniture, bar an old tin trunk.  No modern conveniences here at all.  An elderly lady in residence – semi paralysed by a stroke and with limited eyesight and hearing, greeted us from her bed clashing some metal sticks together, thinking that we were there to steal her things. Lesang patiently held her hand, and explained to her that we were here to clean her house, help her bath and wash her clothes, that we were there to help and not steal.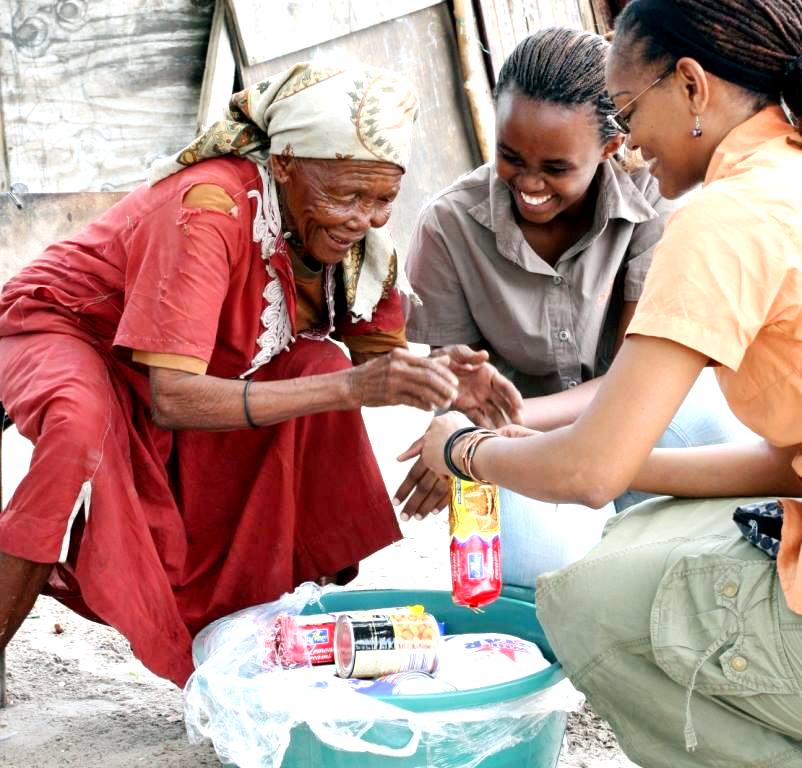 These are all simple activities to do, and yet difficult in an environment of dust, sand and no running water.  We set about the tasks of fetching water from the office, sweeping an incomplete concrete floor crumbling to sand, and Resego breaking a broom in trying to air the bedding.  All of us learning to speak loudly so that we could be heard and understood.  Our elder helped to a seat outdoors, sat and ate the nutri-meal porridge which is one of her daily meals provided by AGLOW. She chivvied us on, strong and fierce in spirit despite the frailty of her body.  Bathed, body lotion applied to the softest skin, and changed into fresh clothes, our elder gave thanks for feeling so much better after the bath.
We took small gifts – toiletries, sweets, biscuits – all were stashed away in a "safe" place and a hot meal eaten with relish.  These were all simple things we did, and yet Lesangs' patience and caring, her conversation and gentle touch reminded me of how much our elderly miss out on each day.  AGLOW are striving to provide dignity, respect and care for a generation lost in the speed and demands of today's' world.  I am proud that we, as Safari Destinations, support AGLOW. I have the greatest respect for what they are achieving and am humbled to have been able to assist in some small way."
Safari Destinations is a proud supporter of AGLOW. In addition to assisting them with home visits, we also provide AGLOW with substantial monthly funding through the TFI Bed Levy. They will also benefit from free transport through the SD/TFI Community Bus, when launched in October.
Assisting and supporting vulnerable woman in our community is another core project in SD's Social Responsibility Agenda. We were recently requested by WAR to renovate their reception area. Ops Manger Angie reports:
"On Saturday 20th August 2016, accompanied by our Director Lorraine, 10 of our staff members (the 1st of 2 Groups) took on the then barren walls of the WAR Reception area.  With masks on our faces we sanded and scrubbed the walls tirelessly, interchanging tools, while others went on breaks to catch their breath.
As much as the day was filled with laughter and catching up with each other, this day was not about making up hours but about reflecting on the broader purpose of why we were gathered at Woman Against Rape. It was at the forefront of everyone's thoughts that we were in actual fact making the environment, atmosphere and space for those who used this Reception area a brighter, happier and safe place.
The experience of working together as a Team towards one goal is priceless and the sense of accomplishment is very gratifying. When all was done and dusted and the paint was left to dry, our contribution for the day will forever resonate in our hearts as we gave way to our colleagues who completed the makeover the following day…
Every time I walk away from such acts of benevolence, I am reminded that serving with even the smallest tasks can make a difference in people's lives and broadens my awareness to the next person in my community."
We look forward to the coming months which will see us donating more hours of community service to other projects including: MAWS Halloween Fundraiser, Bana Ba Letsatsi Fun Day and the AGLOW Christmas party.
#ItTakesAVillage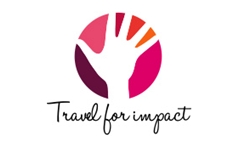 Announcing the arrival of Bed Bank For Charity – a ground-breaking, fund raising initiative by Travel for Impact and Safari Destinations.
Travel for Impact (TFI) and Safari Destinations are very excited to announce the 'Safari Bed Bank' – an exciting and innovative new venture to help raise awareness and funds to local community projects in Northern Botswana.   The Safari Bed Bank complements the already existing work of Travel for Impact. TFI helps local communities on the ground, partnering with the safari industry to create a social responsibility fund which is administered through an advisory board comprised of community activists along with the private sector1. Not only do TFI provide financial support for community initiatives, they also add value by offering a dynamic range of mentoring services, strategic development and by sharing thier experiences to encourage these wonderful charities to meet their goals and to ultimately flourish through sustainability and growth.
Travel for Impact encourages the concept of 'the wilderness supporting communities and communities supporting the wilderness', driving conservation from beyond the immediate boundaries of tourism activity. Through generous donations from wildlife industries such as Safari Destinations, TFI already holds an impressive track record of helping and nurturing charities in making an impact.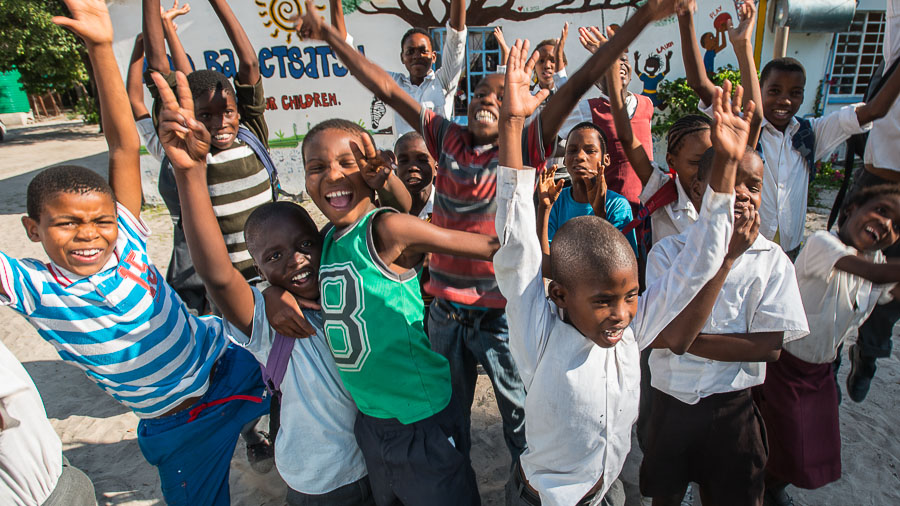 The Bed Bank encourages suppliers to donate bed nights to Safari Destinations, who in turn sell these bed nights on, passing the proceeds to Travel for Impact to support charities with their core costs.  As a Destination Management Company, Safari Destinations promotes Botswana's accommodation and tourism services to the global market. Our position puts us in contact with both suppliers and agents. The 'Bed Bank for Charity' grew naturally out of these relationships and is an initiative which will have a lasting and meaningful impact.
Lorraine and Ruth, Managing Director of Travel for Impact, both recognise that this concept is only possible with the support of suppliers. Both companies would like to express their gratitude to the following companies for their generous support of the Bed Night Bank: &Beyond; African Bushcamps; Bushways Lodges; Belmond; Footsteps in Africa; Ghoha Hills Savuti Camp; Machaba Camp; Meno A Kwena; Wilderness Safaris; Ngamiland Adventure Safaris; Sanctuary Retreats; Uncharted Africa; Mack Air; Okavango Expeditions; Capture Africa; Letaka Safaris; Safari Life; Great Plains; Safari Guides Services.
Follow the hand and make sure you have a positive impact in Botswana!
Why are safaris so expensive in Botswana?
Since my beginning with Safari Destinations this question haunted me on many occasions. Especially people who visited East Africa or travelled to more mainstream safari destinations like Namibia or South Africa before, are surprised when finding out how much more a safari to Botswana costs.
In order to get our head around the "price tags", we first need to understand the philosophy behind Botswana as a tourism destination: The strategy follows a high cost – low impact approach.
Low tourist density. The restrictions on allowed beds per concession area are quite strict compared to other countries. This means that a camp can only host a certain number of guests and only operates on a small-scale vehicle operation in order to minimize the human impact on nature. This automatically leads to a lower number of tourists in Botswana and makes the experience of the guests much more exclusive.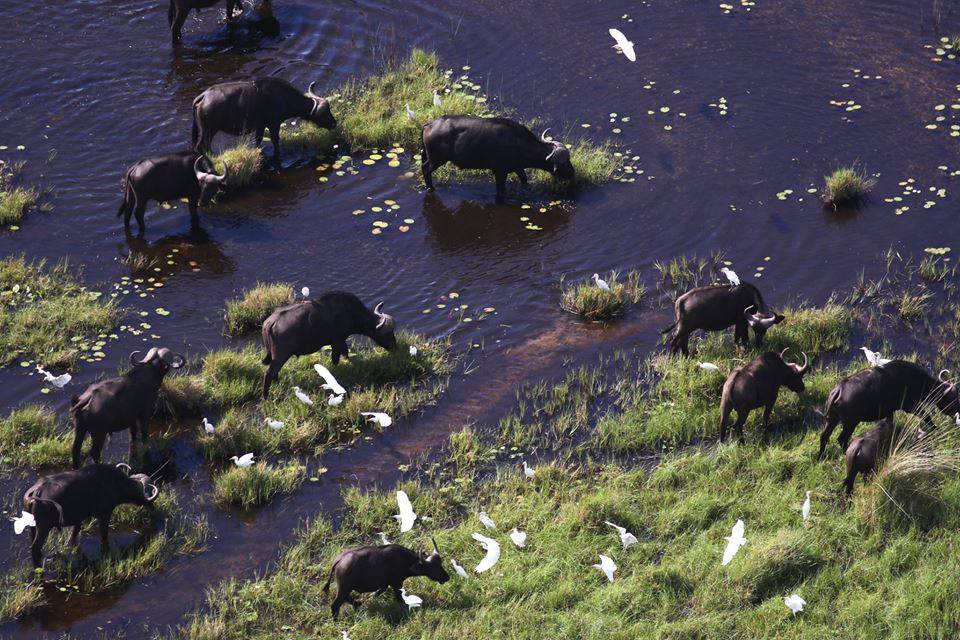 But please note: there is a difference between national parks and private concession in terms of accessibility and tourist frequencies!
Environmentalism & high costs: In order to run a camp in Botswana, the camp operator has to pay the government quite high conservation fees and leases for the areas. Together with the governmental restrictions, it encourages sustainable constructions in wildlife areas. The idea is that every camp is built in a sustainable way so that it can be removed completely after the lease expires, without leaving any traces in the landscape. And I think every person who has swapped from standard electricity to solar power knows how cost intensive the installation of such renewable energy sources is.
Both points have a convenient effect on the tourist experience on safari:
-        On game activity, tourists in Botswana (normally!) face fewer other tourists and have an exclusive wildlife sighting – meaning they only share it between fewer vehicles whereas in other destinations vehicles already queue to a certain extent in case of an exciting predator sighting.
-        Landscape is mainly impacted by natural forces and not by humans, which often goes along with strong photo opportunities. Moreover, most camps and mobile operators are perfectly equipped with open vehicles to make a photographic safari a success (no window-/vehicle frames, better light effects). This also creates a distinction between Botswana and other destinations, where only closed vehicles are allowed. Besides the clear commitment to photographic safaris by the companies, nature also does its part by providing unique undisturbed sceneries for its visitors and local people.
You don't believe me? Check out the following hashtags on social media platforms like Instagram, Facebook or Twitter to get an idea of the beauty of Botswana:
#lostinbots & #whyilivehere & #thisischobe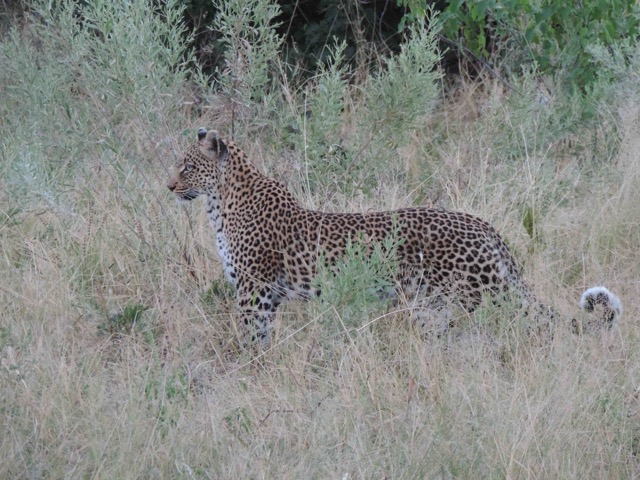 There you have a proof of the diversity of landscapes Botswana has to offer: massive rivers (e.g. Chobe), dry savannahs (e.g. Savute), fascinating river systems (e.g. Okavango Delta), impressive salt pans (e.g. Makgadikgadi) and the vastness of the Kalahari desert.
-        The diversity in landscape is not only an opportunity for landscape photography. It also provides different habitats and is therefore home to a wide range of animal species. Botswana boasts itself with "quality game", not "quantity game". Obviously we also count large herds of elephants and buffalos as well as comparably high numbers of predators (lions, leopards & cheetahs) in Botswana. But what other destinations can't compete with is the high number of rare species like: wild dogs, brown hyenas, leopards, sable and roan antelopes to name a few. Normally these animals are hardly ever seen on conventional safaris. Botswana however provides the habitats for them and therefore increases the chances of witnessing these rare species on safari.
All those points lead to an exclusive safari experience, which is reflected in a higher price tag. But behind the tourist experience is a mostly unknown enormous logistic expenditure. And these need to be taken into consideration before labelling Botswana as "expensive".
Food delivery and waste management: Botswana is a landlocked country, most supplies are imported from South Africa, by the time the food arrives in Maun it has travelled more than 1000 km already. From Maun the journey continues. Most camps are located in remote areas. In order to provide a culinary experience for guests during their stay, every single food item and can or bottle of beverage needs to be brought into camp. Due to most of them being inaccessible by road this is done by aircraft, which is not only a tremendously logistic operation but also results in high operational costs for the camps. And not only the fresh food is getting delivered, also the reverse transportation of waste out of wildlife areas takes place by aircraft.
High staff guest ratio: The staff members of the camps need to be flown in and out of camp (duty, leave, doctors visits,. ..) as well, and in order to deliver such a remarkable customer service the camps operate on high staff numbers. Normally 3 or more staff members are in camp for one guest.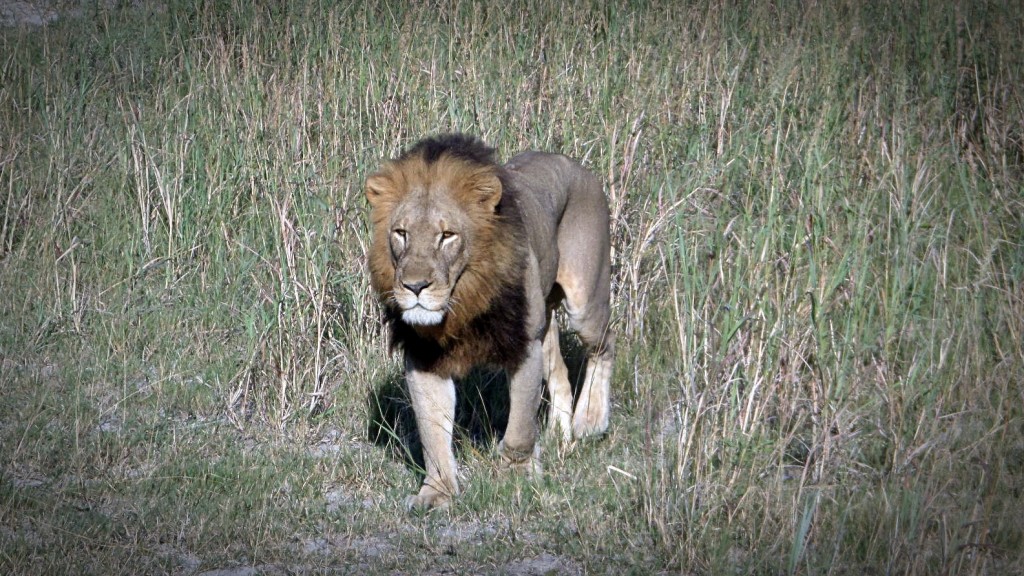 High maintenance costs: The location in the unspoilt wilderness also results in high maintenance costs for a camp. Water pipes break regularly because of animals impact, wood constructions or canvas need to be replaced several times – not only for the visual effect but also to be functional e.g. in keeping the heat out of a guests unit. The same applies to safari vehicles. They need to undergo frequent maintenance because of the "unhealthy" combination of water, heat and sand which quickly leads to signs of wear and tear. Additionally, spare parts need to find their way into camp which again involves logistical costs.
This shows that there are many visible and invisible components for the price tag.
Botswana – one of Africa's best kept secrets!
The wheels of the bus go round and round. Round and round. Round and round. Do you remember that childhood song? It's one of those little tunes that seem to get into your head and go round and round in a loop.
The reason for the song buzzing around every one's heads in the 10FOR50 Team though, is because we are incredibly excited about our most significant donation ever!
A Community Bus!
That's right; SD and TFI (though utilisation of SD derived bed night funding and our 10FOR50 contribution) have purchased a Community Bus.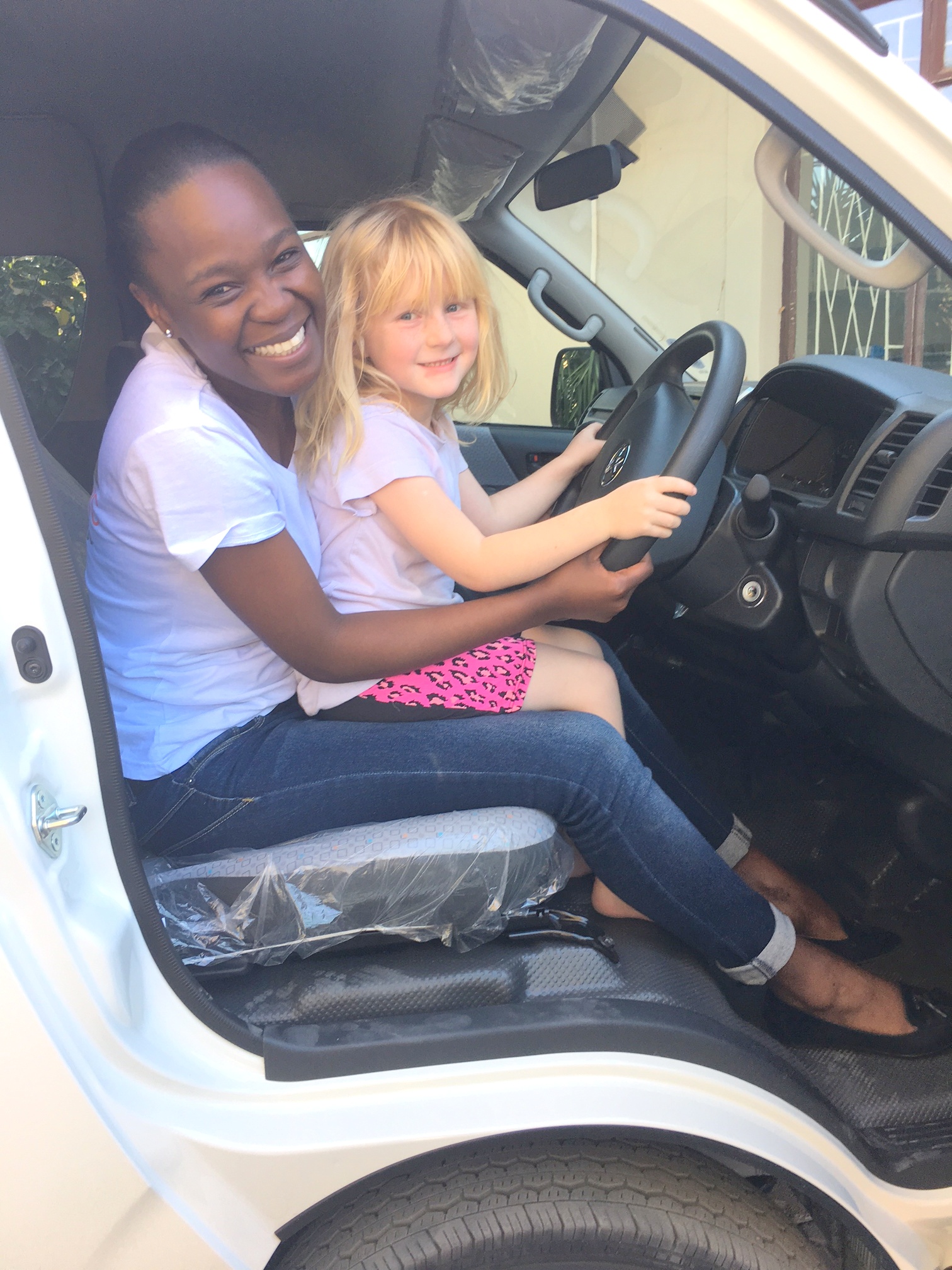 A common thread out of our recently held presentations from NGO's, and consultation with stakeholders, was the lack of reliable scheduled, free transport in Maun. Our bus is going to fill that void by solving the transportation challenges faced by Orphaned and Vulnerable Children (OVC's) and the Elderly.
Jointly managed by SD and TFI the bus will perform scheduled morning runs delivering nutritious meals daily to Elderly Members of our community, as well as providing them with transport to collect pensions, medical necessities etc. In the afternoons the bus will collect OVC's from their schools and transport them to Bana Ba Letsatsi and then back to their homes in the evenings.
We are so happy to be able to provide this service, which will provide mobility and independence to both the Future of our country by assisting our children as well as to the History of our country by assisting the Elderly.
This donation would not have been possible without the hard work, kindness and generosity of our Agents supporting the TFI Bed night Donation. A massive Thank You for your continued support!
Watch this space as we transform a bland 16 seater Mini-Bus into an awesome people moving, community supporting, Super Bus!
One last time…the wheels of the bus go round and round. Round and… (okay we'll shut up now)!
Mid August. This is the time of year when the winds come howling though town, filling the air with dust whipped off the Makgadikgadi Pans 100km away. It's also when intrepid SD staff members Storm and Karen trek across the Pans as Maun Moonwalkers to raise funds for breast cancer awareness. While they've been out training, we've been sensibly hunkered away out of the weather, busy on several fronts…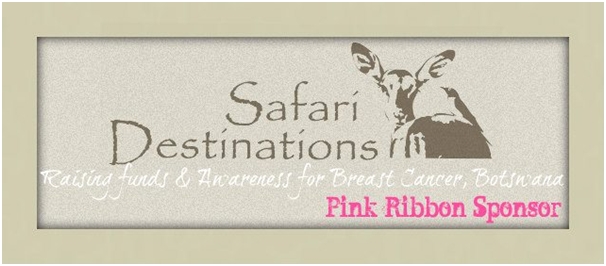 In light of the significant funding raised for TFI along with our 10FOR50 commitment of 500 man hours and a whopping P100,000.00 donation – we saw fit to arrange a series of presentations from TFI supported organisations, to hear from them how best to distribute funds.
In partnership with TFI, a representative panel was formed and presentations were requested from AGLOW; committed to caring for the Elderly, WAR; an Organisation providing counselling and refuge for victims of Gender Based Violence, Banna Ba Letsatsi; providing care and education for Orphaned and Vulnerable Children, MAWS; providing veterinary sterilisation and care to domestic animals and The Bush Ways Foundation, operating several social responsibility programmes in the Khwai Area.
The NGO's were invited to pitch for core ongoing funding and once off donations comprising both time spend and financial requests. Unfortunately our panel proved to be so enthusiastic in the Q&A sessions that all of the allocated times over ran. This resulted in a traffic jam of sorts in our reception area! Our sincere apologies again for the delays, however it was great to see the panels interest and eagerness to understand the NGO's requirements. As we plan on holding these assessments annually, we'll ensure that we allocate longer time slots next time!
Following on the presentations, we also visited the sites of the Maun based NGO's to gain a better understanding of their set up and daily operations. These sessions have been very useful in enabling TFI to strategise and streamline their core-funding as well as allowing us to identify crucial areas which will benefit from our 10FOR50 commitments.
Calculators have been rattled, pencils sharpened, hair pulled and now the results are in. Starting October 01 and continuing for a year, the following organisations will receive ongoing funding from TFI for their requested projects:
Banna Ba Letsatsi will receive funding to employ a full time, qualified councillor to head up their psychosocial unit along with contributions to food and fuel. WAR will receive funding to support their shelter matron – a key member of their staff
AGLOW will receive funding for the continued support of their current assistant as well as funding for two new assistants, food and fuel.
MAWS will continue to receive funding for the support of their two clinic volunteers.
Bush Ways Foundation will continue to receive support for their Trauma Care Counselling Courses.
For our 10FOR50 Hour Pledges, we are including the following projects to get involved with: 
WAR Reception: We are renovating the reception area at WAR over this coming weekend. We have solicited donations of material from the public and over and above this we will be donating the paint and painting material as well as the labour! Watch our FB page for pics and more info!
WAR Woman's Economic Empowerment Project: We are putting together a team to build a sustainable start up enterprise to provide employment for women who are assisted by WAR. The intention is for these ladies to be employed and financially empowered to assist them in breaking free from the cycle of violence they find themselves in. This will be a long term project by SD and it is envisaged that it will encompass all areas of our operations. It's a big task but one we are looking forward to!
Banna Ba Letsatsi Fun day: We are in the process of scheduling a fun day for SD staff to throw a party for the kids at BBL. We're planning a day full of fun and games – what all kids have a right to enjoy.
AGLOW Visits: We're in the process of scheduling visits to the Elderly around Maun. Sometimes the most important gift we can give is time. The idea is for volunteers to visit isolated elderly members of our community for companionship visits and assistance with household chores.
MAWS Halloween: Every year MAWS puts on a fantastic Halloween fundraiser. They desperately need volunteers to help out – SD will be there to assist!
We had a great response to our Winter Bundle Donations earlier this month. SD staff was invited to collect a blanket and warm jersey to deliver to whoever they felt needed it. It was fantastic to hear back from staff about their donations and wonderful to be able to effect random acts of kindness. Check out FB page to read some of the personal stories.
Last but not least, getting back to those brave (crazy?) Moonwalkers… as this is posted The Maun Moon Walkers will have finished off their epic 56km/90km treks across the Makgadikgadi Pans to raise funds for breast cancer awareness. Congratulations to all the participants, especially our SD ladies Storm and Karen!!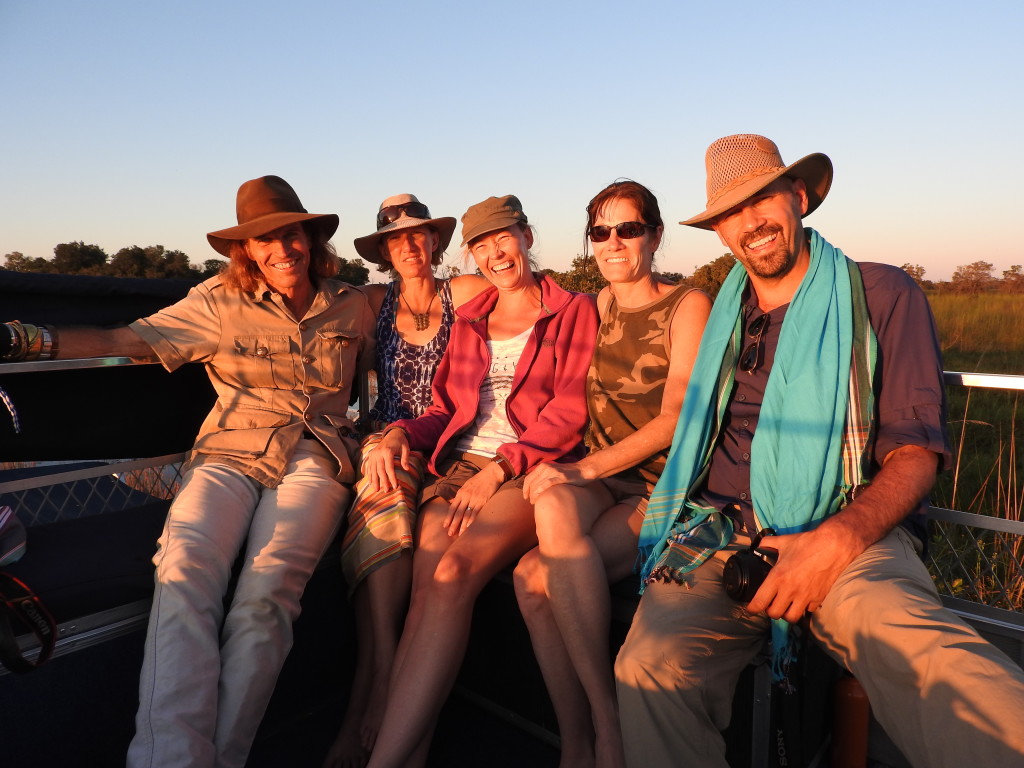 Wow – what a special experience! Recently I was privileged to join a group of agents on an Uncharted Africa educational to Moremi, the Delta and the Salt Pans.
Arriving at our mobile camp set up between 2nd and 3rd bridge in Moremi Game Reserve after dark was like arriving in fairy land, with all the lanterns down the pathways and throughout the camp.  Welcomed with a glass of sparkling wine, we were settled in.
This luxury mobile set up boasts a combination of elegance and a kind of exploration history giving you all the comforts of beds, en-suite bathrooms with bucket showers and flush toilets.  This was to be our home for the next 2 nights.  A mobile safari gives you a private camp feeling much closer to the bush than the infrastructure of any lodge.  Lying in bed at night and listening the bush come alive, as certain curious species of game come to inspect the different smells and activities of our camp.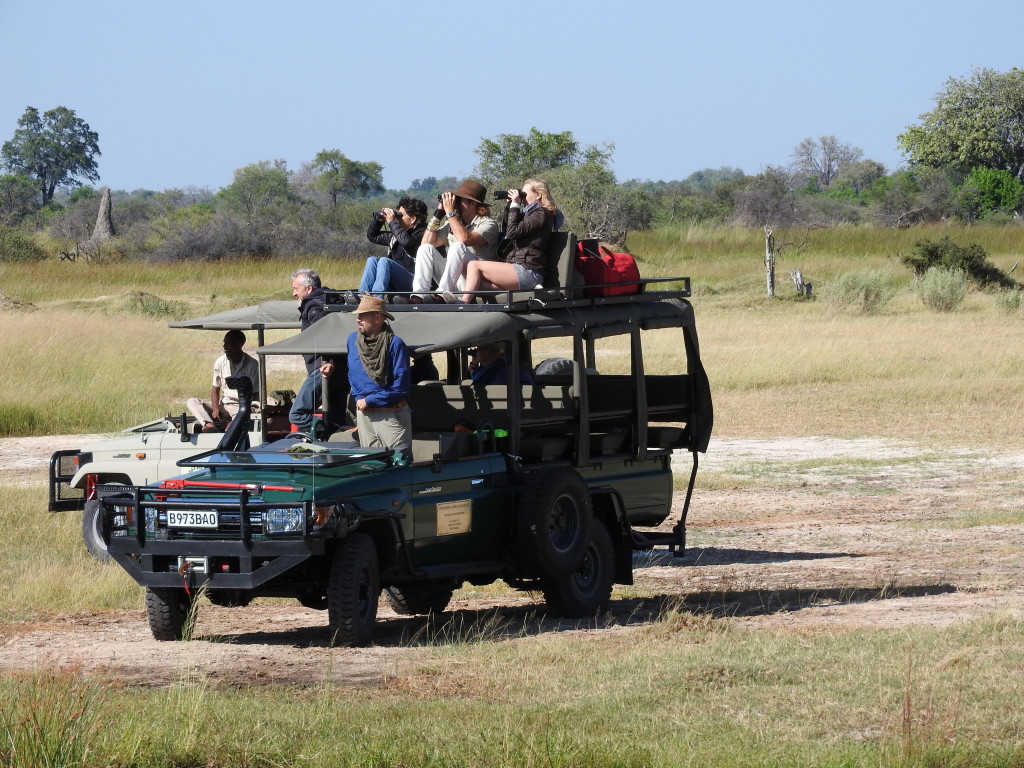 Our Guides, Ralph Bousfield and Greg certainly did not disappoint with their in depth knowledge and passion for the bush and stories of exploration, history, culture and scientific facts kept us all engaged and entertained the entire time we were with them.  The other advantage of a mobile safari is creating a trust and a bond with your guide that will be with you throughout your trip.
Day 3 we boated far into the Okavango Delta, to our Island stop where Devon (our Camp Manager) was waiting for us, fly camp set up, with more food and drinks.  Our set up was a roll mat with a mosquito net under the vast stars in the middle of the Okavango Delta. It gave us a feeling of being truly in the wild, in one of the most beautiful places on earth.  Here we experienced the water ways of the Delta, whilst competing against each other on the number of Sitatunga and Otters we spotted.  Nature walks around the island with Ralph proving to Simona we could still make a pizza from natural plants, mushrooms and shrubs on the island as well as curing malaria at the same time.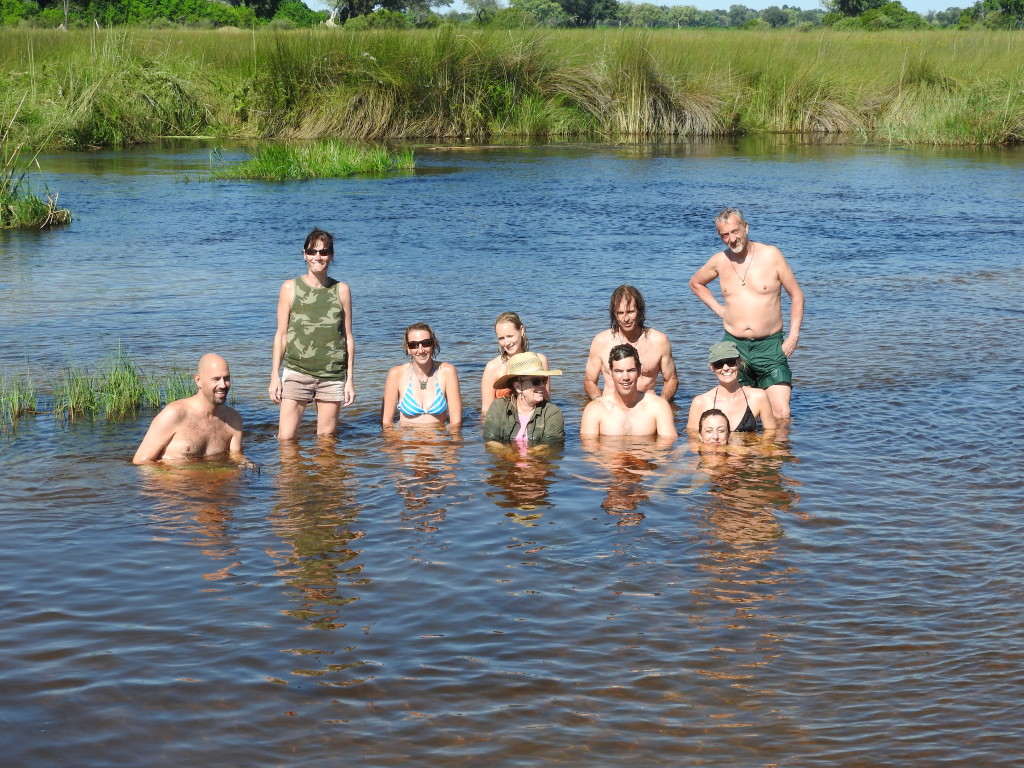 Day 4 our Delta experience was over and we flew out to the openness of the Makgadikgadi Pans.  Our home here for 2 nights was in the most feminine of all 3 Uncharted Africa camps, San Camp.
You have a choice of 3 camps all meeting 3 different styles and budgets, whilst you can all enjoy the same activities.
Camp Kalahari situated further back in the grasslands is the least expensive of the 3 camps. It is currently  raising all the tents, to allow the breeze to blow through and give you more of a view of the Pans.
San Camp being the lady of the 3, situated on the edge of the pans themselves is seasonal and only operational from April to October.  Its white tents on the edge of the pans gives you the true feeling of being on the moon.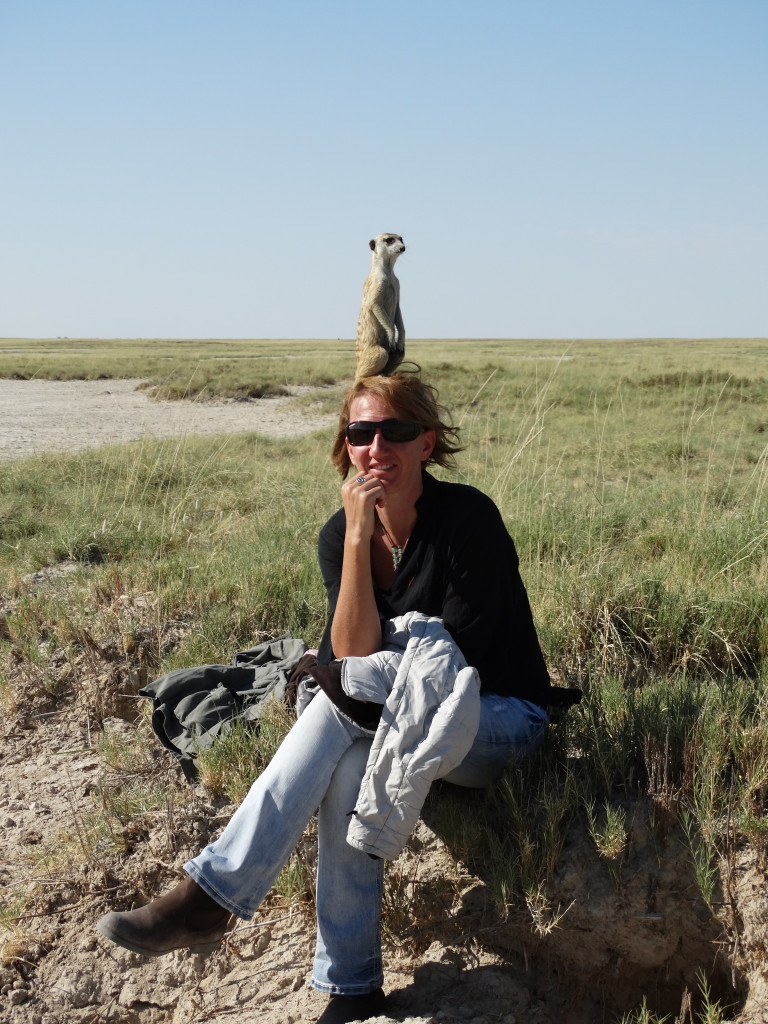 Jacks Camp, this colonial and historic camp based at the edge of the pans but slightly back into the grasslands is the grande-dame of the three.  Packed with history and science with their registered museum, it does look fabulous after the completion of its refurbishment.
One thing to mention on the activities, is all 3 camps run the same activities on a rotational cycle so that guests from 2 different camps don't do the same activity together.  This is the reason that a 3 night stay in the dry season is recommended to be offered the surprise sleep out (weather dependant).  Activities include a cultural bushman walk, game drives looking for more adapted desert species, quad biking in the dry season, following and interacting with the very comical habituated meerkats, horse riding as an optional extra and watching the sun set where it is so silent that your ears ring.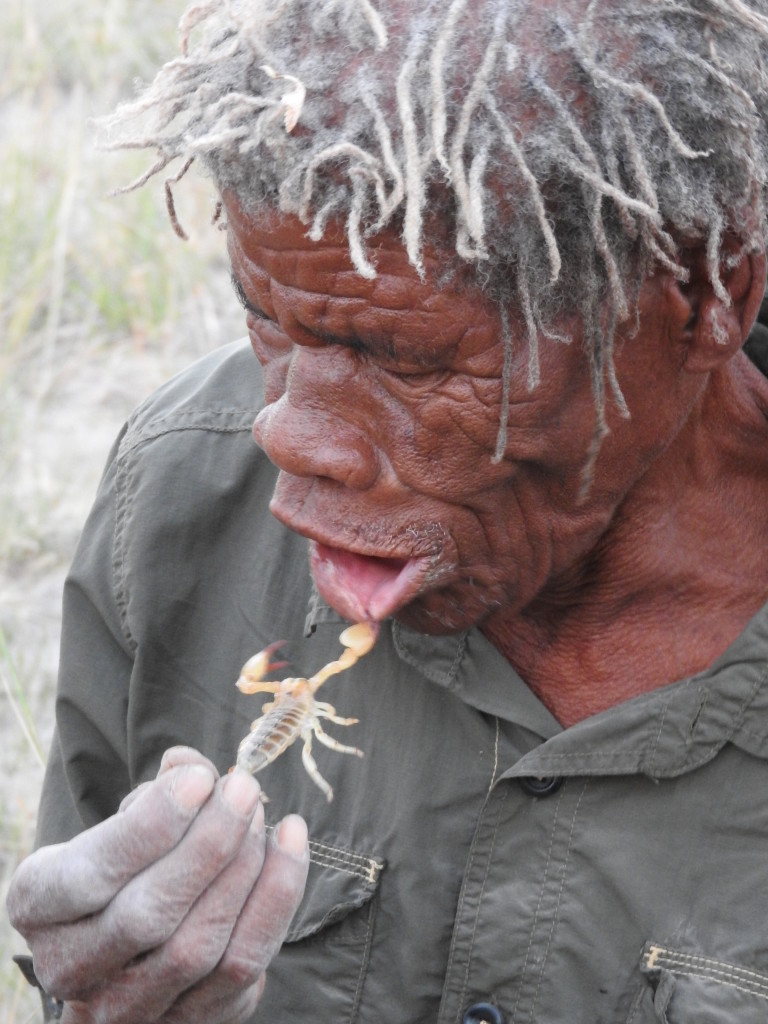 A safari to the Salt Pans is such a unique experience, from the Zebra migration in the Green Season to exploring the pans on quad bikes in the dry season, it should not be missed.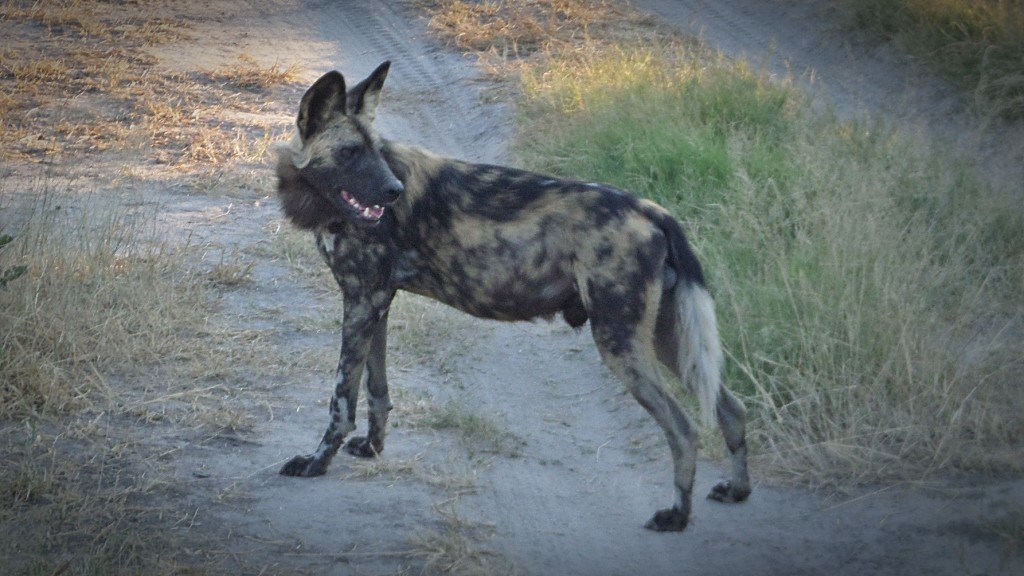 There is something about the private concessions in Botswana – they just never seem to fail! We were in for an absolute treat on our recent pre Indaba Famtrip where we hosted agents from around the globe. One of our agents had never been on a safari before and her expectations were completely exceeded when it came to the cats; and just as special, the African Wild Dog.
I recall sitting at the breakfast table at Shinde Camp, settling into a scrumptious spread, when an unknown voice from somewhere uttered the words … "wild dogs". We leapt up to take a closer look and in an instant blur of excitement and mere seconds, we were on the game drive vehicle with our trusted guide following the dogs. We found them and then lost them, found them again and then finally lost them when they disappeared into a thicket. They were on the hunt and it was not an easy task keeping up with them! Still we enjoyed those few precious moments and when we returned to the breakfast table our food had been keep warm and served once again.
We were lucky with the wild dogs in the Khwai concession too! This time it was a more relaxed setting and we watched a pack of 6 dogs go about the daily get up, walk 10 metres, lie down and take a break, get up and go another 10 metres, lie down and so forth. That was a special sighting and one I will remember for a long time still. Just when we thought our afternoon drive could not get any better, we came across a leopard walking in the road not far from our vehicle. My heart nearly skipped a beat … it had been nearly 10 years since I had seen a leopard in the wild. There is just something about a leopard sighting – it so magical watching this gracious and absolutely beautiful cat, so awe inspiring and a tick the box on the bucket list for most visitors to Africa.
Whilst we did not see any lion in the Khwai concession, we most certainly heard them that evening and that has to be the most incredible sound – the true call of the wild. Close your eyes for just a minute, imagine you are in your tent, separated only by a sheet of canvas to the bush around you, it is pitch dark and you cannot see your hand in front of your face….then the first call erupts from somewhere in the not too distant dark of night, a reply comes from another angle and then what sounded like a conference call amongst a pride, bellows through the silent, dark night. Nothing compares to that sound!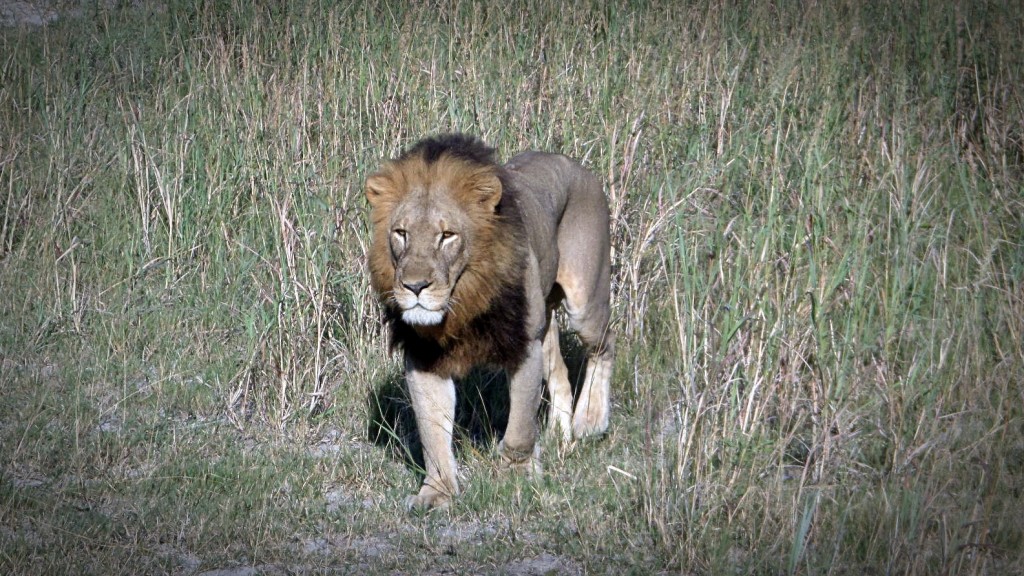 Selinda was probably my favourite concession, with vast open spaces dotted by a termite mound here and there. The grass was still high in places and we headed off to an area where a lioness and cubs had been seen the previous day. This was not an easy find and we all kept our eyes peeled on the bush around us, searching for that slight movement – something that might give their presence away. Our guide was committed and we continued searching, hoping to get a glimpse of these little cubs. Somewhere, someone noticed a small movement and there before our eyes were these absolutely gorgeous and perfect little cats! They were not perturbed with our presence and we were spoilt with a show in their African playground.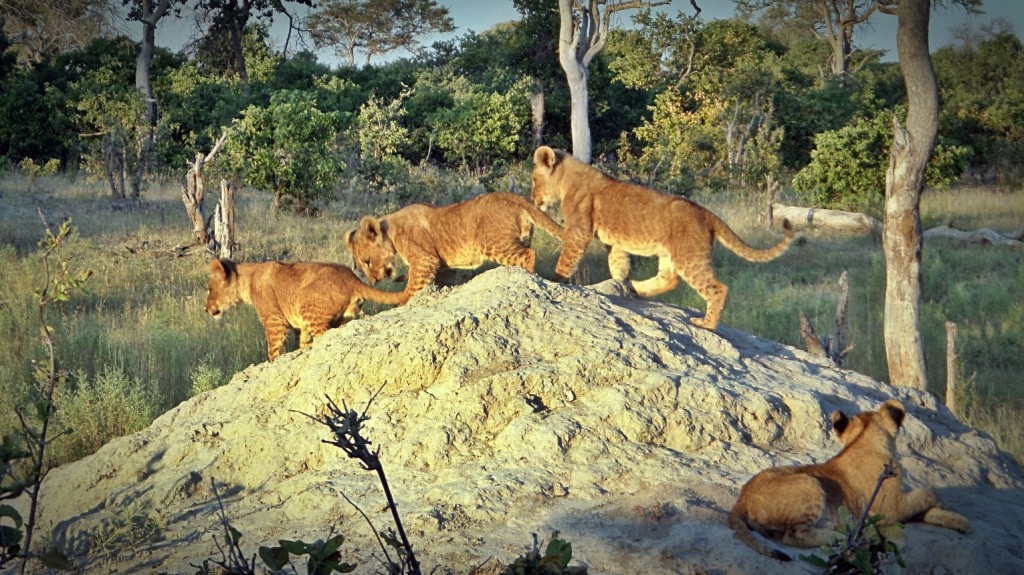 There are no guarantees when it comes to sightings, however I dare say, with strong concessions and committed guides, the experience of a lifetime is guaranteed.
Claire joined Safari Destinations only a few weeks ago. She is happy to share some impressions of her trip to Chobe with us!
As first time visitors to Botswana you would undoubtedly include Chobe on your itinerary – a journey would almost be incomplete without this! From breath-taking sunsets over the Chobe River to hippos frolicking in the water nearby, you may even get a close up encounter with one of Chobe's regular visitors – the African Elephant.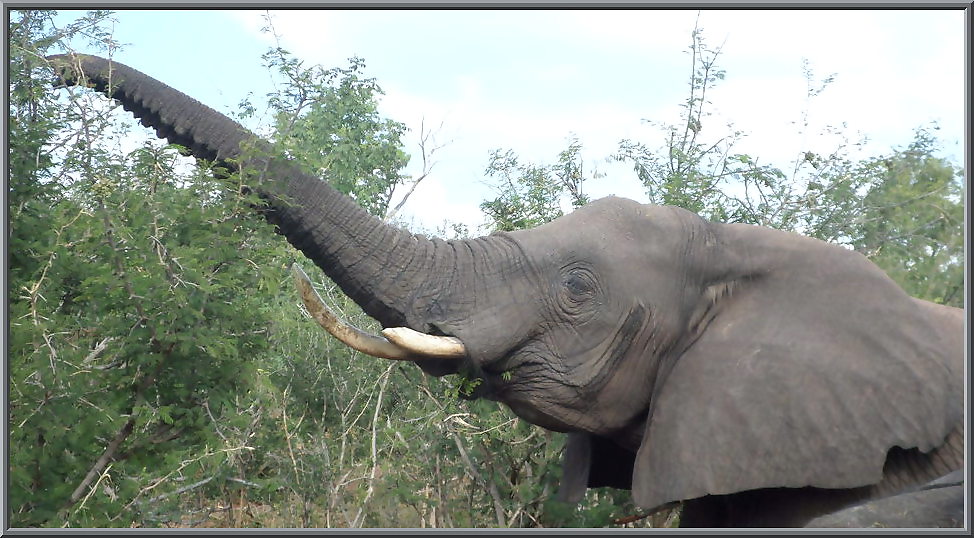 I was fortunate to visit during the milder month of April (although the day time high still reached the lower thirties), water levels were reasonably high after the late rains this year and this allowed for a spectacular sunset cruise on the Chobe River. Our guide was extremely knowledgeable and shared some history on the local people and their culture, the diversity of the animals living in the Chobe region as well as some humorous antidotes.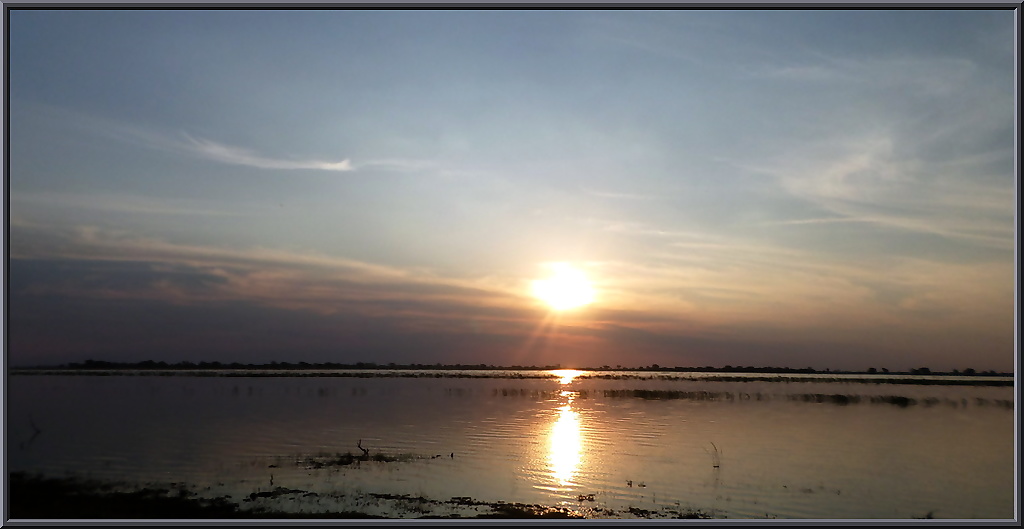 The Chobe National Park is vast and covers a large part of the north eastern part of Botswana, with Kasane being the small town that services the area. Accommodation ranges from camping grounds to small family lodges, as well as luxury bush camps and some larger lodges dotted along the riverfront. There is certainly an option to suit a variety of traveller needs. All offer morning, afternoon or full day trips; in open safari vehicles; to the National Park and most offer day trips to Victoria Falls.
I fell in love with Chobe, the friendly people and the simple way of life – not only is it a photographer's playground, it is a year round destination that invites you to experience a truly African adventure. Get #LostinBots with Safari Destinations!