Category Archives: Places
Mid August. This is the time of year when the winds come howling though town, filling the air with dust whipped off the Makgadikgadi Pans 100km away. It's also when intrepid SD staff members Storm and Karen trek across the Pans as Maun Moonwalkers to raise funds for breast cancer awareness. While they've been out training, we've been sensibly hunkered away out of the weather, busy on several fronts…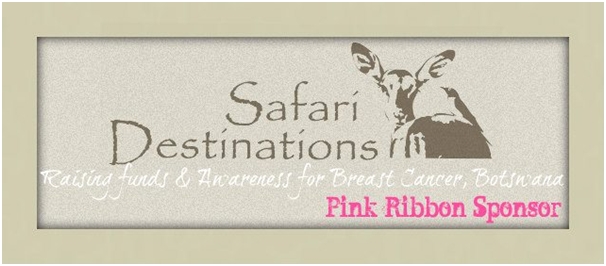 In light of the significant funding raised for TFI along with our 10FOR50 commitment of 500 man hours and a whopping P100,000.00 donation – we saw fit to arrange a series of presentations from TFI supported organisations, to hear from them how best to distribute funds.
In partnership with TFI, a representative panel was formed and presentations were requested from AGLOW; committed to caring for the Elderly, WAR; an Organisation providing counselling and refuge for victims of Gender Based Violence, Banna Ba Letsatsi; providing care and education for Orphaned and Vulnerable Children, MAWS; providing veterinary sterilisation and care to domestic animals and The Bush Ways Foundation, operating several social responsibility programmes in the Khwai Area.
The NGO's were invited to pitch for core ongoing funding and once off donations comprising both time spend and financial requests. Unfortunately our panel proved to be so enthusiastic in the Q&A sessions that all of the allocated times over ran. This resulted in a traffic jam of sorts in our reception area! Our sincere apologies again for the delays, however it was great to see the panels interest and eagerness to understand the NGO's requirements. As we plan on holding these assessments annually, we'll ensure that we allocate longer time slots next time!
Following on the presentations, we also visited the sites of the Maun based NGO's to gain a better understanding of their set up and daily operations. These sessions have been very useful in enabling TFI to strategise and streamline their core-funding as well as allowing us to identify crucial areas which will benefit from our 10FOR50 commitments.
Calculators have been rattled, pencils sharpened, hair pulled and now the results are in. Starting October 01 and continuing for a year, the following organisations will receive ongoing funding from TFI for their requested projects:
Banna Ba Letsatsi will receive funding to employ a full time, qualified councillor to head up their psychosocial unit along with contributions to food and fuel. WAR will receive funding to support their shelter matron – a key member of their staff
AGLOW will receive funding for the continued support of their current assistant as well as funding for two new assistants, food and fuel.
MAWS will continue to receive funding for the support of their two clinic volunteers.
Bush Ways Foundation will continue to receive support for their Trauma Care Counselling Courses.
For our 10FOR50 Hour Pledges, we are including the following projects to get involved with: 
WAR Reception: We are renovating the reception area at WAR over this coming weekend. We have solicited donations of material from the public and over and above this we will be donating the paint and painting material as well as the labour! Watch our FB page for pics and more info!
WAR Woman's Economic Empowerment Project: We are putting together a team to build a sustainable start up enterprise to provide employment for women who are assisted by WAR. The intention is for these ladies to be employed and financially empowered to assist them in breaking free from the cycle of violence they find themselves in. This will be a long term project by SD and it is envisaged that it will encompass all areas of our operations. It's a big task but one we are looking forward to!
Banna Ba Letsatsi Fun day: We are in the process of scheduling a fun day for SD staff to throw a party for the kids at BBL. We're planning a day full of fun and games – what all kids have a right to enjoy.
AGLOW Visits: We're in the process of scheduling visits to the Elderly around Maun. Sometimes the most important gift we can give is time. The idea is for volunteers to visit isolated elderly members of our community for companionship visits and assistance with household chores.
MAWS Halloween: Every year MAWS puts on a fantastic Halloween fundraiser. They desperately need volunteers to help out – SD will be there to assist!
We had a great response to our Winter Bundle Donations earlier this month. SD staff was invited to collect a blanket and warm jersey to deliver to whoever they felt needed it. It was fantastic to hear back from staff about their donations and wonderful to be able to effect random acts of kindness. Check out FB page to read some of the personal stories.
Last but not least, getting back to those brave (crazy?) Moonwalkers… as this is posted The Maun Moon Walkers will have finished off their epic 56km/90km treks across the Makgadikgadi Pans to raise funds for breast cancer awareness. Congratulations to all the participants, especially our SD ladies Storm and Karen!!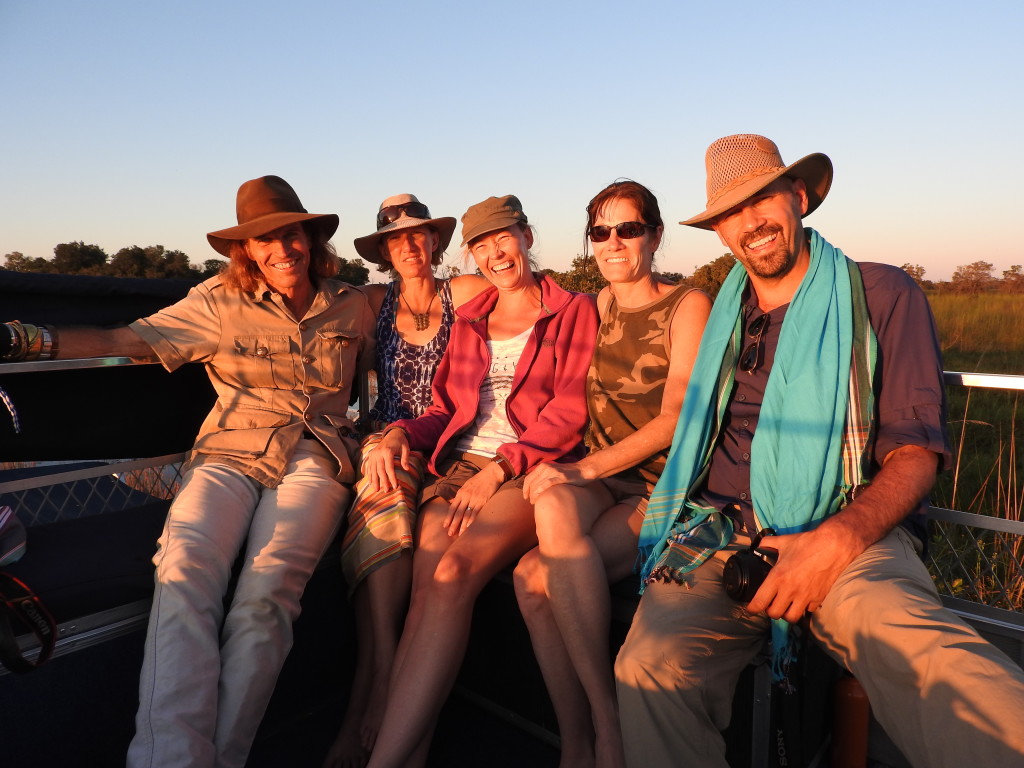 Wow – what a special experience! Recently I was privileged to join a group of agents on an Uncharted Africa educational to Moremi, the Delta and the Salt Pans.
Arriving at our mobile camp set up between 2nd and 3rd bridge in Moremi Game Reserve after dark was like arriving in fairy land, with all the lanterns down the pathways and throughout the camp.  Welcomed with a glass of sparkling wine, we were settled in.
This luxury mobile set up boasts a combination of elegance and a kind of exploration history giving you all the comforts of beds, en-suite bathrooms with bucket showers and flush toilets.  This was to be our home for the next 2 nights.  A mobile safari gives you a private camp feeling much closer to the bush than the infrastructure of any lodge.  Lying in bed at night and listening the bush come alive, as certain curious species of game come to inspect the different smells and activities of our camp.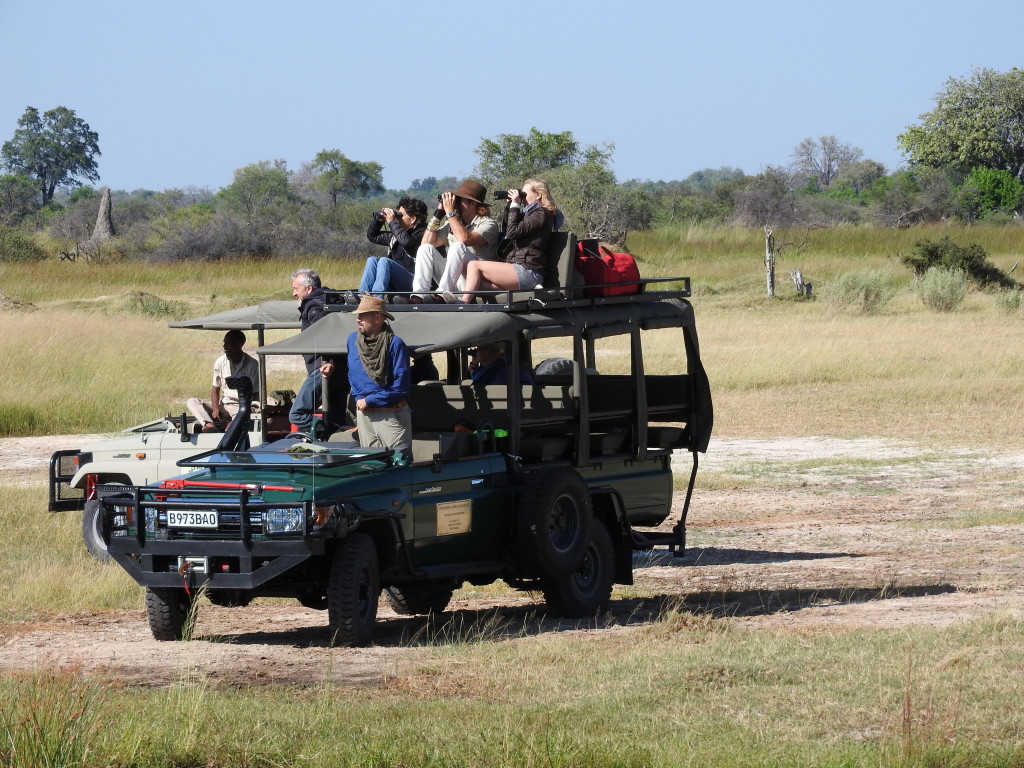 Our Guides, Ralph Bousfield and Greg certainly did not disappoint with their in depth knowledge and passion for the bush and stories of exploration, history, culture and scientific facts kept us all engaged and entertained the entire time we were with them.  The other advantage of a mobile safari is creating a trust and a bond with your guide that will be with you throughout your trip.
Day 3 we boated far into the Okavango Delta, to our Island stop where Devon (our Camp Manager) was waiting for us, fly camp set up, with more food and drinks.  Our set up was a roll mat with a mosquito net under the vast stars in the middle of the Okavango Delta. It gave us a feeling of being truly in the wild, in one of the most beautiful places on earth.  Here we experienced the water ways of the Delta, whilst competing against each other on the number of Sitatunga and Otters we spotted.  Nature walks around the island with Ralph proving to Simona we could still make a pizza from natural plants, mushrooms and shrubs on the island as well as curing malaria at the same time.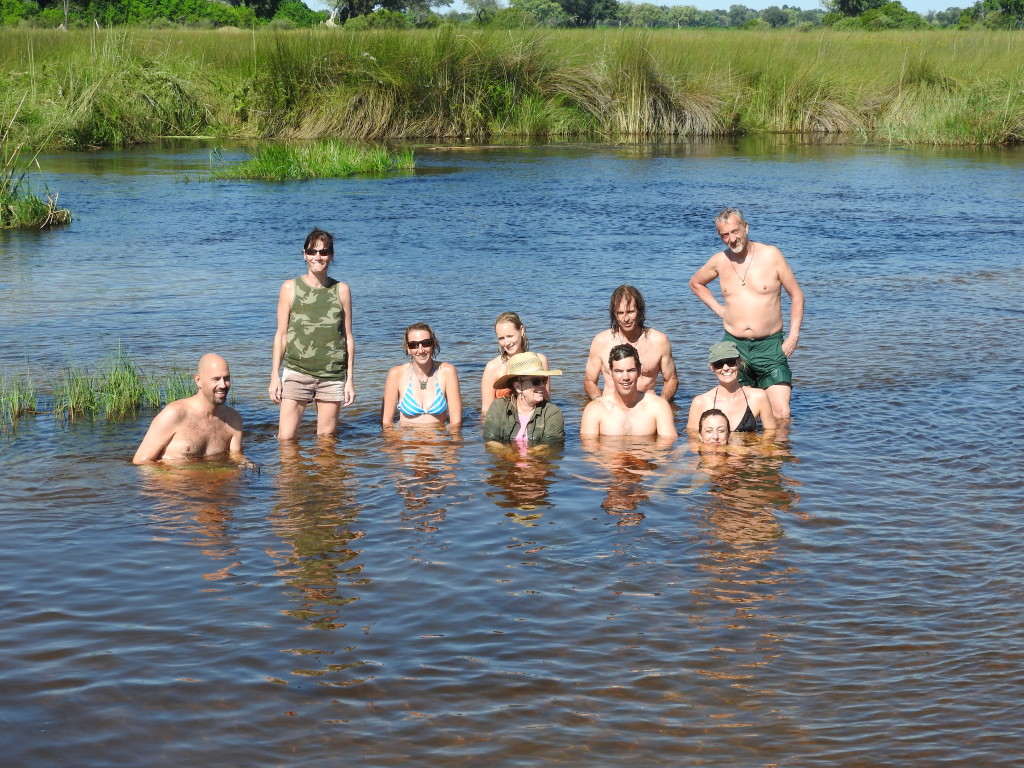 Day 4 our Delta experience was over and we flew out to the openness of the Makgadikgadi Pans.  Our home here for 2 nights was in the most feminine of all 3 Uncharted Africa camps, San Camp.
You have a choice of 3 camps all meeting 3 different styles and budgets, whilst you can all enjoy the same activities.
Camp Kalahari situated further back in the grasslands is the least expensive of the 3 camps. It is currently  raising all the tents, to allow the breeze to blow through and give you more of a view of the Pans.
San Camp being the lady of the 3, situated on the edge of the pans themselves is seasonal and only operational from April to October.  Its white tents on the edge of the pans gives you the true feeling of being on the moon.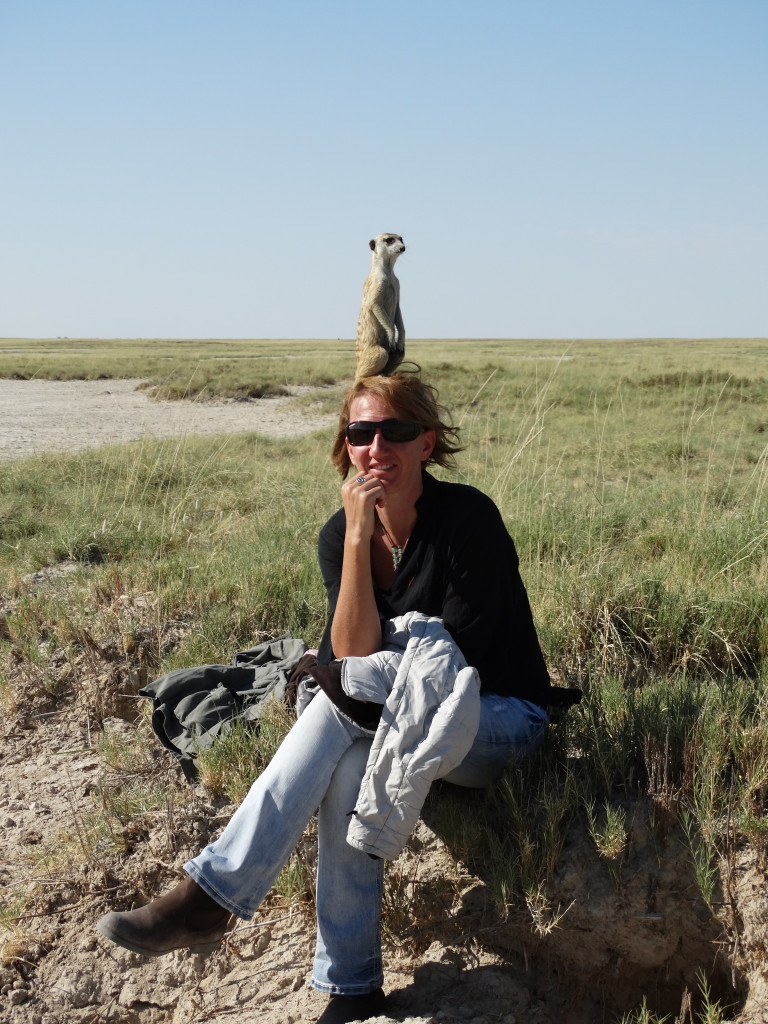 Jacks Camp, this colonial and historic camp based at the edge of the pans but slightly back into the grasslands is the grande-dame of the three.  Packed with history and science with their registered museum, it does look fabulous after the completion of its refurbishment.
One thing to mention on the activities, is all 3 camps run the same activities on a rotational cycle so that guests from 2 different camps don't do the same activity together.  This is the reason that a 3 night stay in the dry season is recommended to be offered the surprise sleep out (weather dependant).  Activities include a cultural bushman walk, game drives looking for more adapted desert species, quad biking in the dry season, following and interacting with the very comical habituated meerkats, horse riding as an optional extra and watching the sun set where it is so silent that your ears ring.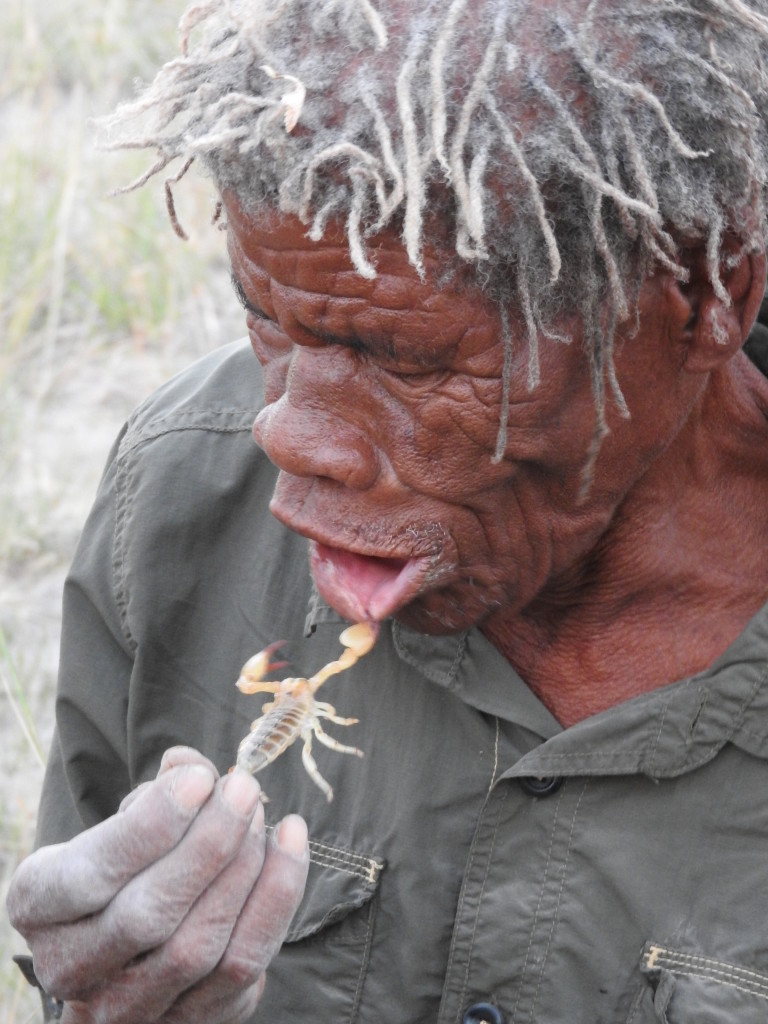 A safari to the Salt Pans is such a unique experience, from the Zebra migration in the Green Season to exploring the pans on quad bikes in the dry season, it should not be missed.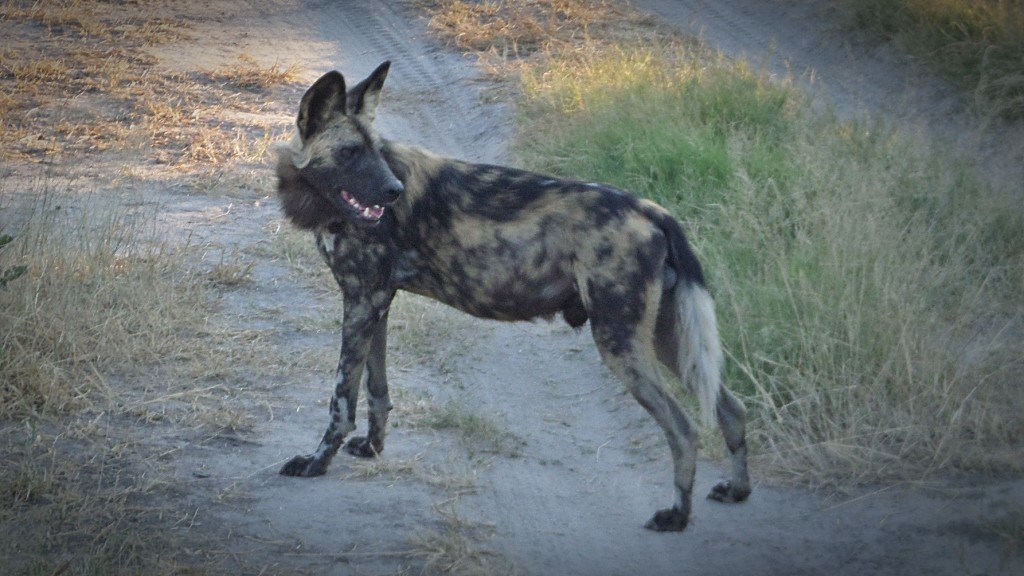 There is something about the private concessions in Botswana – they just never seem to fail! We were in for an absolute treat on our recent pre Indaba Famtrip where we hosted agents from around the globe. One of our agents had never been on a safari before and her expectations were completely exceeded when it came to the cats; and just as special, the African Wild Dog.
I recall sitting at the breakfast table at Shinde Camp, settling into a scrumptious spread, when an unknown voice from somewhere uttered the words … "wild dogs". We leapt up to take a closer look and in an instant blur of excitement and mere seconds, we were on the game drive vehicle with our trusted guide following the dogs. We found them and then lost them, found them again and then finally lost them when they disappeared into a thicket. They were on the hunt and it was not an easy task keeping up with them! Still we enjoyed those few precious moments and when we returned to the breakfast table our food had been keep warm and served once again.
We were lucky with the wild dogs in the Khwai concession too! This time it was a more relaxed setting and we watched a pack of 6 dogs go about the daily get up, walk 10 metres, lie down and take a break, get up and go another 10 metres, lie down and so forth. That was a special sighting and one I will remember for a long time still. Just when we thought our afternoon drive could not get any better, we came across a leopard walking in the road not far from our vehicle. My heart nearly skipped a beat … it had been nearly 10 years since I had seen a leopard in the wild. There is just something about a leopard sighting – it so magical watching this gracious and absolutely beautiful cat, so awe inspiring and a tick the box on the bucket list for most visitors to Africa.
Whilst we did not see any lion in the Khwai concession, we most certainly heard them that evening and that has to be the most incredible sound – the true call of the wild. Close your eyes for just a minute, imagine you are in your tent, separated only by a sheet of canvas to the bush around you, it is pitch dark and you cannot see your hand in front of your face….then the first call erupts from somewhere in the not too distant dark of night, a reply comes from another angle and then what sounded like a conference call amongst a pride, bellows through the silent, dark night. Nothing compares to that sound!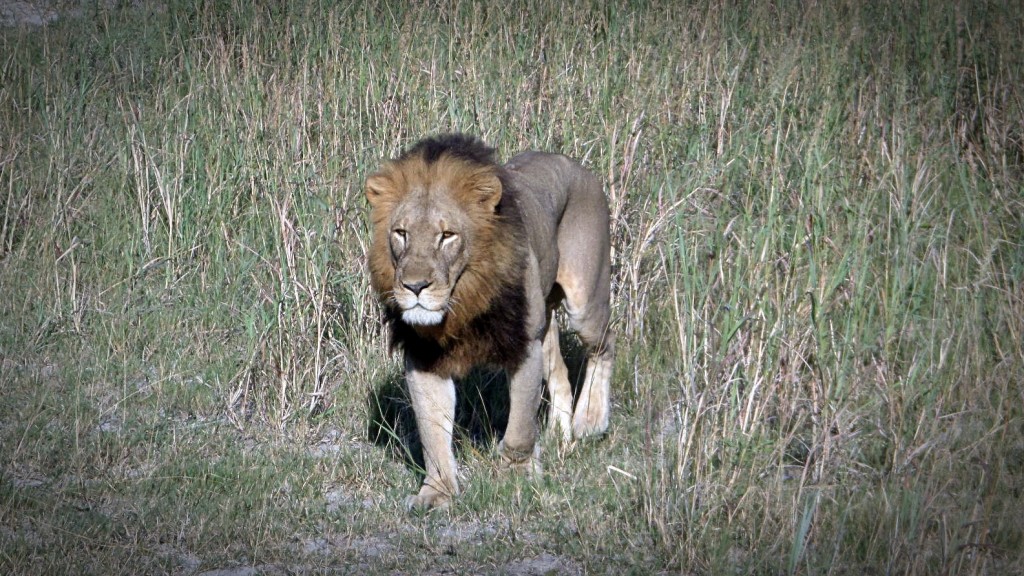 Selinda was probably my favourite concession, with vast open spaces dotted by a termite mound here and there. The grass was still high in places and we headed off to an area where a lioness and cubs had been seen the previous day. This was not an easy find and we all kept our eyes peeled on the bush around us, searching for that slight movement – something that might give their presence away. Our guide was committed and we continued searching, hoping to get a glimpse of these little cubs. Somewhere, someone noticed a small movement and there before our eyes were these absolutely gorgeous and perfect little cats! They were not perturbed with our presence and we were spoilt with a show in their African playground.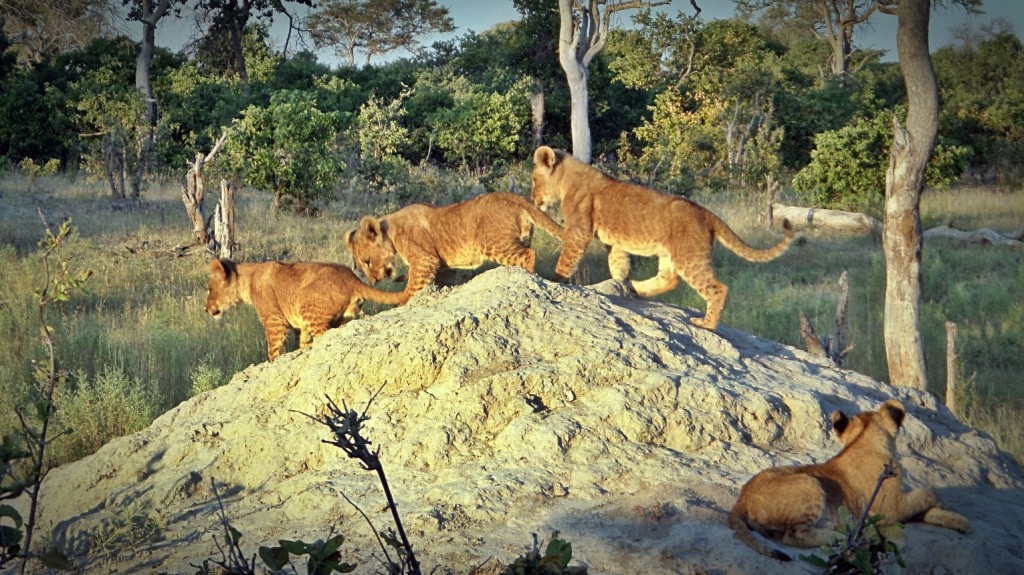 There are no guarantees when it comes to sightings, however I dare say, with strong concessions and committed guides, the experience of a lifetime is guaranteed.
Claire joined Safari Destinations only a few weeks ago. She is happy to share some impressions of her trip to Chobe with us!
As first time visitors to Botswana you would undoubtedly include Chobe on your itinerary – a journey would almost be incomplete without this! From breath-taking sunsets over the Chobe River to hippos frolicking in the water nearby, you may even get a close up encounter with one of Chobe's regular visitors – the African Elephant.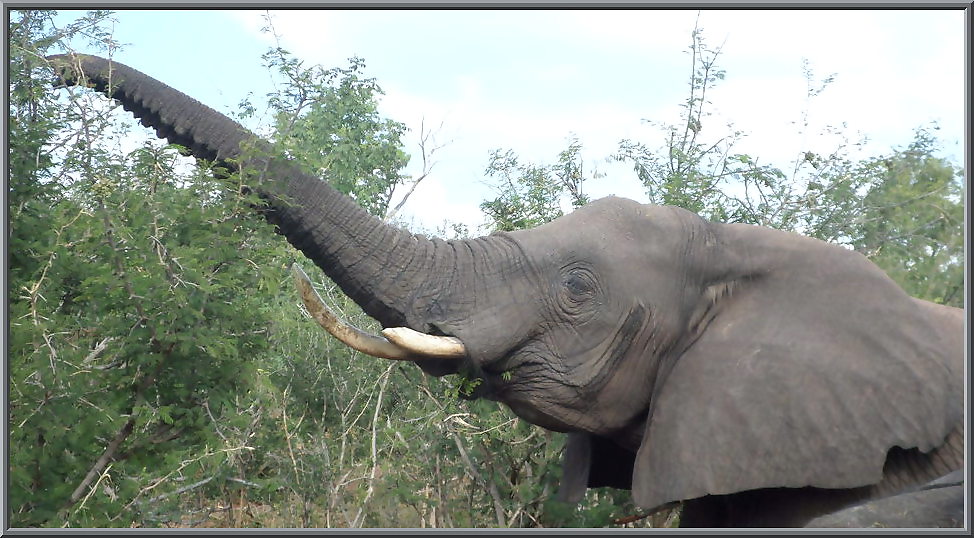 I was fortunate to visit during the milder month of April (although the day time high still reached the lower thirties), water levels were reasonably high after the late rains this year and this allowed for a spectacular sunset cruise on the Chobe River. Our guide was extremely knowledgeable and shared some history on the local people and their culture, the diversity of the animals living in the Chobe region as well as some humorous antidotes.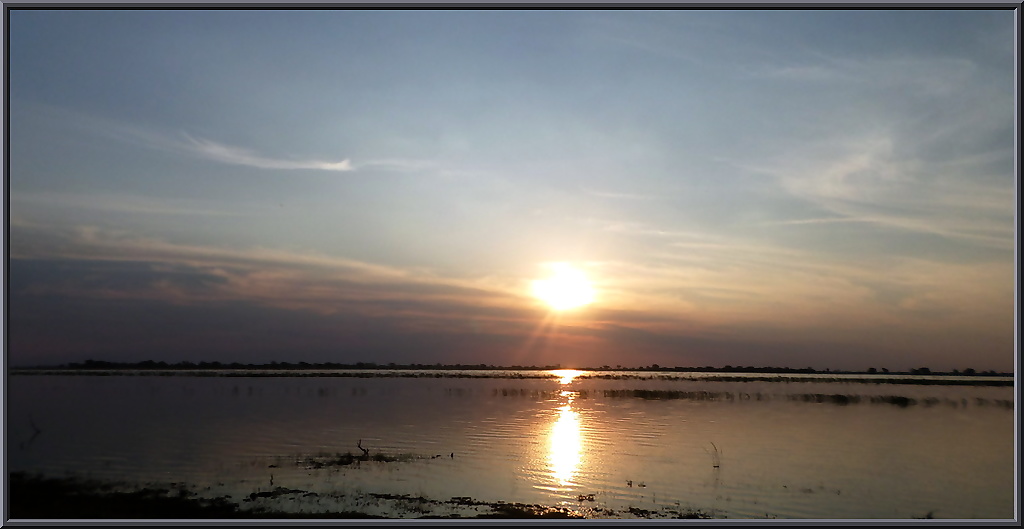 The Chobe National Park is vast and covers a large part of the north eastern part of Botswana, with Kasane being the small town that services the area. Accommodation ranges from camping grounds to small family lodges, as well as luxury bush camps and some larger lodges dotted along the riverfront. There is certainly an option to suit a variety of traveller needs. All offer morning, afternoon or full day trips; in open safari vehicles; to the National Park and most offer day trips to Victoria Falls.
I fell in love with Chobe, the friendly people and the simple way of life – not only is it a photographer's playground, it is a year round destination that invites you to experience a truly African adventure. Get #LostinBots with Safari Destinations!
What do termite mounds, elephants, river rafts and the Milky Way have to do with unforgettable food experiences?
While most people visiting Botswana expect to experience diverse wildlife & lush landscapes, what they don't often expect is a world-class culinary experience.
Here are our top six recommendations for unique dining experiences in Botswana
The Extraordinary Pizza Oven – Seba Camp
We all know how kids are… they love adventure and are busy exploring things all day long…until it comes to their palates. Once lunchtime arrives, there goes any spirit of discovery. But Seba Camp, deep in the magnificent Okavango Delta satisfies even the fussiest of eaters with their magnificent homemade pizza.
At Seba Camp, just as the kids think their morning game drive is wrapping up, they'll find themselves pulling up to a beautiful spot next to the water, where a stunning surprise bush picnic awaits with soft blankets and pillows for lounging, as well as a play area for the kids. And what piece-de-resistance awaits your adolescent explorers? A termite mound transformed into a pizza oven!
Kids have the opportunity to prepare their own pizzas with the help of a professional cook and an array of toppings (healthy is well disguised!). While pizzas bake in the termite mound oven, kids have time to play, giving parents a chance to close their eyes for a moment, or lazily watch elephants cross the river in the distance. Once the pizzas are wolfed down, the slow cruise back to camp by boat begins.
The Huckleberry Finn Experience – Xugana Island Lodge
Many people know the adventures of Huckleberry Finn who, together with a good friend, escaped the confines of daily life to raft down the Mississippi River. Fewer people know they can recreate the experience over a glass of wine and dinner for two while floating out into a star-lit lagoon from Xugana Island Lodge in the Okavango Delta.
Xugana Island Lodge appears to float above the waters of the Okavango Delta, surrounded by a papyrus-fringed oxbow lagoon. As the sunset fades and the tinkle of bell frogs begins, visitors can leave their island hide-away by pontoon, puttering out into the open water with nothing but the far-off snorting of hippos for company, far from the civilised world.
Once dessert is polished off, set a slow course back to camp, pulling into a jetty lined with hurricane lanterns to show you the way home.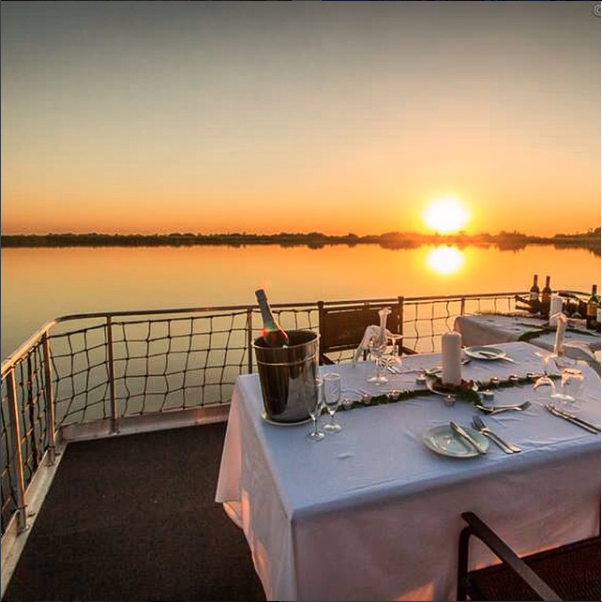 Starlight Dinner of Your 'Wildest Dreams' – Camp Kalahari
In her music video Wildest Dreams, Taylor Swift provides a small glimpse of the Makgadikgadi's breath-taking landscapes. Endless white saltpans surrounded by yellow grasslands dominate the area. In the evenings, as the sun sinks below the horizon, a curtain of brilliantly bright stars drops to the ground in all directions, creating the perfect backdrop for a night out in the nothingness.
At Camp Kalahari, open-air dining with a heavy dose of old-fashioned safari romance is the order of the day. Take a quad bike from camp and drive out towards the empty horizons, where the only objects to ever appear in the distance are the sun and the moon. While night descends, a twinkling of far-off light appears to be a new constellation at first, eventually revealing itself to be a lantern-filled dinner table, covered in fine china and gourmet food.
The silence and majestic surroundings perfectly complement the delicious menu Camp Kalahari serves up to create an unforgettable moment. Once the plates are cleared, you just might find your bed waiting close by, stuffed full of hot water bottles beneath the brightest stars you'll ever see (even in your wildest dreams!)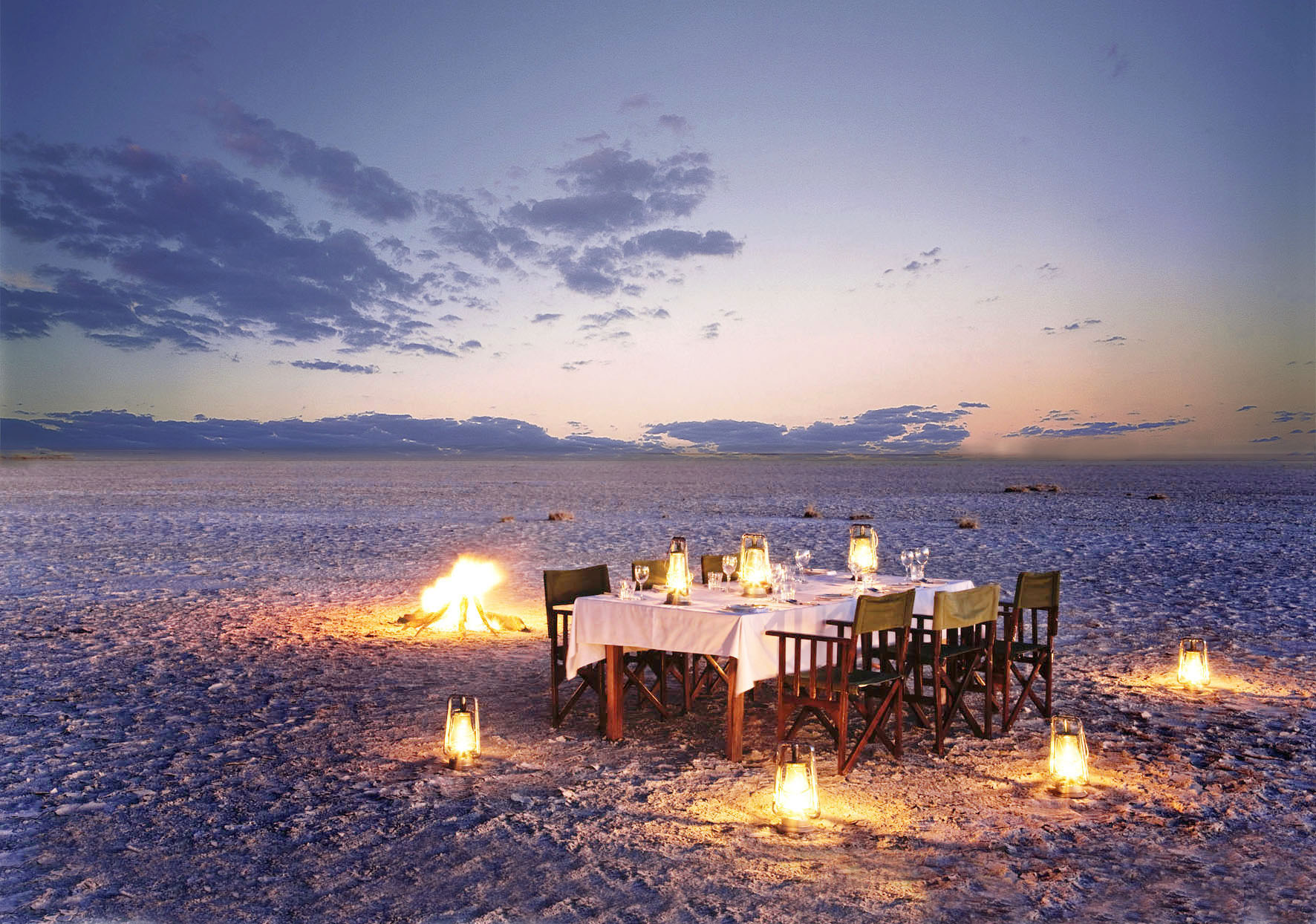 Brunch With the Giants – Stanley's or Baines' Camp
Elephants are one of the most fascinating creatures on our planet. Looming grey giants, they parade across the African savannah, completing the picture of a perfect wilderness. Usually, getting close enough to really appreciate an elephant's size isn't possible – unless you're visiting Stanley's or Baines' camp in the Okavango Delta.
Go walking through the bush with the elephants at Stanley's or Baines' Camp and be escorted by wrinkly-skinned hosts to a fantastic sit-down brunch, literally in the middle of nowhere. Walking with the elephants through the bush and talking to their guides allows you to understand elephants, and their behaviour, providing a real connection with nature. You'll sit down to eat, passing bread and butter along the table under the shade of your elephant hosts' umbrella-sized ears. Alice in Wonderland has nothing on this tea party!
Getting up close and personal with the elephants at Baines' Camp
Lunch at the Intersection of the Linyanti – Zarafa
Whatever waterway you see in the Linyanti, you can be guaranteed that the Zibadianja Lagoon has something to do with it. When water levels are good, this lagoon becomes more of a lake. And when bellies are empty, the best way to explore it is on board Zarafa Camp's luxurious barge, over the course of a decadent lunch.
The Zibadianja provides an intersection for many of Northern Botswana's waterways. Here, the Kwando River hits a fault-line, skimming the top of the lagoon before it changes its name to the Linyanti and makes a break for the Chobe. To the west, the Selinda Spillway reaches up from the Okavango Delta, connecting it to the lagoon in years of good rain. When the lagoon is full enough, it drains water south, feeding the Savuti Channel and eventually spilling out into the elephant-littered grasslands of the Savute Marsh.
Fully equipped with both lounge and dining area, the HMS Zib cruises the lagoon as elephants play in the shallows, birdlife skims the water, and guests enjoy the culinary delights of more-than-capable chefs. Top it all off with a cold glass of chenin blanc and you're guaranteed an afternoon not easily forgotten.
Testing the Waters in the Okavango Delta – Pelo Camp
Leonardo da Vinci once said, "Water is the driving force of all nature". At Pelo Camp, this is truer than ever, as guests merge with the unspoilt nature of Botswana's biggest UNESCO world heritage site during a bush brunch with a difference.
Heading out from camp by boat or mokoro, guests will find themselves perched on tables and chairs in the shallow floodplains of the Okavango Delta, atop bright, white sandbanks for a wet, but refreshing brunch.
Guests squish their feet into the clean, cool waters of the delta under their chairs, whilst savouring culinary delights in one of the most unique places on earth, surrounded by 360 degree views of palm tree dotted islands and open floodplains.
After brunch, a refreshing swim in the shallows of the Okavango Delta is on offer before a leisurely return to camp.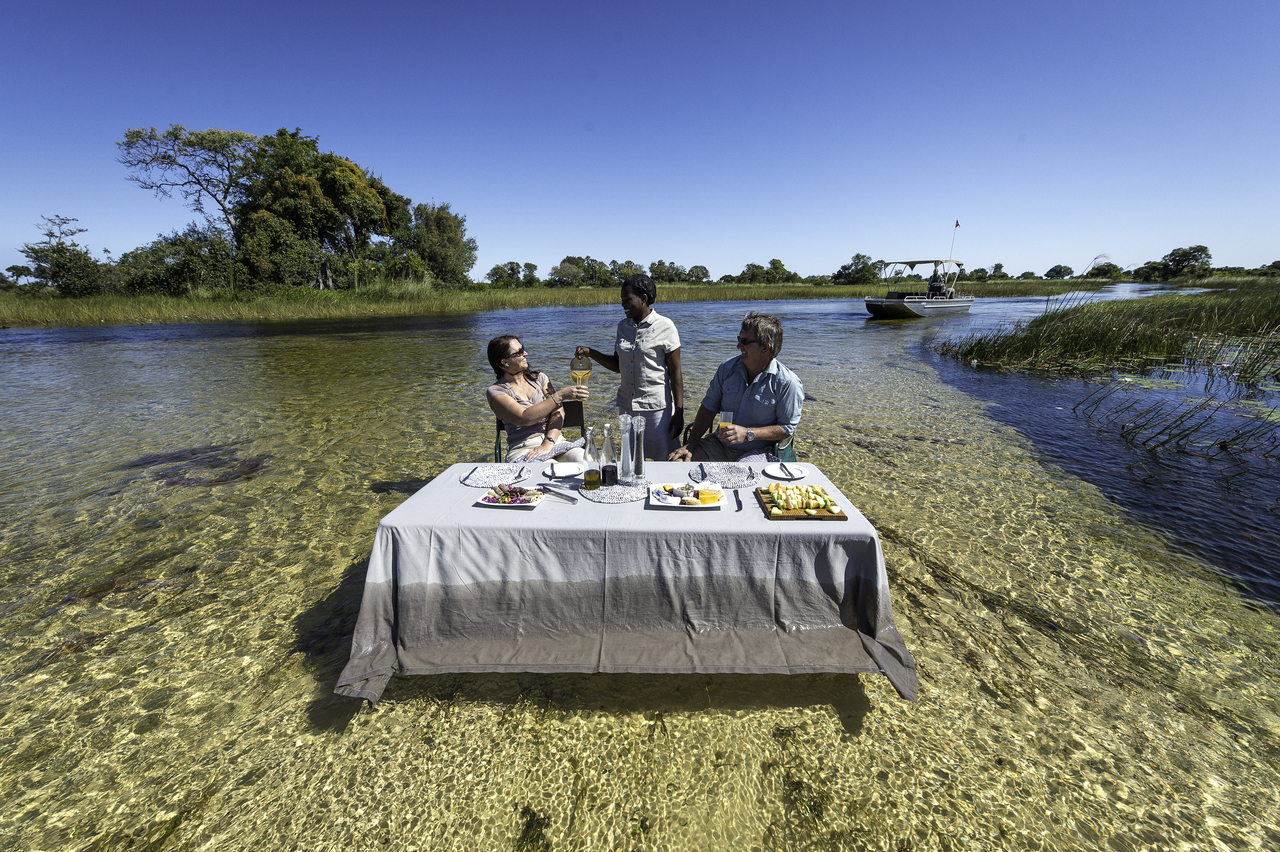 As you may be aware the water levels in the Delta are dropping fast and furiously this season. Boating and mekoro activities are being stopped in most areas as either there is no more water left, or it's packed with crocodiles and hippos who are holding on to the last bit of wet that is available out there, which means: we really don't want to place our guests in the middle of it all on a boat or mokoro.
The Okavango has gone through wet and dry spells as long as time. Local rainfall, Angolan rainfall, small seismic shifts in the underlying tectonics, it all makes for a rather involved and very unpredictable miracle of nature. For the past years, we could all lean back, almost guarantee water activities for most of the year in lots of areas and have our clients looking forward to gliding across the delta on a mokoro and zooming through the papyrus lined channels.
Currently we are looking at a totally different scenario, the Okavango is at its driest since a long time. I'm sure some clients will be a bit disappointed about missing out on their water experience. Did the Okavango cheat us? Maybe we have to change our approach in how we present it? The Okavango Delta is one of Africa's last wildernesses. There is no regulating its flows, it's left to nature, the water comes and goes and the animals adjust to whatever comes along. The delta has hundreds of different faces. Wetter ones, drier ones, and lots and lots in between. Every single season has its very unique upsides. Sure the bush is thick and rather impenetrable in the rains, but it also makes for wonderful lush background, for happy and relaxed animals, lots of babies everywhere, for dramatic skies, and it is all dotted by the summer migrants who come visit.
The dry months are more dramatic, the animals are bound to being close to water, there is high competition for food and the air vibrates around the hot spots. The lines between dry and wet months have started becoming rather blurry, climate definitely has changed. So maybe we should wave good bye to trying to predict the next season as clearly as possible and prepare our travellers as meticulously as we can on what exactly to expect. Let's rather convey a message of being open minded for anything that nature and the Okavango have up their sleeves for us. In average years it might be this and that, but we cannot know exactly, we can only guarantee that it will be wild, untamed, untampered with, that it will be "the real thing".
We need to focus on that Miracle of Nature and understand that change brings new opportunities in the Delta. The game is more concentrated as the water levels drop, and the sightings can be more varied and exclusive. This is the reality of our "Backyard" and rather than missing a water experience, you are part of one of Wildest Africa's greatest natural events.
Botswana may have bragging rights to the world's biggest elephant population, the Okavango Delta (recently named UNESCO's 1000th world heritage site) and salt pans the size of Switzerland, but it also keeps a few lesser-known bucket list tricks up its sleeve. Look beyond the traditional game drive or boat cruise and be rewarded with an unforgettable adventure to compliment the wildlife experience on offer.
1. Al Fresco Slumber Parties
Spend a night outside your tent and get acquainted with the map of the universe overhead. Botswana offers sleep-out experiences as varied as a traveller's many interests. Sleep a stone's throw from an elephants' bedroom (Abu Camp), follow the moon's trajectory over the Makgadikgadi salt pans (Uncharted Africa) or bed down amidst the sounds of the bush and the croaking of frogs in the Okavango Delta (Kanana, Baines' or Xudum).
Test it Out With: Our 8 Night "Botswana Focus – Superior" including 2 Nights The Elephant Camp (Victoria Falls), 2 Nights Ngoma Safari Lodge (Chobe / Ngoma), 2 Nights Kanana Camp (Okavango Delta) & 2 Nights Shinde Camp (Private Concession Bordering Moremi)
2. Get Amongst the Giants
Get up close and personal with the world's largest land mammal. Walking through the Okavango Delta in the shadow of an elephant and learning about their social politics is one of the most awe-inspiring memories you'll collect in the bush. Abu Camp, Baines' Camp and Stanleys' Camp all offer the opportunity to interact with elephants who keep calm in human company.
Test it Out With: Our 6 Night "Three Rivers – Deluxe" Package including 2 Nights Victoria Falls River Lodge (Victoria Falls), 2 Nights Selinda Camp (Linyanti) & 2 Nights Baines' Camp (Okavango Delta).
3. Learn to Survive in the Desert
Botswana boasts one of the oldest communities of hunter-gatherers on earth, the San bushmen. For thousands of years the San have been surviving in the harsh conditions of the Kalahari where most would die of thirst in a few short days. Practice speaking in clicks as the San guide you in the desert and watch in disbelief as they pull hidden food, water and survival tools out of the sand. Meno a Kwena on the Boteti River and Uncharted Africa on the Makgadikgadi Salt Pans are our personal picks for best place to experience the hunter-gatherer lifestyle first hand.
Test it Out With: Our 10 Night 'Adventure Safari – Option 2′ including 3 Nights Meno a Kwena Tented Camp (Boteti / Makgadikgadi), 2 Nights Sango Safari Camp (Khwai), 2 Nights Chobe Under Canvas (Chobe), 1 Night Ilala Lodge (Victoria Falls) and 2 Nights Pioneers Camp (Zambezi National Park – outside Victoria Falls)
4. Blaze Your Own Trail
So you've flown miles into the wilderness in a tiny charter plane, with nothing but bush in all directions, but it still doesn't feel remote enough? Pack up a tent and head off on an exploration of Botswana's waterways. Delve into the deepest Okavango Delta by mokoro from Oddball's Enclave, exploring islands and camping along the way. Alternatively, pick up your paddle and tackle the Selinda Spillway by canoe with Great Plains, stopping en route to rest your weary arms and explore the bush on foot. You might end up with a few blisters, but you'll take home even more stories – and they last longer!
Test it Out With: Our 10 Night 'Botswana Odyssey – Option 1′ including 2 Nights Gorges Lodge (Victoria Falls), 3 Nights Selinda Explorers' Camp (Linyanti), 3 Nights Machaba Camp (Khwai), 2 Nights Kalahari Plains (Central Kalahari Game Reserve)
5. Catch the View From the Top
There's no better way to view the maze of the Okavango Delta than from above. While planes are required to fly at higher altitudes, helicopters can set flight paths tracing water channels from just a few metres above. Try your hand at aerial photography as you hover above herds of plains game and stop to take in your surrounds on a remote island with a glass of champagne in hand. The Mombo concession is our pick for the best place to see animals from above (and the only area with a chance of seeing rhino) whereas taking off from a water camp (such as Baines' or Eagle Island) will give you the best idea of the lay of the land.
Test it Out With: Our "8 Night Botswana Focus – Premier" including 2 Nights Tongabezi – House (Livingstone), 2 Nights Zarafa Camp (Linyanti), 2 Nights Vumbura Plains (Okavango Delta), 2 Nights Mombo (Moremi Game Reserve) FREE UPGRADE TO HELICOPTER TRANSFER INCLUDED BETWEEN VUMBURA PLAINS & MOMBO
For details on the above mentioned itineraries, please log into our Agents' Corner and download full rates, inclusions and exclusions.  For suggestions on how to combine more than one of these experiences in any itinerary, check out our package overview or contact your dedicated consultant.
The words that come to mind to describe my recent five night horseback safari out of Camp Kalahari on the Makgadikgadi Salt Pans are exhilarating, mind blowing & adventurous
I am a keen horse rider and for any horse riding enthusiast this experience should be number one on your bucket list!
Heading out into the salt pans on horseback is for experienced riders only as it is tough going at times. This is a ride for those seeking adventure, along with the aching muscles and blisters from many hours in the saddle that go with it.
The feeling of riding amongst huge numbers of zebra during the green season and the freedom of cantering over the vastness of the Makgadikgadi Salt Pans is truly amazing. With miles of emptiness in front of you and nothing to hold you back but the speed your horse can go, you'll be left exhilarated… and believe me, the horses give it all they can as they love it just as much as the riders.
How does this differ from the rides in the Okavango Delta? Well to start with, you can leave earlier and come back later as the pans are so open and you can see for miles, reducing the fear of predators. The riding is much more relaxed and you can let your horse have some free reign when walking at a slower pace. When you're enjoying the freedom of a long canter you do not have to panic about your horse spooking at anything behind the bushes – so both horse and rider can enjoy every minute of being out there in the magical space of the Makgadikgadi.
The salt pans provide an unforgettable landscape experience with incredible sunsets and sunrises. The Makgadikgadi is a place to get acquainted with a bewildering lack of perspective and endless horizons, rather than trying to chase big game.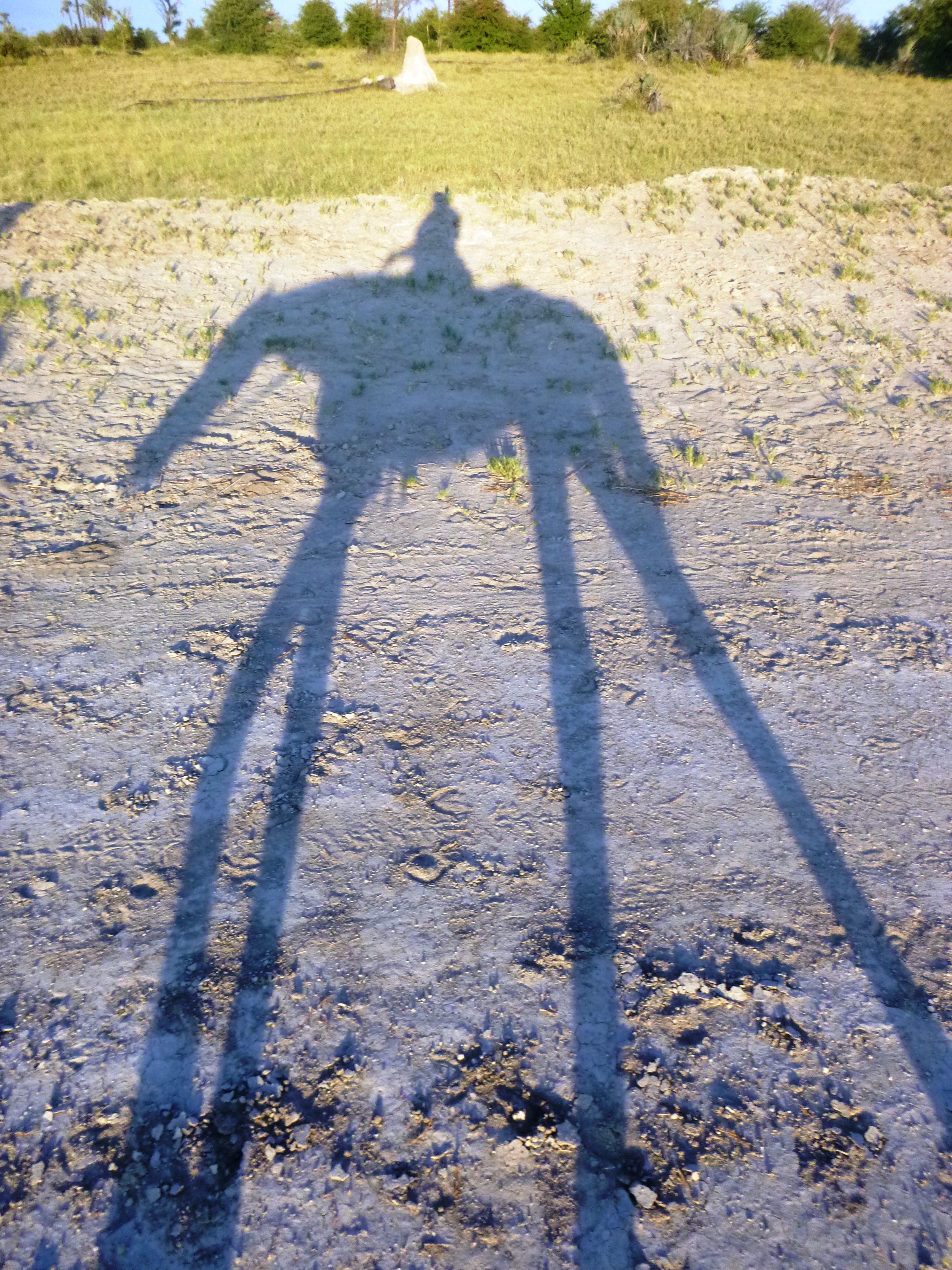 Once you get past the first impression of there being nothing in sight, you'll soon discover plenty to keep your mind reeling, from historical sites to hidden life. Africa's famous explorer Dr David Livingstone crossed the pans in the 19th century, using two massive baobabs, believed to be 3,000 to 4,000 years old as a navigation tool. Standing next to these giant succulents and tracing their marks with your finger will leave you marveling at what these trees have seen pass over the years. Discover the small things that live underground from meerkats to ground squirrels, insects and aardvarks.
If you visit at the right time of the year you may be lucky enough to experience the extraordinary journey of the zebras migrating in huge numbers to find food and water. Throughout the whole year you'll have the chance to walk through the desert with the San people who have been living a hunter gatherer lifestyle for thousands of years. Over the course of a few hours, they'll teach you their unique skill for finding food and water in an area where most would die of thirst.
Every day holds something new and exciting. Coming up with highlights is difficult when I loved every moment, but if I had to choose, this is how I'd start my list:
• Every sunrise and sunset on the pans is magical – each more beautiful than the one that came before it
• Chaplin's & Greens Baobabs – it's awe inspiring that you can stand below one of the largest trees in the world and physically touch the marks made by historical people like David Livingstone
• Stopping over at amazing waterholes in the Makgadikgadi for a fantastic siesta under the trees and magical moments with the zebras during tea time
• Seeing the vast open expanse of the Ntwetwe Pans was just out of this world – there is nothing out there, yet there is so much to take in and process, it's mind blowing and beautiful!
• Cantering alongside the zebras over the pans and through the grass lands is every rider's dream come true. There's nothing holding you back – it was invigorating and worth every aching muscle
• The meerkats were so cute and have a calming effect on you – don't ask me why but all their little chirping between each other makes you realise how harsh desert life is and how amazing they are to survive out there
• The bushmen – I really found walking with them eye-opening and wish I could have spent more time with them
• Riding out on the Salt Pans after dark and seeing the stars in all their glory
All in all, this is a definite must-do experience for keen horse riders seeking out an unforgettable experience to be repeated more than once.
Upon arrival at Stanleys Airstrip we were amazed about how much water has already arrived in the lower Delta. Just a few weeks ago on our last visit to the delta there were only few waterholes and sprinkles of water between thick bush and palm trees surrounded by sand banks and dried land. Our guide, Ice, welcomed us at the airstrip and on our 40 minutes game drive to Baines Camp we got the first impression that the flood had just arrived the day before. Making our way through waterholes, around termite mounts, through high thatching grass and between Palm trees we arrived at Baines Camp. Located in front of a beautiful lagoon with water all around camp, kingfishers hovering over the water and weavers building nests in the main area. It´s a magnificent atmosphere being in a true delta camp with the calls of the different birds, the hippos calling in the background, the wind whispering through the reeds and the peaceful quietness far away from civilization.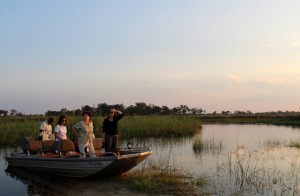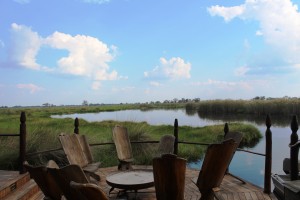 After settling into our room we are ready to go for high tea and excited about our first afternoon activity. To our surprise we are the first guests this season to go on a boat cruise, thanks to the newly arrived flood! The last boat cruise at Baines Camp was almost six months ago and now we are the lucky guests being spoiled with exploring the hidden parts of the delta. Having been on many boat cruises before and enjoying the smooth ride without the typical African bush massage, this one was special. Just the day before dry land and grass was covering the area around the camp. Now water was flowing through the reeds making it possible to see parts of the delta which are not accessible during summer months. The water was still brown and the bottom not visible. Only after a few weeks the reeds, the living microorganisms and the natural filtration will clean the water making it clear. Slowly we make our way through the channels, which is not that easy as the grass which is still floating in the water gets stuck in the propeller of the boat. We have to stop every now and then so our guide can pull out the reeds from the propeller. But this gives us time taking pictures of the scenery and enjoying the silence. The new flood also brings fish and new birds to the area, which we discover on the banks of the channels. Since the water is not that high yet we are able to stop at a small sandbank to have our sundowners. In between reeds, palm trees, papyrus and birds we watch the sun go down while enjoying our gin & tonic. As the sun disappears behind the horizon we make our way back to camp.
To watch the phenomena of the returning flood and what it does to the wildlife is an experience that can hardly be described. This is Botswana, the unpredictable Wildlife and ever changing landscape.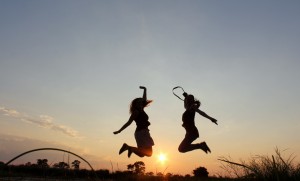 My recent visit to Sandibe Okavango Safari Lodge was a refreshing reminder of how special a green season safari in Botswana can be. Not all parts of Botswana are equal once the rains arrive, so the key is knowing which areas to visit and which to leave for the winter months. Many of the good year-round game viewing areas are in private concessions with higher price tags, but the good news is that discounted green season rates make them more accessible to those on tighter budgets. Visiting these areas in green season will give you a great bush experience, as well as the bells and whistles offered at these camps year-round, but for a fraction of the price.
The Chitabe concession, where you'll find Sandibe, is one area of Botswana which remains great year-round. On a two night stay we saw a cheetah, two prides of lions with their cubs, a female leopard calling for her mate from the tree tops, a pack of wild dog, two male giraffes fighting over a lady friend, countless elephants, plains game and spectacular bird life. The problem we encountered is that my five year old now thinks this kind of game viewing is normal! Although temperatures were soaring, we were treated to a spectacular evening thunder shower followed by the welcome relief of a cool and cloudy day.
I was travelling with my family, including my two young daughters Taylor and Megan. Travelling with small children presents its challenges but is equally rewarding. Megan may only be able to say a handful of words but she can now mimic a baboon beautifully! The staff at Sandibe catered to the kids perfectly and were ready to assist and entertain at every turn. Taylor was welcomed on arrival by a goodie bag filled with safari nick-nacks and squealed with delight when we stumbled upon a cooler box hanging from a tree during our afternoon drive, only to find it filled with home-made ice pops.
Meal times were flexible and the kiddies' menu put my home cooking to shame. Having our own private vehicle and guide allowed us the freedom to come and go as we liked without worrying about other guests and our guide and tracker were constantly engaging the children. For families saving up for a once in a lifetime safari, the minimum age of six years and up ensures kids experience the bush when they're at an age to appreciate and make the most of it.
Sandibe caters brilliantly to the grown-up kids as well. Whilst I have been lucky enough to visit many camps over the years, this was my second visit to &Beyond, and the second time I have been blown away by the food experience. So many operators fall short when it comes to what their kitchens produce, using the excuse that a safari is about the wildlife and not the food. With &Beyond, you can have your cake and eat it – Sandibe delivered to the very highest of standards, both on the game viewing and the culinary treats. Indulging in naughty delights is a big part of what being on holiday is all about and at Sandibe, they know how to make every calorie count.
The design and amenities at Sandibe are both cutting edge and controversial in the safari world. The lodge lacks the true sense of being in the outdoors that you'll get when staying in a more rustic tented camp. I didn't leave with my clothes smelling of campfire smoke, nor did I lie awake excited by the sounds of the night as the hum of air-conditioning blocked out external noises. I did however enjoy the luxury of a plunge pool during the heat of the day and cold drinks in my room during afternoon siestas, as well as the private butler and consultations with the chef during meal times, creating a very personal experience.
Whatever you prefer is a matter of choice and there are many first time safari guests who would take great comfort in the solid structure of the rooms (no canvas walls here!) and the modern comforts on hand. The design of the camp is spectacular, though I'm curious to see how the buildings will age under the challenges of maintaining a camp in the bush. Despite the money and expertise put into the design of the camp, there are a few obvious design flaws some guests may find frustrating. For the level of the camp, the rooms could have more room, and unless you're extremely comfortable with your co-traveller, a lack of privacy in the rooms will require advance coordination of shower times.
All in all we had an incredible weekend and I can highly recommend Sandibe on every level.
Back to the office and my diet on Monday!