Category Archives: Places
What do termite mounds, elephants, river rafts and the Milky Way have to do with unforgettable food experiences?
While most people visiting Botswana expect to experience diverse wildlife & lush landscapes, what they don't often expect is a world-class culinary experience.
Here are our top six recommendations for unique dining experiences in Botswana
The Extraordinary Pizza Oven – Seba Camp
We all know how kids are… they love adventure and are busy exploring things all day long…until it comes to their palates. Once lunchtime arrives, there goes any spirit of discovery. But Seba Camp, deep in the magnificent Okavango Delta satisfies even the fussiest of eaters with their magnificent homemade pizza.
At Seba Camp, just as the kids think their morning game drive is wrapping up, they'll find themselves pulling up to a beautiful spot next to the water, where a stunning surprise bush picnic awaits with soft blankets and pillows for lounging, as well as a play area for the kids. And what piece-de-resistance awaits your adolescent explorers? A termite mound transformed into a pizza oven!
Kids have the opportunity to prepare their own pizzas with the help of a professional cook and an array of toppings (healthy is well disguised!). While pizzas bake in the termite mound oven, kids have time to play, giving parents a chance to close their eyes for a moment, or lazily watch elephants cross the river in the distance. Once the pizzas are wolfed down, the slow cruise back to camp by boat begins.
The Huckleberry Finn Experience – Xugana Island Lodge
Many people know the adventures of Huckleberry Finn who, together with a good friend, escaped the confines of daily life to raft down the Mississippi River. Fewer people know they can recreate the experience over a glass of wine and dinner for two while floating out into a star-lit lagoon from Xugana Island Lodge in the Okavango Delta.
Xugana Island Lodge appears to float above the waters of the Okavango Delta, surrounded by a papyrus-fringed oxbow lagoon. As the sunset fades and the tinkle of bell frogs begins, visitors can leave their island hide-away by pontoon, puttering out into the open water with nothing but the far-off snorting of hippos for company, far from the civilised world.
Once dessert is polished off, set a slow course back to camp, pulling into a jetty lined with hurricane lanterns to show you the way home.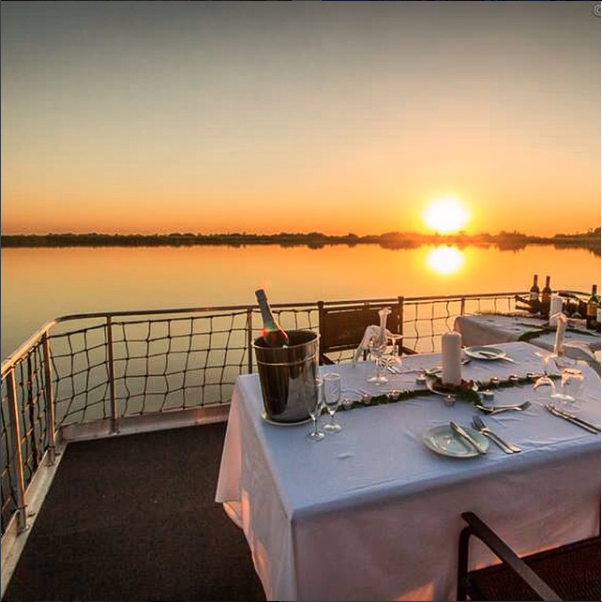 Starlight Dinner of Your 'Wildest Dreams' – Camp Kalahari
In her music video Wildest Dreams, Taylor Swift provides a small glimpse of the Makgadikgadi's breath-taking landscapes. Endless white saltpans surrounded by yellow grasslands dominate the area. In the evenings, as the sun sinks below the horizon, a curtain of brilliantly bright stars drops to the ground in all directions, creating the perfect backdrop for a night out in the nothingness.
At Camp Kalahari, open-air dining with a heavy dose of old-fashioned safari romance is the order of the day. Take a quad bike from camp and drive out towards the empty horizons, where the only objects to ever appear in the distance are the sun and the moon. While night descends, a twinkling of far-off light appears to be a new constellation at first, eventually revealing itself to be a lantern-filled dinner table, covered in fine china and gourmet food.
The silence and majestic surroundings perfectly complement the delicious menu Camp Kalahari serves up to create an unforgettable moment. Once the plates are cleared, you just might find your bed waiting close by, stuffed full of hot water bottles beneath the brightest stars you'll ever see (even in your wildest dreams!)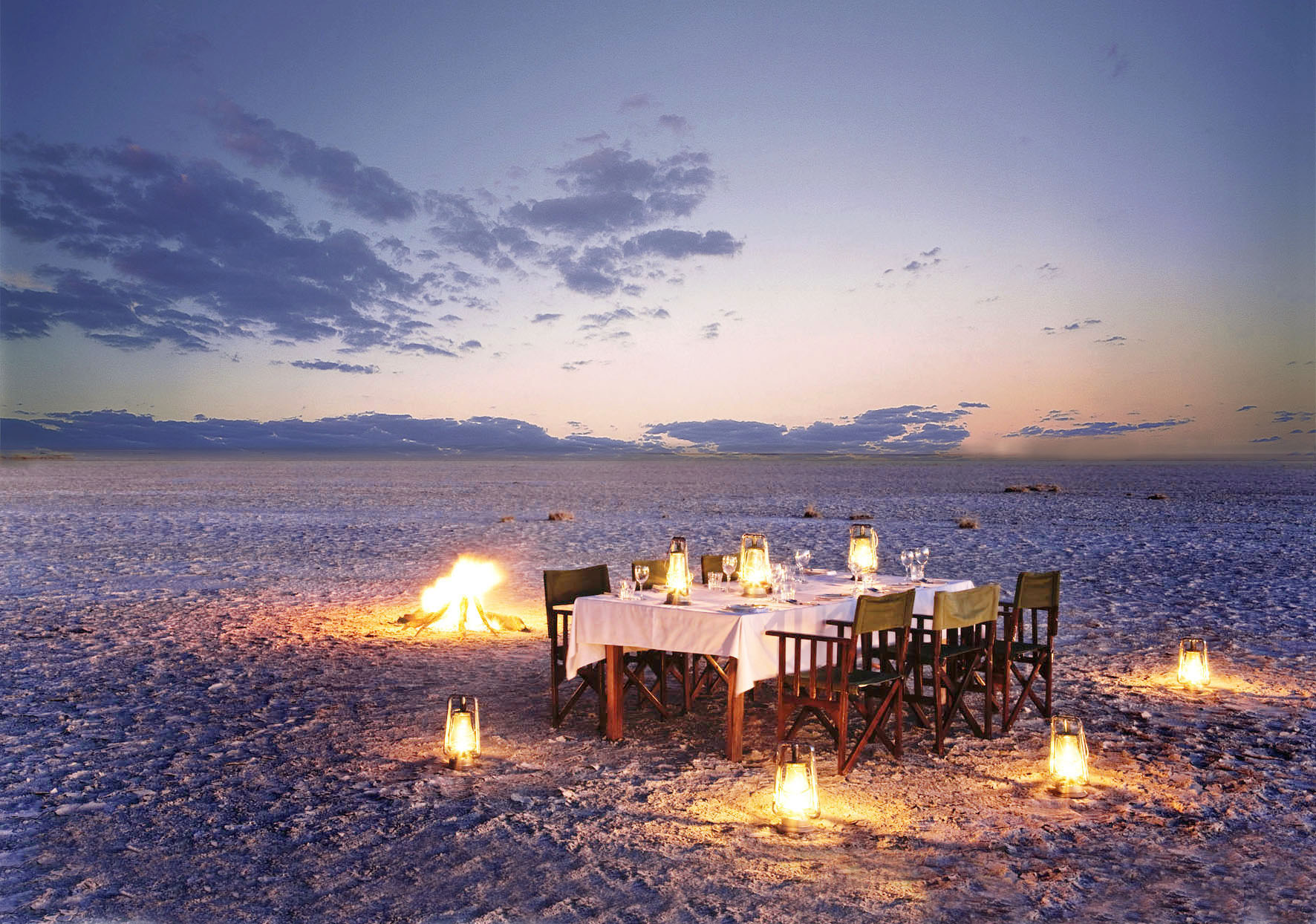 Brunch With the Giants – Stanley's or Baines' Camp
Elephants are one of the most fascinating creatures on our planet. Looming grey giants, they parade across the African savannah, completing the picture of a perfect wilderness. Usually, getting close enough to really appreciate an elephant's size isn't possible – unless you're visiting Stanley's or Baines' camp in the Okavango Delta.
Go walking through the bush with the elephants at Stanley's or Baines' Camp and be escorted by wrinkly-skinned hosts to a fantastic sit-down brunch, literally in the middle of nowhere. Walking with the elephants through the bush and talking to their guides allows you to understand elephants, and their behaviour, providing a real connection with nature. You'll sit down to eat, passing bread and butter along the table under the shade of your elephant hosts' umbrella-sized ears. Alice in Wonderland has nothing on this tea party!
Getting up close and personal with the elephants at Baines' Camp
Lunch at the Intersection of the Linyanti – Zarafa
Whatever waterway you see in the Linyanti, you can be guaranteed that the Zibadianja Lagoon has something to do with it. When water levels are good, this lagoon becomes more of a lake. And when bellies are empty, the best way to explore it is on board Zarafa Camp's luxurious barge, over the course of a decadent lunch.
The Zibadianja provides an intersection for many of Northern Botswana's waterways. Here, the Kwando River hits a fault-line, skimming the top of the lagoon before it changes its name to the Linyanti and makes a break for the Chobe. To the west, the Selinda Spillway reaches up from the Okavango Delta, connecting it to the lagoon in years of good rain. When the lagoon is full enough, it drains water south, feeding the Savuti Channel and eventually spilling out into the elephant-littered grasslands of the Savute Marsh.
Fully equipped with both lounge and dining area, the HMS Zib cruises the lagoon as elephants play in the shallows, birdlife skims the water, and guests enjoy the culinary delights of more-than-capable chefs. Top it all off with a cold glass of chenin blanc and you're guaranteed an afternoon not easily forgotten.
Testing the Waters in the Okavango Delta – Pelo Camp
Leonardo da Vinci once said, "Water is the driving force of all nature". At Pelo Camp, this is truer than ever, as guests merge with the unspoilt nature of Botswana's biggest UNESCO world heritage site during a bush brunch with a difference.
Heading out from camp by boat or mokoro, guests will find themselves perched on tables and chairs in the shallow floodplains of the Okavango Delta, atop bright, white sandbanks for a wet, but refreshing brunch.
Guests squish their feet into the clean, cool waters of the delta under their chairs, whilst savouring culinary delights in one of the most unique places on earth, surrounded by 360 degree views of palm tree dotted islands and open floodplains.
After brunch, a refreshing swim in the shallows of the Okavango Delta is on offer before a leisurely return to camp.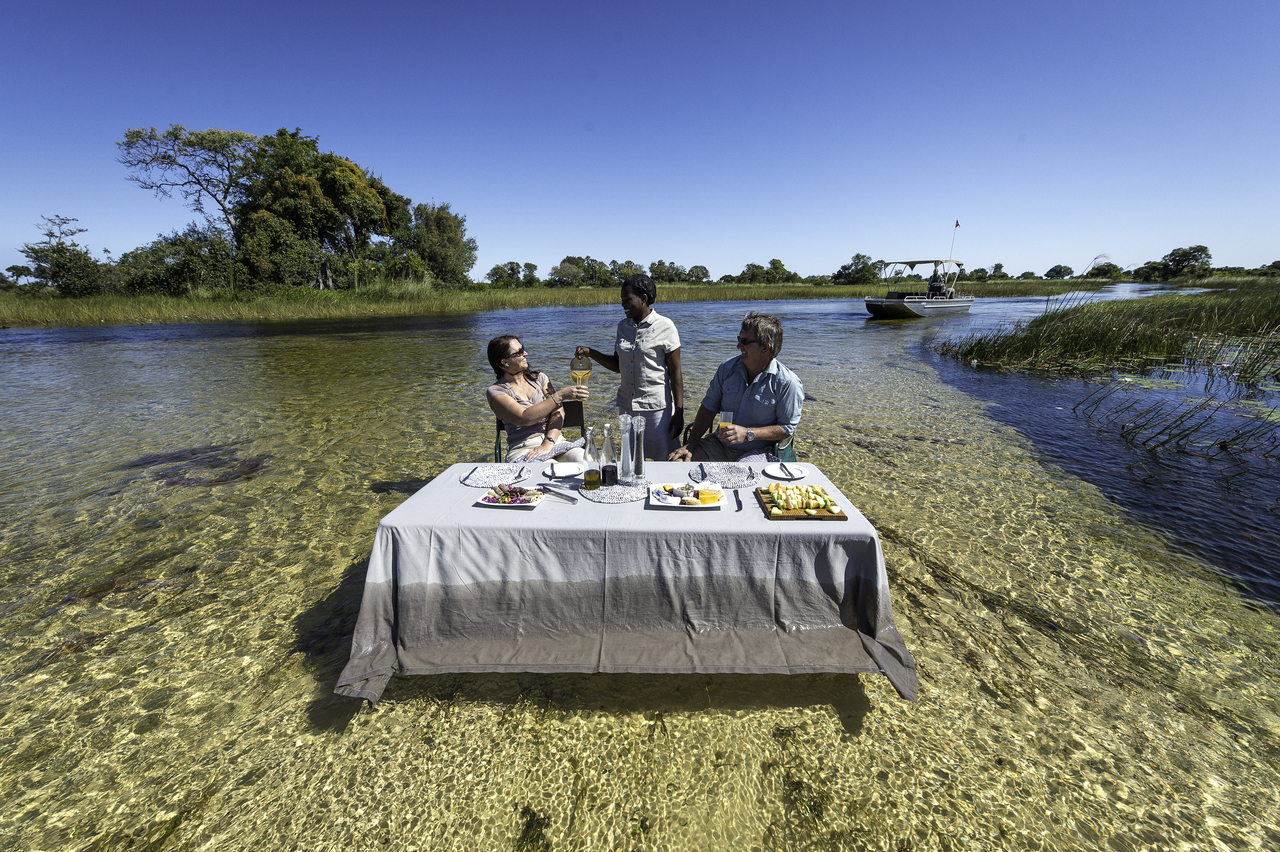 As you may be aware the water levels in the Delta are dropping fast and furiously this season. Boating and mekoro activities are being stopped in most areas as either there is no more water left, or it's packed with crocodiles and hippos who are holding on to the last bit of wet that is available out there, which means: we really don't want to place our guests in the middle of it all on a boat or mokoro.
The Okavango has gone through wet and dry spells as long as time. Local rainfall, Angolan rainfall, small seismic shifts in the underlying tectonics, it all makes for a rather involved and very unpredictable miracle of nature. For the past years, we could all lean back, almost guarantee water activities for most of the year in lots of areas and have our clients looking forward to gliding across the delta on a mokoro and zooming through the papyrus lined channels.
Currently we are looking at a totally different scenario, the Okavango is at its driest since a long time. I'm sure some clients will be a bit disappointed about missing out on their water experience. Did the Okavango cheat us? Maybe we have to change our approach in how we present it? The Okavango Delta is one of Africa's last wildernesses. There is no regulating its flows, it's left to nature, the water comes and goes and the animals adjust to whatever comes along. The delta has hundreds of different faces. Wetter ones, drier ones, and lots and lots in between. Every single season has its very unique upsides. Sure the bush is thick and rather impenetrable in the rains, but it also makes for wonderful lush background, for happy and relaxed animals, lots of babies everywhere, for dramatic skies, and it is all dotted by the summer migrants who come visit.
The dry months are more dramatic, the animals are bound to being close to water, there is high competition for food and the air vibrates around the hot spots. The lines between dry and wet months have started becoming rather blurry, climate definitely has changed. So maybe we should wave good bye to trying to predict the next season as clearly as possible and prepare our travellers as meticulously as we can on what exactly to expect. Let's rather convey a message of being open minded for anything that nature and the Okavango have up their sleeves for us. In average years it might be this and that, but we cannot know exactly, we can only guarantee that it will be wild, untamed, untampered with, that it will be "the real thing".
We need to focus on that Miracle of Nature and understand that change brings new opportunities in the Delta. The game is more concentrated as the water levels drop, and the sightings can be more varied and exclusive. This is the reality of our "Backyard" and rather than missing a water experience, you are part of one of Wildest Africa's greatest natural events.
Botswana may have bragging rights to the world's biggest elephant population, the Okavango Delta (recently named UNESCO's 1000th world heritage site) and salt pans the size of Switzerland, but it also keeps a few lesser-known bucket list tricks up its sleeve. Look beyond the traditional game drive or boat cruise and be rewarded with an unforgettable adventure to compliment the wildlife experience on offer.
1. Al Fresco Slumber Parties
Spend a night outside your tent and get acquainted with the map of the universe overhead. Botswana offers sleep-out experiences as varied as a traveller's many interests. Sleep a stone's throw from an elephants' bedroom (Abu Camp), follow the moon's trajectory over the Makgadikgadi salt pans (Uncharted Africa) or bed down amidst the sounds of the bush and the croaking of frogs in the Okavango Delta (Kanana, Baines' or Xudum).
Test it Out With: Our 8 Night "Botswana Focus – Superior" including 2 Nights The Elephant Camp (Victoria Falls), 2 Nights Ngoma Safari Lodge (Chobe / Ngoma), 2 Nights Kanana Camp (Okavango Delta) & 2 Nights Shinde Camp (Private Concession Bordering Moremi)
2. Get Amongst the Giants
Get up close and personal with the world's largest land mammal. Walking through the Okavango Delta in the shadow of an elephant and learning about their social politics is one of the most awe-inspiring memories you'll collect in the bush. Abu Camp, Baines' Camp and Stanleys' Camp all offer the opportunity to interact with elephants who keep calm in human company.
Test it Out With: Our 6 Night "Three Rivers – Deluxe" Package including 2 Nights Victoria Falls River Lodge (Victoria Falls), 2 Nights Selinda Camp (Linyanti) & 2 Nights Baines' Camp (Okavango Delta).
3. Learn to Survive in the Desert
Botswana boasts one of the oldest communities of hunter-gatherers on earth, the San bushmen. For thousands of years the San have been surviving in the harsh conditions of the Kalahari where most would die of thirst in a few short days. Practice speaking in clicks as the San guide you in the desert and watch in disbelief as they pull hidden food, water and survival tools out of the sand. Meno a Kwena on the Boteti River and Uncharted Africa on the Makgadikgadi Salt Pans are our personal picks for best place to experience the hunter-gatherer lifestyle first hand.
Test it Out With: Our 10 Night 'Adventure Safari – Option 2′ including 3 Nights Meno a Kwena Tented Camp (Boteti / Makgadikgadi), 2 Nights Sango Safari Camp (Khwai), 2 Nights Chobe Under Canvas (Chobe), 1 Night Ilala Lodge (Victoria Falls) and 2 Nights Pioneers Camp (Zambezi National Park – outside Victoria Falls)
4. Blaze Your Own Trail
So you've flown miles into the wilderness in a tiny charter plane, with nothing but bush in all directions, but it still doesn't feel remote enough? Pack up a tent and head off on an exploration of Botswana's waterways. Delve into the deepest Okavango Delta by mokoro from Oddball's Enclave, exploring islands and camping along the way. Alternatively, pick up your paddle and tackle the Selinda Spillway by canoe with Great Plains, stopping en route to rest your weary arms and explore the bush on foot. You might end up with a few blisters, but you'll take home even more stories – and they last longer!
Test it Out With: Our 10 Night 'Botswana Odyssey – Option 1′ including 2 Nights Gorges Lodge (Victoria Falls), 3 Nights Selinda Explorers' Camp (Linyanti), 3 Nights Machaba Camp (Khwai), 2 Nights Kalahari Plains (Central Kalahari Game Reserve)
5. Catch the View From the Top
There's no better way to view the maze of the Okavango Delta than from above. While planes are required to fly at higher altitudes, helicopters can set flight paths tracing water channels from just a few metres above. Try your hand at aerial photography as you hover above herds of plains game and stop to take in your surrounds on a remote island with a glass of champagne in hand. The Mombo concession is our pick for the best place to see animals from above (and the only area with a chance of seeing rhino) whereas taking off from a water camp (such as Baines' or Eagle Island) will give you the best idea of the lay of the land.
Test it Out With: Our "8 Night Botswana Focus – Premier" including 2 Nights Tongabezi – House (Livingstone), 2 Nights Zarafa Camp (Linyanti), 2 Nights Vumbura Plains (Okavango Delta), 2 Nights Mombo (Moremi Game Reserve) FREE UPGRADE TO HELICOPTER TRANSFER INCLUDED BETWEEN VUMBURA PLAINS & MOMBO
For details on the above mentioned itineraries, please log into our Agents' Corner and download full rates, inclusions and exclusions.  For suggestions on how to combine more than one of these experiences in any itinerary, check out our package overview or contact your dedicated consultant.
The words that come to mind to describe my recent five night horseback safari out of Camp Kalahari on the Makgadikgadi Salt Pans are exhilarating, mind blowing & adventurous
I am a keen horse rider and for any horse riding enthusiast this experience should be number one on your bucket list!
Heading out into the salt pans on horseback is for experienced riders only as it is tough going at times. This is a ride for those seeking adventure, along with the aching muscles and blisters from many hours in the saddle that go with it.
The feeling of riding amongst huge numbers of zebra during the green season and the freedom of cantering over the vastness of the Makgadikgadi Salt Pans is truly amazing. With miles of emptiness in front of you and nothing to hold you back but the speed your horse can go, you'll be left exhilarated… and believe me, the horses give it all they can as they love it just as much as the riders.
How does this differ from the rides in the Okavango Delta? Well to start with, you can leave earlier and come back later as the pans are so open and you can see for miles, reducing the fear of predators. The riding is much more relaxed and you can let your horse have some free reign when walking at a slower pace. When you're enjoying the freedom of a long canter you do not have to panic about your horse spooking at anything behind the bushes – so both horse and rider can enjoy every minute of being out there in the magical space of the Makgadikgadi.
The salt pans provide an unforgettable landscape experience with incredible sunsets and sunrises. The Makgadikgadi is a place to get acquainted with a bewildering lack of perspective and endless horizons, rather than trying to chase big game.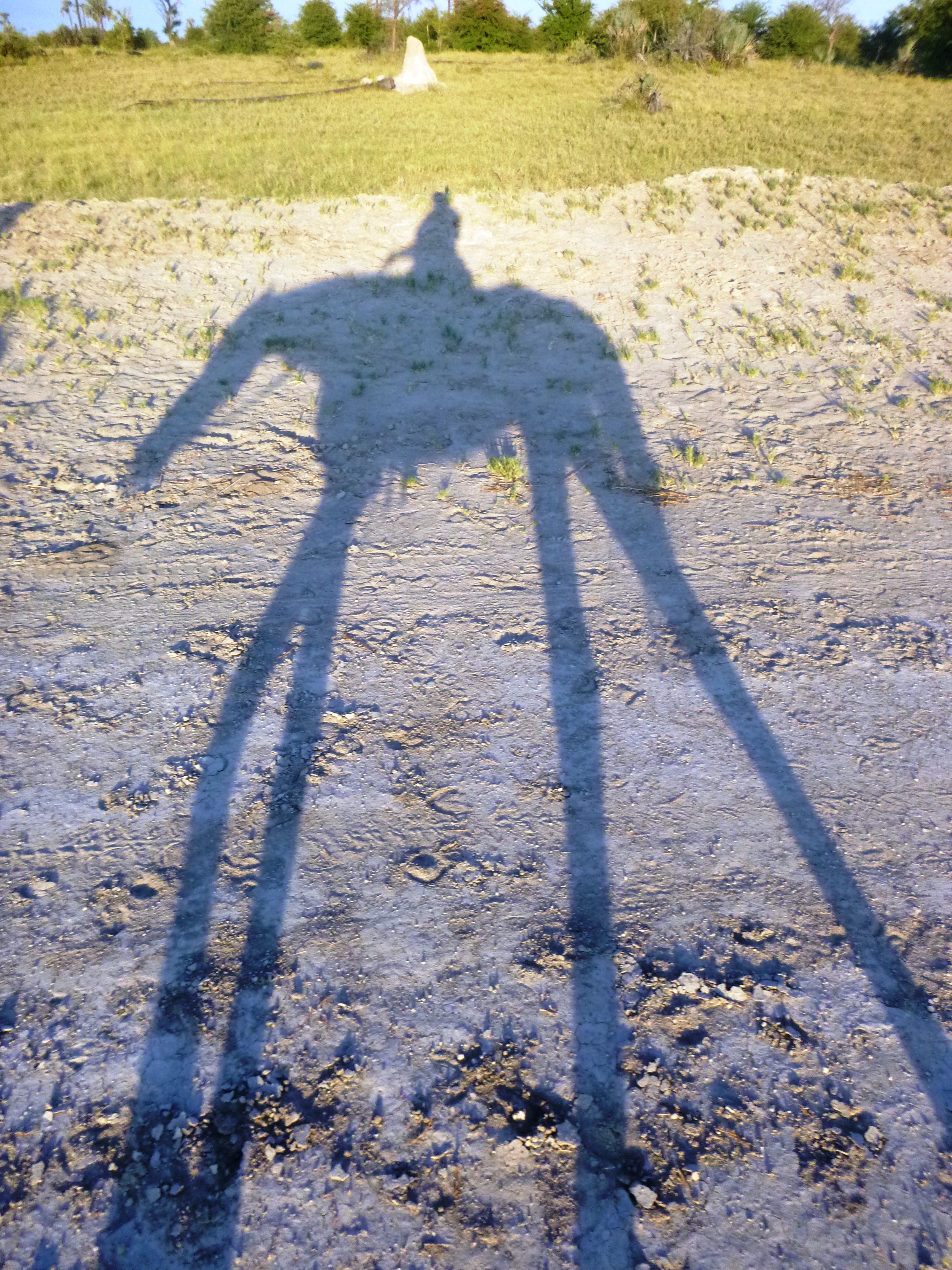 Once you get past the first impression of there being nothing in sight, you'll soon discover plenty to keep your mind reeling, from historical sites to hidden life. Africa's famous explorer Dr David Livingstone crossed the pans in the 19th century, using two massive baobabs, believed to be 3,000 to 4,000 years old as a navigation tool. Standing next to these giant succulents and tracing their marks with your finger will leave you marveling at what these trees have seen pass over the years. Discover the small things that live underground from meerkats to ground squirrels, insects and aardvarks.
If you visit at the right time of the year you may be lucky enough to experience the extraordinary journey of the zebras migrating in huge numbers to find food and water. Throughout the whole year you'll have the chance to walk through the desert with the San people who have been living a hunter gatherer lifestyle for thousands of years. Over the course of a few hours, they'll teach you their unique skill for finding food and water in an area where most would die of thirst.
Every day holds something new and exciting. Coming up with highlights is difficult when I loved every moment, but if I had to choose, this is how I'd start my list:
• Every sunrise and sunset on the pans is magical – each more beautiful than the one that came before it
• Chaplin's & Greens Baobabs – it's awe inspiring that you can stand below one of the largest trees in the world and physically touch the marks made by historical people like David Livingstone
• Stopping over at amazing waterholes in the Makgadikgadi for a fantastic siesta under the trees and magical moments with the zebras during tea time
• Seeing the vast open expanse of the Ntwetwe Pans was just out of this world – there is nothing out there, yet there is so much to take in and process, it's mind blowing and beautiful!
• Cantering alongside the zebras over the pans and through the grass lands is every rider's dream come true. There's nothing holding you back – it was invigorating and worth every aching muscle
• The meerkats were so cute and have a calming effect on you – don't ask me why but all their little chirping between each other makes you realise how harsh desert life is and how amazing they are to survive out there
• The bushmen – I really found walking with them eye-opening and wish I could have spent more time with them
• Riding out on the Salt Pans after dark and seeing the stars in all their glory
All in all, this is a definite must-do experience for keen horse riders seeking out an unforgettable experience to be repeated more than once.
Upon arrival at Stanleys Airstrip we were amazed about how much water has already arrived in the lower Delta. Just a few weeks ago on our last visit to the delta there were only few waterholes and sprinkles of water between thick bush and palm trees surrounded by sand banks and dried land. Our guide, Ice, welcomed us at the airstrip and on our 40 minutes game drive to Baines Camp we got the first impression that the flood had just arrived the day before. Making our way through waterholes, around termite mounts, through high thatching grass and between Palm trees we arrived at Baines Camp. Located in front of a beautiful lagoon with water all around camp, kingfishers hovering over the water and weavers building nests in the main area. It´s a magnificent atmosphere being in a true delta camp with the calls of the different birds, the hippos calling in the background, the wind whispering through the reeds and the peaceful quietness far away from civilization.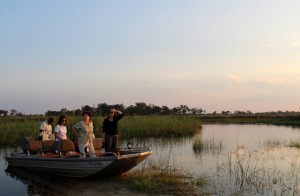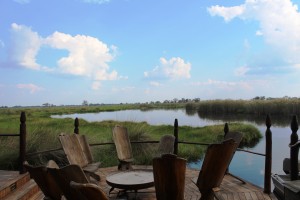 After settling into our room we are ready to go for high tea and excited about our first afternoon activity. To our surprise we are the first guests this season to go on a boat cruise, thanks to the newly arrived flood! The last boat cruise at Baines Camp was almost six months ago and now we are the lucky guests being spoiled with exploring the hidden parts of the delta. Having been on many boat cruises before and enjoying the smooth ride without the typical African bush massage, this one was special. Just the day before dry land and grass was covering the area around the camp. Now water was flowing through the reeds making it possible to see parts of the delta which are not accessible during summer months. The water was still brown and the bottom not visible. Only after a few weeks the reeds, the living microorganisms and the natural filtration will clean the water making it clear. Slowly we make our way through the channels, which is not that easy as the grass which is still floating in the water gets stuck in the propeller of the boat. We have to stop every now and then so our guide can pull out the reeds from the propeller. But this gives us time taking pictures of the scenery and enjoying the silence. The new flood also brings fish and new birds to the area, which we discover on the banks of the channels. Since the water is not that high yet we are able to stop at a small sandbank to have our sundowners. In between reeds, palm trees, papyrus and birds we watch the sun go down while enjoying our gin & tonic. As the sun disappears behind the horizon we make our way back to camp.
To watch the phenomena of the returning flood and what it does to the wildlife is an experience that can hardly be described. This is Botswana, the unpredictable Wildlife and ever changing landscape.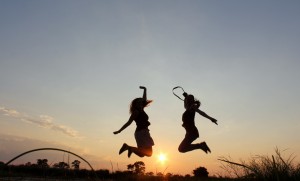 My recent visit to Sandibe Okavango Safari Lodge was a refreshing reminder of how special a green season safari in Botswana can be. Not all parts of Botswana are equal once the rains arrive, so the key is knowing which areas to visit and which to leave for the winter months. Many of the good year-round game viewing areas are in private concessions with higher price tags, but the good news is that discounted green season rates make them more accessible to those on tighter budgets. Visiting these areas in green season will give you a great bush experience, as well as the bells and whistles offered at these camps year-round, but for a fraction of the price.
The Chitabe concession, where you'll find Sandibe, is one area of Botswana which remains great year-round. On a two night stay we saw a cheetah, two prides of lions with their cubs, a female leopard calling for her mate from the tree tops, a pack of wild dog, two male giraffes fighting over a lady friend, countless elephants, plains game and spectacular bird life. The problem we encountered is that my five year old now thinks this kind of game viewing is normal! Although temperatures were soaring, we were treated to a spectacular evening thunder shower followed by the welcome relief of a cool and cloudy day.
I was travelling with my family, including my two young daughters Taylor and Megan. Travelling with small children presents its challenges but is equally rewarding. Megan may only be able to say a handful of words but she can now mimic a baboon beautifully! The staff at Sandibe catered to the kids perfectly and were ready to assist and entertain at every turn. Taylor was welcomed on arrival by a goodie bag filled with safari nick-nacks and squealed with delight when we stumbled upon a cooler box hanging from a tree during our afternoon drive, only to find it filled with home-made ice pops.
Meal times were flexible and the kiddies' menu put my home cooking to shame. Having our own private vehicle and guide allowed us the freedom to come and go as we liked without worrying about other guests and our guide and tracker were constantly engaging the children. For families saving up for a once in a lifetime safari, the minimum age of six years and up ensures kids experience the bush when they're at an age to appreciate and make the most of it.
Sandibe caters brilliantly to the grown-up kids as well. Whilst I have been lucky enough to visit many camps over the years, this was my second visit to &Beyond, and the second time I have been blown away by the food experience. So many operators fall short when it comes to what their kitchens produce, using the excuse that a safari is about the wildlife and not the food. With &Beyond, you can have your cake and eat it – Sandibe delivered to the very highest of standards, both on the game viewing and the culinary treats. Indulging in naughty delights is a big part of what being on holiday is all about and at Sandibe, they know how to make every calorie count.
The design and amenities at Sandibe are both cutting edge and controversial in the safari world. The lodge lacks the true sense of being in the outdoors that you'll get when staying in a more rustic tented camp. I didn't leave with my clothes smelling of campfire smoke, nor did I lie awake excited by the sounds of the night as the hum of air-conditioning blocked out external noises. I did however enjoy the luxury of a plunge pool during the heat of the day and cold drinks in my room during afternoon siestas, as well as the private butler and consultations with the chef during meal times, creating a very personal experience.
Whatever you prefer is a matter of choice and there are many first time safari guests who would take great comfort in the solid structure of the rooms (no canvas walls here!) and the modern comforts on hand. The design of the camp is spectacular, though I'm curious to see how the buildings will age under the challenges of maintaining a camp in the bush. Despite the money and expertise put into the design of the camp, there are a few obvious design flaws some guests may find frustrating. For the level of the camp, the rooms could have more room, and unless you're extremely comfortable with your co-traveller, a lack of privacy in the rooms will require advance coordination of shower times.
All in all we had an incredible weekend and I can highly recommend Sandibe on every level.
Back to the office and my diet on Monday!
We're drifting along the Boteti River in the soft light of late afternoon when a mess of black and white stripes catches our eye by the water's edge. Despite the zebra's bold patterns, we might've gone past it completely. Lying almost camouflaged beside a dead tree, the fallen zebra reveals himself with occasional clouds of dust as he flails in the sand. "I really feel for these guys during this time of year' says Walter 'the Boteti River is the only source of water out here in the Makgadikgadi and the closest grazing is fifty kilometres away."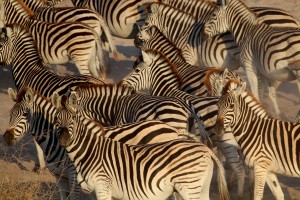 It's the end of an exceptionally hot November's day and an even hotter dry season that's baked away any grass the zebras haven't already eaten. Walter is guiding us from Leroo la Tau lodge, one of only two camps spaced forty kilometres apart on the Boteti River. We're feeling a bit like the only people left out here, adrift on a river which has become a lifeline in the desert. "These zebras have to make a long trek inland for food through deep sand in intense heat', Walter explains 'once they've grazed, they need to return to the Boteti to drink. You can imagine how worn out they are and often by the time they arrive, they just collapse with exhaustion."
We watch our zebra as the gaps between its kicks stretch out longer and longer. "This one won't make it. Often they get taken down with a kick from another zebra as they scramble to get to water. Most likely he'll become someone's dinner during the evening, or over the next few days." The Makgadikgadi National Park is a harsh environment for the zebras, but these tough conditions are also what draws us in and leaves us in awe. With the Boteti River providing the Makgadikgadi's only water during dry season, this is a place to forget searching for big cats and soak up the spectacle of thousands of zebras and wildebeest tumbling down river banks to water.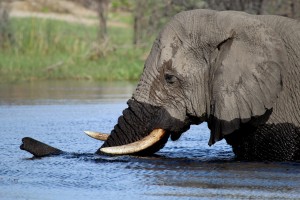 As sunset nears, we spot huge dazzles of zebras peering down to water, desperate to drink but hoping someone else will test the water for lurking crocodiles. Once the first zebra drinks, the crowds descend, kicking up sheets of dust that catch the fading light. Further upstream, we spot movement under a tree by the water's edge. We cut the motor and drift closer as a big male lion comes into focus, busy feeding on a zebra. As we take in more of the scene we notice a second male, a big black-maned Kalahari lion eyeing us from further up the bank. So much for not travelling here to see the big cats. As we drift, we listen to the bush and watch the lions playing with their food, soaking up the quiet as the only people out on the river.
We're chugging through thick sand under acacia trees the next day and pointing out elephant bulls and giraffes when Walter stops the vehicle to stare at tracks in the sand. "Rhino' he says, 'the rhino came through here. And there's a smaller set of tracks too. This is the female that was pregnant when we last saw her. She's had her calf" the grin on Walter's face is palpable. With rhino poaching at an all-time high in South Africa, Botswana has been incredibly successful at keeping its own rhino population protected. Adding a calf to the statistics for Botswana is no small feat. It's a hopeful sign of future population growth and preservation of the species.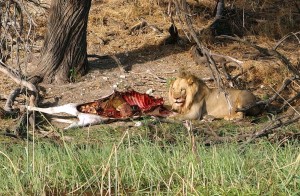 Walter drives us to a big wooden structure under an acacia tree. "This' he says 'is the world's most expensive hotel room. It's a rhino Boma, and it was only ever used for one night." Walter tells us the story of two female rhinos who walked out of the Okavango Delta, only to find themselves hundreds of kilometres south-east in the Makgadikgadi National Park. The structure was built to house a male rhino, re-located from Khama Rhino Sanctuary and introduced to the area so the females would find him. It only took one night for the females to visit the crude but effective hotel room, and now the Makgadikgadi has a small but thriving rhino population, monitored closely by the Botswana Defence Force.
Later, as we're crossing the Boteti River to get back to the lodge, Walter tells us we'll have a quick stop for sundowners. He leads us through the bush, insisting we walk just a little further to get to the best view of the sunset. As we turn the corner, we spot a long table laid out for dinner in the bush and a fire already going. The staff from the lodge are already here with warm grins and cold gin and tonics. As we drink down the day, a chorus breaks out amongst the staff, their voices warming us over the campfire as the emerging night sky finally cools the desert.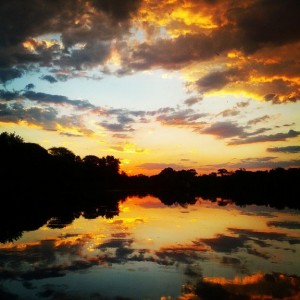 The Makgadikgadi National Park and Boteti River
The Makgadikgadi National Park and Boteti River is a desert experience with a difference – a river runs through it. Visiting this part of Botswana is all about experiencing the huge numbers of zebra and wildebeest that you'll find here in dry season. This area is not to be confused with the Makgadikgadi Salt Pans further east. There are two camps on the Boteti River with access to the Makgadikgadi National Park: Leroo la Tau and Meno a Kwena.
Leroo la Tau focusses on game viewing, both by boat (eleven kilometres of river is for the lodge's exclusive use) and by game drive in the national park. On a three night stay, longer day trips to Nxai Pan national park are also possible.
Meno a Kwena offers full day game drives into the national park and short boat cruises. The camp also provides a break from the usual safari routine by offering walks with the San people for insight into their traditional hunter-gatherer way of life. On a minimum three night stay, guests can head further afield for a sleep-out on the salt pans (dry season only).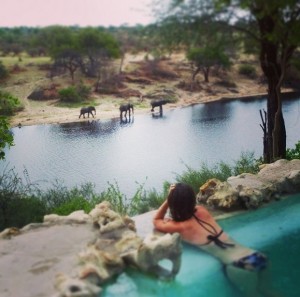 Best combined with: For first-timers to Botswana – as part of an 8 night or longer itinerary with Chobe National Park, Moremi Game Reserve or Khwai & the Okavango Delta. The Boteti River is also a fantastic place to un-wind after an intense mobile safari as guests can opt out of activities to stay in camp and watch the animals arriving at the Boteti to drink. The Boteti & Magkadikgadi National Park are great for repeaters to Botswana who've already ticked off the better known parts of Botswana.
Our Recommended itineraries including the Boteti/Makgadikgadi 
10N Northern Parks Safari (Superior) with Leroo la Tau
10N Botswana Odyssey (Standard) with Meno a Kwena
(available to download from our Agent's Corner)
Sharing a safari with children will give you completely new eyes for seeing the bush.  A child's excitement at spotting an impala for the first time is infectious enough to rub off on even the most seasoned of safari goers. When you start seeing the bush from a child's point of view, the priority of ticking off the big five quickly fades – replaced by the excitement of watching dung beetles at work and imagining the inner-workings of termite mounds.
A family safari is a whole new discovery of the natural world. Not just for kids, but also for adults who usually focus only on photographing the animals that live in it. Best of all, you'll have time to bond as a family while checking out fresh animal tracks and roasting marshmallows on the campfire.
So, what do you need to know when travelling with children?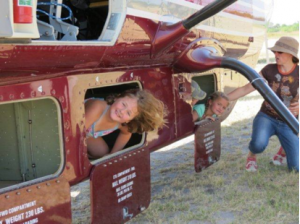 Don't chain me down
Ask a small child if their idea of a holiday is being asked to sit still for four hours, twice a day (or more!) and you'll probably get a firm no. Even the most disciplined of children will have a tough time containing their excitement when bumping into a pride of lions. They'll want to wiggle around a little, point at things and start a conversation about what they're seeing. So let them. Booking a private vehicle is the best way to relax at sightings without worrying about sideways glances from that empty-nester with the massive zoom lens. Private activities give parents space to relax without having to 'shhh' kids over stuff that's really quite exciting (who wouldn't want to tug someone's sleeve and gasp 'look!' when faced with their first elephant?). Private activities also allow you the flexibility to start and end activities at friendlier times for kids who sleep longer & tire out easier.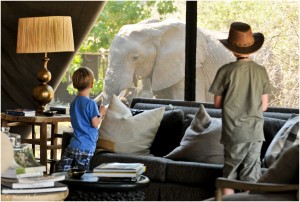 Variety is the spice of life
Mix up the schedule and keep the kids engaged on safari. Head off on a local village visit in Chobe or explore the salt pans with a quadbike and get introduced to the meerkats of the Makgadikgadi. Take the kids walking with the bushmen so they can practice speaking in clicks or give them a bush archery lesson. Many camps in Botswana offer child-friendly activities with some providing specialised programmes just for children. A private mobile safari is another sure fire way to give kids the space they need, as well as guaranteeing your guide's undivided attention.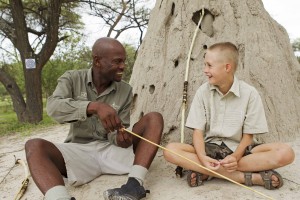 Where the Wild Things Are
Many camps have age restrictions for children to guarantee their safety in the bush, as well as the comfort of other guests in camp. Private vehicles are often a requirement for children under 12, however Chobe is one area where these rules are usually more relaxed. Children are required to share their room with at least one adult to guarantee their safety. Many camps now offer family accommodation to prevent parents splitting sleeping arrangements. Children are generally not allowed on bush walks below 16 years of age or mokoro activities below the age of 12, however certain camps will make exceptions or tweak these activities to make them safer for kids.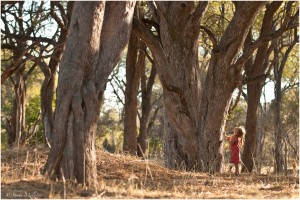 Recommended itineraries for families
At Safari Destinations, we've used our first-hand knowledge of Botswana's camps to create family-friendly safaris which help families get the most from their time in the bush. Download our suggested itineraries from our Agent's Corner or email us at info@safaridestinations.net to ask about the best options for family travel.
I have always been in love with Mana Pools.
Mana is my mentor – a remote and wild park that feeds my soul with all her sights & sounds – I've visited her time and again in her different seasons. Her moods are many and despite the diverse ecology and terrain, each one of these trips has been memorable for one thing. I've had some of the best close-up game encounters ever! Sitting under the watchful eye of a professional guide meters away from lion, wild dogs, the legendary standing bulls of Mana and a myriad of plains game and birdlife is just one way in which this park immerses you and brings you back to the fundamental core of nature and our place in it.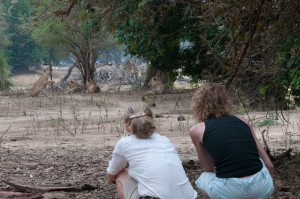 Your clock adjusts to sunrise and sunset and you fall into beat with the natural order of things, according to the rhythm of nature and camp life – the game is clearly abundant in peak season and our recent visit took us to just a few of the camps that have the privilege of operating in and being the custodians of this special park:
Chikwenya, Vundu, Little Vundu, Camp Zambezi and Zambezi Lifestyles as well as Goliath Safaris (I had stayed at Kanga and Rukomechi on my last trip).
Zambezi Lifestyles – *top spot – really enjoyed being right on the flood plain (Ngundu 2 site), saw game all over the place (NOTE the camp moves between different sites depending on which is available, all are on the river) enjoyed the simple comfort of the tents and space of the camp – 4 tents set up boasting the new flush toilets in the open air bathrooms – great bucket shower – excellent local staff managing camp (Cloud was a treat to be in camp and on safari with, very passionate, knowledgeable and eloquent, we also did our canoe trip with him, we weren't just 'guided', we were educated too) – tents/hardware were all solid – food was amazing (I made a point of going to meet the cook, these bush cooks really are talented is all I can say!) – Highlight: herd of 400+ buffalo and sitting on the vehicle near Zebra Vlei watching a pack of 7 adult wild dogs with pups in the late afternoon, they went off on the hunt as the sun went down.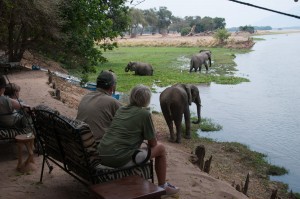 Goliath Tented Camp – *top spot – also really enjoyed being in this camp (I rate both Zambezy Lifestyles and Goliath as my trip highlights) – Camp is on a private concession so in the same location annually.  Owner and Pro-Guide in camp is Stretch (Andrew) Ferreira, he is running the camp – the location is stunning with shade over the central areas looking out onto a channel and island just in front of camp, beyond the island is the main river. The first thing you feel here is welcome and are encouraged to feel right at home and 'part of the family' – camp layout is neat and functional with a super river front lounge/dining/breakfast/fire pit areas, the tents are set slightly back – the extended size east African tents are very nicely fitted with tasteful teak and wrought iron furnishings, the beds are very comfortable and I loved the open air shower area – vehicles are open top and in good condition – food was awesome! Highlight: pride of 5 lions right outside camp having a snack out of the cooks cell phone, about 15m from us.
If you are a safari addict and look for close wildlife encounters with excellent guides – then Mana Pools should be your next destination! Our recommendation for an intense safari experience is the 10 night itinerary "Spezialised Guides of Zimbabwe" with:
3 Nights Goliath Safaris Tented Camp, Mana Pools Natonal Park
3 Nights Musango Safari Camp, Matusadona National Park
3 Nights Camp Hwange, Hwange National Park
1 Night The Elephant Camp, Victoria Falls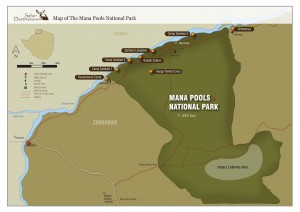 My First Safari Into The Untamed Wild
…and despite of innumerable safaris through Botswana and into Zimbabwe, Zambia had always infused me with awe and a tempting curiosity for its claim to fame to be the door into the REAL, deep Africa.
…and all I found were lovely, warm people, welcoming me at airports, airstrips and camps, and an abundance of happy, healthy, relaxed animals.
Elephant mothers who let us come very close to admire their babies, lionesses lying down in the shade of our vehicle, leopards twinkling at us from comfortable branches of huge old trees.
Big smiles and professional hosts awaited us at camps, people proud of their country and its natural beauties guided us. We travelled on sandy  roads, cruised on the mighty Zambezi and reluctantly took flights knowing that while up in the air, we would miss out on landscapes and daily life scenes.
Luckily I was accompanied and guided by an almost 'local' Zambia lover and expert, my colleague Bettina.
We opted on a Best of List to share with you our most memorable moments of a fabulous journey through a country offering so many (un)tamed  safari options. The choice was a tough one, the list could have been much longer ….
BEST SIGHTINGS – both South Luangwa and Lower Zambezi are beaming with wildlife, I have had the most rewarding night game drives ever, with lots of leopards, lions, civit, porcupine, genets.
South Luangwa:
Huge pride of lions, unfaced by us, 13 ladies with their youngsters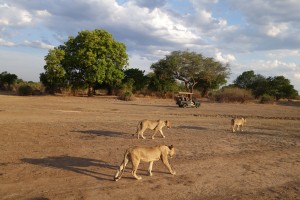 So many leopards in different positions on our day & night drives
Pack of 13 wild dogs
Lower Zambezi:
While travelling by boat from the most Eastern part of the park to the park entrance on the Western side we enjoyed hundreds of very happy elephants in the river and along the Zambian and Zimbabwean shores – I have never seen so many babies and youngsters with very relaxed mothers – must be a good life along this magic river.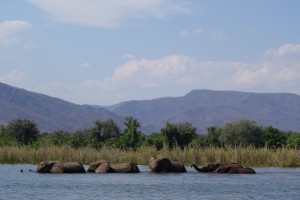 BEST GUIDE – a difficult choice as most of the guides we met were outstanding ref their scientific wildlife knowledge, respect of animals, empathy with their clients – but we had to choose:
MANDA – Billimungwe Camp/The Bushcamp Company
Apart from his excellent guiding and his incredible knowledge about his country and national parks, nobody could ever fascinate us the way he did with poo, plants & prints  – thanks to our brave Scout we even felt save while we were LION tracking, but found a BLACK MAMBA.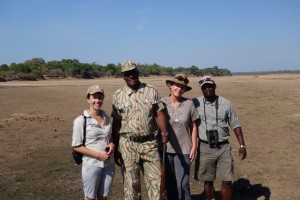 BEST FIREPLACE – as we think this very fine safari habit is in danger of extinction and the warm, romantic, orange glow is replaced by the blue light of laptops too many times already. We enjoyed a very nice conversation on comfy cushions after dinner at CHINZOMBO Camp with manager Mario & fellow guests exposed to the nightly sounds of the bush.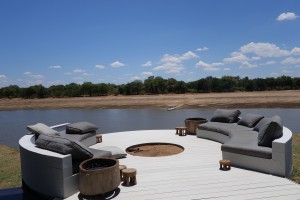 …and afterwards we sank into the BEST BED as the camp has installed the high tec, low consumption Evening Breeze cooling system around the bed.
BEST FOOD – this was impossible to decide, as anywhere we went we enjoyed fresh and tasty food, grown in the nearby areas, we are delighted to hear that the supplies for camps are grown and transported rather sustainably compared to other safari countries and local farmers profit directly from tourism.
Therefore the category MOST SURPRISING FOOD goes to KANYEMBA Lodge, where Zambian fruits and vegetables are turned into delicious Italian specialities thanks to the boss' cooking skills and culture, so we sampled home made banana gelato, porcini risotto, aubergine antipasti while the ellies munched away on the tropical gardens' trees next to us.
BEST Pool
And as we all know that inspection trips are exhausting, especially if the temperatures rise up to 40 degrees in November, we had to spoil ourselves in some private pools. We especially liked the feel and the views from
CHONGWE CAMPS's Honeymoon Suite overlooking the confluence of the Chongwe River and the Zambezi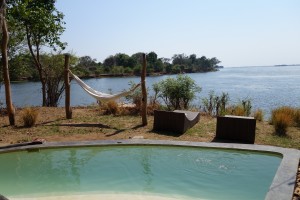 We continue with being spoilt, our timing was obviously perfect, as we visited
SAUSAGE Tree Camp
where we were invited to join their Signature River Lunch – we were taken out into the middle of this gigantic river only to find a wonderful lunch buffet and a shady set table, legs in the cool water, the biggest handwash basin on earth, a true memorable experience and a unique emotional sensation – considering the huge crocs we had seen on our transfers and the hippo family stalking us – so the choice of
BEST SPECIAL EVENT was quite easy!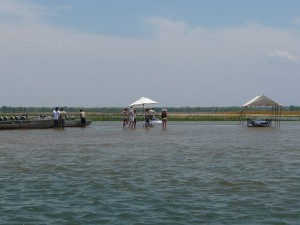 We close our blog on a fabulous trip with the most elegant event combined with wonderful views from the top of a hill –YES, I loved the hills and mountain ranges 'escarpments' coming from rather flat Botswana – over the plains of South Luangwa NP,  garnished with a dramatic thunderstorm passing us
BEST SUNDOWNERS must go to CHICHELE