Category Archives: Places
My First Safari Into The Untamed Wild
…and despite of innumerable safaris through Botswana and into Zimbabwe, Zambia had always infused me with awe and a tempting curiosity for its claim to fame to be the door into the REAL, deep Africa.
…and all I found were lovely, warm people, welcoming me at airports, airstrips and camps, and an abundance of happy, healthy, relaxed animals.
Elephant mothers who let us come very close to admire their babies, lionesses lying down in the shade of our vehicle, leopards twinkling at us from comfortable branches of huge old trees.
Big smiles and professional hosts awaited us at camps, people proud of their country and its natural beauties guided us. We travelled on sandy  roads, cruised on the mighty Zambezi and reluctantly took flights knowing that while up in the air, we would miss out on landscapes and daily life scenes.
Luckily I was accompanied and guided by an almost 'local' Zambia lover and expert, my colleague Bettina.
We opted on a Best of List to share with you our most memorable moments of a fabulous journey through a country offering so many (un)tamed  safari options. The choice was a tough one, the list could have been much longer ….
BEST SIGHTINGS – both South Luangwa and Lower Zambezi are beaming with wildlife, I have had the most rewarding night game drives ever, with lots of leopards, lions, civit, porcupine, genets.
South Luangwa:
Huge pride of lions, unfaced by us, 13 ladies with their youngsters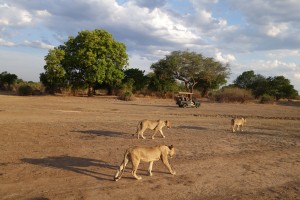 So many leopards in different positions on our day & night drives
Pack of 13 wild dogs
Lower Zambezi:
While travelling by boat from the most Eastern part of the park to the park entrance on the Western side we enjoyed hundreds of very happy elephants in the river and along the Zambian and Zimbabwean shores – I have never seen so many babies and youngsters with very relaxed mothers – must be a good life along this magic river.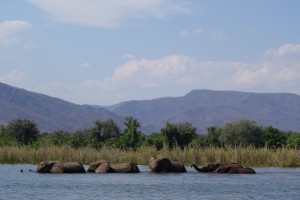 BEST GUIDE – a difficult choice as most of the guides we met were outstanding ref their scientific wildlife knowledge, respect of animals, empathy with their clients – but we had to choose:
MANDA – Billimungwe Camp/The Bushcamp Company
Apart from his excellent guiding and his incredible knowledge about his country and national parks, nobody could ever fascinate us the way he did with poo, plants & prints  – thanks to our brave Scout we even felt save while we were LION tracking, but found a BLACK MAMBA.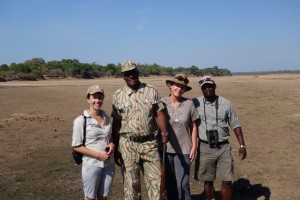 BEST FIREPLACE – as we think this very fine safari habit is in danger of extinction and the warm, romantic, orange glow is replaced by the blue light of laptops too many times already. We enjoyed a very nice conversation on comfy cushions after dinner at CHINZOMBO Camp with manager Mario & fellow guests exposed to the nightly sounds of the bush.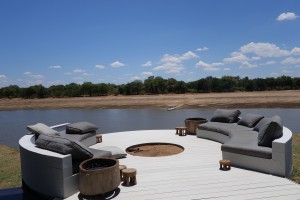 …and afterwards we sank into the BEST BED as the camp has installed the high tec, low consumption Evening Breeze cooling system around the bed.
BEST FOOD – this was impossible to decide, as anywhere we went we enjoyed fresh and tasty food, grown in the nearby areas, we are delighted to hear that the supplies for camps are grown and transported rather sustainably compared to other safari countries and local farmers profit directly from tourism.
Therefore the category MOST SURPRISING FOOD goes to KANYEMBA Lodge, where Zambian fruits and vegetables are turned into delicious Italian specialities thanks to the boss' cooking skills and culture, so we sampled home made banana gelato, porcini risotto, aubergine antipasti while the ellies munched away on the tropical gardens' trees next to us.
BEST Pool
And as we all know that inspection trips are exhausting, especially if the temperatures rise up to 40 degrees in November, we had to spoil ourselves in some private pools. We especially liked the feel and the views from
CHONGWE CAMPS's Honeymoon Suite overlooking the confluence of the Chongwe River and the Zambezi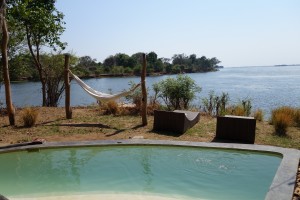 We continue with being spoilt, our timing was obviously perfect, as we visited
SAUSAGE Tree Camp
where we were invited to join their Signature River Lunch – we were taken out into the middle of this gigantic river only to find a wonderful lunch buffet and a shady set table, legs in the cool water, the biggest handwash basin on earth, a true memorable experience and a unique emotional sensation – considering the huge crocs we had seen on our transfers and the hippo family stalking us – so the choice of
BEST SPECIAL EVENT was quite easy!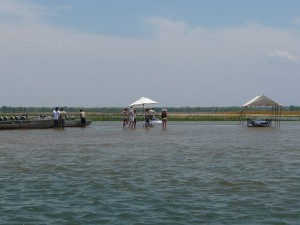 We close our blog on a fabulous trip with the most elegant event combined with wonderful views from the top of a hill –YES, I loved the hills and mountain ranges 'escarpments' coming from rather flat Botswana – over the plains of South Luangwa NP,  garnished with a dramatic thunderstorm passing us
BEST SUNDOWNERS must go to CHICHELE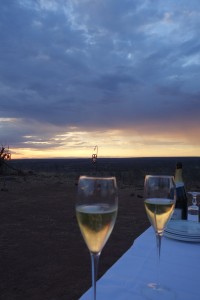 When I arrived in Maun a few years ago I didn't plan on getting involved in the tourism industry. Now 6 years and over a hundred camps later, I admit I changed my mind … Botswana infected me with the famous Safari Bug (as all safari goers know, there is no cure for it)!
Safari was a completely new terrain for me and my compassion towards safari tourists was, honestly spoken – really limited. What value would a safari provide, that a journey to a picturesque beach where people can relax in the sun while watching the waves in the ocean, couldn't? But life proved me wrong: I figured out quite quickly that safari is more than getting up REALLY early and sitting in a loud, open and sometimes VERY COLD vehicle. Safari is a passion, it is a life changing experience. And yes it has to offer much more than just lying in the sun getting a tan….
I can tell many stories I experienced during my time at Safari Destinations: being caught in a tree house in the delta (because of a hippo-grassing-blockade underneath), watching a puff adder attacking the wheels of our vehicle, escaping from charging elephants in reverse gear, nearly bumping into a hippo's bum on a night drive, watching an angry lion with his mouth wide open on a game walk, an elephant rubbing his skin on the canvas of my tent (lying inside begging that he doesn't lie down)… just to name a few of my adrenalin-powered moments on safari. But at the same time I also had many touching sightings: a wild dog den with month-old puppies learning how to hunt a vulture, a relaxed elephant shaking palm trees to get nuts from the treetops, a lioness grooming her cubs, a blacksmith lapwing hiding its chicks underneath its wings (at first you wonder why the bird has 6 feet..), a leopard lying on display in a tree just for you to get a beautiful photo, a Sitatunga antelope in the middle of the reeds watching us on a boat cruise and finally, the myriad colours of the most beautiful sunsets on earth.
Now I understand the safari tourists: it's not just about the adventure, it's being surrounded by unspoilt nature while watching beautiful animals in their homes. When you are on safari you start to acknowledge that there are still paradises out there, where time, status & performance don't count. It's more about being in harmony with yourself and nature and the wildlife.
I've been to 107 camps and have seen pretty much every corner of Botswana (and a bit of Zimbabwe). Personally, it doesn't matter if you have a private pool, a fancy 6 course dinner or if you get your cup of coffee delivered to your room in the morning. What makes a safari memorable is being in the wilderness, smelling the bush, listening to nature and absorbing it with open eyes.
Many people will never have the chance to experience such wonders while they are stuck in big cities with millions of people and no opportunity to see true beauty. It's up to those of us who are privileged enough to experience such wildernesses to tell people about them, encourage them to travel and keep them safe for the next generation.
"THERE IS SOMETHING ABOUT SAFARI LIFE THAT MAKES YOU FORGET ALL YOUR SORROWS AND FEEL AS IF YOU HAD DRUNK HALF A BOTTLE OF CHAMPAGNE – BUBBLING OVER WITH HEARTFELT GRATITUDE FOR BEING ALIVE".  Karen Blixen 
Here at Safari Destinations, we've been working with our suppliers to guarantee financially risk-free bookings for Botswana (with Zambia & Zimbabwe to follow) while Ebola remains in the headlines.
While we're confident Ebola will not reach Botswana, we understand travellers need extra reassurance. Together with the suppliers listed below, we're allowing cancellation FREE OF CHARGE should WHO (World Health Organisation) declare an outbreak in Botswana* – and we're confident you'll never need to take us up on the offer.
Despite the facts, we understand travellers are hesitant to book while travel insurance may not cover the full costs of cancellation due to an Ebola outbreak. We hope this offer provides the confidence to confirm travel at no financial risk, in the unlikely event that Ebola becomes a risk locally.
Geographically, Botswana is thousands of kilometres from affected countries. There are eleven different land borders with their own customs and border controls between Botswana and Liberia, Guinea & Sierra Leone (and travel would take weeks). There are also no direct flights to Botswana, as well as a travel ban on arrivals travelling from countries with an Ebola outbreak.
The WHO has declared Ebola outbreaks in Senegal and Nigeria over, and travellers arriving in Botswana by air from West Africa will need to transit in another country (ie. South Africa) where they would be subject to screening prior to boarding for Botswana. We're confident that geography, together with restrictions on travellers by air, make it highly implausible for Ebola to affect Botswana.
We're currently finalising the list of suppliers in Zambia & Zimbabwe who are also on board with this initiative. Suppliers in the list below who have camps in Zimbabwe and/or Zambia also, are extending the offer to include these countries of operation.
Suppliers offering cancellation free of charge:
• &Beyond
• Africa Albida
• African Anthology
• African Bush Camps
• Belmond
• Bush Ways Safaris & Lodges
• Desert & Delta
• Footsteps in Africa
• Great Plains
• Ker & Downey
• Kwando
• Machaba Camp
• Meno a Kwena
• Safari & Guide Services
• Sanctuary Retreats
• Uncharted Africa
• Under One Botswana Sky
• Wilderness Safaris
We're confident that the list of participating suppliers will get longer and we'll update you as more people get on board. We're also starting to work on similar initiatives for Zambia & Zimbabwe.
This offer does not negate the need for travel insurance and all travellers would be expected to submit claims to their insurance company in the first instance, should a claim be necessary. We would always advise that travellers choose the most comprehensive travel insurance policy possible, regardless of any perceived risk to travel plans.
For further reading, check out this article from the Washington Post, putting Ebola in perspective against the vast geographical size of Africa 
*Terms & conditions apply. Please contact us for the specifics. Only the listed suppliers are currently offering cancellation free of charge, however as the list is updated, we will upload any amendments to our Agent's Corner.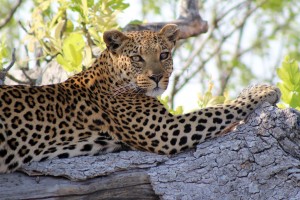 Pom Pom Camp, western Okavango Delta
Last weekend Jessica flew to Pom Pom for a quick 1 night stay to check out the lodge.  Here is her feedback:
Pom Pom is only a short five minute drive from the airstrip. The large main area is really cool, which helps during the hot days. All the tents have a great view over the river and buffalos come very close. The rooms are fantastic. We loved the colors and especially the white curtains in the tents, which we have not seen before. The hot outdoor shower is really big and the water pressure is perfect. Coffee and tea is being served in the tents at wake up time, which makes it really nice to get up.
Activities/ Guiding:
Our guide Rex, very nice and friendly guide met us and took us on the evening  game drive. Our plan was to find lions, we saw fresh lion tracks and followed them. We drove for about 38km trying to find this male lion and while doing that we saw  lots of animals just to mention a few, impalas, red Lechwe, Kudus, wildebeest, Duiker, Giraffe, Tsessebe, buffalos, lots of birds. It was getting a bit late so we stopped for our sundowner drinks. As we set up the table we heard him roaring, so we jumped into the vehicle, left the drinks there, drove off and he was about 150 to 200 m behind us, lying there calling for his brother. What an amazing sight. Rex our guide was not willing to give up on the lion hunt which was great, so our long drive and hunt was paid off eventually. It was so wonderful to hear him roar just about 4m away from the vehicle. The brothers met and it was a phenomenal way to end the evening.
On our morning game drive it was time to find a leopard. Rex took us for a leopard hunt, we saw a lot of animals while on the hunt. We finally found the mother leopard with two cubs but we could only see the one cub, since the other one was hiding. That was just incredible, wonderful game drive. Back on time we dropped two clients at the airport and kept on going on a game drive for about 40 minutes before heading back to camp for brunch.
"People come to Chobe for the elephants, but I say this is one of the best places in Botswana to see giraffes" says James of Chobe Game Lodge.  Whatever you want to call them, a tower, journey, aggregate or corps there's no doubting we're seeing plenty. 'I must've seen at least 180 on a game drive the other day, it was incredible.  You'll often see more of them than the elephants."

I still vote that Chobe is the place of the Elephants.  Eleven year old Emma sitting in the vehicle next to me agrees, so we put a bet on it, splitting our game drive into two camps.  Emma and I sit on one side of the debate, scrambling to tally up elephants as her parents and James count off giraffe wherever they spot a head sticking out from behind trees.
Emma is a star at running our mini elephant census and she doesn't miss a trick.  Breeding herd.  Eight.  At least.  (we add one or two more, just in case we've under-counted by a few legs).  Emma's parents up front are pointing at a giraffe behind a tree, but as we shift our focus to the tree line beyond it becomes two; then three, then four…  This is the thing with giraffes, there's always more.  Having all that height equals an impressive range of vision.  Giraffes can spread out in the bush and effectively keep an eye out for predators.  It seems there are always more on the horizon, slowly chewing leaves and adding themselves to the scorecard.
I won't admit it, but I'm feeling a slight sweat coming on.  I whisper to Emma that we need a distraction as I spot more giraffes coming up on the left.  "Oh WOW!' we exclaim, waving our arms for attention 'what's that on the RIGHT?!  More ELEPHANTS maybe?"  It doesn't work.  Team giraffe are busy counting and suddenly they're in the mid twenties.  This does not look good.  I point feebly at a bush 'oh look, more elephants!'  I say, substituting real sightings with fake ones.  'No wait!' Emma says stopping me, 'there really ARE elephants!" and sure enough, another breeding herd.  Add twelve.  Team elephant is closing the gap.
The afternoon seems to have passed in five minutes.  We realise we've ignored the multitudes of impalas, waterbucks, buffaloes and, more importantly, the start of a sunset slowly melting across Chobe's over-filled floodplains.  As numbers climb into the thirties on both sides, James calls a truce and suggests we make peace over G&Ts as white-faced ducks socialise next to us by the floodplains.  It's a tense detente, but one that Emma and I finally agree is necessary to save team giraffe from embarrassment.
Later, I'm joining my aunt on her first ever game drive with Connie, one of the Chobe Angels.  A few minutes in, we start with the basics.  "This is an impala' says Connie 'you can tell the difference between the males and the females because the males have horns."  It's easy to get blasé about impalas when you've been on a few game drives, but my aunt is captivated and Connie really eases her into the bush experience.
The pace builds quickly when we turn a corner and find a leopard chilling out in a tree, the blue of the Chobe River spread out behind him.  I start telling my aunt how lucky we are when we drive on a little further and find a pride of nine lionesses strolling along the water's edge.    My heart stops in my throat as a big male kudu walks right at them and the lionesses slink down in the grass.  With less than two metres between predator and prey, a lioness springs up and the kudu's instinct to survive kicks in.  He bolts off across the floodplains, throwing up bursts of water and sending birds shooting into the air.  Lucky for the kudu, these girls are still young and haven't fine-tuned their hunting skills yet, despite putting on an impressive show.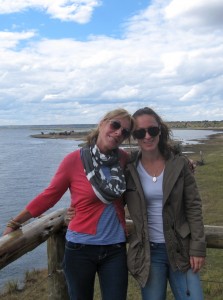 When I begin telling my aunt how lucky we are again, two leopards in a tree appear and I suspect she thinks I'm having her on.  One of the leopards has an impala up the tree and is busy snacking as the sky begins to grow dark.
We head back to Chobe Game Lodge in the fading light, excitedly going over the events of the afternoon when Connie delivers again, spotting five lion cubs sitting in the dust.  Their mothers are gone, probably looking for dinner, as the young cubs watch us from only a metre away.  We've already taken plenty of photos.  This is one of those sightings better enjoyed without a camera and committed to memory instead, as the light runs out on the day.
Where to stay in Chobe
Chobe National Park is Botswana's busiest due to its ease of access from Victoria Falls and via Kasane Airport without requiring any onward charter flights.  Where travellers stay in Chobe will seriously alter the kind of safari experience they receive, whether it's a town stay with park access for activities, within the park itself for a complete bush setting, or a river-based experience in the Caprivi Strip.
KASANE
Properties in Kasane are typically bigger hotels booked on packages with a set amount of activities and meals, often excluding drinks.  These are the most affordable options for exploring Chobe and activities are often out-sourced to third party operators with no guarantee you'll have the same guide each time.   Most Kasane hotels are on the river with their own jetty for boat cruises, though neighbouring hotels share the same route, making them the busiest departure points for getting on the river.   For game drives, guests drive approximately 20 minutes to Sedudu gate and queue for entry with vehicles from other hotels.  The result is that game driving into the park from Kasane results in a busier game drive experience, shared with more vehicles but often at a much more favourable nightly rate.
Kasane Hotels: Chobe Safari Lodge, Mowana Safari Lodge, Chobe Marina Lodge, Chobe Bush Lodge.  Smaller lodges in the area include Kubu Lodge, Chobe Bakwena, Chobe Chilwero and the Old House.
CHOBE NATIONAL PARK
Staying inside the national park creates a much more relaxed safari experience as you can start your game drives earlier and drag them out later, all the while staying in bush (rather than town) surrounds.  Being inside the park also means being the first on the roads looking for sightings in the mornings and the chance to pick up animal tracks on the road before they're covered over with tyre tracks from vehicles.  Chobe Game Lodge is the only permanent lodge inside the park and the only place in Botswana where your boat cruise starts within the park, avoiding the boat traffic from Kasane.  A mobile safari is another alternative for staying within Chobe National Park and experiencing the bush surrounds.
Chobe National Park: Chobe Game Lodge, Chobe Under Canvas and Mobile Safaris (ie. Letaka, Bush Ways)
NGOMA GATE
Lodges on the Ngoma side of Chobe enjoy a bush setting (an hour from Kasane by road), elevated views over the Chobe floodplains and a short transit to the Ngoma gate for game drives.  Although these lodges are outside the park, there are only three on this side of Chobe, meaning you avoid the queues at Sedudu Gate on the Kasane end of the park.  Animals are often spotted directly from the lodges and short night drives are possible in the vicinity immediately around the lodges, due to their location outside the park.  Lodges in this area operate their boat cruises from Kasane Town.  Due to the distance involved, cruises are normally mid-morning (when the river is quieter) as part of a longer day trip through Chobe National Park.
Ngoma Gate: Ngoma Safari Lodge, Muchenje Safari Lodge and Chobe Elephant Camp.
CAPRIVI STRIP/CHOBE RIVER
Staying in the Caprivi is all about experiencing the Chobe River by boat.   To stay in the Caprivi, you'll need to check-in to Namibia even though you'll share the water with boats from Botswana.  There are three options: lodges on Impalila Island, houseboats and Chobe Savanna Lodge.  Lodges on Impalila Island are very close to Kasane, meaning that there's no advantage location-wise for beating Kasane's sunset cruise fleet.  Lodges here are in a prime position for fishing, being close to the rapids and also for birding with quite a few small heronries around the island.  Houseboats moor at various positions on the river opposite Chobe National Park, and benefit from less surrounding boat traffic.  The houseboats use smaller boats for cruising guests up and down on the Chobe River.  There are smaller houseboats with four to five cabins as well as the larger Zambezi Queen.  The Zambezi Queen is quite large, running on set departures, meaning guests stay with the same group for the duration of the two or three night cruises.  Chobe Savanna Lodge is situated across from Puku Flats in Chobe National Park from where buffalo, elephants, giraffes and hippos are often spotted directly from the lodge.  Savanna also enjoys the benefit of a more exclusive river experience being located further into the park.
Caprivi Strip: Pride of the Zambezi, Ichobezi, Zambezi Queen, Chobe Savanna Lodge, Impalila Island Lodge, Ichingo River Lodge.
Last year Lorraine and I started a tradition of our two families going on safari together. This year our annual family safari took us to Hwange. Travelling with kids is an adventure. Seeing nature through their eyes makes you realize how wonderful our planet really is. Did you know that a wildebeest looks a bit like a Gruffalo. For all ignorant people out there, "The Gruffalo" is one of the best-loved children's books ever. "A gruffalo? What's a gruffalo?"
"A gruffalo! Why, didn't you know? He has terrible tusks, and terrible claws, and terrible teeth in his terrible jaws."
And so begins the story of a quick-witted mouse as he encounters a host of predators who seem to think he might make a tasty treat. As he ventures deeper into the deep dark wood, stumbling across a hungry fox, a not-so-wise owl, and a slimy snake, spinning ever-extraordinary yarns about the scary, scaly gruffalo, he quickly realises that the hungry beast he has been talking of isn't imaginary after all.
On Safari with the Gruffalo:
Three bush babies strolled through the Hwange vlei,
they saw some Lions lying in their way,
snoozing and dreaming of roasted Gruffalo on a spit,
the Bush Babies turned around and away they slid…
Our days in Hwange were filled with extraordinary gamedrives. Living in Botswana also means that our children grow up being spoilt safari-goers, but Hwange can easily compete. Especially the south-east of Hwange offered outstanding game viewing (Davisons, Bomani, Camelthorn and Little Makalolo). It never got boring, the kids loved every moment of it. Hwange in combination with Victoria Falls and Chobe is a great destination for a family safari!
The Safari Destinations educationals are famous! Every year we organize numerous individual trips. For many years we have successfully organized Botswana educationals for groups, this year we were proud to celebrate a premiere, we ran our first Post-Indaba Educational to ZAMBIA.
Suku was the lucky winner and guided a group of five enthusiastic agents. All had been to Southern Africa many times before, some had been on educational to Zambia, for some it was their first time to visit the Lower Zambezi and South Luangwa National Parks.
The group travelled from Livingstone to Lusaka, they stayed at Tongabezi Lodge, Sausage Tree Camp, Chiawa Camp, Chongwe River Camp, Nkwali Camp, Chindeni Bush Camp, Chichele Presidential Lodge, Mchenja Bush Camp and Chinzombo Camp.
Suku shares the highlights of her trip with us:
Chiawa for the best guiding experience during her trip:
My best guide was Daniel from Chiawa – he had a great sense of humour, knowledgeable and caring! His guiding was top class; he knew the bush in and out and had the most interesting stories to tell about the Lower Zambezi! There was never a dull moment with Daniel – he kept us entertained the entire time…
Chindeni for the most memorable moment during her trip:
My highlight was the special sundowner that they set up for us on the banks of the Luangwa river; in full view of the stunning Chindeni Hills. Hippos graced us with their presence whilst we bade farewell (with a drink in hand) yet to another wonderful sunset in the Luangwa valley!
Sausage Tree for the best food experience – lunch served in the mighty Zambezi River!
Jason the owner of Sausage Tree and his team hosted us to the most amazing lunch; set up in the middle of the Zambezi River! The setting in the water was stunning, the food was fresh and the drinks ice cold and refreshing – and the service was top notch…….I felt like royalty! This was the highlight of my entire trip!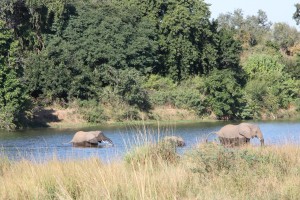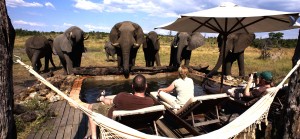 "Come quietly and sit down' our guide Nick said, moving over to the dinner table laid out by Somalisa Camp's small pool.  Kay and I negotiated the steps down to the deck carefully by the dim light of hurricane lanterns, trying not to fall on our faces or make any sudden movements.  We were sitting down to dinner with an unusual guest, a big elephant bull who had come to drink out of the pool, trying his best to drain the water dry.  He faced us head-on, something that would make you twitch in the bush, especially as he was only four metres away.  He disregarded us, plunged his trunk into the water, slurped up the liquid and threw it down his throat.  The noise was incredible.  "It sounds like a really big toilet flushing" said Johnny, our host and camp manager.  "They don't drink out of the waterhole?" Kay asked.  "They like the clean water,' said Nick 'they prefer the waterhole for mud baths."
As we chatted over starters and broke bread, the bull moved off and another came to drink, then another.  Somewhere through the main course, a breeding herd gathered around opposite us, with a very small elephant calf.  We gawked at the noise of 10 toilets flushing in succession as the little calf tried to find water with its trunk.  "It's amazing how blasé you get' said Kay 'we're just sitting here, having dinner and a chat." She was right.  If one of the bulls didn't like us, it wouldn't have taken much for him to do something about it from the other side of the pool, but they were calm and Nick was used to this behaviour.  It had almost become Somalisa Camp's guaranteed dinner-time entertainment.
Kay & I had come to Hwange during green season, a time when game viewing is far more challenging and so we were expecting game sightings to be few and far between.  Luck was on side, however and on the first morning game drive into Hwange National Park we found a pack of twelve wild dogs moving along the roadside, sniffing bushes and trying to pick up the scent of something to chase for breakfast.  We followed them for at least ten minutes as they scoured both sides of the road for a scent before disappearing into the thick brush.  Later that day, driving with Nick from Hwange Main Camp we spotted huge amounts of plains game, zebra taking dust baths in the afternoon light, big herds of buffalo spread out across the plains and a big sable bull whose elongated horns curved all the way back to his shoulders.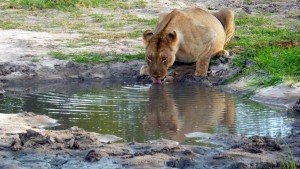 As the sky started turning orange and pink just before sundowners, we found two big male lions and three lionesses stretched out over termite mounds with full, round bellies and a buffalo kill hidden in the bushes.  "It's interesting about these male lions' Nick said 'this one, Cecil with the big black mane is about eleven years old.  One of the lion researchers around here thinks he has the biggest skull on record.  He got kicked out of his territory by a younger male and was living on the periphery for ages.  Then he teamed up with this other male Jericho who's now nine and they took this area off a younger lion.  It's not often you see that.  Normally once they get kicked out, they're out.  And now they have these three young girls here.  They can't be older than five.  They're all quite full with buffalo, but it looks as if one of them might be pregnant."
The next morning the lions were still right where we left them and had begun slinking over to a nearby waterhole to drink.  In the background a black-backed jackal was chewing pieces of meat off an elephant carcass as the vultures watched.  We moved over to another waterhole and Nick was distracted by movement on the water.  "What's going on here?' he said 'I've never seen this before."  Sitting on the water were two Egyptian geese, determined to drown another goose by swooping on his head and forcing him underwater.  The goose would then swim under water and pop up about ten metres away as his bullies scanned the water looking for him.  As soon as he surfaced, the two geese would be on him again in a blaze of feathers and fury.  We watched the attack, holding our breath as each attempted drowning was followed by an underwater swim and a quick breath of air before the geese were back on the trail.  Suddenly it seemed a lifetime since we'd seen our half-drowned goose.  We checked the surface of the water, scanning for a sign of life.  Nothing.  More time passed and we started to believe the goose had drowned as the other two geese started honking out cackles and flapping their wings in victory.  Just as we started lamenting the goose's demise, a little figure popped up on the side of the waterhole.  He'd swam at least thirty metres underwater in a final attempt at escape.  He was soggy, but undetected and alive.
We headed back to Somalisa Camp to pack our bags and move on to another part of Hwange.  As we wandered around the main camp gossiping about the morning's sightings, I was distracted by movement out the corner of my eye.  Across the plain near the tree line, impala were scattering.  I pointed and yelled gibberish, trying to get everyone's attention while trying to figure out what I was seeing.  "Um, lion…" I shouted on impulse, watching something straw-coloured fifty metres away chasing the antelope. "No, cheetah!" said Nick as we watched the chase becoming un-successful, the impala running faster as the cheetah slowed, panting with fatigue.  Nick ran for the vehicle and brought it around as the cheetah retreated to the tree line.  We were going to try and catch up with her in our last ten minutes in camp.  We drove the tracks and scanned the grass.  We knew the cheetah had been right where we were only moments ago.  We drove forward & back, looking for leaves or grasses moving.  "At this time of year, all she has to do is lie down and you'd never know she was here" said Kay.  True enough, she'd disappeared for good, probably hiding no more than twenty metres from us, but in the thick shrub, we didn't have a chance.  This was why searching for game in green season held an exciting element of the unknown.  You just never knew what was hiding in the long grass.
Getting to Hwange
Hwange is surprisingly close to Victoria Falls and accessible by tar all the way up to Hwange Main Camp.  Road transfers from Victoria Falls town will get you to the lodges on their own private concessions bordering the park in approximately 2 ½ hrs.  Flights from Victoria Falls will get you to camps within the park in 45 – 55 minutes.  Due to Hwange's close proximity to Victoria Falls, the park is a logical extension to any Botswana itinerary finishing in Victoria Falls and can be very cost-effective as compared to a delta fly-in.
Where to visit in Hwange
Like the parks in Botswana, there are no fences around Hwange National Park, meaning game can move freely between the park and the lodges on small private concessions outside the park.  The terrain in the north of the park around Sinamatella features a lot of hills, granite kopjes and deep valleys, whereas Hwange Main Camp is characterised by open grassland surrounded by acacia woodland.  The landscape further south towards the Linkwasha concession changes again, with more Molokwane Palm trees and open pans.  The diversity of the park makes it easy to combine two separate camps in two separate areas and achieve a varied safari experience.
Lodges/Camps outside Hwange: While these properties are not technically in the park, they experience good numbers of game moving through in the dry season and some have very productive waterholes and resident populations of game that can be reliably sighted.  Most of the camps offer game drives on their own private concessions with the option to game drive inside Hwange National Park as well.  We recommend pre-paying park fees to provide clients with the option of both.
Camps inside Hwange:  Staying inside the park provides a more intense bush experience and removes the necessity of checking in at park gates before and after game drives.   The camps inside Hwange National Park have small private concessions around them, enabling more relaxed sundowners without a rush back to camp before park closing times.  Some of these camps can also offer short night drives, something which is not permitted inside national parks in Botswana.
What to combine it with: Hwange is very much a dry land game viewing destination.  The park roads are easy-going and very well sign-posted making it a great introduction to a safari before continuing to Botswana.  Hwange National Park works very well combined with a houseboat experience or Chobe Savanna Lodge in the Caprivi (opposite Chobe National Park) for a dry land and water contrast before continuing to the dry land game viewing of the Khwai Community Area or Moremi Game Reserve.
Pre-Packaged Options: Check out our 8 Night Elephant Paths itineraries combining Hwange, Victoria Falls and Chobe or extend to a 10 Night Elephant Paths package with a fly-in to the Okavango Delta.  All packages can be downloaded from our Agent's Corner.
In November Muriel and I had the opportunity to explore the camps in the Jao Concession, we visited Tubu, Little Tubu, Jao, Jacana and the new Pelo Camp. I am happy to share our experience with you:
Kwetsani: Spectacular setting over the lagoon, very 'high and elevated camp' everything is about views, large public deck, many different, intimate corners and tasteful spaces for the clients to withdraw and enjoy the scenery.
Units: due to their height they almost appear as 'tree houses', they will be enlarged and refurbished in the coming weeks, then the camp will be certainly my favorite of the classic collection in Jao.
Management: very passionate, open minded, outgoing, and certainly top service orientated camp manager, Charmaine.
Pelo Camp (pronounce PILU for all Setswana ignorants amongst us, as otherwise it sounds like kidney and not like heart, which is the shape of the island it is on).
New camp only open in high (=dry) season, very romantic, hidden in the thick bush on the island, pure water bases, the only activity is mokoro, so it will make a perfect last to relax in some horizontal safari (the birds' concert is outstandingly entertaining) and concentrate on the small stuff.
The fire place with the bar is the central meeting point, elevated above the lagoon it offers views combined with a warm camp atmosphere.
The public area is a small tent with a terrace, true to the modest style, no big furniture but cushions to lounge.
The dining area is in another small tent, just enough to make clients feels safe without taking the camping feel away.
Units: from the outside it could be just a notch above mobile safari, they almost hide their luxurious interior (top comfy beds, perfect illumination, desk), which gives the camp the charisma of cozy, tented, intimate. Only outside bucket shower (in the cold winter months of June/July people should be informed/warned).
Food: great brunch, a variety a light and tasteful salads, beef sausages, cold pasta, cooked breakfast, fruit and cheeses. Dinner consisted of a veggie soup, excellent Impala stew, veggies and again salad, very pleasant.
Activities: mokoro, the nicest cruise I have ever done for over 2 hrs, safe, hippo free, and in a very lovely surrounding, apart from birder's paradise, with hundreds of lechwe and elephant herds at our sights, we even spotted some shy Sitatunga.
Apart from mokoro, the manager takes clients to his very special Delta Pool for a refreshing swim and pick nick on the sand banks. Also catch+release fishing is possible.
Camp Jao: Just stunning, the jewel of the concession for the pampered, the Balinese palace in the Delta. All emphasis on luxury, spa, food, wine tasting, a perfect end or relaxing start to a safari, I could certainly stay for 5 days in this camp. The whole camp is highly elevated in beautiful old trees, as if the camp was a colony of tree houses connected by swaying boardwalks.
Apart from the spa, there is a proper gym, yoga mats and pilates balls, and a wine tasting parlour, as the unusual features.
Units: the best feature (vs its sisters in luxury Kings Pool/Vumbura Plains) is the shape of the rooms, as they are not deep but long, so from any point of the unit the views over the lagoon can be enjoyed, they are airy and full of light, which takes the weight off the massive wooden furniture and gives it a noble and highly elegant feel.
The public areas are impressive, two pools, one family one adults only plunge pool bordering with the Delta, large shady sitting areas on a 10 m tall deck. The impressive fireplace with unique Balinese drums builds the center of the camp with incredible views over the lagoon and its wildlife, e.g. Lechwe hunting Lions.
Who said that game viewing in green season isn't outstanding?
Here is Kay's feedback from her recent 2 night stay at Chiefs Camp (Sanctuary Retreats) on Chiefs Island in the Moremi Game Reserve:
"Well believe it or not I got a first !!!!! I actually saw the BIG 5 !!! after 40 years in Botswana..WOW that was amazing !!!
Although we did slightly cheat & saw the Buffalo from the plane on the way home, but regardless we saw them …."
Positives:
1: Guiding was excellent !!!, we had a guide called Sky for the duration & he was great. Not full of his own importance & bad jokes, that is unfortunately becoming common in many camps, but full of knowledge & certainly tried very hard to please .
2: Management & staff, could not have been more accommodating & pleasant. Always around & ready to serve, but not in your face so to speak. On chatting to different members of staff, most had been with Sanctuary for + / 3/4 years, so that says a lot .
3: Food was outstanding …I am a very picky eater, as you all know, but there was so much choice, nobody could ever complain & it just kept coming. We were there on 26th which was Thanksgiving & joys, we had a camp full of Americans, so the staff actually did Roast Turkey as one of the choices, which was very impressive….
4: Tea & coffee with a very friendly wake-up call ….YES !!!
5: Free 10 minute amazing foot massage at the Spa – all guests get this, what a treat.
6: Campfire every night, whether we sat around it or not, the ambience is there
7: Location, very dry at the moment, tiny water hole in front of the camp & infact very little water anywhere. We drove right up to the Mombo border & all the channels were bone dry. The concession is so diverse, with flood plains, palm islands etc as well as the normally dry inland sections, definitely an amazing area & never boring …..I will just have to go back & see it in full flood.
8: GAME: wow !!!!, although in all honesty we did not see huge quantities, apart from Zebra (several large herds) and the ever present Impala, it was all so relaxed & quiet happy to let you get up close & personal. Some of the game has moved off according to Sky, Leopards have disappeared as the Baboon population has trebled & Wild dog / Buffalo have not been seen for a few weeks……he feels it will all return with the rains / Floods.
Then the ultimate, Rhino, not just 1 but 2 different Males, what an amazing treat. I did see a couple in Chobe back in the 70's but nothing since, so this was an amazing bonus & so unexpected ….
Lion, I think we counted about 15, 1 Lioness on her own eating a large Tortoise, very gruesome, but very unique. Sadly only 1 Leopard, but she posed beautifully. Surprisingly very few Elephants, apparently they have also headed south for water. But all in all amazing good quality game.
9: Flights in & out with Mack Air. Short & Sweet, perfect for me !!
Negatives:
1: Rooms, not so great….I feel they were dated & quite small for a premier camp. Although the bathrooms were very nice & spacious, they look as though they have been recently revamped.
The rooms had 2 very stiff armchairs that were very uncomfortable, Overhead & free standing Fan, a fully stocked mini bar, but no Coffee / Tea station.
2: Generator runs throughout the night, this happens at all the Sanctuary Lodges I believe, but does affect your natural night sounds. Plus the lights from the pathway are on all night & shine into your rooms.
3: Most Premier camps have private pools nowadays, & with the cost of Chiefs, I feel they could look at this, as the pool is right at the main area and with + 35 degrees, very busy.
4: Down-time, felt very long……we got back from the morning drive @ 10am & departed for afternoon drive @ 4pm, although you have lunch in-between, it did seem to drag.
5: Vehicles…..seemed very tired, definitely could do with a face lift, the middle row, had no foot rests & no soft places to put cameras etc…just a pocket in the back of 2 chairs, or a large metal trough in the front, not even drink holders. Again I feel for a premier Camp, the vehicles should be top class, as they only offer game drives so you spend +-6 hours a day in them.
No hesitation in selling Chiefs now. Still tend to feel that it is overpriced, especially in High Season, as many other camps offer the same or more, but I think the area / concession would take a lot of beating & that is what you are paying for no doubt …..
Kay