Tag:
#elephants #LostinBots #nxaipancamp #kwandosafaris #ILoveBotswana
It is pretty special when you take your first aeroplane flight. But when your first flight is in a caravan, flying over the Okavango Delta, on your way to Khwai, there is something extra special about it although it can be something of a scary, bumpy ride. For Resego, she was excited at the thought of flying. "I was looking forward to seeing the earth from a bird's eye view". Resego received lots of advice: "Kay told me to remember my pressure points if I felt air-sick. I did but it didn't work! Helmie advised that I should get some ginger ale but with the excitement and nervousness, I forgot. Lisa told me to drink water before the flight but I was worried about having to use the bathroom once we took off, so I ignored that advice. Amandine's advice: keep swallowing to unblock your ears, that worked. I was super excited when we took off". And the actual experience? "Ten minutes into the flight I wanted to jump off! My tummy was in knots, I was nauseous and my ears kept blocking. The flight being bumpy didn't help either. It was the longest thirty minutes of my life. I kept telling myself that I was on a bus to Gaborone and the bumps were the potholes. This seemed to work for a while but as soon as I looked outside, that illusion disappeared. As I felt the Mack air caravan getting ready to land, I breathed a sigh of relief. After getting off, a bottle of water helped ease my nerves and I was good as new again.  I am thankful my first flight experience was with people I consider my SD family, as they helped me through it."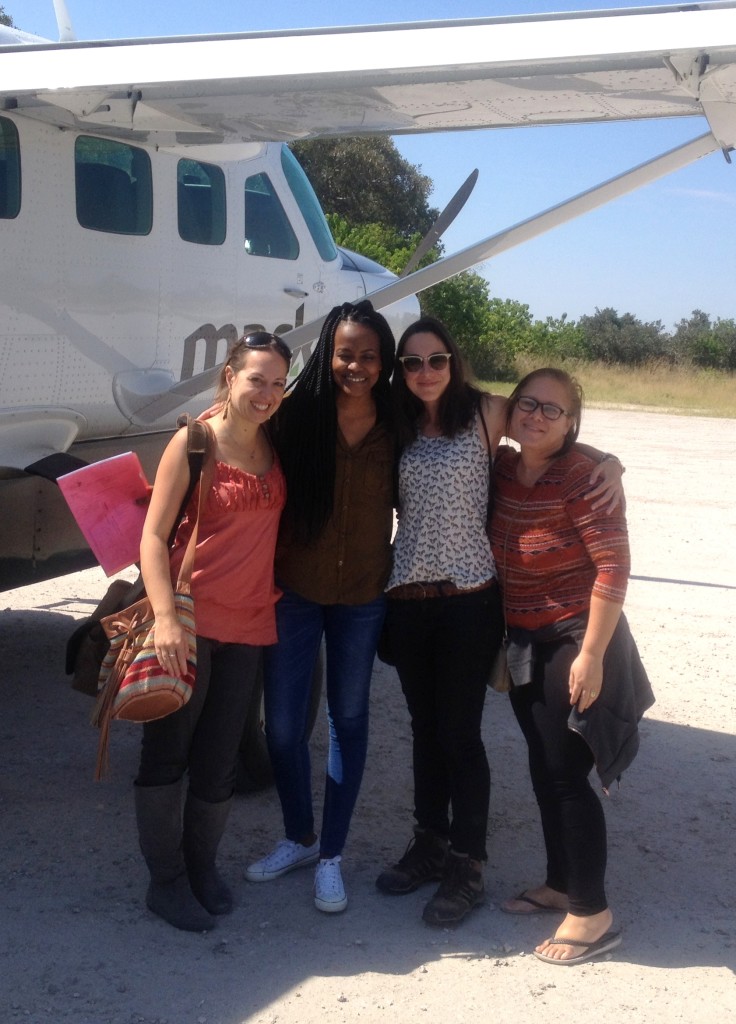 This trip was also Resego's first educational ever.  With nights at Little Machaba and Khwai Tented Camp plus site inspections to Kwai Guest House, Sango, Khwai River Lodge and Machaba, complete with all the activities on offer, Resego was immersed in the Khwai experience. Visiting together with a more senior consultant, meant that Resego was able to learn from Gen's experienced eye and put the properties into perspective.  Resego commented: "I got to see first-hand how busy Khwai really is and experience the importance of starting an itinerary with a lower end property and ending with a high end one. The personal highlight was the mokoro as I have always wanted to do that".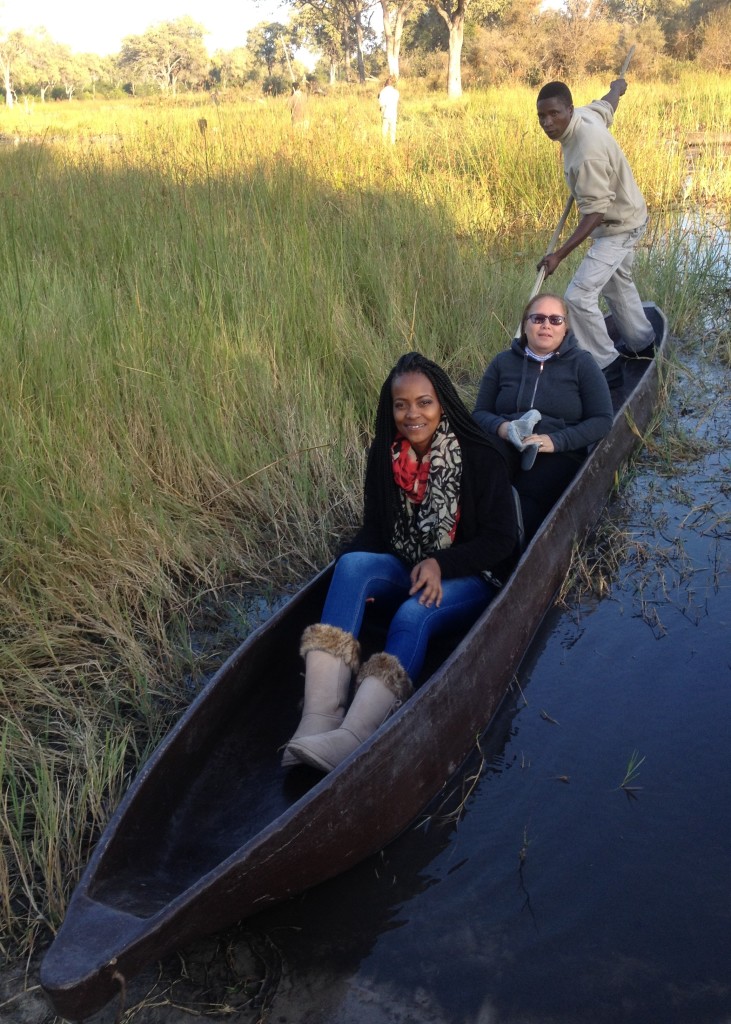 These first-time experiences are because Resego has recently been promoted to Associate Consultant. For the first time, she will be allocated her very own agents, creating her own itineraries and experiencing the pleasure of a confirmed booking.  Fresh from the University of Botswana, with her Honours in Tourism Management degree in hand, Resego joined the Safari Destinations' team two and half years ago. In this time, Resego has teamed together with other consultants, working directly with suppliers learning about their camps, rates, activities as well as about Botswana as a tourist destination.  Resego is just one of many such Motswana graduates being trained as part of SD's staff development programme.
As a new consultant, Resego will continue to be supported and guided by her team leader, Karen Reed, who has over 20 years of experience in the travel business.  Key to the training of our consultants, is the visiting of numerous properties that Safari Destinations sells to our agents. These educationals with a night at certain lodges and site inspections to others, ensures that our consultants get to feel the vibe of the camp, interact with the staff, taste the food, ride in the mokoro, experience the guiding: the stuff that the travel brochure does not tell you, giving our consultants unique insight into the camp and what it has to offer. All this translates into better product knowledge to be shared with our agents.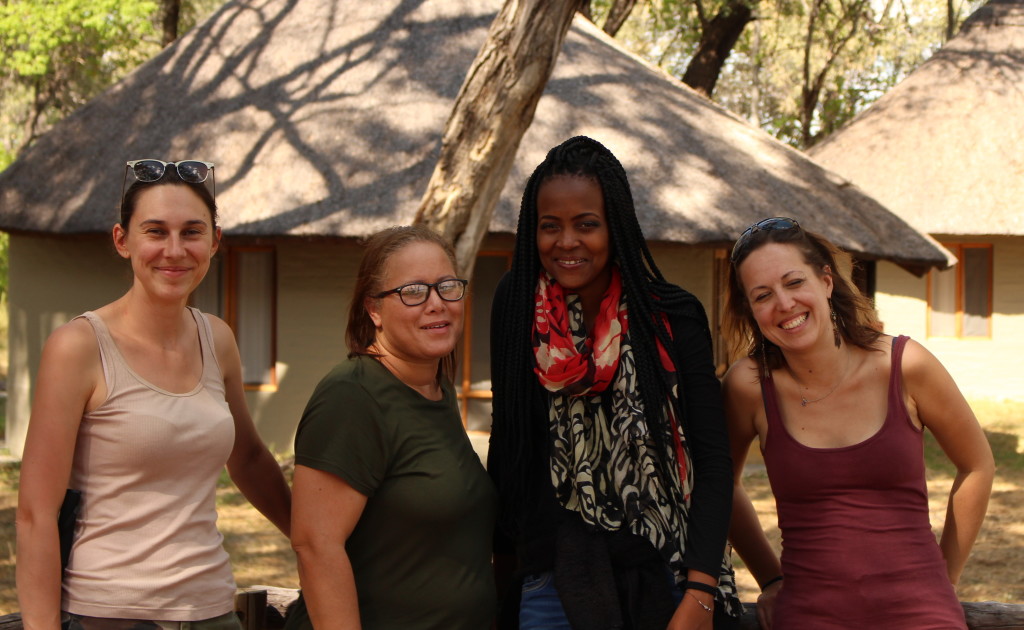 The SD family is very proud of Resego's achievements. Kay, our Reservations Manager, has been working closely with Resego for the past year. She had this to say about Resego and her going off on her first educational and flight: "To be honest I feel like a mum, watching her kid go off on her first day at school, very proud … I am sure that Resego will take the confidence we have placed in her and run with it …" Or is it a case, of flying to new heights?
Having never been to Nxai Pan National Park this was my first chance to discover this somewhat hidden gem in the desert. The landscape was stunning. One could see that the area had experienced some rains prior to our arrival as the flora was slowly coming back to life with bright green shoots and leaves providing a stark contrast to the dry landscape. The majority of trees and shrubs were coming into bloom with a stunning array of multi coloured flowers making for great landscape photography.
We could not have scripted our arrival at Nxai Pan Camp more perfectly. We arrived to a very warm welcome from the Managers, Lets and Thabo. Our camp orientation, however,  was delayed for forty five minutes due to the fact that one rather cheeky elephant had decided that the camp pool would make for a better source of drinking water than the waterhole directly located in front of camp. Spectacular to say the least!
After high tea we went out on a short game drive towards the busy waterhole where elephants were dominating the water point to the chagrin of the other wildlife such as buffalos, jackals and other desert species. The inter-action between the elephants themselves and the other wildlife was fascinating, keeping us mesmerized as Chester explained the animals behaviour we were observing.
The next morning we embarked on a short nature walk with Shoes, the resident bushman and our tracker. He provided us with numerous anecdotes and information in the ways of his forefathers during a short walk in the vicinity of the camp. Quite a character if there ever was one, explaining that my failure to start a fire would guarantee that I would never find a wife to marry! The following game drive provided great sightings in the form of three cheetahs, giraffes, zebras, elephants galore and the highlight for us, aardvark out in the open during the day time!
We went through to Baines Baobab's on our way to the Nxai Pan National Park gate. The baobabs stand out rather majestically as one approaches and the experience is quite humbling as one realises just how long these immortalized baobabs have stood the test of time.
FACTS ABOUT NXAI PAN CAMP
Nxai Pan Camp is run by Kwando Safaris
Activities on offer include game drives, bushman experience and day visits to Baines Baobabs
Camp consists of 8 custom-built rooms (including 1 family room). All rooms are en-suite with thatched roofs and insulation making them cooler in the summer and warmer in the winter