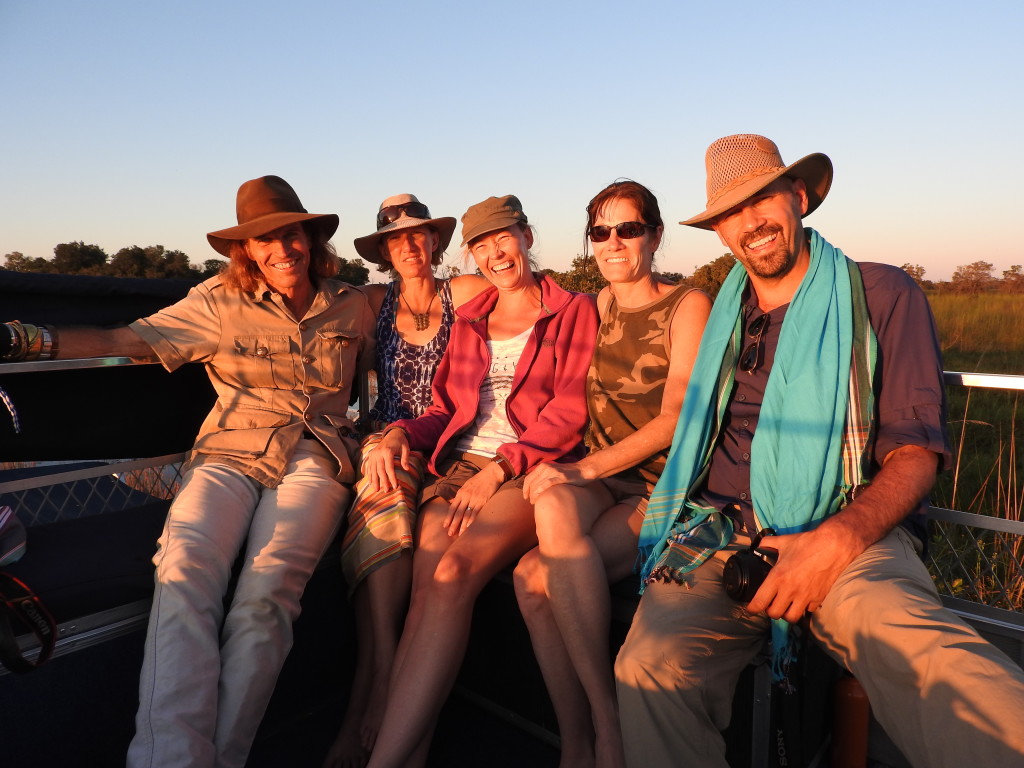 Wow – what a special experience! Recently I was privileged to join a group of agents on an Uncharted Africa educational to Moremi, the Delta and the Salt Pans.
Arriving at our mobile camp set up between 2nd and 3rd bridge in Moremi Game Reserve after dark was like arriving in fairy land, with all the lanterns down the pathways and throughout the camp.  Welcomed with a glass of sparkling wine, we were settled in.
This luxury mobile set up boasts a combination of elegance and a kind of exploration history giving you all the comforts of beds, en-suite bathrooms with bucket showers and flush toilets.  This was to be our home for the next 2 nights.  A mobile safari gives you a private camp feeling much closer to the bush than the infrastructure of any lodge.  Lying in bed at night and listening the bush come alive, as certain curious species of game come to inspect the different smells and activities of our camp.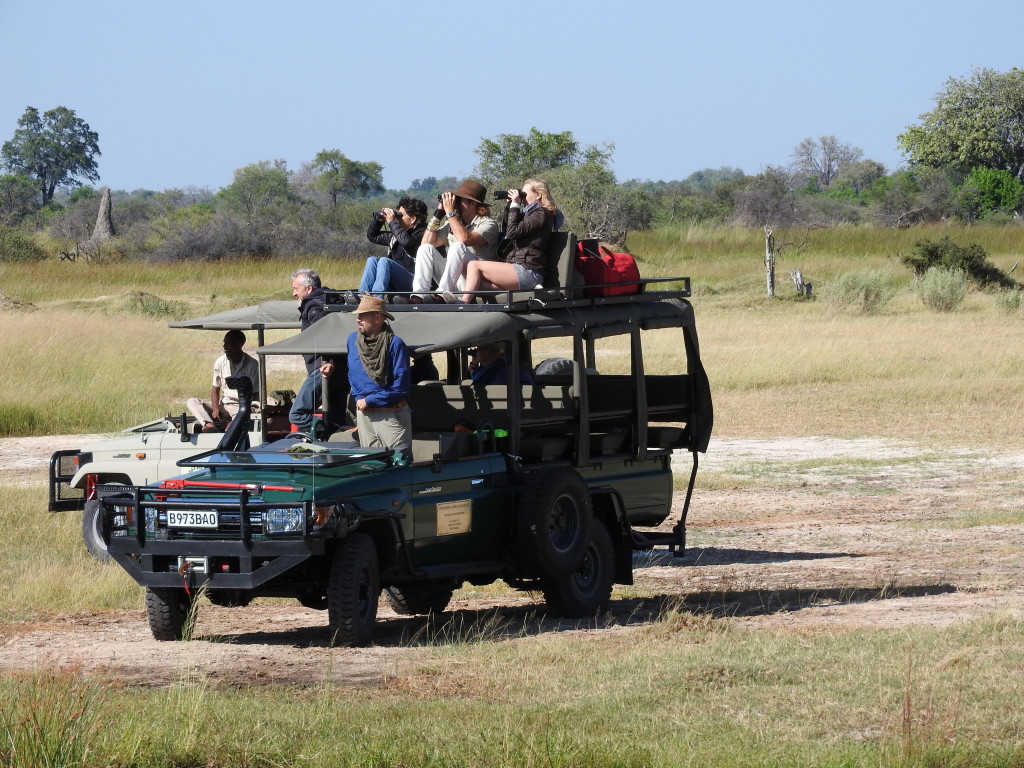 Our Guides, Ralph Bousfield and Greg certainly did not disappoint with their in depth knowledge and passion for the bush and stories of exploration, history, culture and scientific facts kept us all engaged and entertained the entire time we were with them.  The other advantage of a mobile safari is creating a trust and a bond with your guide that will be with you throughout your trip.
Day 3 we boated far into the Okavango Delta, to our Island stop where Devon (our Camp Manager) was waiting for us, fly camp set up, with more food and drinks.  Our set up was a roll mat with a mosquito net under the vast stars in the middle of the Okavango Delta. It gave us a feeling of being truly in the wild, in one of the most beautiful places on earth.  Here we experienced the water ways of the Delta, whilst competing against each other on the number of Sitatunga and Otters we spotted.  Nature walks around the island with Ralph proving to Simona we could still make a pizza from natural plants, mushrooms and shrubs on the island as well as curing malaria at the same time.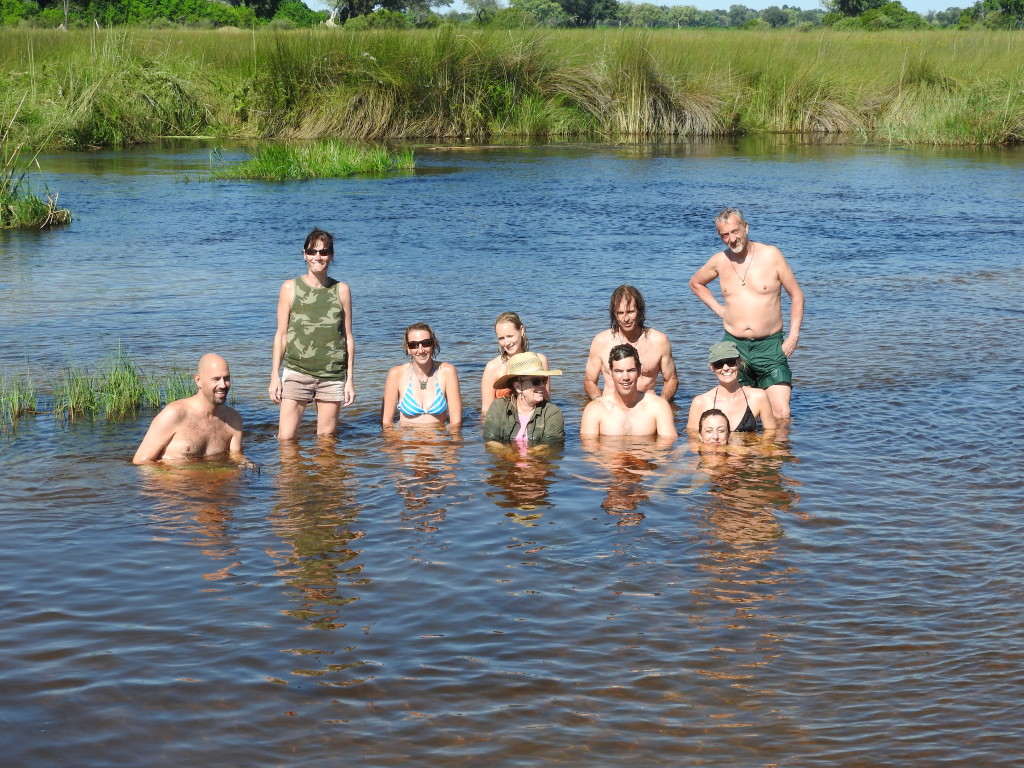 Day 4 our Delta experience was over and we flew out to the openness of the Makgadikgadi Pans.  Our home here for 2 nights was in the most feminine of all 3 Uncharted Africa camps, San Camp.
You have a choice of 3 camps all meeting 3 different styles and budgets, whilst you can all enjoy the same activities.
Camp Kalahari situated further back in the grasslands is the least expensive of the 3 camps. It is currently  raising all the tents, to allow the breeze to blow through and give you more of a view of the Pans.
San Camp being the lady of the 3, situated on the edge of the pans themselves is seasonal and only operational from April to October.  Its white tents on the edge of the pans gives you the true feeling of being on the moon.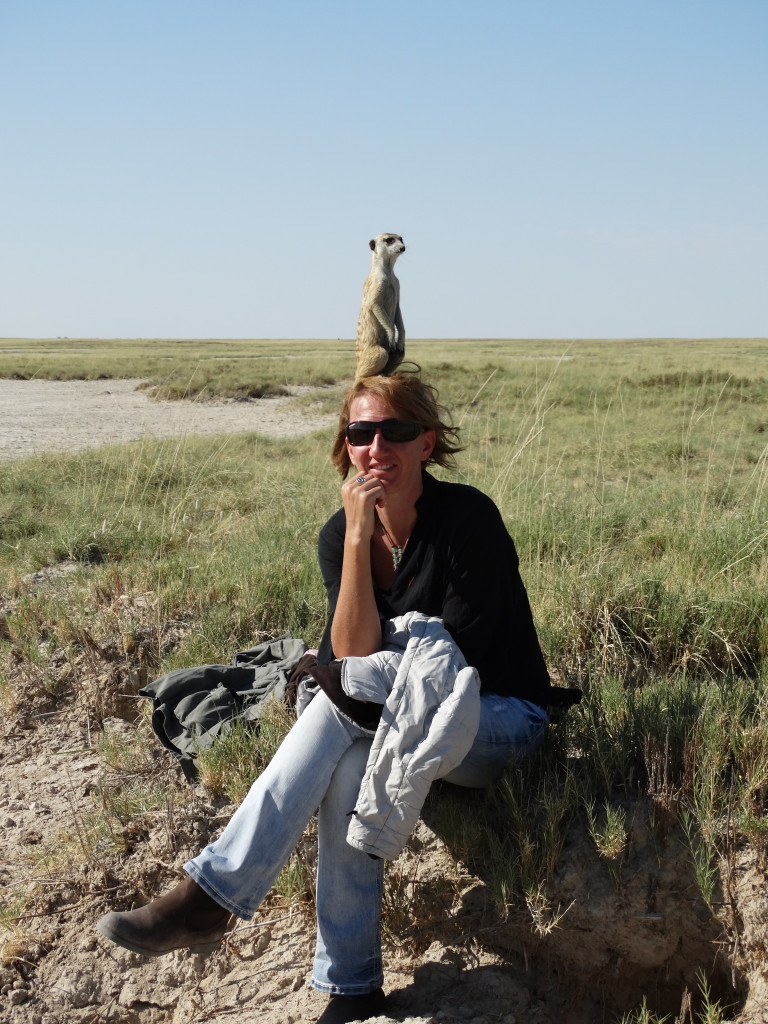 Jacks Camp, this colonial and historic camp based at the edge of the pans but slightly back into the grasslands is the grande-dame of the three.  Packed with history and science with their registered museum, it does look fabulous after the completion of its refurbishment.
One thing to mention on the activities, is all 3 camps run the same activities on a rotational cycle so that guests from 2 different camps don't do the same activity together.  This is the reason that a 3 night stay in the dry season is recommended to be offered the surprise sleep out (weather dependant).  Activities include a cultural bushman walk, game drives looking for more adapted desert species, quad biking in the dry season, following and interacting with the very comical habituated meerkats, horse riding as an optional extra and watching the sun set where it is so silent that your ears ring.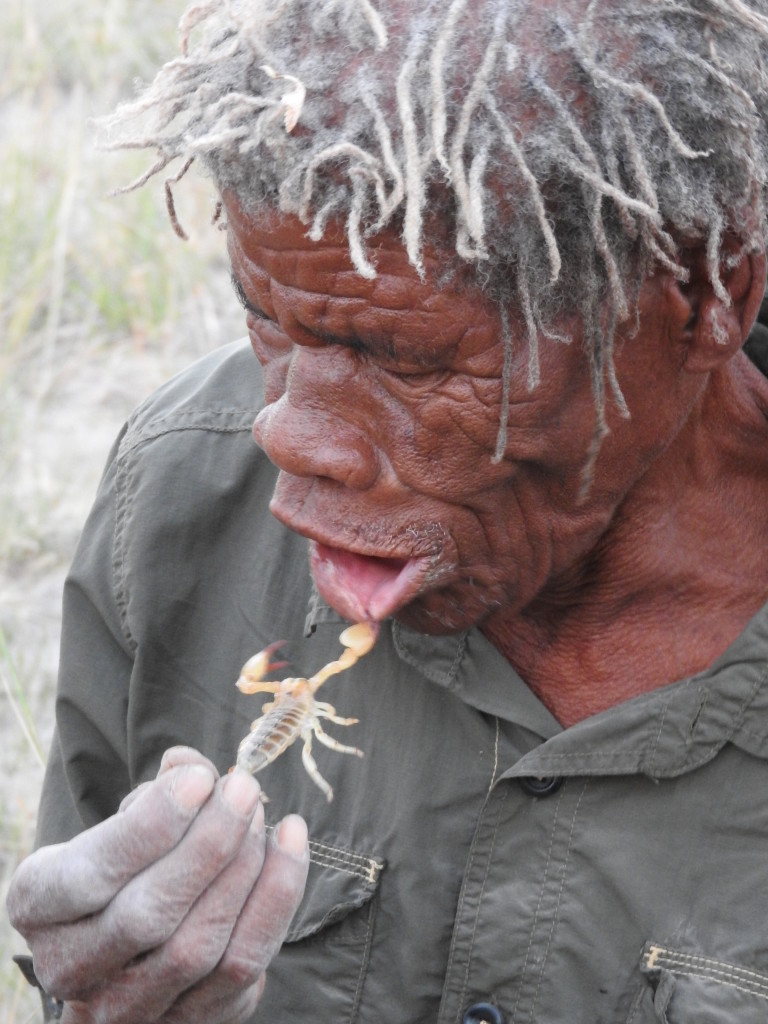 A safari to the Salt Pans is such a unique experience, from the Zebra migration in the Green Season to exploring the pans on quad bikes in the dry season, it should not be missed.
Our Selfdrive Trip from Maun to Khwai and Savuti!
Have you ever wondered what it takes to get off the tarmac and explore the sandy tracks of Botswana's National Parks in a 4×4?  We did.  With our mission set, four of us Safari Destinations girls, calling ourselves the SD Angels departed Maun early on a Sunday morning for a five day self-drive safari through Moremi, Khwai and Savute.
Leaving Maun, the small village of Shorobe marks the end of the tarmac.  From here to the buffalo fence is a big wide stretch of calcrete road where we had our first encounter with someone driving far too fast and almost wiping us out.  We quickly discovered slow is the answer, as people generally tend to drive too fast and run into trouble.
From the buffalo fence there are two ways of getting to Khwai.  You can either go via Mababe Village, staying on the calcrete road or head through Moremi Game Reserve via South Gate.  We decided to go through Moremi as we were in no rush, since the route is more scenic with much better opportunities for spotting wildlife.  The road between the buffalo fence and South Gate is quite narrow, passing through mopane forests and very sandy, so the driving is quite a bit slower and we let our tyres down to about 1.6 bar to deal with the terrain.
Once we reached North Gate and exited Moremi Game Reserve, we crossed over a proper bush bridge made from Gum Poles and into Khwai Village.  To get here took us approx four hours from Maun, stopping for game sightings on the way.  In Khwai, we stayed at both Khwai River Lodge and Khwai Tented Camp, however other options in the area include Sango Safari Camp and Machaba Camp.
For self-drivers, the road network around Khwai is quite disorienting.  As a result, it's best to arrange your game viewing activities with your lodge as the professional guides know the area, where the game is and what signs to look for in tracking animals, resulting in a more enjoyable safari.
Leaving Khwai for Savuti, there are two possible routes.  Different people gave us different arguments and opinions on whether we should take the Marsh Road or the Sandridge Road.  In the end, we took the Marsh road which is longer but a lot more scenic, traversing the Mababe Depression and the Savute Marsh.  There is a lot more wild life on this section of road especially around the Savute Marsh and we saw leopard, cheetah, elephant, wildebeest, giraffe, impala, the list goes on.  This road can become flooded in some areas, and very slippery in the rainy season.  In October, it took us approximately four hours to drive the Sandridge route.
In Savute, we stayed at both Savute Elephant Camp and Ghoha Hills, however other options include Savuti Safari Lodge, as well as SKL's Camp Savuti next to the public campsite.
Returning from Savute, we drove back towards Khwai on the Sandridge road, which was a lot quicker with better road conditions.  Although quicker, the driving is through a lot of Mopane and we only saw elephant and steenbok driving this way.  In the winter months before the rains, this sandy road can get very churned up and a lot of people get stuck.  Taking this route back to Maun and skipping Moremi Game Reserve on the return took us approx 5 ½ hours.
To self-drive successfully through the parks, we recommend a good 4 x 4 such as a Land Rover, Toyota Hilux or Landcruiser.  It's essential the car has 4×4 and has good clearance.  This driving cannot be done in either a 2WD or a 4WD without the height to manage deep sand and water crossings.  For good vehicles carrying the essential equipment as standard and good back-up service in case of emergencies, we recommend Travel Adventures Botswana.  Essential items to pack are a high-lift or air jack, two spare tyres, spade, axe, tow-rope, jumper-lead cables, tyre pressure gauge and air compressor.  If you don't have a long-range tank, you will need extra fuel as driving in sand uses a lot more fuel than travelling on tarmac.  You should always have plenty of drinking water, basic food supplies, a GPS, satellite phone and a well-stocked first aid kit on hand in case of getting lost, stuck or experiencing break-downs.  Of course, you will also need your park entry permits for your vehicle and for yourself, together with any confirmation from lodges you'll be staying at which confirm they've pre-paid park fees on your behalf.