Monthly Archives:
February 2021
It is often, that whenever reality and change merge we discover new places. The year 2020 has taught us that. As we start to look forward to what lies ahead. I would like to take pride in our land and honour the legacy and the heritage that our ancestors have left behind for us… Hidden gems that are unscathed and are still sacred and unknown by most. Heritage sites are said to have the power to heal the body, enlighten the mind, and inspire the heart. For your unique and extraordinary experience we put together a list of places in Botswana that we hold dear to our hearts for your next travels.
GCWIHABA CAVES – OKAVANGO DELTA
Gcwihaba is a fascinating underground labyrinth of caverns and pits, linked passages, fantastical stalagmite and stalactite formations, and beautifully coloured flowstones that appear like waterfalls of rock. Gcwihaba has been part of the Kalahari ecosystem for almost three million years. It was formed during an age when the area was much wetter. There have been dramatic climatic variations alternating very wet with very dry periods.
Archaeological evidence suggests that the area was inhabited by foraging peoples thousands of years ago. Late Stone Age tools, burnt ostrich eggshells, animal bones, even a fossilised primate skull, have been unearthed in the region. Indeed the caves hold important clues to the way prehistoric peoples related to their environments.
Gcwihaba is a designated National Monument and a proposed UNESCO World Heritage Site.
How to get there: Located in one of the most remote parts of Botswana, The Gcwihaba Caves can only be reached via a long and arduous 4×4 Nokaneng route, using a well equipped 4×4 vehicle. The road goes 122 kilometers west of Nokaneng to Xangwa village. From Xangwa, drive south to Xai-xai Village. The cave is a further 36km south east of Xai-xai village.
TSODILO HILLS
The Tsodilo Hills are one of the most historically significant rock art sites in the world, consisting of rock paintings, rock shelters, depressions, and small caves. Nobody knows the exact age of the paintings although some are thought to be more than 20 000 years old, whilst others are merely a century old.
For the people who live at the Hills – the San, the original inhabitants, and the Hambukushu who have periodically occupied the hills for the past 200 years – Tsodilo is a sacred, mystical place where ancestral spirits dwell. In earlier times, their ancestors performed religious rituals to ask for assistance, and for rain. They also put paintings on the rock face; and their meaning and symbolism remain a mystery even to today.
Exploring the three main Hills – Male, Female, and child – is a journey into antiquity. Archaeological research – ongoing for the past 30 years – estimates that Tsodilo has been inhabited for the past 100 000 years, making this one of the world's oldest historical sites. Pottery, iron, glass beads, shell beads, carved bone and stone tools date back 90 000 years.
Because their tremendous historical and cultural importance, Tsodilo was declared a UNESCO World Heritage Site in 2002.
How to get there: From Maun, take the main tar road to Shakawe, 370km. The hills are 40km from Shakawe on a dirt road. The track to Tsodilo hills can only be negotiated with four-wheel-drive vehicles. If you want to make this a half day trip you can always fly in with a helicopter from Maun or the Delta.
TSWAPONG HILLS – MOREMI GORGE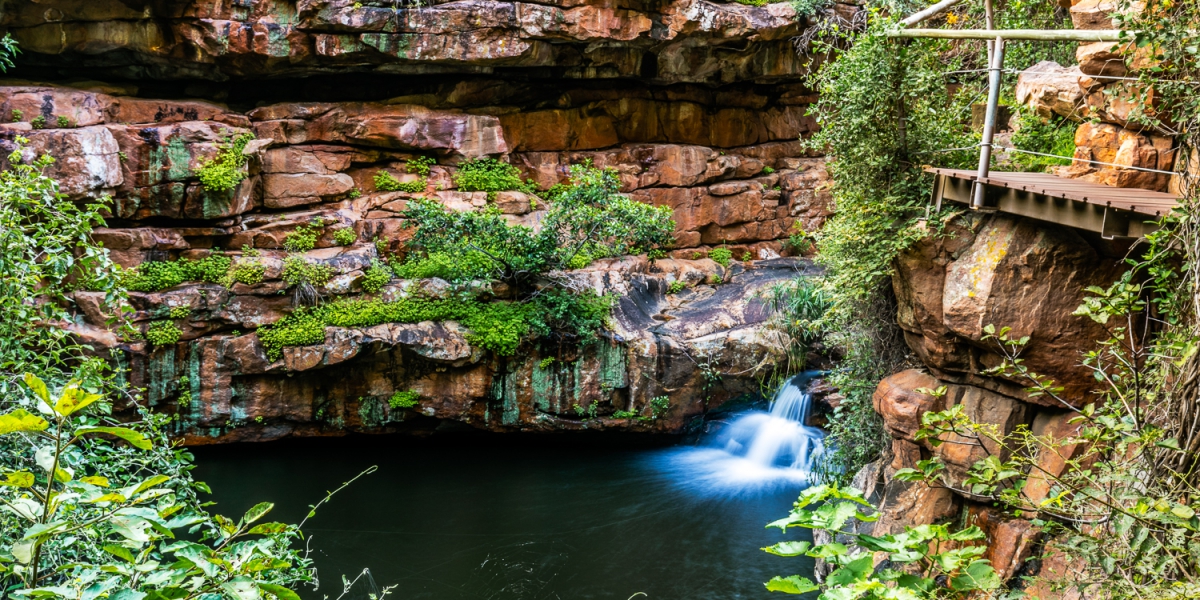 Moremi Gorge is situated deep within the hills, which can only be reached by a rather taxing climb, Moremi Gorge is the source of three permanent waterfalls. The first two are smaller, but fan out into large waterholes, whilst the uppermost falls is a full ten-meters high, giving rise to spectacular scenes of clear water cascading over rocky outcrops, then collecting in a deeply hidden, lushly vegetated, fern-fringed lagoon.
The Moremi Gorge is a designated National Monument and is managed by the Department of National Museum, Monuments and Art Gallery. For self drives this would definitely be worth a stopover.
How to get there: Goo‐Moremi Gorge in Palapye, is a 2 hour drive from the Martins Drift border. Ideal for overnight travellers to Maun and Moremi Game Reserve.
THE CHOBE LINYANTI SYSTEM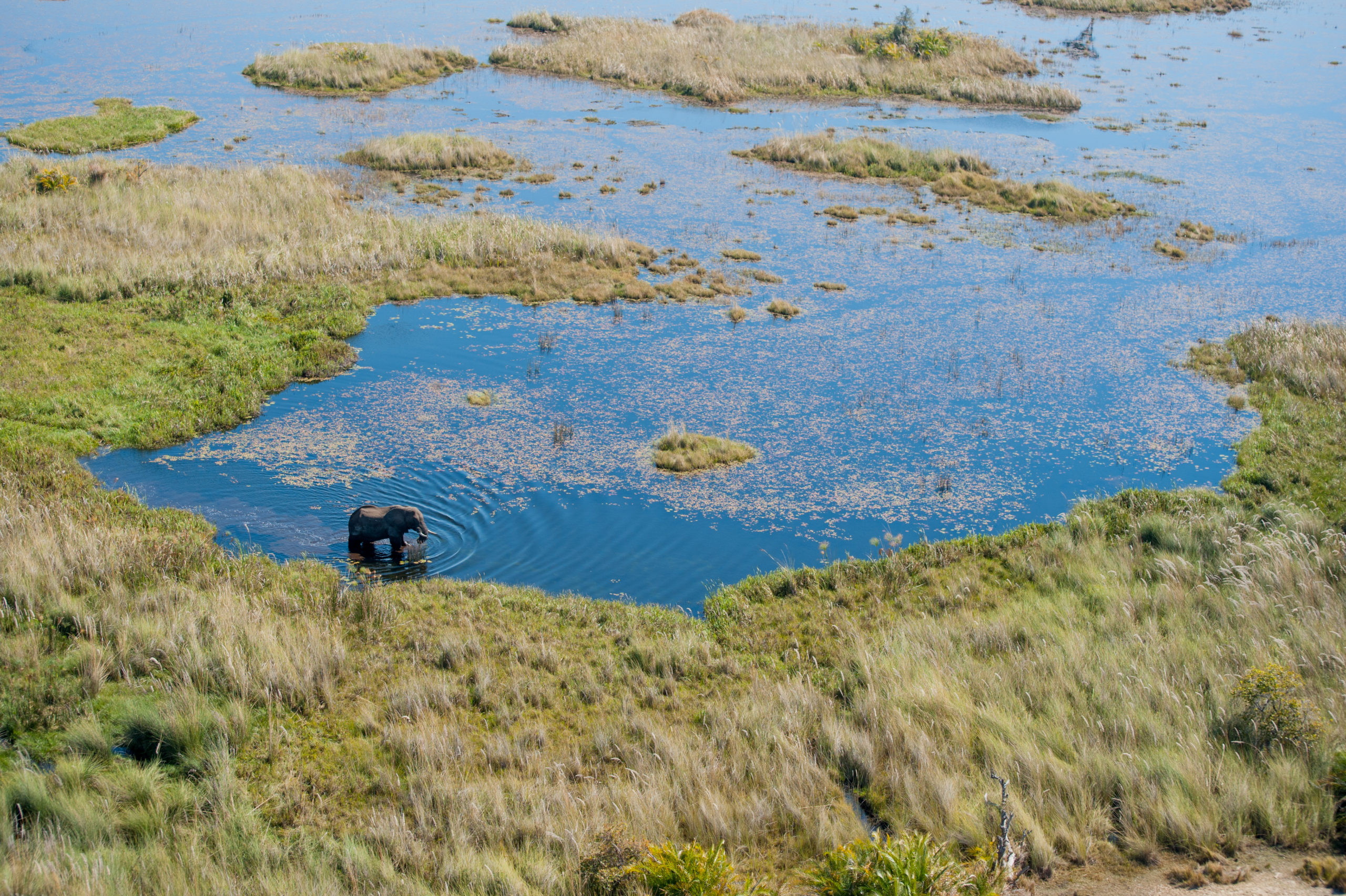 Chobe National Park is home to Africa's largest elephant population and comprises more than 10,000km2 of rich ecosystems and diverse landscapes. Most parts of the area such as the Linyanti and Selinda reserve are still intact as they are the least visited, and have retained its pristine environment. Chobe National Park is the third largest park in the country, which in itself is divided into three different ecosystems.
The Serondela area: also known a the Chobe riverfront, is located in the northeast part of the park, characterized by lush green plains and dense forests. The riverfront attracts large herds of Elephants and Buffalo, offering fantastic photographic opportunities as they bathe and drink in the late afternoon sunlight.
In the furthest corner of Chobe National Park lies the Linyanti region. Secluded and remote, this short strip of marshy river frontage connects Chobe to the Okavango Delta. It has only a handful of safari camps and as such offers a highly intimate safari experience. There are large concentrations of lions, leopards, wild dogs, roan antelopes, sable antelopes, hippopotamuses above all enormous herds of elephants.
The Savuti Region: The Savuti area borders the Delta to the west, boasting of rich grasslands, savannah woodland and a large mixture of trees and vegetation, which makes wildlife particularly dynamic in this section of the park. Savuti is famous for its mysterious and fascinating channel that brings water from the Chobe to Mababe, creating a small marsh where it enters the Mababe Depression.
Magnificent Rock Art at Savuti!
Overlooking the Savuti channel is a group of rocky outcrops, which are referred to as the Gubatsa Hills. Though these hills house ancient San bushmen rock art of a similar style and outlined in red-ochre (similar to the nearest rock paintings found at Tsodilo Hills) they seem to have been done by different groups of people.