Category Archives: Travel during Covid

I am very grateful for my privileged life, my healthy family, my friends, and that our company has so far weathered the storm called Covid. Covid has restricted us in many ways, but it did not manage to take away my love for my job and especially my love for travel. My number one rule has always been, grab the opportunity when it presents itself and ignore anything that gets in its way 🙂
This is exactly what I did in early May. I missed my team in Maun and realized I needed to experience travel during Covid myself in order to share my knowledge with our agents. I ignored the so called experts and their warnings and went on a one month trip to Botswana and South Africa.
We flew with Lufthansa from Frankfurt to Johannesburg, our flight was on time, smooth and of course half empty. In Johannesburg we connected to Airlink, again the flight was on time and smooth. During the entire trip our printed versions of our PCR tests felt more important than our passports (by the way, we did our PCR tests in Frankfurt Airport at Centogene, results available within 6 hours – efficient and reliable). The tests had to be presented at all check-points. Starting at check-in in Frankfurt, at border controls, at the gate before boarding the flight. Again in Johannesburg in transit, at the gate and of course on arrival in Maun. What did I learn? As long as you have done your homework and have all paperwork at hand (and copies of all the papers) the ride is smooth.
For South Africa we had to fill in an arrival form which was handed out by the flight attendant before arrival in Joburg. This health form just asked if we had any symptoms etc. A similar form had to be filled in for Botswana. The flight attendant on the Airlink flight handed it out and we filled it in during the flight before arriving in Maun. At Maun airport, before entering the (new) airport building our temperature was checked, the form and the PCR tests were collected, a quick rapid test done (free of charge) and off we went into the brand new airport building which even has air condition 😉
I think the anticipation of travelling and not knowing what to expect makes people nervous. I can honestly say that once our journey started I was so excited, I knew nothing could go wrong.

In Botswana we worked hard and every free minute was spent in the bush. We explored the new Khwai Leadwood by African Bush Camps, Splash & Kwara Camps by Kwando Safaris and Shinde by Ker & Downey. We had amazing safaris, breathtaking experiences and inhaled every bit of excitement.
For our journey to South Africa we needed new PCR tests, which we had booked with Pharma in Maun, their office is only a couple of minutes from the airport. They guarantee results in less than 24 hours and are a very reliable partner. All guests travelling with Safari Destinations enjoy the carefree service of SD. We prebook the PCR tests be it in the bush (a nurse flies into camp) or in Maun / Kasane / Vic Falls… we make sure results are received on time before travellers depart. The service can be added to the invoice, this way clients don't have to worry about a thing and enjoy their safari.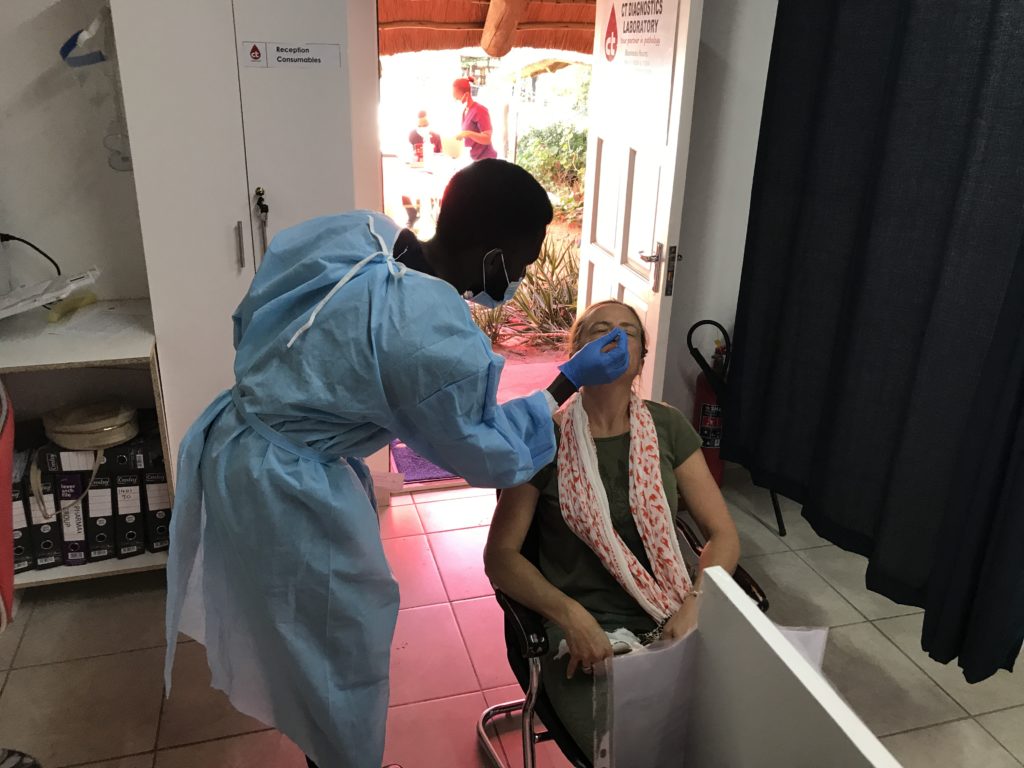 For more information please contact your dedicated consultant or info@safaridestinations.net
#WeLiveit