Category Archives: Lower Zambezi
My First Safari Into The Untamed Wild
…and despite of innumerable safaris through Botswana and into Zimbabwe, Zambia had always infused me with awe and a tempting curiosity for its claim to fame to be the door into the REAL, deep Africa.
…and all I found were lovely, warm people, welcoming me at airports, airstrips and camps, and an abundance of happy, healthy, relaxed animals.
Elephant mothers who let us come very close to admire their babies, lionesses lying down in the shade of our vehicle, leopards twinkling at us from comfortable branches of huge old trees.
Big smiles and professional hosts awaited us at camps, people proud of their country and its natural beauties guided us. We travelled on sandy  roads, cruised on the mighty Zambezi and reluctantly took flights knowing that while up in the air, we would miss out on landscapes and daily life scenes.
Luckily I was accompanied and guided by an almost 'local' Zambia lover and expert, my colleague Bettina.
We opted on a Best of List to share with you our most memorable moments of a fabulous journey through a country offering so many (un)tamed  safari options. The choice was a tough one, the list could have been much longer ….
BEST SIGHTINGS – both South Luangwa and Lower Zambezi are beaming with wildlife, I have had the most rewarding night game drives ever, with lots of leopards, lions, civit, porcupine, genets.
South Luangwa:
Huge pride of lions, unfaced by us, 13 ladies with their youngsters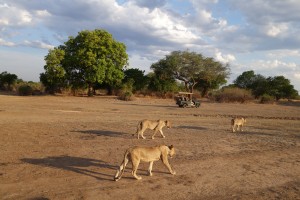 So many leopards in different positions on our day & night drives
Pack of 13 wild dogs
Lower Zambezi:
While travelling by boat from the most Eastern part of the park to the park entrance on the Western side we enjoyed hundreds of very happy elephants in the river and along the Zambian and Zimbabwean shores – I have never seen so many babies and youngsters with very relaxed mothers – must be a good life along this magic river.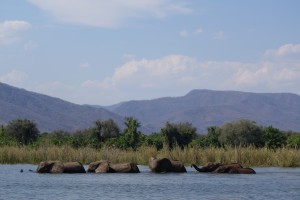 BEST GUIDE – a difficult choice as most of the guides we met were outstanding ref their scientific wildlife knowledge, respect of animals, empathy with their clients – but we had to choose:
MANDA – Billimungwe Camp/The Bushcamp Company
Apart from his excellent guiding and his incredible knowledge about his country and national parks, nobody could ever fascinate us the way he did with poo, plants & prints  – thanks to our brave Scout we even felt save while we were LION tracking, but found a BLACK MAMBA.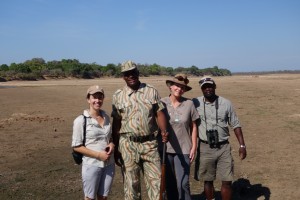 BEST FIREPLACE – as we think this very fine safari habit is in danger of extinction and the warm, romantic, orange glow is replaced by the blue light of laptops too many times already. We enjoyed a very nice conversation on comfy cushions after dinner at CHINZOMBO Camp with manager Mario & fellow guests exposed to the nightly sounds of the bush.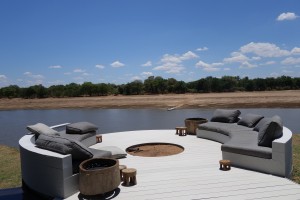 …and afterwards we sank into the BEST BED as the camp has installed the high tec, low consumption Evening Breeze cooling system around the bed.
BEST FOOD – this was impossible to decide, as anywhere we went we enjoyed fresh and tasty food, grown in the nearby areas, we are delighted to hear that the supplies for camps are grown and transported rather sustainably compared to other safari countries and local farmers profit directly from tourism.
Therefore the category MOST SURPRISING FOOD goes to KANYEMBA Lodge, where Zambian fruits and vegetables are turned into delicious Italian specialities thanks to the boss' cooking skills and culture, so we sampled home made banana gelato, porcini risotto, aubergine antipasti while the ellies munched away on the tropical gardens' trees next to us.
BEST Pool
And as we all know that inspection trips are exhausting, especially if the temperatures rise up to 40 degrees in November, we had to spoil ourselves in some private pools. We especially liked the feel and the views from
CHONGWE CAMPS's Honeymoon Suite overlooking the confluence of the Chongwe River and the Zambezi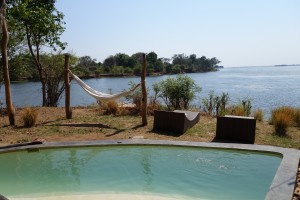 We continue with being spoilt, our timing was obviously perfect, as we visited
SAUSAGE Tree Camp
where we were invited to join their Signature River Lunch – we were taken out into the middle of this gigantic river only to find a wonderful lunch buffet and a shady set table, legs in the cool water, the biggest handwash basin on earth, a true memorable experience and a unique emotional sensation – considering the huge crocs we had seen on our transfers and the hippo family stalking us – so the choice of
BEST SPECIAL EVENT was quite easy!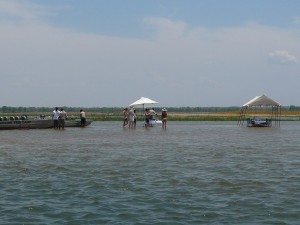 We close our blog on a fabulous trip with the most elegant event combined with wonderful views from the top of a hill –YES, I loved the hills and mountain ranges 'escarpments' coming from rather flat Botswana – over the plains of South Luangwa NP,  garnished with a dramatic thunderstorm passing us
BEST SUNDOWNERS must go to CHICHELE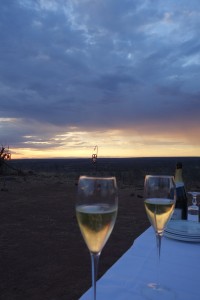 The Safari Destinations educationals are famous! Every year we organize numerous individual trips. For many years we have successfully organized Botswana educationals for groups, this year we were proud to celebrate a premiere, we ran our first Post-Indaba Educational to ZAMBIA.
Suku was the lucky winner and guided a group of five enthusiastic agents. All had been to Southern Africa many times before, some had been on educational to Zambia, for some it was their first time to visit the Lower Zambezi and South Luangwa National Parks.
The group travelled from Livingstone to Lusaka, they stayed at Tongabezi Lodge, Sausage Tree Camp, Chiawa Camp, Chongwe River Camp, Nkwali Camp, Chindeni Bush Camp, Chichele Presidential Lodge, Mchenja Bush Camp and Chinzombo Camp.
Suku shares the highlights of her trip with us:
Chiawa for the best guiding experience during her trip:
My best guide was Daniel from Chiawa – he had a great sense of humour, knowledgeable and caring! His guiding was top class; he knew the bush in and out and had the most interesting stories to tell about the Lower Zambezi! There was never a dull moment with Daniel – he kept us entertained the entire time…
Chindeni for the most memorable moment during her trip:
My highlight was the special sundowner that they set up for us on the banks of the Luangwa river; in full view of the stunning Chindeni Hills. Hippos graced us with their presence whilst we bade farewell (with a drink in hand) yet to another wonderful sunset in the Luangwa valley!
Sausage Tree for the best food experience – lunch served in the mighty Zambezi River!
Jason the owner of Sausage Tree and his team hosted us to the most amazing lunch; set up in the middle of the Zambezi River! The setting in the water was stunning, the food was fresh and the drinks ice cold and refreshing – and the service was top notch…….I felt like royalty! This was the highlight of my entire trip!