The Okavango Delta is a very unique part of the world. Looking at a satellite image you can easily see a few blue lines meandering from the Angolan highlands all the way to Botswana, forming a magnificent river that spreads into an alluvial fan and then simply disappears. It creates an amazing oasis in the middle of the world's biggest stretch of sand, the Kalahari, reaching from Congo to South Africa. Magic. But the true magic is in the timing of the flood!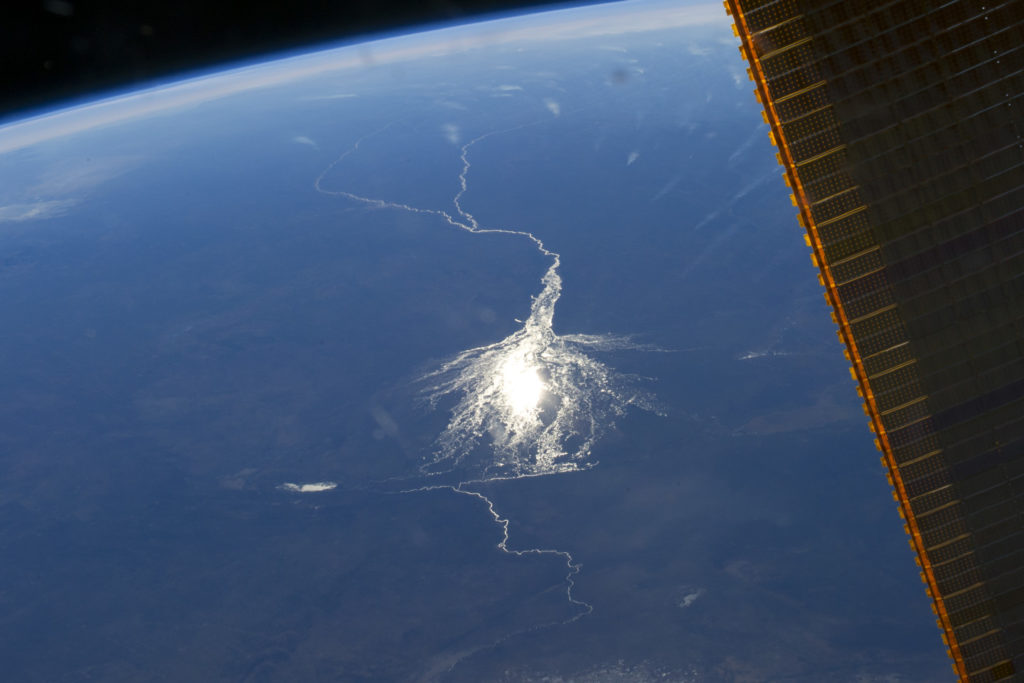 Rainy season in the catchment area and around the Okavango usually begins in November, with the majority of rain falling in January and February. The local rainfall only contributes to between 2 and 25% of the delta waters, the majority of water is coming down from the Angolan highlands.
If we traveled with a little drop of water from the source of one of the main contributories, the Cubango and Cuito River in Angola, the start of our journey would be quite exciting, through the Angolan highlands and then down to Botswana, but even before we'd cross over the border we'd already travel at a rather leisurely pace simply due to the lack of gradient. It takes this little drop of water average 8-9 weeks to reach Botswana and the panhandle of the Okavango Delta. From here onwards the journey slows down even more: the northern part of the Okavango is 250km away from the Thamalakane fault line – the delta's southern border – but there is only a difference of 50 meters in altitude!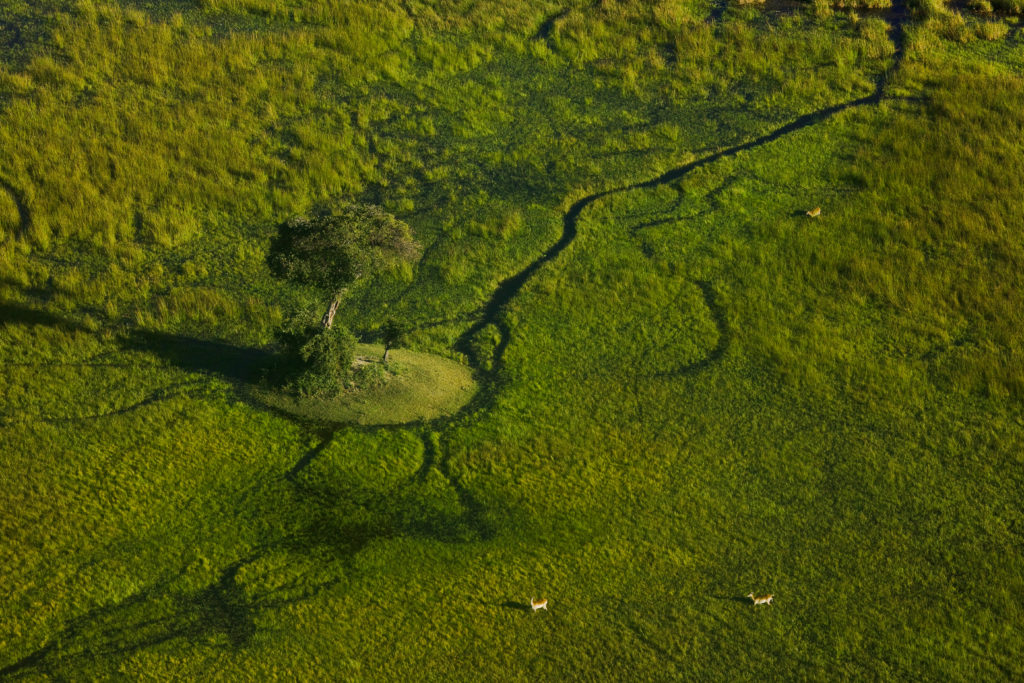 The main waters reach Botswana in April and start to spread throughout the alluvial fan slowly filling up the channels, backflows and floodplains, with the delta being at its fullest in July/August. From August onwards the water levels start going down again due to evapotranspiration now exceeding the input by rain waters. The driest period in the delta is in October and November, when food is scarce and animals are found around the remaining water sources and rivers. Many channels have dried up, avid birders can't get enough of all the bird life gathering around fish traps as the water keeps receding and cars can be used where just a few months ago boats were necessary to get around. Just then the first rains fall again, the shades of brown start turning into shades of green once more, impala and other antilope drop their young and the cycle starts over – the Okavango becoming a place of plenty. The water levels in the heart of the delta though will only rise significantly once the rains have long gone.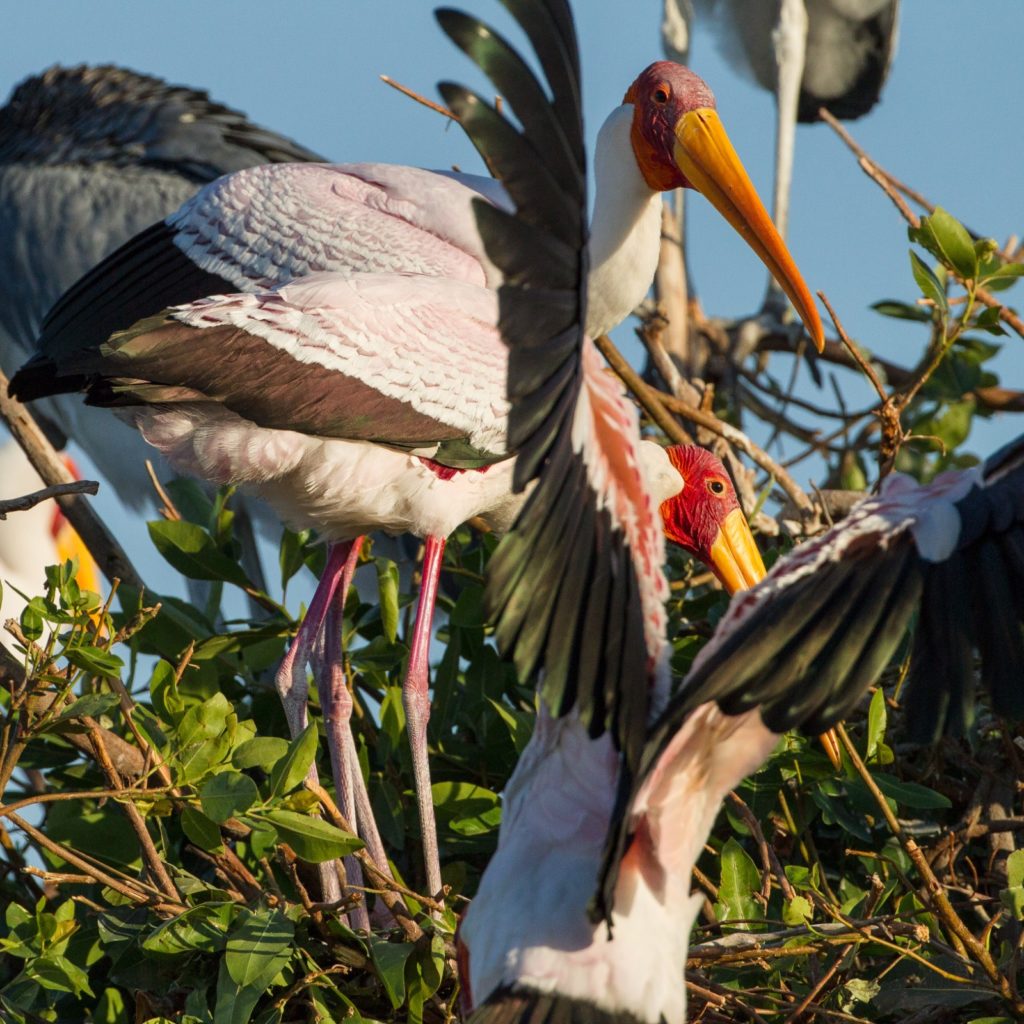 So what does this mean for us selling the destination?
This region is highly dynamic. Each year presents a varying amount of flood water in winter and a varying amount of rain falls in summer. Being nature, this provides a certain amount of unpredictability and nobody knows what will happen from one year to the next.
A well rounded Botswana Safari consists of game drives in drier areas and also water activities, be it by boat or mokoro. Mekoro are ideal to travel over floodplains in shallow water, gliding through reeds, discovering the little hidden gems of the area. Once the floodplains have fallen dry it becomes difficult to offer mokoro excursions due to safety concerns in deeper waters of permanent channels and rivers. Even if those deeper waters are actually not that deep anymore, they are considered prime real estate amongst hippos in not that great a mood as their territories are shrinking with the receding water and they are now very much up close and personal with their competitor and neighbour.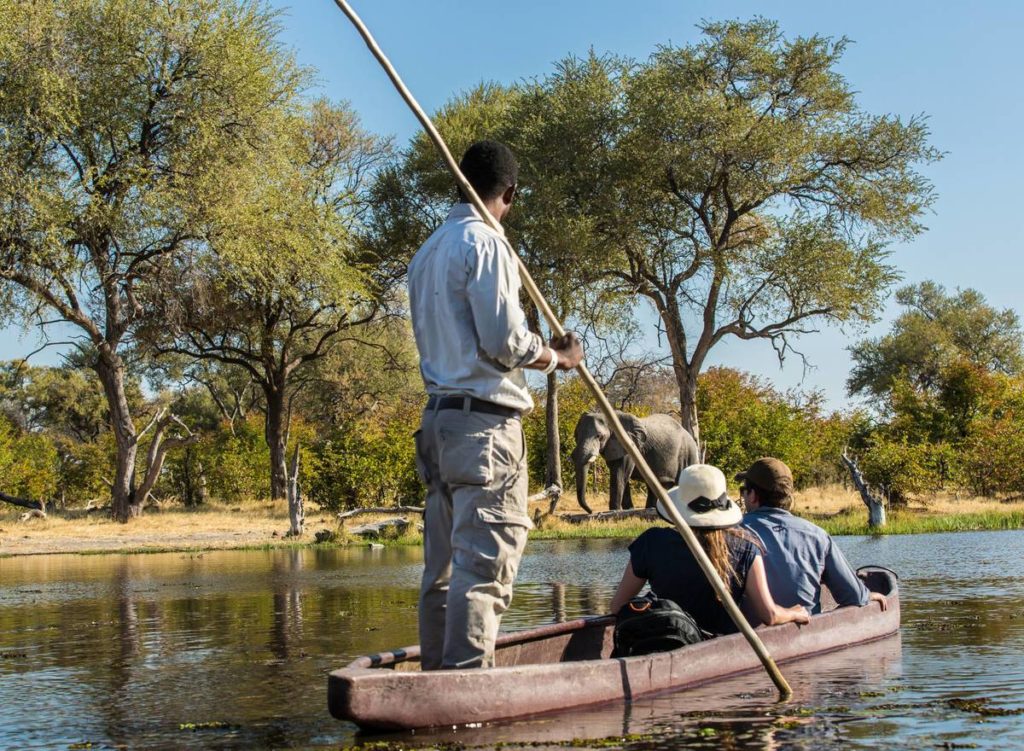 It is far easier on the nerves to observe those dynamics from a motor boat, but be aware that cruises can be a lot shorter due to a lack of either depth or river altogether! Eagle Island Camp for example, a camp that often has been sold as typical water-based delta experience, may not be able to offer mokoro during very low flood levels. The camps shift their focus. The floodplains may not be ideal for mokoro anymore, but they provide wonderful grazing for herds of buffalo as around Duba Plains; around Jao Camp the floodplains fill up with big herds of lechwe, enjoying the greenery. Other camps might not be that heavily affected and still happily take their guests on mokoro excursions and motor boat activities.
Here in Maun the flood levels of the Okavango Delta are an everyday topic and we never get tired of it. When did "the wave" come past Nxamaseri, has the water already moved towards Vumbura, when will it reach Sandibe… There is no end to it!
The Delta is a truly wild place, it is alive and offers mind-blowing experiences on land and water year round. For next year: Let's just keep the waterlevels in mind and choose the camps that offer water-based activities wisely.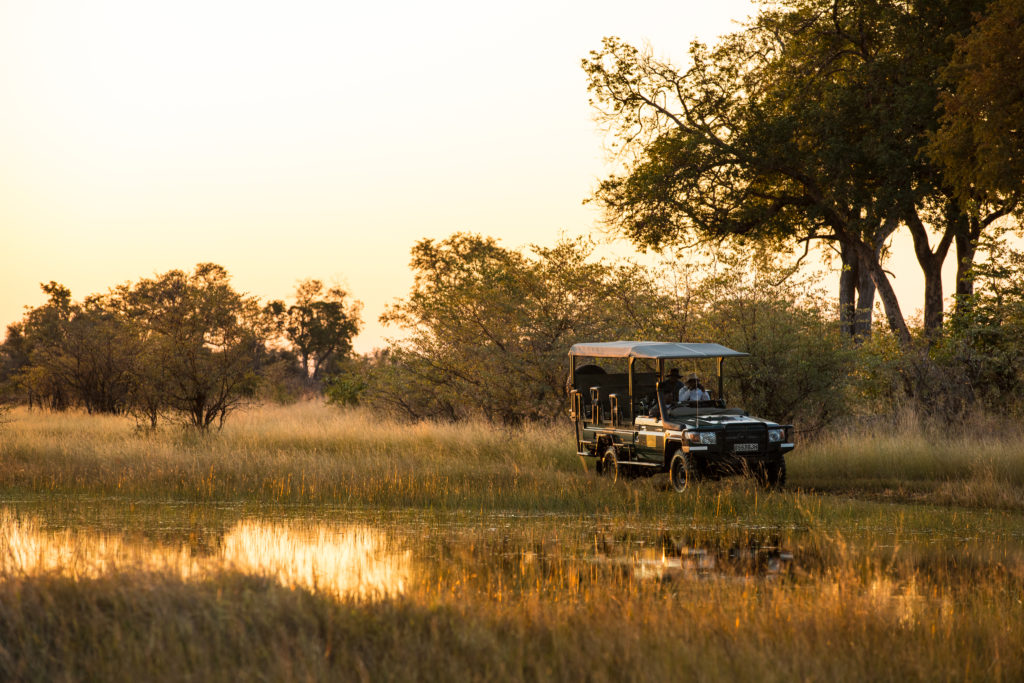 What was your overall impression of the camp?
Our handsome and very knowledgeable guide, Kyle, went out of his way to show us the very best of what Mapula has to offer. His passion for the bush and all the creatures and plants there within was contagious. Even after having done hundreds of safaris both Amandine and I learnt a whole pile more! Game was scare on our short visit but he made up for it by proposing to take us swimming in the flood water and sharing his "nature" books with us as we enjoyed tea and time-out in the bush.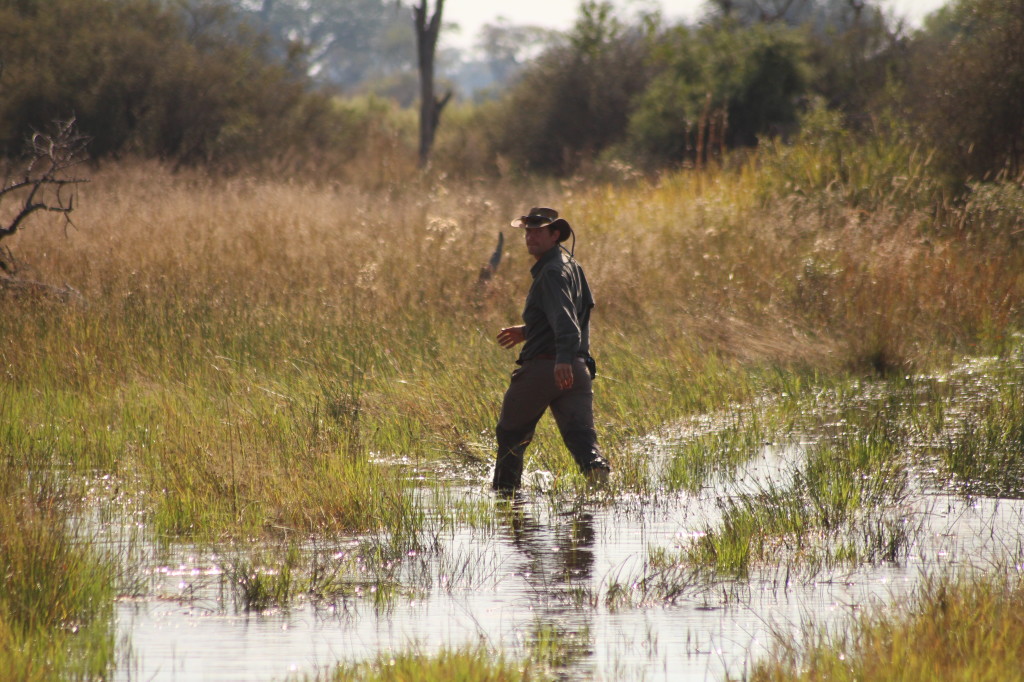 The area is generally rich in game, including Leopard, Cheetah, 2 packs of Wild Dog, Hyena, Sable Antelope, herds of Elephant, Giraffe and plains game all congregated in one big garden of safari Eden! Under the management of Uncharted Africa, Mapula has been tastefully transformed from a red-listed product to a much sought-after camp in the delta. With Eric at the helm and a well-trained and solid team I believe it will give similar camps a run for their mone
A particular mention for the swimming pool which is large enough to do a few lengths in but remains discreet at the same time. It's built in a way that it makes you feel like you are swimming in the lagoon, surrounded by palm trees and lush greenery.
There are plans to offer Hot-Air Ballooning and a fly-camp experience which we look forward to being able to promote to our clients.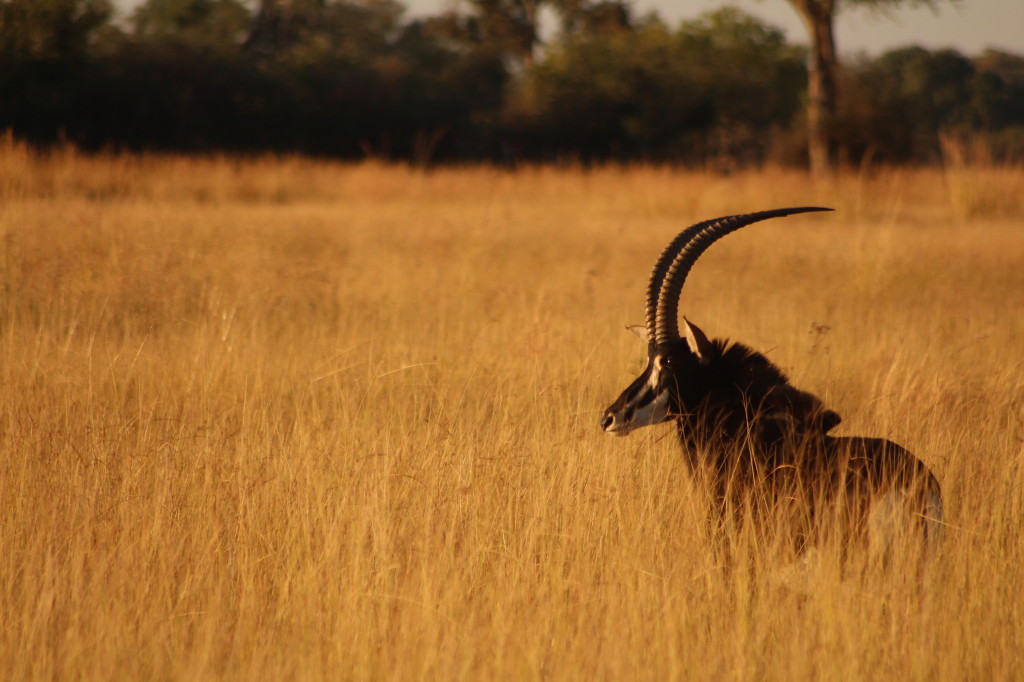 How does the camp compare to similar camps in terms of value and experience? Are there any notable special offers applicable?
I think it offers excellent value for money considering that it's a small camp on a fantastic private concession, has above average guides and is tastefully decorated in the immediately recognizable Ralph Bousfield Unchartered Africa taste, reminiscent of a bygone era.
The exception being during the month of August when a peak surcharge is applied. Further reduced long stay rates are available at Mapula when it is combined with Meno A Kwena – speak to your local expert.
How would you combine this camp in an itinerary and why? 
I would be confident in recommending 3 nights here in order to get the full experience and to discover what the concession has to offer completely. My suggestion would be to combine it with Savuti, Khwai, Makgadikgadi and of course Chobe, which fits into most itineraries.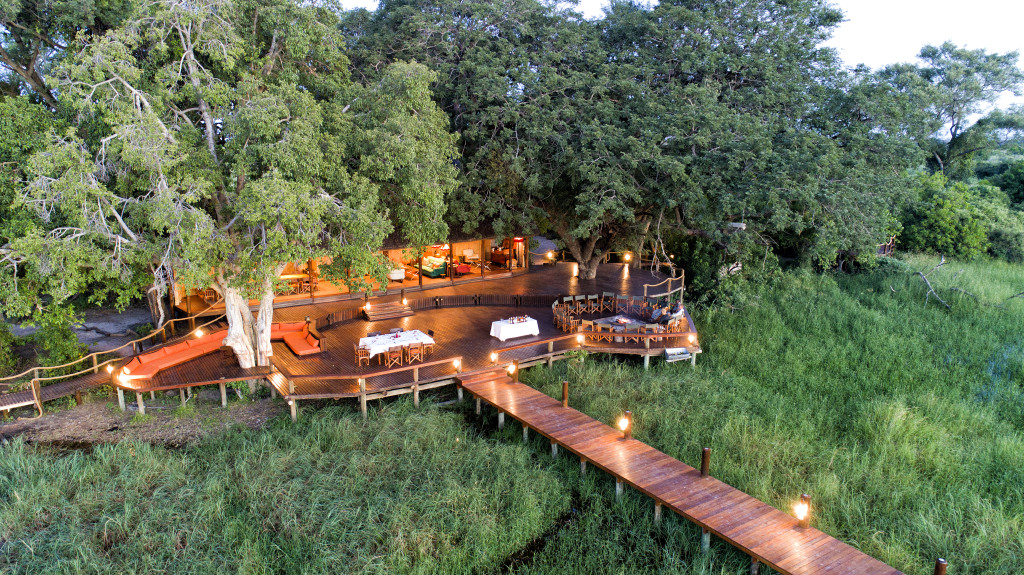 What type of clients does this camp suit and why? 
1 Unit is suitable for families: Consisting of 2 rooms separated only by a curtain. Each room has its own bathroom and outdoor shower.
As it is an intimate camp, I would suggest it to honeymooners and couples seeking peace and quiet.
The adventurous because Mapula can offer off the beaten track activities such as swimming in the fast-flowing flood waters that quickly fill the dusty tracks or having an afternoon siesta on mattresses out in the wilderness. The ballooning and fly-camp activity will appeal to this market once operational.
How does the seasonality of the area change through the year and what effect does it have on a visitor's experience, with specific reference to wildlife and activities?
The camp is set on a permanent lagoon. This makes fishing and boating possible all year long. However, the lagoon is home to a large number of happy hippos so if the water level goes down too much those activities would be suspended.
The camp being near the panhandle receives the first floodwaters of the year so they can start their mokoro activities earlier than those camps further down. The mokoro station is not in front of the camp. It's a 10-minute drive to the jetty. Although we enjoyed the activity, the water was still pretty low so we were wrapped up in cobwebs to start off with! As the water levels rise it will become more pleasant.
When the flood comes down the area where the camp is situated becomes an island. This means that sometimes there's good game in the immediate vicinity…. and sometimes not, the result being that guests may have to drive further afield in search of the herds.  During high flood levels, it may be advisable to combine it with another game rich area within the delta e.g. Shine, Splash…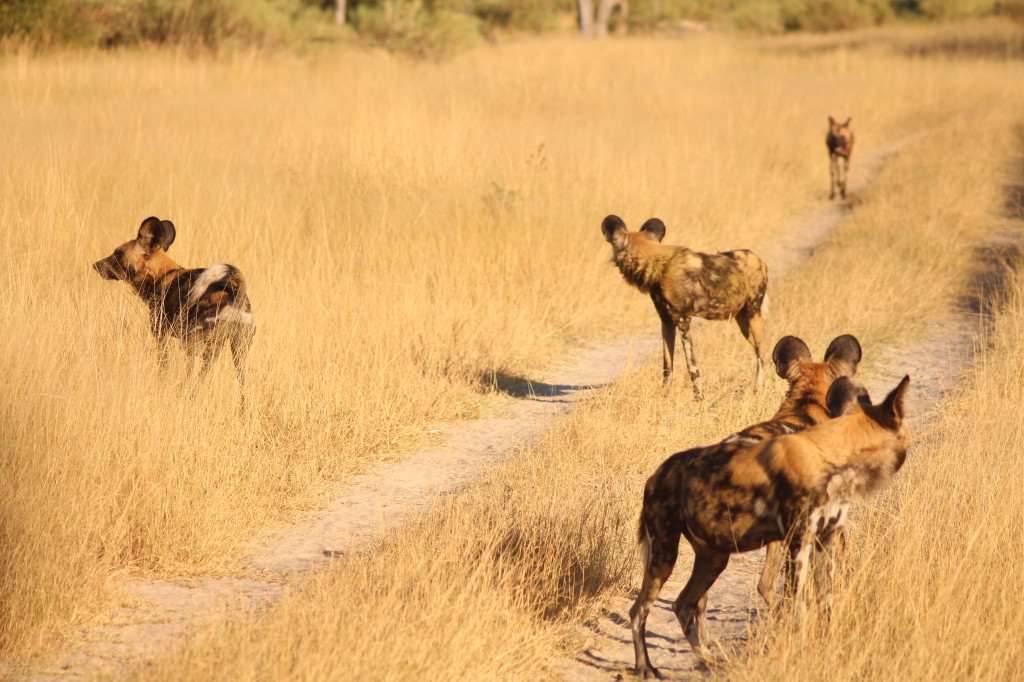 Are there any areas that could be improved? Are there any issues that could impact guests experience that should be highlighted to help manage expectations?
The food was imaginative, of good quality and nicely presented however the quantity for the first lunch we had was insufficient. Sundowner snacks were not original and could be improved – biltong / nuts / dried fruit.
Eric, the manager is running a good show. The staff seem genuinely happy to be working together and the service was attentive without being overbearing. They have kept 1 or 2 staff members on from the old camp. They clearly know the area intimately and you can tell that they love the area and are delighted to share information and stories with the clients.
Safari Destinations itineraries showcasing this property:
The combination of a mobile safari with time-out at a lodge or camp on either side provides the best of both worlds. There is time to get dirty and experience all the action up close and personal, and  time to dust off, relax and indulge in some modern comforts.
Ilala Lodge is conveniently located in close proximity to the Victoria Falls Hotel for afternoon tea, the local market for some shopping and the mighty falls themselves. Ilala is well known for having one of the best restaurants in town.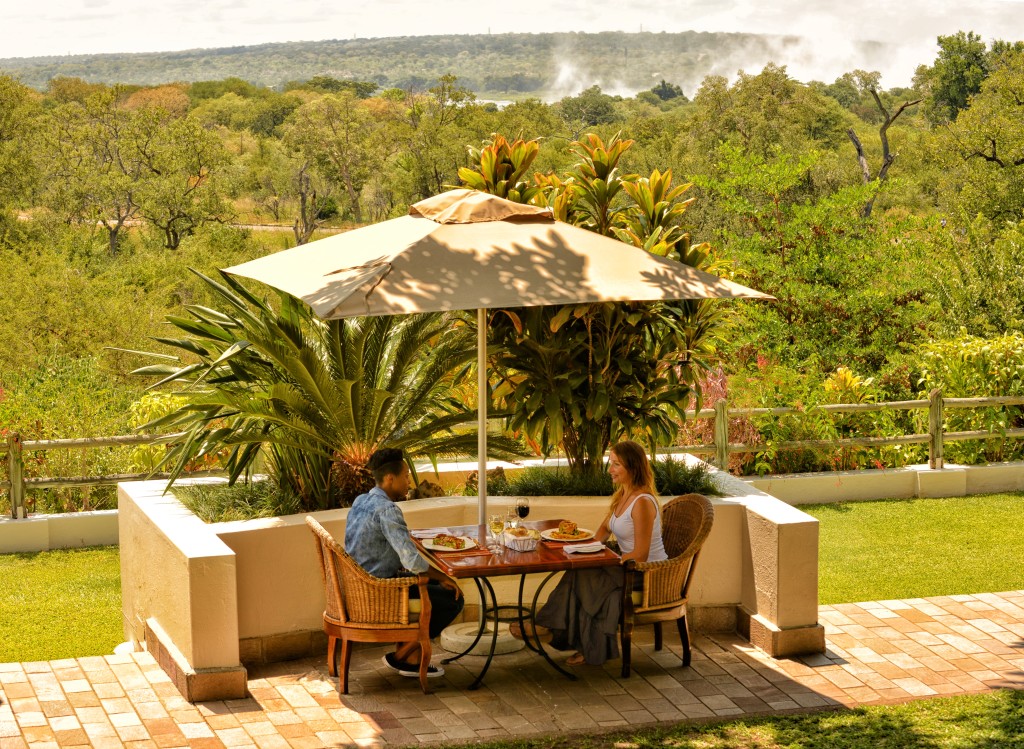 The Bush Ways Fully Serviced Safari is glamping at its best, an experience of the wild in comfort, covering some of the prime wildlife areas in Botswana, including the Chobe Riverfront, Savute marsh & Moremi Game Reserve.  This is the perfect balance of adventure, relaxation & comfort with all camp chores taken care of for you.  You'll enjoy a luxury camp set-up for you on arrival, including walk-in tents, en-suite bathrooms, comfortable camp beds and a guaranteed a window seat on game drives.
The mobile portion of the itinerary is easy to book and there is still availability for 2018.  Select departures run with German or French-speaking translators.  Click on the below to read a firsthand account from one of our experts.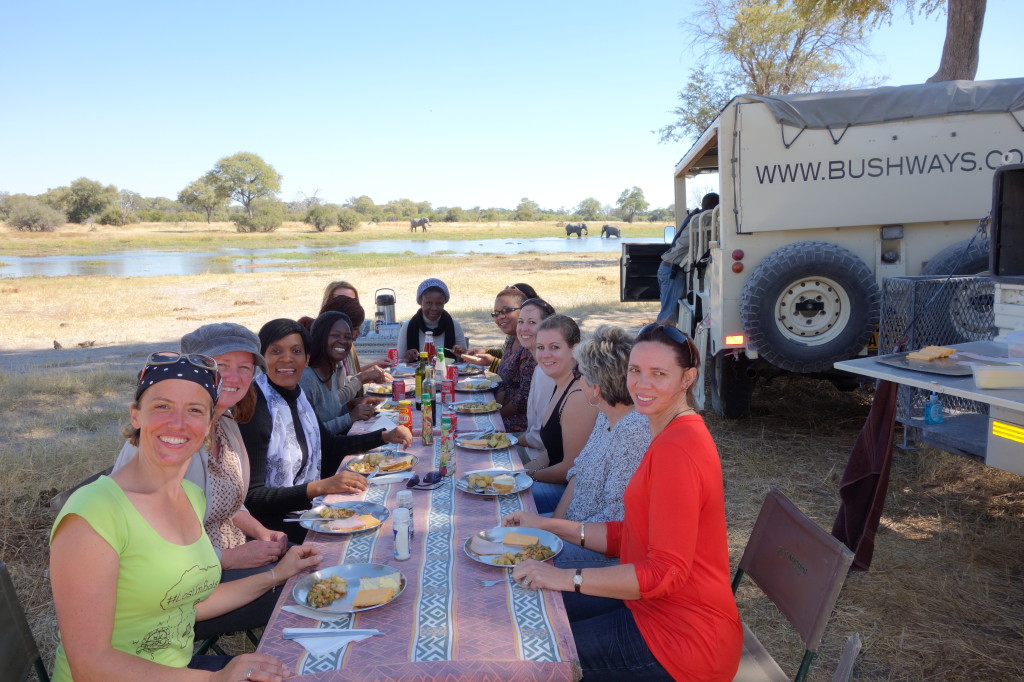 No safari to Botswana is complete without a fly-in to the Okavango Delta to view the waterways from the air and glide through the channels on a mokoro. Oddballs Enclave is an old classic whose style and intimate atmosphere works well in combination with the mobile safari.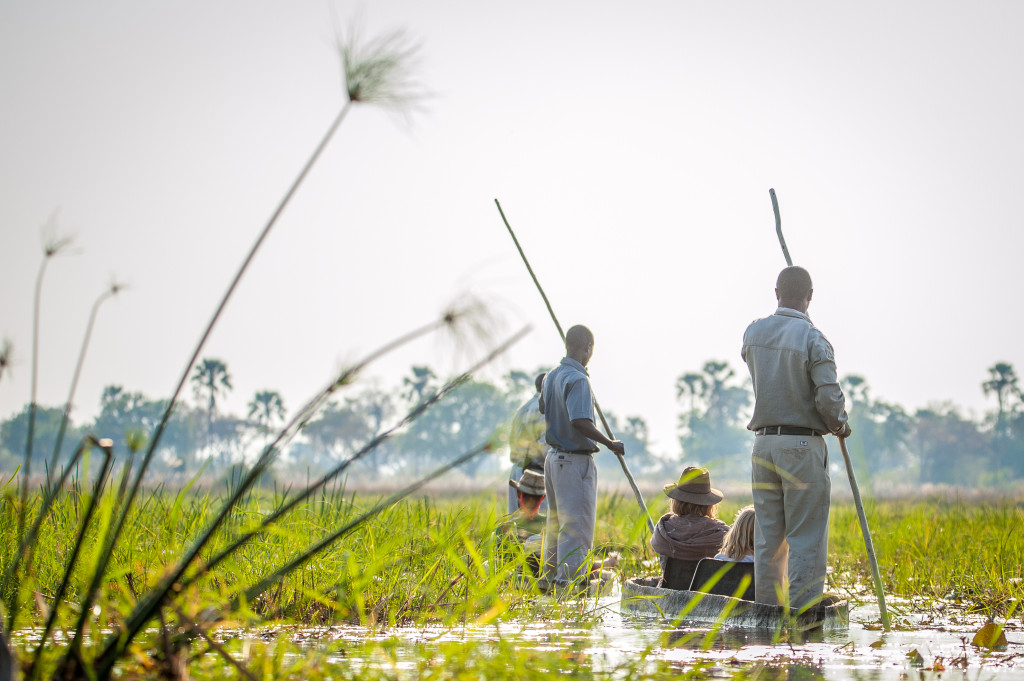 This safari offers excellent value for money !
Last but not least, we are passionate about mobile safaris because…
the guides are among the best and get to know their clients over the course of the safari, focusing on their interests and building on their knowledge.
travellers get to experience more of the country when they drive between locations, making it as much about the journey as the destination.
mobile safaris give you access to exclusive campsites in prime wildlife areas, and the flexibility for an extended exploration of areas en-route between locations.
mobile safaris take travellers out of their comfort zone, creating memories to last a lifetime.
mobile safaris offer a more intimate wildlife experience than most lodge stays.
mobile safaris offer great value for money, catering across all comfort and budget levels, and can be booked privately for families and small groups.
Click here to read more about the mobile safari experience: https://www.safaridestinations.net/we-get-around/bush-ways-safaris-mayonnaise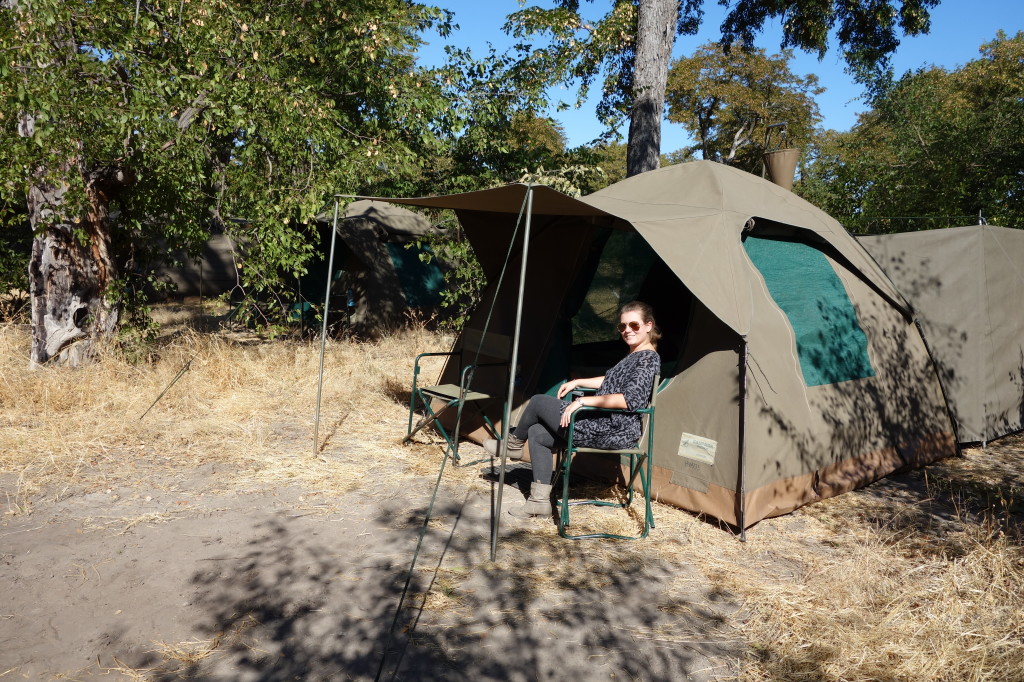 If your client is looking for a unique, cozy, romantic and chilled camp, then Pelo is the answer.
Most of these requirements will already be met as the little aircraft descends over the palm tree dotted, flooded landscape of the Jao concession. Your eye gets caught by a tiny island in the shape of a heart; the Setswana word for heart is PELO.
All 5 tents are on stilts facing the water, the intimate terraces open up to the safari wonderland of the deep Delta and are filled with the beautiful cacophony of birdsong.
Pelo is a water camp, meaning there are no vehicles on the island. It therefore combines superbly with productive land camps in Khwai, Moremi Game Reserve or Savute. This camp is a little jewel and shines well at the end of a safari.
Here you come to glide silently over Delta Waters in a Mokoro and explore the endless diversity of the floodplains by boat. Most importantly you come to chill and enjoy yourself and the universe – it should also win the prize for the most stunning pool in the Delta!
Jao water levels vary greatly, your safari consultant will have the best advice for you. Pelo sits in fairly deep waters, which dry out last in the Delta – another reason to include Pelo in your next itinerary!
FACTS ABOUT PELO
Pelo is run by Wilderness Safaris as an Adventures camp.
Activities on offer include mokoro trips, boat based game viewing and seasonal catch and release fishing.
The camp has five guest tents, complete with a covered front veranda, and both an indoor and outdoor shower.
Pelo is open annually from 1 March to 30 November.
As much as I tried, I simply couldn't jump over the sunset!  Clearly I'm not fit enough, as it took a couple of attempts to get as high as I did! Lack of fitness aside, I'm sure you can see it was quiet fun to try! Fun and enjoyment sums up Rra Dinare camp, a new stunning camp on the Southern side of the Okavango Delta.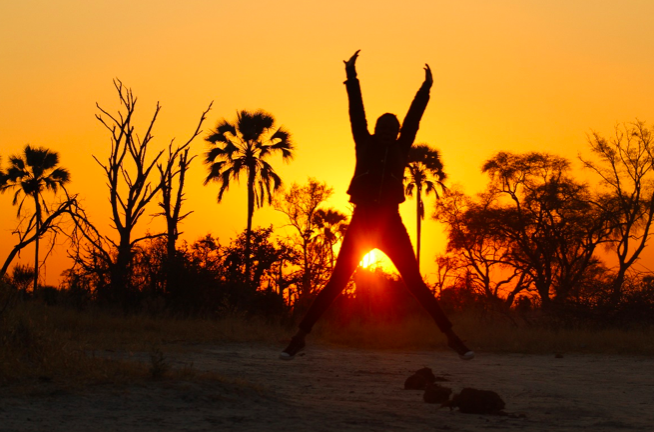 Upon arrival it's immediately apparent that everything is still super new. The wood still smells woody, the linen is nice and crisp the mosquito nets are super white and I'm sure there is not a single mosquito that can go through those! I absolutely loved this camp!
The food was delicious and generous with a wide assortment of drinks, teas and coffee. It was a really special thing for me to be brought a piping hot cup of tea in the morning! Talk about being pampered like a princess! Nobody has ever brought me tea at 6am! I could do this every morning.
The stilted Boma area overlooks the Gomoti River, where elephant, buffalo and hippo amble past. In the afternoon bushbucks are often around the camp nibbling on bushes underneath the tents…so cute! I got to relax by the pool and the amount of game viewing in front of the camp could easily make one think about opting out of a game drive – not that I did.   Despite my notions of relaxing poolside, the game drive did not disappoint – I saw loads. I'm no photographer so I really appreciated how the game always seemed to be right in front of me, at the right time, for me and my camera. At one point a lioness rolled upside down and looked like it wanted to be petted, waited for me to snap a couple of pictures, and  then turned over again.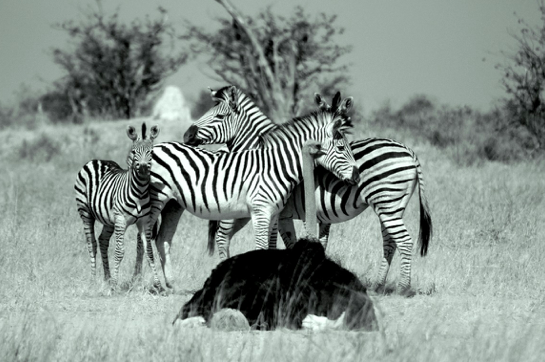 We also went on a Mokoro excursion. I´m not a big fan of water but after a lot of jiggling on the game vehicle a Mokoro was the best thing that could happen to me. It was so smooth and more than appreciated. Our Mokoro poler was knowledgeable and cautious and told us when we could not go further as there was a hippo "tanning" on the other side of the channel. I told him that I was very happy with his precautions! I don´t take risks!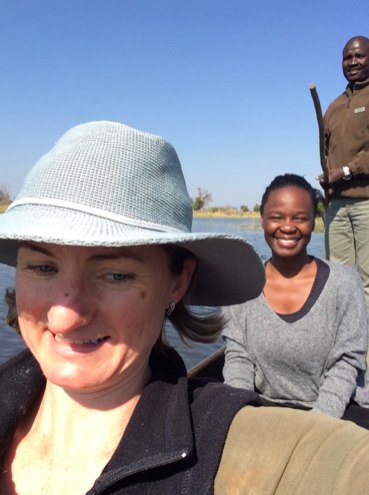 FACTS ABOUT RRA DINARE
Rra Dinare is an Under One Botswana Sky Camp, sister camp of Pom Pom Camp.
The camp is run on solar power.
Activities on offer are Game drives with each vehicle carrying 6 pax, Walking Safaris and seasonal Mokoro excursions are also available. The Guides are very knowledgeable and informative.
Rra Dinare has a maximum of 8 tents with one family room inter-leading. The rooms are very spacious with outdoor showers (no inside shower).
Wakeup with coffee/tea brought to the rooms every morning. The dining for all meals is communal. Private meals for honeymooners or for guests who prefer more privacy are available on request.
To get more info please click here and see recent images and general information about Rra Dinare.