Tucked away in the Khwai Private Reserve, Tuludi from Natural Selection has access to 200 000 hectares of land to explore… so we went exploring!
Overall impression
Tuludi is stunning. Every small detail has been thought of while putting the lodge together. The main area offers so many different places to sit – the problem is that they are all very welcoming so the choices seem endless! All these different seats have different views of the area surrounding the lodge.
The whole lodge, including the staff, is premier material. Food is à la carte with a good number of choices that are out of the ordinary but tasty. The rooms are spacious and restful yet romantic with outside bathtubs. The family room is stunning. In fact, the whole camp is family friendly especially with the fun addition of the slide in the main area!
The vehicles are so comfortable that no bumpy road can ruin your game drive. They also have an elevated hide overlooking water for lunches or dinners.
Comparative value and experience
Tuludi offers a chic modern style, some of it's design elements are unique, like the bar, made of thousands of mosaic pieces – stunning artwork. This new camp has the air of a premier camp at more classic rates, it would go perfectly well with the likes of Kanana, Nxabega or Xaranna. I can also see it being combined with Ngoma Safari Lodge, Belmond Savute Elephant or the new Selinda Camp.
Ideal clients
This lodge is definitely for clients wanting a luxury safari who love their comfort. It's also good as an upsell for honeymooners. Tuludi is a good family camp for children aged six and over but a private vehicle must be booked in this case.
Seasonality, wildlife and activities
Tuludi is one of four camps in the vast Khwai Private Reserve. Only vehicles of one of the four camps are allowed to gamedrive in the area, making it an exclusive experience. The main source of water is the eastern-most finger of the Okavango Delta, the Khwai river, which attracts large herds of elephant and buffalo. The permanent waterholes are home to resident hippos. During rainy season the floodplains fill up, changing the landscape from open grassy floodplains to lilly-filled lagoons.
Ever been on honeymoon with 28 in-laws? Or made promises of the most awesome holiday? Or wanted to make others fall in love with Botswana? Maybe you can answer yes to one of these questions but all three?! That is me: going where others fear to tread!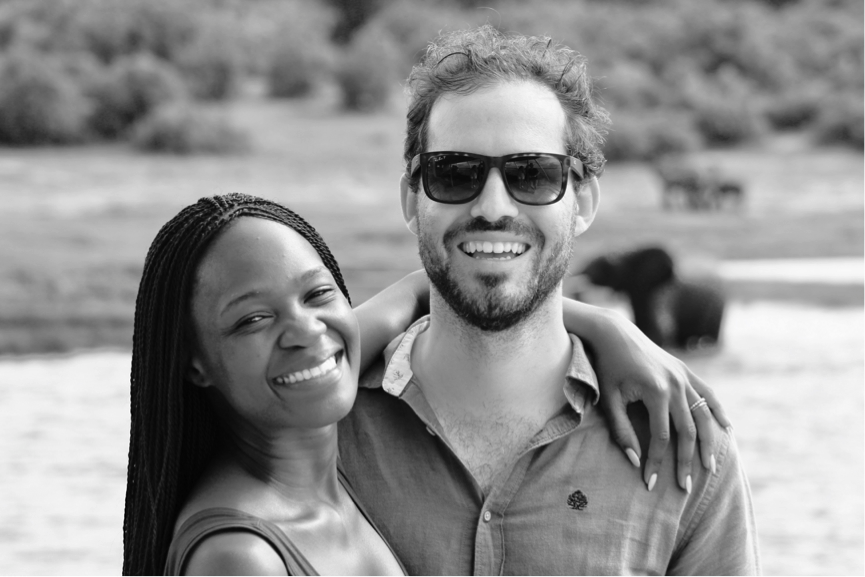 I sent my request for this holiday, thinking: "Puuuh! We are a large group. 29 pax! How on earth are we going to fit all those people into safari vehicles and go on safari for 6 nights?" The worst of it: an unhappy safari would mean 28 in-laws mad at me that I overpromised on my beautiful Botswana. So the pressure was on. My national pride was at stake! I love my country and wanted my new family to fall in love with it and to go home raving about this awesome safari experience. The solution to my crazy request was a mobile safari with Bush Ways Safaris!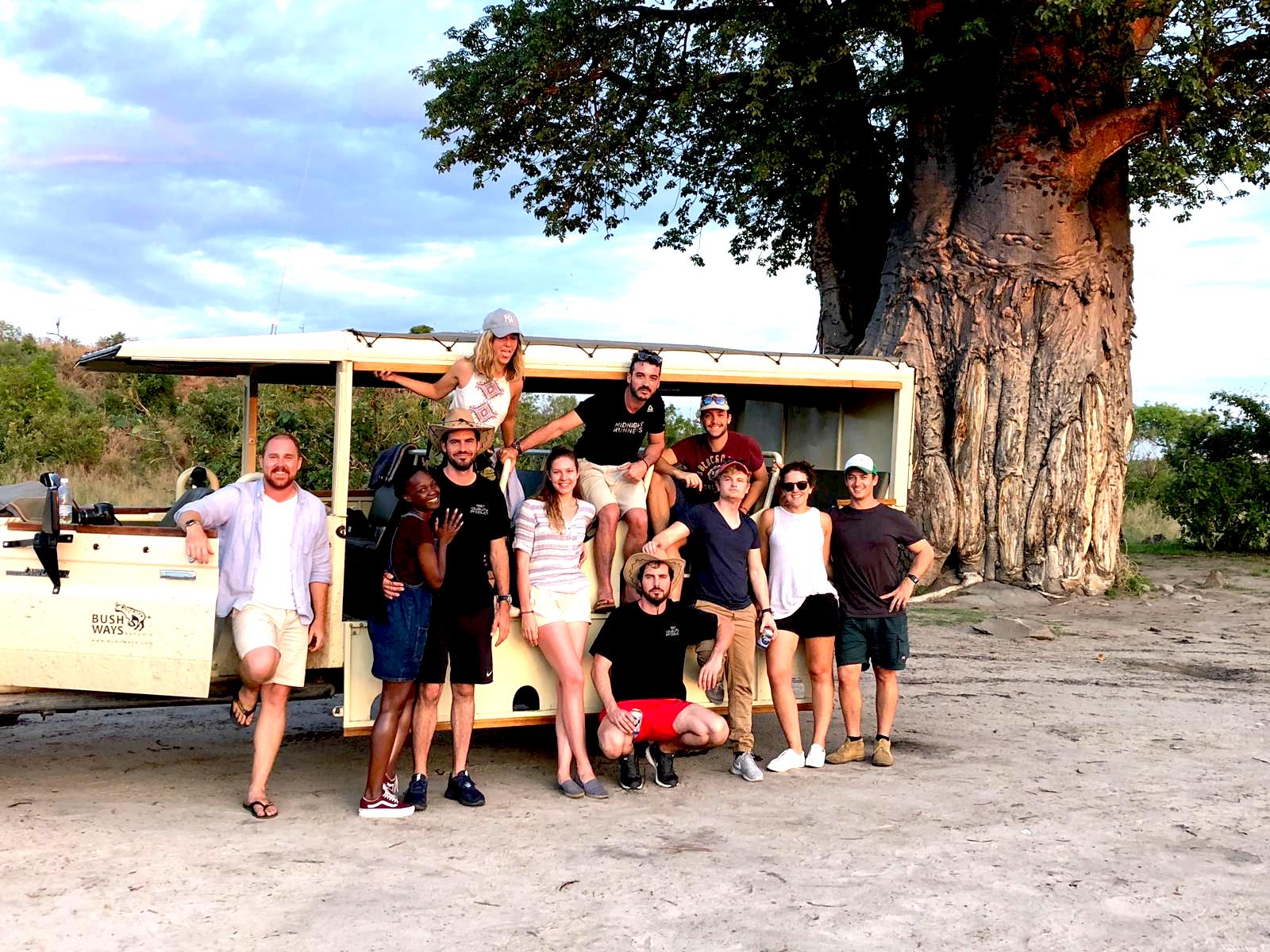 Xakanaxa Endurance vehicle
The first day of our Bush Ways' semi-participation safari started with a bang. Eddie and Moscow, our guides, with their assistants, and  our three safari vehicles with big trailers including all safari equipment expected us outside Maun Lodge ready for our journey to begin.  Excitement filled the air! After a briefing of the route of the day, was the vehicle naming ceremony. We were 'The Xakanaxa Endurance'. I secretly hoped that this was not going to be a journey of me "enduring" unhappy in-laws. In their usual style, Bush Ways' staff were on time, organised, friendly and informative. So far so very good.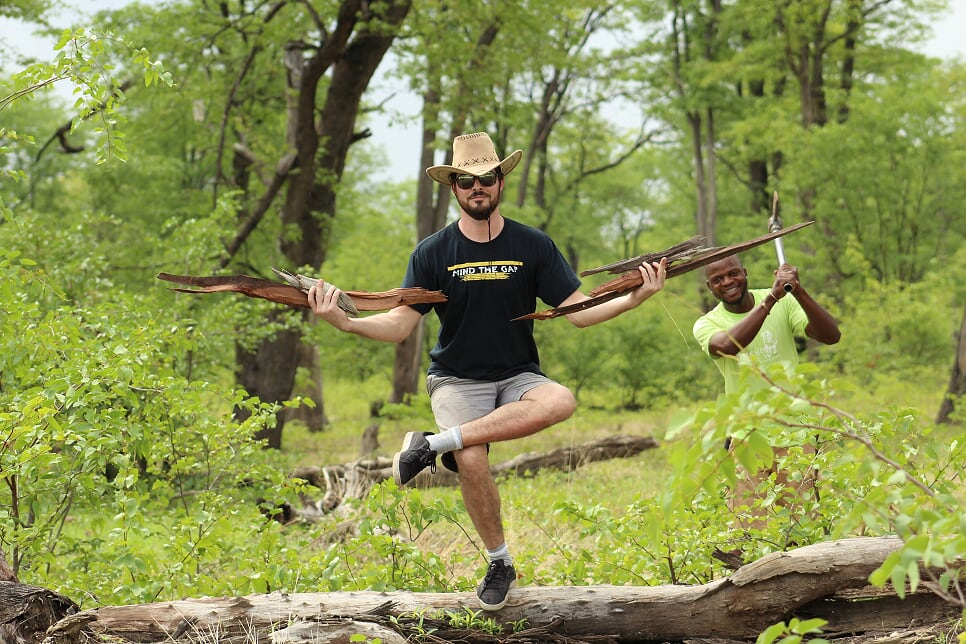 Hugo and KD chopping some firewood
The first stop of our journey was Khwai. And boy she did not disappoint, revealing some amazing sightings for my new extended family. On day two, we spotted a pride of 17 lions with cubs!! They had killed 4 buffalos the previous night and they were busy feasting when we arrived at the sighting. The cubs were running around with buffalo guts, falling over their feet and haul. Vultures were scavenging around also wanting to join in the feast! Looking around, I saw happy smiling family faces. It was going well.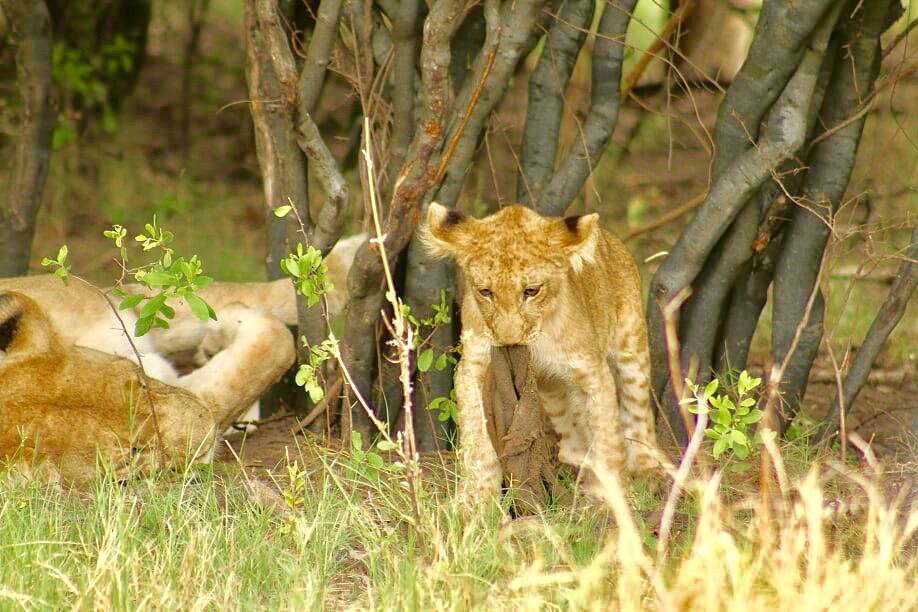 Lion cub having lunch
Next we set off for Savute. It had rained a lot the previous night, so temperatures were just right for game-viewing. The rainy season means loads of babies and that is what we got:  baby giraffes, baby impalas, baby kudu, baby elephants, baby zebra and even six baby hyena in their den with Mom.  A sighting of 2 male lions drew our attention but we caught our breath with the next sighting. It was too good to be true. It was a fully-grown male leopard lying in a tree! Seriously it was too good to be true! That evening, sundowners with the setting of the bright orange Botswana sun, had us all feeling contented. Life was good.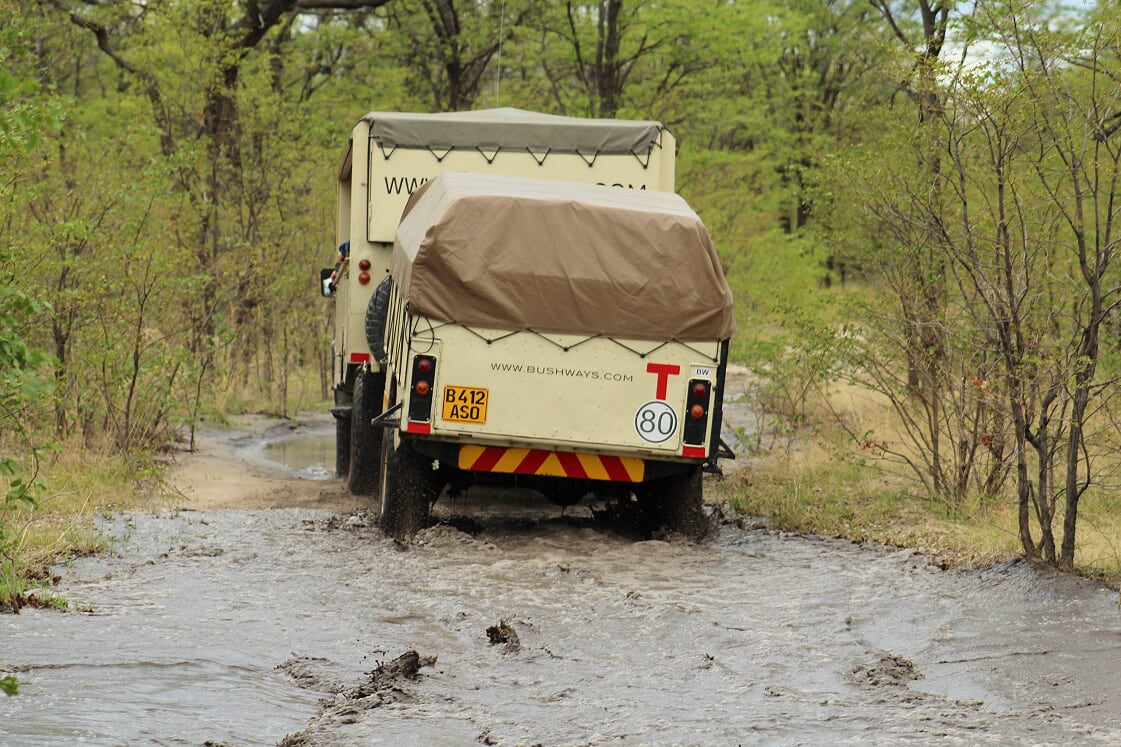 Bye-bye Khwai
Next up was Chobe, 'the mothership of elephants'. Being the rainy season, I did not expect to see as many elephants as I did! We counted about a thousand elephants: they were everywhere! Moms and babies, teenagers and even the big bulls! All this with the backdrop of spectacular scenery! Interesting was also the amount of giraffe seen. On our way to setup camp, a leopard ran in front of the car and crossed the road to the other side. This had us laughing and cracking jokes: "What's next, a leopard riding on top of a lion?" Otherwise, we had seen it all.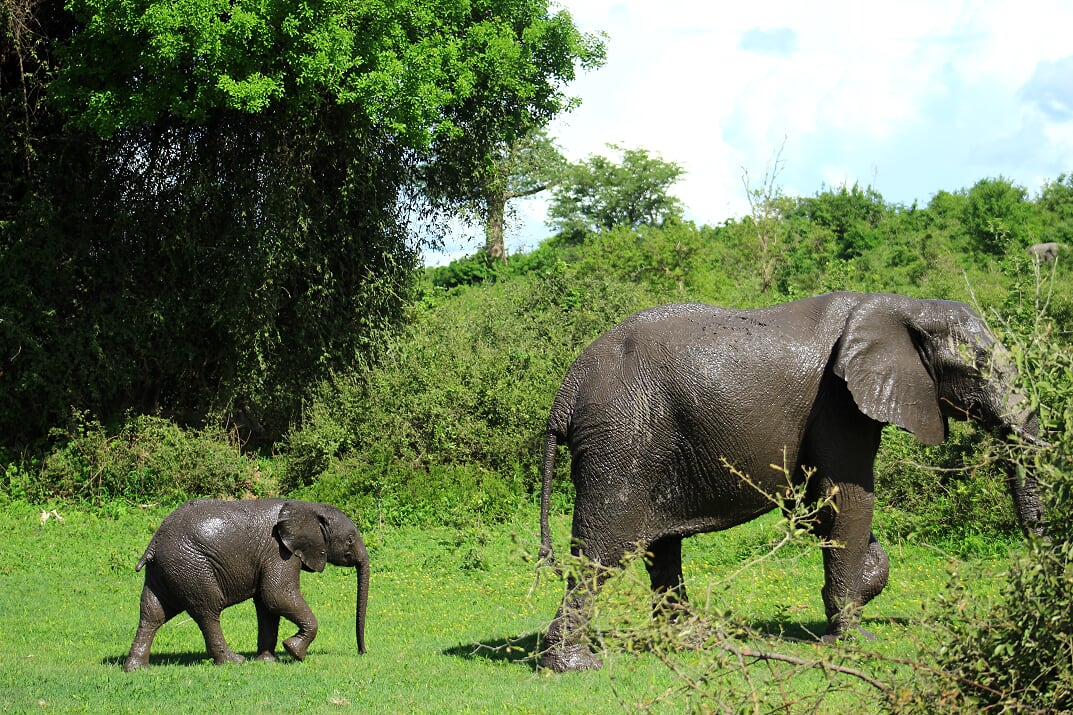 Suncreen for the day baby elephant with its mother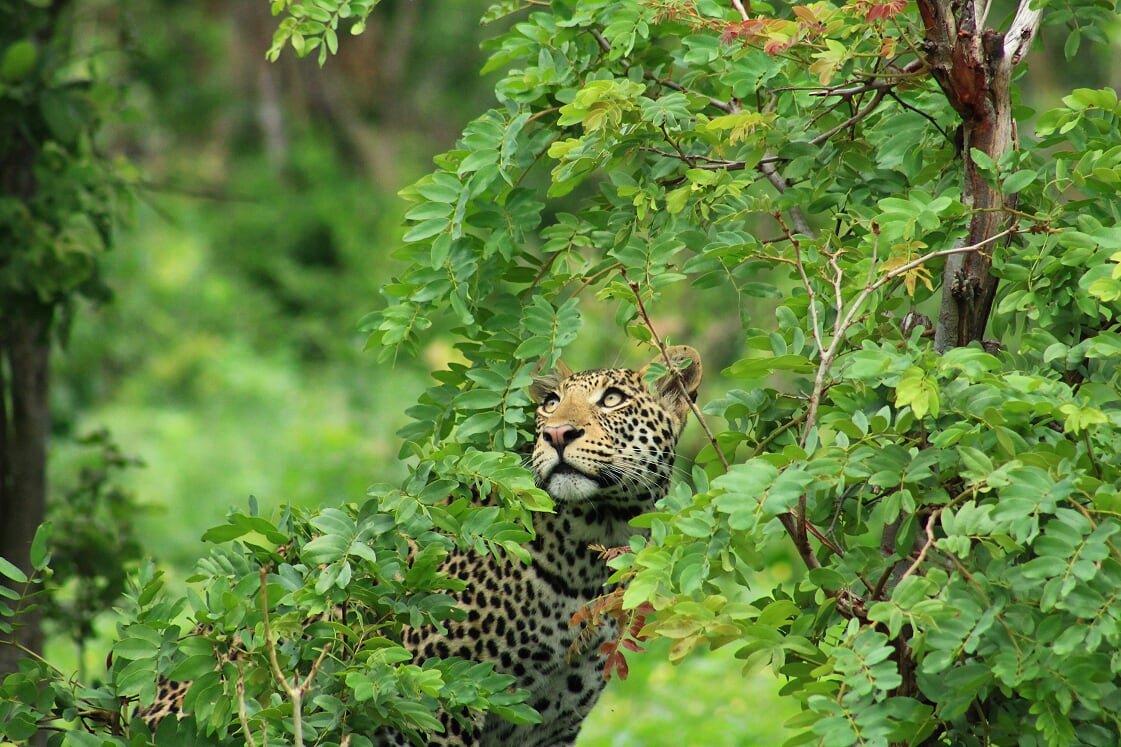 Leopard sighting in Chobe
By the 6th night, the last night of our safari, our semi-participation safari had the girls putting up their own tents. Being the bride, I allowed my husband to do that for me!  Our last night meant a special meal for us all. While the food was yummy the entire trip, night 6 was just that extra special. Food is one of my guilty pleasures and each morning I would ask about the meals for the day. On day 6, Moscow whispered into my ear that we would be having seswaa, morogo and phaleche (delicious meat in cabbage and pap), I squealed with excitement! And it did not disappoint. KD, the best chef ever, has gifted hands, he even masters baking a cake with no oven.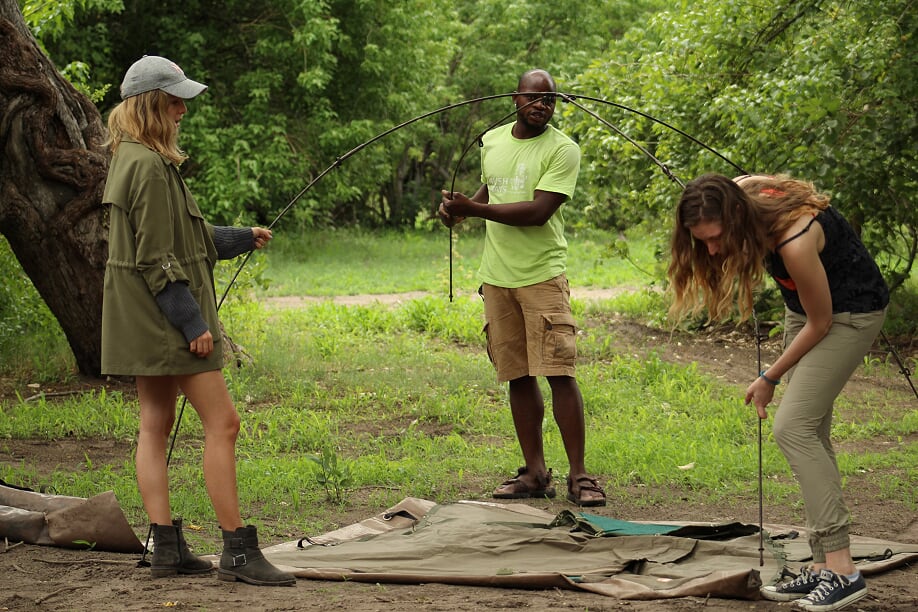 The girls taking charge of their tent with KD
And so on day 7, with happy bodies and full hearts, we said good-bye to Bushways, heading off on the next leg of our journey. From the reservations staff, to the guides and guide assistant, offering us superb service and support at each step of the way, and being integral to our adventure, we had been provided with a holiday of a lifetime. Thank you to each one that had made it special. We had more than endured! I had done well!
It is pretty special when you take your first aeroplane flight. But when your first flight is in a caravan, flying over the Okavango Delta, on your way to Khwai, there is something extra special about it although it can be something of a scary, bumpy ride. For Resego, she was excited at the thought of flying. "I was looking forward to seeing the earth from a bird's eye view". Resego received lots of advice: "Kay told me to remember my pressure points if I felt air-sick. I did but it didn't work! Helmie advised that I should get some ginger ale but with the excitement and nervousness, I forgot. Lisa told me to drink water before the flight but I was worried about having to use the bathroom once we took off, so I ignored that advice. Amandine's advice: keep swallowing to unblock your ears, that worked. I was super excited when we took off". And the actual experience? "Ten minutes into the flight I wanted to jump off! My tummy was in knots, I was nauseous and my ears kept blocking. The flight being bumpy didn't help either. It was the longest thirty minutes of my life. I kept telling myself that I was on a bus to Gaborone and the bumps were the potholes. This seemed to work for a while but as soon as I looked outside, that illusion disappeared. As I felt the Mack air caravan getting ready to land, I breathed a sigh of relief. After getting off, a bottle of water helped ease my nerves and I was good as new again.  I am thankful my first flight experience was with people I consider my SD family, as they helped me through it."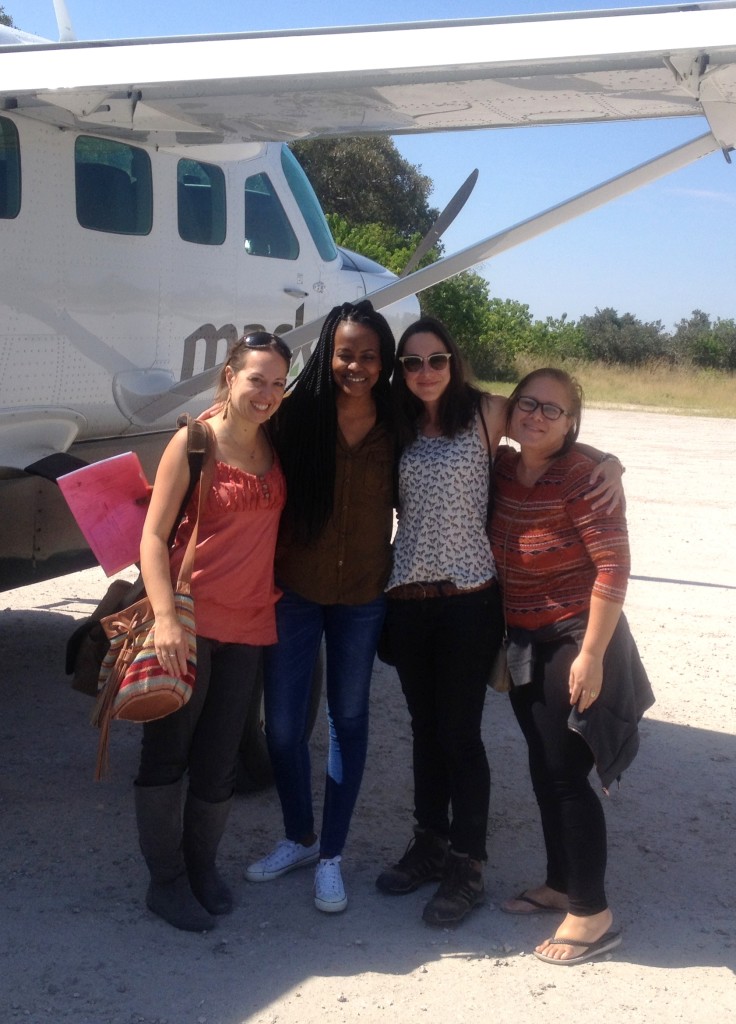 This trip was also Resego's first educational ever.  With nights at Little Machaba and Khwai Tented Camp plus site inspections to Kwai Guest House, Sango, Khwai River Lodge and Machaba, complete with all the activities on offer, Resego was immersed in the Khwai experience. Visiting together with a more senior consultant, meant that Resego was able to learn from Gen's experienced eye and put the properties into perspective.  Resego commented: "I got to see first-hand how busy Khwai really is and experience the importance of starting an itinerary with a lower end property and ending with a high end one. The personal highlight was the mokoro as I have always wanted to do that".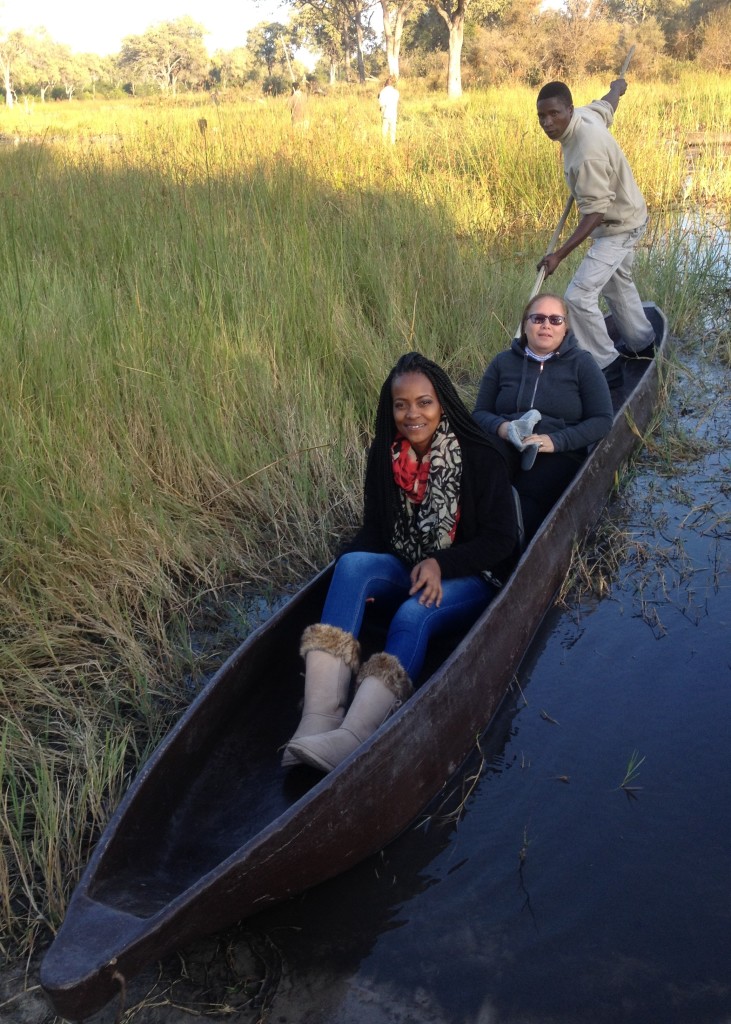 These first-time experiences are because Resego has recently been promoted to Associate Consultant. For the first time, she will be allocated her very own agents, creating her own itineraries and experiencing the pleasure of a confirmed booking.  Fresh from the University of Botswana, with her Honours in Tourism Management degree in hand, Resego joined the Safari Destinations' team two and half years ago. In this time, Resego has teamed together with other consultants, working directly with suppliers learning about their camps, rates, activities as well as about Botswana as a tourist destination.  Resego is just one of many such Motswana graduates being trained as part of SD's staff development programme.
As a new consultant, Resego will continue to be supported and guided by her team leader, Karen Reed, who has over 20 years of experience in the travel business.  Key to the training of our consultants, is the visiting of numerous properties that Safari Destinations sells to our agents. These educationals with a night at certain lodges and site inspections to others, ensures that our consultants get to feel the vibe of the camp, interact with the staff, taste the food, ride in the mokoro, experience the guiding: the stuff that the travel brochure does not tell you, giving our consultants unique insight into the camp and what it has to offer. All this translates into better product knowledge to be shared with our agents.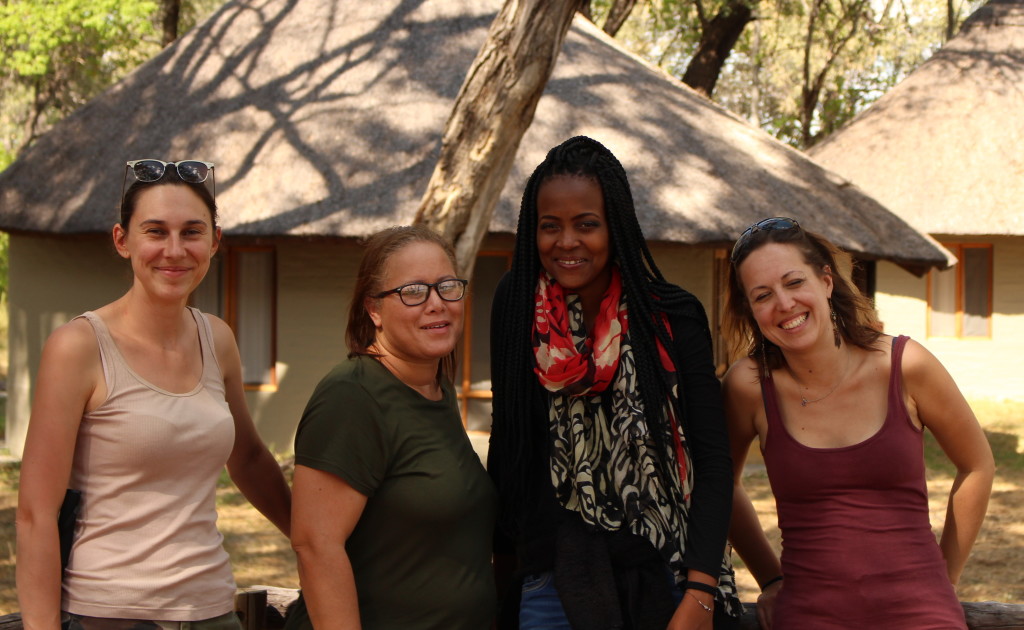 The SD family is very proud of Resego's achievements. Kay, our Reservations Manager, has been working closely with Resego for the past year. She had this to say about Resego and her going off on her first educational and flight: "To be honest I feel like a mum, watching her kid go off on her first day at school, very proud … I am sure that Resego will take the confidence we have placed in her and run with it …" Or is it a case, of flying to new heights?
Our Selfdrive Trip from Maun to Khwai and Savuti!
Have you ever wondered what it takes to get off the tarmac and explore the sandy tracks of Botswana's National Parks in a 4×4?  We did.  With our mission set, four of us Safari Destinations girls, calling ourselves the SD Angels departed Maun early on a Sunday morning for a five day self-drive safari through Moremi, Khwai and Savute.
Leaving Maun, the small village of Shorobe marks the end of the tarmac.  From here to the buffalo fence is a big wide stretch of calcrete road where we had our first encounter with someone driving far too fast and almost wiping us out.  We quickly discovered slow is the answer, as people generally tend to drive too fast and run into trouble.
From the buffalo fence there are two ways of getting to Khwai.  You can either go via Mababe Village, staying on the calcrete road or head through Moremi Game Reserve via South Gate.  We decided to go through Moremi as we were in no rush, since the route is more scenic with much better opportunities for spotting wildlife.  The road between the buffalo fence and South Gate is quite narrow, passing through mopane forests and very sandy, so the driving is quite a bit slower and we let our tyres down to about 1.6 bar to deal with the terrain.
Once we reached North Gate and exited Moremi Game Reserve, we crossed over a proper bush bridge made from Gum Poles and into Khwai Village.  To get here took us approx four hours from Maun, stopping for game sightings on the way.  In Khwai, we stayed at both Khwai River Lodge and Khwai Tented Camp, however other options in the area include Sango Safari Camp and Machaba Camp.
For self-drivers, the road network around Khwai is quite disorienting.  As a result, it's best to arrange your game viewing activities with your lodge as the professional guides know the area, where the game is and what signs to look for in tracking animals, resulting in a more enjoyable safari.
Leaving Khwai for Savuti, there are two possible routes.  Different people gave us different arguments and opinions on whether we should take the Marsh Road or the Sandridge Road.  In the end, we took the Marsh road which is longer but a lot more scenic, traversing the Mababe Depression and the Savute Marsh.  There is a lot more wild life on this section of road especially around the Savute Marsh and we saw leopard, cheetah, elephant, wildebeest, giraffe, impala, the list goes on.  This road can become flooded in some areas, and very slippery in the rainy season.  In October, it took us approximately four hours to drive the Sandridge route.
In Savute, we stayed at both Savute Elephant Camp and Ghoha Hills, however other options include Savuti Safari Lodge, as well as SKL's Camp Savuti next to the public campsite.
Returning from Savute, we drove back towards Khwai on the Sandridge road, which was a lot quicker with better road conditions.  Although quicker, the driving is through a lot of Mopane and we only saw elephant and steenbok driving this way.  In the winter months before the rains, this sandy road can get very churned up and a lot of people get stuck.  Taking this route back to Maun and skipping Moremi Game Reserve on the return took us approx 5 ½ hours.
To self-drive successfully through the parks, we recommend a good 4 x 4 such as a Land Rover, Toyota Hilux or Landcruiser.  It's essential the car has 4×4 and has good clearance.  This driving cannot be done in either a 2WD or a 4WD without the height to manage deep sand and water crossings.  For good vehicles carrying the essential equipment as standard and good back-up service in case of emergencies, we recommend Travel Adventures Botswana.  Essential items to pack are a high-lift or air jack, two spare tyres, spade, axe, tow-rope, jumper-lead cables, tyre pressure gauge and air compressor.  If you don't have a long-range tank, you will need extra fuel as driving in sand uses a lot more fuel than travelling on tarmac.  You should always have plenty of drinking water, basic food supplies, a GPS, satellite phone and a well-stocked first aid kit on hand in case of getting lost, stuck or experiencing break-downs.  Of course, you will also need your park entry permits for your vehicle and for yourself, together with any confirmation from lodges you'll be staying at which confirm they've pre-paid park fees on your behalf.