Category Archives: Okavango Delta
The Okavango Delta is a very unique part of the world. Looking at a satellite image you can easily see a few blue lines meandering from the Angolan highlands all the way to Botswana, forming a magnificent river that spreads into an alluvial fan and then simply disappears. It creates an amazing oasis in the middle of the world's biggest stretch of sand, the Kalahari, reaching from Congo to South Africa. Magic. But the true magic is in the timing of the flood!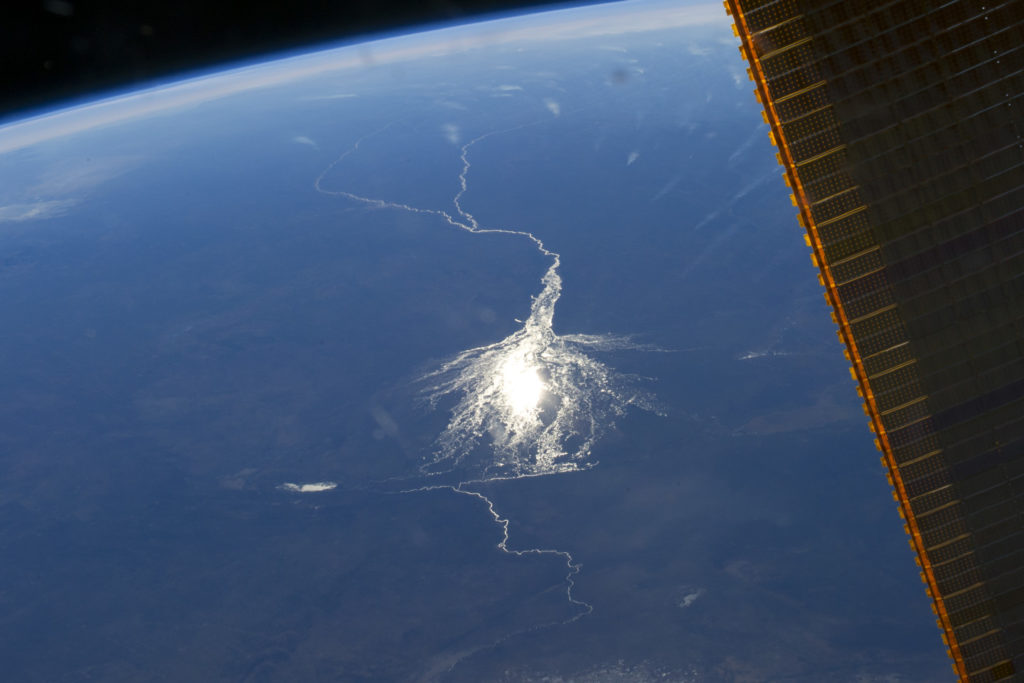 Rainy season in the catchment area and around the Okavango usually begins in November, with the majority of rain falling in January and February. The local rainfall only contributes to between 2 and 25% of the delta waters, the majority of water is coming down from the Angolan highlands.
If we traveled with a little drop of water from the source of one of the main contributories, the Cubango and Cuito River in Angola, the start of our journey would be quite exciting, through the Angolan highlands and then down to Botswana, but even before we'd cross over the border we'd already travel at a rather leisurely pace simply due to the lack of gradient. It takes this little drop of water average 8-9 weeks to reach Botswana and the panhandle of the Okavango Delta. From here onwards the journey slows down even more: the northern part of the Okavango is 250km away from the Thamalakane fault line – the delta's southern border – but there is only a difference of 50 meters in altitude!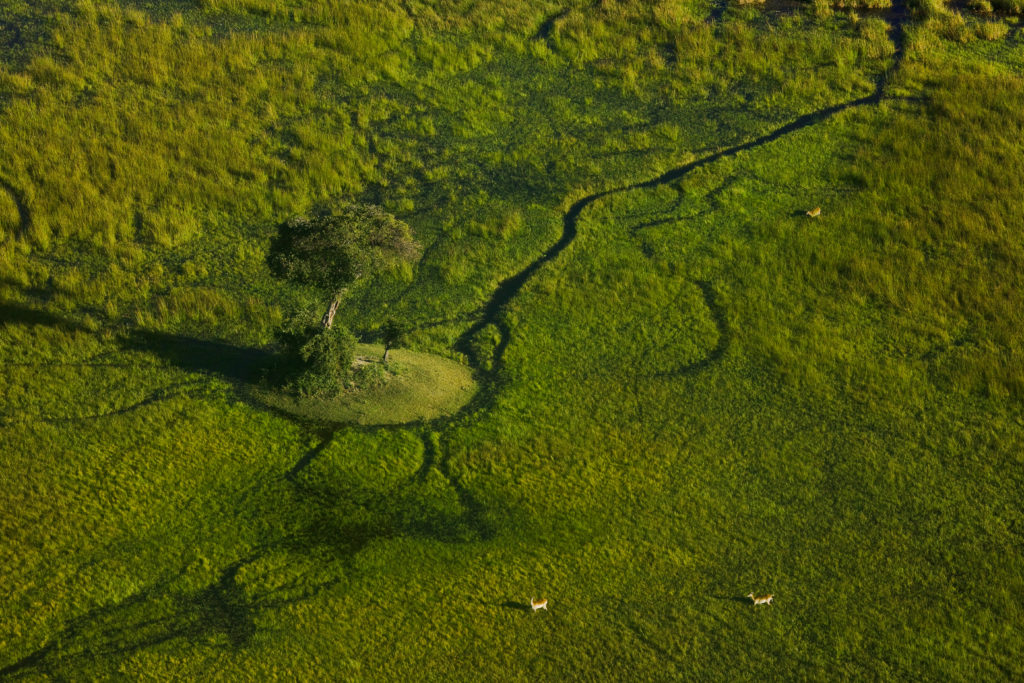 The main waters reach Botswana in April and start to spread throughout the alluvial fan slowly filling up the channels, backflows and floodplains, with the delta being at its fullest in July/August. From August onwards the water levels start going down again due to evapotranspiration now exceeding the input by rain waters. The driest period in the delta is in October and November, when food is scarce and animals are found around the remaining water sources and rivers. Many channels have dried up, avid birders can't get enough of all the bird life gathering around fish traps as the water keeps receding and cars can be used where just a few months ago boats were necessary to get around. Just then the first rains fall again, the shades of brown start turning into shades of green once more, impala and other antilope drop their young and the cycle starts over – the Okavango becoming a place of plenty. The water levels in the heart of the delta though will only rise significantly once the rains have long gone.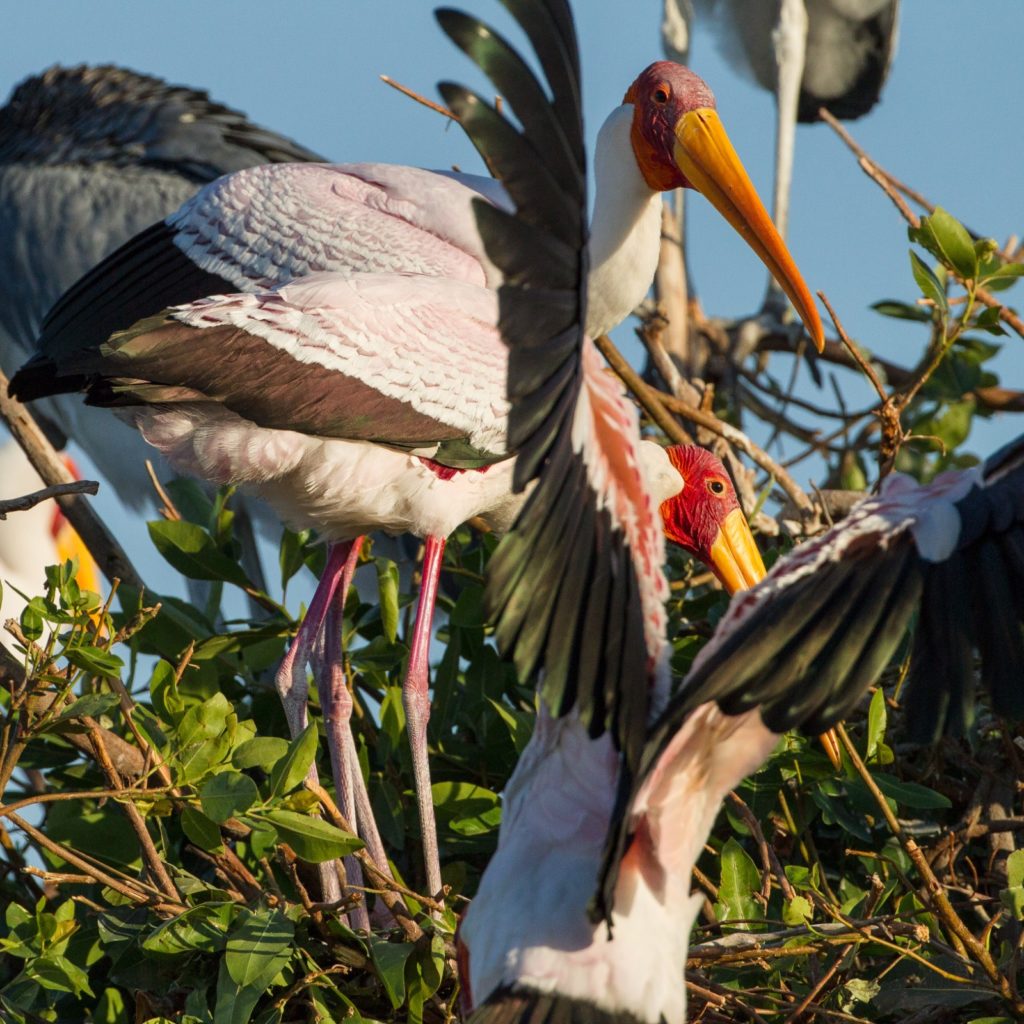 So what does this mean for us selling the destination?
This region is highly dynamic. Each year presents a varying amount of flood water in winter and a varying amount of rain falls in summer. Being nature, this provides a certain amount of unpredictability and nobody knows what will happen from one year to the next.
A well rounded Botswana Safari consists of game drives in drier areas and also water activities, be it by boat or mokoro. Mekoro are ideal to travel over floodplains in shallow water, gliding through reeds, discovering the little hidden gems of the area. Once the floodplains have fallen dry it becomes difficult to offer mokoro excursions due to safety concerns in deeper waters of permanent channels and rivers. Even if those deeper waters are actually not that deep anymore, they are considered prime real estate amongst hippos in not that great a mood as their territories are shrinking with the receding water and they are now very much up close and personal with their competitor and neighbour.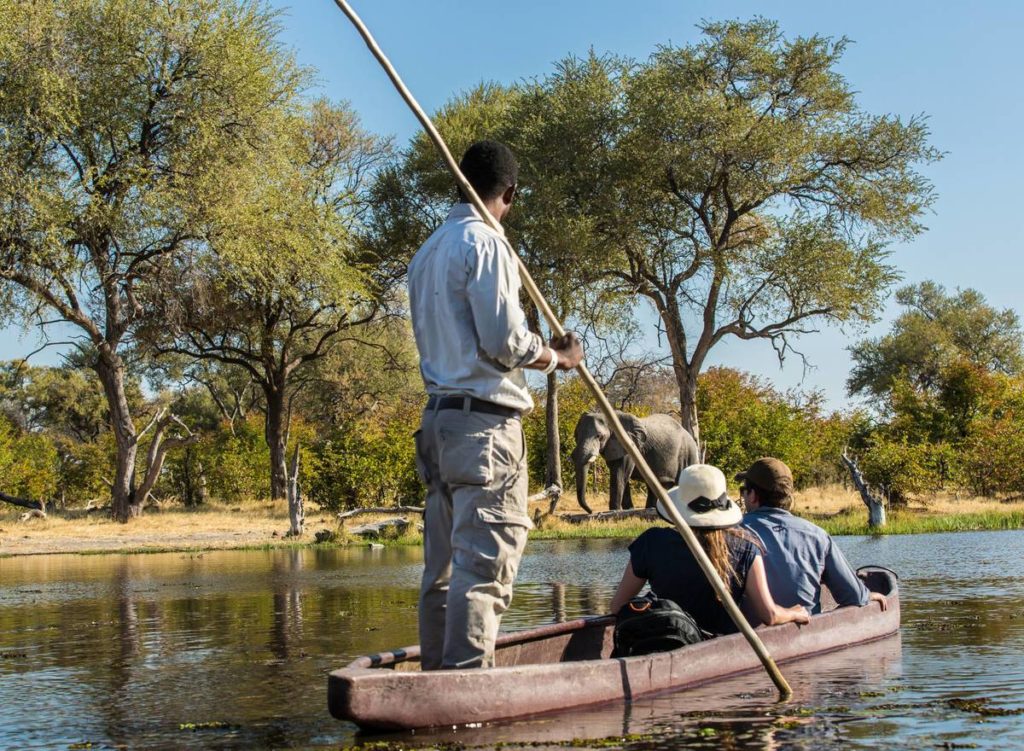 It is far easier on the nerves to observe those dynamics from a motor boat, but be aware that cruises can be a lot shorter due to a lack of either depth or river altogether! Eagle Island Camp for example, a camp that often has been sold as typical water-based delta experience, may not be able to offer mokoro during very low flood levels. The camps shift their focus. The floodplains may not be ideal for mokoro anymore, but they provide wonderful grazing for herds of buffalo as around Duba Plains; around Jao Camp the floodplains fill up with big herds of lechwe, enjoying the greenery. Other camps might not be that heavily affected and still happily take their guests on mokoro excursions and motor boat activities.
Here in Maun the flood levels of the Okavango Delta are an everyday topic and we never get tired of it. When did "the wave" come past Nxamaseri, has the water already moved towards Vumbura, when will it reach Sandibe… There is no end to it!
The Delta is a truly wild place, it is alive and offers mind-blowing experiences on land and water year round. For next year: Let's just keep the waterlevels in mind and choose the camps that offer water-based activities wisely.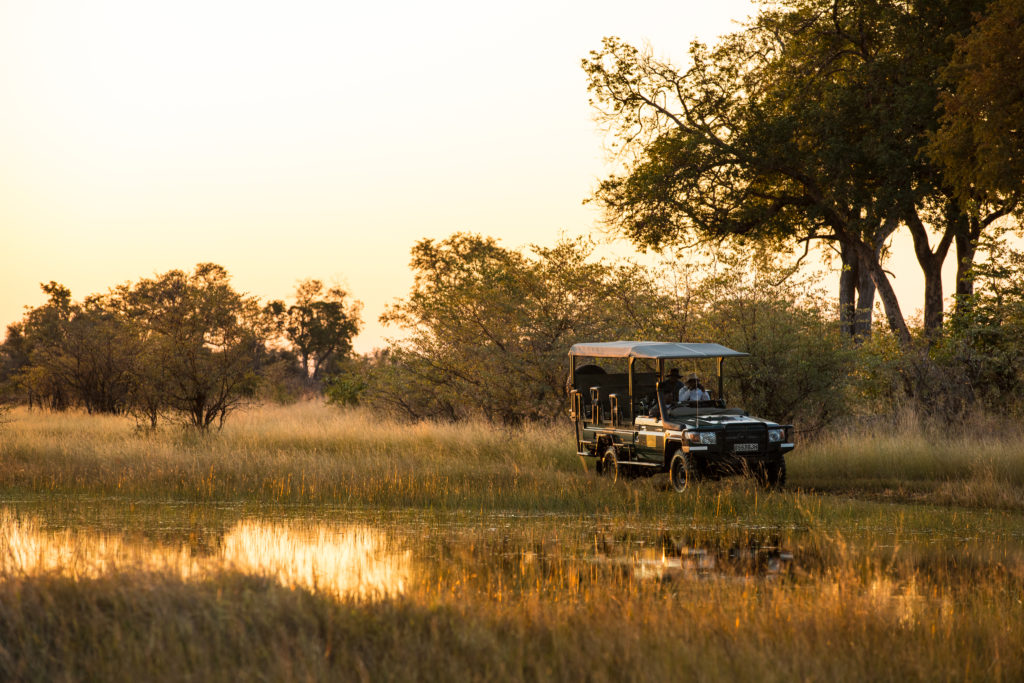 Recently, a colleague and I had a truly well-rounded Okavango Delta experience. We enjoyed the thrilling game sightings of Shinde, the water ways and game drives at Splash Camp before ending up at the lushness of Setari Camp in the Panhandle. Technically, the Panhandle is the Okavango Delta, but it offers an entirely different experience.
We were captivated from the word go. Heading off to SHINDE CAMP, we were picked up from the airstrip and told that it's a 40 minutes game drive to camp. Being 10am, we expected a relaxing drive with little game, perhaps the odd impala, zebra or elephant. To our amazement, we saw a cheetah mother and her two cubs relaxing on an ant hill. Then after speaking on his radio, our guide asked if we wanted to see something awesome which turned out to be a pride of lions with baby cubs. All this within 40 minutes of arriving in the Delta! Complimenting the game experience was Shinde Camp itself. This camp is for everyone: families, groups, honeymooners. Shinde Enclave even has its own chef and private guide. Two nights is just not enough time to enjoy the splendour of this camp.
Our next stop was SPLASH CAMP. After the amazing sighthings before, we jokingly told our guide that Shinde had set the bar very high and Splash was unlikley to match what we had already seen. And what did the tracker pull out of the hat? A honey badger, quite a rare sighting! We were beyond excited. That was followed up during our stay with a large pride of lions numbering 17 with at least 5 males and numerous lionesses and cubs. We even got to see a hyena taking a mud bath in the middle of the day to cool off, while checking out a nearby impala. The impala was clearly not getting the memo that it could be lunch! There is boating at this camp and water permitting, mokoro rides are also on offer. Set in a private concession, this is a real escape from the hustle and bustle of daily life.
Both Shinde and Splash camps are in game rich areas and there was constant action during our stay!
It was then that Keneilwe and I were off to SETARI CAMP located in the Panhandle. This was a different experience all together. Huge Papyrus, big reeds line the water ways and the very tall Palm trees give this area a lush "jungle" feel. With water as far as the eye can see, boating and mokoro rides are available all year round. As you navigate the waterways, your guide will delight you with stories of life in the Panhandle and even show you how to make hats and necklaces from reeds and water lily pads. The bird life is truly spectacular. Walking through the village is a must do with beautiful original Setswana mud huts and dancing children. Take advantage of helicopter flights to see this part of the Delta by air. But most of all, put your feet up with something to drink in your and enjoy the tranquillity of the Panhandle
Every single day, we at Safari Destinations, have the privilege of interacting with our clients in Maun, hearing about their wonderful safaris. Excited by their experiences in the bush, our guests are more than eager to share their feedback with us. Our clients are so thrilled to be travelling again, agreeing that travel is still much needed and that there is no better time to go on safari than now!
Elicited by our Meet and Greet team, here is some of the feedback received in the last couple of weeks (we struggled with the selection since we had so many wonderful stories to choose from).
A FAMILY'S DREAM COMES TRUE AT SHINDE CAMP
"Shinde was by far the highlight of their trip. In enquiring why this was so, we were told that they had the best Guide ever in the history of their safari holidays. Our guests commented that they have been to South Africa, Namibia and Botswana with Botswana having been the best just because of their guide, Kenny, at Shinde Camp. The whole family commented that Kenny was an absolute gem. He was very knowledgeable (he even knew the scientific and latin names of plants and animals), was fun (extremely entertaining), and catered for the young ones and keeping them very interested each and every game drive. They mentioned that a Guide can make or break a trip or experience and fortunately for them, Kenny truly enhanced their experience. Their game drives were nothing short of spectacular. They saw everything that they wanted to see and even got to witness a Lion kill, just like you see on National Geographic. This family really were happy and could not stop expressing their satisfaction with their whole entire trip."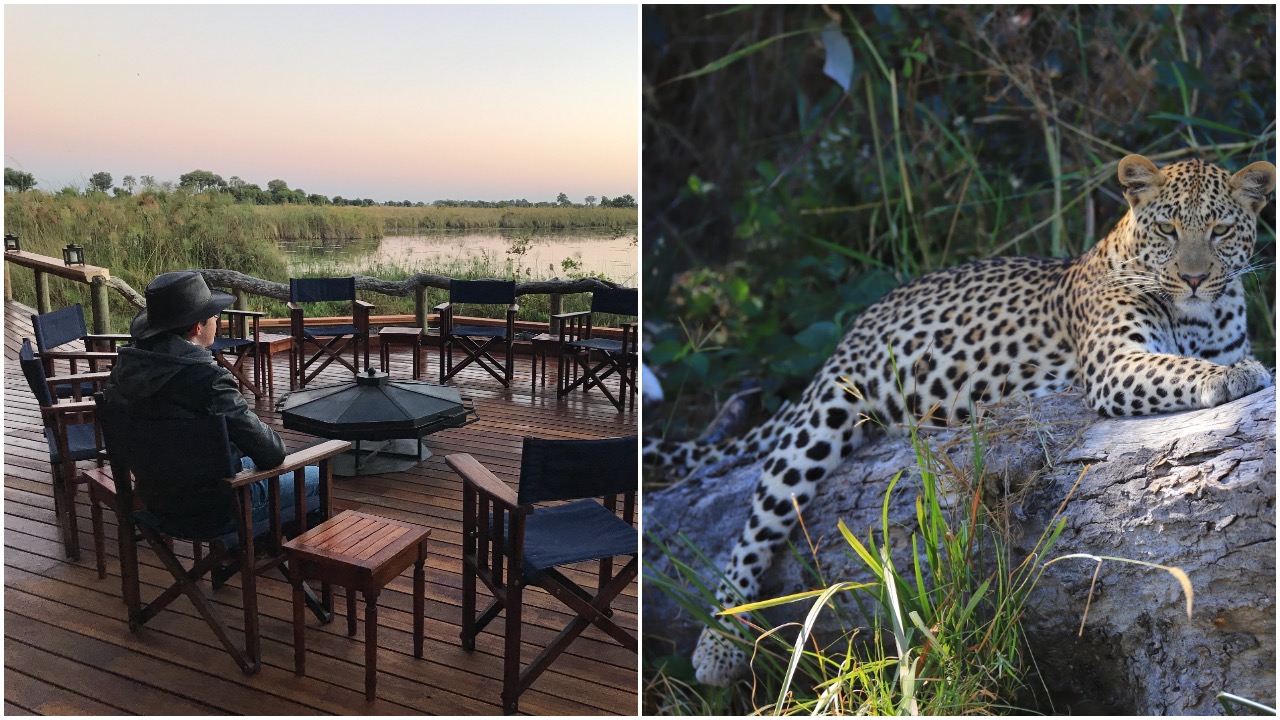 NOGATSAA PANS LODGE: A GEM & THE CHERRY ON TOP!
Although the focus of a safari is the wildlife sightings, the landscapes and the sheer bliss of being out under the African sky, the staff in camp contribute hugely to the overall experience. A warm welcome, a beautiful smile and the kindness of the people in camp who are more than ready to make sure that all your needs are met during your stay, adds to the pleasure of your stay. Nogatsaa delivered in this aspect!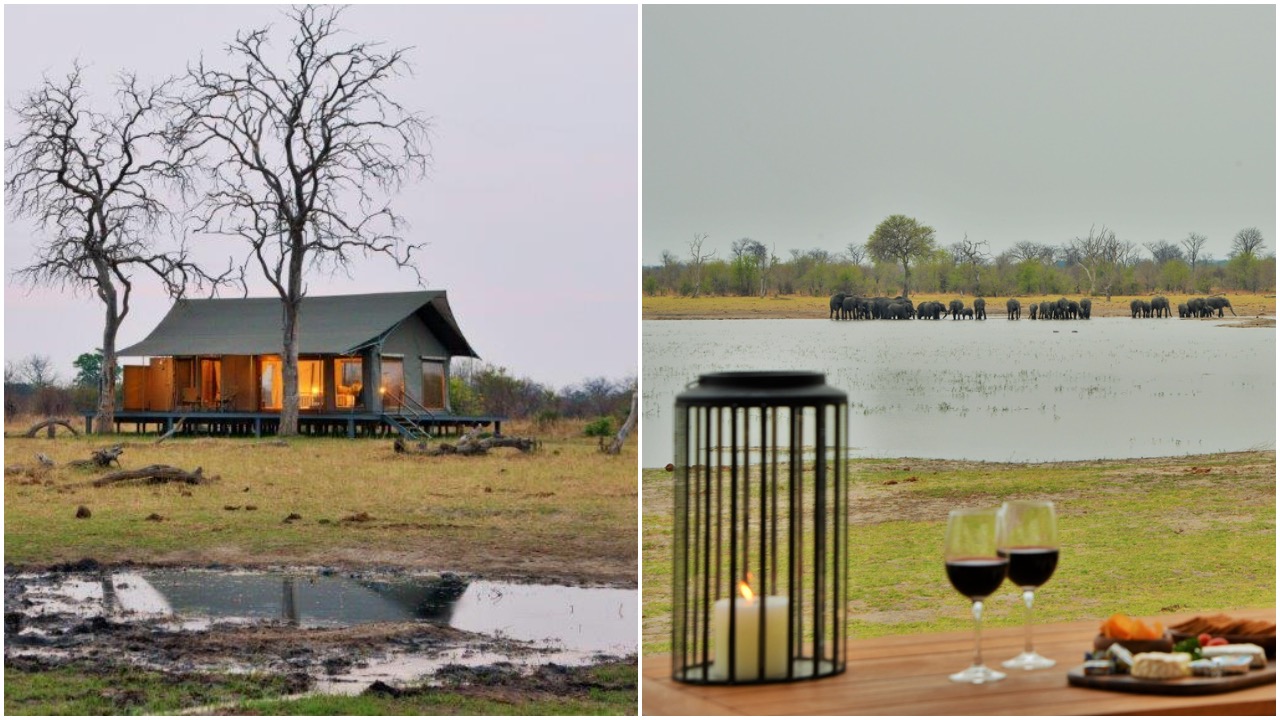 "Nogatsaa Pans Camp: Clients raved that the Manageress Ketsile, had phenomenal people skills and was just incredibly friendly. Allan, who was their Guide for their entire stay was also an asset and made their sightings just extra special. He was very knowledgeable and very flexible. They can't compare the welcome and hospitality that they received anything they had experienced on other trips.
SELF-DRIVING IN BOTSWANA! WHAT COULD BE BETTER?
It is great to go on a self-drive trip. Our guests are enjoying the open and flat landscapes while driving through the Makgadikgadi pans, to road side sightings of elephants aplenty in the famous Chobe area to the rustic and pristine Savute and then Khwai with its exceptional game viewing. The bonus to self-drives is that you get to spend dedicated time with family or close friends.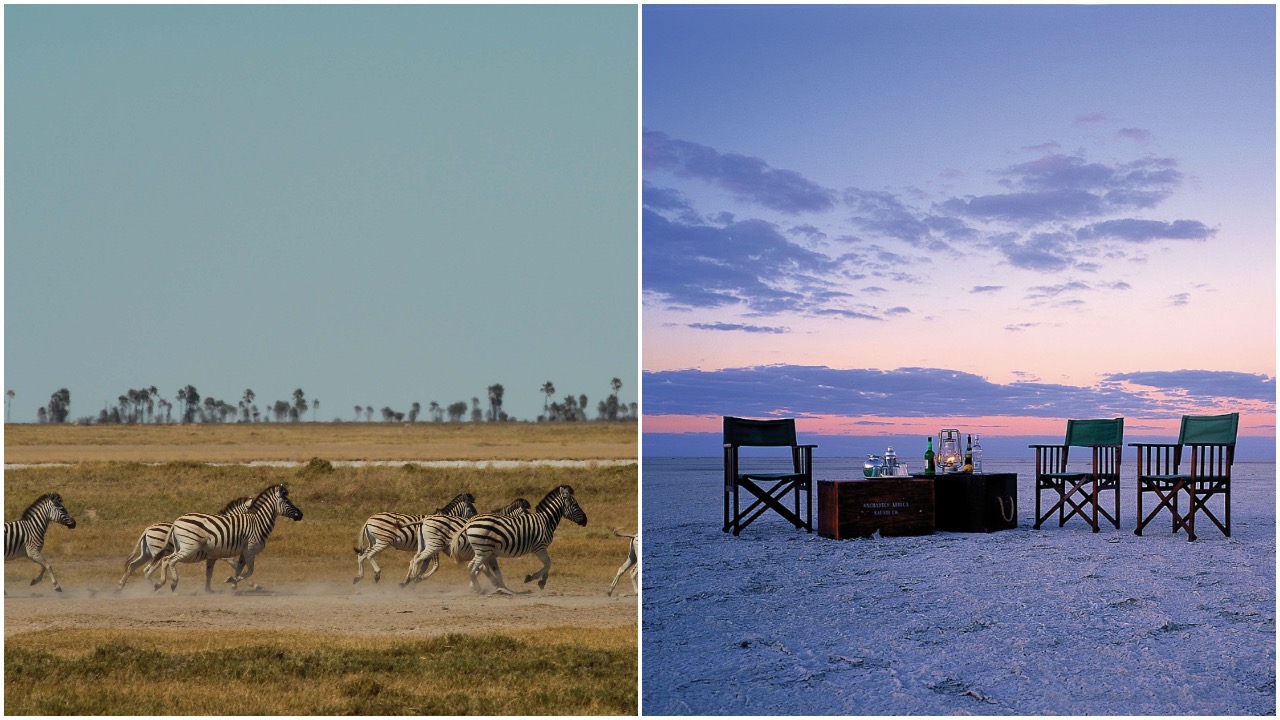 " The clients absolutely loved the Makgadikgadi and her beautiful sunsets and sunrises as well as the vast nothingness of the landscape. Kubu Lodge was also a great place to stay as Chobe was buzzing with hundreds of elephants. They had never seen anything like this before.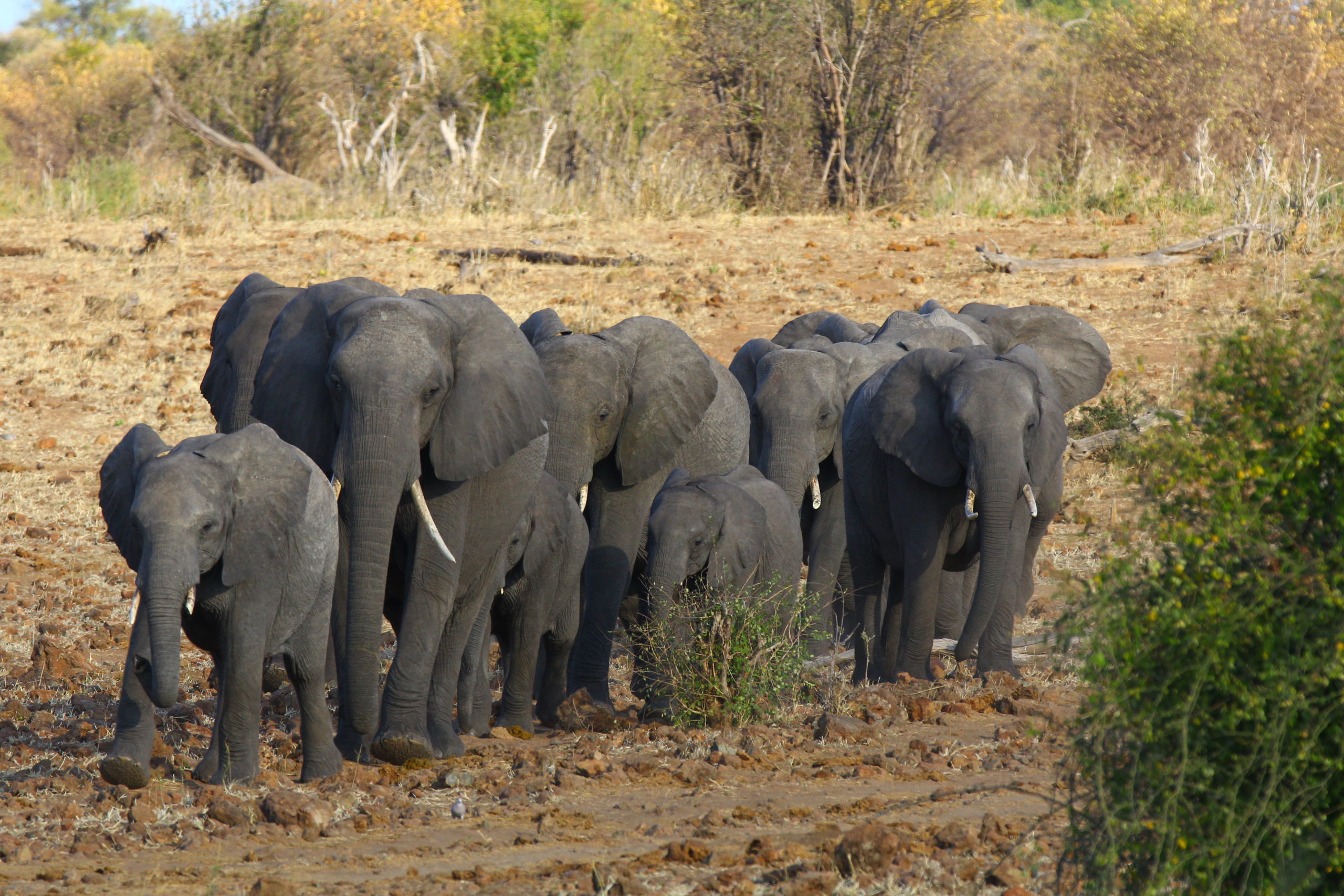 Savuti was " Lion land". They saw a total of 15 Lions at one sighting, with cubs. This for them was very special. The experience of being in the wilderness (unguided) with mother nature delivering in such a spectacular manner, was simply remarkable. The landscape here was also breath-taking. Khwai also was just awesome. On one drive, clients saw a dead impala up a tree and they both guessed that they were about to see a Leopard. And there it was! They were so excited and told me about the many video clips they took of their "special" sighting and moment. This was their first time visiting Southern Africa and they could not believe their luck."
These are just some of the feedbacks from the many guests we have hosted over the past months. We love to hear of the magical moments experienced by our guests and to share in the memories they will take back home to tell to their families and friends! This is one of the best parts of our job, being allowed to share such amazing experiences.
As Carina always says: "Every day not spent on safari is lost day". I am sure our guests, after a safari of a lifetime, will agree. The African travel bug is the one that bites the hardest.
Botswana is known for her incredible skies, huge impressive clouds often build up all day for a short, late afternoon thunderstorm. Not only does this welcome 'pula' (the Setswana word for rain in Botswana), the rain also washes the air clear of dust, making for crisp afternoon game-drive photos.
Sunrises and sunsets are especially beautiful as the sky turns gold, pink, red and every colour in between, lighting up the clouds dramatically and creating more spectacular photo opportunities.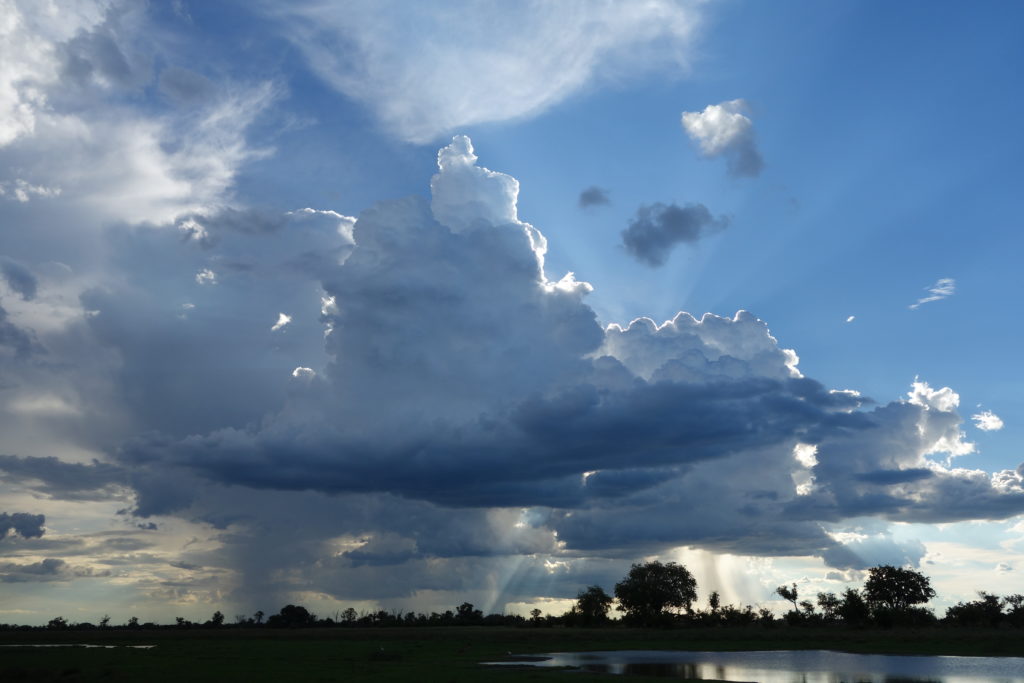 Pula is so precious that our money is named after it (and we also use it as a good fortune toast during drinks with friends). It is so special to us, as it transforms the land into a lush environment, full leafed acacia trees cast deep cool shade and wild flowers start to bloom which makes everything seem more charming. The acres of green grass and verdant leaves, sustain hundreds of thousands of grazers, which sustain thousands of predators. A whole ecosystem depends on pula and, of course, lots of our favourite safari activities like canoeing, boating and mokoro.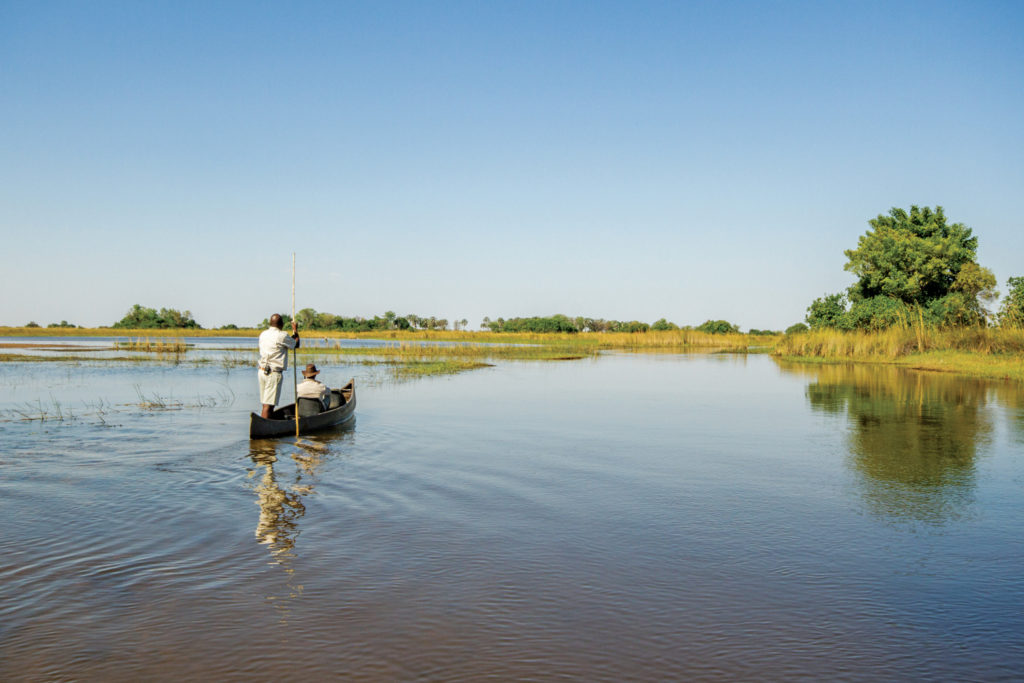 Botswana's Green Season (starts mid November and ends early April) is one of our favourite times of the year. As the rains arrive so do the migrant birds from Europe, Asia and other parts of Africa. The carmine bee-eaters hovering over game-drive vehicles, waiting to snatch up bugs from the air, are exciting to watch. Kingfishers, kites, rollers and cuckoos embellish the air with extravagant song and colour. They stand out against the brilliant emerald foliage (even LBJs – 'little brown jobs' – look prettier). The pans are totally transformed by the magical pula and become havens for aquatic birds like flamingos and pelicans. Everywhere is good for birding – The Okavango Delta, Chobe river, Makgadikgadi Pans, Central Kalahari, and the Linyanti wetlands. Even your non-birders will appreciate the beauty of it all.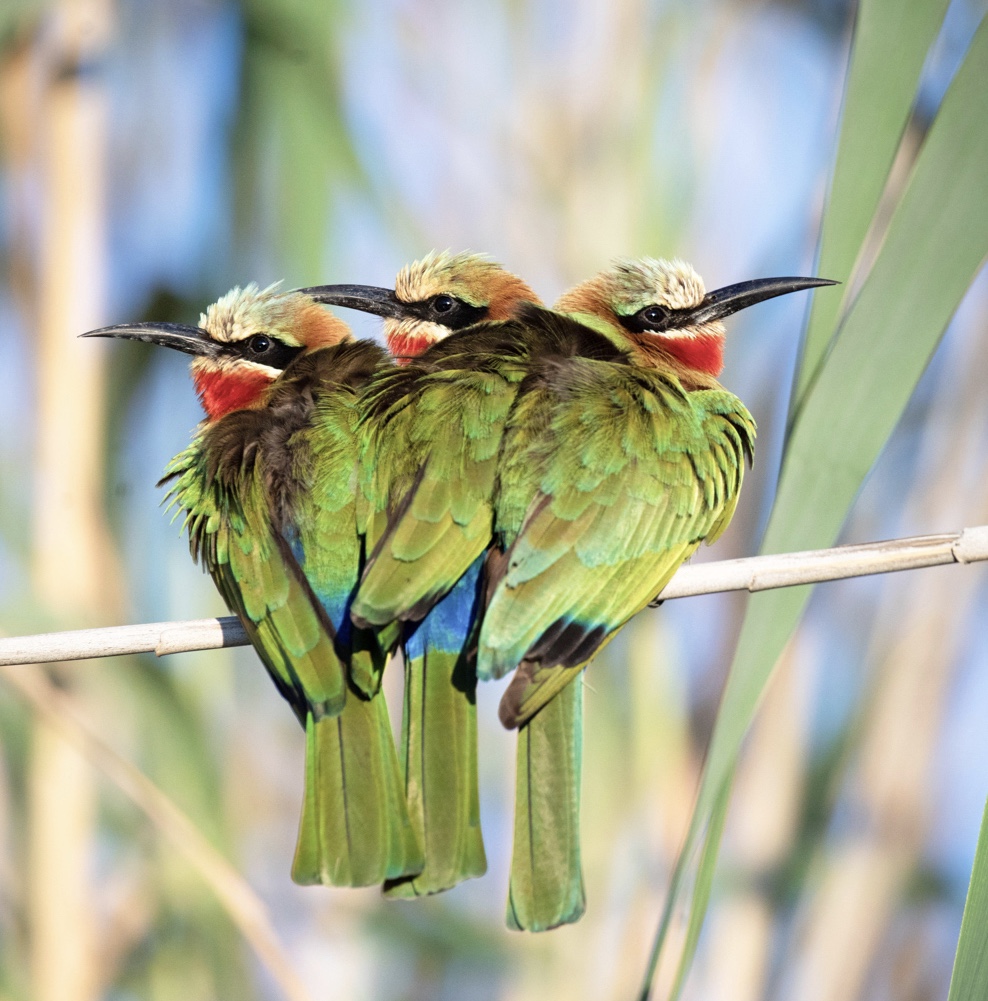 Travelling in the Green Season comes with lower rates than in other times of the year. Guests who have always dreamt of coming to Africa might suddenly find that travelling in the 'secret season' is super-affordable. If time is not of essence, you can stay for longer and immerse yourself in the experiences wherever you are, especially with the excellent discounts and specials available to you.
The other unique element of Green Season is that it's the time year when many baby antelope are born en masse. Species like impala give birth all around the same time to ensure as many of their babies survive as possible – not only is there enough grazing around for all of them but giving predators thousands of options reduce the chances that your specific baby will be killed, if you're an impala mom. The point is that you'll get to see wobbly calves and tiny foals, which is very special to witness.
So, whether it's bright green, dark green, light green or any green in between, the Green Season has plenty to offer. Yes, the longer grass makes animals slightly harder to find but it's so rewarding when you do. Lower rates, fewer people, happy wildlife and pretty skies – what more do you want in Botswana!
TIP: Visit the Safari Destinations Agents Corner to get a glimpse of the Best In Travel package overviews curated for the green season.
Some know Mombo as the "Place of Plenty". Others refer to it as Mma Di Campo ("The Mother of all Camps"). With its considerable nightly rate and renowned reputation for sensational wildlife sightings, those who are fortunate enough to stay at this beautiful place cannot be blamed for having very high expectations.
Along with the name and the reputation come a significant amount of excitement. Like the flutters you get before meeting your favourite star or the thrill of seeing the top of Kilimanjaro towering over the Serengeti for the first time.
Land at the Mombo Airstrip and instantly this buzz rushes through you. Guides come bounding across to welcome you and helicopters are on standby to take you anywhere, any time.
So, here you are, you've finally arrived at the famous Mombo Concession and your guide takes you on the short 20-minute journey to the lodge. As if they've come to welcome you, the track is full of life. Impalas line the road with their young calves leaping through the grass. Geese, ducks, sandpipers and colourful bee-eaters flock the small pans along the road and the characteristic shrill call of the stunning turquoise woodlands kingfisher welcomes us. We've arrived in mid-February, the middle of the Green Season, a time when the bush is full of colour and new life.
We've arrived at the lodge and the staff's smiles await you along with the eagerness to make this time at Mombo your most memorable. Sitting down for lunch, we're treated to crisp baby vegetables and lightly grilled Chobe bream. The "new" Mombo is around two years old and meticulously maintained. When you start to look around, the touches of comfort and elegance are all over, from the motion-sensor lights in your massive room to the carefully packed sachets of Fairtrade ground coffee and bottles of vintage wine in your private lounge. We could tell you about the USD12 000 worth of complimentary Olympus mirrorless camera gear you are free to use, the refreshing private pool, day-bed and more of the delectable meals and snacks we were treated to during our stay but what we really couldn't wait for was to set out and explore what this famous concession in the heart of the Okavango Delta would deliver. Because, let's be honest, there are beautiful properties all over Africa… the reason people come to Mombo is for a safari experience to beat all safari experiences.
Well, 48 hours later, and we were completely and utterly blown away by what we had witnessed.
On our first afternoon drive with Moss we headed out to where the breakaway pride had been relaxing the morning before. Sure enough, we rolled up to within breathing distance of them. A perfect place to take in some shade from the hot afternoon sun and start learning about the dynamics of the resident and roaming lions of Mombo.
About 20 minutes later, the distinctive continued shrieking of the red-billed spurfowl alerted the guide to what was most likely another predator. Just 150 metres from the relaxed pride of seven lion was a massive male leopard. Moss called this striking male leopard Sergeant and one couldn't help noticing how passionate he was in sharing the excitement with his guests. His eyes were fixed on the animal as he shared the years of how he has watched this individual through his challenges and triumphs existing in this predator-rich landscape. Sergeant is reaching the end of his dominance and you can see he has been through a lot as he panted hard in the afternoon heat.
As we made our way along the marshy plains it started to become evident. It's not just the animals or the thrilling sightings we were being treated to, it's the sheer beauty of the area, which is unlike anything we've seen. It's Africa as you imagine it. Some of Botswana's largest baobab trees look as though they've been placed there deliberately. You'll find yourself alongside rolling floodplains where carmine bee-eaters swoop by the vehicle and then into dense forests with old gnarly jackelberry trees. It truly is a breathtakingly beautiful African wilderness.
Nothing could have prepared us for the treat we were in for the next morning. We told Moss we would be ready to set off nice and early to make the most of our time out there. And if you don't want to miss out on the fresh cappuccino and scrumptious handmade toasted sandwiches cooked on the fire… do not fear, they will wrap it up for you for your breakfast on the go.
We headed towards an area called Tsessebe Plains to find the Mathatha pride. We found them and they were on the move. It was clear where they were headed. The buffalo herd of around 400 animals or more was not far away. Lions are never far away from a big herd of buffalo.
Once again, we were staggered by how quickly we encountered the next predator. A majestic male cheetah was watching these lions with a clear amount of distress. It was the flick of its tail Moss spotted across the grassland. When we got closer, we were treated to rich golden morning light as we followed this cheetah from termite mound to termite mound, posing for us.
Fifteen minutes later, after being spoilt with photographs of this cheetah, we ventured to the thickets where the impalas alarm calls were causing panic. This was not typical behavior for antelope in the presence of a cheetah. If you're an antelope within visual contact of the fastest land mammal on the planet you're best of making a run for it sooner rather than later. Moss realized there must have been another predator. Sure enough, he spotted a leopard dash for the bush – but we didn't see it. She was moving away from three huge male lions who were after her kill from the night before.
We were almost exhausted by the morning's excitement but that wasn't all. We headed back to the buffalo where the Mathata pride had been seen moving closer. The script was set. A buffalo had stopped to wallow in a pool of rainwater and was flanked on all sides by seven lion. He'd allowed himself to lag behind and we settled in. Not more than three minutes later and it all kicked off.
Those who are fortunate enough to have witnessed a kill will know it can be distressing to see nature at work. Like killing machines each lion had its job in bringing down this beast. One to weigh down the rear and several others below the legs to weaken its stance. Importantly, one young male clenched his awesome jaws over the buffalo's mouth to suffocate his distress calls that would invariably bring with them the rest of the buffalo to rescue him.
What a sighting and what a magnificent place. The place of plenty for sure. A place which preserves the pure essence of Africa as it was millions of years ago, beautifully intact.
For travellers who are lucky enough to afford a stay at Mombo the answer is yes! It is absolutely worth it!
We stopped at Kwara Camp in the famous Kwara Reserve in September 2019, just after it reopened after a complete rebuild. The new camp is bigger and more luxurious than the old one: there are nine tents (including one for mobility impaired guests), two swimming pools and private vehicles available.
What was your overall impression of the camp? Please highlight the unique selling points.
Sue Smart of Kwando Safaris was there to show us around and she is clearly very proud of the new addition to the Kwando portfolio – quite rightly so! This new lodge is lovely and the feel is classic 50's safari style with contemporary touches: elements of décor like old trunks, framed photos of insects on the wall, a brass telescope, fabrics depicting plants and animals mixed in with a modern light fitting and bar stools, for example.
Every small detail has been thought of and geared towards a more demanding, sophisticated and mature clientele. The lodge is definitely not child friendly – the minimum age is 18. The main area is constructed on different levels and offers various places to sit, play games, read, write, lounge, drink and eat. The rooms are huge and include a proper lounge area with a sofa, armchairs and coffee table, a king-sized bed wrapped in a mosquito net, en suite bathroom with lots of packing space and surface areas on which to put toiletries, a vanity, bathtub, enormous rain shower heads in the indoor and outdoor showers, and a large deck with table and chairs. The linen looked first class, too.
The room I saw was for clients with mobile disabilities was all on one level. The others are identical but have a sunken bathroom. The rooms have solid walls and wooden doors and yet there is a canvas feel to it (good for clients who don't want to sleep in a 'tent'). I love the fact that there are two good-sized swimming pools at each extremity of the lodge so they will never seem overcrowded nor in full view of the main area. Each pool area has a 'clubhouse', which has a fully stocked fridge, tea/coffee-making facilities, armchairs and a ceiling fan. There are four deckchairs on one side of the pool, facing the bush.
How does the camp compare to similar camps in terms of value and experience? Are there any notable special offers applicable?
I feel that Kwara Camp is good value for money. Being a four-star classic camp, it is super comfortable but not as luxurious (or as expensive), as Tuludi or the Wilderness Classic camps. Long-stay rates are always a plus at Kwara and as long as you stick with a minimum of three nights, the Five Rivers package can include Kwara. Please remember that a minimum stay of three nights is necessary, and honestly spoken this concession justifies at least a 3 nights stay, ideally even longer.
How would you combine this camp in an itinerary and why?
The camp covers land and water activities, I would combine it with a camp in a completely different area such as Savute or Makgadikgadi Pans. Or in the Linyanti, the obvious choice would be Lagoon or Lebala Camps because of the reduced long-stay rate.
What type of clients does this camp suit and why?
This lodge is definitely suited for higher-end safari goers, seeking an authentic, good quality safari in one of the best concessions in the Delta. It comes with lots of creature comforts but not over-the-top luxury: groups of friends, couples, families with adult children (minimum age is 18 years), repeat clients and honeymooners would all feel comfortable here. It is also suited to those who want solid walls, and windows and doors that open and close (not tents or canvas).
How does the seasonality of the area change through the year and what effect does it have on a visitor's experience, with specific reference to wildlife and activities?
This huge private concession borders the Moanchira channel, which has permanent water so boating will always be possible, whatever the season. Game is super-chilled and plentiful. Moremi Game Reserve is just on the other side of the channel so lots of animals cross backwards and forwards throughout the year. If the low water levels in the Delta persist into 2020, the Kwara Reserve will be a big draw as this year water in the upper Delta is more plentiful and reliable.
The Okavango Delta is an incredibly dynamic ecosystem. Its fluctuating water levels cause vegetation and habitats to adapt accordingly in very short time spans.
The Delta has historically always experienced wet and dry spells, which last roughly 30 years each. We are currently in the tail end of a wet cycle and the exceptionally low rainfall beginning of this year is not unusual according to historical data. Tentative weather predictions are looking positive with better rains this year and a bigger flood in 2020.
The current drier conditions we are experiencing are, almost counter intuitively, not bad news. During our exceptionally high flood levels in the early 2000s, large tracts of the Delta were flooded for longer periods of time. This meant that the grazing that occured on the floodplains once the water receded was no longer available for the herbivores and the nutritious grass was replaced by unpalatable sedges (types of mostly perennial but sometimes annual herbs that have a 'tuft-like' appearance). This has meant that herbivore numbers actually declined over this period even though the Delta was at its fullest and prettiest.
This year's exceptionally low floods mean a lot of those floodplains have become accessible and the sedges will die back so that grass can grow again, making the land once again suitable for grazing. The herbivore populations will increase thanks to the extra food, which in turn positively affects the predators. So, while there may not be picture-book Delta water activities everywhere, there has been exceptional game viewing instead.
The upper or northern Delta has received its usual annual floods, albeit in lesser volumes, which means that conditions there haven't changed as much.
The lower or southern Delta is affected the most due to the lack of flooding but the newly available grazing will only enhance the game-viewing experience. The reason for this distinct shift in flooded areas between the upper and lower Delta is most likely directly related to the big earthquake Botswana experienced in 2017. Due to the sandy substrate the Delta lies on, even a small shift is enough to divert water flow.
This cycle should see an overall improvement in the amount of grass available as the water-loving sedges die down, leading to the exciting game viewing we all enjoy so much.
We have long loved the Panhandle and have always considered it a secret gem. It's a wonderful 'new' destination for clients who would like guaranteed water activities like mokoro and boating as well as a gateway to the Tsodilo Hills.
Access
A 70-kilometre watercourse that starts at the Namibian border before spreading out into the Okavango Delta, the Panhandle offers year-round water. Value-for-money lodges and more affordable transfers are now making it extremely attractive. Access used to be a prohibitively expensive but now it's on par with any other Delta flight, making it a serious option for more cost-conscious bookings.
Experiences
The water experience is unrivaled: guests glide silently through the channels on a mokoro, absorbing the peace, quiet and lush greenery. They can also head out on a high-speed motorboat to experience the vast space opening up in front of them.
Tigerfishing is a famous and exciting activity in the Panhandle, as is angling for bream and barbal. Birders can train their binos on the densest concentration of fish eagles in southern Africa and look out for multi-coloured narina trogons, kingfishers, African skimmers and Pel's fishing owls.
In addition, 30-minute scenic helicopter flips here are the same prices as those over the Victoria Falls but with the doors off, giving you clearer, more expansive view and a proper opportunity to trace the channels by air.
Travellers who want more adventure can branch out on a day-trip to the Tsodilo Hills. Declared a World Heritage Site in 2001, these four large outcrops account for the highest peak in Botswana. The Tsodilo Hills have been nicknamed the 'Louvre of the Desert' because of the hundreds of rock paintings found here. Clients who are hikers or ramblers can stretch their legs on trails here with a local guide.
Accommodation
Upscale options are Nxamaseri Island Lodge and Setari Camp. Nxamaseri is only 37km from Shakawe while Setari is easily accessed on a 35-minute flight from Maun to the Setari Airstrip. Guma Lagoon Camp and Xaro Lodge are favourites for self-drive itineraries, offering down-to-earth accommodation in comfortable canvas chalets and Meru tents. Mopiri Camp is a good mid-range option.
For more details on how to incorporate the Panhandle in an itinerary, please ask your dedicated Safari Destinations consultant. Thank you to Helicopter Horizons for the image of Tsodilo Hills.
The Okavango Delta, the largest oasis in the world, attracts large concentrations of all forms of life from the surrounding Kalahari Desert. During periods of flooding plants flourish, animals reproduce and large herds of mammals migrate away from the swamp, to the fringes and to areas in the surrounding desert that benefit from the water that is slowly making its way through the sand.
The exact opposite happens during dry spells!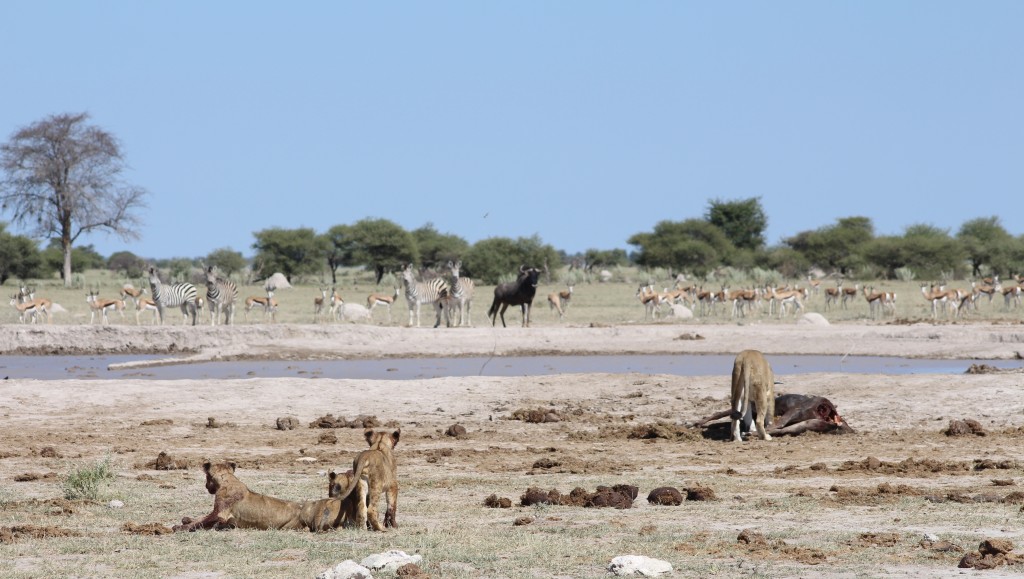 Large concentrations of animals come together around water pools, receding channels and lagoons. Considering the current water and flood levels and data on rainfall in the Angolan Highlands and the catchment area of the Okavango Delta it is very likely that the upcoming year will be very dry. It looked similar in the late 1990s and early 2000s – and game viewing around the core Okavango was nothing short of spectacular! We were there to see it. Elephants, buffalo, wildebeest and zebra jostling for a place around the precious wet; carefully watched by predators that follow the herbivores and focus ALL their attention around the last remaining watering holes.
You remember all those times when we said: Or should I rather suggest to the clients to travel a bit later? When the game viewing is a bit better? Don't you think June is maybe too early? Maybe rather September?
In 2019 we are up for a much longer season of enhanced game viewing with less animal movement out of the Okavango, a true premier savanna game drive and superb walking experience. In essence: it will be September from June onwards…..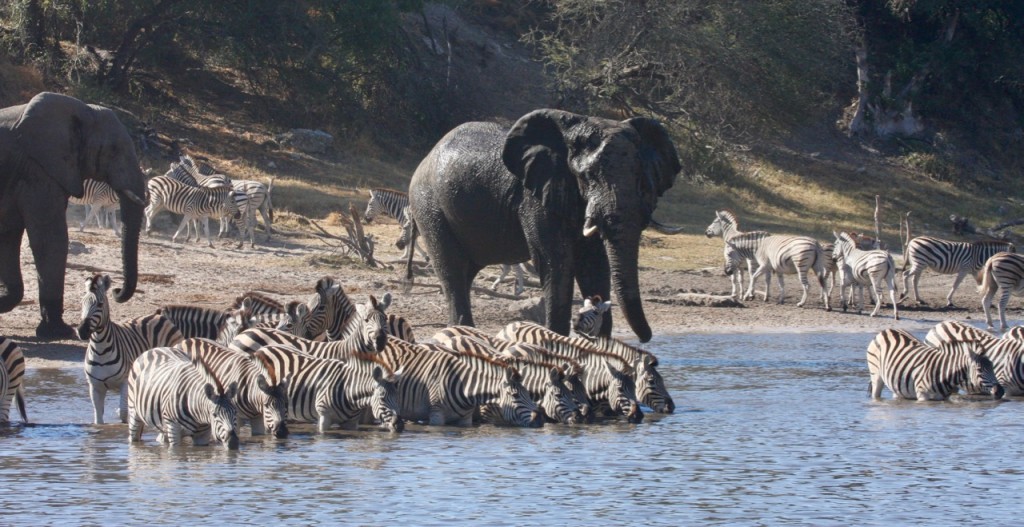 Sure, the water levels might get too low to conduct boat cruises and mokoro excursions sooner than in previous years in a lot of areas. But there is still a number of camps around, located close enough to the more permanent channels, where your clients can enjoy gliding through the swamp on a mokoro. Our consultants know exactly where to find those camps to add to your clients' itinerary and where to include mokoro or boating.
But don't let anybody fool you into believing that a dry cycle in the Okavango is bad news.
It is great news for a photographic safari. Get ready for an amazing season !!!!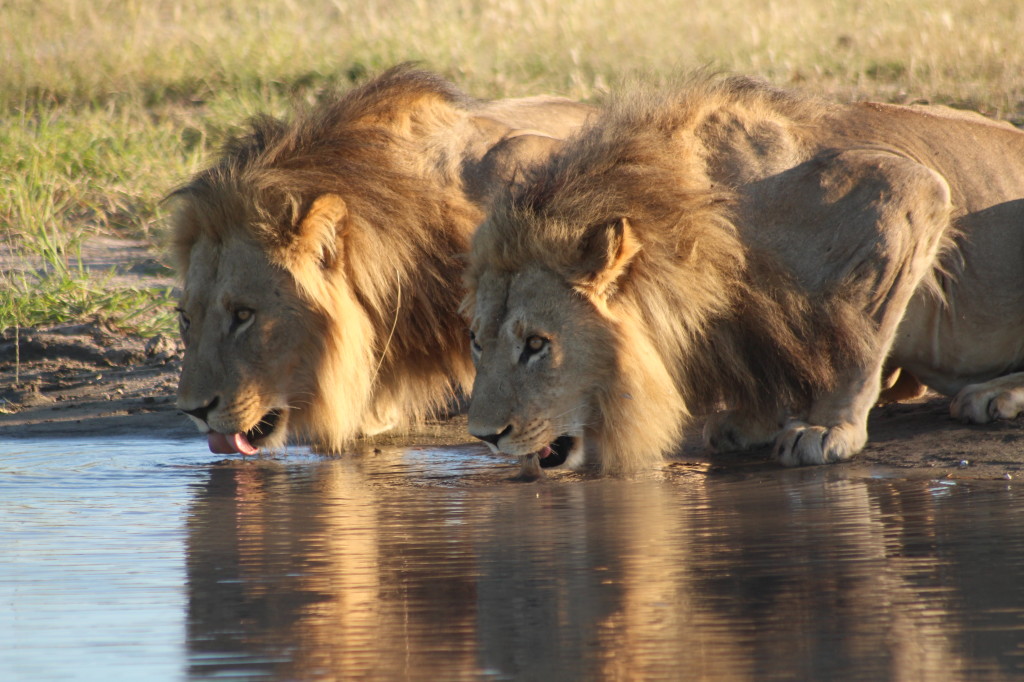 Perfectly positioned to watch the sun go down while sipping on a gentle gin & tonic or cooling off in the sparkling swimming pool after a sun-soaked day. Let the mind slowly unwind, the body recover and the soul rejuvenate! Rediscover tranquillity at the newly opened Setari Camp, located on a picturesque island in the Northern Delta.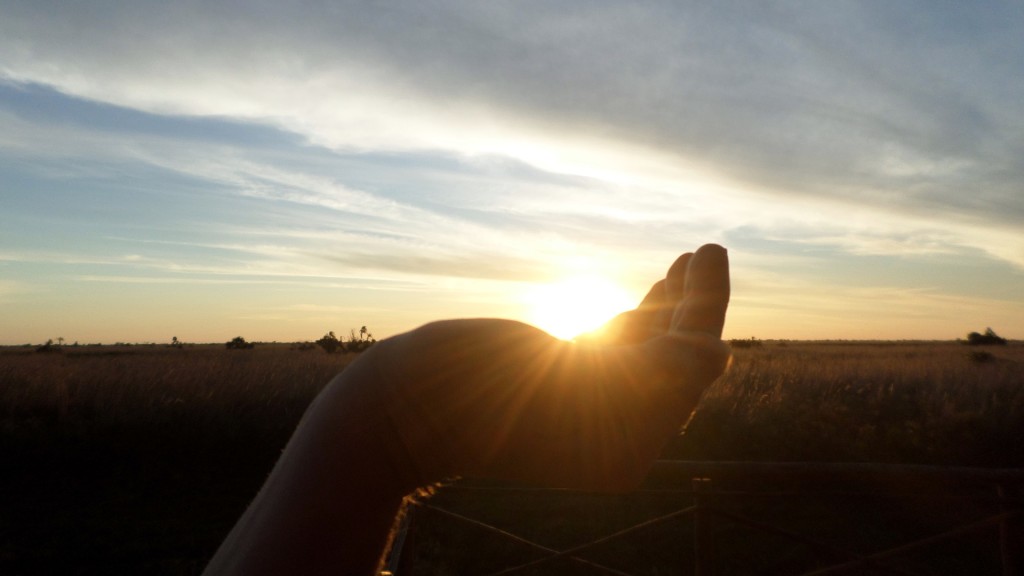 We had the pleasure of staying at Setari recently and were thoroughly spoilt with delicious food, a selection of drinks and heart-warming hospitality. The tents are spacious, well-appointed with everything you need and very private from the next.
There is a private viewing deck in front of each tent with endless views over the floodplains; the ideal spot to put your feet up, read a book or just relax and take in the stunning scenery. For those wanting to burn off some unwanted calories, there is a small gym on site…but even I could not drag myself there!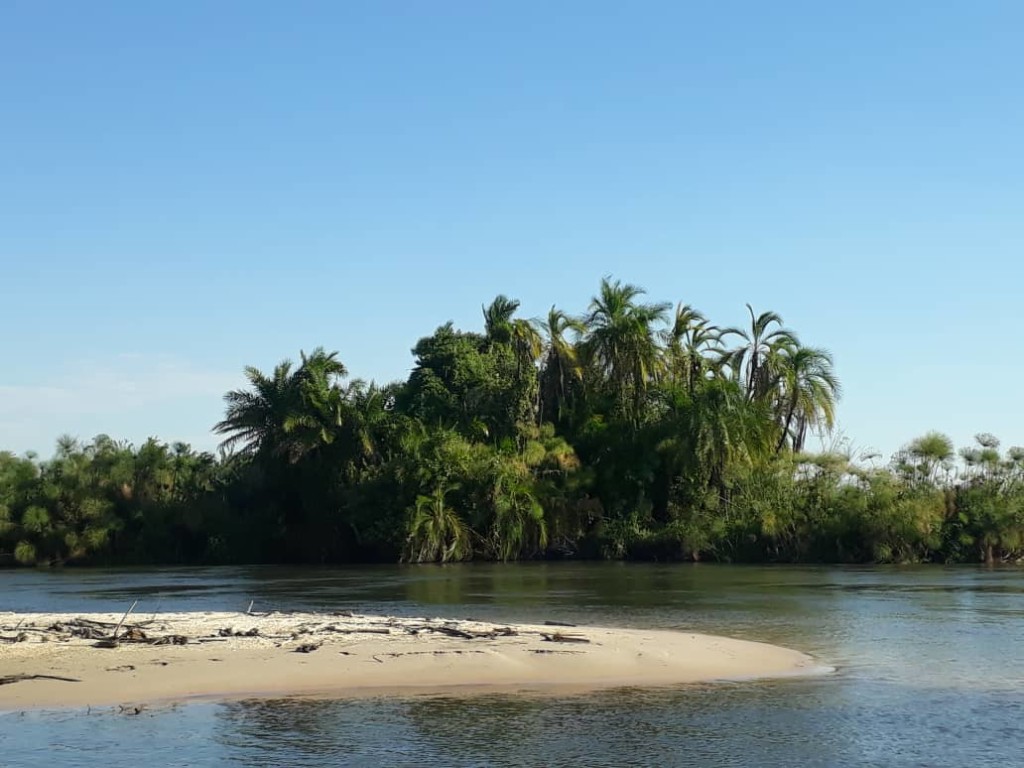 This camp is suitable for just about anyone, raised high off the ground, it is safe for children to move around freely between the tents, the main area and the swimming pool. Children can take part in boating, seasonal fishing and village visits, while there is also the option of mokoro activities and bush walks for adults. One of the greatest advantages at Setari is the year-round water availability which means boating and mokoro throughout the year.
Those wanting to wind down after a busy safari, will find their haven at Setari and equally those on honeymoon can enjoy the privacy and tranquillity in one of the remotest parts of the Delta.
Kick back, relax and ENJOY! Setari Camp settles the soul…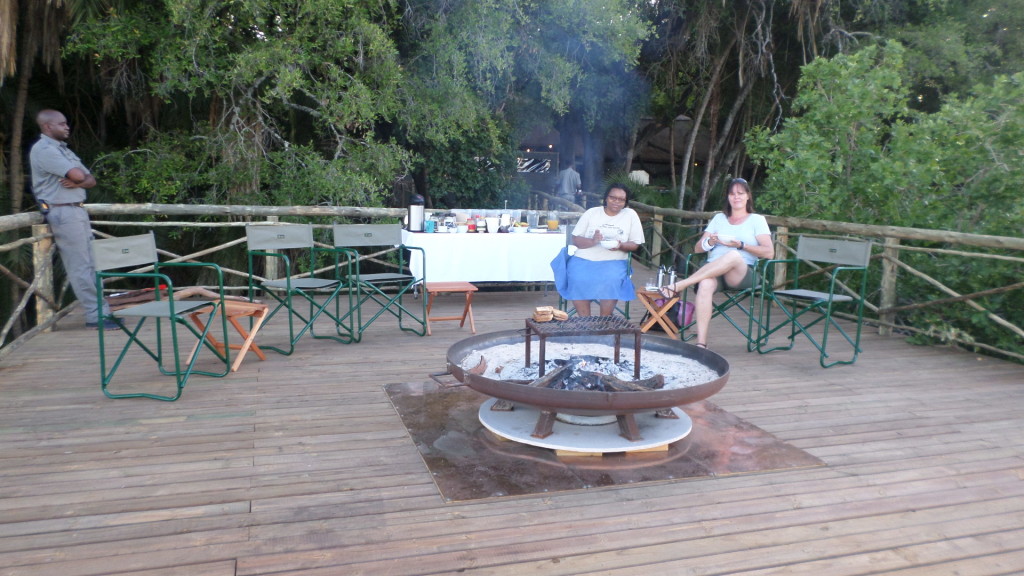 Fast Facts:
– Setari opened in October 2018
– located in the waterrich region of the Okavango Panhandle, a birders paradise
– 8 double tented suites and 1 family suite
– activities: motor boating, mokoro excursions, guided walks and village visits