Category Archives: Victoria Falls
Anyone making their way to Zimbabwe's beautiful Victoria Falls will not only find one of the seven natural world wonders but also unique spots for food and drink. We have handpicked some of our favourite 'must visit' options while in Victoria Falls town.
You cannot go wrong at Victoria Falls Safari Lodge's Buffalo Bar for a View, Sundowners & Snacks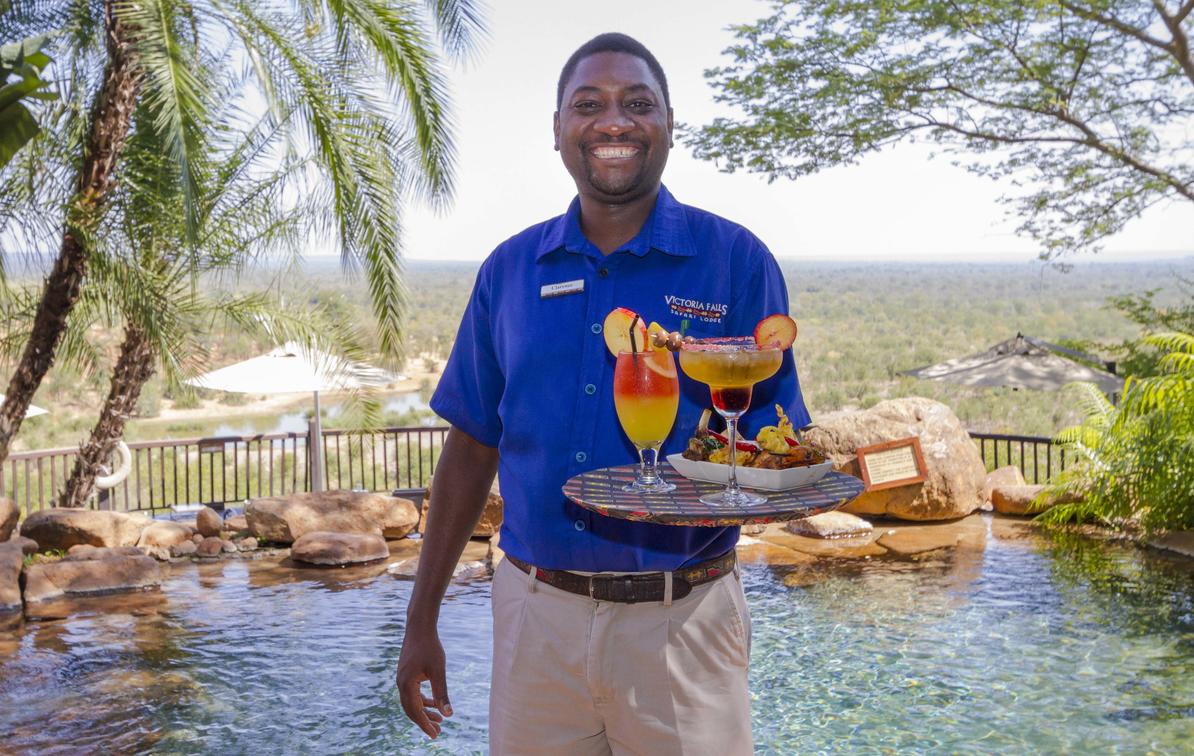 Safari Lodge's Buffalo Bar is perched atop a ridge looking out onto a watering hole where game like to meander through for a drink in the evening. This place offers the perfect start to an evening with a sundowner drink in hand, delicious snacks to pick on and a lovely open deck to sit and enjoy the beautiful landscape before venturing onto dinner.
An unparalleled view of Batoka Gorge at the Lookout-Cafe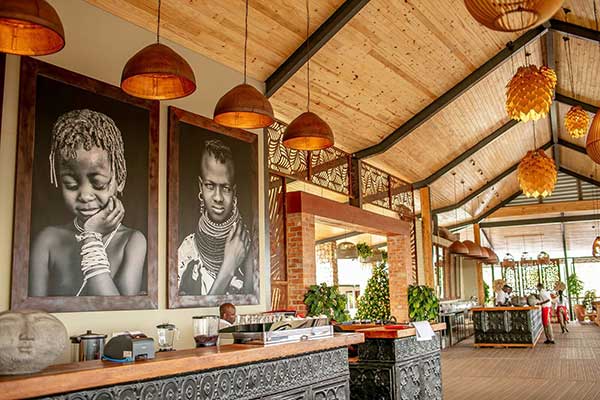 For all lovers of amazing views with excellent food the Lookout-Cafe is an absolute must for either lunch or dinner. It is the restaurant with the most dramatic views built right on top of the Batoka Gorge downstream from Victoria Falls. Guests get fantastic views of the Victoria Falls Bridge with the smoke of the falls in the background as well as vertigo inducing views of the gorge itself – something to behold especially during their famous Full-moon dinners! The Lookout offers a fusion menu with everything from burgers and salads to a delectable crocodile kebab or seared ostrich and glass noodle salad; with the most fantastic cocktail and wine menu to accompany. During lunch you can also visit the activity center and experience a quick zipline or gorge swing between courses!
Fancy gourmet dining at Ilala Lodge's Cassia Restaurant & Victoria Falls Hotel's Livingstone Room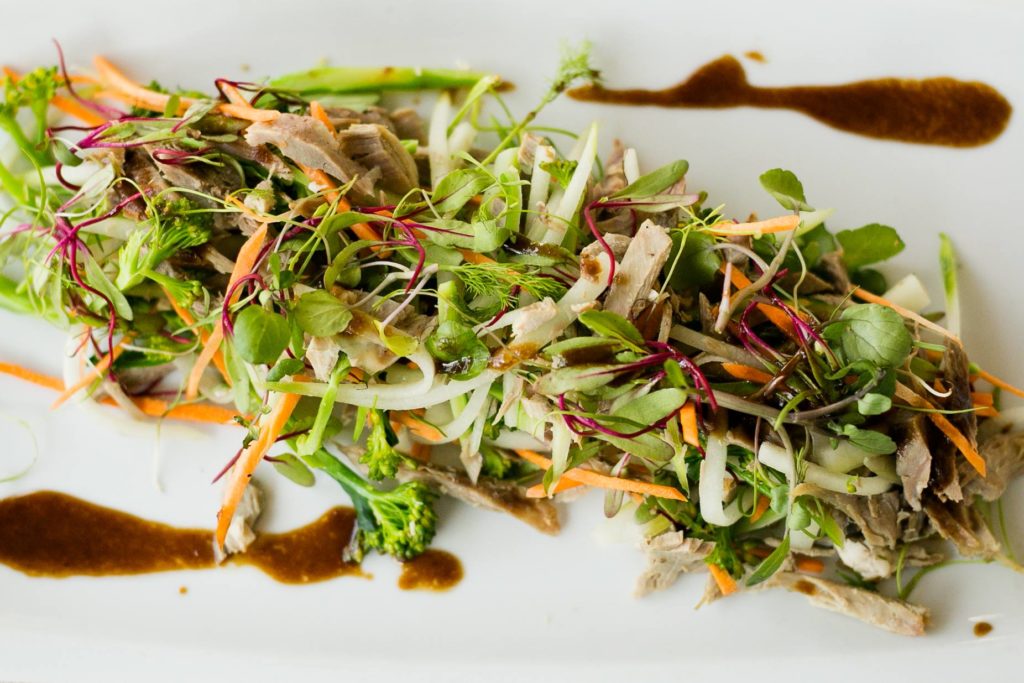 Both award winning restaurants are unique in their own rights with The Livingstone room's Edwardian style providing an opulent dining feel with a smart dress code to match the elegant atmosphere, whilst Ilala's Cassia restaurant has a more al fresco feel with tables dotted beneath two magnificent Cassia Fistula trees – dinner under the stars is hard to beat! Now onto their food, Livingstone room offers a choice of à la carte or a seven-course degustation menu all beautifully plated and served by smiling smartly dressed waiters, it all takes you back in time. Cassia restaurant on the other hand is a little less formal and focuses on a gourmet à la carte menu with a fantastic array of beautifully prepared dishes. This is where you will get that perfectly cooked venison steak or if meat is not your thing a great array of vegan and vegetarian dishes.
Delicious Pizza & old fashioned pub grub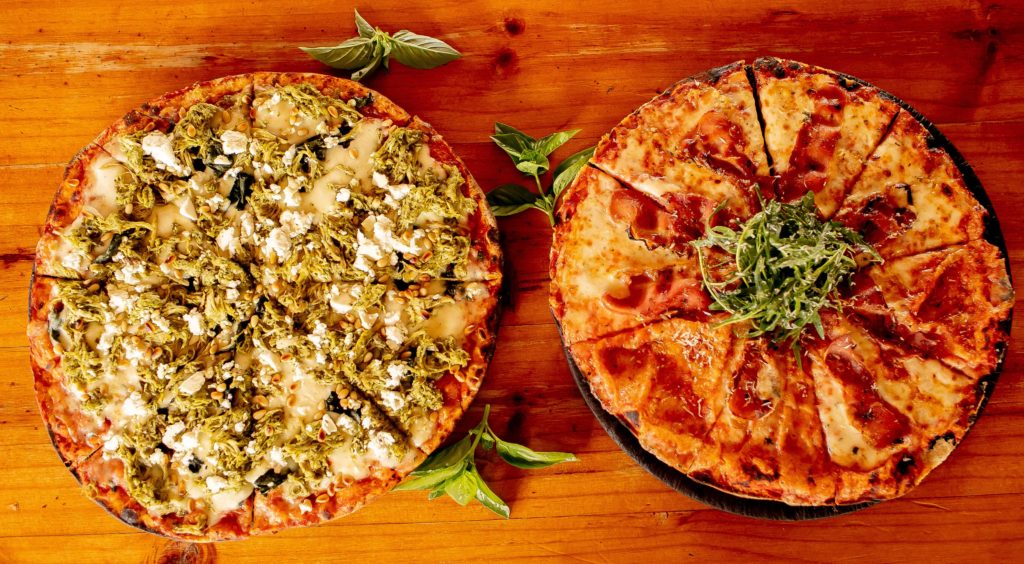 If fine dining is not your thing and burgers, pizzas and good old fashioned pub food are more up your alley then The River Brewing Company and Three Monkeys are definitely the places for you. Both of these establishments never fail to impress with their massive portions of truly delicious food. Three Monkeys have refined the art of great thin crust pizzas that can rival everybody's favourite local pizza hangouts at home. Their cocktails, milkshakes and dessert menus would leave you weak at the knees and their outside canvas covered seating area makes it a great place for either lunch or dinner or just a quick drink on the way down to the falls. Meanwhile the River Brewing Company offers something completely unique in the form of their own array of craft beers brewed on the property by their charismatic brewer Lionel. Live music can often be found on an evening here over the weekend; enjoyed in their outside area whilst munching on anything from tacos to lovingly slow cooked beef short ribs. If beer is not your thing they have a wonderful array of wines and cocktails too. Thankfully these two hangouts are only 100m from each other so you can do both if you can't decide!
Bite your fingers while eating local cuisine at The Dusty Road Township Experience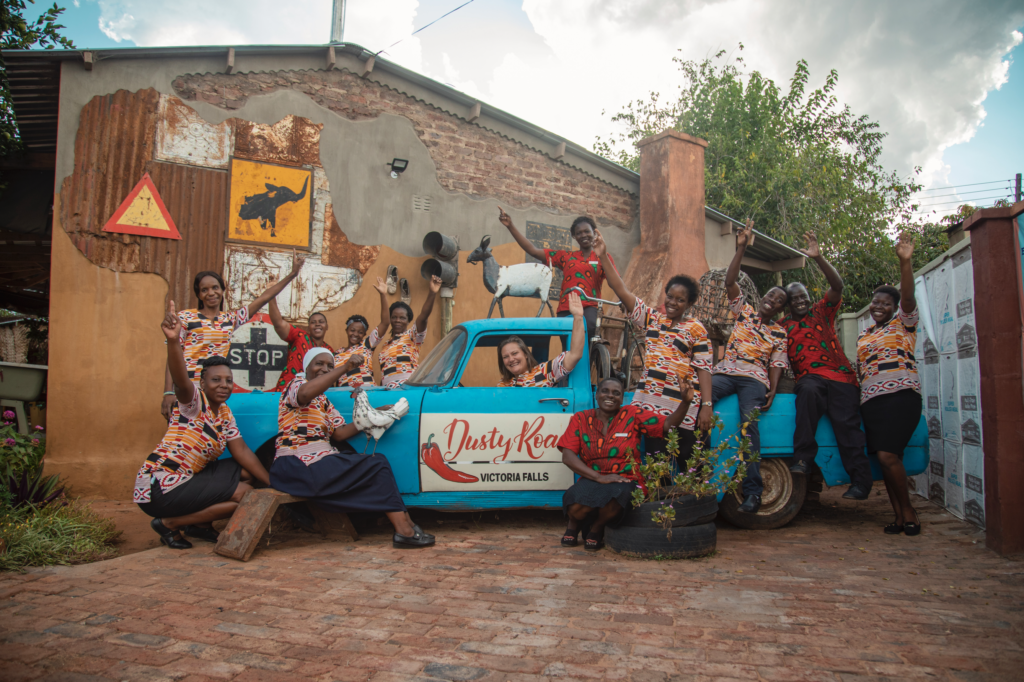 Local Zimbabwean cuisine is something everybody must try whilst on safari here and it would be amiss of us not to mention The Dusty Road Township experience. Relatively new to the Victoria Falls dining scene this is a complete gem of a restaurant we wouldn't hesitate to recommend even just to have a wander through the property so quirkily decorated by its owner Sarah. Dusty Road can only be described as a feast for your eyes and also your palate! Upcycled furniture and random items have been cleverly incorporated into the whole look of the place with old bicycle tyre rims for windows and colourful enamel cups for chandeliers – it is certainly a riot of colour. All of this is accompanied by the most accommodating group of women hosting you throughout the night and of course a well thought out menu that even the wariest of eaters will enjoy with locally foraged ingredients incorporated cleverly into delicious dishes. They even have their own recipe book to take home. But what we especially like about the experience are the group of young school children being supported by the restaurant who pop in for a little song and dance in the evening and of course their focus on community and female empowerment.
It would be impossible to mention every restaurant on offer in Victoria Falls, these are merely a few of our favourites. But rest assured that there is a whole host of other fantastic establishments offering delicious food in beautiful settings and more continue to be opened. So get out there and explore!
Everyone is exhausted after a long-haul overnight flight, often involving multiple connections and inevitably ending in long immigrations queues on arrival. Not to mention the build-up of going on holiday, delayed flights and lost luggage. On arrival, most of us are simply looking for a hot shower, followed by a G&T while we take in our surroundings, ending the day with a good meal and a comfortable nights sleep.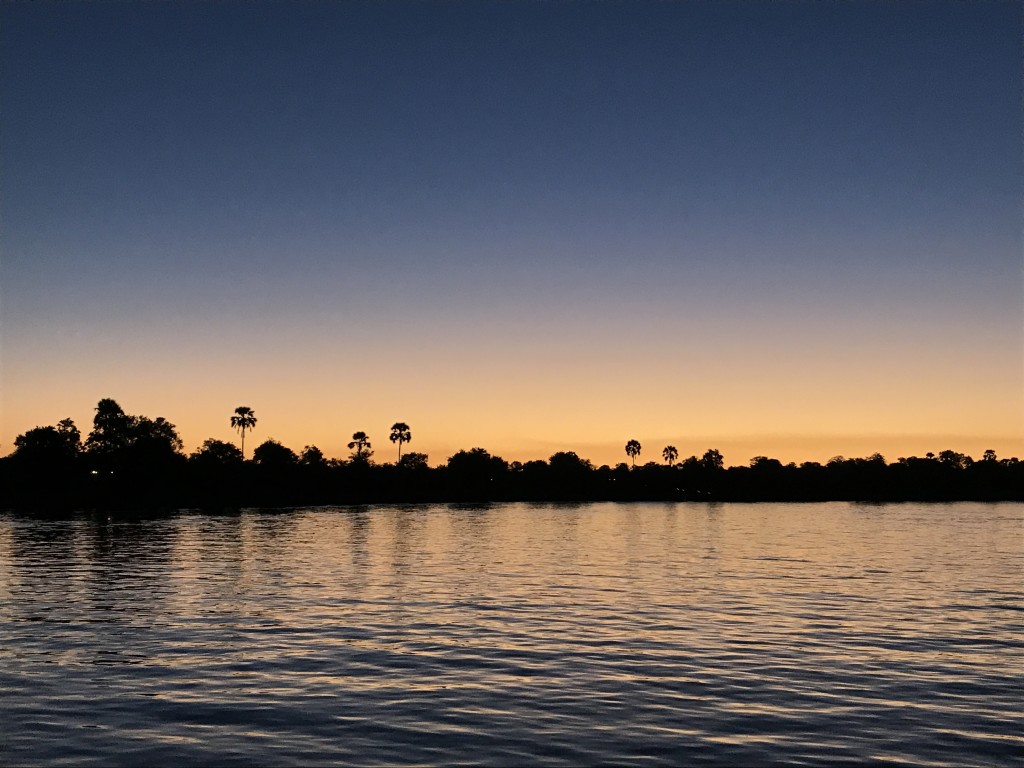 Victoria Falls is the ideal place to kick-off a safari. No onward flights or long road transfers required as most hotels are only a stone's throw away from the airport. Comfortable accommodation with all the amenities allows guests to ease into their safari experience.  As the properties in Victoria Falls are generally more affordable, there is less of a need to hit the ground running and more time to relax and find your feet. This is especially important when travelling with young children. Compared with the high-pressured start at the top dollar lodges in the Okavango Delta where every minute counts and where you feel compelled to jump on the first game drive on arrival, followed by an early morning wake up call on day one.
After a recent visit to Victoria Falls with my own family, I realized that 2 nights just isn't enough for first time visitors and especially families to fully appreciate what this corner of paradise has to offer.  I found myself rushing from one activity to the next, pressurized by pick-up times, with little time to relax and yet there was so much more than we could have done.
During our 2 night stay in Victoria Falls, we explored the Falls on foot, by helicopter and by Zip Line and that was about all that we had time for bar a mad dash around the market. There is a big choice of activities on offer beyond the falls themselves, one that I feel is grossly underestimated is the canoeing on the Zambezi River. For families, the falls has lots going on to cater to all ages and interests breaking up the typical safari routine.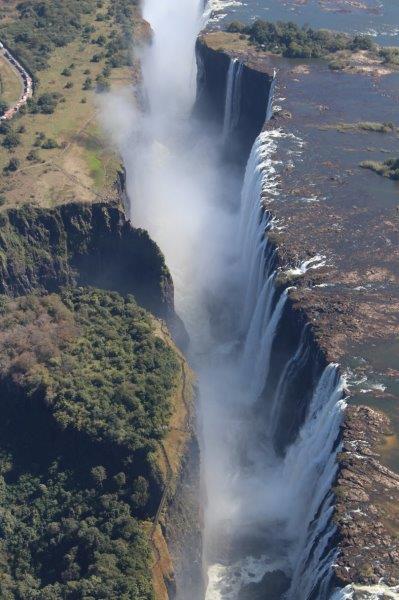 Beyond the activities, the town has a holiday vibe, showcasing the country's culture, local crafts (curio shopping) and a great variety of restaurants, which really add to the experience. Not accounting for the day of arrival and departure which are often lost due to flight times and transfers, one full day simply isn't enough to take it all in.  I would comfortably recommend a 3-night stay in Victoria Falls town itself.  There is a selection of properties to match all budgets, offering potentially good value for your money, helping to stretch the budget when combined with the top dollar lodges in more remote game areas.
Suggested Itinerary
Day 1:     Relax and enjoy a slow start to your safari
Dinner at the hotel
Day 2:     Tour of the falls followed by the flight of angels (12 – 15 minute helicopter scenic)
Lunch at the Lookout Café (which will reopen in Dec 2019 after it burnt down half a year ago)
Canopy Tour / Elephant Interaction / Sunset Cruise
Day 3:     Option 1: Full day upper Zambezi Canoe or Rafting experience
Option 2: A combination of the following with lunch on the terrace at The Victoria Falls Hotel
Horse Riding, Bicycle Tour, Village Tour, Pay It Forward (Family), Bird Watching, Shopping, Bunji Jumping, Croc Farm (Family), High Tea at the Victoria Falls Hotel, and more
Independent Dinning Options:
Traditional (Family): The Boma, Jungle Junction
Formal: The Livingstone Room, The Palm Restaurant
Casual: Zambezi House, Three Monkeys, The Lookout Cafe (will reopen Dec 2019)
The same could be said when coming off a safari in the delta. Days of early rising, long bumpy game drives and a day in transit, including the border crossing, is taxing of the best of us. Ending with 3 nights in Victoria Falls to slowly get re-acquainted with civilization before diving back into your daily routine at home is always a good idea.
Guests that have a little bit more time are recommended to spoil themselves with 4 nights in Victoria Falls, the 4 nights could be split between 2 nights in town and 2 nights in the quieter Zambezi National Park. The options are endless, we have put together some stunning itineraries which can be found on our "Best in Travel Zimbabwe 2019", the packages for 2020 will soon be released.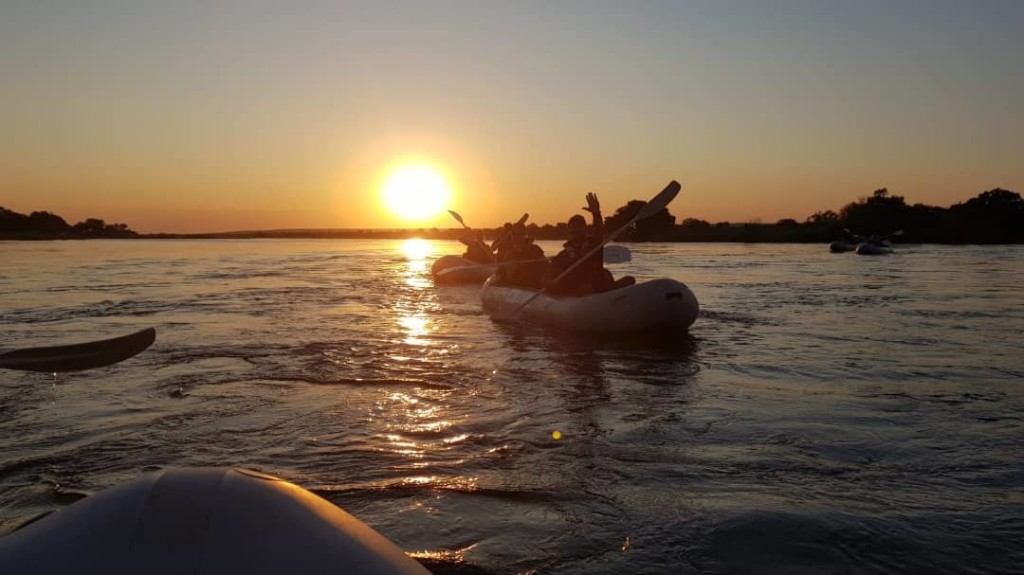 I tested the idea of combining 2 nights in Vic Falls with 2 nights in the nearby Zambezi National Park. We stayed at Zambezi Sands which is only an hour outside the fast-paced Victoria Falls town, but it felt like another world. A remote safari experience where you can fully immerse yourself in the wilderness and unwind in the peace and tranquillity of the Zambezi National Park. We had the river to ourselves to enjoy at leisure on our evening cruise compared with the typical sunset commotion experienced from town. Practically speaking, many visitors combine Victoria Falls & Chobe on a 4-night stay which involves two border crossings and double entry visas. Both can be avoided if you replace Chobe with a safari experience in the more exclusive but less wildlife dense Zambezi National Park.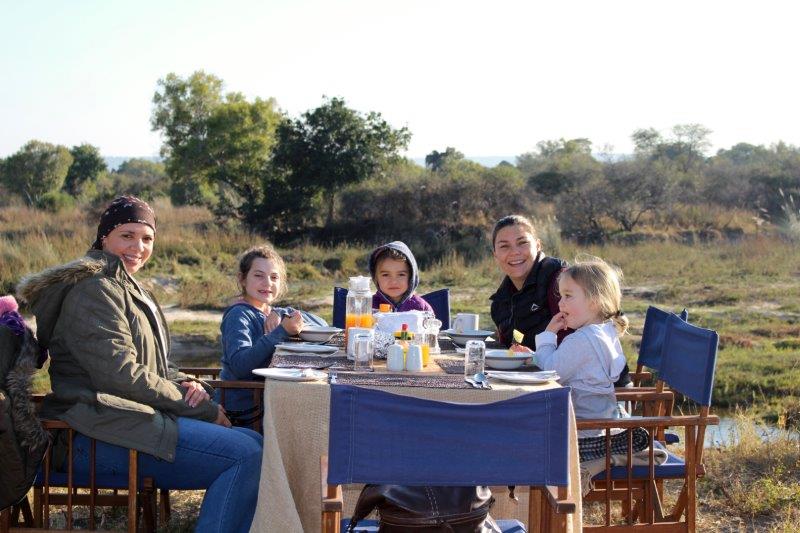 After doubting this combination for years, I feel like I have found the sweet spot, which has been underestimated by us all. Our 4-night stay was the perfect blend of adventure and relaxation, and provided for a well-rounded experience as outlined below, suited to both families and individual travellers.
Day 1:      Arrival at Zambezi Sands from Botswana in time for lunch and an afternoon siesta Sunset cruise where we had the river to ourselves (no traffic compared with VF & Chobe)
Overnight Zambezi Sands, Zambezi National Park
Day 2:      Game drive including an incredible bush breakfast on the banks of the Zambezi River
Afternoon canoeing on the Zambezi River (this activity was the highlight of my trip)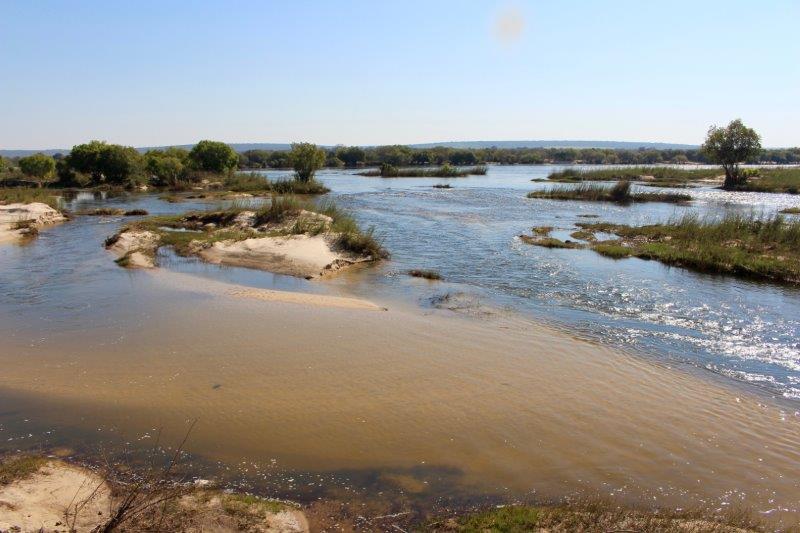 Overnight Zambezi Sands, Zambezi National Park
Day 3:      Morning game walk (another highlight) before our departure to Victoria Falls
Lunch at the Lookout Café overlooking the Batonka Gorge
Afternoon canopy tour, which was a thrill for both the kids and grown-ups alike
Dinner at the highly recommended Palm Restaurant and overnight at Ilala Lodge
Day 4:      Morning tour of the Victoria Falls followed by a flight of angels (it was a treat to fly over the path that we had just walked and see the falls from a different perspective)
Lunch on the terrace at the iconic Victoria Falls Hotel (you have to try the signature frozen lemonade)
Afternoon exploring the local market and curious shops (great arts and crafts to be found here not to mention the experience itself)
Dinner at The Boma Restaurant offering visitors a traditional dining experience with entertainment (the kids loved it and I got my mopane worm certificate)
Day 5:       Back to Botswana first thing in the morning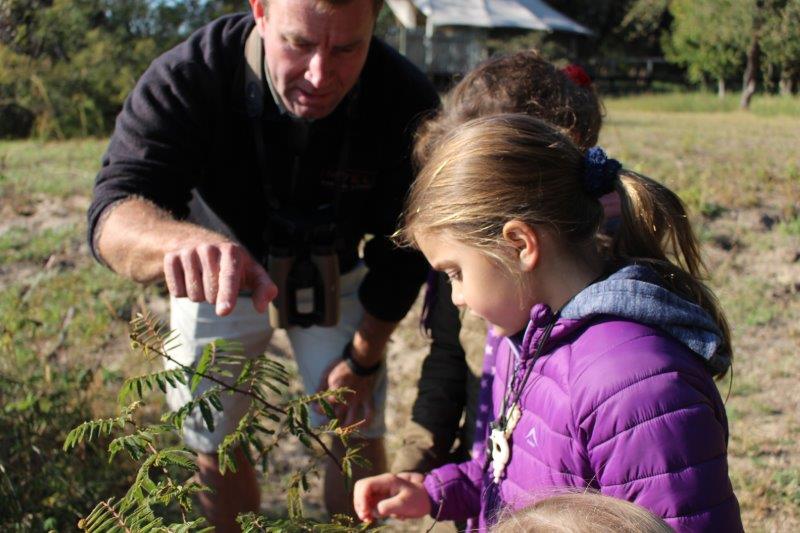 My guiding experience at Zambezi Sands was exceptional and the walking and canoeing activities stood out as the highlights of my trip. With all the new developments in this area, Safari Destinations are excited to present two new packages for 2019 showcasing this ideal combination:
4N Victoria Falls Full Monty – Deluxe
4N Victoria Falls Full Monty – Standard
Rounding off this 4-night package, I would recommend a 3 night stay in the game rich Hwange National Park. The trio showcases the best of Zimbabwe combining the beauty of the Victoria Falls, the peace & tranquillity of the powerful Zambezi River and the spectacular wildlife found in Hwange. For those wanting to combine a visit to Botswana, 3 nights at a game rich, land based camp in the Delta with a possible extension to the contrasting Makgadikgadi would be a match made in heaven.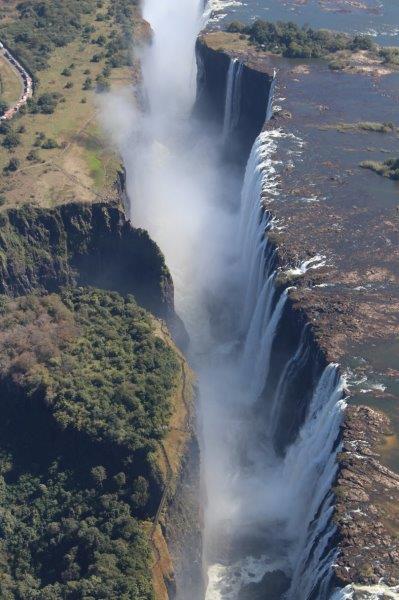 The combination of a mobile safari with time-out at a lodge or camp on either side provides the best of both worlds. There is time to get dirty and experience all the action up close and personal, and  time to dust off, relax and indulge in some modern comforts.
Ilala Lodge is conveniently located in close proximity to the Victoria Falls Hotel for afternoon tea, the local market for some shopping and the mighty falls themselves. Ilala is well known for having one of the best restaurants in town.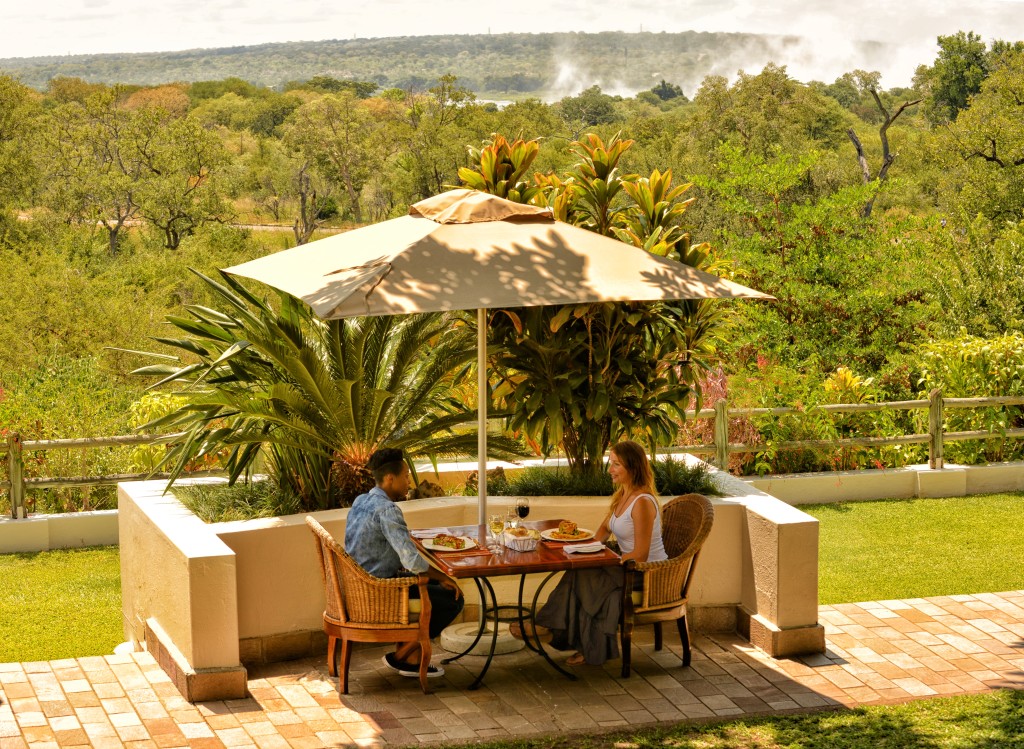 The Bush Ways Fully Serviced Safari is glamping at its best, an experience of the wild in comfort, covering some of the prime wildlife areas in Botswana, including the Chobe Riverfront, Savute marsh & Moremi Game Reserve.  This is the perfect balance of adventure, relaxation & comfort with all camp chores taken care of for you.  You'll enjoy a luxury camp set-up for you on arrival, including walk-in tents, en-suite bathrooms, comfortable camp beds and a guaranteed a window seat on game drives.
The mobile portion of the itinerary is easy to book and there is still availability for 2018.  Select departures run with German or French-speaking translators.  Click on the below to read a firsthand account from one of our experts.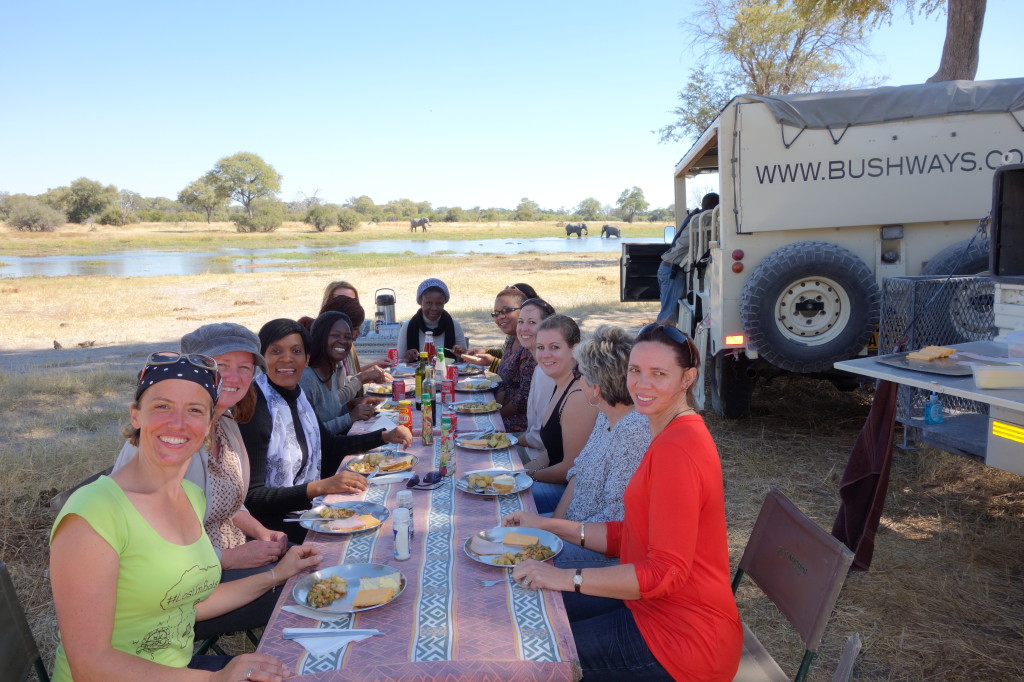 No safari to Botswana is complete without a fly-in to the Okavango Delta to view the waterways from the air and glide through the channels on a mokoro. Oddballs Enclave is an old classic whose style and intimate atmosphere works well in combination with the mobile safari.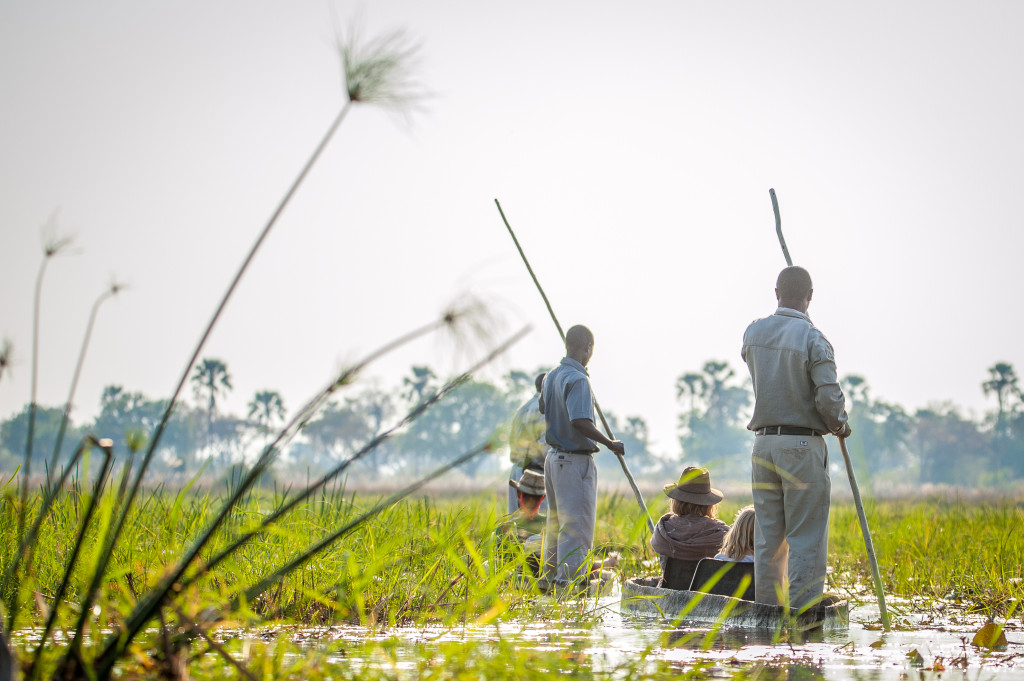 This safari offers excellent value for money !
Last but not least, we are passionate about mobile safaris because…
the guides are among the best and get to know their clients over the course of the safari, focusing on their interests and building on their knowledge.
travellers get to experience more of the country when they drive between locations, making it as much about the journey as the destination.
mobile safaris give you access to exclusive campsites in prime wildlife areas, and the flexibility for an extended exploration of areas en-route between locations.
mobile safaris take travellers out of their comfort zone, creating memories to last a lifetime.
mobile safaris offer a more intimate wildlife experience than most lodge stays.
mobile safaris offer great value for money, catering across all comfort and budget levels, and can be booked privately for families and small groups.
Click here to read more about the mobile safari experience: https://www.safaridestinations.net/we-get-around/bush-ways-safaris-mayonnaise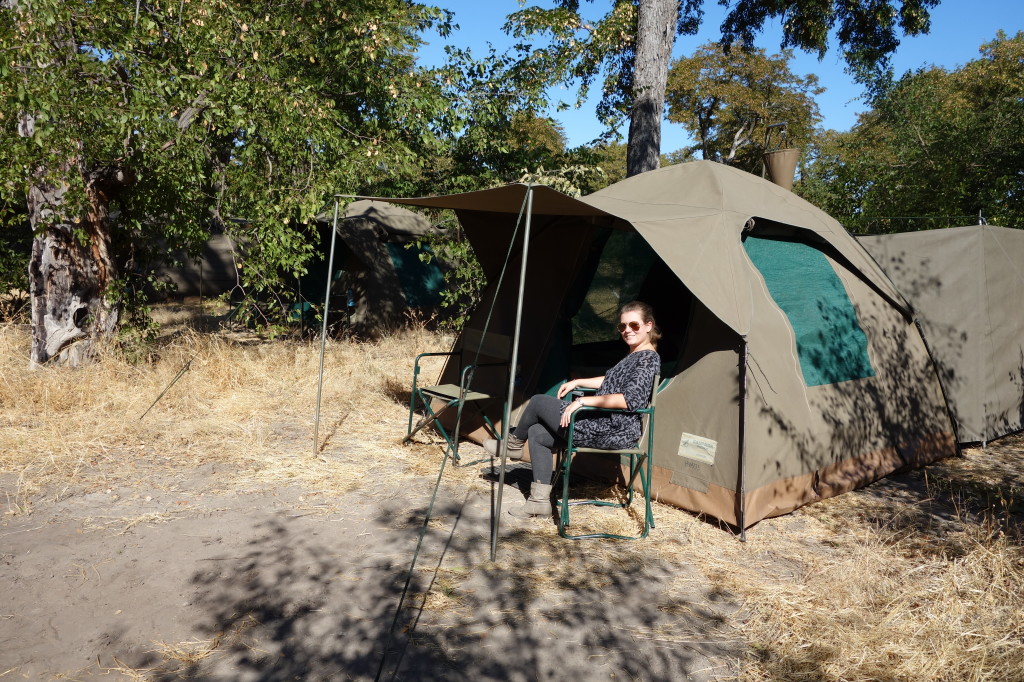 Staying at one of the lodges on the Upper Zambezi is a nice reminder that there's a calmer, more peaceful and service-centric experience on offer than the B&B hotels in Vic Falls town on the Zimbabwean side of the falls offer.  That there are still quiet pockets of calm and tranquility near Victoria Falls itself, where you aren't hearing the buzz of helicopter scenic flights overhead throughout the day.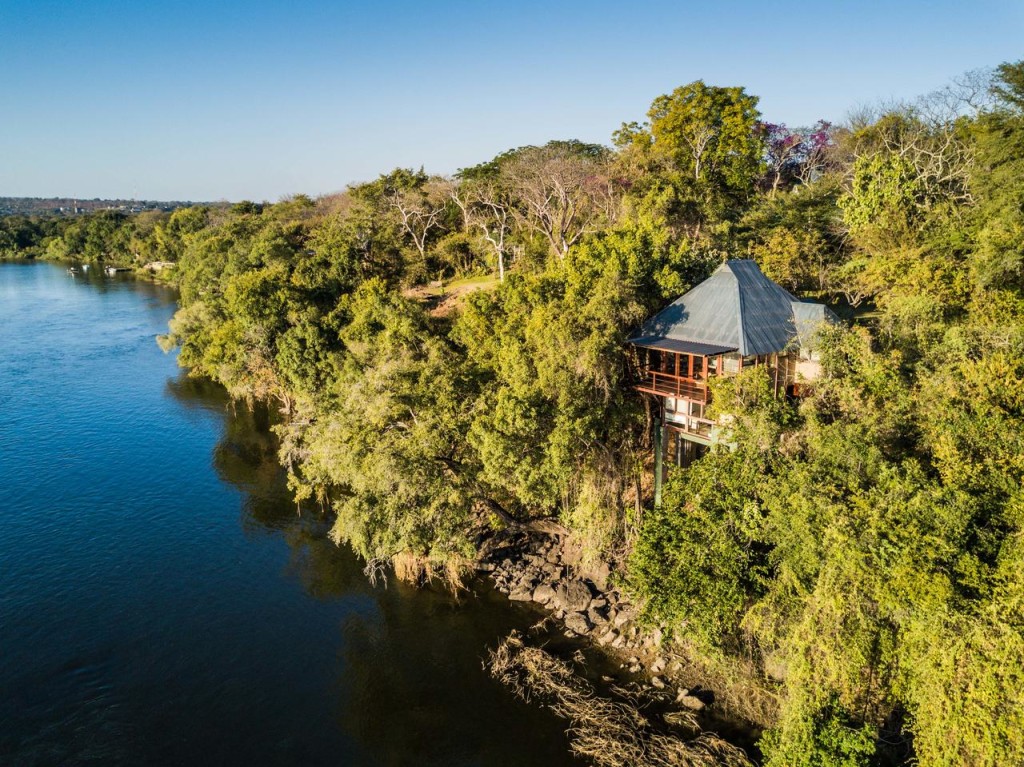 At the River Club, the lodge has an incredible vantage point out over the Zambezi River, from an elevated point of view, where the sun sets beautifully in front of the lodge.  The property gives you a thorough grounding in the colonial history of Nothern & Southern Rhodesia (now Zambia and Zimbabwe) as well as a relaxed setting to do as much or as little as you like.
Price wise, on a three night stay, it provides a fantastic alternative to other Livingstone favourites such as Waterberry, Toka Leya and Sussi & Chuma.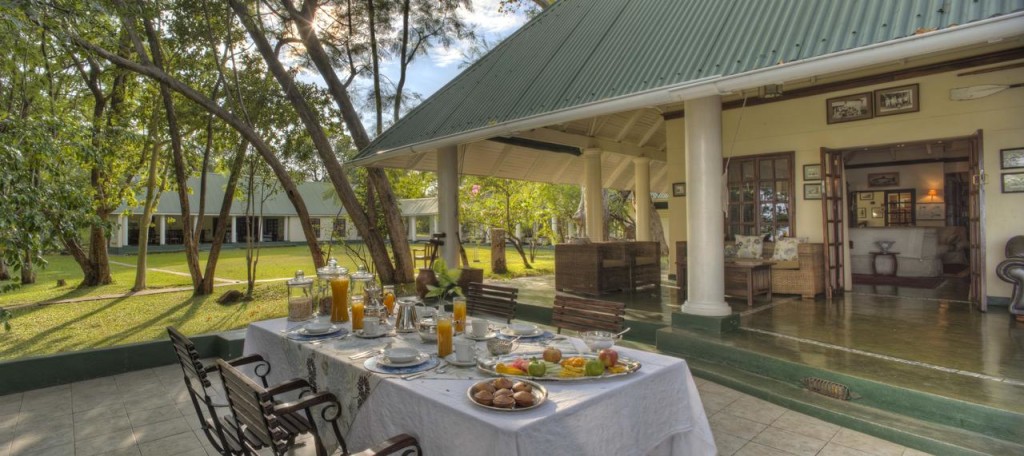 It is with great excitement that I write this list. This little town is abuzz with whispers of all things new and interesting. We have been growing in leaps and bounds and it seems that has not stopped yet. Here are 5 more wonderful additions to our fun filled town:
Zambezi House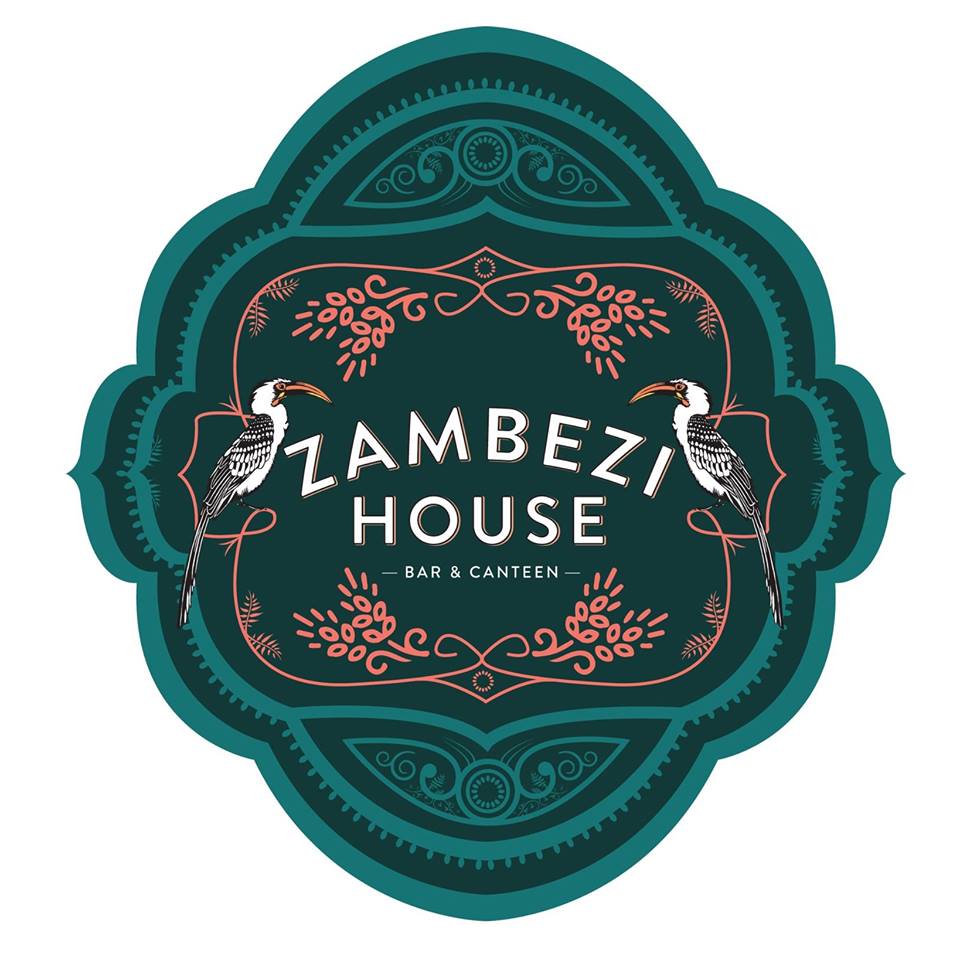 This may very well become the newest hotspot in Victoria Falls. A vibrant and chic restaurant/bar that is situated right on the banks of the might Zambezi River is providing yet another fantastic social dining spot for locals and tourist alike. The menu provides choices of mouth watering oven baked pizzas and succulent chicken dishes as well as several breakfast options. The deco is modern and tastefully done. It has a generally up-beat vibe with live music over the weekend. It is a wonderful place to dine or just meet up for a drink to talk about a day full of adventure.
Tribal Trap Escape Rooms
Escape Rooms have become a fast growing, worldwide thrill and Pana Karasavvas and Hayley Plaskitt are very proud to open Zimbabwe's very first escape room right here in Victoria Fall. Participants are given 60 minutes to escape from the room by solving puzzles, playing games and discovering clues within a themed room. It is a thrilling activity and is aimed at a wide range of travellers, young and old alike. One of the things we find most exciting about this product is that not only is it a fun activity to do as a group but the rooms will be themed around the rich culture and traditions known in Zimbabwe and particularly Victoria Falls, so there is educational value behind the product alongside the fun and adventure. We cannot wait to see what the Tribal Trap team have in store for us!
The Victoria Falls
Bushtracks Africa will be launching their new cruise boat. This cruise will float along the Might Zambezi River near the top of the Victoria Falls as most sunset cruises do. However, there is a difference with this boat to the other cruise options. The main one being the luxurious standard they promise to offer guests as well as an option to snack on freshly made Sushi prepared aboard by one of the talented chefs from The Victoria Falls Hotel, as well as other mouth-watering gourmet canapés. They offer a wild range of local and imported beverages for you to sip on as you float along this famous river just meters from one of the Seven World Wonders. If you are lucky, you might just spot some of the different types of wildlife that are drawn to drink or wallow in the river especially during the upcoming hotter months. Click here for their Promotional Video.
Prana Africa Yoga

Could you imagine a better way to start a day full of adventure then with a sunrise, early morning Yoga session with some of the most spectacular views in the world? Yoga is another lifestyle that seems to be taking the world by storm and so it is no surprise that home-grown Victoria Falls local – Danielle Connelly is beyond excited to practice with travellers in this beautiful environment, with the powerful energy from The Victoria Falls. Danielle is very well trained in the Art of Yoga and has been practicing for some time. The classes are suitable for all levels from complete beginners to regular practitioners. The sessions will be offered at The Victoria Falls Hotel and Victoria Falls Safari Lodge, so why not watch the sunrise over the river or falls and prepare for a day full of excitement in a beautifully calm and relaxing way.
The River Brewing Co.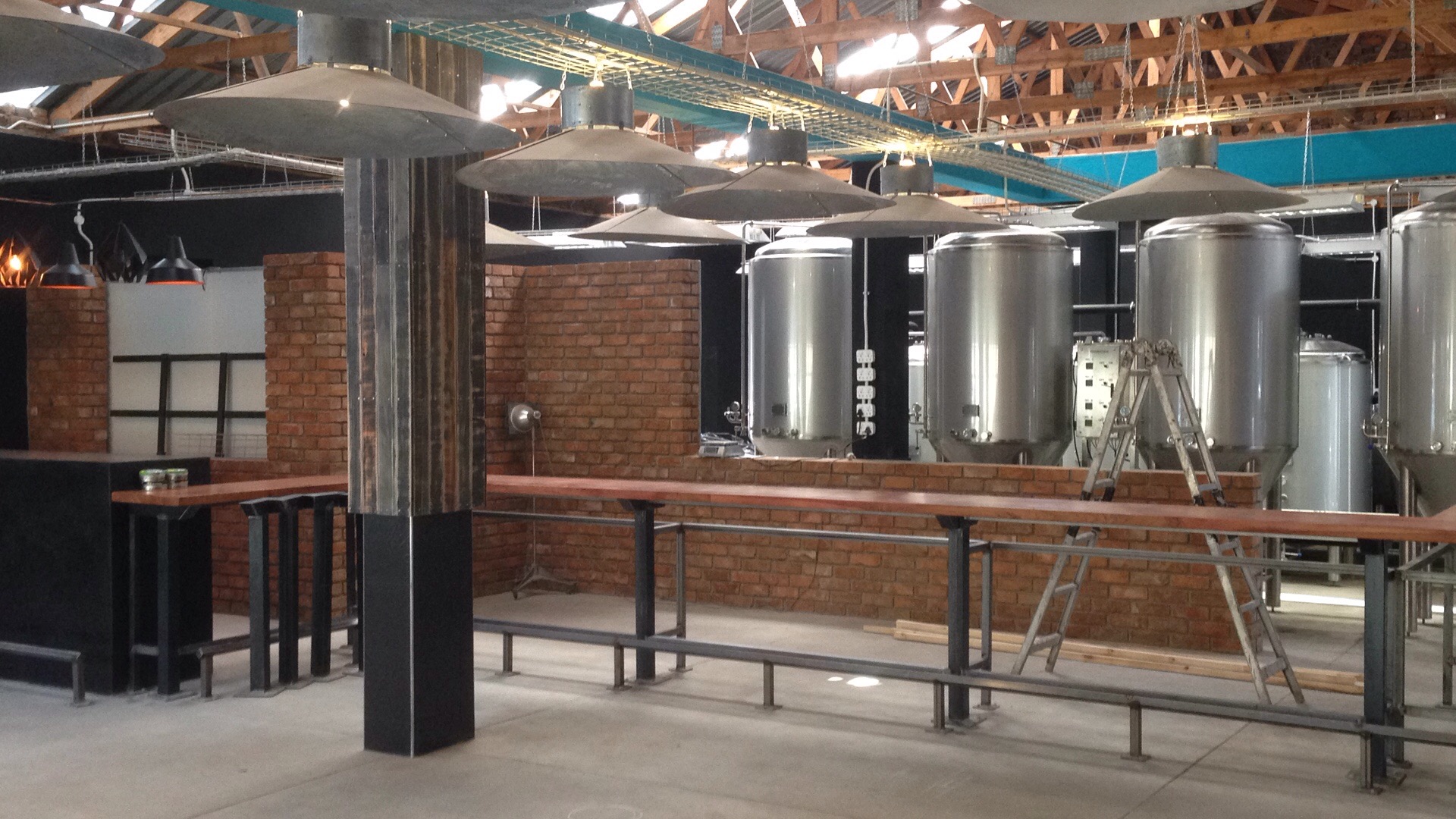 Another first of its kind in Zimbabwe, created by 'four merry men' is The River Brewing Co. They are establishing a micro-brewery in one of Victoria Falls oldest buildings. This artisanal concept is growing in popularity worldwide and we are very excited to see this product showing its 'crafty' face in the bustling town. Their main brews will be a 'Steam Lager' and an 'IPA', but there will be a variety of thirst quenching options on offer as their Brewmaster experiments with different taste combinations. The River Brewing Co. will be opening in October, so all you thirsty tourists and locals better get your taste buds ready for a craft beer invasion!
Last year Lorraine and I started a tradition of our two families going on safari together. This year our annual family safari took us to Hwange. Travelling with kids is an adventure. Seeing nature through their eyes makes you realize how wonderful our planet really is. Did you know that a wildebeest looks a bit like a Gruffalo. For all ignorant people out there, "The Gruffalo" is one of the best-loved children's books ever. "A gruffalo? What's a gruffalo?"
"A gruffalo! Why, didn't you know? He has terrible tusks, and terrible claws, and terrible teeth in his terrible jaws."
And so begins the story of a quick-witted mouse as he encounters a host of predators who seem to think he might make a tasty treat. As he ventures deeper into the deep dark wood, stumbling across a hungry fox, a not-so-wise owl, and a slimy snake, spinning ever-extraordinary yarns about the scary, scaly gruffalo, he quickly realises that the hungry beast he has been talking of isn't imaginary after all.
On Safari with the Gruffalo:
Three bush babies strolled through the Hwange vlei,
they saw some Lions lying in their way,
snoozing and dreaming of roasted Gruffalo on a spit,
the Bush Babies turned around and away they slid…
Our days in Hwange were filled with extraordinary gamedrives. Living in Botswana also means that our children grow up being spoilt safari-goers, but Hwange can easily compete. Especially the south-east of Hwange offered outstanding game viewing (Davisons, Bomani, Camelthorn and Little Makalolo). It never got boring, the kids loved every moment of it. Hwange in combination with Victoria Falls and Chobe is a great destination for a family safari!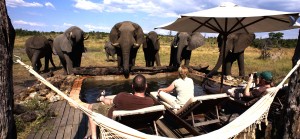 "Come quietly and sit down' our guide Nick said, moving over to the dinner table laid out by Somalisa Camp's small pool.  Kay and I negotiated the steps down to the deck carefully by the dim light of hurricane lanterns, trying not to fall on our faces or make any sudden movements.  We were sitting down to dinner with an unusual guest, a big elephant bull who had come to drink out of the pool, trying his best to drain the water dry.  He faced us head-on, something that would make you twitch in the bush, especially as he was only four metres away.  He disregarded us, plunged his trunk into the water, slurped up the liquid and threw it down his throat.  The noise was incredible.  "It sounds like a really big toilet flushing" said Johnny, our host and camp manager.  "They don't drink out of the waterhole?" Kay asked.  "They like the clean water,' said Nick 'they prefer the waterhole for mud baths."
As we chatted over starters and broke bread, the bull moved off and another came to drink, then another.  Somewhere through the main course, a breeding herd gathered around opposite us, with a very small elephant calf.  We gawked at the noise of 10 toilets flushing in succession as the little calf tried to find water with its trunk.  "It's amazing how blasé you get' said Kay 'we're just sitting here, having dinner and a chat." She was right.  If one of the bulls didn't like us, it wouldn't have taken much for him to do something about it from the other side of the pool, but they were calm and Nick was used to this behaviour.  It had almost become Somalisa Camp's guaranteed dinner-time entertainment.
Kay & I had come to Hwange during green season, a time when game viewing is far more challenging and so we were expecting game sightings to be few and far between.  Luck was on side, however and on the first morning game drive into Hwange National Park we found a pack of twelve wild dogs moving along the roadside, sniffing bushes and trying to pick up the scent of something to chase for breakfast.  We followed them for at least ten minutes as they scoured both sides of the road for a scent before disappearing into the thick brush.  Later that day, driving with Nick from Hwange Main Camp we spotted huge amounts of plains game, zebra taking dust baths in the afternoon light, big herds of buffalo spread out across the plains and a big sable bull whose elongated horns curved all the way back to his shoulders.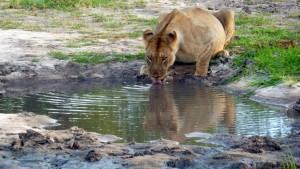 As the sky started turning orange and pink just before sundowners, we found two big male lions and three lionesses stretched out over termite mounds with full, round bellies and a buffalo kill hidden in the bushes.  "It's interesting about these male lions' Nick said 'this one, Cecil with the big black mane is about eleven years old.  One of the lion researchers around here thinks he has the biggest skull on record.  He got kicked out of his territory by a younger male and was living on the periphery for ages.  Then he teamed up with this other male Jericho who's now nine and they took this area off a younger lion.  It's not often you see that.  Normally once they get kicked out, they're out.  And now they have these three young girls here.  They can't be older than five.  They're all quite full with buffalo, but it looks as if one of them might be pregnant."
The next morning the lions were still right where we left them and had begun slinking over to a nearby waterhole to drink.  In the background a black-backed jackal was chewing pieces of meat off an elephant carcass as the vultures watched.  We moved over to another waterhole and Nick was distracted by movement on the water.  "What's going on here?' he said 'I've never seen this before."  Sitting on the water were two Egyptian geese, determined to drown another goose by swooping on his head and forcing him underwater.  The goose would then swim under water and pop up about ten metres away as his bullies scanned the water looking for him.  As soon as he surfaced, the two geese would be on him again in a blaze of feathers and fury.  We watched the attack, holding our breath as each attempted drowning was followed by an underwater swim and a quick breath of air before the geese were back on the trail.  Suddenly it seemed a lifetime since we'd seen our half-drowned goose.  We checked the surface of the water, scanning for a sign of life.  Nothing.  More time passed and we started to believe the goose had drowned as the other two geese started honking out cackles and flapping their wings in victory.  Just as we started lamenting the goose's demise, a little figure popped up on the side of the waterhole.  He'd swam at least thirty metres underwater in a final attempt at escape.  He was soggy, but undetected and alive.
We headed back to Somalisa Camp to pack our bags and move on to another part of Hwange.  As we wandered around the main camp gossiping about the morning's sightings, I was distracted by movement out the corner of my eye.  Across the plain near the tree line, impala were scattering.  I pointed and yelled gibberish, trying to get everyone's attention while trying to figure out what I was seeing.  "Um, lion…" I shouted on impulse, watching something straw-coloured fifty metres away chasing the antelope. "No, cheetah!" said Nick as we watched the chase becoming un-successful, the impala running faster as the cheetah slowed, panting with fatigue.  Nick ran for the vehicle and brought it around as the cheetah retreated to the tree line.  We were going to try and catch up with her in our last ten minutes in camp.  We drove the tracks and scanned the grass.  We knew the cheetah had been right where we were only moments ago.  We drove forward & back, looking for leaves or grasses moving.  "At this time of year, all she has to do is lie down and you'd never know she was here" said Kay.  True enough, she'd disappeared for good, probably hiding no more than twenty metres from us, but in the thick shrub, we didn't have a chance.  This was why searching for game in green season held an exciting element of the unknown.  You just never knew what was hiding in the long grass.
Getting to Hwange
Hwange is surprisingly close to Victoria Falls and accessible by tar all the way up to Hwange Main Camp.  Road transfers from Victoria Falls town will get you to the lodges on their own private concessions bordering the park in approximately 2 ½ hrs.  Flights from Victoria Falls will get you to camps within the park in 45 – 55 minutes.  Due to Hwange's close proximity to Victoria Falls, the park is a logical extension to any Botswana itinerary finishing in Victoria Falls and can be very cost-effective as compared to a delta fly-in.
Where to visit in Hwange
Like the parks in Botswana, there are no fences around Hwange National Park, meaning game can move freely between the park and the lodges on small private concessions outside the park.  The terrain in the north of the park around Sinamatella features a lot of hills, granite kopjes and deep valleys, whereas Hwange Main Camp is characterised by open grassland surrounded by acacia woodland.  The landscape further south towards the Linkwasha concession changes again, with more Molokwane Palm trees and open pans.  The diversity of the park makes it easy to combine two separate camps in two separate areas and achieve a varied safari experience.
Lodges/Camps outside Hwange: While these properties are not technically in the park, they experience good numbers of game moving through in the dry season and some have very productive waterholes and resident populations of game that can be reliably sighted.  Most of the camps offer game drives on their own private concessions with the option to game drive inside Hwange National Park as well.  We recommend pre-paying park fees to provide clients with the option of both.
Camps inside Hwange:  Staying inside the park provides a more intense bush experience and removes the necessity of checking in at park gates before and after game drives.   The camps inside Hwange National Park have small private concessions around them, enabling more relaxed sundowners without a rush back to camp before park closing times.  Some of these camps can also offer short night drives, something which is not permitted inside national parks in Botswana.
What to combine it with: Hwange is very much a dry land game viewing destination.  The park roads are easy-going and very well sign-posted making it a great introduction to a safari before continuing to Botswana.  Hwange National Park works very well combined with a houseboat experience or Chobe Savanna Lodge in the Caprivi (opposite Chobe National Park) for a dry land and water contrast before continuing to the dry land game viewing of the Khwai Community Area or Moremi Game Reserve.
Pre-Packaged Options: Check out our 8 Night Elephant Paths itineraries combining Hwange, Victoria Falls and Chobe or extend to a 10 Night Elephant Paths package with a fly-in to the Okavango Delta.  All packages can be downloaded from our Agent's Corner.
Last weekend we spent a few days in Vic Falls and were excited to meet the famous cheetah Sylvester, who lives in the private concession of "The Elephant Camp" a few kilometers outside of Victoria Falls in Zimbabwe.
Here is his story:
In April 2010, in the Lowveld area of Zimbabwe, a cheetah gave birth to five cubs. Sadly within two days, in a cruel act of nature, she and four of her cubs were fatally attacked by a male lion, something which is common between apex predators in the wild. The sole survivor was discovered by a game scout named Sylvester, who witnessed the event and the cub was named after him by Norman and Penny English who became his surrogate parents. Norman worked in National Parks and Wildlife Management for many years and now heads the anti poaching unit in the Bubi Conservancy. Penny is a registered nurse and having both their experience was invaluable in the attempt to keep this young cheetah alive. At two days old, Sylvester still had his umbilical cord attached and unopened eyes.
Over the following six months the hard work and devotion from the English
family was rewarded but it did not come easily. Feeding was complicated and
Sylvester grew faster than his bones could grow but the struggle to find a
suitable formula was assisted by the many cheetah experts who passed on
information. In time a dietary plan that suited Sylvester was formulated and
he  began to respond.
As Sylvester was never destined to become a pet, and being a specially
protected animal on the endangered species list, the Department of National
Parks and Wildlife Management have naturally been involved from the outset
with Sylvester's welfare. A  plan needed to be formulated for a future
permanent home for Sylvester, and in this regard VFWT became involved. Despite numerous release attempts, cheetah, apparently, do not survive in the wild without experiencing the maternal care of a mother for the initial twenty two months of their lives. The human imprints of upbringing in captivity are not conducive to a wild release with rehabilitated cheetah often coming into contact with human settlements and being seen as "problem" animals.
The Sanctuary that Vic Falls Wildlife Trust operates from has large areas of
open grasslands where a cheetah can exercise naturally and build up the
speed for which they are renowned. With no large predators around and the
support from his three carers who exercise him extensively and assist in
nurturing  this orphan, Sylvester has settled in to his new life with
vigour. Through our educational programme, Sylvester interacts with
schoolchildren and guests who visit the Elephant Wallow during other
activities. He will become an "ambassador" cheetah, interacting with the
public to raise awareness of their peril as a species and the challenges
they face being on the endangered species list.
Here in the Victoria Falls region, cheetah are a rare sighting and whilst
VFWT respects that the ultimate aim is to promote the conservation of
wildlife and are merely custodians of this magnificent animal, funds need to
be raised for his upkeep. With feeding, exercise, care and constant
companionship, Sylvester has already adapted perfectly to his new
environment.
Guests at The Elephant Camp have the unique opportunity to experience Sylvester, learn about his endangered species and can support this good cause.
We at Safari Destinations would like to raise awareness for this very important project.
Find out more about Sylvester the cheetah on Facebook: http://www.facebook.com/pages/Sylvester-Cheetah-Ambassador/169927003078626