I was very fortunate to spend a night at Ghoha in July 2022 and the experience left an indelible impression on me.
The lodge lies on the ledges of the Ghoha Hills and the view from the main area out over the vast expanse is incredible. I could have spent hours taking it all in and still not got enough. Fast forward to the evening and the view is swapped for magical night skies with star gazing as one of their activities.
The team were incredibly hospitable, the tents very comfortable and the food delicious; but this is not what sets Ghoha apart from other lodges.
Driving from the airstrip to camp is about 45 minutes, and the last 10 minutes of the drive takes you up a rocky incline until you reach camp. Emerging from the vehicle, walking into the main area and taking in the 180-degree unparalleled view was my first wow experience.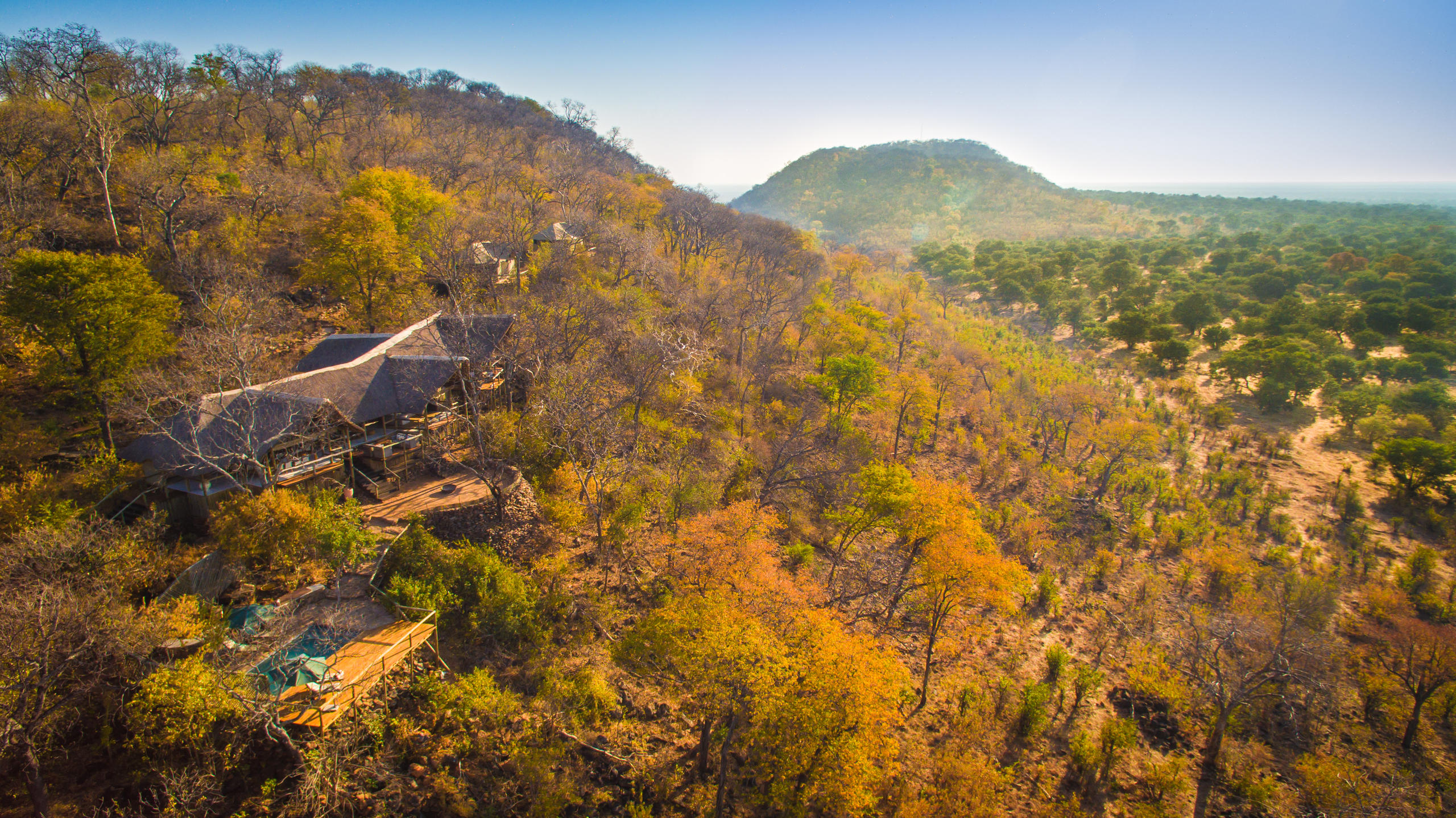 I was curious to understand how the longer drive down to the marsh area would impact on my game viewing experience. Allow for a good 45 minute to 1 hour drive but don't be disillusioned, it was worth it! Once we arrived and started exploring the area, the realisation that Savuti is so popular with multiple vehicles at sightings hit me hard. I don't know why but I was not prepared for this, and this is not my first visit to Savuti.
My guide was different and I would best describe him as 'old school', nothing short of an exceptional man with a vast knowledge. He took care to avoid the mainstream of vehicles, choosing different routes and focusing on not only the comfort of the guests, but the animals too. The main advantage came in when the majority of the vehicles left the area around 10h00. We were virtually alone, other than the odd self-drive vehicle passing by. Of course, we all have the impression that game viewing is best first thing in the morning and then later on in the afternoon once it starts cooling down. Perhaps it was just my day, but my best experience happened between 10h00 and 13h00!
I was fortunate to 'tick off' some exceptional experiences – a Wild Dog den with the cubs emerging after the pack returned from a hunt, Lions lazing in the mid-morning sun, Elephants sand bathing, and to top it off, a Leopard with an impala kill up a tree. And the best part was that we were alone, our own private sightings that I could indulge in for as long as I wanted to.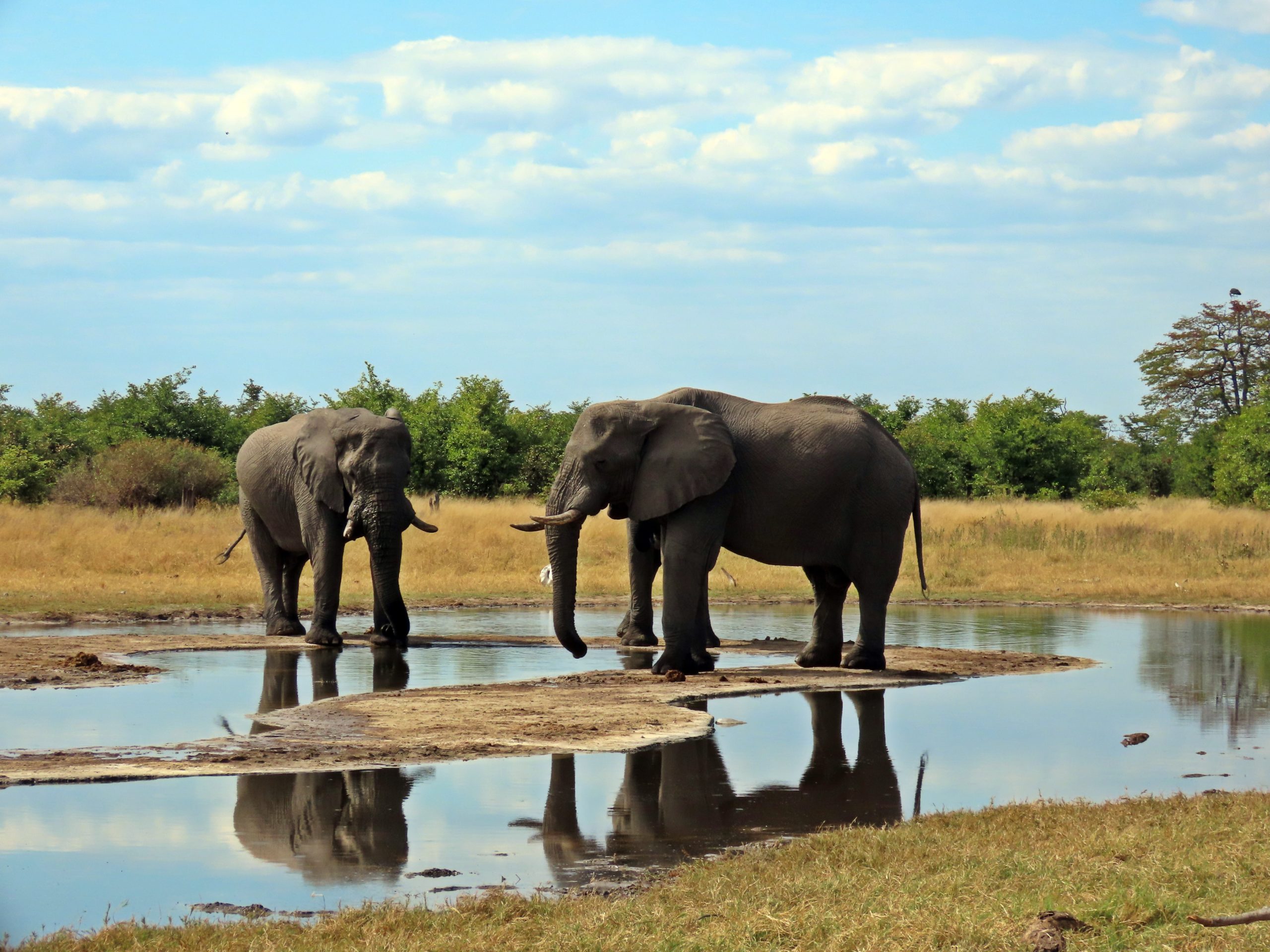 After I had my fill of sightings, we settled under the shade of a tree for a bush picnic lunch. I already mentioned that the food was delicious, but the experience of having lunch out in the open was not just different, it was special. One last stop before we headed to the airstrip as I wanted to see the rock paintings and my guide was very obliging. We soon reached the area but since there were lions in the area, we could not leave the vehicle to walk up to the paintings. Still, I managed to witness the marvel of this art although it be from a distance.
Yes, it does make for a long day, and summer midday heat means an earlier retreat back to camp, but you can't discount the experience, for me it was worth every minute of the extra drive.
Ghoha has its own private waterhole below camp at the foot of the hills, a popular setting for afternoon tea. The lodge is secluded and set away from other lodges, with its own private road network. The area surrounding the lodge is not as open as the marsh area and the waterhole is very productive in the winter months especially when there is less water around. 
Please contact your dedicated consultant for additional information or contact info@safaridestinations.net.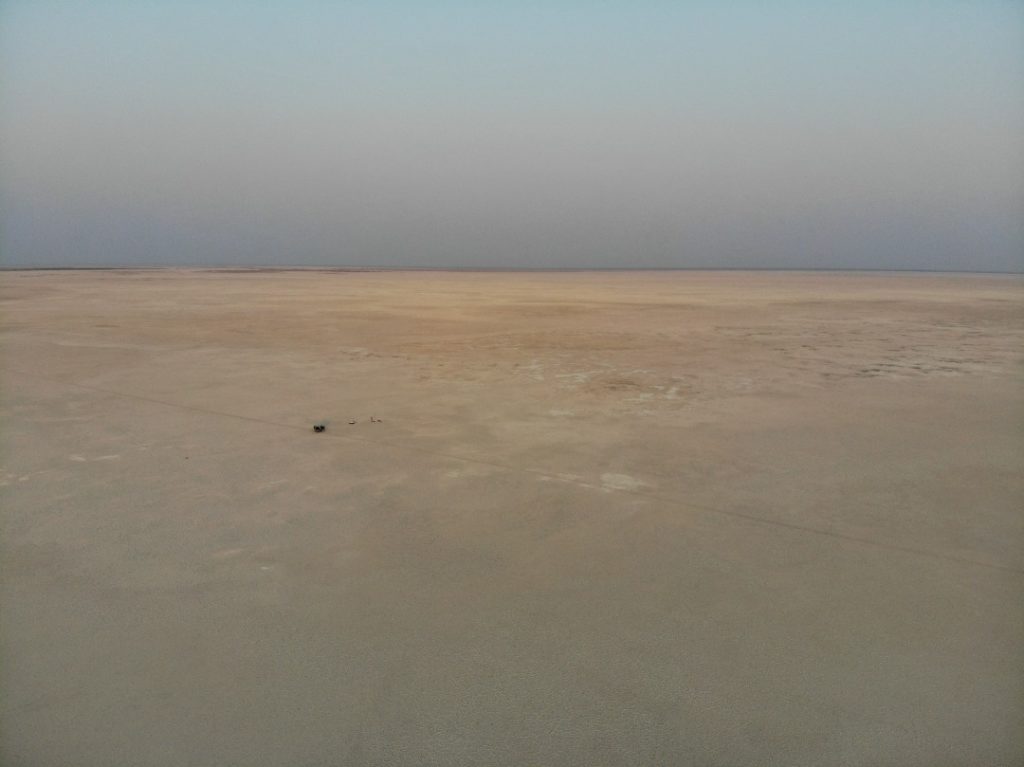 Imagine a place of peace, solitude and intense silence only broken by the moaning sound of the wind. Where it could just be you for miles and miles with no other living soul.
Imagine standing in the middle of an ancient lake that dried up thousands and thousands of years ago. A place that has a wealth of archaeological sites, yielding both fossil remains and tools from the Stone Age and Early Iron Age. A place that looks the same as it did thousands of years ago
Yes, it does exist!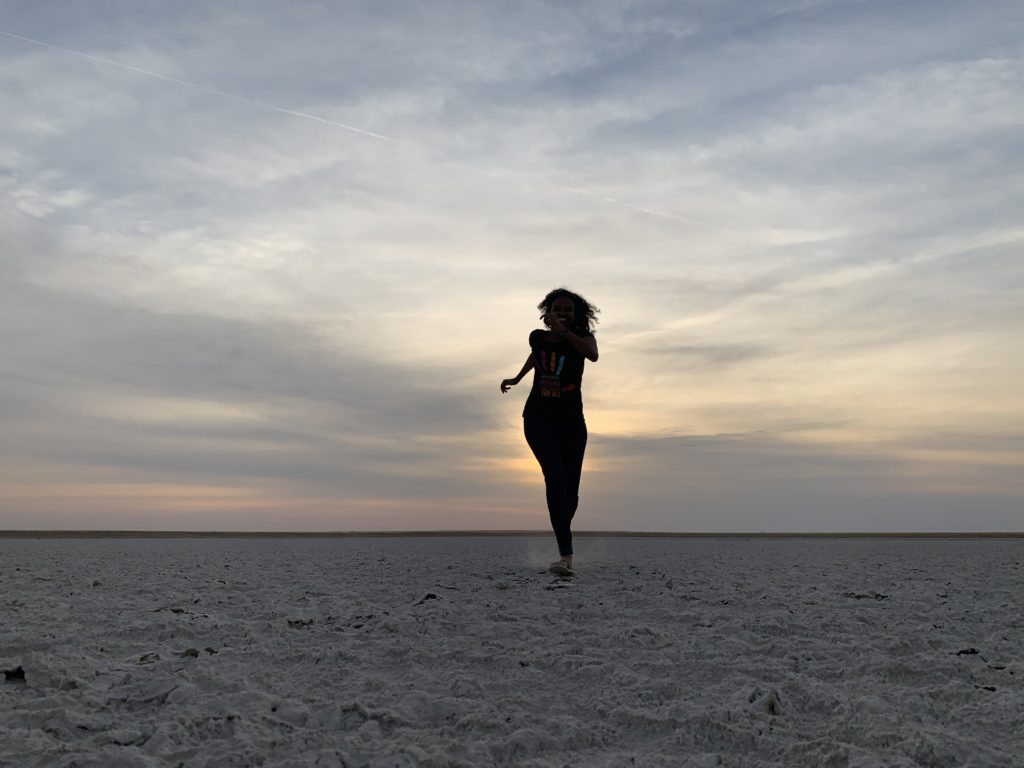 Located in the north-east of Botswana's Central Kalahari Game Reserve and south-east of the Okavango Delta lies a complex of huge, flat salt pans, collectively known as the Makgadikgadi Salt Pans. The word Makgadikgadi derives from the word "kgala" which means thirst or dried up.
These pans capture the heart and imagination with its startling, moonlike landscape that cover an area of 12,000 km², they represent the ultimate escape back in time maybe, the only place where you can be transported to 1000 years ago. The landscape is entirely flat, creating a delusional feeling of eternity.
If you have spent an evening in nature you will know that magical feeling of looking up and seeing the night sky flood with stars. You are reminded that we share the universe is with all sorts of fascinating objects, each one more perplexing than the next.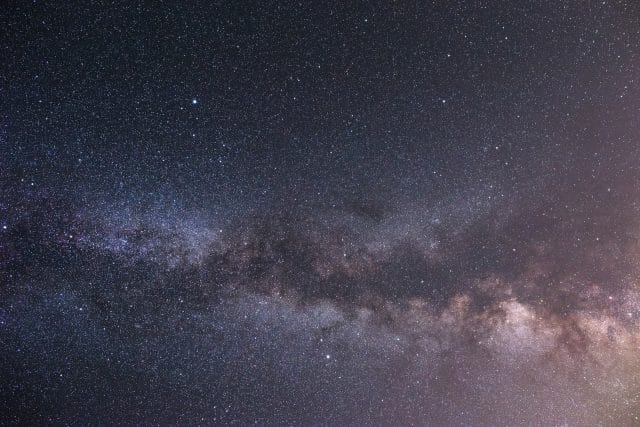 Just before sunset, a dark red band lays about the western horizon while to your east the sky is filled with ribbons of pink, lilac and blue-grey. Jupiter and Saturn come out first thing at nightfall and start their journey across the sky setting below the southwest horizon. As the night gets deeper a bright object rises in the east sky, she is Venus, you get a good glimpse of her before sunrise. As you keep looking at the east sky just after midnight you see the yellow-orange shine from the Red Planet (Mars). The sky is truly there to put on a show for you. Its dry climate and remote location make its night skies among the clearest and darkest in the world. On a moonless night the Milky Way arcs over you like a giant swathe of smoke.
The granite basement, flanked by the Karoo rocks, within the Kalahari Sand give a crunch, shattering the salt-crusted surface underfoot. A combination of arid climate and soaring temperature on the vast Ntwetwe and Sowa Pans make it quite inhospitable for most of the year; with no bird insight (apart from the odd crow, of late) not an insect, tree or shrub that disrupts the horizon.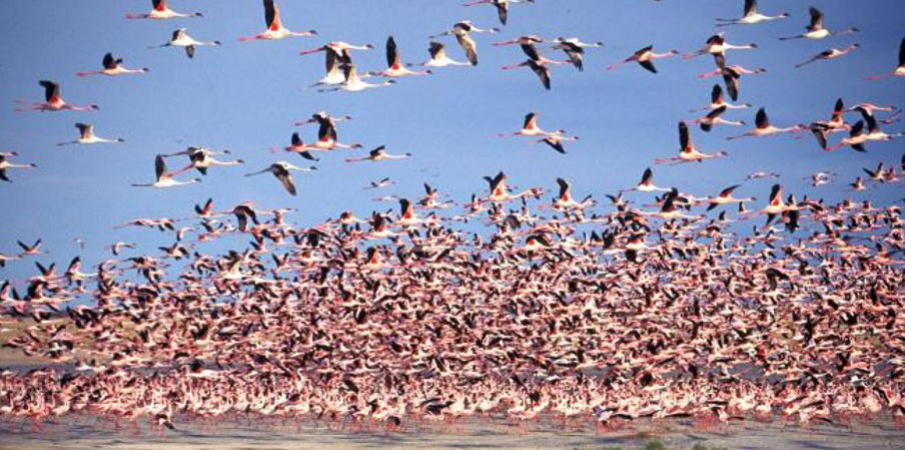 In contrast, during the wet/summer season Sowa Pans becomes flooded and turns into a sea of endless water. The myriad of powder blue lakes and verdant landscapes form to become a hub of wildlife activity. The pans attract huge flocks of Lesser and Greater Flamingos making the sky bright pink creating a picturesque view against the blue and whites.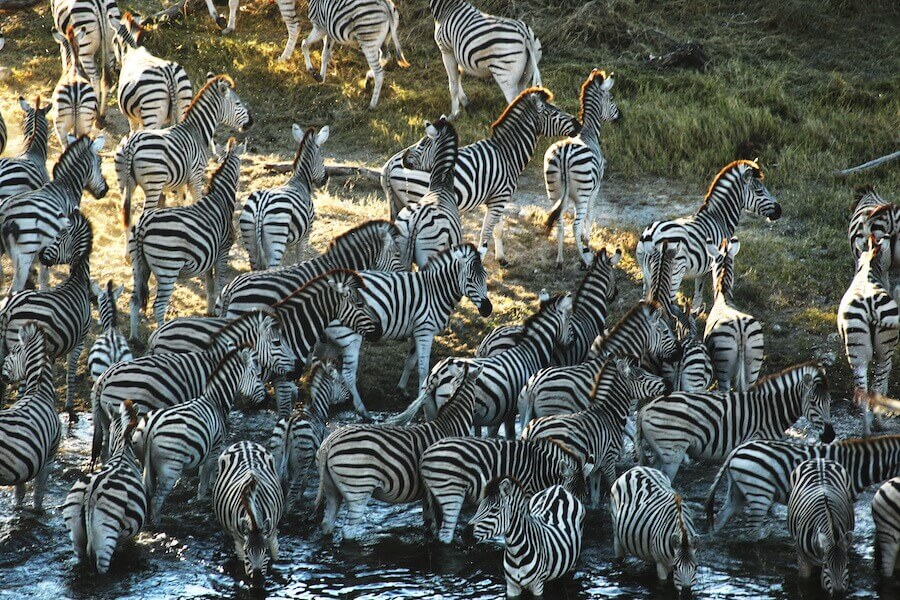 During the dry season, November/December the rains in the Makgadikgadi area triggers the Zebra migration, the second largest migration in Africa, where the herds will travel for a few weeks from the Okavango Delta/ Moremi area to feed on the nutritious grass of the Makgadikgadi. They settle in for around three months, with March being when Zebras are massing for the return trip north or east to their dry feeding grounds.
Our visits to the Makgadikgadi Salt Pans have always left our heart full of feeling completely immersed in nature. It's desolate and beautiful.
Desert and Delta's Leroo La Tau and Natural Selection's Meno A Kwena offer a complimentary Makgadikadi Pans sleep-out experience for guests staying 3-nights or more. The experience may be requested and booked between July and October.
TIP: Include a scenic helicopter flight as a transfer (30mins) for a truly remarkable experience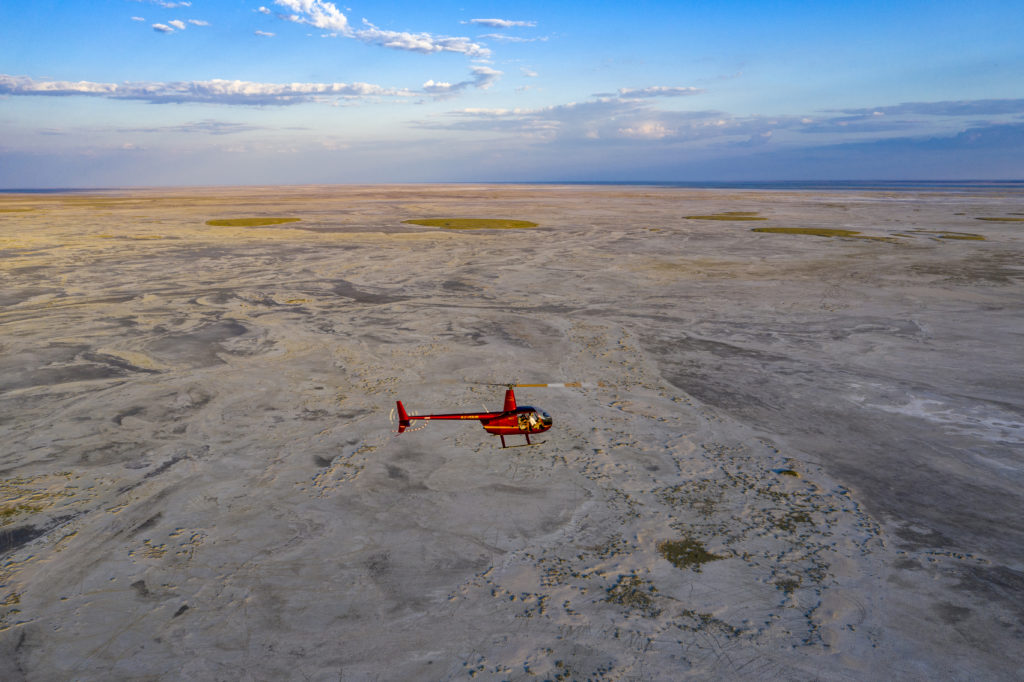 What was your overall impression of the camp?
Our handsome and very knowledgeable guide, Kyle, went out of his way to show us the very best of what Mapula has to offer. His passion for the bush and all the creatures and plants there within was contagious. Even after having done hundreds of safaris both Amandine and I learnt a whole pile more! Game was scare on our short visit but he made up for it by proposing to take us swimming in the flood water and sharing his "nature" books with us as we enjoyed tea and time-out in the bush.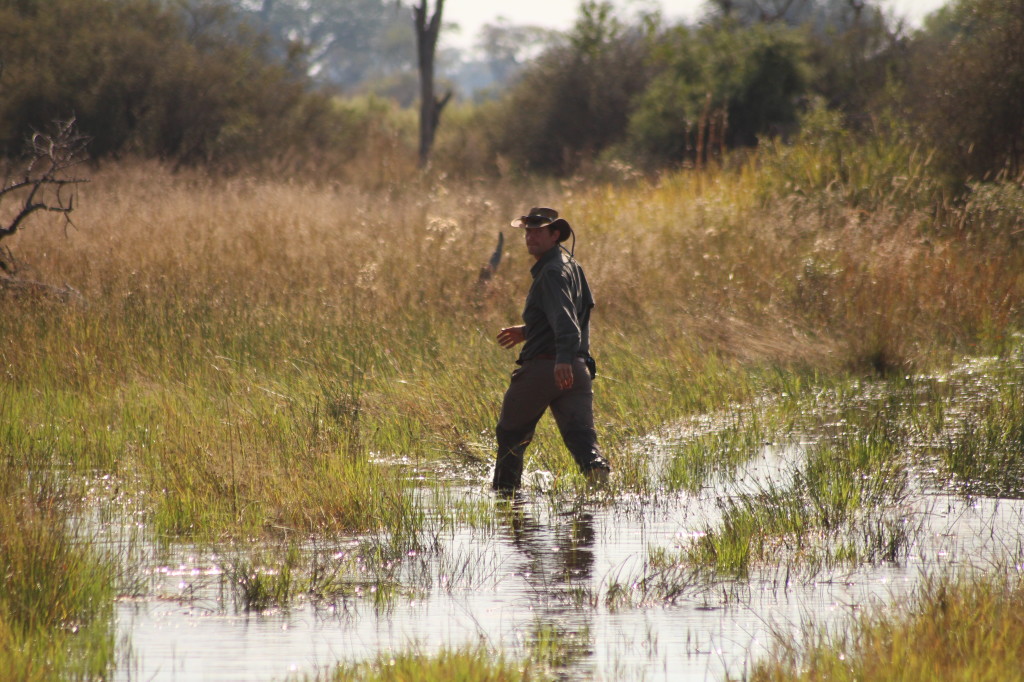 The area is generally rich in game, including Leopard, Cheetah, 2 packs of Wild Dog, Hyena, Sable Antelope, herds of Elephant, Giraffe and plains game all congregated in one big garden of safari Eden! Under the management of Uncharted Africa, Mapula has been tastefully transformed from a red-listed product to a much sought-after camp in the delta. With Eric at the helm and a well-trained and solid team I believe it will give similar camps a run for their mone
A particular mention for the swimming pool which is large enough to do a few lengths in but remains discreet at the same time. It's built in a way that it makes you feel like you are swimming in the lagoon, surrounded by palm trees and lush greenery.
There are plans to offer Hot-Air Ballooning and a fly-camp experience which we look forward to being able to promote to our clients.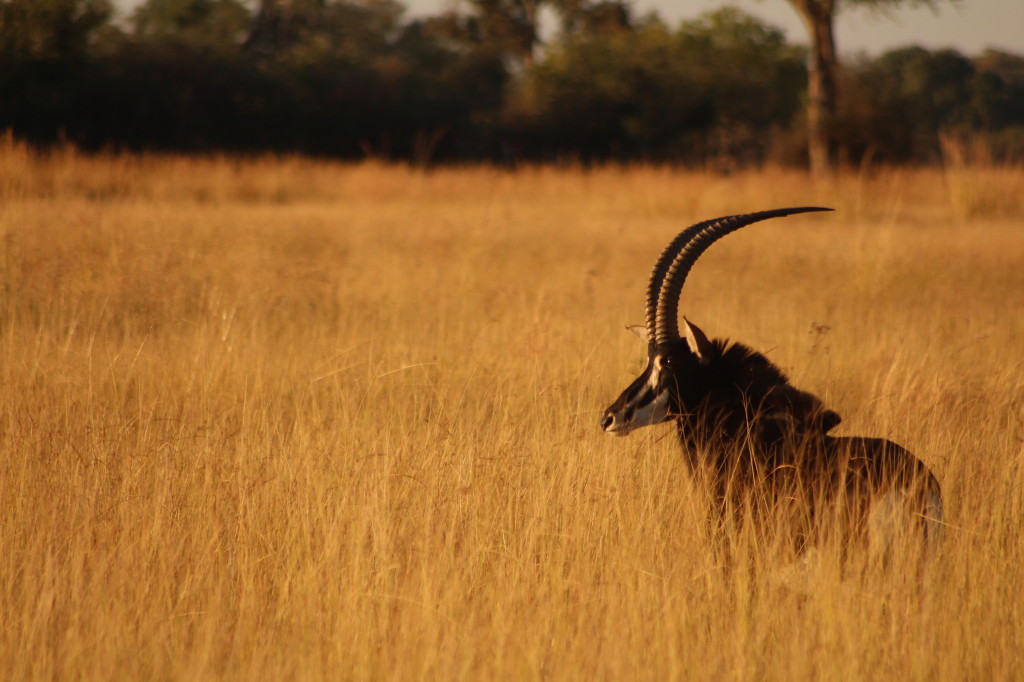 How does the camp compare to similar camps in terms of value and experience? Are there any notable special offers applicable?
I think it offers excellent value for money considering that it's a small camp on a fantastic private concession, has above average guides and is tastefully decorated in the immediately recognizable Ralph Bousfield Unchartered Africa taste, reminiscent of a bygone era.
The exception being during the month of August when a peak surcharge is applied. Further reduced long stay rates are available at Mapula when it is combined with Meno A Kwena – speak to your local expert.
How would you combine this camp in an itinerary and why? 
I would be confident in recommending 3 nights here in order to get the full experience and to discover what the concession has to offer completely. My suggestion would be to combine it with Savuti, Khwai, Makgadikgadi and of course Chobe, which fits into most itineraries.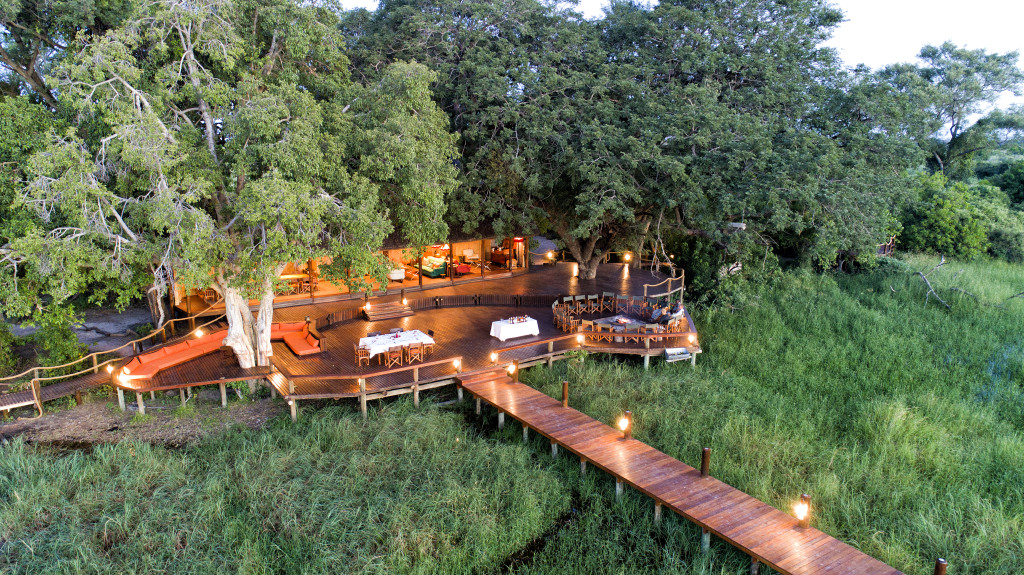 What type of clients does this camp suit and why? 
1 Unit is suitable for families: Consisting of 2 rooms separated only by a curtain. Each room has its own bathroom and outdoor shower.
As it is an intimate camp, I would suggest it to honeymooners and couples seeking peace and quiet.
The adventurous because Mapula can offer off the beaten track activities such as swimming in the fast-flowing flood waters that quickly fill the dusty tracks or having an afternoon siesta on mattresses out in the wilderness. The ballooning and fly-camp activity will appeal to this market once operational.
How does the seasonality of the area change through the year and what effect does it have on a visitor's experience, with specific reference to wildlife and activities?
The camp is set on a permanent lagoon. This makes fishing and boating possible all year long. However, the lagoon is home to a large number of happy hippos so if the water level goes down too much those activities would be suspended.
The camp being near the panhandle receives the first floodwaters of the year so they can start their mokoro activities earlier than those camps further down. The mokoro station is not in front of the camp. It's a 10-minute drive to the jetty. Although we enjoyed the activity, the water was still pretty low so we were wrapped up in cobwebs to start off with! As the water levels rise it will become more pleasant.
When the flood comes down the area where the camp is situated becomes an island. This means that sometimes there's good game in the immediate vicinity…. and sometimes not, the result being that guests may have to drive further afield in search of the herds.  During high flood levels, it may be advisable to combine it with another game rich area within the delta e.g. Shine, Splash…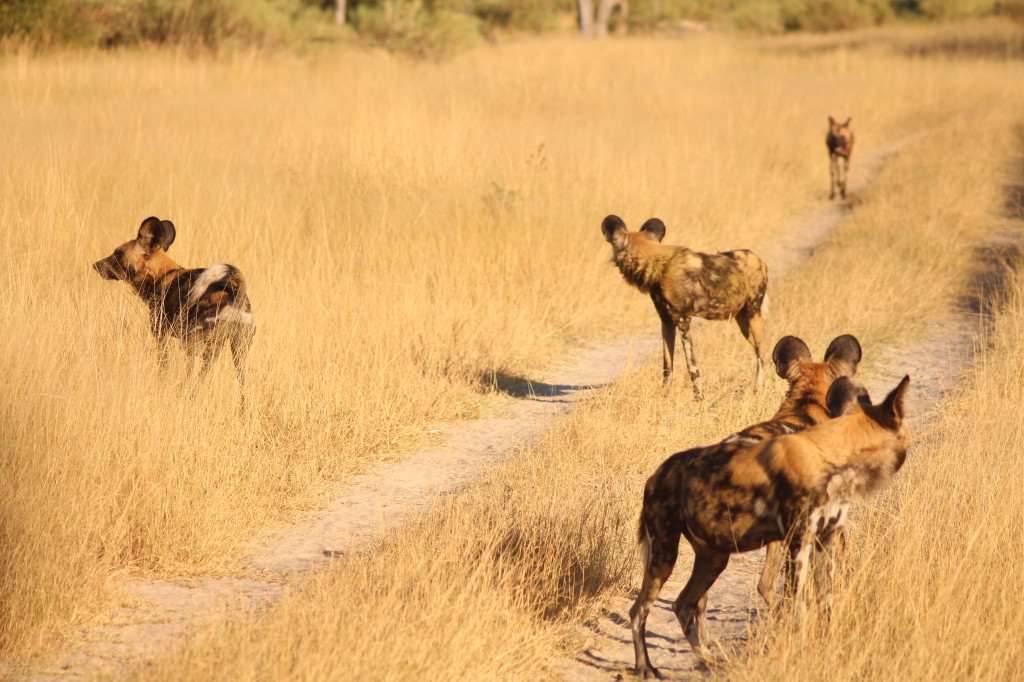 Are there any areas that could be improved? Are there any issues that could impact guests experience that should be highlighted to help manage expectations?
The food was imaginative, of good quality and nicely presented however the quantity for the first lunch we had was insufficient. Sundowner snacks were not original and could be improved – biltong / nuts / dried fruit.
Eric, the manager is running a good show. The staff seem genuinely happy to be working together and the service was attentive without being overbearing. They have kept 1 or 2 staff members on from the old camp. They clearly know the area intimately and you can tell that they love the area and are delighted to share information and stories with the clients.
Safari Destinations itineraries showcasing this property:
Exploring Botswana on a self-drive is becoming more and more popular. However it is not for the faint hearted nor is it for the ill prepared. We realize it is time to give you, our agents, a small guideline how to consult clients who want to drive themselves, what to expect and who the ideal candidates for such an adventure are.
Very often we receive enquiries mentioning that the clients are very experienced as they have been self-driving in Namibia and South Africa. Well, well…. Botswana is a totally different level of adventure.
Unfortunately, Botswana cannot be compared to South Africa or Namibia where the roads (and road signs) are generally very good and the whole experience is pretty straightforward and uncomplicated. Botswana is actually a fly-in destination. There are 18,482 km of beautiful highways, but only a quarter of these, 4343 km, are paved or tarred, which is not to say those don't get flooded nor are they kept in good condition. It is a well known joke that we all hold a degree in driving and are pros at dodging potholes!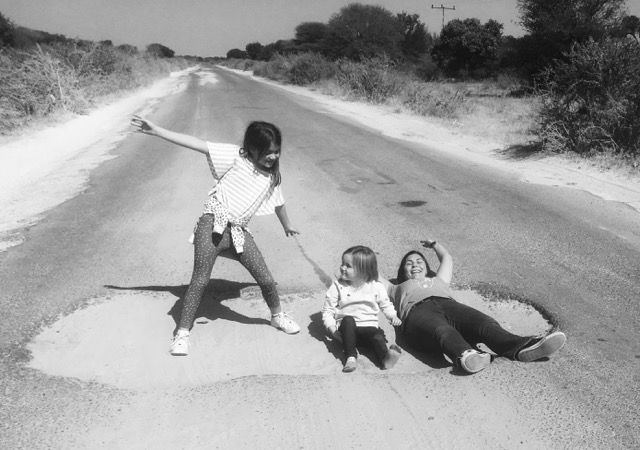 All expert professional guides work by the following motto: Proper Preparation Prevents Poor Performance and this very much applies to planning a self drive itinerary too whether you're planning a route on the main roads or an adventure through the parks!
In all seriousness, contemplating a self drive itinerary through Botswana incorporating its National Parks is not to be underestimated and can be seen as an authentic "cultural experience". One must have a sense of adventure and take all that is African in their stride from long delays to the often comical communication glitches. As mentioned above there is a very limited road network with single lane highways, no hard shoulders and minimal road signs so don't consider the holiday ruined if you encounter challenges along the way or things don't go according to plan – it's all part of the adventure. The season one decides to travel in is also vitally important. There is almost only a short window of opportunity because the summer months – our rainy season – is highly unrecommended for all areas in Botswana as can be seen below when even us experienced bush girls got hopelessly stuck in the mud for hours. Nor are the winter months – which is our dry season, flood levels are high – this is to be considered if the Delta is on the itinerary. Depending on the size of the flood most of the roads are closed and bridges overrun by the flood waters, therefore decreasing the area that can be navigated and explored. Towards the end of our dry season the temperatures sky rocket so all the sand roads become very thick and very sticky and unless the clients know what they're doing with their gearbox and tyre pressure getting stuck is virtually guaranteed.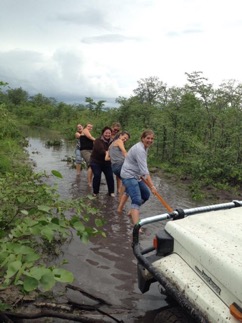 The free ranging wildlife is another element of self drive itineraries that may cause some excitement. All parks in Botswana are unfenced (as are all of the neighbouring countries except South Africa) which means animals are free to roam and this they do to their hearts delight. Travelers need to have some basic understanding of animal behaviour and know that animals always have right of way. It's not only the wildlife that uses these road networks, but also a huge amount of domestic livestock, who move between grazing and water sources. This means that not only does one need to have the utmost respect for all animals but driving at night should always be avoided.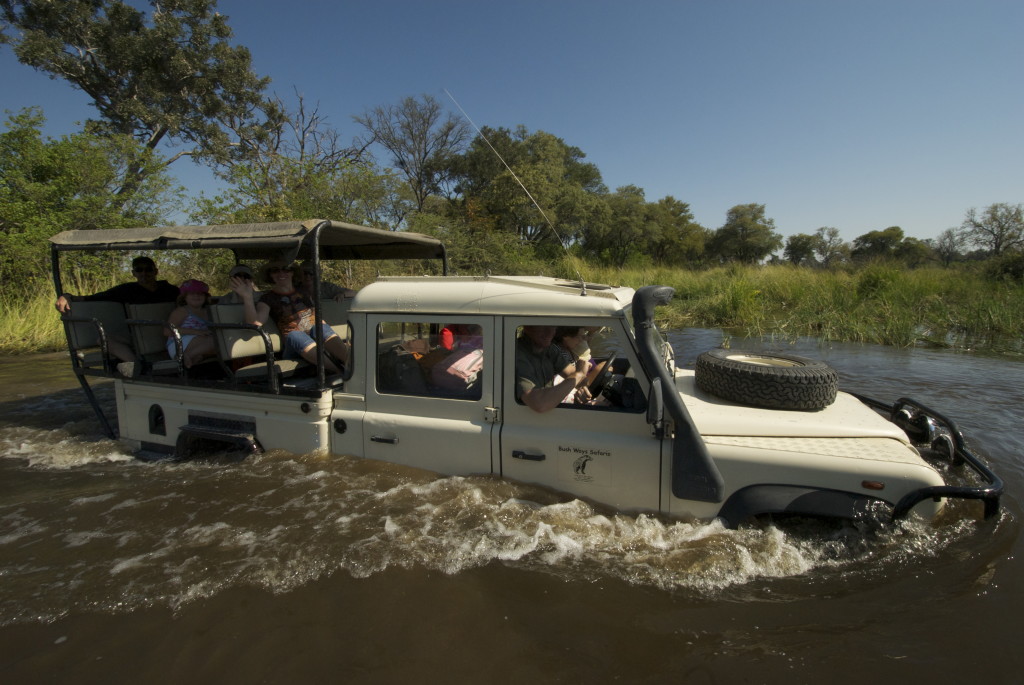 What a lot of people also don't realise is that the distances here are not navigated at the same speed as they are used to at home. 100km here does not mean 1,5 hours… It can easily take 4-5 hours to cover 100km – due to the road conditions, animal movements and the clients' knowledge of challenging 4×4 driving. One can have the fanciest, finest equipped vehicle, with all the latest gadgets but have no idea how to put it into 4 wheel drive let alone Low range or difflock. So unless clients have that knowledge, no matter how fancy their car is, if it's stuck in 2 wheel drive they will not get out, and revving the engine, burning the gearbox and spinning the wheels will not get them out any quicker.
Can you imagine the stress of knowing you've got an international flight to catch but you're stuck out in the middle of the bush, trying to dig your way out of the sand? This is why we always recommend a pre-night in town before flying out!
There is a lot to consider when booking a self drive itinerary so let us advise you on the best routes to take, the best time of year to successfully navigate the inevitable challenges and the 4×4 driving courses we recommend clients take, before embarking on this adventure!
Hereby a short list of the Dos and Don'ts for your clients to consider on a self drive:
DOs:
Be open minded and flexible: driving in Botswana is not as easy as you may think. Road conditions can be challenging in many areas and include soft sand, slippery clay, deep water and broken bridges. Getting stuck or breaking an essential part of your vehicle happens easily and often.
Be prepared: plan your route carefully and don't underestimate the time it may take to cover those distances.
Make sure you have rented the correct type of vehicle and your car has all the necessary equipment from highlift jack to a spade and most importantly a GPS (Download the tracks4africa App which works OFFLINE!) and ideally a satellite phone. You will be in remote areas with no cell phone signal and the next car coming might be days away.
Carry more spares and extras than you'll ever think you'll need – i.e. fuel, water and tyres without overloading your car.
Have a nicely stocked medical kit with you – the smallest cut can turn into something nasty quickly in the right conditions.
Treat officials and bureaucrats with respect. Losing your temper never gets you anywhere. Remember the 3 Ps: politeness, patience and perseverance.
Be aware of rules and regulations: Botswana has so-called vet fences which prevent the spread of highly contagious diseases such as Foot and Mouth. These fences restrict the movement of any cloven hooved products so you might end up handing in your recently purchased BBQ meats and road snacks to the local officials and you will not win any argument with them.
Preferably travel in convoy.
If you change your plan and arrive a day later or not at all at the next prebooked accommodation, please let us know, otherwise we will start a search which can become a challenging thing, like finding a needle on the Salt Pans.
Embrace the spirit of African adventure in all its glory!
DON'Ts:
Do NOT drive off-road! This is prohibited in all National Parks to keep the wilderness pristine and undamaged. Respect those rules also outside the parks. Also driving around a puddle is not always the best route – if you don't recognise Mopane forests for the treacherous things they are then you will inevitably get stuck driving around the puddle rather than taking the road most traveled straight through the middle of the puddle.
Do not drive in the dark.
Do not feed the animals, this will only encourage them to lose their fear of humans which can end disastrously.
Do not leave your vehicle under any circumstances. You do not know the bush nor the animals. You have a better chance at staying alive with access to the safety of your car and the copious supplies of food and water then risking a walk through the bush and an encounter with a buffalo. EVERYTHING out there is faster than you are.
Do not lose your sense of humour – Africa will inevitably throw challenges at you and keeping an open mind about it all will prevent you from losing your sense of humour and/or patience.
Do NOT travel unprepared. Study the maps, directions and distances while planning your trip not once you arrived in the country.
Prebook all accommodation, Botswana has a very low population density, distances between villages can be huge. If planning a camping trip, campsites have to be booked about 11 months before travel to avoid disappointment.
Here is some helpful information about road conditions in Botswana: https://traveladventuresbotswana.com/helpful-information/driving-and-road-condition-information/
Most importantly: Botswana is by far the most challenging destination and can in no way be compared to Namibia, South Africa and even Zimbabwe and Zambia due to the unique circumstances of season, habitats, environmental conditions and lack of infrastructure!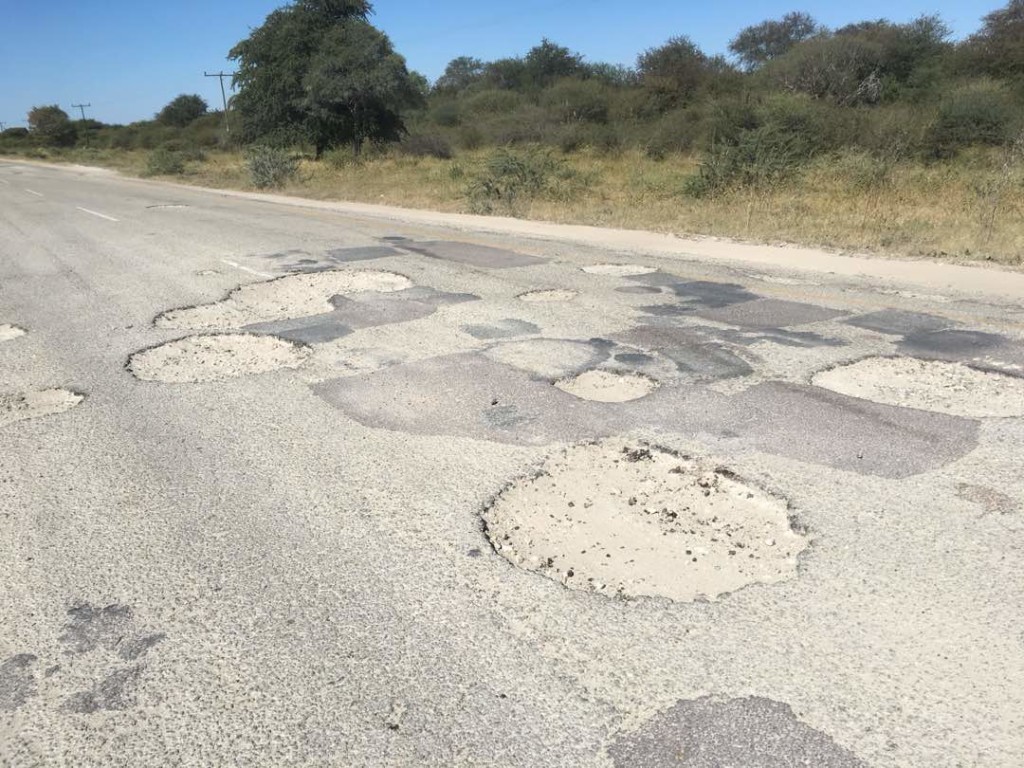 It is pretty special when you take your first aeroplane flight. But when your first flight is in a caravan, flying over the Okavango Delta, on your way to Khwai, there is something extra special about it although it can be something of a scary, bumpy ride. For Resego, she was excited at the thought of flying. "I was looking forward to seeing the earth from a bird's eye view". Resego received lots of advice: "Kay told me to remember my pressure points if I felt air-sick. I did but it didn't work! Helmie advised that I should get some ginger ale but with the excitement and nervousness, I forgot. Lisa told me to drink water before the flight but I was worried about having to use the bathroom once we took off, so I ignored that advice. Amandine's advice: keep swallowing to unblock your ears, that worked. I was super excited when we took off". And the actual experience? "Ten minutes into the flight I wanted to jump off! My tummy was in knots, I was nauseous and my ears kept blocking. The flight being bumpy didn't help either. It was the longest thirty minutes of my life. I kept telling myself that I was on a bus to Gaborone and the bumps were the potholes. This seemed to work for a while but as soon as I looked outside, that illusion disappeared. As I felt the Mack air caravan getting ready to land, I breathed a sigh of relief. After getting off, a bottle of water helped ease my nerves and I was good as new again.  I am thankful my first flight experience was with people I consider my SD family, as they helped me through it."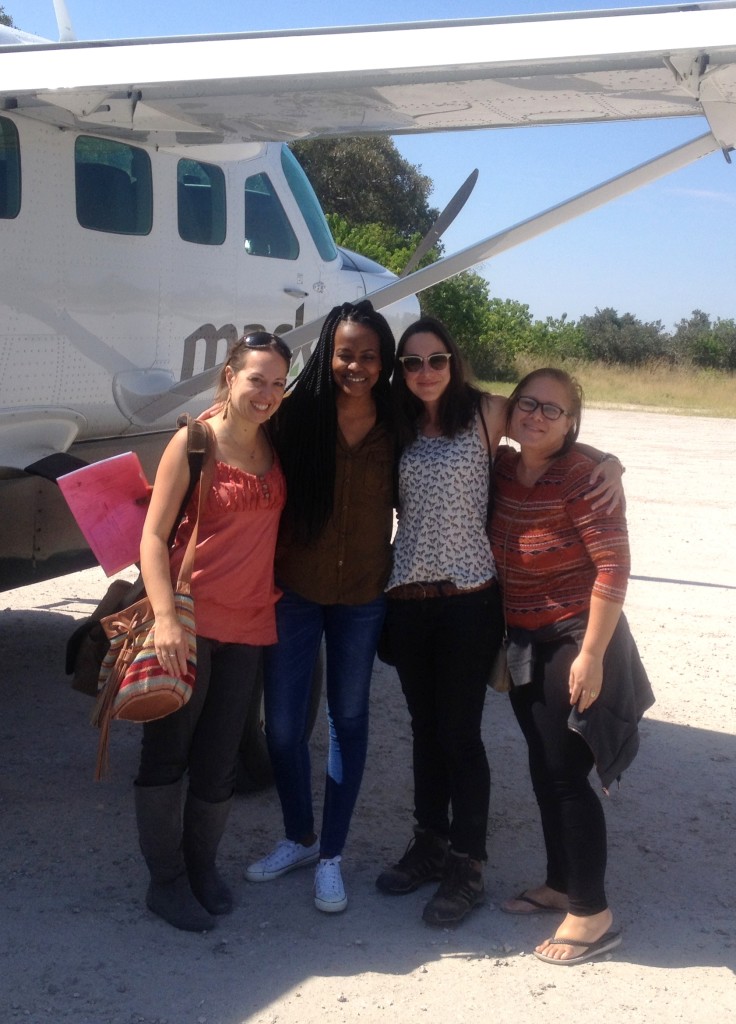 This trip was also Resego's first educational ever.  With nights at Little Machaba and Khwai Tented Camp plus site inspections to Kwai Guest House, Sango, Khwai River Lodge and Machaba, complete with all the activities on offer, Resego was immersed in the Khwai experience. Visiting together with a more senior consultant, meant that Resego was able to learn from Gen's experienced eye and put the properties into perspective.  Resego commented: "I got to see first-hand how busy Khwai really is and experience the importance of starting an itinerary with a lower end property and ending with a high end one. The personal highlight was the mokoro as I have always wanted to do that".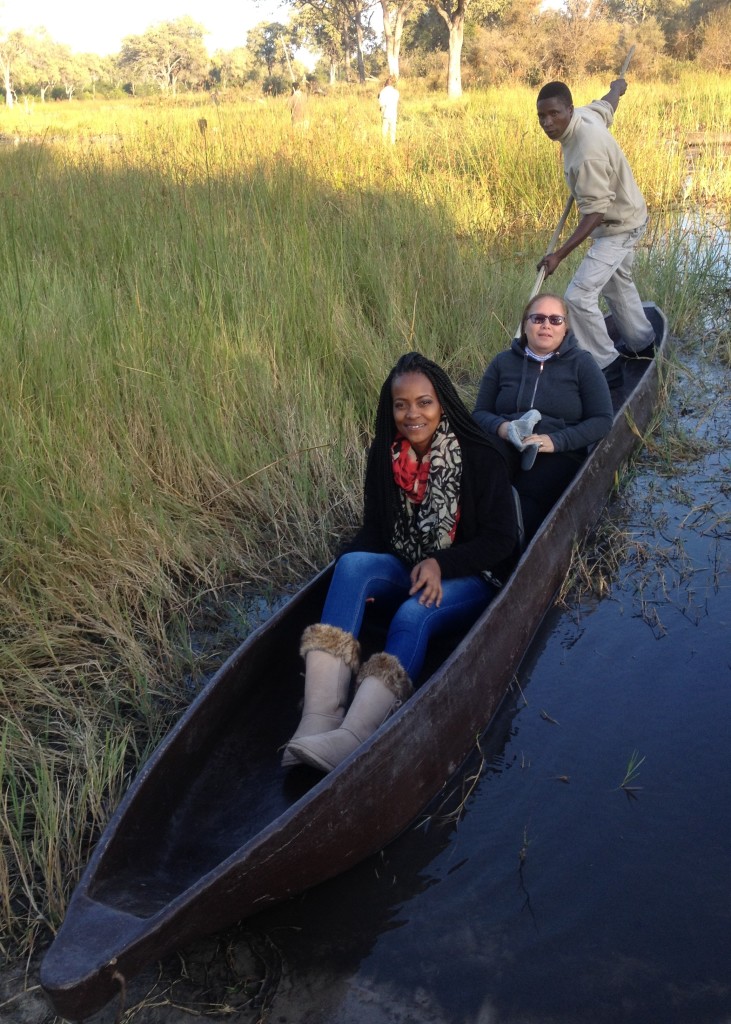 These first-time experiences are because Resego has recently been promoted to Associate Consultant. For the first time, she will be allocated her very own agents, creating her own itineraries and experiencing the pleasure of a confirmed booking.  Fresh from the University of Botswana, with her Honours in Tourism Management degree in hand, Resego joined the Safari Destinations' team two and half years ago. In this time, Resego has teamed together with other consultants, working directly with suppliers learning about their camps, rates, activities as well as about Botswana as a tourist destination.  Resego is just one of many such Motswana graduates being trained as part of SD's staff development programme.
As a new consultant, Resego will continue to be supported and guided by her team leader, Karen Reed, who has over 20 years of experience in the travel business.  Key to the training of our consultants, is the visiting of numerous properties that Safari Destinations sells to our agents. These educationals with a night at certain lodges and site inspections to others, ensures that our consultants get to feel the vibe of the camp, interact with the staff, taste the food, ride in the mokoro, experience the guiding: the stuff that the travel brochure does not tell you, giving our consultants unique insight into the camp and what it has to offer. All this translates into better product knowledge to be shared with our agents.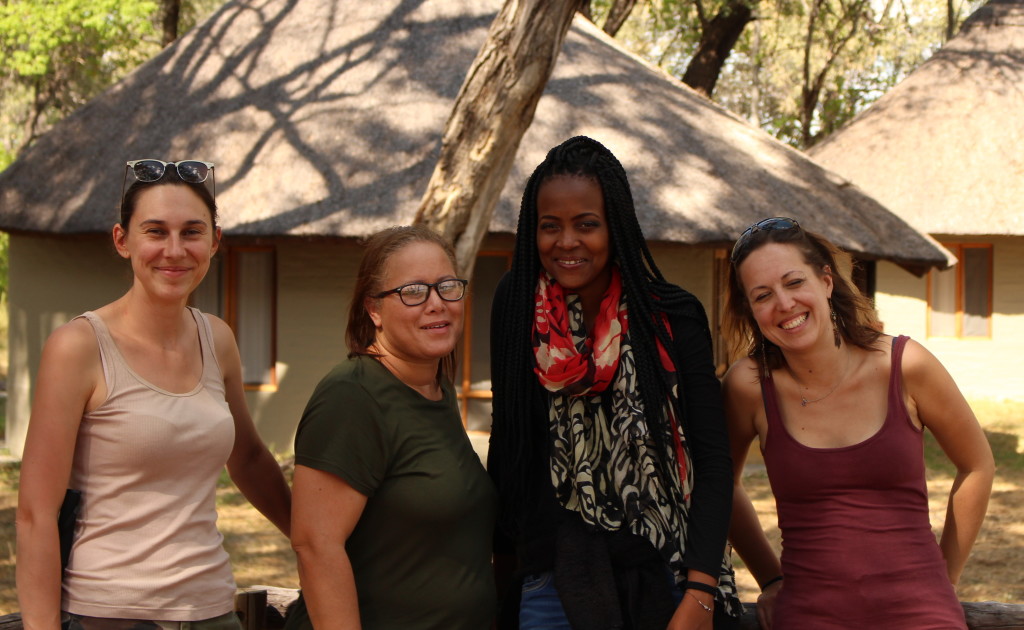 The SD family is very proud of Resego's achievements. Kay, our Reservations Manager, has been working closely with Resego for the past year. She had this to say about Resego and her going off on her first educational and flight: "To be honest I feel like a mum, watching her kid go off on her first day at school, very proud … I am sure that Resego will take the confidence we have placed in her and run with it …" Or is it a case, of flying to new heights?
Why are safaris so expensive in Botswana?
Since my beginning with Safari Destinations this question haunted me on many occasions. Especially people who visited East Africa or travelled to more mainstream safari destinations like Namibia or South Africa before, are surprised when finding out how much more a safari to Botswana costs.
In order to get our head around the "price tags", we first need to understand the philosophy behind Botswana as a tourism destination: The strategy follows a high cost – low impact approach.
Low tourist density. The restrictions on allowed beds per concession area are quite strict compared to other countries. This means that a camp can only host a certain number of guests and only operates on a small-scale vehicle operation in order to minimize the human impact on nature. This automatically leads to a lower number of tourists in Botswana and makes the experience of the guests much more exclusive.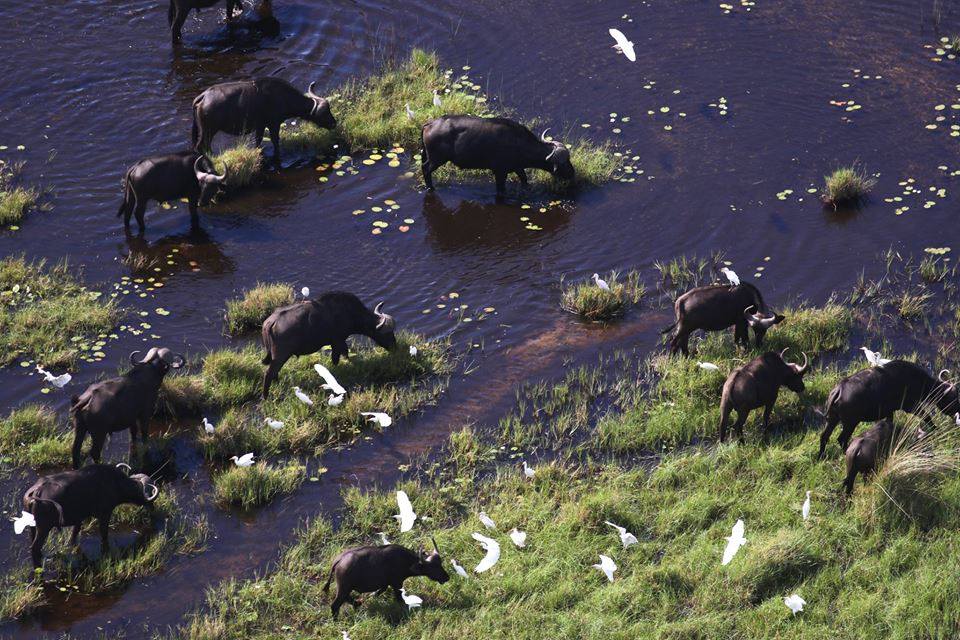 But please note: there is a difference between national parks and private concession in terms of accessibility and tourist frequencies!
Environmentalism & high costs: In order to run a camp in Botswana, the camp operator has to pay the government quite high conservation fees and leases for the areas. Together with the governmental restrictions, it encourages sustainable constructions in wildlife areas. The idea is that every camp is built in a sustainable way so that it can be removed completely after the lease expires, without leaving any traces in the landscape. And I think every person who has swapped from standard electricity to solar power knows how cost intensive the installation of such renewable energy sources is.
Both points have a convenient effect on the tourist experience on safari:
–        On game activity, tourists in Botswana (normally!) face fewer other tourists and have an exclusive wildlife sighting – meaning they only share it between fewer vehicles whereas in other destinations vehicles already queue to a certain extent in case of an exciting predator sighting.
–        Landscape is mainly impacted by natural forces and not by humans, which often goes along with strong photo opportunities. Moreover, most camps and mobile operators are perfectly equipped with open vehicles to make a photographic safari a success (no window-/vehicle frames, better light effects). This also creates a distinction between Botswana and other destinations, where only closed vehicles are allowed. Besides the clear commitment to photographic safaris by the companies, nature also does its part by providing unique undisturbed sceneries for its visitors and local people.
You don't believe me? Check out the following hashtags on social media platforms like Instagram, Facebook or Twitter to get an idea of the beauty of Botswana:
#lostinbots & #whyilivehere & #thisischobe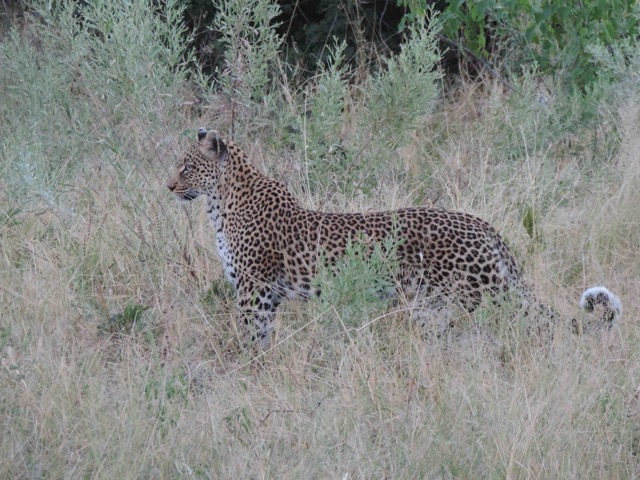 There you have a proof of the diversity of landscapes Botswana has to offer: massive rivers (e.g. Chobe), dry savannahs (e.g. Savute), fascinating river systems (e.g. Okavango Delta), impressive salt pans (e.g. Makgadikgadi) and the vastness of the Kalahari desert.
–        The diversity in landscape is not only an opportunity for landscape photography. It also provides different habitats and is therefore home to a wide range of animal species. Botswana boasts itself with "quality game", not "quantity game". Obviously we also count large herds of elephants and buffalos as well as comparably high numbers of predators (lions, leopards & cheetahs) in Botswana. But what other destinations can't compete with is the high number of rare species like: wild dogs, brown hyenas, leopards, sable and roan antelopes to name a few. Normally these animals are hardly ever seen on conventional safaris. Botswana however provides the habitats for them and therefore increases the chances of witnessing these rare species on safari.
All those points lead to an exclusive safari experience, which is reflected in a higher price tag. But behind the tourist experience is a mostly unknown enormous logistic expenditure. And these need to be taken into consideration before labelling Botswana as "expensive".
Food delivery and waste management: Botswana is a landlocked country, most supplies are imported from South Africa, by the time the food arrives in Maun it has travelled more than 1000 km already. From Maun the journey continues. Most camps are located in remote areas. In order to provide a culinary experience for guests during their stay, every single food item and can or bottle of beverage needs to be brought into camp. Due to most of them being inaccessible by road this is done by aircraft, which is not only a tremendously logistic operation but also results in high operational costs for the camps. And not only the fresh food is getting delivered, also the reverse transportation of waste out of wildlife areas takes place by aircraft.
High staff guest ratio: The staff members of the camps need to be flown in and out of camp (duty, leave, doctors visits,. ..) as well, and in order to deliver such a remarkable customer service the camps operate on high staff numbers. Normally 3 or more staff members are in camp for one guest.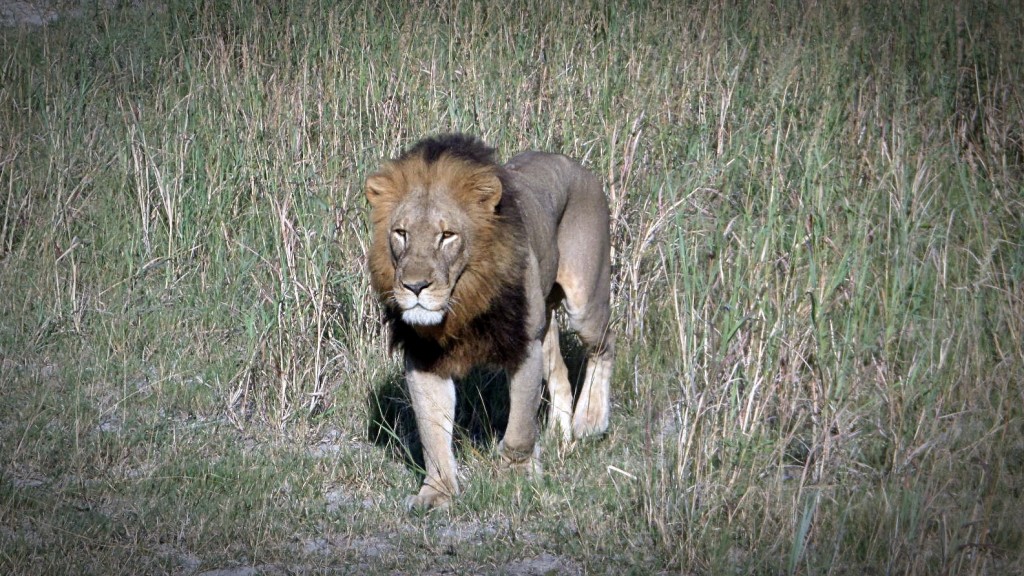 High maintenance costs: The location in the unspoilt wilderness also results in high maintenance costs for a camp. Water pipes break regularly because of animals impact, wood constructions or canvas need to be replaced several times – not only for the visual effect but also to be functional e.g. in keeping the heat out of a guests unit. The same applies to safari vehicles. They need to undergo frequent maintenance because of the "unhealthy" combination of water, heat and sand which quickly leads to signs of wear and tear. Additionally, spare parts need to find their way into camp which again involves logistical costs.
This shows that there are many visible and invisible components for the price tag.
Botswana – one of Africa's best kept secrets!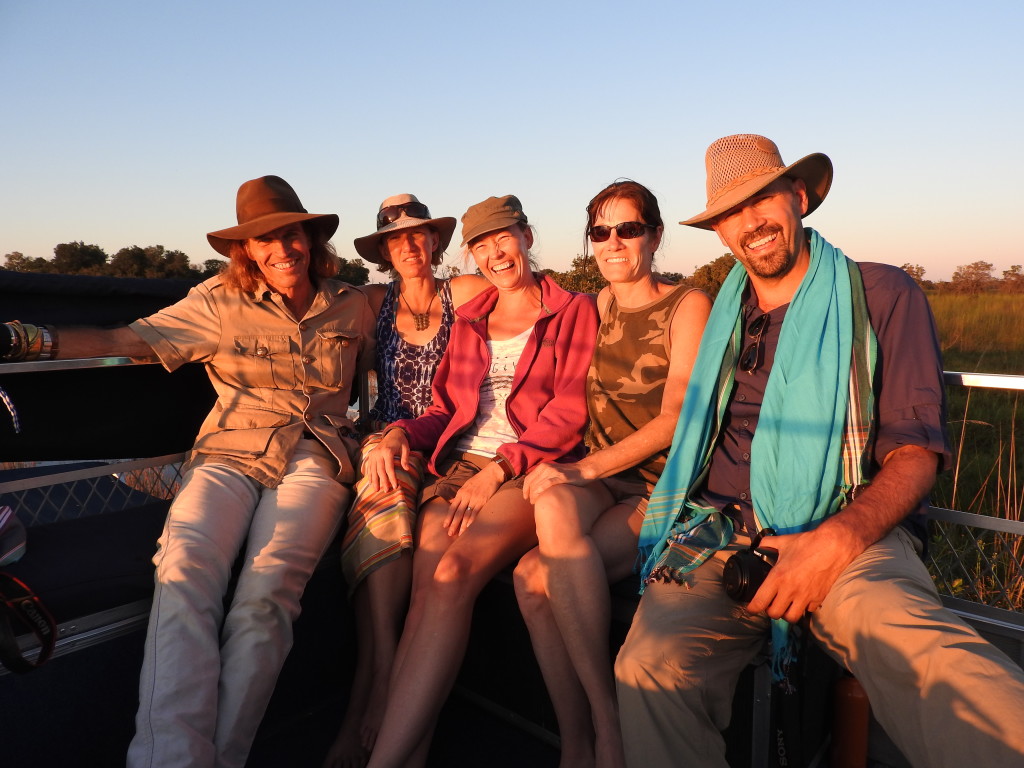 Wow – what a special experience! Recently I was privileged to join a group of agents on an Uncharted Africa educational to Moremi, the Delta and the Salt Pans.
Arriving at our mobile camp set up between 2nd and 3rd bridge in Moremi Game Reserve after dark was like arriving in fairy land, with all the lanterns down the pathways and throughout the camp.  Welcomed with a glass of sparkling wine, we were settled in.
This luxury mobile set up boasts a combination of elegance and a kind of exploration history giving you all the comforts of beds, en-suite bathrooms with bucket showers and flush toilets.  This was to be our home for the next 2 nights.  A mobile safari gives you a private camp feeling much closer to the bush than the infrastructure of any lodge.  Lying in bed at night and listening the bush come alive, as certain curious species of game come to inspect the different smells and activities of our camp.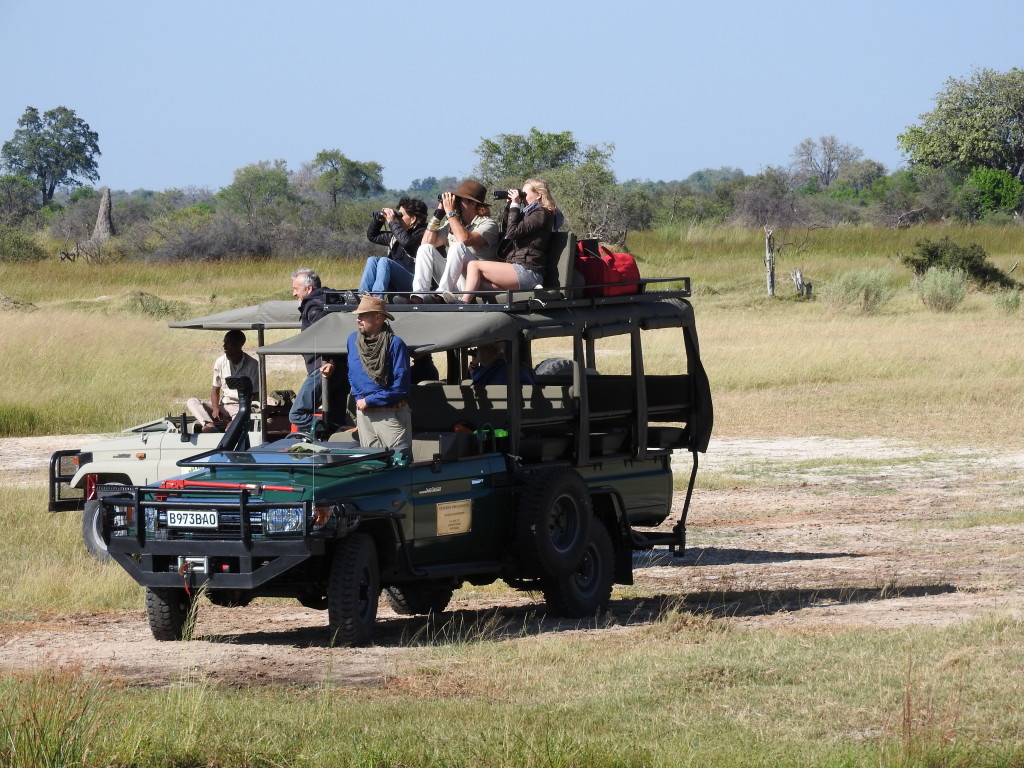 Our Guides, Ralph Bousfield and Greg certainly did not disappoint with their in depth knowledge and passion for the bush and stories of exploration, history, culture and scientific facts kept us all engaged and entertained the entire time we were with them.  The other advantage of a mobile safari is creating a trust and a bond with your guide that will be with you throughout your trip.
Day 3 we boated far into the Okavango Delta, to our Island stop where Devon (our Camp Manager) was waiting for us, fly camp set up, with more food and drinks.  Our set up was a roll mat with a mosquito net under the vast stars in the middle of the Okavango Delta. It gave us a feeling of being truly in the wild, in one of the most beautiful places on earth.  Here we experienced the water ways of the Delta, whilst competing against each other on the number of Sitatunga and Otters we spotted.  Nature walks around the island with Ralph proving to Simona we could still make a pizza from natural plants, mushrooms and shrubs on the island as well as curing malaria at the same time.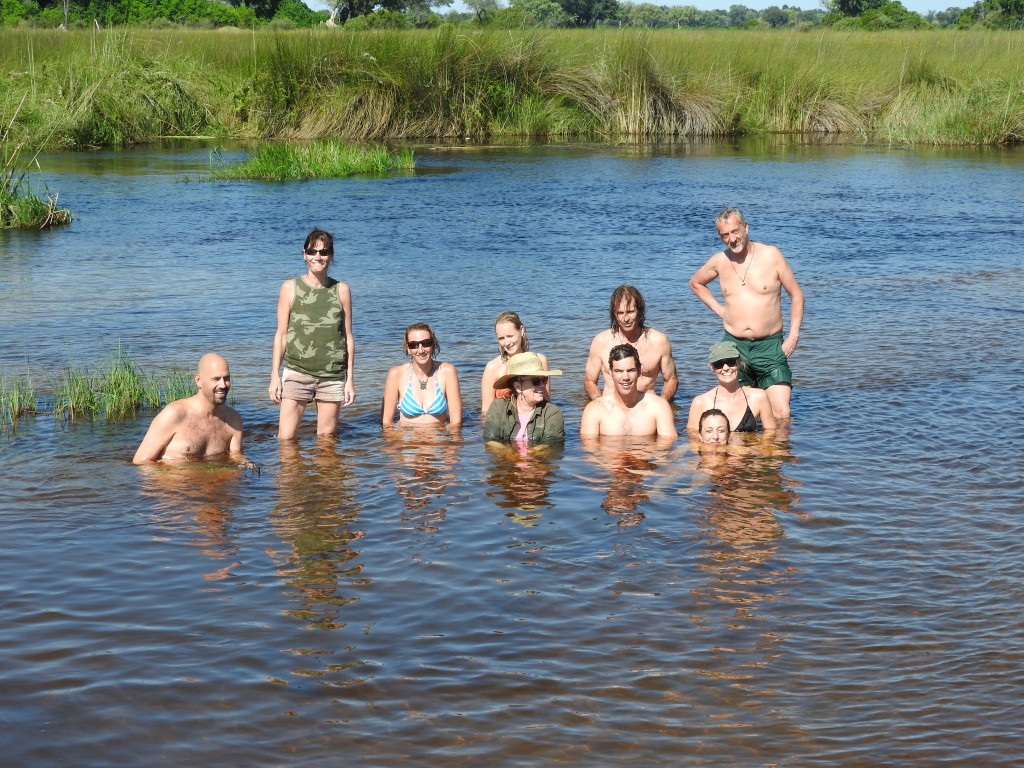 Day 4 our Delta experience was over and we flew out to the openness of the Makgadikgadi Pans.  Our home here for 2 nights was in the most feminine of all 3 Uncharted Africa camps, San Camp.
You have a choice of 3 camps all meeting 3 different styles and budgets, whilst you can all enjoy the same activities.
Camp Kalahari situated further back in the grasslands is the least expensive of the 3 camps. It is currently  raising all the tents, to allow the breeze to blow through and give you more of a view of the Pans.
San Camp being the lady of the 3, situated on the edge of the pans themselves is seasonal and only operational from April to October.  Its white tents on the edge of the pans gives you the true feeling of being on the moon.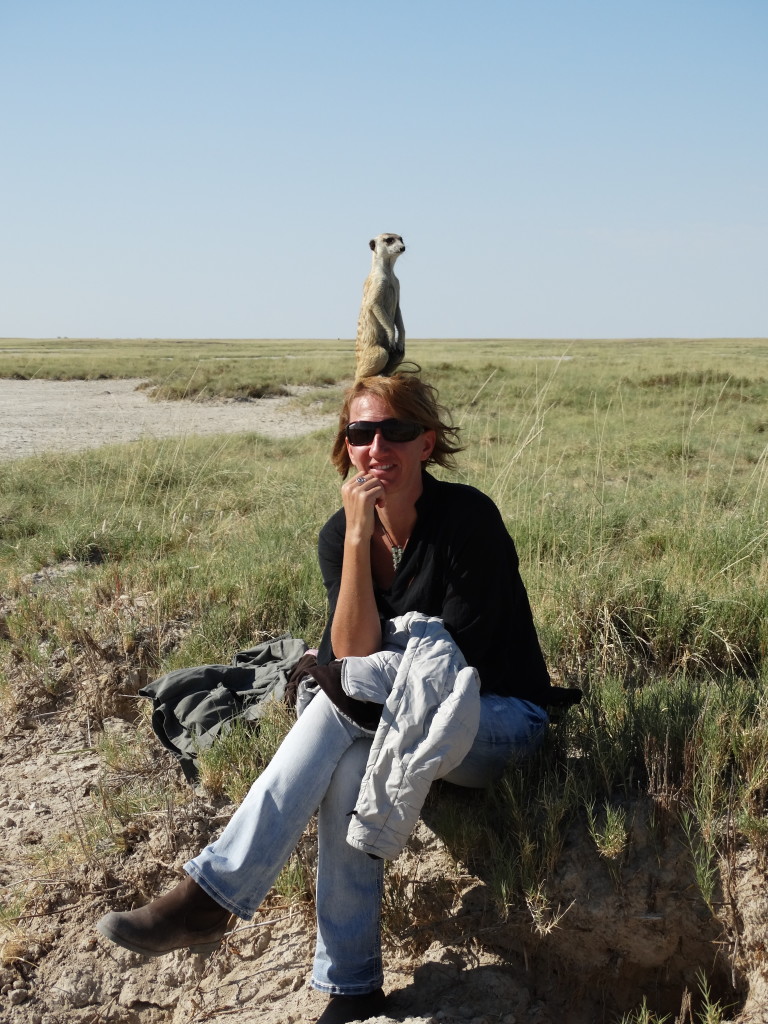 Jacks Camp, this colonial and historic camp based at the edge of the pans but slightly back into the grasslands is the grande-dame of the three.  Packed with history and science with their registered museum, it does look fabulous after the completion of its refurbishment.
One thing to mention on the activities, is all 3 camps run the same activities on a rotational cycle so that guests from 2 different camps don't do the same activity together.  This is the reason that a 3 night stay in the dry season is recommended to be offered the surprise sleep out (weather dependant).  Activities include a cultural bushman walk, game drives looking for more adapted desert species, quad biking in the dry season, following and interacting with the very comical habituated meerkats, horse riding as an optional extra and watching the sun set where it is so silent that your ears ring.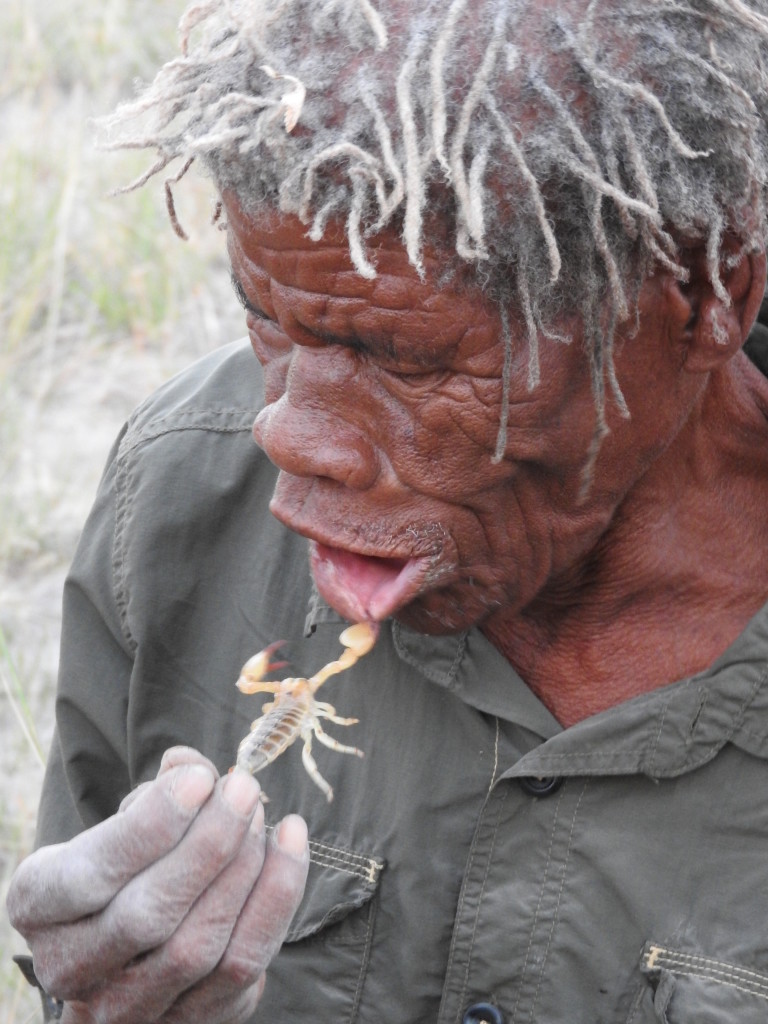 A safari to the Salt Pans is such a unique experience, from the Zebra migration in the Green Season to exploring the pans on quad bikes in the dry season, it should not be missed.
When I arrived in Maun a few years ago I didn't plan on getting involved in the tourism industry. Now 6 years and over a hundred camps later, I admit I changed my mind … Botswana infected me with the famous Safari Bug (as all safari goers know, there is no cure for it)!
Safari was a completely new terrain for me and my compassion towards safari tourists was, honestly spoken – really limited. What value would a safari provide, that a journey to a picturesque beach where people can relax in the sun while watching the waves in the ocean, couldn't? But life proved me wrong: I figured out quite quickly that safari is more than getting up REALLY early and sitting in a loud, open and sometimes VERY COLD vehicle. Safari is a passion, it is a life changing experience. And yes it has to offer much more than just lying in the sun getting a tan….
I can tell many stories I experienced during my time at Safari Destinations: being caught in a tree house in the delta (because of a hippo-grassing-blockade underneath), watching a puff adder attacking the wheels of our vehicle, escaping from charging elephants in reverse gear, nearly bumping into a hippo's bum on a night drive, watching an angry lion with his mouth wide open on a game walk, an elephant rubbing his skin on the canvas of my tent (lying inside begging that he doesn't lie down)… just to name a few of my adrenalin-powered moments on safari. But at the same time I also had many touching sightings: a wild dog den with month-old puppies learning how to hunt a vulture, a relaxed elephant shaking palm trees to get nuts from the treetops, a lioness grooming her cubs, a blacksmith lapwing hiding its chicks underneath its wings (at first you wonder why the bird has 6 feet..), a leopard lying on display in a tree just for you to get a beautiful photo, a Sitatunga antelope in the middle of the reeds watching us on a boat cruise and finally, the myriad colours of the most beautiful sunsets on earth.
Now I understand the safari tourists: it's not just about the adventure, it's being surrounded by unspoilt nature while watching beautiful animals in their homes. When you are on safari you start to acknowledge that there are still paradises out there, where time, status & performance don't count. It's more about being in harmony with yourself and nature and the wildlife.
I've been to 107 camps and have seen pretty much every corner of Botswana (and a bit of Zimbabwe). Personally, it doesn't matter if you have a private pool, a fancy 6 course dinner or if you get your cup of coffee delivered to your room in the morning. What makes a safari memorable is being in the wilderness, smelling the bush, listening to nature and absorbing it with open eyes.
Many people will never have the chance to experience such wonders while they are stuck in big cities with millions of people and no opportunity to see true beauty. It's up to those of us who are privileged enough to experience such wildernesses to tell people about them, encourage them to travel and keep them safe for the next generation.
"THERE IS SOMETHING ABOUT SAFARI LIFE THAT MAKES YOU FORGET ALL YOUR SORROWS AND FEEL AS IF YOU HAD DRUNK HALF A BOTTLE OF CHAMPAGNE – BUBBLING OVER WITH HEARTFELT GRATITUDE FOR BEING ALIVE".  Karen Blixen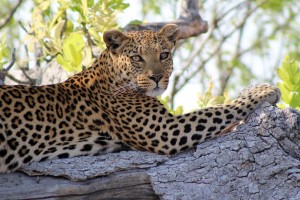 Pom Pom Camp, western Okavango Delta
Last weekend Jessica flew to Pom Pom for a quick 1 night stay to check out the lodge.  Here is her feedback:
Pom Pom is only a short five minute drive from the airstrip. The large main area is really cool, which helps during the hot days. All the tents have a great view over the river and buffalos come very close. The rooms are fantastic. We loved the colors and especially the white curtains in the tents, which we have not seen before. The hot outdoor shower is really big and the water pressure is perfect. Coffee and tea is being served in the tents at wake up time, which makes it really nice to get up.
Activities/ Guiding:
Our guide Rex, very nice and friendly guide met us and took us on the evening  game drive. Our plan was to find lions, we saw fresh lion tracks and followed them. We drove for about 38km trying to find this male lion and while doing that we saw  lots of animals just to mention a few, impalas, red Lechwe, Kudus, wildebeest, Duiker, Giraffe, Tsessebe, buffalos, lots of birds. It was getting a bit late so we stopped for our sundowner drinks. As we set up the table we heard him roaring, so we jumped into the vehicle, left the drinks there, drove off and he was about 150 to 200 m behind us, lying there calling for his brother. What an amazing sight. Rex our guide was not willing to give up on the lion hunt which was great, so our long drive and hunt was paid off eventually. It was so wonderful to hear him roar just about 4m away from the vehicle. The brothers met and it was a phenomenal way to end the evening.
On our morning game drive it was time to find a leopard. Rex took us for a leopard hunt, we saw a lot of animals while on the hunt. We finally found the mother leopard with two cubs but we could only see the one cub, since the other one was hiding. That was just incredible, wonderful game drive. Back on time we dropped two clients at the airport and kept on going on a game drive for about 40 minutes before heading back to camp for brunch.
"People come to Chobe for the elephants, but I say this is one of the best places in Botswana to see giraffes" says James of Chobe Game Lodge.  Whatever you want to call them, a tower, journey, aggregate or corps there's no doubting we're seeing plenty. 'I must've seen at least 180 on a game drive the other day, it was incredible.  You'll often see more of them than the elephants."

I still vote that Chobe is the place of the Elephants.  Eleven year old Emma sitting in the vehicle next to me agrees, so we put a bet on it, splitting our game drive into two camps.  Emma and I sit on one side of the debate, scrambling to tally up elephants as her parents and James count off giraffe wherever they spot a head sticking out from behind trees.
Emma is a star at running our mini elephant census and she doesn't miss a trick.  Breeding herd.  Eight.  At least.  (we add one or two more, just in case we've under-counted by a few legs).  Emma's parents up front are pointing at a giraffe behind a tree, but as we shift our focus to the tree line beyond it becomes two; then three, then four…  This is the thing with giraffes, there's always more.  Having all that height equals an impressive range of vision.  Giraffes can spread out in the bush and effectively keep an eye out for predators.  It seems there are always more on the horizon, slowly chewing leaves and adding themselves to the scorecard.
I won't admit it, but I'm feeling a slight sweat coming on.  I whisper to Emma that we need a distraction as I spot more giraffes coming up on the left.  "Oh WOW!' we exclaim, waving our arms for attention 'what's that on the RIGHT?!  More ELEPHANTS maybe?"  It doesn't work.  Team giraffe are busy counting and suddenly they're in the mid twenties.  This does not look good.  I point feebly at a bush 'oh look, more elephants!'  I say, substituting real sightings with fake ones.  'No wait!' Emma says stopping me, 'there really ARE elephants!" and sure enough, another breeding herd.  Add twelve.  Team elephant is closing the gap.
The afternoon seems to have passed in five minutes.  We realise we've ignored the multitudes of impalas, waterbucks, buffaloes and, more importantly, the start of a sunset slowly melting across Chobe's over-filled floodplains.  As numbers climb into the thirties on both sides, James calls a truce and suggests we make peace over G&Ts as white-faced ducks socialise next to us by the floodplains.  It's a tense detente, but one that Emma and I finally agree is necessary to save team giraffe from embarrassment.
Later, I'm joining my aunt on her first ever game drive with Connie, one of the Chobe Angels.  A few minutes in, we start with the basics.  "This is an impala' says Connie 'you can tell the difference between the males and the females because the males have horns."  It's easy to get blasé about impalas when you've been on a few game drives, but my aunt is captivated and Connie really eases her into the bush experience.
The pace builds quickly when we turn a corner and find a leopard chilling out in a tree, the blue of the Chobe River spread out behind him.  I start telling my aunt how lucky we are when we drive on a little further and find a pride of nine lionesses strolling along the water's edge.    My heart stops in my throat as a big male kudu walks right at them and the lionesses slink down in the grass.  With less than two metres between predator and prey, a lioness springs up and the kudu's instinct to survive kicks in.  He bolts off across the floodplains, throwing up bursts of water and sending birds shooting into the air.  Lucky for the kudu, these girls are still young and haven't fine-tuned their hunting skills yet, despite putting on an impressive show.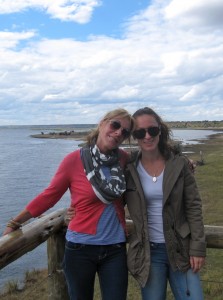 When I begin telling my aunt how lucky we are again, two leopards in a tree appear and I suspect she thinks I'm having her on.  One of the leopards has an impala up the tree and is busy snacking as the sky begins to grow dark.
We head back to Chobe Game Lodge in the fading light, excitedly going over the events of the afternoon when Connie delivers again, spotting five lion cubs sitting in the dust.  Their mothers are gone, probably looking for dinner, as the young cubs watch us from only a metre away.  We've already taken plenty of photos.  This is one of those sightings better enjoyed without a camera and committed to memory instead, as the light runs out on the day.
Where to stay in Chobe
Chobe National Park is Botswana's busiest due to its ease of access from Victoria Falls and via Kasane Airport without requiring any onward charter flights.  Where travellers stay in Chobe will seriously alter the kind of safari experience they receive, whether it's a town stay with park access for activities, within the park itself for a complete bush setting, or a river-based experience in the Caprivi Strip.
KASANE
Properties in Kasane are typically bigger hotels booked on packages with a set amount of activities and meals, often excluding drinks.  These are the most affordable options for exploring Chobe and activities are often out-sourced to third party operators with no guarantee you'll have the same guide each time.   Most Kasane hotels are on the river with their own jetty for boat cruises, though neighbouring hotels share the same route, making them the busiest departure points for getting on the river.   For game drives, guests drive approximately 20 minutes to Sedudu gate and queue for entry with vehicles from other hotels.  The result is that game driving into the park from Kasane results in a busier game drive experience, shared with more vehicles but often at a much more favourable nightly rate.
Kasane Hotels: Chobe Safari Lodge, Mowana Safari Lodge, Chobe Marina Lodge, Chobe Bush Lodge.  Smaller lodges in the area include Kubu Lodge, Chobe Bakwena, Chobe Chilwero and the Old House.
CHOBE NATIONAL PARK
Staying inside the national park creates a much more relaxed safari experience as you can start your game drives earlier and drag them out later, all the while staying in bush (rather than town) surrounds.  Being inside the park also means being the first on the roads looking for sightings in the mornings and the chance to pick up animal tracks on the road before they're covered over with tyre tracks from vehicles.  Chobe Game Lodge is the only permanent lodge inside the park and the only place in Botswana where your boat cruise starts within the park, avoiding the boat traffic from Kasane.  A mobile safari is another alternative for staying within Chobe National Park and experiencing the bush surrounds.
Chobe National Park: Chobe Game Lodge, Chobe Under Canvas and Mobile Safaris (ie. Letaka, Bush Ways)
NGOMA GATE
Lodges on the Ngoma side of Chobe enjoy a bush setting (an hour from Kasane by road), elevated views over the Chobe floodplains and a short transit to the Ngoma gate for game drives.  Although these lodges are outside the park, there are only three on this side of Chobe, meaning you avoid the queues at Sedudu Gate on the Kasane end of the park.  Animals are often spotted directly from the lodges and short night drives are possible in the vicinity immediately around the lodges, due to their location outside the park.  Lodges in this area operate their boat cruises from Kasane Town.  Due to the distance involved, cruises are normally mid-morning (when the river is quieter) as part of a longer day trip through Chobe National Park.
Ngoma Gate: Ngoma Safari Lodge, Muchenje Safari Lodge and Chobe Elephant Camp.
CAPRIVI STRIP/CHOBE RIVER
Staying in the Caprivi is all about experiencing the Chobe River by boat.   To stay in the Caprivi, you'll need to check-in to Namibia even though you'll share the water with boats from Botswana.  There are three options: lodges on Impalila Island, houseboats and Chobe Savanna Lodge.  Lodges on Impalila Island are very close to Kasane, meaning that there's no advantage location-wise for beating Kasane's sunset cruise fleet.  Lodges here are in a prime position for fishing, being close to the rapids and also for birding with quite a few small heronries around the island.  Houseboats moor at various positions on the river opposite Chobe National Park, and benefit from less surrounding boat traffic.  The houseboats use smaller boats for cruising guests up and down on the Chobe River.  There are smaller houseboats with four to five cabins as well as the larger Zambezi Queen.  The Zambezi Queen is quite large, running on set departures, meaning guests stay with the same group for the duration of the two or three night cruises.  Chobe Savanna Lodge is situated across from Puku Flats in Chobe National Park from where buffalo, elephants, giraffes and hippos are often spotted directly from the lodge.  Savanna also enjoys the benefit of a more exclusive river experience being located further into the park.
Caprivi Strip: Pride of the Zambezi, Ichobezi, Zambezi Queen, Chobe Savanna Lodge, Impalila Island Lodge, Ichingo River Lodge.