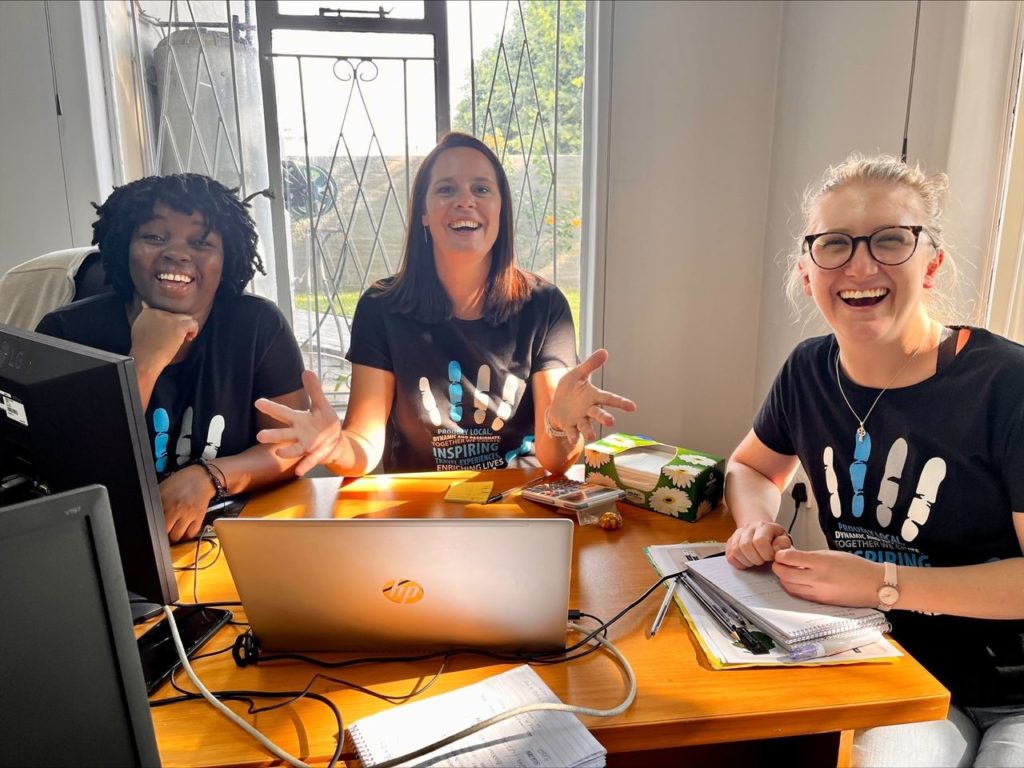 Our reservations administrators, consultants and team leaders come from all walks of life with varying degrees of readiness for a career in reservations but ultimately share one common goal: a passion for creating the holiday of a lifetime in Botswana. Our business is built on our relationships with our agents and our suppliers. This is no different in the relationship between team leader and her teams (yes, all our Reservations Managers are women) and the consultant and his/her administrator/s where the nurturing of potential into expertise is taken very seriously.
And so it should be, as the administrator of today, fresh out of university, is our consultant of tomorrow. This is not only about growing tourism in Botswana, but about our success and sustainability as a business. Developing destination, supplier and consulting expertise is done through a tried and tested model of formal training, one on one on the job training and rigorous feedback processes.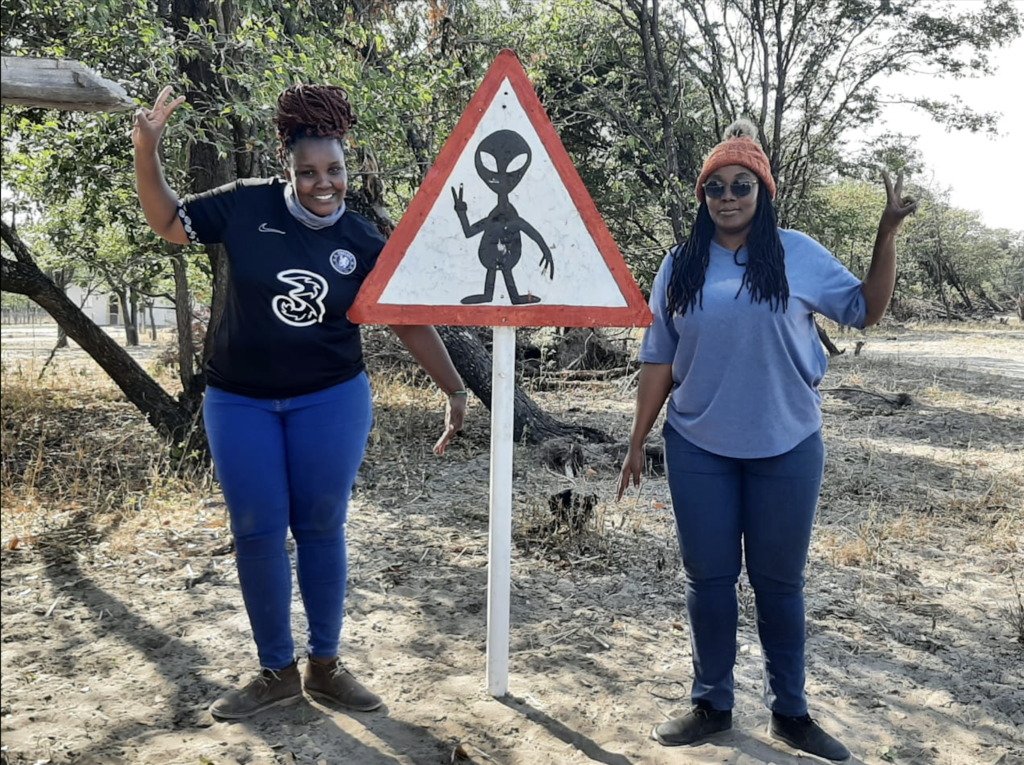 Formal training includes induction for the newbies (as we call them) on our processes and technology as well as ongoing destination and supplier training for the more experienced staff. This may include visiting local establishments on what we call educationals, designed to introduce our staff to the various properties they are selling, how these properties compare with each other, what properties suit which kind of clients as well as how to combine properties into an exciting itinerary. Our suppliers regularly pop in to keep staff up to date on developments. Most recently this included Bushways erecting tents in the office garden to give our newer staff a feel of the tents and amenities. Our consultants (as well as consultants in training) also participate in itinerary training where they are required to put an itinerary together to a specific scenario. Individual itineraries are critiqued by the group, exposing staff to different ways to think about an itinerary, seeing different combinations of properties, encouraging them to not only sell their tried and tested. All of this aims to achieve our vision of creating inspiring travel experiences for our agents and their clients. Our newest development has been the updating of our meet and greet training for our newbies. This training is designed to help staff develop the knowledge and skills to offer the critical ground handling services we extend to our travellers.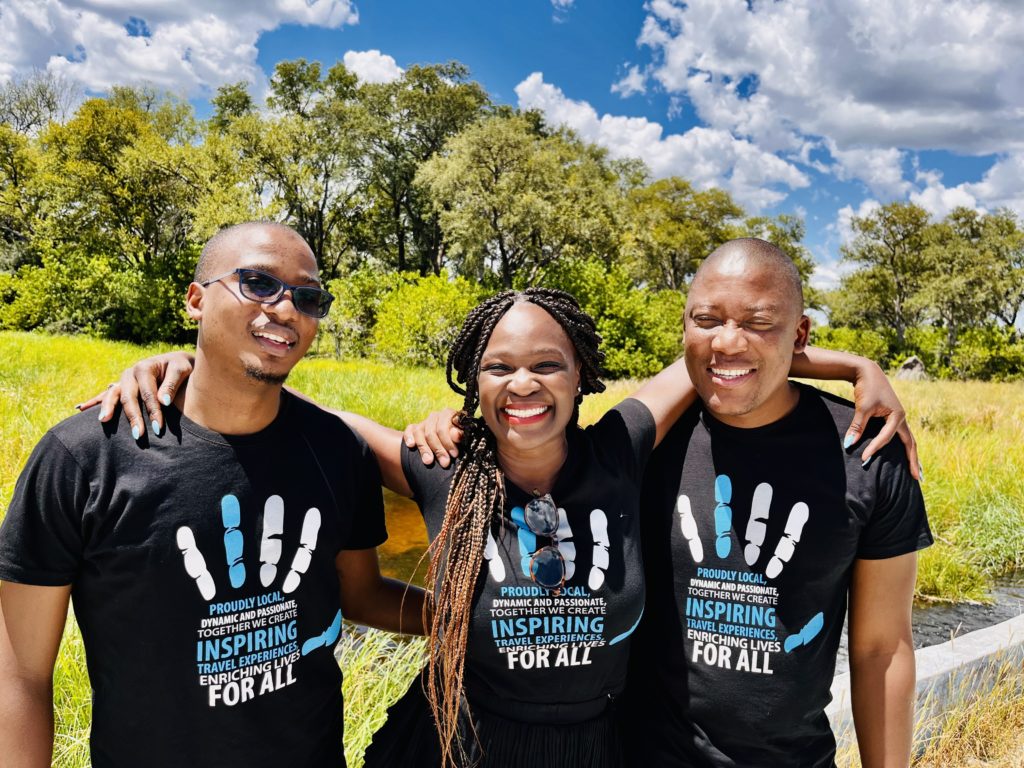 Beyond formal training, one on one job training together with ongoing feedback through regular desk checks and bi annual performance reviews ensure our staff get the necessary affirmation on where they are doing well and advice on where they can improve. This helps our staff prepare for promotion up the reservations ladder. All of our team leaders, who are home grown having been consultants at SD, have also received management training. Just over half of our consultants are Batswana who have been trained, developed and promoted via these learning and development strategies. Our newest crop of consultants, promoted in October 2022, are Lisa, DK and Kea S (the S is very important as we have three Kealebogas on the team). These Associate Consultants as we call them, are currently working closely with their team leaders in developing their consulting and destination expertise. In the last month, they have all started working with an administrator and are now engaging in supervisory training to support the new skill set required. This will prepare them for promotion to the next level of consultant namely, Intermediate Consultant. From there is upwards to Senior Consultant.
Structures and criteria for advancement are clearly articulated and transparent to staff allowing them to see the potential for growth and their career they have at Safari Destinations. Our HR Manager, Sarah likes to say "We don't hire people for jobs at SD. We hire for careers''.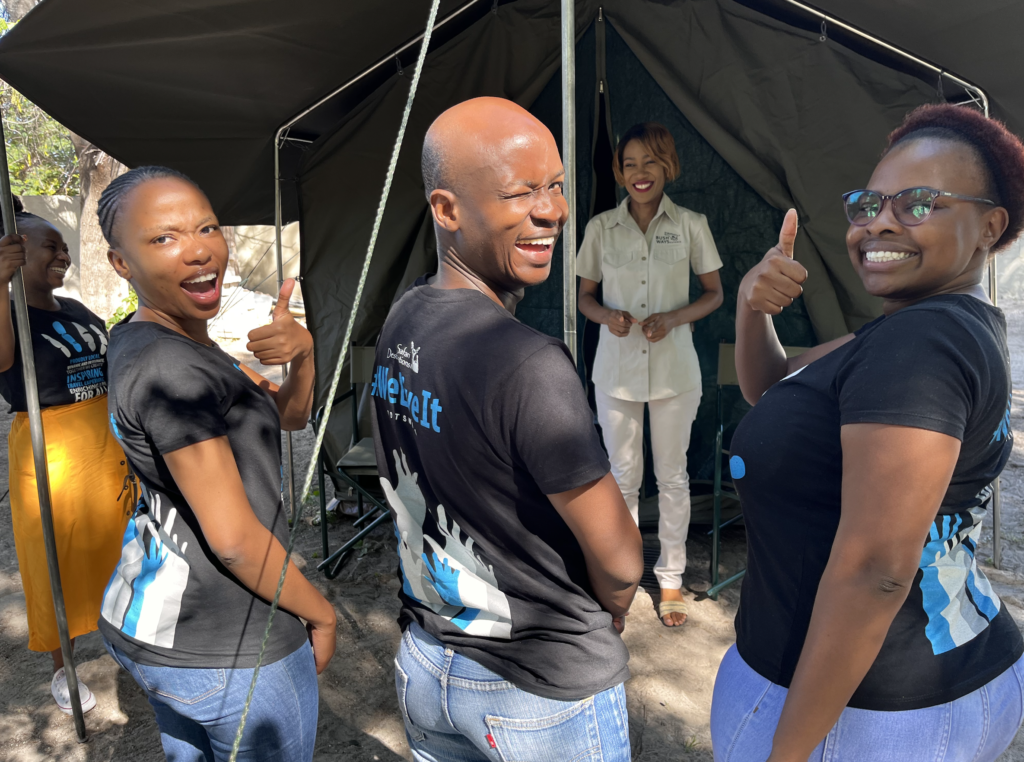 Our support staff's training and development is equally important as that of our res staff and skills training specific to their disciplines as well as supervisory and management training is also vital for this collective. Similar performance processes are followed.
Development is one of the core values of Safari Destinations and is a value that we believe needs to be in evidence, every day. Our vision is "Proudly local, dynamic and passionate, together we create inspiring travel experiences, enriching lives for all.'' We believe our learning and development strategies at SD are a key contributor to achieving this vision.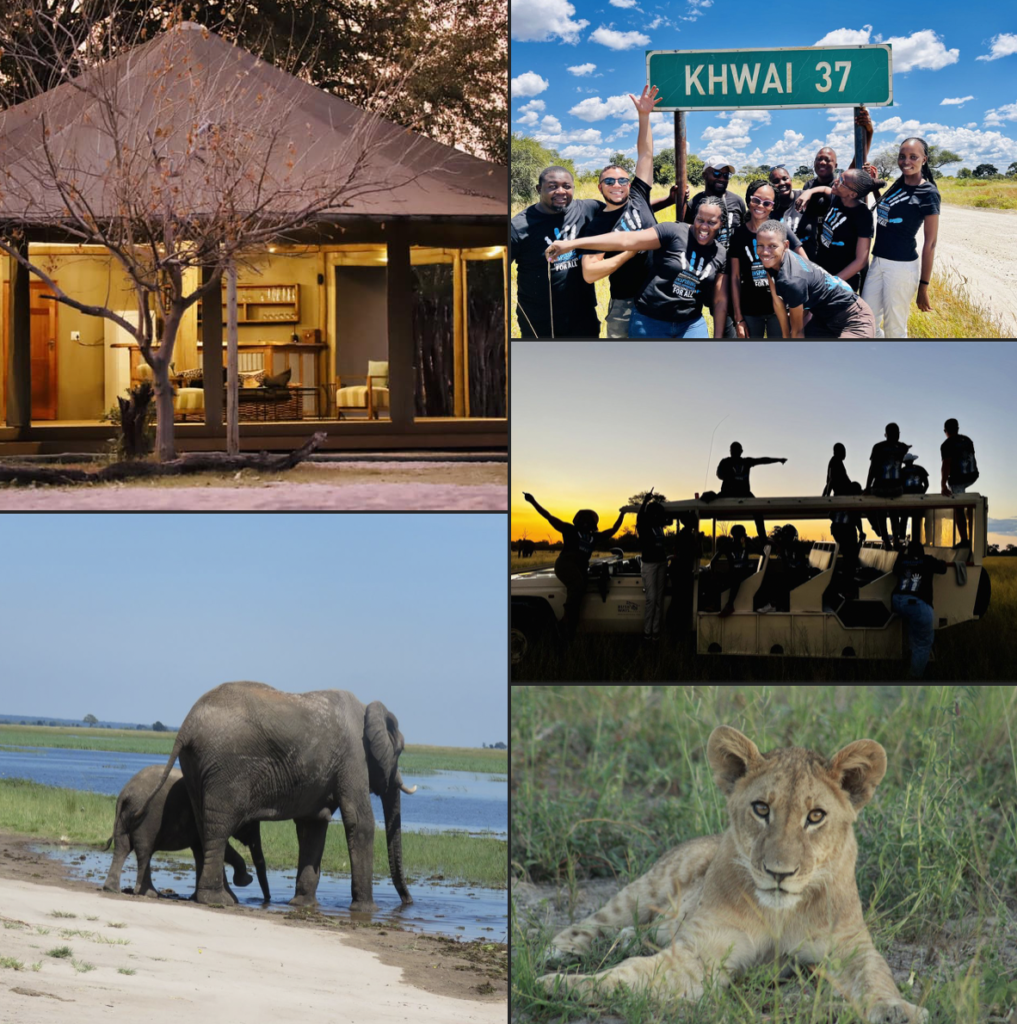 Be prepared for the safari of a lifetime. Hwange is an amazing destination due to its diversity of landscapes, experiences and activities. There is, however, one constant throughout: the superior guiding standards! Zim is known for its phenomenal and, dare I say, legendary guiding. This is brought about by some of the strictest and most vigorous guide training in Africa.
It takes years of training, dedication and (financial) investment before one qualifies as a professional guide in Zimbabwe, which guarantees you guides who are passionate about what they do. You'll be hard pressed to find a question they can't answer or a topic they aren't willing to discuss – I know because I tried on my last Hwange safari…
These professional guides also offer a most welcome alternative to the usual game drive activities in the form of walking safaris, which are an absolute highlight when visiting Hwange. Many lodges have a professional walking guide in camp to offer exactly that and it needs to be experienced to be believed: there really is no better way to experience the bush then up close and personal in the trusted, experienced hands of your (armed) walking guide. Before embarking on a walking safari, they ask what type of walk you'd like: big game encounters, interpretive walks or exercise walks but most often it's a combination of all three catered to clients' wishes. No matter what landscape or which habitat you're walking through – be it the teak forests, open grasslands or granite kopjies (hillocks) abundant in Hwange – your guide will make sure you feel safe at all times while learning so much about the environment you're in.
Hwange is not only ideal for walking it also excels in offering a different perspective on game viewing: from ground level looking up at elephants drinking metres away from the safe surrounds of an underground hide. Hwange has close to 50 000 elephants and, especially in dry times, they dominate the waterholes (when not slurping from the lodges' swimming pools), making game viewing and photography from an underground hide an experience not easily forgotten.
As if superb guides, walking and underground hides aren't enough, Hwange also offers horseback safaris both inside and outside the park, thereby combining big-game viewing with an immersion in the incredibly rich Zimbabwean culture found in villages and settlements.
Another reason to spend time in Hwange is its ease of access; whether coming from Victoria Falls (by road transfer or short flight) or from Botswana, Hwange is an ideal safari destination. A little hidden gem is the Pandamatenga border crossing connecting Zimbabwe and Botswana. This is the closest border post to Hwange National Park and an absolute pleasure to experience. Officials on both sides of the border are super-efficient, very friendly and, best of all there are no queues, so you're in and out in five minutes! Once through immigration, the game viewing starts the moment your visa has been stamped in your passport due to the adjoining game management area that lies on the northern boundary of the park. Our Best in Travel in Zimbabwe offers plenty of itineraries that include Hwange. Here is an example which travels via the above mentioned Pandamatenga border post: 12N Zambia – Zimbabwe – Botswana Safaris (also ideal for family travel).
Most suppliers have already confirmed to freeze their 2020 rates for 2021. Contact your Safari Destinations consultant for more information.
It is pretty special when you take your first aeroplane flight. But when your first flight is in a caravan, flying over the Okavango Delta, on your way to Khwai, there is something extra special about it although it can be something of a scary, bumpy ride. For Resego, she was excited at the thought of flying. "I was looking forward to seeing the earth from a bird's eye view". Resego received lots of advice: "Kay told me to remember my pressure points if I felt air-sick. I did but it didn't work! Helmie advised that I should get some ginger ale but with the excitement and nervousness, I forgot. Lisa told me to drink water before the flight but I was worried about having to use the bathroom once we took off, so I ignored that advice. Amandine's advice: keep swallowing to unblock your ears, that worked. I was super excited when we took off". And the actual experience? "Ten minutes into the flight I wanted to jump off! My tummy was in knots, I was nauseous and my ears kept blocking. The flight being bumpy didn't help either. It was the longest thirty minutes of my life. I kept telling myself that I was on a bus to Gaborone and the bumps were the potholes. This seemed to work for a while but as soon as I looked outside, that illusion disappeared. As I felt the Mack air caravan getting ready to land, I breathed a sigh of relief. After getting off, a bottle of water helped ease my nerves and I was good as new again.  I am thankful my first flight experience was with people I consider my SD family, as they helped me through it."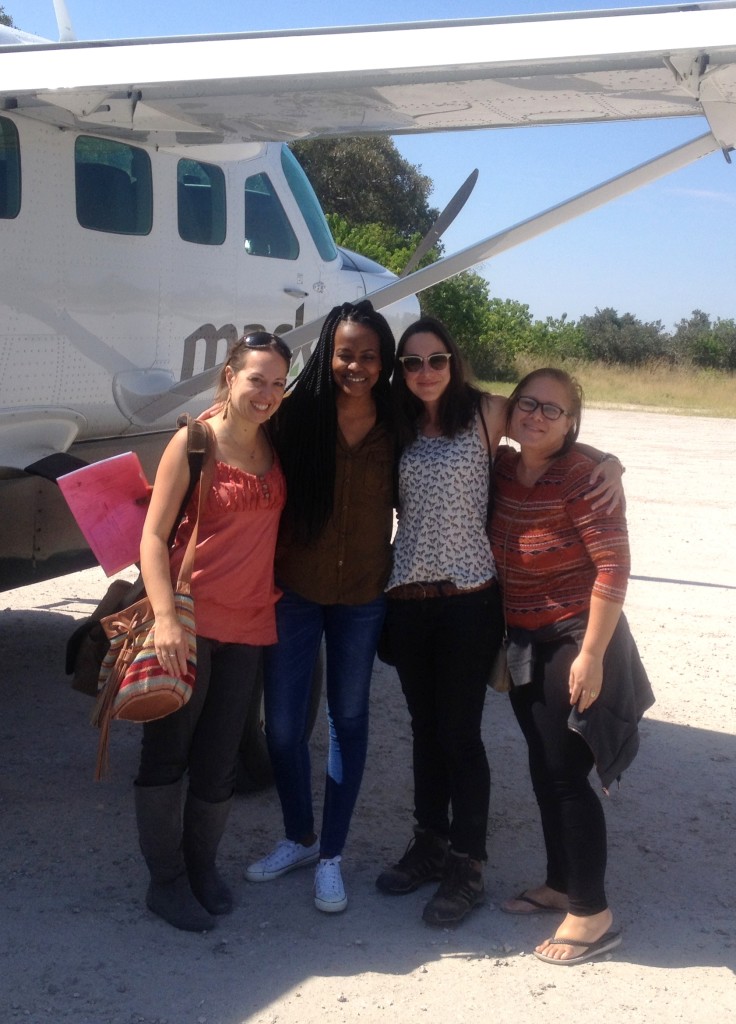 This trip was also Resego's first educational ever.  With nights at Little Machaba and Khwai Tented Camp plus site inspections to Kwai Guest House, Sango, Khwai River Lodge and Machaba, complete with all the activities on offer, Resego was immersed in the Khwai experience. Visiting together with a more senior consultant, meant that Resego was able to learn from Gen's experienced eye and put the properties into perspective.  Resego commented: "I got to see first-hand how busy Khwai really is and experience the importance of starting an itinerary with a lower end property and ending with a high end one. The personal highlight was the mokoro as I have always wanted to do that".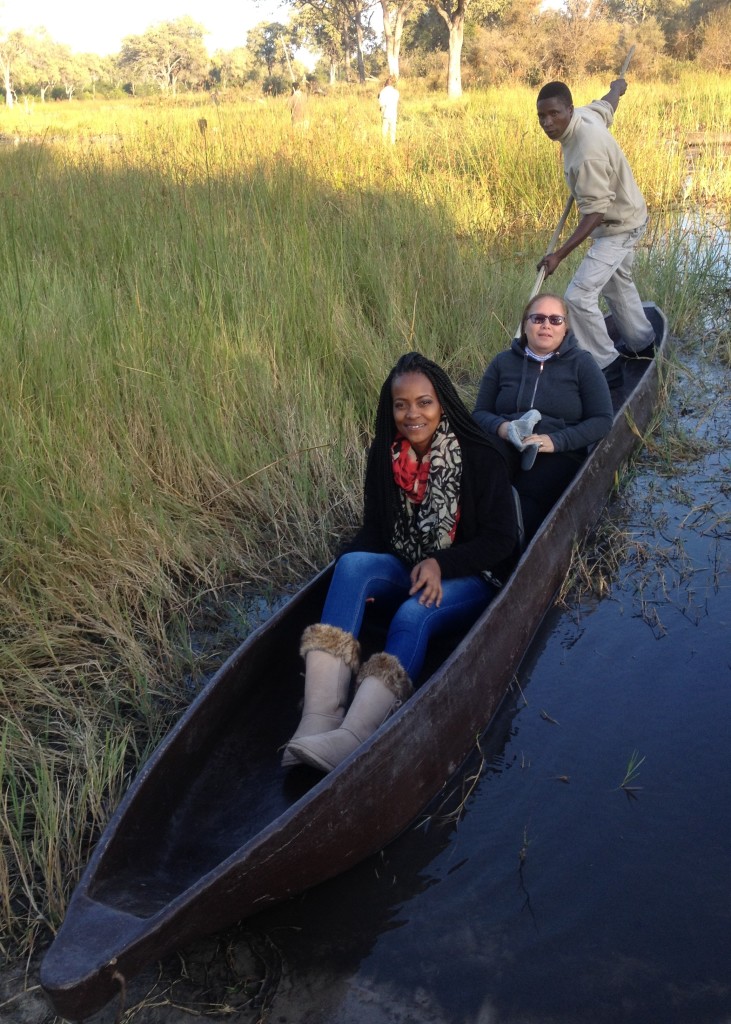 These first-time experiences are because Resego has recently been promoted to Associate Consultant. For the first time, she will be allocated her very own agents, creating her own itineraries and experiencing the pleasure of a confirmed booking.  Fresh from the University of Botswana, with her Honours in Tourism Management degree in hand, Resego joined the Safari Destinations' team two and half years ago. In this time, Resego has teamed together with other consultants, working directly with suppliers learning about their camps, rates, activities as well as about Botswana as a tourist destination.  Resego is just one of many such Motswana graduates being trained as part of SD's staff development programme.
As a new consultant, Resego will continue to be supported and guided by her team leader, Karen Reed, who has over 20 years of experience in the travel business.  Key to the training of our consultants, is the visiting of numerous properties that Safari Destinations sells to our agents. These educationals with a night at certain lodges and site inspections to others, ensures that our consultants get to feel the vibe of the camp, interact with the staff, taste the food, ride in the mokoro, experience the guiding: the stuff that the travel brochure does not tell you, giving our consultants unique insight into the camp and what it has to offer. All this translates into better product knowledge to be shared with our agents.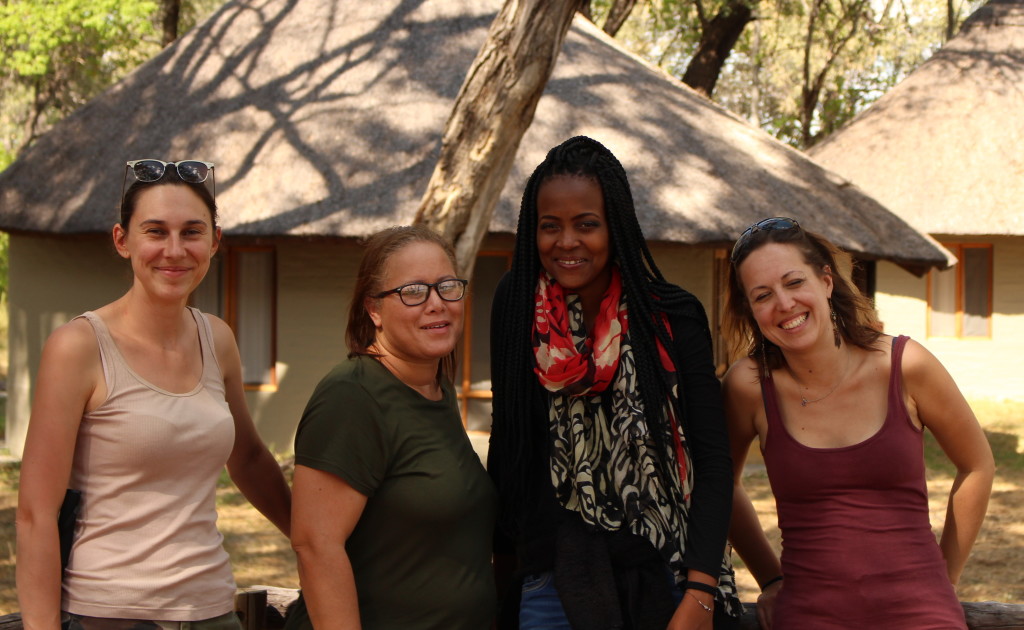 The SD family is very proud of Resego's achievements. Kay, our Reservations Manager, has been working closely with Resego for the past year. She had this to say about Resego and her going off on her first educational and flight: "To be honest I feel like a mum, watching her kid go off on her first day at school, very proud … I am sure that Resego will take the confidence we have placed in her and run with it …" Or is it a case, of flying to new heights?
Safari Destinations is about family. It is the people that share our daily lives, and who we have grown to love and cherish. With our SD family, we create memories, share good times and help each other through the tough ones.
Some of those good times are celebrating the birth of the children to staff employed at Safari Destinations. At last count, it was 17 in total with another 2 on the way! Close to 50% of all our staff are parents. This is why lift clubs, meal arrangements, play-dates, "Hello Aunty Sarah" as well as kiddies' laughter and tears are the order of our day.
We all know that total commitment describes our women here at SD. Many years ago when Lorraine and Andrea were still breastfeeding, critical Globetrack training had to take place. So, it all happened "behind the scenes" while the (male) trainer continued his training. He had strict instructions to "Don't turnaround!"
While 80% of our staff are women, we believe that fathers are just as important as mothers. This is why our Dads get paternity leave with the birth of each child.
Our latest recruit is beautiful, little Paige, born to Senior Consultant, Mia Ives. Once Mia returns to work, as a first time mother, she will have the support and understanding of the Managing Directors, Carina and Lorraine as well as the many women here at SD who have walked the path of managing family and work.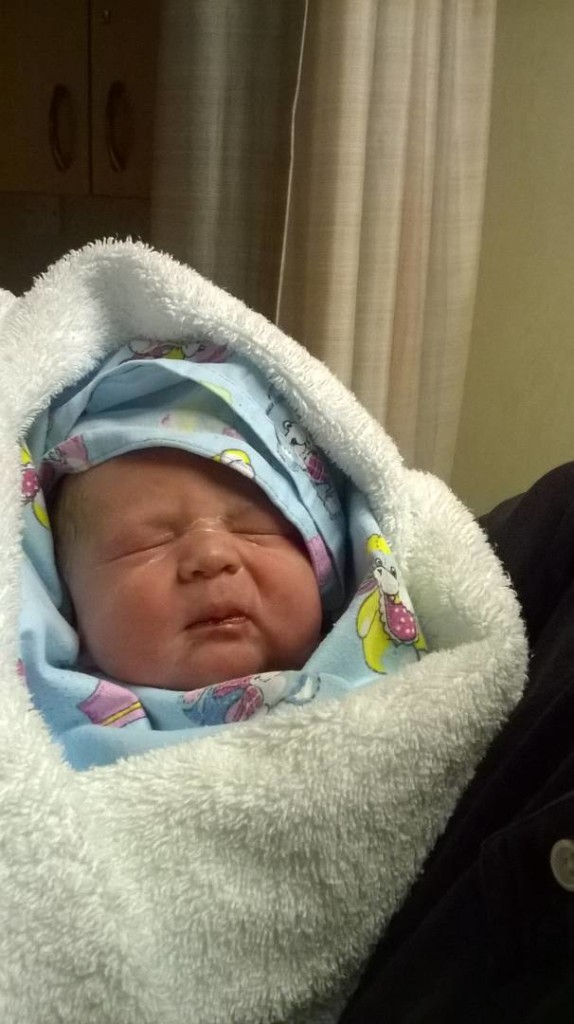 We are sure that our readers are also interested in our in-house training and how we develop our staff:
While many companies claim that their staff are their best asset and that the development of talent is a key strategic priority, it is rare to find a company where this philosophy is lived out on a daily basis. All too often the development of staff is a task undertaken when "we have time".  In my experience, things are different at Safari Destinations (SD). Staff development at this small but dynamic company goes beyond being a necessity for survival in a developing country with a small population and limited skills.
It is a matter of success and a source of pride.  As the new HR Manager at SD responsible for driving the staff development agenda, I have often heard the following from Lorraine Potter, one of the Managing Directors of SD: "This is a learning opportunity. This needs to be shared with staff. How can we do this?" I arrived to find weekly training sessions an ongoing practice. Talk of developing the product and destination knowledge amongst the reservation's team is foremost in the minds of management as this is key to the company positioning itself as an expert on Botswana and the experiences available to travellers. Material resources had already developed to support the reservation's staff in acquiring this knowledge and learning about the organisation's processes.
One to one mentoring by a senior takes place with all new staff in this team and has been the practice since the early days of the company.  Informal feedback on performance is inherent in these roles with more formal feedback taking place every 3 months in the first year and thereafter, every 6 months.  A recent development is that staff themselves (and not only management) are responsible for the training of new staff.  This is in keeping with the philosophy that we never stop learning and that while we teach, we learn.  With the rapid expansion of the company and inevitable stretching of staff resources, the company restructured and appointed team leaders in the reservation's team in late 2014. But the values and practices, on which the company was first built, have held strong and are fiercely protected by the two Managing Directors, Lorraine Potter and Carina Grüninger. One such value is the commitment "To constantly strive to learn more about our country, agents, suppliers, our jobs, ourselves and each other".  Transforming this commitment into action requires leaders who themselves actively demonstrate their own openness to learning, are excited to learn from others and make the time to learn as well as create the space and opportunity for others to develop and grow.  This is what I have found working at SD. It is the foundation on which the company has grown and been successful and provides fertile ground for the future for as management guru, Peter Senge says: "The only sustainable competitive advantage is an organization's ability to learn faster than the competition".
For those of you who have not been to Meno a Kwena Tented Camp – a plan must be made to go! It is not just a traditional safari experience. It is a unique insight into how tourism does succeed in embracing community and culture, as well as wildlife and the wilderness, as an integral part of the tourism environment.
We were met by Jeff and other 'Meno' team members at the camp after a brisk 2 hour drive from Maun and we spent the afternoon in camp at the floating hide viewing wildlife. Elephants, zebra, fish eagle and wildebeest kept us occupied and our cameras clicking.  As sunset fell and the landscape transformed into a mirage of colours a rogue steenbok sprang out from nowhere, catapulting us from our seats in a desperate attempt to keep it in eyeshot while it sprinted along the river bank and made a gigantic leap into the river and swam across! We managed to get a photo of it – somewhat blurred, but despite of all our scanning around the vicinity we could not find any evidence of what could have made this steenbok 'jump out of its skin' and into water! Later we were told that there had been a leopard sighting in the area… Meno is definitely a camp that does not require you to go out on activities to be lucky with sightings. That night we also got to witness bush babies playing- chasing each other up and down the trees and the roof of the dining tent!
The next morning we went for a nature walk with Xao and members of his family and village, Xaixai. Any scepticism that I had had prior was immediately and totally eradicated! This was not culture put on a stage – it was natural, interactive, educational and extremely fun. They taught us some games which we played together, as well as song and dance. Besides entertainment, these activities were directly related to enhancing skills and attributes necessary for traditional hunting, care of the environment and family life. We 'walked away' with some great wilderness survival tips, a better understanding of the bushman culture, new friends, some light exercise and very happy faces.
After lunch it was time for a game drive! In the very safe hands of Cell our impressive guide, a short boat transfer along the Boteti River took as to the Makgadikgadi National Park. Our game drive vehicle was waiting for us and within our first 30 minutes we were blessed with wild dogs, white backed vultures, wildebeest, elephant, and getting stuck in thick sand. Being a lady, I found a cool spot under a raintree and equipped with an icy bottle of water and perched on a fallen tree trunk I proceeded to provide moral support to the boys as they proceeded to get the vehicle out of the sand. I even offered them some tips.
We continued our game drive along the western part of the park and the Boteti River and took in more delights with tawny eagle, honey badger, steenbok, giraffe, magpie and more…a portion of this drive runs along the fence /boundary of the national park that was erected to prevent the cohabitate of wildlife and cattle. This was necessary to prevent the spread of anthrax as well as other potentially fatal variables that can negatively affect wildlife, cattle and surrounding communities. This portion of fencing, however, as it cuts the river off from the park and thus access to water for wildlife, has resulted in wildlife forcing their way through the fencing – and not only opening up the fence to the free movement of cattle and wildlife across the boundary of the park, but also sometimes animals get entangled in the fencing causing fatalities.
The surrounding communities have culturally lived a pastoral farming lifestyle and thus access to some part of the Boteti River was deemed necessary for them to continue with their traditional life. However, with the emergence of Meno A Kwena and their close relationship both economically and sociably  with surrounding communities as well as government empowerment initiatives, the  communities now see the benefits of tourism as well as the destruction caused by the proximity of the fencing to the river. As we speak now, it is the communities that are now humming for the relocation of the fence. It is indeed a true sign that communities are'owning' their surroundings and proudly so. We look forward to the news of the movement of the fence. But in essence, visitors do need to be sensitised to this history in order that they may appreciate that change can be a process and that the protection of wildlife and the environment is key to the ultimate goal.
Yet another great experience that Meno A Kwena has to offer is an overnight pan trip. As it is quite a lengthy drive to the pans – to avoid disappointment book a 3 night stay at Meno and indicate that you would like to go there! I experienced the night out with Meno and amongst colleagues and family of Safari Destination earlier this year in June. It is an experience that is hard to describe and unforgettable – I felt like I was floating, with the endless panoramic views – a feeling of weightlessness. I understood then the cliché often used… 'sleep under a canvas of stars'. There is no other way to say it… and don't forget to take your camera to get shots of you looking like you have special powers… but bring your thermals as it is cold at that time of year, and as much as you feel like a super hero when you are there – sadly, you are still prone to the elements… You may even be lucky and see a family of meerkats on your journey. This activity is not possible in the rainy season as the pans are flooded and it is impossible to get near them!
And of course a visit to Meno is often portrayed in photos against the background of a contrast of black and white stripes surrounded by a sea of soft dust… The Zebra Migration! The larger concentration of zebra is best experienced outside of the rainy season- perhaps between June-September (dependent on the weather maker).
Meno A Kwena is a great way to start or end your visit to Botswana and get a feel of the country with its complimentary offering of wildlife, culture and community in an intimate environment.
We have several itineraries that include Meno a Kwena, one of the most popular is our "10 night BEST VALUE Safari", a combination Livingstone, Chobe, Delta and Makgadikgadi. You can download the details from our agent's corner.
Welcome to our new website! We will start uploading lots of interesting stories soon.