Anyone making their way to Zimbabwe's beautiful Victoria Falls will not only find one of the seven natural world wonders but also unique spots for food and drink. We have handpicked some of our favourite 'must visit' options while in Victoria Falls town.
You cannot go wrong at Victoria Falls Safari Lodge's Buffalo Bar for a View, Sundowners & Snacks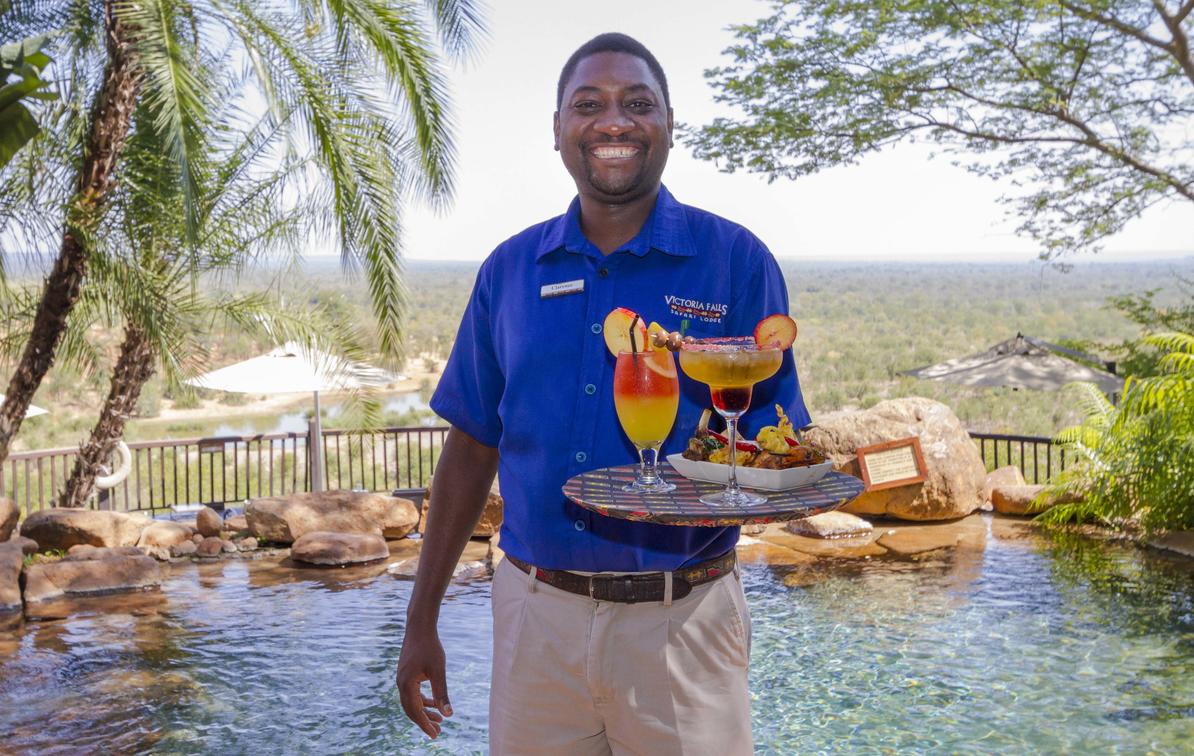 Safari Lodge's Buffalo Bar is perched atop a ridge looking out onto a watering hole where game like to meander through for a drink in the evening. This place offers the perfect start to an evening with a sundowner drink in hand, delicious snacks to pick on and a lovely open deck to sit and enjoy the beautiful landscape before venturing onto dinner.
An unparalleled view of Batoka Gorge at the Lookout-Cafe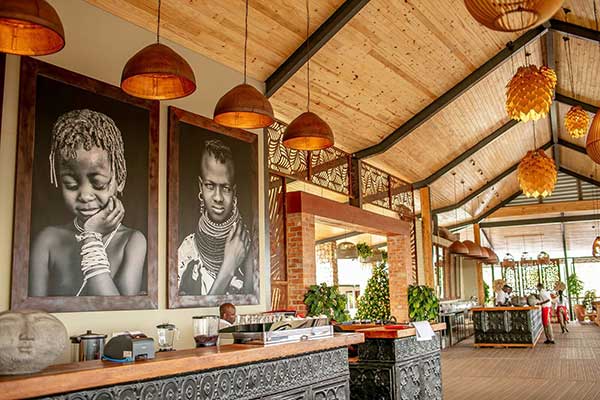 For all lovers of amazing views with excellent food the Lookout-Cafe is an absolute must for either lunch or dinner. It is the restaurant with the most dramatic views built right on top of the Batoka Gorge downstream from Victoria Falls. Guests get fantastic views of the Victoria Falls Bridge with the smoke of the falls in the background as well as vertigo inducing views of the gorge itself – something to behold especially during their famous Full-moon dinners! The Lookout offers a fusion menu with everything from burgers and salads to a delectable crocodile kebab or seared ostrich and glass noodle salad; with the most fantastic cocktail and wine menu to accompany. During lunch you can also visit the activity center and experience a quick zipline or gorge swing between courses!
Fancy gourmet dining at Ilala Lodge's Cassia Restaurant & Victoria Falls Hotel's Livingstone Room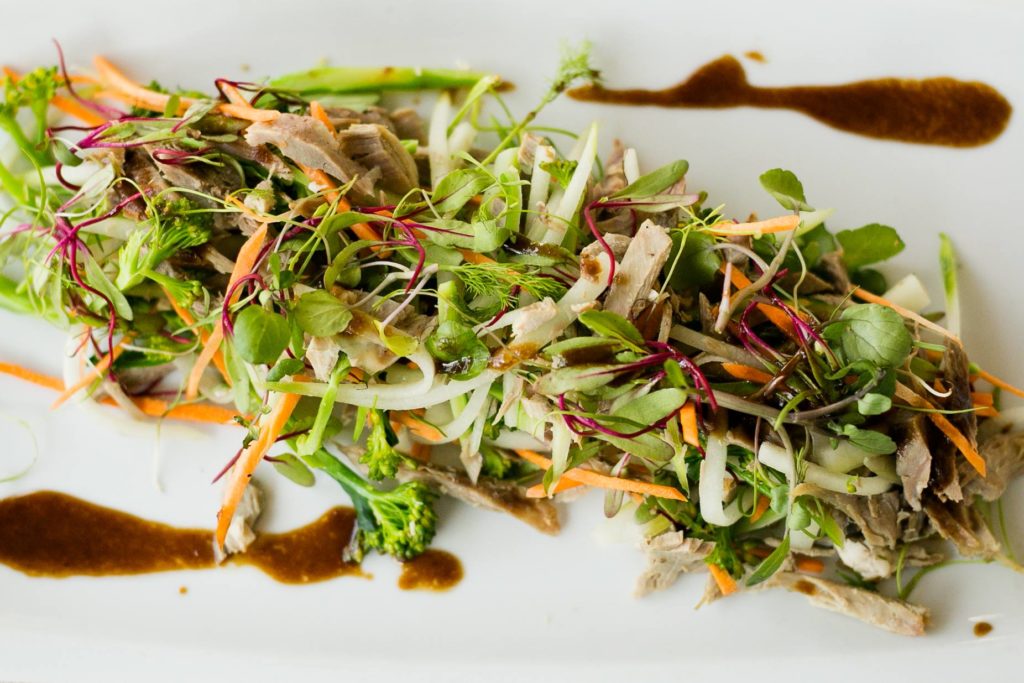 Both award winning restaurants are unique in their own rights with The Livingstone room's Edwardian style providing an opulent dining feel with a smart dress code to match the elegant atmosphere, whilst Ilala's Cassia restaurant has a more al fresco feel with tables dotted beneath two magnificent Cassia Fistula trees – dinner under the stars is hard to beat! Now onto their food, Livingstone room offers a choice of à la carte or a seven-course degustation menu all beautifully plated and served by smiling smartly dressed waiters, it all takes you back in time. Cassia restaurant on the other hand is a little less formal and focuses on a gourmet à la carte menu with a fantastic array of beautifully prepared dishes. This is where you will get that perfectly cooked venison steak or if meat is not your thing a great array of vegan and vegetarian dishes.
Delicious Pizza & old fashioned pub grub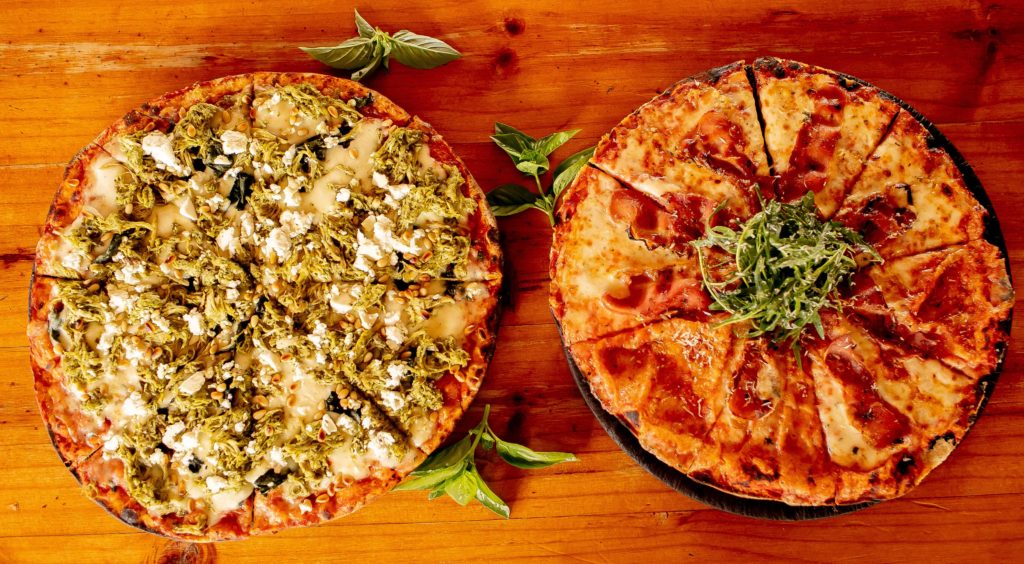 If fine dining is not your thing and burgers, pizzas and good old fashioned pub food are more up your alley then The River Brewing Company and Three Monkeys are definitely the places for you. Both of these establishments never fail to impress with their massive portions of truly delicious food. Three Monkeys have refined the art of great thin crust pizzas that can rival everybody's favourite local pizza hangouts at home. Their cocktails, milkshakes and dessert menus would leave you weak at the knees and their outside canvas covered seating area makes it a great place for either lunch or dinner or just a quick drink on the way down to the falls. Meanwhile the River Brewing Company offers something completely unique in the form of their own array of craft beers brewed on the property by their charismatic brewer Lionel. Live music can often be found on an evening here over the weekend; enjoyed in their outside area whilst munching on anything from tacos to lovingly slow cooked beef short ribs. If beer is not your thing they have a wonderful array of wines and cocktails too. Thankfully these two hangouts are only 100m from each other so you can do both if you can't decide!
Bite your fingers while eating local cuisine at The Dusty Road Township Experience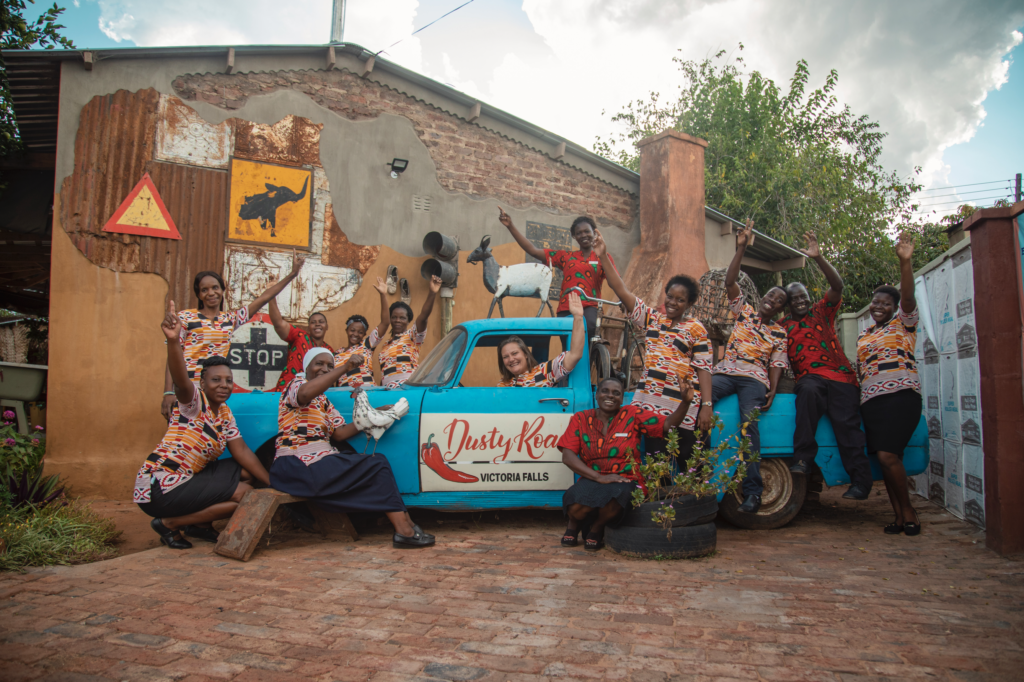 Local Zimbabwean cuisine is something everybody must try whilst on safari here and it would be amiss of us not to mention The Dusty Road Township experience. Relatively new to the Victoria Falls dining scene this is a complete gem of a restaurant we wouldn't hesitate to recommend even just to have a wander through the property so quirkily decorated by its owner Sarah. Dusty Road can only be described as a feast for your eyes and also your palate! Upcycled furniture and random items have been cleverly incorporated into the whole look of the place with old bicycle tyre rims for windows and colourful enamel cups for chandeliers – it is certainly a riot of colour. All of this is accompanied by the most accommodating group of women hosting you throughout the night and of course a well thought out menu that even the wariest of eaters will enjoy with locally foraged ingredients incorporated cleverly into delicious dishes. They even have their own recipe book to take home. But what we especially like about the experience are the group of young school children being supported by the restaurant who pop in for a little song and dance in the evening and of course their focus on community and female empowerment.
It would be impossible to mention every restaurant on offer in Victoria Falls, these are merely a few of our favourites. But rest assured that there is a whole host of other fantastic establishments offering delicious food in beautiful settings and more continue to be opened. So get out there and explore!
I knew there was something special about Mana Pools the minute the plane touched down on the dusty airstrip. I could not put my finger on it just yet, but little did I know I was about to experience the magic that Mana Pools has to offer.
Located in the far north of Zimbabwe, Mana Pools National Park lies in the heart of the Lower Zambezi Valley. Mana Pools is remote, it is wild, is incredibly beautiful and it is magical. The night skies captivated me the first night as we enjoyed a barbeque under the stars. Nowhere else have I witnessed such clear skies with sparkling stars. While trying to focus on the stars, my attention was drawn to a lion calling in the night. It seems I was not the only one distracted – it was loud and it was close!
The flood plains are teeming with hippo, crocodiles and impressive birdlife. If hippos are your drawcard, you do not want to skip Mana Pools. Canoeing down the Zambezi River would have to be the most exhilarating feeling I have experienced. A stay in Mana Pools is not complete without a canoeing safari. The guides are incredible, with years of experience (and in my opinion, nerves of steel), keeping us calm and informed throughout our journey down the river.
We were hosted by Nyamatusi Camp of African Bush Camps. A small and intimate luxury camp of 6 tents, boasting uninterrupted views of the Zambezi River. The lodge continues to Nyamatusi Mahogany, the sister camp that accommodates families. The two camps operate independently of each other, but if you have the need for more rooms, they can each take the overflow. Activities to fill your day include game drives in the Mana Pools UNESCO World Heritage Site, bush walks, canoeing safaris and tiger fishing (catch and release).
I managed to do a short walk along the shorelines with our trusted guide. It was incredibly hot under the African sun as we meandered from tree to tree, trying to get a bit of reprieve in the shade. While we did not see too many animals on the walk, our guide shared so many interesting facts and stories that kept us enthralled throughout.
Without a doubt, Mana Pools is an exceptional destination. It should not be overlooked when planning a trip to Zimbabwe. It is a special place that captured my heart, a magical place that can only be experienced. My story does not do it justice!
NYAMATUSI CAMP – FAST FACTS
6 Luxury Tented Suites – with air-conditioning above the bed
All inclusive meals, drinks (excludes premium drinks and champagne) and activities
Activities include morning & afternoon game drives, walking safaris, canoeing and fishing
Camp closure 6 January to 31 March
Main swimming pool and private plunge pool at each suite
Solar power and in room charging facilities
Accessible by air from Victoria Falls International Airport (2 hour 30 minutes) and Harare International Airport (1 hour 30 minutes)
45-minute game drive transfer to camp
Everyone is exhausted after a long-haul overnight flight, often involving multiple connections and inevitably ending in long immigrations queues on arrival. Not to mention the build-up of going on holiday, delayed flights and lost luggage. On arrival, most of us are simply looking for a hot shower, followed by a G&T while we take in our surroundings, ending the day with a good meal and a comfortable nights sleep.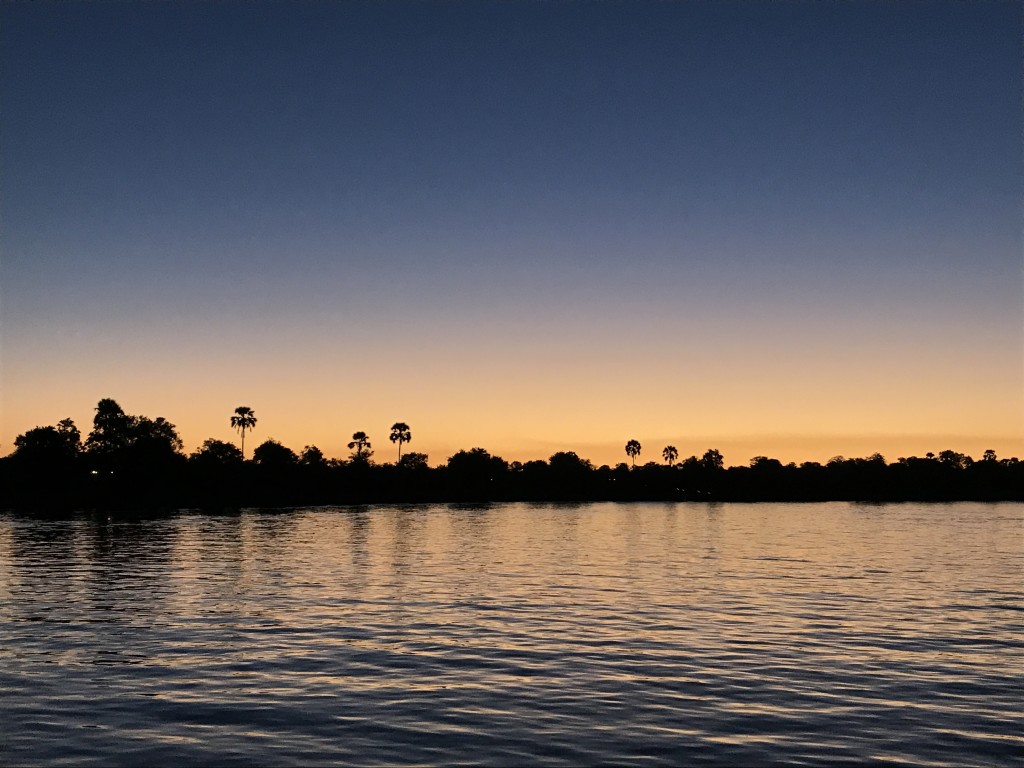 Victoria Falls is the ideal place to kick-off a safari. No onward flights or long road transfers required as most hotels are only a stone's throw away from the airport. Comfortable accommodation with all the amenities allows guests to ease into their safari experience.  As the properties in Victoria Falls are generally more affordable, there is less of a need to hit the ground running and more time to relax and find your feet. This is especially important when travelling with young children. Compared with the high-pressured start at the top dollar lodges in the Okavango Delta where every minute counts and where you feel compelled to jump on the first game drive on arrival, followed by an early morning wake up call on day one.
After a recent visit to Victoria Falls with my own family, I realized that 2 nights just isn't enough for first time visitors and especially families to fully appreciate what this corner of paradise has to offer.  I found myself rushing from one activity to the next, pressurized by pick-up times, with little time to relax and yet there was so much more than we could have done.
During our 2 night stay in Victoria Falls, we explored the Falls on foot, by helicopter and by Zip Line and that was about all that we had time for bar a mad dash around the market. There is a big choice of activities on offer beyond the falls themselves, one that I feel is grossly underestimated is the canoeing on the Zambezi River. For families, the falls has lots going on to cater to all ages and interests breaking up the typical safari routine.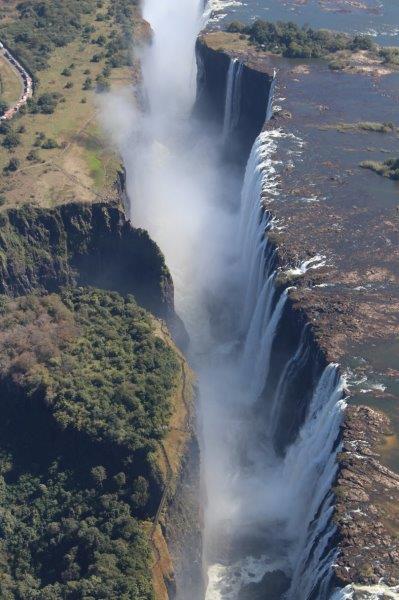 Beyond the activities, the town has a holiday vibe, showcasing the country's culture, local crafts (curio shopping) and a great variety of restaurants, which really add to the experience. Not accounting for the day of arrival and departure which are often lost due to flight times and transfers, one full day simply isn't enough to take it all in.  I would comfortably recommend a 3-night stay in Victoria Falls town itself.  There is a selection of properties to match all budgets, offering potentially good value for your money, helping to stretch the budget when combined with the top dollar lodges in more remote game areas.
Suggested Itinerary
Day 1:     Relax and enjoy a slow start to your safari
Dinner at the hotel
Day 2:     Tour of the falls followed by the flight of angels (12 – 15 minute helicopter scenic)
Lunch at the Lookout Café (which will reopen in Dec 2019 after it burnt down half a year ago)
Canopy Tour / Elephant Interaction / Sunset Cruise
Day 3:     Option 1: Full day upper Zambezi Canoe or Rafting experience
Option 2: A combination of the following with lunch on the terrace at The Victoria Falls Hotel
Horse Riding, Bicycle Tour, Village Tour, Pay It Forward (Family), Bird Watching, Shopping, Bunji Jumping, Croc Farm (Family), High Tea at the Victoria Falls Hotel, and more
Independent Dinning Options:
Traditional (Family): The Boma, Jungle Junction
Formal: The Livingstone Room, The Palm Restaurant
Casual: Zambezi House, Three Monkeys, The Lookout Cafe (will reopen Dec 2019)
The same could be said when coming off a safari in the delta. Days of early rising, long bumpy game drives and a day in transit, including the border crossing, is taxing of the best of us. Ending with 3 nights in Victoria Falls to slowly get re-acquainted with civilization before diving back into your daily routine at home is always a good idea.
Guests that have a little bit more time are recommended to spoil themselves with 4 nights in Victoria Falls, the 4 nights could be split between 2 nights in town and 2 nights in the quieter Zambezi National Park. The options are endless, we have put together some stunning itineraries which can be found on our "Best in Travel Zimbabwe 2019", the packages for 2020 will soon be released.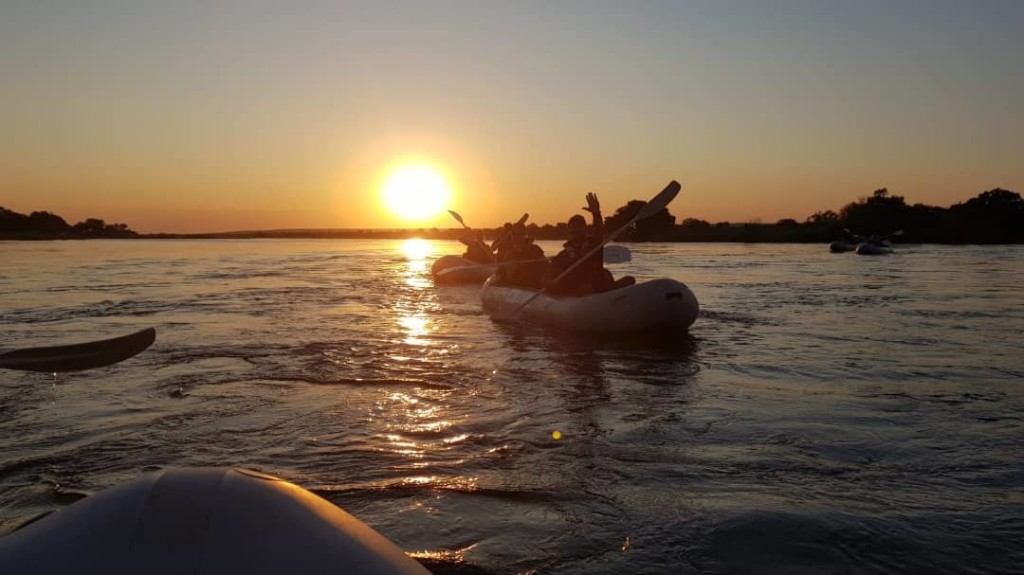 I tested the idea of combining 2 nights in Vic Falls with 2 nights in the nearby Zambezi National Park. We stayed at Zambezi Sands which is only an hour outside the fast-paced Victoria Falls town, but it felt like another world. A remote safari experience where you can fully immerse yourself in the wilderness and unwind in the peace and tranquillity of the Zambezi National Park. We had the river to ourselves to enjoy at leisure on our evening cruise compared with the typical sunset commotion experienced from town. Practically speaking, many visitors combine Victoria Falls & Chobe on a 4-night stay which involves two border crossings and double entry visas. Both can be avoided if you replace Chobe with a safari experience in the more exclusive but less wildlife dense Zambezi National Park.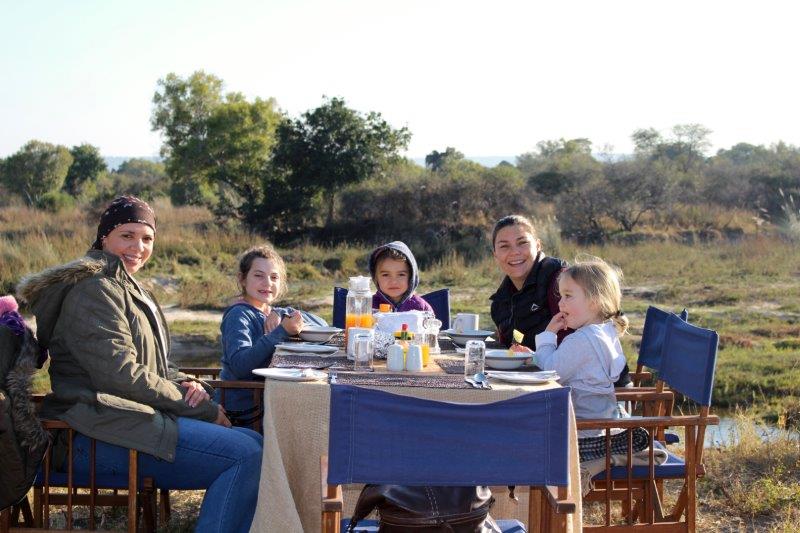 After doubting this combination for years, I feel like I have found the sweet spot, which has been underestimated by us all. Our 4-night stay was the perfect blend of adventure and relaxation, and provided for a well-rounded experience as outlined below, suited to both families and individual travellers.
Day 1:      Arrival at Zambezi Sands from Botswana in time for lunch and an afternoon siesta Sunset cruise where we had the river to ourselves (no traffic compared with VF & Chobe)
Overnight Zambezi Sands, Zambezi National Park
Day 2:      Game drive including an incredible bush breakfast on the banks of the Zambezi River
Afternoon canoeing on the Zambezi River (this activity was the highlight of my trip)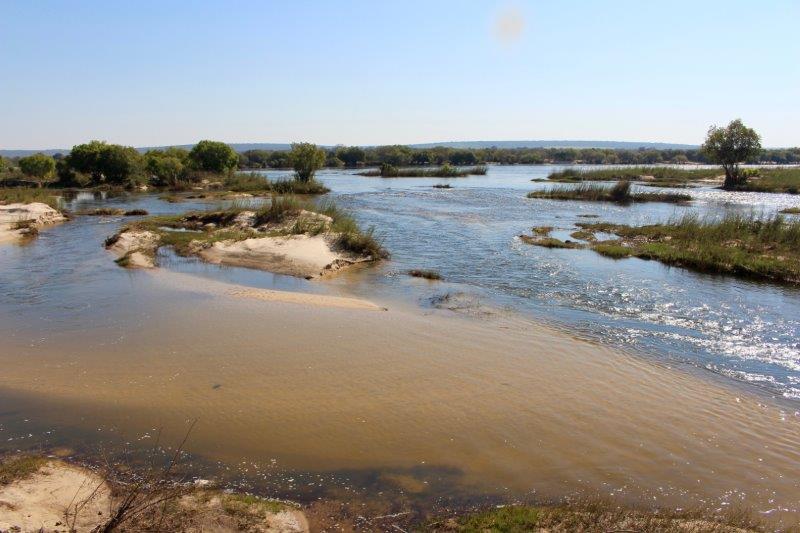 Overnight Zambezi Sands, Zambezi National Park
Day 3:      Morning game walk (another highlight) before our departure to Victoria Falls
Lunch at the Lookout Café overlooking the Batonka Gorge
Afternoon canopy tour, which was a thrill for both the kids and grown-ups alike
Dinner at the highly recommended Palm Restaurant and overnight at Ilala Lodge
Day 4:      Morning tour of the Victoria Falls followed by a flight of angels (it was a treat to fly over the path that we had just walked and see the falls from a different perspective)
Lunch on the terrace at the iconic Victoria Falls Hotel (you have to try the signature frozen lemonade)
Afternoon exploring the local market and curious shops (great arts and crafts to be found here not to mention the experience itself)
Dinner at The Boma Restaurant offering visitors a traditional dining experience with entertainment (the kids loved it and I got my mopane worm certificate)
Day 5:       Back to Botswana first thing in the morning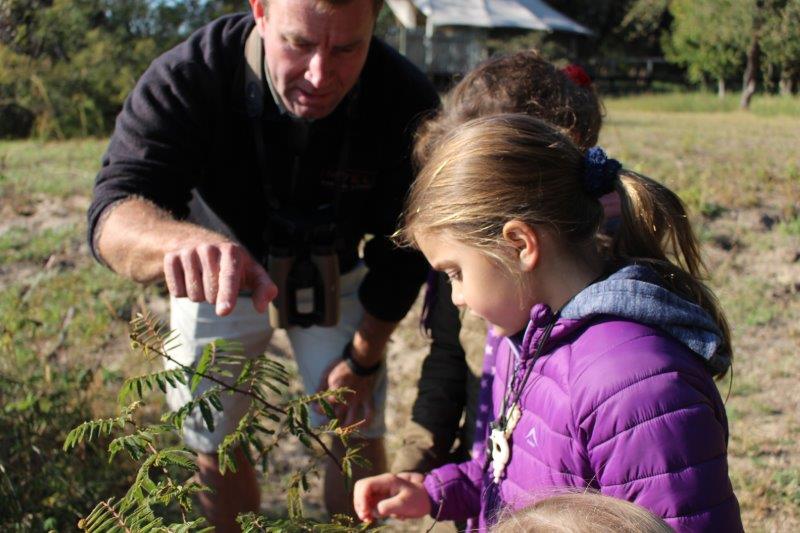 My guiding experience at Zambezi Sands was exceptional and the walking and canoeing activities stood out as the highlights of my trip. With all the new developments in this area, Safari Destinations are excited to present two new packages for 2019 showcasing this ideal combination:
4N Victoria Falls Full Monty – Deluxe
4N Victoria Falls Full Monty – Standard
Rounding off this 4-night package, I would recommend a 3 night stay in the game rich Hwange National Park. The trio showcases the best of Zimbabwe combining the beauty of the Victoria Falls, the peace & tranquillity of the powerful Zambezi River and the spectacular wildlife found in Hwange. For those wanting to combine a visit to Botswana, 3 nights at a game rich, land based camp in the Delta with a possible extension to the contrasting Makgadikgadi would be a match made in heaven.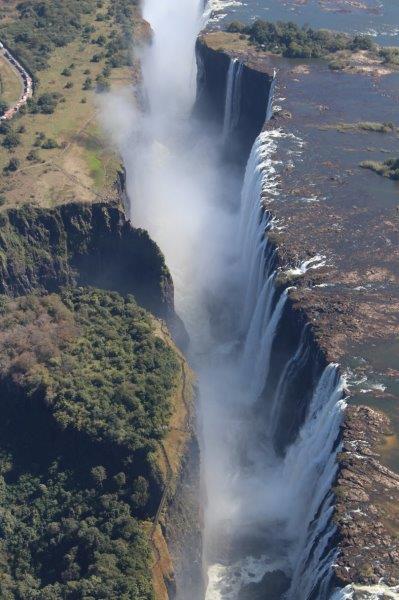 I have always been in love with Mana Pools.
Mana is my mentor – a remote and wild park that feeds my soul with all her sights & sounds – I've visited her time and again in her different seasons. Her moods are many and despite the diverse ecology and terrain, each one of these trips has been memorable for one thing. I've had some of the best close-up game encounters ever! Sitting under the watchful eye of a professional guide meters away from lion, wild dogs, the legendary standing bulls of Mana and a myriad of plains game and birdlife is just one way in which this park immerses you and brings you back to the fundamental core of nature and our place in it.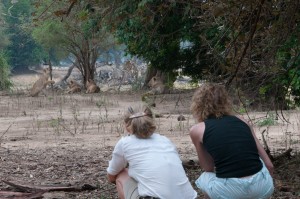 Your clock adjusts to sunrise and sunset and you fall into beat with the natural order of things, according to the rhythm of nature and camp life – the game is clearly abundant in peak season and our recent visit took us to just a few of the camps that have the privilege of operating in and being the custodians of this special park:
Chikwenya, Vundu, Little Vundu, Camp Zambezi and Zambezi Lifestyles as well as Goliath Safaris (I had stayed at Kanga and Rukomechi on my last trip).
Zambezi Lifestyles – *top spot – really enjoyed being right on the flood plain (Ngundu 2 site), saw game all over the place (NOTE the camp moves between different sites depending on which is available, all are on the river) enjoyed the simple comfort of the tents and space of the camp – 4 tents set up boasting the new flush toilets in the open air bathrooms – great bucket shower – excellent local staff managing camp (Cloud was a treat to be in camp and on safari with, very passionate, knowledgeable and eloquent, we also did our canoe trip with him, we weren't just 'guided', we were educated too) – tents/hardware were all solid – food was amazing (I made a point of going to meet the cook, these bush cooks really are talented is all I can say!) – Highlight: herd of 400+ buffalo and sitting on the vehicle near Zebra Vlei watching a pack of 7 adult wild dogs with pups in the late afternoon, they went off on the hunt as the sun went down.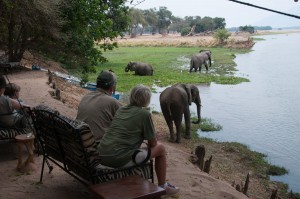 Goliath Tented Camp – *top spot – also really enjoyed being in this camp (I rate both Zambezy Lifestyles and Goliath as my trip highlights) – Camp is on a private concession so in the same location annually.  Owner and Pro-Guide in camp is Stretch (Andrew) Ferreira, he is running the camp – the location is stunning with shade over the central areas looking out onto a channel and island just in front of camp, beyond the island is the main river. The first thing you feel here is welcome and are encouraged to feel right at home and 'part of the family' – camp layout is neat and functional with a super river front lounge/dining/breakfast/fire pit areas, the tents are set slightly back – the extended size east African tents are very nicely fitted with tasteful teak and wrought iron furnishings, the beds are very comfortable and I loved the open air shower area – vehicles are open top and in good condition – food was awesome! Highlight: pride of 5 lions right outside camp having a snack out of the cooks cell phone, about 15m from us.
If you are a safari addict and look for close wildlife encounters with excellent guides – then Mana Pools should be your next destination! Our recommendation for an intense safari experience is the 10 night itinerary "Spezialised Guides of Zimbabwe" with:
3 Nights Goliath Safaris Tented Camp, Mana Pools Natonal Park
3 Nights Musango Safari Camp, Matusadona National Park
3 Nights Camp Hwange, Hwange National Park
1 Night The Elephant Camp, Victoria Falls