I have always been in love with Mana Pools.
Mana is my mentor – a remote and wild park that feeds my soul with all her sights & sounds – I've visited her time and again in her different seasons. Her moods are many and despite the diverse ecology and terrain, each one of these trips has been memorable for one thing. I've had some of the best close-up game encounters ever! Sitting under the watchful eye of a professional guide meters away from lion, wild dogs, the legendary standing bulls of Mana and a myriad of plains game and birdlife is just one way in which this park immerses you and brings you back to the fundamental core of nature and our place in it.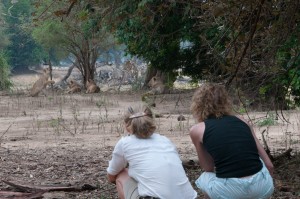 Your clock adjusts to sunrise and sunset and you fall into beat with the natural order of things, according to the rhythm of nature and camp life – the game is clearly abundant in peak season and our recent visit took us to just a few of the camps that have the privilege of operating in and being the custodians of this special park:
Chikwenya, Vundu, Little Vundu, Camp Zambezi and Zambezi Lifestyles as well as Goliath Safaris (I had stayed at Kanga and Rukomechi on my last trip).
Zambezi Lifestyles – *top spot – really enjoyed being right on the flood plain (Ngundu 2 site), saw game all over the place (NOTE the camp moves between different sites depending on which is available, all are on the river) enjoyed the simple comfort of the tents and space of the camp – 4 tents set up boasting the new flush toilets in the open air bathrooms – great bucket shower – excellent local staff managing camp (Cloud was a treat to be in camp and on safari with, very passionate, knowledgeable and eloquent, we also did our canoe trip with him, we weren't just 'guided', we were educated too) – tents/hardware were all solid – food was amazing (I made a point of going to meet the cook, these bush cooks really are talented is all I can say!) – Highlight: herd of 400+ buffalo and sitting on the vehicle near Zebra Vlei watching a pack of 7 adult wild dogs with pups in the late afternoon, they went off on the hunt as the sun went down.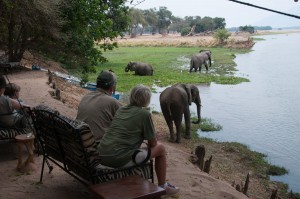 Goliath Tented Camp – *top spot – also really enjoyed being in this camp (I rate both Zambezy Lifestyles and Goliath as my trip highlights) – Camp is on a private concession so in the same location annually.  Owner and Pro-Guide in camp is Stretch (Andrew) Ferreira, he is running the camp – the location is stunning with shade over the central areas looking out onto a channel and island just in front of camp, beyond the island is the main river. The first thing you feel here is welcome and are encouraged to feel right at home and 'part of the family' – camp layout is neat and functional with a super river front lounge/dining/breakfast/fire pit areas, the tents are set slightly back – the extended size east African tents are very nicely fitted with tasteful teak and wrought iron furnishings, the beds are very comfortable and I loved the open air shower area – vehicles are open top and in good condition – food was awesome! Highlight: pride of 5 lions right outside camp having a snack out of the cooks cell phone, about 15m from us.
If you are a safari addict and look for close wildlife encounters with excellent guides – then Mana Pools should be your next destination! Our recommendation for an intense safari experience is the 10 night itinerary "Spezialised Guides of Zimbabwe" with:
3 Nights Goliath Safaris Tented Camp, Mana Pools Natonal Park
3 Nights Musango Safari Camp, Matusadona National Park
3 Nights Camp Hwange, Hwange National Park
1 Night The Elephant Camp, Victoria Falls