Category Archives: Safari
Botswana is known for her incredible skies, huge impressive clouds often build up all day for a short, late afternoon thunderstorm. Not only does this welcome 'pula' (the Setswana word for rain in Botswana), the rain also washes the air clear of dust, making for crisp afternoon game-drive photos.
Sunrises and sunsets are especially beautiful as the sky turns gold, pink, red and every colour in between, lighting up the clouds dramatically and creating more spectacular photo opportunities.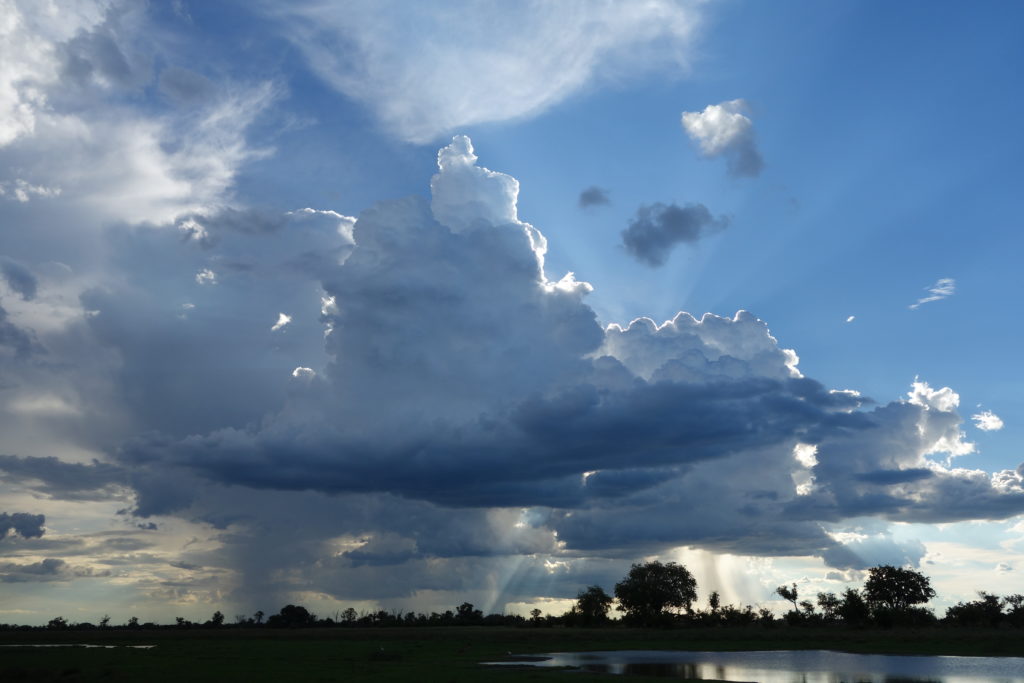 Pula is so precious that our money is named after it (and we also use it as a good fortune toast during drinks with friends). It is so special to us, as it transforms the land into a lush environment, full leafed acacia trees cast deep cool shade and wild flowers start to bloom which makes everything seem more charming. The acres of green grass and verdant leaves, sustain hundreds of thousands of grazers, which sustain thousands of predators. A whole ecosystem depends on pula and, of course, lots of our favourite safari activities like canoeing, boating and mokoro.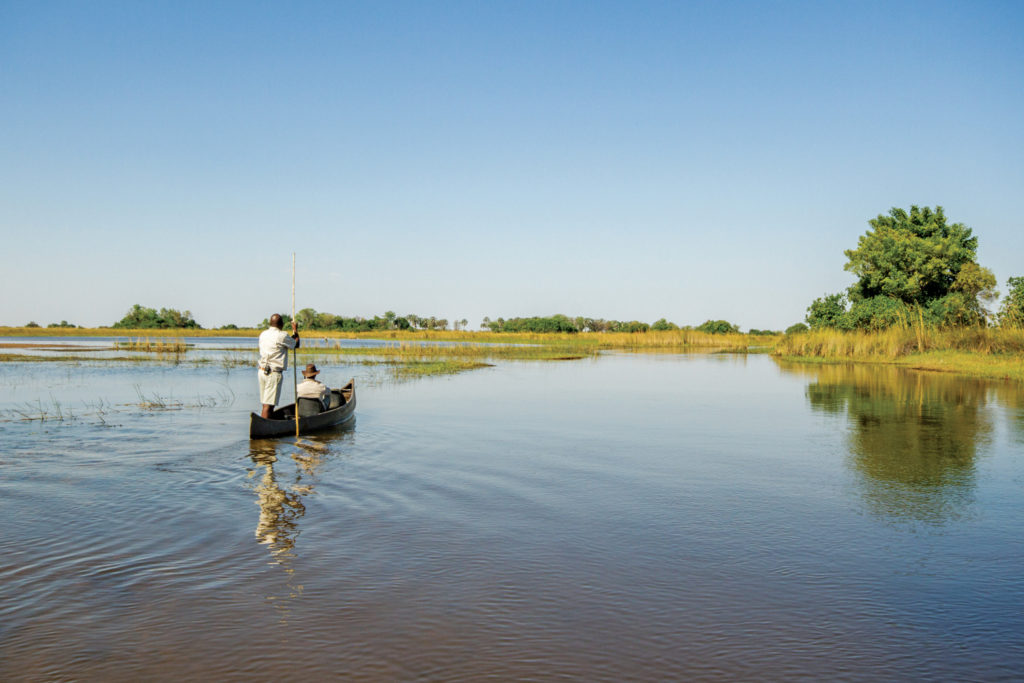 Botswana's Green Season (starts mid November and ends early April) is one of our favourite times of the year. As the rains arrive so do the migrant birds from Europe, Asia and other parts of Africa. The carmine bee-eaters hovering over game-drive vehicles, waiting to snatch up bugs from the air, are exciting to watch. Kingfishers, kites, rollers and cuckoos embellish the air with extravagant song and colour. They stand out against the brilliant emerald foliage (even LBJs – 'little brown jobs' – look prettier). The pans are totally transformed by the magical pula and become havens for aquatic birds like flamingos and pelicans. Everywhere is good for birding – The Okavango Delta, Chobe river, Makgadikgadi Pans, Central Kalahari, and the Linyanti wetlands. Even your non-birders will appreciate the beauty of it all.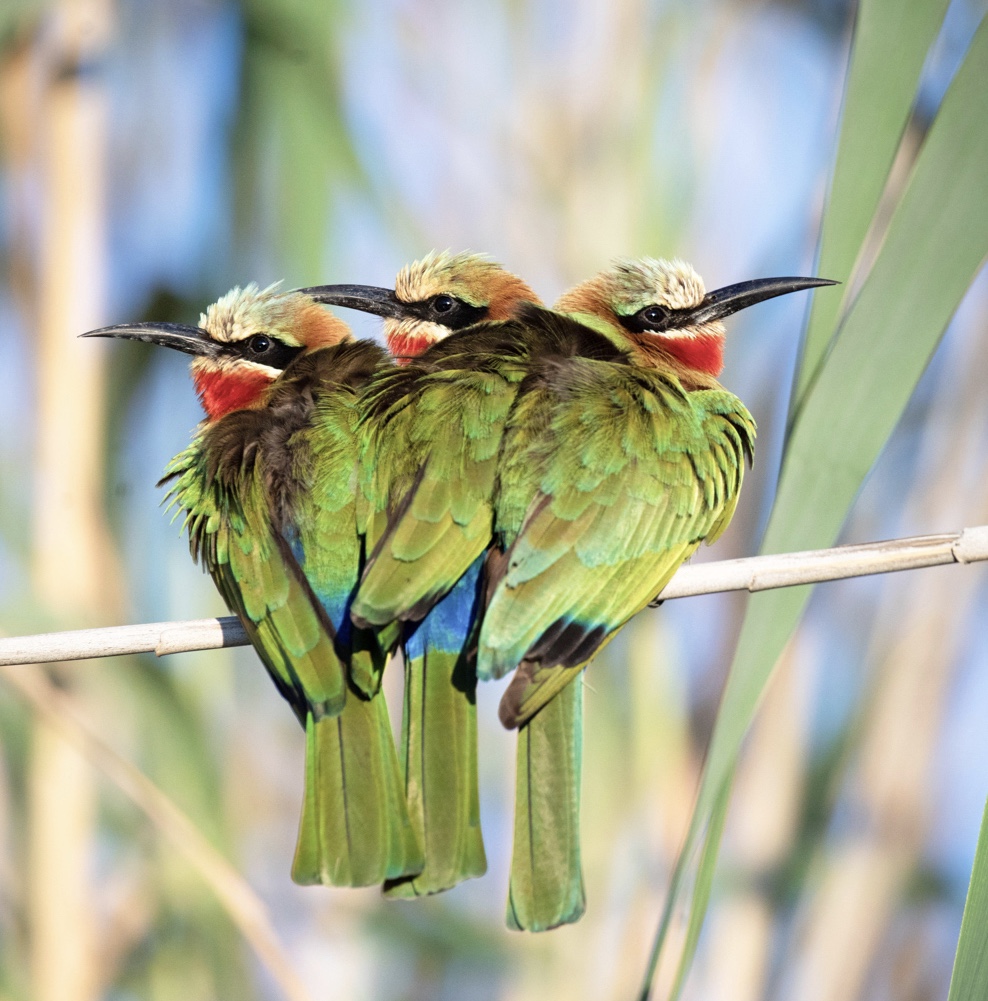 Travelling in the Green Season comes with lower rates than in other times of the year. Guests who have always dreamt of coming to Africa might suddenly find that travelling in the 'secret season' is super-affordable. If time is not of essence, you can stay for longer and immerse yourself in the experiences wherever you are, especially with the excellent discounts and specials available to you.
The other unique element of Green Season is that it's the time year when many baby antelope are born en masse. Species like impala give birth all around the same time to ensure as many of their babies survive as possible – not only is there enough grazing around for all of them but giving predators thousands of options reduce the chances that your specific baby will be killed, if you're an impala mom. The point is that you'll get to see wobbly calves and tiny foals, which is very special to witness.
So, whether it's bright green, dark green, light green or any green in between, the Green Season has plenty to offer. Yes, the longer grass makes animals slightly harder to find but it's so rewarding when you do. Lower rates, fewer people, happy wildlife and pretty skies – what more do you want in Botswana!
TIP: Visit the Safari Destinations Agents Corner to get a glimpse of the Best In Travel package overviews curated for the green season.
It was a scorching day in November, typical weather for this time of year. I had put my bags down, grabbed a cold bottle of water and headed straight for my deck chair to take in the sweeping views of the Central Kalahari Desert.
The Kalahari was nothing like I thought it would be, except for the heat. That was exactly how I anticipated but one can never fully prepare for it.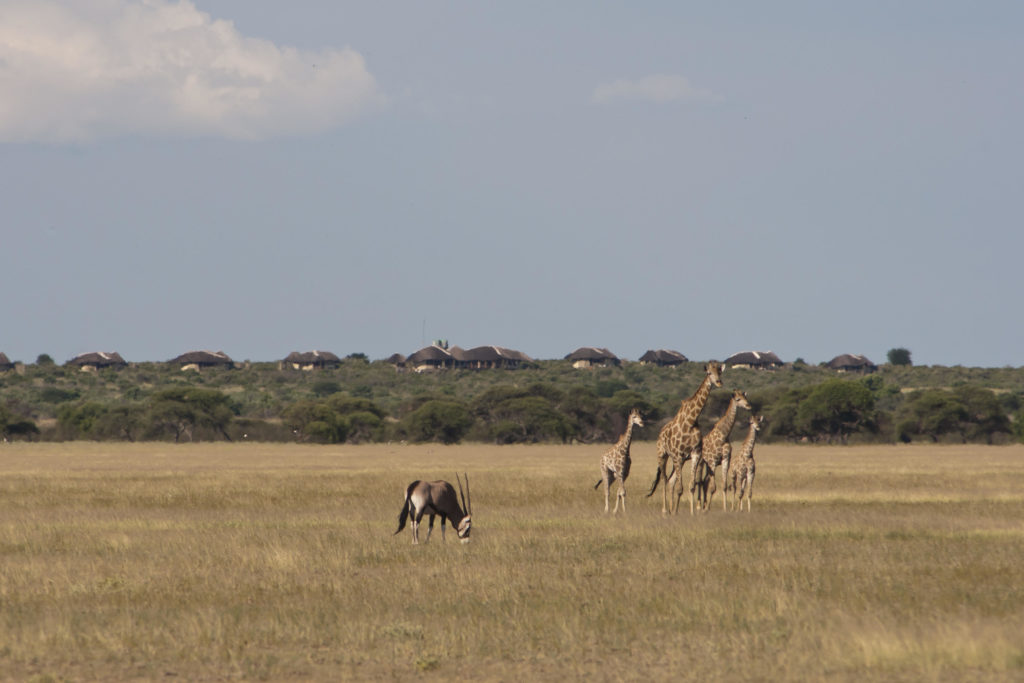 Movement between my tent and the main area was more of a hop, skip and a jump! I had opted to wear open sandals, and these are great on a flat surface, but they sure made for clumsy dance in the red-hot sand.
Standing on the deck outside my tent, I took in the incredible views of the Desert before me. Those who have been to Botswana, know how flat the land is, one can literally see for days! Yet here in the Kalahari; equally as flat, an ancient sand dune exists, and up on this ridge is where Tau Pan Camp is located.
This was to be my temporary home for the next 24 hours and every image I had previously held in my imagination was wiped out by the beauty unfolding before my eyes. The Kalahari is not barren and sandy, as one would expect in most deserts. Even when it is dry enough to 'qualify' as a desert, it is not strictly speaking a desert because the ground cover is too dense.
'Tau' is the Setswana word for lion and the Kalahari is famed for the impressive compliment of black-maned lions, the very same that frequent the permanent water hole located in front of camp. What I thought was going to be a quiet dreamy night under the stars, turned out to be rather a noisy and interrupted sleep with a choir from the wild; well more like a symphony of roars from one pride to the next that bellowed throughout the night. It was an impressive sound, one that never rings tired with me.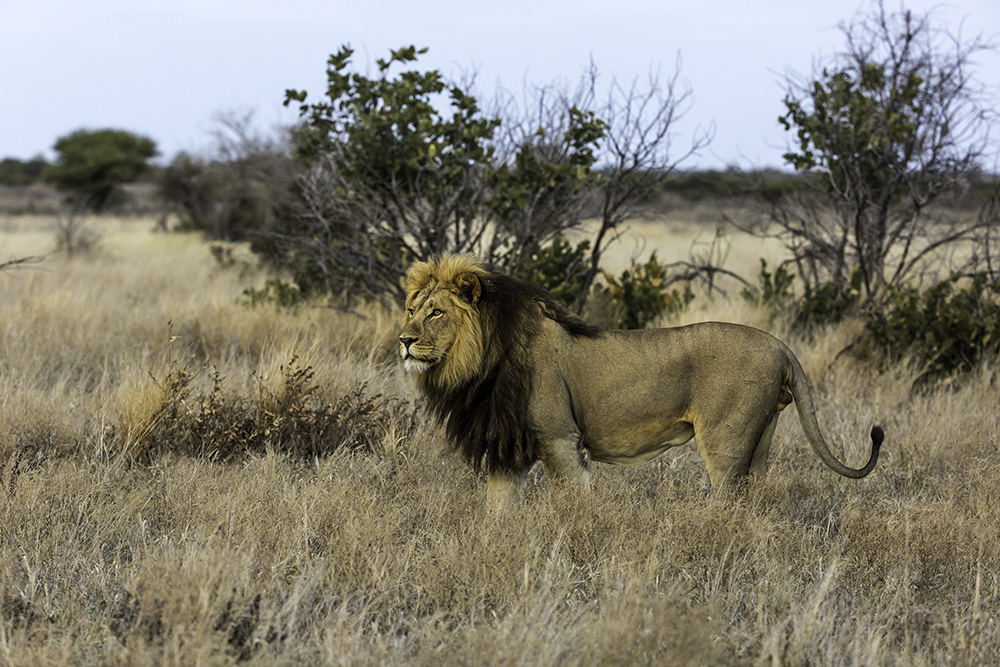 I sat down in my deck chair, dusted the sand from my feet and lifted them up to the small table in front of me. Head back, eyes closed and just about ready to take in my afternoon siesta when something inside me insisted that I look up.
As I opened my eyes, I caught a glimpse of a bushy striped tail hanging from a rafter; and there it was…a beautiful little genet, sleeping peacefully in the shade of the thatch. We both had the same great idea for that hot afternoon in Africa; quiet uninterrupted blissful sleep.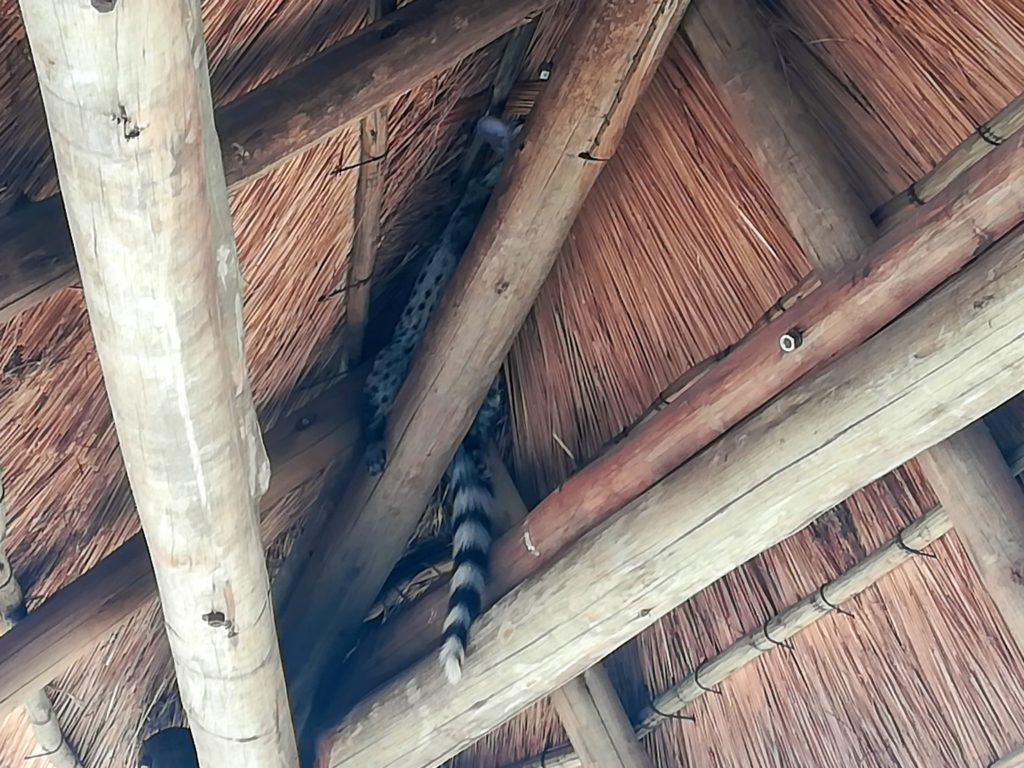 For those wanting to visit the Kalahari, do it on your next planned safari in Botswana. It's wild and mysterious beauty almost never disappoints!
Interesting facts about the Central Kalahari:
With 52,000 km2 the Central Kalahari Game Reserve is the world's second largest protected area and one of the most remote and pristine areas in Africa.
The Central Kalahari Game Reserve is mostly famous for its ancient fossil river beds, which form valleys through the bush of which Deception Valley is the most famous. A highly recommendable read is "The Cry of the Kalahari" by Delia and Mark Owens.
Specialized desert species are found in the Central Kalahari Game Reserve with gemsbok (oryx) and springbok often seen; the famous black-maned Kalahari lions and of course bat-eared foxes. And if you are very lucky, the brown hyena.
Although the Central Kalahari is an all year round destination, an especially magnificent time is during and after the summer rains when the colors of the Kalahari explode and grey turns into fifty shades of green. The rainy starts in mid November and ends in March.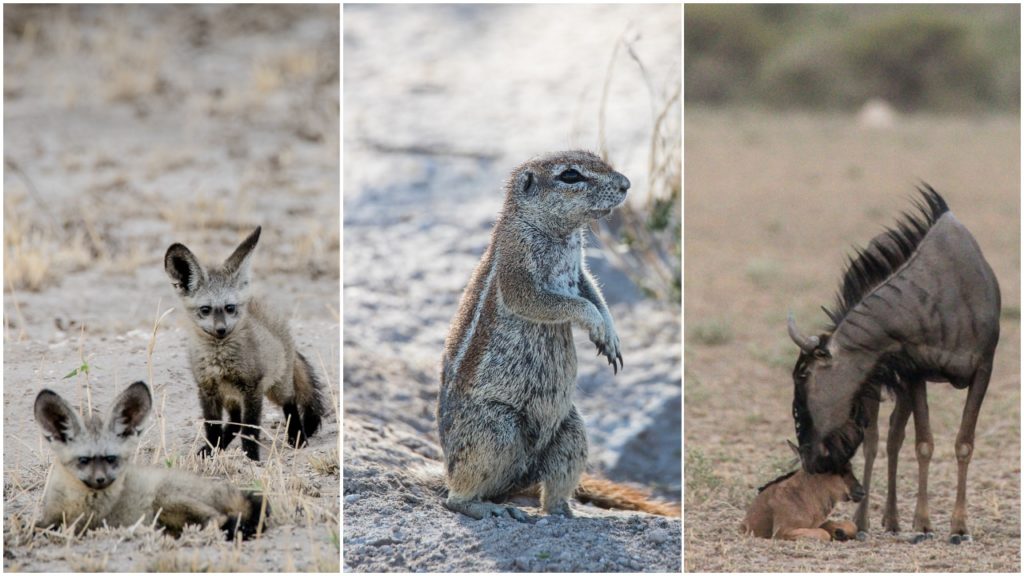 Information on Kwando Tau Pan:
Tau Pan is one of two lodges located within the Central Kalahari Game Reserve, the other being Kalahari Plains.
Activities offered at Tau Pan include game drives, day trips to Deception Valley, Sunday, Piper and Passarge Pans, star gazing and nature walks with Bushman trackers.
Accommodation consists of 9 environment adapted en-suite rooms including 1 family room and a sleepout deck (an absolute treat for the more adventurous!).
100% solar operated
All-inclusive rates
Guide and tracker team
Be prepared for the safari of a lifetime. Hwange is an amazing destination due to its diversity of landscapes, experiences and activities. There is, however, one constant throughout: the superior guiding standards! Zim is known for its phenomenal and, dare I say, legendary guiding. This is brought about by some of the strictest and most vigorous guide training in Africa.
It takes years of training, dedication and (financial) investment before one qualifies as a professional guide in Zimbabwe, which guarantees you guides who are passionate about what they do. You'll be hard pressed to find a question they can't answer or a topic they aren't willing to discuss – I know because I tried on my last Hwange safari…
These professional guides also offer a most welcome alternative to the usual game drive activities in the form of walking safaris, which are an absolute highlight when visiting Hwange. Many lodges have a professional walking guide in camp to offer exactly that and it needs to be experienced to be believed: there really is no better way to experience the bush then up close and personal in the trusted, experienced hands of your (armed) walking guide. Before embarking on a walking safari, they ask what type of walk you'd like: big game encounters, interpretive walks or exercise walks but most often it's a combination of all three catered to clients' wishes. No matter what landscape or which habitat you're walking through – be it the teak forests, open grasslands or granite kopjies (hillocks) abundant in Hwange – your guide will make sure you feel safe at all times while learning so much about the environment you're in.
Hwange is not only ideal for walking it also excels in offering a different perspective on game viewing: from ground level looking up at elephants drinking metres away from the safe surrounds of an underground hide. Hwange has close to 50 000 elephants and, especially in dry times, they dominate the waterholes (when not slurping from the lodges' swimming pools), making game viewing and photography from an underground hide an experience not easily forgotten.
As if superb guides, walking and underground hides aren't enough, Hwange also offers horseback safaris both inside and outside the park, thereby combining big-game viewing with an immersion in the incredibly rich Zimbabwean culture found in villages and settlements.
Another reason to spend time in Hwange is its ease of access; whether coming from Victoria Falls (by road transfer or short flight) or from Botswana, Hwange is an ideal safari destination. A little hidden gem is the Pandamatenga border crossing connecting Zimbabwe and Botswana. This is the closest border post to Hwange National Park and an absolute pleasure to experience. Officials on both sides of the border are super-efficient, very friendly and, best of all there are no queues, so you're in and out in five minutes! Once through immigration, the game viewing starts the moment your visa has been stamped in your passport due to the adjoining game management area that lies on the northern boundary of the park. Our Best in Travel in Zimbabwe offers plenty of itineraries that include Hwange. Here is an example which travels via the above mentioned Pandamatenga border post: 12N Zambia – Zimbabwe – Botswana Safaris (also ideal for family travel).
Most suppliers have already confirmed to freeze their 2020 rates for 2021. Contact your Safari Destinations consultant for more information.
Some know Mombo as the "Place of Plenty". Others refer to it as Mma Di Campo ("The Mother of all Camps"). With its considerable nightly rate and renowned reputation for sensational wildlife sightings, those who are fortunate enough to stay at this beautiful place cannot be blamed for having very high expectations.
Along with the name and the reputation come a significant amount of excitement. Like the flutters you get before meeting your favourite star or the thrill of seeing the top of Kilimanjaro towering over the Serengeti for the first time.
Land at the Mombo Airstrip and instantly this buzz rushes through you. Guides come bounding across to welcome you and helicopters are on standby to take you anywhere, any time.
So, here you are, you've finally arrived at the famous Mombo Concession and your guide takes you on the short 20-minute journey to the lodge. As if they've come to welcome you, the track is full of life. Impalas line the road with their young calves leaping through the grass. Geese, ducks, sandpipers and colourful bee-eaters flock the small pans along the road and the characteristic shrill call of the stunning turquoise woodlands kingfisher welcomes us. We've arrived in mid-February, the middle of the Green Season, a time when the bush is full of colour and new life.
We've arrived at the lodge and the staff's smiles await you along with the eagerness to make this time at Mombo your most memorable. Sitting down for lunch, we're treated to crisp baby vegetables and lightly grilled Chobe bream. The "new" Mombo is around two years old and meticulously maintained. When you start to look around, the touches of comfort and elegance are all over, from the motion-sensor lights in your massive room to the carefully packed sachets of Fairtrade ground coffee and bottles of vintage wine in your private lounge. We could tell you about the USD12 000 worth of complimentary Olympus mirrorless camera gear you are free to use, the refreshing private pool, day-bed and more of the delectable meals and snacks we were treated to during our stay but what we really couldn't wait for was to set out and explore what this famous concession in the heart of the Okavango Delta would deliver. Because, let's be honest, there are beautiful properties all over Africa… the reason people come to Mombo is for a safari experience to beat all safari experiences.
Well, 48 hours later, and we were completely and utterly blown away by what we had witnessed.
On our first afternoon drive with Moss we headed out to where the breakaway pride had been relaxing the morning before. Sure enough, we rolled up to within breathing distance of them. A perfect place to take in some shade from the hot afternoon sun and start learning about the dynamics of the resident and roaming lions of Mombo.
About 20 minutes later, the distinctive continued shrieking of the red-billed spurfowl alerted the guide to what was most likely another predator. Just 150 metres from the relaxed pride of seven lion was a massive male leopard. Moss called this striking male leopard Sergeant and one couldn't help noticing how passionate he was in sharing the excitement with his guests. His eyes were fixed on the animal as he shared the years of how he has watched this individual through his challenges and triumphs existing in this predator-rich landscape. Sergeant is reaching the end of his dominance and you can see he has been through a lot as he panted hard in the afternoon heat.
As we made our way along the marshy plains it started to become evident. It's not just the animals or the thrilling sightings we were being treated to, it's the sheer beauty of the area, which is unlike anything we've seen. It's Africa as you imagine it. Some of Botswana's largest baobab trees look as though they've been placed there deliberately. You'll find yourself alongside rolling floodplains where carmine bee-eaters swoop by the vehicle and then into dense forests with old gnarly jackelberry trees. It truly is a breathtakingly beautiful African wilderness.
Nothing could have prepared us for the treat we were in for the next morning. We told Moss we would be ready to set off nice and early to make the most of our time out there. And if you don't want to miss out on the fresh cappuccino and scrumptious handmade toasted sandwiches cooked on the fire… do not fear, they will wrap it up for you for your breakfast on the go.
We headed towards an area called Tsessebe Plains to find the Mathatha pride. We found them and they were on the move. It was clear where they were headed. The buffalo herd of around 400 animals or more was not far away. Lions are never far away from a big herd of buffalo.
Once again, we were staggered by how quickly we encountered the next predator. A majestic male cheetah was watching these lions with a clear amount of distress. It was the flick of its tail Moss spotted across the grassland. When we got closer, we were treated to rich golden morning light as we followed this cheetah from termite mound to termite mound, posing for us.
Fifteen minutes later, after being spoilt with photographs of this cheetah, we ventured to the thickets where the impalas alarm calls were causing panic. This was not typical behavior for antelope in the presence of a cheetah. If you're an antelope within visual contact of the fastest land mammal on the planet you're best of making a run for it sooner rather than later. Moss realized there must have been another predator. Sure enough, he spotted a leopard dash for the bush – but we didn't see it. She was moving away from three huge male lions who were after her kill from the night before.
We were almost exhausted by the morning's excitement but that wasn't all. We headed back to the buffalo where the Mathata pride had been seen moving closer. The script was set. A buffalo had stopped to wallow in a pool of rainwater and was flanked on all sides by seven lion. He'd allowed himself to lag behind and we settled in. Not more than three minutes later and it all kicked off.
Those who are fortunate enough to have witnessed a kill will know it can be distressing to see nature at work. Like killing machines each lion had its job in bringing down this beast. One to weigh down the rear and several others below the legs to weaken its stance. Importantly, one young male clenched his awesome jaws over the buffalo's mouth to suffocate his distress calls that would invariably bring with them the rest of the buffalo to rescue him.
What a sighting and what a magnificent place. The place of plenty for sure. A place which preserves the pure essence of Africa as it was millions of years ago, beautifully intact.
For travellers who are lucky enough to afford a stay at Mombo the answer is yes! It is absolutely worth it!
We all know northern Botswana and the fantastic wildlife areas of the Chobe and Okavango. But did you know that Botswana has a 'toe' in the south that is also a phenomenal wildlife haven where cheetah are seen almost every day, 92% of the year is rain-free and there are eight rivers for plenty of grazers to thrive?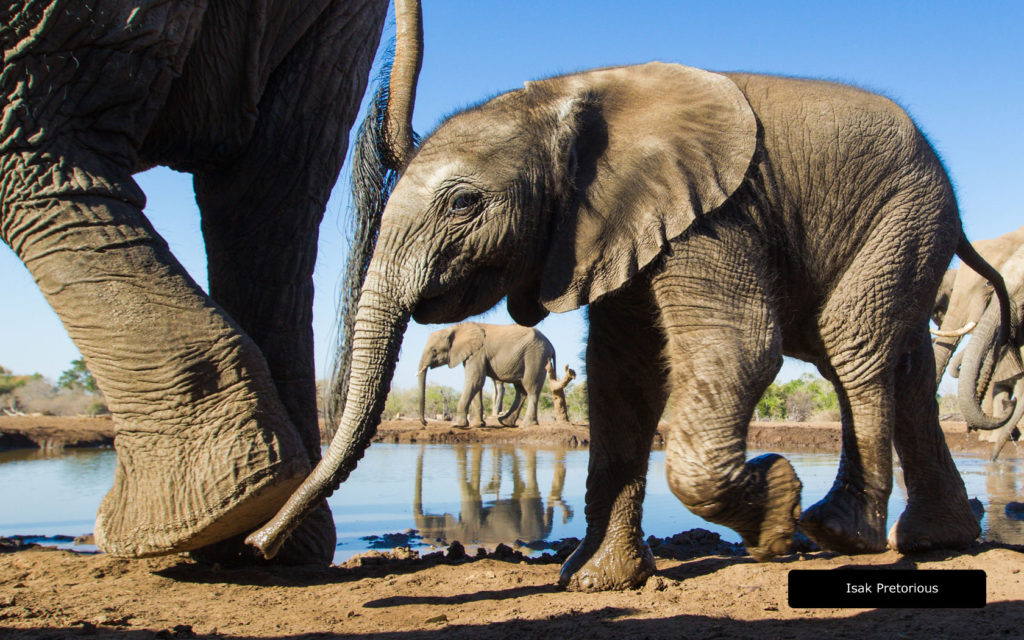 Yes, Mashatu Game Reserve is in the part of Botswana that juts out to share a border with Zimbabwe and South Africa – just like a little toe! Here you find 29 000 hectares of unfenced private land – not a concession but privately owned by three generations. Over decades, careful land management has resulted in regular sightings of leopard, lion, cheetah (14 new cubs were born in 2019 alone), brown hyena, bat-eared foxes, African wild cats and honey badgers. Kills are also often observed as the wide-open plains lend themselves especially to cheetahs' and lions' hunting styles. We agree with Mashatu's claim that they, 'sell goosebumps' and their exciting predator action is enough to give you (never mind the poor antelope!) plenty of goosebumps!
Mashatu is home to at least 700 giraffe and the largest recorded herds of elephants on private land in the world – between 200 and 300 individuals have been seen moving together. Bird nerds should look out for unusual species like Meyer's parrots and green parrots. When it comes to spotting these animals and birds, you're in the safe hands of the Mashatu guides, who have – on average – 14 years of guiding experience each. The trackers sit at the back of the vehicles so they can interact with the guests in the back rows. Once they've got five years' tracking experience under their belts, they can move upfront.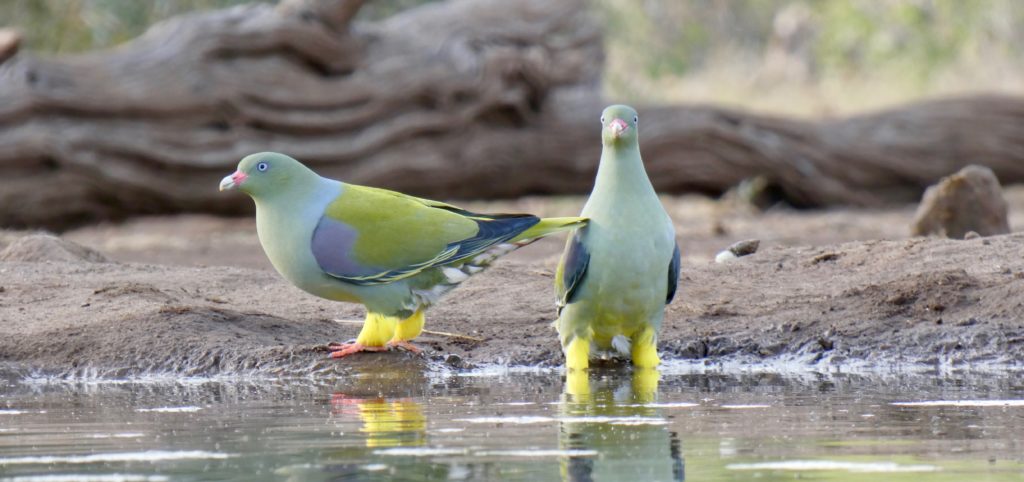 In addition to game drives, there are multiple other ways of seeing Mashatu. Cycling safaris are easy because they follow the flattened elephant tracks (there is an age restriction of 12 and a back-up vehicle follows at a distance of two kilometres). Intermediate riders (must be able to canter with confidence) can saddle up one of the over 40 horses on the property and walking is also available.
If guests don't feel like breaking a sweat, they can watch plenty of game come down to the underground hide where a professional photo guide is available to help them make the most of their cameras and phones. Beanbags, tripods and mounts are all for guests' complimentary use.
Before BTTE 2019 in Kasane, we had the opportunity to do a fam trip with agents to Mashatu, where we were hosted for two nights by Kelly Evans. This is easily a 4- to 5-night stay destination as there is so much to see and do here.
We loved being on safari in this secret corner of Botswana and recommend incorporating it into an itinerary for your clients for the following reasons:
Flight connections between Mashatu and the Okavango Delta are now easier than ever, with seat rates available to travellers. It's now much more convenient and cost-effective to fly into the south of Botswana.
Botswana Immigration – if you're flying in from Zimbabwe or South Africa – is done at Limpopo Valley Airfield, where you'll be queuing with a maximum of 12 other people. Our group had the immigration counter all to themselves and were done in 15 minutes. Of course if you're flying from the Delta, you skip this step.
The game viewing is phenomenal. We saw two cheetah kills in two days as well as mating lions, stalking leopards and plenty of plains game. Kelly still felt the need to apologise that it was 'quieter than normal'!
The variety of activities and size of the area make it a natural fit for a longer, more relaxing stay. In two days, we did two game drives, a bicycle safari and a morning in the photo hide, and STILL didn't have enough time to get to the area's fascinating archaeological sites or the horse-riding excursion.
The photo hide isn't just for professionals. Superb Mashatu photo host, Aubrey, showed our group how to make the most of their iPhones for photography and composition – and we learnt about settings we never knew existed.
With three properties on offer at different levels of budget, there's a camp or lodge to suit everyone. Opt for Mashatu Tent Camp for entry-level accommodation, Mashatu Lodge for mid-range clients and Mashatu Euphorbia Villas (will open in May 2020) for those who want to splurge. The villas will have heated plunge pools, Wi-Fi and air conditioning plus views over the landscape.
There's no 'real' Green Season here. You'll find carpets of wild flowers from January to March but the grasses are still short and the rainfall is much less than in the rest of the country, making it a great option for small groups continuing to the Okavango Delta on private charter, or just doing Mashatu as a stand-alone.
The landscape and habitats are totally different to northern Botswana, lending a fantastic contrast to the Okavango Delta and Chobe National Park, both in terms of expected wildlife sightings and the landscapes to enjoy it all from.
If you want goosebumps and a huge thrill, Mashatu might be the place to find them!
Mashatu forms part of our 9-nights Best Kept Secrets Superior package – see how to link the Delta, Mashatu and the Victoria Falls for your clients here.
I often get asked which places I would recommend for a relaxed armchair safari. Safaris can be exhausting: early mornings to catch the predators hunting, late nights watching 'bush TV'. Having done numerous safaris and often rushing from one place to the next to make sure we know all the camps we are offering, I came to realize that a slower pace is the way to go. If clients insist on seeing many different areas they often don't have enough time to stay three nights in each camp. In this case, I highly recommend adding the occasional 'armchair destination' into the itinerary, where guests can enjoy an afternoon spent in camp, watching the animals from the comfort of their lodge.
Pick #1: Meno a Kwena Tented Camp, Boteti River, Botswana
This camp has been one of my favourite places since about 2004. It is situated above the Boteti River, offering stunning views of Makgadikgadi Pans National Park. Its unique location guarantees outstanding game viewing from camp. All tents are built along the edge of the cliff. The best time to travel is between April and November when the zebra migration arrives along the Boteti in search of life-giving water. The camp offers an authentic San Bushmen nature walk, full-day trips into the Makgadikgadi and, for guests that stay a minimum of three nights, a sleep-out under the stars in the middle of the vast nothingness of the salt pans can be booked.
Pick #2: Nogatsaa Pans Lodge, Chobe National Park, Botswana
Nogatsaa had been on my list of camps I needed to visit since its opening. Years ago, I had been camping in this very remote part of the Chobe National Park and loved the area since then. When the owner of Ghoha Hills told me about his plans to build a safari camp in Nogatsaa I was super-excited. The camp is situated on the edge of the Nogatsaa Pans, which have water pumped into them throughout the dry winter months. The pan is one of the few reliable water sources in this harsh area, making it a hot-spot for large herds of elephants. It is the perfect spot for a relaxed armchair safari: guests don't need to leave camp, they can watch the animals come to drink. We saw hundreds of elephants, buffalo, giraffe, roan antelope, waterbuck, kudu and even a resident baby hippo during our stay. Access to the camp is by road from Kasane; the drive takes about two-and-a-half hours.
Pick #3: Deteema Springs Camp, Hwange National Park, Zimbabwe
Deteema Springs opened in May 2019 and is the second addition to the Machaba Safaris' portfolio in Zimbabwe. The camp was built on the old Deteema Picnic site, a very popular spot with Hwange visitors. The national park authorities asked that the design of the new camp incorporates the old picnic site and the architects did an excellent job. This tented camp is super-comfortable and offers amazing views over the springs and towards Deteema Dam. Guests can skip an afternoon activity and enjoy the comfort of their veranda to watch the elephants come down to drink from the fresh-water spring.
Pick #4: Savute Elephant Lodge, Chobe National Park, Botswana
The Savuti region in the Chobe National Park has been especially famous for its large lion pride, the Marsh Pride. They had to adapt to the super-harsh environment of this intriguing place in order to survive. This group of sometimes up to 30 lions have become experts in hunting elephants – a spectacle that can't be guaranteed but one that anyone who has witnessed it will never forget. Savute Elephant offers its guests a comfortable place to relax and enjoy the environment. The hide underneath the terrace and pool offers amazing views over a busy waterhole that gets pumped all year and attracts lots of animals during the day and night.
Pick #5: Kanga Camp, Mana Pools National Park, Zimbabwe
Kanga Camp lies hidden in the backland of Mana Pools National Park. Its unique attraction is the super-busy waterhole right in front of camp. The animals know that Kanga Pan is the only reliable source of water in the area and they make use of that knowledge. Guests can enjoy a delicious lunch on the main deck while watching the elephants come to drink. This authentic bush camp consists of six comfortable tents and guests get a true bush feeling in this remote part of the park.
Tucked away in the Khwai Private Reserve, Tuludi from Natural Selection has access to 200 000 hectares of land to explore… so we went exploring!
Overall impression
Tuludi is stunning. Every small detail has been thought of while putting the lodge together. The main area offers so many different places to sit – the problem is that they are all very welcoming so the choices seem endless! All these different seats have different views of the area surrounding the lodge.
The whole lodge, including the staff, is premier material. Food is à la carte with a good number of choices that are out of the ordinary but tasty. The rooms are spacious and restful yet romantic with outside bathtubs. The family room is stunning. In fact, the whole camp is family friendly especially with the fun addition of the slide in the main area!
The vehicles are so comfortable that no bumpy road can ruin your game drive. They also have an elevated hide overlooking water for lunches or dinners.
Comparative value and experience
Tuludi offers a chic modern style, some of it's design elements are unique, like the bar, made of thousands of mosaic pieces – stunning artwork. This new camp has the air of a premier camp at more classic rates, it would go perfectly well with the likes of Kanana, Nxabega or Xaranna. I can also see it being combined with Ngoma Safari Lodge, Belmond Savute Elephant or the new Selinda Camp.
Ideal clients
This lodge is definitely for clients wanting a luxury safari who love their comfort. It's also good as an upsell for honeymooners. Tuludi is a good family camp for children aged six and over but a private vehicle must be booked in this case.
Seasonality, wildlife and activities
Tuludi is one of four camps in the vast Khwai Private Reserve. Only vehicles of one of the four camps are allowed to gamedrive in the area, making it an exclusive experience. The main source of water is the eastern-most finger of the Okavango Delta, the Khwai river, which attracts large herds of elephant and buffalo. The permanent waterholes are home to resident hippos. During rainy season the floodplains fill up, changing the landscape from open grassy floodplains to lilly-filled lagoons.
Clare and I were among the first to visit the 'new' King's Pool Camp, which has been given a very impressive make-over…!
The new rebuild of King's Pool is looking fantastic. They have used a lot of earthy colours such as browns, beiges, golds and black, which give a really refreshing feel to be somewhere completely different to the Delta.
From the main area and all the rooms, you have a lovely view over the Linyanti Swamps, teeming with hippos and crocodiles.
One of the special treats of King's Pool is their very own in-house masseuse, who will spoil you with a massage on the deck of your room overlooking the swamps, for total relaxation in your siesta or after a hard day's game driving.
The lodge has the advantage of driving along the riverbed in the late afternoons where you don't have to search for any game, as hordes of different species come down to drink in the heat of the afternoon.
We were lucky enough to watch crocodiles displaying mating behaviour plus see hundreds of elephants, roan and sable antelope among other plains game.
The landscape and habitats are completely different to the Okavango despite the Linyanti Swamps being a Delta system of their own; they are completely separate to the Okavango.
Driving the river's edge in the afternoon is a completely different experience to driving further back in the mopane woodlands in the early mornings looking for more predators. It gives a complete contrast of habitats.
This area is well known for its large herds of elephants in the dry season: it did not disappoint in that regard as we encountered huge breeding herds.
Another highlight of this camp is the two hides. One is underground in front of the water, meaning you are looking out at ground level up at the gentle giants that dominate this area.
King's Pool suits first-time safari goers as it is an easy comfortable safari experience. Everything is pretty much thought out for you and not too much energy is required. Those first-time Botswana travellers who have heard about our large elephant populations, but don't want to do the crowds of Chobe and have the Premier budget, would fit King's Pool perfectly as they still get the barge on the river and game drives, all in the exclusiveness of a private concession. You have the flexibility of game drives, boating, walks and sitting back in one of the two hides relaxing with a gin and tonic, watching the animals coming down to drink.
The best months to explore this area in a typical year is July to October as the food resources and excess surface water from the rainy season have dried up, pushing the big herds into the Linyanti Swamps area to greener pastures and permanent water sources. In the Green and shoulder seasons, although the big herds will move out, the predators remain because they're territorial, and the antelope that remain give birth to their young, meaning lots of babies around that make for easy pickings for the lions!
We stopped at Kwara Camp in the famous Kwara Reserve in September 2019, just after it reopened after a complete rebuild. The new camp is bigger and more luxurious than the old one: there are nine tents (including one for mobility impaired guests), two swimming pools and private vehicles available.
What was your overall impression of the camp? Please highlight the unique selling points.
Sue Smart of Kwando Safaris was there to show us around and she is clearly very proud of the new addition to the Kwando portfolio – quite rightly so! This new lodge is lovely and the feel is classic 50's safari style with contemporary touches: elements of décor like old trunks, framed photos of insects on the wall, a brass telescope, fabrics depicting plants and animals mixed in with a modern light fitting and bar stools, for example.
Every small detail has been thought of and geared towards a more demanding, sophisticated and mature clientele. The lodge is definitely not child friendly – the minimum age is 18. The main area is constructed on different levels and offers various places to sit, play games, read, write, lounge, drink and eat. The rooms are huge and include a proper lounge area with a sofa, armchairs and coffee table, a king-sized bed wrapped in a mosquito net, en suite bathroom with lots of packing space and surface areas on which to put toiletries, a vanity, bathtub, enormous rain shower heads in the indoor and outdoor showers, and a large deck with table and chairs. The linen looked first class, too.
The room I saw was for clients with mobile disabilities was all on one level. The others are identical but have a sunken bathroom. The rooms have solid walls and wooden doors and yet there is a canvas feel to it (good for clients who don't want to sleep in a 'tent'). I love the fact that there are two good-sized swimming pools at each extremity of the lodge so they will never seem overcrowded nor in full view of the main area. Each pool area has a 'clubhouse', which has a fully stocked fridge, tea/coffee-making facilities, armchairs and a ceiling fan. There are four deckchairs on one side of the pool, facing the bush.
How does the camp compare to similar camps in terms of value and experience? Are there any notable special offers applicable?
I feel that Kwara Camp is good value for money. Being a four-star classic camp, it is super comfortable but not as luxurious (or as expensive), as Tuludi or the Wilderness Classic camps. Long-stay rates are always a plus at Kwara and as long as you stick with a minimum of three nights, the Five Rivers package can include Kwara. Please remember that a minimum stay of three nights is necessary, and honestly spoken this concession justifies at least a 3 nights stay, ideally even longer.
How would you combine this camp in an itinerary and why?
The camp covers land and water activities, I would combine it with a camp in a completely different area such as Savute or Makgadikgadi Pans. Or in the Linyanti, the obvious choice would be Lagoon or Lebala Camps because of the reduced long-stay rate.
What type of clients does this camp suit and why?
This lodge is definitely suited for higher-end safari goers, seeking an authentic, good quality safari in one of the best concessions in the Delta. It comes with lots of creature comforts but not over-the-top luxury: groups of friends, couples, families with adult children (minimum age is 18 years), repeat clients and honeymooners would all feel comfortable here. It is also suited to those who want solid walls, and windows and doors that open and close (not tents or canvas).
How does the seasonality of the area change through the year and what effect does it have on a visitor's experience, with specific reference to wildlife and activities?
This huge private concession borders the Moanchira channel, which has permanent water so boating will always be possible, whatever the season. Game is super-chilled and plentiful. Moremi Game Reserve is just on the other side of the channel so lots of animals cross backwards and forwards throughout the year. If the low water levels in the Delta persist into 2020, the Kwara Reserve will be a big draw as this year water in the upper Delta is more plentiful and reliable.
We're only momentarily disorientated… I've been lucky enough to call Botswana home for 7 years now and have traversed most of its dusty roads. However, there are always new gems to explore and last weekend the Makgadikgadi National Park was on the itinerary. This largely underutilised park only has a couple of roads crisscrossing its interior and most of them are long and straight with miles of visibility. Despite these pretty good odds, I still managed to be momentarily disorientated… or in plain English "lost".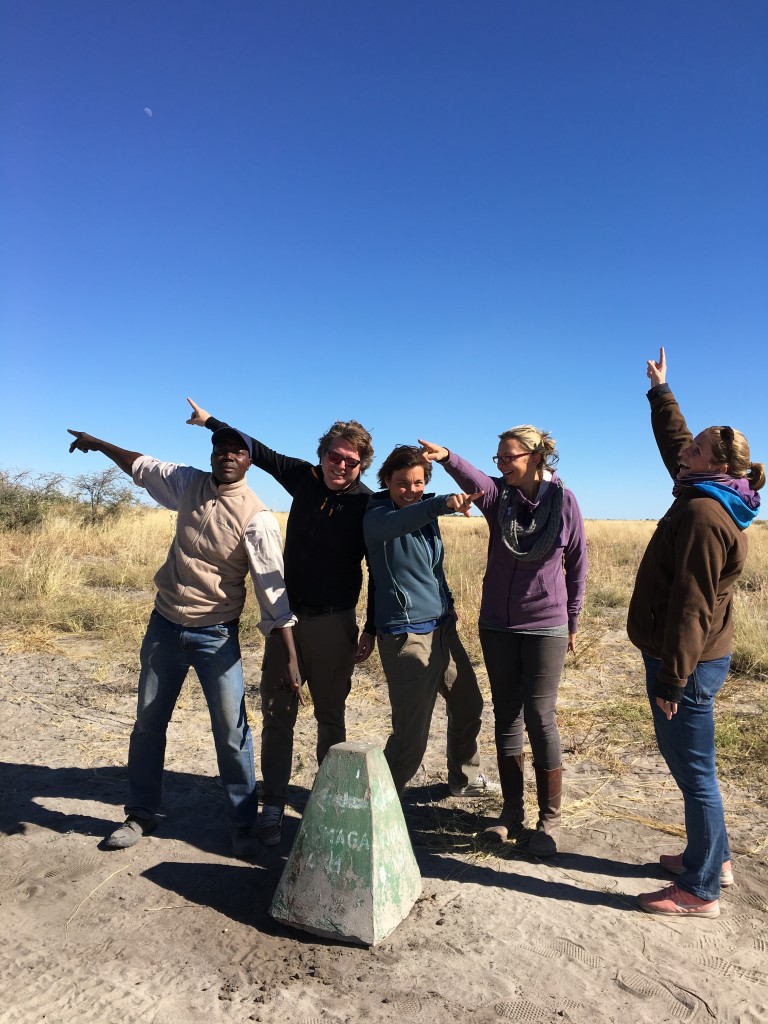 In hindsight this is actually a pretty impressive feat seeing as there are so few roads and yet we still managed to miss one of them – turns out it was the crucial one. We had booked a campsite in the middle of the park but for some reason we ended up on the Boteti river which forms the western boundary of the park. I'll never forget when we came out of the 'woods' onto a ridge with a very pretty view of a dry river bed. After a moment or two of complementing the view it dawned on me that we were looking down on the Boteti and nowhere near where we were supposed to be. The little cement pillar stating Khumaga office a mere 2km away confirmed this. I couldn't help but start laughing, almost uncontrollably, at this rather long detour. It was now 15h00, we'd left Maun at 8h30 and still had to cover 60km to get to the campsite and set up camp. Suffice to say the giraffe, gemsbok and elephants we'd passed earlier looked a little surprised to see us again so soon going the opposite direction at a slightly faster pace..
We made it to Tree Island in record time, set up camp and managed to get out onto the pans for a well-deserved sundowner. Nothing beats the open spaces the pans have to offer, there is quite literally nobody around let alone any man-made structures to disturb the endless views. My Dutch friend, who is an avid sailor, likened the emptiness of the park to being out at sea – the grass waving in the gentle breeze reminded him of the waves and if you know enough about astronomy you can easily navigate by the stars. I've seen plenty of impressive night skies but on a moonless night like we had, the universe in all its glory makes you seem very small and irrelevant in the larger scheme of things. A feeling that more people should experience more often if you ask me!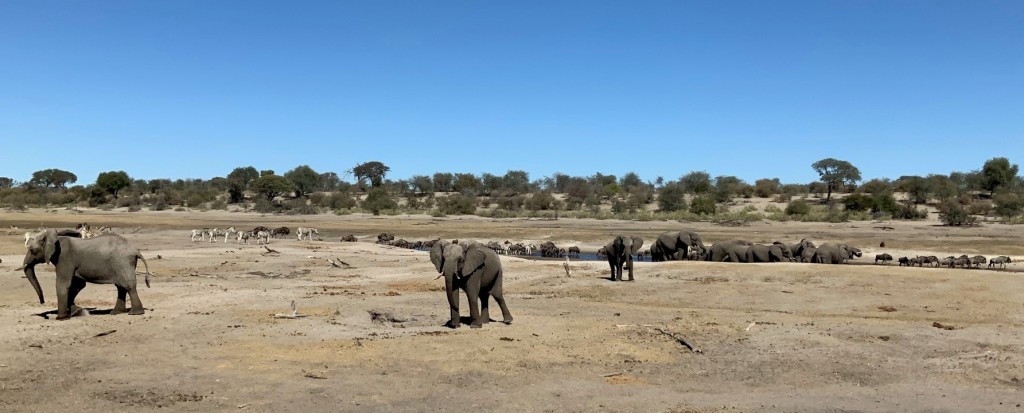 Back in camp dinner was served and we ended the day with a nightcap around the fire – you're not camping properly if you're not sitting around a fire contemplating the days' adventures whilst hearing lions roar in the background.
The next morning, we left bright and early, changed our second flat tyre and made our way back to the Boteti (we knew the road by heart now..) to catch the annual zebra migration. This natural phenomenon is utterly astounding and quite literally breath taking. Imagine hundreds of zebra and wildebeest making their way down to the river, which isn't much more than a couple of big puddles and trying to squeeze in between large herds of elephants. We parked our car under the trees, opened our picnic lunches and just sat there for hours watching the spectacle unfold before our eyes. Whilst the zebra, wildebeest and elephants were all jostling for space lions starting calling. I'm convinced they did so just to make the experience all the more surreal for us.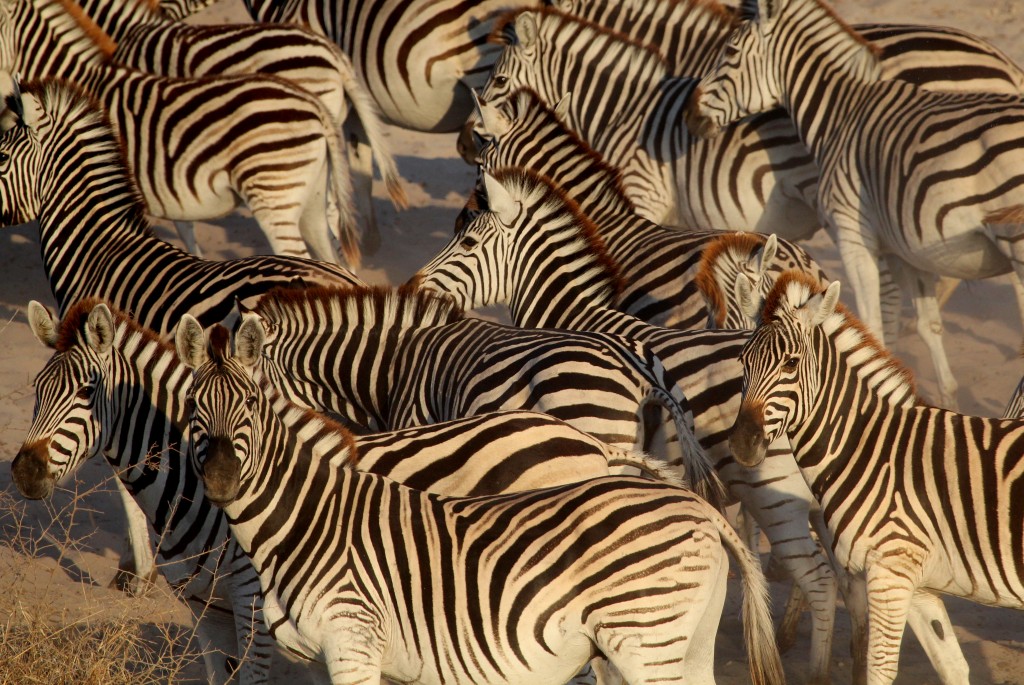 No matter how long I've been in Africa for nor how many safaris I've done, those hours spent on the river banks watching the spectacular migration in action is something I won't easily forget. It ranks pretty high in special moments and trust me, this continent has granted me quite a few!