Category Archives: Safari
Every single day, we at Safari Destinations, have the privilege of interacting with our clients in Maun, hearing about their wonderful safaris. Excited by their experiences in the bush, our guests are more than eager to share their feedback with us. Our clients are so thrilled to be travelling again, agreeing that travel is still much needed and that there is no better time to go on safari than now!
Elicited by our Meet and Greet team, here is some of the feedback received in the last couple of weeks (we struggled with the selection since we had so many wonderful stories to choose from).
A FAMILY'S DREAM COMES TRUE AT SHINDE CAMP
"Shinde was by far the highlight of their trip. In enquiring why this was so, we were told that they had the best Guide ever in the history of their safari holidays. Our guests commented that they have been to South Africa, Namibia and Botswana with Botswana having been the best just because of their guide, Kenny, at Shinde Camp. The whole family commented that Kenny was an absolute gem. He was very knowledgeable (he even knew the scientific and latin names of plants and animals), was fun (extremely entertaining), and catered for the young ones and keeping them very interested each and every game drive. They mentioned that a Guide can make or break a trip or experience and fortunately for them, Kenny truly enhanced their experience. Their game drives were nothing short of spectacular. They saw everything that they wanted to see and even got to witness a Lion kill, just like you see on National Geographic. This family really were happy and could not stop expressing their satisfaction with their whole entire trip."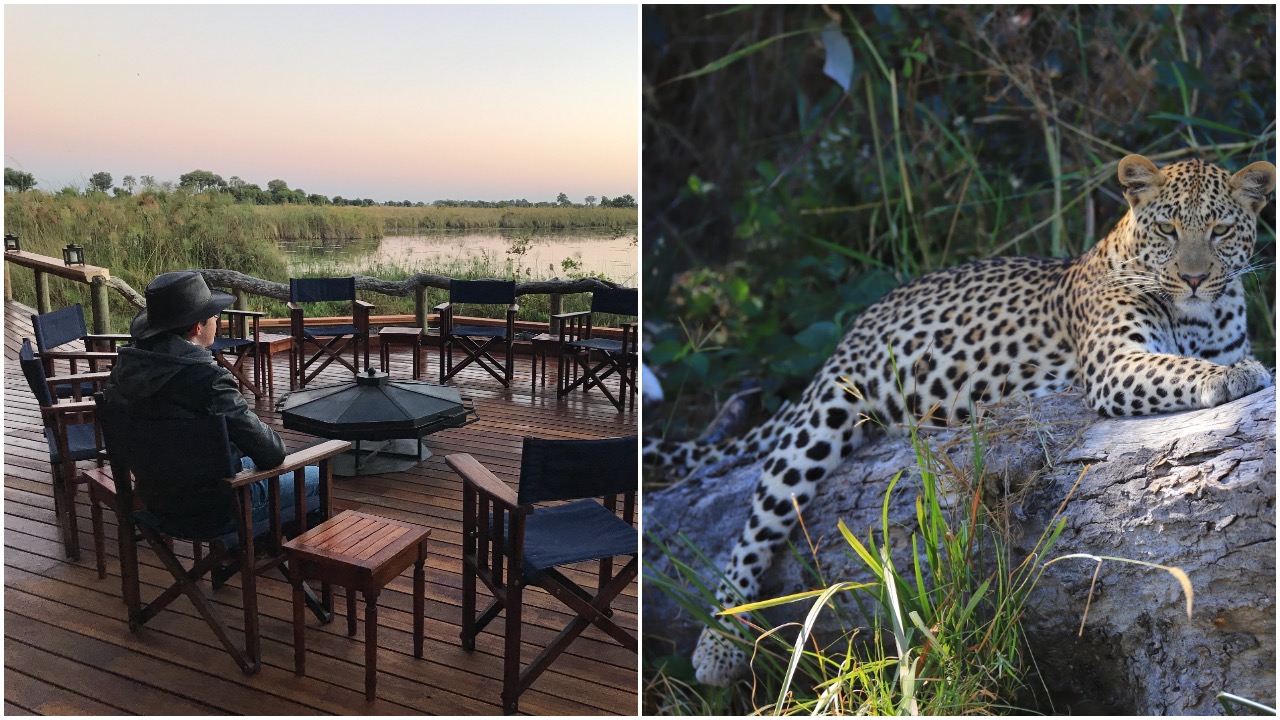 NOGATSAA PANS LODGE: A GEM & THE CHERRY ON TOP!
Although the focus of a safari is the wildlife sightings, the landscapes and the sheer bliss of being out under the African sky, the staff in camp contribute hugely to the overall experience. A warm welcome, a beautiful smile and the kindness of the people in camp who are more than ready to make sure that all your needs are met during your stay, adds to the pleasure of your stay. Nogatsaa delivered in this aspect!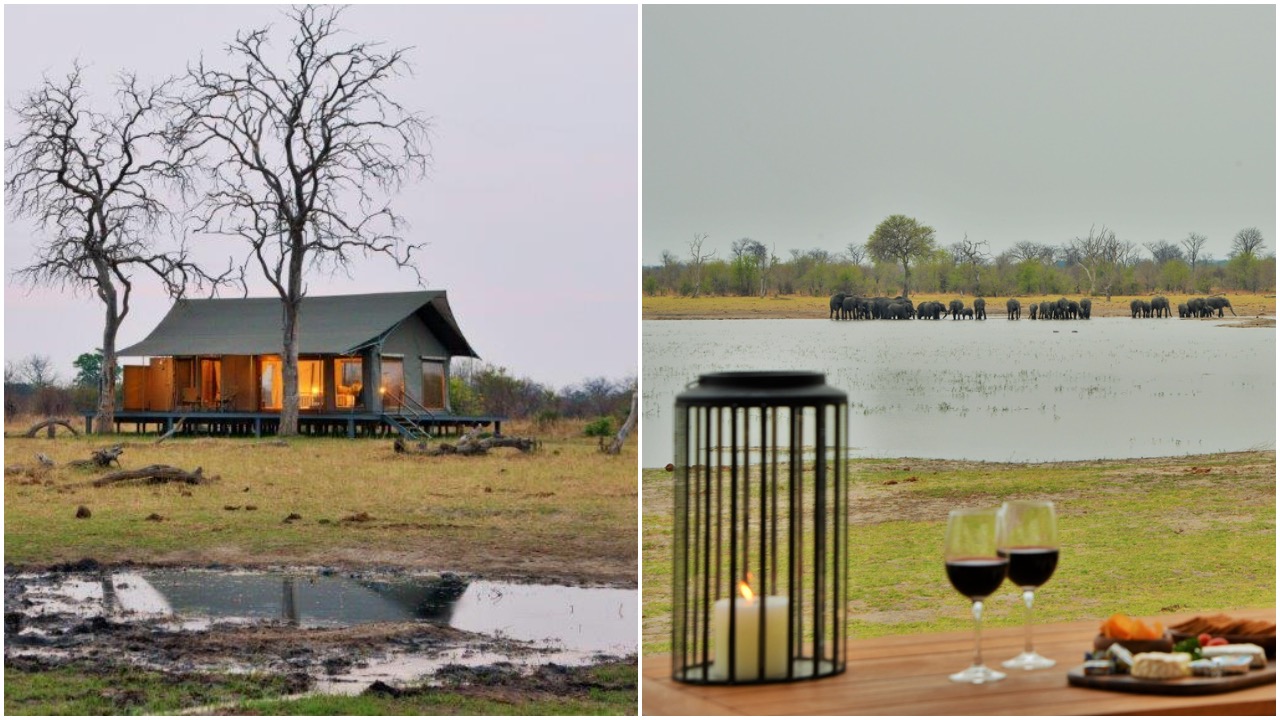 "Nogatsaa Pans Camp: Clients raved that the Manageress Ketsile, had phenomenal people skills and was just incredibly friendly. Allan, who was their Guide for their entire stay was also an asset and made their sightings just extra special. He was very knowledgeable and very flexible. They can't compare the welcome and hospitality that they received anything they had experienced on other trips.
SELF-DRIVING IN BOTSWANA! WHAT COULD BE BETTER?
It is great to go on a self-drive trip. Our guests are enjoying the open and flat landscapes while driving through the Makgadikgadi pans, to road side sightings of elephants aplenty in the famous Chobe area to the rustic and pristine Savute and then Khwai with its exceptional game viewing. The bonus to self-drives is that you get to spend dedicated time with family or close friends.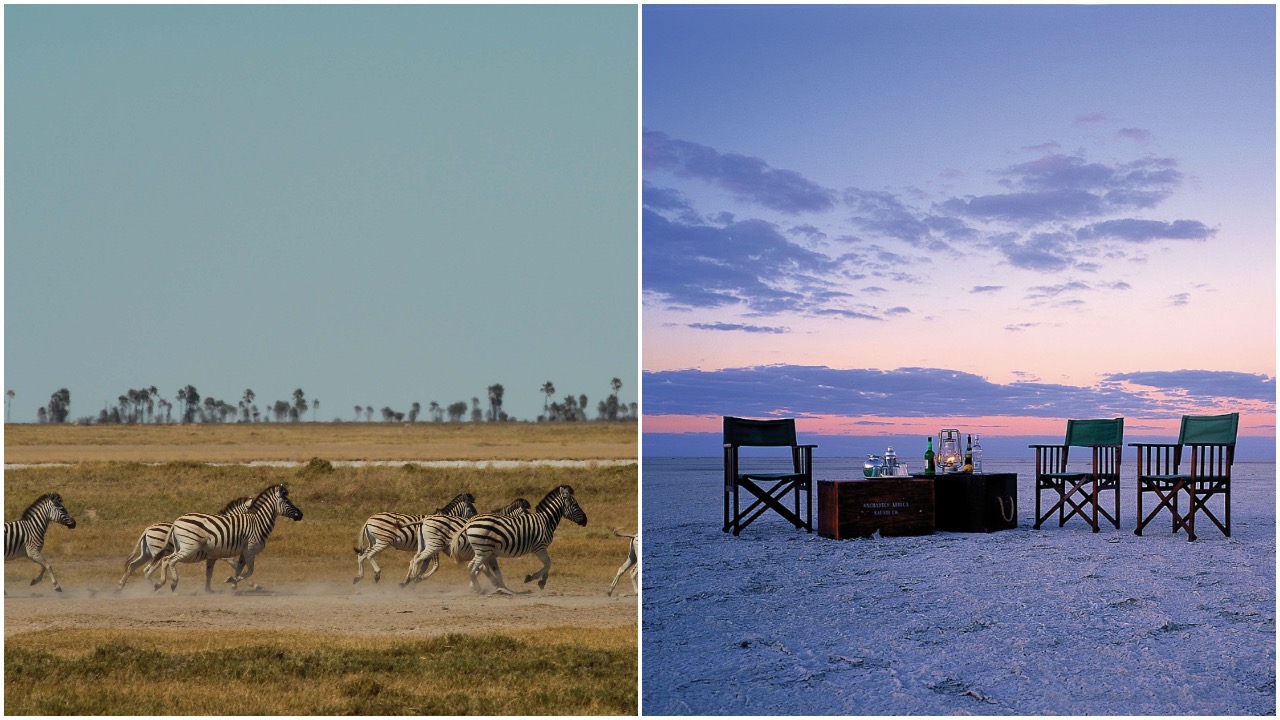 " The clients absolutely loved the Makgadikgadi and her beautiful sunsets and sunrises as well as the vast nothingness of the landscape. Kubu Lodge was also a great place to stay as Chobe was buzzing with hundreds of elephants. They had never seen anything like this before.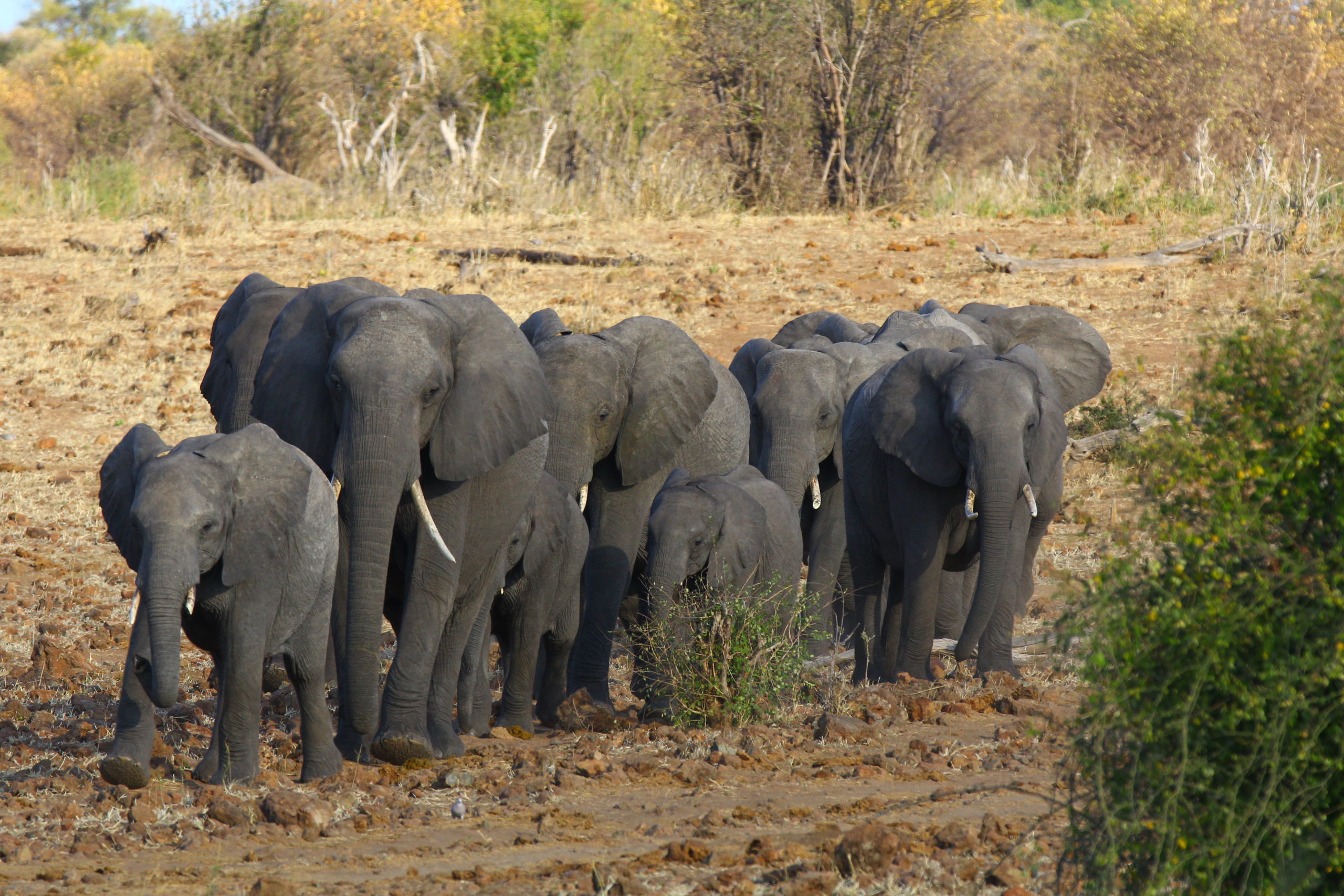 Savuti was " Lion land". They saw a total of 15 Lions at one sighting, with cubs. This for them was very special. The experience of being in the wilderness (unguided) with mother nature delivering in such a spectacular manner, was simply remarkable. The landscape here was also breath-taking. Khwai also was just awesome. On one drive, clients saw a dead impala up a tree and they both guessed that they were about to see a Leopard. And there it was! They were so excited and told me about the many video clips they took of their "special" sighting and moment. This was their first time visiting Southern Africa and they could not believe their luck."
These are just some of the feedbacks from the many guests we have hosted over the past months. We love to hear of the magical moments experienced by our guests and to share in the memories they will take back home to tell to their families and friends! This is one of the best parts of our job, being allowed to share such amazing experiences.
As Carina always says: "Every day not spent on safari is lost day". I am sure our guests, after a safari of a lifetime, will agree. The African travel bug is the one that bites the hardest.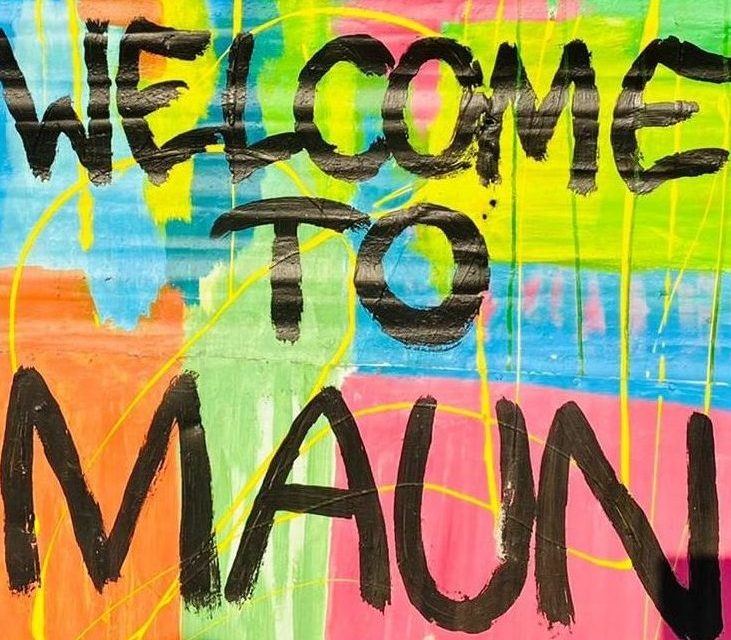 Maun is becoming more and more of a popular hot spot in Botswana! This cosmopolitan village, home to many people from all over Botswana and the world, showcases its diversity in what is on offer to the traveller. Restaurants cater traditional Setswana & international cuisine. Cultural tours and art exhibitions give you a glimpse of life in Botswana, a perspective often hidden to the average traveller. Breweries creating local beer and gin tantalise the taste buds. Stay for more than just a few hours in Maun! Overnight and check out these amazing cool things to do in Maun, activities that we have chosen especially for you and your family.
THE MAUN IMMERSIVE CULTURAL TOUR
The locals agree that this is what has been missing in Maun. This tour offers an opportunity to visit all the cool and interesting parts of Maun, to get up close and personal with the locals instead of just 'a hello' and 'goodbye' at the airport! This Immersive Cultural Experience is about getting to know the ways of life of the Batswana, learning about our customs and traditions, while having your host share first hand anecdotes about living in Botswana.
To learn more about our culture, explore Maun with one of our local hosts on your next Botswana Safari. www.yourbotswanaexperience.com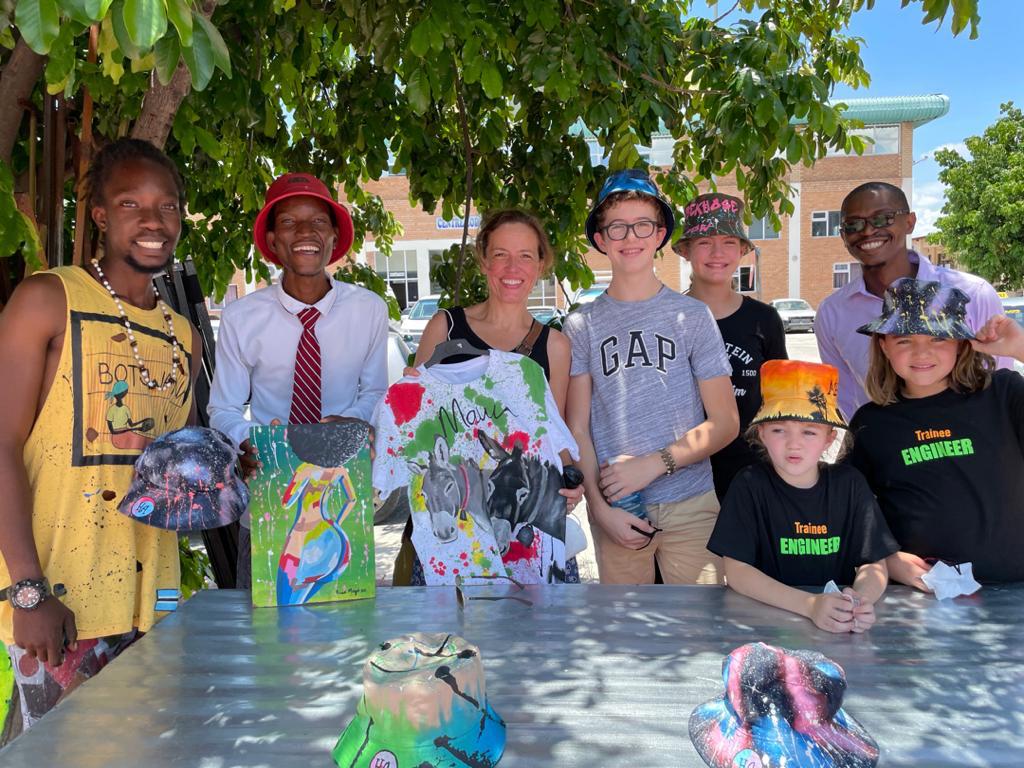 AKACIA CAFÉ
Meet Ednah Rosen, a local Motswana restauranteur and author, who is passionate about sharing Setswana culture through cuisine and entertainment. Treat yourself to Edna's local delicacies including a deliciously refreshing ginger drink made the Setswana way, Tswi (waterlilies grown in the Delta waters) or Seswaa (pounded meat) when available. If you are lucky, you may be in Maun on a night where the Café is lit up and vibing with either local poets or musicians doing their thing. Akacia Café is located next to Nhabe Museum which is currently being resuscitated and revitalised. The Museum also exhibits Botswana artists.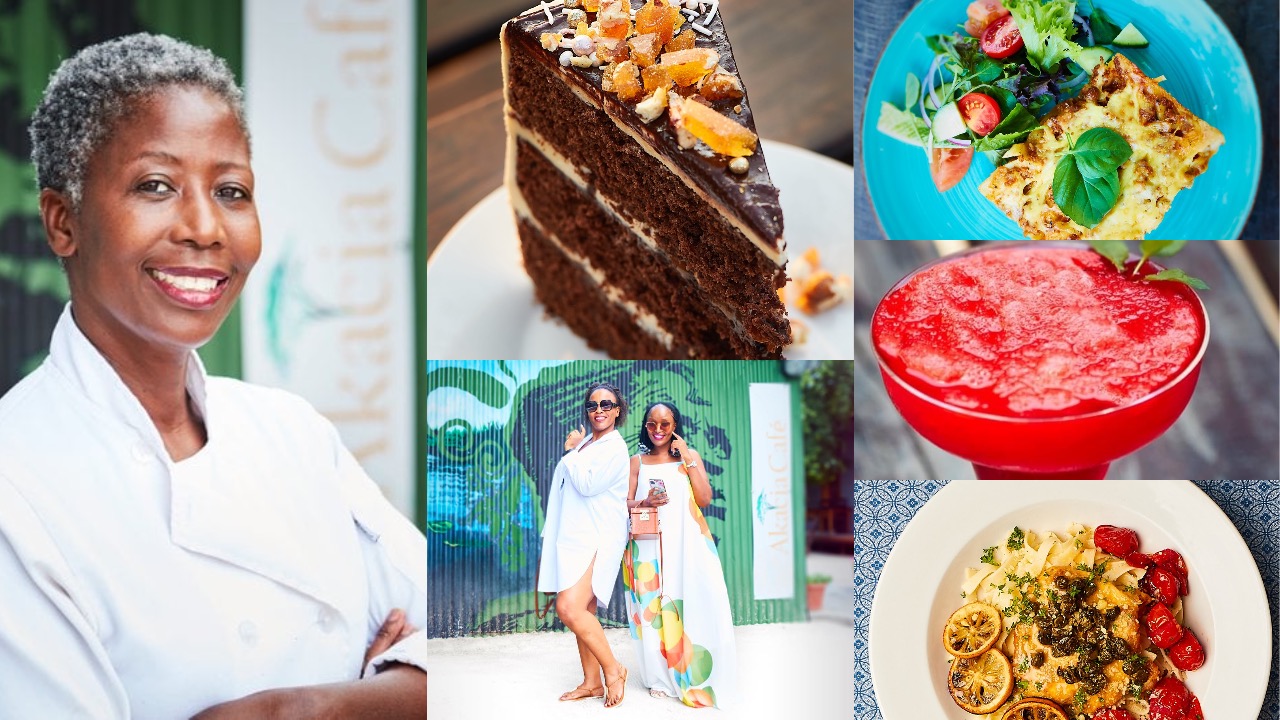 OKAVANGO CRAFT BREWERY
"A fine beer may be judged with only one sip, but its better to be thoroughly sure!" This Czech proverb couldn't be more right especially when faced with a Botswana thirst! Visit the Okavango Craft Brewery, Northern Botswana's first ever licensed microbrewery, based here in Maun. The Brewery offers a variety of unique millet craft beers, with most ingredients straight from the Okavango Delta. Here's your chance to literally taste the Delta.
In addition of making very tasty local beer; through their partnership with local NGO Ecoexist, local farmers residing in the area now have the opportunity to be linked to and benefit from a new market, offering some reward for their efforts to coexist with elephants, and creating sustainable, inclusive growth for the local economy of the Okavango region. Their products give consumers the choice to support both farmers and wildlife, while enjoying quality products. For more details go onto the Okavango Craft Brewery website and read more about their amazing community work in partnership with Ecoexist. https://okavangocraftbrewery.com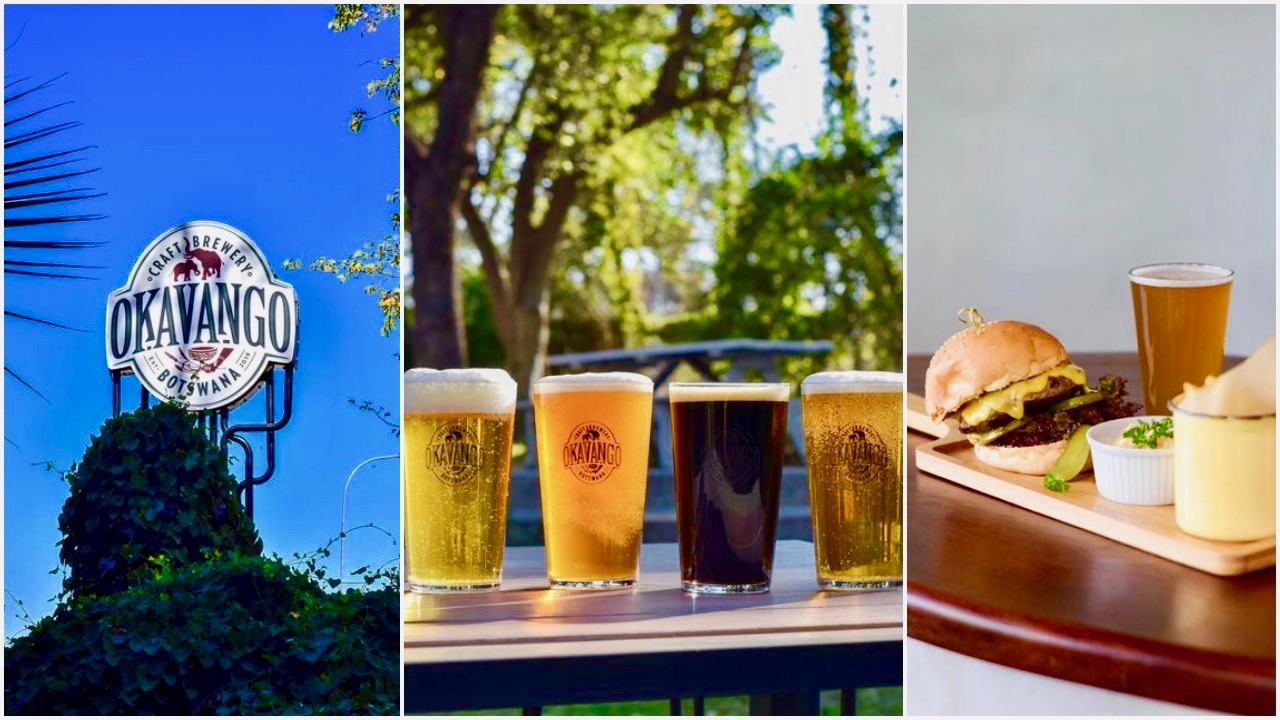 THE DUCK CAFÉ BAR
Just outside Maun International Airport, you will find the Duck Café Bar. Named after one of Maun's most historic bars from the pioneering days of this dusty hamlet, experience this fresh, funky version. A quick walk from the airport, our guests are over the moon about this new restaurant and raving about it, especially the coffee. This restaurant provides the yummy fresh juices & tasty food with produce procured locally. Pop in and see what the fuss is all about.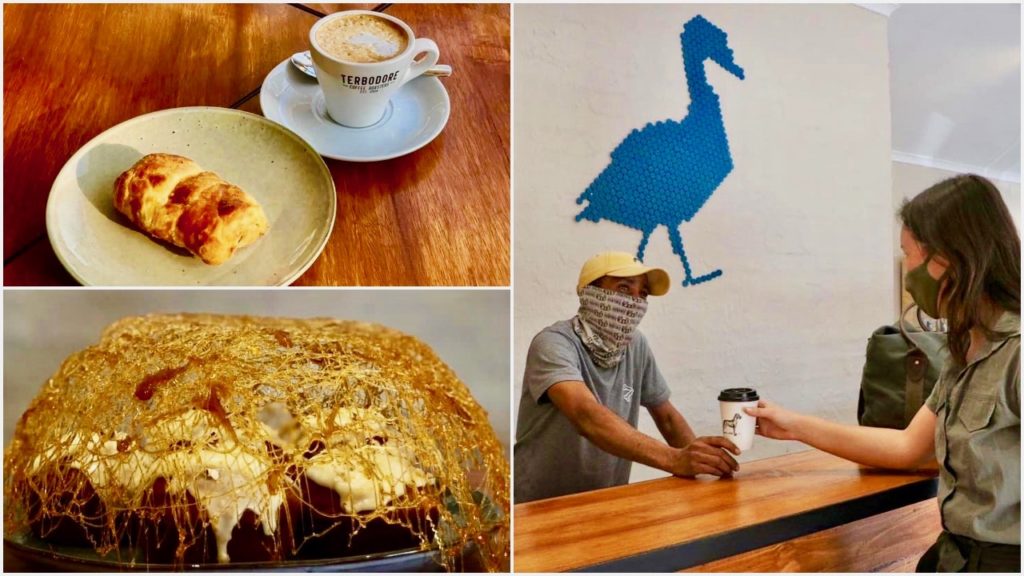 KURU ART EXHIBITION
Currently in Maun at the Duck Café Bar, the Kuru Art Exhibition offers a unique experience of viewing San Bushmen art. Using a range of techniques such as oils, linocuts, lithographs, dry point engravings as well as traditional techniques to create ostrich jewellery and prints, experience the variety of art produced by 15 artists and over 50 craft products involved in the Kuru Art Project located in D'Kar, in the Ghanzi district.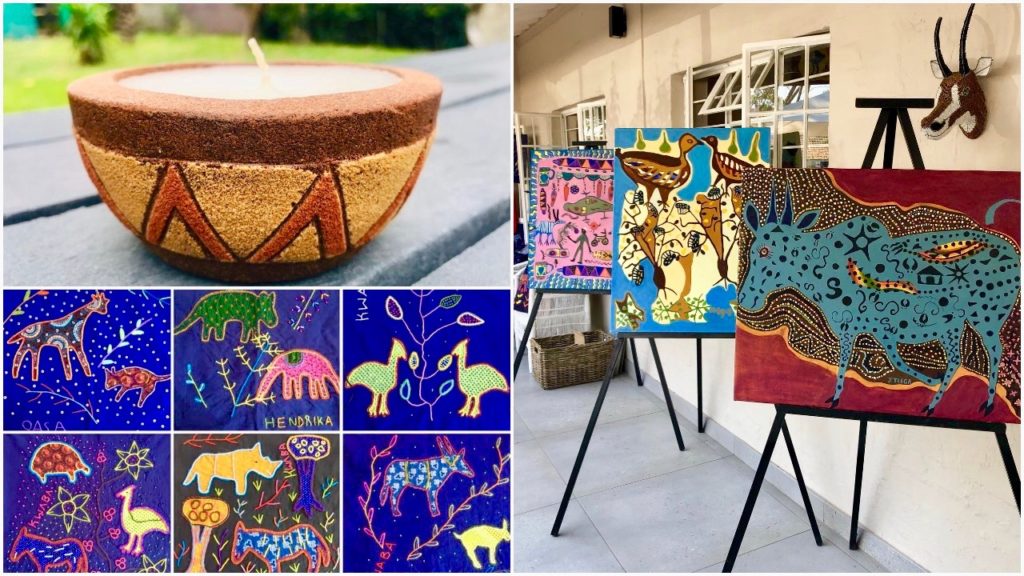 A special gift for friends and family will support a community where 70% of the population is unemployed. If, however you miss this exhibition the online shop is stocked and ready for you to do some shopping. https://craftedbotswana.com/products/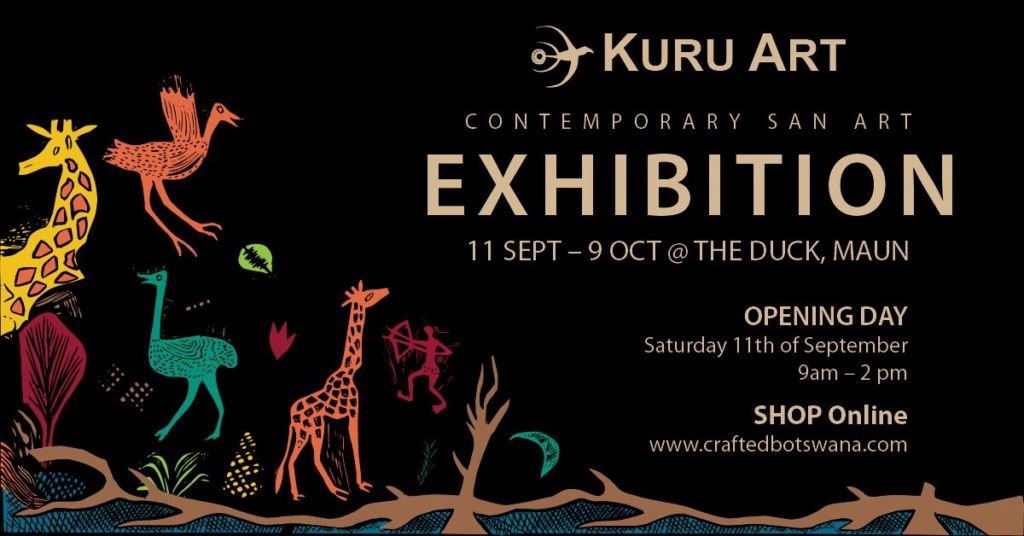 I am sure many of you think that a great safari does not mean great service or amazing food. I would like to strongly disagree.
Amazing food comes in many shapes and tastes. On safari you have the choice between culinary highlights on the level of Michelin-star-cuisines and deliciously authentic food cooked on a campfire. These don't contradict but compliment each other. Here are some examples of the finest food experiences in Botswana:
Xigera Safari Lodge by Red Carnation
Xigera is an intriguing and magic place. It offers undoubtedly the highest level of culinary experiences in the Okavango Delta. Their wine cellar has the largest selection of wines and champagnes in Botswana.
Bush Ways Mobile Safaris
Guests always rave about the delicious food they enjoyed on their mobile safaris. I can only agree, the tasty meals the camp assistants and guides create are just mouthwatering. In German we have a saying called "love goes through the stomach", that is exactly what happened to me 20 years ago when I fell in love with the freshly baked bread on my first ever camping safari, the baker who was also my guide has been my husband for 17 years!
Khwai Leadwood by African Bush Camps
Every meal is a surprise. Breakfast is served around the campfire overlooking the Khwai River and Moremi Game Reserve. Lunch is a combination of fresh and healthy choices, always freshly prepared in front of the guests. For dinner the guests enjoy a variety of venues, the Boma, a private table set up at the pool, or a surprise dinner on the deck of your tent. We had the pleasure of experiencing Khwai Leadwood on a recent stay and were very impressed.
Selinda Camp by Great Plains Conservation
For all guests that look for the exclusivity of an excellent private concession topped by excellent service and the food, what can I say? Dinner felt like being in a Michelin-Star-Restaurant. The creativity and perfect presentation of all meals is impressive. Selinda is the perfect lodge for food & wildlife lovers.

I am very grateful for my privileged life, my healthy family, my friends, and that our company has so far weathered the storm called Covid. Covid has restricted us in many ways, but it did not manage to take away my love for my job and especially my love for travel. My number one rule has always been, grab the opportunity when it presents itself and ignore anything that gets in its way 🙂
This is exactly what I did in early May. I missed my team in Maun and realized I needed to experience travel during Covid myself in order to share my knowledge with our agents. I ignored the so called experts and their warnings and went on a one month trip to Botswana and South Africa.
We flew with Lufthansa from Frankfurt to Johannesburg, our flight was on time, smooth and of course half empty. In Johannesburg we connected to Airlink, again the flight was on time and smooth. During the entire trip our printed versions of our PCR tests felt more important than our passports (by the way, we did our PCR tests in Frankfurt Airport at Centogene, results available within 6 hours – efficient and reliable). The tests had to be presented at all check-points. Starting at check-in in Frankfurt, at border controls, at the gate before boarding the flight. Again in Johannesburg in transit, at the gate and of course on arrival in Maun. What did I learn? As long as you have done your homework and have all paperwork at hand (and copies of all the papers) the ride is smooth.
For South Africa we had to fill in an arrival form which was handed out by the flight attendant before arrival in Joburg. This health form just asked if we had any symptoms etc. A similar form had to be filled in for Botswana. The flight attendant on the Airlink flight handed it out and we filled it in during the flight before arriving in Maun. At Maun airport, before entering the (new) airport building our temperature was checked, the form and the PCR tests were collected, a quick rapid test done (free of charge) and off we went into the brand new airport building which even has air condition 😉
I think the anticipation of travelling and not knowing what to expect makes people nervous. I can honestly say that once our journey started I was so excited, I knew nothing could go wrong.

In Botswana we worked hard and every free minute was spent in the bush. We explored the new Khwai Leadwood by African Bush Camps, Splash & Kwara Camps by Kwando Safaris and Shinde by Ker & Downey. We had amazing safaris, breathtaking experiences and inhaled every bit of excitement.
For our journey to South Africa we needed new PCR tests, which we had booked with Pharma in Maun, their office is only a couple of minutes from the airport. They guarantee results in less than 24 hours and are a very reliable partner. All guests travelling with Safari Destinations enjoy the carefree service of SD. We prebook the PCR tests be it in the bush (a nurse flies into camp) or in Maun / Kasane / Vic Falls… we make sure results are received on time before travellers depart. The service can be added to the invoice, this way clients don't have to worry about a thing and enjoy their safari.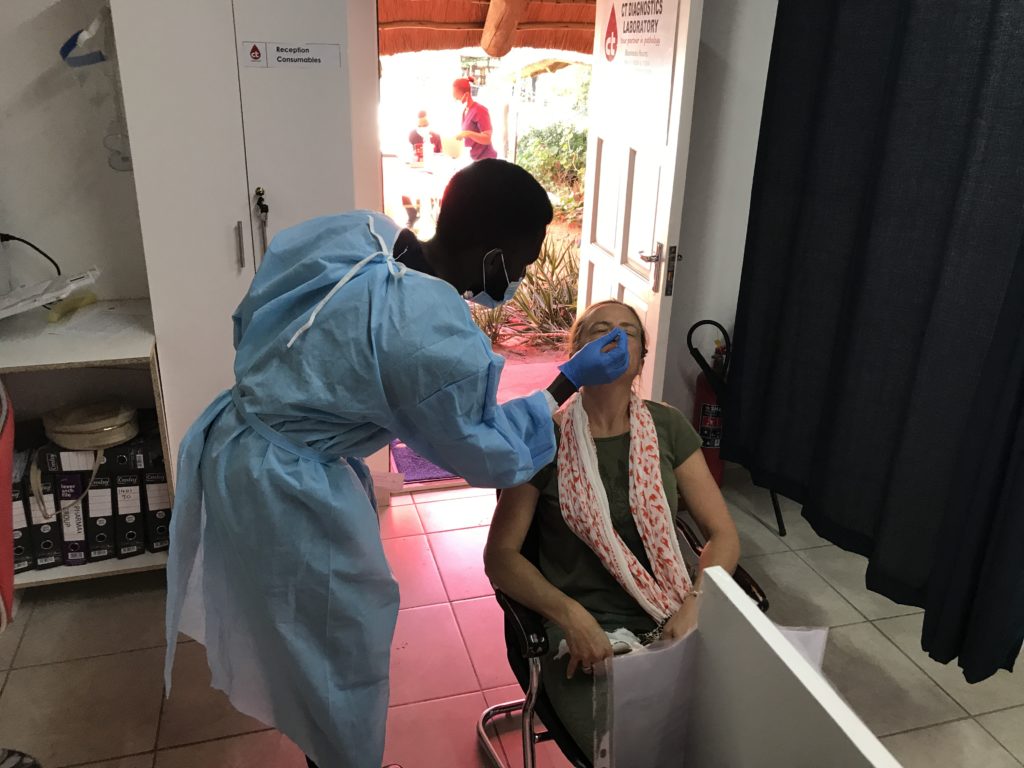 For more information please contact your dedicated consultant or info@safaridestinations.net
#WeLiveit
Botswana is known for some of the last unspoilt wildlife areas in the world and as such offers a unique experience to anybody wanting to discover the beauty, remoteness and diversity of Botswana's landscapes and its animals.
Besides lodge-to-lodge mobile safaris and fly in safaris, Botswana is a great destination for anybody seeking an adventure and wanting to embark on a one of a kind self-drive trip.
Camping in unfenced wildlife areas, waking up early with the sunrise while looking across the moonlike landscape of the salt pans and getting up close with some of the biggest mammals on earth is truly an unforgettable experience.
There are however a few things, travellers should keep in mind when deciding to explore Botswana on their own terms.
Driving through Botswana is nothing like driving through for example the well known Kruger National Park or Namibia, with tar roads and clearly marked directions. Botswana can present some challenges – difficult road conditions with deep sand, destinations far apart from each other, remote areas without signage and confusing "road" networks. All the more important it is to be thoroughly prepared and use the tools at hand to make sure your journey will be the safari of your dreams.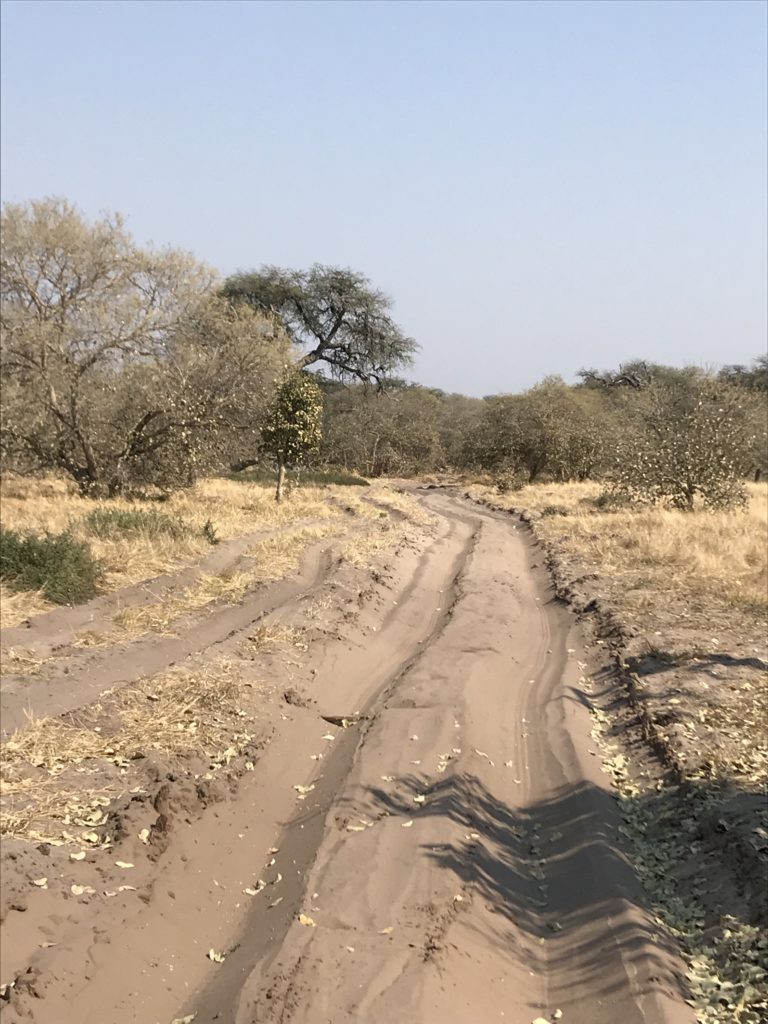 First of all, it is important to understand the different areas and the different types of self-drives.
Make sure you have done your research regarding which areas you would like to visit and what the road conditions are like. Road conditions can vary from main tar roads, to sharp gravel road, deep sandy roads and water crossings.
Unless you are only planning to drive on tar roads, driving with a 4×4 vehicle is an absolute must! Ideally, the vehicle should have a long range fuel tank or in case it doesn't, you need to take extra jerry cans. There are no fuel stations in National Parks and even outside the parks, you sometimes need to drive far distances before reaching the next fuel stations.
Another important thing to keep in mind is that the vehicle is properly equipped. Even on tar roads, there is mostly no network between cities. Therefore, it is essential to be travelling with a satellite phone should you have an emergency and need help.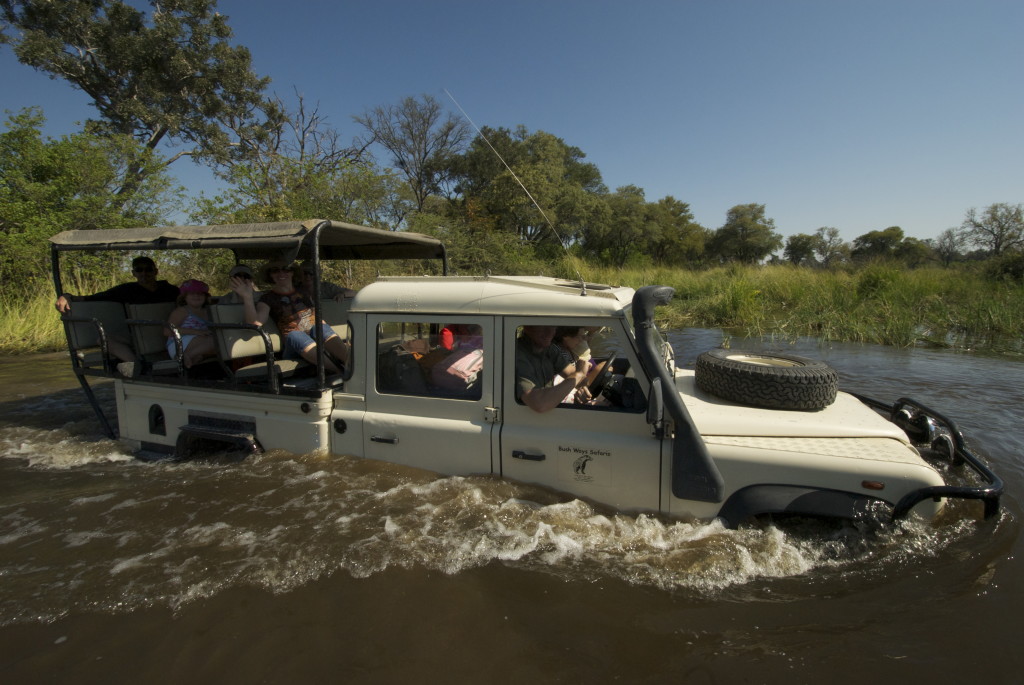 Besides that, the car should also be equipped with tools you need in case you get stuck or have a break down, such as a spade, sand ladders, hi-lift jack, tyre repair kit, compressor etc. and of course spare tyres.
In order to find your way around, you should travel with adequate maps, GPS and best of all, Tracks4Africa. Tracks for Africa is a very user-friendly app that you can download on your phone, and the best about it, it works offline! Even in the remotest areas, the app connects the dots via GPS signal and allows people travelling to easily find their way around the complicated and sometimes a bit chaotic bush network.
We know that some clients struggle with the costs for the app. It currently costs USD 50, but this includes regular updates. The app covers many African countries including South Africa, Namibia, Botswana, Zambia and Zimbabwe and many more. Users purchase it once and can use it again and again.
The National Parks are completely wild and camping is only allowed in designated campsite areas.
The campsites are not fenced, which means, animals regularly walk through them, adding to the thrill of being up close with wildlife. However, make sure you keep a safe distance from wild animals – for your own safety but also to respect the wildlife. The same applies to when you are driving. Keep a safe distance from animals, do not go off-road and stick to the well-used track to ensure you have a smooth trip!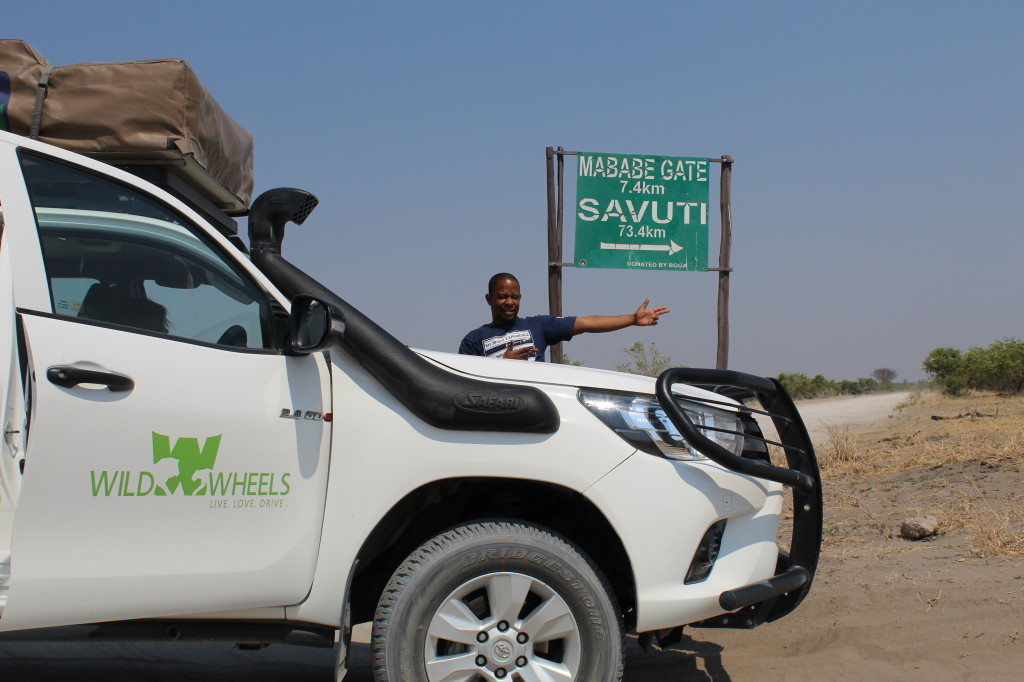 You should not be driving at night. Besides it not being allowed in a National Park, it is very dangerous to drive on Botswana's tar roads at night. Animals can roam freely and there are no fences or street lights along the roads which means farm animals use the warm tar as a sleeping place. Statistically the number one cause of road accidents is hitting an animal while driving at night.
For the less adventurous traveller Botswana can be perfectly combined with Namibia. One of our best selling trips is a self drive trip which starts and ends in Windhoek and which combines the stunning landscapes of Namibia with the vast Wilderness of Botswana. The Delta can be included on a 3 night fly-in, for the rest of the safari traveller stick to the tar roads and link Maun with Kasane via Nata (including a stop along the Boteti or the Salt Pans).
There is so much to explore – come and visit. As you know everyday not spend on safari is a lost day 🙂
It is often, that whenever reality and change merge we discover new places. The year 2020 has taught us that. As we start to look forward to what lies ahead. I would like to take pride in our land and honour the legacy and the heritage that our ancestors have left behind for us… Hidden gems that are unscathed and are still sacred and unknown by most. Heritage sites are said to have the power to heal the body, enlighten the mind, and inspire the heart. For your unique and extraordinary experience we put together a list of places in Botswana that we hold dear to our hearts for your next travels.
GCWIHABA CAVES – OKAVANGO DELTA
Gcwihaba is a fascinating underground labyrinth of caverns and pits, linked passages, fantastical stalagmite and stalactite formations, and beautifully coloured flowstones that appear like waterfalls of rock. Gcwihaba has been part of the Kalahari ecosystem for almost three million years. It was formed during an age when the area was much wetter. There have been dramatic climatic variations alternating very wet with very dry periods.
Archaeological evidence suggests that the area was inhabited by foraging peoples thousands of years ago. Late Stone Age tools, burnt ostrich eggshells, animal bones, even a fossilised primate skull, have been unearthed in the region. Indeed the caves hold important clues to the way prehistoric peoples related to their environments.
Gcwihaba is a designated National Monument and a proposed UNESCO World Heritage Site.
How to get there: Located in one of the most remote parts of Botswana, The Gcwihaba Caves can only be reached via a long and arduous 4×4 Nokaneng route, using a well equipped 4×4 vehicle. The road goes 122 kilometers west of Nokaneng to Xangwa village. From Xangwa, drive south to Xai-xai Village. The cave is a further 36km south east of Xai-xai village.
TSODILO HILLS
The Tsodilo Hills are one of the most historically significant rock art sites in the world, consisting of rock paintings, rock shelters, depressions, and small caves. Nobody knows the exact age of the paintings although some are thought to be more than 20 000 years old, whilst others are merely a century old.
For the people who live at the Hills – the San, the original inhabitants, and the Hambukushu who have periodically occupied the hills for the past 200 years – Tsodilo is a sacred, mystical place where ancestral spirits dwell. In earlier times, their ancestors performed religious rituals to ask for assistance, and for rain. They also put paintings on the rock face; and their meaning and symbolism remain a mystery even to today.
Exploring the three main Hills – Male, Female, and child – is a journey into antiquity. Archaeological research – ongoing for the past 30 years – estimates that Tsodilo has been inhabited for the past 100 000 years, making this one of the world's oldest historical sites. Pottery, iron, glass beads, shell beads, carved bone and stone tools date back 90 000 years.
Because their tremendous historical and cultural importance, Tsodilo was declared a UNESCO World Heritage Site in 2002.
How to get there: From Maun, take the main tar road to Shakawe, 370km. The hills are 40km from Shakawe on a dirt road. The track to Tsodilo hills can only be negotiated with four-wheel-drive vehicles. If you want to make this a half day trip you can always fly in with a helicopter from Maun or the Delta.
TSWAPONG HILLS – MOREMI GORGE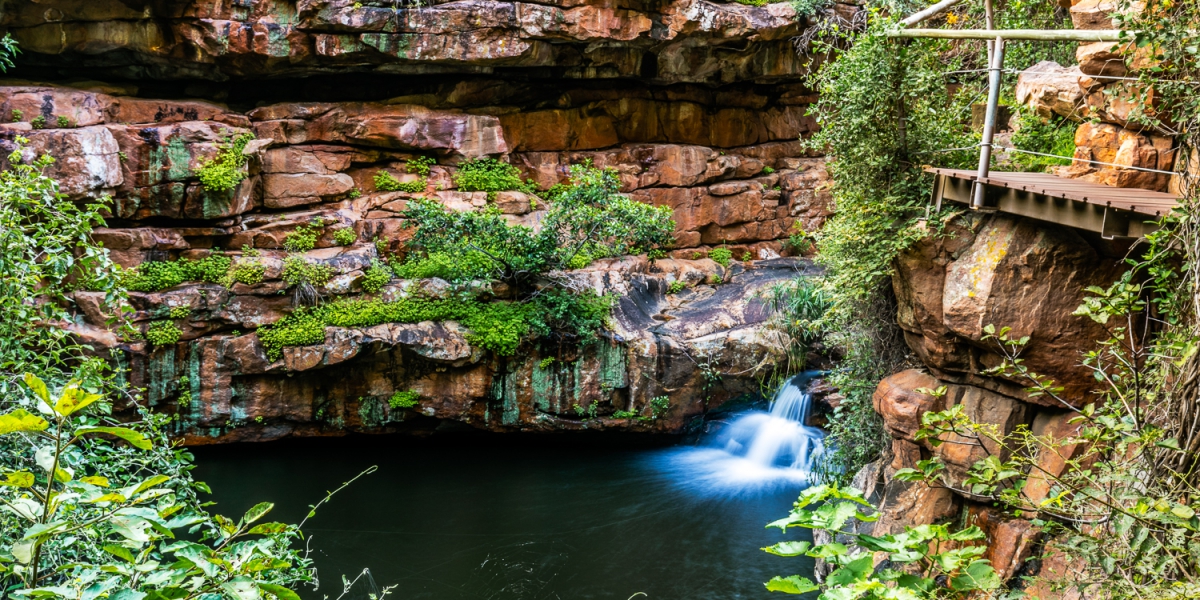 Moremi Gorge is situated deep within the hills, which can only be reached by a rather taxing climb, Moremi Gorge is the source of three permanent waterfalls. The first two are smaller, but fan out into large waterholes, whilst the uppermost falls is a full ten-meters high, giving rise to spectacular scenes of clear water cascading over rocky outcrops, then collecting in a deeply hidden, lushly vegetated, fern-fringed lagoon.
The Moremi Gorge is a designated National Monument and is managed by the Department of National Museum, Monuments and Art Gallery. For self drives this would definitely be worth a stopover.
How to get there: Goo‐Moremi Gorge in Palapye, is a 2 hour drive from the Martins Drift border. Ideal for overnight travellers to Maun and Moremi Game Reserve.
THE CHOBE LINYANTI SYSTEM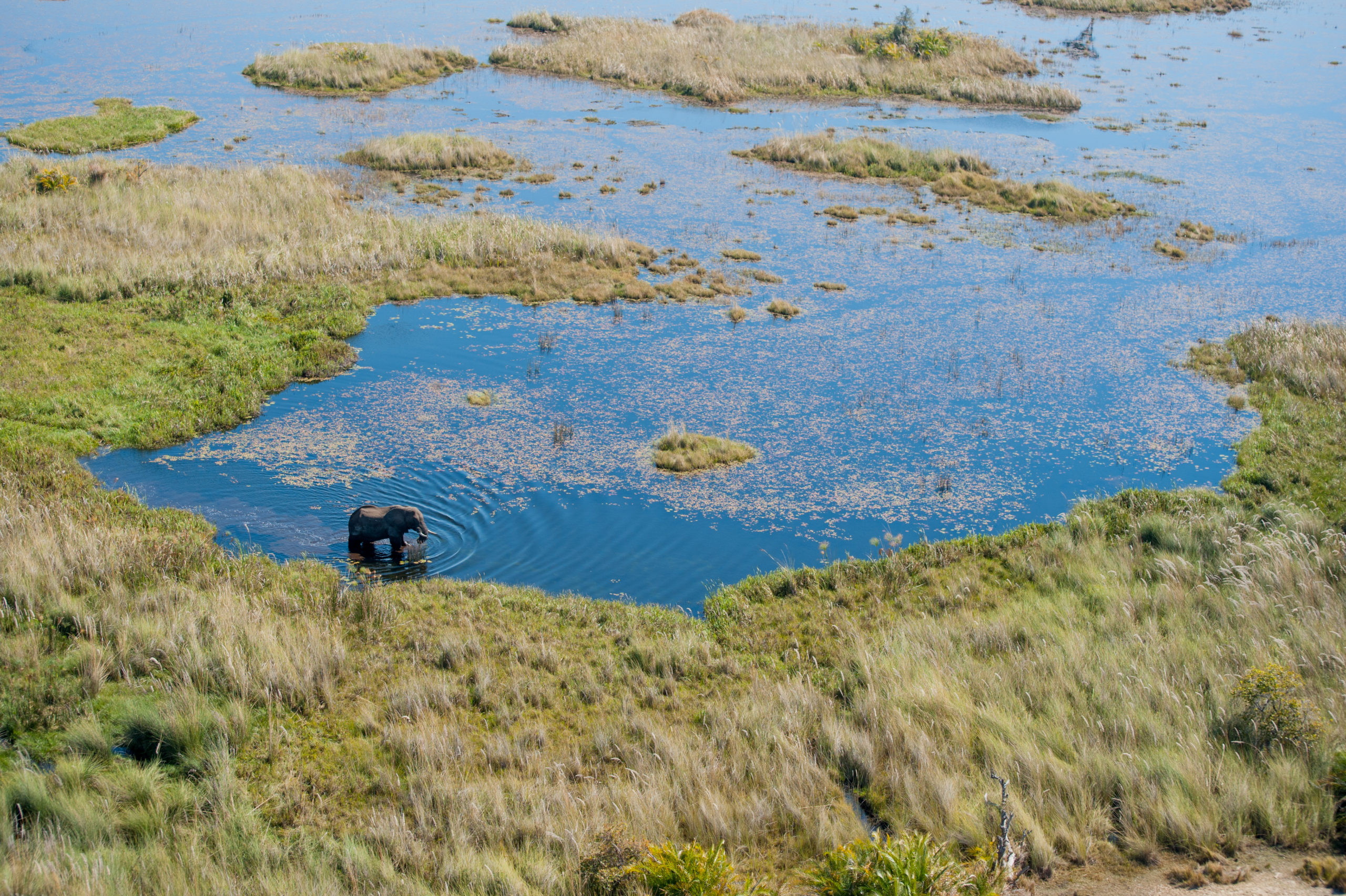 Chobe National Park is home to Africa's largest elephant population and comprises more than 10,000km2 of rich ecosystems and diverse landscapes. Most parts of the area such as the Linyanti and Selinda reserve are still intact as they are the least visited, and have retained its pristine environment. Chobe National Park is the third largest park in the country, which in itself is divided into three different ecosystems.
The Serondela area: also known a the Chobe riverfront, is located in the northeast part of the park, characterized by lush green plains and dense forests. The riverfront attracts large herds of Elephants and Buffalo, offering fantastic photographic opportunities as they bathe and drink in the late afternoon sunlight.
In the furthest corner of Chobe National Park lies the Linyanti region. Secluded and remote, this short strip of marshy river frontage connects Chobe to the Okavango Delta. It has only a handful of safari camps and as such offers a highly intimate safari experience. There are large concentrations of lions, leopards, wild dogs, roan antelopes, sable antelopes, hippopotamuses above all enormous herds of elephants.
The Savuti Region: The Savuti area borders the Delta to the west, boasting of rich grasslands, savannah woodland and a large mixture of trees and vegetation, which makes wildlife particularly dynamic in this section of the park. Savuti is famous for its mysterious and fascinating channel that brings water from the Chobe to Mababe, creating a small marsh where it enters the Mababe Depression.
Magnificent Rock Art at Savuti!
Overlooking the Savuti channel is a group of rocky outcrops, which are referred to as the Gubatsa Hills. Though these hills house ancient San bushmen rock art of a similar style and outlined in red-ochre (similar to the nearest rock paintings found at Tsodilo Hills) they seem to have been done by different groups of people.
Botswana is known for her incredible skies, huge impressive clouds often build up all day for a short, late afternoon thunderstorm. Not only does this welcome 'pula' (the Setswana word for rain in Botswana), the rain also washes the air clear of dust, making for crisp afternoon game-drive photos.
Sunrises and sunsets are especially beautiful as the sky turns gold, pink, red and every colour in between, lighting up the clouds dramatically and creating more spectacular photo opportunities.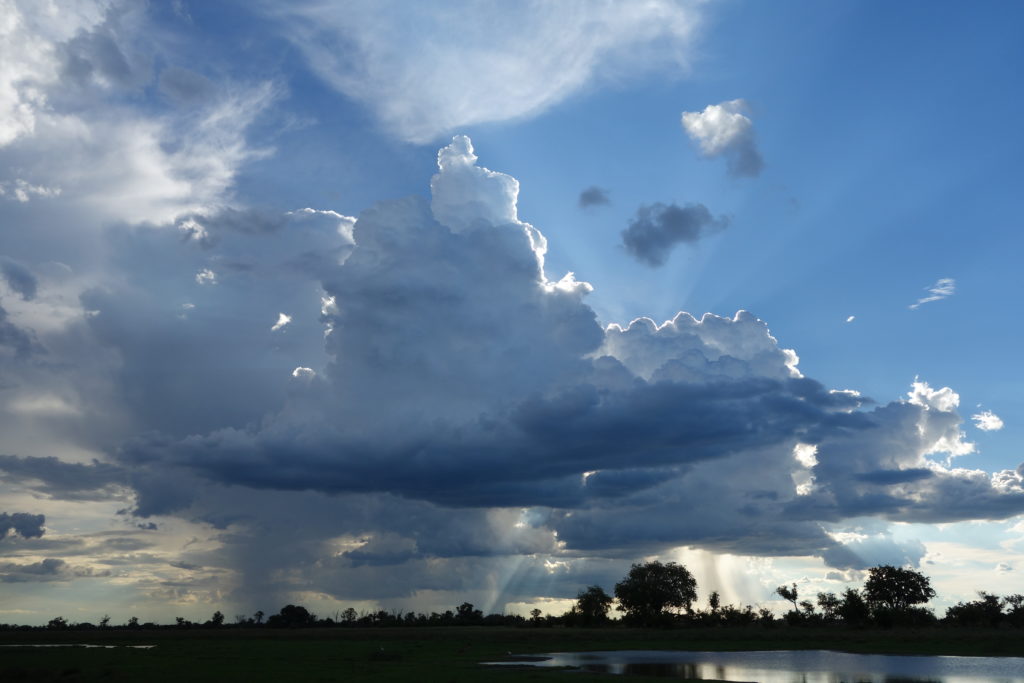 Pula is so precious that our money is named after it (and we also use it as a good fortune toast during drinks with friends). It is so special to us, as it transforms the land into a lush environment, full leafed acacia trees cast deep cool shade and wild flowers start to bloom which makes everything seem more charming. The acres of green grass and verdant leaves, sustain hundreds of thousands of grazers, which sustain thousands of predators. A whole ecosystem depends on pula and, of course, lots of our favourite safari activities like canoeing, boating and mokoro.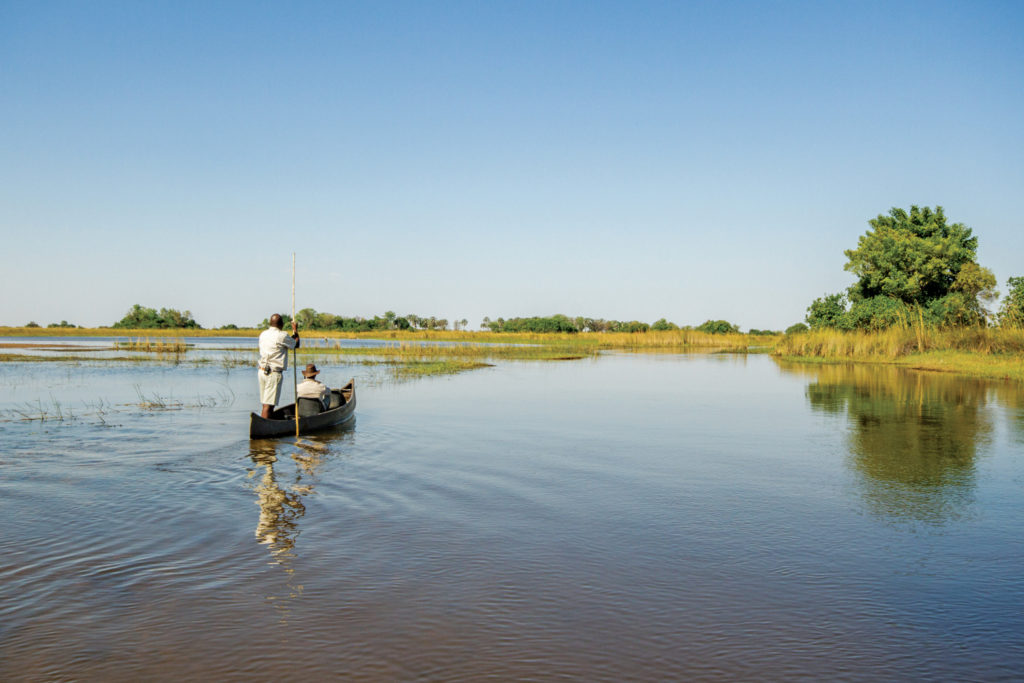 Botswana's Green Season (starts mid November and ends early April) is one of our favourite times of the year. As the rains arrive so do the migrant birds from Europe, Asia and other parts of Africa. The carmine bee-eaters hovering over game-drive vehicles, waiting to snatch up bugs from the air, are exciting to watch. Kingfishers, kites, rollers and cuckoos embellish the air with extravagant song and colour. They stand out against the brilliant emerald foliage (even LBJs – 'little brown jobs' – look prettier). The pans are totally transformed by the magical pula and become havens for aquatic birds like flamingos and pelicans. Everywhere is good for birding – The Okavango Delta, Chobe river, Makgadikgadi Pans, Central Kalahari, and the Linyanti wetlands. Even your non-birders will appreciate the beauty of it all.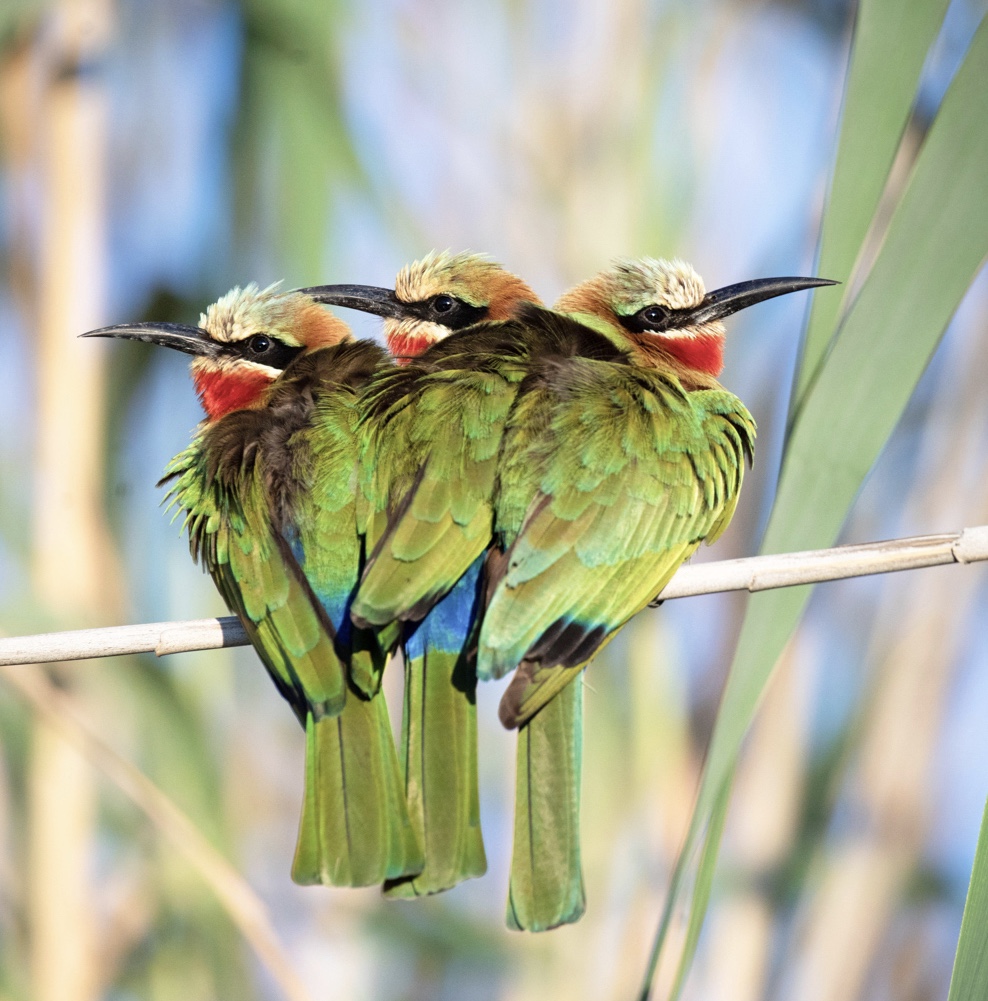 Travelling in the Green Season comes with lower rates than in other times of the year. Guests who have always dreamt of coming to Africa might suddenly find that travelling in the 'secret season' is super-affordable. If time is not of essence, you can stay for longer and immerse yourself in the experiences wherever you are, especially with the excellent discounts and specials available to you.
The other unique element of Green Season is that it's the time year when many baby antelope are born en masse. Species like impala give birth all around the same time to ensure as many of their babies survive as possible – not only is there enough grazing around for all of them but giving predators thousands of options reduce the chances that your specific baby will be killed, if you're an impala mom. The point is that you'll get to see wobbly calves and tiny foals, which is very special to witness.
So, whether it's bright green, dark green, light green or any green in between, the Green Season has plenty to offer. Yes, the longer grass makes animals slightly harder to find but it's so rewarding when you do. Lower rates, fewer people, happy wildlife and pretty skies – what more do you want in Botswana!
TIP: Visit the Safari Destinations Agents Corner to get a glimpse of the Best In Travel package overviews curated for the green season.
It was a scorching day in November, typical weather for this time of year. I had put my bags down, grabbed a cold bottle of water and headed straight for my deck chair to take in the sweeping views of the Central Kalahari Desert.
The Kalahari was nothing like I thought it would be, except for the heat. That was exactly how I anticipated but one can never fully prepare for it.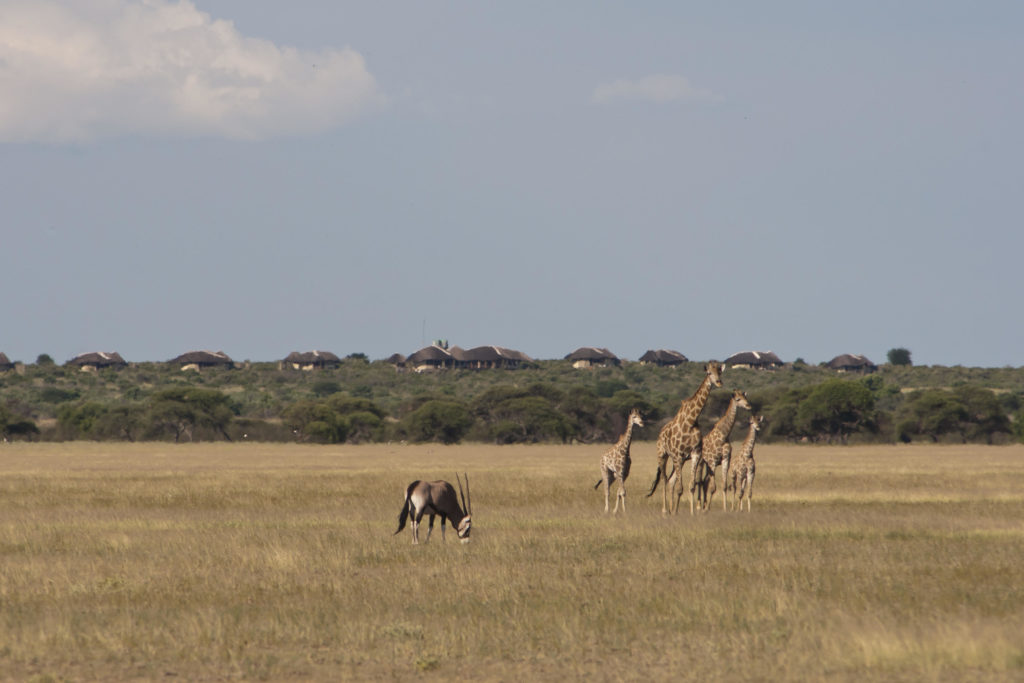 Movement between my tent and the main area was more of a hop, skip and a jump! I had opted to wear open sandals, and these are great on a flat surface, but they sure made for clumsy dance in the red-hot sand.
Standing on the deck outside my tent, I took in the incredible views of the Desert before me. Those who have been to Botswana, know how flat the land is, one can literally see for days! Yet here in the Kalahari; equally as flat, an ancient sand dune exists, and up on this ridge is where Tau Pan Camp is located.
This was to be my temporary home for the next 24 hours and every image I had previously held in my imagination was wiped out by the beauty unfolding before my eyes. The Kalahari is not barren and sandy, as one would expect in most deserts. Even when it is dry enough to 'qualify' as a desert, it is not strictly speaking a desert because the ground cover is too dense.
'Tau' is the Setswana word for lion and the Kalahari is famed for the impressive compliment of black-maned lions, the very same that frequent the permanent water hole located in front of camp. What I thought was going to be a quiet dreamy night under the stars, turned out to be rather a noisy and interrupted sleep with a choir from the wild; well more like a symphony of roars from one pride to the next that bellowed throughout the night. It was an impressive sound, one that never rings tired with me.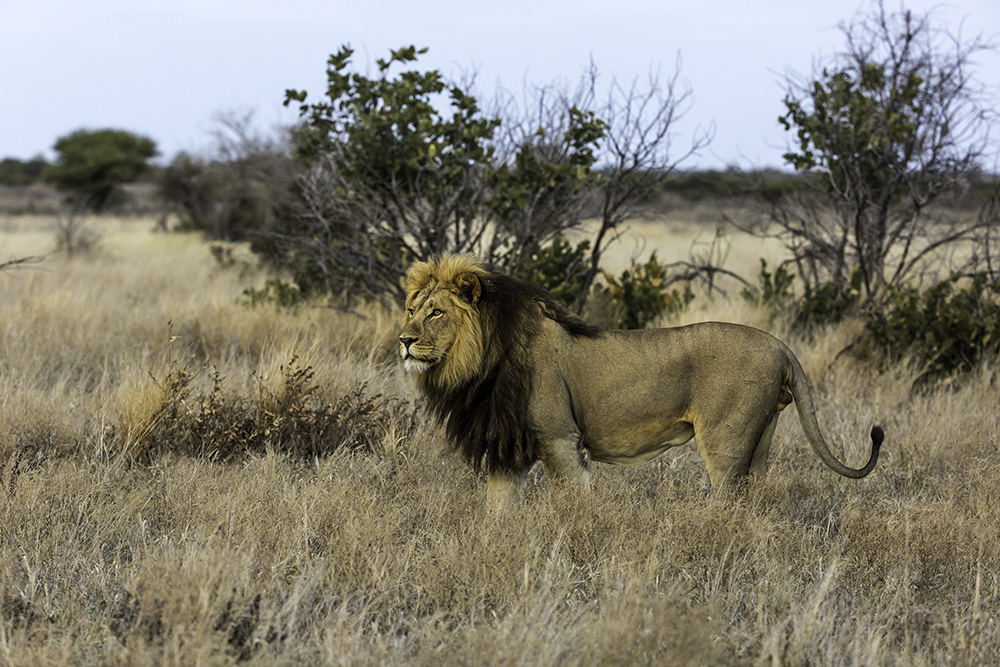 I sat down in my deck chair, dusted the sand from my feet and lifted them up to the small table in front of me. Head back, eyes closed and just about ready to take in my afternoon siesta when something inside me insisted that I look up.
As I opened my eyes, I caught a glimpse of a bushy striped tail hanging from a rafter; and there it was…a beautiful little genet, sleeping peacefully in the shade of the thatch. We both had the same great idea for that hot afternoon in Africa; quiet uninterrupted blissful sleep.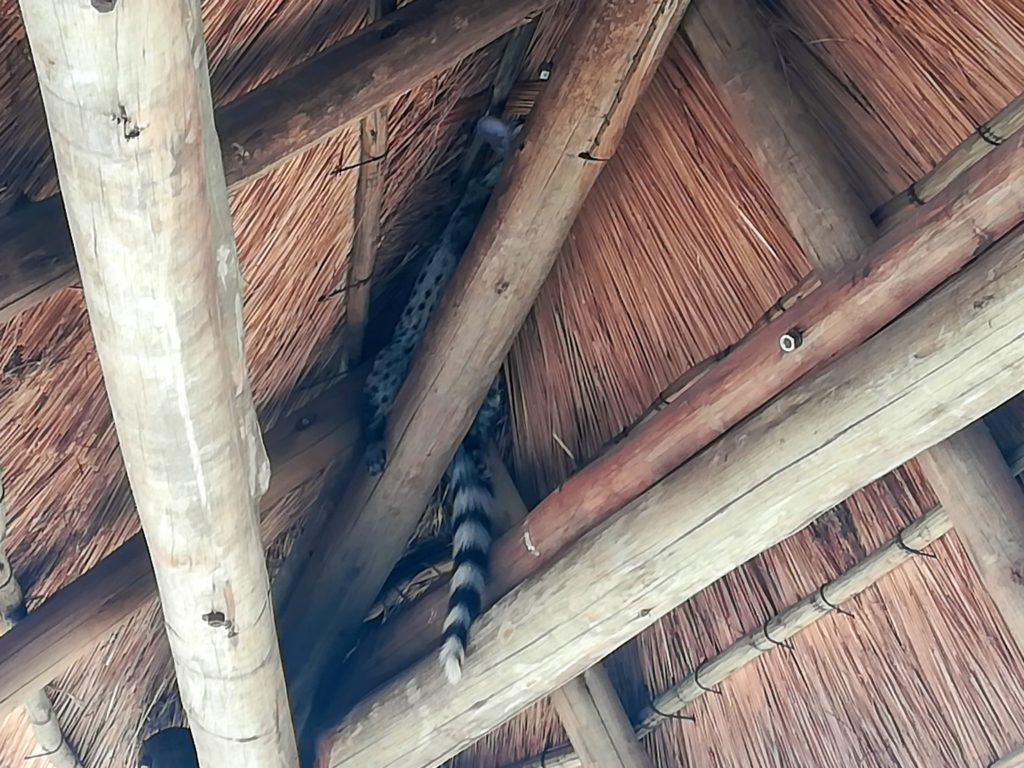 For those wanting to visit the Kalahari, do it on your next planned safari in Botswana. It's wild and mysterious beauty almost never disappoints!
Interesting facts about the Central Kalahari:
With 52,000 km2 the Central Kalahari Game Reserve is the world's second largest protected area and one of the most remote and pristine areas in Africa.
The Central Kalahari Game Reserve is mostly famous for its ancient fossil river beds, which form valleys through the bush of which Deception Valley is the most famous. A highly recommendable read is "The Cry of the Kalahari" by Delia and Mark Owens.
Specialized desert species are found in the Central Kalahari Game Reserve with gemsbok (oryx) and springbok often seen; the famous black-maned Kalahari lions and of course bat-eared foxes. And if you are very lucky, the brown hyena.
Although the Central Kalahari is an all year round destination, an especially magnificent time is during and after the summer rains when the colors of the Kalahari explode and grey turns into fifty shades of green. The rainy starts in mid November and ends in March.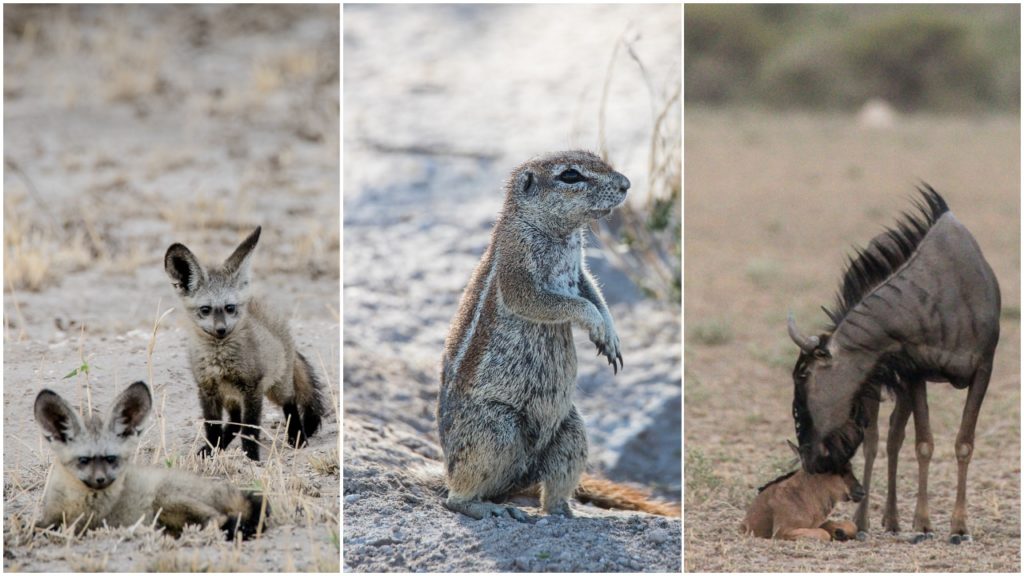 Information on Kwando Tau Pan:
Tau Pan is one of two lodges located within the Central Kalahari Game Reserve, the other being Kalahari Plains.
Activities offered at Tau Pan include game drives, day trips to Deception Valley, Sunday, Piper and Passarge Pans, star gazing and nature walks with Bushman trackers.
Accommodation consists of 9 environment adapted en-suite rooms including 1 family room and a sleepout deck (an absolute treat for the more adventurous!).
100% solar operated
All-inclusive rates
Guide and tracker team
Be prepared for the safari of a lifetime. Hwange is an amazing destination due to its diversity of landscapes, experiences and activities. There is, however, one constant throughout: the superior guiding standards! Zim is known for its phenomenal and, dare I say, legendary guiding. This is brought about by some of the strictest and most vigorous guide training in Africa.
It takes years of training, dedication and (financial) investment before one qualifies as a professional guide in Zimbabwe, which guarantees you guides who are passionate about what they do. You'll be hard pressed to find a question they can't answer or a topic they aren't willing to discuss – I know because I tried on my last Hwange safari…
These professional guides also offer a most welcome alternative to the usual game drive activities in the form of walking safaris, which are an absolute highlight when visiting Hwange. Many lodges have a professional walking guide in camp to offer exactly that and it needs to be experienced to be believed: there really is no better way to experience the bush then up close and personal in the trusted, experienced hands of your (armed) walking guide. Before embarking on a walking safari, they ask what type of walk you'd like: big game encounters, interpretive walks or exercise walks but most often it's a combination of all three catered to clients' wishes. No matter what landscape or which habitat you're walking through – be it the teak forests, open grasslands or granite kopjies (hillocks) abundant in Hwange – your guide will make sure you feel safe at all times while learning so much about the environment you're in.
Hwange is not only ideal for walking it also excels in offering a different perspective on game viewing: from ground level looking up at elephants drinking metres away from the safe surrounds of an underground hide. Hwange has close to 50 000 elephants and, especially in dry times, they dominate the waterholes (when not slurping from the lodges' swimming pools), making game viewing and photography from an underground hide an experience not easily forgotten.
As if superb guides, walking and underground hides aren't enough, Hwange also offers horseback safaris both inside and outside the park, thereby combining big-game viewing with an immersion in the incredibly rich Zimbabwean culture found in villages and settlements.
Another reason to spend time in Hwange is its ease of access; whether coming from Victoria Falls (by road transfer or short flight) or from Botswana, Hwange is an ideal safari destination. A little hidden gem is the Pandamatenga border crossing connecting Zimbabwe and Botswana. This is the closest border post to Hwange National Park and an absolute pleasure to experience. Officials on both sides of the border are super-efficient, very friendly and, best of all there are no queues, so you're in and out in five minutes! Once through immigration, the game viewing starts the moment your visa has been stamped in your passport due to the adjoining game management area that lies on the northern boundary of the park. Our Best in Travel in Zimbabwe offers plenty of itineraries that include Hwange. Here is an example which travels via the above mentioned Pandamatenga border post: 12N Zambia – Zimbabwe – Botswana Safaris (also ideal for family travel).
Most suppliers have already confirmed to freeze their 2020 rates for 2021. Contact your Safari Destinations consultant for more information.
Some know Mombo as the "Place of Plenty". Others refer to it as Mma Di Campo ("The Mother of all Camps"). With its considerable nightly rate and renowned reputation for sensational wildlife sightings, those who are fortunate enough to stay at this beautiful place cannot be blamed for having very high expectations.
Along with the name and the reputation come a significant amount of excitement. Like the flutters you get before meeting your favourite star or the thrill of seeing the top of Kilimanjaro towering over the Serengeti for the first time.
Land at the Mombo Airstrip and instantly this buzz rushes through you. Guides come bounding across to welcome you and helicopters are on standby to take you anywhere, any time.
So, here you are, you've finally arrived at the famous Mombo Concession and your guide takes you on the short 20-minute journey to the lodge. As if they've come to welcome you, the track is full of life. Impalas line the road with their young calves leaping through the grass. Geese, ducks, sandpipers and colourful bee-eaters flock the small pans along the road and the characteristic shrill call of the stunning turquoise woodlands kingfisher welcomes us. We've arrived in mid-February, the middle of the Green Season, a time when the bush is full of colour and new life.
We've arrived at the lodge and the staff's smiles await you along with the eagerness to make this time at Mombo your most memorable. Sitting down for lunch, we're treated to crisp baby vegetables and lightly grilled Chobe bream. The "new" Mombo is around two years old and meticulously maintained. When you start to look around, the touches of comfort and elegance are all over, from the motion-sensor lights in your massive room to the carefully packed sachets of Fairtrade ground coffee and bottles of vintage wine in your private lounge. We could tell you about the USD12 000 worth of complimentary Olympus mirrorless camera gear you are free to use, the refreshing private pool, day-bed and more of the delectable meals and snacks we were treated to during our stay but what we really couldn't wait for was to set out and explore what this famous concession in the heart of the Okavango Delta would deliver. Because, let's be honest, there are beautiful properties all over Africa… the reason people come to Mombo is for a safari experience to beat all safari experiences.
Well, 48 hours later, and we were completely and utterly blown away by what we had witnessed.
On our first afternoon drive with Moss we headed out to where the breakaway pride had been relaxing the morning before. Sure enough, we rolled up to within breathing distance of them. A perfect place to take in some shade from the hot afternoon sun and start learning about the dynamics of the resident and roaming lions of Mombo.
About 20 minutes later, the distinctive continued shrieking of the red-billed spurfowl alerted the guide to what was most likely another predator. Just 150 metres from the relaxed pride of seven lion was a massive male leopard. Moss called this striking male leopard Sergeant and one couldn't help noticing how passionate he was in sharing the excitement with his guests. His eyes were fixed on the animal as he shared the years of how he has watched this individual through his challenges and triumphs existing in this predator-rich landscape. Sergeant is reaching the end of his dominance and you can see he has been through a lot as he panted hard in the afternoon heat.
As we made our way along the marshy plains it started to become evident. It's not just the animals or the thrilling sightings we were being treated to, it's the sheer beauty of the area, which is unlike anything we've seen. It's Africa as you imagine it. Some of Botswana's largest baobab trees look as though they've been placed there deliberately. You'll find yourself alongside rolling floodplains where carmine bee-eaters swoop by the vehicle and then into dense forests with old gnarly jackelberry trees. It truly is a breathtakingly beautiful African wilderness.
Nothing could have prepared us for the treat we were in for the next morning. We told Moss we would be ready to set off nice and early to make the most of our time out there. And if you don't want to miss out on the fresh cappuccino and scrumptious handmade toasted sandwiches cooked on the fire… do not fear, they will wrap it up for you for your breakfast on the go.
We headed towards an area called Tsessebe Plains to find the Mathatha pride. We found them and they were on the move. It was clear where they were headed. The buffalo herd of around 400 animals or more was not far away. Lions are never far away from a big herd of buffalo.
Once again, we were staggered by how quickly we encountered the next predator. A majestic male cheetah was watching these lions with a clear amount of distress. It was the flick of its tail Moss spotted across the grassland. When we got closer, we were treated to rich golden morning light as we followed this cheetah from termite mound to termite mound, posing for us.
Fifteen minutes later, after being spoilt with photographs of this cheetah, we ventured to the thickets where the impalas alarm calls were causing panic. This was not typical behavior for antelope in the presence of a cheetah. If you're an antelope within visual contact of the fastest land mammal on the planet you're best of making a run for it sooner rather than later. Moss realized there must have been another predator. Sure enough, he spotted a leopard dash for the bush – but we didn't see it. She was moving away from three huge male lions who were after her kill from the night before.
We were almost exhausted by the morning's excitement but that wasn't all. We headed back to the buffalo where the Mathata pride had been seen moving closer. The script was set. A buffalo had stopped to wallow in a pool of rainwater and was flanked on all sides by seven lion. He'd allowed himself to lag behind and we settled in. Not more than three minutes later and it all kicked off.
Those who are fortunate enough to have witnessed a kill will know it can be distressing to see nature at work. Like killing machines each lion had its job in bringing down this beast. One to weigh down the rear and several others below the legs to weaken its stance. Importantly, one young male clenched his awesome jaws over the buffalo's mouth to suffocate his distress calls that would invariably bring with them the rest of the buffalo to rescue him.
What a sighting and what a magnificent place. The place of plenty for sure. A place which preserves the pure essence of Africa as it was millions of years ago, beautifully intact.
For travellers who are lucky enough to afford a stay at Mombo the answer is yes! It is absolutely worth it!