Category Archives: Places
Think back to 2010… Nicholas Sarkozy was president of France, Barack Obama was the president of the US, Ian Khama ruled Botswana and Angela Merkel was chancellor of Germany (OK, some things change faster than others!). The best movie at the Oscars was The Hurt Locker (we had totally forgotten about that one) and the top songs were by Ke$ha, Train and Lady Antebellum (who, who and WHO?). There was no Instagram until October of that year, Nxai Pan and the Central Kalahari Game Reserve had no permanent camps, Natural Selection didn't exist, and who would have thought that AirBnB or Uber would grow so quickly?
Things were very different then and no more so than at Safari Destinations. Our little company was just four years old. Our office was above Mack Air opposite the airport and we had about 15 staff, half of which are still with us today. 2010 was the year when Lorraine and I started searching for a new home for our business, which we found only a couple of kilometres down the road. We bought our new premises in 2011 and thought we would never need all the space – hahaha, were we wrong.
21st century technology
In those long-gone days, most of us still worked on large desktop computers and used the small but efficient Nokia 5300 mobile phone. The fax machine still played a key role (remember how the ink faded right at someone's phone number?!).
Kay, reservations manager, recalls the prehistoric days before the IT revolution, 'We used to do everything ourselves: no personal administrators or fancy systems.'
Karen, reservation supervisor, who was the sixth employee to join in June 2008, agrees. 'When I started, we were quoting manually using Excel and we were also doing all clients' documentation manually, too, which used to take hours. Now, we have a clever system that works out costs and pulls documentation like invoices, vouchers and confirmations.'
The longest-standing staff at Safari Destinations agree that the biggest change the decade has brought is the colossal change in technology.
'It really has changed my job in a big way,' says Angela, Travel Experiences manager. 'We used to carry a huge manual file with more than 60 Operations Reports when going to the airport to meet clients and, believe me, it was HUGE… Every time you received a call from a supplier, agent or client, you would have to find a little corner in the terminal and flip through the file as fast as you could in order to retrieve information. Today that big black folder has been replaced by a single tablet.
The Travel Experiences team
Angela touched on another big change over the decade: the development of a specialized and highly skilled Travel Experiences team that handles all client meet & greets at Maun International, smoothing arrivals and departures, handling lost luggage, welcoming clients and everything in between.
The Travel Experience team in 2020 makes a big difference to a client's overall experience and are very appreciated by the rest of Safari Destinations. Kay and Karen remember having to drop consulting in order to race over to the airport to meet their clients, then race back again. 'Back then, each consultant had to go and meet their own clients. There was no such thing as a "Travel Experiences" team. I must admit, I'm very happy we do now have a Travel Experience team!', laughs Karen.
People first
But no matter how sophisticated the technology became, Safari Destinations always put people first and the years between 2010 and 2020 saw some incredible projects for staff and the community.
As a mom of two girls herself, Karen appreciates Safari Destinations' focus on boosting the next generation. 'The support the company offers parents who have children is one of my biggest highlights of the past decade. Allowing our children to physically be on the office premises in a cottage (known as the Kiddies' House), being supervised, whilst we can work is a massive benefit.' This development was ahead of its time in Maun (and actually the rest of the world) and support for working parents is a growing and welcome global trend into 2020.
'One of the biggest projects,' says Lorraine, 'is the vision to build a school and after-care facility for the Bana Ba Letsatsi (BBL) underprivileged children, a dream come true and a testament to the meaningful contribution Safari Destinations and our partners have made through tourism. The long-awaited building will be started in 2020.'
Other notable community-engagement projects include the start of the 'Magic Bus'. This is a mini-bus that is sponsored by Safari Destinations and gives transport to especially the elderly of Maun, who may otherwise have to walk long distances to attend a clinic or go shopping.
To celebrate Botswana's 50 years of independence in 2016, staff took part in the '500 Man Hours' project that encouraged them to collectively give 500 hours of time to community projects. Today, Safari Destinations works closely with the Maun Animal Welfare Society (MAWS), Women Against Rape (WAR), Bana Ba Letsatsi (BBL) and many others. Many in the industry are also aware of SD's work with Sekgoma Primary School, the bed night bank, Travel for Impact and various drives for donations of winter clothes, blankets and foodstuffs.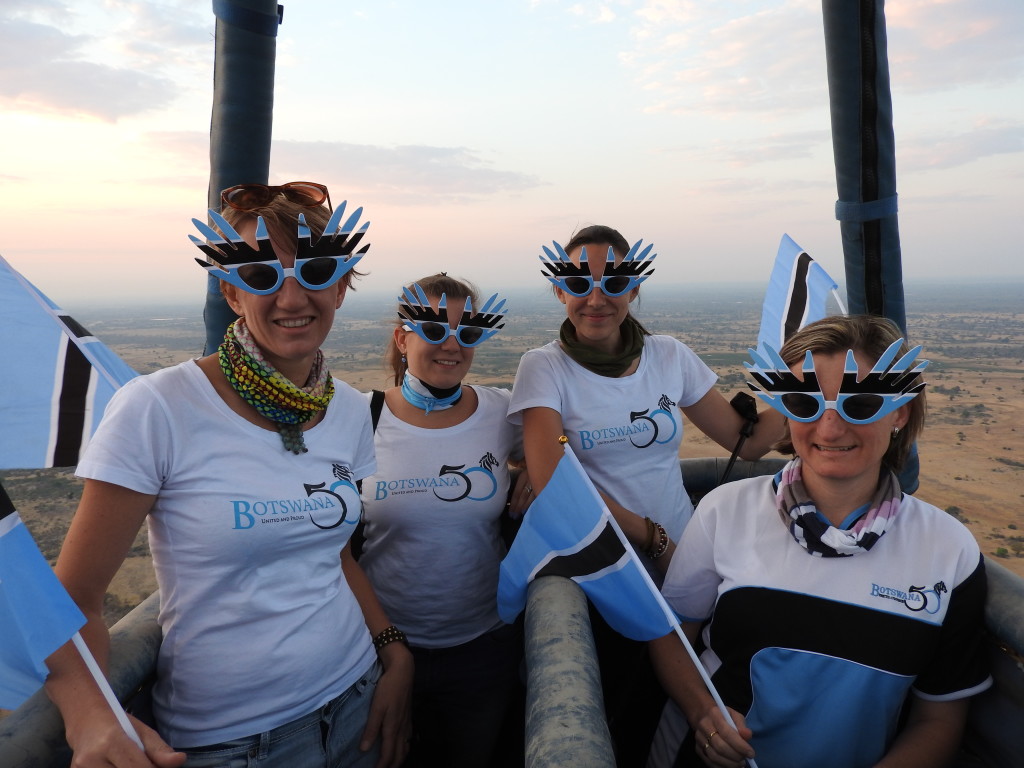 'People' also refers to how Safari Destinations finally started employing the so-called 'stronger sex' (ha! Us ladies change tyres, set up tents, dig game-drive vehicles out of sand AND give birth!). 'The number of men employed is also a big change. In 2008, when I joined, employing men was not in the pipeline; however, once more women joined the company, there was a definite need for some male company!', jokes Karen.
A maturing industry
As Safari Destinations grew from a toddler to a teenager over the decade, the broader safari industry also matured radically. Everyone agrees that far more players have entered the market, bringing fresh ideas and new people, and making every supplier raise their game to stay competitive. Often this had meant a new level of luxury: wine cellars, Wi-Fi, media rooms, gin bars, specialist spa treatments and à la carte dining were all virtually unknown in 2010.
As Angela says, 'Suppliers have had to keep up with trending luxury décor in order to stay relevant while not destroying the authenticity of the camps or environment.' 'Yes,' says Karen, 'More properties are popping up, which means new players as well. The upgrading or rebuilding of a lot of properties to a very high-end level means some products are far more luxurious now than ever before.'
And keeping up with times means the decade also saw huge shifts in how it uses technology.
'Smart-phone technology and websites being a go-to place for people to do research has been a big change. There is so much more access to information now,' adds Karen.
'Social media is a plus. It makes it so much easier for all concerned to get the message out there and also for clients to dream up and plan exotic holidays. Wildlife documentaries, viewed across the world, are also a plus but trying to get an 8-10-day trip to compare with a documentary that is five years in the making, is sometimes challenging, to say the least! Luckily, we rise to the challenge!', laughs Kay.
'The rise of social media over the past decade has changed many things,' agrees Andrea. 'In some ways, thanks to smart phones and social media, travel is less about the experience of being in moment now and more about what you can post to Instagram later… Every camp now needs a few corners that are highly Instagrammable. It's the same with some sightings: if the light is low or branches are in the way, then there's no point in stopping for a photo for some guests. Some clients want the exact experience they've seen on Instagram – unfortunately, the elephants aren't trained to drink from the same swimming pool at the same time every single day!,' she jokes.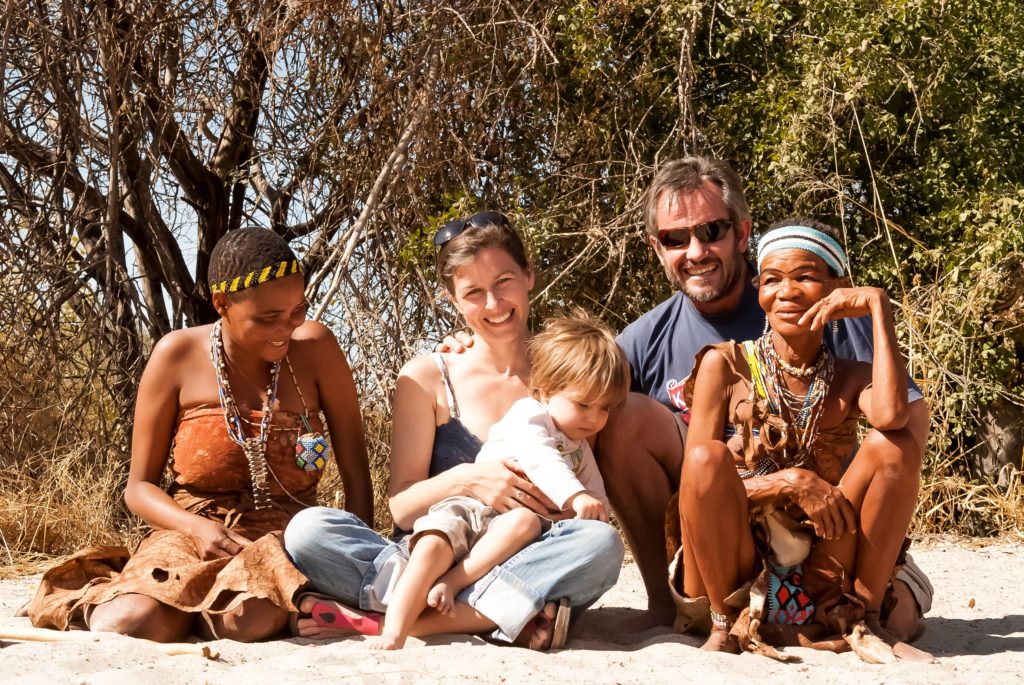 'Social media also allows for a lot of information, which is a good thing as Karen says, but sometimes that information is put out by amateurs who get things wrong. TripAdvisor is now a staple source of information for clients that they trust without knowing the full story of a stranger's holiday – a good camp may get a bad review for something beyond their control. As professional consultants and experienced experts, knowing what product would suit which clients is a skill that cannot be replaced by a single TripAdvisor post.
As Kay says, 'with more and more beautiful videos and photographs appearing online every day, we need to remember that they represent just one moment of a safari. A photographer chooses a single perfect image from a whole journey. For us, the fun and excitement remains in finding sightings, having great guides, smelling the wild sage, hearing the bulbuls call to each other and seeing remarkable landscapes – not in reducing it all to a few pixels on a screen.'
A decade of good laughs
While it's never easy to grow a business from strength to strength, it is certainly made a lot easier if everyone has a good sense of humour. The Safari Destinations employees who've been around since 2010 and before have shared plenty of jokes and funny anecdotes over the years.
Kay groans at some of the crazy requests… 'We've been asked to provide a double room with a sea view at the Victoria Falls Hotel! Once a client was disappointed because they couldn't take a mokoro from Nxamaseri to Tsodilo Hills to see rhino!' 'Oh, that's nothing,' says Karen with a straight face. 'I was once asked if the clients would be able to see unicorns on safari…'
Travel is a big and often stressful part of our jobs as we have to see as many properties as possible, make extensive notes, take photos (and videos now with our phones – unthought of in 2010!) and remember countless names, numbers and facts. But even educational travel has it's funny side: Lorraine and I were once hosted at Baines' Camp by Sanctuary Retreats.
'They ran us a romantic bubble-bath following the afternoon activity that we had no choice but to use. So, we had fun taking a picture of the two of us fully dressed in the bath!'
We're all looking forward to seeing what advancements, achievements, jokes and memories the next ten years will bring us!
Safari Destinations has grown from a simple idea in 2006 to a highly successful DMC. And while we sell exceptional safaris to see beautiful landscapes and breathtaking animals, the real backbone of the company is ensuring all staff receive in-depth training and continuous development, about our systems, products, destinations, suppliers, agents and source markets.
---
Day 1 at Safari Destinations …
We don't believe in throwing staff in the deep end and leaving it up to them whether they sink or swim. That helps no-one: not us, not their team members, not our agents and definitely not our new staff member. We invest a lot of time and energy attracting quality people to Safari Destinations and we like to get return on that investment.
All administrators in the Reservations department work in an 'apprenticeship' arrangement with a more senior consultant or team leader, with ongoing feedback. Performance reviews are held every three months for the first six months of learning the ropes, and admins are coached in every aspect their role. These regular, formal check-ins every three months are company-wide for all new staff members, ensuring that everyone is reaching their potential as much as possible.
We keep our promises
Our business hinges on us being experts on all aspects of travelling to Botswana and Zimbabwe and creating inspiring travel experiences. We promise our agents that we are experts, and our in-depth training and development helps ensure we keep our promise. All staff regularly attend external supplier training about their products, brand and offerings. We have an in-house trainer specifically for destinations and further in-house supplier training plus lessons on sales, product and itineraries. These sessions are facilitated by in-house specialists, providing an opportunity for our seniors to hone their training and development skills through support from the HR department.
A chain of success
Once a senior administrator, who has successfully handled all behind-the-scenes aspects of complicated bookings, is ready to move onto becoming an associate consultant, she (or he!) will join a consultant-in-training programme. This equips them with the ability to understand and communicate with agents of different markets; create inspiring itineraries; and write persuasive and factual motivations. Once again, team leaders and senior consultants are on hand to guide, correct, educate and mentor.
We live it
A big part of our promise to be experts is to have first-hand knowledge of all sorts of safaris, from five stars, to mobiles, to self-drives. As many staff go out as much as possible on educationals – this is a vital part of developing a critical eye (when a lodge is due a soft refurb, for example); learning how to compare products (which will deliver better value even if it costs more?); and how to assess which product suits which type of traveller and market best.
Onward and upward
Everyone likes to grow and feel like their careers are moving forward. Because of this, we've created defined steps on the career ladder in the Reservations Department:
Safari Assistant
Administrator
Senior Administrator
Relief Administrator
Associate Consultant
Intermediate Consultant
Senior Consultant
Team Leader
This is carefully staggered to ensure that everyone who is promoted can cope with an increased workload, heightened responsibility and an increased need to supervise other staff, helping them in turn with their growth and development. We make sure no-one feels overwhelmed by their new role but rather excited and motivated!
In this way, Safari Destinations builds supervisory and management capacity, preparing those staff with potential, talent and the interest for promotion.
IT is it!
We've come a long way from manually creating booking packs. Today, all staff are fully computer literate and up-to-date with major industry programs like TourPlan and WETU. We also track our tasks, diaries and bulletins through Bitrix, and actively use Skype to keep in touch with our staff and agents around the world.
Our success stories
Obviously, since starting in 2006, we had many, many success stories and plenty of proud moments where our wobbly impala newbies are now super-fast adults outrunning all manner of deadlines, requests and crises! These are three recent success stories:
Roxanne After a number of years in camp management and running her own business with her husband, Roxanne joined Safari Destinations in May 2013 as an Intermediate Consultant. She was then promoted to Senior Consultant while also expanding her family with two of the most delightful little boys. Roxanne was promoted to Team Leader in September 2019, having participated in management training and being mentored by Storm Keen, previously a Team Leader. In just over six years, she has risen to the leadership cadre of SD!
Keba In February 2016, Keba started as our receptionist as this was the position open at the time. We soon realised that she had lots of potential and, with her degree in Tourism, she was moved into Reservations as an Administrator. She steadily advanced up the ranks and was soon appointed as an Associate Consultant. Keba worked closely with Storm in terms of her development. Once Keba reached the level of Relief Administrator, she has started to be involved in our consultant-in-training programme, which exposes admins to putting itineraries together as well as sales training. We have loved watching her growth and development as a professional and value the passion she brings to her work.
Resego Resego started off at SD in December 2015. She swiftly advanced through the Administrator ranks and was appointed as Associate Consultant in 2018. By 2019 she was an Intermediate Relief Consultant. Relief Consultants are vital as they support those consultants on maternity leave (we have a lot of SD babies, being a team that comprises 80% women), or who are sick or on annual leave. This position is an excellent development opportunity, giving Resego exposure to working with different agents and different markets. She is also our top scorer in our destination training exams, having scored no less than 90% on all her assessments!
Because of our carefully calibrated training and development programme we can not only deliver exemplary service to our agents but we also ensure that our team are empowered, challenged, rewarded and inspired to be the very best they can be.
Tucked away in the Khwai Private Reserve, Tuludi from Natural Selection has access to 200 000 hectares of land to explore… so we went exploring!
Overall impression
Tuludi is stunning. Every small detail has been thought of while putting the lodge together. The main area offers so many different places to sit – the problem is that they are all very welcoming so the choices seem endless! All these different seats have different views of the area surrounding the lodge.
The whole lodge, including the staff, is premier material. Food is à la carte with a good number of choices that are out of the ordinary but tasty. The rooms are spacious and restful yet romantic with outside bathtubs. The family room is stunning. In fact, the whole camp is family friendly especially with the fun addition of the slide in the main area!
The vehicles are so comfortable that no bumpy road can ruin your game drive. They also have an elevated hide overlooking water for lunches or dinners.
Comparative value and experience
Tuludi offers a chic modern style, some of it's design elements are unique, like the bar, made of thousands of mosaic pieces – stunning artwork. This new camp has the air of a premier camp at more classic rates, it would go perfectly well with the likes of Kanana, Nxabega or Xaranna. I can also see it being combined with Ngoma Safari Lodge, Belmond Savute Elephant or the new Selinda Camp.
Ideal clients
This lodge is definitely for clients wanting a luxury safari who love their comfort. It's also good as an upsell for honeymooners. Tuludi is a good family camp for children aged six and over but a private vehicle must be booked in this case.
Seasonality, wildlife and activities
Tuludi is one of four camps in the vast Khwai Private Reserve. Only vehicles of one of the four camps are allowed to gamedrive in the area, making it an exclusive experience. The main source of water is the eastern-most finger of the Okavango Delta, the Khwai river, which attracts large herds of elephant and buffalo. The permanent waterholes are home to resident hippos. During rainy season the floodplains fill up, changing the landscape from open grassy floodplains to lilly-filled lagoons.
Clare and I were among the first to visit the 'new' King's Pool Camp, which has been given a very impressive make-over…!
The new rebuild of King's Pool is looking fantastic. They have used a lot of earthy colours such as browns, beiges, golds and black, which give a really refreshing feel to be somewhere completely different to the Delta.
From the main area and all the rooms, you have a lovely view over the Linyanti Swamps, teeming with hippos and crocodiles.
One of the special treats of King's Pool is their very own in-house masseuse, who will spoil you with a massage on the deck of your room overlooking the swamps, for total relaxation in your siesta or after a hard day's game driving.
The lodge has the advantage of driving along the riverbed in the late afternoons where you don't have to search for any game, as hordes of different species come down to drink in the heat of the afternoon.
We were lucky enough to watch crocodiles displaying mating behaviour plus see hundreds of elephants, roan and sable antelope among other plains game.
The landscape and habitats are completely different to the Okavango despite the Linyanti Swamps being a Delta system of their own; they are completely separate to the Okavango.
Driving the river's edge in the afternoon is a completely different experience to driving further back in the mopane woodlands in the early mornings looking for more predators. It gives a complete contrast of habitats.
This area is well known for its large herds of elephants in the dry season: it did not disappoint in that regard as we encountered huge breeding herds.
Another highlight of this camp is the two hides. One is underground in front of the water, meaning you are looking out at ground level up at the gentle giants that dominate this area.
King's Pool suits first-time safari goers as it is an easy comfortable safari experience. Everything is pretty much thought out for you and not too much energy is required. Those first-time Botswana travellers who have heard about our large elephant populations, but don't want to do the crowds of Chobe and have the Premier budget, would fit King's Pool perfectly as they still get the barge on the river and game drives, all in the exclusiveness of a private concession. You have the flexibility of game drives, boating, walks and sitting back in one of the two hides relaxing with a gin and tonic, watching the animals coming down to drink.
The best months to explore this area in a typical year is July to October as the food resources and excess surface water from the rainy season have dried up, pushing the big herds into the Linyanti Swamps area to greener pastures and permanent water sources. In the Green and shoulder seasons, although the big herds will move out, the predators remain because they're territorial, and the antelope that remain give birth to their young, meaning lots of babies around that make for easy pickings for the lions!
We stopped at Kwara Camp in the famous Kwara Reserve in September 2019, just after it reopened after a complete rebuild. The new camp is bigger and more luxurious than the old one: there are nine tents (including one for mobility impaired guests), two swimming pools and private vehicles available.
What was your overall impression of the camp? Please highlight the unique selling points.
Sue Smart of Kwando Safaris was there to show us around and she is clearly very proud of the new addition to the Kwando portfolio – quite rightly so! This new lodge is lovely and the feel is classic 50's safari style with contemporary touches: elements of décor like old trunks, framed photos of insects on the wall, a brass telescope, fabrics depicting plants and animals mixed in with a modern light fitting and bar stools, for example.
Every small detail has been thought of and geared towards a more demanding, sophisticated and mature clientele. The lodge is definitely not child friendly – the minimum age is 18. The main area is constructed on different levels and offers various places to sit, play games, read, write, lounge, drink and eat. The rooms are huge and include a proper lounge area with a sofa, armchairs and coffee table, a king-sized bed wrapped in a mosquito net, en suite bathroom with lots of packing space and surface areas on which to put toiletries, a vanity, bathtub, enormous rain shower heads in the indoor and outdoor showers, and a large deck with table and chairs. The linen looked first class, too.
The room I saw was for clients with mobile disabilities was all on one level. The others are identical but have a sunken bathroom. The rooms have solid walls and wooden doors and yet there is a canvas feel to it (good for clients who don't want to sleep in a 'tent'). I love the fact that there are two good-sized swimming pools at each extremity of the lodge so they will never seem overcrowded nor in full view of the main area. Each pool area has a 'clubhouse', which has a fully stocked fridge, tea/coffee-making facilities, armchairs and a ceiling fan. There are four deckchairs on one side of the pool, facing the bush.
How does the camp compare to similar camps in terms of value and experience? Are there any notable special offers applicable?
I feel that Kwara Camp is good value for money. Being a four-star classic camp, it is super comfortable but not as luxurious (or as expensive), as Tuludi or the Wilderness Classic camps. Long-stay rates are always a plus at Kwara and as long as you stick with a minimum of three nights, the Five Rivers package can include Kwara. Please remember that a minimum stay of three nights is necessary, and honestly spoken this concession justifies at least a 3 nights stay, ideally even longer.
How would you combine this camp in an itinerary and why?
The camp covers land and water activities, I would combine it with a camp in a completely different area such as Savute or Makgadikgadi Pans. Or in the Linyanti, the obvious choice would be Lagoon or Lebala Camps because of the reduced long-stay rate.
What type of clients does this camp suit and why?
This lodge is definitely suited for higher-end safari goers, seeking an authentic, good quality safari in one of the best concessions in the Delta. It comes with lots of creature comforts but not over-the-top luxury: groups of friends, couples, families with adult children (minimum age is 18 years), repeat clients and honeymooners would all feel comfortable here. It is also suited to those who want solid walls, and windows and doors that open and close (not tents or canvas).
How does the seasonality of the area change through the year and what effect does it have on a visitor's experience, with specific reference to wildlife and activities?
This huge private concession borders the Moanchira channel, which has permanent water so boating will always be possible, whatever the season. Game is super-chilled and plentiful. Moremi Game Reserve is just on the other side of the channel so lots of animals cross backwards and forwards throughout the year. If the low water levels in the Delta persist into 2020, the Kwara Reserve will be a big draw as this year water in the upper Delta is more plentiful and reliable.
The Okavango Delta is an incredibly dynamic ecosystem. Its fluctuating water levels cause vegetation and habitats to adapt accordingly in very short time spans.
The Delta has historically always experienced wet and dry spells, which last roughly 30 years each. We are currently in the tail end of a wet cycle and the exceptionally low rainfall beginning of this year is not unusual according to historical data. Tentative weather predictions are looking positive with better rains this year and a bigger flood in 2020.
The current drier conditions we are experiencing are, almost counter intuitively, not bad news. During our exceptionally high flood levels in the early 2000s, large tracts of the Delta were flooded for longer periods of time. This meant that the grazing that occured on the floodplains once the water receded was no longer available for the herbivores and the nutritious grass was replaced by unpalatable sedges (types of mostly perennial but sometimes annual herbs that have a 'tuft-like' appearance). This has meant that herbivore numbers actually declined over this period even though the Delta was at its fullest and prettiest.
This year's exceptionally low floods mean a lot of those floodplains have become accessible and the sedges will die back so that grass can grow again, making the land once again suitable for grazing. The herbivore populations will increase thanks to the extra food, which in turn positively affects the predators. So, while there may not be picture-book Delta water activities everywhere, there has been exceptional game viewing instead.
The upper or northern Delta has received its usual annual floods, albeit in lesser volumes, which means that conditions there haven't changed as much.
The lower or southern Delta is affected the most due to the lack of flooding but the newly available grazing will only enhance the game-viewing experience. The reason for this distinct shift in flooded areas between the upper and lower Delta is most likely directly related to the big earthquake Botswana experienced in 2017. Due to the sandy substrate the Delta lies on, even a small shift is enough to divert water flow.
This cycle should see an overall improvement in the amount of grass available as the water-loving sedges die down, leading to the exciting game viewing we all enjoy so much.
We have long loved the Panhandle and have always considered it a secret gem. It's a wonderful 'new' destination for clients who would like guaranteed water activities like mokoro and boating as well as a gateway to the Tsodilo Hills.
Access
A 70-kilometre watercourse that starts at the Namibian border before spreading out into the Okavango Delta, the Panhandle offers year-round water. Value-for-money lodges and more affordable transfers are now making it extremely attractive. Access used to be a prohibitively expensive but now it's on par with any other Delta flight, making it a serious option for more cost-conscious bookings.
Experiences
The water experience is unrivaled: guests glide silently through the channels on a mokoro, absorbing the peace, quiet and lush greenery. They can also head out on a high-speed motorboat to experience the vast space opening up in front of them.
Tigerfishing is a famous and exciting activity in the Panhandle, as is angling for bream and barbal. Birders can train their binos on the densest concentration of fish eagles in southern Africa and look out for multi-coloured narina trogons, kingfishers, African skimmers and Pel's fishing owls.
In addition, 30-minute scenic helicopter flips here are the same prices as those over the Victoria Falls but with the doors off, giving you clearer, more expansive view and a proper opportunity to trace the channels by air.
Travellers who want more adventure can branch out on a day-trip to the Tsodilo Hills. Declared a World Heritage Site in 2001, these four large outcrops account for the highest peak in Botswana. The Tsodilo Hills have been nicknamed the 'Louvre of the Desert' because of the hundreds of rock paintings found here. Clients who are hikers or ramblers can stretch their legs on trails here with a local guide.
Accommodation
Upscale options are Nxamaseri Island Lodge and Setari Camp. Nxamaseri is only 37km from Shakawe while Setari is easily accessed on a 35-minute flight from Maun to the Setari Airstrip. Guma Lagoon Camp and Xaro Lodge are favourites for self-drive itineraries, offering down-to-earth accommodation in comfortable canvas chalets and Meru tents. Mopiri Camp is a good mid-range option.
For more details on how to incorporate the Panhandle in an itinerary, please ask your dedicated Safari Destinations consultant. Thank you to Helicopter Horizons for the image of Tsodilo Hills.
We're only momentarily disorientated… I've been lucky enough to call Botswana home for 7 years now and have traversed most of its dusty roads. However, there are always new gems to explore and last weekend the Makgadikgadi National Park was on the itinerary. This largely underutilised park only has a couple of roads crisscrossing its interior and most of them are long and straight with miles of visibility. Despite these pretty good odds, I still managed to be momentarily disorientated… or in plain English "lost".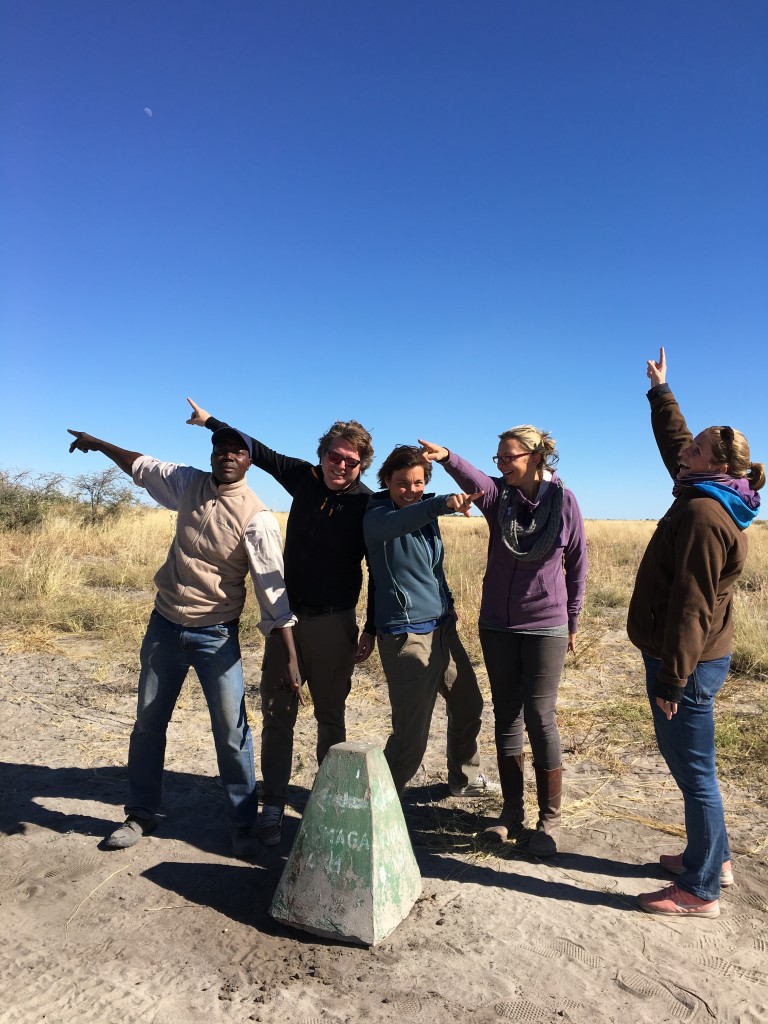 In hindsight this is actually a pretty impressive feat seeing as there are so few roads and yet we still managed to miss one of them – turns out it was the crucial one. We had booked a campsite in the middle of the park but for some reason we ended up on the Boteti river which forms the western boundary of the park. I'll never forget when we came out of the 'woods' onto a ridge with a very pretty view of a dry river bed. After a moment or two of complementing the view it dawned on me that we were looking down on the Boteti and nowhere near where we were supposed to be. The little cement pillar stating Khumaga office a mere 2km away confirmed this. I couldn't help but start laughing, almost uncontrollably, at this rather long detour. It was now 15h00, we'd left Maun at 8h30 and still had to cover 60km to get to the campsite and set up camp. Suffice to say the giraffe, gemsbok and elephants we'd passed earlier looked a little surprised to see us again so soon going the opposite direction at a slightly faster pace..
We made it to Tree Island in record time, set up camp and managed to get out onto the pans for a well-deserved sundowner. Nothing beats the open spaces the pans have to offer, there is quite literally nobody around let alone any man-made structures to disturb the endless views. My Dutch friend, who is an avid sailor, likened the emptiness of the park to being out at sea – the grass waving in the gentle breeze reminded him of the waves and if you know enough about astronomy you can easily navigate by the stars. I've seen plenty of impressive night skies but on a moonless night like we had, the universe in all its glory makes you seem very small and irrelevant in the larger scheme of things. A feeling that more people should experience more often if you ask me!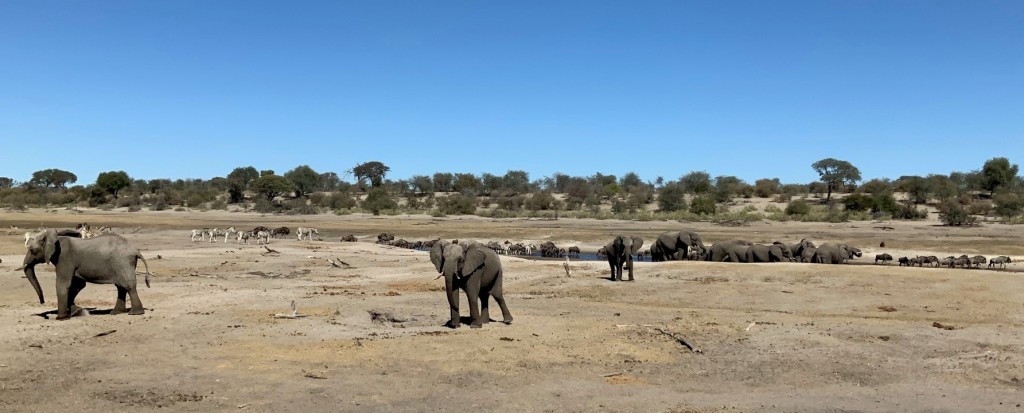 Back in camp dinner was served and we ended the day with a nightcap around the fire – you're not camping properly if you're not sitting around a fire contemplating the days' adventures whilst hearing lions roar in the background.
The next morning, we left bright and early, changed our second flat tyre and made our way back to the Boteti (we knew the road by heart now..) to catch the annual zebra migration. This natural phenomenon is utterly astounding and quite literally breath taking. Imagine hundreds of zebra and wildebeest making their way down to the river, which isn't much more than a couple of big puddles and trying to squeeze in between large herds of elephants. We parked our car under the trees, opened our picnic lunches and just sat there for hours watching the spectacle unfold before our eyes. Whilst the zebra, wildebeest and elephants were all jostling for space lions starting calling. I'm convinced they did so just to make the experience all the more surreal for us.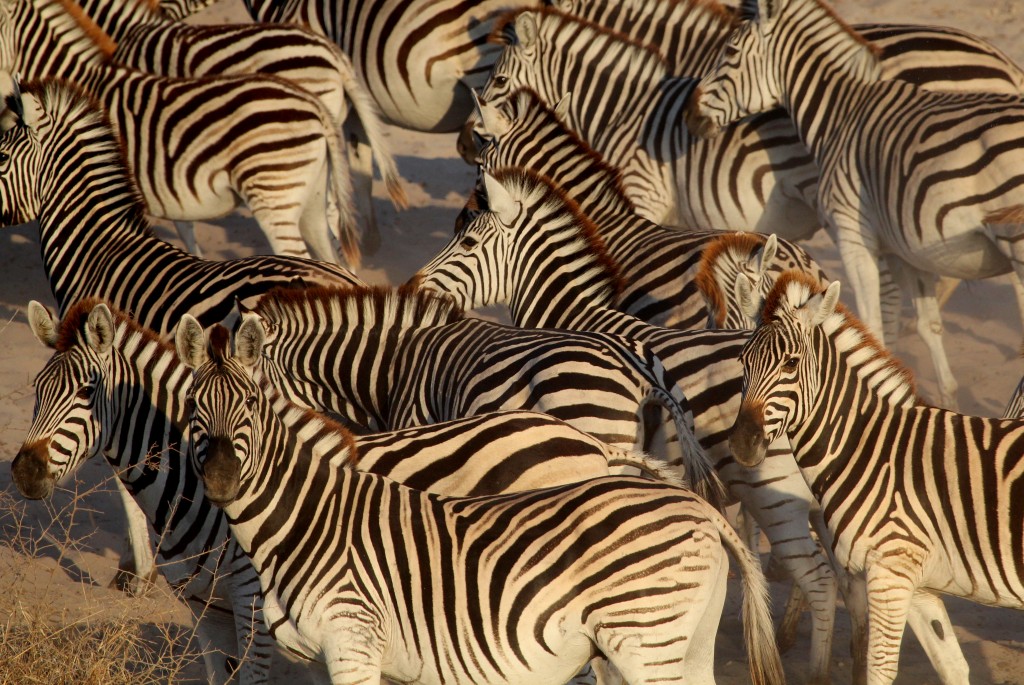 No matter how long I've been in Africa for nor how many safaris I've done, those hours spent on the river banks watching the spectacular migration in action is something I won't easily forget. It ranks pretty high in special moments and trust me, this continent has granted me quite a few!
Everyone is exhausted after a long-haul overnight flight, often involving multiple connections and inevitably ending in long immigrations queues on arrival. Not to mention the build-up of going on holiday, delayed flights and lost luggage. On arrival, most of us are simply looking for a hot shower, followed by a G&T while we take in our surroundings, ending the day with a good meal and a comfortable nights sleep.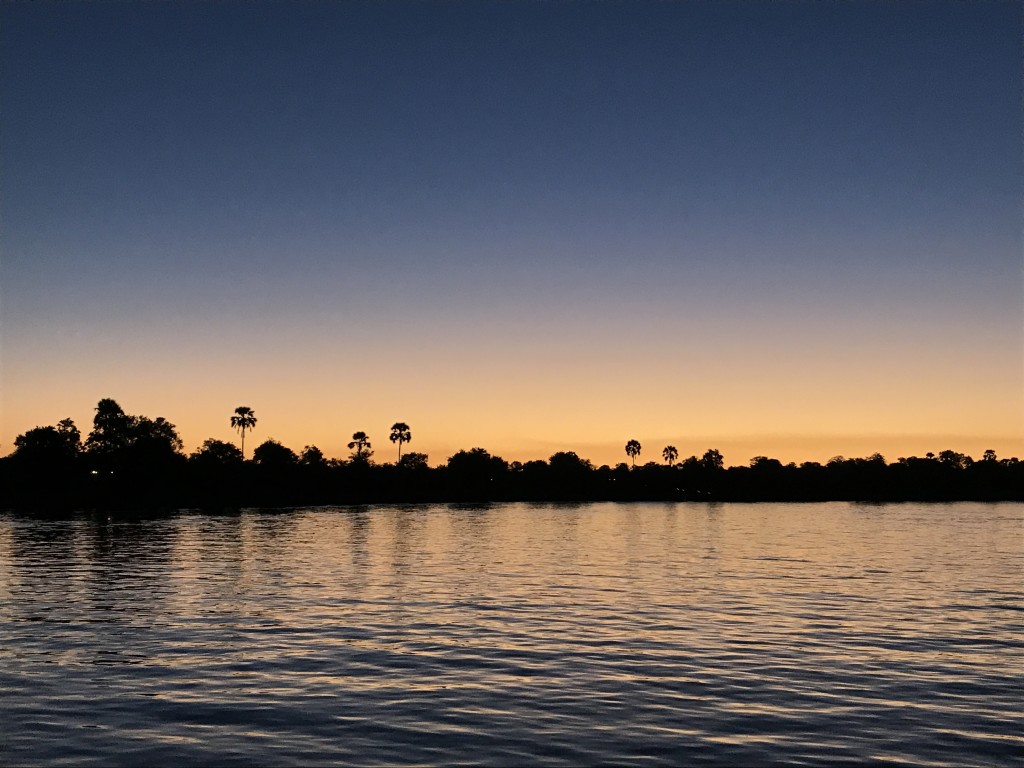 Victoria Falls is the ideal place to kick-off a safari. No onward flights or long road transfers required as most hotels are only a stone's throw away from the airport. Comfortable accommodation with all the amenities allows guests to ease into their safari experience.  As the properties in Victoria Falls are generally more affordable, there is less of a need to hit the ground running and more time to relax and find your feet. This is especially important when travelling with young children. Compared with the high-pressured start at the top dollar lodges in the Okavango Delta where every minute counts and where you feel compelled to jump on the first game drive on arrival, followed by an early morning wake up call on day one.
After a recent visit to Victoria Falls with my own family, I realized that 2 nights just isn't enough for first time visitors and especially families to fully appreciate what this corner of paradise has to offer.  I found myself rushing from one activity to the next, pressurized by pick-up times, with little time to relax and yet there was so much more than we could have done.
During our 2 night stay in Victoria Falls, we explored the Falls on foot, by helicopter and by Zip Line and that was about all that we had time for bar a mad dash around the market. There is a big choice of activities on offer beyond the falls themselves, one that I feel is grossly underestimated is the canoeing on the Zambezi River. For families, the falls has lots going on to cater to all ages and interests breaking up the typical safari routine.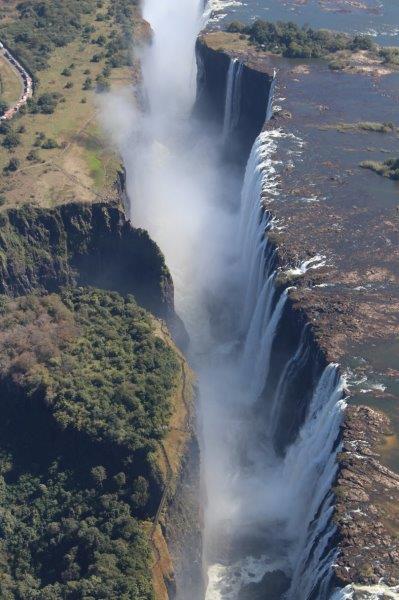 Beyond the activities, the town has a holiday vibe, showcasing the country's culture, local crafts (curio shopping) and a great variety of restaurants, which really add to the experience. Not accounting for the day of arrival and departure which are often lost due to flight times and transfers, one full day simply isn't enough to take it all in.  I would comfortably recommend a 3-night stay in Victoria Falls town itself.  There is a selection of properties to match all budgets, offering potentially good value for your money, helping to stretch the budget when combined with the top dollar lodges in more remote game areas.
Suggested Itinerary
Day 1:     Relax and enjoy a slow start to your safari
Dinner at the hotel
Day 2:     Tour of the falls followed by the flight of angels (12 – 15 minute helicopter scenic)
Lunch at the Lookout Café (which will reopen in Dec 2019 after it burnt down half a year ago)
Canopy Tour / Elephant Interaction / Sunset Cruise
Day 3:     Option 1: Full day upper Zambezi Canoe or Rafting experience
Option 2: A combination of the following with lunch on the terrace at The Victoria Falls Hotel
Horse Riding, Bicycle Tour, Village Tour, Pay It Forward (Family), Bird Watching, Shopping, Bunji Jumping, Croc Farm (Family), High Tea at the Victoria Falls Hotel, and more
Independent Dinning Options:
Traditional (Family): The Boma, Jungle Junction
Formal: The Livingstone Room, The Palm Restaurant
Casual: Zambezi House, Three Monkeys, The Lookout Cafe (will reopen Dec 2019)
The same could be said when coming off a safari in the delta. Days of early rising, long bumpy game drives and a day in transit, including the border crossing, is taxing of the best of us. Ending with 3 nights in Victoria Falls to slowly get re-acquainted with civilization before diving back into your daily routine at home is always a good idea.
Guests that have a little bit more time are recommended to spoil themselves with 4 nights in Victoria Falls, the 4 nights could be split between 2 nights in town and 2 nights in the quieter Zambezi National Park. The options are endless, we have put together some stunning itineraries which can be found on our "Best in Travel Zimbabwe 2019", the packages for 2020 will soon be released.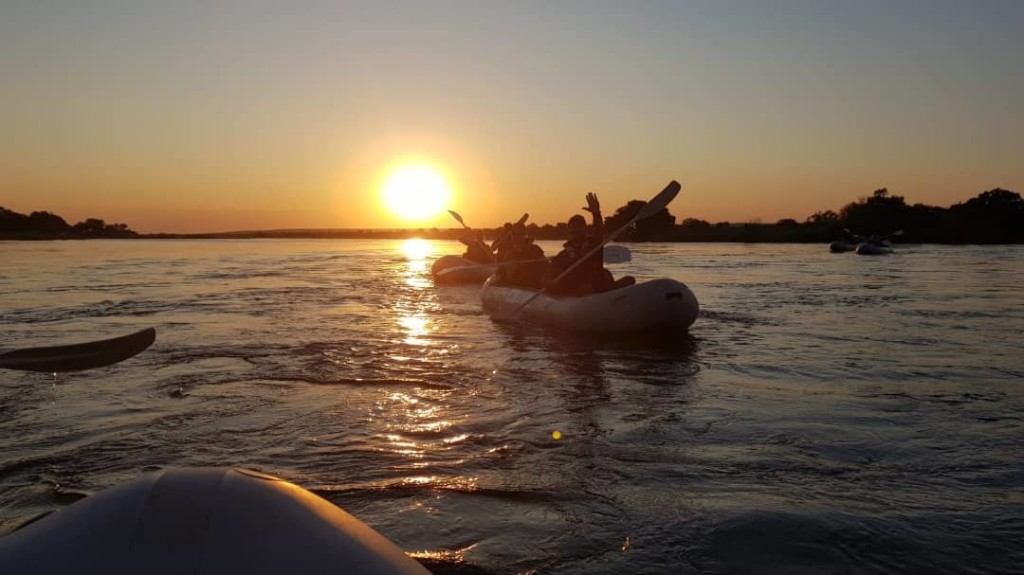 The Okavango Delta, the largest oasis in the world, attracts large concentrations of all forms of life from the surrounding Kalahari Desert. During periods of flooding plants flourish, animals reproduce and large herds of mammals migrate away from the swamp, to the fringes and to areas in the surrounding desert that benefit from the water that is slowly making its way through the sand.
The exact opposite happens during dry spells!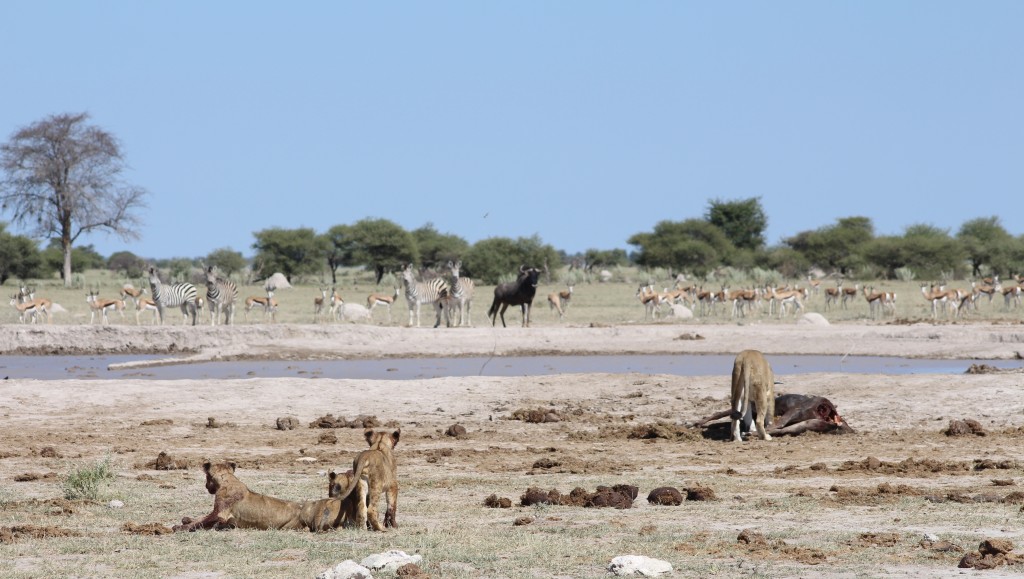 Large concentrations of animals come together around water pools, receding channels and lagoons. Considering the current water and flood levels and data on rainfall in the Angolan Highlands and the catchment area of the Okavango Delta it is very likely that the upcoming year will be very dry. It looked similar in the late 1990s and early 2000s – and game viewing around the core Okavango was nothing short of spectacular! We were there to see it. Elephants, buffalo, wildebeest and zebra jostling for a place around the precious wet; carefully watched by predators that follow the herbivores and focus ALL their attention around the last remaining watering holes.
You remember all those times when we said: Or should I rather suggest to the clients to travel a bit later? When the game viewing is a bit better? Don't you think June is maybe too early? Maybe rather September?
In 2019 we are up for a much longer season of enhanced game viewing with less animal movement out of the Okavango, a true premier savanna game drive and superb walking experience. In essence: it will be September from June onwards…..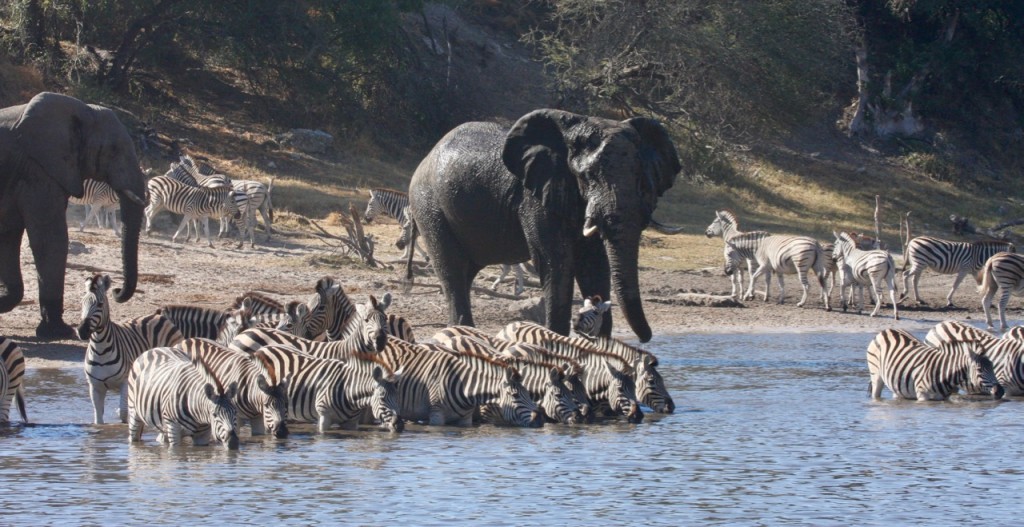 Sure, the water levels might get too low to conduct boat cruises and mokoro excursions sooner than in previous years in a lot of areas. But there is still a number of camps around, located close enough to the more permanent channels, where your clients can enjoy gliding through the swamp on a mokoro. Our consultants know exactly where to find those camps to add to your clients' itinerary and where to include mokoro or boating.
But don't let anybody fool you into believing that a dry cycle in the Okavango is bad news.
It is great news for a photographic safari. Get ready for an amazing season !!!!