Monthly Archives:
July 2019
We're only momentarily disorientated… I've been lucky enough to call Botswana home for 7 years now and have traversed most of its dusty roads. However, there are always new gems to explore and last weekend the Makgadikgadi National Park was on the itinerary. This largely underutilised park only has a couple of roads crisscrossing its interior and most of them are long and straight with miles of visibility. Despite these pretty good odds, I still managed to be momentarily disorientated… or in plain English "lost".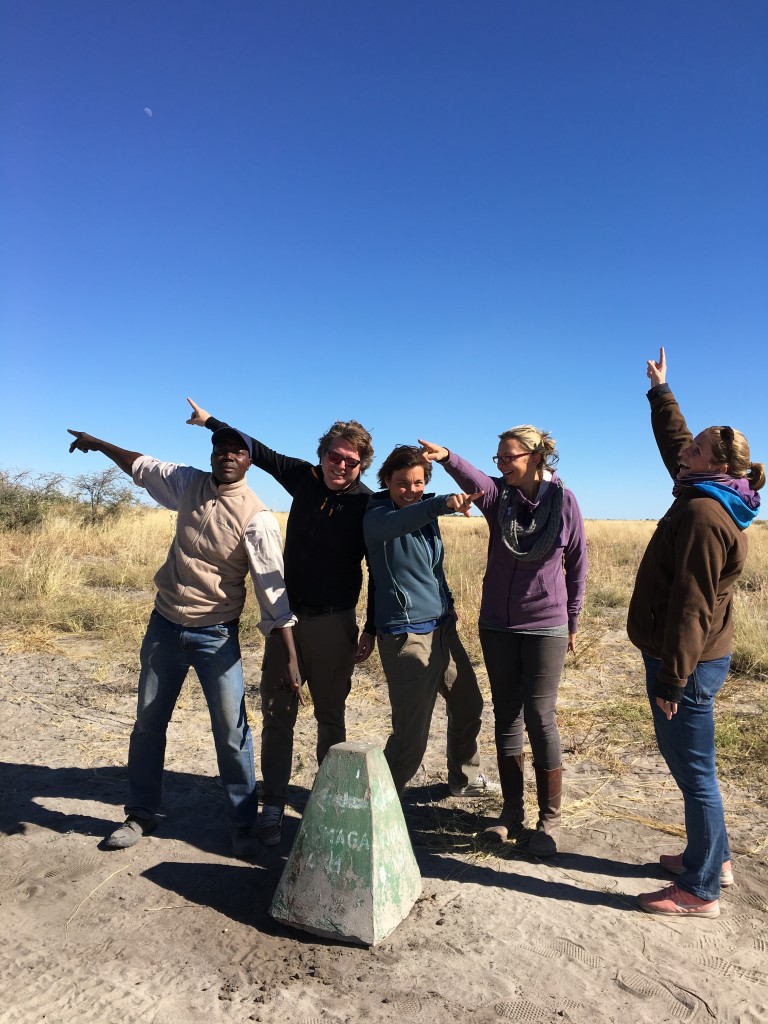 In hindsight this is actually a pretty impressive feat seeing as there are so few roads and yet we still managed to miss one of them – turns out it was the crucial one. We had booked a campsite in the middle of the park but for some reason we ended up on the Boteti river which forms the western boundary of the park. I'll never forget when we came out of the 'woods' onto a ridge with a very pretty view of a dry river bed. After a moment or two of complementing the view it dawned on me that we were looking down on the Boteti and nowhere near where we were supposed to be. The little cement pillar stating Khumaga office a mere 2km away confirmed this. I couldn't help but start laughing, almost uncontrollably, at this rather long detour. It was now 15h00, we'd left Maun at 8h30 and still had to cover 60km to get to the campsite and set up camp. Suffice to say the giraffe, gemsbok and elephants we'd passed earlier looked a little surprised to see us again so soon going the opposite direction at a slightly faster pace..
We made it to Tree Island in record time, set up camp and managed to get out onto the pans for a well-deserved sundowner. Nothing beats the open spaces the pans have to offer, there is quite literally nobody around let alone any man-made structures to disturb the endless views. My Dutch friend, who is an avid sailor, likened the emptiness of the park to being out at sea – the grass waving in the gentle breeze reminded him of the waves and if you know enough about astronomy you can easily navigate by the stars. I've seen plenty of impressive night skies but on a moonless night like we had, the universe in all its glory makes you seem very small and irrelevant in the larger scheme of things. A feeling that more people should experience more often if you ask me!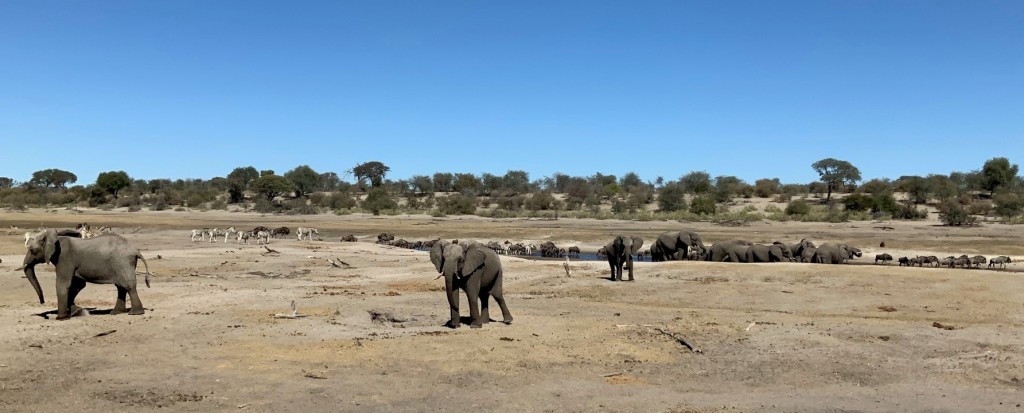 Back in camp dinner was served and we ended the day with a nightcap around the fire – you're not camping properly if you're not sitting around a fire contemplating the days' adventures whilst hearing lions roar in the background.
The next morning, we left bright and early, changed our second flat tyre and made our way back to the Boteti (we knew the road by heart now..) to catch the annual zebra migration. This natural phenomenon is utterly astounding and quite literally breath taking. Imagine hundreds of zebra and wildebeest making their way down to the river, which isn't much more than a couple of big puddles and trying to squeeze in between large herds of elephants. We parked our car under the trees, opened our picnic lunches and just sat there for hours watching the spectacle unfold before our eyes. Whilst the zebra, wildebeest and elephants were all jostling for space lions starting calling. I'm convinced they did so just to make the experience all the more surreal for us.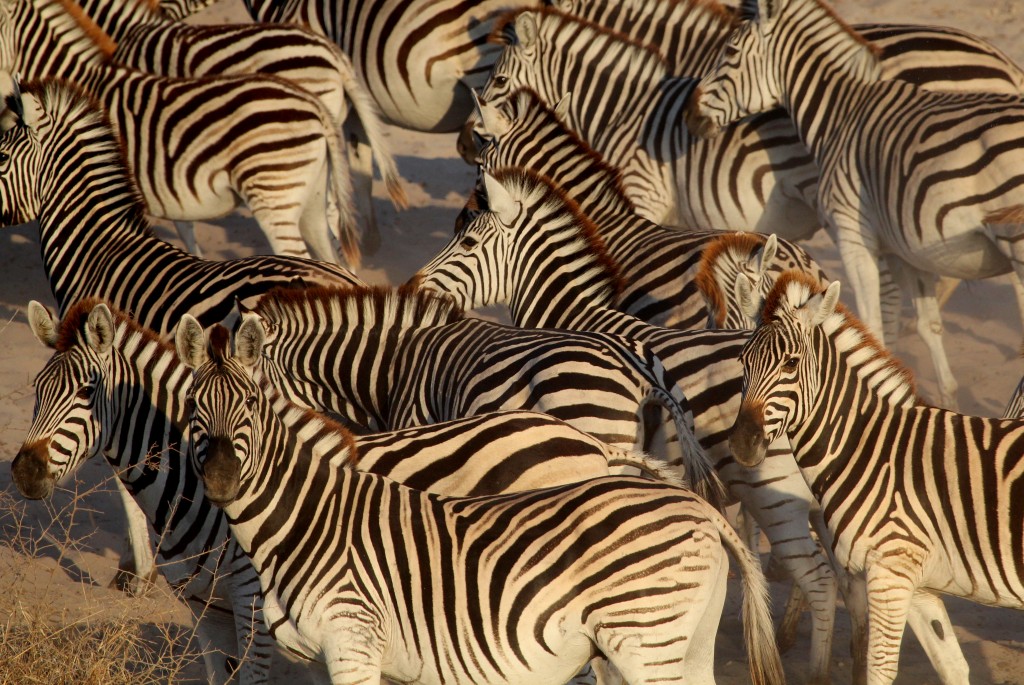 No matter how long I've been in Africa for nor how many safaris I've done, those hours spent on the river banks watching the spectacular migration in action is something I won't easily forget. It ranks pretty high in special moments and trust me, this continent has granted me quite a few!
Everyone is exhausted after a long-haul overnight flight, often involving multiple connections and inevitably ending in long immigrations queues on arrival. Not to mention the build-up of going on holiday, delayed flights and lost luggage. On arrival, most of us are simply looking for a hot shower, followed by a G&T while we take in our surroundings, ending the day with a good meal and a comfortable nights sleep.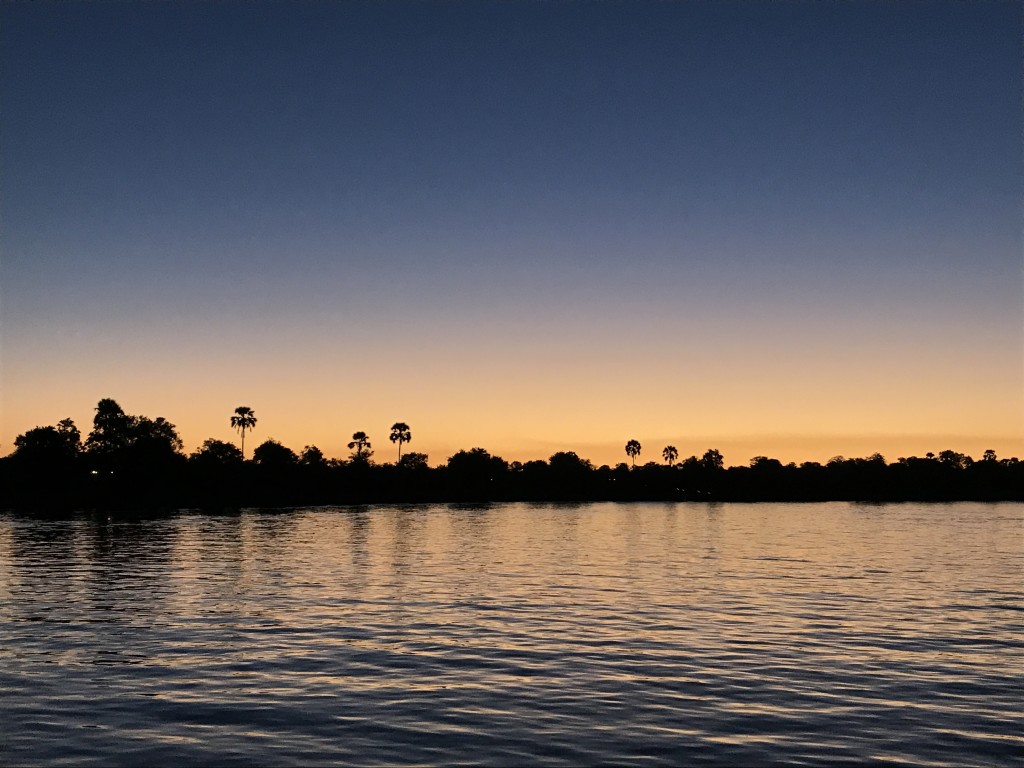 Victoria Falls is the ideal place to kick-off a safari. No onward flights or long road transfers required as most hotels are only a stone's throw away from the airport. Comfortable accommodation with all the amenities allows guests to ease into their safari experience.  As the properties in Victoria Falls are generally more affordable, there is less of a need to hit the ground running and more time to relax and find your feet. This is especially important when travelling with young children. Compared with the high-pressured start at the top dollar lodges in the Okavango Delta where every minute counts and where you feel compelled to jump on the first game drive on arrival, followed by an early morning wake up call on day one.
After a recent visit to Victoria Falls with my own family, I realized that 2 nights just isn't enough for first time visitors and especially families to fully appreciate what this corner of paradise has to offer.  I found myself rushing from one activity to the next, pressurized by pick-up times, with little time to relax and yet there was so much more than we could have done.
During our 2 night stay in Victoria Falls, we explored the Falls on foot, by helicopter and by Zip Line and that was about all that we had time for bar a mad dash around the market. There is a big choice of activities on offer beyond the falls themselves, one that I feel is grossly underestimated is the canoeing on the Zambezi River. For families, the falls has lots going on to cater to all ages and interests breaking up the typical safari routine.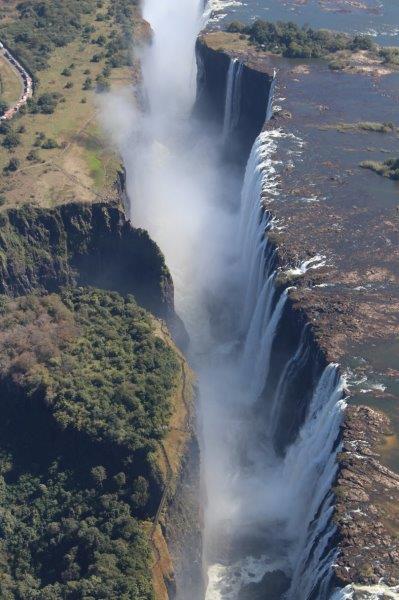 Beyond the activities, the town has a holiday vibe, showcasing the country's culture, local crafts (curio shopping) and a great variety of restaurants, which really add to the experience. Not accounting for the day of arrival and departure which are often lost due to flight times and transfers, one full day simply isn't enough to take it all in.  I would comfortably recommend a 3-night stay in Victoria Falls town itself.  There is a selection of properties to match all budgets, offering potentially good value for your money, helping to stretch the budget when combined with the top dollar lodges in more remote game areas.
Suggested Itinerary
Day 1:     Relax and enjoy a slow start to your safari
Dinner at the hotel
Day 2:     Tour of the falls followed by the flight of angels (12 – 15 minute helicopter scenic)
Lunch at the Lookout Café (which will reopen in Dec 2019 after it burnt down half a year ago)
Canopy Tour / Elephant Interaction / Sunset Cruise
Day 3:     Option 1: Full day upper Zambezi Canoe or Rafting experience
Option 2: A combination of the following with lunch on the terrace at The Victoria Falls Hotel
Horse Riding, Bicycle Tour, Village Tour, Pay It Forward (Family), Bird Watching, Shopping, Bunji Jumping, Croc Farm (Family), High Tea at the Victoria Falls Hotel, and more
Independent Dinning Options:
Traditional (Family): The Boma, Jungle Junction
Formal: The Livingstone Room, The Palm Restaurant
Casual: Zambezi House, Three Monkeys, The Lookout Cafe (will reopen Dec 2019)
The same could be said when coming off a safari in the delta. Days of early rising, long bumpy game drives and a day in transit, including the border crossing, is taxing of the best of us. Ending with 3 nights in Victoria Falls to slowly get re-acquainted with civilization before diving back into your daily routine at home is always a good idea.
Guests that have a little bit more time are recommended to spoil themselves with 4 nights in Victoria Falls, the 4 nights could be split between 2 nights in town and 2 nights in the quieter Zambezi National Park. The options are endless, we have put together some stunning itineraries which can be found on our "Best in Travel Zimbabwe 2019", the packages for 2020 will soon be released.