Category Archives: around the campfire
Every single day, we at Safari Destinations, have the privilege of interacting with our clients in Maun, hearing about their wonderful safaris. Excited by their experiences in the bush, our guests are more than eager to share their feedback with us. Our clients are so thrilled to be travelling again, agreeing that travel is still much needed and that there is no better time to go on safari than now!
Elicited by our Meet and Greet team, here is some of the feedback received in the last couple of weeks (we struggled with the selection since we had so many wonderful stories to choose from).
A FAMILY'S DREAM COMES TRUE AT SHINDE CAMP
"Shinde was by far the highlight of their trip. In enquiring why this was so, we were told that they had the best Guide ever in the history of their safari holidays. Our guests commented that they have been to South Africa, Namibia and Botswana with Botswana having been the best just because of their guide, Kenny, at Shinde Camp. The whole family commented that Kenny was an absolute gem. He was very knowledgeable (he even knew the scientific and latin names of plants and animals), was fun (extremely entertaining), and catered for the young ones and keeping them very interested each and every game drive. They mentioned that a Guide can make or break a trip or experience and fortunately for them, Kenny truly enhanced their experience. Their game drives were nothing short of spectacular. They saw everything that they wanted to see and even got to witness a Lion kill, just like you see on National Geographic. This family really were happy and could not stop expressing their satisfaction with their whole entire trip."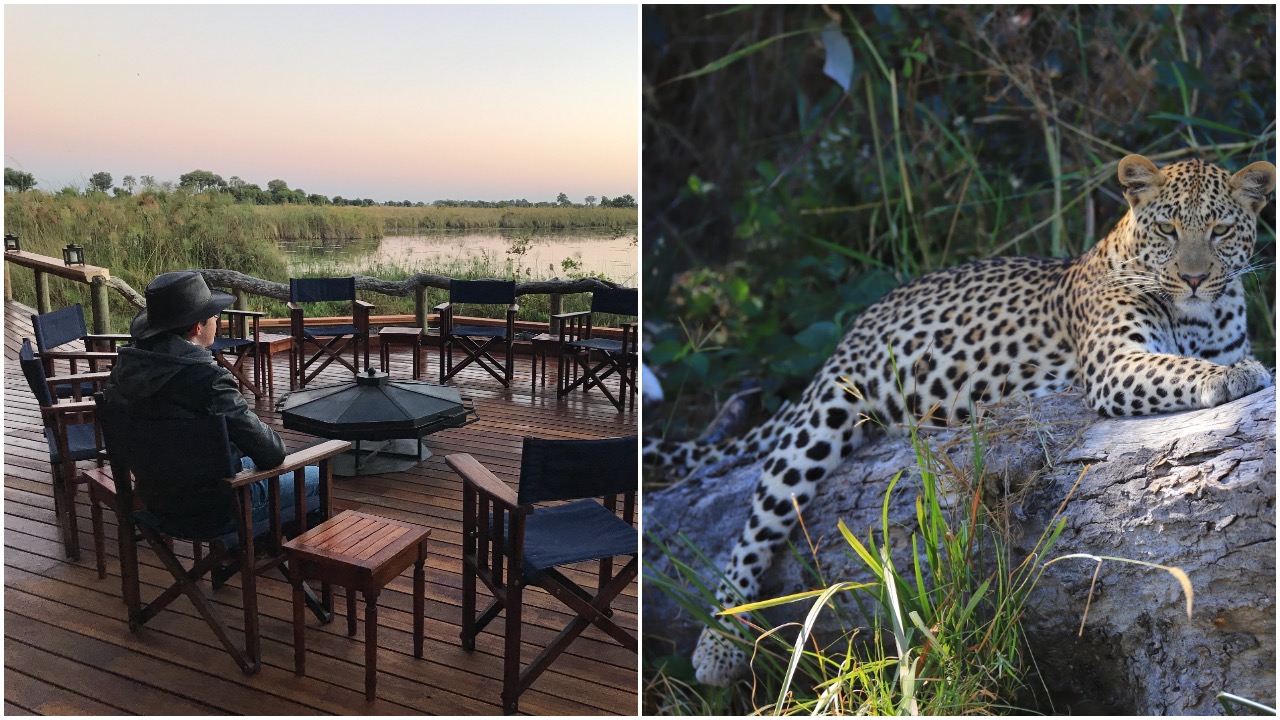 NOGATSAA PANS LODGE: A GEM & THE CHERRY ON TOP!
Although the focus of a safari is the wildlife sightings, the landscapes and the sheer bliss of being out under the African sky, the staff in camp contribute hugely to the overall experience. A warm welcome, a beautiful smile and the kindness of the people in camp who are more than ready to make sure that all your needs are met during your stay, adds to the pleasure of your stay. Nogatsaa delivered in this aspect!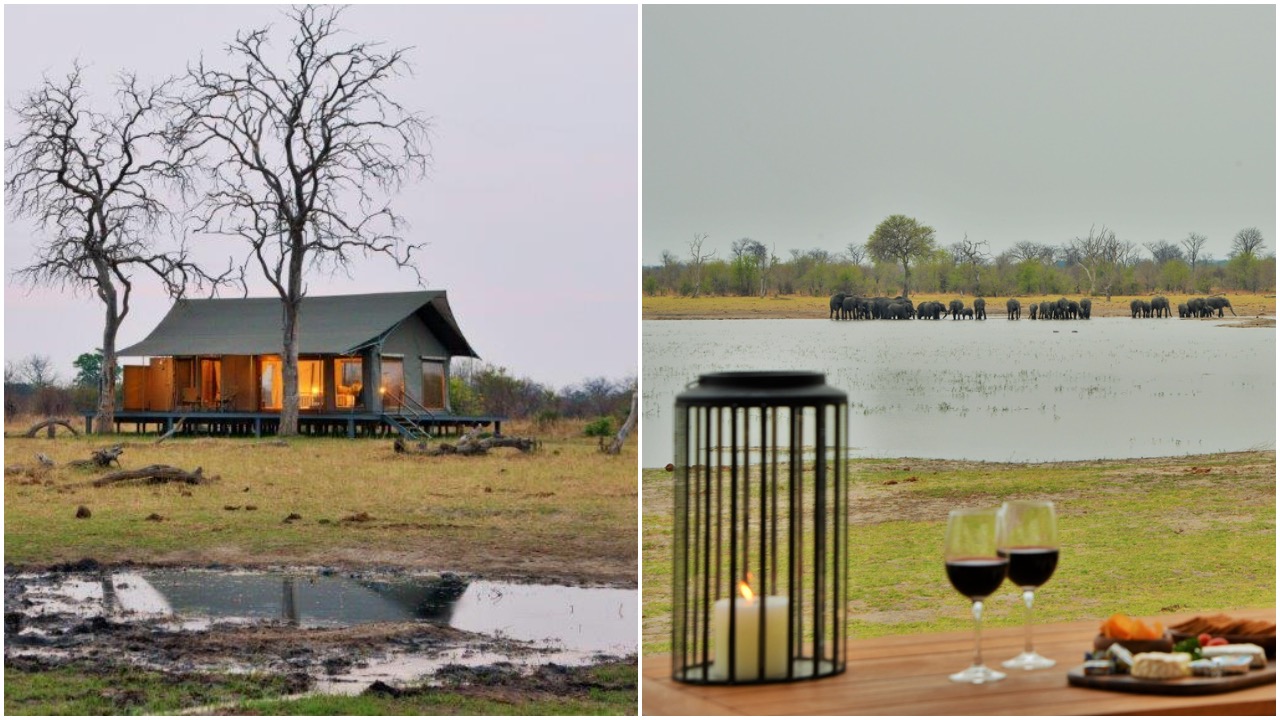 "Nogatsaa Pans Camp: Clients raved that the Manageress Ketsile, had phenomenal people skills and was just incredibly friendly. Allan, who was their Guide for their entire stay was also an asset and made their sightings just extra special. He was very knowledgeable and very flexible. They can't compare the welcome and hospitality that they received anything they had experienced on other trips.
SELF-DRIVING IN BOTSWANA! WHAT COULD BE BETTER?
It is great to go on a self-drive trip. Our guests are enjoying the open and flat landscapes while driving through the Makgadikgadi pans, to road side sightings of elephants aplenty in the famous Chobe area to the rustic and pristine Savute and then Khwai with its exceptional game viewing. The bonus to self-drives is that you get to spend dedicated time with family or close friends.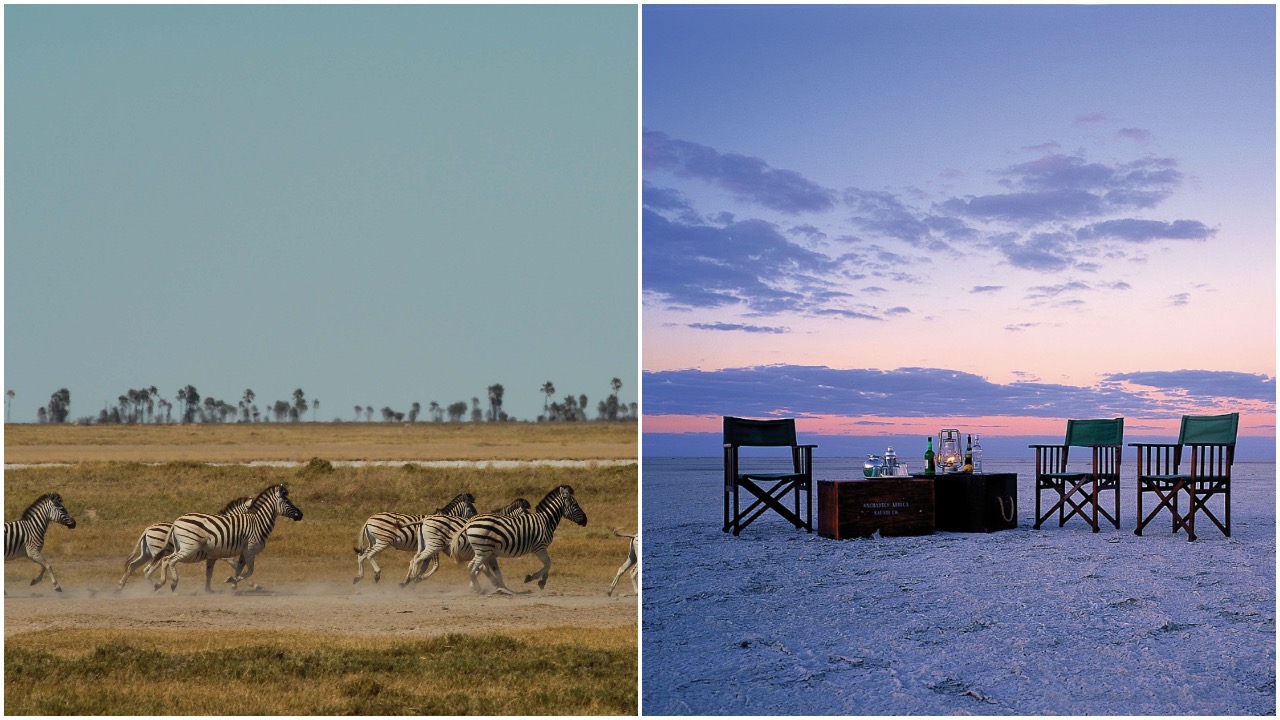 " The clients absolutely loved the Makgadikgadi and her beautiful sunsets and sunrises as well as the vast nothingness of the landscape. Kubu Lodge was also a great place to stay as Chobe was buzzing with hundreds of elephants. They had never seen anything like this before.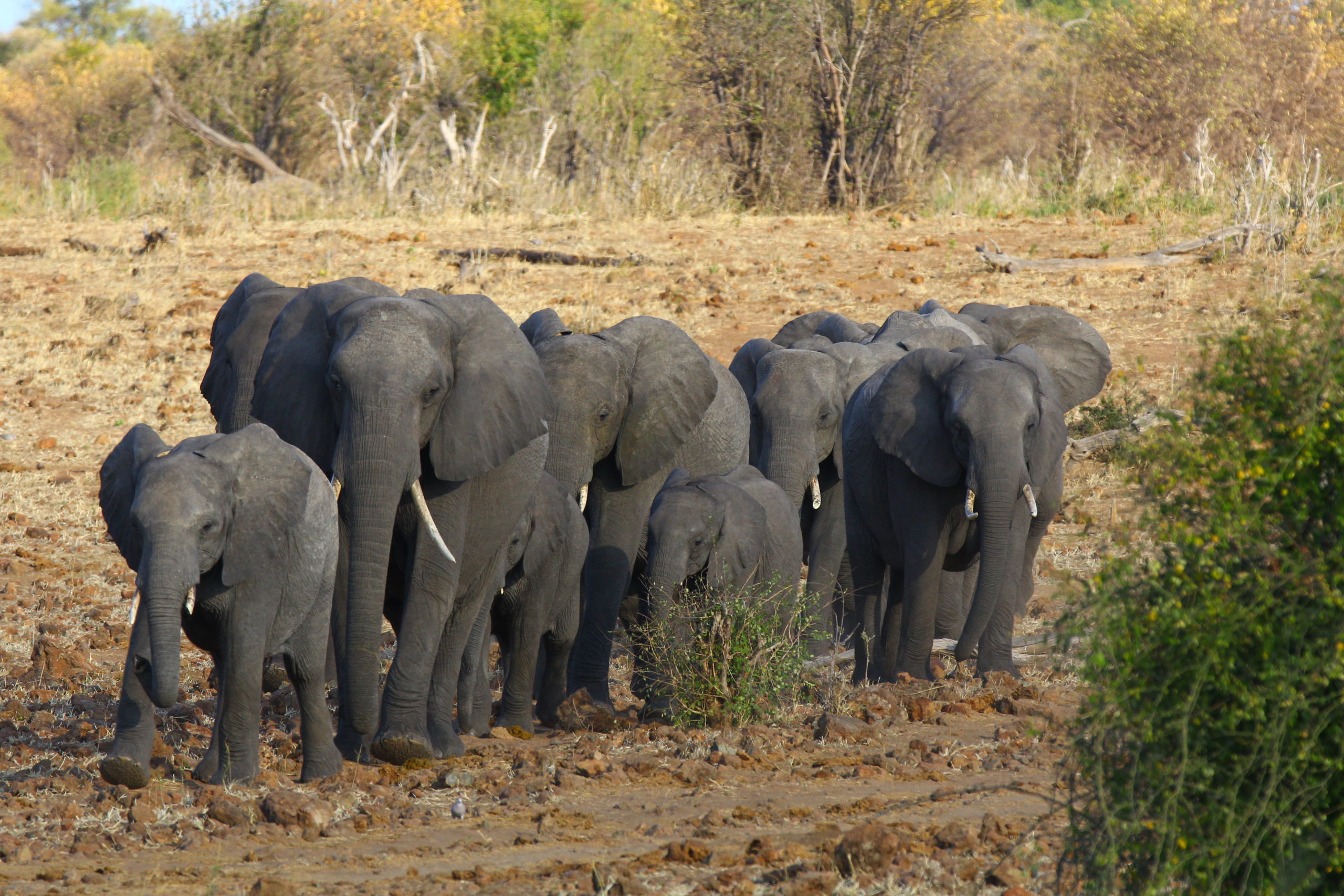 Savuti was " Lion land". They saw a total of 15 Lions at one sighting, with cubs. This for them was very special. The experience of being in the wilderness (unguided) with mother nature delivering in such a spectacular manner, was simply remarkable. The landscape here was also breath-taking. Khwai also was just awesome. On one drive, clients saw a dead impala up a tree and they both guessed that they were about to see a Leopard. And there it was! They were so excited and told me about the many video clips they took of their "special" sighting and moment. This was their first time visiting Southern Africa and they could not believe their luck."
These are just some of the feedbacks from the many guests we have hosted over the past months. We love to hear of the magical moments experienced by our guests and to share in the memories they will take back home to tell to their families and friends! This is one of the best parts of our job, being allowed to share such amazing experiences.
As Carina always says: "Every day not spent on safari is lost day". I am sure our guests, after a safari of a lifetime, will agree. The African travel bug is the one that bites the hardest.
I am sure many of you think that a great safari does not mean great service or amazing food. I would like to strongly disagree.
Amazing food comes in many shapes and tastes. On safari you have the choice between culinary highlights on the level of Michelin-star-cuisines and deliciously authentic food cooked on a campfire. These don't contradict but compliment each other. Here are some examples of the finest food experiences in Botswana:
Xigera Safari Lodge by Red Carnation
Xigera is an intriguing and magic place. It offers undoubtedly the highest level of culinary experiences in the Okavango Delta. Their wine cellar has the largest selection of wines and champagnes in Botswana.
Bush Ways Mobile Safaris
Guests always rave about the delicious food they enjoyed on their mobile safaris. I can only agree, the tasty meals the camp assistants and guides create are just mouthwatering. In German we have a saying called "love goes through the stomach", that is exactly what happened to me 20 years ago when I fell in love with the freshly baked bread on my first ever camping safari, the baker who was also my guide has been my husband for 17 years!
Khwai Leadwood by African Bush Camps
Every meal is a surprise. Breakfast is served around the campfire overlooking the Khwai River and Moremi Game Reserve. Lunch is a combination of fresh and healthy choices, always freshly prepared in front of the guests. For dinner the guests enjoy a variety of venues, the Boma, a private table set up at the pool, or a surprise dinner on the deck of your tent. We had the pleasure of experiencing Khwai Leadwood on a recent stay and were very impressed.
Selinda Camp by Great Plains Conservation
For all guests that look for the exclusivity of an excellent private concession topped by excellent service and the food, what can I say? Dinner felt like being in a Michelin-Star-Restaurant. The creativity and perfect presentation of all meals is impressive. Selinda is the perfect lodge for food & wildlife lovers.

I am very grateful for my privileged life, my healthy family, my friends, and that our company has so far weathered the storm called Covid. Covid has restricted us in many ways, but it did not manage to take away my love for my job and especially my love for travel. My number one rule has always been, grab the opportunity when it presents itself and ignore anything that gets in its way 🙂
This is exactly what I did in early May. I missed my team in Maun and realized I needed to experience travel during Covid myself in order to share my knowledge with our agents. I ignored the so called experts and their warnings and went on a one month trip to Botswana and South Africa.
We flew with Lufthansa from Frankfurt to Johannesburg, our flight was on time, smooth and of course half empty. In Johannesburg we connected to Airlink, again the flight was on time and smooth. During the entire trip our printed versions of our PCR tests felt more important than our passports (by the way, we did our PCR tests in Frankfurt Airport at Centogene, results available within 6 hours – efficient and reliable). The tests had to be presented at all check-points. Starting at check-in in Frankfurt, at border controls, at the gate before boarding the flight. Again in Johannesburg in transit, at the gate and of course on arrival in Maun. What did I learn? As long as you have done your homework and have all paperwork at hand (and copies of all the papers) the ride is smooth.
For South Africa we had to fill in an arrival form which was handed out by the flight attendant before arrival in Joburg. This health form just asked if we had any symptoms etc. A similar form had to be filled in for Botswana. The flight attendant on the Airlink flight handed it out and we filled it in during the flight before arriving in Maun. At Maun airport, before entering the (new) airport building our temperature was checked, the form and the PCR tests were collected, a quick rapid test done (free of charge) and off we went into the brand new airport building which even has air condition 😉
I think the anticipation of travelling and not knowing what to expect makes people nervous. I can honestly say that once our journey started I was so excited, I knew nothing could go wrong.

In Botswana we worked hard and every free minute was spent in the bush. We explored the new Khwai Leadwood by African Bush Camps, Splash & Kwara Camps by Kwando Safaris and Shinde by Ker & Downey. We had amazing safaris, breathtaking experiences and inhaled every bit of excitement.
For our journey to South Africa we needed new PCR tests, which we had booked with Pharma in Maun, their office is only a couple of minutes from the airport. They guarantee results in less than 24 hours and are a very reliable partner. All guests travelling with Safari Destinations enjoy the carefree service of SD. We prebook the PCR tests be it in the bush (a nurse flies into camp) or in Maun / Kasane / Vic Falls… we make sure results are received on time before travellers depart. The service can be added to the invoice, this way clients don't have to worry about a thing and enjoy their safari.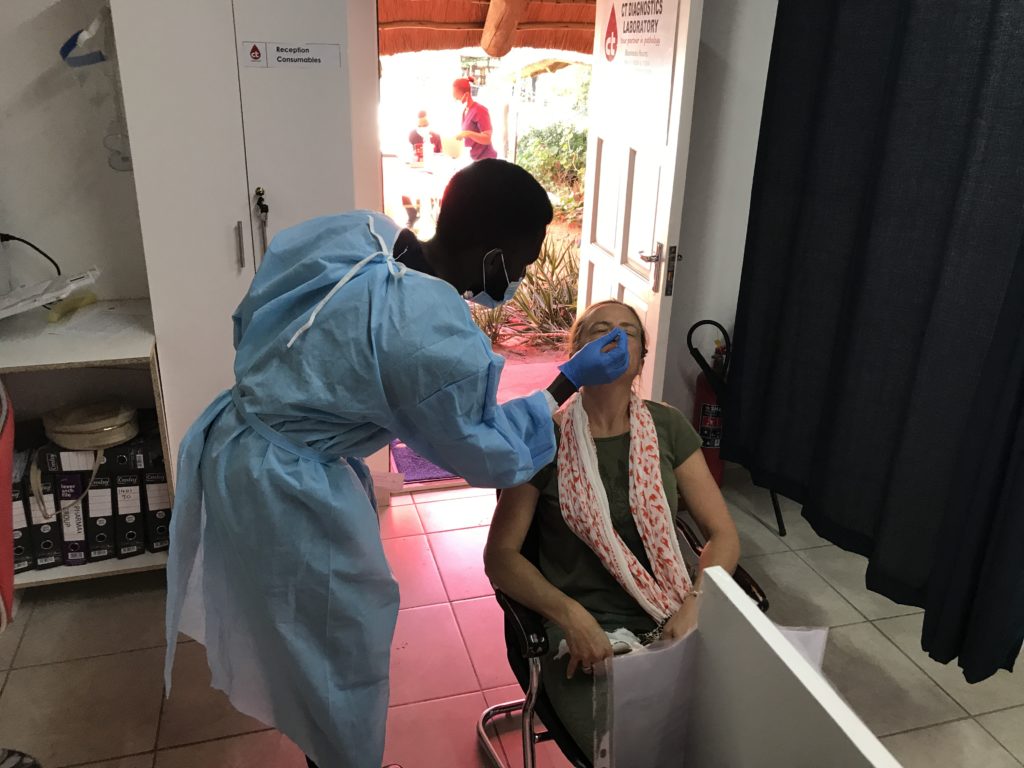 For more information please contact your dedicated consultant or info@safaridestinations.net
#WeLiveit
Botswana is known for some of the last unspoilt wildlife areas in the world and as such offers a unique experience to anybody wanting to discover the beauty, remoteness and diversity of Botswana's landscapes and its animals.
Besides lodge-to-lodge mobile safaris and fly in safaris, Botswana is a great destination for anybody seeking an adventure and wanting to embark on a one of a kind self-drive trip.
Camping in unfenced wildlife areas, waking up early with the sunrise while looking across the moonlike landscape of the salt pans and getting up close with some of the biggest mammals on earth is truly an unforgettable experience.
There are however a few things, travellers should keep in mind when deciding to explore Botswana on their own terms.
Driving through Botswana is nothing like driving through for example the well known Kruger National Park or Namibia, with tar roads and clearly marked directions. Botswana can present some challenges – difficult road conditions with deep sand, destinations far apart from each other, remote areas without signage and confusing "road" networks. All the more important it is to be thoroughly prepared and use the tools at hand to make sure your journey will be the safari of your dreams.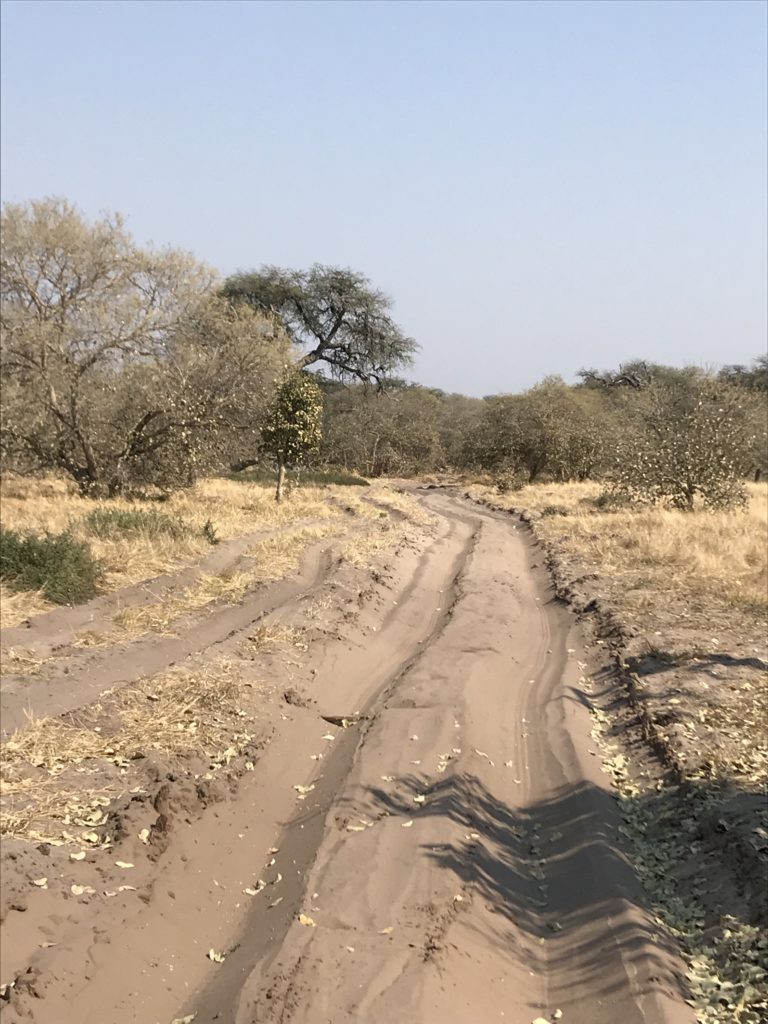 First of all, it is important to understand the different areas and the different types of self-drives.
Make sure you have done your research regarding which areas you would like to visit and what the road conditions are like. Road conditions can vary from main tar roads, to sharp gravel road, deep sandy roads and water crossings.
Unless you are only planning to drive on tar roads, driving with a 4×4 vehicle is an absolute must! Ideally, the vehicle should have a long range fuel tank or in case it doesn't, you need to take extra jerry cans. There are no fuel stations in National Parks and even outside the parks, you sometimes need to drive far distances before reaching the next fuel stations.
Another important thing to keep in mind is that the vehicle is properly equipped. Even on tar roads, there is mostly no network between cities. Therefore, it is essential to be travelling with a satellite phone should you have an emergency and need help.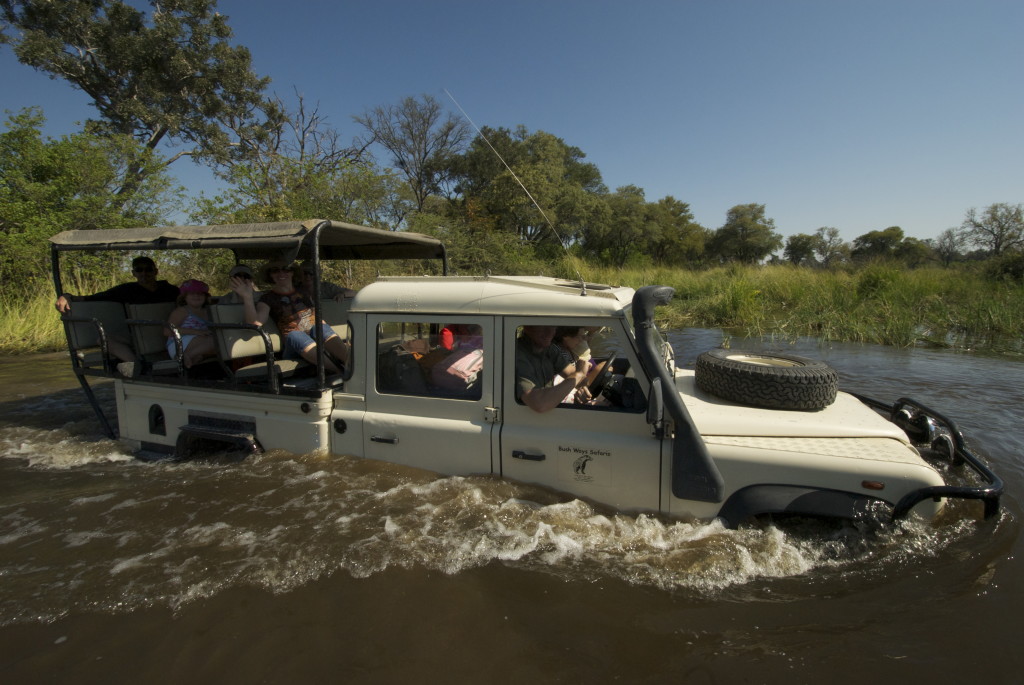 Besides that, the car should also be equipped with tools you need in case you get stuck or have a break down, such as a spade, sand ladders, hi-lift jack, tyre repair kit, compressor etc. and of course spare tyres.
In order to find your way around, you should travel with adequate maps, GPS and best of all, Tracks4Africa. Tracks for Africa is a very user-friendly app that you can download on your phone, and the best about it, it works offline! Even in the remotest areas, the app connects the dots via GPS signal and allows people travelling to easily find their way around the complicated and sometimes a bit chaotic bush network.
We know that some clients struggle with the costs for the app. It currently costs USD 50, but this includes regular updates. The app covers many African countries including South Africa, Namibia, Botswana, Zambia and Zimbabwe and many more. Users purchase it once and can use it again and again.
The National Parks are completely wild and camping is only allowed in designated campsite areas.
The campsites are not fenced, which means, animals regularly walk through them, adding to the thrill of being up close with wildlife. However, make sure you keep a safe distance from wild animals – for your own safety but also to respect the wildlife. The same applies to when you are driving. Keep a safe distance from animals, do not go off-road and stick to the well-used track to ensure you have a smooth trip!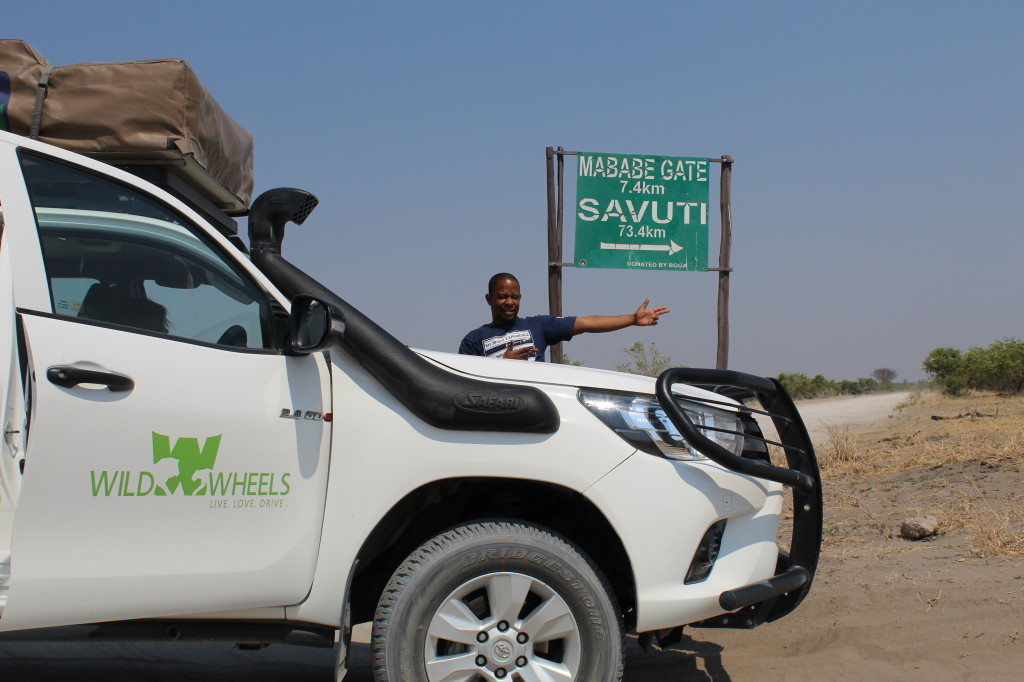 You should not be driving at night. Besides it not being allowed in a National Park, it is very dangerous to drive on Botswana's tar roads at night. Animals can roam freely and there are no fences or street lights along the roads which means farm animals use the warm tar as a sleeping place. Statistically the number one cause of road accidents is hitting an animal while driving at night.
For the less adventurous traveller Botswana can be perfectly combined with Namibia. One of our best selling trips is a self drive trip which starts and ends in Windhoek and which combines the stunning landscapes of Namibia with the vast Wilderness of Botswana. The Delta can be included on a 3 night fly-in, for the rest of the safari traveller stick to the tar roads and link Maun with Kasane via Nata (including a stop along the Boteti or the Salt Pans).
There is so much to explore – come and visit. As you know everyday not spend on safari is a lost day 🙂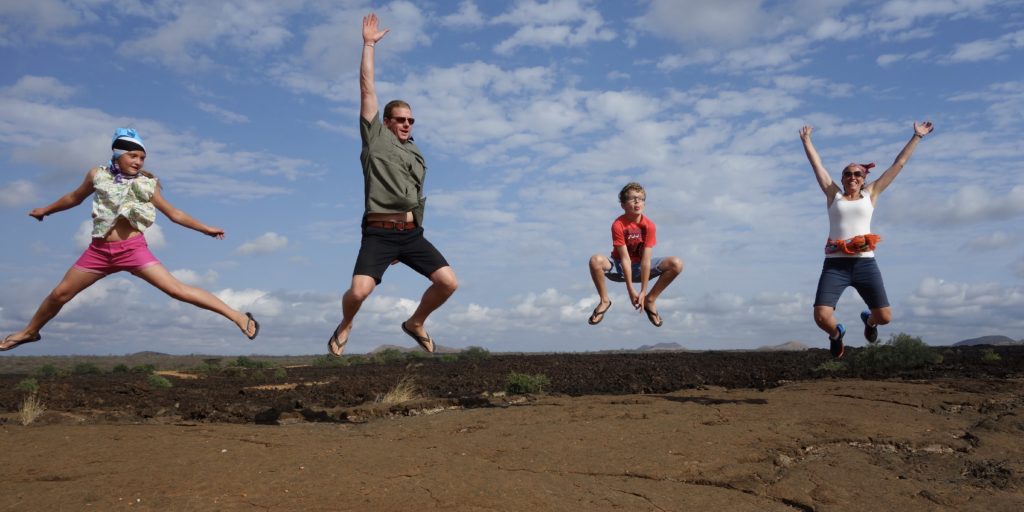 Travelling has always been one of the greatest privileges in my life. I first enjoyed this freedom in school, exchange programs to France and the United States opened my horizon, made me understand other cultures better and caused this urge to travel. I am sure you have heard about the Africa-Virus, funny to call it a virus since the word virus nowadays is directly linked to Covid. Well not long ago having caught the Africa-virus was something positive. Maybe I should call it the need for Africa, the thirst to inhale the smells of the air, the colours of the landscapes, the excitement of watching animals in the wild, I can never get enough of it. The last months have taught me that this FREEDOM to travel and all the positive emotions that come with it, is my key to happiness.
I miss the excitement of planning a trip.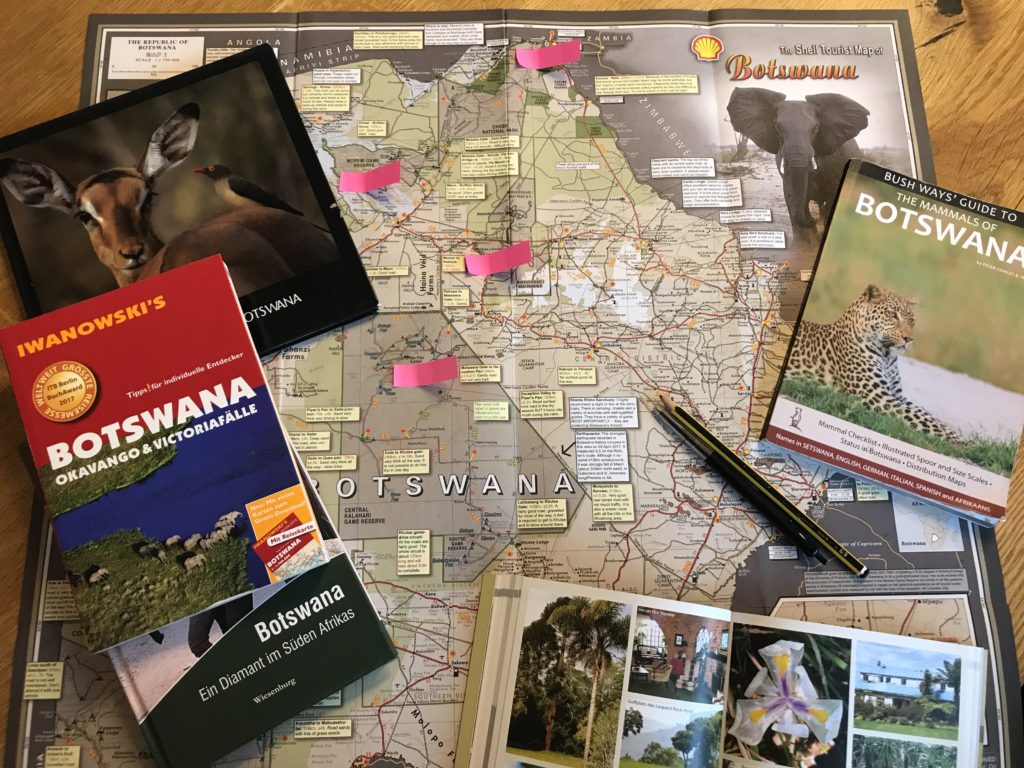 I miss the "Vorfreude", a German word that perfectly describes the feeling of anticipation, you know something amazing is happening soon and the Vorfreude is almost as good as the trip itself.
I miss exploring new places and learning about other cultures.
I miss the preparation before leaving, the planning that goes into a trip – yes it's my job but in my personal life I also can't get enough of studying maps, reading about destinations and dreaming about going to new places.
I miss meeting new people.
I miss having the freedom of choice, the world has become a tiny place. It should be the opposite, by travelling to foreign places we learn how tiny we are in this huge and beautiful world of ours.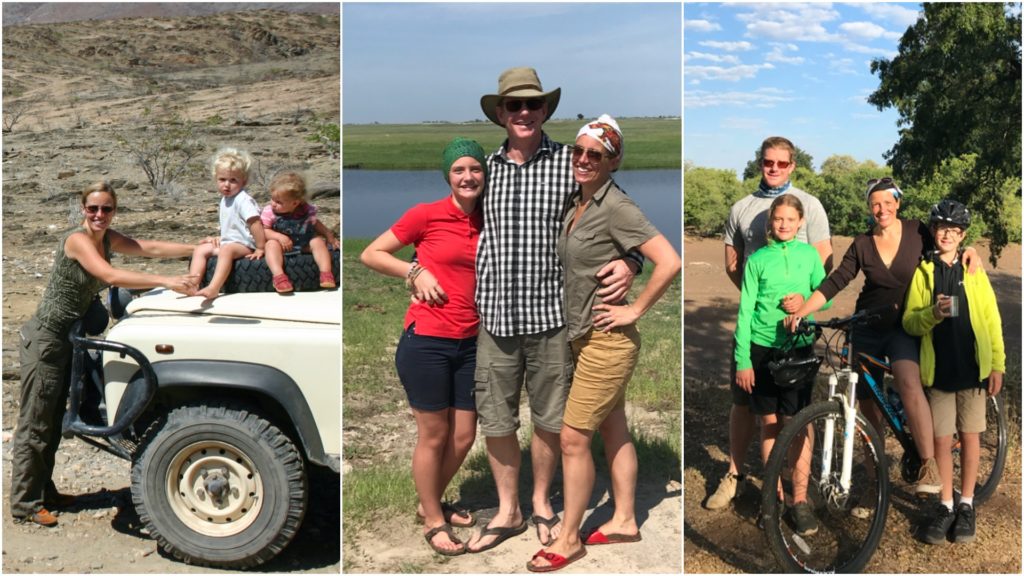 Our most important promise to our children is that we want to create memories for them and not to collect things.
The lack of freedom to travel is taking a toll on many of us. Lets hope that we appreciate the freedom of travel we had lost more once we have regained it. Lets hope that people will be more appreciative and thankful for the great gift of freedom of travel. Lets hope the way of travelling will change, that mass tourism gets less and that people actually want experiences and not just tick off boxes.
Be prepared for the safari of a lifetime. Hwange is an amazing destination due to its diversity of landscapes, experiences and activities. There is, however, one constant throughout: the superior guiding standards! Zim is known for its phenomenal and, dare I say, legendary guiding. This is brought about by some of the strictest and most vigorous guide training in Africa.
It takes years of training, dedication and (financial) investment before one qualifies as a professional guide in Zimbabwe, which guarantees you guides who are passionate about what they do. You'll be hard pressed to find a question they can't answer or a topic they aren't willing to discuss – I know because I tried on my last Hwange safari…
These professional guides also offer a most welcome alternative to the usual game drive activities in the form of walking safaris, which are an absolute highlight when visiting Hwange. Many lodges have a professional walking guide in camp to offer exactly that and it needs to be experienced to be believed: there really is no better way to experience the bush then up close and personal in the trusted, experienced hands of your (armed) walking guide. Before embarking on a walking safari, they ask what type of walk you'd like: big game encounters, interpretive walks or exercise walks but most often it's a combination of all three catered to clients' wishes. No matter what landscape or which habitat you're walking through – be it the teak forests, open grasslands or granite kopjies (hillocks) abundant in Hwange – your guide will make sure you feel safe at all times while learning so much about the environment you're in.
Hwange is not only ideal for walking it also excels in offering a different perspective on game viewing: from ground level looking up at elephants drinking metres away from the safe surrounds of an underground hide. Hwange has close to 50 000 elephants and, especially in dry times, they dominate the waterholes (when not slurping from the lodges' swimming pools), making game viewing and photography from an underground hide an experience not easily forgotten.
As if superb guides, walking and underground hides aren't enough, Hwange also offers horseback safaris both inside and outside the park, thereby combining big-game viewing with an immersion in the incredibly rich Zimbabwean culture found in villages and settlements.
Another reason to spend time in Hwange is its ease of access; whether coming from Victoria Falls (by road transfer or short flight) or from Botswana, Hwange is an ideal safari destination. A little hidden gem is the Pandamatenga border crossing connecting Zimbabwe and Botswana. This is the closest border post to Hwange National Park and an absolute pleasure to experience. Officials on both sides of the border are super-efficient, very friendly and, best of all there are no queues, so you're in and out in five minutes! Once through immigration, the game viewing starts the moment your visa has been stamped in your passport due to the adjoining game management area that lies on the northern boundary of the park. Our Best in Travel in Zimbabwe offers plenty of itineraries that include Hwange. Here is an example which travels via the above mentioned Pandamatenga border post: 12N Zambia – Zimbabwe – Botswana Safaris (also ideal for family travel).
Most suppliers have already confirmed to freeze their 2020 rates for 2021. Contact your Safari Destinations consultant for more information.
We all know northern Botswana and the fantastic wildlife areas of the Chobe and Okavango. But did you know that Botswana has a 'toe' in the south that is also a phenomenal wildlife haven where cheetah are seen almost every day, 92% of the year is rain-free and there are eight rivers for plenty of grazers to thrive?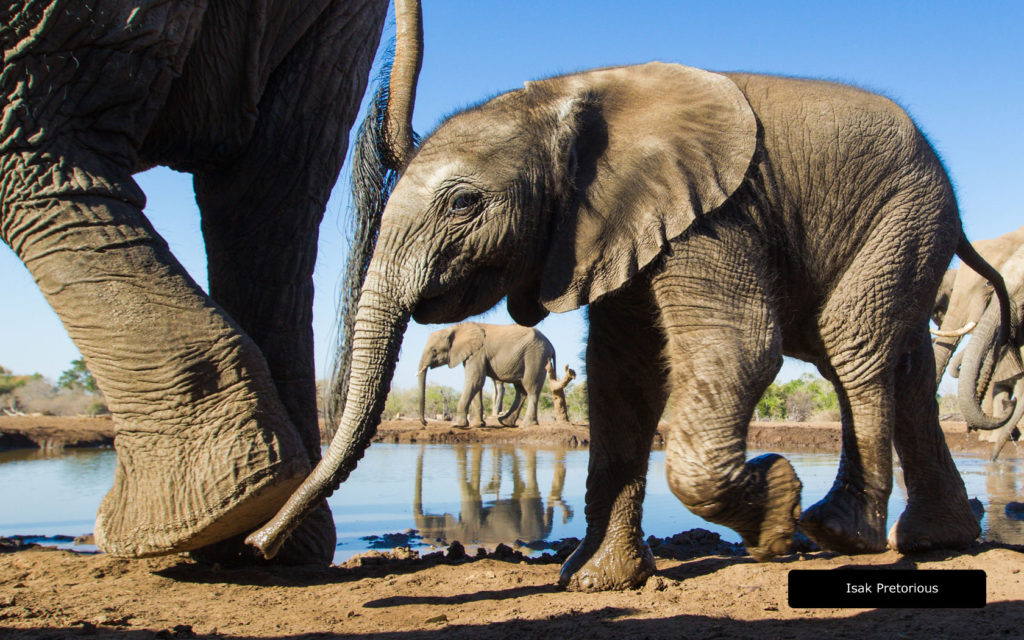 Yes, Mashatu Game Reserve is in the part of Botswana that juts out to share a border with Zimbabwe and South Africa – just like a little toe! Here you find 29 000 hectares of unfenced private land – not a concession but privately owned by three generations. Over decades, careful land management has resulted in regular sightings of leopard, lion, cheetah (14 new cubs were born in 2019 alone), brown hyena, bat-eared foxes, African wild cats and honey badgers. Kills are also often observed as the wide-open plains lend themselves especially to cheetahs' and lions' hunting styles. We agree with Mashatu's claim that they, 'sell goosebumps' and their exciting predator action is enough to give you (never mind the poor antelope!) plenty of goosebumps!
Mashatu is home to at least 700 giraffe and the largest recorded herds of elephants on private land in the world – between 200 and 300 individuals have been seen moving together. Bird nerds should look out for unusual species like Meyer's parrots and green parrots. When it comes to spotting these animals and birds, you're in the safe hands of the Mashatu guides, who have – on average – 14 years of guiding experience each. The trackers sit at the back of the vehicles so they can interact with the guests in the back rows. Once they've got five years' tracking experience under their belts, they can move upfront.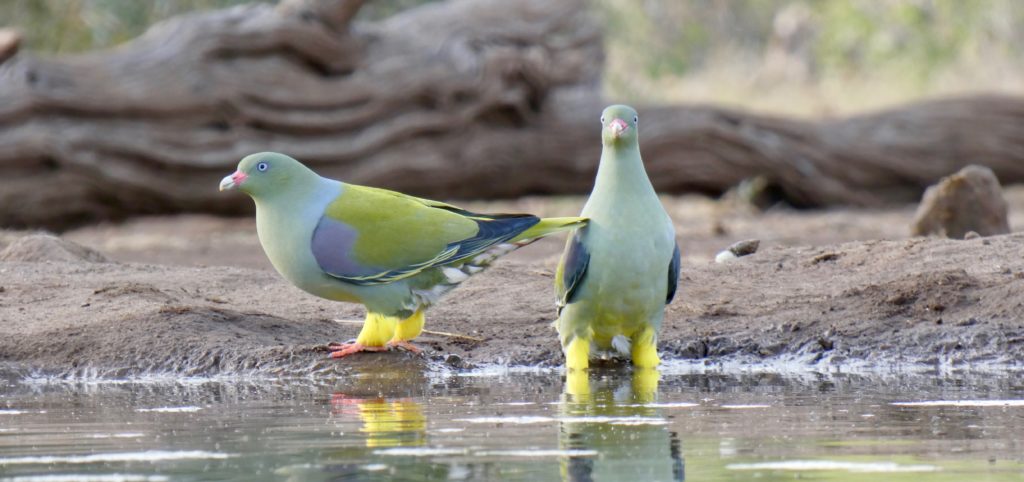 In addition to game drives, there are multiple other ways of seeing Mashatu. Cycling safaris are easy because they follow the flattened elephant tracks (there is an age restriction of 12 and a back-up vehicle follows at a distance of two kilometres). Intermediate riders (must be able to canter with confidence) can saddle up one of the over 40 horses on the property and walking is also available.
If guests don't feel like breaking a sweat, they can watch plenty of game come down to the underground hide where a professional photo guide is available to help them make the most of their cameras and phones. Beanbags, tripods and mounts are all for guests' complimentary use.
Before BTTE 2019 in Kasane, we had the opportunity to do a fam trip with agents to Mashatu, where we were hosted for two nights by Kelly Evans. This is easily a 4- to 5-night stay destination as there is so much to see and do here.
We loved being on safari in this secret corner of Botswana and recommend incorporating it into an itinerary for your clients for the following reasons:
Flight connections between Mashatu and the Okavango Delta are now easier than ever, with seat rates available to travellers. It's now much more convenient and cost-effective to fly into the south of Botswana.
Botswana Immigration – if you're flying in from Zimbabwe or South Africa – is done at Limpopo Valley Airfield, where you'll be queuing with a maximum of 12 other people. Our group had the immigration counter all to themselves and were done in 15 minutes. Of course if you're flying from the Delta, you skip this step.
The game viewing is phenomenal. We saw two cheetah kills in two days as well as mating lions, stalking leopards and plenty of plains game. Kelly still felt the need to apologise that it was 'quieter than normal'!
The variety of activities and size of the area make it a natural fit for a longer, more relaxing stay. In two days, we did two game drives, a bicycle safari and a morning in the photo hide, and STILL didn't have enough time to get to the area's fascinating archaeological sites or the horse-riding excursion.
The photo hide isn't just for professionals. Superb Mashatu photo host, Aubrey, showed our group how to make the most of their iPhones for photography and composition – and we learnt about settings we never knew existed.
With three properties on offer at different levels of budget, there's a camp or lodge to suit everyone. Opt for Mashatu Tent Camp for entry-level accommodation, Mashatu Lodge for mid-range clients and Mashatu Euphorbia Villas (will open in May 2020) for those who want to splurge. The villas will have heated plunge pools, Wi-Fi and air conditioning plus views over the landscape.
There's no 'real' Green Season here. You'll find carpets of wild flowers from January to March but the grasses are still short and the rainfall is much less than in the rest of the country, making it a great option for small groups continuing to the Okavango Delta on private charter, or just doing Mashatu as a stand-alone.
The landscape and habitats are totally different to northern Botswana, lending a fantastic contrast to the Okavango Delta and Chobe National Park, both in terms of expected wildlife sightings and the landscapes to enjoy it all from.
If you want goosebumps and a huge thrill, Mashatu might be the place to find them!
Mashatu forms part of our 9-nights Best Kept Secrets Superior package – see how to link the Delta, Mashatu and the Victoria Falls for your clients here.
… OR KEEP THE SECRET TO OURSELVES?

Imagine a place with trees so beautiful they make you 'treedrunk',
Imagine a place where around every corner a different antelope can be discovered,
Imagine a landscape diverse and exciting, from river beds and sandy beaches to open grasslands and forests,
Imagine majestic elephants wandering in front of the bright red sandstone of the Chilojo Cliffs,
Imagine a completely untouched wilderness,
Imagine a community that understands the importance of protecting their heritage, their environment and especially their trees (the people in the Mahenye village rather walk for kilometres to collect firewood than cut down the trees around them),
Imagine a man who understands that for the local population to care about protecting wildlife, they have to benefit from wildlife. Clive Stockil is this man; he is the founder of Chilo Safari Lodge. Clive has dedicated his life to solving human-wildlife conflict. He is the father of CAMPFIRE (Communal Areas Management Programme for Indigenous Resources). He explains it this way: "If you are a conservationist, your problem is all about space, so deal with human pressures first. CAMPFIRE has turned conflict into co-operation and everyone has benefited. The community is happy, the parks are happy and the animals are happy. Everyone wins."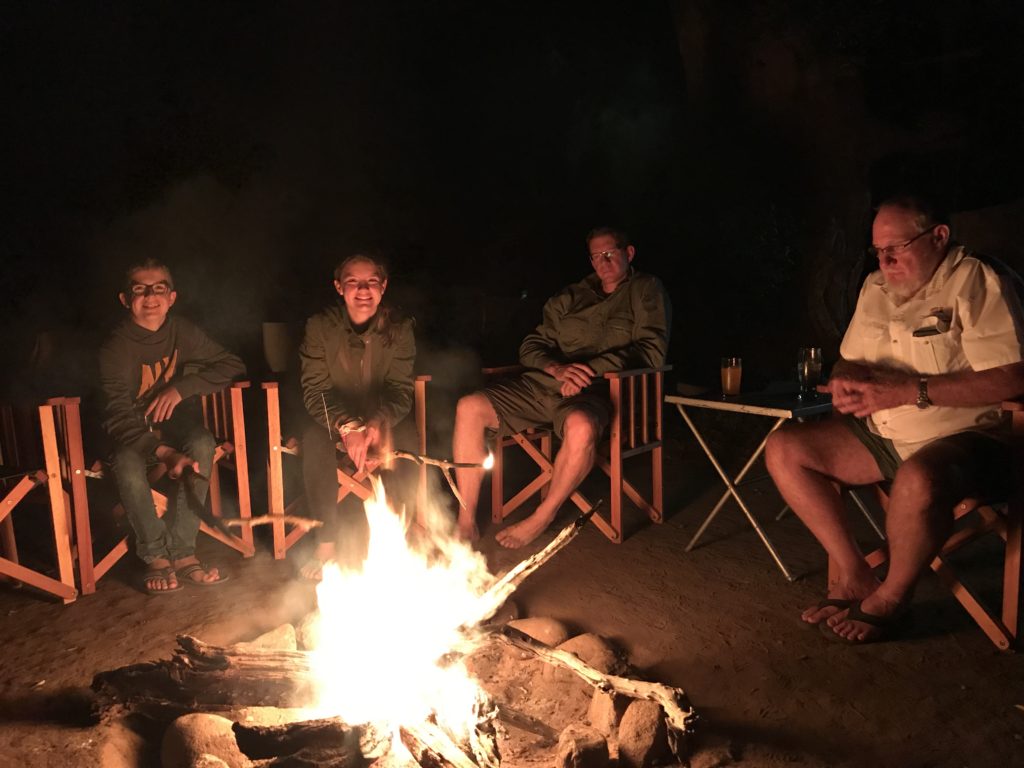 Gonarezhou means 'The place of elephants'. There are special places in Africa where you truly feel at one with nature. Gonarezhou is one of them. I was blown away by the diversity of fauna and flora.
The remoteness of Gonarezhou is a mixed blessing. Access to Gonarezhou is easiest from Harare via small aircraft. The flight takes around 90 minutes and arrives in Mahenye, which is the closest airstrip to Chilo Gorge. Clients flying in from Johannesburg are recommended to fly with Federal Air into Buffalo Range (currently two weekly flights on Mondays and Thursdays); the road transfer from Buffalo Range to Chilo is about two hours long.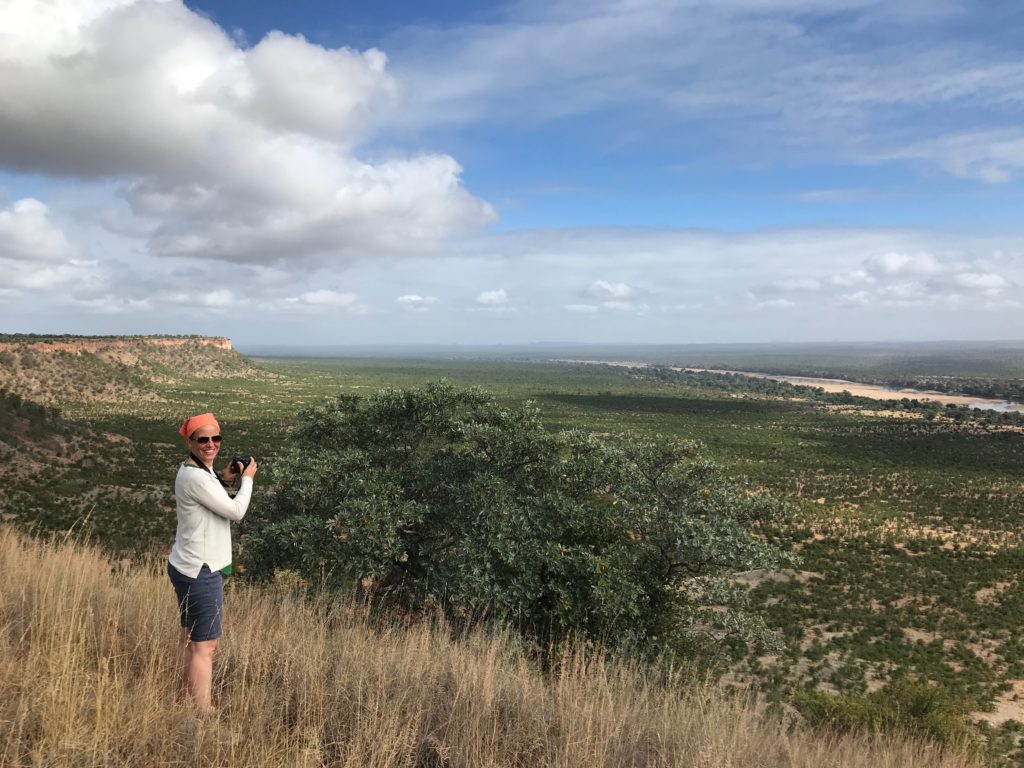 Gonarezhou is the place to be if you want to be 'treedrunk' after only an hour of safari, never mind the multitude of birds we saw, the incredible variety of antelope, buffalo, crocodiles and elephants. Just the trees alone are intoxicating…
Imagine every few hundred metres a beautiful baobab, thick, tangled riverine forests full of jackalberries, bizarrely bent rain trees, stoic leadwoods, ruffled African mangosteens… It's almost too much to process!
I often get asked which places I would recommend for a relaxed armchair safari. Safaris can be exhausting: early mornings to catch the predators hunting, late nights watching 'bush TV'. Having done numerous safaris and often rushing from one place to the next to make sure we know all the camps we are offering, I came to realize that a slower pace is the way to go. If clients insist on seeing many different areas they often don't have enough time to stay three nights in each camp. In this case, I highly recommend adding the occasional 'armchair destination' into the itinerary, where guests can enjoy an afternoon spent in camp, watching the animals from the comfort of their lodge.
Pick #1: Meno a Kwena Tented Camp, Boteti River, Botswana
This camp has been one of my favourite places since about 2004. It is situated above the Boteti River, offering stunning views of Makgadikgadi Pans National Park. Its unique location guarantees outstanding game viewing from camp. All tents are built along the edge of the cliff. The best time to travel is between April and November when the zebra migration arrives along the Boteti in search of life-giving water. The camp offers an authentic San Bushmen nature walk, full-day trips into the Makgadikgadi and, for guests that stay a minimum of three nights, a sleep-out under the stars in the middle of the vast nothingness of the salt pans can be booked.
Pick #2: Nogatsaa Pans Lodge, Chobe National Park, Botswana
Nogatsaa had been on my list of camps I needed to visit since its opening. Years ago, I had been camping in this very remote part of the Chobe National Park and loved the area since then. When the owner of Ghoha Hills told me about his plans to build a safari camp in Nogatsaa I was super-excited. The camp is situated on the edge of the Nogatsaa Pans, which have water pumped into them throughout the dry winter months. The pan is one of the few reliable water sources in this harsh area, making it a hot-spot for large herds of elephants. It is the perfect spot for a relaxed armchair safari: guests don't need to leave camp, they can watch the animals come to drink. We saw hundreds of elephants, buffalo, giraffe, roan antelope, waterbuck, kudu and even a resident baby hippo during our stay. Access to the camp is by road from Kasane; the drive takes about two-and-a-half hours.
Pick #3: Deteema Springs Camp, Hwange National Park, Zimbabwe
Deteema Springs opened in May 2019 and is the second addition to the Machaba Safaris' portfolio in Zimbabwe. The camp was built on the old Deteema Picnic site, a very popular spot with Hwange visitors. The national park authorities asked that the design of the new camp incorporates the old picnic site and the architects did an excellent job. This tented camp is super-comfortable and offers amazing views over the springs and towards Deteema Dam. Guests can skip an afternoon activity and enjoy the comfort of their veranda to watch the elephants come down to drink from the fresh-water spring.
Pick #4: Savute Elephant Lodge, Chobe National Park, Botswana
The Savuti region in the Chobe National Park has been especially famous for its large lion pride, the Marsh Pride. They had to adapt to the super-harsh environment of this intriguing place in order to survive. This group of sometimes up to 30 lions have become experts in hunting elephants – a spectacle that can't be guaranteed but one that anyone who has witnessed it will never forget. Savute Elephant offers its guests a comfortable place to relax and enjoy the environment. The hide underneath the terrace and pool offers amazing views over a busy waterhole that gets pumped all year and attracts lots of animals during the day and night.
Pick #5: Kanga Camp, Mana Pools National Park, Zimbabwe
Kanga Camp lies hidden in the backland of Mana Pools National Park. Its unique attraction is the super-busy waterhole right in front of camp. The animals know that Kanga Pan is the only reliable source of water in the area and they make use of that knowledge. Guests can enjoy a delicious lunch on the main deck while watching the elephants come to drink. This authentic bush camp consists of six comfortable tents and guests get a true bush feeling in this remote part of the park.
Clare and I were among the first to visit the 'new' King's Pool Camp, which has been given a very impressive make-over…!
The new rebuild of King's Pool is looking fantastic. They have used a lot of earthy colours such as browns, beiges, golds and black, which give a really refreshing feel to be somewhere completely different to the Delta.
From the main area and all the rooms, you have a lovely view over the Linyanti Swamps, teeming with hippos and crocodiles.
One of the special treats of King's Pool is their very own in-house masseuse, who will spoil you with a massage on the deck of your room overlooking the swamps, for total relaxation in your siesta or after a hard day's game driving.
The lodge has the advantage of driving along the riverbed in the late afternoons where you don't have to search for any game, as hordes of different species come down to drink in the heat of the afternoon.
We were lucky enough to watch crocodiles displaying mating behaviour plus see hundreds of elephants, roan and sable antelope among other plains game.
The landscape and habitats are completely different to the Okavango despite the Linyanti Swamps being a Delta system of their own; they are completely separate to the Okavango.
Driving the river's edge in the afternoon is a completely different experience to driving further back in the mopane woodlands in the early mornings looking for more predators. It gives a complete contrast of habitats.
This area is well known for its large herds of elephants in the dry season: it did not disappoint in that regard as we encountered huge breeding herds.
Another highlight of this camp is the two hides. One is underground in front of the water, meaning you are looking out at ground level up at the gentle giants that dominate this area.
King's Pool suits first-time safari goers as it is an easy comfortable safari experience. Everything is pretty much thought out for you and not too much energy is required. Those first-time Botswana travellers who have heard about our large elephant populations, but don't want to do the crowds of Chobe and have the Premier budget, would fit King's Pool perfectly as they still get the barge on the river and game drives, all in the exclusiveness of a private concession. You have the flexibility of game drives, boating, walks and sitting back in one of the two hides relaxing with a gin and tonic, watching the animals coming down to drink.
The best months to explore this area in a typical year is July to October as the food resources and excess surface water from the rainy season have dried up, pushing the big herds into the Linyanti Swamps area to greener pastures and permanent water sources. In the Green and shoulder seasons, although the big herds will move out, the predators remain because they're territorial, and the antelope that remain give birth to their young, meaning lots of babies around that make for easy pickings for the lions!