Monthly Archives:
October 2014
Here at Safari Destinations, we've been working with our suppliers to guarantee financially risk-free bookings for Botswana (with Zambia & Zimbabwe to follow) while Ebola remains in the headlines.
While we're confident Ebola will not reach Botswana, we understand travellers need extra reassurance. Together with the suppliers listed below, we're allowing cancellation FREE OF CHARGE should WHO (World Health Organisation) declare an outbreak in Botswana* – and we're confident you'll never need to take us up on the offer.
Despite the facts, we understand travellers are hesitant to book while travel insurance may not cover the full costs of cancellation due to an Ebola outbreak. We hope this offer provides the confidence to confirm travel at no financial risk, in the unlikely event that Ebola becomes a risk locally.
Geographically, Botswana is thousands of kilometres from affected countries. There are eleven different land borders with their own customs and border controls between Botswana and Liberia, Guinea & Sierra Leone (and travel would take weeks). There are also no direct flights to Botswana, as well as a travel ban on arrivals travelling from countries with an Ebola outbreak.
The WHO has declared Ebola outbreaks in Senegal and Nigeria over, and travellers arriving in Botswana by air from West Africa will need to transit in another country (ie. South Africa) where they would be subject to screening prior to boarding for Botswana. We're confident that geography, together with restrictions on travellers by air, make it highly implausible for Ebola to affect Botswana.
We're currently finalising the list of suppliers in Zambia & Zimbabwe who are also on board with this initiative. Suppliers in the list below who have camps in Zimbabwe and/or Zambia also, are extending the offer to include these countries of operation.
Suppliers offering cancellation free of charge:
• &Beyond
• Africa Albida
• African Anthology
• African Bush Camps
• Belmond
• Bush Ways Safaris & Lodges
• Desert & Delta
• Footsteps in Africa
• Great Plains
• Ker & Downey
• Kwando
• Machaba Camp
• Meno a Kwena
• Safari & Guide Services
• Sanctuary Retreats
• Uncharted Africa
• Under One Botswana Sky
• Wilderness Safaris
We're confident that the list of participating suppliers will get longer and we'll update you as more people get on board. We're also starting to work on similar initiatives for Zambia & Zimbabwe.
This offer does not negate the need for travel insurance and all travellers would be expected to submit claims to their insurance company in the first instance, should a claim be necessary. We would always advise that travellers choose the most comprehensive travel insurance policy possible, regardless of any perceived risk to travel plans.
For further reading, check out this article from the Washington Post, putting Ebola in perspective against the vast geographical size of Africa 
*Terms & conditions apply. Please contact us for the specifics. Only the listed suppliers are currently offering cancellation free of charge, however as the list is updated, we will upload any amendments to our Agent's Corner.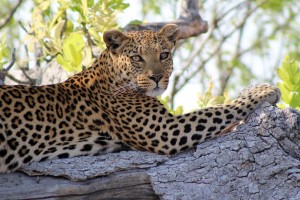 Pom Pom Camp, western Okavango Delta
Last weekend Jessica flew to Pom Pom for a quick 1 night stay to check out the lodge.  Here is her feedback:
Pom Pom is only a short five minute drive from the airstrip. The large main area is really cool, which helps during the hot days. All the tents have a great view over the river and buffalos come very close. The rooms are fantastic. We loved the colors and especially the white curtains in the tents, which we have not seen before. The hot outdoor shower is really big and the water pressure is perfect. Coffee and tea is being served in the tents at wake up time, which makes it really nice to get up.
Activities/ Guiding:
Our guide Rex, very nice and friendly guide met us and took us on the evening  game drive. Our plan was to find lions, we saw fresh lion tracks and followed them. We drove for about 38km trying to find this male lion and while doing that we saw  lots of animals just to mention a few, impalas, red Lechwe, Kudus, wildebeest, Duiker, Giraffe, Tsessebe, buffalos, lots of birds. It was getting a bit late so we stopped for our sundowner drinks. As we set up the table we heard him roaring, so we jumped into the vehicle, left the drinks there, drove off and he was about 150 to 200 m behind us, lying there calling for his brother. What an amazing sight. Rex our guide was not willing to give up on the lion hunt which was great, so our long drive and hunt was paid off eventually. It was so wonderful to hear him roar just about 4m away from the vehicle. The brothers met and it was a phenomenal way to end the evening.
On our morning game drive it was time to find a leopard. Rex took us for a leopard hunt, we saw a lot of animals while on the hunt. We finally found the mother leopard with two cubs but we could only see the one cub, since the other one was hiding. That was just incredible, wonderful game drive. Back on time we dropped two clients at the airport and kept on going on a game drive for about 40 minutes before heading back to camp for brunch.