Category Archives: Social Responsibility
Can you believe that it's been on our roads for more than a year now? We thought we'd take a look at how Maun's Tourist Funded Community Bus is benefiting our community.
"The Community Bus has been a ray of sunshine to our children brightening each day through its vibrant colours and comfort".  Taboka Rotsi.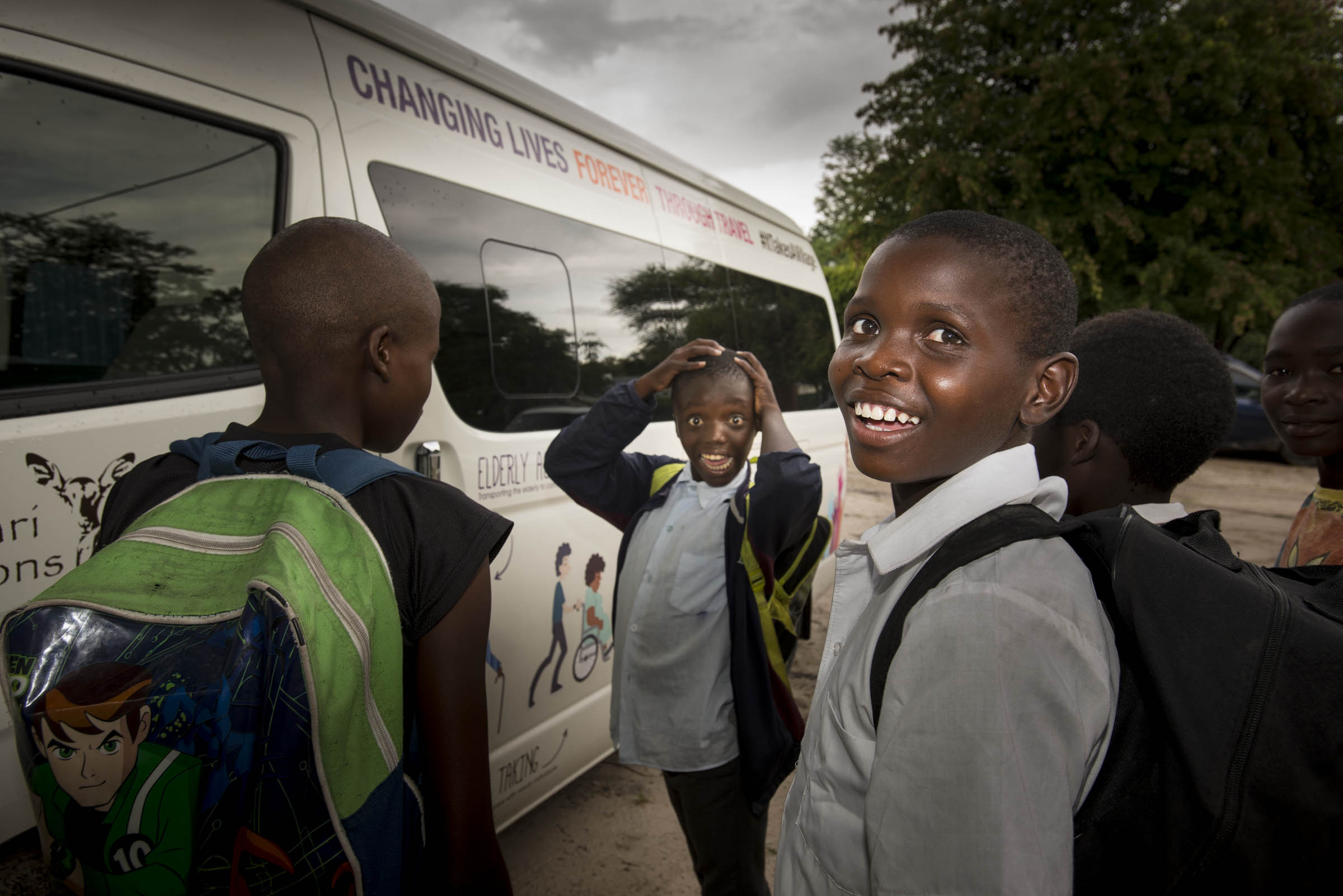 Taboka is the Project Co-coordinator of Bana Ba Letsatsi (BBL) a care centre for orphaned and vulnerable children in Maun. BBL is one of the organisations benefitting from Maun's unique Community Bus.
Last year – in celebration of Botswana's 50th Anniversary – Safari Destinations and Travel for Impact (TFI) launched the Community Bus.  For the past year it has been making a real difference in the lives of the less fortunate, whilst adding a splash of colour to Maun's streets.
This unique collaboration between travellers to Botswana, private enterprise and charitable organisations is directly benefitting Maun's disadvantaged communities.
So, what does the Community Bus do?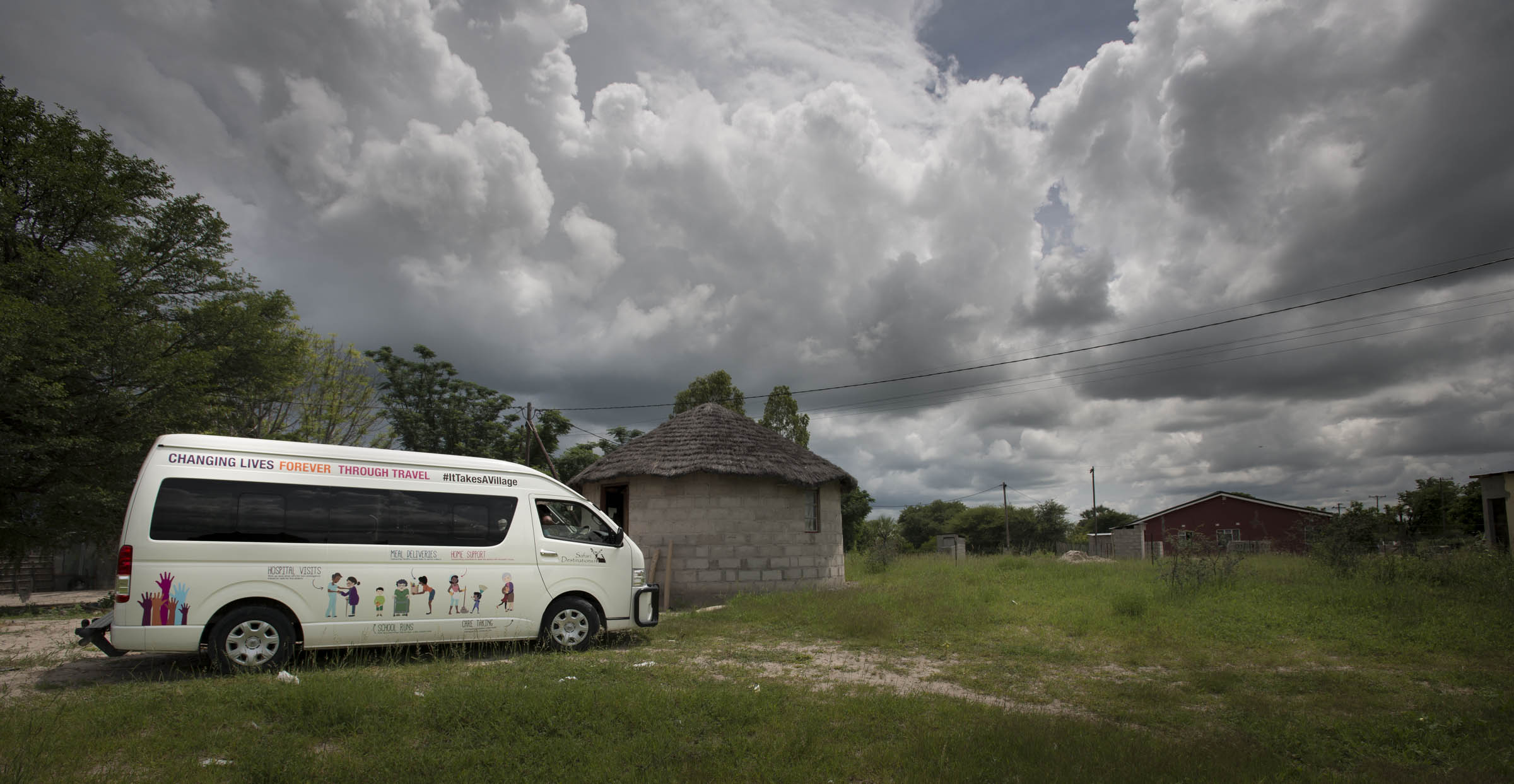 It's a school bus, granny transporter, safety zone and life line that empowers our community all rolled into one. It solves the transportation challenges for not one but several charities by operating on a scheduled basis.
In the morning and afternoons, it does a round trip picking up and dropping off kids for Bana Ba Letsatsi. This coincides with the school run pick up and drop off for children staying at the Woman Against Rape (WAR) shelter for victims of gender based violence. Without the support of the bus most of these children simply wouldn't attend school due to the distances involved, and those that did, would be late and tired from having to walk several kilometres.
After the morning school run, it's time to collect and distribute daily food parcels for AGLOW to Maun's impoverished elderly. Often our driver OB and AGLOW volunteer Lesang, are the only people some elderly see all day. So the bus becomes a lifeline, enabling AGLOW to daily monitor the elderly's wellbeing, and equally importantly, it provides an opportunity for a chat and some friendship and companionship.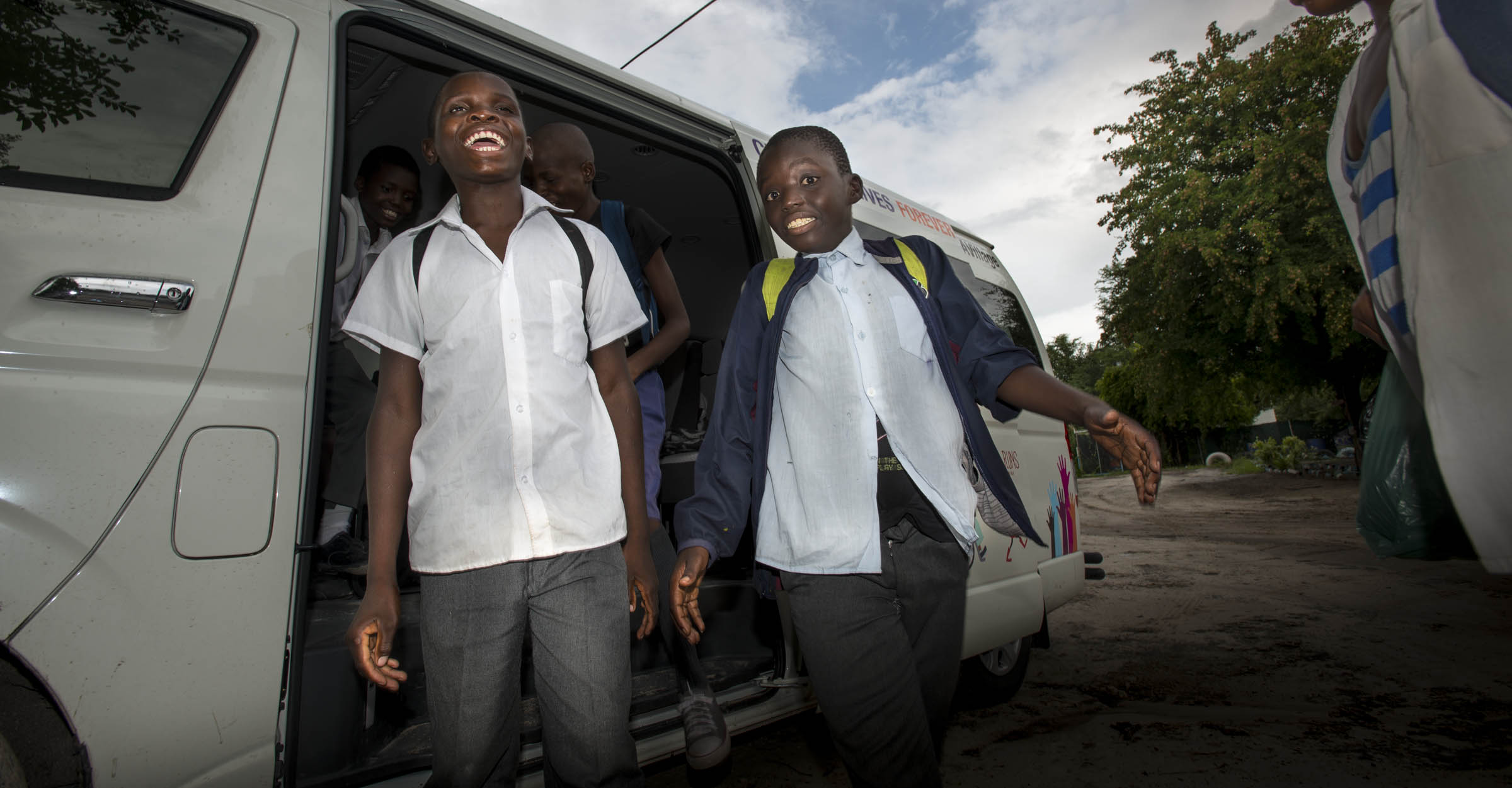 Between its scheduled duties, the bus is pressed into service to assist charitable organisations with ad-hoc requests. Perhaps it will be sent to the local butcher to collect a donation of meat for BBL. It may be dropping or collecting the elderly at the clinic. Transporting MAWS volunteers, collecting dog food donations, delivering donated clothes, collecting food parcels for flood relief…on and on the brightly coloured bus bustles about town!
The weekends are equally busy. It may be transporting the elderly to and from a lunch, transporting the hearing impaired on a photography course, taking children on a field trip or providing transport for a disability workshop.
With over 30,000km on the clock, the bus has delivered approximately 1305 meals, completed over 600 school runs and in the process, has indeed become a lifeline for the Community. These words, from one of the elderly that the bus visits, sums up the vision of the Community Bus. Softly spoken, and with a tremble in her voice, she whispers:
"Every day I am looking forward to seeing the bus coming. I like these people who don't know me, but come and bring me food. I now sleep full every day."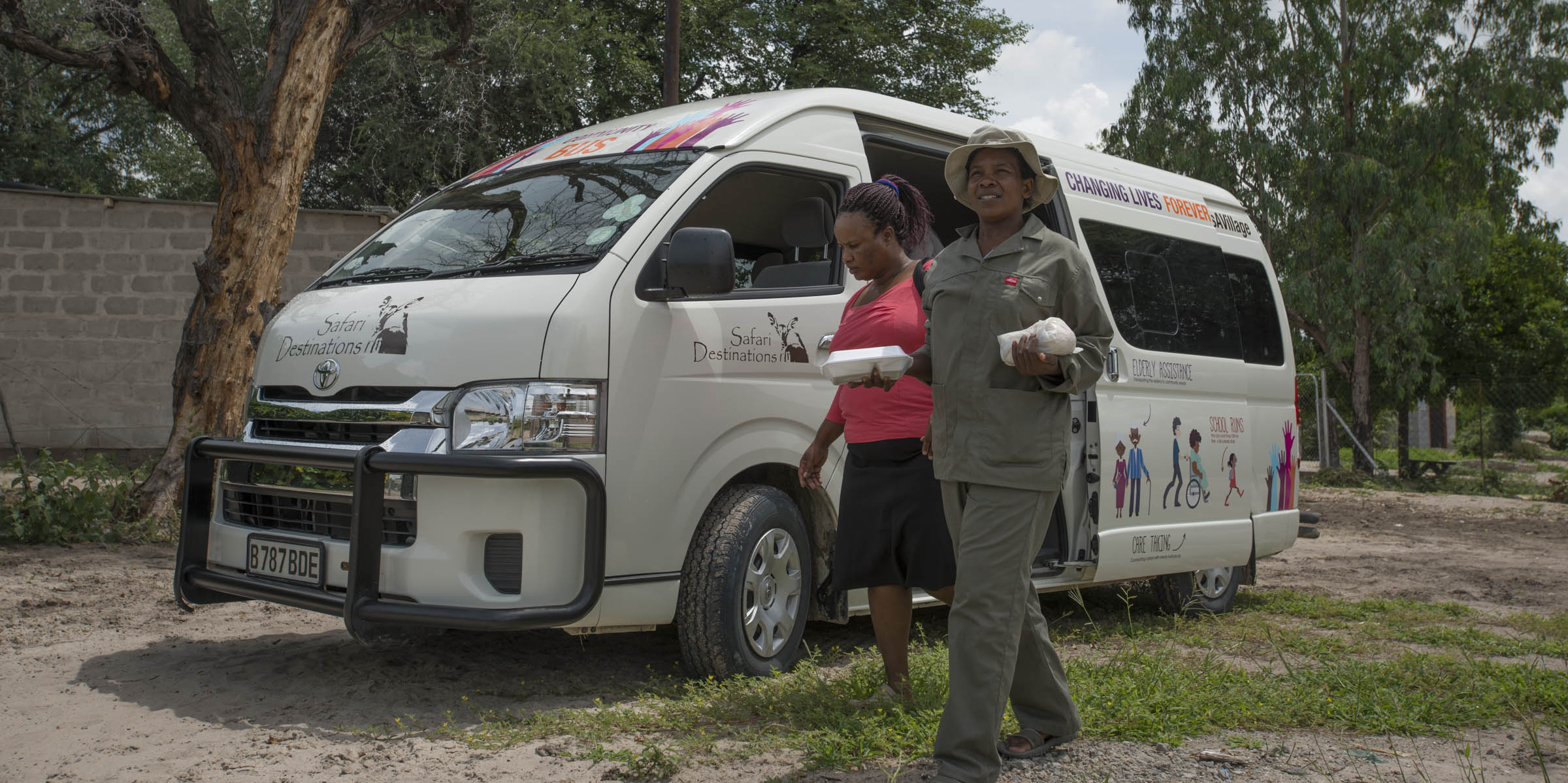 A video, The Years Pass By, highlights the work of the bus in the community.
The Community Bus was jointly sponsored by Safari Destinations, with the balance and ongoing expenses supported from The Safari  Destinations / Travel for Impact 1US$ Bed Night Levy.
Safari Destinations is about family. It is the people that share our daily lives, and who we have grown to love and cherish. With our SD family, we create memories, share good times and help each other through the tough ones.
Some of those good times are celebrating the birth of the children to staff employed at Safari Destinations. At last count, it was 17 in total with another 2 on the way! Close to 50% of all our staff are parents. This is why lift clubs, meal arrangements, play-dates, "Hello Aunty Sarah" as well as kiddies' laughter and tears are the order of our day.
We all know that total commitment describes our women here at SD. Many years ago when Lorraine and Andrea were still breastfeeding, critical Globetrack training had to take place. So, it all happened "behind the scenes" while the (male) trainer continued his training. He had strict instructions to "Don't turnaround!"
While 80% of our staff are women, we believe that fathers are just as important as mothers. This is why our Dads get paternity leave with the birth of each child.
Our latest recruit is beautiful, little Paige, born to Senior Consultant, Mia Ives. Once Mia returns to work, as a first time mother, she will have the support and understanding of the Managing Directors, Carina and Lorraine as well as the many women here at SD who have walked the path of managing family and work.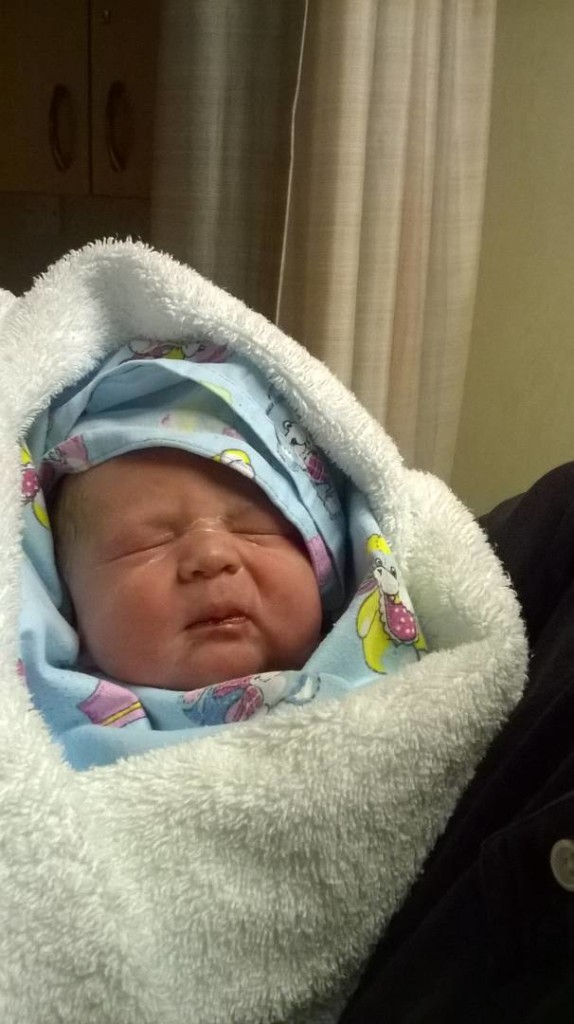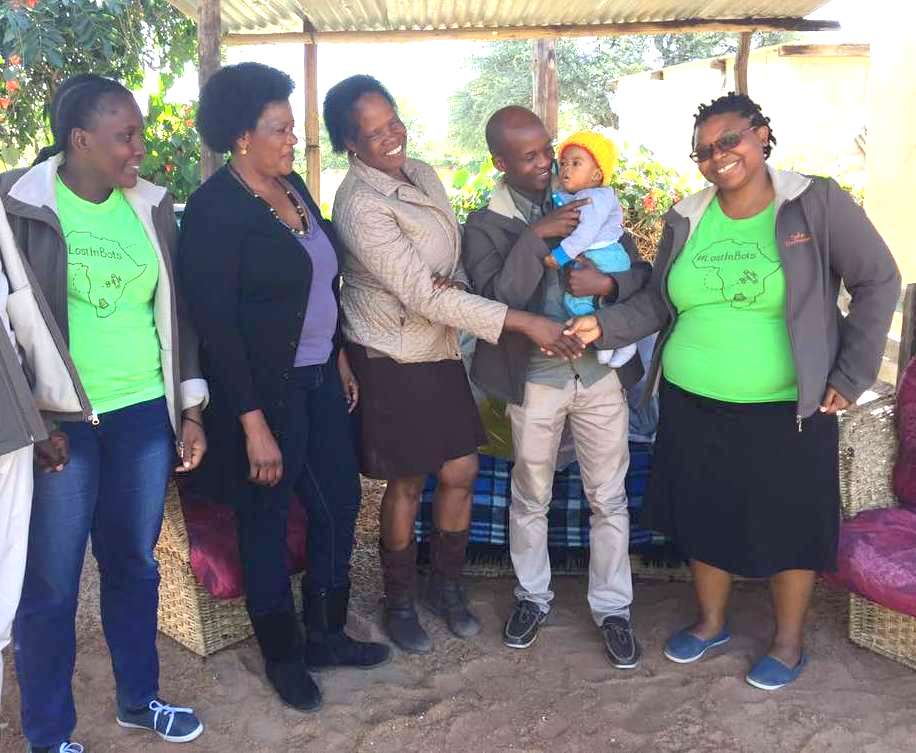 Brrr!! Winter is upon us bringing harsh climatic conditions to less fortunate people who are not able to afford the basic necessities to keep warm. And so, it was once again time for Safari Destinations' philanthropic community winter clothing drive.  Utilising our strong community network we embarked on a project to gather as much clothing and blankets as possible within the Maun community. The staff of the company were then involved in distributing these items to organisations serving disadvantaged communities.  Those communities identified as being in need (in coordination with Travel for Impact); were AGLOW, WAR, BBL, Basket of Love and Botsetse RDS. These organisations assist orphaned children, disadvantaged elders, disadvantaged teen mothers and their babies. The blankest and clothes were welcomed with open arms and lots of people will now be able to bear the cold a little better.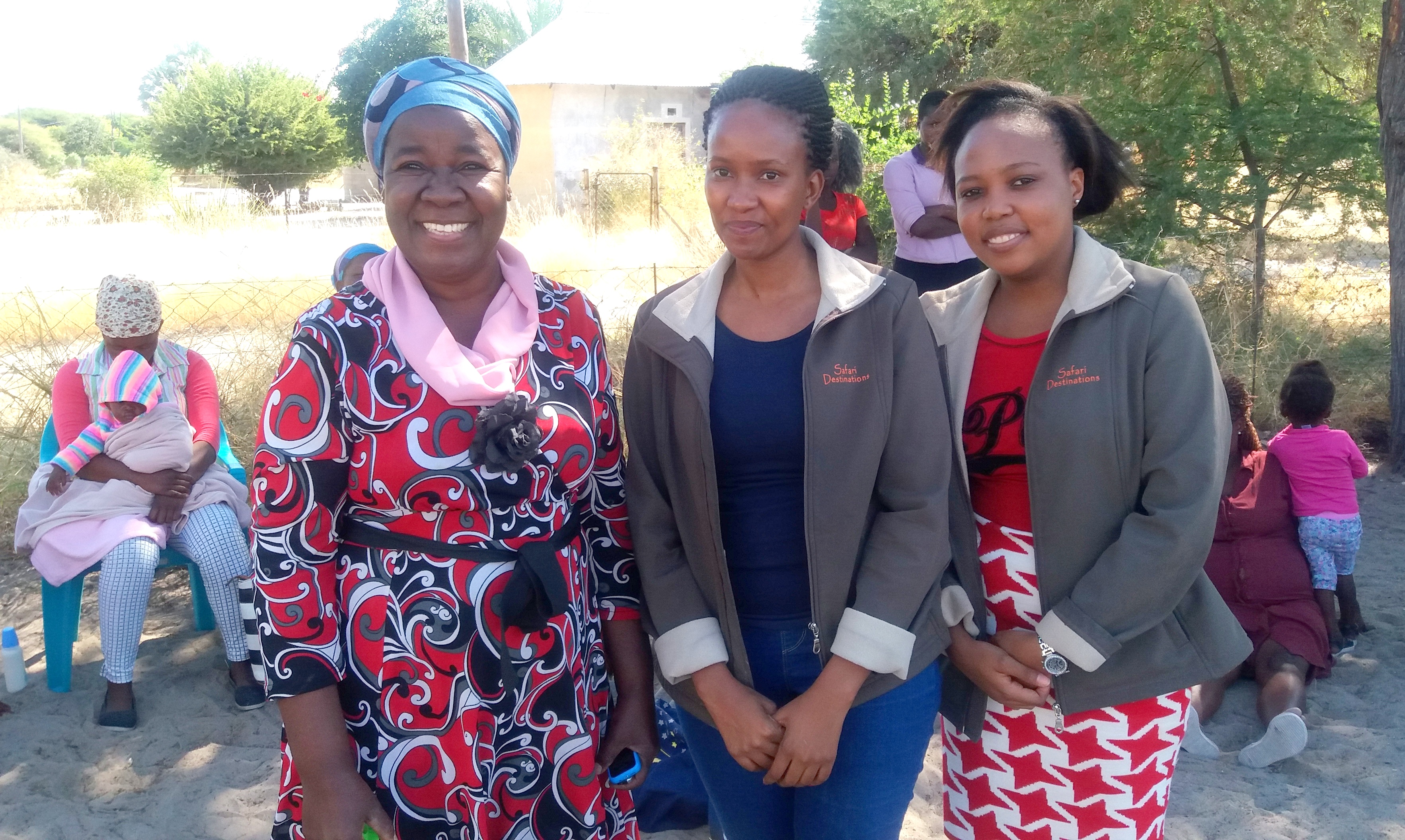 A big thank you to all those who played a part in the success of this mission; from all those businesses that had clothing boxes to collect the clothing, to those who donated clothing, to Safari Destinations who donated close to 50 blankets, to the company staff who gave their time in collecting, sorting, washing where necessary and then distributing the items. Besides staving off the winter chill, this little bit of kindness put a smile on the faces of many.