What was your overall impression of the camp?
Our handsome and very knowledgeable guide, Kyle, went out of his way to show us the very best of what Mapula has to offer. His passion for the bush and all the creatures and plants there within was contagious. Even after having done hundreds of safaris both Amandine and I learnt a whole pile more! Game was scare on our short visit but he made up for it by proposing to take us swimming in the flood water and sharing his "nature" books with us as we enjoyed tea and time-out in the bush.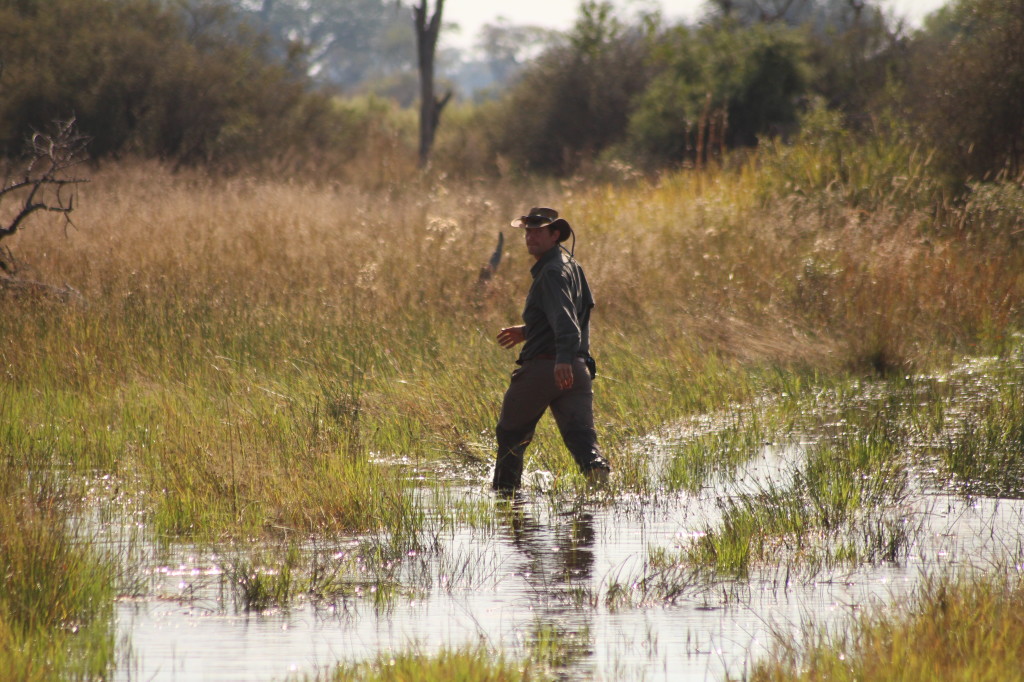 The area is generally rich in game, including Leopard, Cheetah, 2 packs of Wild Dog, Hyena, Sable Antelope, herds of Elephant, Giraffe and plains game all congregated in one big garden of safari Eden! Under the management of Uncharted Africa, Mapula has been tastefully transformed from a red-listed product to a much sought-after camp in the delta. With Eric at the helm and a well-trained and solid team I believe it will give similar camps a run for their mone
A particular mention for the swimming pool which is large enough to do a few lengths in but remains discreet at the same time. It's built in a way that it makes you feel like you are swimming in the lagoon, surrounded by palm trees and lush greenery.
There are plans to offer Hot-Air Ballooning and a fly-camp experience which we look forward to being able to promote to our clients.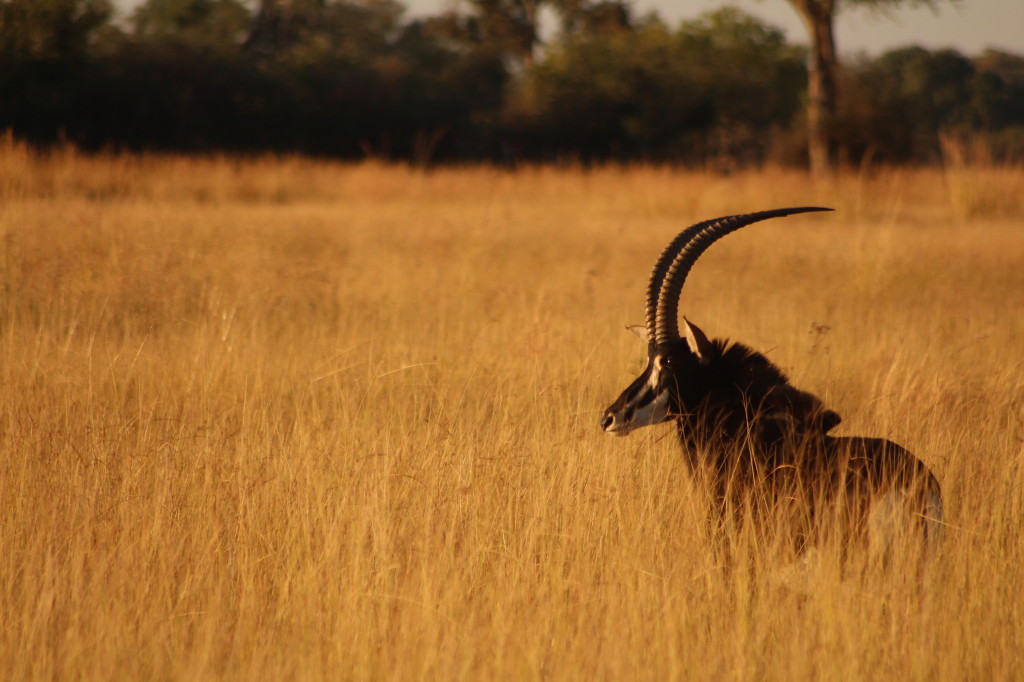 How does the camp compare to similar camps in terms of value and experience? Are there any notable special offers applicable?
I think it offers excellent value for money considering that it's a small camp on a fantastic private concession, has above average guides and is tastefully decorated in the immediately recognizable Ralph Bousfield Unchartered Africa taste, reminiscent of a bygone era.
The exception being during the month of August when a peak surcharge is applied. Further reduced long stay rates are available at Mapula when it is combined with Meno A Kwena – speak to your local expert.
How would you combine this camp in an itinerary and why? 
I would be confident in recommending 3 nights here in order to get the full experience and to discover what the concession has to offer completely. My suggestion would be to combine it with Savuti, Khwai, Makgadikgadi and of course Chobe, which fits into most itineraries.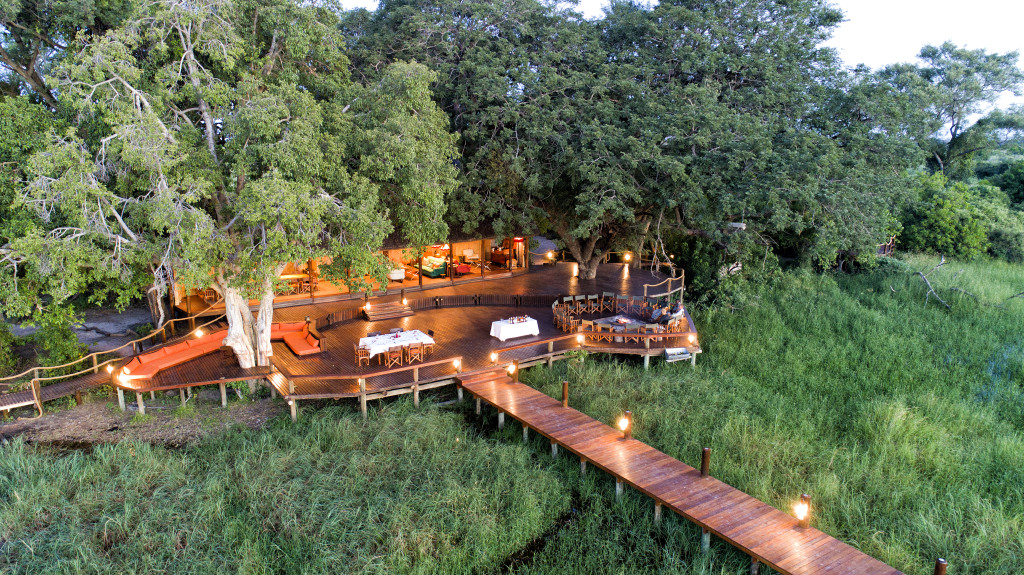 What type of clients does this camp suit and why? 
1 Unit is suitable for families: Consisting of 2 rooms separated only by a curtain. Each room has its own bathroom and outdoor shower.
As it is an intimate camp, I would suggest it to honeymooners and couples seeking peace and quiet.
The adventurous because Mapula can offer off the beaten track activities such as swimming in the fast-flowing flood waters that quickly fill the dusty tracks or having an afternoon siesta on mattresses out in the wilderness. The ballooning and fly-camp activity will appeal to this market once operational.
How does the seasonality of the area change through the year and what effect does it have on a visitor's experience, with specific reference to wildlife and activities?
The camp is set on a permanent lagoon. This makes fishing and boating possible all year long. However, the lagoon is home to a large number of happy hippos so if the water level goes down too much those activities would be suspended.
The camp being near the panhandle receives the first floodwaters of the year so they can start their mokoro activities earlier than those camps further down. The mokoro station is not in front of the camp. It's a 10-minute drive to the jetty. Although we enjoyed the activity, the water was still pretty low so we were wrapped up in cobwebs to start off with! As the water levels rise it will become more pleasant.
When the flood comes down the area where the camp is situated becomes an island. This means that sometimes there's good game in the immediate vicinity…. and sometimes not, the result being that guests may have to drive further afield in search of the herds.  During high flood levels, it may be advisable to combine it with another game rich area within the delta e.g. Shine, Splash…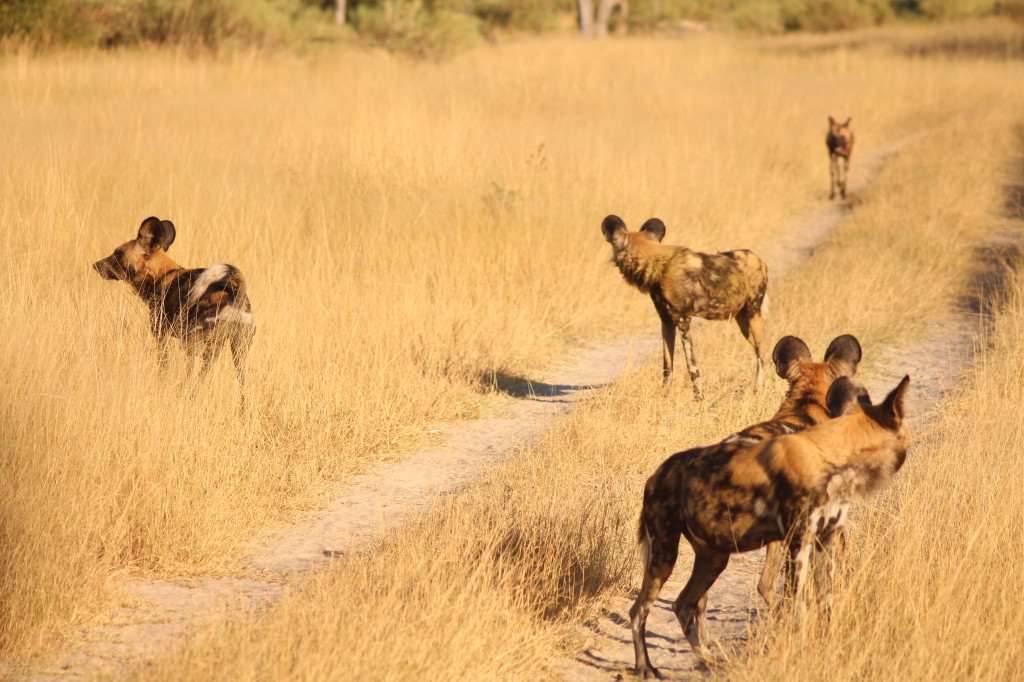 Are there any areas that could be improved? Are there any issues that could impact guests experience that should be highlighted to help manage expectations?
The food was imaginative, of good quality and nicely presented however the quantity for the first lunch we had was insufficient. Sundowner snacks were not original and could be improved – biltong / nuts / dried fruit.
Eric, the manager is running a good show. The staff seem genuinely happy to be working together and the service was attentive without being overbearing. They have kept 1 or 2 staff members on from the old camp. They clearly know the area intimately and you can tell that they love the area and are delighted to share information and stories with the clients.
Safari Destinations itineraries showcasing this property:
Set in the heart of the Okavango Delta, the renowned and brand new Duba Plains Camp is a wildlife haven and the perfect place to visit year-round.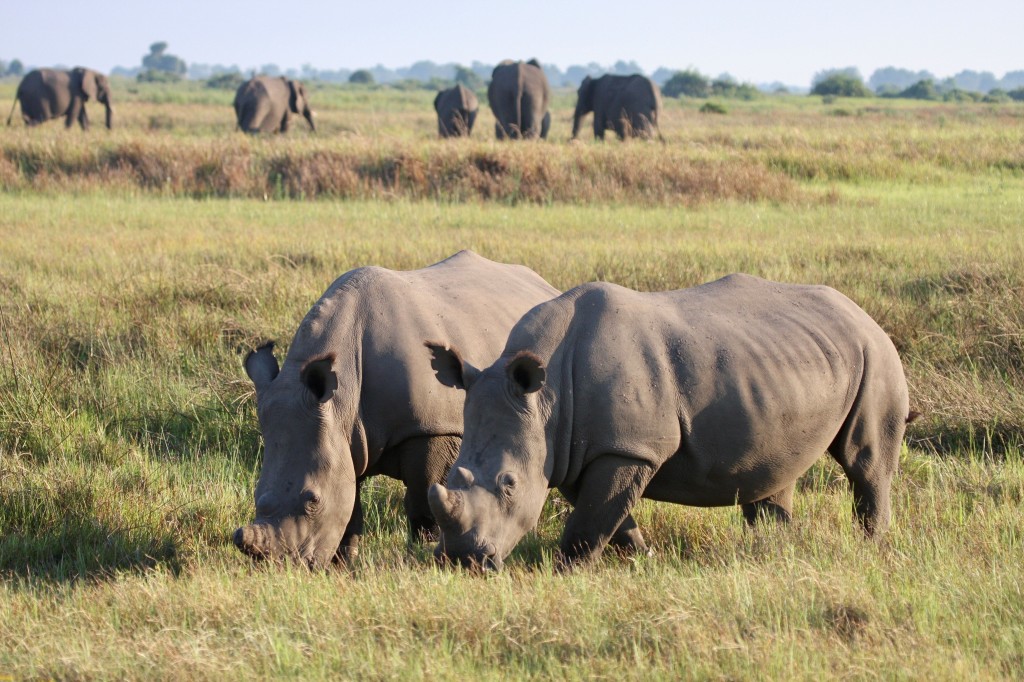 The constraint of the deep permanent waters of the delta means the wildlife on the 77, 000 hectare private reserve remain here across both wet and dry seasons. A matrix of palm-dotted islands, flood plains and woodland, one of the most beautiful concessions in the Okavango Delta.
Game viewing was mind-blowing, my short 24 hour stay in early January was filled with great sightings.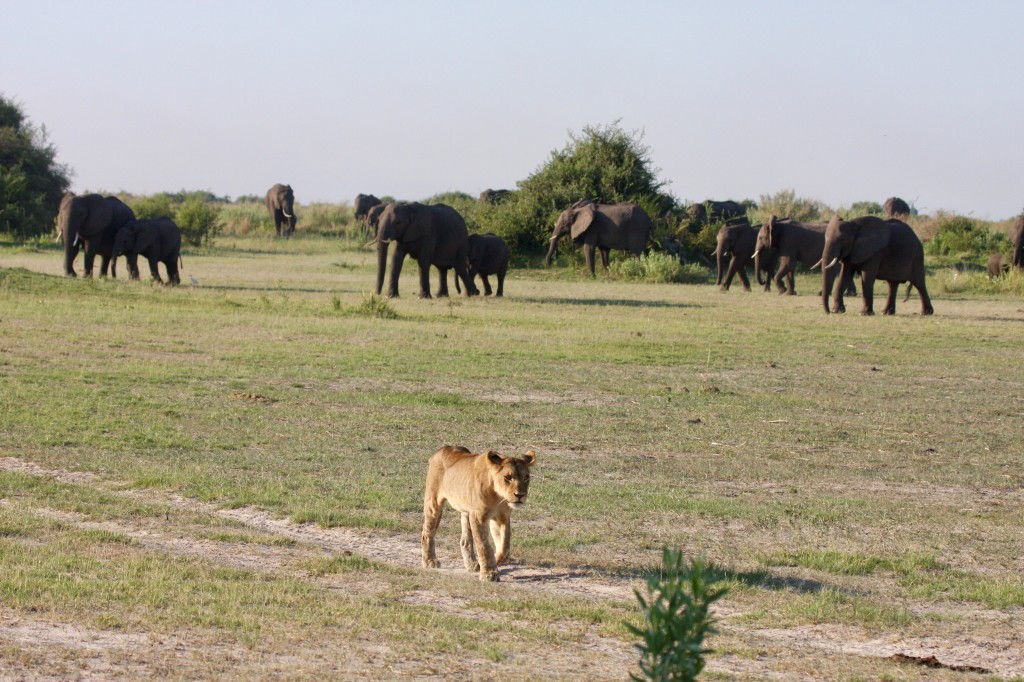 An enthralling experience from morning till night. Thank you to Great Plains & the managers & staff at Duba for hosting me last weekend. I was absolutely blown away by every aspect of my stay, in particular the surprise evening in the interactive kitchen, a truly unique experience, where chef Herrmann managed to captivate and entertain while preparing an array of gourmet dishes.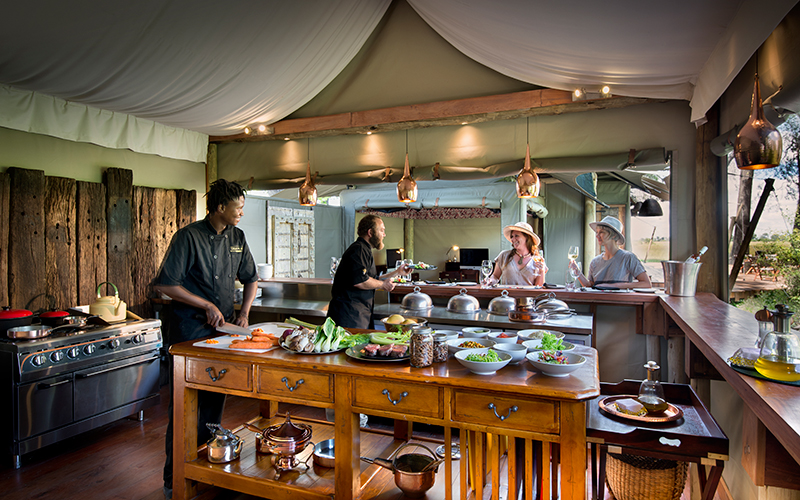 Quick Facts:
Belongs to Great Plains Conservation
Five tented rooms, max 10 guests
Activities: early morning and late afternoon/evening game drives, boating (water levels permitting)
If your client is looking for a unique, cozy, romantic and chilled camp, then Pelo is the answer.
Most of these requirements will already be met as the little aircraft descends over the palm tree dotted, flooded landscape of the Jao concession. Your eye gets caught by a tiny island in the shape of a heart; the Setswana word for heart is PELO.
All 5 tents are on stilts facing the water, the intimate terraces open up to the safari wonderland of the deep Delta and are filled with the beautiful cacophony of birdsong.
Pelo is a water camp, meaning there are no vehicles on the island. It therefore combines superbly with productive land camps in Khwai, Moremi Game Reserve or Savute. This camp is a little jewel and shines well at the end of a safari.
Here you come to glide silently over Delta Waters in a Mokoro and explore the endless diversity of the floodplains by boat. Most importantly you come to chill and enjoy yourself and the universe – it should also win the prize for the most stunning pool in the Delta!
Jao water levels vary greatly, your safari consultant will have the best advice for you. Pelo sits in fairly deep waters, which dry out last in the Delta – another reason to include Pelo in your next itinerary!
FACTS ABOUT PELO
Pelo is run by Wilderness Safaris as an Adventures camp.
Activities on offer include mokoro trips, boat based game viewing and seasonal catch and release fishing.
The camp has five guest tents, complete with a covered front veranda, and both an indoor and outdoor shower.
Pelo is open annually from 1 March to 30 November.
As much as I tried, I simply couldn't jump over the sunset!  Clearly I'm not fit enough, as it took a couple of attempts to get as high as I did! Lack of fitness aside, I'm sure you can see it was quiet fun to try! Fun and enjoyment sums up Rra Dinare camp, a new stunning camp on the Southern side of the Okavango Delta.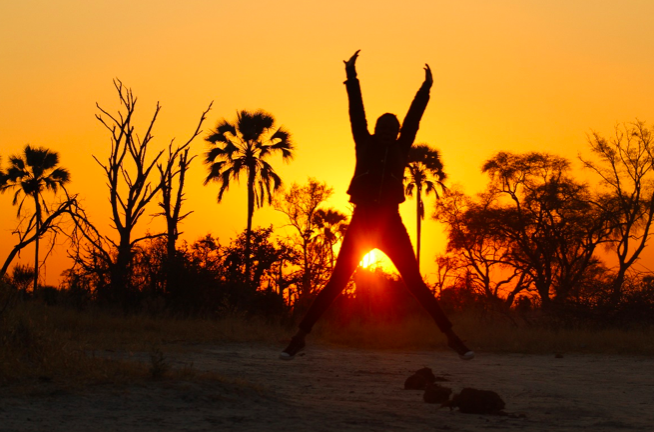 Upon arrival it's immediately apparent that everything is still super new. The wood still smells woody, the linen is nice and crisp the mosquito nets are super white and I'm sure there is not a single mosquito that can go through those! I absolutely loved this camp!
The food was delicious and generous with a wide assortment of drinks, teas and coffee. It was a really special thing for me to be brought a piping hot cup of tea in the morning! Talk about being pampered like a princess! Nobody has ever brought me tea at 6am! I could do this every morning.
The stilted Boma area overlooks the Gomoti River, where elephant, buffalo and hippo amble past. In the afternoon bushbucks are often around the camp nibbling on bushes underneath the tents…so cute! I got to relax by the pool and the amount of game viewing in front of the camp could easily make one think about opting out of a game drive – not that I did.   Despite my notions of relaxing poolside, the game drive did not disappoint – I saw loads. I'm no photographer so I really appreciated how the game always seemed to be right in front of me, at the right time, for me and my camera. At one point a lioness rolled upside down and looked like it wanted to be petted, waited for me to snap a couple of pictures, and  then turned over again.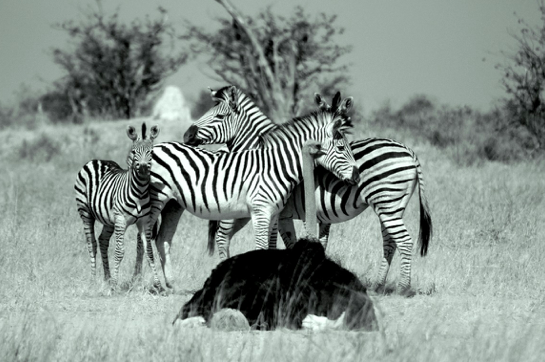 We also went on a Mokoro excursion. I´m not a big fan of water but after a lot of jiggling on the game vehicle a Mokoro was the best thing that could happen to me. It was so smooth and more than appreciated. Our Mokoro poler was knowledgeable and cautious and told us when we could not go further as there was a hippo "tanning" on the other side of the channel. I told him that I was very happy with his precautions! I don´t take risks!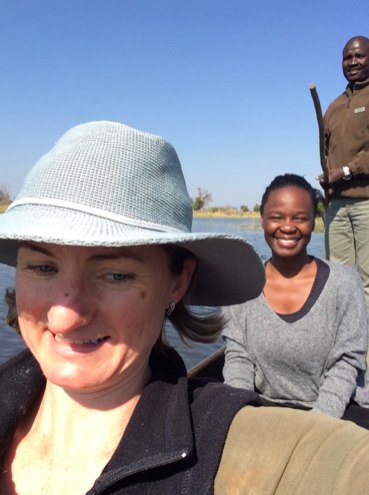 FACTS ABOUT RRA DINARE
Rra Dinare is an Under One Botswana Sky Camp, sister camp of Pom Pom Camp.
The camp is run on solar power.
Activities on offer are Game drives with each vehicle carrying 6 pax, Walking Safaris and seasonal Mokoro excursions are also available. The Guides are very knowledgeable and informative.
Rra Dinare has a maximum of 8 tents with one family room inter-leading. The rooms are very spacious with outdoor showers (no inside shower).
Wakeup with coffee/tea brought to the rooms every morning. The dining for all meals is communal. Private meals for honeymooners or for guests who prefer more privacy are available on request.
To get more info please click here and see recent images and general information about Rra Dinare.
Three of my colleagues and I recently had the pleasure of spending two nights at The Lodge located north of the expansive Central Kalahari Game Reserve. We were picked up at our offices in Maun just after lunch for a comfortable four and a half hour road transfer in their air-conditioned 4×4 to this rather unique product.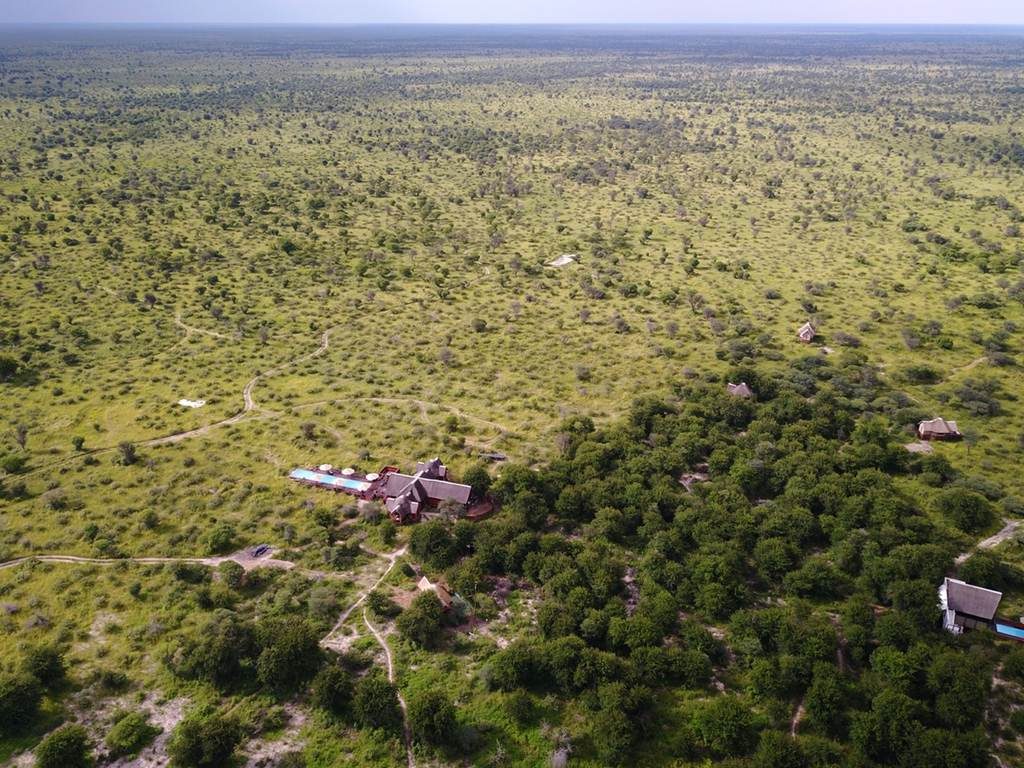 Although there was not much to see on the way, we kept our spirits up by discussing exactly what we were about to experience as it became apparent that although we were seasoned travellers in regards to camps and lodges in Botswana, we did not quite know what to expect at this property as big game viewing is not the primary focus. This is not to suggest that there is no game in the area (as I realised later on) as we encountered zebras and kudus during our stay there but rather that this property has a completely different ethos as compared to the camps we regularly visit in more predominately game rich areas in the delta.
We arrived to a very warm welcome by Teddy, the lodge manager and his ever smiling staff. The lodge really is beautifully built to match in with the surrounding area and the twenty-five metre lap pool had us all wanting to take a dip right then and there! We freshened up with a welcome cool drink and prepared ourselves to hear the usual camp briefing regarding operations safety pre-cautions and activities. Instead of the usual early morning wake up at 05h30 in the morning for a game drive we were advised we could sleep in until breakfast was served at 07h30! The activities on offer had us all spoilt for choice as one could go on a game drive, walk, fat bike tour of the area or horse riding. Other activities on offer are golfing (desert style!), tennis, an authentic bushman experience (either a walking safari to discover what the desert can provide in terms or nourishment and medicine or a more in-depth fly-camp experience at a bushman village located close to the lodge) or if one is feeling like being pampered, massage treatments are also available at a small supplement. Needless to say we all chose our prepared activities for the following morning with two of my colleagues opting for the horse riding and the third taking in a massage. I opted for fat biking riding with a twist as I was going to follow my colleagues on the horses.
In hindsight, this was probably not the best decision I have made in my life, as the next morning I quickly came to realize one cannot follow horses on a bright orange fat bike through the Kalahari veld. As my colleagues got introduced to their horses and the guides, I took this time to name my fat bike "Bubba" as all the horses had names I did not want my trusted bike to feel out of place. The ride started with a light trot which Bubba and I easily kept pace with, but this was to quickly change. When the horses went into a canter, keeping up with them rapidly become more difficult. Thankfully they stopped when they realised that I had fell from view and waited for me and Bubba to catch up. It was at this point, I made the decision to return back to the lodge with Bubba and let them enjoy the rest of their ride, as I was clearly slowing them down. Again, in hindsight, probably not the best decision as fat biking through  tall grass on your own on a bright orange fat bike in a concession that can have wildlife pass through it without a guide would be considered foolhardy at best. I could just imagine the confusion on a leopard's face seeing me and Bubba huffing and puffing along! Swinging my neck around every two seconds to check for wildlife whilst trying to stay on the "path" we had taken was a challenge to say the least.
My joy at finally seeing the lodge appear on the horizon was that of the desert when it rains. Pure and utter joy and relief!
Departing the next morning, it dawned on us that we had experienced something completely unique in the tourism industry of Botswana. They whole ethos is centred more around the relaxing and varied experiences available rather than big game sightings.
A fitting and relaxing end to any safari.
Safari Destinations is about family. It is the people that share our daily lives, and who we have grown to love and cherish. With our SD family, we create memories, share good times and help each other through the tough ones.
Some of those good times are celebrating the birth of the children to staff employed at Safari Destinations. At last count, it was 17 in total with another 2 on the way! Close to 50% of all our staff are parents. This is why lift clubs, meal arrangements, play-dates, "Hello Aunty Sarah" as well as kiddies' laughter and tears are the order of our day.
We all know that total commitment describes our women here at SD. Many years ago when Lorraine and Andrea were still breastfeeding, critical Globetrack training had to take place. So, it all happened "behind the scenes" while the (male) trainer continued his training. He had strict instructions to "Don't turnaround!"
While 80% of our staff are women, we believe that fathers are just as important as mothers. This is why our Dads get paternity leave with the birth of each child.
Our latest recruit is beautiful, little Paige, born to Senior Consultant, Mia Ives. Once Mia returns to work, as a first time mother, she will have the support and understanding of the Managing Directors, Carina and Lorraine as well as the many women here at SD who have walked the path of managing family and work.