Category Archives: Travel for Impact
There is something our parents always told us that as kids we probably ignored: You don't realise how important something is, until you lose it.
It is well known that tourism is a critical economic development option in many countries, bringing in much needed foreign revenue. In Botswana tourism is even more important where it has been one of Botswana's key economic sectors, contributing greatly to government revenue and boosting important macro businesses.
The mighty Okavango Delta and nearby areas such as Maun, Moremi, Savuti and Chobe attract thousands of visitors annually from all over the world. Tourism supporting the communities in these areas through employment and community development and where the payment of government taxes has allowed for the provision of free schooling and health facilities.
Tourism is not just about the big destinations and properties, or the transport and flight companies. It is also about the intricate web of small businesses and entrepreneurs providing travel booking services, day trips, guiding or poling experiences as well as the many businesses that contribute indirectly to the guest experience from providing well-built and maintained safari vehicles to growing and delivering the ingredients for a delicious meal. There are the many community trusts with stakes in concessions with campsites or lodges, all part of Botswana's strategy of sustainable tourism.
However, at this point in time, not only has the regular and very welcome support of the local travel industry stopped, but international support has also waned, as the Covid pandemic wreaks havoc with economies and peoples' lives. Without any warning, suddenly there are no travellers and therefore no income impacting thousands of people who may have no work, no or reduced salaries and therefore no or limited means of supporting themselves or their families. This is worsened by the fact that there is no way of knowing when the industry will start to recover.
The Botswana people have a culture of coming together to resolve and face challenges head on, and this time is no different. In the midst of these chaotic and troubling times, we are proudly watching NGOs take the lead in communities to ensure that the most vulnerable are taken care of. Safari Destinations' own community liaison co-ordinator, Tara Theron, has been working closely with these NGOs to see how we can support them, now and in the months to come. The Government, with the support of the private sector, is going all out to support and assist in a variety of ways. One of these important initiatives is to ensure that everyone has food. We are Proudly Batswana, and are thankful to see the great spirit of BOTHO being ever present. We will continue to bring you reports of what is happening on the ground.
One of the other sayings my parents would regularly say in my childhood when things were tough or something bad happened: Every cloud has a silver lining. While 2019 was a year of drought for Botswana with poor floods for the Okavango Delta, it was a good year for the landscape of the Delta allowing land usually under water to provide more grasslands for antelope herds, more grass means bigger herds. And now in 2020, we are seeing one of the best years yet for the beautiful Okavango Delta in terms of the spectacular flooding of the Delta. The way nature has rebounded teaches us valuable lessons in recovery and hope. We hope you will come and share this wilderness with us soon.
Please don't cancel your dream-safari. Postpone. Help us protect Tourism, and by doing so, you are positively impacting thousands of lives.
Can you believe that it's been on our roads for more than a year now? We thought we'd take a look at how Maun's Tourist Funded Community Bus is benefiting our community.
"The Community Bus has been a ray of sunshine to our children brightening each day through its vibrant colours and comfort".  Taboka Rotsi.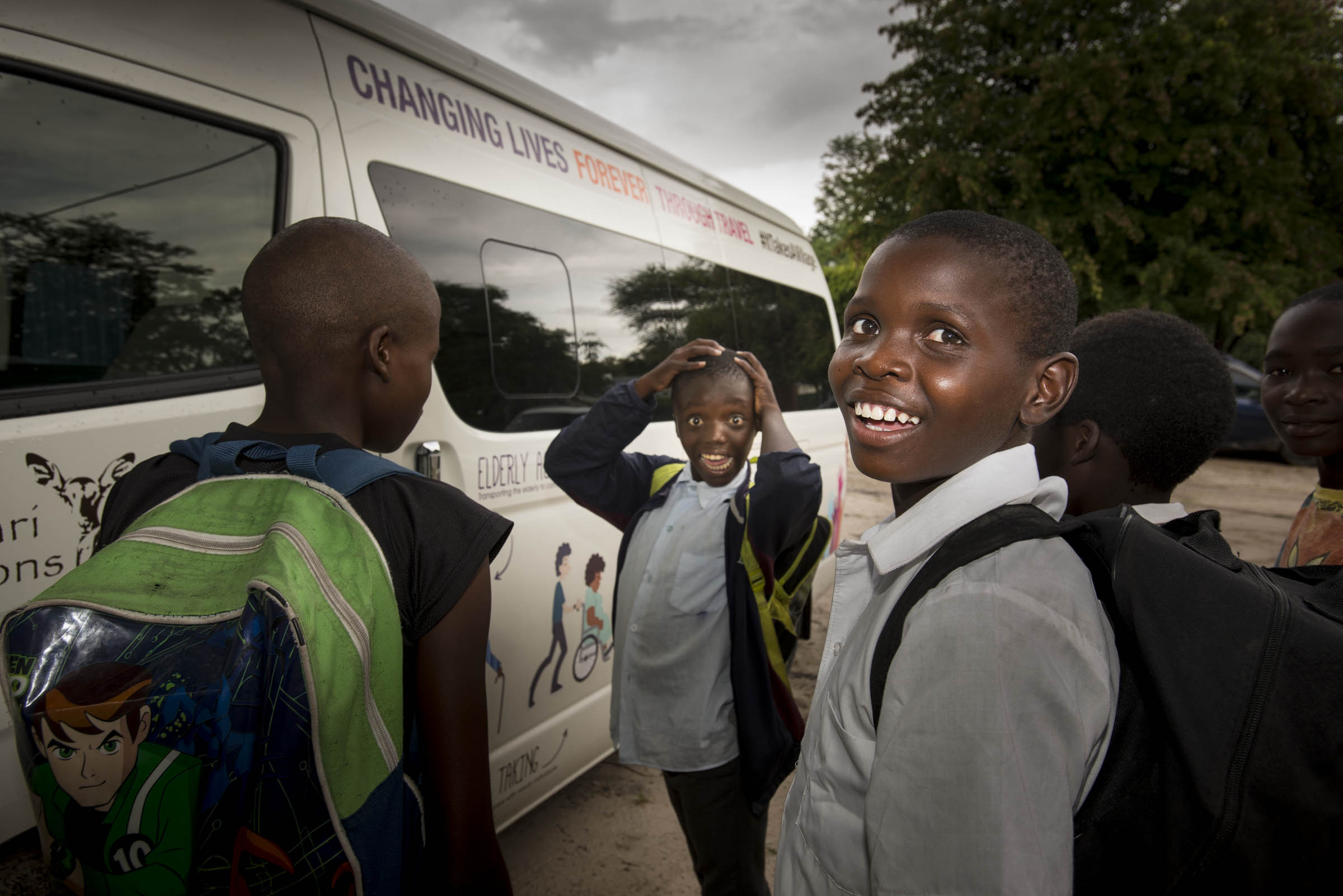 Taboka is the Project Co-coordinator of Bana Ba Letsatsi (BBL) a care centre for orphaned and vulnerable children in Maun. BBL is one of the organisations benefitting from Maun's unique Community Bus.
Last year – in celebration of Botswana's 50th Anniversary – Safari Destinations and Travel for Impact (TFI) launched the Community Bus.  For the past year it has been making a real difference in the lives of the less fortunate, whilst adding a splash of colour to Maun's streets.
This unique collaboration between travellers to Botswana, private enterprise and charitable organisations is directly benefitting Maun's disadvantaged communities.
So, what does the Community Bus do?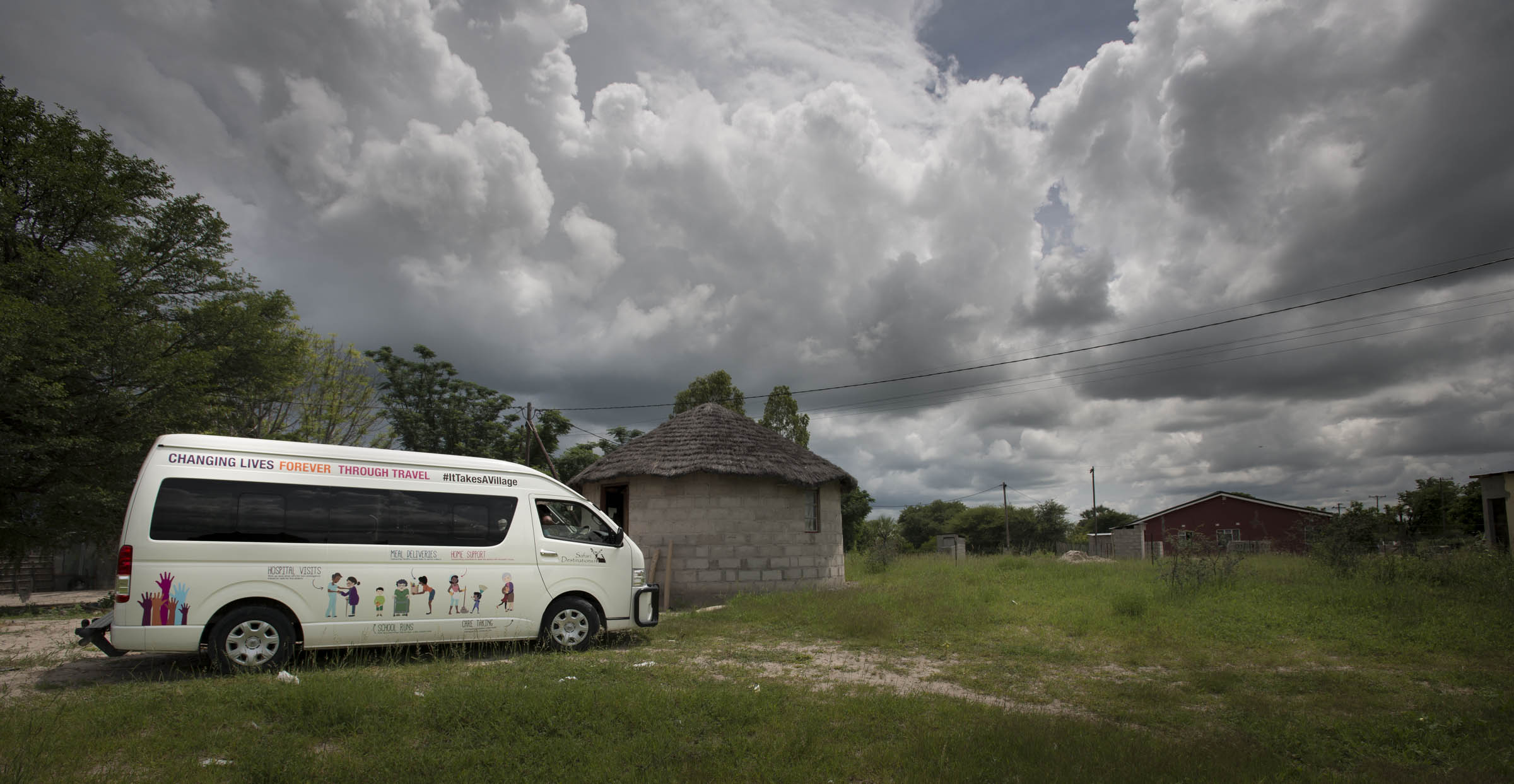 It's a school bus, granny transporter, safety zone and life line that empowers our community all rolled into one. It solves the transportation challenges for not one but several charities by operating on a scheduled basis.
In the morning and afternoons, it does a round trip picking up and dropping off kids for Bana Ba Letsatsi. This coincides with the school run pick up and drop off for children staying at the Woman Against Rape (WAR) shelter for victims of gender based violence. Without the support of the bus most of these children simply wouldn't attend school due to the distances involved, and those that did, would be late and tired from having to walk several kilometres.
After the morning school run, it's time to collect and distribute daily food parcels for AGLOW to Maun's impoverished elderly. Often our driver OB and AGLOW volunteer Lesang, are the only people some elderly see all day. So the bus becomes a lifeline, enabling AGLOW to daily monitor the elderly's wellbeing, and equally importantly, it provides an opportunity for a chat and some friendship and companionship.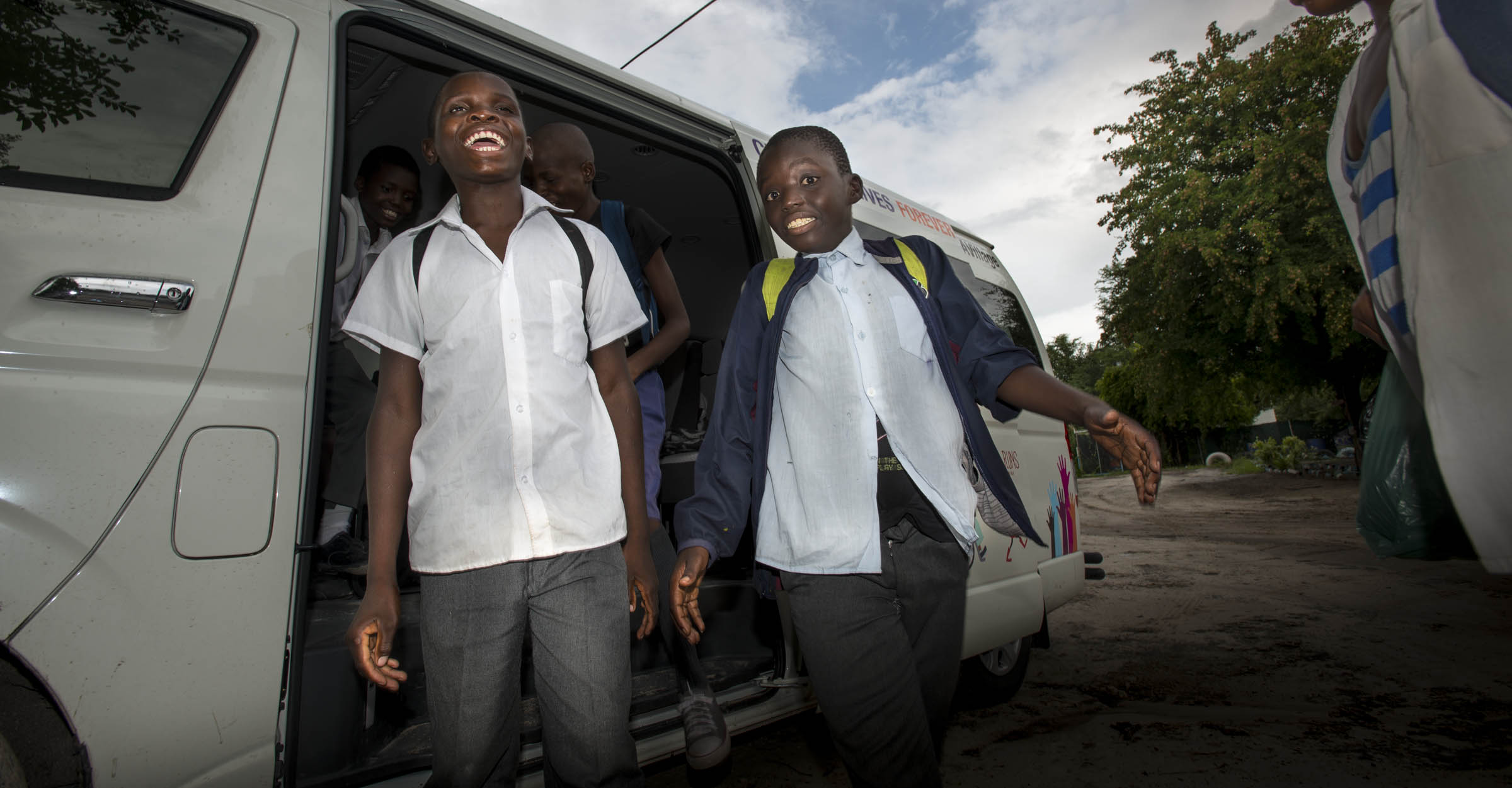 Between its scheduled duties, the bus is pressed into service to assist charitable organisations with ad-hoc requests. Perhaps it will be sent to the local butcher to collect a donation of meat for BBL. It may be dropping or collecting the elderly at the clinic. Transporting MAWS volunteers, collecting dog food donations, delivering donated clothes, collecting food parcels for flood relief…on and on the brightly coloured bus bustles about town!
The weekends are equally busy. It may be transporting the elderly to and from a lunch, transporting the hearing impaired on a photography course, taking children on a field trip or providing transport for a disability workshop.
With over 30,000km on the clock, the bus has delivered approximately 1305 meals, completed over 600 school runs and in the process, has indeed become a lifeline for the Community. These words, from one of the elderly that the bus visits, sums up the vision of the Community Bus. Softly spoken, and with a tremble in her voice, she whispers:
"Every day I am looking forward to seeing the bus coming. I like these people who don't know me, but come and bring me food. I now sleep full every day."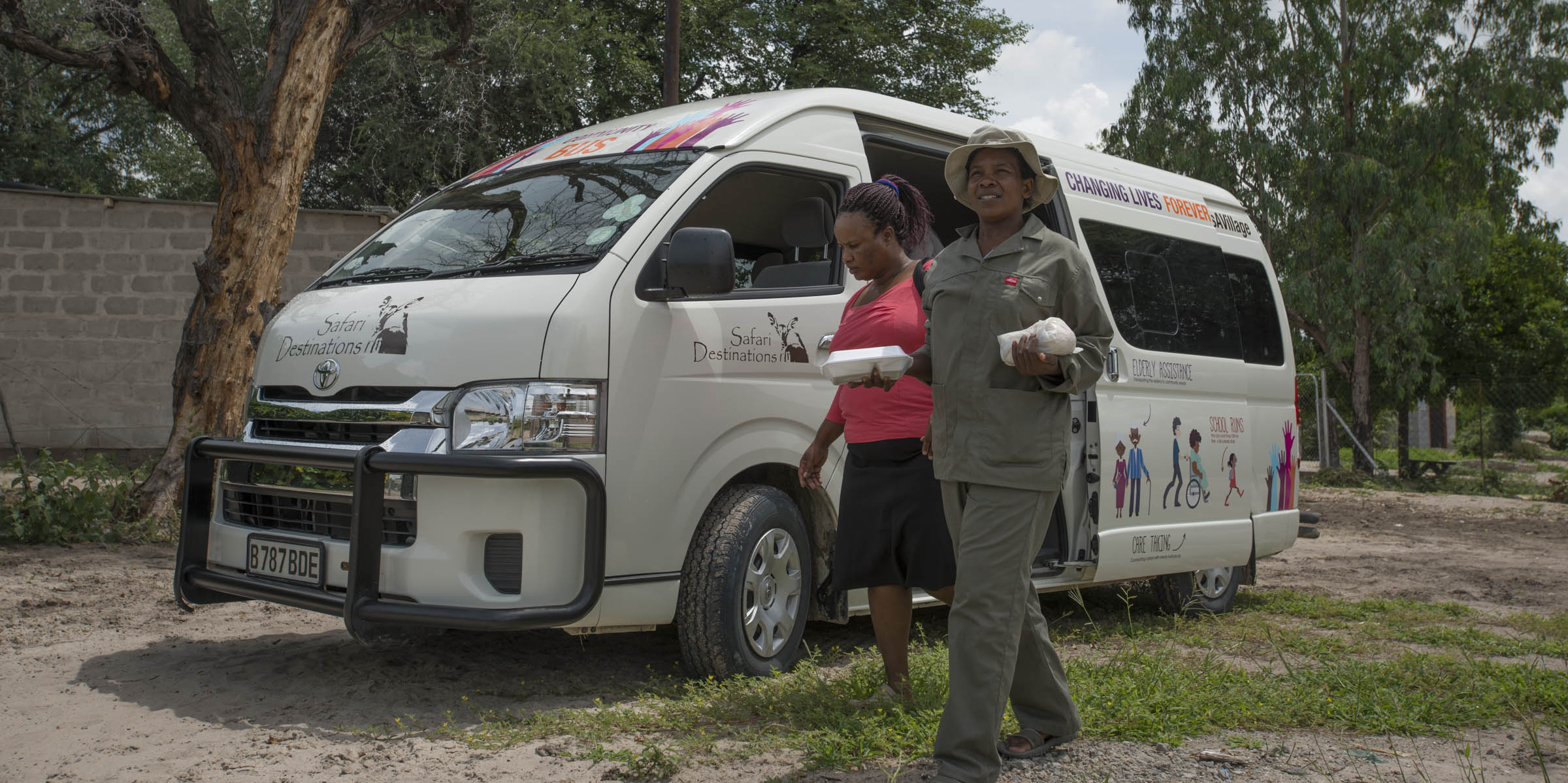 A video, The Years Pass By, highlights the work of the bus in the community.
The Community Bus was jointly sponsored by Safari Destinations, with the balance and ongoing expenses supported from The Safari  Destinations / Travel for Impact 1US$ Bed Night Levy.
Back in June, we launched our 10FOR50 Campaign celebrating our 10th and Botswana's 50th anniversaries. In celebration of this, one of our major goals was to donate a total of 500 Hours to Community Service.
When Lorraine initially announced this during a staff meeting there was a silent pause (cue cricket sounds…) as our staff body absorbed the enormity of the challenge. Now, anyone who has ever visited the SD offices knows that there is no such thing as silence here…
Fortunately, volunteering to assist the community is part of the culture at SD and the silence was actually attributable to a collective intake of breath before declaring Challenge Accepted – Game On!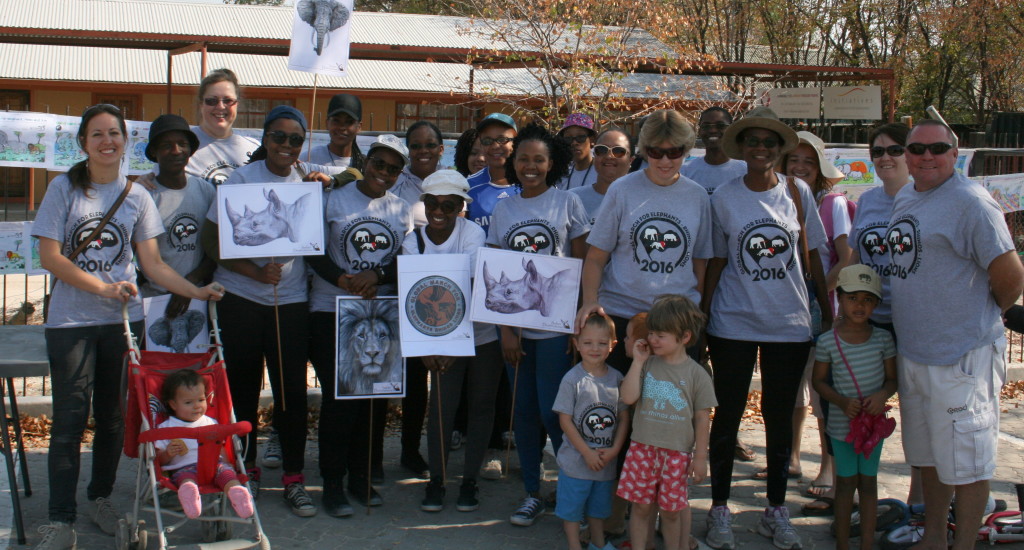 The months have rolled by and looking back, we're proud of what we've achieved: we've organised winter clothing drives, renovated the reception for a Woman's Shelter, spent hours visiting and assisting the destitute elderly, helped out at charity events, hiked across the Makgadikgadi Pans for Charity and even participated in a Charity fashion Show. Phew!
And then came the final two big events of the year…
First up was organising a fun day at Bana Ba Letsatsi (BBL) – a day centre caring for orphaned and vulnerable kids. One thing you can say with certainly about SD staff is that we love kids. We love them more than delicious warm sticky magwinya's (a savoury/sweet, deep fried donut-ish traditional food, which-we-know-we-shouldn't-eat-but-Eish-they-are-delicious) we even love them more than we love planning that super awesome Delta Trip. We simply love kids.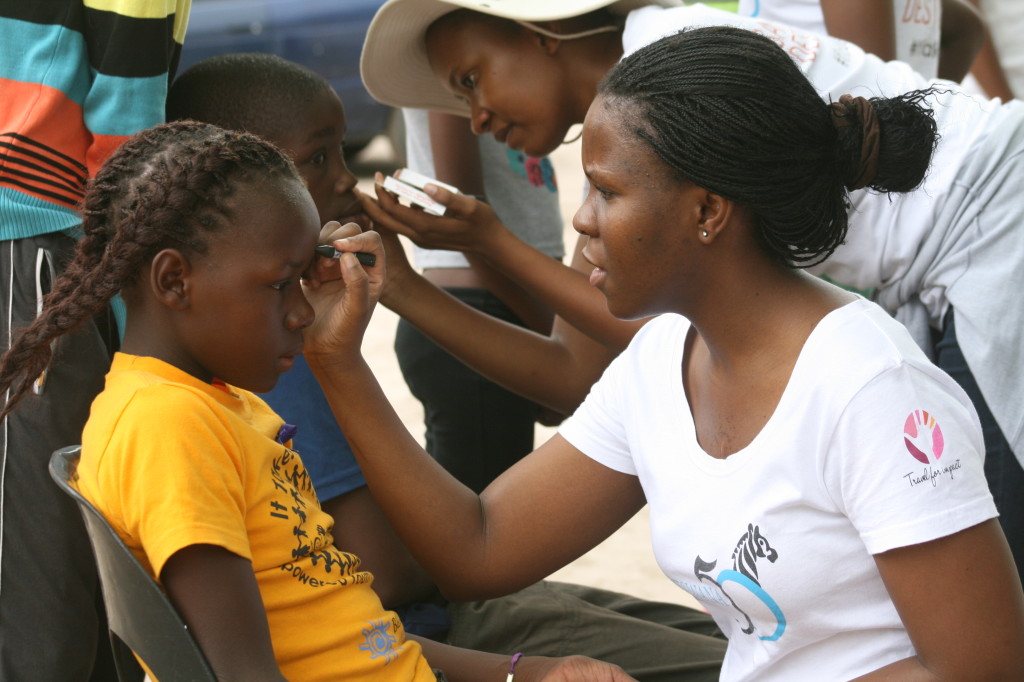 It therefore goes without saying that a fun day for BBL would be well supported by our team.
Through the generosity of our agents, we support BBL under the TFI levy; we sponsor their full time Physco-Social Counsellor, contribute to food and running expenses and also provide free scheduled transport through the SD/TFI Community Bus. All of these are crucial support to BBL but they're not "fun" for kids.
We decided on a Fun Day, purely because all kids need to have joy. They need to have a day where they can simply be kids and have fun!
We started off with face painting accompanied by a snack of magwinya's (have we mentioned these before?) followed by a round of games and fun: egg and spoon races, sack races, cup cake decorating, jumping castle and the surprise all-time favourite – tug of war! The kids then attended a graduation ceremony while the SD "Safari Chefs" cracked on with a massive braai (barbeque). Everyone enjoyed a superb lunch and we ended the day by handing out party bags to all. What a super day
Something else you probably already know about SD is that we don't do things in half measures. Yep, half measures are for sissies, we like to go all out! So as if planning and hosting a fun day for a 100 odd kids and guests was not enough, two weeks later we were back in action – this time assisting with an Annual Christmas Lunch for 400 Elderly members of our community.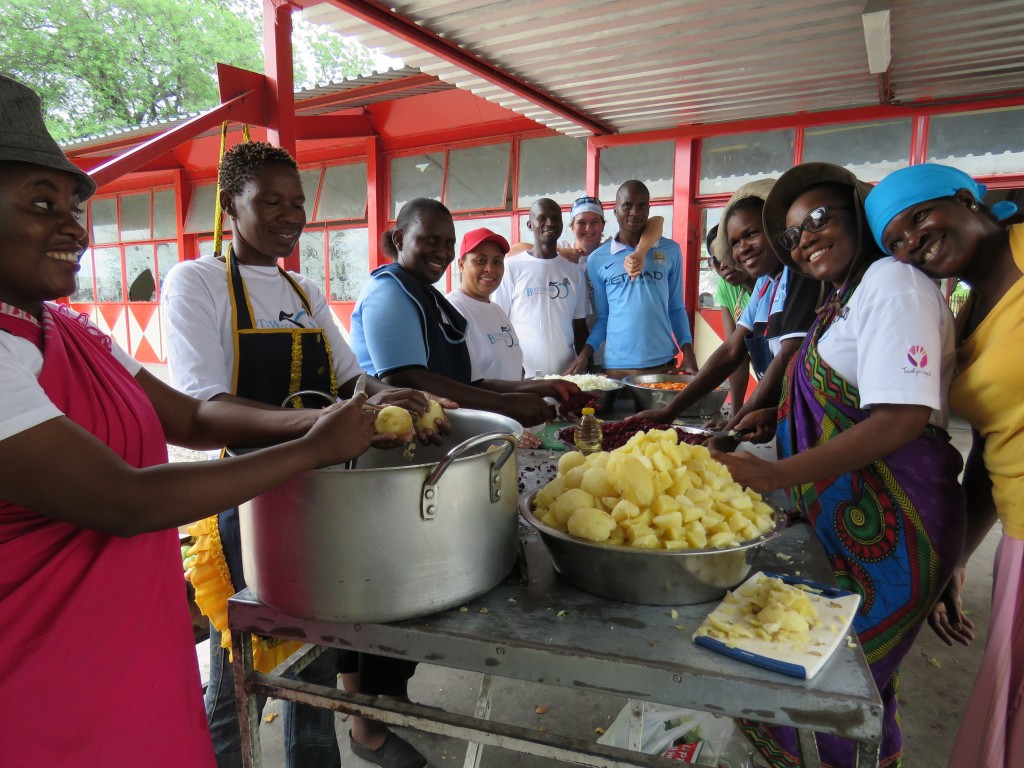 AGLOW International Maun is another beneficiary from the TFI Bed Night Levy. They are an organisation committed to caring for the destitute elderly in Maun. We sponsor monthly food parcels as well as the volunteers who provide daily visits. Transport is also provided by the TFI/SD Community Bus.
We are long term sponsors of their Annual Christmas lunch for the elderly and this year a contingent of 10 SD volunteers descended into what can only be described as a food cooking marathon. Forget Masterchef, if you want to see a bunch of amateur chefs dropped in the deep end in a foreign kitchen then this is the event to watch! If chopping 2 sacks of cabbages for 4 hours sounds like fun, feel free to join us next year…
All jokes aside, Team SD did a super job, worked well together from prep to cooking and served a delicious feast to a very enthusiastic audience – not a scrap of food was left over.
And that's how we achieved our community hours. Often chaotic, usually sweaty, sometimes smelling of cabbage but always with a sense of achievement and proud to be able to give back to our awesome community.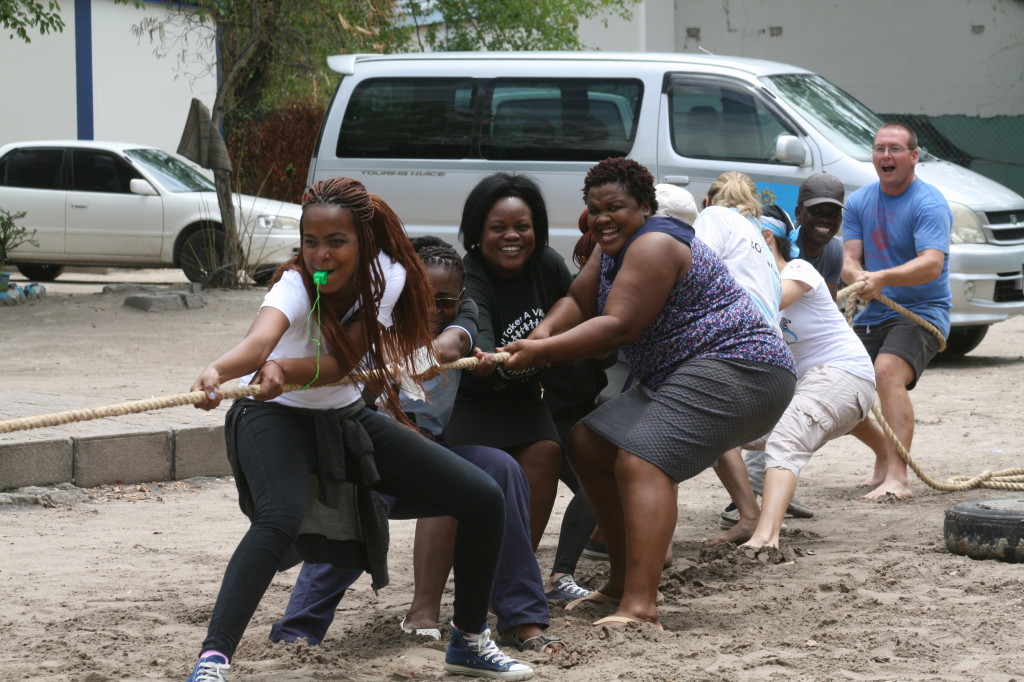 Thanks to the incredible support and commitment of our staff in under 6 months we have not only achieved our goal of 500 community hours, but we have exceeded it to achieve 563 community hours!
What's our target for next year? We'll have to wait and see.
I'm sure we are planning on going large…
…Do I hear crickets?