Monthly Archives:
June 2022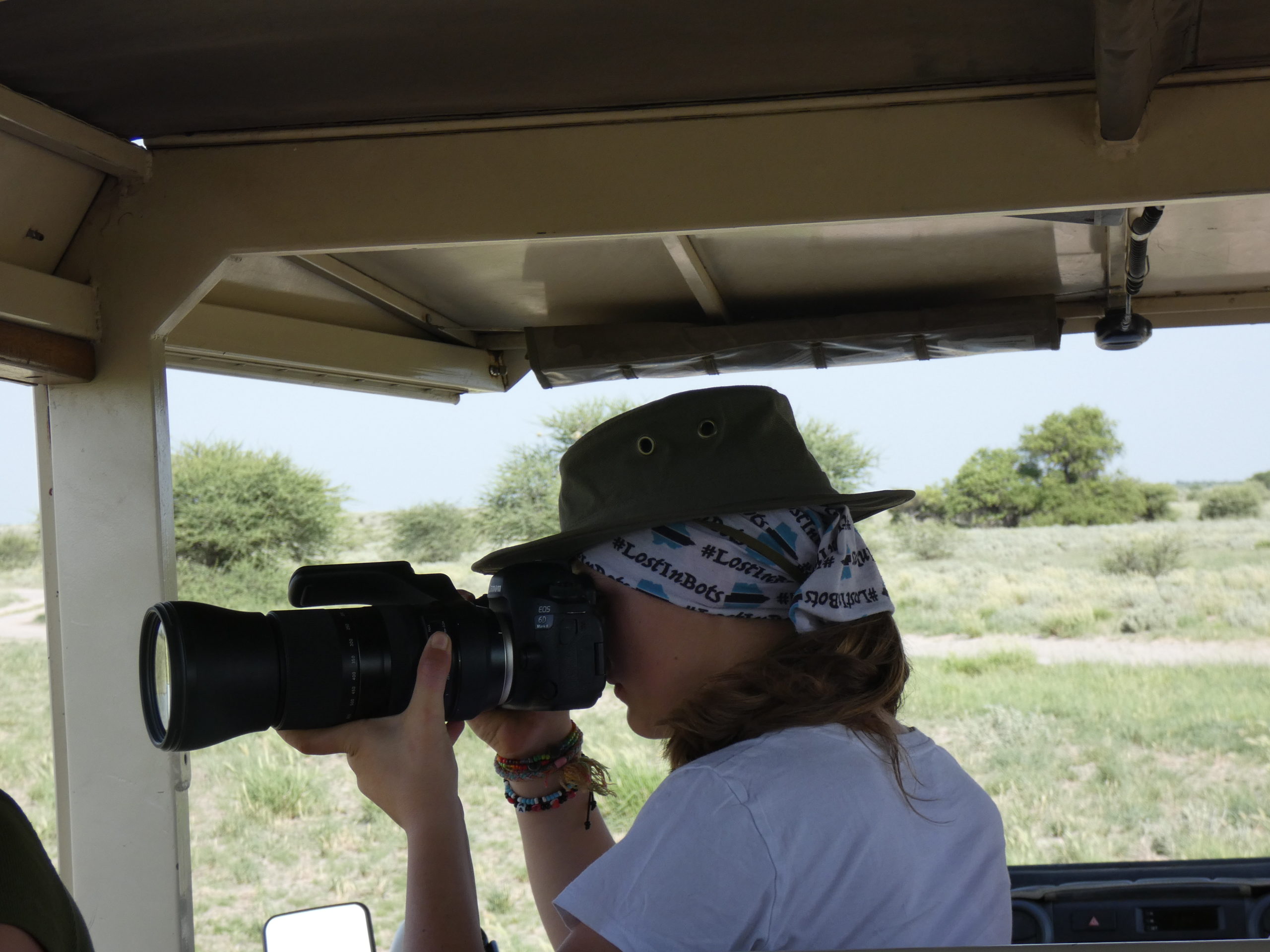 Sharing a safari with children will give you completely new eyes for seeing the bush.  A child's excitement at spotting an impala for the first time is infectious enough to rub off on even the most seasoned of safari goers. When you start seeing the bush from a child's point of view, the priority of ticking off the big five quickly fades – replaced by the excitement of watching dung beetles at work and imagining the inner-workings of termite mounds.
A family safari is a whole new discovery of the natural world. Not just for kids, but also for adults who usually focus only on photographing the animals that live in it. Best of all, you'll have time to bond as a family while checking out fresh animal tracks and roasting marshmallows on the campfire.
So, what do you need to know when travelling with children?
Don't chain me down
Ask a small child if their idea of a holiday is being asked to sit still for four hours, twice a day (or more!) and you'll probably get a firm no. Even the most disciplined of children will have a tough time containing their excitement when bumping into a pride of lions. They'll want to wiggle around a little, point at things and start a conversation about what they're seeing. So let them. Booking a private vehicle is the best way to relax at sightings without worrying about sideways glances from that empty-nester with the massive zoom lens. Private activities give parents space to relax without having to 'shhh' kids over stuff that's really quite exciting (who wouldn't want to tug someone's sleeve and gasp 'look!' when faced with their first elephant?). Private activities also allow you the flexibility to start and end activities at friendlier times for kids who sleep longer & tire out easier.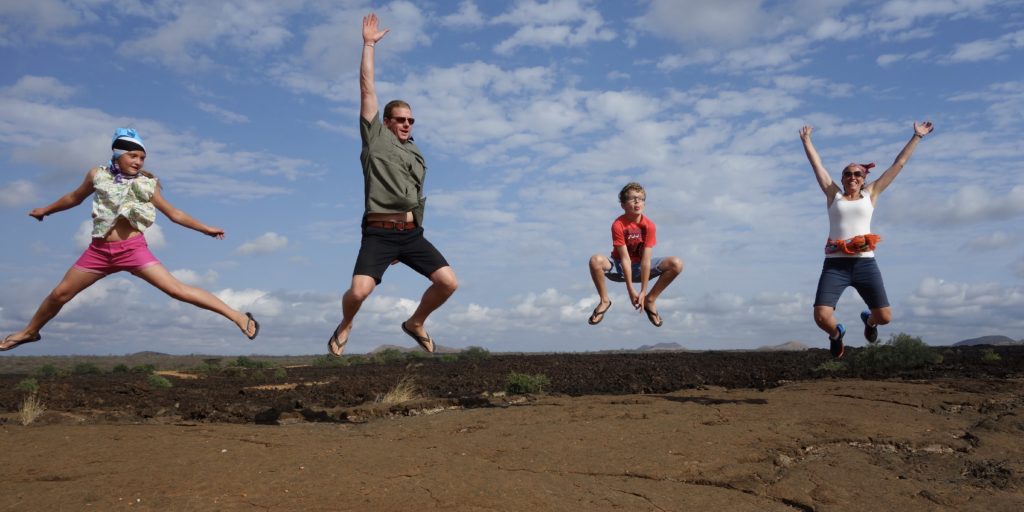 Variety is the spice of life
Mix up the schedule and keep the kids engaged on safari. Head off on a local village visit in Chobe or explore the salt pans with a quadbike and get introduced to the meerkats of the Makgadikgadi. Take the kids walking with the bushmen so they can practice speaking in clicks or give them a bush archery lesson. Many camps in Botswana offer child-friendly activities with some providing specialised programmes just for children. A private mobile safari is another sure fire way to give kids the space they need, as well as guaranteeing your guide's undivided attention.
Where the Wild Things Are
Many camps have age restrictions for children to guarantee their safety in the bush, as well as the comfort of other guests in camp. Private vehicles are often a requirement for children under 12, however Chobe is one area where these rules are usually more relaxed. Children are required to share their room with at least one adult to guarantee their safety. Many camps now offer family accommodation to prevent parents splitting sleeping arrangements. Children are generally not allowed on bush walks below 16 years of age or mokoro activities below the age of 12, however certain camps will make exceptions or tweak these activities to make them safer for kids.
The boring stuff – what paperwork do you need to bring?
A trip to Africa is an exceptional adventure and will give your children life-long memories.
To make sure everything goes smoothly however, please ENSURE that you adhere to the regulations in place regarding travel for ALL children under the age of 18.
Botswana continues to have strict rules when it comes to travel with children under 18. Parents have to carry unabridged birth certificates for the children, if single parents travel without the other parent then additional rules apply. Please contact us to find out more, we have handy lists that help preparing for this once-in-a-lifetime safari.
Recommended itineraries for families
At Safari Destinations, we've used our first-hand knowledge of Botswana's camps to create family-friendly safaris which help families get the most from their time in the bush. We are experts when it comes to family room layout, child restrictions, minimum ages etc. Contact us at info@safaridestinations.net to ask about the best options for family travel.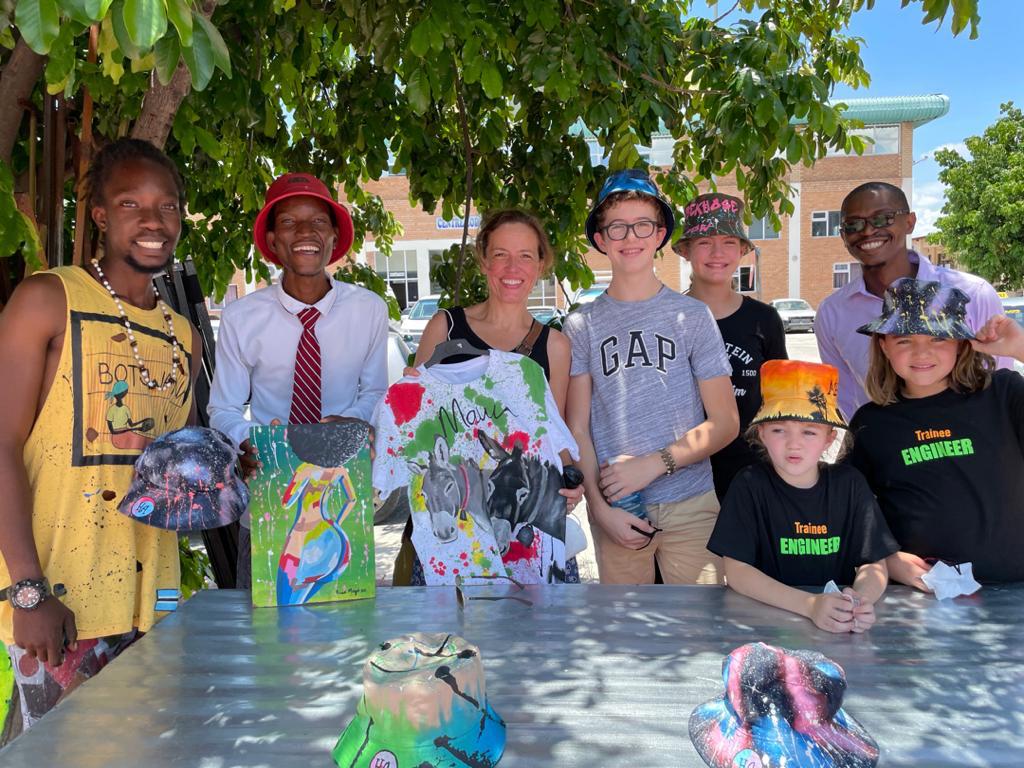 THE HIDDEN GEMS ON LAKE KARIBA IN NORTHERN ZIMBABWE
I was very fortunate and felt extremely privileged to visit Lake Kariba twice this year and all in a matter of two months. And both visits impressed me hugely and deepened my love for this amazing country in a way I didn't think would be possible.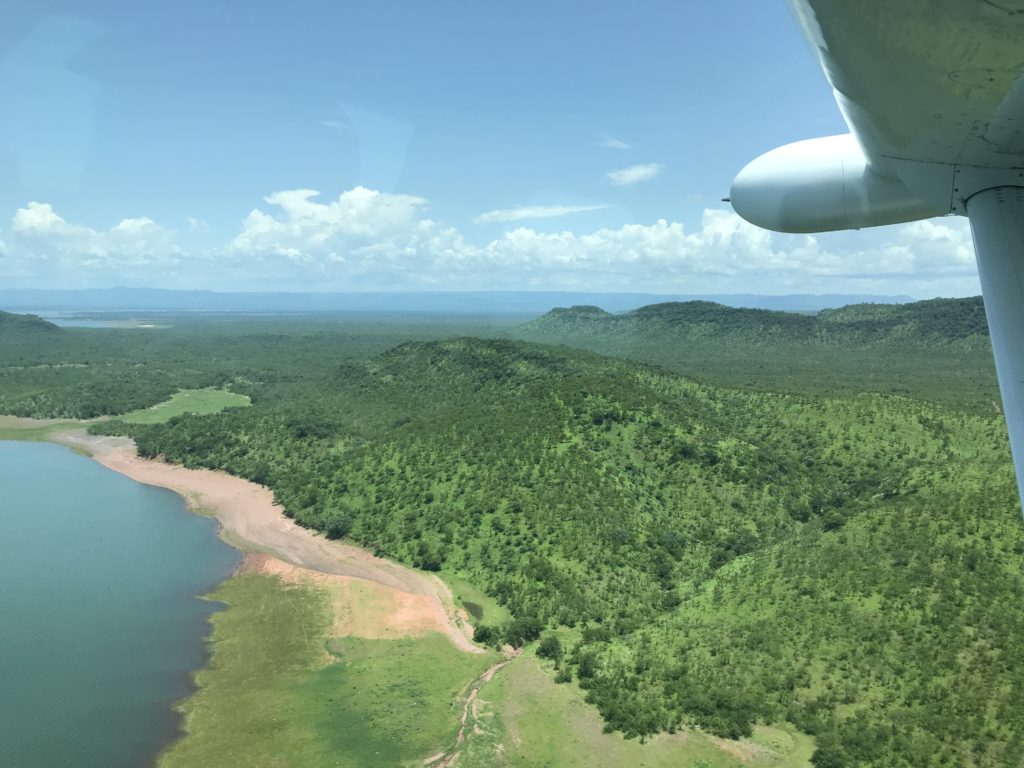 Taking a closer look at Matusadona National Park
This remote park gets its name from the Matusadona hills that form part of its water rich landscape. Flanked by Lake Kariba in the north, and two perennial rivers, the Ume and the Sanyati, Matusadona has it all. The lush landscape is formed by flat grasslands, dry river beds, rolling hills. It boasts a huge variety of mammals and keen birders can expect 240 different bird species.
Where to stay?
Fothergill Island (luxurious camp, ideal for families and small groups)
Changa Safari Camp (classic safari camp)
Rhino Camp (authentic experience)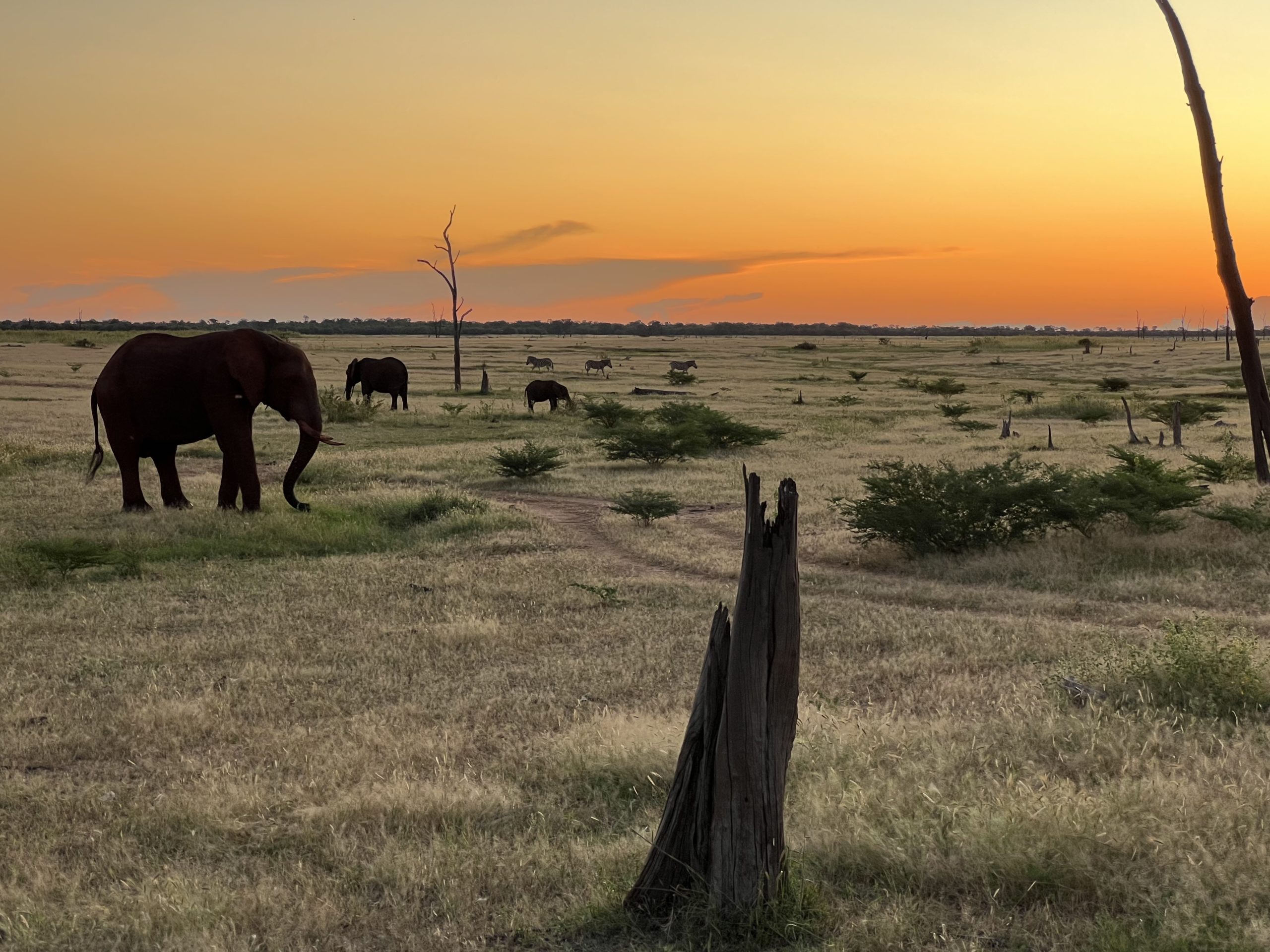 Taking a closer look at Bumi Hills
Bumi Hills is named after a group of hills overlooking the southern shore of Lake Kariba. The view from the top of the hill is magical and famous for its magnificent sunsets with the Zambezi escarpment as a backdrop. The area is also often referred to as the Zimbabwean Riviera, with the colourful reflections on the water and the palmtree dotted shore. The wildlife-rich area offers incredible game viewing which has improved tremendously over the last years also due to the amazing efforts of the Bumi Hills Anti-Poaching Unit.
Where to stay?
Bumi Hills Safari Lodge (luxurious camp on top of the Bumi Hills)
Musango Safari Camp (authentic experience on the shores of the lake)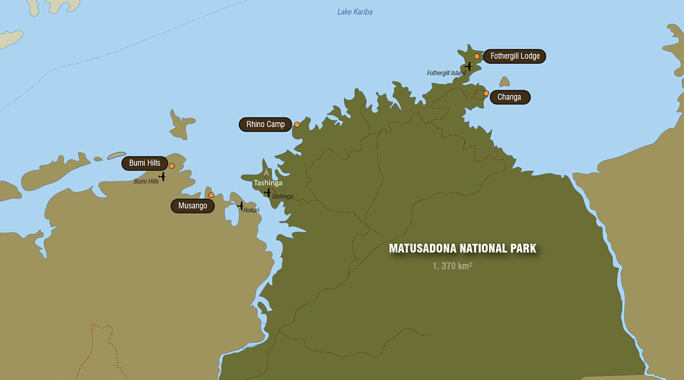 Why travel to Lake Kariba?
All year destination
Untouched wilderness
Easy access by air from Harare and Victoria Falls – Fothergill and Bumi airstrips
Bumi Hills – private concession
Matusadona National Park managed by African Parks
Land and water experience
Variety of experiences: game drives, motorboating, fishing, walking
Remote with few visitors, very exclusive experience
Visit the Bumi Hills Anti-Poaching Unit and learn more about their amazing work
For more information about this magnificent area please contact info@safaridestinations.net.