Ever been on honeymoon with 28 in-laws? Or made promises of the most awesome holiday? Or wanted to make others fall in love with Botswana? Maybe you can answer yes to one of these questions but all three?! That is me: going where others fear to tread!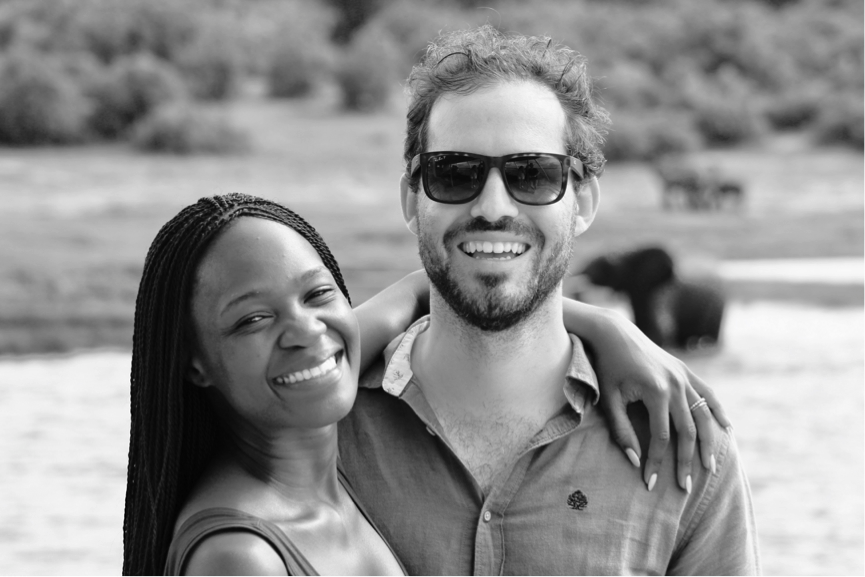 I sent my request for this holiday, thinking: "Puuuh! We are a large group. 29 pax! How on earth are we going to fit all those people into safari vehicles and go on safari for 6 nights?" The worst of it: an unhappy safari would mean 28 in-laws mad at me that I overpromised on my beautiful Botswana. So the pressure was on. My national pride was at stake! I love my country and wanted my new family to fall in love with it and to go home raving about this awesome safari experience. The solution to my crazy request was a mobile safari with Bush Ways Safaris!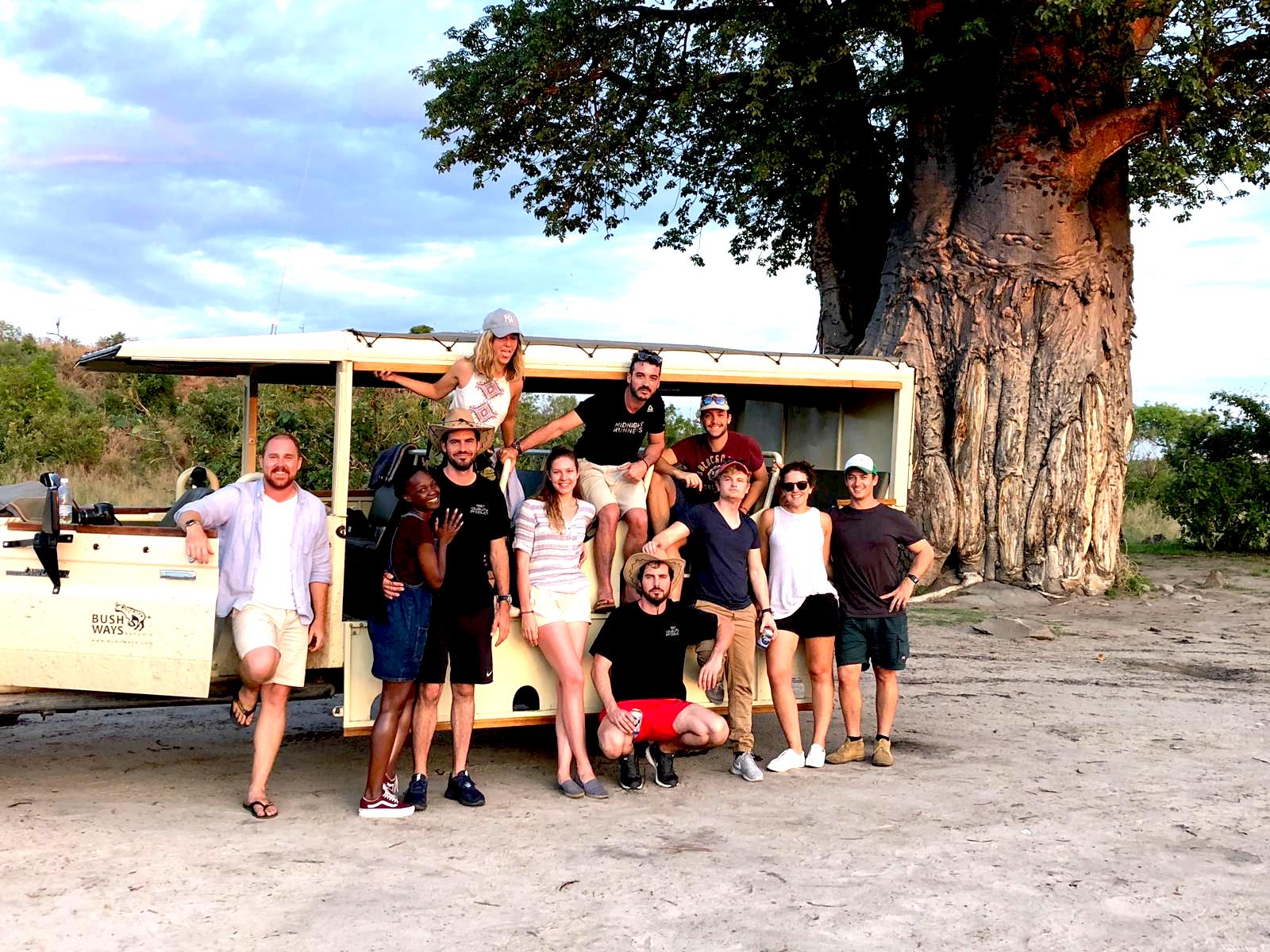 Xakanaxa Endurance vehicle
The first day of our Bush Ways' semi-participation safari started with a bang. Eddie and Moscow, our guides, with their assistants, and  our three safari vehicles with big trailers including all safari equipment expected us outside Maun Lodge ready for our journey to begin.  Excitement filled the air! After a briefing of the route of the day, was the vehicle naming ceremony. We were 'The Xakanaxa Endurance'. I secretly hoped that this was not going to be a journey of me "enduring" unhappy in-laws. In their usual style, Bush Ways' staff were on time, organised, friendly and informative. So far so very good.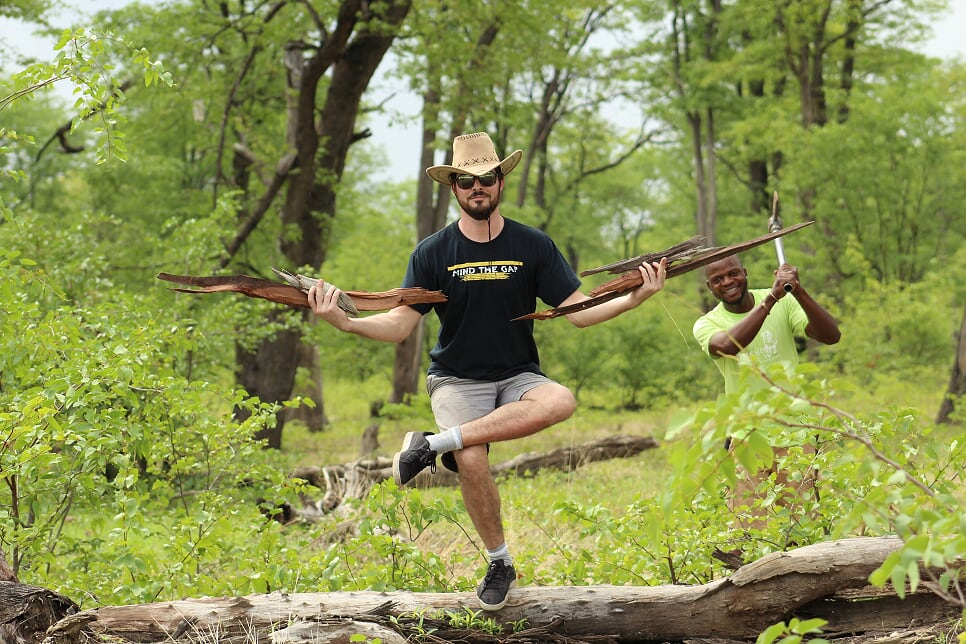 Hugo and KD chopping some firewood
The first stop of our journey was Khwai. And boy she did not disappoint, revealing some amazing sightings for my new extended family. On day two, we spotted a pride of 17 lions with cubs!! They had killed 4 buffalos the previous night and they were busy feasting when we arrived at the sighting. The cubs were running around with buffalo guts, falling over their feet and haul. Vultures were scavenging around also wanting to join in the feast! Looking around, I saw happy smiling family faces. It was going well.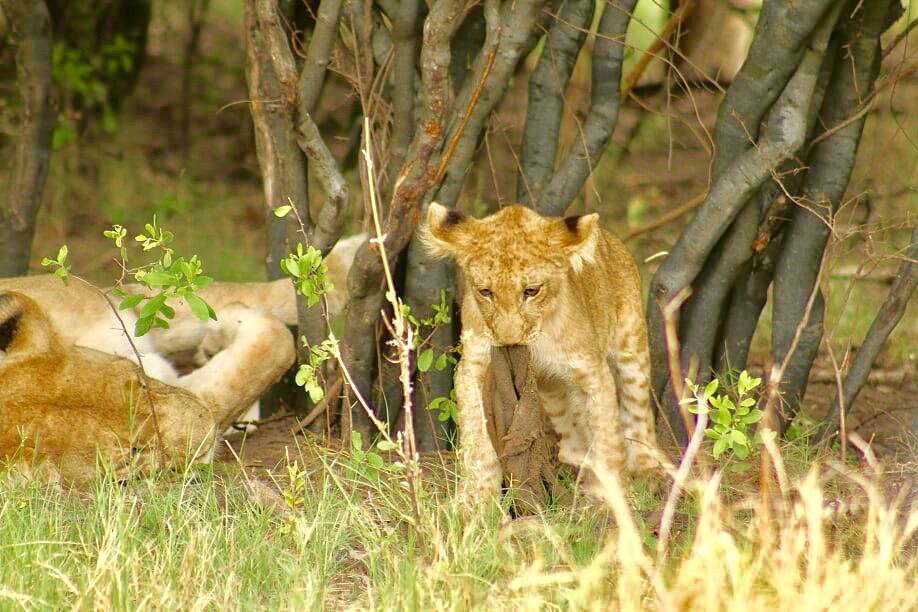 Lion cub having lunch
Next we set off for Savute. It had rained a lot the previous night, so temperatures were just right for game-viewing. The rainy season means loads of babies and that is what we got:  baby giraffes, baby impalas, baby kudu, baby elephants, baby zebra and even six baby hyena in their den with Mom.  A sighting of 2 male lions drew our attention but we caught our breath with the next sighting. It was too good to be true. It was a fully-grown male leopard lying in a tree! Seriously it was too good to be true! That evening, sundowners with the setting of the bright orange Botswana sun, had us all feeling contented. Life was good.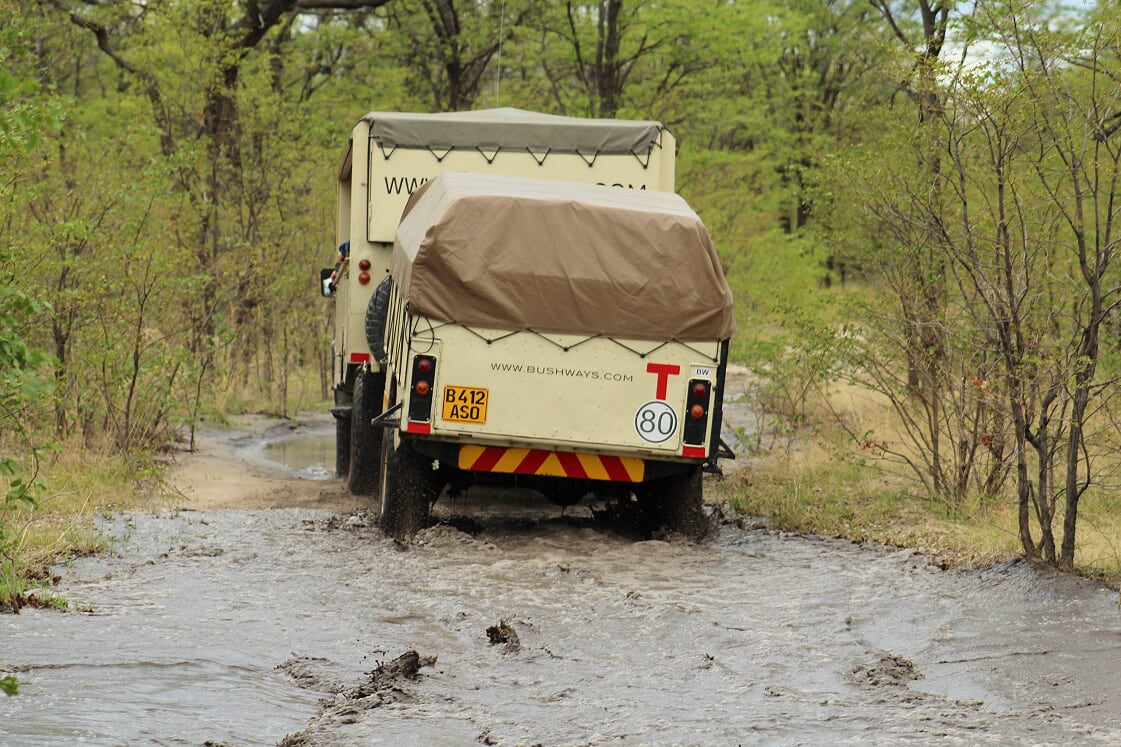 Bye-bye Khwai
Next up was Chobe, 'the mothership of elephants'. Being the rainy season, I did not expect to see as many elephants as I did! We counted about a thousand elephants: they were everywhere! Moms and babies, teenagers and even the big bulls! All this with the backdrop of spectacular scenery! Interesting was also the amount of giraffe seen. On our way to setup camp, a leopard ran in front of the car and crossed the road to the other side. This had us laughing and cracking jokes: "What's next, a leopard riding on top of a lion?" Otherwise, we had seen it all.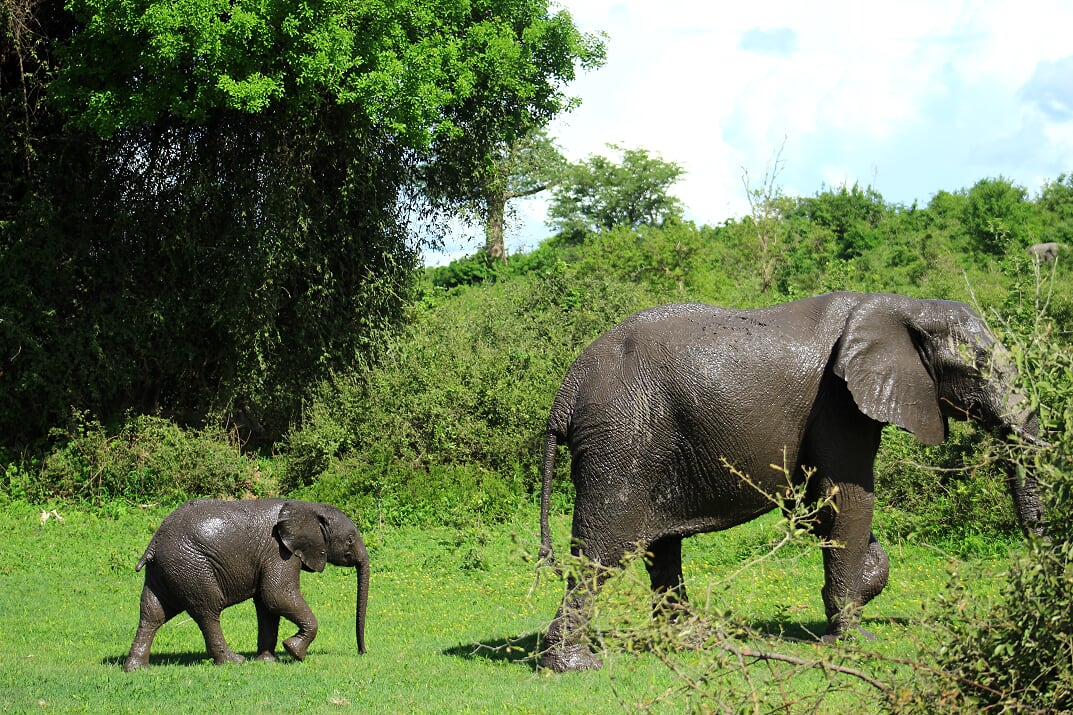 Suncreen for the day baby elephant with its mother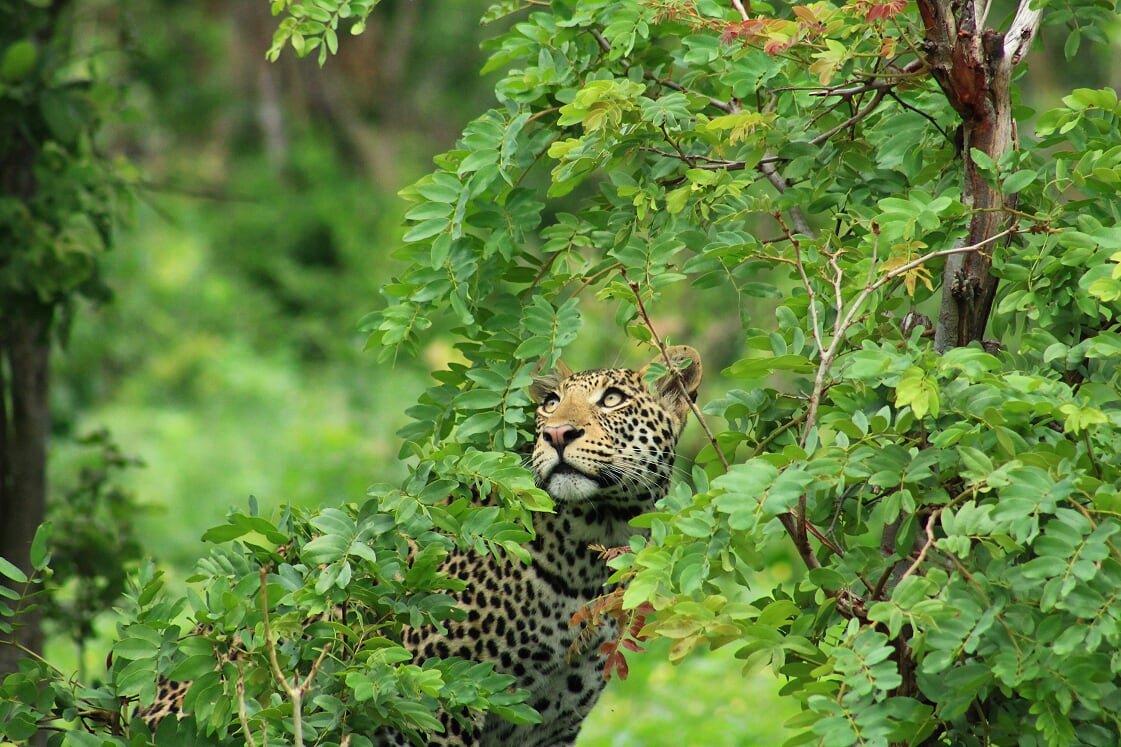 Leopard sighting in Chobe
By the 6th night, the last night of our safari, our semi-participation safari had the girls putting up their own tents. Being the bride, I allowed my husband to do that for me!  Our last night meant a special meal for us all. While the food was yummy the entire trip, night 6 was just that extra special. Food is one of my guilty pleasures and each morning I would ask about the meals for the day. On day 6, Moscow whispered into my ear that we would be having seswaa, morogo and phaleche (delicious meat in cabbage and pap), I squealed with excitement! And it did not disappoint. KD, the best chef ever, has gifted hands, he even masters baking a cake with no oven.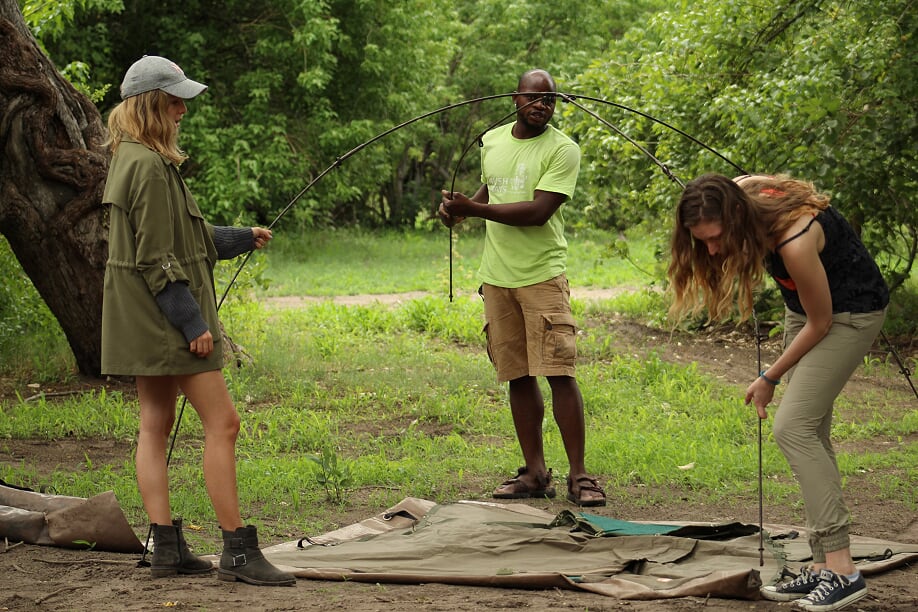 The girls taking charge of their tent with KD
And so on day 7, with happy bodies and full hearts, we said good-bye to Bushways, heading off on the next leg of our journey. From the reservations staff, to the guides and guide assistant, offering us superb service and support at each step of the way, and being integral to our adventure, we had been provided with a holiday of a lifetime. Thank you to each one that had made it special. We had more than endured! I had done well!
In December I spent a few days in Kasane and had the chance to join a Pangolin morning boat cruise on Chobe river. The funny thing is that although I call a semi-fancy camera my own, which I have used blindly on many game drives in the past, I never actually learnt a thing about taking good pictures. This rainy morning in December was my moment, I knew it. I was super excited to be guided by Guts who is one of the owners of Pangolin Safaris and has years of experience as a photographer.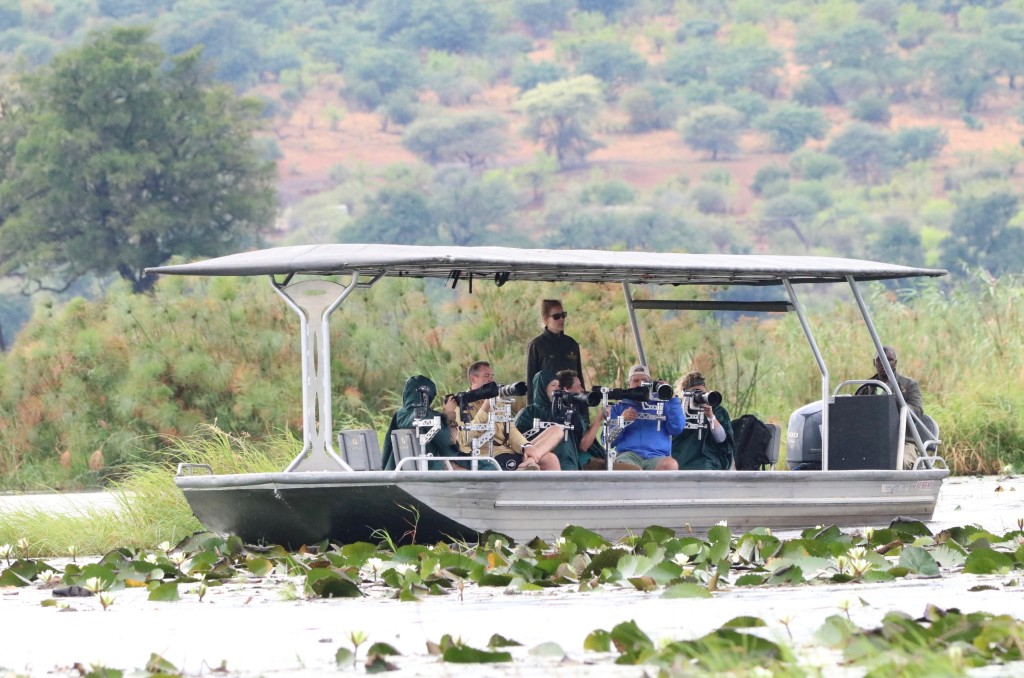 The Pangolin boats are all equipped with state of the art digital cameras and lenses. Guts and his business partner Toby have created camera-mounts which offer the best possible flexibility for you and your camera. During this three-hour activity the photograhic guides teach the guests how to use the camera and the lens, which settings to use. They explain it in such a way that even beginners like I understood. At the end of the experience the guests get to take their SD card home. If they are keen, they can use the editing suite in the Pangolin Chobe Hotel to start working on their pictures.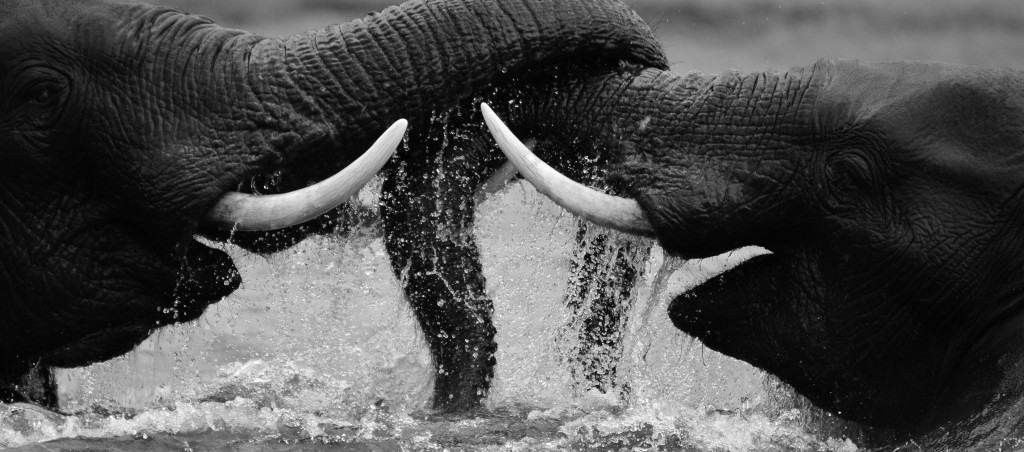 Each boat only takes a maximum of eight guests, making the cruises not only educational but also very exclusive. Using smaller boats they generally also travel further on the Chobe river. All guests staying at the new Pangolin Chobe Hotel enjoy these special experiences when booking the fully inclusive package. Generally on a two-night stay all guests would join two cruises (morning and afternoon cruise) plus a game drive.  The Chobe river can get busy, especially in the afternoons when all the Kasane Lodges take their clients on boat cruises. To avoid the crowds, Pangolin takes their guests further and also offers the alternative of quieter morning cruises.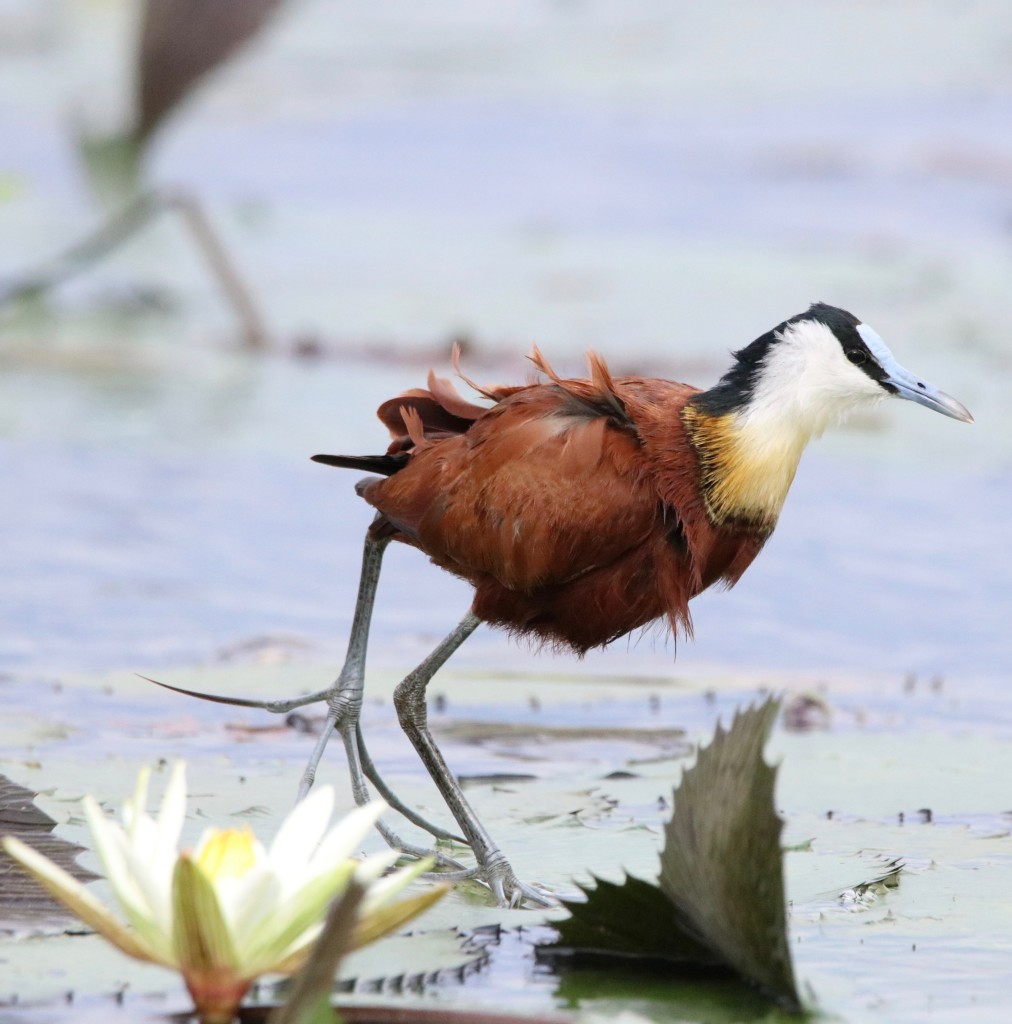 To make the most of this experience and to really have an impact on the rest of your clients' safari we suggest to include Pangolin Chobe  at the beginning of an itinerary. This way your clients can learn from the best and apply all they learnt during the rest of their safari. They will love Botswana even more and return home with fantastic memories.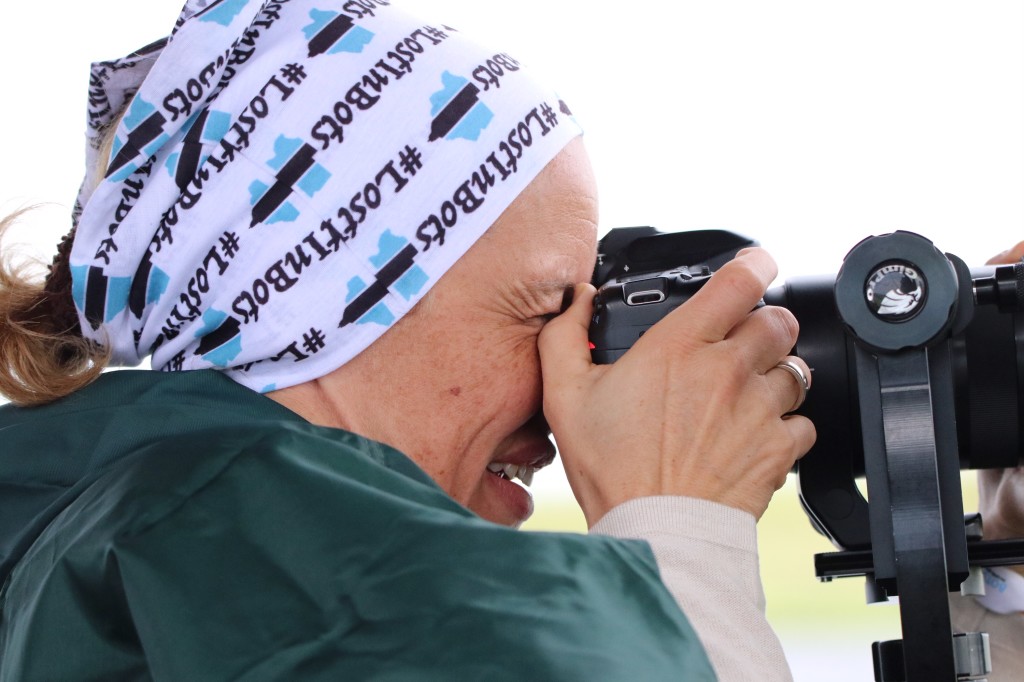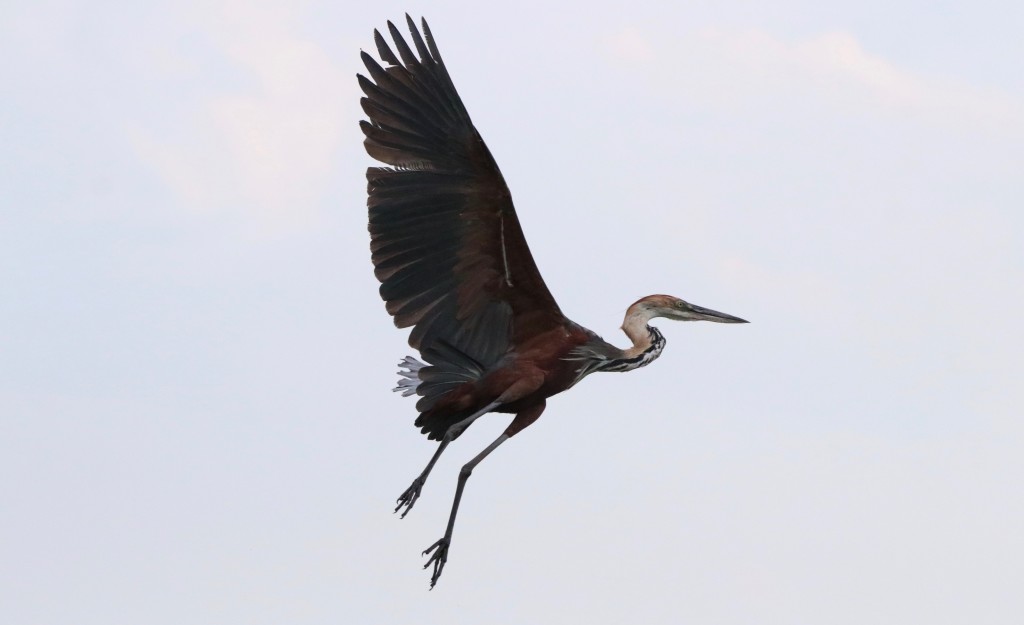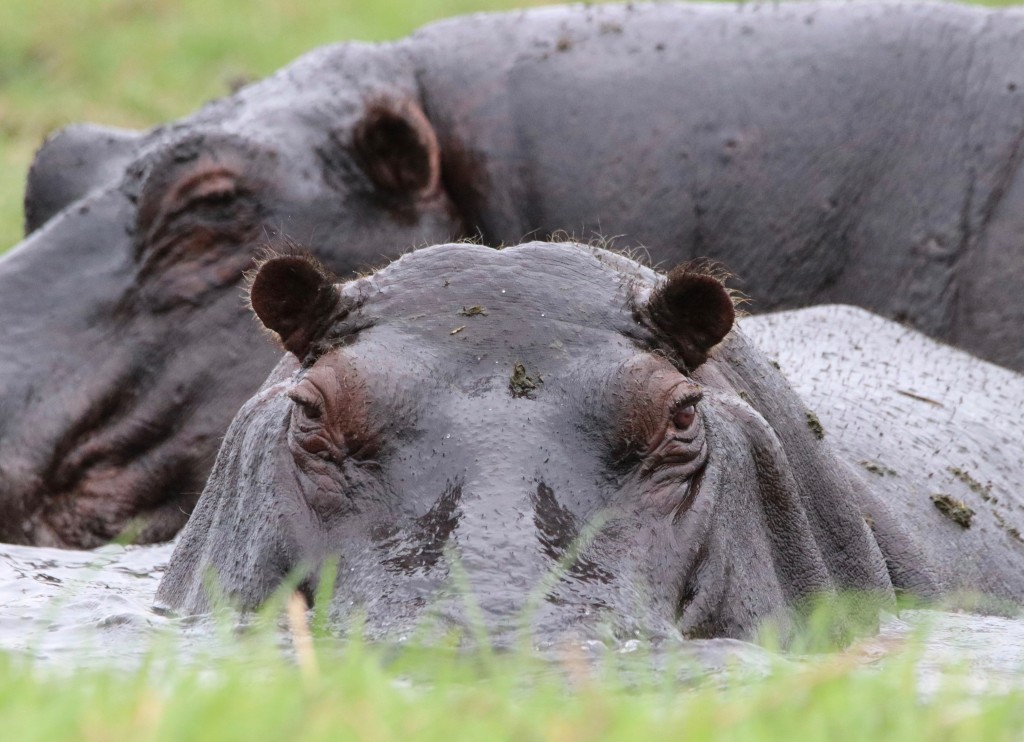 We have been debating the hot topic of self drives for years. The trend seems to be that more and more clients have independently travelled South Africa and Namibia by car, and as a result they think visiting Botswana in the same style is the natural conclusion. Botswana is wilder, has less infrastructure, less tarred roads, is a much more challenging destination. Self-driving in Botswana is for the adventurous, people that want a guarantee to see the amazing game in Botswana should always choose to travel with a guide,  self-driving is possible in the National Parks and Game Reserves, the famous private concessions in the Okavango Delta or Linyanti can only be accessed by plane and visited with a professional guide.
As your partner on the ground we selected a group of brave individuals to go and explore some of the parks of Northern Botswana, their mission was to test a variety of maps available in the local shops, the Tracks4Africa's app, our self drive maps and the directions we hand out.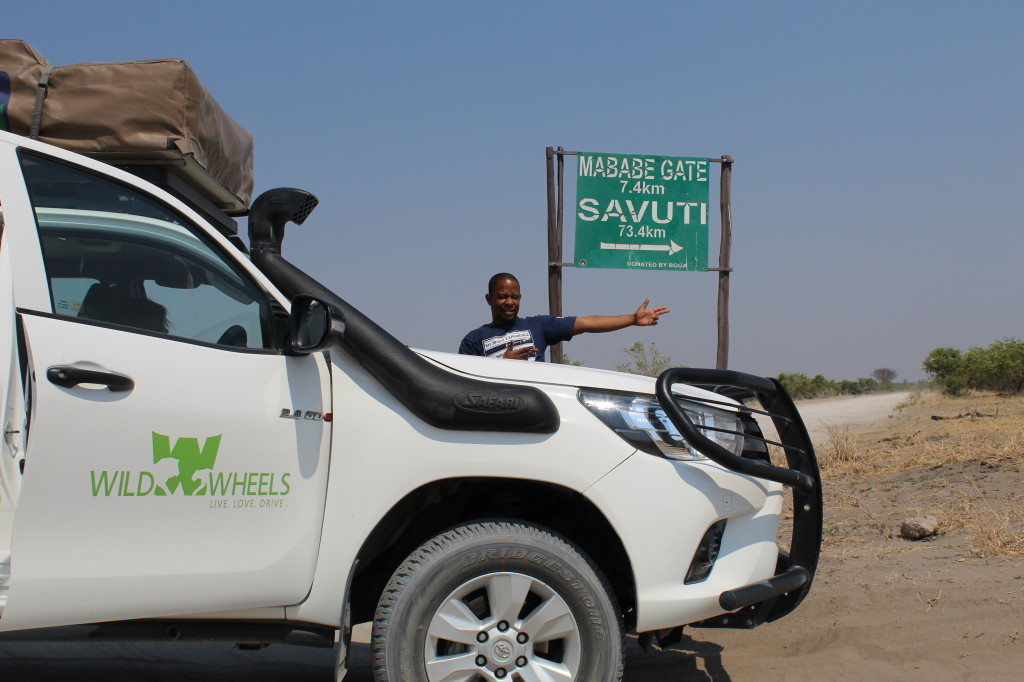 This is the first of a series of blogs about "Self-Driving in Botswana", we will write about our experiences, the road conditions, the user-friendliness of the maps and Tracks4Africa app and much more, enjoy the ride…
Here is Seeletso's impression of his first self-drive-adventure:
When I was initially asked if I would like to join a self-drive educational from Maun across Savute to Ngoma and into Namibia then back through the Panhandle to Maun I didn't hesitate for a second. I was only concerned about traveling in the extreme heat of October (we often get more than 40 degrees in our so-called suicide-month), and the stories I had been told of people getting stuck in the thick sand in Savute and Chobe. The last time I was in Savute was in 2002 as part of a Wellness Club in High School where we put up sign posts to guide everyone visiting the Savute region, so this was an opportunity to revisit this area and to check if our signs were still around or the elephants had destroyed them.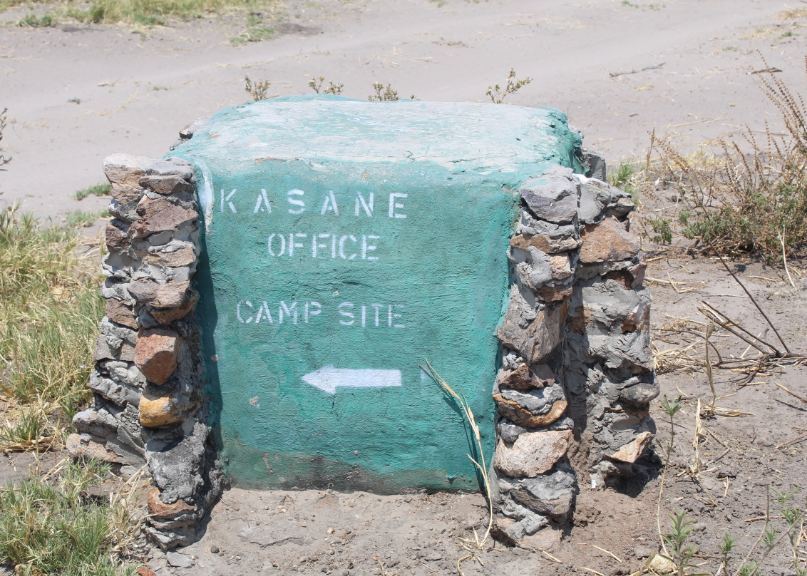 Cometh the hour, cometh the man… my moment had come. I joined Tlotlo, Brinny and Scarlet on this adventure. Being the farm boy that I am, I nominated myself to drive all the way  through the park to Ngoma in Chobe. A Wild Wheels car was delivered and handed over the day before our trip, a Toyota Hilux double cab with 2 roof tents and plenty equipment. The handover is vital to make sure that all equipment needed for the trip is in the car and works properly. The vehicle came with a GPS system loaded with Tracks4Africa maps, a satellite phone, fridge, high-lift jack, spade, sand ladder and other necessary tools. We also got a proper briefing on how to use the tools, how to lower the tyre pressure. When hiring a vehicle from a local Botswana operator the equipment is guaranteed to deal with the conditions in the parks in Botswana. Clients choosing to travel through the parks need to make sure they have the right equipment. Ready, we left Maun early morning for our first destination, the recently reopened Belmond Savute Elephant Lodge (yes SD travels in style). The drive from Maun via Mababe to Savute took us about 5 hours of solid, but not fast, driving. After the Mababe Gate (guests that stay in lodges usually travel with a voucher from the lodge confirming that park fees have been paid, at the Gate only the payment for the vehicle needs to be made, it helps to have Pula at hand, the costs for locally registered vehicles is 10 Pula a day, foreign registered vehicles are 50 Pula a day) it became a little more challenging as the thicker sand began. We reduced the tyre pressure from the normal 250 to 180 bar.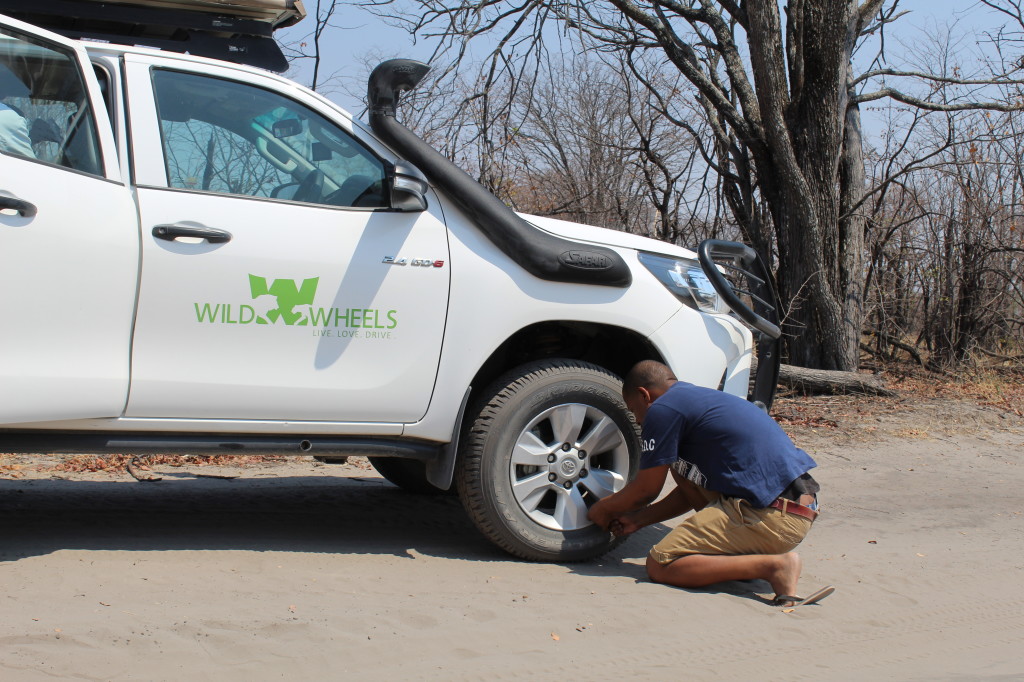 The Sandridge road is the most direct and easiest way to Savute even though the thick sand there has been a challenge to many. I was up to the challenge and hoping to get photos of us being stuck. To my surprise the sand was not that tough, I do not know if it was my bush baby driving skills or the Hilux just performed better than I had expected. With the vehicle on four wheel drive the stretch was easy enough.
The main challenge of the road was a few kilometers after the Savute Gate on the side track which took us to Belmond Savute Elephant Lodge. Apparently, the trucks that came in for the rebuild of the lodge are the reasons for the state of the road. Extremely thick sand with deep burrow tracks, but nothing to worry about as long as you are driving a 4×4. From Savute to Ghoha Hills there is no thick sand, but the road requires one to drive at slow speed as it is bumpy and uneasy.
At the Ghoha Gate it is advisable to ask the Wildlife officials which is the better route, as the direct route is not in great conditions. Here you drive left (north west) towards the Linyanti cutline and once on the cutline turn right and the road leads you all the way to Kachikau village.  Before Kachikau the tarred road comes back to life and at the nearest fuel station we pumped back the tyres to 250 bar. After a night at Chobe Elephant Camp the crew crossed over to the Caprivi Strip in Namibia then spent a few nights in the Okavango Panhandle and back to Maun. The border crossings at Ngoma into Namibia and Mohembo back into Botswana were all smooth and quick. The A3 road from Shakawe to Sehitwa has lots of potholes even though there were few patches of roadworks there and there. (We will speak more about the Panhandle section in a coming Blog).
 "Insider tips from your local experts"
It is advisable to not self-drive in the rainy season, the terrain is difficult and chances of getting stuck in mud or having to cross water  are high.
Make sure your car is loaded with all the necessary equipment before you depart for your Safari (e.g. tools, GPS, satellite phone, working fridge, lockable doors, spare wheels), check all is in a good working condition. 
When switching from tarred/gravel road onto sandy roads reduce your tyre pressure and when going back on tarred road remember to increase the pressure.
On sandy roads please switch onto H4 for 4-wheel drive at all times, if sand is too thick and car fails engage Low range to avoid getting stuck, the next car might only come by after 24hrs. 
Respect the animals on the road, especially Elephants.
Do not stop and get out of the car in bushes, find a clear open space for your safety.
Always ask the people working at the entrance gates which road is better or how do you proceed forward.
I was fortunate enough to spend a week on safari during our so called green or secret season. Everything seemed to be bursting with life, from the lush green bush to the intermittent cloud bursts that warned us of their impending approach and of course there were babies – everywhere! I don't ever recall seeing a giraffe that small or the tiny blue wildebeest that was even smaller than the average Impala. The weather was perfect. It was certainly not a sweltering and unbearable heat and when it did rain (which of course was every day) it was more often over in an hour. Undoubtedly the biggest drawcard is the price tag as green season is the cheapest time to visit Botswana.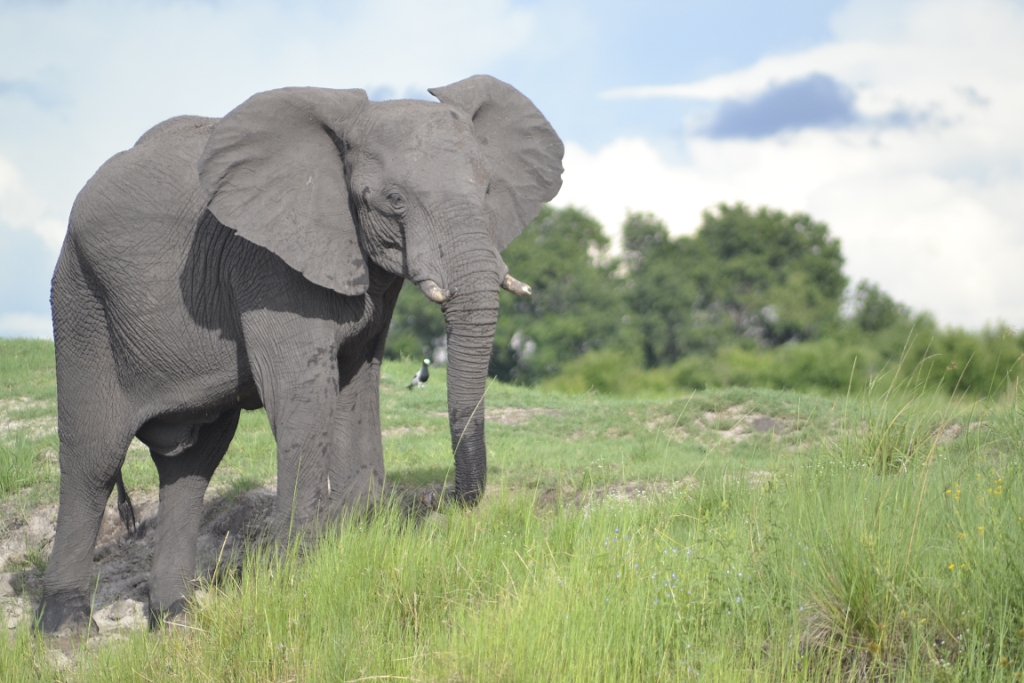 My journey started in Chobe but this time it was a completely different experience from my previous visits. I had the pleasure of staying on the Chobe Princess for the night and often this option is overlooked when starting or ending a safari in Botswana, yet it was the most relaxing and certainly the most rewarding game viewing experience. Feet up and reading a book, I would glance periodically at my surroundings only to find crocodile sunning on the bank, or a hippo out of the water. In fact it gave new meaning to the size of these animals, seeing them plunge from the bank into the water. Our guide took us out on a tender boat later in the afternoon and we watched a herd of Elephant come down to the water's edge – expecting them to quench their thirst and move on. But we witnessed something I had never seen before amongst elephants… whilst I had seen them in water before this time was different as 3 young bulls cavorted and tumbled around, disappearing completely under the water for a moment before resurfacing. The only obvious sign would be the trunk peering out every now and again. I loved every minute of this spectacle.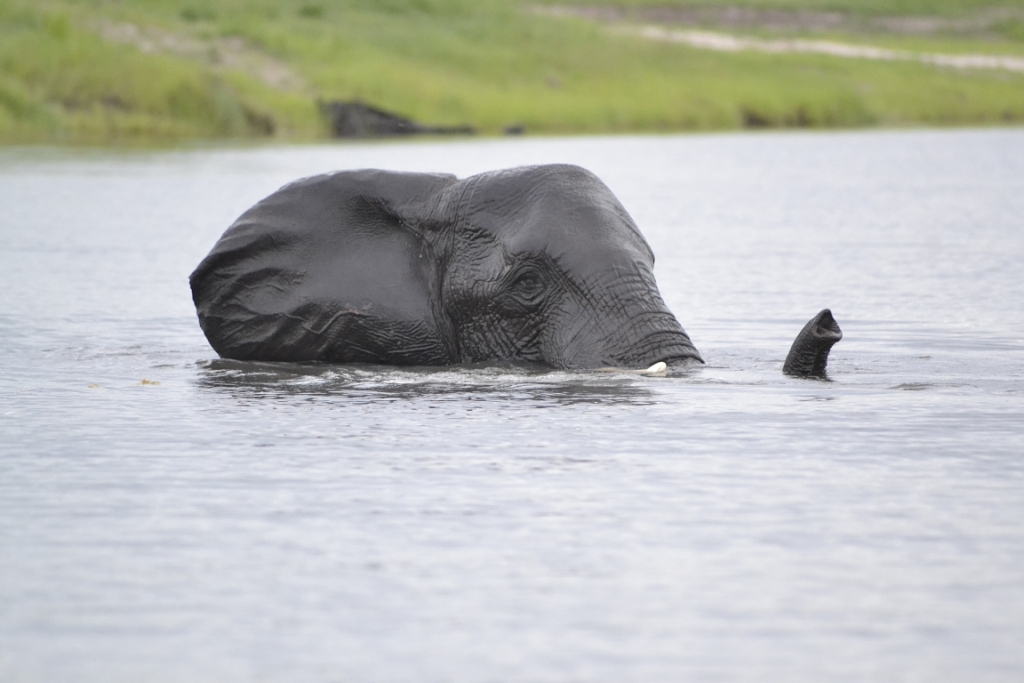 The highlight of my week away had to be the Xaranna concession in the Okavango Delta. With an expert guide and tracker to take care of our safari needs, we managed to see the Big 5 in 24 hours. Whilst this might be the normal expectation for most, very few concessions have the endangered Rhino. Through various means, White Rhino have been relocated from South Africa and reintroduced here over a period of time. It was certainly a proud moment to come across the magnificent prehistoric looking animals grazing peacefully in the bush nearby.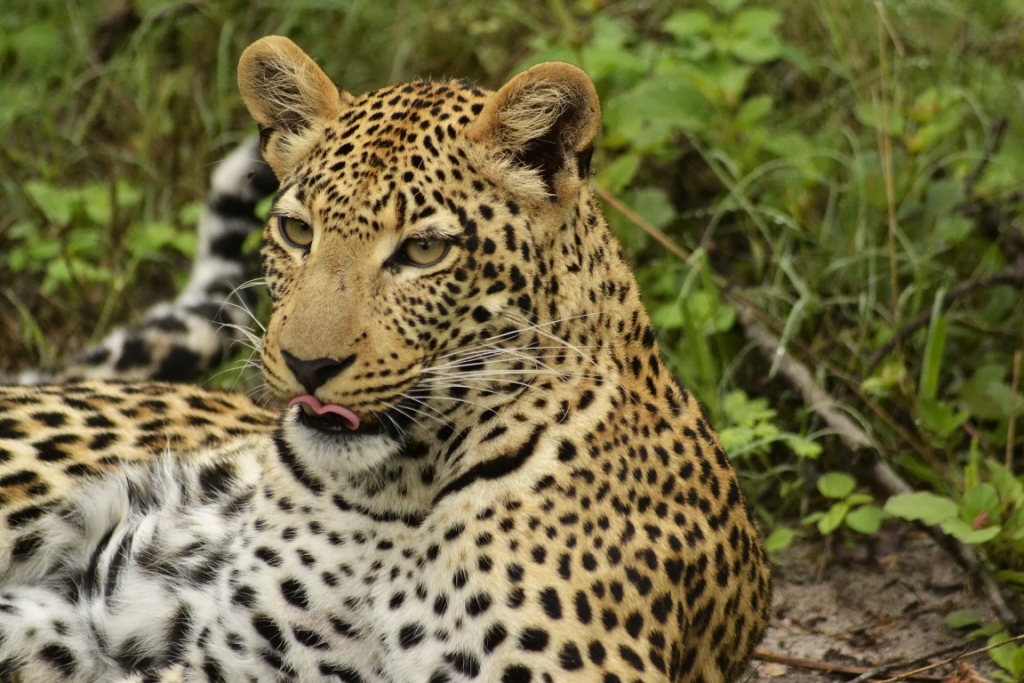 The rain showers did not keep us from our game drives and with a poncho readily available we embarked on both the morning and afternoon activity. The Delta was teeming with wildlife and though more scattered during the wet season, we were never disappointed. My husband, a professional photographer, commented on photography during this time of year, claiming that with less dust particles in the air, clarity in photographs was certainly better. I can only agree based on the stunning images he captured!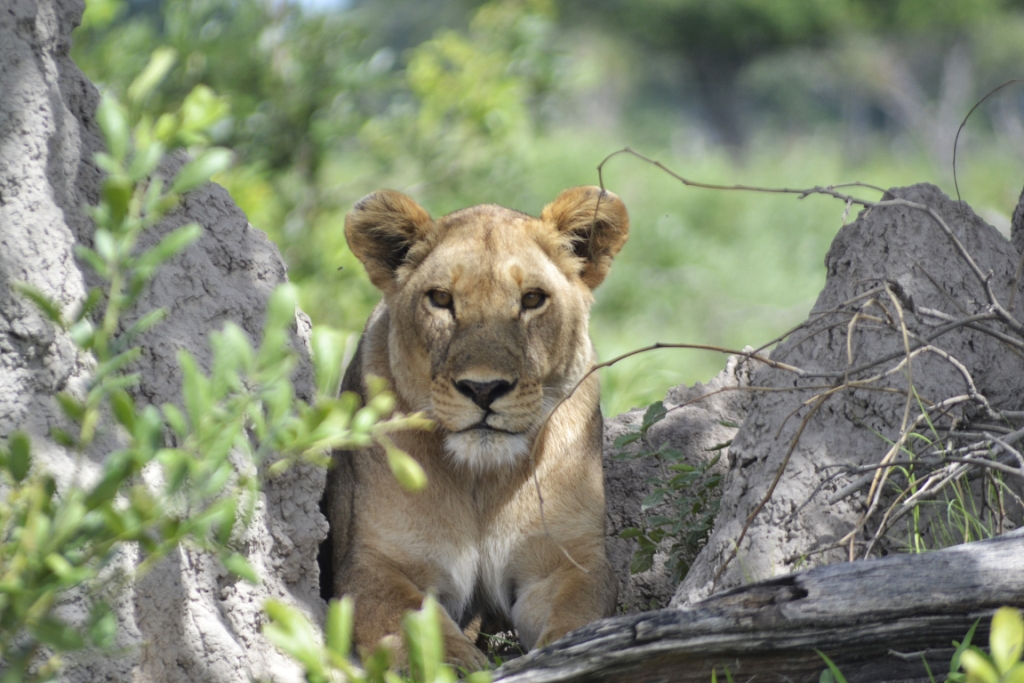 So in a nutshell, it will rain and probably more often than not. But with that comes the reward of new life, little lives finding their way; explosions of colour from the ground to the sky; a photographic playground; warm summer days and lastly a little more money in the bank account.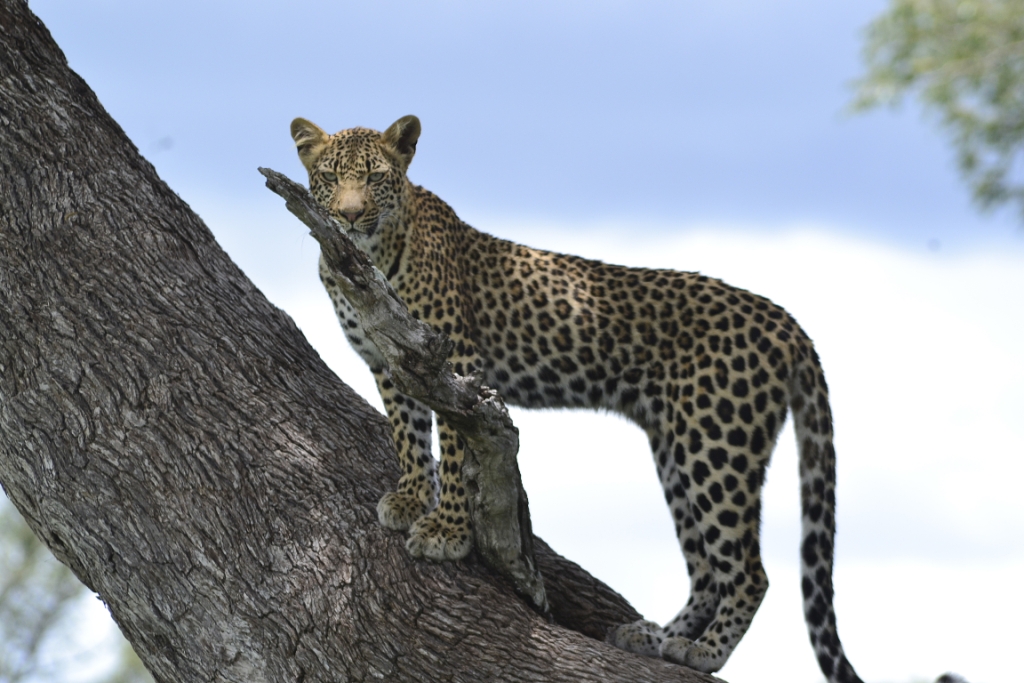 Claire joined Safari Destinations only a few weeks ago. She is happy to share some impressions of her trip to Chobe with us!
As first time visitors to Botswana you would undoubtedly include Chobe on your itinerary – a journey would almost be incomplete without this! From breath-taking sunsets over the Chobe River to hippos frolicking in the water nearby, you may even get a close up encounter with one of Chobe's regular visitors – the African Elephant.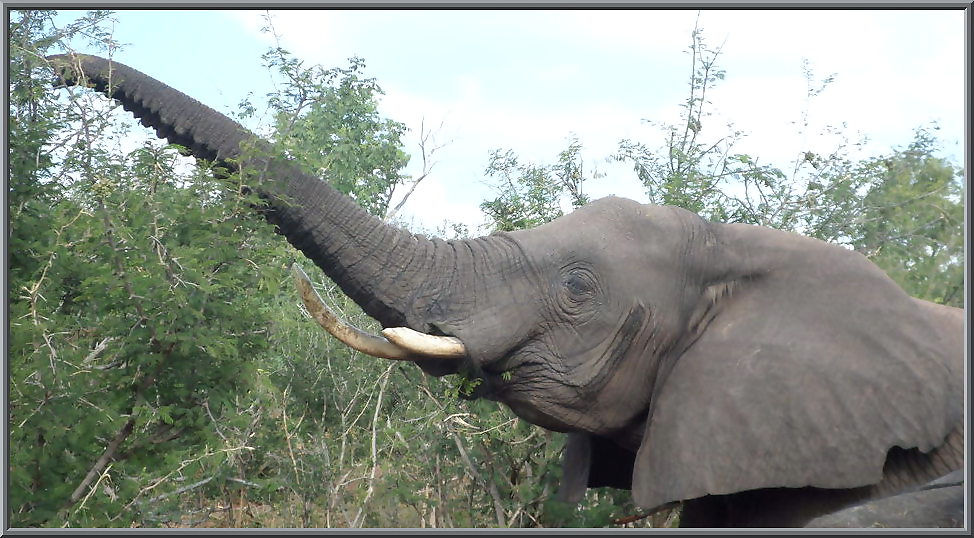 I was fortunate to visit during the milder month of April (although the day time high still reached the lower thirties), water levels were reasonably high after the late rains this year and this allowed for a spectacular sunset cruise on the Chobe River. Our guide was extremely knowledgeable and shared some history on the local people and their culture, the diversity of the animals living in the Chobe region as well as some humorous antidotes.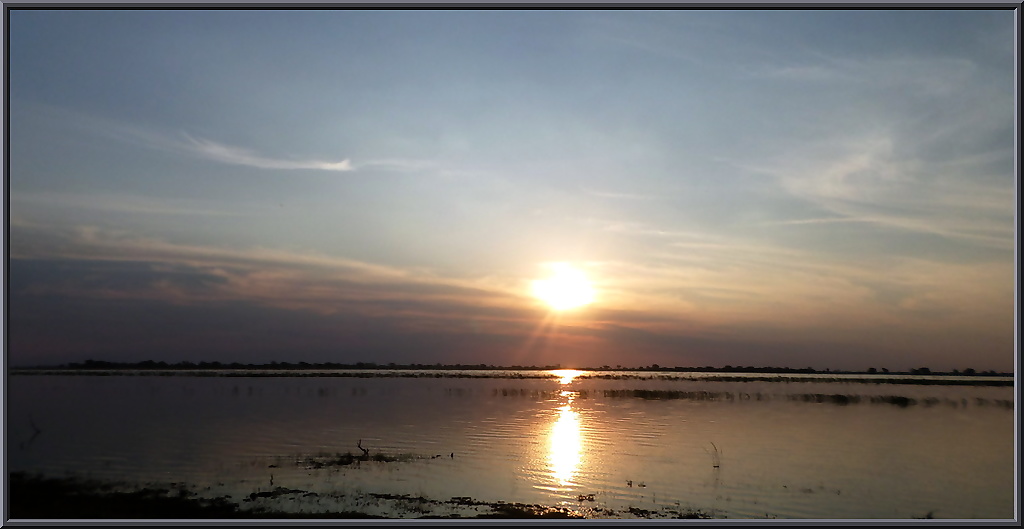 The Chobe National Park is vast and covers a large part of the north eastern part of Botswana, with Kasane being the small town that services the area. Accommodation ranges from camping grounds to small family lodges, as well as luxury bush camps and some larger lodges dotted along the riverfront. There is certainly an option to suit a variety of traveller needs. All offer morning, afternoon or full day trips; in open safari vehicles; to the National Park and most offer day trips to Victoria Falls.
I fell in love with Chobe, the friendly people and the simple way of life – not only is it a photographer's playground, it is a year round destination that invites you to experience a truly African adventure. Get #LostinBots with Safari Destinations!
"People come to Chobe for the elephants, but I say this is one of the best places in Botswana to see giraffes" says James of Chobe Game Lodge.  Whatever you want to call them, a tower, journey, aggregate or corps there's no doubting we're seeing plenty. 'I must've seen at least 180 on a game drive the other day, it was incredible.  You'll often see more of them than the elephants."

I still vote that Chobe is the place of the Elephants.  Eleven year old Emma sitting in the vehicle next to me agrees, so we put a bet on it, splitting our game drive into two camps.  Emma and I sit on one side of the debate, scrambling to tally up elephants as her parents and James count off giraffe wherever they spot a head sticking out from behind trees.
Emma is a star at running our mini elephant census and she doesn't miss a trick.  Breeding herd.  Eight.  At least.  (we add one or two more, just in case we've under-counted by a few legs).  Emma's parents up front are pointing at a giraffe behind a tree, but as we shift our focus to the tree line beyond it becomes two; then three, then four…  This is the thing with giraffes, there's always more.  Having all that height equals an impressive range of vision.  Giraffes can spread out in the bush and effectively keep an eye out for predators.  It seems there are always more on the horizon, slowly chewing leaves and adding themselves to the scorecard.
I won't admit it, but I'm feeling a slight sweat coming on.  I whisper to Emma that we need a distraction as I spot more giraffes coming up on the left.  "Oh WOW!' we exclaim, waving our arms for attention 'what's that on the RIGHT?!  More ELEPHANTS maybe?"  It doesn't work.  Team giraffe are busy counting and suddenly they're in the mid twenties.  This does not look good.  I point feebly at a bush 'oh look, more elephants!'  I say, substituting real sightings with fake ones.  'No wait!' Emma says stopping me, 'there really ARE elephants!" and sure enough, another breeding herd.  Add twelve.  Team elephant is closing the gap.
The afternoon seems to have passed in five minutes.  We realise we've ignored the multitudes of impalas, waterbucks, buffaloes and, more importantly, the start of a sunset slowly melting across Chobe's over-filled floodplains.  As numbers climb into the thirties on both sides, James calls a truce and suggests we make peace over G&Ts as white-faced ducks socialise next to us by the floodplains.  It's a tense detente, but one that Emma and I finally agree is necessary to save team giraffe from embarrassment.
Later, I'm joining my aunt on her first ever game drive with Connie, one of the Chobe Angels.  A few minutes in, we start with the basics.  "This is an impala' says Connie 'you can tell the difference between the males and the females because the males have horns."  It's easy to get blasé about impalas when you've been on a few game drives, but my aunt is captivated and Connie really eases her into the bush experience.
The pace builds quickly when we turn a corner and find a leopard chilling out in a tree, the blue of the Chobe River spread out behind him.  I start telling my aunt how lucky we are when we drive on a little further and find a pride of nine lionesses strolling along the water's edge.    My heart stops in my throat as a big male kudu walks right at them and the lionesses slink down in the grass.  With less than two metres between predator and prey, a lioness springs up and the kudu's instinct to survive kicks in.  He bolts off across the floodplains, throwing up bursts of water and sending birds shooting into the air.  Lucky for the kudu, these girls are still young and haven't fine-tuned their hunting skills yet, despite putting on an impressive show.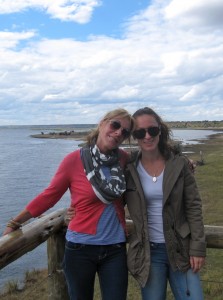 When I begin telling my aunt how lucky we are again, two leopards in a tree appear and I suspect she thinks I'm having her on.  One of the leopards has an impala up the tree and is busy snacking as the sky begins to grow dark.
We head back to Chobe Game Lodge in the fading light, excitedly going over the events of the afternoon when Connie delivers again, spotting five lion cubs sitting in the dust.  Their mothers are gone, probably looking for dinner, as the young cubs watch us from only a metre away.  We've already taken plenty of photos.  This is one of those sightings better enjoyed without a camera and committed to memory instead, as the light runs out on the day.
Where to stay in Chobe
Chobe National Park is Botswana's busiest due to its ease of access from Victoria Falls and via Kasane Airport without requiring any onward charter flights.  Where travellers stay in Chobe will seriously alter the kind of safari experience they receive, whether it's a town stay with park access for activities, within the park itself for a complete bush setting, or a river-based experience in the Caprivi Strip.
KASANE
Properties in Kasane are typically bigger hotels booked on packages with a set amount of activities and meals, often excluding drinks.  These are the most affordable options for exploring Chobe and activities are often out-sourced to third party operators with no guarantee you'll have the same guide each time.   Most Kasane hotels are on the river with their own jetty for boat cruises, though neighbouring hotels share the same route, making them the busiest departure points for getting on the river.   For game drives, guests drive approximately 20 minutes to Sedudu gate and queue for entry with vehicles from other hotels.  The result is that game driving into the park from Kasane results in a busier game drive experience, shared with more vehicles but often at a much more favourable nightly rate.
Kasane Hotels: Chobe Safari Lodge, Mowana Safari Lodge, Chobe Marina Lodge, Chobe Bush Lodge.  Smaller lodges in the area include Kubu Lodge, Chobe Bakwena, Chobe Chilwero and the Old House.
CHOBE NATIONAL PARK
Staying inside the national park creates a much more relaxed safari experience as you can start your game drives earlier and drag them out later, all the while staying in bush (rather than town) surrounds.  Being inside the park also means being the first on the roads looking for sightings in the mornings and the chance to pick up animal tracks on the road before they're covered over with tyre tracks from vehicles.  Chobe Game Lodge is the only permanent lodge inside the park and the only place in Botswana where your boat cruise starts within the park, avoiding the boat traffic from Kasane.  A mobile safari is another alternative for staying within Chobe National Park and experiencing the bush surrounds.
Chobe National Park: Chobe Game Lodge, Chobe Under Canvas and Mobile Safaris (ie. Letaka, Bush Ways)
NGOMA GATE
Lodges on the Ngoma side of Chobe enjoy a bush setting (an hour from Kasane by road), elevated views over the Chobe floodplains and a short transit to the Ngoma gate for game drives.  Although these lodges are outside the park, there are only three on this side of Chobe, meaning you avoid the queues at Sedudu Gate on the Kasane end of the park.  Animals are often spotted directly from the lodges and short night drives are possible in the vicinity immediately around the lodges, due to their location outside the park.  Lodges in this area operate their boat cruises from Kasane Town.  Due to the distance involved, cruises are normally mid-morning (when the river is quieter) as part of a longer day trip through Chobe National Park.
Ngoma Gate: Ngoma Safari Lodge, Muchenje Safari Lodge and Chobe Elephant Camp.
CAPRIVI STRIP/CHOBE RIVER
Staying in the Caprivi is all about experiencing the Chobe River by boat.   To stay in the Caprivi, you'll need to check-in to Namibia even though you'll share the water with boats from Botswana.  There are three options: lodges on Impalila Island, houseboats and Chobe Savanna Lodge.  Lodges on Impalila Island are very close to Kasane, meaning that there's no advantage location-wise for beating Kasane's sunset cruise fleet.  Lodges here are in a prime position for fishing, being close to the rapids and also for birding with quite a few small heronries around the island.  Houseboats moor at various positions on the river opposite Chobe National Park, and benefit from less surrounding boat traffic.  The houseboats use smaller boats for cruising guests up and down on the Chobe River.  There are smaller houseboats with four to five cabins as well as the larger Zambezi Queen.  The Zambezi Queen is quite large, running on set departures, meaning guests stay with the same group for the duration of the two or three night cruises.  Chobe Savanna Lodge is situated across from Puku Flats in Chobe National Park from where buffalo, elephants, giraffes and hippos are often spotted directly from the lodge.  Savanna also enjoys the benefit of a more exclusive river experience being located further into the park.
Caprivi Strip: Pride of the Zambezi, Ichobezi, Zambezi Queen, Chobe Savanna Lodge, Impalila Island Lodge, Ichingo River Lodge.