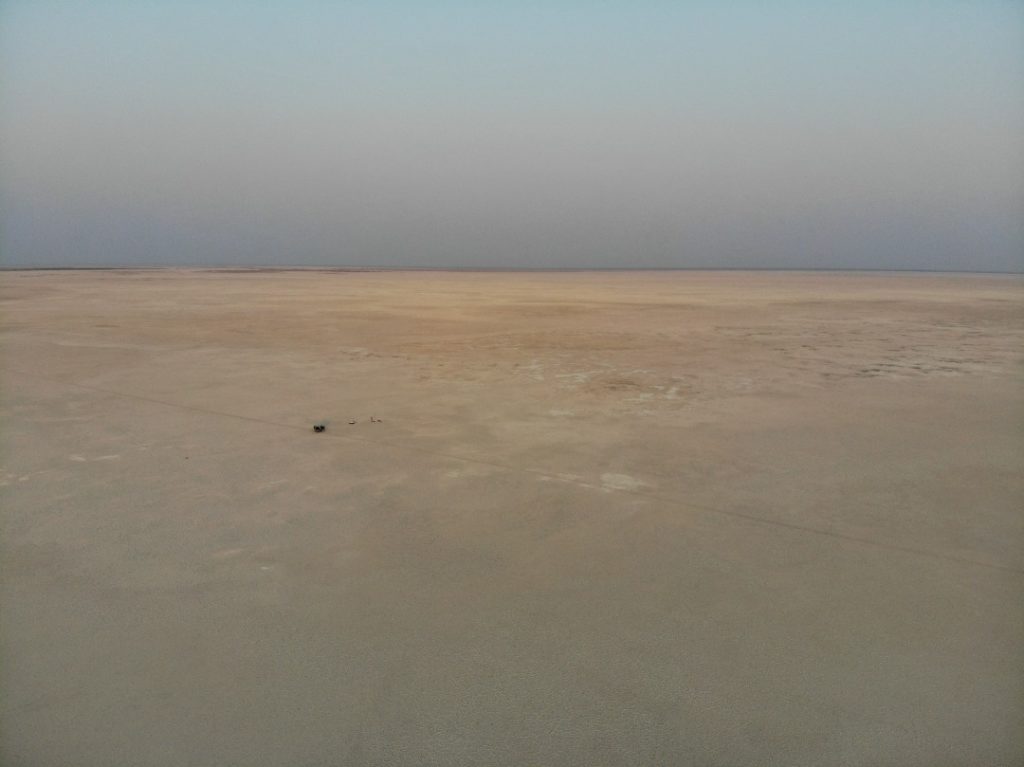 Imagine a place of peace, solitude and intense silence only broken by the moaning sound of the wind. Where it could just be you for miles and miles with no other living soul.
Imagine standing in the middle of an ancient lake that dried up thousands and thousands of years ago. A place that has a wealth of archaeological sites, yielding both fossil remains and tools from the Stone Age and Early Iron Age. A place that looks the same as it did thousands of years ago
Yes, it does exist!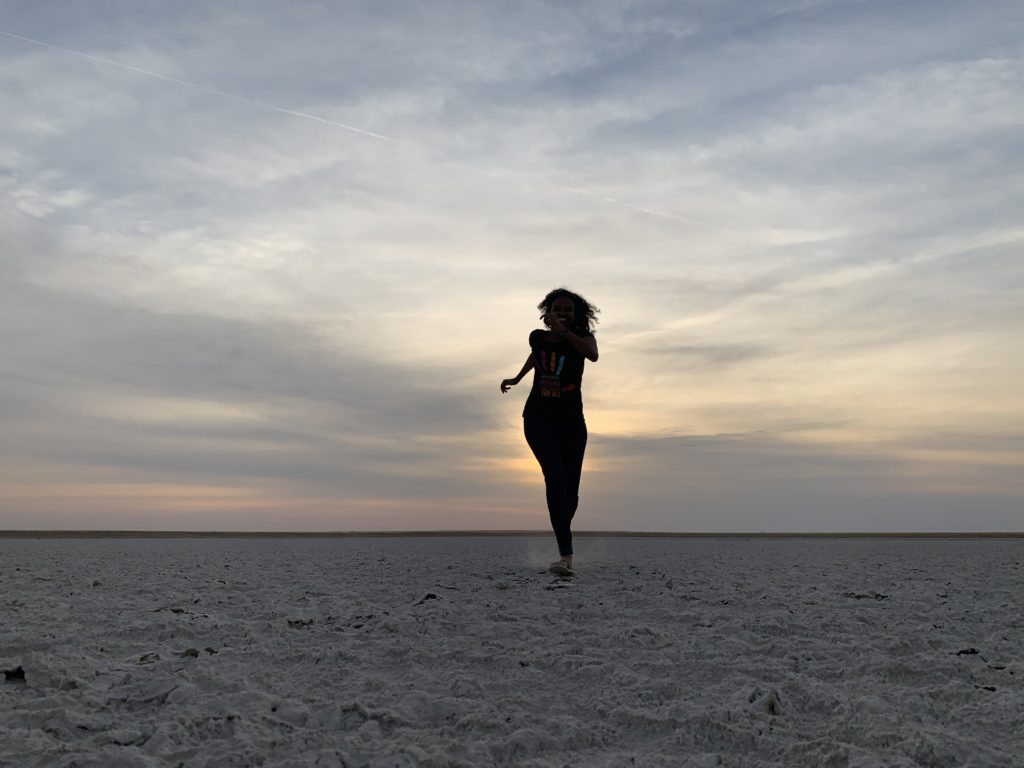 Located in the north-east of Botswana's Central Kalahari Game Reserve and south-east of the Okavango Delta lies a complex of huge, flat salt pans, collectively known as the Makgadikgadi Salt Pans. The word Makgadikgadi derives from the word "kgala" which means thirst or dried up.
These pans capture the heart and imagination with its startling, moonlike landscape that cover an area of 12,000 km², they represent the ultimate escape back in time maybe, the only place where you can be transported to 1000 years ago. The landscape is entirely flat, creating a delusional feeling of eternity.
If you have spent an evening in nature you will know that magical feeling of looking up and seeing the night sky flood with stars. You are reminded that we share the universe is with all sorts of fascinating objects, each one more perplexing than the next.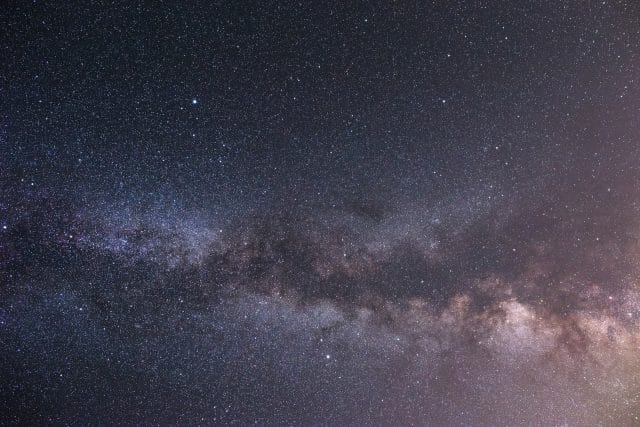 Just before sunset, a dark red band lays about the western horizon while to your east the sky is filled with ribbons of pink, lilac and blue-grey. Jupiter and Saturn come out first thing at nightfall and start their journey across the sky setting below the southwest horizon. As the night gets deeper a bright object rises in the east sky, she is Venus, you get a good glimpse of her before sunrise. As you keep looking at the east sky just after midnight you see the yellow-orange shine from the Red Planet (Mars). The sky is truly there to put on a show for you. Its dry climate and remote location make its night skies among the clearest and darkest in the world. On a moonless night the Milky Way arcs over you like a giant swathe of smoke.
The granite basement, flanked by the Karoo rocks, within the Kalahari Sand give a crunch, shattering the salt-crusted surface underfoot. A combination of arid climate and soaring temperature on the vast Ntwetwe and Sowa Pans make it quite inhospitable for most of the year; with no bird insight (apart from the odd crow, of late) not an insect, tree or shrub that disrupts the horizon.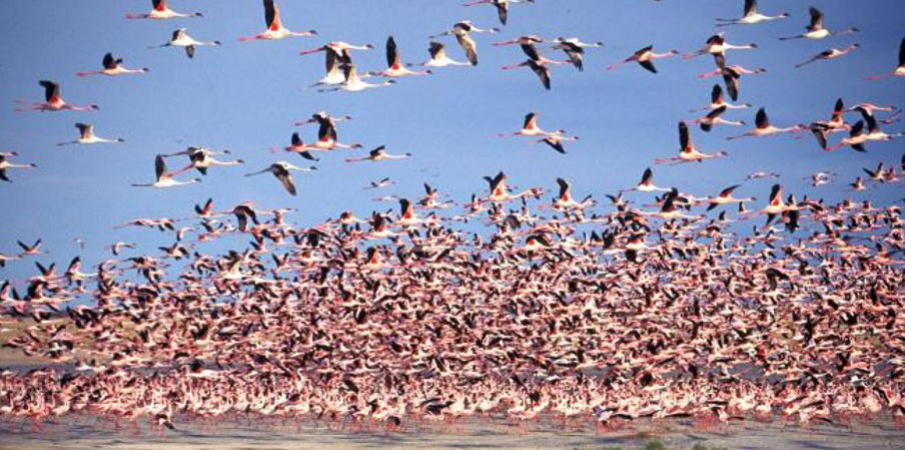 In contrast, during the wet/summer season Sowa Pans becomes flooded and turns into a sea of endless water. The myriad of powder blue lakes and verdant landscapes form to become a hub of wildlife activity. The pans attract huge flocks of Lesser and Greater Flamingos making the sky bright pink creating a picturesque view against the blue and whites.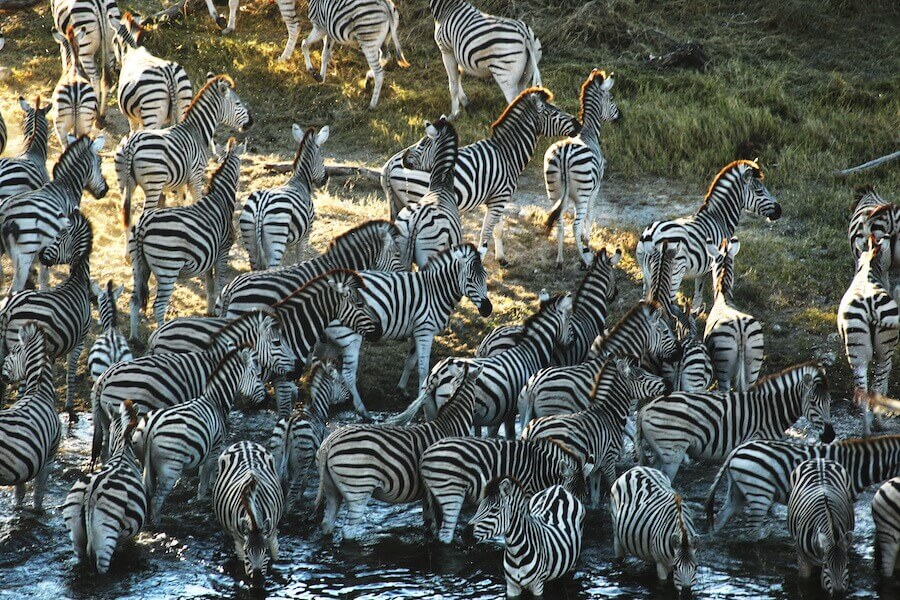 During the dry season, November/December the rains in the Makgadikgadi area triggers the Zebra migration, the second largest migration in Africa, where the herds will travel for a few weeks from the Okavango Delta/ Moremi area to feed on the nutritious grass of the Makgadikgadi. They settle in for around three months, with March being when Zebras are massing for the return trip north or east to their dry feeding grounds.
Our visits to the Makgadikgadi Salt Pans have always left our heart full of feeling completely immersed in nature. It's desolate and beautiful.
Desert and Delta's Leroo La Tau and Natural Selection's Meno A Kwena offer a complimentary Makgadikadi Pans sleep-out experience for guests staying 3-nights or more. The experience may be requested and booked between July and October.
TIP: Include a scenic helicopter flight as a transfer (30mins) for a truly remarkable experience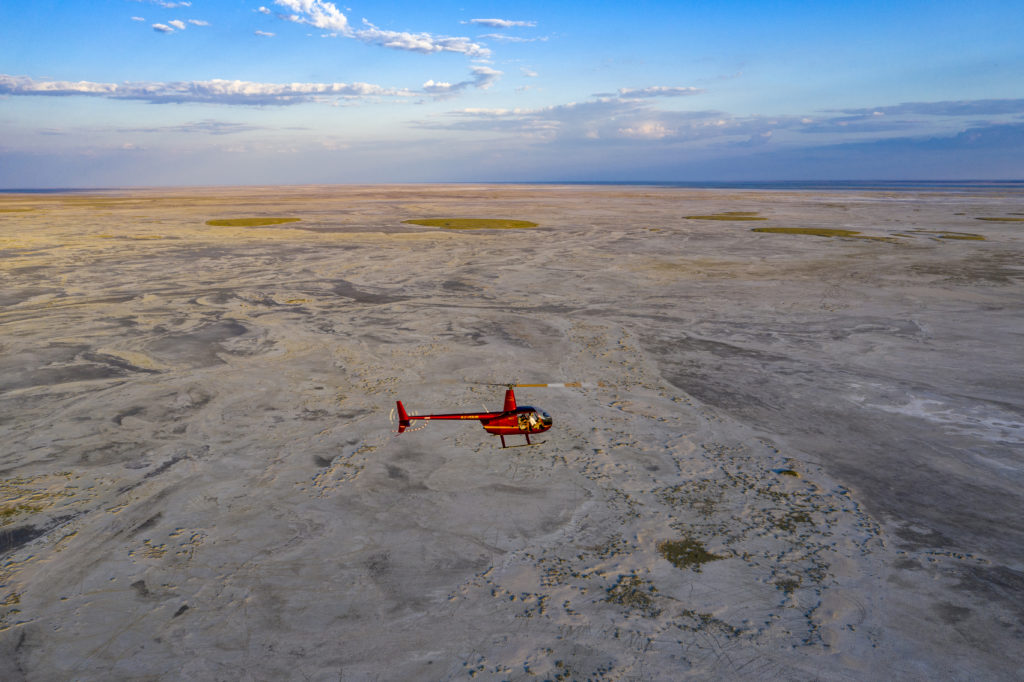 For those of you who have not been to Meno a Kwena Tented Camp – a plan must be made to go! It is not just a traditional safari experience. It is a unique insight into how tourism does succeed in embracing community and culture, as well as wildlife and the wilderness, as an integral part of the tourism environment.
We were met by Jeff and other 'Meno' team members at the camp after a brisk 2 hour drive from Maun and we spent the afternoon in camp at the floating hide viewing wildlife. Elephants, zebra, fish eagle and wildebeest kept us occupied and our cameras clicking.  As sunset fell and the landscape transformed into a mirage of colours a rogue steenbok sprang out from nowhere, catapulting us from our seats in a desperate attempt to keep it in eyeshot while it sprinted along the river bank and made a gigantic leap into the river and swam across! We managed to get a photo of it – somewhat blurred, but despite of all our scanning around the vicinity we could not find any evidence of what could have made this steenbok 'jump out of its skin' and into water! Later we were told that there had been a leopard sighting in the area… Meno is definitely a camp that does not require you to go out on activities to be lucky with sightings. That night we also got to witness bush babies playing- chasing each other up and down the trees and the roof of the dining tent!
The next morning we went for a nature walk with Xao and members of his family and village, Xaixai. Any scepticism that I had had prior was immediately and totally eradicated! This was not culture put on a stage – it was natural, interactive, educational and extremely fun. They taught us some games which we played together, as well as song and dance. Besides entertainment, these activities were directly related to enhancing skills and attributes necessary for traditional hunting, care of the environment and family life. We 'walked away' with some great wilderness survival tips, a better understanding of the bushman culture, new friends, some light exercise and very happy faces.
After lunch it was time for a game drive! In the very safe hands of Cell our impressive guide, a short boat transfer along the Boteti River took as to the Makgadikgadi National Park. Our game drive vehicle was waiting for us and within our first 30 minutes we were blessed with wild dogs, white backed vultures, wildebeest, elephant, and getting stuck in thick sand. Being a lady, I found a cool spot under a raintree and equipped with an icy bottle of water and perched on a fallen tree trunk I proceeded to provide moral support to the boys as they proceeded to get the vehicle out of the sand. I even offered them some tips.
We continued our game drive along the western part of the park and the Boteti River and took in more delights with tawny eagle, honey badger, steenbok, giraffe, magpie and more…a portion of this drive runs along the fence /boundary of the national park that was erected to prevent the cohabitate of wildlife and cattle. This was necessary to prevent the spread of anthrax as well as other potentially fatal variables that can negatively affect wildlife, cattle and surrounding communities. This portion of fencing, however, as it cuts the river off from the park and thus access to water for wildlife, has resulted in wildlife forcing their way through the fencing – and not only opening up the fence to the free movement of cattle and wildlife across the boundary of the park, but also sometimes animals get entangled in the fencing causing fatalities.
The surrounding communities have culturally lived a pastoral farming lifestyle and thus access to some part of the Boteti River was deemed necessary for them to continue with their traditional life. However, with the emergence of Meno A Kwena and their close relationship both economically and sociably  with surrounding communities as well as government empowerment initiatives, the  communities now see the benefits of tourism as well as the destruction caused by the proximity of the fencing to the river. As we speak now, it is the communities that are now humming for the relocation of the fence. It is indeed a true sign that communities are'owning' their surroundings and proudly so. We look forward to the news of the movement of the fence. But in essence, visitors do need to be sensitised to this history in order that they may appreciate that change can be a process and that the protection of wildlife and the environment is key to the ultimate goal.
Yet another great experience that Meno A Kwena has to offer is an overnight pan trip. As it is quite a lengthy drive to the pans – to avoid disappointment book a 3 night stay at Meno and indicate that you would like to go there! I experienced the night out with Meno and amongst colleagues and family of Safari Destination earlier this year in June. It is an experience that is hard to describe and unforgettable – I felt like I was floating, with the endless panoramic views – a feeling of weightlessness. I understood then the cliché often used… 'sleep under a canvas of stars'. There is no other way to say it… and don't forget to take your camera to get shots of you looking like you have special powers… but bring your thermals as it is cold at that time of year, and as much as you feel like a super hero when you are there – sadly, you are still prone to the elements… You may even be lucky and see a family of meerkats on your journey. This activity is not possible in the rainy season as the pans are flooded and it is impossible to get near them!
And of course a visit to Meno is often portrayed in photos against the background of a contrast of black and white stripes surrounded by a sea of soft dust… The Zebra Migration! The larger concentration of zebra is best experienced outside of the rainy season- perhaps between June-September (dependent on the weather maker).
Meno A Kwena is a great way to start or end your visit to Botswana and get a feel of the country with its complimentary offering of wildlife, culture and community in an intimate environment.
We have several itineraries that include Meno a Kwena, one of the most popular is our "10 night BEST VALUE Safari", a combination Livingstone, Chobe, Delta and Makgadikgadi. You can download the details from our agent's corner.