THE HIDDEN GEMS ON LAKE KARIBA IN NORTHERN ZIMBABWE
I was very fortunate and felt extremely privileged to visit Lake Kariba twice this year and all in a matter of two months. And both visits impressed me hugely and deepened my love for this amazing country in a way I didn't think would be possible.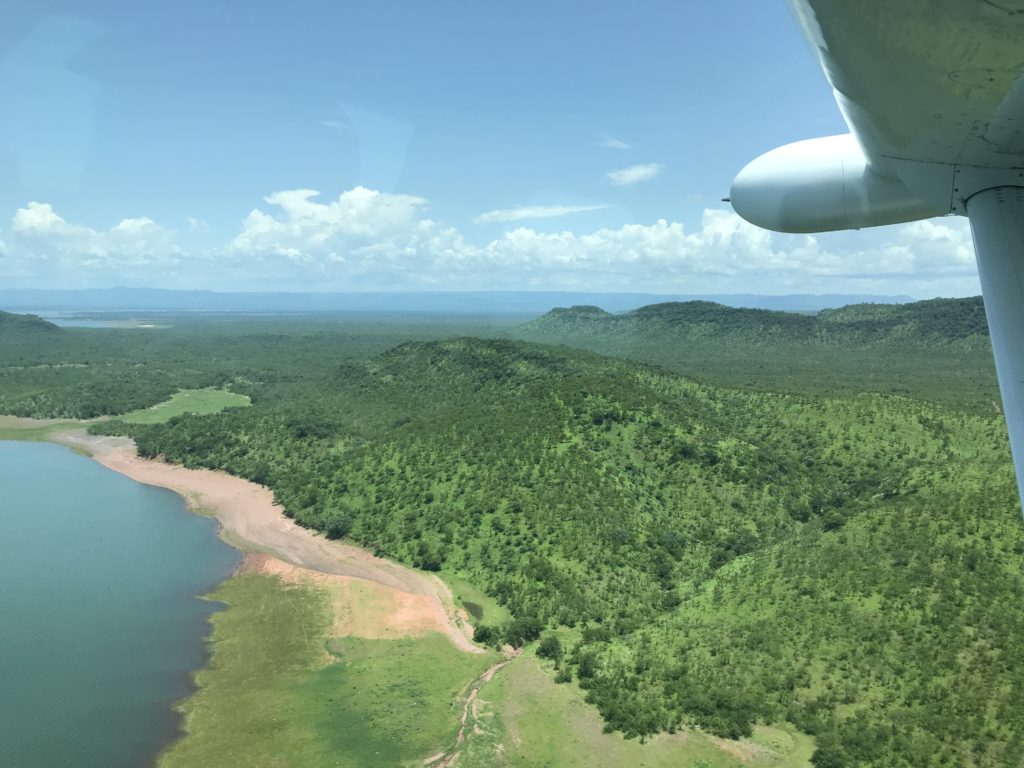 Taking a closer look at Matusadona National Park
This remote park gets its name from the Matusadona hills that form part of its water rich landscape. Flanked by Lake Kariba in the north, and two perennial rivers, the Ume and the Sanyati, Matusadona has it all. The lush landscape is formed by flat grasslands, dry river beds, rolling hills. It boasts a huge variety of mammals and keen birders can expect 240 different bird species.
Where to stay?
Fothergill Island (luxurious camp, ideal for families and small groups)
Changa Safari Camp (classic safari camp)
Rhino Camp (authentic experience)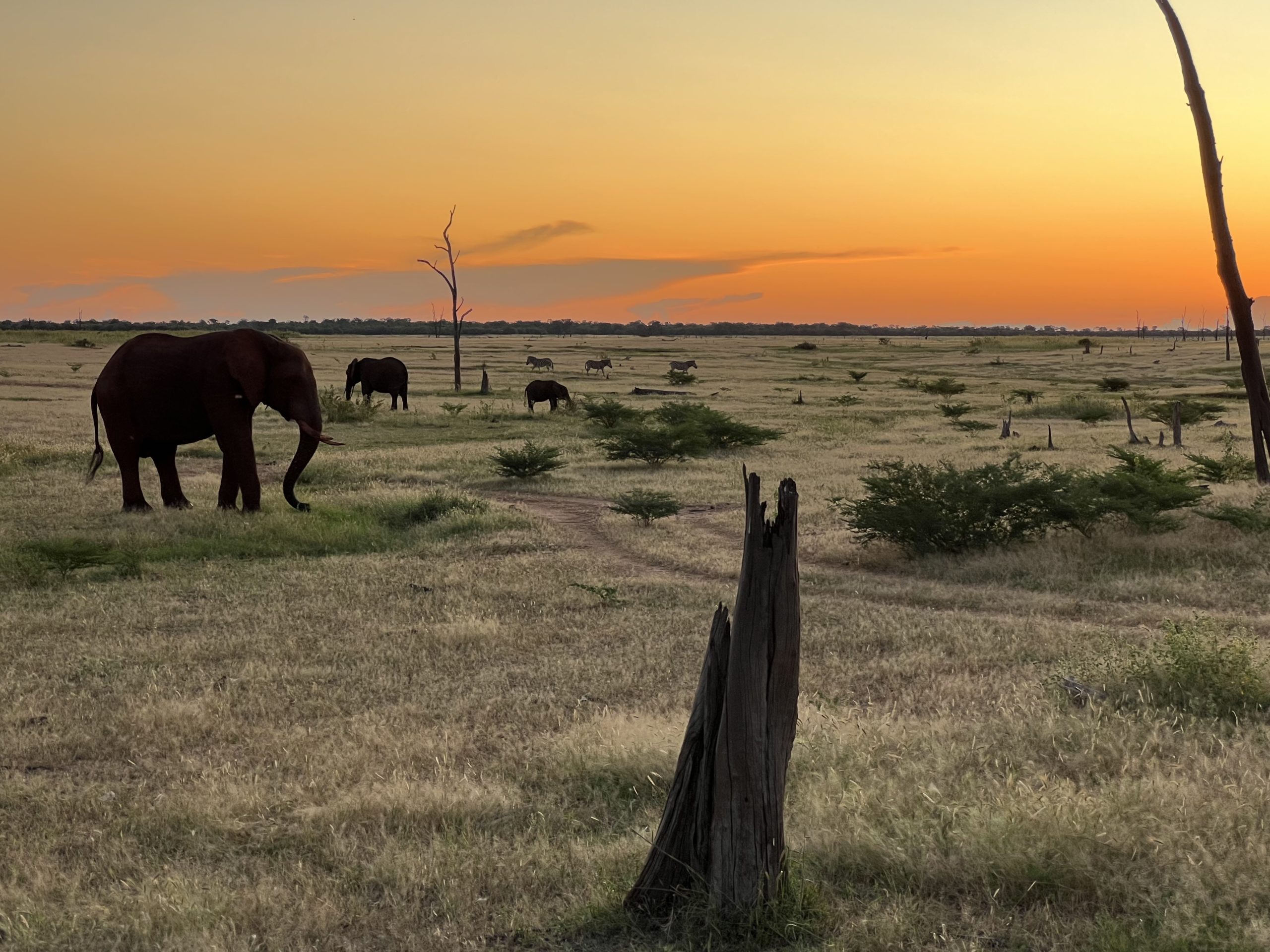 Taking a closer look at Bumi Hills
Bumi Hills is named after a group of hills overlooking the southern shore of Lake Kariba. The view from the top of the hill is magical and famous for its magnificent sunsets with the Zambezi escarpment as a backdrop. The area is also often referred to as the Zimbabwean Riviera, with the colourful reflections on the water and the palmtree dotted shore. The wildlife-rich area offers incredible game viewing which has improved tremendously over the last years also due to the amazing efforts of the Bumi Hills Anti-Poaching Unit.
Where to stay?
Bumi Hills Safari Lodge (luxurious camp on top of the Bumi Hills)
Musango Safari Camp (authentic experience on the shores of the lake)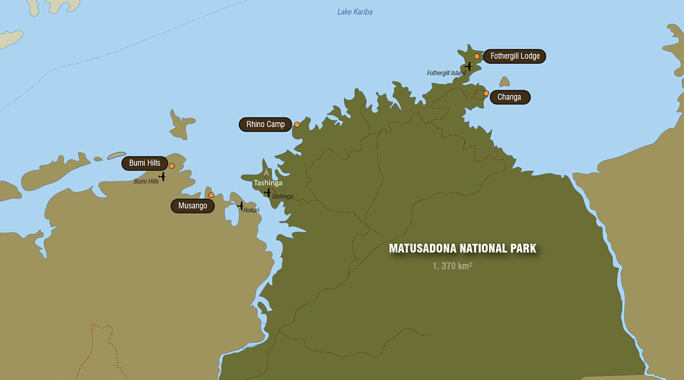 Why travel to Lake Kariba?
All year destination
Untouched wilderness
Easy access by air from Harare and Victoria Falls – Fothergill and Bumi airstrips
Bumi Hills – private concession
Matusadona National Park managed by African Parks
Land and water experience
Variety of experiences: game drives, motorboating, fishing, walking
Remote with few visitors, very exclusive experience
Visit the Bumi Hills Anti-Poaching Unit and learn more about their amazing work
For more information about this magnificent area please contact info@safaridestinations.net.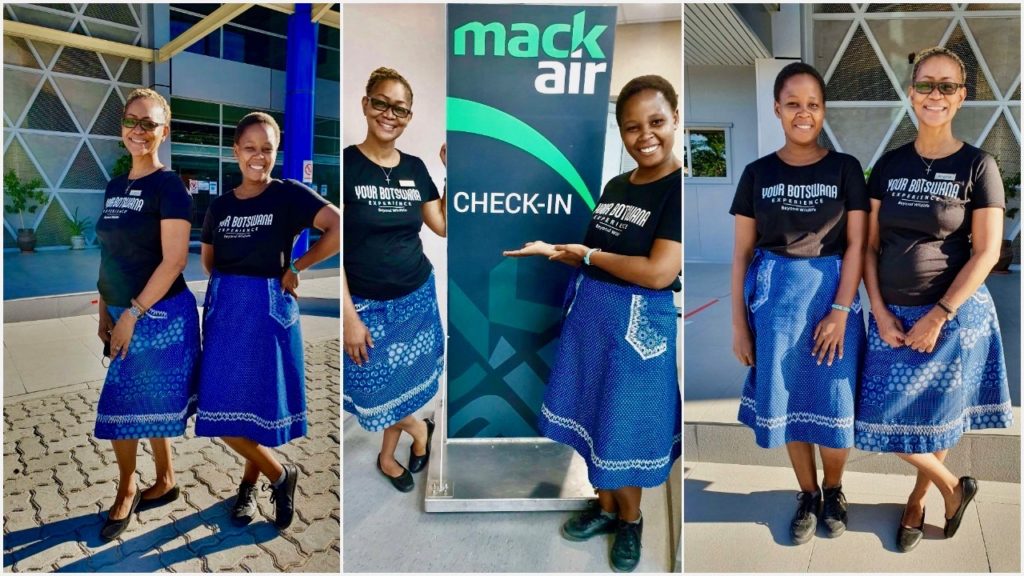 A great safari is punctuated by many unique and life-altering experiences. As your experts on the ground, we are uncompromising in providing a unique tailor-made experience that allows for a complete immersion into the bush experience. A remarkable safari experience always includes being surrounded by untouched and pristine wilderness, the most exclusive and beautiful lodges, and being in proximity to abundant wildlife.
At Safari Destinations we have an exceptional travel experiences team that is on hand to meet guests at Maun airport and assist them with arrival or departure processes, gets feedback from guests on their travel experience, help with lost luggage and anything else the guests need assistance with. Meet-and-greets are incredible since they provide us and in turn our agents with a brilliant opportunity to receive honest feedback from our guests, who remain our trusted authorities in what makes an authentic and beautiful safari experience. Here is a small selection of some of our most recent feedback shared with our Travel Experiences Manager Angela Masisi-Makula.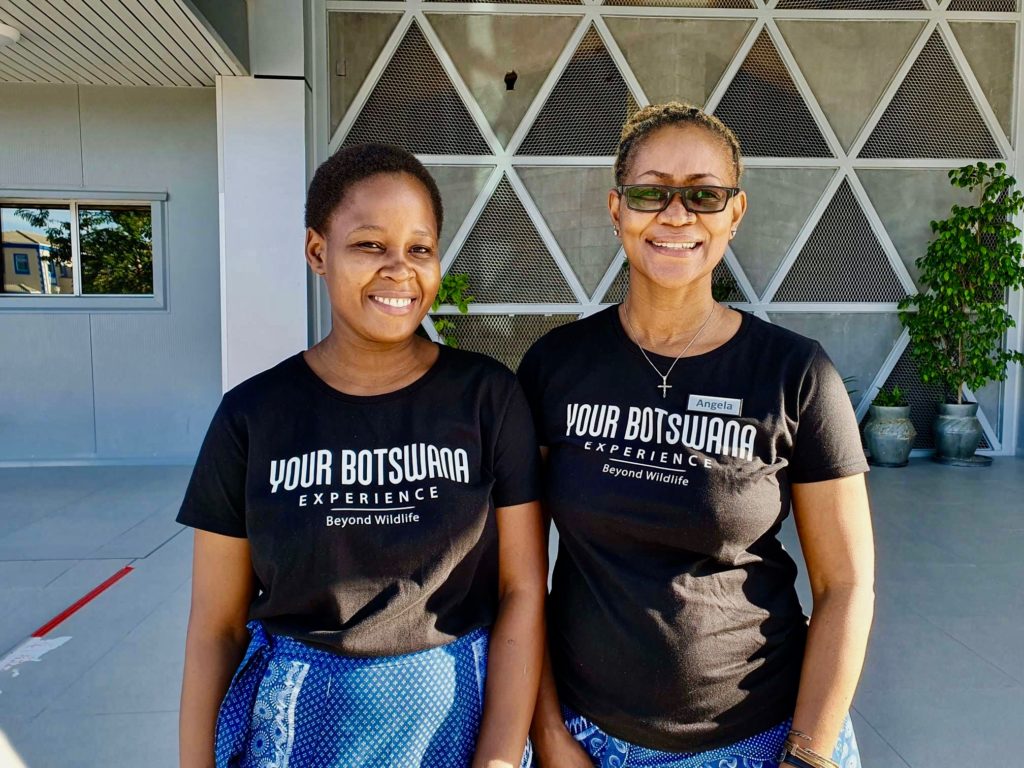 Here we share a small selection of clients' feedbacks:
A change in perspective:
"After being flown all over the Delta, she thinks it is time to change careers and be a Bush Pilot." Our Travel Experiences Manager Angela Masisi–Makula recounts one of our guests' feedback at a meet-and-greet arriving with Moremi Air from Splash Camp to Maun. Splash Camp, nestled in the heart of the Okavango, served as their best lodge experience and they enjoyed abundant game viewing, including lions, a leopard, and cheetah on one of their game drives.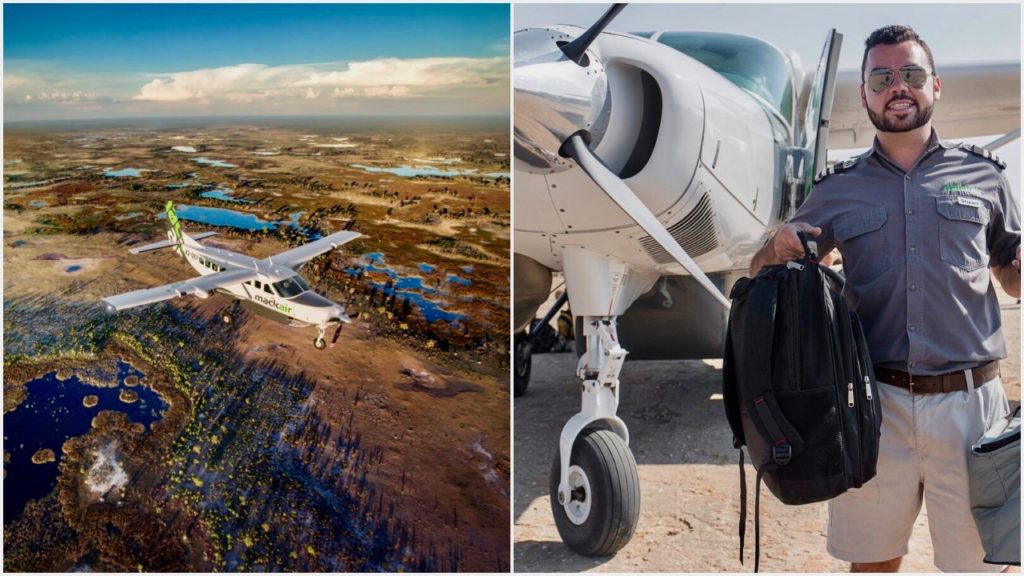 Already planning a return trip to Botswana:
Our clients, a family of six, were happy to be met and to share their lion tracking experience. They mentioned that after two days of tracking and looking for lions, this morning, they were impressed to see a pride of five, they spent 45 minutes at this sighting taking incredible photos. The accommodation surpassed their expectations and Machaba Camp was their highlight. They raved about the food, which was in their own words of Michelin standards. They are already planning a return trip to Botswana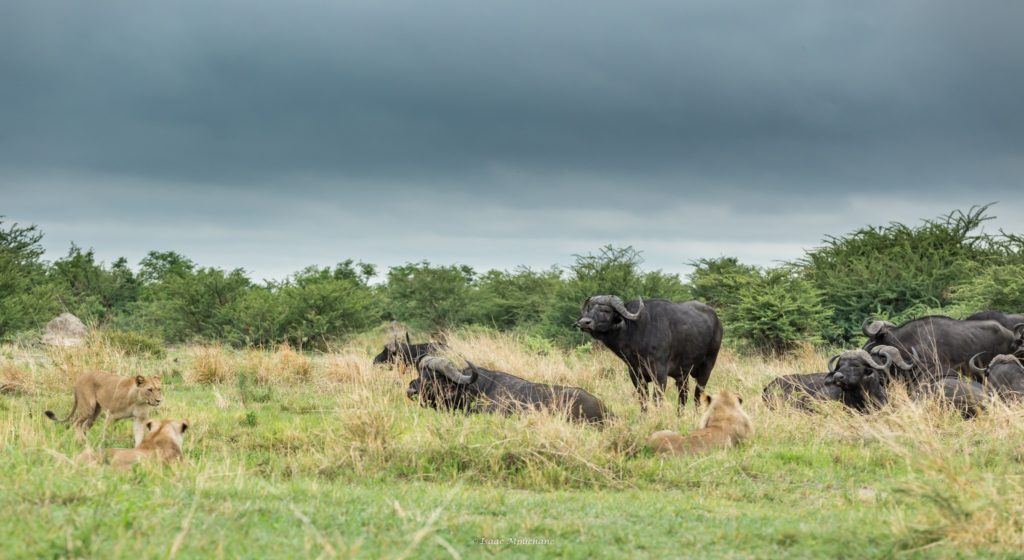 Share this experience with my new love:
"Can you believe I have been dating my woman (pointing at his partner) for only two months and I decided to bring her to Botswana?" Our guest described his incredible safari experience to Angela. He revealed that he was in Maun and the Okavango Delta three years ago and had the time of his life and, therefore, wanted to share this experience with his new partner. He truly believes that Botswana is a "Little Heaven on Earth".
Difficult to pick a single highlight from the amazing experience:
When inquiring about their safari experience, our guests concurred that they have had an amazing time and loved every bit of their safari. It was hard for them to pick a highlight, as all the places they visited were unique and offered something special. Kwando Tau Pan, however, seemed to have been a favorite, as on one of their game drives they saw six lion cubs with two lionesses, and this was such a breathtaking sight. The couple loved and appreciated Pom Pom for its remoteness. The service all round was excellent, there was nothing they could fault about this holiday.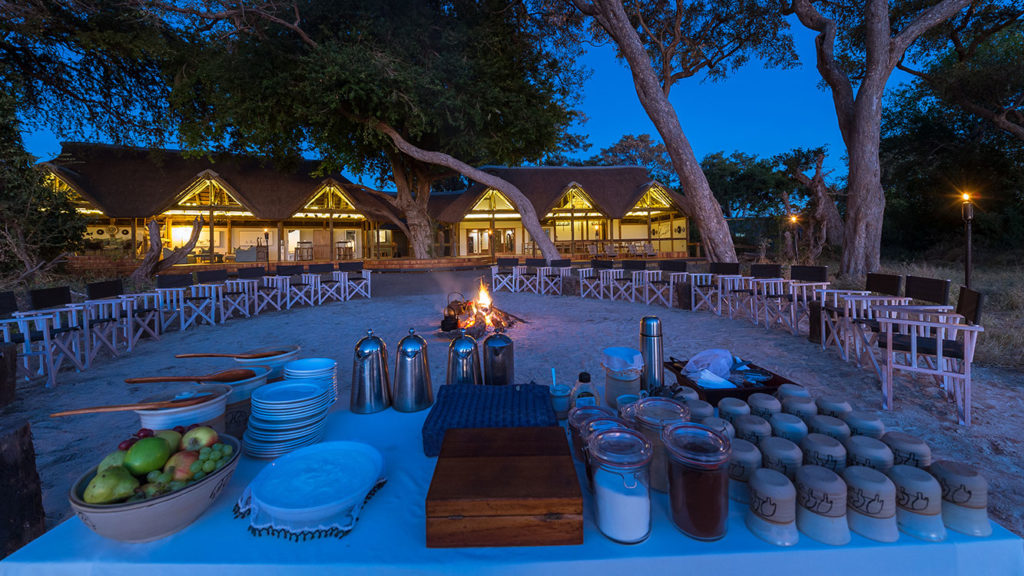 A scene from National Geographic:
It was at Gomoti Plains where they had their most significant sighting, a female cheetah and five of her cubs. The cheetah was teaching its cubs to hunt, and they witnessed a kill (the cheetah on an impala) and it seemed like a scene from National Geographic. Once the impala had succumbed to its fate, they dragged it to the cubs, who did not waste time feasting. They took so many photos of the cubs with their bloody mouths. At Linyanti Bush Camp on their game drive heading towards camp, the guide paused the vehicle and told them he could "smell" a leopard. Amid their amazement and curiosity, five meters away from their game viewer, indeed was a leopard and they could not believe it.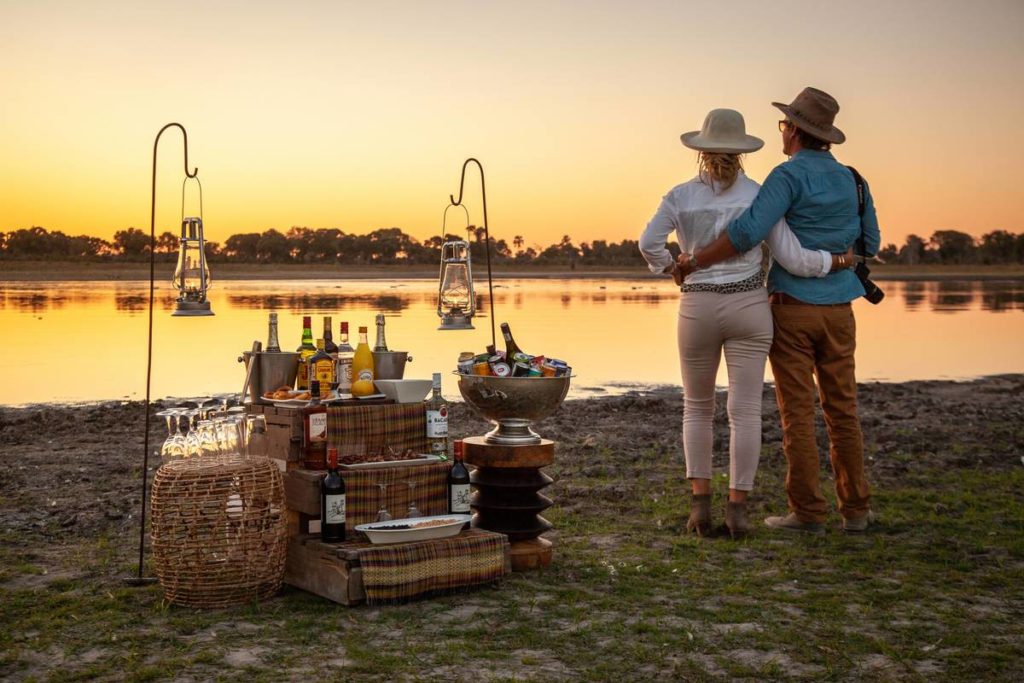 Amazing Experience for the kids at Young Explorers:
The children said that they have had an incredible time and saw a lot at the Young Explorers Camp. Their highlight was two African Wild Dogs chasing a leopard that went up a tree. During their sightings, they also saw four cheetahs, elephants, and impalas to name a few. The only big cat they did not see was a lion and they made a comment that they will have to come back on a "lion Safari" next time.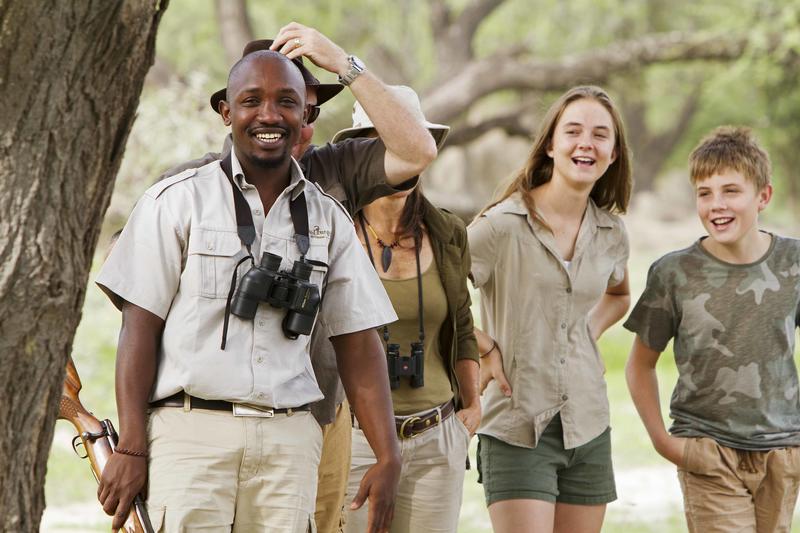 Every single day, we at Safari Destinations, have the privilege of interacting with our clients in Maun, hearing about their wonderful safaris. Excited by their experiences in the bush, our guests are more than eager to share their feedback with us. Our clients are so thrilled to be travelling again, agreeing that travel is still much needed and that there is no better time to go on safari than now!
Elicited by our Meet and Greet team, here is some of the feedback received in the last couple of weeks (we struggled with the selection since we had so many wonderful stories to choose from).
A FAMILY'S DREAM COMES TRUE AT SHINDE CAMP
"Shinde was by far the highlight of their trip. In enquiring why this was so, we were told that they had the best Guide ever in the history of their safari holidays. Our guests commented that they have been to South Africa, Namibia and Botswana with Botswana having been the best just because of their guide, Kenny, at Shinde Camp. The whole family commented that Kenny was an absolute gem. He was very knowledgeable (he even knew the scientific and latin names of plants and animals), was fun (extremely entertaining), and catered for the young ones and keeping them very interested each and every game drive. They mentioned that a Guide can make or break a trip or experience and fortunately for them, Kenny truly enhanced their experience. Their game drives were nothing short of spectacular. They saw everything that they wanted to see and even got to witness a Lion kill, just like you see on National Geographic. This family really were happy and could not stop expressing their satisfaction with their whole entire trip."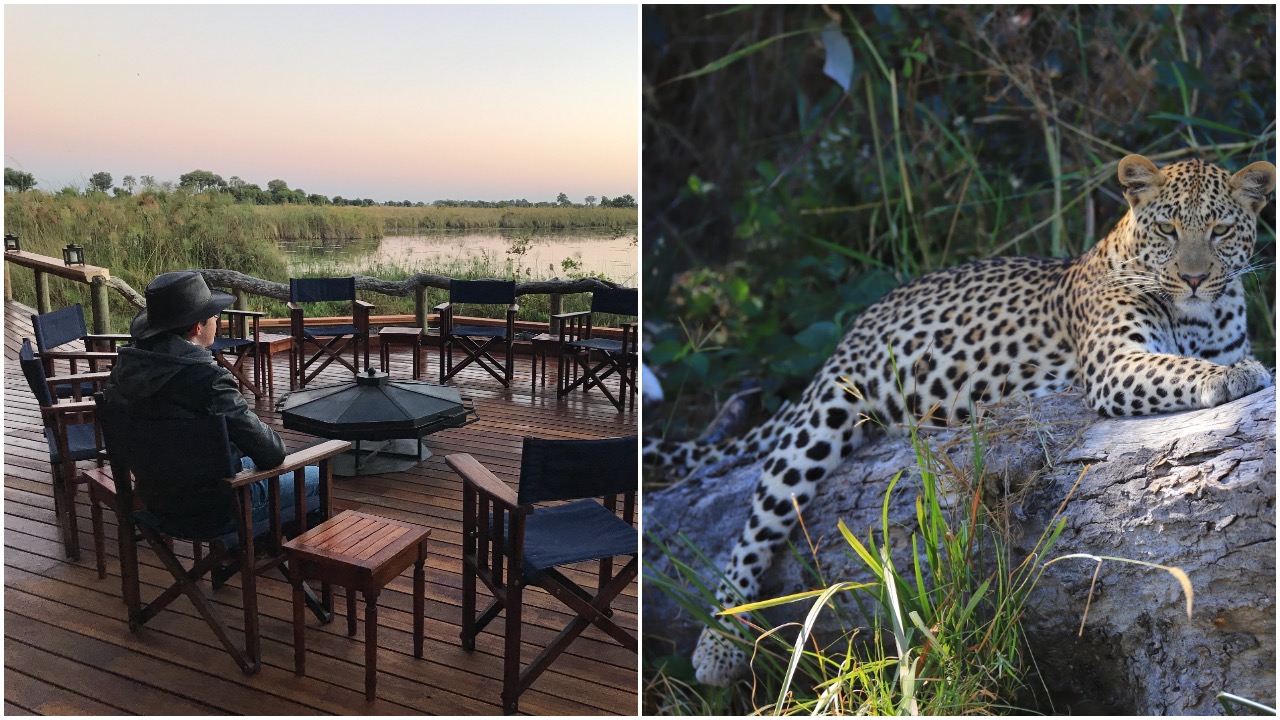 NOGATSAA PANS LODGE: A GEM & THE CHERRY ON TOP!
Although the focus of a safari is the wildlife sightings, the landscapes and the sheer bliss of being out under the African sky, the staff in camp contribute hugely to the overall experience. A warm welcome, a beautiful smile and the kindness of the people in camp who are more than ready to make sure that all your needs are met during your stay, adds to the pleasure of your stay. Nogatsaa delivered in this aspect!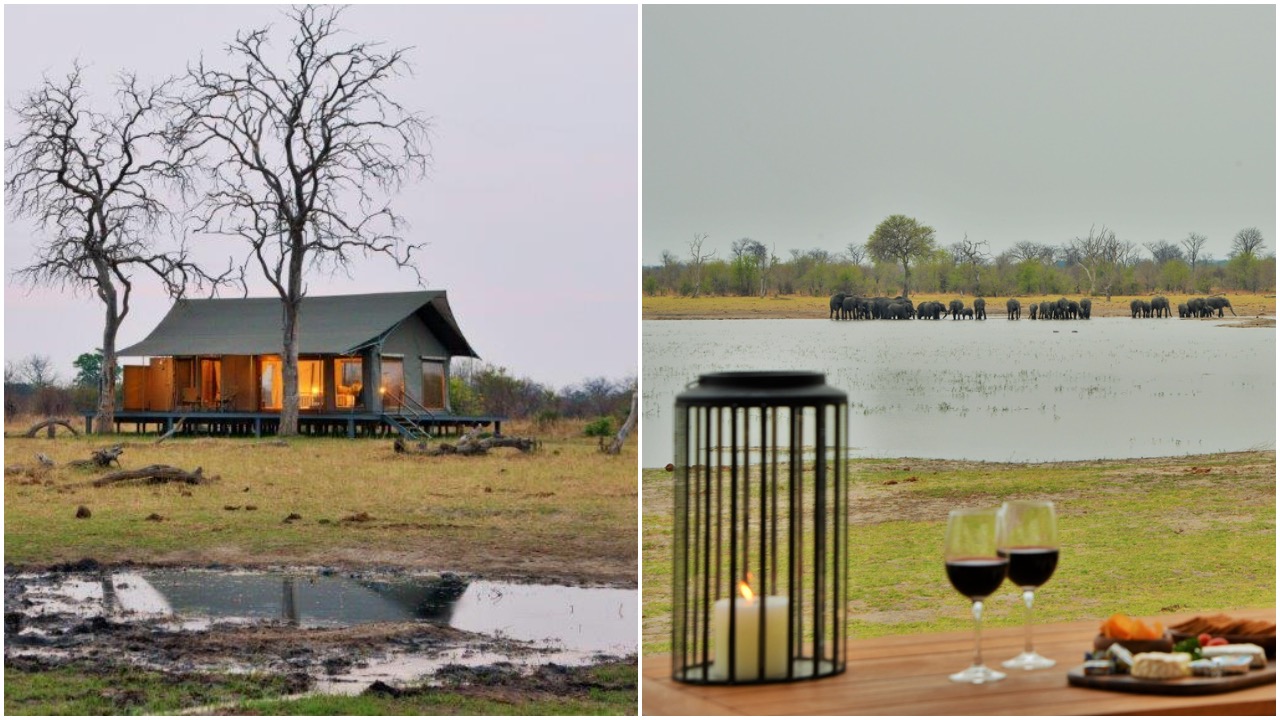 "Nogatsaa Pans Camp: Clients raved that the Manageress Ketsile, had phenomenal people skills and was just incredibly friendly. Allan, who was their Guide for their entire stay was also an asset and made their sightings just extra special. He was very knowledgeable and very flexible. They can't compare the welcome and hospitality that they received anything they had experienced on other trips.
SELF-DRIVING IN BOTSWANA! WHAT COULD BE BETTER?
It is great to go on a self-drive trip. Our guests are enjoying the open and flat landscapes while driving through the Makgadikgadi pans, to road side sightings of elephants aplenty in the famous Chobe area to the rustic and pristine Savute and then Khwai with its exceptional game viewing. The bonus to self-drives is that you get to spend dedicated time with family or close friends.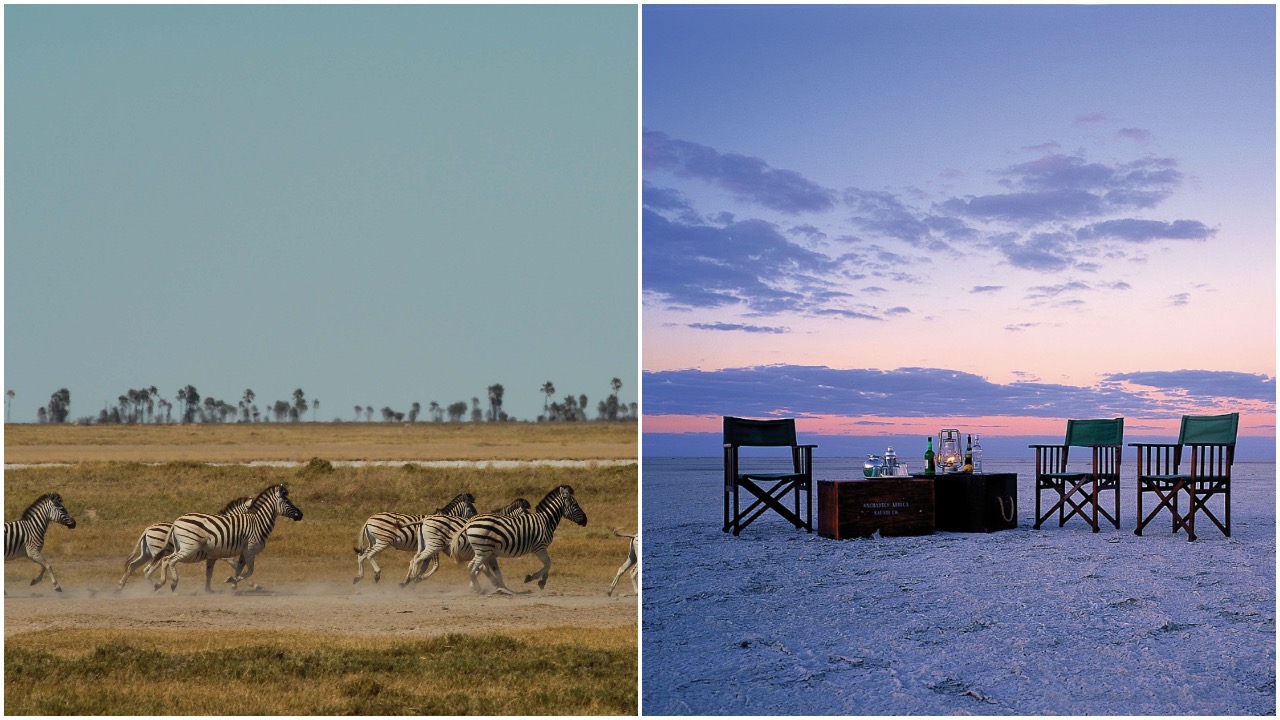 " The clients absolutely loved the Makgadikgadi and her beautiful sunsets and sunrises as well as the vast nothingness of the landscape. Kubu Lodge was also a great place to stay as Chobe was buzzing with hundreds of elephants. They had never seen anything like this before.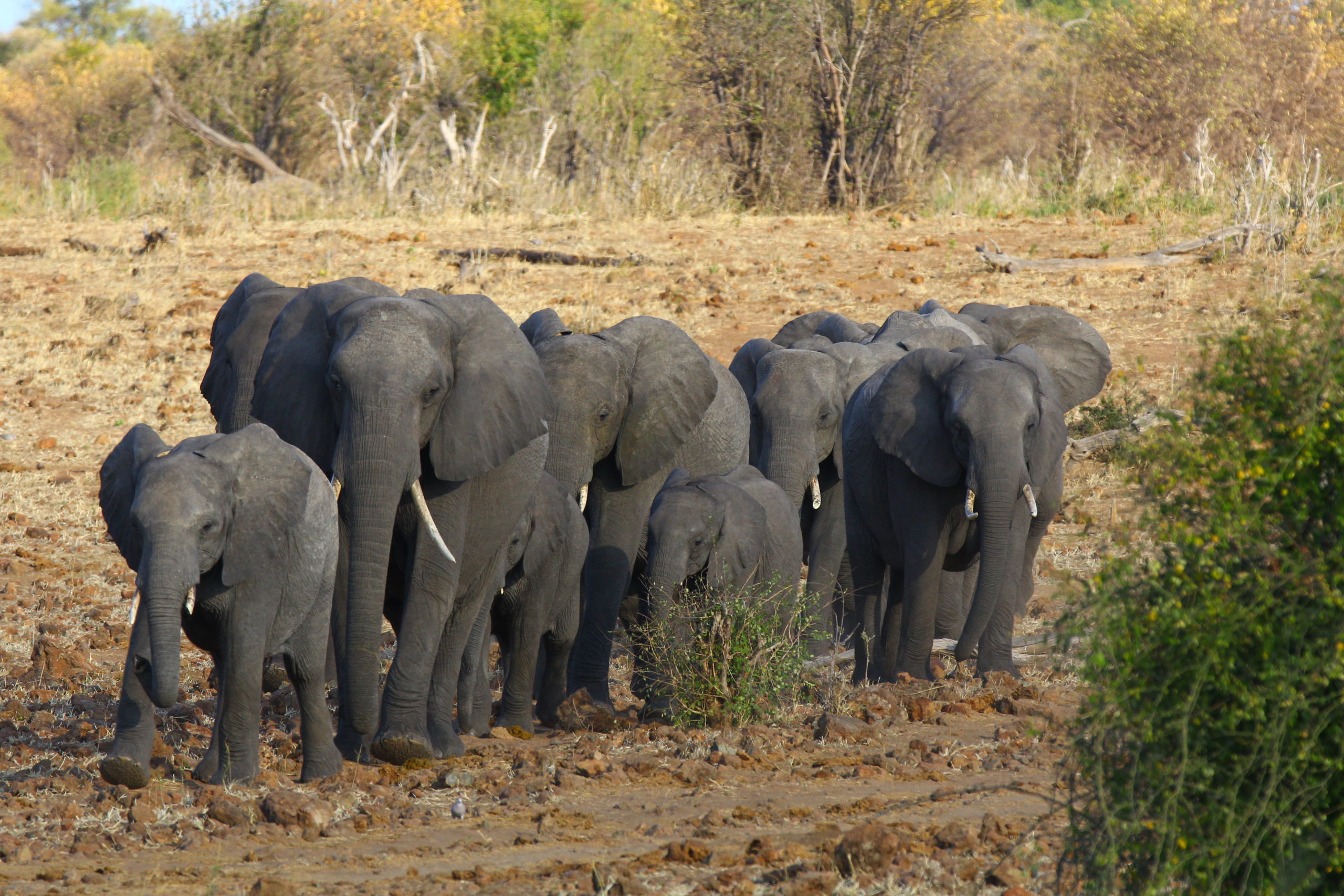 Savuti was " Lion land". They saw a total of 15 Lions at one sighting, with cubs. This for them was very special. The experience of being in the wilderness (unguided) with mother nature delivering in such a spectacular manner, was simply remarkable. The landscape here was also breath-taking. Khwai also was just awesome. On one drive, clients saw a dead impala up a tree and they both guessed that they were about to see a Leopard. And there it was! They were so excited and told me about the many video clips they took of their "special" sighting and moment. This was their first time visiting Southern Africa and they could not believe their luck."
These are just some of the feedbacks from the many guests we have hosted over the past months. We love to hear of the magical moments experienced by our guests and to share in the memories they will take back home to tell to their families and friends! This is one of the best parts of our job, being allowed to share such amazing experiences.
As Carina always says: "Every day not spent on safari is lost day". I am sure our guests, after a safari of a lifetime, will agree. The African travel bug is the one that bites the hardest.
Botswana is known for some of the last unspoilt wildlife areas in the world and as such offers a unique experience to anybody wanting to discover the beauty, remoteness and diversity of Botswana's landscapes and its animals.
Besides lodge-to-lodge mobile safaris and fly in safaris, Botswana is a great destination for anybody seeking an adventure and wanting to embark on a one of a kind self-drive trip.
Camping in unfenced wildlife areas, waking up early with the sunrise while looking across the moonlike landscape of the salt pans and getting up close with some of the biggest mammals on earth is truly an unforgettable experience.
There are however a few things, travellers should keep in mind when deciding to explore Botswana on their own terms.
Driving through Botswana is nothing like driving through for example the well known Kruger National Park or Namibia, with tar roads and clearly marked directions. Botswana can present some challenges – difficult road conditions with deep sand, destinations far apart from each other, remote areas without signage and confusing "road" networks. All the more important it is to be thoroughly prepared and use the tools at hand to make sure your journey will be the safari of your dreams.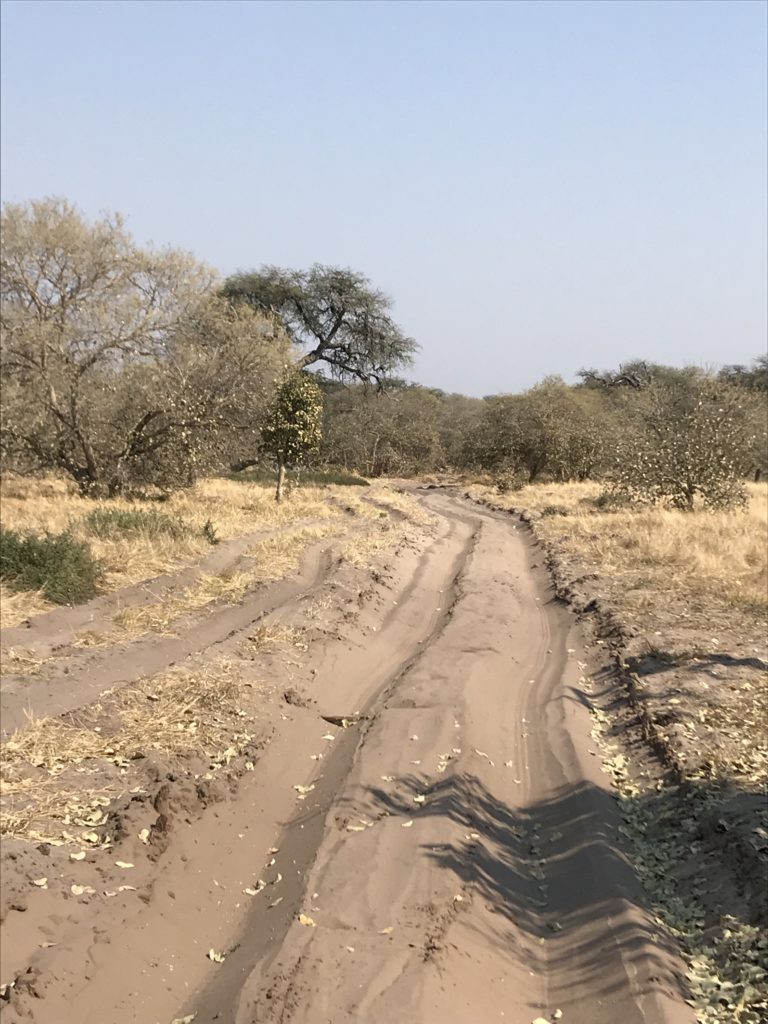 First of all, it is important to understand the different areas and the different types of self-drives.
Make sure you have done your research regarding which areas you would like to visit and what the road conditions are like. Road conditions can vary from main tar roads, to sharp gravel road, deep sandy roads and water crossings.
Unless you are only planning to drive on tar roads, driving with a 4×4 vehicle is an absolute must! Ideally, the vehicle should have a long range fuel tank or in case it doesn't, you need to take extra jerry cans. There are no fuel stations in National Parks and even outside the parks, you sometimes need to drive far distances before reaching the next fuel stations.
Another important thing to keep in mind is that the vehicle is properly equipped. Even on tar roads, there is mostly no network between cities. Therefore, it is essential to be travelling with a satellite phone should you have an emergency and need help.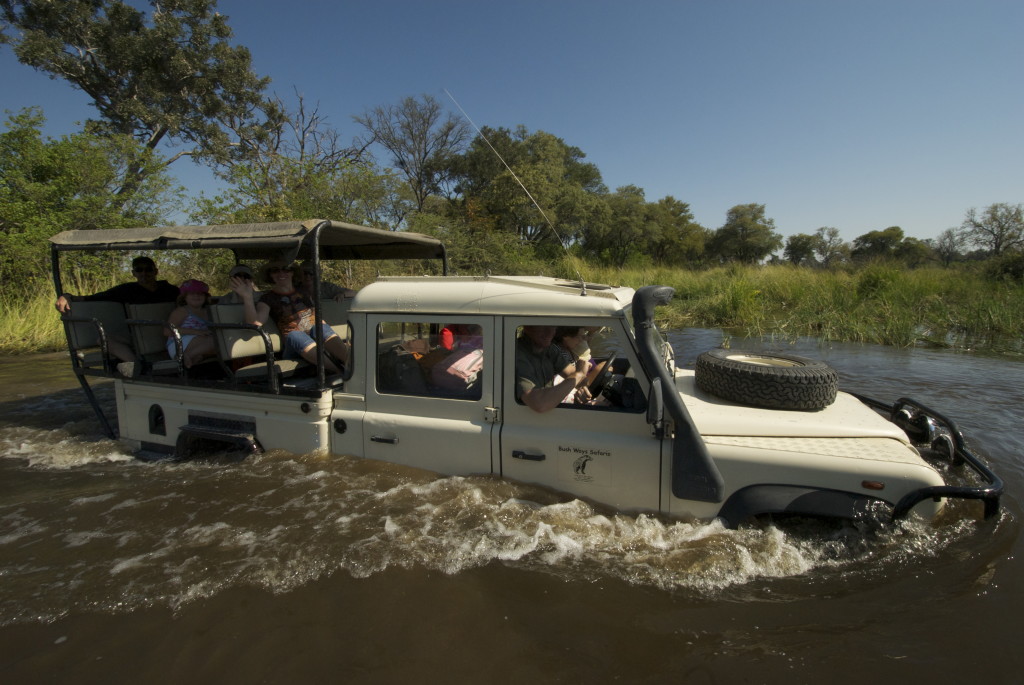 Besides that, the car should also be equipped with tools you need in case you get stuck or have a break down, such as a spade, sand ladders, hi-lift jack, tyre repair kit, compressor etc. and of course spare tyres.
In order to find your way around, you should travel with adequate maps, GPS and best of all, Tracks4Africa. Tracks for Africa is a very user-friendly app that you can download on your phone, and the best about it, it works offline! Even in the remotest areas, the app connects the dots via GPS signal and allows people travelling to easily find their way around the complicated and sometimes a bit chaotic bush network.
We know that some clients struggle with the costs for the app. It currently costs USD 50, but this includes regular updates. The app covers many African countries including South Africa, Namibia, Botswana, Zambia and Zimbabwe and many more. Users purchase it once and can use it again and again.
The National Parks are completely wild and camping is only allowed in designated campsite areas.
The campsites are not fenced, which means, animals regularly walk through them, adding to the thrill of being up close with wildlife. However, make sure you keep a safe distance from wild animals – for your own safety but also to respect the wildlife. The same applies to when you are driving. Keep a safe distance from animals, do not go off-road and stick to the well-used track to ensure you have a smooth trip!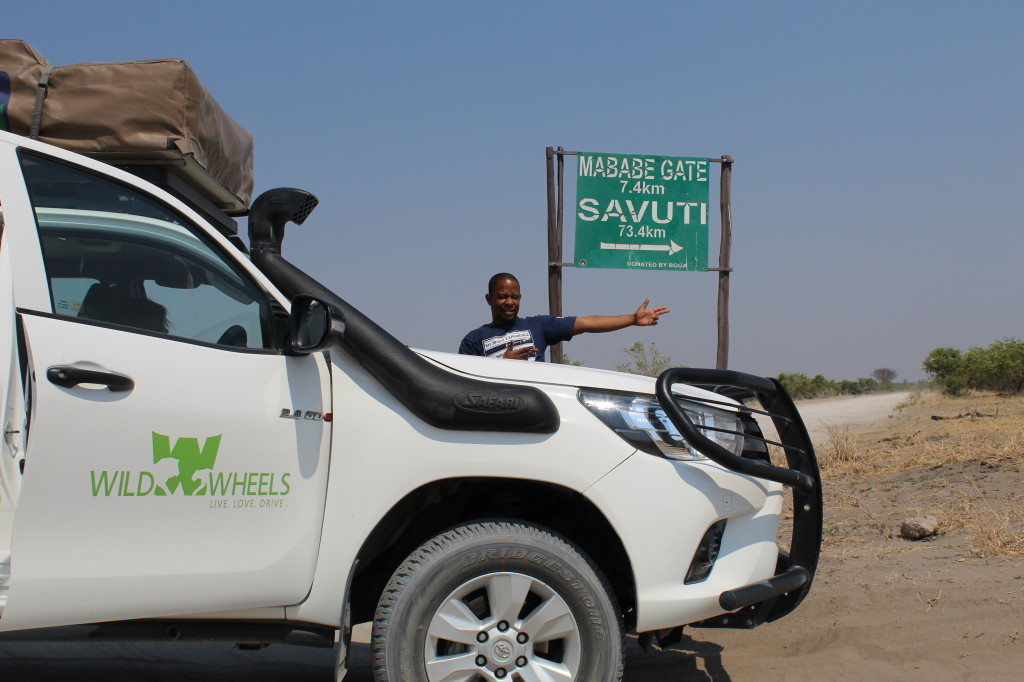 You should not be driving at night. Besides it not being allowed in a National Park, it is very dangerous to drive on Botswana's tar roads at night. Animals can roam freely and there are no fences or street lights along the roads which means farm animals use the warm tar as a sleeping place. Statistically the number one cause of road accidents is hitting an animal while driving at night.
For the less adventurous traveller Botswana can be perfectly combined with Namibia. One of our best selling trips is a self drive trip which starts and ends in Windhoek and which combines the stunning landscapes of Namibia with the vast Wilderness of Botswana. The Delta can be included on a 3 night fly-in, for the rest of the safari traveller stick to the tar roads and link Maun with Kasane via Nata (including a stop along the Boteti or the Salt Pans).
There is so much to explore – come and visit. As you know everyday not spend on safari is a lost day 🙂
It was a scorching day in November, typical weather for this time of year. I had put my bags down, grabbed a cold bottle of water and headed straight for my deck chair to take in the sweeping views of the Central Kalahari Desert.
The Kalahari was nothing like I thought it would be, except for the heat. That was exactly how I anticipated but one can never fully prepare for it.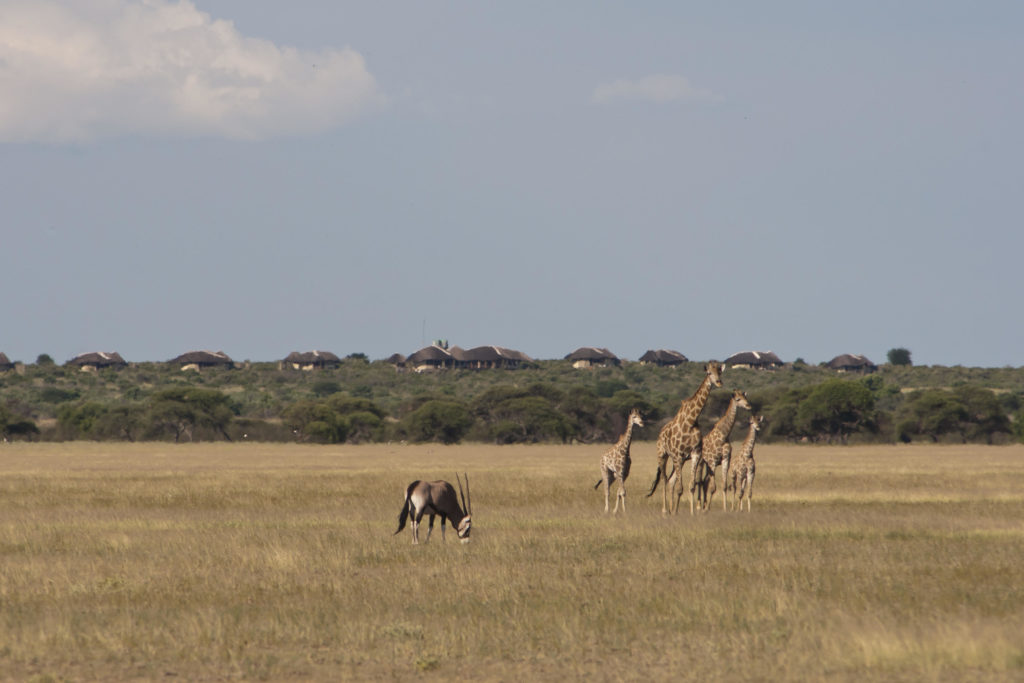 Movement between my tent and the main area was more of a hop, skip and a jump! I had opted to wear open sandals, and these are great on a flat surface, but they sure made for clumsy dance in the red-hot sand.
Standing on the deck outside my tent, I took in the incredible views of the Desert before me. Those who have been to Botswana, know how flat the land is, one can literally see for days! Yet here in the Kalahari; equally as flat, an ancient sand dune exists, and up on this ridge is where Tau Pan Camp is located.
This was to be my temporary home for the next 24 hours and every image I had previously held in my imagination was wiped out by the beauty unfolding before my eyes. The Kalahari is not barren and sandy, as one would expect in most deserts. Even when it is dry enough to 'qualify' as a desert, it is not strictly speaking a desert because the ground cover is too dense.
'Tau' is the Setswana word for lion and the Kalahari is famed for the impressive compliment of black-maned lions, the very same that frequent the permanent water hole located in front of camp. What I thought was going to be a quiet dreamy night under the stars, turned out to be rather a noisy and interrupted sleep with a choir from the wild; well more like a symphony of roars from one pride to the next that bellowed throughout the night. It was an impressive sound, one that never rings tired with me.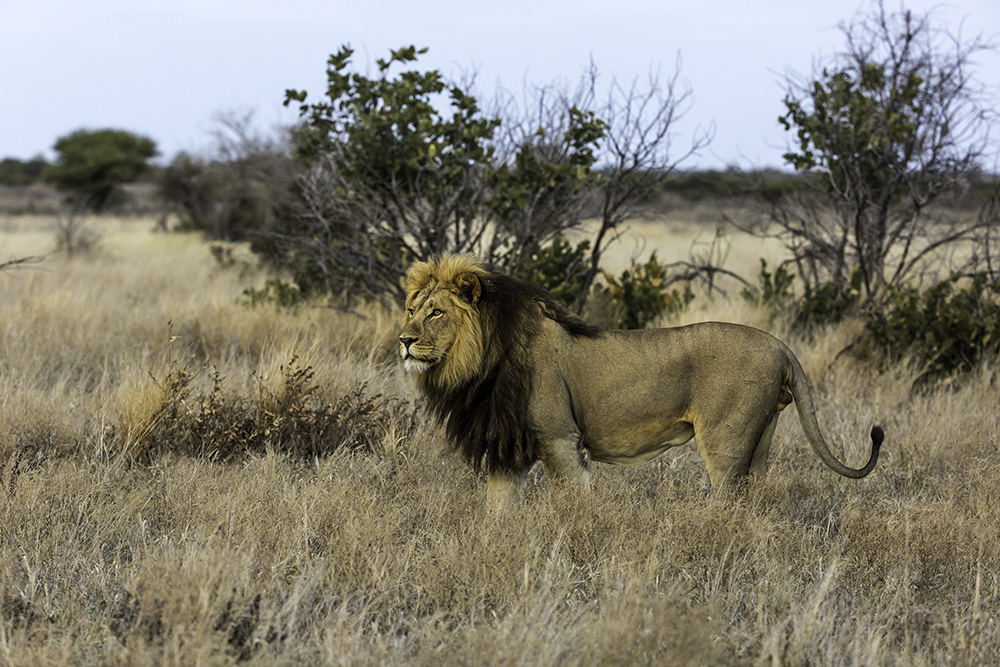 I sat down in my deck chair, dusted the sand from my feet and lifted them up to the small table in front of me. Head back, eyes closed and just about ready to take in my afternoon siesta when something inside me insisted that I look up.
As I opened my eyes, I caught a glimpse of a bushy striped tail hanging from a rafter; and there it was…a beautiful little genet, sleeping peacefully in the shade of the thatch. We both had the same great idea for that hot afternoon in Africa; quiet uninterrupted blissful sleep.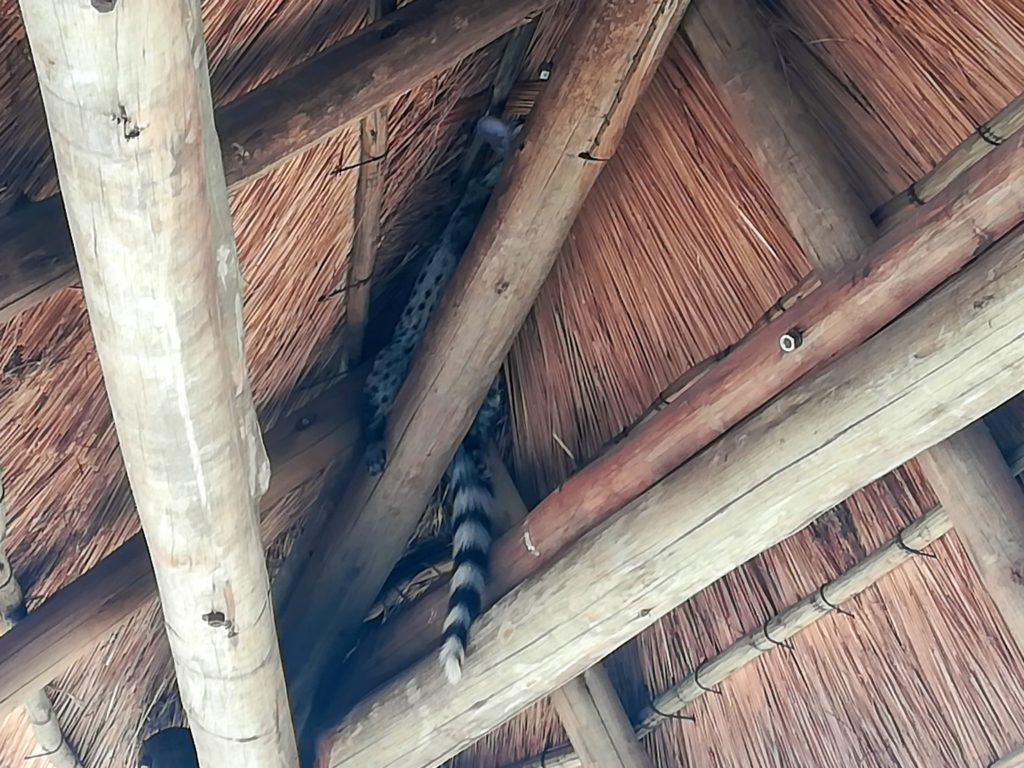 For those wanting to visit the Kalahari, do it on your next planned safari in Botswana. It's wild and mysterious beauty almost never disappoints!
Interesting facts about the Central Kalahari:
With 52,000 km2 the Central Kalahari Game Reserve is the world's second largest protected area and one of the most remote and pristine areas in Africa.
The Central Kalahari Game Reserve is mostly famous for its ancient fossil river beds, which form valleys through the bush of which Deception Valley is the most famous. A highly recommendable read is "The Cry of the Kalahari" by Delia and Mark Owens.
Specialized desert species are found in the Central Kalahari Game Reserve with gemsbok (oryx) and springbok often seen; the famous black-maned Kalahari lions and of course bat-eared foxes. And if you are very lucky, the brown hyena.
Although the Central Kalahari is an all year round destination, an especially magnificent time is during and after the summer rains when the colors of the Kalahari explode and grey turns into fifty shades of green. The rainy starts in mid November and ends in March.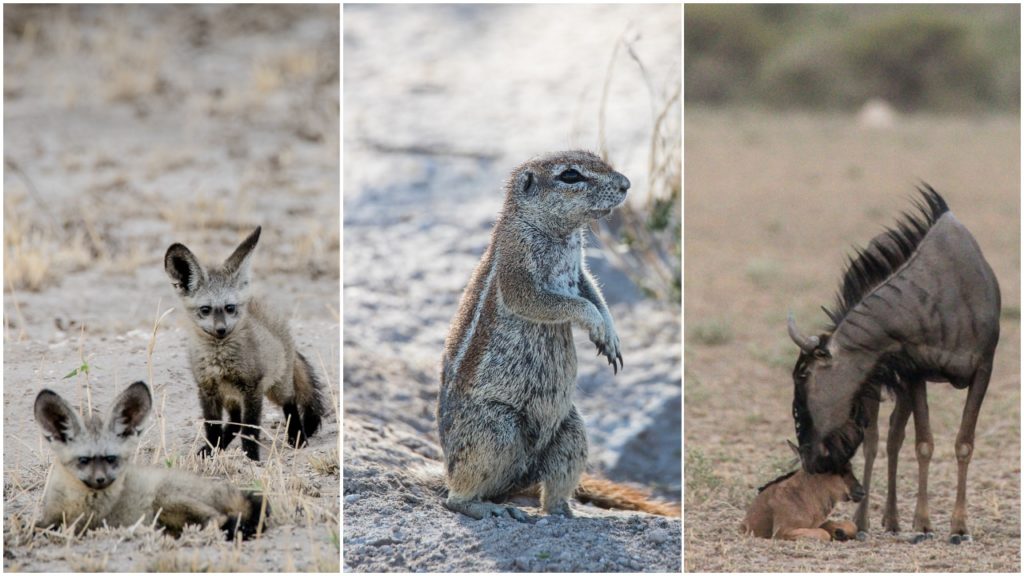 Information on Kwando Tau Pan:
Tau Pan is one of two lodges located within the Central Kalahari Game Reserve, the other being Kalahari Plains.
Activities offered at Tau Pan include game drives, day trips to Deception Valley, Sunday, Piper and Passarge Pans, star gazing and nature walks with Bushman trackers.
Accommodation consists of 9 environment adapted en-suite rooms including 1 family room and a sleepout deck (an absolute treat for the more adventurous!).
100% solar operated
All-inclusive rates
Guide and tracker team
Some know Mombo as the "Place of Plenty". Others refer to it as Mma Di Campo ("The Mother of all Camps"). With its considerable nightly rate and renowned reputation for sensational wildlife sightings, those who are fortunate enough to stay at this beautiful place cannot be blamed for having very high expectations.
Along with the name and the reputation come a significant amount of excitement. Like the flutters you get before meeting your favourite star or the thrill of seeing the top of Kilimanjaro towering over the Serengeti for the first time.
Land at the Mombo Airstrip and instantly this buzz rushes through you. Guides come bounding across to welcome you and helicopters are on standby to take you anywhere, any time.
So, here you are, you've finally arrived at the famous Mombo Concession and your guide takes you on the short 20-minute journey to the lodge. As if they've come to welcome you, the track is full of life. Impalas line the road with their young calves leaping through the grass. Geese, ducks, sandpipers and colourful bee-eaters flock the small pans along the road and the characteristic shrill call of the stunning turquoise woodlands kingfisher welcomes us. We've arrived in mid-February, the middle of the Green Season, a time when the bush is full of colour and new life.
We've arrived at the lodge and the staff's smiles await you along with the eagerness to make this time at Mombo your most memorable. Sitting down for lunch, we're treated to crisp baby vegetables and lightly grilled Chobe bream. The "new" Mombo is around two years old and meticulously maintained. When you start to look around, the touches of comfort and elegance are all over, from the motion-sensor lights in your massive room to the carefully packed sachets of Fairtrade ground coffee and bottles of vintage wine in your private lounge. We could tell you about the USD12 000 worth of complimentary Olympus mirrorless camera gear you are free to use, the refreshing private pool, day-bed and more of the delectable meals and snacks we were treated to during our stay but what we really couldn't wait for was to set out and explore what this famous concession in the heart of the Okavango Delta would deliver. Because, let's be honest, there are beautiful properties all over Africa… the reason people come to Mombo is for a safari experience to beat all safari experiences.
Well, 48 hours later, and we were completely and utterly blown away by what we had witnessed.
On our first afternoon drive with Moss we headed out to where the breakaway pride had been relaxing the morning before. Sure enough, we rolled up to within breathing distance of them. A perfect place to take in some shade from the hot afternoon sun and start learning about the dynamics of the resident and roaming lions of Mombo.
About 20 minutes later, the distinctive continued shrieking of the red-billed spurfowl alerted the guide to what was most likely another predator. Just 150 metres from the relaxed pride of seven lion was a massive male leopard. Moss called this striking male leopard Sergeant and one couldn't help noticing how passionate he was in sharing the excitement with his guests. His eyes were fixed on the animal as he shared the years of how he has watched this individual through his challenges and triumphs existing in this predator-rich landscape. Sergeant is reaching the end of his dominance and you can see he has been through a lot as he panted hard in the afternoon heat.
As we made our way along the marshy plains it started to become evident. It's not just the animals or the thrilling sightings we were being treated to, it's the sheer beauty of the area, which is unlike anything we've seen. It's Africa as you imagine it. Some of Botswana's largest baobab trees look as though they've been placed there deliberately. You'll find yourself alongside rolling floodplains where carmine bee-eaters swoop by the vehicle and then into dense forests with old gnarly jackelberry trees. It truly is a breathtakingly beautiful African wilderness.
Nothing could have prepared us for the treat we were in for the next morning. We told Moss we would be ready to set off nice and early to make the most of our time out there. And if you don't want to miss out on the fresh cappuccino and scrumptious handmade toasted sandwiches cooked on the fire… do not fear, they will wrap it up for you for your breakfast on the go.
We headed towards an area called Tsessebe Plains to find the Mathatha pride. We found them and they were on the move. It was clear where they were headed. The buffalo herd of around 400 animals or more was not far away. Lions are never far away from a big herd of buffalo.
Once again, we were staggered by how quickly we encountered the next predator. A majestic male cheetah was watching these lions with a clear amount of distress. It was the flick of its tail Moss spotted across the grassland. When we got closer, we were treated to rich golden morning light as we followed this cheetah from termite mound to termite mound, posing for us.
Fifteen minutes later, after being spoilt with photographs of this cheetah, we ventured to the thickets where the impalas alarm calls were causing panic. This was not typical behavior for antelope in the presence of a cheetah. If you're an antelope within visual contact of the fastest land mammal on the planet you're best of making a run for it sooner rather than later. Moss realized there must have been another predator. Sure enough, he spotted a leopard dash for the bush – but we didn't see it. She was moving away from three huge male lions who were after her kill from the night before.
We were almost exhausted by the morning's excitement but that wasn't all. We headed back to the buffalo where the Mathata pride had been seen moving closer. The script was set. A buffalo had stopped to wallow in a pool of rainwater and was flanked on all sides by seven lion. He'd allowed himself to lag behind and we settled in. Not more than three minutes later and it all kicked off.
Those who are fortunate enough to have witnessed a kill will know it can be distressing to see nature at work. Like killing machines each lion had its job in bringing down this beast. One to weigh down the rear and several others below the legs to weaken its stance. Importantly, one young male clenched his awesome jaws over the buffalo's mouth to suffocate his distress calls that would invariably bring with them the rest of the buffalo to rescue him.
What a sighting and what a magnificent place. The place of plenty for sure. A place which preserves the pure essence of Africa as it was millions of years ago, beautifully intact.
For travellers who are lucky enough to afford a stay at Mombo the answer is yes! It is absolutely worth it!
We all know northern Botswana and the fantastic wildlife areas of the Chobe and Okavango. But did you know that Botswana has a 'toe' in the south that is also a phenomenal wildlife haven where cheetah are seen almost every day, 92% of the year is rain-free and there are eight rivers for plenty of grazers to thrive?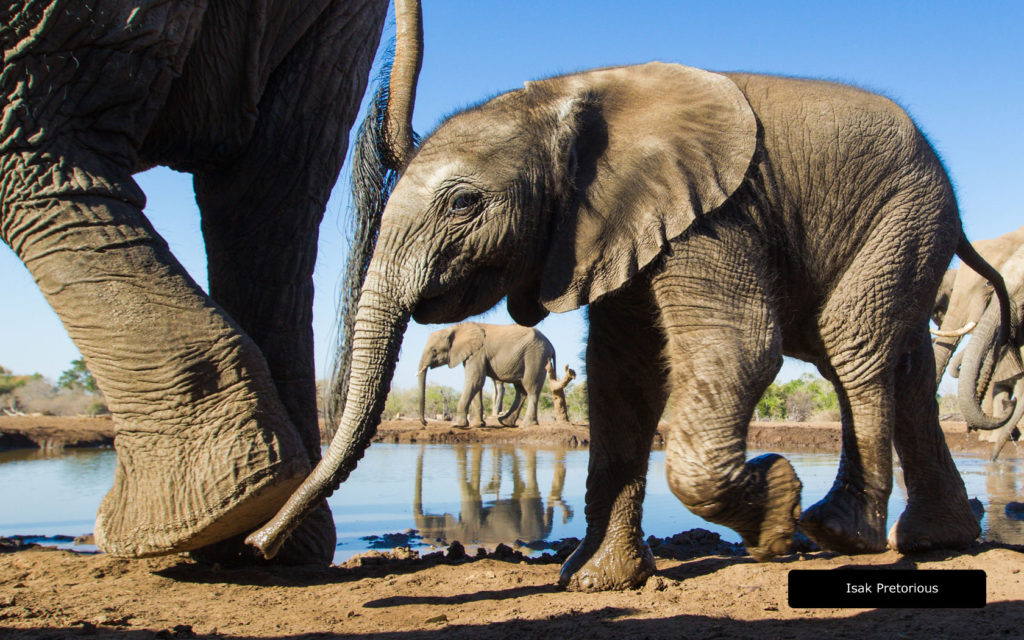 Yes, Mashatu Game Reserve is in the part of Botswana that juts out to share a border with Zimbabwe and South Africa – just like a little toe! Here you find 29 000 hectares of unfenced private land – not a concession but privately owned by three generations. Over decades, careful land management has resulted in regular sightings of leopard, lion, cheetah (14 new cubs were born in 2019 alone), brown hyena, bat-eared foxes, African wild cats and honey badgers. Kills are also often observed as the wide-open plains lend themselves especially to cheetahs' and lions' hunting styles. We agree with Mashatu's claim that they, 'sell goosebumps' and their exciting predator action is enough to give you (never mind the poor antelope!) plenty of goosebumps!
Mashatu is home to at least 700 giraffe and the largest recorded herds of elephants on private land in the world – between 200 and 300 individuals have been seen moving together. Bird nerds should look out for unusual species like Meyer's parrots and green parrots. When it comes to spotting these animals and birds, you're in the safe hands of the Mashatu guides, who have – on average – 14 years of guiding experience each. The trackers sit at the back of the vehicles so they can interact with the guests in the back rows. Once they've got five years' tracking experience under their belts, they can move upfront.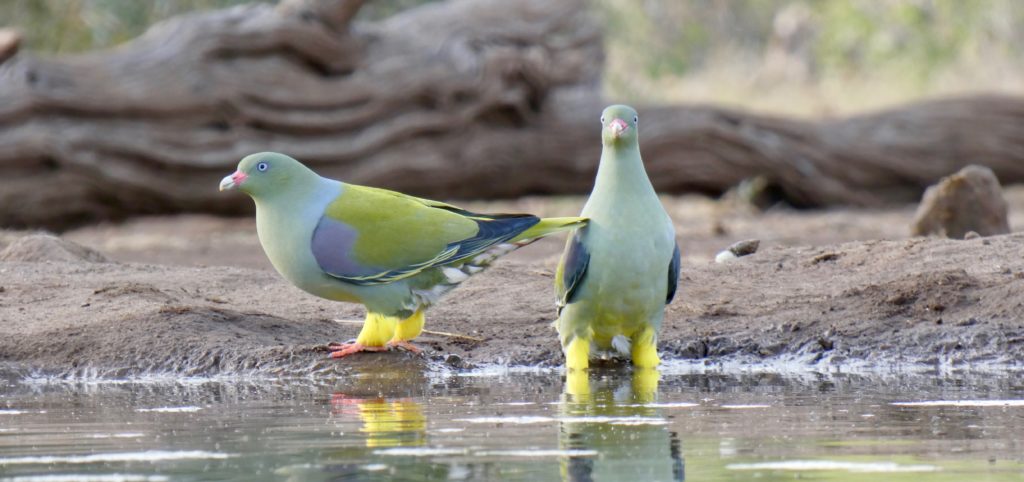 In addition to game drives, there are multiple other ways of seeing Mashatu. Cycling safaris are easy because they follow the flattened elephant tracks (there is an age restriction of 12 and a back-up vehicle follows at a distance of two kilometres). Intermediate riders (must be able to canter with confidence) can saddle up one of the over 40 horses on the property and walking is also available.
If guests don't feel like breaking a sweat, they can watch plenty of game come down to the underground hide where a professional photo guide is available to help them make the most of their cameras and phones. Beanbags, tripods and mounts are all for guests' complimentary use.
Before BTTE 2019 in Kasane, we had the opportunity to do a fam trip with agents to Mashatu, where we were hosted for two nights by Kelly Evans. This is easily a 4- to 5-night stay destination as there is so much to see and do here.
We loved being on safari in this secret corner of Botswana and recommend incorporating it into an itinerary for your clients for the following reasons:
Flight connections between Mashatu and the Okavango Delta are now easier than ever, with seat rates available to travellers. It's now much more convenient and cost-effective to fly into the south of Botswana.
Botswana Immigration – if you're flying in from Zimbabwe or South Africa – is done at Limpopo Valley Airfield, where you'll be queuing with a maximum of 12 other people. Our group had the immigration counter all to themselves and were done in 15 minutes. Of course if you're flying from the Delta, you skip this step.
The game viewing is phenomenal. We saw two cheetah kills in two days as well as mating lions, stalking leopards and plenty of plains game. Kelly still felt the need to apologise that it was 'quieter than normal'!
The variety of activities and size of the area make it a natural fit for a longer, more relaxing stay. In two days, we did two game drives, a bicycle safari and a morning in the photo hide, and STILL didn't have enough time to get to the area's fascinating archaeological sites or the horse-riding excursion.
The photo hide isn't just for professionals. Superb Mashatu photo host, Aubrey, showed our group how to make the most of their iPhones for photography and composition – and we learnt about settings we never knew existed.
With three properties on offer at different levels of budget, there's a camp or lodge to suit everyone. Opt for Mashatu Tent Camp for entry-level accommodation, Mashatu Lodge for mid-range clients and Mashatu Euphorbia Villas (will open in May 2020) for those who want to splurge. The villas will have heated plunge pools, Wi-Fi and air conditioning plus views over the landscape.
There's no 'real' Green Season here. You'll find carpets of wild flowers from January to March but the grasses are still short and the rainfall is much less than in the rest of the country, making it a great option for small groups continuing to the Okavango Delta on private charter, or just doing Mashatu as a stand-alone.
The landscape and habitats are totally different to northern Botswana, lending a fantastic contrast to the Okavango Delta and Chobe National Park, both in terms of expected wildlife sightings and the landscapes to enjoy it all from.
If you want goosebumps and a huge thrill, Mashatu might be the place to find them!
Mashatu forms part of our 9-nights Best Kept Secrets Superior package – see how to link the Delta, Mashatu and the Victoria Falls for your clients here.
… OR KEEP THE SECRET TO OURSELVES?

Imagine a place with trees so beautiful they make you 'treedrunk',
Imagine a place where around every corner a different antelope can be discovered,
Imagine a landscape diverse and exciting, from river beds and sandy beaches to open grasslands and forests,
Imagine majestic elephants wandering in front of the bright red sandstone of the Chilojo Cliffs,
Imagine a completely untouched wilderness,
Imagine a community that understands the importance of protecting their heritage, their environment and especially their trees (the people in the Mahenye village rather walk for kilometres to collect firewood than cut down the trees around them),
Imagine a man who understands that for the local population to care about protecting wildlife, they have to benefit from wildlife. Clive Stockil is this man; he is the founder of Chilo Safari Lodge. Clive has dedicated his life to solving human-wildlife conflict. He is the father of CAMPFIRE (Communal Areas Management Programme for Indigenous Resources). He explains it this way: "If you are a conservationist, your problem is all about space, so deal with human pressures first. CAMPFIRE has turned conflict into co-operation and everyone has benefited. The community is happy, the parks are happy and the animals are happy. Everyone wins."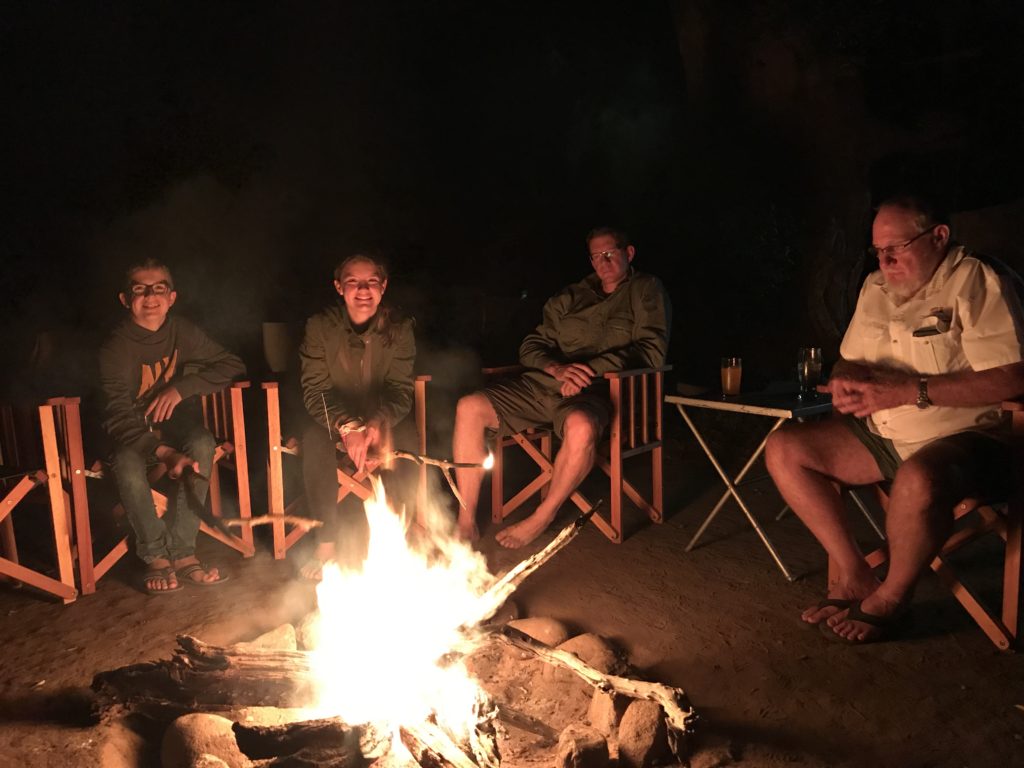 Gonarezhou means 'The place of elephants'. There are special places in Africa where you truly feel at one with nature. Gonarezhou is one of them. I was blown away by the diversity of fauna and flora.
The remoteness of Gonarezhou is a mixed blessing. Access to Gonarezhou is easiest from Harare via small aircraft. The flight takes around 90 minutes and arrives in Mahenye, which is the closest airstrip to Chilo Gorge. Clients flying in from Johannesburg are recommended to fly with Federal Air into Buffalo Range (currently two weekly flights on Mondays and Thursdays); the road transfer from Buffalo Range to Chilo is about two hours long.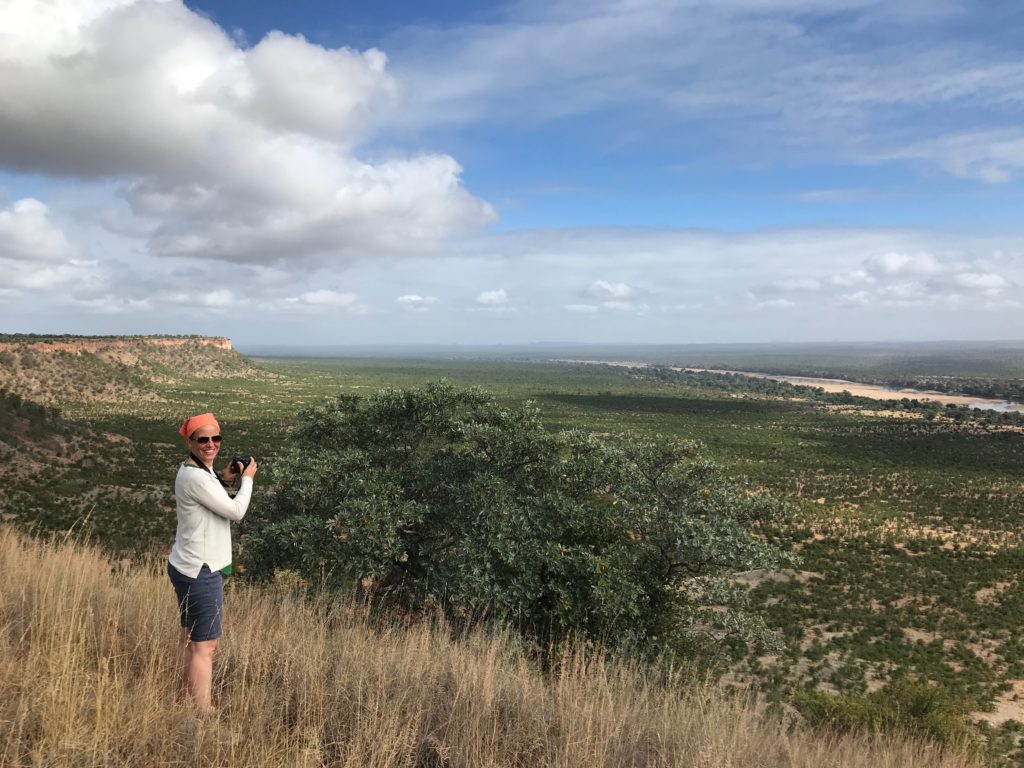 Gonarezhou is the place to be if you want to be 'treedrunk' after only an hour of safari, never mind the multitude of birds we saw, the incredible variety of antelope, buffalo, crocodiles and elephants. Just the trees alone are intoxicating…
Imagine every few hundred metres a beautiful baobab, thick, tangled riverine forests full of jackalberries, bizarrely bent rain trees, stoic leadwoods, ruffled African mangosteens… It's almost too much to process!
Think back to 2010… Nicholas Sarkozy was president of France, Barack Obama was the president of the US, Ian Khama ruled Botswana and Angela Merkel was chancellor of Germany (OK, some things change faster than others!). The best movie at the Oscars was The Hurt Locker (we had totally forgotten about that one) and the top songs were by Ke$ha, Train and Lady Antebellum (who, who and WHO?). There was no Instagram until October of that year, Nxai Pan and the Central Kalahari Game Reserve had no permanent camps, Natural Selection didn't exist, and who would have thought that AirBnB or Uber would grow so quickly?
Things were very different then and no more so than at Safari Destinations. Our little company was just four years old. Our office was above Mack Air opposite the airport and we had about 15 staff, half of which are still with us today. 2010 was the year when Lorraine and I started searching for a new home for our business, which we found only a couple of kilometres down the road. We bought our new premises in 2011 and thought we would never need all the space – hahaha, were we wrong.
21st century technology
In those long-gone days, most of us still worked on large desktop computers and used the small but efficient Nokia 5300 mobile phone. The fax machine still played a key role (remember how the ink faded right at someone's phone number?!).
Kay, reservations manager, recalls the prehistoric days before the IT revolution, 'We used to do everything ourselves: no personal administrators or fancy systems.'
Karen, reservation supervisor, who was the sixth employee to join in June 2008, agrees. 'When I started, we were quoting manually using Excel and we were also doing all clients' documentation manually, too, which used to take hours. Now, we have a clever system that works out costs and pulls documentation like invoices, vouchers and confirmations.'
The longest-standing staff at Safari Destinations agree that the biggest change the decade has brought is the colossal change in technology.
'It really has changed my job in a big way,' says Angela, Travel Experiences manager. 'We used to carry a huge manual file with more than 60 Operations Reports when going to the airport to meet clients and, believe me, it was HUGE… Every time you received a call from a supplier, agent or client, you would have to find a little corner in the terminal and flip through the file as fast as you could in order to retrieve information. Today that big black folder has been replaced by a single tablet.
The Travel Experiences team
Angela touched on another big change over the decade: the development of a specialized and highly skilled Travel Experiences team that handles all client meet & greets at Maun International, smoothing arrivals and departures, handling lost luggage, welcoming clients and everything in between.
The Travel Experience team in 2020 makes a big difference to a client's overall experience and are very appreciated by the rest of Safari Destinations. Kay and Karen remember having to drop consulting in order to race over to the airport to meet their clients, then race back again. 'Back then, each consultant had to go and meet their own clients. There was no such thing as a "Travel Experiences" team. I must admit, I'm very happy we do now have a Travel Experience team!', laughs Karen.
People first
But no matter how sophisticated the technology became, Safari Destinations always put people first and the years between 2010 and 2020 saw some incredible projects for staff and the community.
As a mom of two girls herself, Karen appreciates Safari Destinations' focus on boosting the next generation. 'The support the company offers parents who have children is one of my biggest highlights of the past decade. Allowing our children to physically be on the office premises in a cottage (known as the Kiddies' House), being supervised, whilst we can work is a massive benefit.' This development was ahead of its time in Maun (and actually the rest of the world) and support for working parents is a growing and welcome global trend into 2020.
'One of the biggest projects,' says Lorraine, 'is the vision to build a school and after-care facility for the Bana Ba Letsatsi (BBL) underprivileged children, a dream come true and a testament to the meaningful contribution Safari Destinations and our partners have made through tourism. The long-awaited building will be started in 2020.'
Other notable community-engagement projects include the start of the 'Magic Bus'. This is a mini-bus that is sponsored by Safari Destinations and gives transport to especially the elderly of Maun, who may otherwise have to walk long distances to attend a clinic or go shopping.
To celebrate Botswana's 50 years of independence in 2016, staff took part in the '500 Man Hours' project that encouraged them to collectively give 500 hours of time to community projects. Today, Safari Destinations works closely with the Maun Animal Welfare Society (MAWS), Women Against Rape (WAR), Bana Ba Letsatsi (BBL) and many others. Many in the industry are also aware of SD's work with Sekgoma Primary School, the bed night bank, Travel for Impact and various drives for donations of winter clothes, blankets and foodstuffs.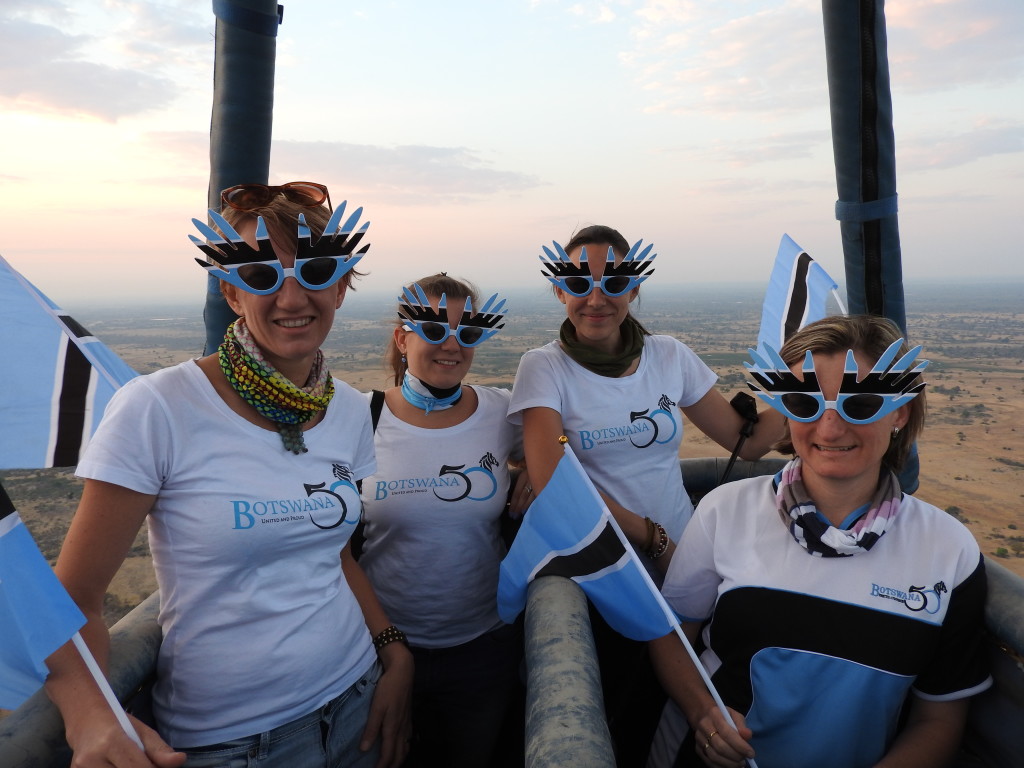 'People' also refers to how Safari Destinations finally started employing the so-called 'stronger sex' (ha! Us ladies change tyres, set up tents, dig game-drive vehicles out of sand AND give birth!). 'The number of men employed is also a big change. In 2008, when I joined, employing men was not in the pipeline; however, once more women joined the company, there was a definite need for some male company!', jokes Karen.
A maturing industry
As Safari Destinations grew from a toddler to a teenager over the decade, the broader safari industry also matured radically. Everyone agrees that far more players have entered the market, bringing fresh ideas and new people, and making every supplier raise their game to stay competitive. Often this had meant a new level of luxury: wine cellars, Wi-Fi, media rooms, gin bars, specialist spa treatments and à la carte dining were all virtually unknown in 2010.
As Angela says, 'Suppliers have had to keep up with trending luxury décor in order to stay relevant while not destroying the authenticity of the camps or environment.' 'Yes,' says Karen, 'More properties are popping up, which means new players as well. The upgrading or rebuilding of a lot of properties to a very high-end level means some products are far more luxurious now than ever before.'
And keeping up with times means the decade also saw huge shifts in how it uses technology.
'Smart-phone technology and websites being a go-to place for people to do research has been a big change. There is so much more access to information now,' adds Karen.
'Social media is a plus. It makes it so much easier for all concerned to get the message out there and also for clients to dream up and plan exotic holidays. Wildlife documentaries, viewed across the world, are also a plus but trying to get an 8-10-day trip to compare with a documentary that is five years in the making, is sometimes challenging, to say the least! Luckily, we rise to the challenge!', laughs Kay.
'The rise of social media over the past decade has changed many things,' agrees Andrea. 'In some ways, thanks to smart phones and social media, travel is less about the experience of being in moment now and more about what you can post to Instagram later… Every camp now needs a few corners that are highly Instagrammable. It's the same with some sightings: if the light is low or branches are in the way, then there's no point in stopping for a photo for some guests. Some clients want the exact experience they've seen on Instagram – unfortunately, the elephants aren't trained to drink from the same swimming pool at the same time every single day!,' she jokes.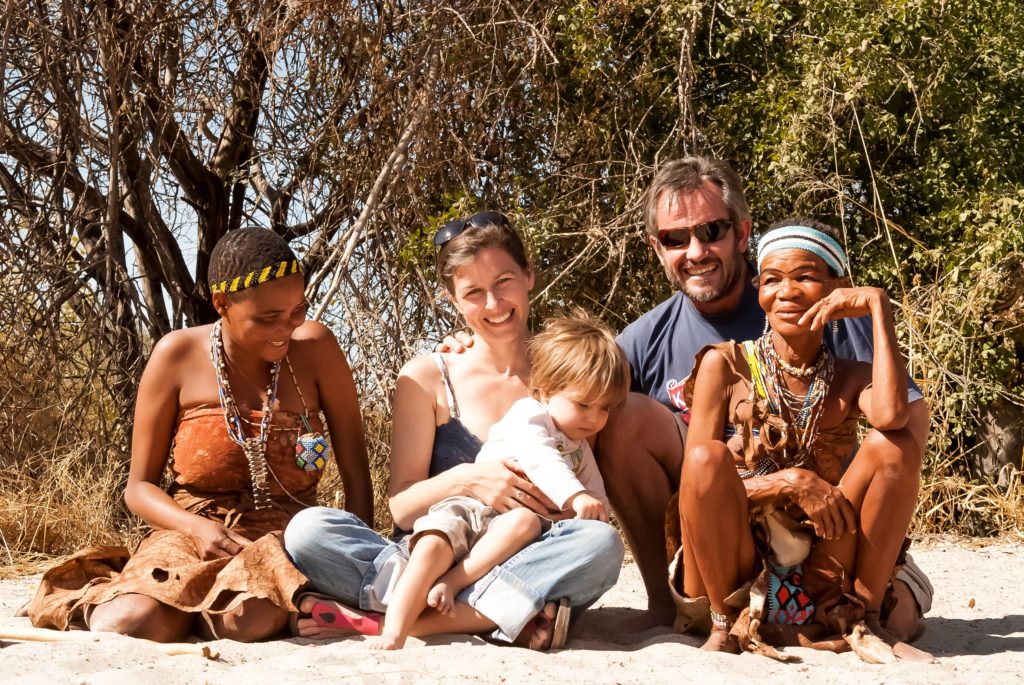 'Social media also allows for a lot of information, which is a good thing as Karen says, but sometimes that information is put out by amateurs who get things wrong. TripAdvisor is now a staple source of information for clients that they trust without knowing the full story of a stranger's holiday – a good camp may get a bad review for something beyond their control. As professional consultants and experienced experts, knowing what product would suit which clients is a skill that cannot be replaced by a single TripAdvisor post.
As Kay says, 'with more and more beautiful videos and photographs appearing online every day, we need to remember that they represent just one moment of a safari. A photographer chooses a single perfect image from a whole journey. For us, the fun and excitement remains in finding sightings, having great guides, smelling the wild sage, hearing the bulbuls call to each other and seeing remarkable landscapes – not in reducing it all to a few pixels on a screen.'
A decade of good laughs
While it's never easy to grow a business from strength to strength, it is certainly made a lot easier if everyone has a good sense of humour. The Safari Destinations employees who've been around since 2010 and before have shared plenty of jokes and funny anecdotes over the years.
Kay groans at some of the crazy requests… 'We've been asked to provide a double room with a sea view at the Victoria Falls Hotel! Once a client was disappointed because they couldn't take a mokoro from Nxamaseri to Tsodilo Hills to see rhino!' 'Oh, that's nothing,' says Karen with a straight face. 'I was once asked if the clients would be able to see unicorns on safari…'
Travel is a big and often stressful part of our jobs as we have to see as many properties as possible, make extensive notes, take photos (and videos now with our phones – unthought of in 2010!) and remember countless names, numbers and facts. But even educational travel has it's funny side: Lorraine and I were once hosted at Baines' Camp by Sanctuary Retreats.
'They ran us a romantic bubble-bath following the afternoon activity that we had no choice but to use. So, we had fun taking a picture of the two of us fully dressed in the bath!'
We're all looking forward to seeing what advancements, achievements, jokes and memories the next ten years will bring us!
Tucked away in the Khwai Private Reserve, Tuludi from Natural Selection has access to 200 000 hectares of land to explore… so we went exploring!
Overall impression
Tuludi is stunning. Every small detail has been thought of while putting the lodge together. The main area offers so many different places to sit – the problem is that they are all very welcoming so the choices seem endless! All these different seats have different views of the area surrounding the lodge.
The whole lodge, including the staff, is premier material. Food is à la carte with a good number of choices that are out of the ordinary but tasty. The rooms are spacious and restful yet romantic with outside bathtubs. The family room is stunning. In fact, the whole camp is family friendly especially with the fun addition of the slide in the main area!
The vehicles are so comfortable that no bumpy road can ruin your game drive. They also have an elevated hide overlooking water for lunches or dinners.
Comparative value and experience
Tuludi offers a chic modern style, some of it's design elements are unique, like the bar, made of thousands of mosaic pieces – stunning artwork. This new camp has the air of a premier camp at more classic rates, it would go perfectly well with the likes of Kanana, Nxabega or Xaranna. I can also see it being combined with Ngoma Safari Lodge, Belmond Savute Elephant or the new Selinda Camp.
Ideal clients
This lodge is definitely for clients wanting a luxury safari who love their comfort. It's also good as an upsell for honeymooners. Tuludi is a good family camp for children aged six and over but a private vehicle must be booked in this case.
Seasonality, wildlife and activities
Tuludi is one of four camps in the vast Khwai Private Reserve. Only vehicles of one of the four camps are allowed to gamedrive in the area, making it an exclusive experience. The main source of water is the eastern-most finger of the Okavango Delta, the Khwai river, which attracts large herds of elephant and buffalo. The permanent waterholes are home to resident hippos. During rainy season the floodplains fill up, changing the landscape from open grassy floodplains to lilly-filled lagoons.