Category Archives: Mana Pools National Park
I knew there was something special about Mana Pools the minute the plane touched down on the dusty airstrip. I could not put my finger on it just yet, but little did I know I was about to experience the magic that Mana Pools has to offer.
Located in the far north of Zimbabwe, Mana Pools National Park lies in the heart of the Lower Zambezi Valley. Mana Pools is remote, it is wild, is incredibly beautiful and it is magical. The night skies captivated me the first night as we enjoyed a barbeque under the stars. Nowhere else have I witnessed such clear skies with sparkling stars. While trying to focus on the stars, my attention was drawn to a lion calling in the night. It seems I was not the only one distracted – it was loud and it was close!
The flood plains are teeming with hippo, crocodiles and impressive birdlife. If hippos are your drawcard, you do not want to skip Mana Pools. Canoeing down the Zambezi River would have to be the most exhilarating feeling I have experienced. A stay in Mana Pools is not complete without a canoeing safari. The guides are incredible, with years of experience (and in my opinion, nerves of steel), keeping us calm and informed throughout our journey down the river.
We were hosted by Nyamatusi Camp of African Bush Camps. A small and intimate luxury camp of 6 tents, boasting uninterrupted views of the Zambezi River. The lodge continues to Nyamatusi Mahogany, the sister camp that accommodates families. The two camps operate independently of each other, but if you have the need for more rooms, they can each take the overflow. Activities to fill your day include game drives in the Mana Pools UNESCO World Heritage Site, bush walks, canoeing safaris and tiger fishing (catch and release).
I managed to do a short walk along the shorelines with our trusted guide. It was incredibly hot under the African sun as we meandered from tree to tree, trying to get a bit of reprieve in the shade. While we did not see too many animals on the walk, our guide shared so many interesting facts and stories that kept us enthralled throughout.
Without a doubt, Mana Pools is an exceptional destination. It should not be overlooked when planning a trip to Zimbabwe. It is a special place that captured my heart, a magical place that can only be experienced. My story does not do it justice!
NYAMATUSI CAMP – FAST FACTS
6 Luxury Tented Suites – with air-conditioning above the bed
All inclusive meals, drinks (excludes premium drinks and champagne) and activities
Activities include morning & afternoon game drives, walking safaris, canoeing and fishing
Camp closure 6 January to 31 March
Main swimming pool and private plunge pool at each suite
Solar power and in room charging facilities
Accessible by air from Victoria Falls International Airport (2 hour 30 minutes) and Harare International Airport (1 hour 30 minutes)
45-minute game drive transfer to camp
One of my best safaris ever! I was lucky enough to visit Mana Pools in early October.  We arrived after a 2,5 hour flight from Victoria Falls and were picked up by our guide. I was blown away right from the start! Why ? Because I drove through the bush with different types of trees and shrubs. I was quiet surprise that there is no grass in some area and it is only this beautiful ochre sand.
The mighty Zambezi River is the boundary of the park with Zambia and it is a paradise for hippos, elephants, crocodiles and birds, especially the carmine bee-eaters. On my boat cruise, always having the beautiful view of the Zambezi Escarpment in the background,  I had the chance to experience the carmine bee-eater flying around me and to see their nests on the bank of the river.
I only spent a few nights in this beautiful national park. I stayed at the unique Kanga Bush Camp and the amazing Ruckomechi. Both camps are totally different and both are special and definitely worth a visit. I was lucky when I arrived in Ruckomechi to see a breeding herd of elephants with very small baby elephants crossing the river. For seconds they disappear under the water, is that not amazing to see this kind of behaviour?
During the dry season, some lodges pump water for the animals. Water is the source of life as we all know. It was great to see all the different species coming to have a drink. We had baboons playing around, elephants and warthogs mud bathing, impalas, zebras, kudu drinking…When the sun is down, some others species will come for a drink such as leopard, civet, genets and hyenas.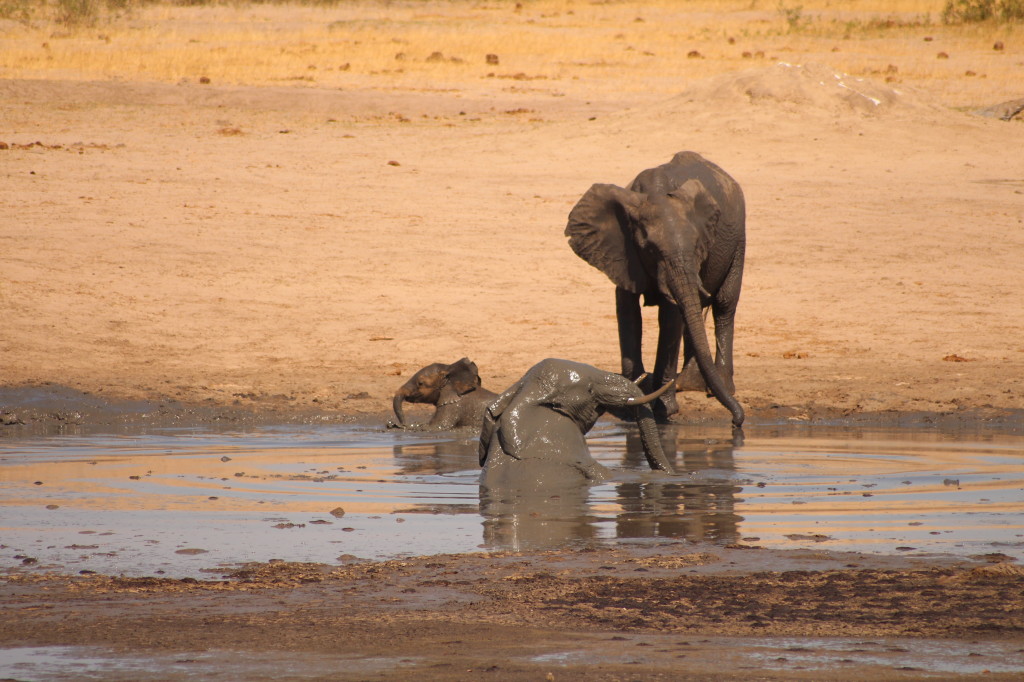 Mana Pools is captivating with the landscape, all the different species and the excellent guiding. I will definitely come back.
I have always been in love with Mana Pools.
Mana is my mentor – a remote and wild park that feeds my soul with all her sights & sounds – I've visited her time and again in her different seasons. Her moods are many and despite the diverse ecology and terrain, each one of these trips has been memorable for one thing. I've had some of the best close-up game encounters ever! Sitting under the watchful eye of a professional guide meters away from lion, wild dogs, the legendary standing bulls of Mana and a myriad of plains game and birdlife is just one way in which this park immerses you and brings you back to the fundamental core of nature and our place in it.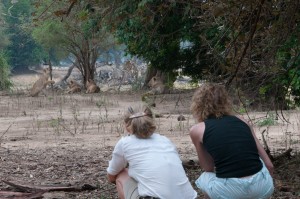 Your clock adjusts to sunrise and sunset and you fall into beat with the natural order of things, according to the rhythm of nature and camp life – the game is clearly abundant in peak season and our recent visit took us to just a few of the camps that have the privilege of operating in and being the custodians of this special park:
Chikwenya, Vundu, Little Vundu, Camp Zambezi and Zambezi Lifestyles as well as Goliath Safaris (I had stayed at Kanga and Rukomechi on my last trip).
Zambezi Lifestyles – *top spot – really enjoyed being right on the flood plain (Ngundu 2 site), saw game all over the place (NOTE the camp moves between different sites depending on which is available, all are on the river) enjoyed the simple comfort of the tents and space of the camp – 4 tents set up boasting the new flush toilets in the open air bathrooms – great bucket shower – excellent local staff managing camp (Cloud was a treat to be in camp and on safari with, very passionate, knowledgeable and eloquent, we also did our canoe trip with him, we weren't just 'guided', we were educated too) – tents/hardware were all solid – food was amazing (I made a point of going to meet the cook, these bush cooks really are talented is all I can say!) – Highlight: herd of 400+ buffalo and sitting on the vehicle near Zebra Vlei watching a pack of 7 adult wild dogs with pups in the late afternoon, they went off on the hunt as the sun went down.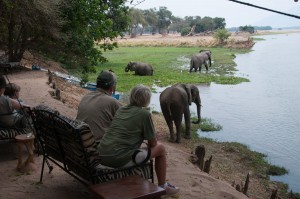 Goliath Tented Camp – *top spot – also really enjoyed being in this camp (I rate both Zambezy Lifestyles and Goliath as my trip highlights) – Camp is on a private concession so in the same location annually.  Owner and Pro-Guide in camp is Stretch (Andrew) Ferreira, he is running the camp – the location is stunning with shade over the central areas looking out onto a channel and island just in front of camp, beyond the island is the main river. The first thing you feel here is welcome and are encouraged to feel right at home and 'part of the family' – camp layout is neat and functional with a super river front lounge/dining/breakfast/fire pit areas, the tents are set slightly back – the extended size east African tents are very nicely fitted with tasteful teak and wrought iron furnishings, the beds are very comfortable and I loved the open air shower area – vehicles are open top and in good condition – food was awesome! Highlight: pride of 5 lions right outside camp having a snack out of the cooks cell phone, about 15m from us.
If you are a safari addict and look for close wildlife encounters with excellent guides – then Mana Pools should be your next destination! Our recommendation for an intense safari experience is the 10 night itinerary "Spezialised Guides of Zimbabwe" with:
3 Nights Goliath Safaris Tented Camp, Mana Pools Natonal Park
3 Nights Musango Safari Camp, Matusadona National Park
3 Nights Camp Hwange, Hwange National Park
1 Night The Elephant Camp, Victoria Falls