One never quite knows what to expect when an iconic camp undergoes a complete rebuild. We had the pleasure pf spending a night at the newly built Camp Moremi which is situated on the picturesque Xakanaxa Lagoon in the eastern extremity of the Okavango Delta, within the Moremi Game Reserve. The camp is set a short distance from the lagoon, perfectly nestled under the natural shade of large Jackal berry trees and within a short driving distance of the new Xakanaxa airstrip.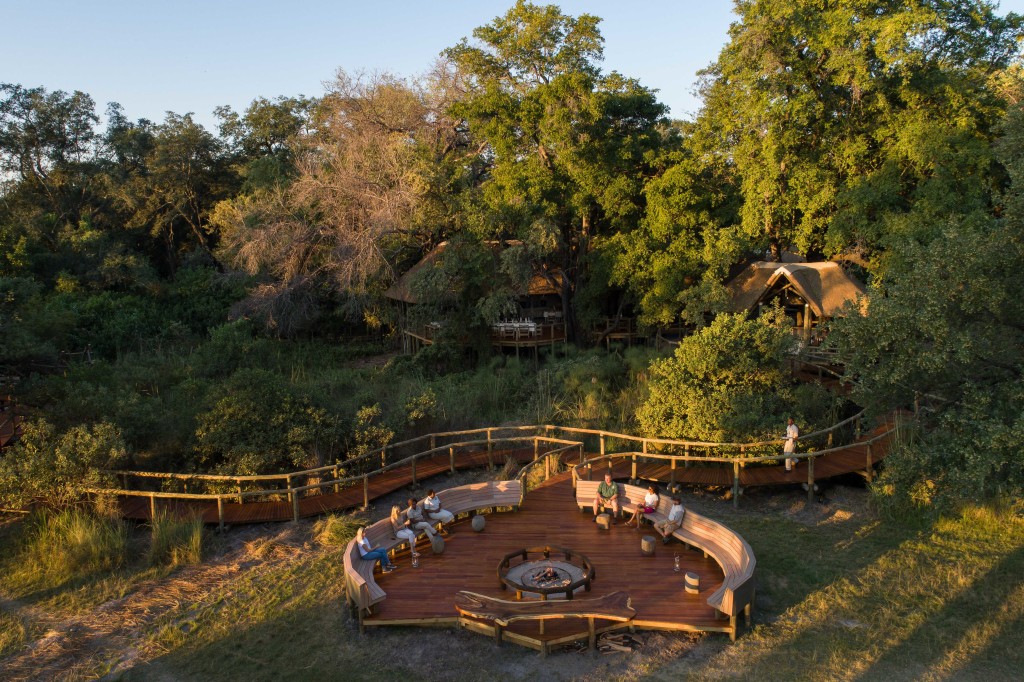 The camp offers morning/afternoon game drives in the Moremi Game Reserve and boating safaris on the Maunachira River. The staff made us quickly feel at home and took excellent care of us which complemented the excellent guiding.  The bush brunch setup on the morning of departure was a lovely surprise which all clients would thoroughly enjoy and find memorable. There is simply no way to describe the feeling of having a delicious brunch prepared for you whilst overlooking a beautiful and productive waterhole in the middle of the Moremi Game Reserve.
How does the camp compare to similar camps in terms of value and experience? 
Camp Moremi is offered on a fully inclusive basis which includes airstrip transfers, all meals and beverages (local and non-premium) and activities at a very competitive rate considering the hardware of the newly built camp. It is definitely more modern in terms of design than its competitors in the region with much larger rooms that even though are canvas based, cannot be described as "Classic Meru safari tents." The camp is tastefully decorated and has a much lighter and airier feel than its predecessor.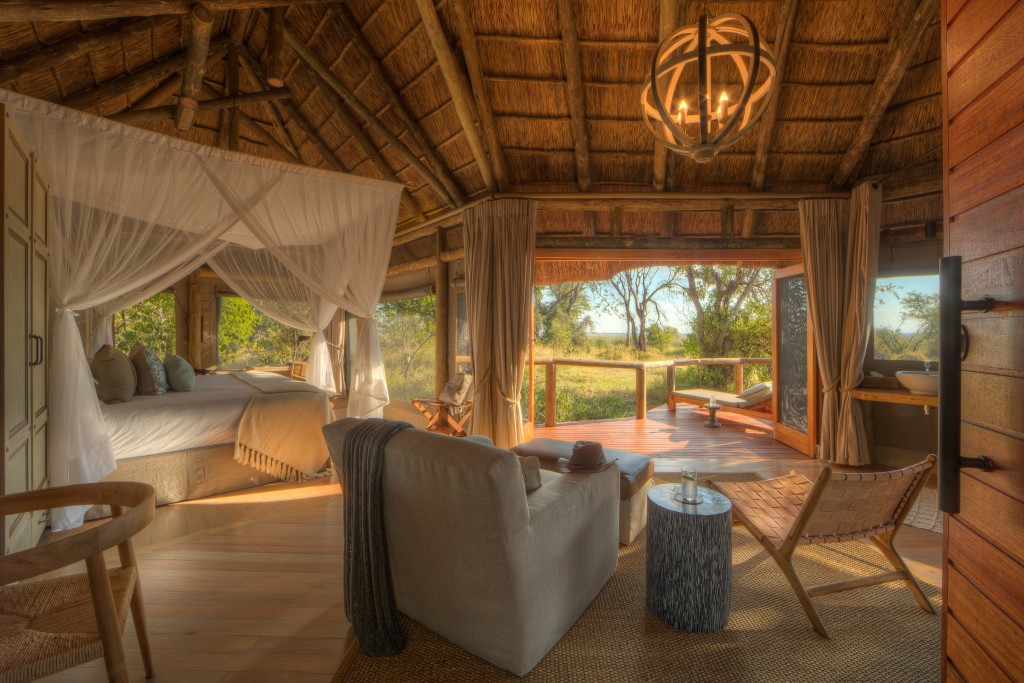 How would you combine this camp in an itinerary and why? 
Located in the game rich Moremi Game Reserve, this camp provides a solid land based game viewing experience along with the added advantage of boating all year round. It works well within the Desert and Delta Safaris portfolio of camps such as Chobe Game Lodge, Savute Safari Lodge, Camp Okavango and Leroo la Tau with the added benefit being the rate reduction depending on how long the stay is within these camps and which package is employed. The rebuild does however mean it would be best to avoid Xuguna Island Lodge after a stay at Camp Moremi as the hardware is simply not on the same level. It works well being placed in the middle of an itinerary i.e. coming from Victoria Falls/Chobe or Maun (Central Kalahari/Delta) or at the beginning as clients can quickly fulfil their big game viewing experience upon arrival from Maun Airport.
Outside the Desert and Delta Safaris chain of camps and lodge, it would work best combined with a true delta camp such as Kanana Camp or Stanley's Camp. These camps are situated in private delta concession and thus work best after a stay at Camp Moremi and not before. They would complement the experience at Camp Moremi by offering clients different experiences such mokoro excursions, walking safaris, night drives and the option of off-roading to get up close to the wildlife. The Elephant Interaction activity available at Stanley's Camp (at a supplement) or a three nights stay at Kanana Camp thus offering the sleep out under the stars at no extra cost, are unforgettable experiences that can be added to have a truly memorable safari experience. If clients are looking for a mix of experiences, it would be worthwhile to combine this camp with a superior mobile safari such as Savute Under Canvas coming from Victoria Falls/Chobe and if there is no availability at Camp Okavango for a two night aquatic experience after Camp Moremi, cast your gaze to Pelo Camp as an alternative.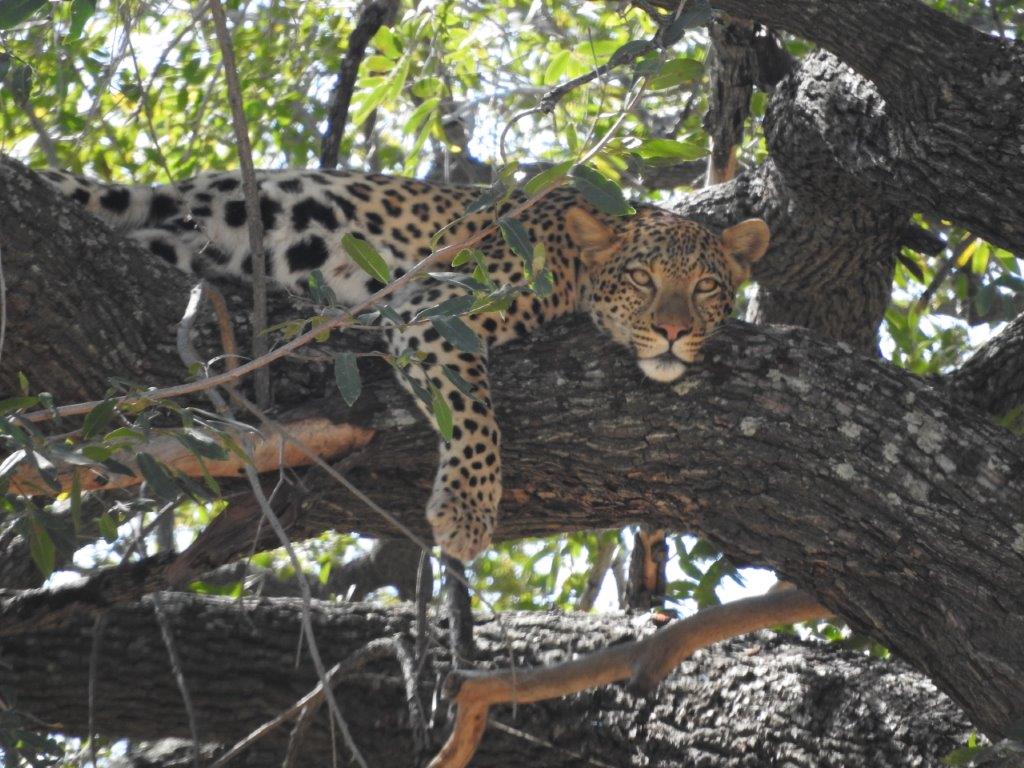 The Central Kalahari Game Reserve, Nxai Pan National Park, and the Makgadikgadi Salt Pans region would also make for a great combination with Camp Moremi.  The choice of region will depend on the month of travel looking at the clients' interests.
What type of clients does this camp suit and why? 
This superior level camps suits a variety of clients. It has a great family unit (2 separate bedrooms that have their own bathroom facilities all under one roof) that caters well for families travelling with children below 12 years and adolescents. This room is located in close proximity to the main area for convenience. They offer generous child rates for children from 6 years (minimum age) to 15 years but please note a private vehicle will have to be booked at a supplement if there are children who are less than 12 years old at time of travel. The Ultimate Family Safaris package from Desert & Delta Safaris which include private activities at all properties is geared towards providing a flexible and child friendly experience.
For clients with limited mobility, there is a room specifically tailored to their needs that is connected to the main area by the boardwalk and wheelchair friendly. This would also work well for elderly clients due to the distances between rooms.
It is a perfect camp for a first safari experience being located in the renowned game rich Moremi Game Reserve. There are a number of rooms on raised platforms to please those of us who would rather avoid ground level accommodation due to the creepy crawlies that may join us, but please note that there is a section from the main area to these rooms that is not connected to the raised boardwalk.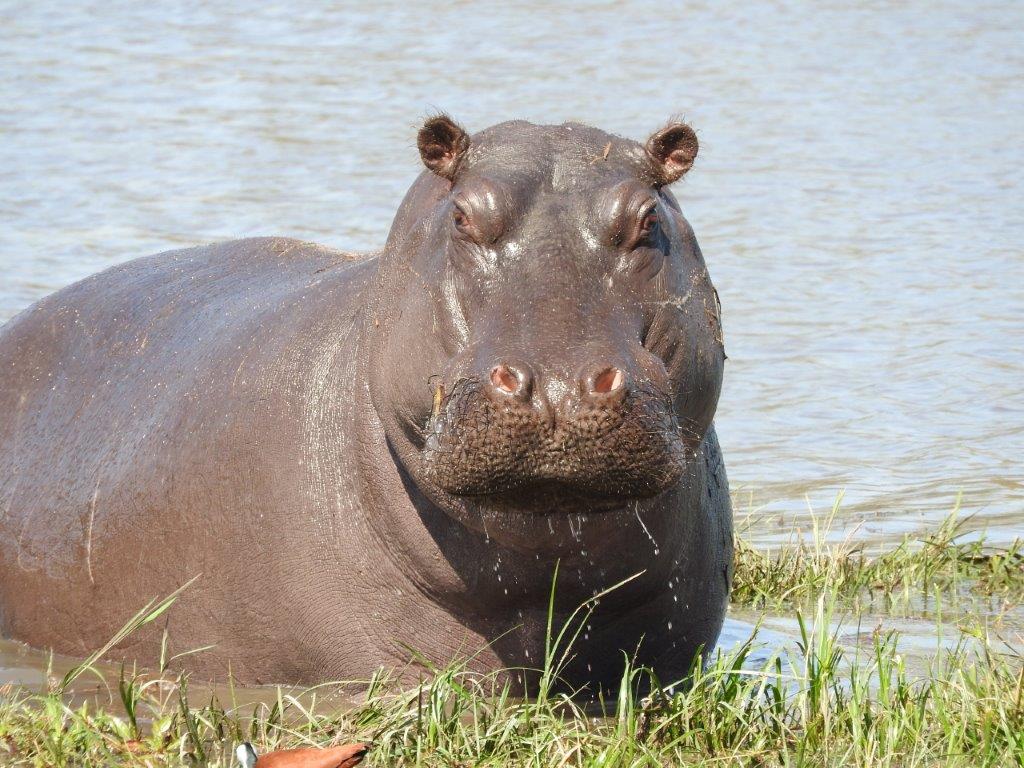 How does the seasonality of the area change through the year and what effect does it have on a visitor's experience, with specific reference to wildlife and activities?
The Moremi Game Reserve offers great game viewing all year round due to the diverse range of habitats within the reserve – from open floodplains to belts of mopane woodland. The best game viewing will be during high season (July – October), with the arrival of the flood waters in the region and the increased visibility due to the lack of foliage. The ability to offer boating all year round is a great advantage, especially during the green and shoulder seasons (November – June) as most delta camps have to curtail their aquatic activities due to receding water levels. The rainy season (December – March) may make for less concentrated game sightings due to the thick foliage but the  heavily reduced nightly rates during this period of travel does compensate for this. It is also great for photographers due to the vibrant and vivid colour contrasts caused by the short but spectacular thundershowers which bring the vegetation back to life.
Are there any areas that could be improved? 
The food and wine list needs a little polishing to fit with the rebuild of the camp. The current game drive vehicles also do not match the new property but thankfully this will be changed in the near future.
Safari Destinations itineraries showcasing this property: 10N Northern Parks Superior Safari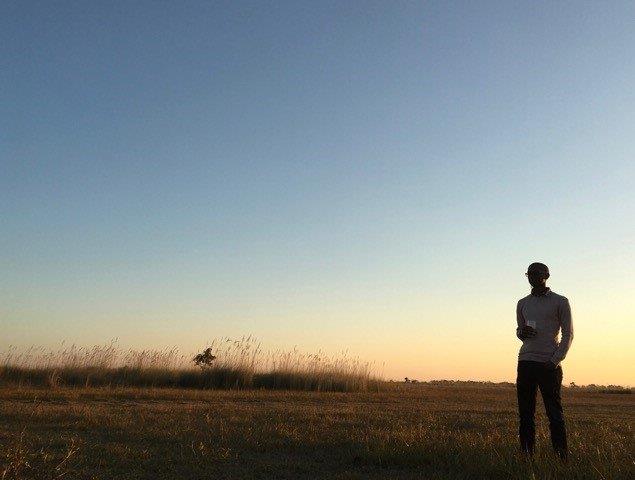 The combination of a mobile safari with time-out at a lodge or camp on either side provides the best of both worlds. There is time to get dirty and experience all the action up close and personal, and  time to dust off, relax and indulge in some modern comforts.
Ilala Lodge is conveniently located in close proximity to the Victoria Falls Hotel for afternoon tea, the local market for some shopping and the mighty falls themselves. Ilala is well known for having one of the best restaurants in town.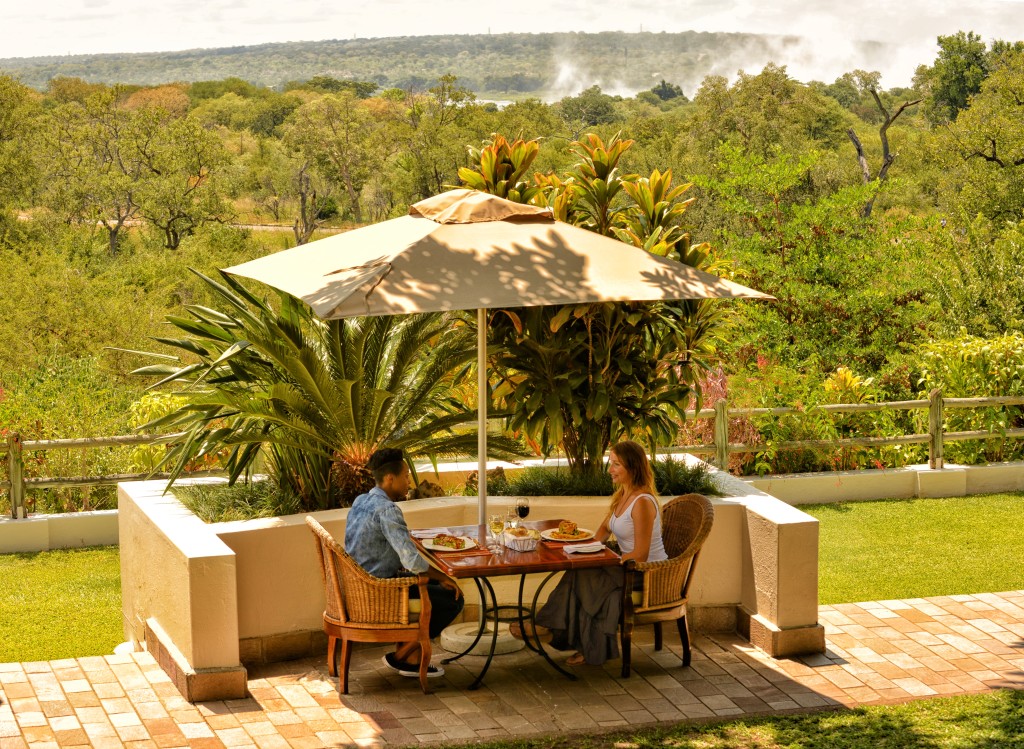 The Bush Ways Fully Serviced Safari is glamping at its best, an experience of the wild in comfort, covering some of the prime wildlife areas in Botswana, including the Chobe Riverfront, Savute marsh & Moremi Game Reserve.  This is the perfect balance of adventure, relaxation & comfort with all camp chores taken care of for you.  You'll enjoy a luxury camp set-up for you on arrival, including walk-in tents, en-suite bathrooms, comfortable camp beds and a guaranteed a window seat on game drives.
The mobile portion of the itinerary is easy to book and there is still availability for 2018.  Select departures run with German or French-speaking translators.  Click on the below to read a firsthand account from one of our experts.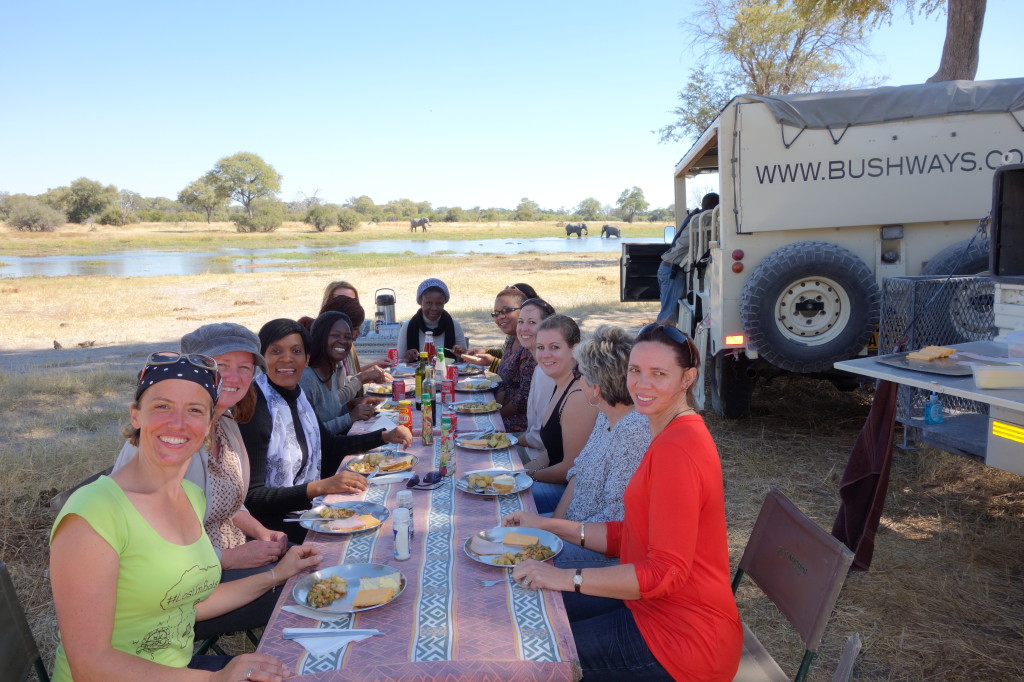 No safari to Botswana is complete without a fly-in to the Okavango Delta to view the waterways from the air and glide through the channels on a mokoro. Oddballs Enclave is an old classic whose style and intimate atmosphere works well in combination with the mobile safari.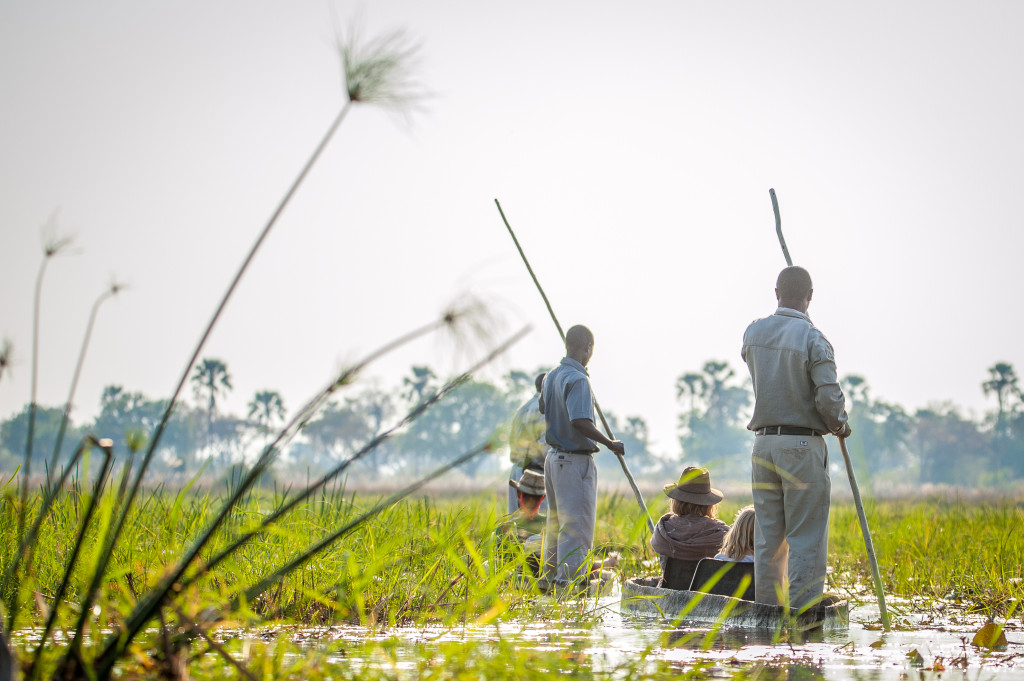 This safari offers excellent value for money !
Last but not least, we are passionate about mobile safaris because…
the guides are among the best and get to know their clients over the course of the safari, focusing on their interests and building on their knowledge.
travellers get to experience more of the country when they drive between locations, making it as much about the journey as the destination.
mobile safaris give you access to exclusive campsites in prime wildlife areas, and the flexibility for an extended exploration of areas en-route between locations.
mobile safaris take travellers out of their comfort zone, creating memories to last a lifetime.
mobile safaris offer a more intimate wildlife experience than most lodge stays.
mobile safaris offer great value for money, catering across all comfort and budget levels, and can be booked privately for families and small groups.
Click here to read more about the mobile safari experience: https://www.safaridestinations.net/we-get-around/bush-ways-safaris-mayonnaise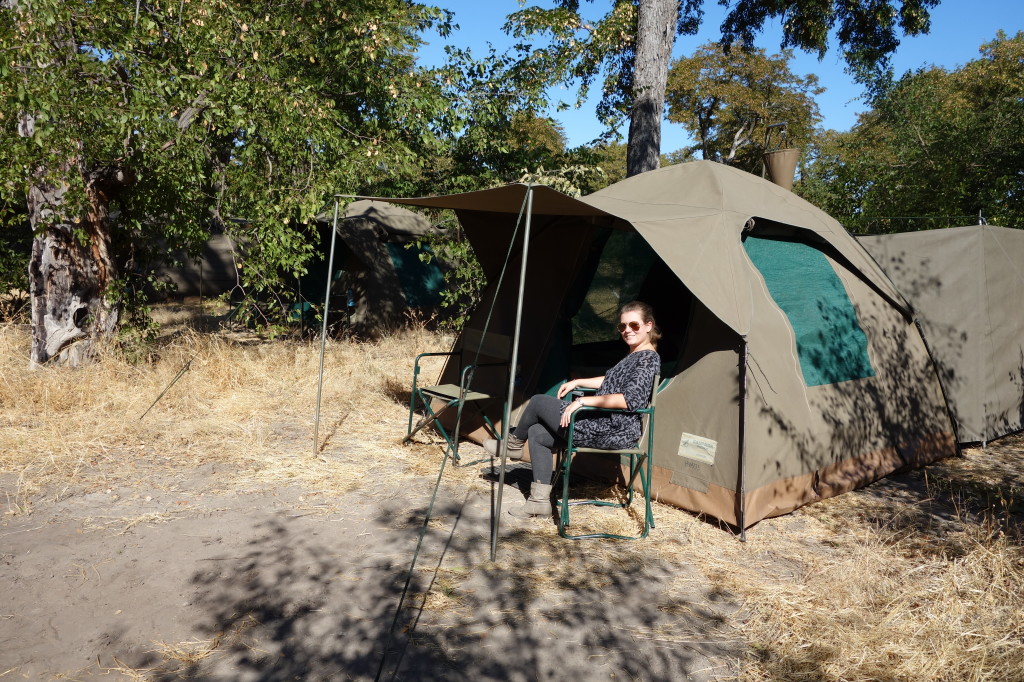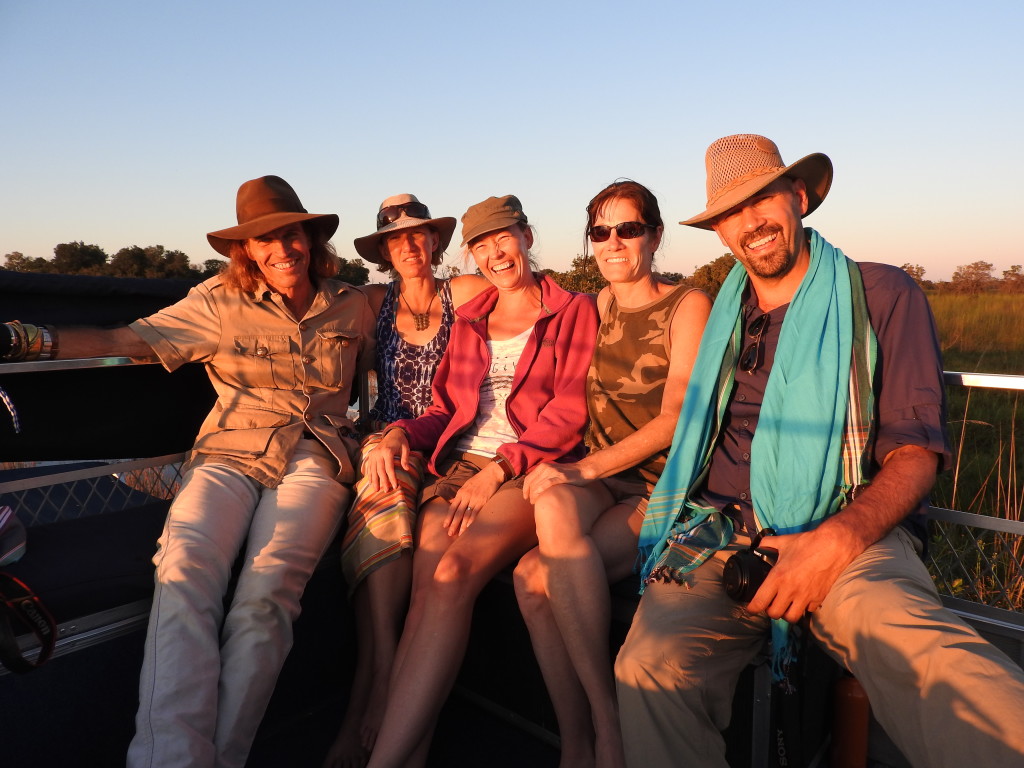 Wow – what a special experience! Recently I was privileged to join a group of agents on an Uncharted Africa educational to Moremi, the Delta and the Salt Pans.
Arriving at our mobile camp set up between 2nd and 3rd bridge in Moremi Game Reserve after dark was like arriving in fairy land, with all the lanterns down the pathways and throughout the camp.  Welcomed with a glass of sparkling wine, we were settled in.
This luxury mobile set up boasts a combination of elegance and a kind of exploration history giving you all the comforts of beds, en-suite bathrooms with bucket showers and flush toilets.  This was to be our home for the next 2 nights.  A mobile safari gives you a private camp feeling much closer to the bush than the infrastructure of any lodge.  Lying in bed at night and listening the bush come alive, as certain curious species of game come to inspect the different smells and activities of our camp.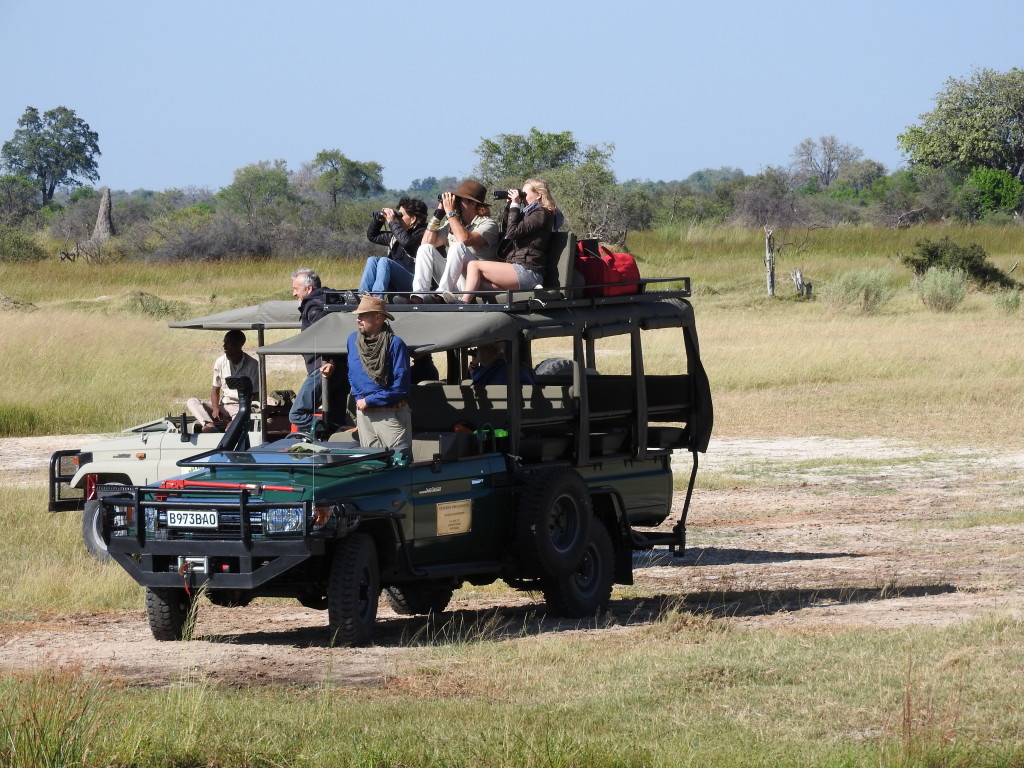 Our Guides, Ralph Bousfield and Greg certainly did not disappoint with their in depth knowledge and passion for the bush and stories of exploration, history, culture and scientific facts kept us all engaged and entertained the entire time we were with them.  The other advantage of a mobile safari is creating a trust and a bond with your guide that will be with you throughout your trip.
Day 3 we boated far into the Okavango Delta, to our Island stop where Devon (our Camp Manager) was waiting for us, fly camp set up, with more food and drinks.  Our set up was a roll mat with a mosquito net under the vast stars in the middle of the Okavango Delta. It gave us a feeling of being truly in the wild, in one of the most beautiful places on earth.  Here we experienced the water ways of the Delta, whilst competing against each other on the number of Sitatunga and Otters we spotted.  Nature walks around the island with Ralph proving to Simona we could still make a pizza from natural plants, mushrooms and shrubs on the island as well as curing malaria at the same time.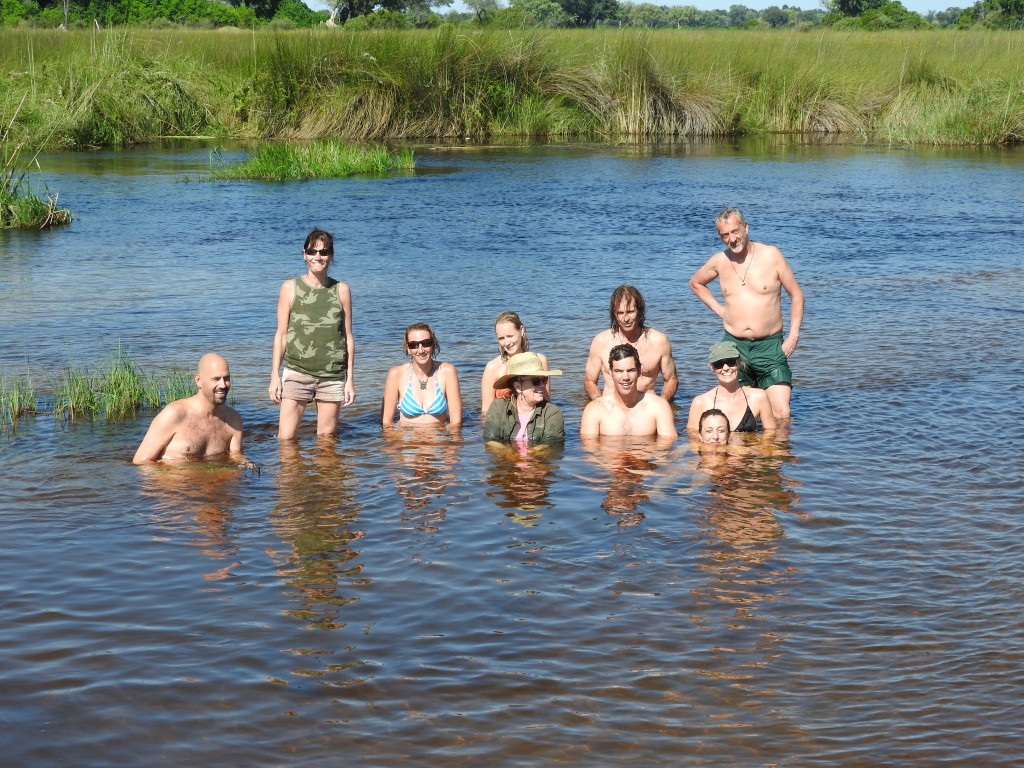 Day 4 our Delta experience was over and we flew out to the openness of the Makgadikgadi Pans.  Our home here for 2 nights was in the most feminine of all 3 Uncharted Africa camps, San Camp.
You have a choice of 3 camps all meeting 3 different styles and budgets, whilst you can all enjoy the same activities.
Camp Kalahari situated further back in the grasslands is the least expensive of the 3 camps. It is currently  raising all the tents, to allow the breeze to blow through and give you more of a view of the Pans.
San Camp being the lady of the 3, situated on the edge of the pans themselves is seasonal and only operational from April to October.  Its white tents on the edge of the pans gives you the true feeling of being on the moon.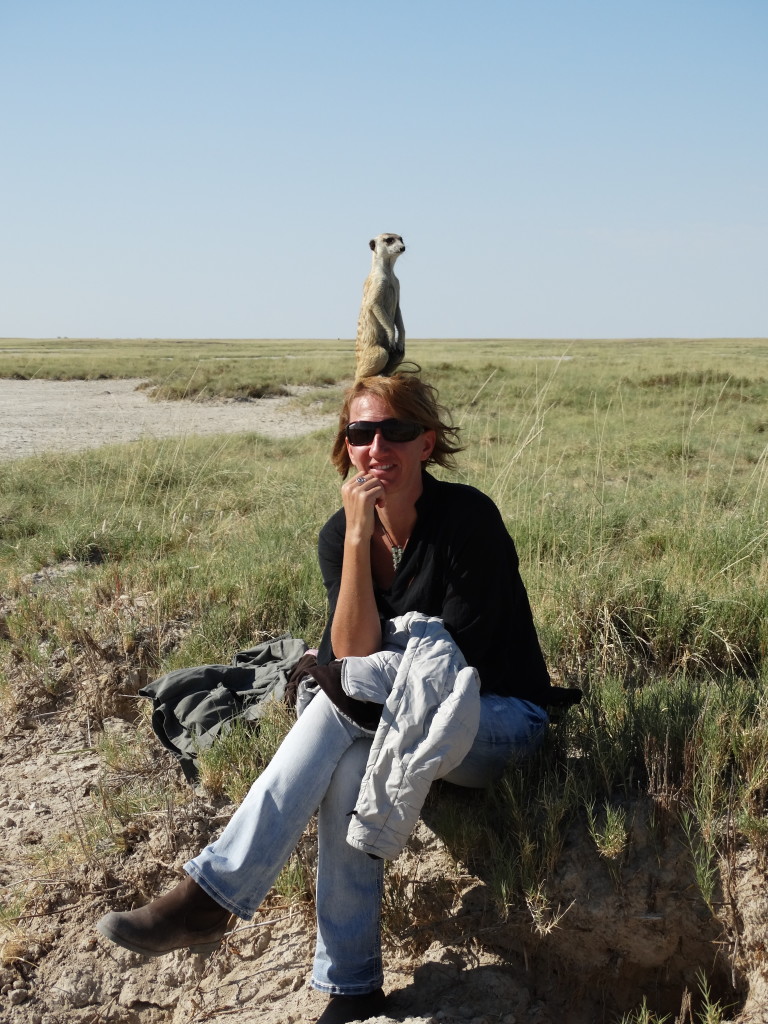 Jacks Camp, this colonial and historic camp based at the edge of the pans but slightly back into the grasslands is the grande-dame of the three.  Packed with history and science with their registered museum, it does look fabulous after the completion of its refurbishment.
One thing to mention on the activities, is all 3 camps run the same activities on a rotational cycle so that guests from 2 different camps don't do the same activity together.  This is the reason that a 3 night stay in the dry season is recommended to be offered the surprise sleep out (weather dependant).  Activities include a cultural bushman walk, game drives looking for more adapted desert species, quad biking in the dry season, following and interacting with the very comical habituated meerkats, horse riding as an optional extra and watching the sun set where it is so silent that your ears ring.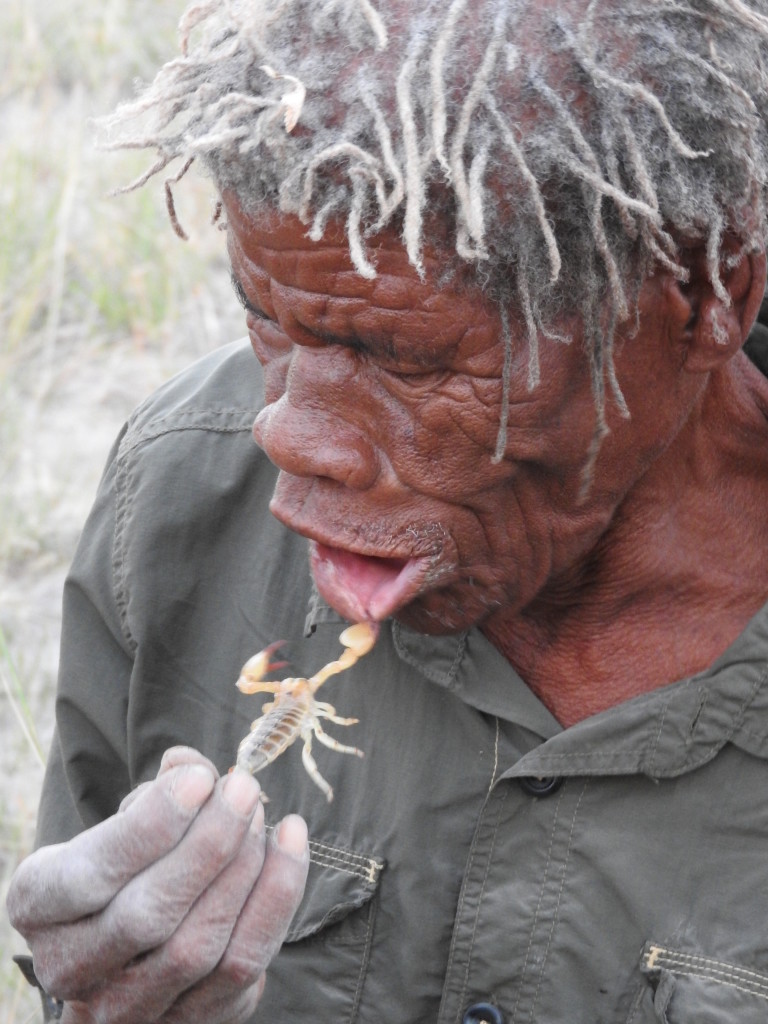 A safari to the Salt Pans is such a unique experience, from the Zebra migration in the Green Season to exploring the pans on quad bikes in the dry season, it should not be missed.
Our Selfdrive Trip from Maun to Khwai and Savuti!
Have you ever wondered what it takes to get off the tarmac and explore the sandy tracks of Botswana's National Parks in a 4×4?  We did.  With our mission set, four of us Safari Destinations girls, calling ourselves the SD Angels departed Maun early on a Sunday morning for a five day self-drive safari through Moremi, Khwai and Savute.
Leaving Maun, the small village of Shorobe marks the end of the tarmac.  From here to the buffalo fence is a big wide stretch of calcrete road where we had our first encounter with someone driving far too fast and almost wiping us out.  We quickly discovered slow is the answer, as people generally tend to drive too fast and run into trouble.
From the buffalo fence there are two ways of getting to Khwai.  You can either go via Mababe Village, staying on the calcrete road or head through Moremi Game Reserve via South Gate.  We decided to go through Moremi as we were in no rush, since the route is more scenic with much better opportunities for spotting wildlife.  The road between the buffalo fence and South Gate is quite narrow, passing through mopane forests and very sandy, so the driving is quite a bit slower and we let our tyres down to about 1.6 bar to deal with the terrain.
Once we reached North Gate and exited Moremi Game Reserve, we crossed over a proper bush bridge made from Gum Poles and into Khwai Village.  To get here took us approx four hours from Maun, stopping for game sightings on the way.  In Khwai, we stayed at both Khwai River Lodge and Khwai Tented Camp, however other options in the area include Sango Safari Camp and Machaba Camp.
For self-drivers, the road network around Khwai is quite disorienting.  As a result, it's best to arrange your game viewing activities with your lodge as the professional guides know the area, where the game is and what signs to look for in tracking animals, resulting in a more enjoyable safari.
Leaving Khwai for Savuti, there are two possible routes.  Different people gave us different arguments and opinions on whether we should take the Marsh Road or the Sandridge Road.  In the end, we took the Marsh road which is longer but a lot more scenic, traversing the Mababe Depression and the Savute Marsh.  There is a lot more wild life on this section of road especially around the Savute Marsh and we saw leopard, cheetah, elephant, wildebeest, giraffe, impala, the list goes on.  This road can become flooded in some areas, and very slippery in the rainy season.  In October, it took us approximately four hours to drive the Sandridge route.
In Savute, we stayed at both Savute Elephant Camp and Ghoha Hills, however other options include Savuti Safari Lodge, as well as SKL's Camp Savuti next to the public campsite.
Returning from Savute, we drove back towards Khwai on the Sandridge road, which was a lot quicker with better road conditions.  Although quicker, the driving is through a lot of Mopane and we only saw elephant and steenbok driving this way.  In the winter months before the rains, this sandy road can get very churned up and a lot of people get stuck.  Taking this route back to Maun and skipping Moremi Game Reserve on the return took us approx 5 ½ hours.
To self-drive successfully through the parks, we recommend a good 4 x 4 such as a Land Rover, Toyota Hilux or Landcruiser.  It's essential the car has 4×4 and has good clearance.  This driving cannot be done in either a 2WD or a 4WD without the height to manage deep sand and water crossings.  For good vehicles carrying the essential equipment as standard and good back-up service in case of emergencies, we recommend Travel Adventures Botswana.  Essential items to pack are a high-lift or air jack, two spare tyres, spade, axe, tow-rope, jumper-lead cables, tyre pressure gauge and air compressor.  If you don't have a long-range tank, you will need extra fuel as driving in sand uses a lot more fuel than travelling on tarmac.  You should always have plenty of drinking water, basic food supplies, a GPS, satellite phone and a well-stocked first aid kit on hand in case of getting lost, stuck or experiencing break-downs.  Of course, you will also need your park entry permits for your vehicle and for yourself, together with any confirmation from lodges you'll be staying at which confirm they've pre-paid park fees on your behalf.