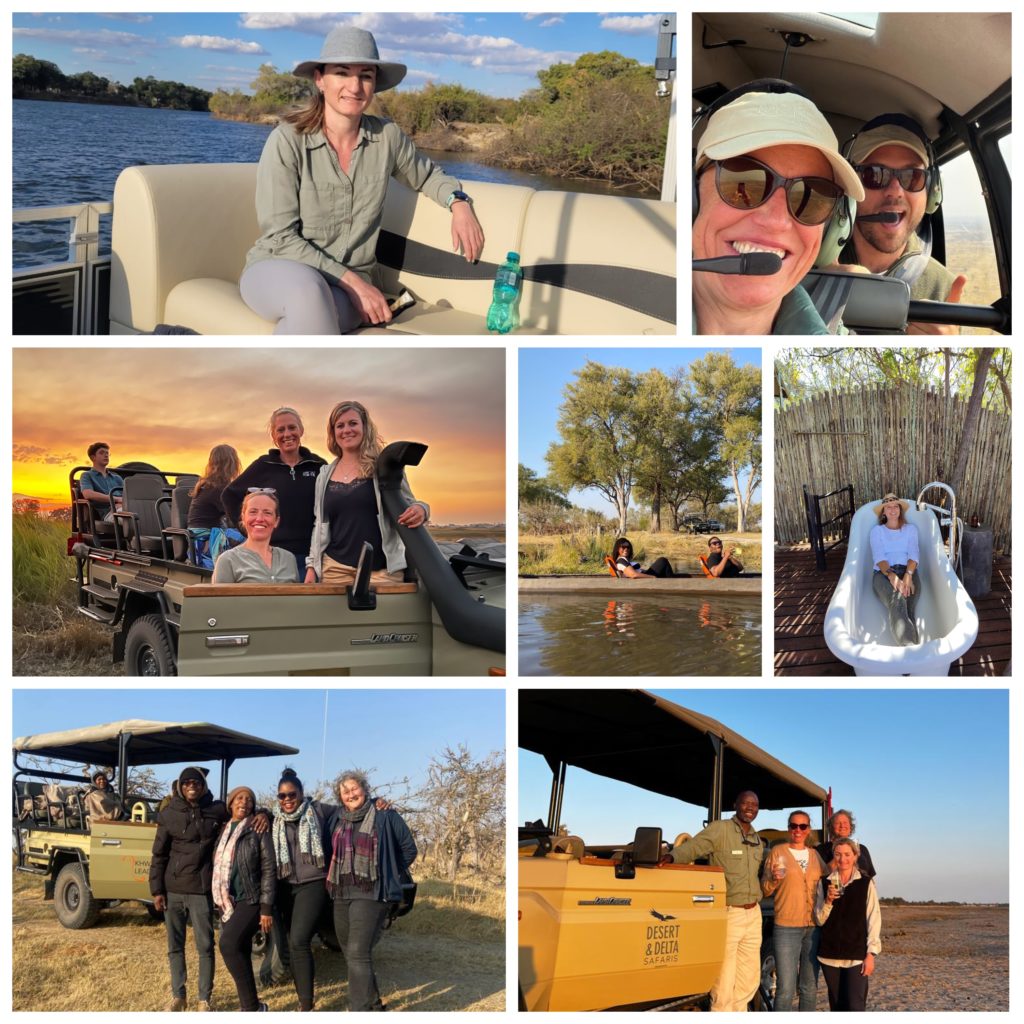 Our team has been up and down on numerous educationals exploring and welcoming 'new kids on the block' and checking out all-time favourites. It's been a very exciting adventure for us to tour around & see a great range of accommodations from luxury lodges and tented camps to comfortable and great value for money accommodation. Many lodges and camps are situated in private concessions, ensuring exclusive and intimate safari experiences. Our team of experts brought back great feedback which we love sharing with you.
African Bush Camps – Khwai Lediba
Our TT and Ona recently visited Khwai Lediba located on the far western side of the Khwai Community area next to the Moremi Game Reserve. The two came back with some really good feedback. In their words they reported that this camp offers guests a front-row seat to the wildlife action of the oldest protected section of the Okavango Delta. They explored the area on game drive, enjoyed a mokoro excursion and even tracked lions on a walking safari. They actually saw 4 of the big 5 during their first afternoon drive. The game viewing during their stay was phenomenal, the Khwai Community area was basically showing off says TT.
Ker & Downey Botswana – Shinde Footsteps
Carina came back from Ker and Downey's newly rebuilt Shinde Footsteps Camp (formerly knows as Footsteps Camp), a gem in the private Shinde concession and she says that the camp is just simply gorgeous! Shinde Footsteps is a small and intimate explorers' style camp offering game drives, guided bush walks, mokoros, motor boating, and night drives. Carina loved every second of her stay there and enjoyed exceptional sightings of a pack of 27 wild dogs with puppies, hyenas bathing in the sun, a herd of sable antelope and a cheetah trying to hunt lechwe.
Kwando Safaris – 4 Rivers
4 Rivers is the new Kwando Safaris camp located in the famous Kwara Private Reserve. In true SD style as your experts on the ground we made sure that we checked it out right after its opening. Our colleagues Sarah and Jane were excited to be the first ones that visited this gorgeous new camp, located in a wild and isolated wilderness area with a stunning biodiversity of flora, fauna and felines. Carina was also lucky enough to spend a short night in August in this new camp and was very impressed by the hardware (the tents are built in a similar style to the Dinare camps, but larger and of course brand-new), the food, the service and the guiding. The camp is located a short 15-minute drive from its own soon to be opened private airstrip. A wide variety of activities including game drives (the two ladies had exceptional sightings of leopard, lions, wild dogs, plains game, and lots of birds were spotted), night drives, walking and seasonal mokoros are on offer.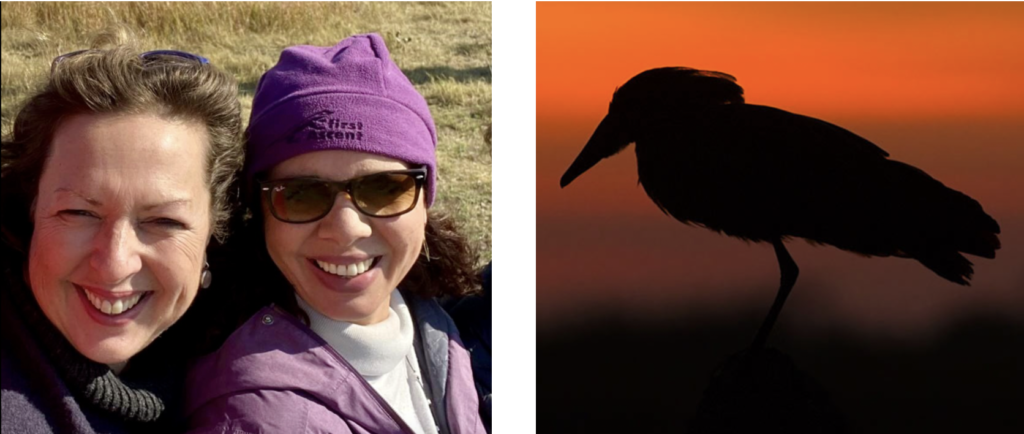 Great Plains Conservation – Sitatunga Private Island Camp
Andrea and Karen were the lucky fish to go checkout Sitatunga Private Island Camp. Set on the edge of a stunning lagoon in Botswana's Okavango Delta. The Camp in Andrea's words…is a magical place, with its contemporary feel and all the light, Okavango River inspired colours make the place very unique and beautiful. The ladies embarked on a boat cruise and did a walk and they could not be more impressed with the guiding. They raved about the food and complimented the chef who was the absolute best and most outstanding feature at camp!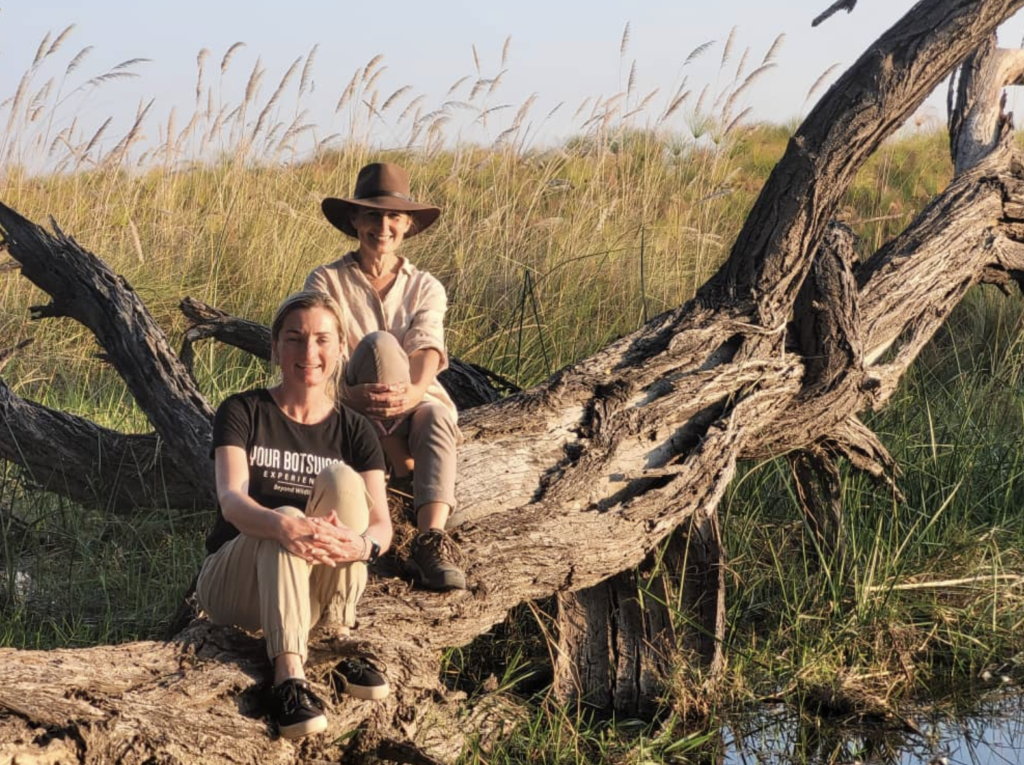 The Newly Refurbished Leroo La Tau Camp
A couple of our team members (TT, Carina, Karen & Beate) have been to Leroo La Tau since the refurbishment. Some for sight inspections and some on overnights. They were all very lucky to have different but amazing experiences. TT got the opportunity to embark on the cultural village visit that offers guests the opportunity to learn about our country's rich culture and gain insights into the daily lives of Batswana. The Khumaga Village visit is a great way to meet the locals and learn about our heritage. This is the perfect addition to Leroo La Tau's activity offering. Carina and team witnessed the jaw dropping largest Zebra Migration in all of Southern Africa!
Machaba Safaris – Kiri Camp
An opportunity presented itself for Scarlet, Anouk and Carina to visit Kiri Camp. The warm smiles and friendly faces of the team awaiting to serve them a luxurious experience could not be missed. The ladies reported that the food was great with a surprise bush dinner, exceptional wildlife sightings with 12 lions feasting on a fresh zebra kill, a busy waterhole which three hippos share with a lonely crocodile. The waterhole also got visited throughout the day by herds of elephants, zebra, impalas, wildebeest… and just to put a cherry on top beautiful sunsets enjoyed with our favourite Okavango Gin in hand. By the way this delicious Botswana-made gin is now available at Maun, Kasane and Victoria Falls airports' duty free shops.
Setari Camp – Treehouse
Treehouse is the latest addition to the Setari Camps portfolio and offers guests rustic luxury. Built high in the trees and overlooking the vast floodplains of the Okavango Delta. We are sure that soon our colleagues will visit the camp and we will be more than happy to share first hand experiences on our social media channels.
MORE 'NEW KIDS ON THE BLOCK' – ZIMBABWE
Malachite Suites & Zambezi Sands River Camp
Well of course in our many educational escapades we did not forget another one of our favourite safari destinations – Zimbabwe
Our Karen visited the newly opened Zambezi Sands River Camp deep in the Zambezi National Park and Victoria Falls River Lodge's new Malachite Suites.
The new Zambezi Sands impressed Karen, she loved the attention to the detail in the design and says it can easily be combined with the luxurious premier camps in Botswana.
Stanley & Livingstone Boutique Hotel
Carina also visited Stanley and Livingstone which was stunning, it was a site inspection but the attentive service, and excellent food made her short visit worth her experience. She also had the opportunity to have a look at the suites which are nicely positioned in lush gardens overlooking the busy waterhole.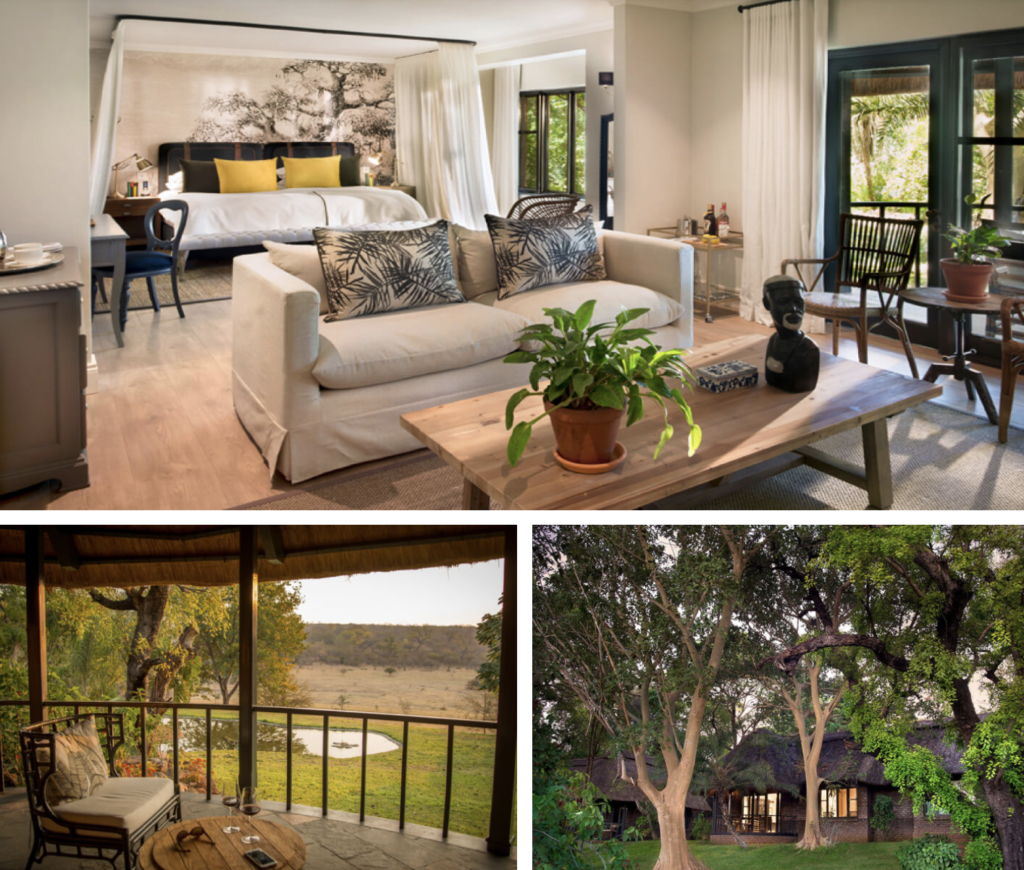 And there is plenty of availability in Botswana and Zimbabwe for the last months of 2023! Our team of consultants looks forward to hearing from you.
The Okavango Delta is a very unique part of the world. Looking at a satellite image you can easily see a few blue lines meandering from the Angolan highlands all the way to Botswana, forming a magnificent river that spreads into an alluvial fan and then simply disappears. It creates an amazing oasis in the middle of the world's biggest stretch of sand, the Kalahari, reaching from Congo to South Africa. Magic. But the true magic is in the timing of the flood!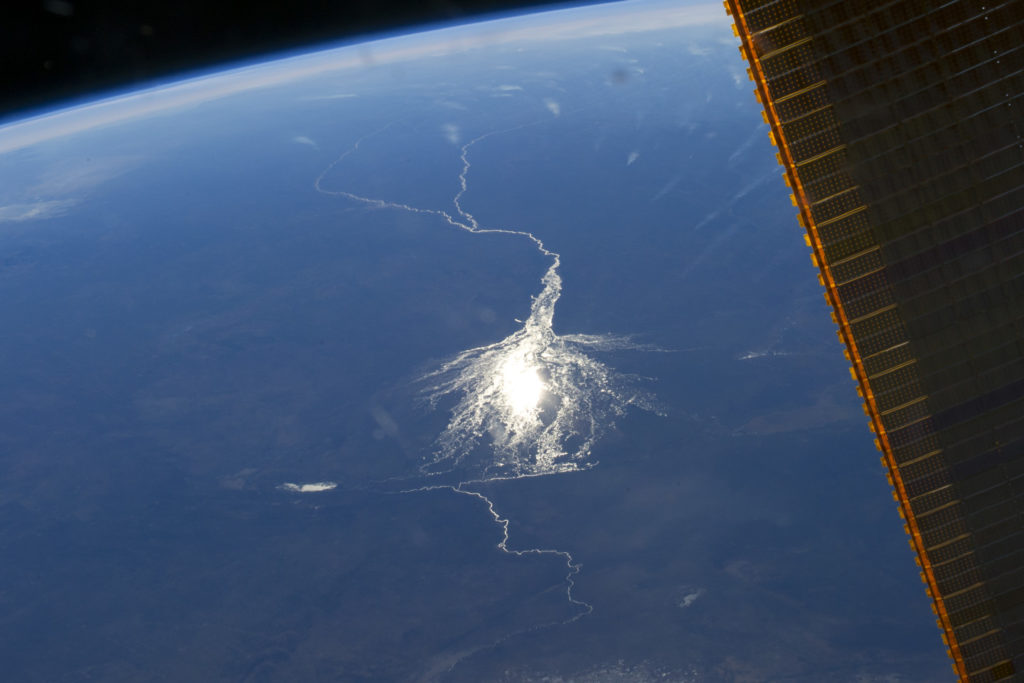 Rainy season in the catchment area and around the Okavango usually begins in November, with the majority of rain falling in January and February. The local rainfall only contributes to between 2 and 25% of the delta waters, the majority of water is coming down from the Angolan highlands.
If we traveled with a little drop of water from the source of one of the main contributories, the Cubango and Cuito River in Angola, the start of our journey would be quite exciting, through the Angolan highlands and then down to Botswana, but even before we'd cross over the border we'd already travel at a rather leisurely pace simply due to the lack of gradient. It takes this little drop of water average 8-9 weeks to reach Botswana and the panhandle of the Okavango Delta. From here onwards the journey slows down even more: the northern part of the Okavango is 250km away from the Thamalakane fault line – the delta's southern border – but there is only a difference of 50 meters in altitude!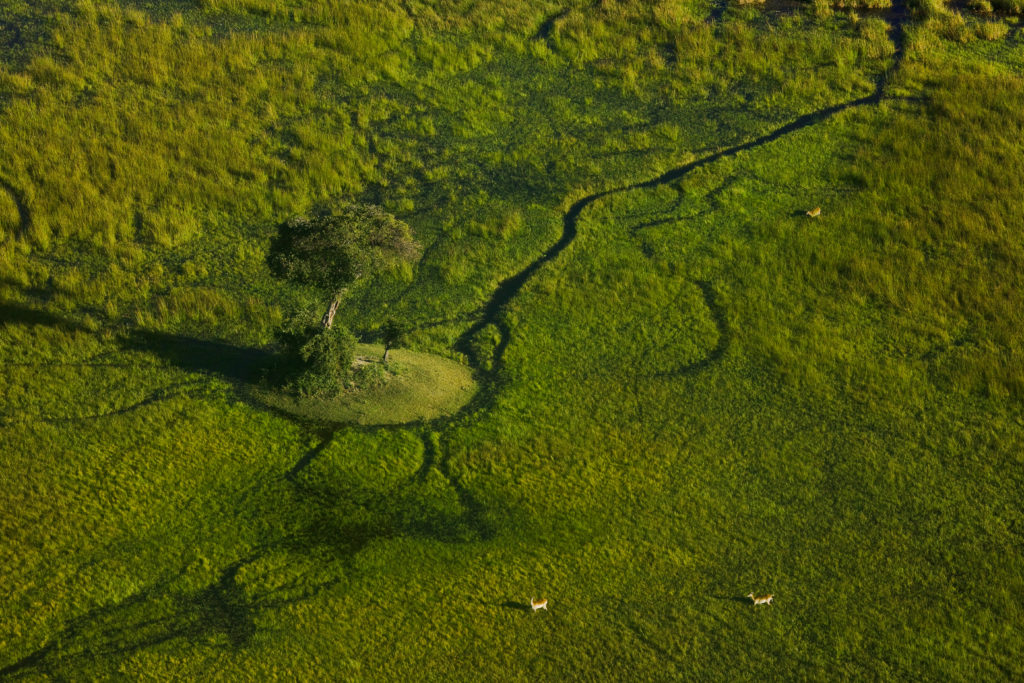 The main waters reach Botswana in April and start to spread throughout the alluvial fan slowly filling up the channels, backflows and floodplains, with the delta being at its fullest in July/August. From August onwards the water levels start going down again due to evapotranspiration now exceeding the input by rain waters. The driest period in the delta is in October and November, when food is scarce and animals are found around the remaining water sources and rivers. Many channels have dried up, avid birders can't get enough of all the bird life gathering around fish traps as the water keeps receding and cars can be used where just a few months ago boats were necessary to get around. Just then the first rains fall again, the shades of brown start turning into shades of green once more, impala and other antilope drop their young and the cycle starts over – the Okavango becoming a place of plenty. The water levels in the heart of the delta though will only rise significantly once the rains have long gone.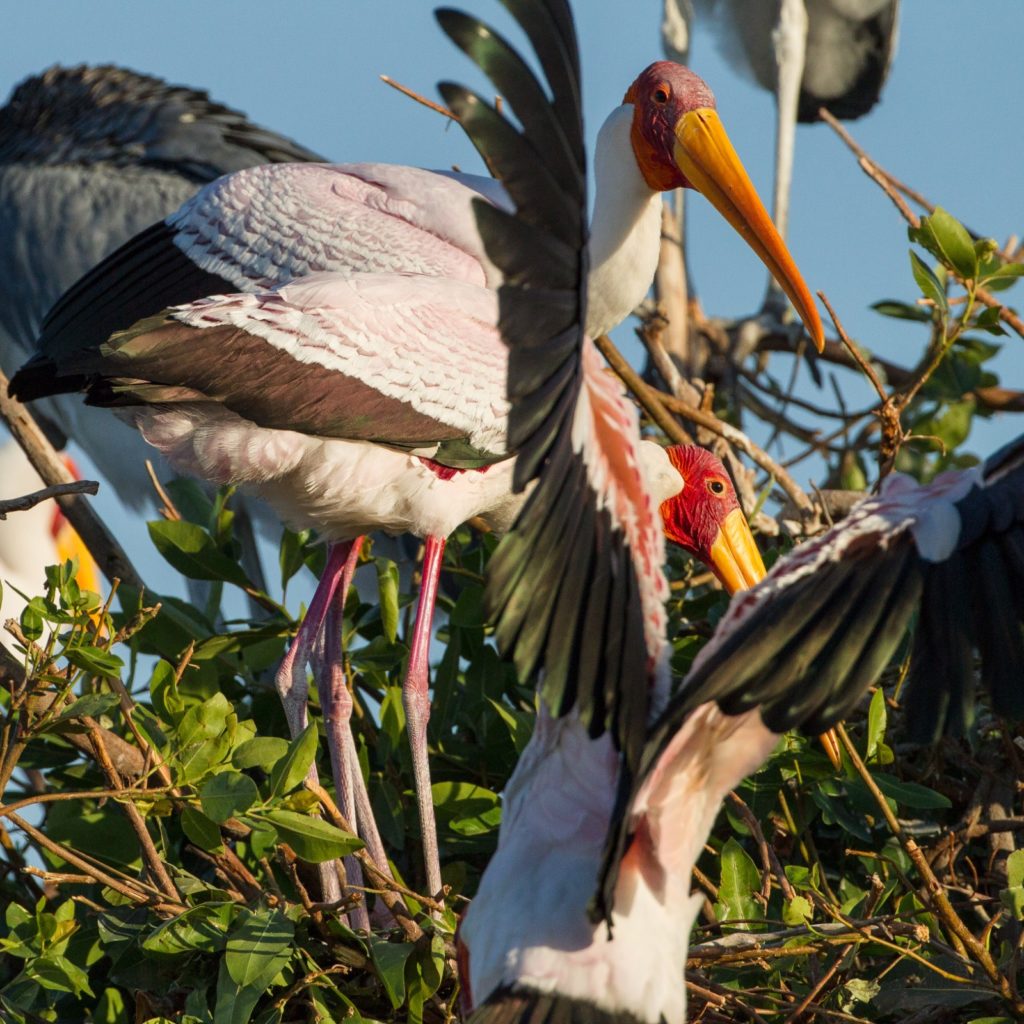 So what does this mean for us selling the destination?
This region is highly dynamic. Each year presents a varying amount of flood water in winter and a varying amount of rain falls in summer. Being nature, this provides a certain amount of unpredictability and nobody knows what will happen from one year to the next.
A well rounded Botswana Safari consists of game drives in drier areas and also water activities, be it by boat or mokoro. Mekoro are ideal to travel over floodplains in shallow water, gliding through reeds, discovering the little hidden gems of the area. Once the floodplains have fallen dry it becomes difficult to offer mokoro excursions due to safety concerns in deeper waters of permanent channels and rivers. Even if those deeper waters are actually not that deep anymore, they are considered prime real estate amongst hippos in not that great a mood as their territories are shrinking with the receding water and they are now very much up close and personal with their competitor and neighbour.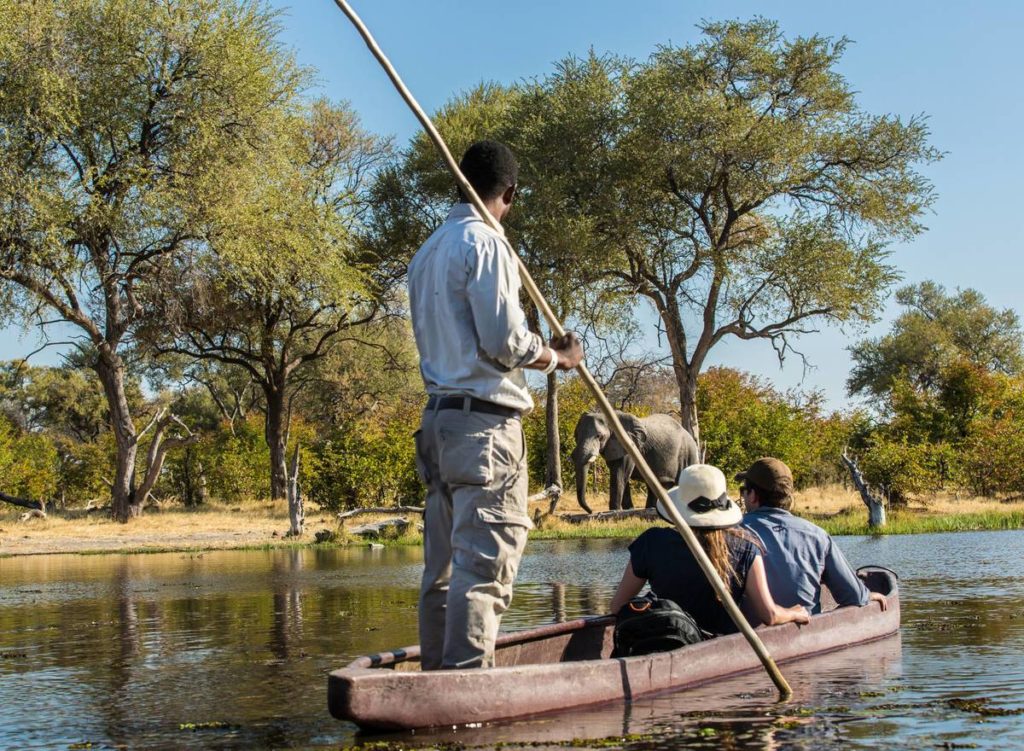 It is far easier on the nerves to observe those dynamics from a motor boat, but be aware that cruises can be a lot shorter due to a lack of either depth or river altogether! Eagle Island Camp for example, a camp that often has been sold as typical water-based delta experience, may not be able to offer mokoro during very low flood levels. The camps shift their focus. The floodplains may not be ideal for mokoro anymore, but they provide wonderful grazing for herds of buffalo as around Duba Plains; around Jao Camp the floodplains fill up with big herds of lechwe, enjoying the greenery. Other camps might not be that heavily affected and still happily take their guests on mokoro excursions and motor boat activities.
Here in Maun the flood levels of the Okavango Delta are an everyday topic and we never get tired of it. When did "the wave" come past Nxamaseri, has the water already moved towards Vumbura, when will it reach Sandibe… There is no end to it!
The Delta is a truly wild place, it is alive and offers mind-blowing experiences on land and water year round. For next year: Let's just keep the waterlevels in mind and choose the camps that offer water-based activities wisely.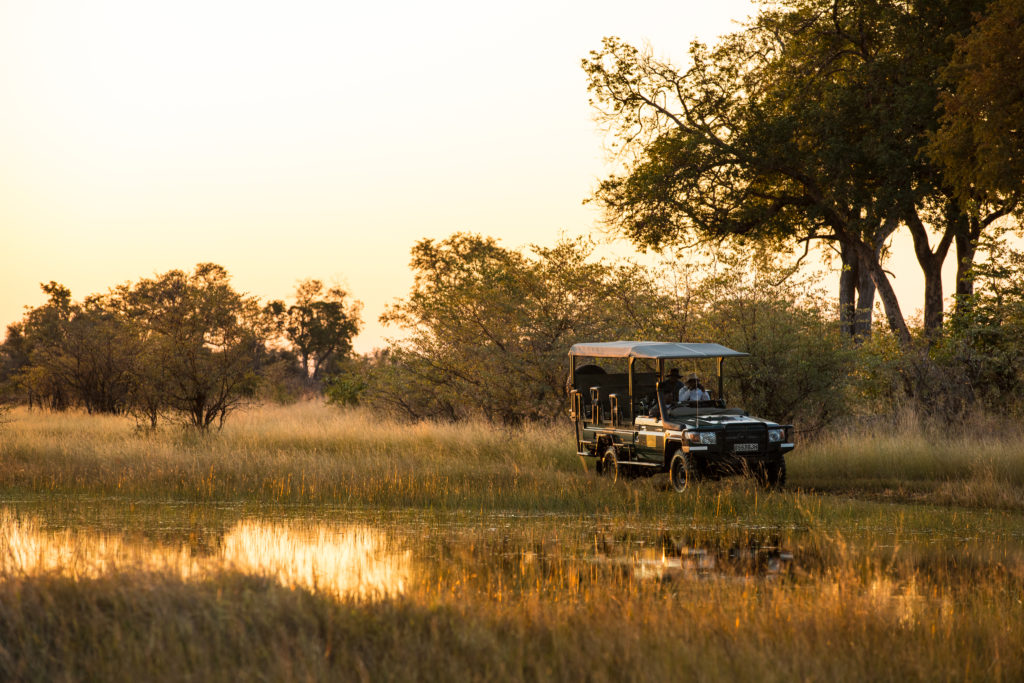 Recently, a colleague and I had a truly well-rounded Okavango Delta experience. We enjoyed the thrilling game sightings of Shinde, the water ways and game drives at Splash Camp before ending up at the lushness of Setari Camp in the Panhandle. Technically, the Panhandle is the Okavango Delta, but it offers an entirely different experience.
We were captivated from the word go. Heading off to SHINDE CAMP, we were picked up from the airstrip and told that it's a 40 minutes game drive to camp. Being 10am, we expected a relaxing drive with little game, perhaps the odd impala, zebra or elephant. To our amazement, we saw a cheetah mother and her two cubs relaxing on an ant hill. Then after speaking on his radio, our guide asked if we wanted to see something awesome which turned out to be a pride of lions with baby cubs. All this within 40 minutes of arriving in the Delta! Complimenting the game experience was Shinde Camp itself. This camp is for everyone: families, groups, honeymooners. Shinde Enclave even has its own chef and private guide. Two nights is just not enough time to enjoy the splendour of this camp.
Our next stop was SPLASH CAMP. After the amazing sighthings before, we jokingly told our guide that Shinde had set the bar very high and Splash was unlikley to match what we had already seen. And what did the tracker pull out of the hat? A honey badger, quite a rare sighting! We were beyond excited. That was followed up during our stay with a large pride of lions numbering 17 with at least 5 males and numerous lionesses and cubs. We even got to see a hyena taking a mud bath in the middle of the day to cool off, while checking out a nearby impala. The impala was clearly not getting the memo that it could be lunch! There is boating at this camp and water permitting, mokoro rides are also on offer. Set in a private concession, this is a real escape from the hustle and bustle of daily life.
Both Shinde and Splash camps are in game rich areas and there was constant action during our stay!
It was then that Keneilwe and I were off to SETARI CAMP located in the Panhandle. This was a different experience all together. Huge Papyrus, big reeds line the water ways and the very tall Palm trees give this area a lush "jungle" feel. With water as far as the eye can see, boating and mokoro rides are available all year round. As you navigate the waterways, your guide will delight you with stories of life in the Panhandle and even show you how to make hats and necklaces from reeds and water lily pads. The bird life is truly spectacular. Walking through the village is a must do with beautiful original Setswana mud huts and dancing children. Take advantage of helicopter flights to see this part of the Delta by air. But most of all, put your feet up with something to drink in your and enjoy the tranquillity of the Panhandle
Perfectly positioned to watch the sun go down while sipping on a gentle gin & tonic or cooling off in the sparkling swimming pool after a sun-soaked day. Let the mind slowly unwind, the body recover and the soul rejuvenate! Rediscover tranquillity at the newly opened Setari Camp, located on a picturesque island in the Northern Delta.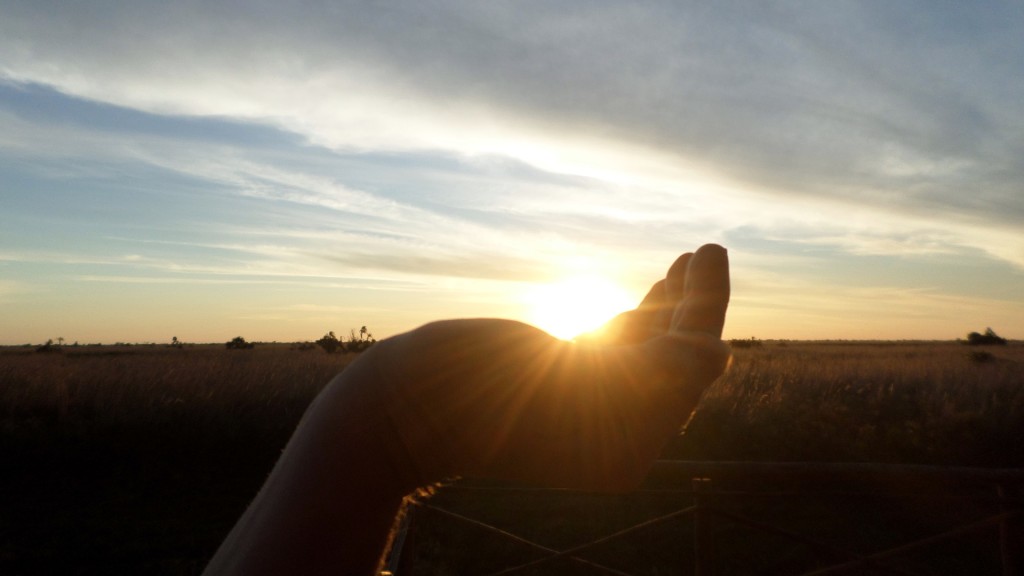 We had the pleasure of staying at Setari recently and were thoroughly spoilt with delicious food, a selection of drinks and heart-warming hospitality. The tents are spacious, well-appointed with everything you need and very private from the next.
There is a private viewing deck in front of each tent with endless views over the floodplains; the ideal spot to put your feet up, read a book or just relax and take in the stunning scenery. For those wanting to burn off some unwanted calories, there is a small gym on site…but even I could not drag myself there!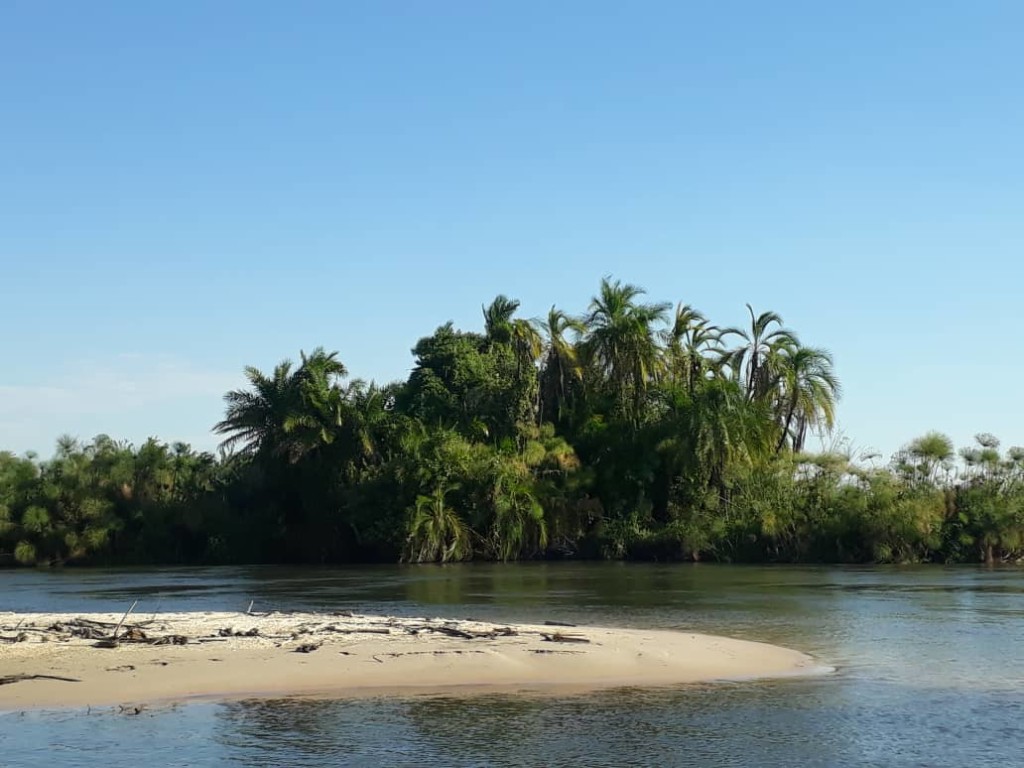 This camp is suitable for just about anyone, raised high off the ground, it is safe for children to move around freely between the tents, the main area and the swimming pool. Children can take part in boating, seasonal fishing and village visits, while there is also the option of mokoro activities and bush walks for adults. One of the greatest advantages at Setari is the year-round water availability which means boating and mokoro throughout the year.
Those wanting to wind down after a busy safari, will find their haven at Setari and equally those on honeymoon can enjoy the privacy and tranquillity in one of the remotest parts of the Delta.
Kick back, relax and ENJOY! Setari Camp settles the soul…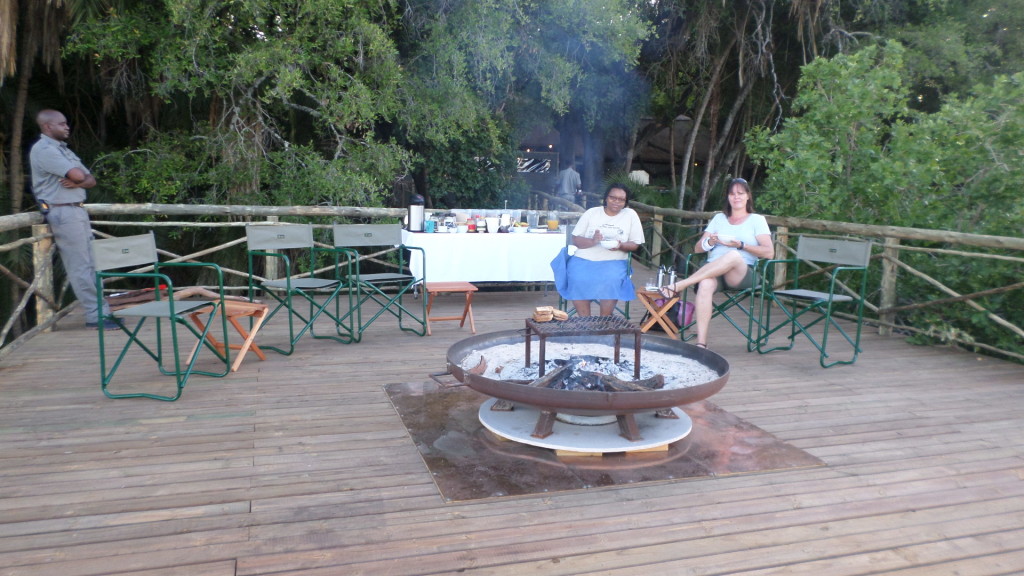 Fast Facts:
– Setari opened in October 2018
– located in the waterrich region of the Okavango Panhandle, a birders paradise
– 8 double tented suites and 1 family suite
– activities: motor boating, mokoro excursions, guided walks and village visits
I was fortunate enough to spend a week on safari during our so called green or secret season. Everything seemed to be bursting with life, from the lush green bush to the intermittent cloud bursts that warned us of their impending approach and of course there were babies – everywhere! I don't ever recall seeing a giraffe that small or the tiny blue wildebeest that was even smaller than the average Impala. The weather was perfect. It was certainly not a sweltering and unbearable heat and when it did rain (which of course was every day) it was more often over in an hour. Undoubtedly the biggest drawcard is the price tag as green season is the cheapest time to visit Botswana.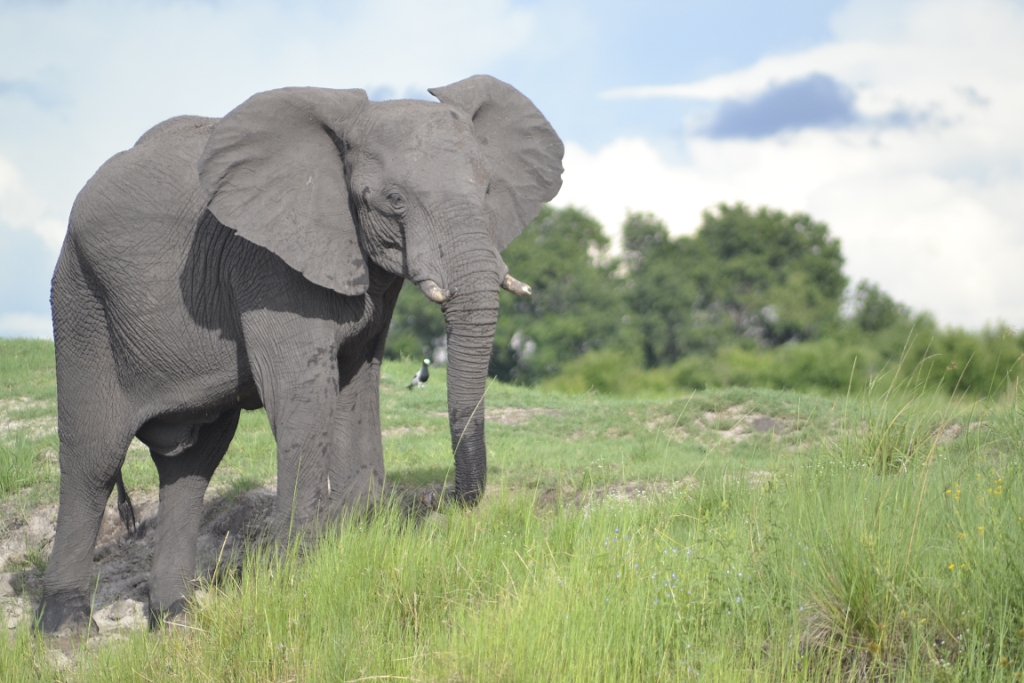 My journey started in Chobe but this time it was a completely different experience from my previous visits. I had the pleasure of staying on the Chobe Princess for the night and often this option is overlooked when starting or ending a safari in Botswana, yet it was the most relaxing and certainly the most rewarding game viewing experience. Feet up and reading a book, I would glance periodically at my surroundings only to find crocodile sunning on the bank, or a hippo out of the water. In fact it gave new meaning to the size of these animals, seeing them plunge from the bank into the water. Our guide took us out on a tender boat later in the afternoon and we watched a herd of Elephant come down to the water's edge – expecting them to quench their thirst and move on. But we witnessed something I had never seen before amongst elephants… whilst I had seen them in water before this time was different as 3 young bulls cavorted and tumbled around, disappearing completely under the water for a moment before resurfacing. The only obvious sign would be the trunk peering out every now and again. I loved every minute of this spectacle.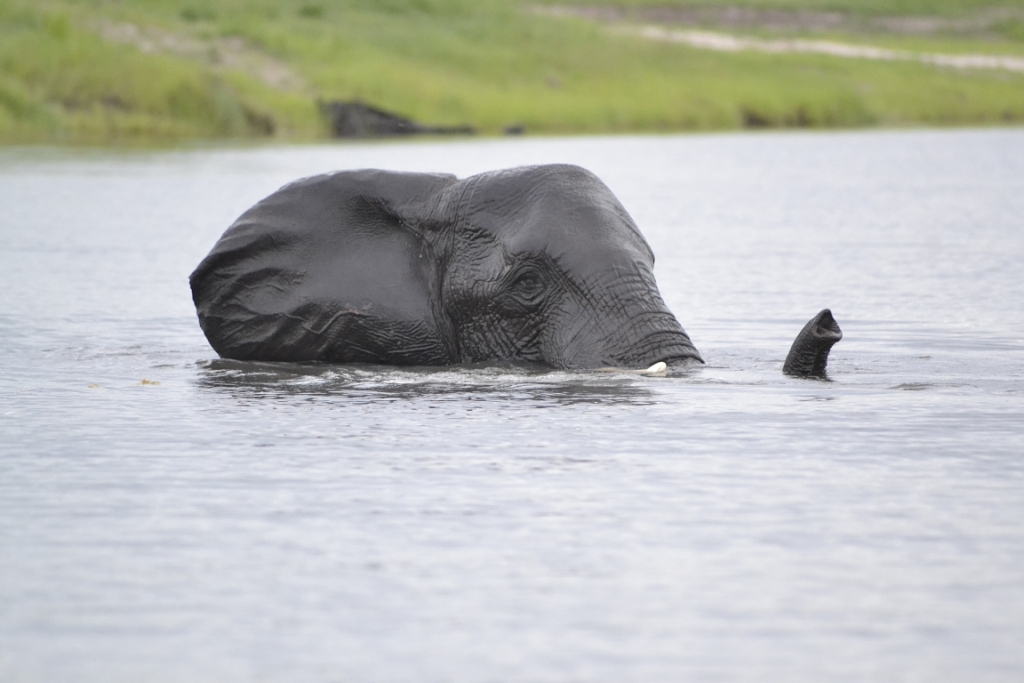 The highlight of my week away had to be the Xaranna concession in the Okavango Delta. With an expert guide and tracker to take care of our safari needs, we managed to see the Big 5 in 24 hours. Whilst this might be the normal expectation for most, very few concessions have the endangered Rhino. Through various means, White Rhino have been relocated from South Africa and reintroduced here over a period of time. It was certainly a proud moment to come across the magnificent prehistoric looking animals grazing peacefully in the bush nearby.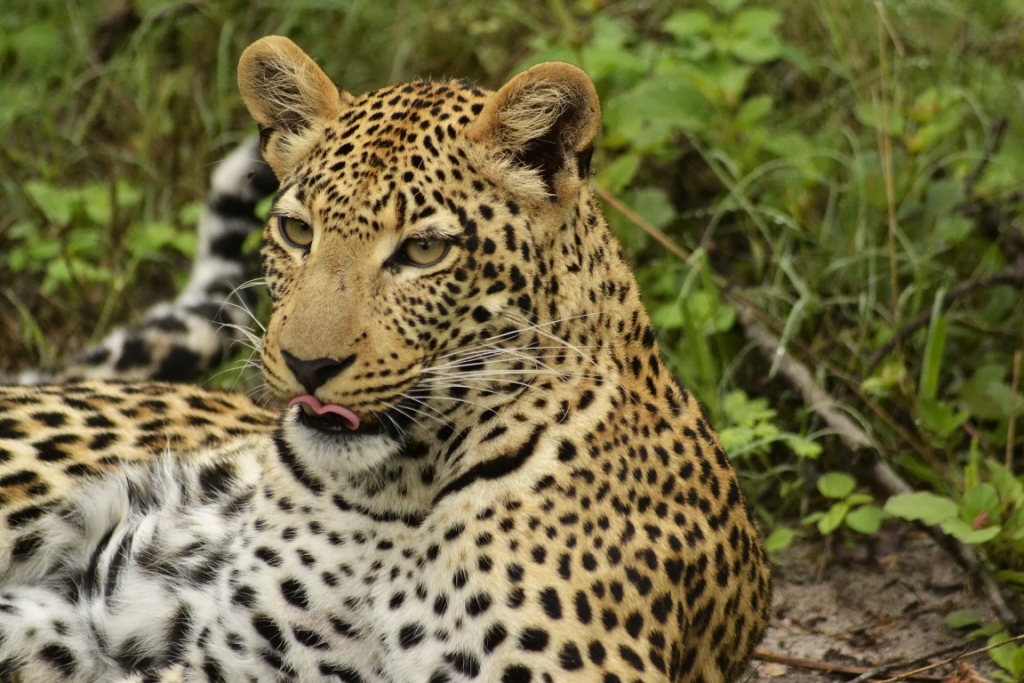 The rain showers did not keep us from our game drives and with a poncho readily available we embarked on both the morning and afternoon activity. The Delta was teeming with wildlife and though more scattered during the wet season, we were never disappointed. My husband, a professional photographer, commented on photography during this time of year, claiming that with less dust particles in the air, clarity in photographs was certainly better. I can only agree based on the stunning images he captured!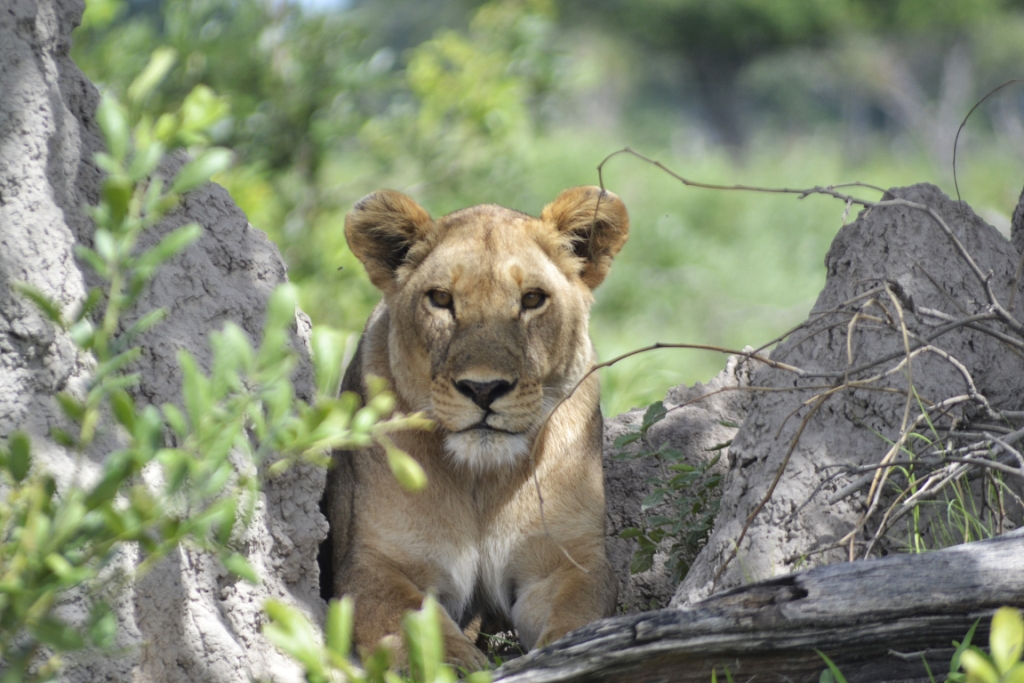 So in a nutshell, it will rain and probably more often than not. But with that comes the reward of new life, little lives finding their way; explosions of colour from the ground to the sky; a photographic playground; warm summer days and lastly a little more money in the bank account.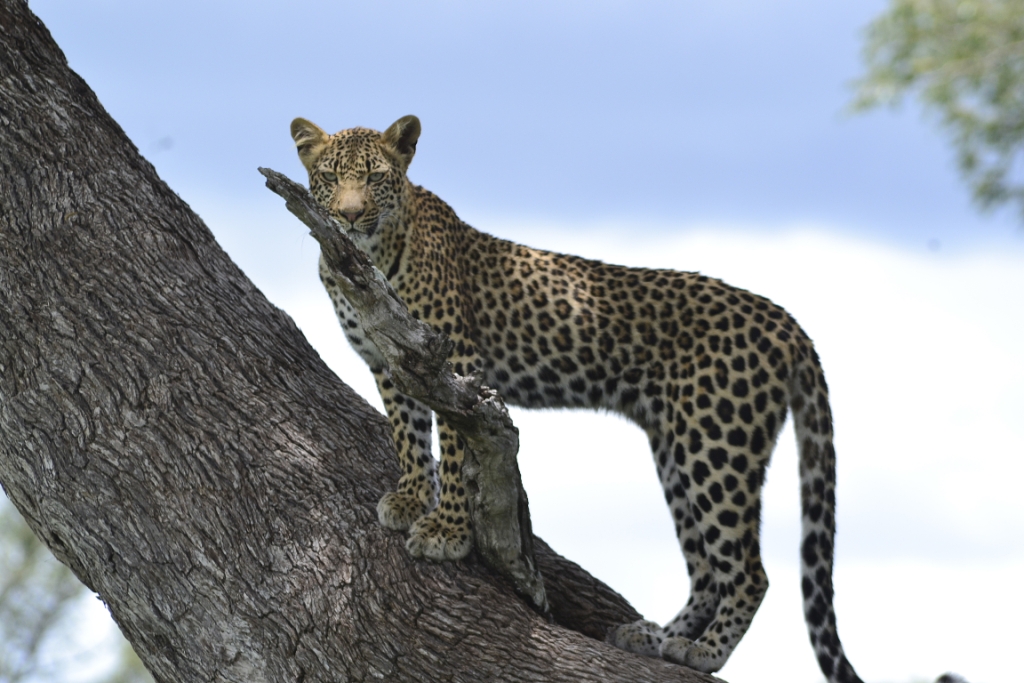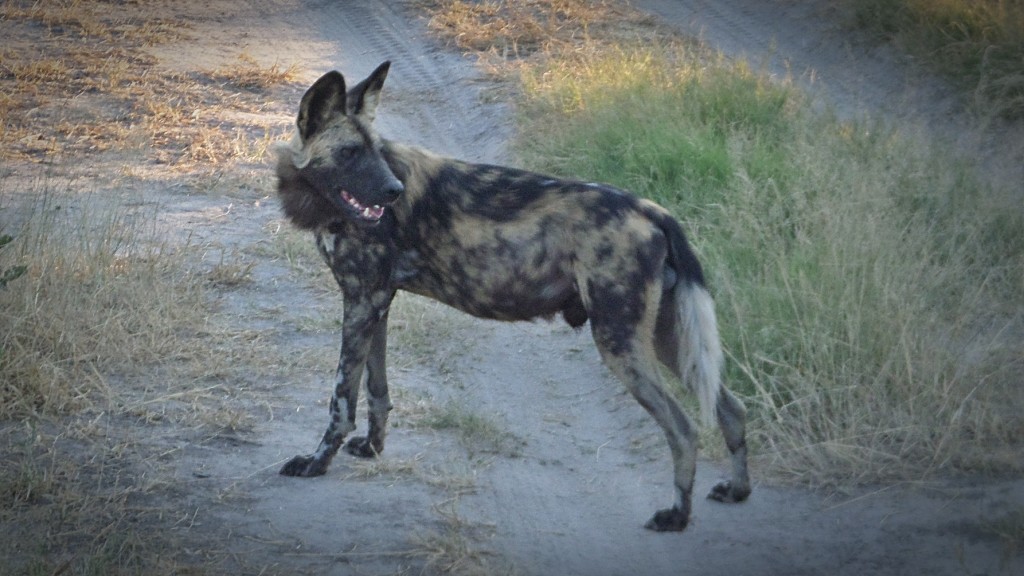 There is something about the private concessions in Botswana – they just never seem to fail! We were in for an absolute treat on our recent pre Indaba Famtrip where we hosted agents from around the globe. One of our agents had never been on a safari before and her expectations were completely exceeded when it came to the cats; and just as special, the African Wild Dog.
I recall sitting at the breakfast table at Shinde Camp, settling into a scrumptious spread, when an unknown voice from somewhere uttered the words … "wild dogs". We leapt up to take a closer look and in an instant blur of excitement and mere seconds, we were on the game drive vehicle with our trusted guide following the dogs. We found them and then lost them, found them again and then finally lost them when they disappeared into a thicket. They were on the hunt and it was not an easy task keeping up with them! Still we enjoyed those few precious moments and when we returned to the breakfast table our food had been keep warm and served once again.
We were lucky with the wild dogs in the Khwai concession too! This time it was a more relaxed setting and we watched a pack of 6 dogs go about the daily get up, walk 10 metres, lie down and take a break, get up and go another 10 metres, lie down and so forth. That was a special sighting and one I will remember for a long time still. Just when we thought our afternoon drive could not get any better, we came across a leopard walking in the road not far from our vehicle. My heart nearly skipped a beat … it had been nearly 10 years since I had seen a leopard in the wild. There is just something about a leopard sighting – it so magical watching this gracious and absolutely beautiful cat, so awe inspiring and a tick the box on the bucket list for most visitors to Africa.
Whilst we did not see any lion in the Khwai concession, we most certainly heard them that evening and that has to be the most incredible sound – the true call of the wild. Close your eyes for just a minute, imagine you are in your tent, separated only by a sheet of canvas to the bush around you, it is pitch dark and you cannot see your hand in front of your face….then the first call erupts from somewhere in the not too distant dark of night, a reply comes from another angle and then what sounded like a conference call amongst a pride, bellows through the silent, dark night. Nothing compares to that sound!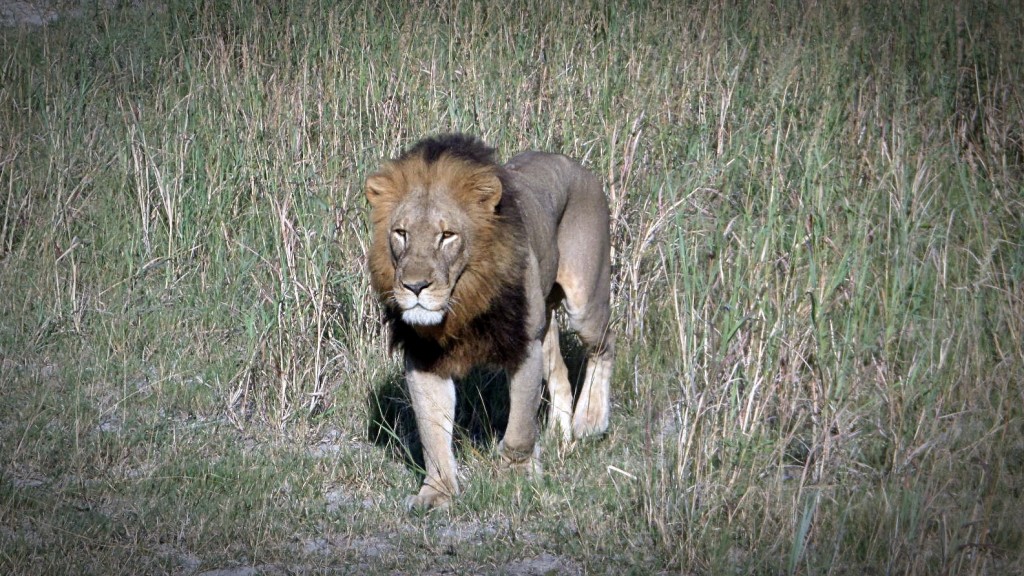 Selinda was probably my favourite concession, with vast open spaces dotted by a termite mound here and there. The grass was still high in places and we headed off to an area where a lioness and cubs had been seen the previous day. This was not an easy find and we all kept our eyes peeled on the bush around us, searching for that slight movement – something that might give their presence away. Our guide was committed and we continued searching, hoping to get a glimpse of these little cubs. Somewhere, someone noticed a small movement and there before our eyes were these absolutely gorgeous and perfect little cats! They were not perturbed with our presence and we were spoilt with a show in their African playground.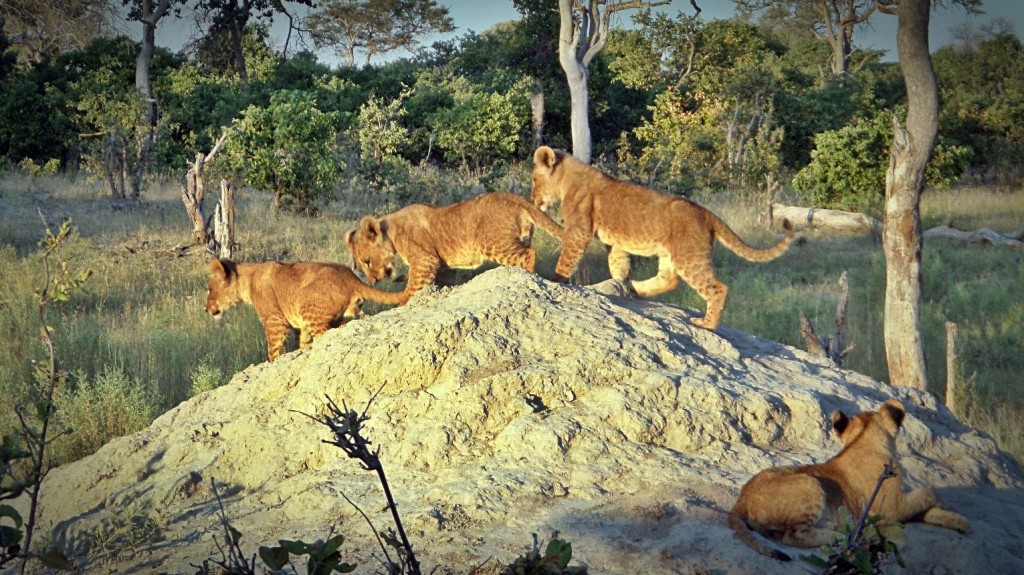 There are no guarantees when it comes to sightings, however I dare say, with strong concessions and committed guides, the experience of a lifetime is guaranteed.
As you may be aware the water levels in the Delta are dropping fast and furiously this season. Boating and mekoro activities are being stopped in most areas as either there is no more water left, or it's packed with crocodiles and hippos who are holding on to the last bit of wet that is available out there, which means: we really don't want to place our guests in the middle of it all on a boat or mokoro.
The Okavango has gone through wet and dry spells as long as time. Local rainfall, Angolan rainfall, small seismic shifts in the underlying tectonics, it all makes for a rather involved and very unpredictable miracle of nature. For the past years, we could all lean back, almost guarantee water activities for most of the year in lots of areas and have our clients looking forward to gliding across the delta on a mokoro and zooming through the papyrus lined channels.
Currently we are looking at a totally different scenario, the Okavango is at its driest since a long time. I'm sure some clients will be a bit disappointed about missing out on their water experience. Did the Okavango cheat us? Maybe we have to change our approach in how we present it? The Okavango Delta is one of Africa's last wildernesses. There is no regulating its flows, it's left to nature, the water comes and goes and the animals adjust to whatever comes along. The delta has hundreds of different faces. Wetter ones, drier ones, and lots and lots in between. Every single season has its very unique upsides. Sure the bush is thick and rather impenetrable in the rains, but it also makes for wonderful lush background, for happy and relaxed animals, lots of babies everywhere, for dramatic skies, and it is all dotted by the summer migrants who come visit.
The dry months are more dramatic, the animals are bound to being close to water, there is high competition for food and the air vibrates around the hot spots. The lines between dry and wet months have started becoming rather blurry, climate definitely has changed. So maybe we should wave good bye to trying to predict the next season as clearly as possible and prepare our travellers as meticulously as we can on what exactly to expect. Let's rather convey a message of being open minded for anything that nature and the Okavango have up their sleeves for us. In average years it might be this and that, but we cannot know exactly, we can only guarantee that it will be wild, untamed, untampered with, that it will be "the real thing".
We need to focus on that Miracle of Nature and understand that change brings new opportunities in the Delta. The game is more concentrated as the water levels drop, and the sightings can be more varied and exclusive. This is the reality of our "Backyard" and rather than missing a water experience, you are part of one of Wildest Africa's greatest natural events.
Upon arrival at Stanleys Airstrip we were amazed about how much water has already arrived in the lower Delta. Just a few weeks ago on our last visit to the delta there were only few waterholes and sprinkles of water between thick bush and palm trees surrounded by sand banks and dried land. Our guide, Ice, welcomed us at the airstrip and on our 40 minutes game drive to Baines Camp we got the first impression that the flood had just arrived the day before. Making our way through waterholes, around termite mounts, through high thatching grass and between Palm trees we arrived at Baines Camp. Located in front of a beautiful lagoon with water all around camp, kingfishers hovering over the water and weavers building nests in the main area. It´s a magnificent atmosphere being in a true delta camp with the calls of the different birds, the hippos calling in the background, the wind whispering through the reeds and the peaceful quietness far away from civilization.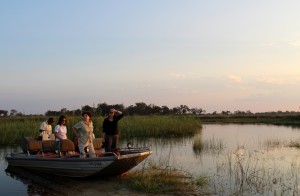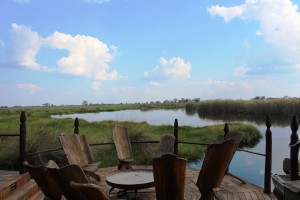 After settling into our room we are ready to go for high tea and excited about our first afternoon activity. To our surprise we are the first guests this season to go on a boat cruise, thanks to the newly arrived flood! The last boat cruise at Baines Camp was almost six months ago and now we are the lucky guests being spoiled with exploring the hidden parts of the delta. Having been on many boat cruises before and enjoying the smooth ride without the typical African bush massage, this one was special. Just the day before dry land and grass was covering the area around the camp. Now water was flowing through the reeds making it possible to see parts of the delta which are not accessible during summer months. The water was still brown and the bottom not visible. Only after a few weeks the reeds, the living microorganisms and the natural filtration will clean the water making it clear. Slowly we make our way through the channels, which is not that easy as the grass which is still floating in the water gets stuck in the propeller of the boat. We have to stop every now and then so our guide can pull out the reeds from the propeller. But this gives us time taking pictures of the scenery and enjoying the silence. The new flood also brings fish and new birds to the area, which we discover on the banks of the channels. Since the water is not that high yet we are able to stop at a small sandbank to have our sundowners. In between reeds, palm trees, papyrus and birds we watch the sun go down while enjoying our gin & tonic. As the sun disappears behind the horizon we make our way back to camp.
To watch the phenomena of the returning flood and what it does to the wildlife is an experience that can hardly be described. This is Botswana, the unpredictable Wildlife and ever changing landscape.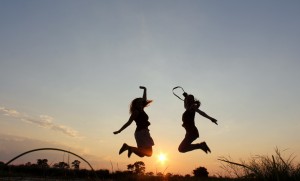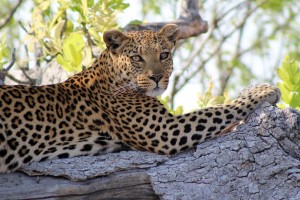 Pom Pom Camp, western Okavango Delta
Last weekend Jessica flew to Pom Pom for a quick 1 night stay to check out the lodge.  Here is her feedback:
Pom Pom is only a short five minute drive from the airstrip. The large main area is really cool, which helps during the hot days. All the tents have a great view over the river and buffalos come very close. The rooms are fantastic. We loved the colors and especially the white curtains in the tents, which we have not seen before. The hot outdoor shower is really big and the water pressure is perfect. Coffee and tea is being served in the tents at wake up time, which makes it really nice to get up.
Activities/ Guiding:
Our guide Rex, very nice and friendly guide met us and took us on the evening  game drive. Our plan was to find lions, we saw fresh lion tracks and followed them. We drove for about 38km trying to find this male lion and while doing that we saw  lots of animals just to mention a few, impalas, red Lechwe, Kudus, wildebeest, Duiker, Giraffe, Tsessebe, buffalos, lots of birds. It was getting a bit late so we stopped for our sundowner drinks. As we set up the table we heard him roaring, so we jumped into the vehicle, left the drinks there, drove off and he was about 150 to 200 m behind us, lying there calling for his brother. What an amazing sight. Rex our guide was not willing to give up on the lion hunt which was great, so our long drive and hunt was paid off eventually. It was so wonderful to hear him roar just about 4m away from the vehicle. The brothers met and it was a phenomenal way to end the evening.
On our morning game drive it was time to find a leopard. Rex took us for a leopard hunt, we saw a lot of animals while on the hunt. We finally found the mother leopard with two cubs but we could only see the one cub, since the other one was hiding. That was just incredible, wonderful game drive. Back on time we dropped two clients at the airport and kept on going on a game drive for about 40 minutes before heading back to camp for brunch.
In November Muriel and I had the opportunity to explore the camps in the Jao Concession, we visited Tubu, Little Tubu, Jao, Jacana and the new Pelo Camp. I am happy to share our experience with you:
Kwetsani: Spectacular setting over the lagoon, very 'high and elevated camp' everything is about views, large public deck, many different, intimate corners and tasteful spaces for the clients to withdraw and enjoy the scenery.
Units: due to their height they almost appear as 'tree houses', they will be enlarged and refurbished in the coming weeks, then the camp will be certainly my favorite of the classic collection in Jao.
Management: very passionate, open minded, outgoing, and certainly top service orientated camp manager, Charmaine.
Pelo Camp (pronounce PILU for all Setswana ignorants amongst us, as otherwise it sounds like kidney and not like heart, which is the shape of the island it is on).
New camp only open in high (=dry) season, very romantic, hidden in the thick bush on the island, pure water bases, the only activity is mokoro, so it will make a perfect last to relax in some horizontal safari (the birds' concert is outstandingly entertaining) and concentrate on the small stuff.
The fire place with the bar is the central meeting point, elevated above the lagoon it offers views combined with a warm camp atmosphere.
The public area is a small tent with a terrace, true to the modest style, no big furniture but cushions to lounge.
The dining area is in another small tent, just enough to make clients feels safe without taking the camping feel away.
Units: from the outside it could be just a notch above mobile safari, they almost hide their luxurious interior (top comfy beds, perfect illumination, desk), which gives the camp the charisma of cozy, tented, intimate. Only outside bucket shower (in the cold winter months of June/July people should be informed/warned).
Food: great brunch, a variety a light and tasteful salads, beef sausages, cold pasta, cooked breakfast, fruit and cheeses. Dinner consisted of a veggie soup, excellent Impala stew, veggies and again salad, very pleasant.
Activities: mokoro, the nicest cruise I have ever done for over 2 hrs, safe, hippo free, and in a very lovely surrounding, apart from birder's paradise, with hundreds of lechwe and elephant herds at our sights, we even spotted some shy Sitatunga.
Apart from mokoro, the manager takes clients to his very special Delta Pool for a refreshing swim and pick nick on the sand banks. Also catch+release fishing is possible.
Camp Jao: Just stunning, the jewel of the concession for the pampered, the Balinese palace in the Delta. All emphasis on luxury, spa, food, wine tasting, a perfect end or relaxing start to a safari, I could certainly stay for 5 days in this camp. The whole camp is highly elevated in beautiful old trees, as if the camp was a colony of tree houses connected by swaying boardwalks.
Apart from the spa, there is a proper gym, yoga mats and pilates balls, and a wine tasting parlour, as the unusual features.
Units: the best feature (vs its sisters in luxury Kings Pool/Vumbura Plains) is the shape of the rooms, as they are not deep but long, so from any point of the unit the views over the lagoon can be enjoyed, they are airy and full of light, which takes the weight off the massive wooden furniture and gives it a noble and highly elegant feel.
The public areas are impressive, two pools, one family one adults only plunge pool bordering with the Delta, large shady sitting areas on a 10 m tall deck. The impressive fireplace with unique Balinese drums builds the center of the camp with incredible views over the lagoon and its wildlife, e.g. Lechwe hunting Lions.