Category Archives: Kids on Safari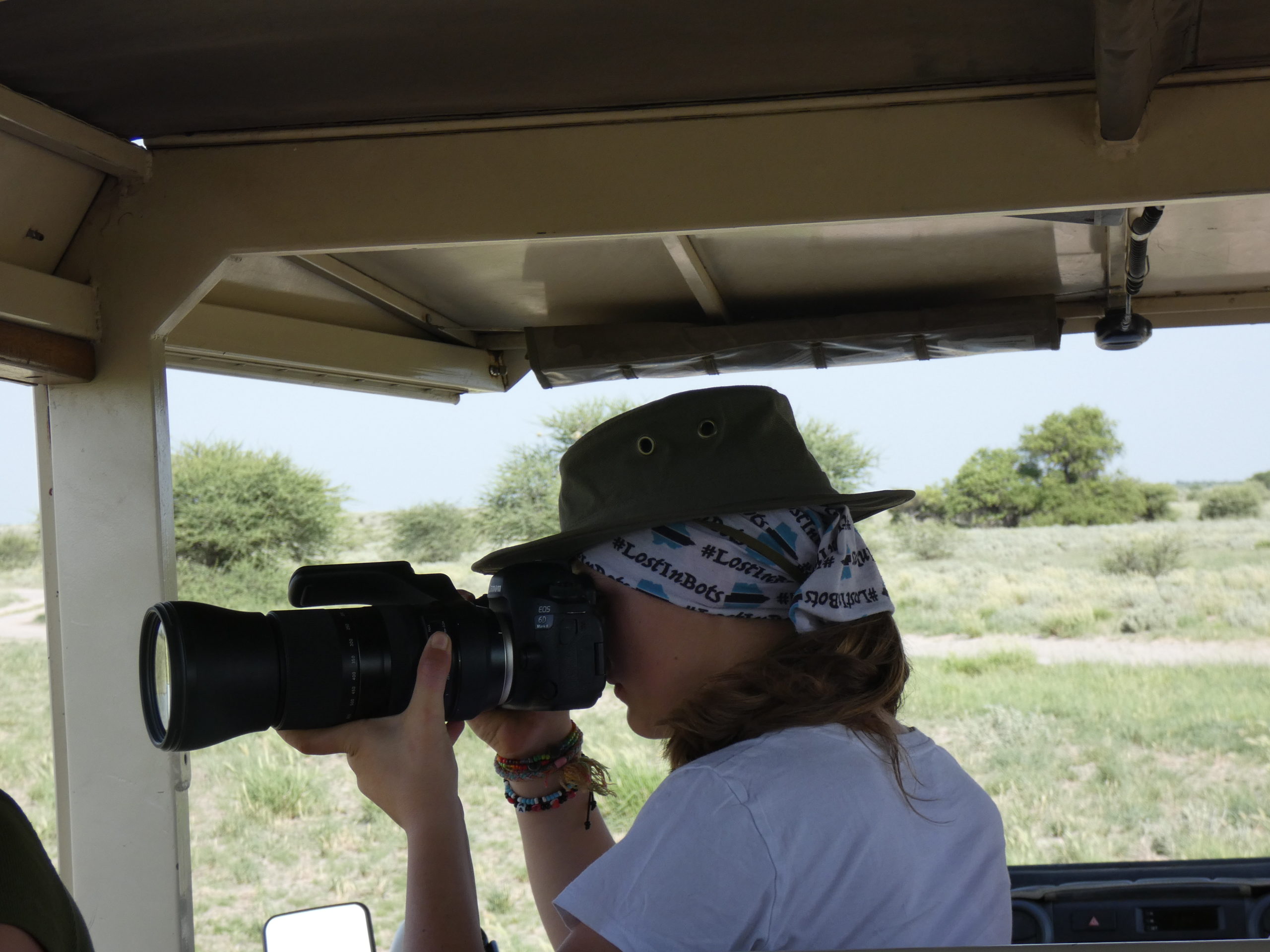 Sharing a safari with children will give you completely new eyes for seeing the bush.  A child's excitement at spotting an impala for the first time is infectious enough to rub off on even the most seasoned of safari goers. When you start seeing the bush from a child's point of view, the priority of ticking off the big five quickly fades – replaced by the excitement of watching dung beetles at work and imagining the inner-workings of termite mounds.
A family safari is a whole new discovery of the natural world. Not just for kids, but also for adults who usually focus only on photographing the animals that live in it. Best of all, you'll have time to bond as a family while checking out fresh animal tracks and roasting marshmallows on the campfire.
So, what do you need to know when travelling with children?
Don't chain me down
Ask a small child if their idea of a holiday is being asked to sit still for four hours, twice a day (or more!) and you'll probably get a firm no. Even the most disciplined of children will have a tough time containing their excitement when bumping into a pride of lions. They'll want to wiggle around a little, point at things and start a conversation about what they're seeing. So let them. Booking a private vehicle is the best way to relax at sightings without worrying about sideways glances from that empty-nester with the massive zoom lens. Private activities give parents space to relax without having to 'shhh' kids over stuff that's really quite exciting (who wouldn't want to tug someone's sleeve and gasp 'look!' when faced with their first elephant?). Private activities also allow you the flexibility to start and end activities at friendlier times for kids who sleep longer & tire out easier.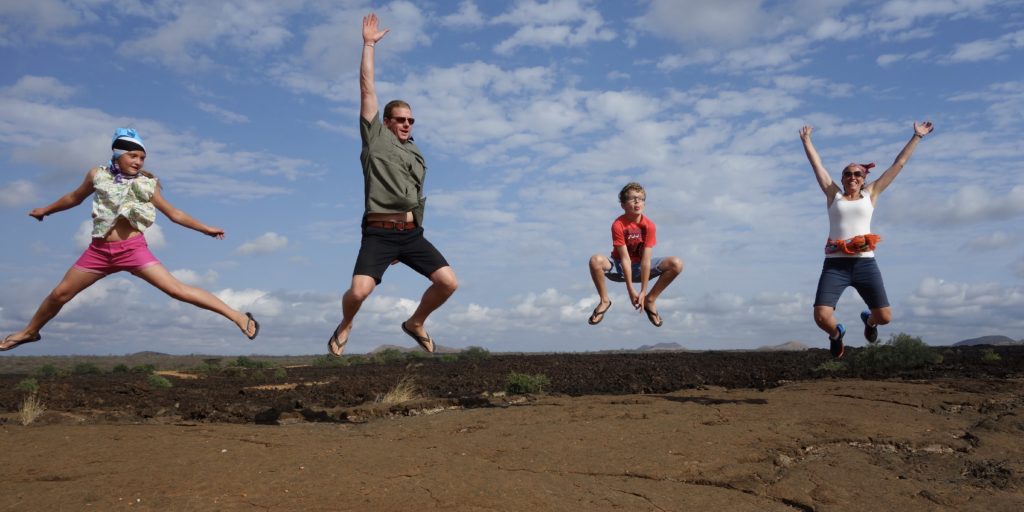 Variety is the spice of life
Mix up the schedule and keep the kids engaged on safari. Head off on a local village visit in Chobe or explore the salt pans with a quadbike and get introduced to the meerkats of the Makgadikgadi. Take the kids walking with the bushmen so they can practice speaking in clicks or give them a bush archery lesson. Many camps in Botswana offer child-friendly activities with some providing specialised programmes just for children. A private mobile safari is another sure fire way to give kids the space they need, as well as guaranteeing your guide's undivided attention.
Where the Wild Things Are
Many camps have age restrictions for children to guarantee their safety in the bush, as well as the comfort of other guests in camp. Private vehicles are often a requirement for children under 12, however Chobe is one area where these rules are usually more relaxed. Children are required to share their room with at least one adult to guarantee their safety. Many camps now offer family accommodation to prevent parents splitting sleeping arrangements. Children are generally not allowed on bush walks below 16 years of age or mokoro activities below the age of 12, however certain camps will make exceptions or tweak these activities to make them safer for kids.
The boring stuff – what paperwork do you need to bring?
A trip to Africa is an exceptional adventure and will give your children life-long memories.
To make sure everything goes smoothly however, please ENSURE that you adhere to the regulations in place regarding travel for ALL children under the age of 18.
Botswana continues to have strict rules when it comes to travel with children under 18. Parents have to carry unabridged birth certificates for the children, if single parents travel without the other parent then additional rules apply. Please contact us to find out more, we have handy lists that help preparing for this once-in-a-lifetime safari.
Recommended itineraries for families
At Safari Destinations, we've used our first-hand knowledge of Botswana's camps to create family-friendly safaris which help families get the most from their time in the bush. We are experts when it comes to family room layout, child restrictions, minimum ages etc. Contact us at info@safaridestinations.net to ask about the best options for family travel.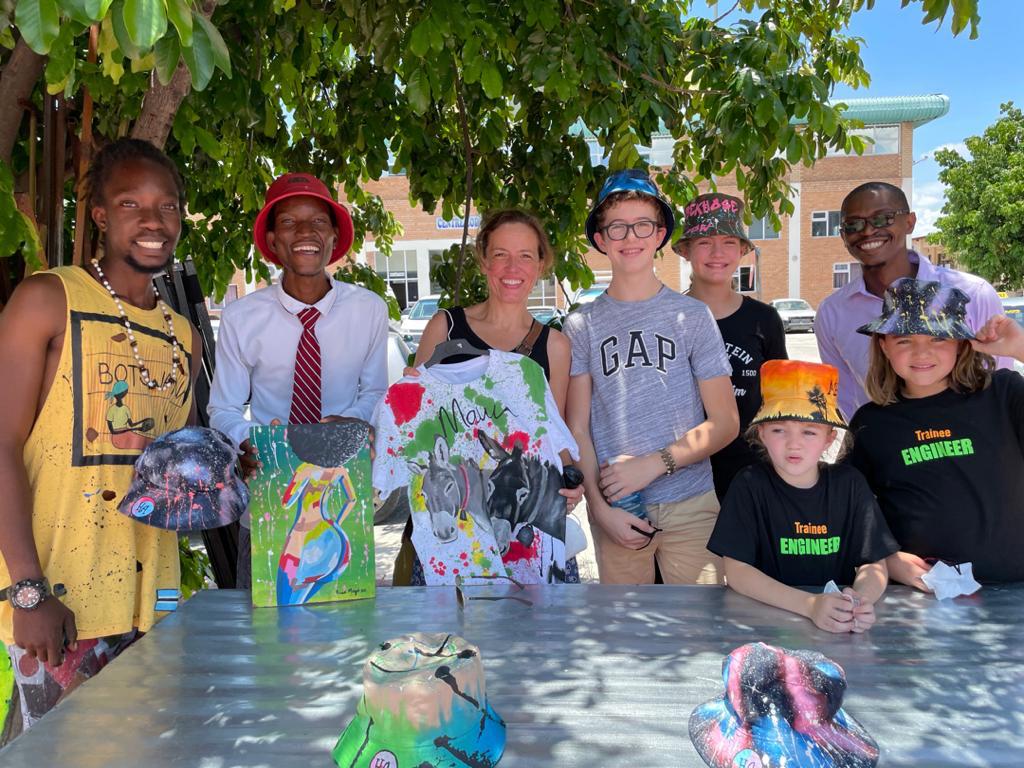 Every single day, we at Safari Destinations, have the privilege of interacting with our clients in Maun, hearing about their wonderful safaris. Excited by their experiences in the bush, our guests are more than eager to share their feedback with us. Our clients are so thrilled to be travelling again, agreeing that travel is still much needed and that there is no better time to go on safari than now!
Elicited by our Meet and Greet team, here is some of the feedback received in the last couple of weeks (we struggled with the selection since we had so many wonderful stories to choose from).
A FAMILY'S DREAM COMES TRUE AT SHINDE CAMP
"Shinde was by far the highlight of their trip. In enquiring why this was so, we were told that they had the best Guide ever in the history of their safari holidays. Our guests commented that they have been to South Africa, Namibia and Botswana with Botswana having been the best just because of their guide, Kenny, at Shinde Camp. The whole family commented that Kenny was an absolute gem. He was very knowledgeable (he even knew the scientific and latin names of plants and animals), was fun (extremely entertaining), and catered for the young ones and keeping them very interested each and every game drive. They mentioned that a Guide can make or break a trip or experience and fortunately for them, Kenny truly enhanced their experience. Their game drives were nothing short of spectacular. They saw everything that they wanted to see and even got to witness a Lion kill, just like you see on National Geographic. This family really were happy and could not stop expressing their satisfaction with their whole entire trip."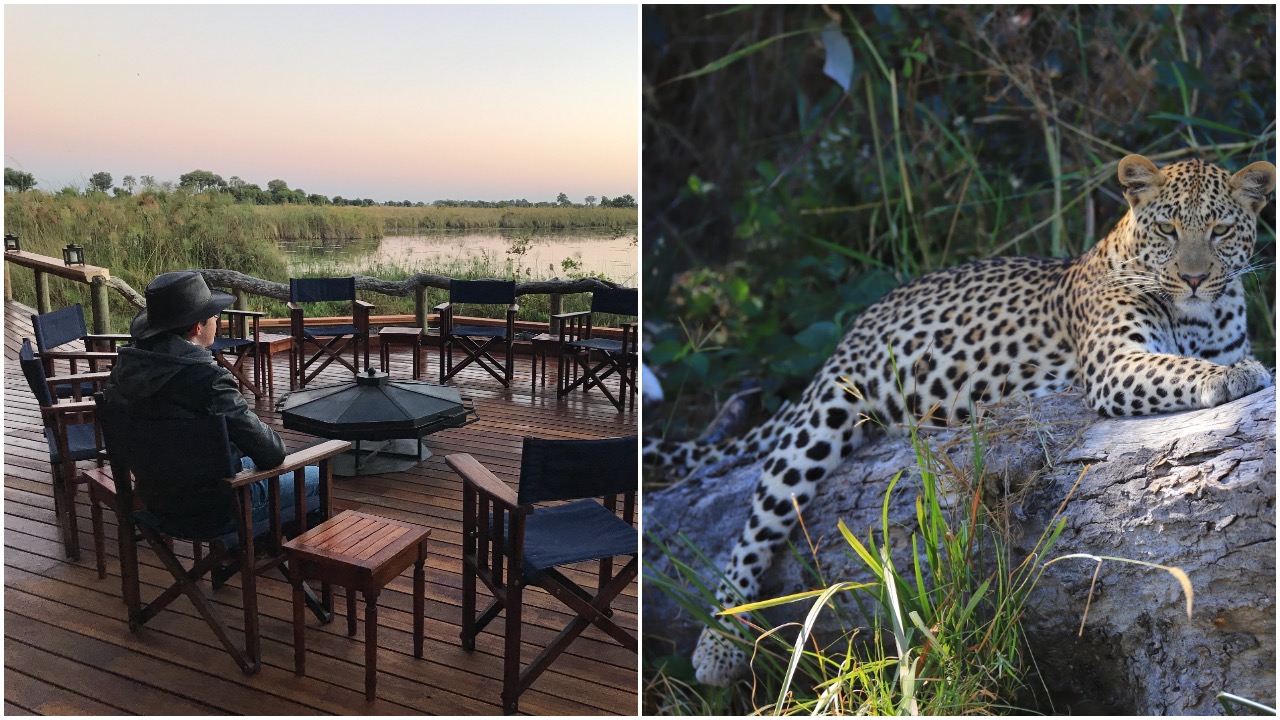 NOGATSAA PANS LODGE: A GEM & THE CHERRY ON TOP!
Although the focus of a safari is the wildlife sightings, the landscapes and the sheer bliss of being out under the African sky, the staff in camp contribute hugely to the overall experience. A warm welcome, a beautiful smile and the kindness of the people in camp who are more than ready to make sure that all your needs are met during your stay, adds to the pleasure of your stay. Nogatsaa delivered in this aspect!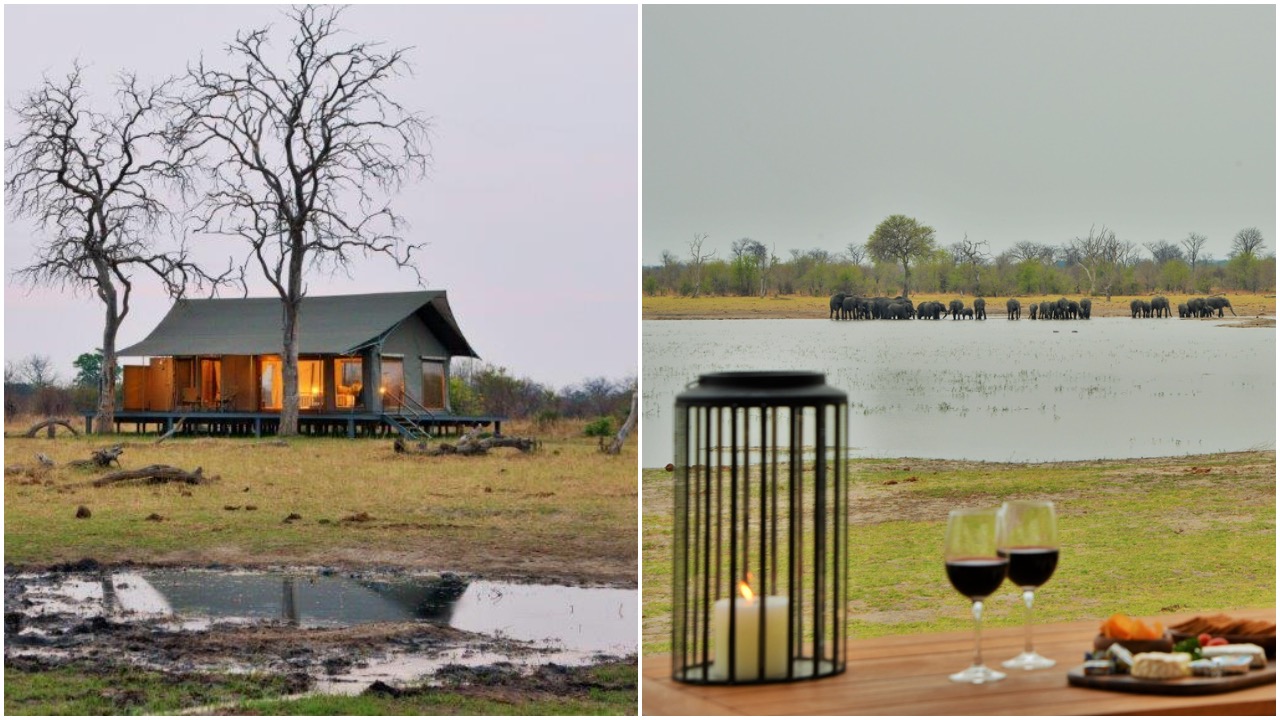 "Nogatsaa Pans Camp: Clients raved that the Manageress Ketsile, had phenomenal people skills and was just incredibly friendly. Allan, who was their Guide for their entire stay was also an asset and made their sightings just extra special. He was very knowledgeable and very flexible. They can't compare the welcome and hospitality that they received anything they had experienced on other trips.
SELF-DRIVING IN BOTSWANA! WHAT COULD BE BETTER?
It is great to go on a self-drive trip. Our guests are enjoying the open and flat landscapes while driving through the Makgadikgadi pans, to road side sightings of elephants aplenty in the famous Chobe area to the rustic and pristine Savute and then Khwai with its exceptional game viewing. The bonus to self-drives is that you get to spend dedicated time with family or close friends.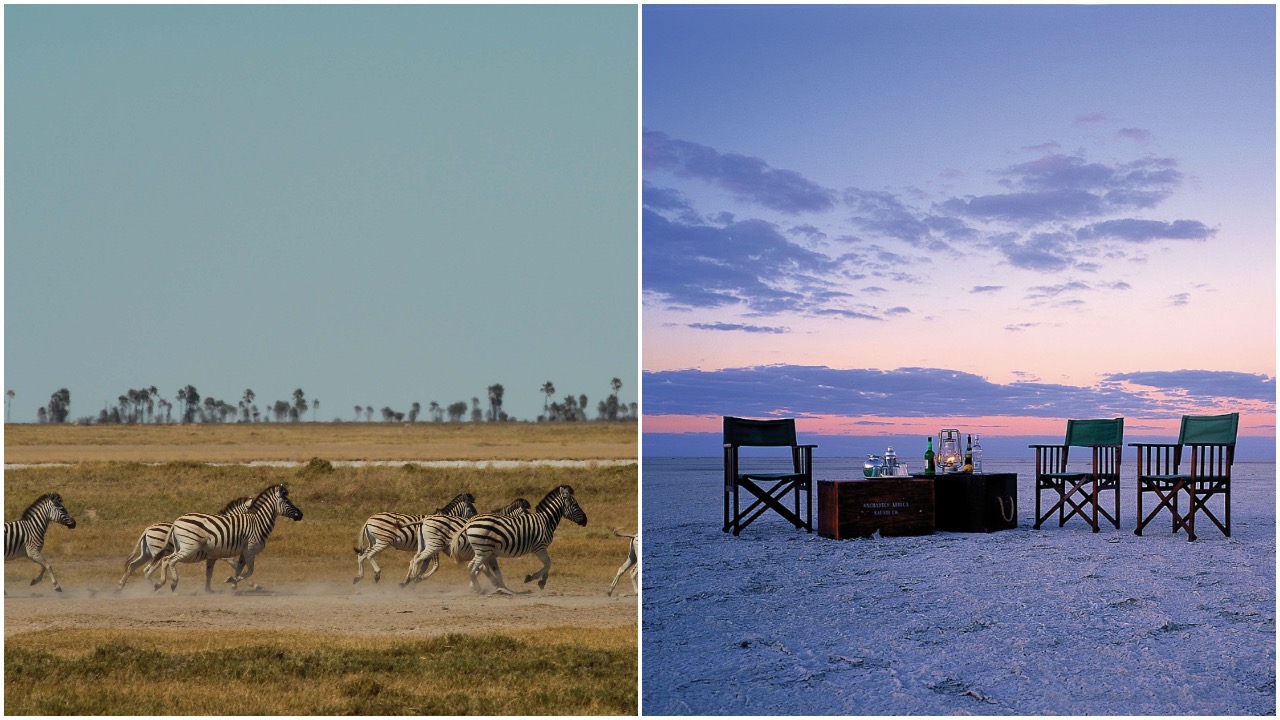 " The clients absolutely loved the Makgadikgadi and her beautiful sunsets and sunrises as well as the vast nothingness of the landscape. Kubu Lodge was also a great place to stay as Chobe was buzzing with hundreds of elephants. They had never seen anything like this before.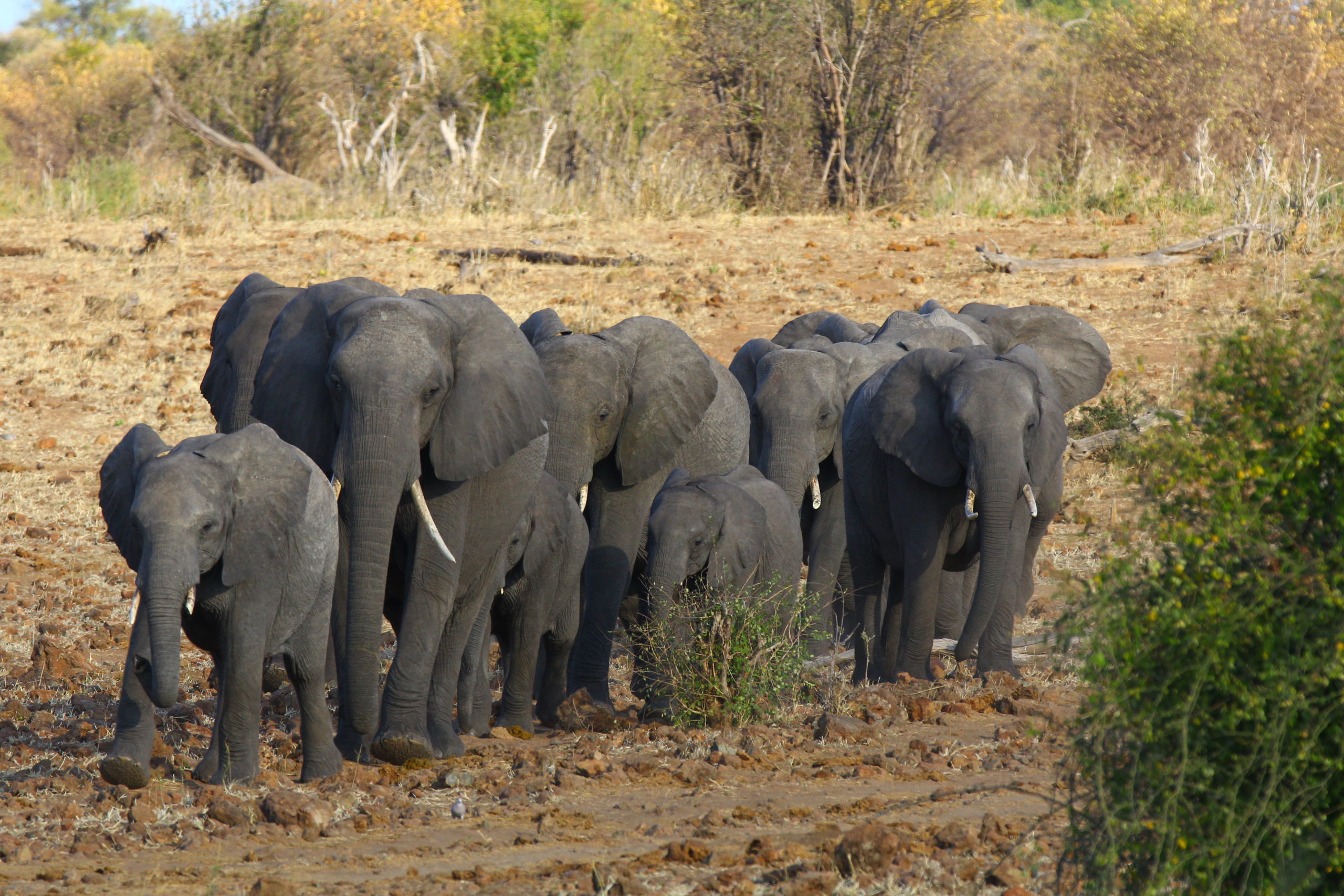 Savuti was " Lion land". They saw a total of 15 Lions at one sighting, with cubs. This for them was very special. The experience of being in the wilderness (unguided) with mother nature delivering in such a spectacular manner, was simply remarkable. The landscape here was also breath-taking. Khwai also was just awesome. On one drive, clients saw a dead impala up a tree and they both guessed that they were about to see a Leopard. And there it was! They were so excited and told me about the many video clips they took of their "special" sighting and moment. This was their first time visiting Southern Africa and they could not believe their luck."
These are just some of the feedbacks from the many guests we have hosted over the past months. We love to hear of the magical moments experienced by our guests and to share in the memories they will take back home to tell to their families and friends! This is one of the best parts of our job, being allowed to share such amazing experiences.
As Carina always says: "Every day not spent on safari is lost day". I am sure our guests, after a safari of a lifetime, will agree. The African travel bug is the one that bites the hardest.
Everyone is exhausted after a long-haul overnight flight, often involving multiple connections and inevitably ending in long immigrations queues on arrival. Not to mention the build-up of going on holiday, delayed flights and lost luggage. On arrival, most of us are simply looking for a hot shower, followed by a G&T while we take in our surroundings, ending the day with a good meal and a comfortable nights sleep.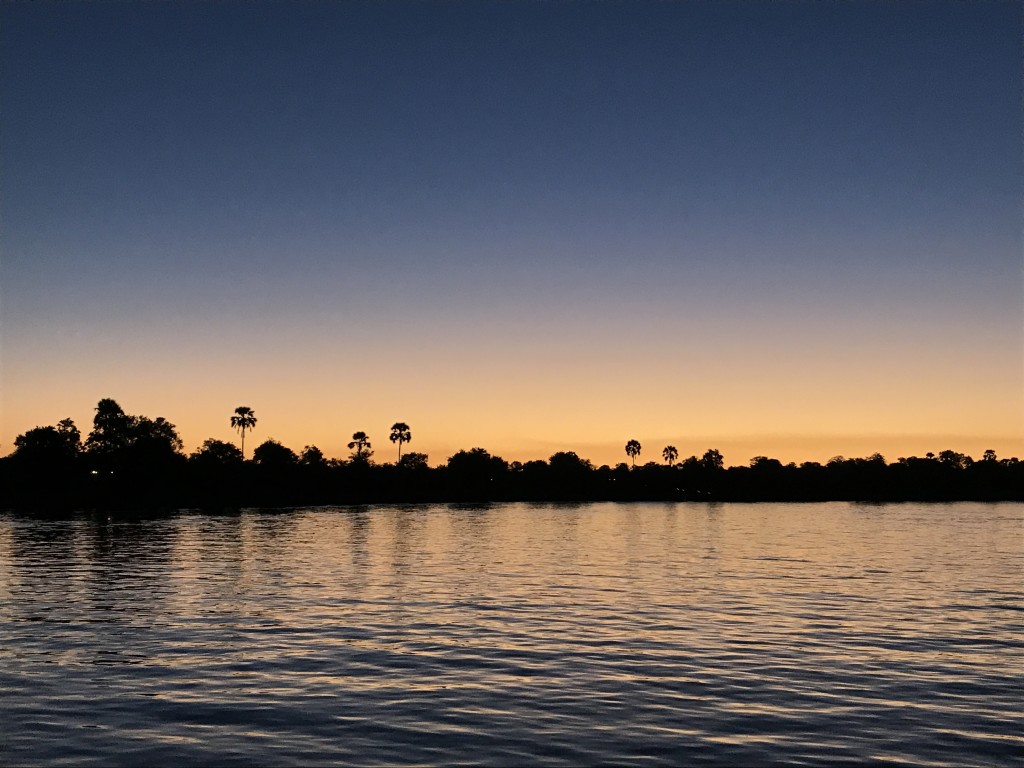 Victoria Falls is the ideal place to kick-off a safari. No onward flights or long road transfers required as most hotels are only a stone's throw away from the airport. Comfortable accommodation with all the amenities allows guests to ease into their safari experience.  As the properties in Victoria Falls are generally more affordable, there is less of a need to hit the ground running and more time to relax and find your feet. This is especially important when travelling with young children. Compared with the high-pressured start at the top dollar lodges in the Okavango Delta where every minute counts and where you feel compelled to jump on the first game drive on arrival, followed by an early morning wake up call on day one.
After a recent visit to Victoria Falls with my own family, I realized that 2 nights just isn't enough for first time visitors and especially families to fully appreciate what this corner of paradise has to offer.  I found myself rushing from one activity to the next, pressurized by pick-up times, with little time to relax and yet there was so much more than we could have done.
During our 2 night stay in Victoria Falls, we explored the Falls on foot, by helicopter and by Zip Line and that was about all that we had time for bar a mad dash around the market. There is a big choice of activities on offer beyond the falls themselves, one that I feel is grossly underestimated is the canoeing on the Zambezi River. For families, the falls has lots going on to cater to all ages and interests breaking up the typical safari routine.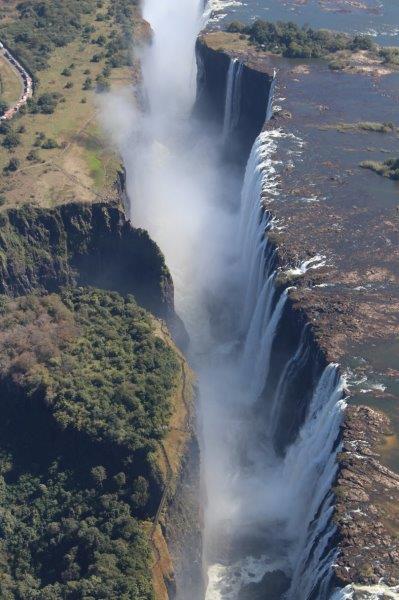 Beyond the activities, the town has a holiday vibe, showcasing the country's culture, local crafts (curio shopping) and a great variety of restaurants, which really add to the experience. Not accounting for the day of arrival and departure which are often lost due to flight times and transfers, one full day simply isn't enough to take it all in.  I would comfortably recommend a 3-night stay in Victoria Falls town itself.  There is a selection of properties to match all budgets, offering potentially good value for your money, helping to stretch the budget when combined with the top dollar lodges in more remote game areas.
Suggested Itinerary
Day 1:     Relax and enjoy a slow start to your safari
Dinner at the hotel
Day 2:     Tour of the falls followed by the flight of angels (12 – 15 minute helicopter scenic)
Lunch at the Lookout Café (which will reopen in Dec 2019 after it burnt down half a year ago)
Canopy Tour / Elephant Interaction / Sunset Cruise
Day 3:     Option 1: Full day upper Zambezi Canoe or Rafting experience
Option 2: A combination of the following with lunch on the terrace at The Victoria Falls Hotel
Horse Riding, Bicycle Tour, Village Tour, Pay It Forward (Family), Bird Watching, Shopping, Bunji Jumping, Croc Farm (Family), High Tea at the Victoria Falls Hotel, and more
Independent Dinning Options:
Traditional (Family): The Boma, Jungle Junction
Formal: The Livingstone Room, The Palm Restaurant
Casual: Zambezi House, Three Monkeys, The Lookout Cafe (will reopen Dec 2019)
The same could be said when coming off a safari in the delta. Days of early rising, long bumpy game drives and a day in transit, including the border crossing, is taxing of the best of us. Ending with 3 nights in Victoria Falls to slowly get re-acquainted with civilization before diving back into your daily routine at home is always a good idea.
Guests that have a little bit more time are recommended to spoil themselves with 4 nights in Victoria Falls, the 4 nights could be split between 2 nights in town and 2 nights in the quieter Zambezi National Park. The options are endless, we have put together some stunning itineraries which can be found on our "Best in Travel Zimbabwe 2019", the packages for 2020 will soon be released.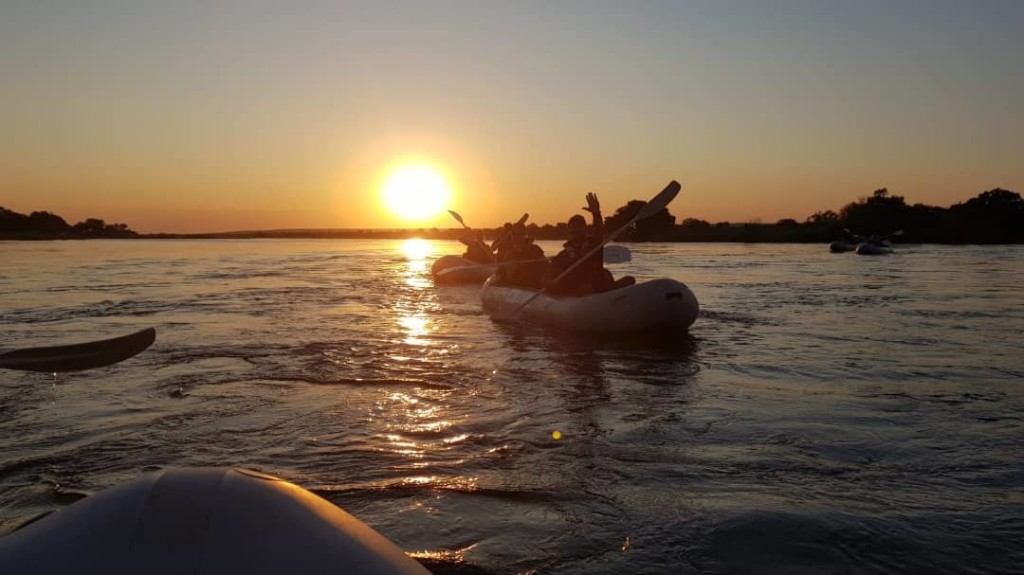 Let's start with the essential 2 rules about a stay here:
No matter what you do ALWAYS carry your camera with you, ready to shoot
No matter HOW freezing it seems in the morning: GET OUT THERE!!
Had I listened to the first rule myself, I could have added amazing shots of 2 honey badgers out in the open right in front of the lodge in some golden morning light, watched right from the breakfast table – instead I held on to a fluffy, moist blueberry muffin and a mug of freshly brewed cappuccino. You see: life can be full of tough choices at Belmond Savute!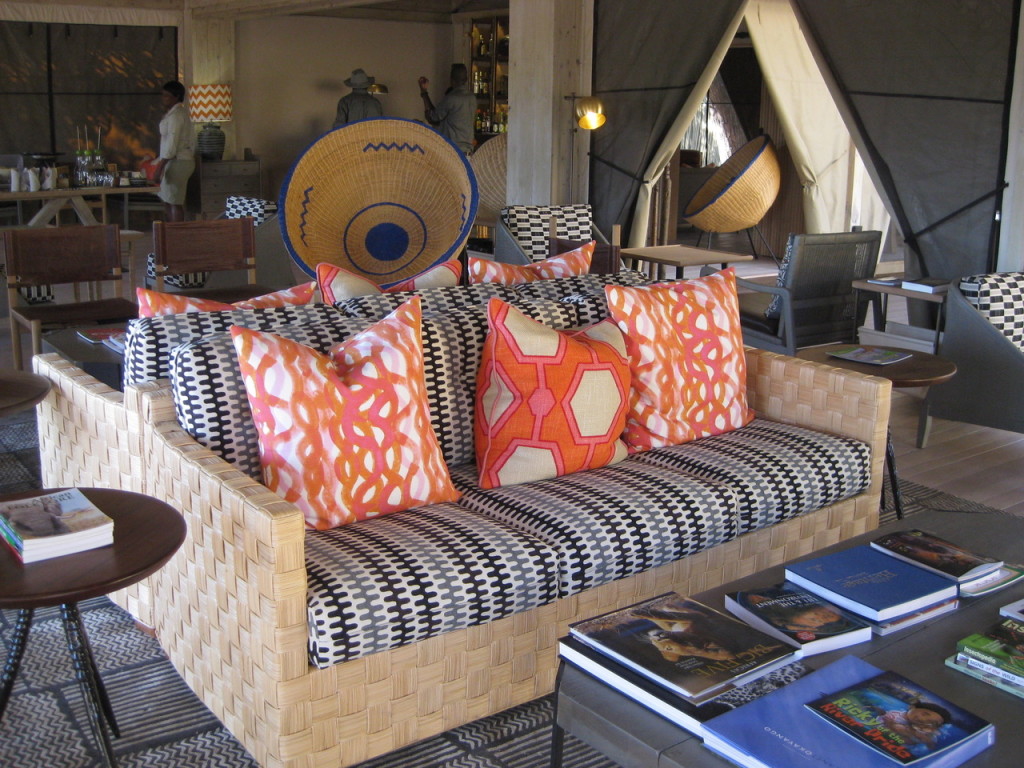 When climbing off the plane at Savute airstrip, the guests climbing on said: If you want to see animals, you need to go with Robert. And my heart sank. I am a huge fan of good guiding and always massively disappointed when sitting on a vehicle with a driver who is just racing from one photographic opportunity to the next. Luckily – I was to be proven very very wrong!
After settling in, freshening up and some tea time treats we headed out on our first drive. Driving through what smelled like a herb garden my curious 7 year old son showed interest in all these smells and Robert stopped, got us some wild basil and shared stories about it. "So do you think this would keep mosquitoes away?" Which got us on to some other herbs and traditional methods and a lively discussion, plus some more sample picking and smelling. While pointing out tracks and interpreting what we saw around us, we slowly made our way towards a spot where some cheetahs were hanging out earlier. Lucky us, most vehicles had already left the 2 sleeping males, who felt now it was time to get up and get active – and to get a good look from some elevation.
And yes: cheetahs are clearly NOT built for climbing 😉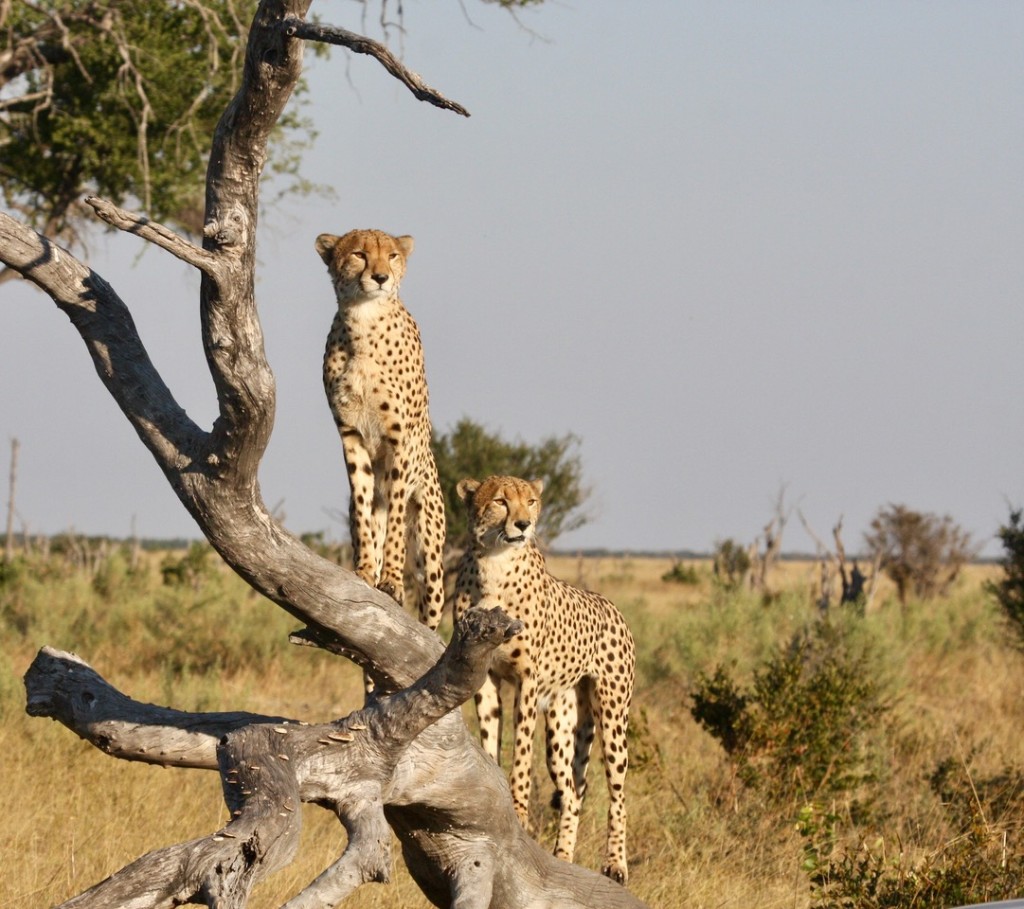 After this fabulous afternoon we were so excited, that we couldn't wait to go exploring the next morning – despite of being able to see the clouds of our own breath when exhaling. It was COLD!!
Robert had the perfect technique to battle this aspect as well – even my 6 year old daughter was comfy and toasty, after he wrapped her up in fleeces, blankets and a poncho: "ready to go to the moon". We tried to find the lions that we heard during the night, but they tried to play games with us. Tracks literally everywhere! In all directions, back and forth, right and left, and back again – hmmm. What happened here last night?? And our imaginations ran wild.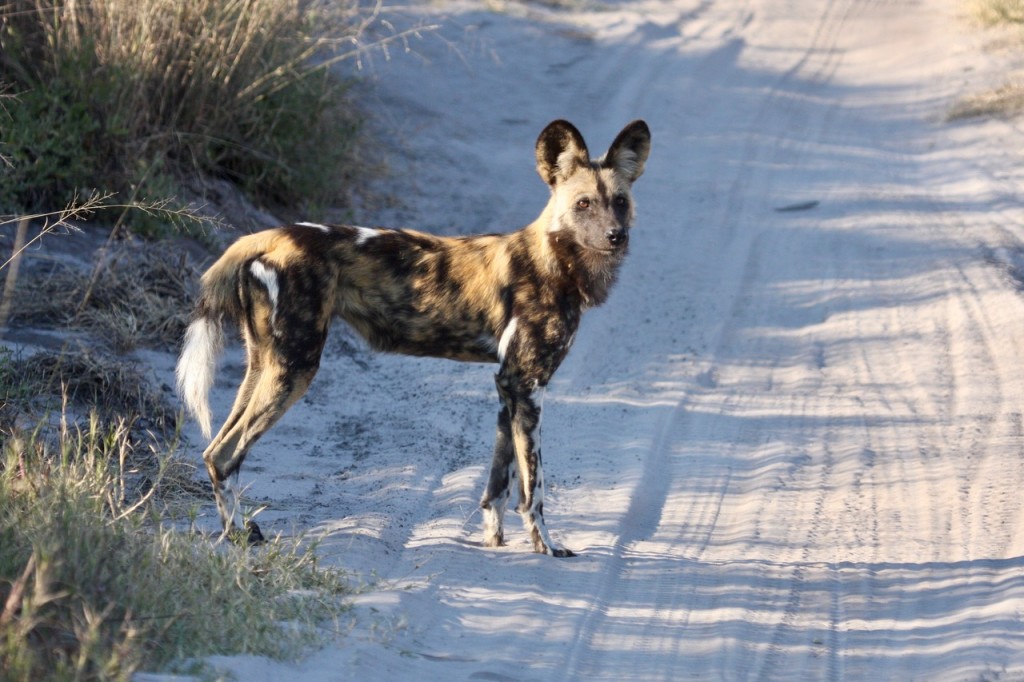 After some fun tracking, a pack of wild dogs were waiting for us in the middle of the road, just around the corner from a mother leopard trying to catch some guinea fowls. While most cars simply waited behind the dogs, Robert decided to approach them differently. We left all the cars behind, and moved to another area, trying to anticipate their next move – and it worked! Stotting impalas all over the woods, showing off their strength, and the pack chasing at top speed. How exciting was that!! We eventually said good bye to the dogs to have a look what was happening out on the marsh.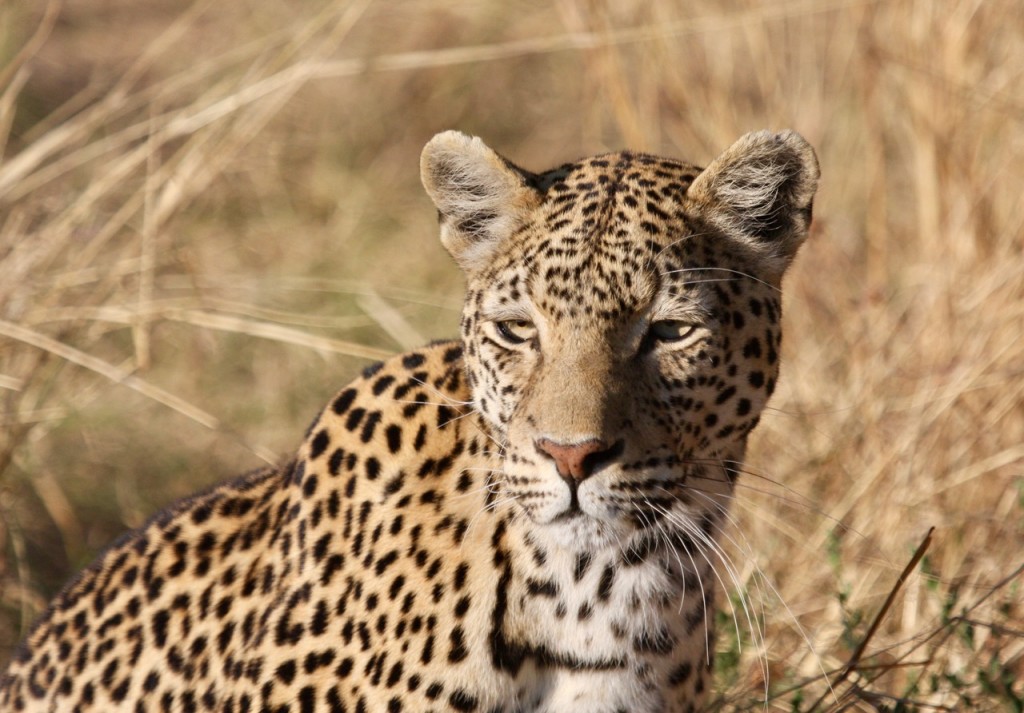 Some lonely male wildebeest were guarding their territories, then Robert noticed that one of the wildebeest FAR away held up his tail really high – hang on…. ????? So 2 big male lions were crossing the marsh, where were they heading to? We decided to go the same way and see – a little grassveld pipit joined us, flapping and running right in front of our car, for more than 1 kilometer. Now, yes, it made it! Oops, no, it's back…. The kids had so much fun watching it ALMOST flying off to the side, and back it was – giggles and laughs without end.
Guided by the direction of the male lions and following the pipit we ended up with the rest of the pride, some females feeding on a wildebeest and 5 cuddly little fur balls, roaring like their dads, schmoozing their mums and eventually, collapsing and falling asleep all on top of each other in a cub heap.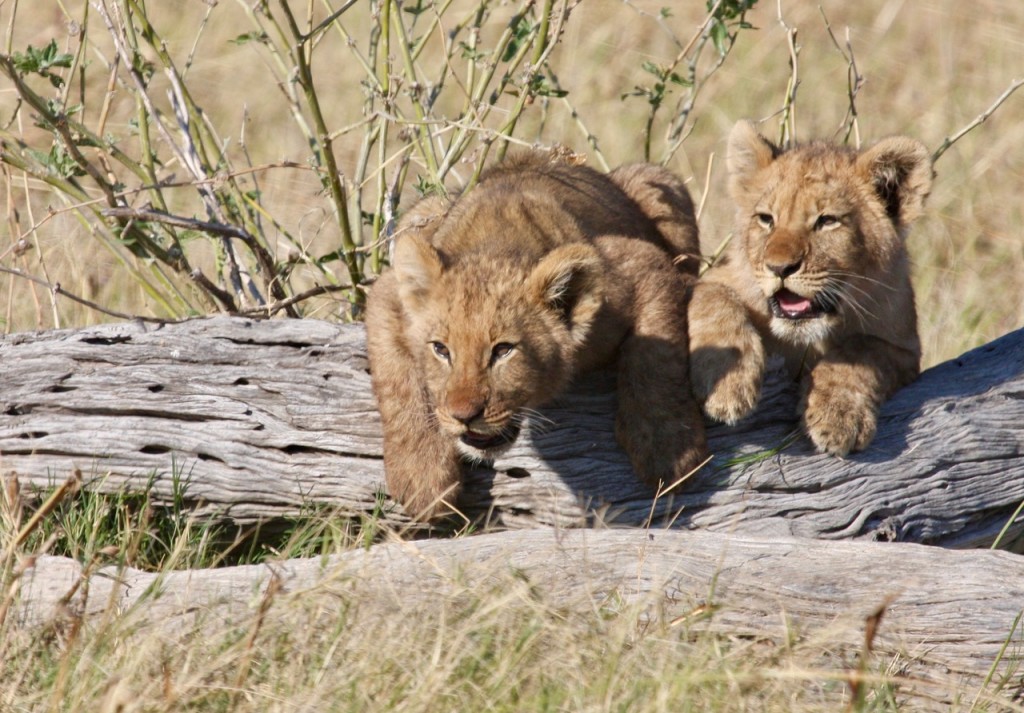 Back at home we hung the sage and the wild basil – to test how much of a mosquito repellent they are. And asking: "So what was your favorite bit in Savute?"
the cute little cubs
and remember the funny pipit who ran with us for SO long
and the honeybadgers at breakfast
and the elephants up close from the hide during tea time
oh – and of course: THE HEATED POOL !!!!
Thank you so much to Robert, our fantastic guide, for an all-round, all senses, mega fun experience. For teaching us about the bush, for putting it all into context and all the stories about the background and history of the animals we saw.
What a safari experience!
Keeping the fantastic Belmond Savute Elephant opening special in mind: Book some seats to Savute and get yourselves out there. Go experience!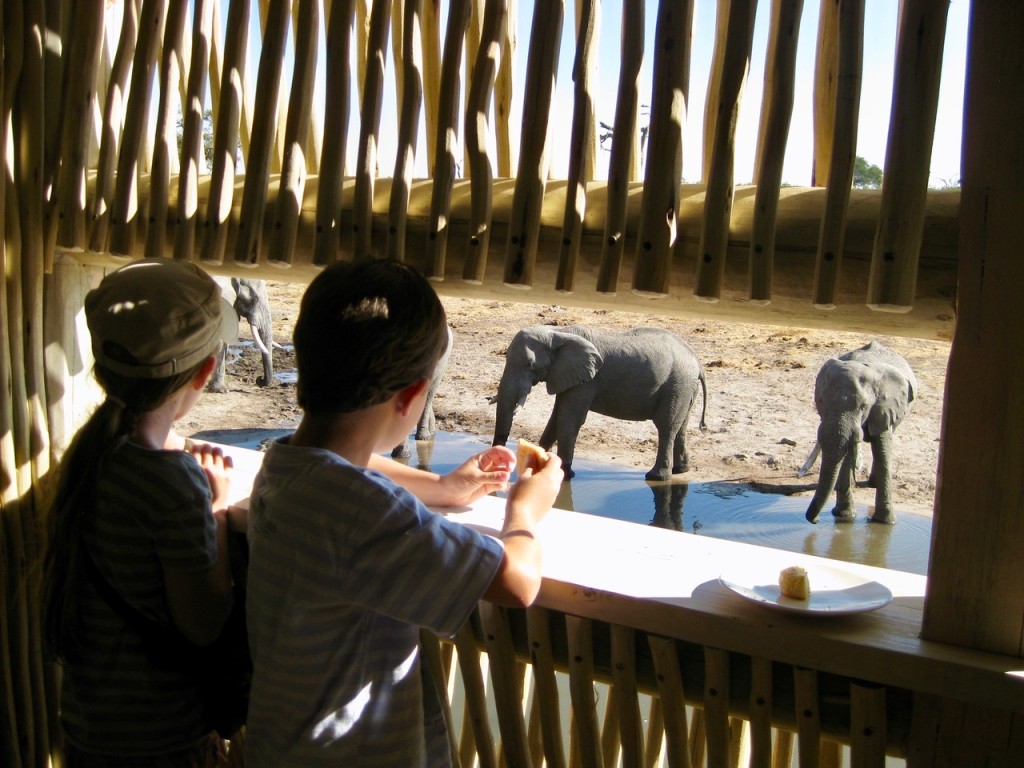 Until recently I thought that I had been to all the great places Botswana has to offer. I thought I knew it all – wow – was I wrong. It took me 15 years in Botswana to finally step into a secret gem, a place of wonders, Mashatu – one of THE best kept secrets in Southern Africa.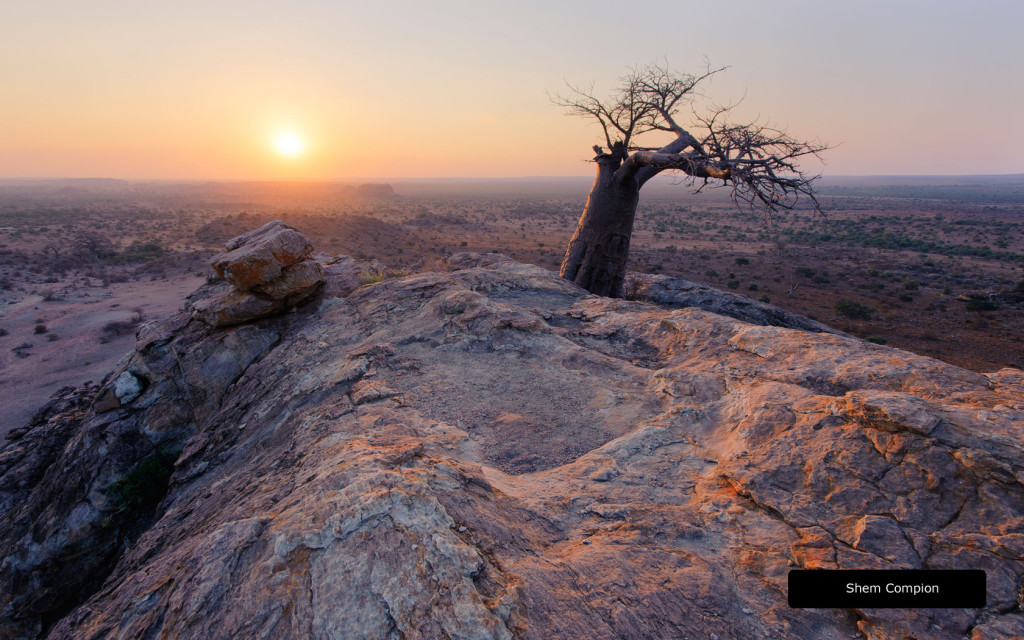 Our challenge until now was how to include and combine Mashatu with Northern Botswana. Thankfully, the introduction of special flying rates from either Johannesburg or Maun have enabled us to resolve this "tiny" issue and opened up access to this phenomenal and unique place.
What was your overall impression of the camp? 
Mashatu impresses with very varied landscapes, from dry river beds to rocky cliffs, soft hills or huge open spaces. Ones eye never tires from the overwhelming beauty of nature in this remote corner of Botswana. It was interesting to see that there is very little grass which makes game viewing and wildlife photography even more rewarding. Along the rivers you can find beautiful large Nyala Berries, the locals call them Mashatu Trees.
Game Viewing in the area is excellent all year round, chances of seeing the big cats are brilliant. In our short two game drives we saw cheetah on a hunt, several leopards and a lioness with her 2 month old cubs.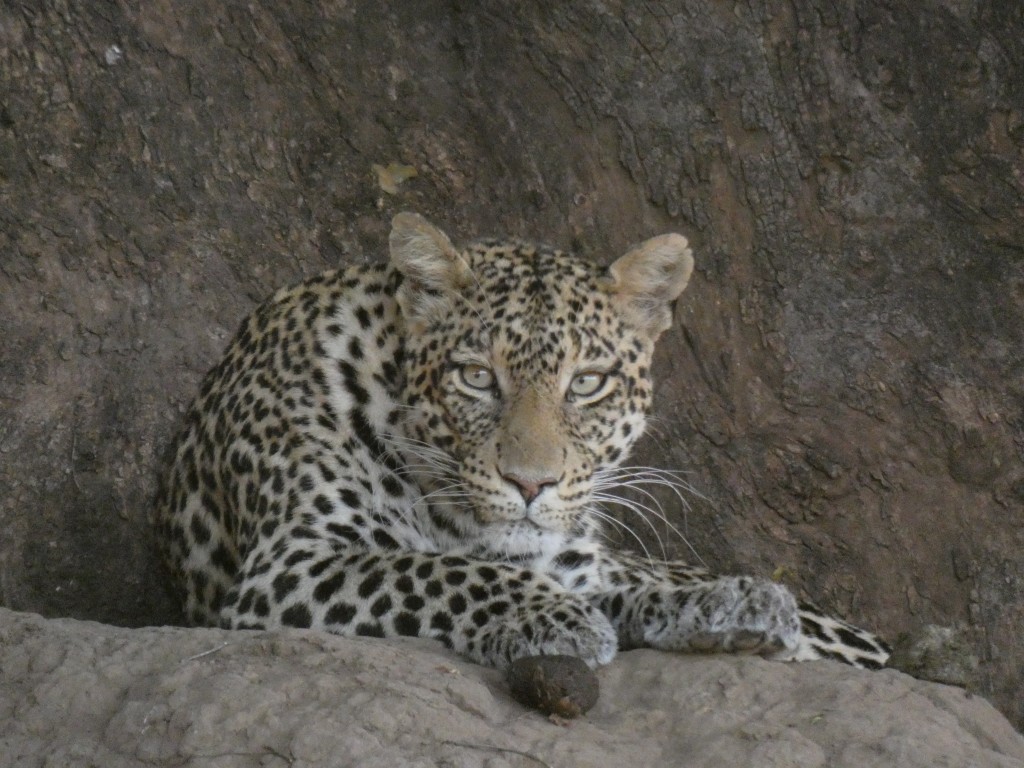 Unique experiences add to the charm of this jewel: we joined a mountain bike safari which offered us a totally different perspective of the bush. Our morning cycle was guided by Mosa, a very experienced ranger. We pedaled leisurely for about 20 km along ancient elephant paths, watching plains game in a distance and enjoying and absorbing the colors and smells of nature. Another brilliant way of getting up close to the animals is the Photo-Hide. which provides a safe place in which to view of the herds of elephants and even the occasional leopard who come and drink from the waterhole in front of the hide. Guests are also accompanied by a professional photographer who provides tips and tricks on how to use their cameras and can answer any questions they may have.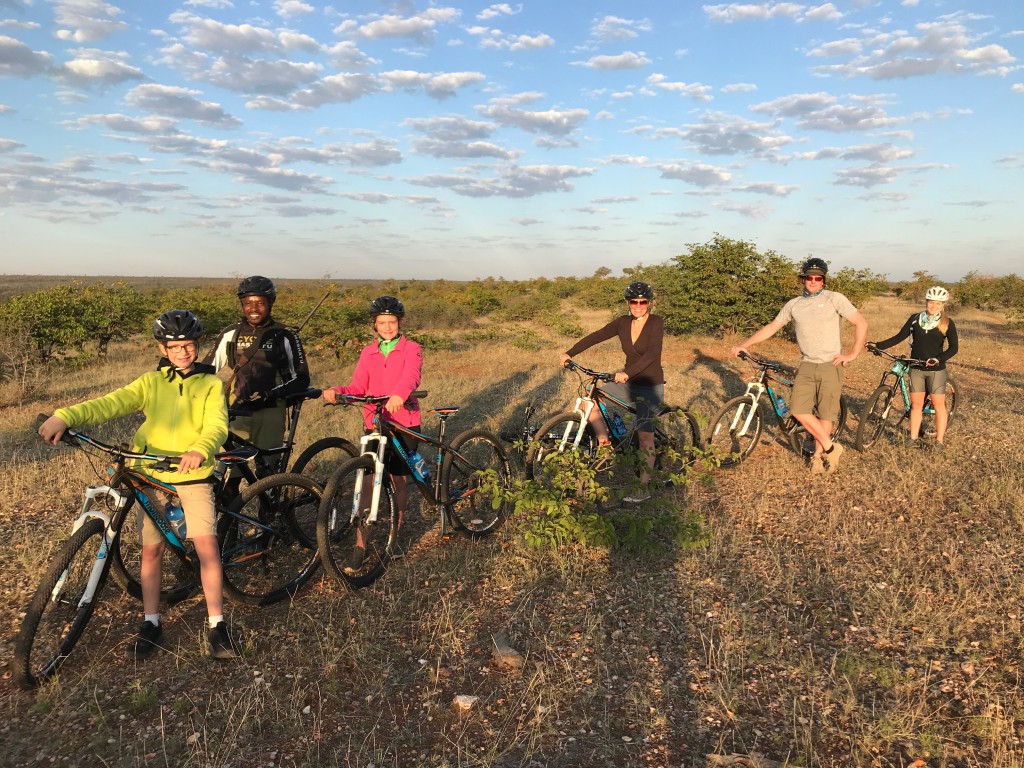 How does the camp compare to similar camps in terms of value and experience? Are there any notable special offers applicable.
There are actually no other camps offering a similar experience. Mashatu has a truly unique offering. The two camps in the reserve are very different in terms of look and design. Mashatu tented camp is an authentic safari camp, offering the safari addict a comfortable place to stay while enjoying the bush. It is ideally combined with camps like Pelo or Gunns Camp for the water experience, and in Vic Falls I would recommend Gorges or Little Gorges Lodge to complete the itinerary. The more upmarket Mashatu Main Camp is much bigger, with more rooms, a large new pool, different sitting areas and even a discovery centre. I see Mashatu main camp work wonderfully with the likes of Camp Okavango, Kanana or Splash in the Delta and in Vic Falls it could be completed with a place like Zambezi Sands or Old Drift.
Specials: Both camps offer a great 4 nights for the price of 3 special during the months of January to April.
How would you combine this camp in an itinerary and why? 
Ideally Mashatu is the first stop in an itinerary, flying in from Johannesburg Lanseria and continuing to Maun. There are daily flights from Joburg to Limpopo Airfield (Mashatu's gorgeous little airport). This way guests arrive on a positive note, the immigration officers in Limpopo are friendly and professional. Another advantage of starting your Botswana safari with Mashatu is to avoid the long immigration queues at Maun Airport (which can sometimes take up to two hours). The flight from Mashatu to Maun is either on a scheduled flight on Wednesdays or Saturdays or on a private charter.
Alternatively guests can arrive by car from South Africa before continuing their journey in Botswana or across the border to Zimbabwe.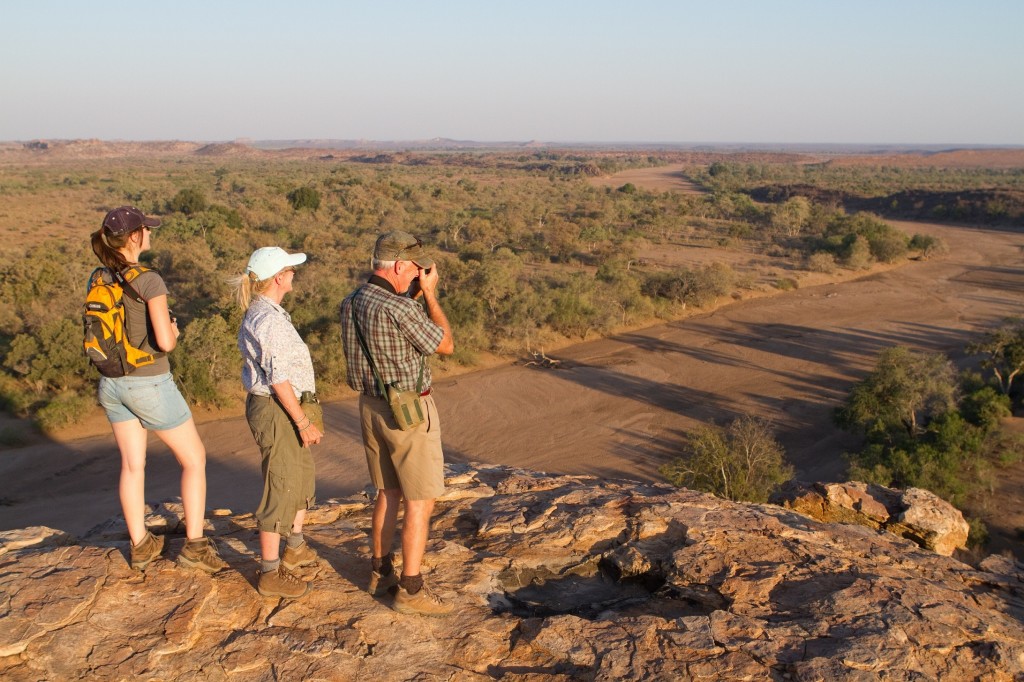 What type of clients does this camp suit and why? 
This camp basically suits all different target groups. Main Camp has a family unit and can accommodate families with children. The tented camp is better suited for couples or single travelers.
Adventure seekers found their heaven, Mashatu offers mountain biking, guided walks and horseback-safaris.
How does the seasonality of the area change through the year and what effect does it have on a visitor's experience, with specific reference to wildlife and activities?
The camps in Mashatu offer a year round experience. Excellent value for money from January to April with the 4 for 3 nights special. In Green season (rainfall is very low in this area, with more than 330 days of sunshine) the landscape miraculously changes into a colorful spectacle. Mashatu is much less seasonal than the northern parts of Botswana and offers excellent game viewing throughout the year.
Safari Destinations itineraries showcasing this property: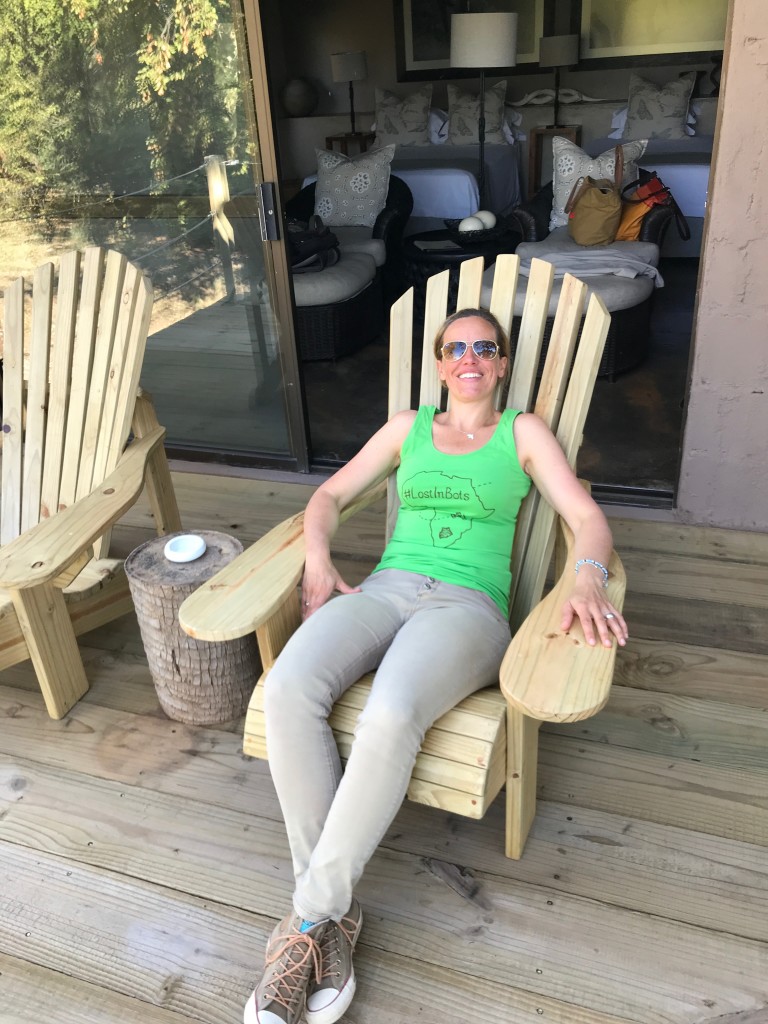 What do termite mounds, elephants, river rafts and the Milky Way have to do with unforgettable food experiences?
While most people visiting Botswana expect to experience diverse wildlife & lush landscapes, what they don't often expect is a world-class culinary experience.
Here are our top six recommendations for unique dining experiences in Botswana
The Extraordinary Pizza Oven – Seba Camp
We all know how kids are… they love adventure and are busy exploring things all day long…until it comes to their palates. Once lunchtime arrives, there goes any spirit of discovery. But Seba Camp, deep in the magnificent Okavango Delta satisfies even the fussiest of eaters with their magnificent homemade pizza.
At Seba Camp, just as the kids think their morning game drive is wrapping up, they'll find themselves pulling up to a beautiful spot next to the water, where a stunning surprise bush picnic awaits with soft blankets and pillows for lounging, as well as a play area for the kids. And what piece-de-resistance awaits your adolescent explorers? A termite mound transformed into a pizza oven!
Kids have the opportunity to prepare their own pizzas with the help of a professional cook and an array of toppings (healthy is well disguised!). While pizzas bake in the termite mound oven, kids have time to play, giving parents a chance to close their eyes for a moment, or lazily watch elephants cross the river in the distance. Once the pizzas are wolfed down, the slow cruise back to camp by boat begins.
The Huckleberry Finn Experience – Xugana Island Lodge
Many people know the adventures of Huckleberry Finn who, together with a good friend, escaped the confines of daily life to raft down the Mississippi River. Fewer people know they can recreate the experience over a glass of wine and dinner for two while floating out into a star-lit lagoon from Xugana Island Lodge in the Okavango Delta.
Xugana Island Lodge appears to float above the waters of the Okavango Delta, surrounded by a papyrus-fringed oxbow lagoon. As the sunset fades and the tinkle of bell frogs begins, visitors can leave their island hide-away by pontoon, puttering out into the open water with nothing but the far-off snorting of hippos for company, far from the civilised world.
Once dessert is polished off, set a slow course back to camp, pulling into a jetty lined with hurricane lanterns to show you the way home.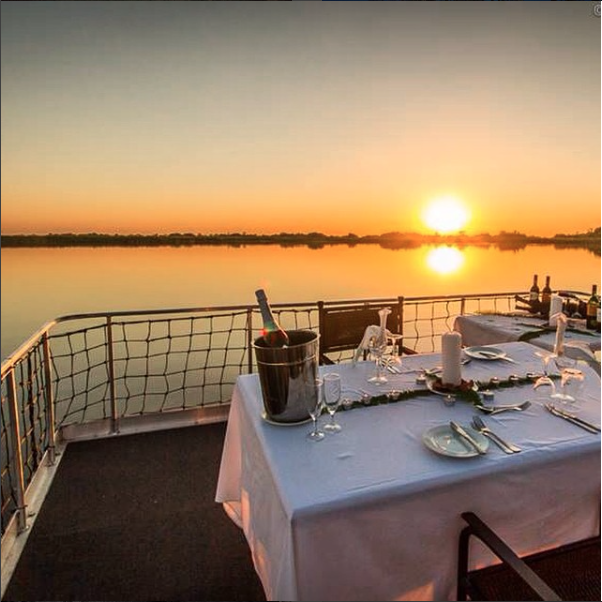 Starlight Dinner of Your 'Wildest Dreams' – Camp Kalahari
In her music video Wildest Dreams, Taylor Swift provides a small glimpse of the Makgadikgadi's breath-taking landscapes. Endless white saltpans surrounded by yellow grasslands dominate the area. In the evenings, as the sun sinks below the horizon, a curtain of brilliantly bright stars drops to the ground in all directions, creating the perfect backdrop for a night out in the nothingness.
At Camp Kalahari, open-air dining with a heavy dose of old-fashioned safari romance is the order of the day. Take a quad bike from camp and drive out towards the empty horizons, where the only objects to ever appear in the distance are the sun and the moon. While night descends, a twinkling of far-off light appears to be a new constellation at first, eventually revealing itself to be a lantern-filled dinner table, covered in fine china and gourmet food.
The silence and majestic surroundings perfectly complement the delicious menu Camp Kalahari serves up to create an unforgettable moment. Once the plates are cleared, you just might find your bed waiting close by, stuffed full of hot water bottles beneath the brightest stars you'll ever see (even in your wildest dreams!)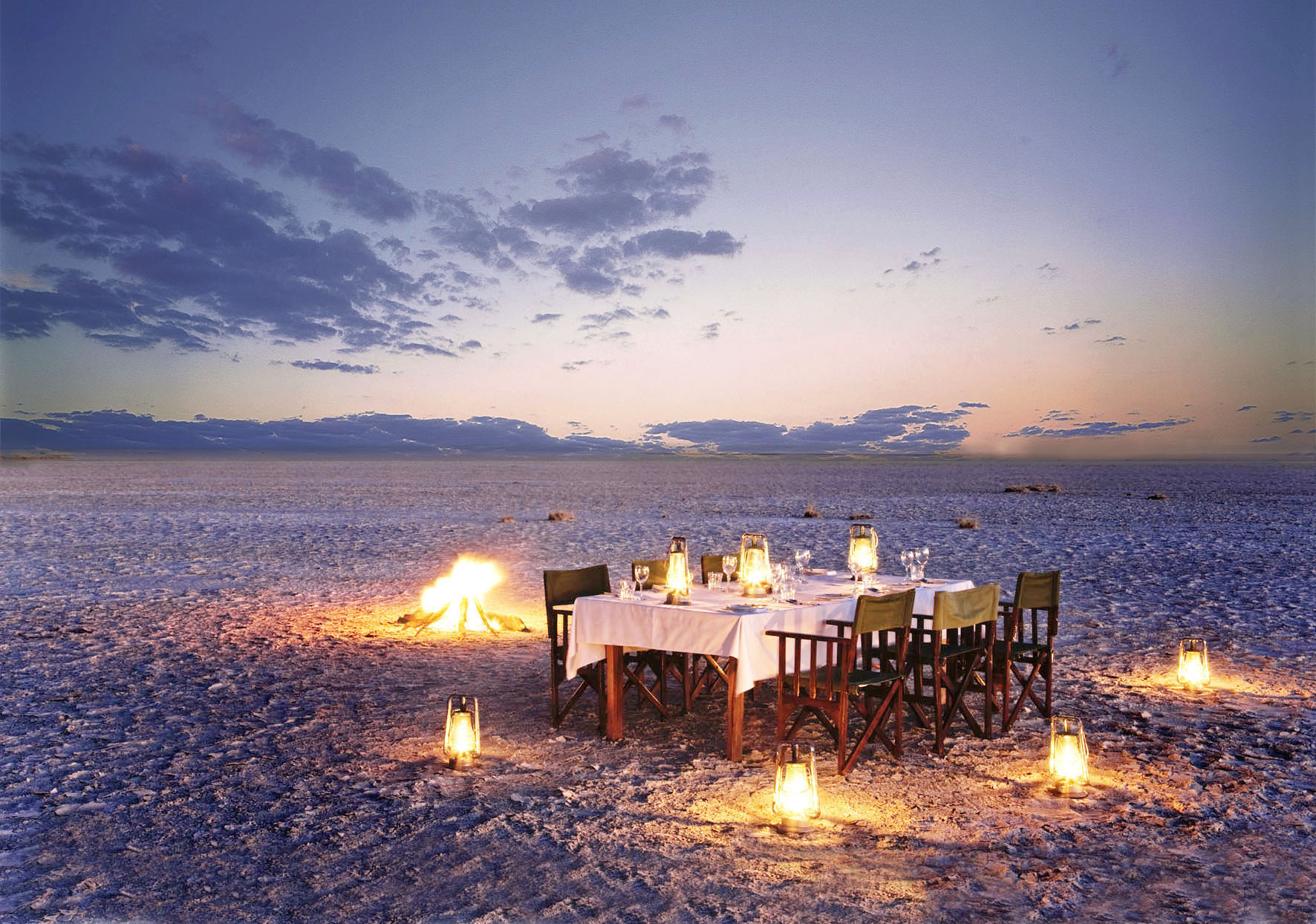 Brunch With the Giants – Stanley's or Baines' Camp
Elephants are one of the most fascinating creatures on our planet. Looming grey giants, they parade across the African savannah, completing the picture of a perfect wilderness. Usually, getting close enough to really appreciate an elephant's size isn't possible – unless you're visiting Stanley's or Baines' camp in the Okavango Delta.
Go walking through the bush with the elephants at Stanley's or Baines' Camp and be escorted by wrinkly-skinned hosts to a fantastic sit-down brunch, literally in the middle of nowhere. Walking with the elephants through the bush and talking to their guides allows you to understand elephants, and their behaviour, providing a real connection with nature. You'll sit down to eat, passing bread and butter along the table under the shade of your elephant hosts' umbrella-sized ears. Alice in Wonderland has nothing on this tea party!
Getting up close and personal with the elephants at Baines' Camp
Lunch at the Intersection of the Linyanti – Zarafa
Whatever waterway you see in the Linyanti, you can be guaranteed that the Zibadianja Lagoon has something to do with it. When water levels are good, this lagoon becomes more of a lake. And when bellies are empty, the best way to explore it is on board Zarafa Camp's luxurious barge, over the course of a decadent lunch.
The Zibadianja provides an intersection for many of Northern Botswana's waterways. Here, the Kwando River hits a fault-line, skimming the top of the lagoon before it changes its name to the Linyanti and makes a break for the Chobe. To the west, the Selinda Spillway reaches up from the Okavango Delta, connecting it to the lagoon in years of good rain. When the lagoon is full enough, it drains water south, feeding the Savuti Channel and eventually spilling out into the elephant-littered grasslands of the Savute Marsh.
Fully equipped with both lounge and dining area, the HMS Zib cruises the lagoon as elephants play in the shallows, birdlife skims the water, and guests enjoy the culinary delights of more-than-capable chefs. Top it all off with a cold glass of chenin blanc and you're guaranteed an afternoon not easily forgotten.
Testing the Waters in the Okavango Delta – Pelo Camp
Leonardo da Vinci once said, "Water is the driving force of all nature". At Pelo Camp, this is truer than ever, as guests merge with the unspoilt nature of Botswana's biggest UNESCO world heritage site during a bush brunch with a difference.
Heading out from camp by boat or mokoro, guests will find themselves perched on tables and chairs in the shallow floodplains of the Okavango Delta, atop bright, white sandbanks for a wet, but refreshing brunch.
Guests squish their feet into the clean, cool waters of the delta under their chairs, whilst savouring culinary delights in one of the most unique places on earth, surrounded by 360 degree views of palm tree dotted islands and open floodplains.
After brunch, a refreshing swim in the shallows of the Okavango Delta is on offer before a leisurely return to camp.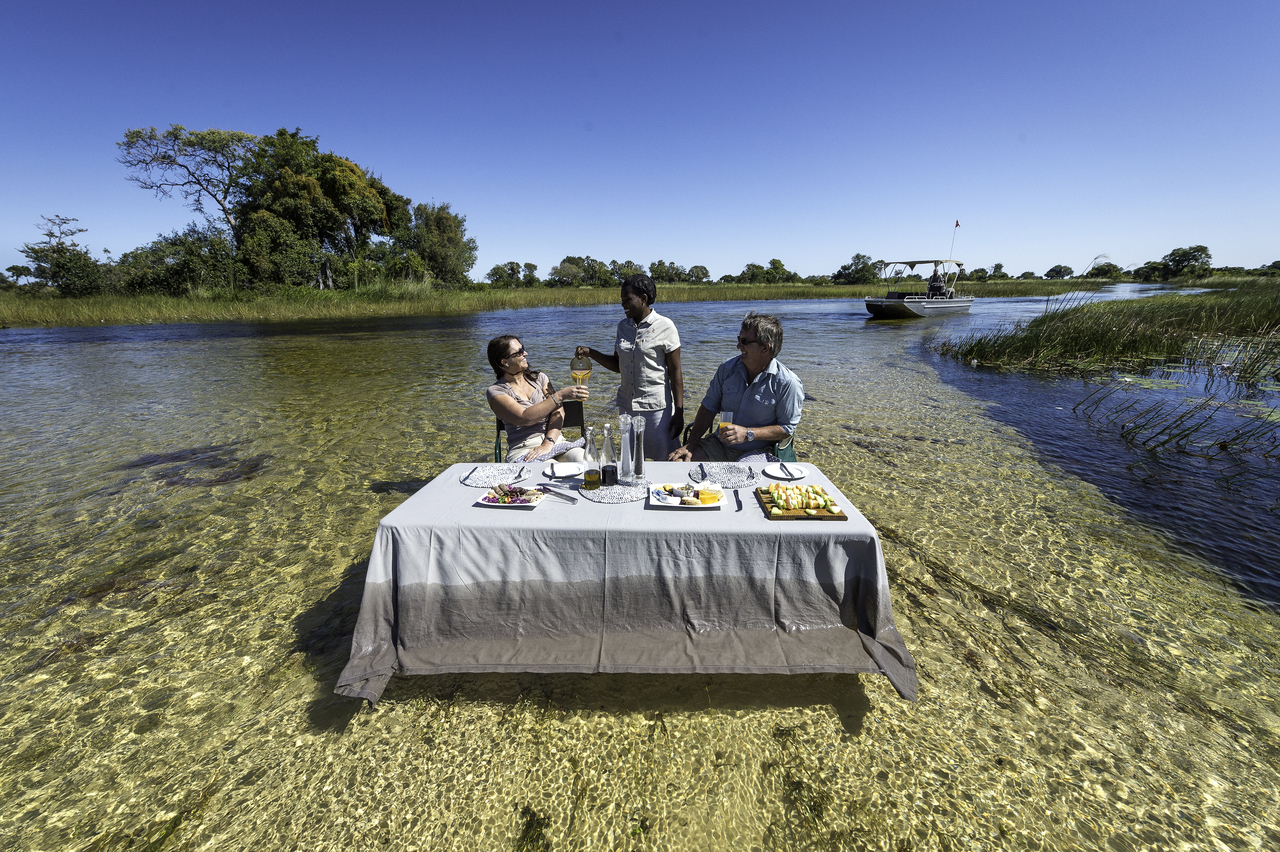 My recent visit to Sandibe Okavango Safari Lodge was a refreshing reminder of how special a green season safari in Botswana can be. Not all parts of Botswana are equal once the rains arrive, so the key is knowing which areas to visit and which to leave for the winter months. Many of the good year-round game viewing areas are in private concessions with higher price tags, but the good news is that discounted green season rates make them more accessible to those on tighter budgets. Visiting these areas in green season will give you a great bush experience, as well as the bells and whistles offered at these camps year-round, but for a fraction of the price.
The Chitabe concession, where you'll find Sandibe, is one area of Botswana which remains great year-round. On a two night stay we saw a cheetah, two prides of lions with their cubs, a female leopard calling for her mate from the tree tops, a pack of wild dog, two male giraffes fighting over a lady friend, countless elephants, plains game and spectacular bird life. The problem we encountered is that my five year old now thinks this kind of game viewing is normal! Although temperatures were soaring, we were treated to a spectacular evening thunder shower followed by the welcome relief of a cool and cloudy day.
I was travelling with my family, including my two young daughters Taylor and Megan. Travelling with small children presents its challenges but is equally rewarding. Megan may only be able to say a handful of words but she can now mimic a baboon beautifully! The staff at Sandibe catered to the kids perfectly and were ready to assist and entertain at every turn. Taylor was welcomed on arrival by a goodie bag filled with safari nick-nacks and squealed with delight when we stumbled upon a cooler box hanging from a tree during our afternoon drive, only to find it filled with home-made ice pops.
Meal times were flexible and the kiddies' menu put my home cooking to shame. Having our own private vehicle and guide allowed us the freedom to come and go as we liked without worrying about other guests and our guide and tracker were constantly engaging the children. For families saving up for a once in a lifetime safari, the minimum age of six years and up ensures kids experience the bush when they're at an age to appreciate and make the most of it.
Sandibe caters brilliantly to the grown-up kids as well. Whilst I have been lucky enough to visit many camps over the years, this was my second visit to &Beyond, and the second time I have been blown away by the food experience. So many operators fall short when it comes to what their kitchens produce, using the excuse that a safari is about the wildlife and not the food. With &Beyond, you can have your cake and eat it – Sandibe delivered to the very highest of standards, both on the game viewing and the culinary treats. Indulging in naughty delights is a big part of what being on holiday is all about and at Sandibe, they know how to make every calorie count.
The design and amenities at Sandibe are both cutting edge and controversial in the safari world. The lodge lacks the true sense of being in the outdoors that you'll get when staying in a more rustic tented camp. I didn't leave with my clothes smelling of campfire smoke, nor did I lie awake excited by the sounds of the night as the hum of air-conditioning blocked out external noises. I did however enjoy the luxury of a plunge pool during the heat of the day and cold drinks in my room during afternoon siestas, as well as the private butler and consultations with the chef during meal times, creating a very personal experience.
Whatever you prefer is a matter of choice and there are many first time safari guests who would take great comfort in the solid structure of the rooms (no canvas walls here!) and the modern comforts on hand. The design of the camp is spectacular, though I'm curious to see how the buildings will age under the challenges of maintaining a camp in the bush. Despite the money and expertise put into the design of the camp, there are a few obvious design flaws some guests may find frustrating. For the level of the camp, the rooms could have more room, and unless you're extremely comfortable with your co-traveller, a lack of privacy in the rooms will require advance coordination of shower times.
All in all we had an incredible weekend and I can highly recommend Sandibe on every level.
Back to the office and my diet on Monday!
Last year Lorraine and I started a tradition of our two families going on safari together. This year our annual family safari took us to Hwange. Travelling with kids is an adventure. Seeing nature through their eyes makes you realize how wonderful our planet really is. Did you know that a wildebeest looks a bit like a Gruffalo. For all ignorant people out there, "The Gruffalo" is one of the best-loved children's books ever. "A gruffalo? What's a gruffalo?"
"A gruffalo! Why, didn't you know? He has terrible tusks, and terrible claws, and terrible teeth in his terrible jaws."
And so begins the story of a quick-witted mouse as he encounters a host of predators who seem to think he might make a tasty treat. As he ventures deeper into the deep dark wood, stumbling across a hungry fox, a not-so-wise owl, and a slimy snake, spinning ever-extraordinary yarns about the scary, scaly gruffalo, he quickly realises that the hungry beast he has been talking of isn't imaginary after all.
On Safari with the Gruffalo:
Three bush babies strolled through the Hwange vlei,
they saw some Lions lying in their way,
snoozing and dreaming of roasted Gruffalo on a spit,
the Bush Babies turned around and away they slid…
Our days in Hwange were filled with extraordinary gamedrives. Living in Botswana also means that our children grow up being spoilt safari-goers, but Hwange can easily compete. Especially the south-east of Hwange offered outstanding game viewing (Davisons, Bomani, Camelthorn and Little Makalolo). It never got boring, the kids loved every moment of it. Hwange in combination with Victoria Falls and Chobe is a great destination for a family safari!