Let's start with the essential 2 rules about a stay here:
No matter what you do ALWAYS carry your camera with you, ready to shoot
No matter HOW freezing it seems in the morning: GET OUT THERE!!
Had I listened to the first rule myself, I could have added amazing shots of 2 honey badgers out in the open right in front of the lodge in some golden morning light, watched right from the breakfast table – instead I held on to a fluffy, moist blueberry muffin and a mug of freshly brewed cappuccino. You see: life can be full of tough choices at Belmond Savute!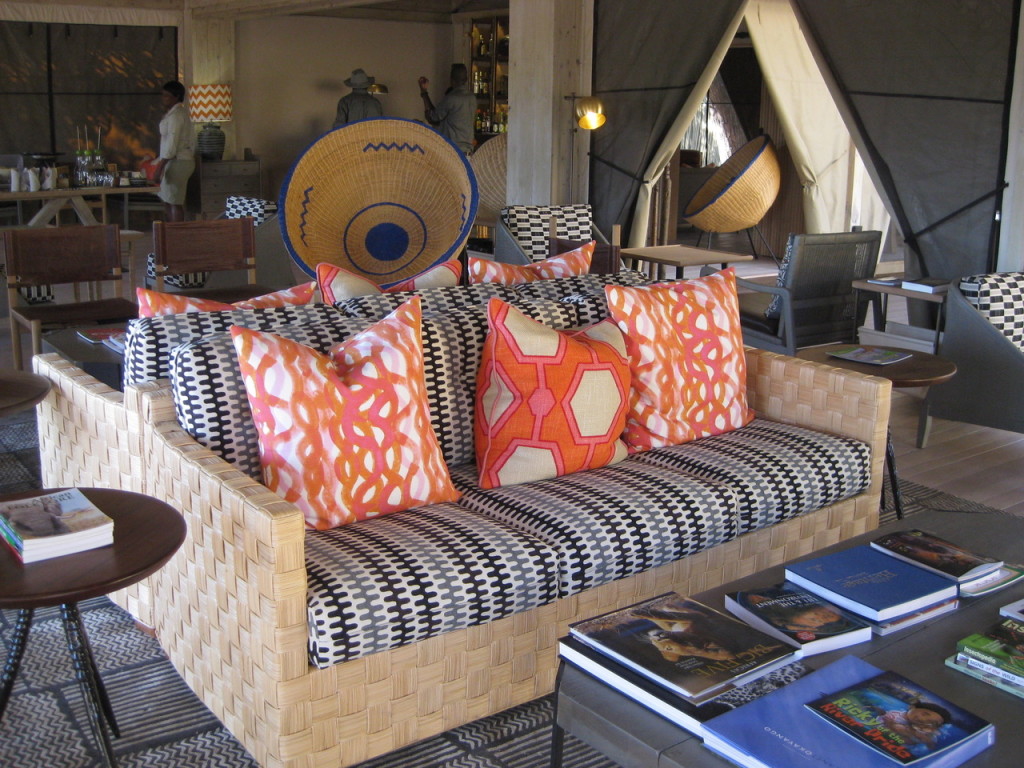 When climbing off the plane at Savute airstrip, the guests climbing on said: If you want to see animals, you need to go with Robert. And my heart sank. I am a huge fan of good guiding and always massively disappointed when sitting on a vehicle with a driver who is just racing from one photographic opportunity to the next. Luckily – I was to be proven very very wrong!
After settling in, freshening up and some tea time treats we headed out on our first drive. Driving through what smelled like a herb garden my curious 7 year old son showed interest in all these smells and Robert stopped, got us some wild basil and shared stories about it. "So do you think this would keep mosquitoes away?" Which got us on to some other herbs and traditional methods and a lively discussion, plus some more sample picking and smelling. While pointing out tracks and interpreting what we saw around us, we slowly made our way towards a spot where some cheetahs were hanging out earlier. Lucky us, most vehicles had already left the 2 sleeping males, who felt now it was time to get up and get active – and to get a good look from some elevation.
And yes: cheetahs are clearly NOT built for climbing 😉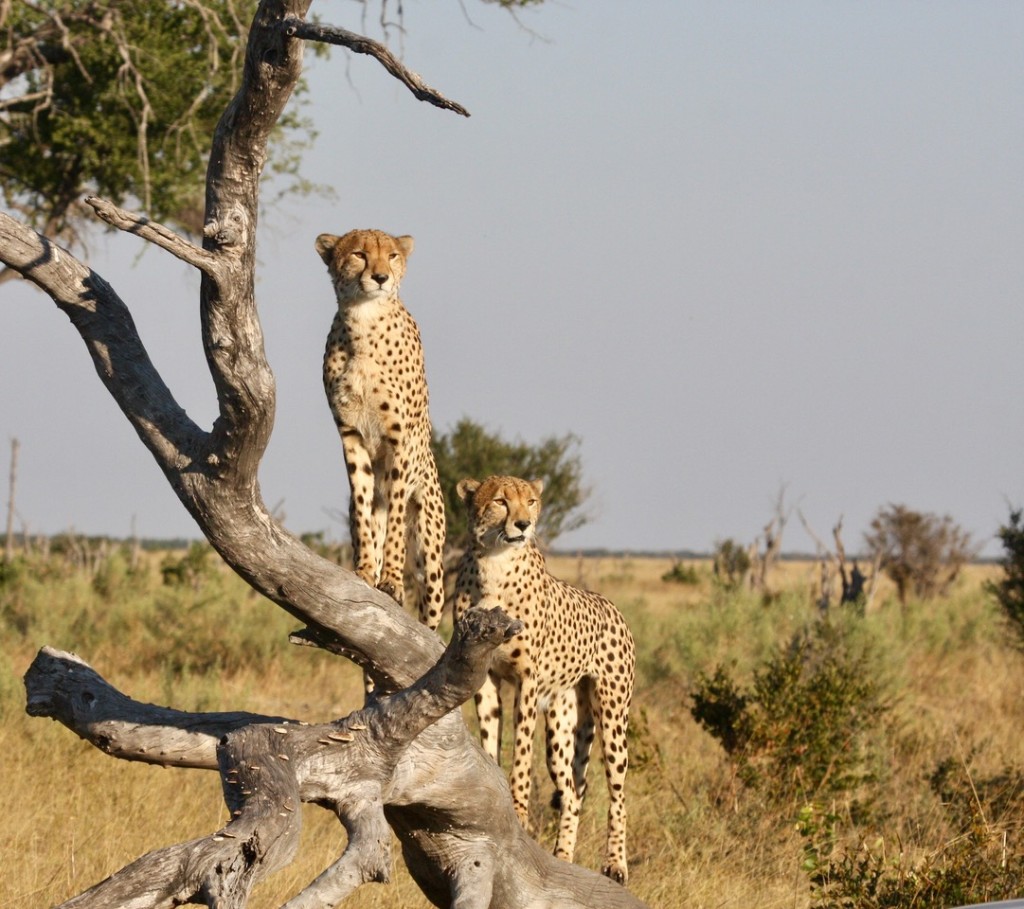 After this fabulous afternoon we were so excited, that we couldn't wait to go exploring the next morning – despite of being able to see the clouds of our own breath when exhaling. It was COLD!!
Robert had the perfect technique to battle this aspect as well – even my 6 year old daughter was comfy and toasty, after he wrapped her up in fleeces, blankets and a poncho: "ready to go to the moon". We tried to find the lions that we heard during the night, but they tried to play games with us. Tracks literally everywhere! In all directions, back and forth, right and left, and back again – hmmm. What happened here last night?? And our imaginations ran wild.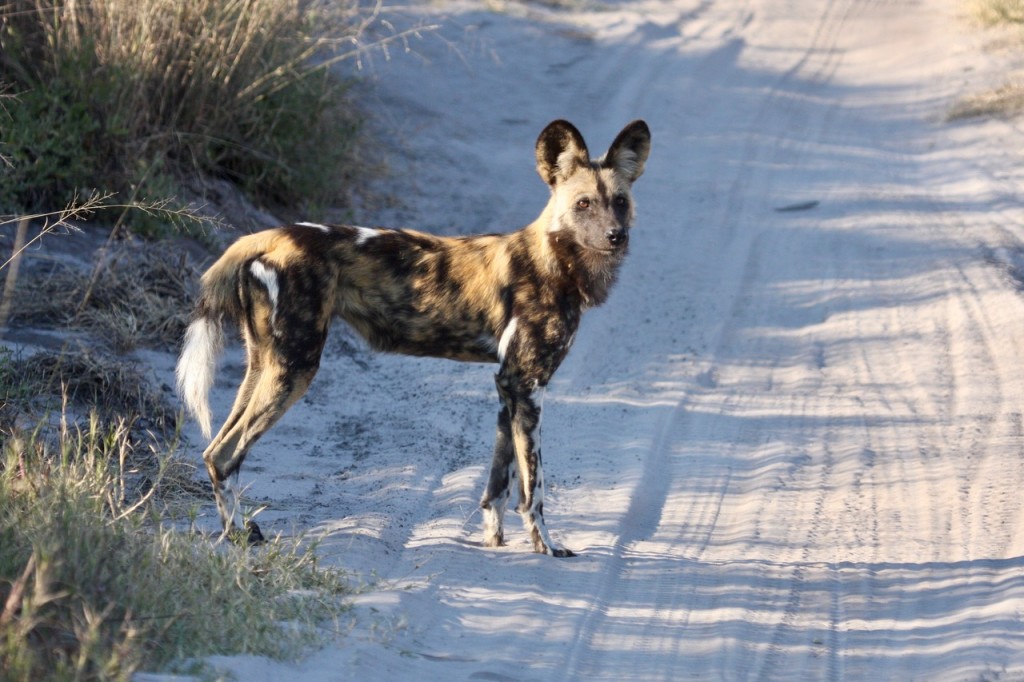 After some fun tracking, a pack of wild dogs were waiting for us in the middle of the road, just around the corner from a mother leopard trying to catch some guinea fowls. While most cars simply waited behind the dogs, Robert decided to approach them differently. We left all the cars behind, and moved to another area, trying to anticipate their next move – and it worked! Stotting impalas all over the woods, showing off their strength, and the pack chasing at top speed. How exciting was that!! We eventually said good bye to the dogs to have a look what was happening out on the marsh.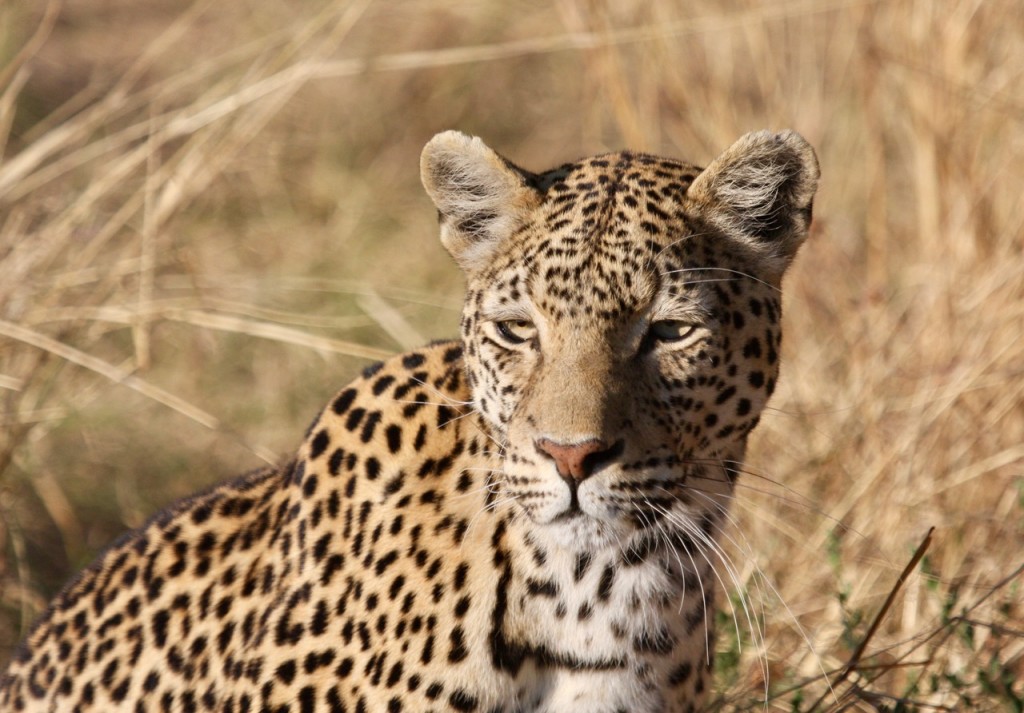 Some lonely male wildebeest were guarding their territories, then Robert noticed that one of the wildebeest FAR away held up his tail really high – hang on…. ????? So 2 big male lions were crossing the marsh, where were they heading to? We decided to go the same way and see – a little grassveld pipit joined us, flapping and running right in front of our car, for more than 1 kilometer. Now, yes, it made it! Oops, no, it's back…. The kids had so much fun watching it ALMOST flying off to the side, and back it was – giggles and laughs without end.
Guided by the direction of the male lions and following the pipit we ended up with the rest of the pride, some females feeding on a wildebeest and 5 cuddly little fur balls, roaring like their dads, schmoozing their mums and eventually, collapsing and falling asleep all on top of each other in a cub heap.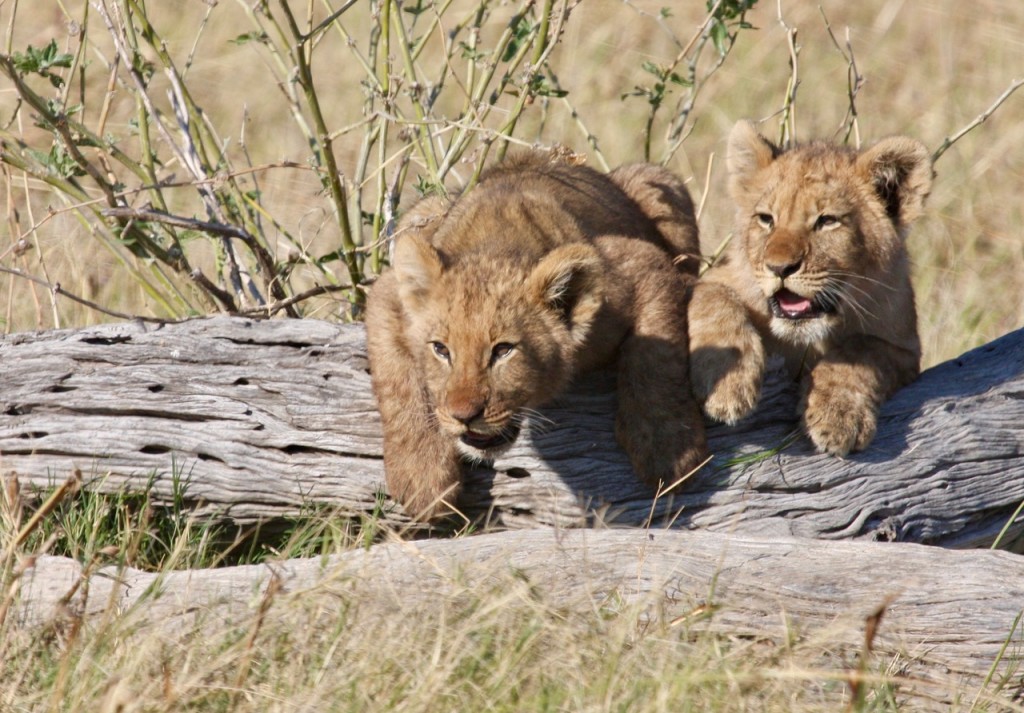 Back at home we hung the sage and the wild basil – to test how much of a mosquito repellent they are. And asking: "So what was your favorite bit in Savute?"
the cute little cubs
and remember the funny pipit who ran with us for SO long
and the honeybadgers at breakfast
and the elephants up close from the hide during tea time
oh – and of course: THE HEATED POOL !!!!
Thank you so much to Robert, our fantastic guide, for an all-round, all senses, mega fun experience. For teaching us about the bush, for putting it all into context and all the stories about the background and history of the animals we saw.
What a safari experience!
Keeping the fantastic Belmond Savute Elephant opening special in mind: Book some seats to Savute and get yourselves out there. Go experience!