Monthly Archives:
November 2014
I have always been in love with Mana Pools.
Mana is my mentor – a remote and wild park that feeds my soul with all her sights & sounds – I've visited her time and again in her different seasons. Her moods are many and despite the diverse ecology and terrain, each one of these trips has been memorable for one thing. I've had some of the best close-up game encounters ever! Sitting under the watchful eye of a professional guide meters away from lion, wild dogs, the legendary standing bulls of Mana and a myriad of plains game and birdlife is just one way in which this park immerses you and brings you back to the fundamental core of nature and our place in it.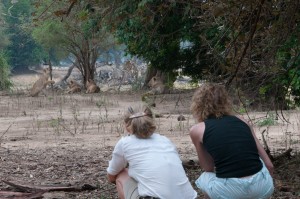 Your clock adjusts to sunrise and sunset and you fall into beat with the natural order of things, according to the rhythm of nature and camp life – the game is clearly abundant in peak season and our recent visit took us to just a few of the camps that have the privilege of operating in and being the custodians of this special park:
Chikwenya, Vundu, Little Vundu, Camp Zambezi and Zambezi Lifestyles as well as Goliath Safaris (I had stayed at Kanga and Rukomechi on my last trip).
Zambezi Lifestyles – *top spot – really enjoyed being right on the flood plain (Ngundu 2 site), saw game all over the place (NOTE the camp moves between different sites depending on which is available, all are on the river) enjoyed the simple comfort of the tents and space of the camp – 4 tents set up boasting the new flush toilets in the open air bathrooms – great bucket shower – excellent local staff managing camp (Cloud was a treat to be in camp and on safari with, very passionate, knowledgeable and eloquent, we also did our canoe trip with him, we weren't just 'guided', we were educated too) – tents/hardware were all solid – food was amazing (I made a point of going to meet the cook, these bush cooks really are talented is all I can say!) – Highlight: herd of 400+ buffalo and sitting on the vehicle near Zebra Vlei watching a pack of 7 adult wild dogs with pups in the late afternoon, they went off on the hunt as the sun went down.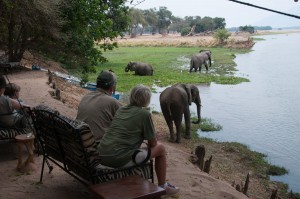 Goliath Tented Camp – *top spot – also really enjoyed being in this camp (I rate both Zambezy Lifestyles and Goliath as my trip highlights) – Camp is on a private concession so in the same location annually.  Owner and Pro-Guide in camp is Stretch (Andrew) Ferreira, he is running the camp – the location is stunning with shade over the central areas looking out onto a channel and island just in front of camp, beyond the island is the main river. The first thing you feel here is welcome and are encouraged to feel right at home and 'part of the family' – camp layout is neat and functional with a super river front lounge/dining/breakfast/fire pit areas, the tents are set slightly back – the extended size east African tents are very nicely fitted with tasteful teak and wrought iron furnishings, the beds are very comfortable and I loved the open air shower area – vehicles are open top and in good condition – food was awesome! Highlight: pride of 5 lions right outside camp having a snack out of the cooks cell phone, about 15m from us.
If you are a safari addict and look for close wildlife encounters with excellent guides – then Mana Pools should be your next destination! Our recommendation for an intense safari experience is the 10 night itinerary "Spezialised Guides of Zimbabwe" with:
3 Nights Goliath Safaris Tented Camp, Mana Pools Natonal Park
3 Nights Musango Safari Camp, Matusadona National Park
3 Nights Camp Hwange, Hwange National Park
1 Night The Elephant Camp, Victoria Falls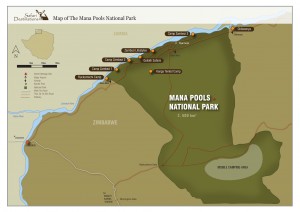 My First Safari Into The Untamed Wild
…and despite of innumerable safaris through Botswana and into Zimbabwe, Zambia had always infused me with awe and a tempting curiosity for its claim to fame to be the door into the REAL, deep Africa.
…and all I found were lovely, warm people, welcoming me at airports, airstrips and camps, and an abundance of happy, healthy, relaxed animals.
Elephant mothers who let us come very close to admire their babies, lionesses lying down in the shade of our vehicle, leopards twinkling at us from comfortable branches of huge old trees.
Big smiles and professional hosts awaited us at camps, people proud of their country and its natural beauties guided us. We travelled on sandy  roads, cruised on the mighty Zambezi and reluctantly took flights knowing that while up in the air, we would miss out on landscapes and daily life scenes.
Luckily I was accompanied and guided by an almost 'local' Zambia lover and expert, my colleague Bettina.
We opted on a Best of List to share with you our most memorable moments of a fabulous journey through a country offering so many (un)tamed  safari options. The choice was a tough one, the list could have been much longer ….
BEST SIGHTINGS – both South Luangwa and Lower Zambezi are beaming with wildlife, I have had the most rewarding night game drives ever, with lots of leopards, lions, civit, porcupine, genets.
South Luangwa:
Huge pride of lions, unfaced by us, 13 ladies with their youngsters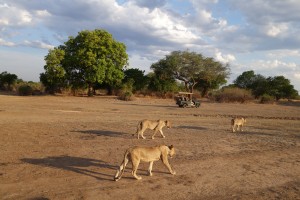 So many leopards in different positions on our day & night drives
Pack of 13 wild dogs
Lower Zambezi:
While travelling by boat from the most Eastern part of the park to the park entrance on the Western side we enjoyed hundreds of very happy elephants in the river and along the Zambian and Zimbabwean shores – I have never seen so many babies and youngsters with very relaxed mothers – must be a good life along this magic river.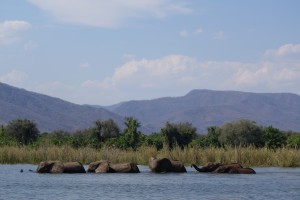 BEST GUIDE – a difficult choice as most of the guides we met were outstanding ref their scientific wildlife knowledge, respect of animals, empathy with their clients – but we had to choose:
MANDA – Billimungwe Camp/The Bushcamp Company
Apart from his excellent guiding and his incredible knowledge about his country and national parks, nobody could ever fascinate us the way he did with poo, plants & prints  – thanks to our brave Scout we even felt save while we were LION tracking, but found a BLACK MAMBA.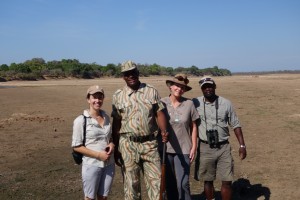 BEST FIREPLACE – as we think this very fine safari habit is in danger of extinction and the warm, romantic, orange glow is replaced by the blue light of laptops too many times already. We enjoyed a very nice conversation on comfy cushions after dinner at CHINZOMBO Camp with manager Mario & fellow guests exposed to the nightly sounds of the bush.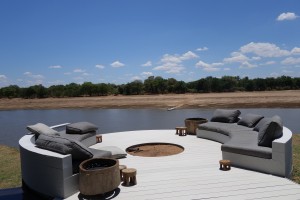 …and afterwards we sank into the BEST BED as the camp has installed the high tec, low consumption Evening Breeze cooling system around the bed.
BEST FOOD – this was impossible to decide, as anywhere we went we enjoyed fresh and tasty food, grown in the nearby areas, we are delighted to hear that the supplies for camps are grown and transported rather sustainably compared to other safari countries and local farmers profit directly from tourism.
Therefore the category MOST SURPRISING FOOD goes to KANYEMBA Lodge, where Zambian fruits and vegetables are turned into delicious Italian specialities thanks to the boss' cooking skills and culture, so we sampled home made banana gelato, porcini risotto, aubergine antipasti while the ellies munched away on the tropical gardens' trees next to us.
BEST Pool
And as we all know that inspection trips are exhausting, especially if the temperatures rise up to 40 degrees in November, we had to spoil ourselves in some private pools. We especially liked the feel and the views from
CHONGWE CAMPS's Honeymoon Suite overlooking the confluence of the Chongwe River and the Zambezi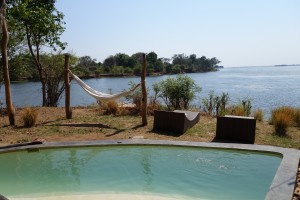 We continue with being spoilt, our timing was obviously perfect, as we visited
SAUSAGE Tree Camp
where we were invited to join their Signature River Lunch – we were taken out into the middle of this gigantic river only to find a wonderful lunch buffet and a shady set table, legs in the cool water, the biggest handwash basin on earth, a true memorable experience and a unique emotional sensation – considering the huge crocs we had seen on our transfers and the hippo family stalking us – so the choice of
BEST SPECIAL EVENT was quite easy!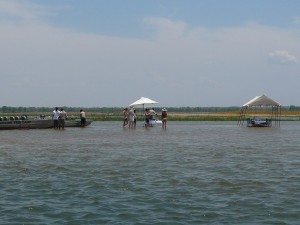 We close our blog on a fabulous trip with the most elegant event combined with wonderful views from the top of a hill –YES, I loved the hills and mountain ranges 'escarpments' coming from rather flat Botswana – over the plains of South Luangwa NP,  garnished with a dramatic thunderstorm passing us
BEST SUNDOWNERS must go to CHICHELE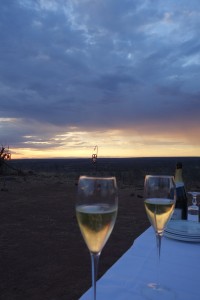 When I arrived in Maun a few years ago I didn't plan on getting involved in the tourism industry. Now 6 years and over a hundred camps later, I admit I changed my mind … Botswana infected me with the famous Safari Bug (as all safari goers know, there is no cure for it)!
Safari was a completely new terrain for me and my compassion towards safari tourists was, honestly spoken – really limited. What value would a safari provide, that a journey to a picturesque beach where people can relax in the sun while watching the waves in the ocean, couldn't? But life proved me wrong: I figured out quite quickly that safari is more than getting up REALLY early and sitting in a loud, open and sometimes VERY COLD vehicle. Safari is a passion, it is a life changing experience. And yes it has to offer much more than just lying in the sun getting a tan….
I can tell many stories I experienced during my time at Safari Destinations: being caught in a tree house in the delta (because of a hippo-grassing-blockade underneath), watching a puff adder attacking the wheels of our vehicle, escaping from charging elephants in reverse gear, nearly bumping into a hippo's bum on a night drive, watching an angry lion with his mouth wide open on a game walk, an elephant rubbing his skin on the canvas of my tent (lying inside begging that he doesn't lie down)… just to name a few of my adrenalin-powered moments on safari. But at the same time I also had many touching sightings: a wild dog den with month-old puppies learning how to hunt a vulture, a relaxed elephant shaking palm trees to get nuts from the treetops, a lioness grooming her cubs, a blacksmith lapwing hiding its chicks underneath its wings (at first you wonder why the bird has 6 feet..), a leopard lying on display in a tree just for you to get a beautiful photo, a Sitatunga antelope in the middle of the reeds watching us on a boat cruise and finally, the myriad colours of the most beautiful sunsets on earth.
Now I understand the safari tourists: it's not just about the adventure, it's being surrounded by unspoilt nature while watching beautiful animals in their homes. When you are on safari you start to acknowledge that there are still paradises out there, where time, status & performance don't count. It's more about being in harmony with yourself and nature and the wildlife.
I've been to 107 camps and have seen pretty much every corner of Botswana (and a bit of Zimbabwe). Personally, it doesn't matter if you have a private pool, a fancy 6 course dinner or if you get your cup of coffee delivered to your room in the morning. What makes a safari memorable is being in the wilderness, smelling the bush, listening to nature and absorbing it with open eyes.
Many people will never have the chance to experience such wonders while they are stuck in big cities with millions of people and no opportunity to see true beauty. It's up to those of us who are privileged enough to experience such wildernesses to tell people about them, encourage them to travel and keep them safe for the next generation.
"THERE IS SOMETHING ABOUT SAFARI LIFE THAT MAKES YOU FORGET ALL YOUR SORROWS AND FEEL AS IF YOU HAD DRUNK HALF A BOTTLE OF CHAMPAGNE – BUBBLING OVER WITH HEARTFELT GRATITUDE FOR BEING ALIVE".  Karen Blixen