The Okavango Delta is a very unique part of the world. Looking at a satellite image you can easily see a few blue lines meandering from the Angolan highlands all the way to Botswana, forming a magnificent river that spreads into an alluvial fan and then simply disappears. It creates an amazing oasis in the middle of the world's biggest stretch of sand, the Kalahari, reaching from Congo to South Africa. Magic. But the true magic is in the timing of the flood!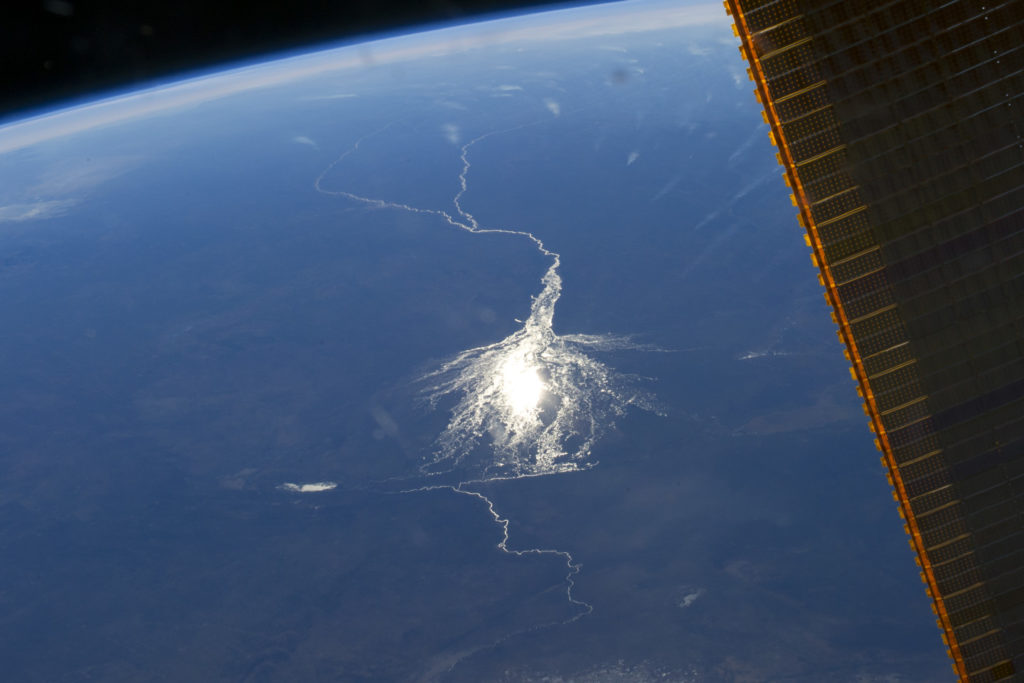 Rainy season in the catchment area and around the Okavango usually begins in November, with the majority of rain falling in January and February. The local rainfall only contributes to between 2 and 25% of the delta waters, the majority of water is coming down from the Angolan highlands.
If we traveled with a little drop of water from the source of one of the main contributories, the Cubango and Cuito River in Angola, the start of our journey would be quite exciting, through the Angolan highlands and then down to Botswana, but even before we'd cross over the border we'd already travel at a rather leisurely pace simply due to the lack of gradient. It takes this little drop of water average 8-9 weeks to reach Botswana and the panhandle of the Okavango Delta. From here onwards the journey slows down even more: the northern part of the Okavango is 250km away from the Thamalakane fault line – the delta's southern border – but there is only a difference of 50 meters in altitude!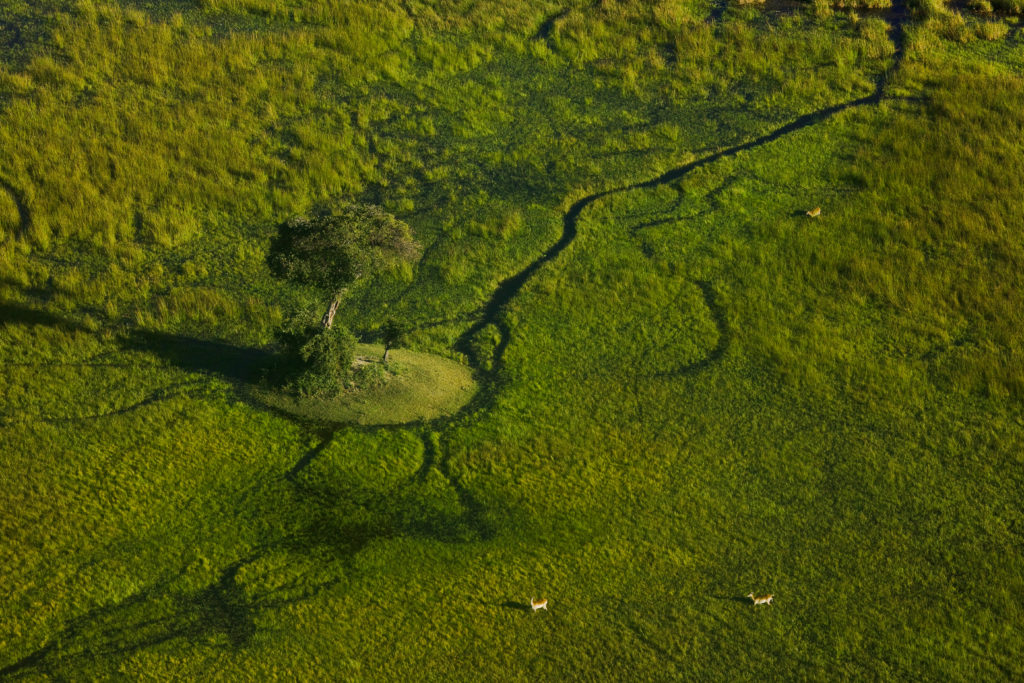 The main waters reach Botswana in April and start to spread throughout the alluvial fan slowly filling up the channels, backflows and floodplains, with the delta being at its fullest in July/August. From August onwards the water levels start going down again due to evapotranspiration now exceeding the input by rain waters. The driest period in the delta is in October and November, when food is scarce and animals are found around the remaining water sources and rivers. Many channels have dried up, avid birders can't get enough of all the bird life gathering around fish traps as the water keeps receding and cars can be used where just a few months ago boats were necessary to get around. Just then the first rains fall again, the shades of brown start turning into shades of green once more, impala and other antilope drop their young and the cycle starts over – the Okavango becoming a place of plenty. The water levels in the heart of the delta though will only rise significantly once the rains have long gone.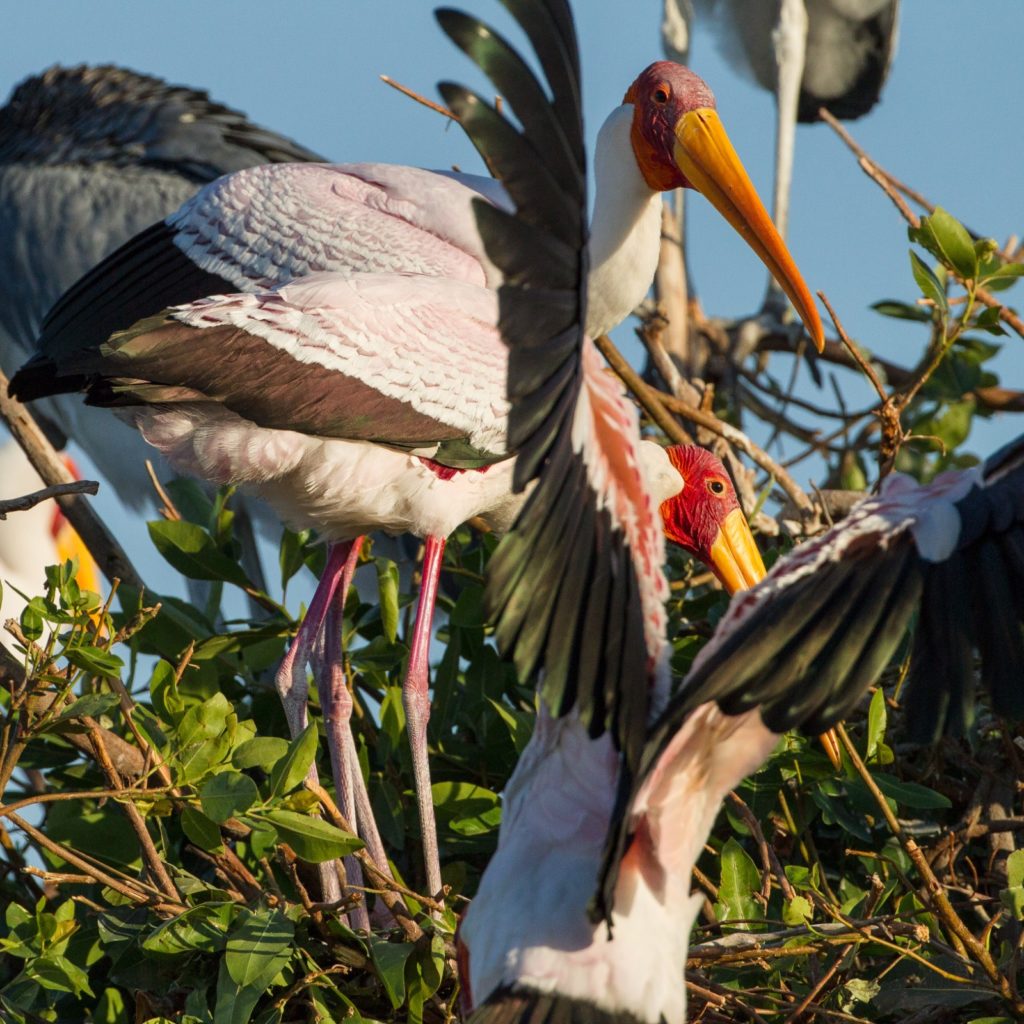 So what does this mean for us selling the destination?
This region is highly dynamic. Each year presents a varying amount of flood water in winter and a varying amount of rain falls in summer. Being nature, this provides a certain amount of unpredictability and nobody knows what will happen from one year to the next.
A well rounded Botswana Safari consists of game drives in drier areas and also water activities, be it by boat or mokoro. Mekoro are ideal to travel over floodplains in shallow water, gliding through reeds, discovering the little hidden gems of the area. Once the floodplains have fallen dry it becomes difficult to offer mokoro excursions due to safety concerns in deeper waters of permanent channels and rivers. Even if those deeper waters are actually not that deep anymore, they are considered prime real estate amongst hippos in not that great a mood as their territories are shrinking with the receding water and they are now very much up close and personal with their competitor and neighbour.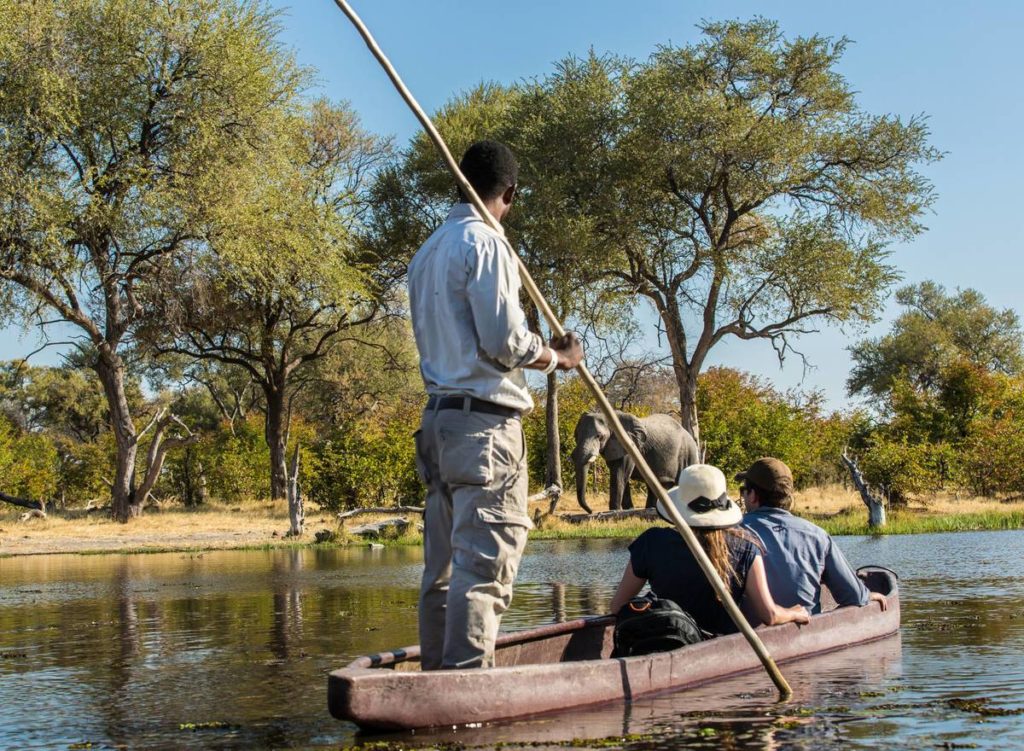 It is far easier on the nerves to observe those dynamics from a motor boat, but be aware that cruises can be a lot shorter due to a lack of either depth or river altogether! Eagle Island Camp for example, a camp that often has been sold as typical water-based delta experience, may not be able to offer mokoro during very low flood levels. The camps shift their focus. The floodplains may not be ideal for mokoro anymore, but they provide wonderful grazing for herds of buffalo as around Duba Plains; around Jao Camp the floodplains fill up with big herds of lechwe, enjoying the greenery. Other camps might not be that heavily affected and still happily take their guests on mokoro excursions and motor boat activities.
Here in Maun the flood levels of the Okavango Delta are an everyday topic and we never get tired of it. When did "the wave" come past Nxamaseri, has the water already moved towards Vumbura, when will it reach Sandibe… There is no end to it!
The Delta is a truly wild place, it is alive and offers mind-blowing experiences on land and water year round. For next year: Let's just keep the waterlevels in mind and choose the camps that offer water-based activities wisely.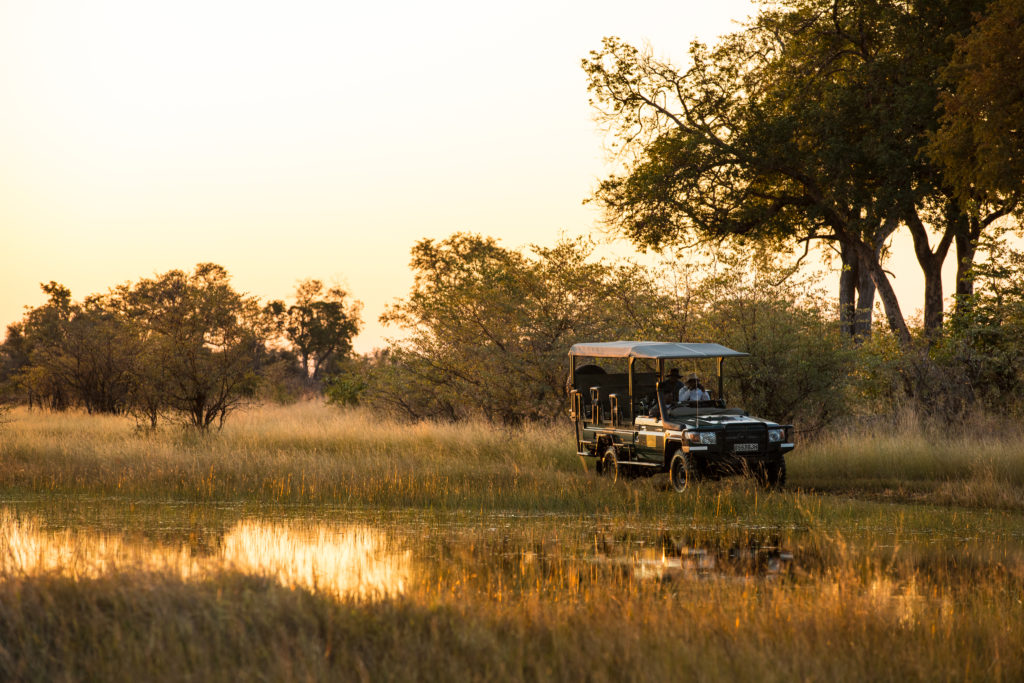 Who said that game viewing in green season isn't outstanding?
Here is Kay's feedback from her recent 2 night stay at Chiefs Camp (Sanctuary Retreats) on Chiefs Island in the Moremi Game Reserve:
"Well believe it or not I got a first !!!!! I actually saw the BIG 5 !!! after 40 years in Botswana..WOW that was amazing !!!
Although we did slightly cheat & saw the Buffalo from the plane on the way home, but regardless we saw them …."
Positives:
1: Guiding was excellent !!!, we had a guide called Sky for the duration & he was great. Not full of his own importance & bad jokes, that is unfortunately becoming common in many camps, but full of knowledge & certainly tried very hard to please .
2: Management & staff, could not have been more accommodating & pleasant. Always around & ready to serve, but not in your face so to speak. On chatting to different members of staff, most had been with Sanctuary for + / 3/4 years, so that says a lot .
3: Food was outstanding …I am a very picky eater, as you all know, but there was so much choice, nobody could ever complain & it just kept coming. We were there on 26th which was Thanksgiving & joys, we had a camp full of Americans, so the staff actually did Roast Turkey as one of the choices, which was very impressive….
4: Tea & coffee with a very friendly wake-up call ….YES !!!
5: Free 10 minute amazing foot massage at the Spa – all guests get this, what a treat.
6: Campfire every night, whether we sat around it or not, the ambience is there
7: Location, very dry at the moment, tiny water hole in front of the camp & infact very little water anywhere. We drove right up to the Mombo border & all the channels were bone dry. The concession is so diverse, with flood plains, palm islands etc as well as the normally dry inland sections, definitely an amazing area & never boring …..I will just have to go back & see it in full flood.
8: GAME: wow !!!!, although in all honesty we did not see huge quantities, apart from Zebra (several large herds) and the ever present Impala, it was all so relaxed & quiet happy to let you get up close & personal. Some of the game has moved off according to Sky, Leopards have disappeared as the Baboon population has trebled & Wild dog / Buffalo have not been seen for a few weeks……he feels it will all return with the rains / Floods.
Then the ultimate, Rhino, not just 1 but 2 different Males, what an amazing treat. I did see a couple in Chobe back in the 70's but nothing since, so this was an amazing bonus & so unexpected ….
Lion, I think we counted about 15, 1 Lioness on her own eating a large Tortoise, very gruesome, but very unique. Sadly only 1 Leopard, but she posed beautifully. Surprisingly very few Elephants, apparently they have also headed south for water. But all in all amazing good quality game.
9: Flights in & out with Mack Air. Short & Sweet, perfect for me !!
Negatives:
1: Rooms, not so great….I feel they were dated & quite small for a premier camp. Although the bathrooms were very nice & spacious, they look as though they have been recently revamped.
The rooms had 2 very stiff armchairs that were very uncomfortable, Overhead & free standing Fan, a fully stocked mini bar, but no Coffee / Tea station.
2: Generator runs throughout the night, this happens at all the Sanctuary Lodges I believe, but does affect your natural night sounds. Plus the lights from the pathway are on all night & shine into your rooms.
3: Most Premier camps have private pools nowadays, & with the cost of Chiefs, I feel they could look at this, as the pool is right at the main area and with + 35 degrees, very busy.
4: Down-time, felt very long……we got back from the morning drive @ 10am & departed for afternoon drive @ 4pm, although you have lunch in-between, it did seem to drag.
5: Vehicles…..seemed very tired, definitely could do with a face lift, the middle row, had no foot rests & no soft places to put cameras etc…just a pocket in the back of 2 chairs, or a large metal trough in the front, not even drink holders. Again I feel for a premier Camp, the vehicles should be top class, as they only offer game drives so you spend +-6 hours a day in them.
No hesitation in selling Chiefs now. Still tend to feel that it is overpriced, especially in High Season, as many other camps offer the same or more, but I think the area / concession would take a lot of beating & that is what you are paying for no doubt …..
Kay