Category Archives: Places
On arrival at Dinaka Camp we were welcomed by a lively song sung by the camp staff, which brought a smile to everyone's faces and set the mood for a fun and most enjoyable weekend. Dinaka has just recently opened after an extensive refurb following it's take over by Ker and Downey.  This beautifully constructed camp is set on a private conservancy bordering the Central Kalahari Game Reserve.  It still had the "new car aroma" one would expect of a newly refurbished camp, so I have to take my hat off to the staff who created such a welcoming and homely atmosphere, that one could be lead to believe that the camp had already been operating this way for a several years.
After a sumptuous lunch we had a little time to enjoy a short siesta in our rooms or a relaxing moment by the crystal clear pool overlooking the water in front of camp before our afternoon game drive.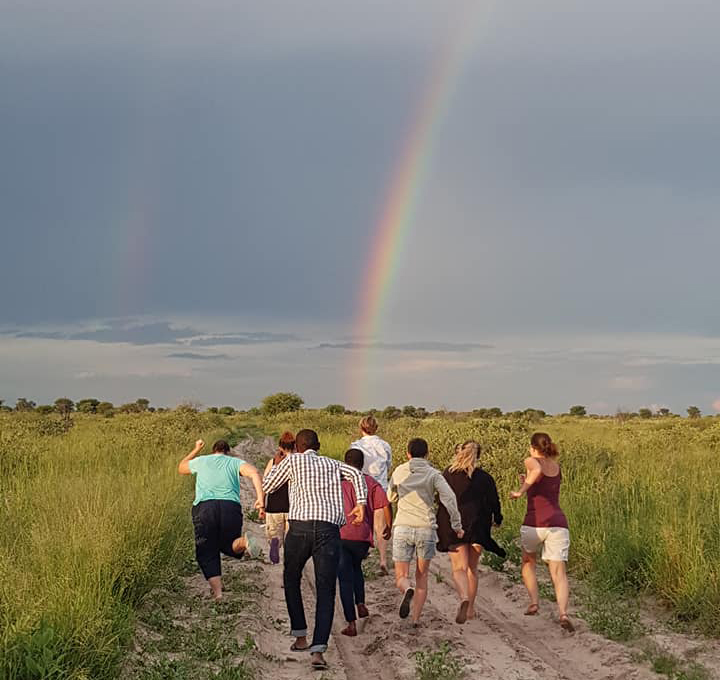 The Kalahari is truly a kaleidoscope of colours during the green season. The contrast of colours created by the budding flowers from the scrubland and the summer skies is simply amazing. The thick scrubland can make game viewing a little harder during this time of year, but this is compensated for by the landscape and birdlife, not to mention the chance to observe young offspring. The skyline makes for incredibly rich and vivid pictures and when the sun breaks out from the rain cloud formations, spectacular rainbows arch across the landscape. The wildlife also makes for picture perfect conditions as a large male giraffe posed for us against the back drop of the dark rain clouds heading north. The sunsets are spectacular at this time of year and provide the perfect scene at sundowner hour.  On our game drive back to camp, we were lucky enough to spot a caracal with its cub and a puff-adder before settling down to an amazing dinner under the stars. Our guide's knowledge of astrology was really impressive and star gazing and identifying the different constellations around the camp fire after dinner completed what had been an excellent day on safari.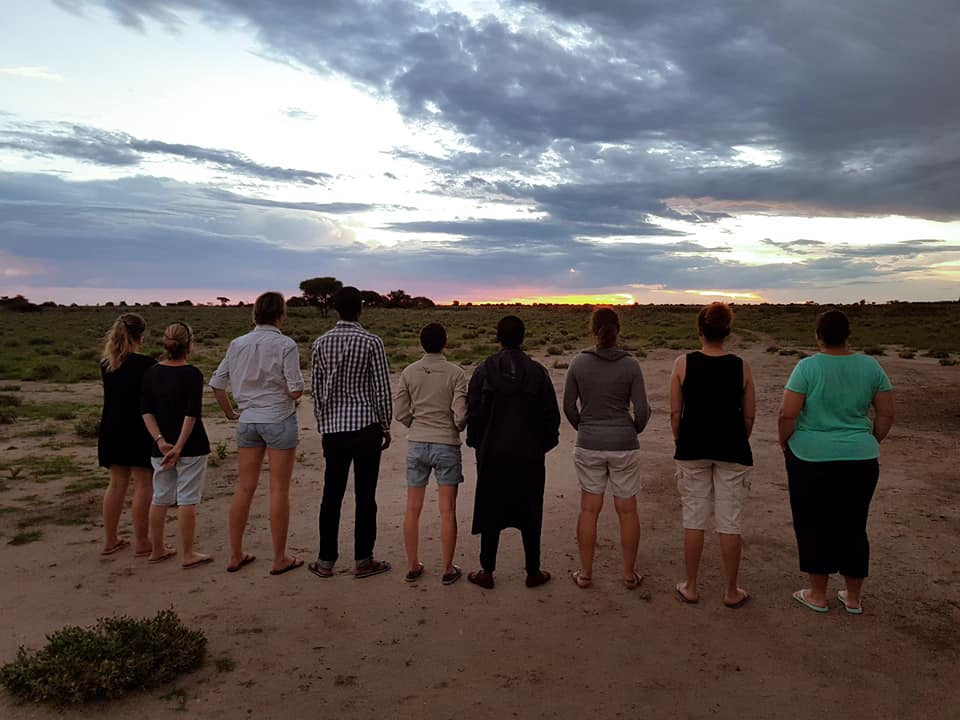 I was lucky enough to be allocated the spacious family room all to myself, with the only disadvantage being that it is quite close to the main area so I was awoken earlier than I had planned by the generator starting up and to the voices of a few of the staff starting off their busy day. We then set off on a safari walk with the Bushmen of the Kalahari and the Ker and Downey Guides. I appreciated having the guides there with us as they were armed for our safety which is paramount in an area renowned for our favourite big cats, the lions. Getting down on the ground and immersing oneself in the surrounding wildlife is always an exhilarating activity, as we were walked through the ancient survival techniques used by the Bushmen in the harsh terrain that is the Kalahari. We returned to camp to say our goodbyes and could not help thinking how this area would be completely different during the winter season as the foliage disappears and the wildlife concentrates around the waterholes on the conservancy.
"Inside tips from your local experts"
Guests are accommodated in seven spacious twin and double-bedded safari tents on raised decks. Each en-suite bathroom has an indoor and outdoor shower, hot and cold running water and flush toilet. Families are accommodated in a two-bed-roomed tent, sharing a spacious en-suite bathroom.
The area is a big contrast to the Delta so works well when combining different locations within Botswana.
In green season, the annual rains transform the arid desert landscape into a lush profusion of Kalahari vegetation, offering guests a unique insight into the lesser known desert experience.  It gets very bushy and lush with thick, green vegetation, so spotting game can become very difficult.  However, there is still game about and the birding is good, so this would be a great time for birding enthusiasts.
Dinaka being based in a private concession outside the Central Kalahari Game Reserves offers a different experience to the camps inside the Game Reserve. Our experts recommend it in dry season, ideally combined with camps in the Delta. The camps inside the Game Reserve (namely Tau Pan and Kalahari Plains offer a great experience during our green season when the Kalahari comes to life again).
Activities include early morning, afternoon and night game drives, birding, guided walks and photographic hides.
Best suited to your mid-range clientele along with families or honeymooners.  People who want to experience something different and are not highly concerned with lots of game but rather quality game viewing opportunities.  Such as from the underground bunker, viewing decks, hides, game walks etc.
Staying at one of the lodges on the Upper Zambezi is a nice reminder that there's a calmer, more peaceful and service-centric experience on offer than the B&B hotels in Vic Falls town on the Zimbabwean side of the falls offer.  That there are still quiet pockets of calm and tranquility near Victoria Falls itself, where you aren't hearing the buzz of helicopter scenic flights overhead throughout the day.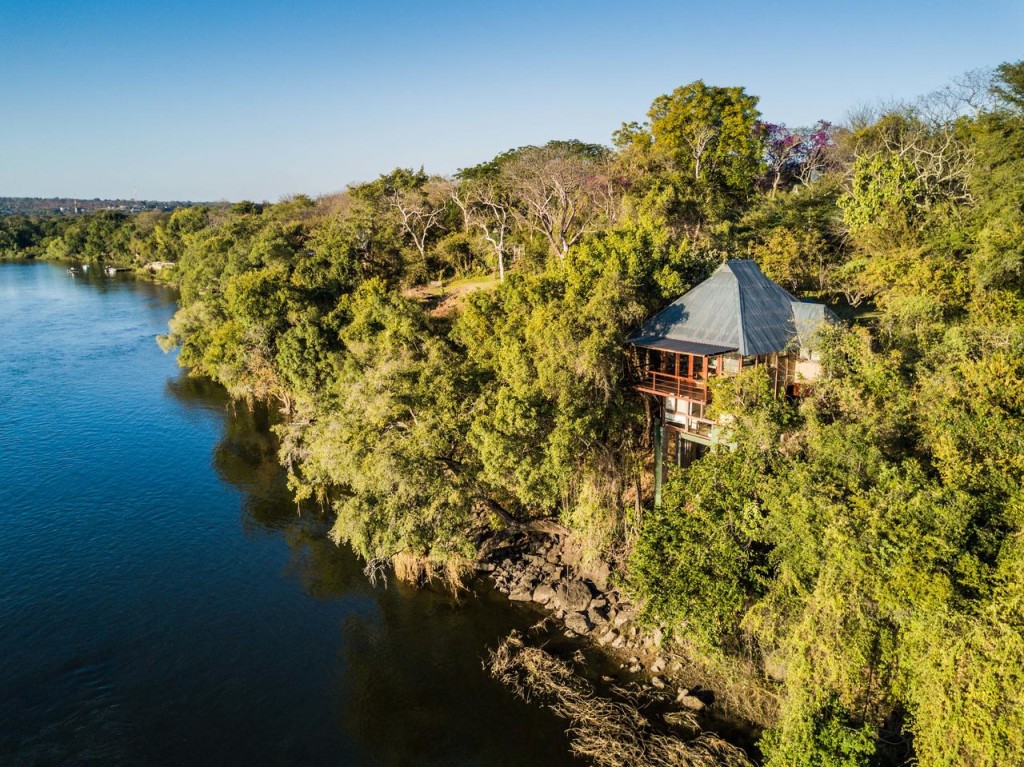 At the River Club, the lodge has an incredible vantage point out over the Zambezi River, from an elevated point of view, where the sun sets beautifully in front of the lodge.  The property gives you a thorough grounding in the colonial history of Nothern & Southern Rhodesia (now Zambia and Zimbabwe) as well as a relaxed setting to do as much or as little as you like.
Price wise, on a three night stay, it provides a fantastic alternative to other Livingstone favourites such as Waterberry, Toka Leya and Sussi & Chuma.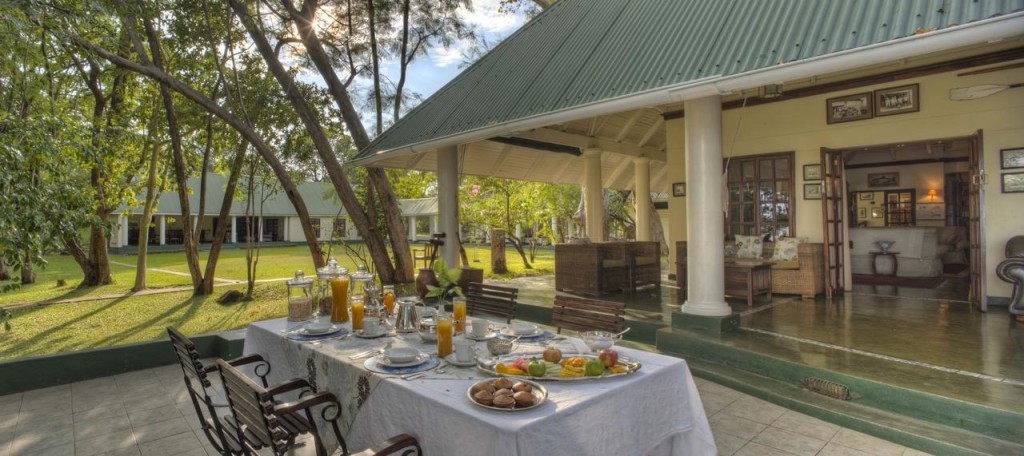 Can you believe that it's been on our roads for more than a year now? We thought we'd take a look at how Maun's Tourist Funded Community Bus is benefiting our community.
"The Community Bus has been a ray of sunshine to our children brightening each day through its vibrant colours and comfort".  Taboka Rotsi.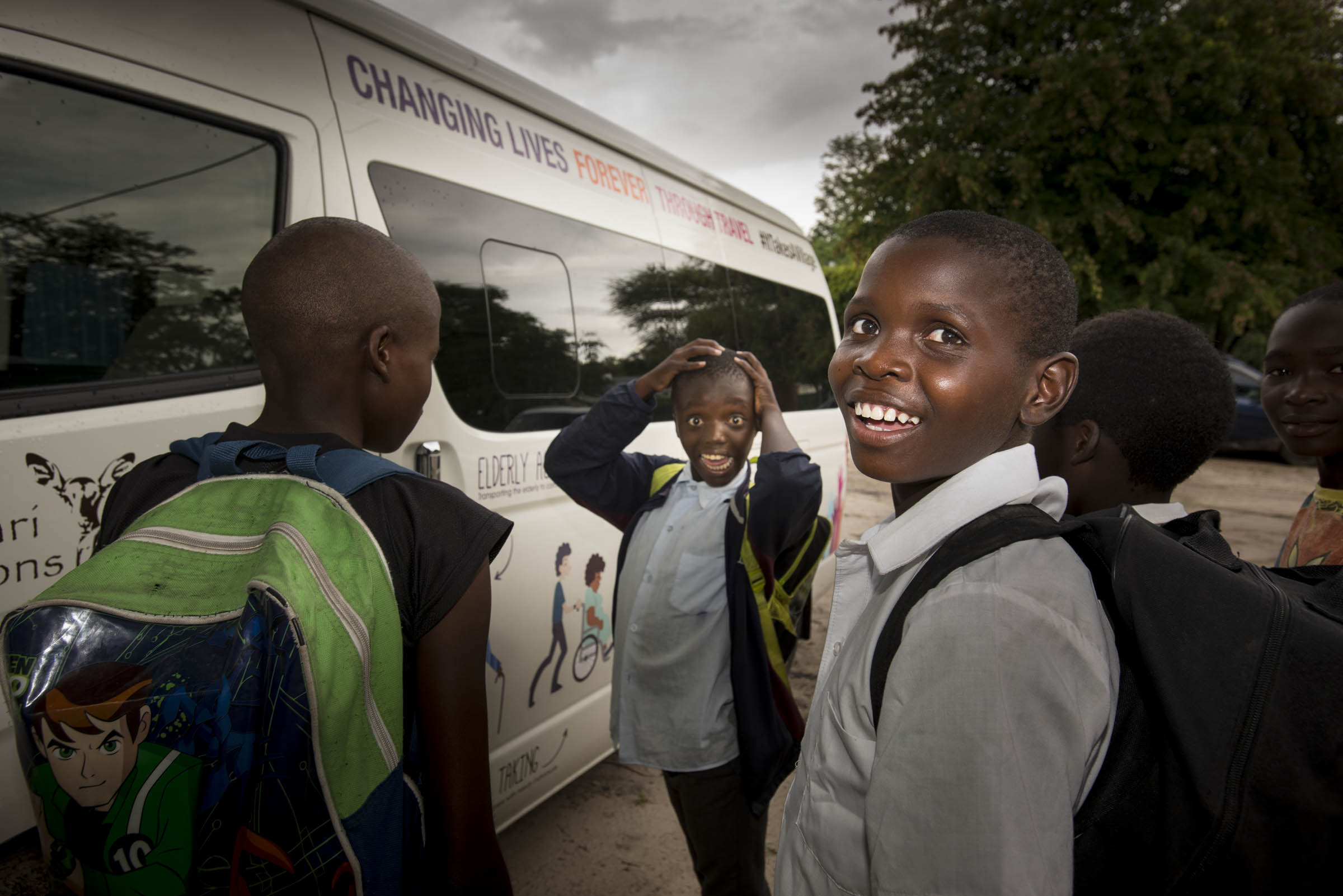 Taboka is the Project Co-coordinator of Bana Ba Letsatsi (BBL) a care centre for orphaned and vulnerable children in Maun. BBL is one of the organisations benefitting from Maun's unique Community Bus.
Last year – in celebration of Botswana's 50th Anniversary – Safari Destinations and Travel for Impact (TFI) launched the Community Bus.  For the past year it has been making a real difference in the lives of the less fortunate, whilst adding a splash of colour to Maun's streets.
This unique collaboration between travellers to Botswana, private enterprise and charitable organisations is directly benefitting Maun's disadvantaged communities.
So, what does the Community Bus do?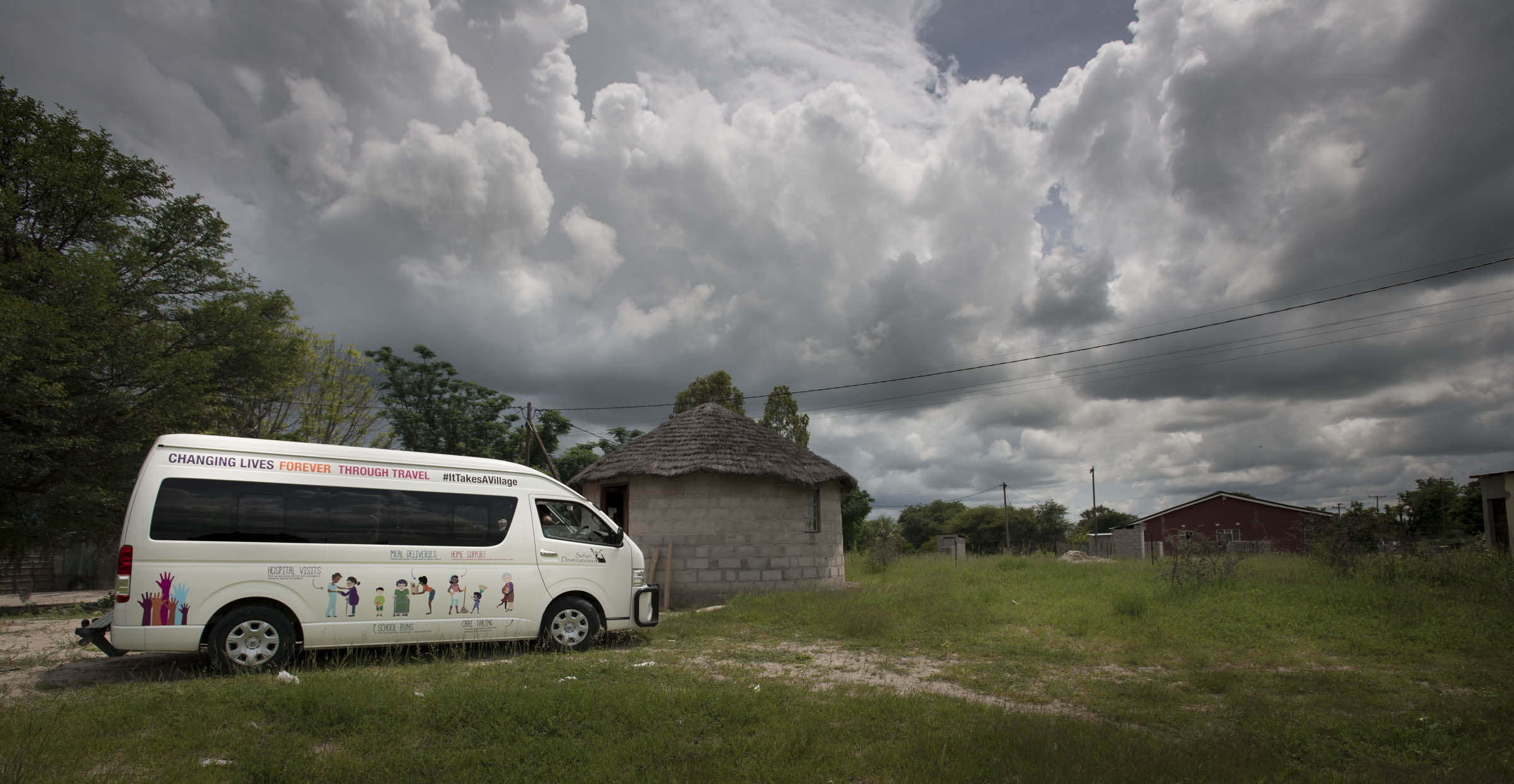 It's a school bus, granny transporter, safety zone and life line that empowers our community all rolled into one. It solves the transportation challenges for not one but several charities by operating on a scheduled basis.
In the morning and afternoons, it does a round trip picking up and dropping off kids for Bana Ba Letsatsi. This coincides with the school run pick up and drop off for children staying at the Woman Against Rape (WAR) shelter for victims of gender based violence. Without the support of the bus most of these children simply wouldn't attend school due to the distances involved, and those that did, would be late and tired from having to walk several kilometres.
After the morning school run, it's time to collect and distribute daily food parcels for AGLOW to Maun's impoverished elderly. Often our driver OB and AGLOW volunteer Lesang, are the only people some elderly see all day. So the bus becomes a lifeline, enabling AGLOW to daily monitor the elderly's wellbeing, and equally importantly, it provides an opportunity for a chat and some friendship and companionship.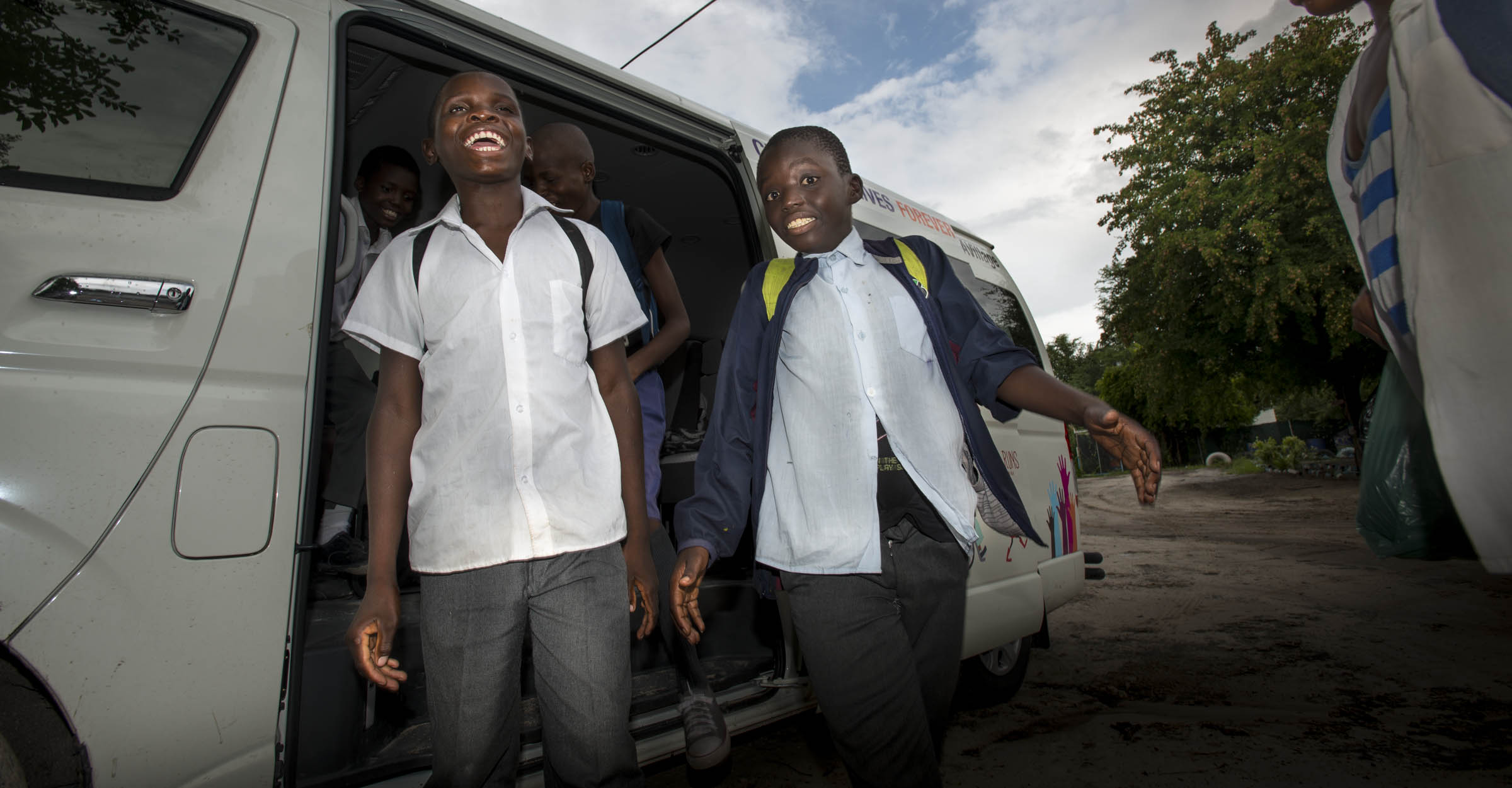 Between its scheduled duties, the bus is pressed into service to assist charitable organisations with ad-hoc requests. Perhaps it will be sent to the local butcher to collect a donation of meat for BBL. It may be dropping or collecting the elderly at the clinic. Transporting MAWS volunteers, collecting dog food donations, delivering donated clothes, collecting food parcels for flood relief…on and on the brightly coloured bus bustles about town!
The weekends are equally busy. It may be transporting the elderly to and from a lunch, transporting the hearing impaired on a photography course, taking children on a field trip or providing transport for a disability workshop.
With over 30,000km on the clock, the bus has delivered approximately 1305 meals, completed over 600 school runs and in the process, has indeed become a lifeline for the Community. These words, from one of the elderly that the bus visits, sums up the vision of the Community Bus. Softly spoken, and with a tremble in her voice, she whispers:
"Every day I am looking forward to seeing the bus coming. I like these people who don't know me, but come and bring me food. I now sleep full every day."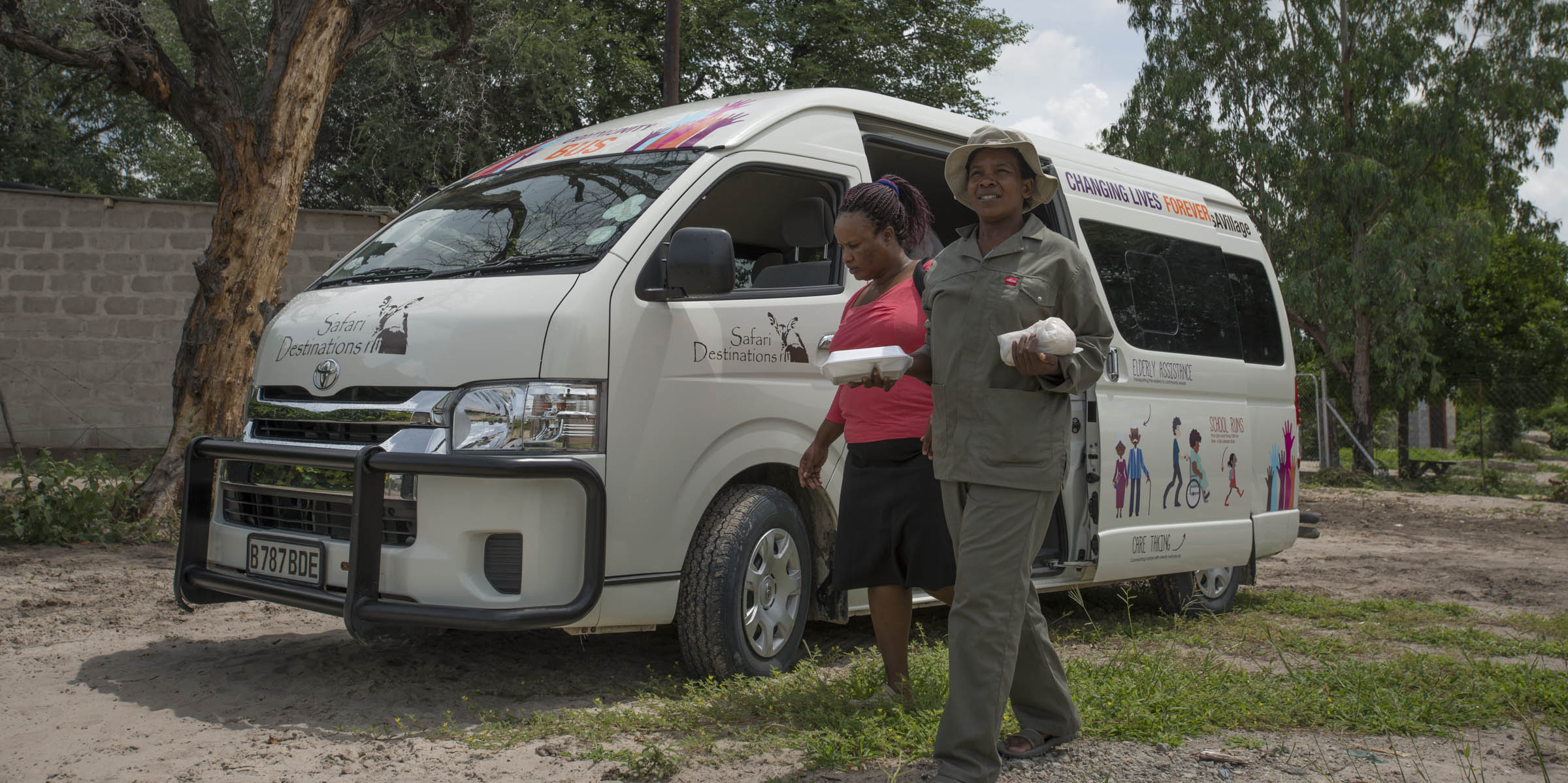 A video, The Years Pass By, highlights the work of the bus in the community.
The Community Bus was jointly sponsored by Safari Destinations, with the balance and ongoing expenses supported from The Safari  Destinations / Travel for Impact 1US$ Bed Night Levy.
Having never been to Nxai Pan National Park this was my first chance to discover this somewhat hidden gem in the desert. The landscape was stunning. One could see that the area had experienced some rains prior to our arrival as the flora was slowly coming back to life with bright green shoots and leaves providing a stark contrast to the dry landscape. The majority of trees and shrubs were coming into bloom with a stunning array of multi coloured flowers making for great landscape photography.
We could not have scripted our arrival at Nxai Pan Camp more perfectly. We arrived to a very warm welcome from the Managers, Lets and Thabo. Our camp orientation, however,  was delayed for forty five minutes due to the fact that one rather cheeky elephant had decided that the camp pool would make for a better source of drinking water than the waterhole directly located in front of camp. Spectacular to say the least!
After high tea we went out on a short game drive towards the busy waterhole where elephants were dominating the water point to the chagrin of the other wildlife such as buffalos, jackals and other desert species. The inter-action between the elephants themselves and the other wildlife was fascinating, keeping us mesmerized as Chester explained the animals behaviour we were observing.
The next morning we embarked on a short nature walk with Shoes, the resident bushman and our tracker. He provided us with numerous anecdotes and information in the ways of his forefathers during a short walk in the vicinity of the camp. Quite a character if there ever was one, explaining that my failure to start a fire would guarantee that I would never find a wife to marry! The following game drive provided great sightings in the form of three cheetahs, giraffes, zebras, elephants galore and the highlight for us, aardvark out in the open during the day time!
We went through to Baines Baobab's on our way to the Nxai Pan National Park gate. The baobabs stand out rather majestically as one approaches and the experience is quite humbling as one realises just how long these immortalized baobabs have stood the test of time.
FACTS ABOUT NXAI PAN CAMP
Nxai Pan Camp is run by Kwando Safaris
Activities on offer include game drives, bushman experience and day visits to Baines Baobabs
Camp consists of 8 custom-built rooms (including 1 family room). All rooms are en-suite with thatched roofs and insulation making them cooler in the summer and warmer in the winter
If your client is looking for a unique, cozy, romantic and chilled camp, then Pelo is the answer.
Most of these requirements will already be met as the little aircraft descends over the palm tree dotted, flooded landscape of the Jao concession. Your eye gets caught by a tiny island in the shape of a heart; the Setswana word for heart is PELO.
All 5 tents are on stilts facing the water, the intimate terraces open up to the safari wonderland of the deep Delta and are filled with the beautiful cacophony of birdsong.
Pelo is a water camp, meaning there are no vehicles on the island. It therefore combines superbly with productive land camps in Khwai, Moremi Game Reserve or Savute. This camp is a little jewel and shines well at the end of a safari.
Here you come to glide silently over Delta Waters in a Mokoro and explore the endless diversity of the floodplains by boat. Most importantly you come to chill and enjoy yourself and the universe – it should also win the prize for the most stunning pool in the Delta!
Jao water levels vary greatly, your safari consultant will have the best advice for you. Pelo sits in fairly deep waters, which dry out last in the Delta – another reason to include Pelo in your next itinerary!
FACTS ABOUT PELO
Pelo is run by Wilderness Safaris as an Adventures camp.
Activities on offer include mokoro trips, boat based game viewing and seasonal catch and release fishing.
The camp has five guest tents, complete with a covered front veranda, and both an indoor and outdoor shower.
Pelo is open annually from 1 March to 30 November.
Three of my colleagues and I recently had the pleasure of spending two nights at The Lodge located north of the expansive Central Kalahari Game Reserve. We were picked up at our offices in Maun just after lunch for a comfortable four and a half hour road transfer in their air-conditioned 4×4 to this rather unique product.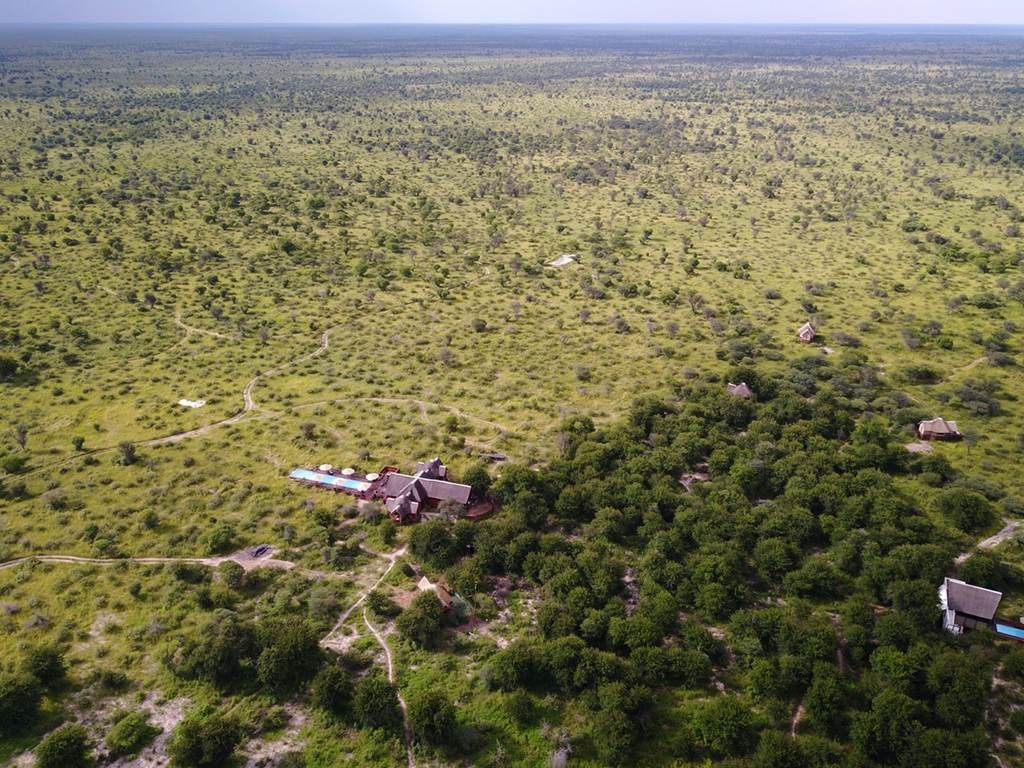 Although there was not much to see on the way, we kept our spirits up by discussing exactly what we were about to experience as it became apparent that although we were seasoned travellers in regards to camps and lodges in Botswana, we did not quite know what to expect at this property as big game viewing is not the primary focus. This is not to suggest that there is no game in the area (as I realised later on) as we encountered zebras and kudus during our stay there but rather that this property has a completely different ethos as compared to the camps we regularly visit in more predominately game rich areas in the delta.
We arrived to a very warm welcome by Teddy, the lodge manager and his ever smiling staff. The lodge really is beautifully built to match in with the surrounding area and the twenty-five metre lap pool had us all wanting to take a dip right then and there! We freshened up with a welcome cool drink and prepared ourselves to hear the usual camp briefing regarding operations safety pre-cautions and activities. Instead of the usual early morning wake up at 05h30 in the morning for a game drive we were advised we could sleep in until breakfast was served at 07h30! The activities on offer had us all spoilt for choice as one could go on a game drive, walk, fat bike tour of the area or horse riding. Other activities on offer are golfing (desert style!), tennis, an authentic bushman experience (either a walking safari to discover what the desert can provide in terms or nourishment and medicine or a more in-depth fly-camp experience at a bushman village located close to the lodge) or if one is feeling like being pampered, massage treatments are also available at a small supplement. Needless to say we all chose our prepared activities for the following morning with two of my colleagues opting for the horse riding and the third taking in a massage. I opted for fat biking riding with a twist as I was going to follow my colleagues on the horses.
In hindsight, this was probably not the best decision I have made in my life, as the next morning I quickly came to realize one cannot follow horses on a bright orange fat bike through the Kalahari veld. As my colleagues got introduced to their horses and the guides, I took this time to name my fat bike "Bubba" as all the horses had names I did not want my trusted bike to feel out of place. The ride started with a light trot which Bubba and I easily kept pace with, but this was to quickly change. When the horses went into a canter, keeping up with them rapidly become more difficult. Thankfully they stopped when they realised that I had fell from view and waited for me and Bubba to catch up. It was at this point, I made the decision to return back to the lodge with Bubba and let them enjoy the rest of their ride, as I was clearly slowing them down. Again, in hindsight, probably not the best decision as fat biking through  tall grass on your own on a bright orange fat bike in a concession that can have wildlife pass through it without a guide would be considered foolhardy at best. I could just imagine the confusion on a leopard's face seeing me and Bubba huffing and puffing along! Swinging my neck around every two seconds to check for wildlife whilst trying to stay on the "path" we had taken was a challenge to say the least.
My joy at finally seeing the lodge appear on the horizon was that of the desert when it rains. Pure and utter joy and relief!
Departing the next morning, it dawned on us that we had experienced something completely unique in the tourism industry of Botswana. They whole ethos is centred more around the relaxing and varied experiences available rather than big game sightings.
A fitting and relaxing end to any safari.
Safari Destinations is about family. It is the people that share our daily lives, and who we have grown to love and cherish. With our SD family, we create memories, share good times and help each other through the tough ones.
Some of those good times are celebrating the birth of the children to staff employed at Safari Destinations. At last count, it was 17 in total with another 2 on the way! Close to 50% of all our staff are parents. This is why lift clubs, meal arrangements, play-dates, "Hello Aunty Sarah" as well as kiddies' laughter and tears are the order of our day.
We all know that total commitment describes our women here at SD. Many years ago when Lorraine and Andrea were still breastfeeding, critical Globetrack training had to take place. So, it all happened "behind the scenes" while the (male) trainer continued his training. He had strict instructions to "Don't turnaround!"
While 80% of our staff are women, we believe that fathers are just as important as mothers. This is why our Dads get paternity leave with the birth of each child.
Our latest recruit is beautiful, little Paige, born to Senior Consultant, Mia Ives. Once Mia returns to work, as a first time mother, she will have the support and understanding of the Managing Directors, Carina and Lorraine as well as the many women here at SD who have walked the path of managing family and work.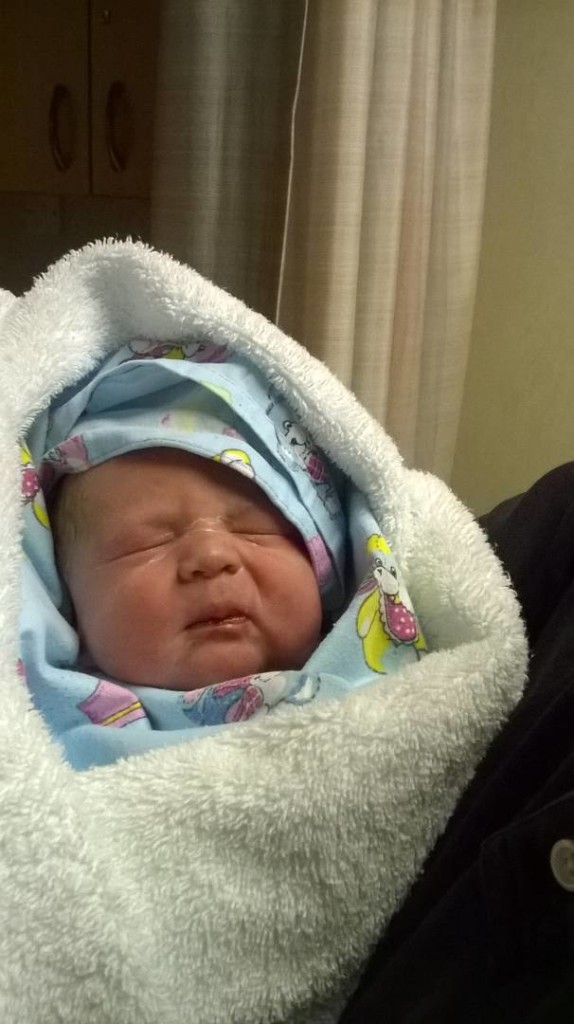 By now you'll probably be aware that we've had plenty of rain this year in Botswana…so ok, you might ask…but…
What does this mean for a safari in 2017?
Let's start with the Okavango Delta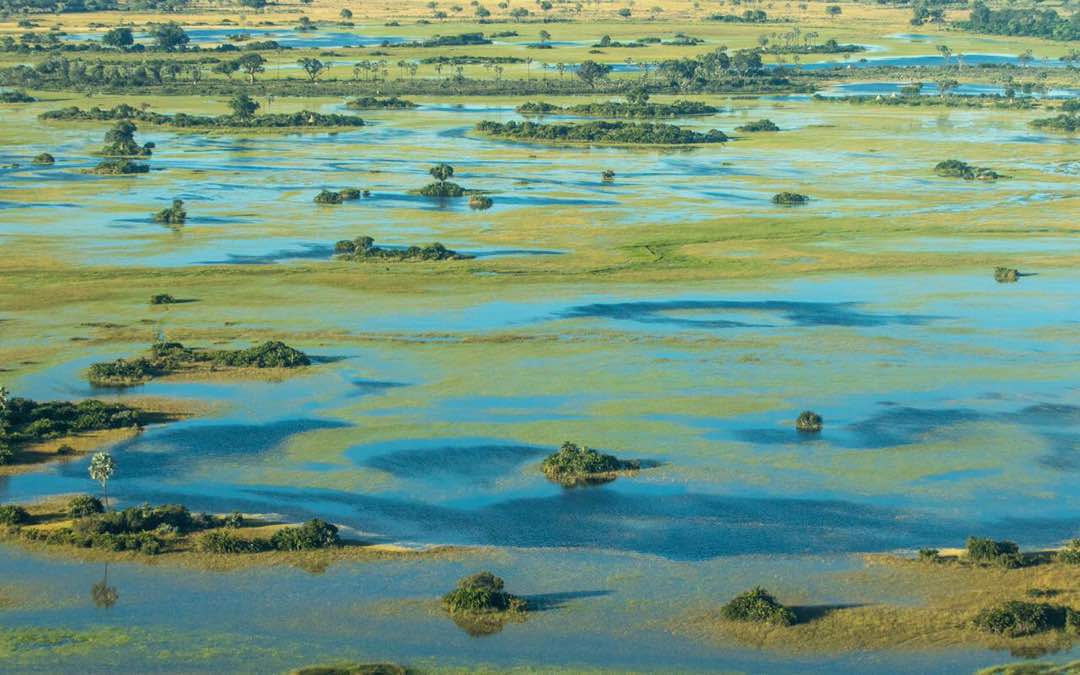 Okavango Delta in full flood, source: Chase Wells (Pilot with Wilderness Air)
Normally we like to tell people that local rainfall isn't so relevant for what happens in the Okavango Delta, as compared to what water comes down from the Angolan highlands with the annual flood.
We'd then explain how it takes several months for all that water from Angola's green season rains (Nov – March) to travel sloooowwwllyy through the Delta's alluvial fan, where it will eventually 'burst the banks' of the delta's permanent waterways & spill out into the seasonal (see that key word, seasonal) floodplains. Normally, we expect this to start happening in April / May.
Well, this year we had SO MUCH local rainfall that the floodplains filled themselves up with surface water, before the permanent channels had much chance to be fed with water from Angola and do the job all on its own. Since mokoro activities are often conducted in seasonal floodplains, because they're safer than permanent channels will be when peak flood deepens them (they're nice open spaces with plenty of hippo-free shallow water) having these floodplains fill ahead of time meant that many camps which stopped offering mokoro activities late last year due to suitable floodplains drying up, have already resumed them.
Will it last?
Well, for that we need to see what happens with the 'main' flood from Angola. Reports from pilots flying over the Okavango are that the main 'push' from Angola's floodwater hit the Jao concession in the northern delta around Easter, and has now reached the southern delta, around the Nxabega / Kanana area. How long those high water levels last will depend on a number of factors: whether we get any more flood water, and how hot September & October get in order to speed up the rate of evaporation later in the year. Having all that rain water around already means that the 'main' (flood) event becomes a bit less relevant than normal in determining when mokoro & boating activities can start for the year. Generally, the best bet for mokoro & boating activities in the delta is to from May travel until September, however certain camps can offer these activities year-round and if you're unsure, our dedicated consultants can advise on which these are.
On to the Chobe Riverfront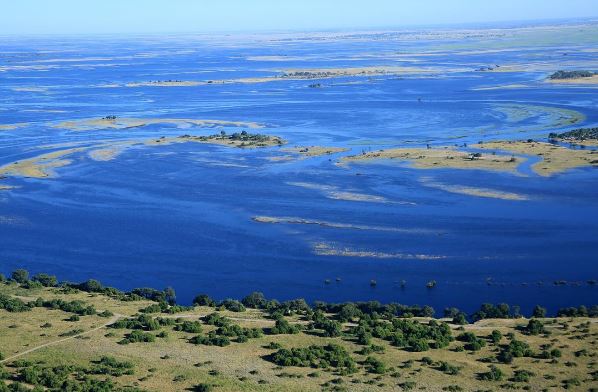 Chobe shot: Chobe Floodplains as of (23.04.17) source: Elephants Without Borders
The Chobe River got plenty of water this year & peaked around Easter (levels are now slowly dropping). This means that certain parts of the riverfront, such as Puku Flats, Lechwe Flats and Kabulabula have been cut off from the main game drive network thanks to rising water. Given these areas are generally more celebrated for their birding, this doesn't affect the 'big game' viewing by road, and birders will still see plenty anyway. As the Chobe Riverfront is known for huge herds of elephants, the increased surface water elsewhere in the bush means that breeding herds don't 'need' the permanent water of the Chobe River to quench their thirst. Elephants are quite clever mammals, and they know that the sooner they hang out in big numbers on the river, the sooner they eat all the 'good stuff' that they'll need later in the winter. As a result, it'll take a little longer into our winter months this year to start seeing the massive congregations of breeding herds along the water which have become an iconic landmark of Chobe. Despite this, Chobe's predators are still out and about, and the lion population on the Riverfront continues to do well.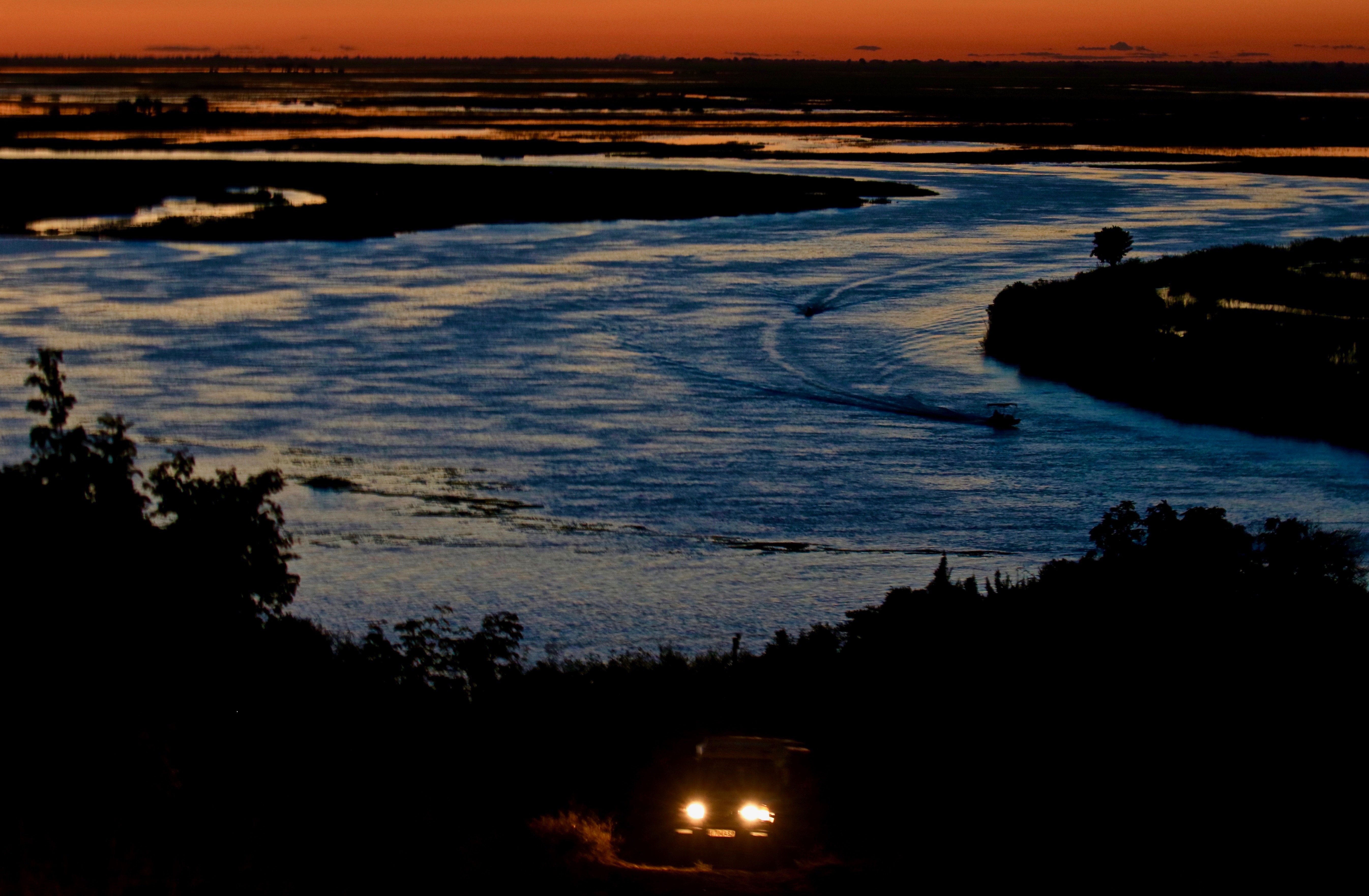 and the Linyanti?
As with the Chobe Riverfront, the Linyanti is also known for its large numbers of elephant, who will also take a little longer to be spotted in huge herds, thanks to the same phenomenon described above. Certain concessions in the Linyanti feature thicker bush than others, so the later rainfall creates denser vegetation, which may result in more challenging game viewing in some areas until later in the season. The waterways in the Linyanti are affected by different processes than the Chobe and the Delta again, so while the Savuti channel has rainwater in it, we'll need to wait a little longer to know if there'll be enough of a push from the Selinda Spillway and Kwando/Linyanti rivers into the Zibadianja lagoon to get it flowing again this year. Scientific theories abound that the Savute channel is also affected by tectonic plate movements, and given that Botswana had a pretty sizable earthquake near the CKGR a month or so ago, we'll wait to see if there's any knock-on effect for what happens in the Savute Marsh this year.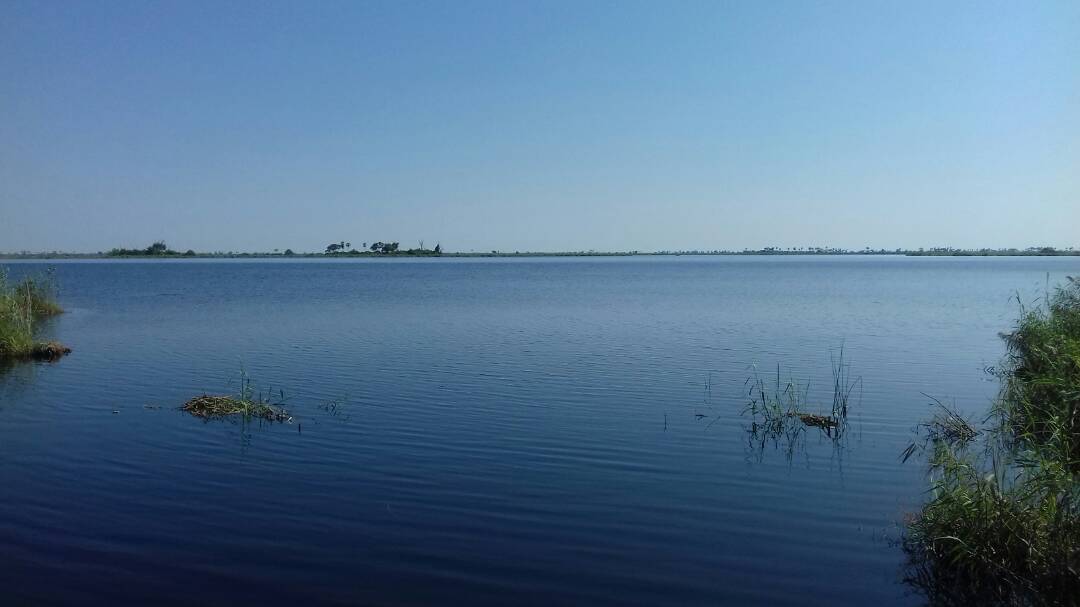 Water levels in the Zibadianja Lagoon as of (12.05.17) source: Storm Keen
What about the desert areas?
Let's start with Nxai Pan. The zebras stuck around longer than usual, but as of a few weeks ago, have finally started their slow saunter back to the Chobe Riverfront. All that rain resulted in a hippo (of all things!) making the waterhole at Nxai Pan Camp his home. On the Makgadikgadi Salt Pans, there's enough surface water that Jack's Camp guests have been taking their sundowners ankle-deep in water and huge numbers of flamingoes have moved into the pans for nesting. Uncharted Africa's Ralph Bousfield suggests the flamingos may now be semi-permanent residents in the area for the next few years. The affect on activities on the salt pans is yet to be seen, however quad biking and sleep-outs are unlikely to be on offer in the next few months. All that water means the zebras will be slower in moving down to the Boteti River this year and they may be spotted around the salt pans for a while longer yet.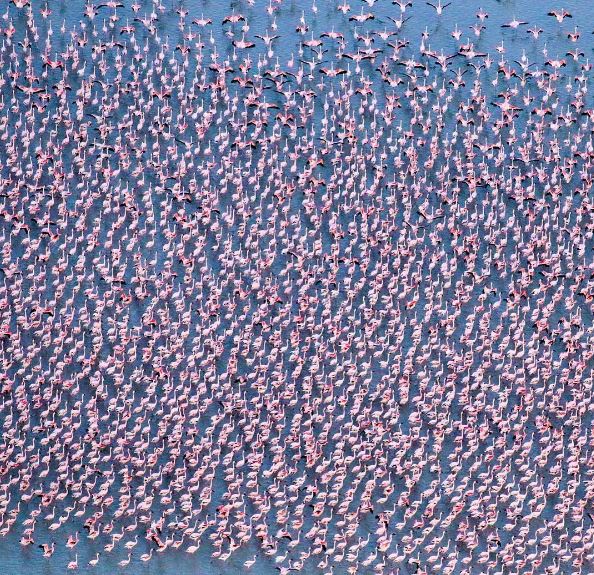 Flamingoes near Kubu Island: Uncharted Africa via #bushboundgirl
Can't remember it all?
Don't worry. That's what we're here for. We'll happily advise you on a case by case basis as to what camp and area best suits your requests for travel, depending on your clients' interests. While all these un-anticipated natural changes are what makes a safari to Botswana so exciting, we can still recommend the 'best bets' based on our personal experience for delivering the experience you're after.
Yes, it's true! Botswana had an earthquake!
But, we actually have them quite often. It's just that we never really feel them. Although the quake had a 6.5 magnitude, the only real disruption to our lives was the bleeping of a thousand cell phones during dinner time, as everyone asked "is it just me, or….did anyone else feel that?"
And, sorry to say – that's as exciting as it got.
Why is that? Well, it turns out that living in the Kalahari Sand Basin works out quite handy in minimising the effect of tectonic plate movements.
Those same sands that fill with the Okavango's waters & give us a reason to sweep our floors daily, also act as a giant shock absorber. If you were to take a shovel and start digging in the centre of Botswana, you'd be several kilometres down before you hit bedrock. In the middle, what you've got is sand & only sand. When tectonic shifts happen deep down below, the vibrations get muffled by all of that sand, so even if they're 'big' earthquakes, they're too disrupted by the time they reach the surface to have much impact.
Having said that, most waterways in Botswana are influenced by fault lines & tectonic plate movements. The Okavango Panhandle is channeled between two faultlines, then spreads out into the alluvial fan & abruptly stops at the Thamalakane fault line which then diverts the watercourse to the Boteti in years of plenty.
The Kwando River hits a big fault line (the Linyanti) which pushes the water out into the Linyanti Swamps, forces the river to change direction (and names) to become the Linyanti River (and later, joins other waterways to become the Chobe).
Interestingly, no-one really knows how the Savute channel works & what makes it's flow stop and start, but theories abound that it's shifting tectonics which are mostly responsible. Water in the channel has just passed Wilderness Safaris' Savuti Camp in the last week or so, so let's see if those earth tremors give it the push it needs to fill our Savute Marsh this year!
Otherwise, keep calm & carry on. Safaris continue as normal – Botswana has just been busy moving heaven and earth to impress her travellers!
Have you noticed how bracelets are all the rage these days? Polar Electros, Fitbits, Jawbones, Fuelbands…
Our bracelets don't track how many miles you ran or count the calories in the chocolate cake you just ate (thank goodness), but they are just as powerful.
These bracelets empower the disadvantaged in Botswana.
They are made locally by woman, under a Disadvantaged Woman's Economic Empowerment Programme that echoes our commitment to woman's issues and benefits from our support.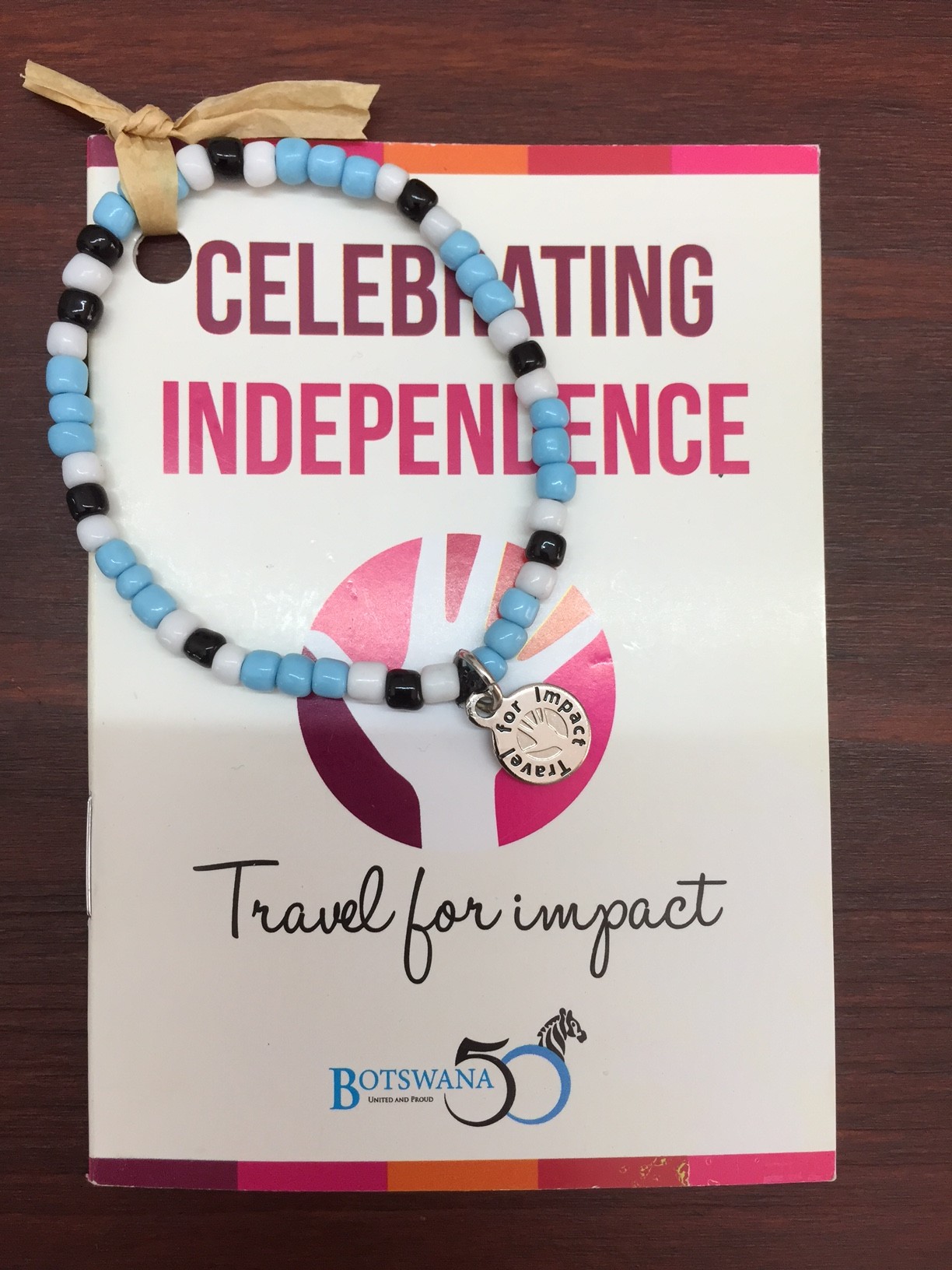 Through our ongoing partnership with Travel for Impact, we support Woman against Rape, a local charity providing safety and counselling for victims of gender based violence. Sadly, they hear time and again that woman feel compelled to remain in abusive situations, due to the lack of economic freedom.
The empowerment programme was implemented to address this issue by providing skills based training in local crafts. The crafts are then sold, enabling survivors to derive an income, gain independence and stop the cycle of abuse.
We purchase a bracelet for every traveller booked through Safari Destinations as a thank you for supporting Travel for Impact. This creates long term sustainable income for the vendors and at the same time allows our travellers to take home a meaningful reminder of their trip.
They may not give a reminder that it's time for a morning run, but our power bracelets are reminders that by supporting Travel for Impact, you are creating a meaningful impact in the lives of those less fortunate.
Don't forget to collect your Power Bracelet from BTO at ITB Berlin!