A safari in Botswana is a true wilderness experience of exploring bumpy tracks in the bush where boundaries are marked by lines on maps and not by fences.  Our famous wildlife areas are untamed places where animals roam freely in their natural habitats.  The bush in Botswana is not a controlled environment and safari goers will get the most out of their experience if they know what to expect from the bush.
There are no Fences
An encounter with an animal on safari is an encounter with the wild.  There are no barriers between you and the wildlife, which not only gets the pulse racing, but also results in a level of risk.  When in the bush, remember that your guide understands animal behaviour and the bush around you.  If you listen to your guide you can be assured of the best possible safari experience, as well as your safety.  When in camp, guests should never walk unattended at night, or go for a walk outside main camp during the day.  Animals roam freely in the bush and can often be spotted strolling along the paths in camp at night, or drinking out of the swimming pool, which is often what makes a safari more exciting.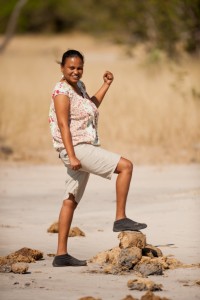 Leave Only Footprints
The bush in Botswana is not tamed by humans.  Camp staff and guides do not intervene in the lives or deaths of animals.  While roads may be maintained for game driving, the bush is otherwise left in its natural state.  Visitors to Botswana need to be careful not to leave rubbish such as cigarette butts or toilet paper in the bush and also not to pick up anything they find on the way, especially animal remains such as teeth, bones or skins.  The exportation of animal remains is highly illegal and a well-intended bush souvenir could end up becoming a ticket to trouble.  It is ok to pick up and look at things in the bush when instructed by your guide, but anything from the bush should be left where it is found and never packed for home.
Driving in the Bush
Due to Botswana's high-yield and low-impact eco-tourism policy, we're lucky to be able to offer a more exclusive bush experience than many of our neighbours.  To keep the experience exclusive, most camps have a policy of no more than three vehicles at any sighting.  This helps to reduce impact on the animal being observed, as well as allowing for guests on the sighting to have a more relaxed time with the animal and better photographic opportunities.  In order to encourage a better experience for all, guides will move on from sightings after 10 minutes or so when there are vehicles waiting.  Self-drivers visiting Botswana should keep this etiquette in mind when visiting the parks and try not to crowd animal sightings, but wait for excess vehicles to move off.  When transiting through the parks always wait for elephants in the road and allow plenty of space for safety when passing.   Self-drivers should respect the rules of no off-road driving or driving after dark, should stay in their vehicle except at marked rest stops and should carry a satellite phone or GPS in the event of any emergency.  If an incident occurs while en route to a lodge, guests should keep in contact with their next accommodation and request assistance if necessary.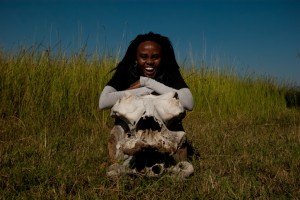 Exposure to the Elements
While on safari it is easy to become dehydrated and exhausted by the elements, especially in the later months of the year when temperatures peak.  Bottled water in Botswana does not contain the same minerals as water at home and needs to be supplemented with juices and soft drinks for proper hydration.  Days on the safari vehicle can be long and the weather changeable.  Dressing in layers with lighter clothing underneath is the key to remaining comfortable and avoiding over-heating and freezing.  Guides pack refreshments for game drives and will be more than happy to stop and hand out beverages as requested.  Bright colours are best avoided in the bush as they prevent you blending with your surroundings during activities, especially during game walks.
If visitors to Botswana have any doubts about what to do while on safari, asking a guide for advice and assistance is the safest way forward to a hassle-free safari.  For a copy of our safari information for guests, please contact info@safaridestinations.net