By now I'm sure almost everyone following our blogs are aware of our 10FOR50 campaign, celebrating our 10th and Botswana's 50th anniversaries.  A key component of our campaign is to donate 500 Hours to Community Service.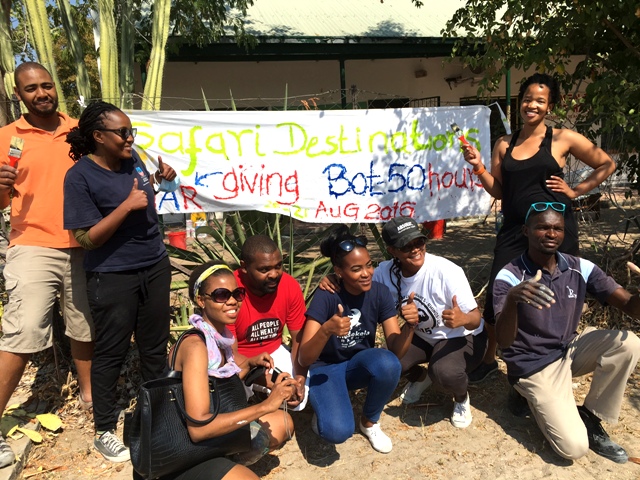 Our Team has been working hard on achieving our goal – so much so that in only four months we've already completed an impressive 305 Hours!
Our late August and September activities comprised a makeover of the reception at WAR (a local NGO offering safety and support to victims of gender based violence) and continued home visits to needy Elderly, identified by AGLOW (a local NGO providing support to the elderly).  We also participated in local fundraisers and education campaigns: the Golden Groups Fashion Show and the Maun Global March for Rhino's Elephants and Lions.
This month, we thought we'd share some feedback from our activities with WAR and AGLOW as related from behind the scenes by our staff members Angie and Chantal.
Chantal participated in Elderly visits with AGLOW. She writes the following moving description of what such visits entail:
"The things we take for granted in our lives were sorely lacking as Lesang the AGLOW coordinator took us to the first port of call.  A dark hut, no windows, a few breeze blocks allowing in tepid light.  A mattress on the floor being the only furniture, bar an old tin trunk.  No modern conveniences here at all.  An elderly lady in residence – semi paralysed by a stroke and with limited eyesight and hearing, greeted us from her bed clashing some metal sticks together, thinking that we were there to steal her things. Lesang patiently held her hand, and explained to her that we were here to clean her house, help her bath and wash her clothes, that we were there to help and not steal.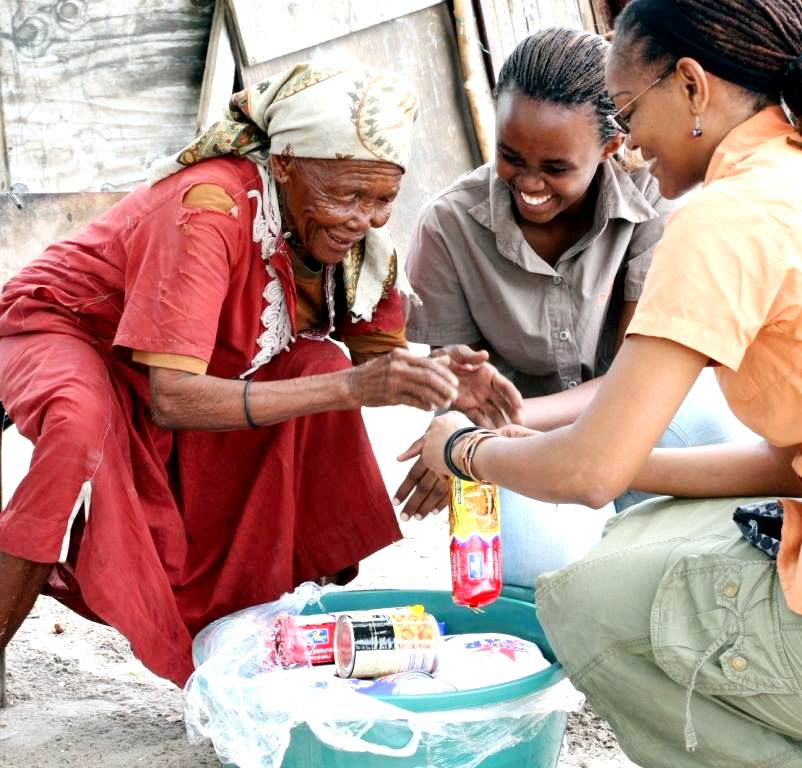 These are all simple activities to do, and yet difficult in an environment of dust, sand and no running water.  We set about the tasks of fetching water from the office, sweeping an incomplete concrete floor crumbling to sand, and Resego breaking a broom in trying to air the bedding.  All of us learning to speak loudly so that we could be heard and understood.  Our elder helped to a seat outdoors, sat and ate the nutri-meal porridge which is one of her daily meals provided by AGLOW. She chivvied us on, strong and fierce in spirit despite the frailty of her body.  Bathed, body lotion applied to the softest skin, and changed into fresh clothes, our elder gave thanks for feeling so much better after the bath.
We took small gifts – toiletries, sweets, biscuits – all were stashed away in a "safe" place and a hot meal eaten with relish.  These were all simple things we did, and yet Lesangs' patience and caring, her conversation and gentle touch reminded me of how much our elderly miss out on each day.  AGLOW are striving to provide dignity, respect and care for a generation lost in the speed and demands of today's' world.  I am proud that we, as Safari Destinations, support AGLOW. I have the greatest respect for what they are achieving and am humbled to have been able to assist in some small way."
Safari Destinations is a proud supporter of AGLOW. In addition to assisting them with home visits, we also provide AGLOW with substantial monthly funding through the TFI Bed Levy. They will also benefit from free transport through the SD/TFI Community Bus, when launched in October.
Assisting and supporting vulnerable woman in our community is another core project in SD's Social Responsibility Agenda. We were recently requested by WAR to renovate their reception area. Ops Manger Angie reports:
"On Saturday 20th August 2016, accompanied by our Director Lorraine, 10 of our staff members (the 1st of 2 Groups) took on the then barren walls of the WAR Reception area.  With masks on our faces we sanded and scrubbed the walls tirelessly, interchanging tools, while others went on breaks to catch their breath.
As much as the day was filled with laughter and catching up with each other, this day was not about making up hours but about reflecting on the broader purpose of why we were gathered at Woman Against Rape. It was at the forefront of everyone's thoughts that we were in actual fact making the environment, atmosphere and space for those who used this Reception area a brighter, happier and safe place.
The experience of working together as a Team towards one goal is priceless and the sense of accomplishment is very gratifying. When all was done and dusted and the paint was left to dry, our contribution for the day will forever resonate in our hearts as we gave way to our colleagues who completed the makeover the following day…
Every time I walk away from such acts of benevolence, I am reminded that serving with even the smallest tasks can make a difference in people's lives and broadens my awareness to the next person in my community."
We look forward to the coming months which will see us donating more hours of community service to other projects including: MAWS Halloween Fundraiser, Bana Ba Letsatsi Fun Day and the AGLOW Christmas party.
#ItTakesAVillage