Category Archives: Okavango Delta
As you may be aware the water levels in the Delta are dropping fast and furiously this season. Boating and mekoro activities are being stopped in most areas as either there is no more water left, or it's packed with crocodiles and hippos who are holding on to the last bit of wet that is available out there, which means: we really don't want to place our guests in the middle of it all on a boat or mokoro.
The Okavango has gone through wet and dry spells as long as time. Local rainfall, Angolan rainfall, small seismic shifts in the underlying tectonics, it all makes for a rather involved and very unpredictable miracle of nature. For the past years, we could all lean back, almost guarantee water activities for most of the year in lots of areas and have our clients looking forward to gliding across the delta on a mokoro and zooming through the papyrus lined channels.
Currently we are looking at a totally different scenario, the Okavango is at its driest since a long time. I'm sure some clients will be a bit disappointed about missing out on their water experience. Did the Okavango cheat us? Maybe we have to change our approach in how we present it? The Okavango Delta is one of Africa's last wildernesses. There is no regulating its flows, it's left to nature, the water comes and goes and the animals adjust to whatever comes along. The delta has hundreds of different faces. Wetter ones, drier ones, and lots and lots in between. Every single season has its very unique upsides. Sure the bush is thick and rather impenetrable in the rains, but it also makes for wonderful lush background, for happy and relaxed animals, lots of babies everywhere, for dramatic skies, and it is all dotted by the summer migrants who come visit.
The dry months are more dramatic, the animals are bound to being close to water, there is high competition for food and the air vibrates around the hot spots. The lines between dry and wet months have started becoming rather blurry, climate definitely has changed. So maybe we should wave good bye to trying to predict the next season as clearly as possible and prepare our travellers as meticulously as we can on what exactly to expect. Let's rather convey a message of being open minded for anything that nature and the Okavango have up their sleeves for us. In average years it might be this and that, but we cannot know exactly, we can only guarantee that it will be wild, untamed, untampered with, that it will be "the real thing".
We need to focus on that Miracle of Nature and understand that change brings new opportunities in the Delta. The game is more concentrated as the water levels drop, and the sightings can be more varied and exclusive. This is the reality of our "Backyard" and rather than missing a water experience, you are part of one of Wildest Africa's greatest natural events.
Upon arrival at Stanleys Airstrip we were amazed about how much water has already arrived in the lower Delta. Just a few weeks ago on our last visit to the delta there were only few waterholes and sprinkles of water between thick bush and palm trees surrounded by sand banks and dried land. Our guide, Ice, welcomed us at the airstrip and on our 40 minutes game drive to Baines Camp we got the first impression that the flood had just arrived the day before. Making our way through waterholes, around termite mounts, through high thatching grass and between Palm trees we arrived at Baines Camp. Located in front of a beautiful lagoon with water all around camp, kingfishers hovering over the water and weavers building nests in the main area. It´s a magnificent atmosphere being in a true delta camp with the calls of the different birds, the hippos calling in the background, the wind whispering through the reeds and the peaceful quietness far away from civilization.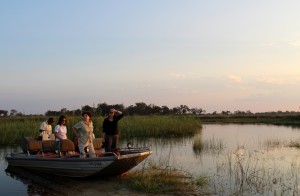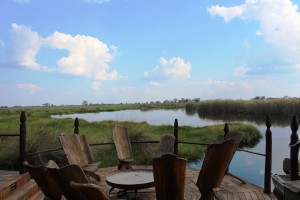 After settling into our room we are ready to go for high tea and excited about our first afternoon activity. To our surprise we are the first guests this season to go on a boat cruise, thanks to the newly arrived flood! The last boat cruise at Baines Camp was almost six months ago and now we are the lucky guests being spoiled with exploring the hidden parts of the delta. Having been on many boat cruises before and enjoying the smooth ride without the typical African bush massage, this one was special. Just the day before dry land and grass was covering the area around the camp. Now water was flowing through the reeds making it possible to see parts of the delta which are not accessible during summer months. The water was still brown and the bottom not visible. Only after a few weeks the reeds, the living microorganisms and the natural filtration will clean the water making it clear. Slowly we make our way through the channels, which is not that easy as the grass which is still floating in the water gets stuck in the propeller of the boat. We have to stop every now and then so our guide can pull out the reeds from the propeller. But this gives us time taking pictures of the scenery and enjoying the silence. The new flood also brings fish and new birds to the area, which we discover on the banks of the channels. Since the water is not that high yet we are able to stop at a small sandbank to have our sundowners. In between reeds, palm trees, papyrus and birds we watch the sun go down while enjoying our gin & tonic. As the sun disappears behind the horizon we make our way back to camp.
To watch the phenomena of the returning flood and what it does to the wildlife is an experience that can hardly be described. This is Botswana, the unpredictable Wildlife and ever changing landscape.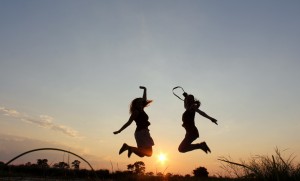 My recent visit to Sandibe Okavango Safari Lodge was a refreshing reminder of how special a green season safari in Botswana can be. Not all parts of Botswana are equal once the rains arrive, so the key is knowing which areas to visit and which to leave for the winter months. Many of the good year-round game viewing areas are in private concessions with higher price tags, but the good news is that discounted green season rates make them more accessible to those on tighter budgets. Visiting these areas in green season will give you a great bush experience, as well as the bells and whistles offered at these camps year-round, but for a fraction of the price.
The Chitabe concession, where you'll find Sandibe, is one area of Botswana which remains great year-round. On a two night stay we saw a cheetah, two prides of lions with their cubs, a female leopard calling for her mate from the tree tops, a pack of wild dog, two male giraffes fighting over a lady friend, countless elephants, plains game and spectacular bird life. The problem we encountered is that my five year old now thinks this kind of game viewing is normal! Although temperatures were soaring, we were treated to a spectacular evening thunder shower followed by the welcome relief of a cool and cloudy day.
I was travelling with my family, including my two young daughters Taylor and Megan. Travelling with small children presents its challenges but is equally rewarding. Megan may only be able to say a handful of words but she can now mimic a baboon beautifully! The staff at Sandibe catered to the kids perfectly and were ready to assist and entertain at every turn. Taylor was welcomed on arrival by a goodie bag filled with safari nick-nacks and squealed with delight when we stumbled upon a cooler box hanging from a tree during our afternoon drive, only to find it filled with home-made ice pops.
Meal times were flexible and the kiddies' menu put my home cooking to shame. Having our own private vehicle and guide allowed us the freedom to come and go as we liked without worrying about other guests and our guide and tracker were constantly engaging the children. For families saving up for a once in a lifetime safari, the minimum age of six years and up ensures kids experience the bush when they're at an age to appreciate and make the most of it.
Sandibe caters brilliantly to the grown-up kids as well. Whilst I have been lucky enough to visit many camps over the years, this was my second visit to &Beyond, and the second time I have been blown away by the food experience. So many operators fall short when it comes to what their kitchens produce, using the excuse that a safari is about the wildlife and not the food. With &Beyond, you can have your cake and eat it – Sandibe delivered to the very highest of standards, both on the game viewing and the culinary treats. Indulging in naughty delights is a big part of what being on holiday is all about and at Sandibe, they know how to make every calorie count.
The design and amenities at Sandibe are both cutting edge and controversial in the safari world. The lodge lacks the true sense of being in the outdoors that you'll get when staying in a more rustic tented camp. I didn't leave with my clothes smelling of campfire smoke, nor did I lie awake excited by the sounds of the night as the hum of air-conditioning blocked out external noises. I did however enjoy the luxury of a plunge pool during the heat of the day and cold drinks in my room during afternoon siestas, as well as the private butler and consultations with the chef during meal times, creating a very personal experience.
Whatever you prefer is a matter of choice and there are many first time safari guests who would take great comfort in the solid structure of the rooms (no canvas walls here!) and the modern comforts on hand. The design of the camp is spectacular, though I'm curious to see how the buildings will age under the challenges of maintaining a camp in the bush. Despite the money and expertise put into the design of the camp, there are a few obvious design flaws some guests may find frustrating. For the level of the camp, the rooms could have more room, and unless you're extremely comfortable with your co-traveller, a lack of privacy in the rooms will require advance coordination of shower times.
All in all we had an incredible weekend and I can highly recommend Sandibe on every level.
Back to the office and my diet on Monday!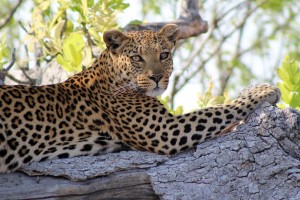 Pom Pom Camp, western Okavango Delta
Last weekend Jessica flew to Pom Pom for a quick 1 night stay to check out the lodge.  Here is her feedback:
Pom Pom is only a short five minute drive from the airstrip. The large main area is really cool, which helps during the hot days. All the tents have a great view over the river and buffalos come very close. The rooms are fantastic. We loved the colors and especially the white curtains in the tents, which we have not seen before. The hot outdoor shower is really big and the water pressure is perfect. Coffee and tea is being served in the tents at wake up time, which makes it really nice to get up.
Activities/ Guiding:
Our guide Rex, very nice and friendly guide met us and took us on the evening  game drive. Our plan was to find lions, we saw fresh lion tracks and followed them. We drove for about 38km trying to find this male lion and while doing that we saw  lots of animals just to mention a few, impalas, red Lechwe, Kudus, wildebeest, Duiker, Giraffe, Tsessebe, buffalos, lots of birds. It was getting a bit late so we stopped for our sundowner drinks. As we set up the table we heard him roaring, so we jumped into the vehicle, left the drinks there, drove off and he was about 150 to 200 m behind us, lying there calling for his brother. What an amazing sight. Rex our guide was not willing to give up on the lion hunt which was great, so our long drive and hunt was paid off eventually. It was so wonderful to hear him roar just about 4m away from the vehicle. The brothers met and it was a phenomenal way to end the evening.
On our morning game drive it was time to find a leopard. Rex took us for a leopard hunt, we saw a lot of animals while on the hunt. We finally found the mother leopard with two cubs but we could only see the one cub, since the other one was hiding. That was just incredible, wonderful game drive. Back on time we dropped two clients at the airport and kept on going on a game drive for about 40 minutes before heading back to camp for brunch.
In November Muriel and I had the opportunity to explore the camps in the Jao Concession, we visited Tubu, Little Tubu, Jao, Jacana and the new Pelo Camp. I am happy to share our experience with you:
Kwetsani: Spectacular setting over the lagoon, very 'high and elevated camp' everything is about views, large public deck, many different, intimate corners and tasteful spaces for the clients to withdraw and enjoy the scenery.
Units: due to their height they almost appear as 'tree houses', they will be enlarged and refurbished in the coming weeks, then the camp will be certainly my favorite of the classic collection in Jao.
Management: very passionate, open minded, outgoing, and certainly top service orientated camp manager, Charmaine.
Pelo Camp (pronounce PILU for all Setswana ignorants amongst us, as otherwise it sounds like kidney and not like heart, which is the shape of the island it is on).
New camp only open in high (=dry) season, very romantic, hidden in the thick bush on the island, pure water bases, the only activity is mokoro, so it will make a perfect last to relax in some horizontal safari (the birds' concert is outstandingly entertaining) and concentrate on the small stuff.
The fire place with the bar is the central meeting point, elevated above the lagoon it offers views combined with a warm camp atmosphere.
The public area is a small tent with a terrace, true to the modest style, no big furniture but cushions to lounge.
The dining area is in another small tent, just enough to make clients feels safe without taking the camping feel away.
Units: from the outside it could be just a notch above mobile safari, they almost hide their luxurious interior (top comfy beds, perfect illumination, desk), which gives the camp the charisma of cozy, tented, intimate. Only outside bucket shower (in the cold winter months of June/July people should be informed/warned).
Food: great brunch, a variety a light and tasteful salads, beef sausages, cold pasta, cooked breakfast, fruit and cheeses. Dinner consisted of a veggie soup, excellent Impala stew, veggies and again salad, very pleasant.
Activities: mokoro, the nicest cruise I have ever done for over 2 hrs, safe, hippo free, and in a very lovely surrounding, apart from birder's paradise, with hundreds of lechwe and elephant herds at our sights, we even spotted some shy Sitatunga.
Apart from mokoro, the manager takes clients to his very special Delta Pool for a refreshing swim and pick nick on the sand banks. Also catch+release fishing is possible.
Camp Jao: Just stunning, the jewel of the concession for the pampered, the Balinese palace in the Delta. All emphasis on luxury, spa, food, wine tasting, a perfect end or relaxing start to a safari, I could certainly stay for 5 days in this camp. The whole camp is highly elevated in beautiful old trees, as if the camp was a colony of tree houses connected by swaying boardwalks.
Apart from the spa, there is a proper gym, yoga mats and pilates balls, and a wine tasting parlour, as the unusual features.
Units: the best feature (vs its sisters in luxury Kings Pool/Vumbura Plains) is the shape of the rooms, as they are not deep but long, so from any point of the unit the views over the lagoon can be enjoyed, they are airy and full of light, which takes the weight off the massive wooden furniture and gives it a noble and highly elegant feel.
The public areas are impressive, two pools, one family one adults only plunge pool bordering with the Delta, large shady sitting areas on a 10 m tall deck. The impressive fireplace with unique Balinese drums builds the center of the camp with incredible views over the lagoon and its wildlife, e.g. Lechwe hunting Lions.
Who said that game viewing in green season isn't outstanding?
Here is Kay's feedback from her recent 2 night stay at Chiefs Camp (Sanctuary Retreats) on Chiefs Island in the Moremi Game Reserve:
"Well believe it or not I got a first !!!!! I actually saw the BIG 5 !!! after 40 years in Botswana..WOW that was amazing !!!
Although we did slightly cheat & saw the Buffalo from the plane on the way home, but regardless we saw them …."
Positives:
1: Guiding was excellent !!!, we had a guide called Sky for the duration & he was great. Not full of his own importance & bad jokes, that is unfortunately becoming common in many camps, but full of knowledge & certainly tried very hard to please .
2: Management & staff, could not have been more accommodating & pleasant. Always around & ready to serve, but not in your face so to speak. On chatting to different members of staff, most had been with Sanctuary for + / 3/4 years, so that says a lot .
3: Food was outstanding …I am a very picky eater, as you all know, but there was so much choice, nobody could ever complain & it just kept coming. We were there on 26th which was Thanksgiving & joys, we had a camp full of Americans, so the staff actually did Roast Turkey as one of the choices, which was very impressive….
4: Tea & coffee with a very friendly wake-up call ….YES !!!
5: Free 10 minute amazing foot massage at the Spa – all guests get this, what a treat.
6: Campfire every night, whether we sat around it or not, the ambience is there
7: Location, very dry at the moment, tiny water hole in front of the camp & infact very little water anywhere. We drove right up to the Mombo border & all the channels were bone dry. The concession is so diverse, with flood plains, palm islands etc as well as the normally dry inland sections, definitely an amazing area & never boring …..I will just have to go back & see it in full flood.
8: GAME: wow !!!!, although in all honesty we did not see huge quantities, apart from Zebra (several large herds) and the ever present Impala, it was all so relaxed & quiet happy to let you get up close & personal. Some of the game has moved off according to Sky, Leopards have disappeared as the Baboon population has trebled & Wild dog / Buffalo have not been seen for a few weeks……he feels it will all return with the rains / Floods.
Then the ultimate, Rhino, not just 1 but 2 different Males, what an amazing treat. I did see a couple in Chobe back in the 70's but nothing since, so this was an amazing bonus & so unexpected ….
Lion, I think we counted about 15, 1 Lioness on her own eating a large Tortoise, very gruesome, but very unique. Sadly only 1 Leopard, but she posed beautifully. Surprisingly very few Elephants, apparently they have also headed south for water. But all in all amazing good quality game.
9: Flights in & out with Mack Air. Short & Sweet, perfect for me !!
Negatives:
1: Rooms, not so great….I feel they were dated & quite small for a premier camp. Although the bathrooms were very nice & spacious, they look as though they have been recently revamped.
The rooms had 2 very stiff armchairs that were very uncomfortable, Overhead & free standing Fan, a fully stocked mini bar, but no Coffee / Tea station.
2: Generator runs throughout the night, this happens at all the Sanctuary Lodges I believe, but does affect your natural night sounds. Plus the lights from the pathway are on all night & shine into your rooms.
3: Most Premier camps have private pools nowadays, & with the cost of Chiefs, I feel they could look at this, as the pool is right at the main area and with + 35 degrees, very busy.
4: Down-time, felt very long……we got back from the morning drive @ 10am & departed for afternoon drive @ 4pm, although you have lunch in-between, it did seem to drag.
5: Vehicles…..seemed very tired, definitely could do with a face lift, the middle row, had no foot rests & no soft places to put cameras etc…just a pocket in the back of 2 chairs, or a large metal trough in the front, not even drink holders. Again I feel for a premier Camp, the vehicles should be top class, as they only offer game drives so you spend +-6 hours a day in them.
No hesitation in selling Chiefs now. Still tend to feel that it is overpriced, especially in High Season, as many other camps offer the same or more, but I think the area / concession would take a lot of beating & that is what you are paying for no doubt …..
Kay
Bush Ways and Mayonnaise
"Who wants mayonnaise? ' Masters asks.  There's a moment of silence where all five of us fail to jump on his offer.  'It's good for the eyes!!!' he says, putting another spoonful on his dinner and passing the jar down the table.  'If you don't see any animals tomorrow, you know who to blame."
We've just arrived in Savute.  It's the end of October, it's HOT and we've just met Masters who will guide us through this area and later on to Khwai.  We've also just learnt Masters' best-kept secret for spotting game, except that he isn't too concerned with keeping his trick in the bag.
We had returned from an incredible sunset over a waterhole which we shared with a cross-legged elephant and a few roan antelope.  As Masters had pulled out the G&T the roan scattered and herds of impala sprinted out of the background.  "See' said Masters 'we were so lucky to see that Roan.  If we'd turned up a little later, we wouldn't have seen anything at all."
We were quickly learning that this was the advantage of being on a mobile safari, spending two nights in each area, driving around the same corners but seeing different things on the horizon each time.  Just when we'd begun to recognise the roads and game patterns in one area, we'd travel to the next campsite and look for it all again on a different backdrop, but with the same guide who understood what we'd already seen and where we'd already been.  If we hadn't seen something yet, Masters usually had a quick solution.   When we put hyenas on our wish-list he pointed to his shirt and grinned, "It's the Bushways logo!  You've already seen one."
In the wide-open space of the Savute marsh we spent our time chasing wildebeest, watching elephants sleeping standing up against trees, a big male lion bending a branch under his chin for a pillow and wild dog collapsed in a mess of legs and ears under the closest shade they could find.  The animals regarded us vaguely but didn't bother stirring as our cameras clicked away.   Despite the intense heat which kept most animals in the shade, we came across plenty of elephants butting their heads against trees, hippos yawning out twisted laughter and a herd of buffalo big enough to be counted at a thousand, give or take a few.  "That's my favourite animal' said Masters 'because with that one…eish…the buffalo doesn't mock charge, so if he comes for you, it's already too late!"  The rest of our group had already heard these tales in Chobe, spending their first night on safari wide awake as buffalo entered the campsite and Masters' tales repeated in their minds.
On the road between Savuti and Khwai we watched green open spaces turn to long yellow grasses and closed-in mopane forest before stopping for tea in open grasslands of the Mababe Depression.  The landscape was yellow and the sky a blazing blue that formed mirages on the horizon.  "As soon as the rain starts, this place is green, green, green and full of thousands of zebra and wildebeest."  It was hard to imagine that we were only a few weeks away from a complete landscape change that would come with the first rains.
Arriving in Khwai, Masters found us seven lions under a tree, across the road from two signs pointing in opposite directions.  "Welcome to Chobe" on the left and "Moremi Game Reserve – 20kms" on the right with no fences in between to impede the animals' movements.
The lions were almost impossible to see, even as we stared straight at them camouflaged in the yellow grass.  "It's because I eat mayonnaise" Masters reminded us.  As we jumped out of the vehicle on the Khwai River for sundowners, there was a burst of activity on the radio and Masters bundled us back in the car "There's a leopard over that way…let's go!" As the sun dipped towards the horizon, we bumped along off-road and came upon a female leopard making contact calls.  We watched her as she jumped up on branches, circumnavigated termite mounds and prowled around the vehicle.  Heading over to our campsite in the now pitch-black night, Masters told us to look for shining eyes as he moved his flashlight across the bush.   Impala, impala…more impala, then suddenly several pairs of eyes caught the light and we found ourselves amidst ten or so spotted hyena fighting over the carcass of a baby elephant.  We sat and watched as their curved ears caught the torchlight and they pulled meat from the carcass, rocking it back and forth in a little tug of war.  "See?' says Masters "Bushways watching Bushways!"
Just as we'd thought we were done for the night, a civet ran across the road in a spotted blur and we arrived back at our campsite to find our tents made up, our showers ready and food almost on the table.
Over dinner we discussed food, "I don't understand how you foreigners each so much' Masters said piling the mayonnaise on his dinner 'if we do that, we get fat." We tried to protest that people don't normally eat us much as they do on safari, but he cut us off, 'did you eat your mayonnaise?  If we don't see anything tomorrow, you know who to blame!"  By now, Masters has made his point and everyone around the table takes a spoonful.
The next day we see the hyenas again, sleeping under bushes as vultures move in on the baby elephant.  In the daylight we can see the tiny protrusions of the elephant's milk tusks from the skull.  We see waterbuck, giraffe, zebra, red lechwe, hippos, warthog, Egyptian geese, bateleur eagles and saddle-billed storks.  We stop for a mokoro excursion in the afternoon and everyone comes back with water lily necklaces and hats.   That night we see the spotted hyena again, munching on baby elephant for the second night in a row.
On our last night we're a little sad to think it's back to the real world where we don't find ourselves in the middle of herds of antelope, elephant, wildebeest and buffalo every day.  We hear hyena calling in the night and lions roaring close by in the morning.  We're all excited over breakfast, hoping to catch the lions before we leave.
For a long time we find nothing.  We visit the spot where we found the lions last.  Nothing.  We drive several tracks looking for spoor.  Nothing.  We turn the next corner and meet a vehicle hurtling down the track, the guide behind the wheel motioning for us to follow.  We pick up the pace and arrive at a clearing in the bush where two lionesses are running across the clearing, herding their cubs off.  "This is interesting' says Masters 'they're nervous about something."  He moves the vehicle and we see three big male lions in the bushes.  "I think they're trying to kill the cubs so they can mate with the females" he says.  We watch as the lioness lead their cubs quickly off, stopping, looking over their shoulders and moving further into the brush.  Masters moves the vehicle to where he thinks they may emerge from the shrub and sure enough, a few minutes later they walk right past us.  Masters giggles and gets on the radio 'they're walking towards our campsite' he says, 'I need to radio the camp staff to get in the car."
"I think they might go to the river for a drink' says Masters, putting the car in gear.  It's a guess that pays off.  As Masters parks by the river we wait a little while and sure enough, the lions emerge.  "The girls might just take their cubs across the river for safety.  Those big male lions will try to track them.  This isn't something you see often, cats don't like getting wet and crocodiles are a threat to them too."
The lioness round up their cubs and take them to the narrowest part of the river, belly-flopping into the water and beginning to paddle.  Very soon, all nine are treading over to the other side.  We're feeling a bit inspired and all cheer 'mayonnaise!' as the lions emerge looking soggy and worried before disappearing into the Moremi Game Reserve on the other side of the Khwai River.  A moment later we're also on the road out of Khwai, heading back to the real world on the calcrete road to Maun.
Bushways Fully Serviced Mobile Safari
6 Nights in Khwai, Savuti & Chobe
Combine with: Victoria Falls and the Okavango Delta on our 10N Authentic Lodge & Mobile with optional extension to Meno a Kwena on the Boteti River/Makgadikgadi NP.
Access: from Maun or Kasane/Vic Falls or Livingstone with Northbound and Southbound departures throughout the year.
THE OKAVANGO DELTA 
"Unfortunately there is not enough water in the Okavango Delta during the rainy season for boat excursions"
"The water levels of the Okavango Delta are the highest during dry season"
Have you also read one of those before and wondered?
The Okavango Delta is a very unique part of the world. Looking at a satellite image you can easily see a few blue lines meandering from the Angolan highlands all the way to Botswana, forming a magnificent river that spreads into an alluvial fan and then simply disappears. It creates an amazing oasis in the middle of the World's biggest stretch of sand, the Kalahari, reaching from Congo to South Africa. Magic. But the true magic is in the timing of the flood!
Rainy season in the catchment area and around the Okavango usually begins in November, with the majority of rain falling in January and February. The local rainfall only contributes to between 2 and 25% of the delta waters, the majority of water is coming down from the Angolan highlands.
If we traveled with a little drop of water from the source of one of the main contributories, the Cubango and Cuito River in Angola, the start of our journey would be quite exciting, through the Angolan highlands and then down to Botswana, but even before we'd cross over the border we'd already travel at a rather leisurely pace simply due to the lack of gradient. It takes this little drop of water average 8-9 weeks to reach Botswana and the panhandle of the Okavango Delta. From here onwards the journey slows down even more: the Northern part of the Okavango is 250km away from the Thamalakane fault line – the delta's Southern border – but there is only a difference of 50 meters in altitude! The main waters reach Botswana in April and start to spread throughout the alluvial fan slowly filling up the channels, backflows and floodplains, with the delta being at its fullest in July/August. From August onwards the water levels start going down again due to evapotranspiration now exceeding the input by rain waters. The driest period in the delta is in October and November, when food is scarce and animals are found around the remaining water sources and rivers. Many channels have dried up, avid birders can't get enough of all the bird life gathering around fish traps as the water keeps receding and cars can be used where just a few months ago boats were necessary to get around. Just then the first rains fall again, the shades of brown start turning into shades of green once more, impala and other antilope drop their young and the cycle starts over – the Okavango becoming a place of plenty. The water levels in the heart of the delta though will only rise significantly once the rains have long gone.
So what does this mean for us selling the destination?
This region is highly dynamic. Each year presents a varying amount of flood water in winter and a varying amount of rain falls in summer. Being nature, this provides a certain amount of unpredictability and nobody knows what will happen from one year to the next.
A well rounded Botswana Safari consists of game drives in drier areas and also water activities, be it by boat or mokoro. Mekoro are ideal to travel over floodplains in shallow water, gliding through reeds, discovering the little hidden gems of the area. Once the floodplains have fallen dry it becomes difficult to offer mokoro excursions due to safety concerns in deeper waters of permanent channels and rivers. Even if those deeper waters are actually not that deep anymore, they are considered prime real estate amongst hippos in not that great a mood as their territories are shrinking with the receding water and they are now very much up close and personal with their competitor and neighbor….
It is far easier on the nerves to observe those dynamics from a motor boat, but be aware that cruises can be a lot shorter due to a lack of either depth or river altogether! Eagle Island Camp for example, a camp that often has been sold as typical water-based delta experience, may not be able to offer mokoro during very low flood levels. The camps shift their focus. The floodplains may not be ideal for mokoro anymore, but they provide wonderful grazing for herds of buffalo as around Duba Plains; around Jao Camp the floodplains fill up with big herds of lechwe, enjoying the greenery. Other camps might not be that heavily affected and still happily take their guests on mokoro excursions and motor boat activities.
Here in Maun the flood levels of the Okavango Delta are an everyday topic and we never get tired of it. When did "the wave" come past Nxamaseri, has the water already moved towards Vumbura, when will it reach Sandibe… There is no end to it!
The delta is a truly wild place, it is alive and offers mind-blowing experiences on land and water year round. For next year: Let's just keep the waterlevels in mind and choose the camps that offer water-based activities wisely.