The Okavango Delta, the largest oasis in the world, attracts large concentrations of all forms of life from the surrounding Kalahari Desert. During periods of flooding plants flourish, animals reproduce and large herds of mammals migrate away from the swamp, to the fringes and to areas in the surrounding desert that benefit from the water that is slowly making its way through the sand.
The exact opposite happens during dry spells!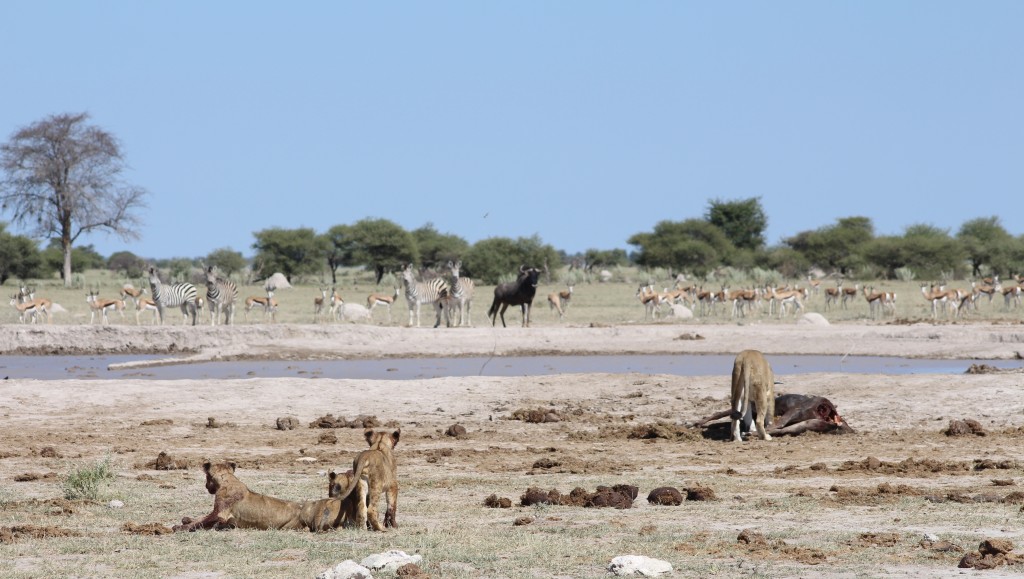 Large concentrations of animals come together around water pools, receding channels and lagoons. Considering the current water and flood levels and data on rainfall in the Angolan Highlands and the catchment area of the Okavango Delta it is very likely that the upcoming year will be very dry. It looked similar in the late 1990s and early 2000s – and game viewing around the core Okavango was nothing short of spectacular! We were there to see it. Elephants, buffalo, wildebeest and zebra jostling for a place around the precious wet; carefully watched by predators that follow the herbivores and focus ALL their attention around the last remaining watering holes.
You remember all those times when we said: Or should I rather suggest to the clients to travel a bit later? When the game viewing is a bit better? Don't you think June is maybe too early? Maybe rather September?
In 2019 we are up for a much longer season of enhanced game viewing with less animal movement out of the Okavango, a true premier savanna game drive and superb walking experience. In essence: it will be September from June onwards…..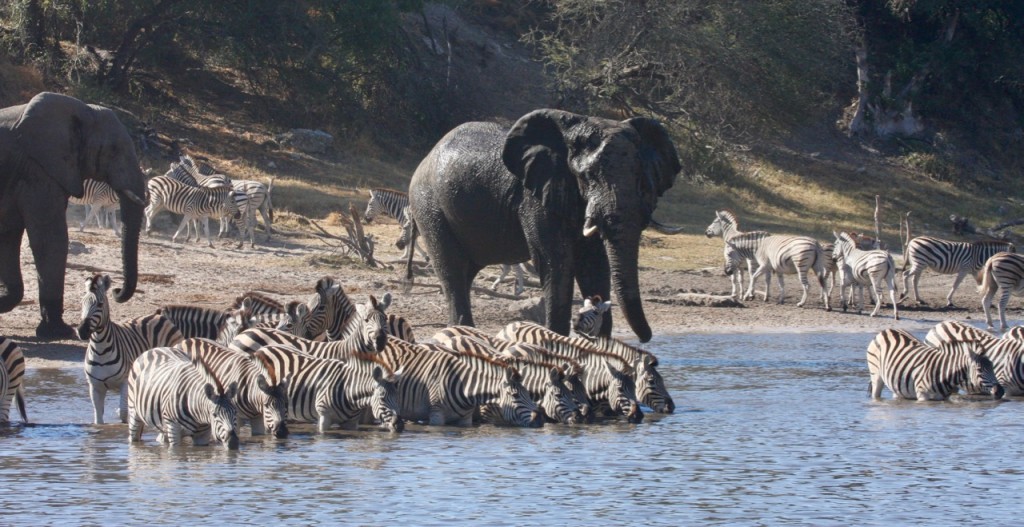 Sure, the water levels might get too low to conduct boat cruises and mokoro excursions sooner than in previous years in a lot of areas. But there is still a number of camps around, located close enough to the more permanent channels, where your clients can enjoy gliding through the swamp on a mokoro. Our consultants know exactly where to find those camps to add to your clients' itinerary and where to include mokoro or boating.
But don't let anybody fool you into believing that a dry cycle in the Okavango is bad news.
It is great news for a photographic safari. Get ready for an amazing season !!!!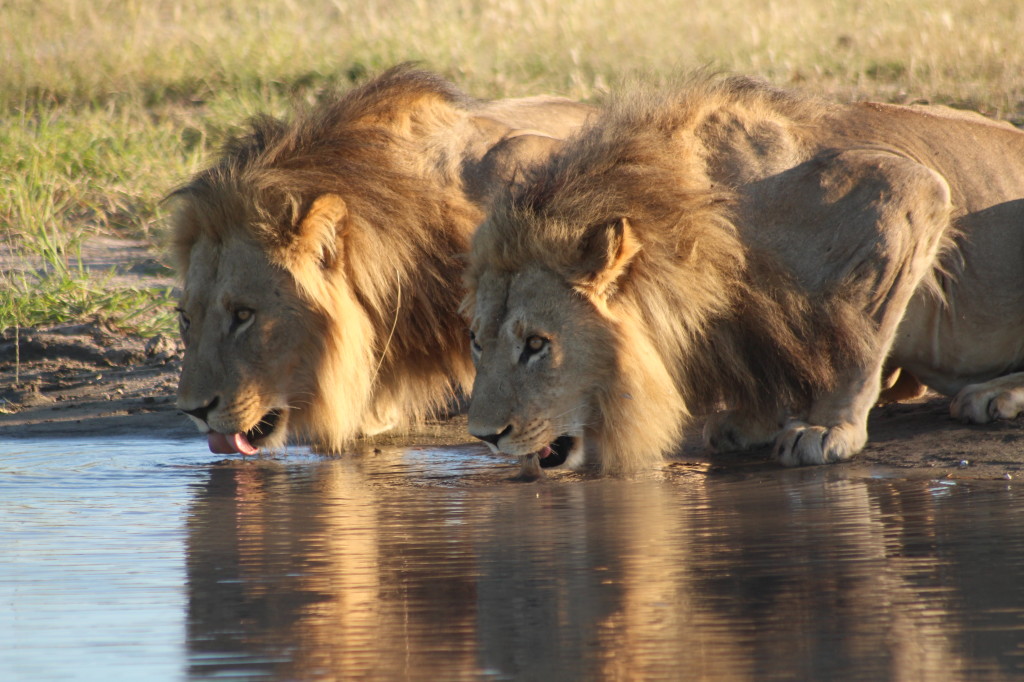 Ever been on honeymoon with 28 in-laws? Or made promises of the most awesome holiday? Or wanted to make others fall in love with Botswana? Maybe you can answer yes to one of these questions but all three?! That is me: going where others fear to tread!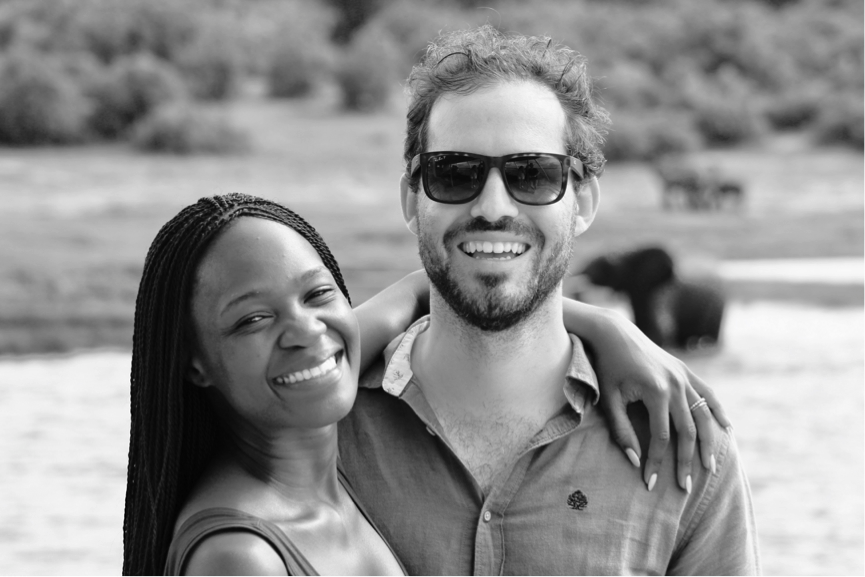 I sent my request for this holiday, thinking: "Puuuh! We are a large group. 29 pax! How on earth are we going to fit all those people into safari vehicles and go on safari for 6 nights?" The worst of it: an unhappy safari would mean 28 in-laws mad at me that I overpromised on my beautiful Botswana. So the pressure was on. My national pride was at stake! I love my country and wanted my new family to fall in love with it and to go home raving about this awesome safari experience. The solution to my crazy request was a mobile safari with Bush Ways Safaris!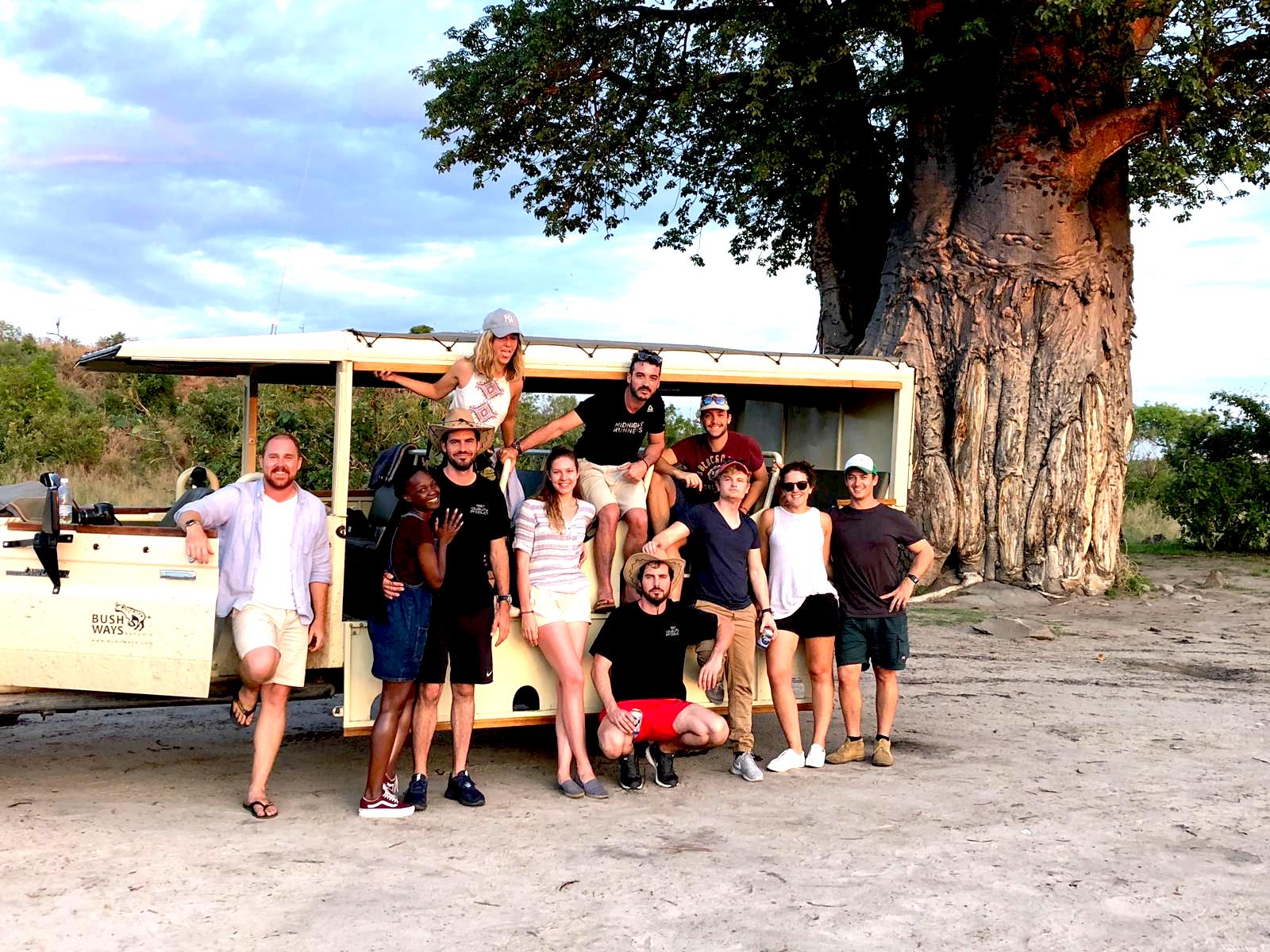 Xakanaxa Endurance vehicle
The first day of our Bush Ways' semi-participation safari started with a bang. Eddie and Moscow, our guides, with their assistants, and  our three safari vehicles with big trailers including all safari equipment expected us outside Maun Lodge ready for our journey to begin.  Excitement filled the air! After a briefing of the route of the day, was the vehicle naming ceremony. We were 'The Xakanaxa Endurance'. I secretly hoped that this was not going to be a journey of me "enduring" unhappy in-laws. In their usual style, Bush Ways' staff were on time, organised, friendly and informative. So far so very good.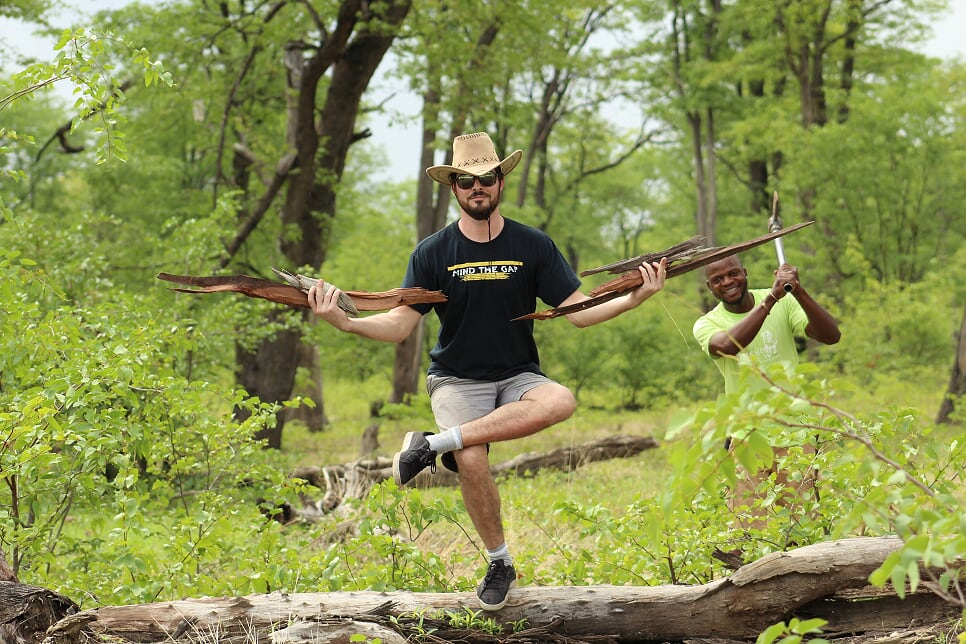 Hugo and KD chopping some firewood
The first stop of our journey was Khwai. And boy she did not disappoint, revealing some amazing sightings for my new extended family. On day two, we spotted a pride of 17 lions with cubs!! They had killed 4 buffalos the previous night and they were busy feasting when we arrived at the sighting. The cubs were running around with buffalo guts, falling over their feet and haul. Vultures were scavenging around also wanting to join in the feast! Looking around, I saw happy smiling family faces. It was going well.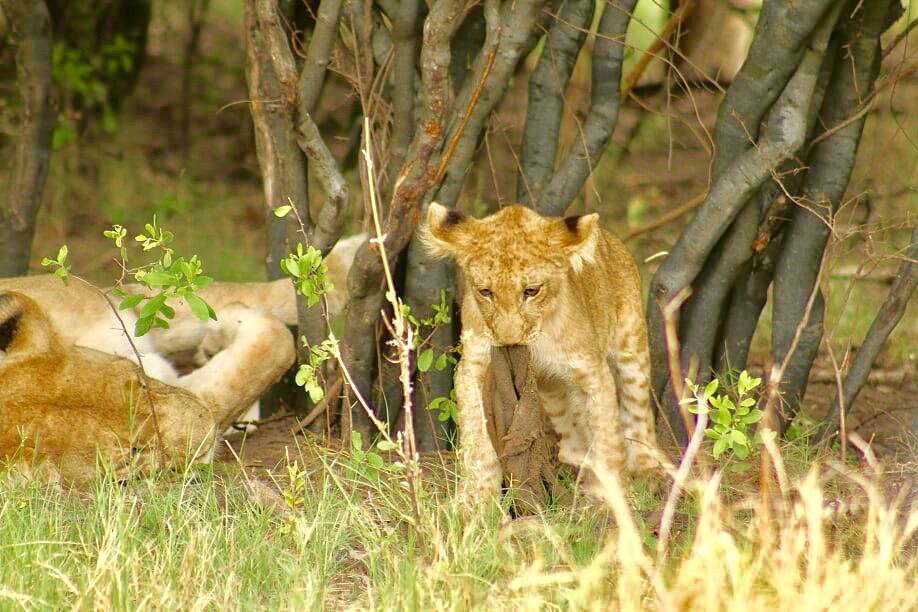 Lion cub having lunch
Next we set off for Savute. It had rained a lot the previous night, so temperatures were just right for game-viewing. The rainy season means loads of babies and that is what we got:  baby giraffes, baby impalas, baby kudu, baby elephants, baby zebra and even six baby hyena in their den with Mom.  A sighting of 2 male lions drew our attention but we caught our breath with the next sighting. It was too good to be true. It was a fully-grown male leopard lying in a tree! Seriously it was too good to be true! That evening, sundowners with the setting of the bright orange Botswana sun, had us all feeling contented. Life was good.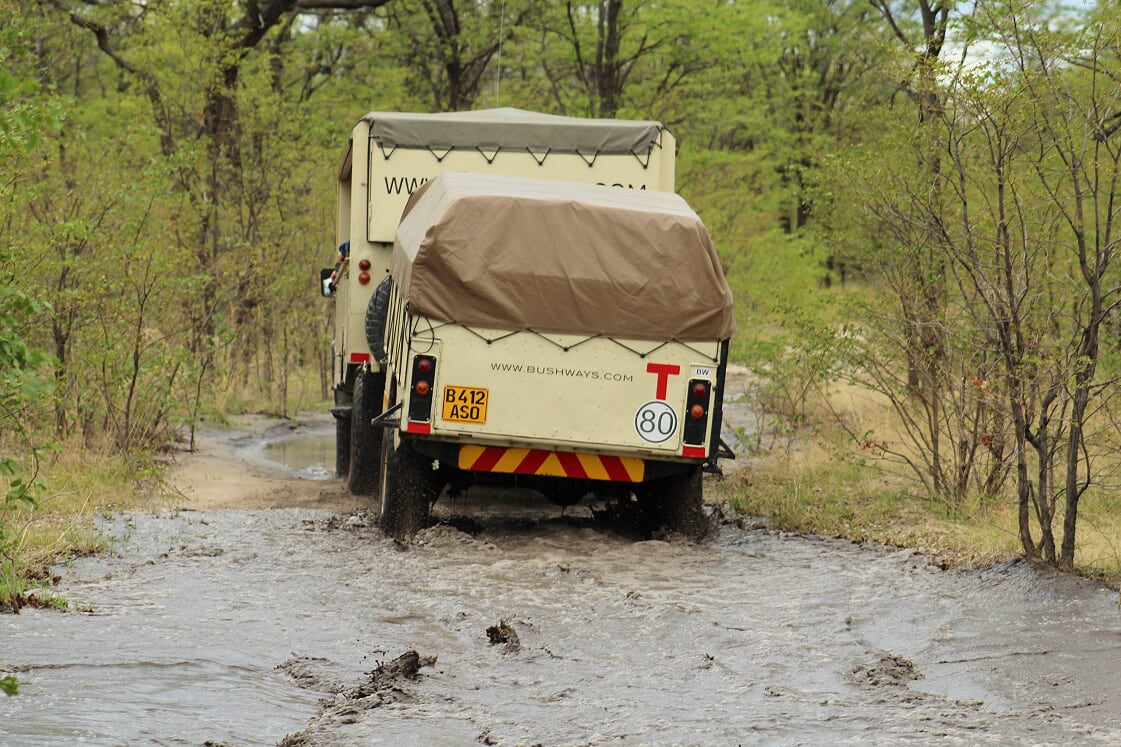 Bye-bye Khwai
Next up was Chobe, 'the mothership of elephants'. Being the rainy season, I did not expect to see as many elephants as I did! We counted about a thousand elephants: they were everywhere! Moms and babies, teenagers and even the big bulls! All this with the backdrop of spectacular scenery! Interesting was also the amount of giraffe seen. On our way to setup camp, a leopard ran in front of the car and crossed the road to the other side. This had us laughing and cracking jokes: "What's next, a leopard riding on top of a lion?" Otherwise, we had seen it all.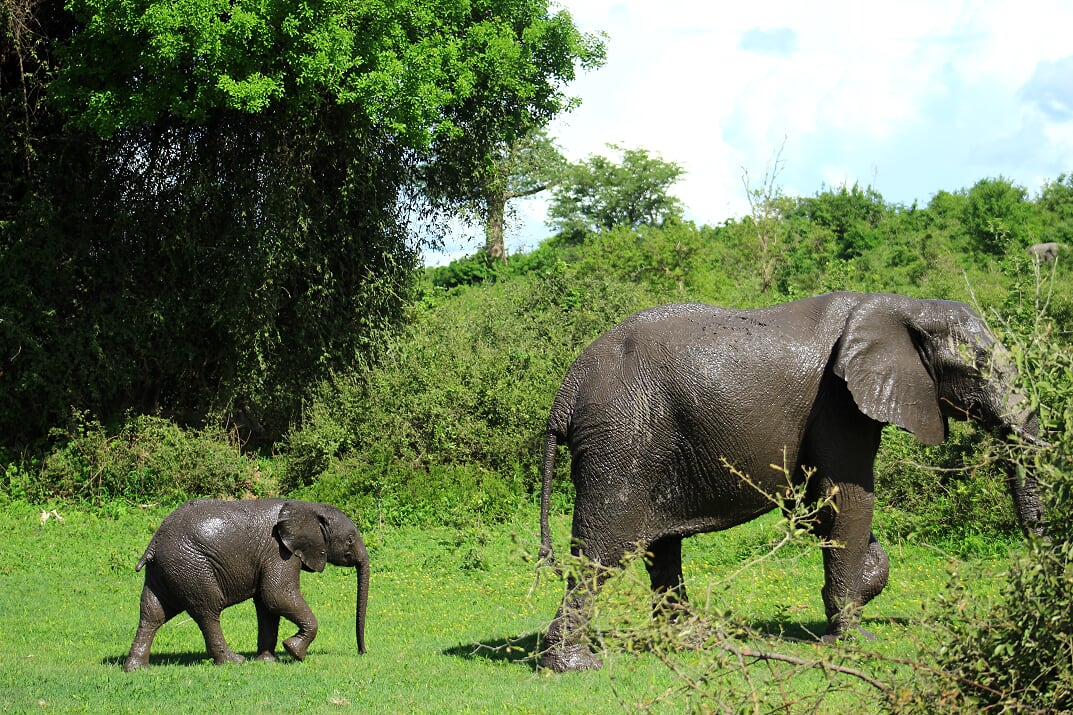 Suncreen for the day baby elephant with its mother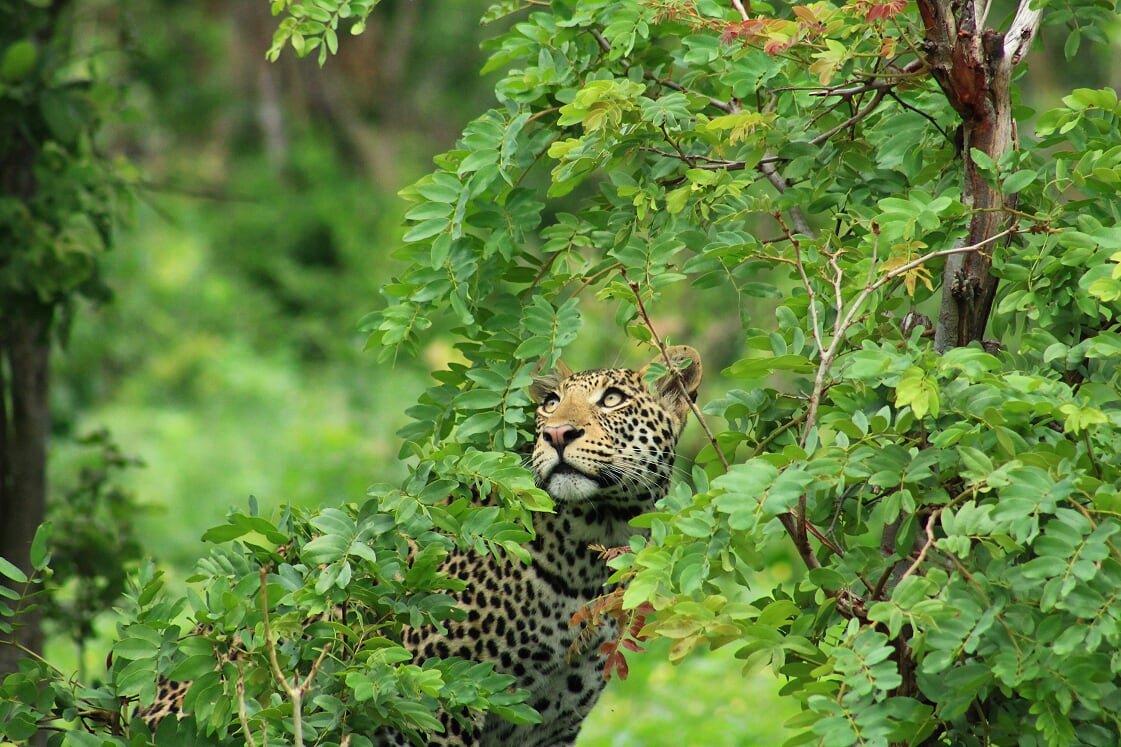 Leopard sighting in Chobe
By the 6th night, the last night of our safari, our semi-participation safari had the girls putting up their own tents. Being the bride, I allowed my husband to do that for me!  Our last night meant a special meal for us all. While the food was yummy the entire trip, night 6 was just that extra special. Food is one of my guilty pleasures and each morning I would ask about the meals for the day. On day 6, Moscow whispered into my ear that we would be having seswaa, morogo and phaleche (delicious meat in cabbage and pap), I squealed with excitement! And it did not disappoint. KD, the best chef ever, has gifted hands, he even masters baking a cake with no oven.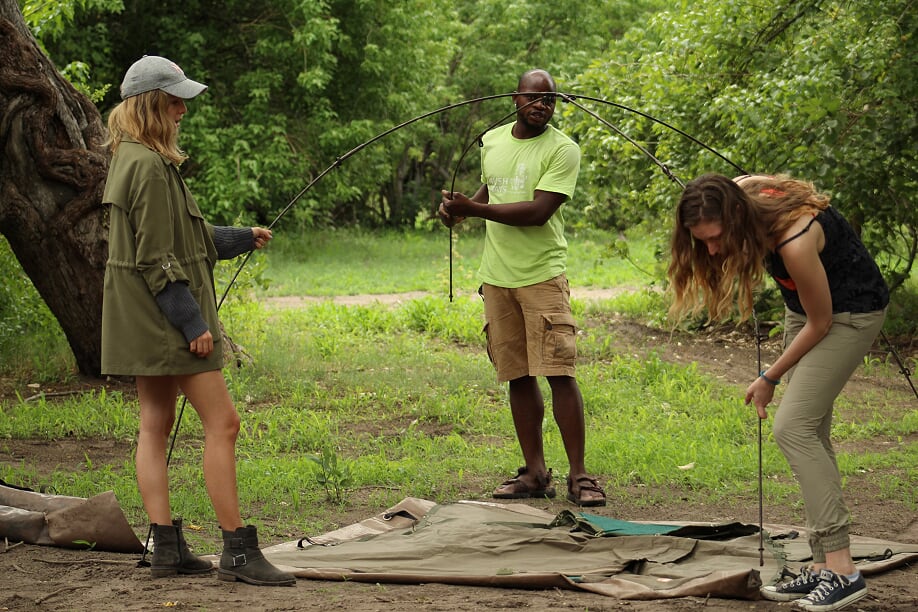 The girls taking charge of their tent with KD
And so on day 7, with happy bodies and full hearts, we said good-bye to Bushways, heading off on the next leg of our journey. From the reservations staff, to the guides and guide assistant, offering us superb service and support at each step of the way, and being integral to our adventure, we had been provided with a holiday of a lifetime. Thank you to each one that had made it special. We had more than endured! I had done well!
In December I spent a few days in Kasane and had the chance to join a Pangolin morning boat cruise on Chobe river. The funny thing is that although I call a semi-fancy camera my own, which I have used blindly on many game drives in the past, I never actually learnt a thing about taking good pictures. This rainy morning in December was my moment, I knew it. I was super excited to be guided by Guts who is one of the owners of Pangolin Safaris and has years of experience as a photographer.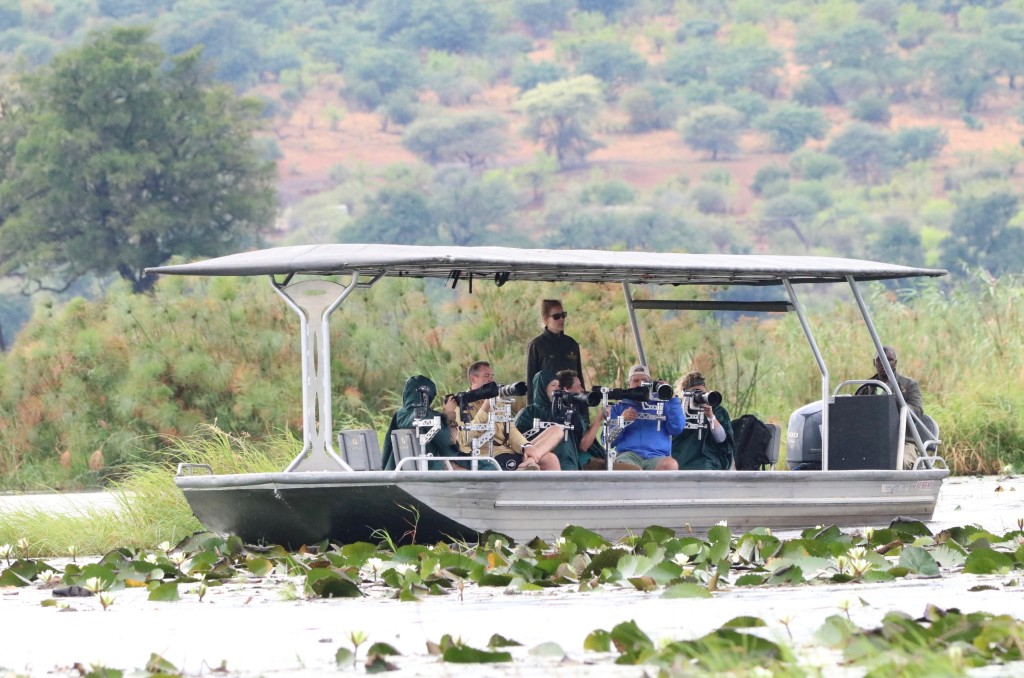 The Pangolin boats are all equipped with state of the art digital cameras and lenses. Guts and his business partner Toby have created camera-mounts which offer the best possible flexibility for you and your camera. During this three-hour activity the photograhic guides teach the guests how to use the camera and the lens, which settings to use. They explain it in such a way that even beginners like I understood. At the end of the experience the guests get to take their SD card home. If they are keen, they can use the editing suite in the Pangolin Chobe Hotel to start working on their pictures.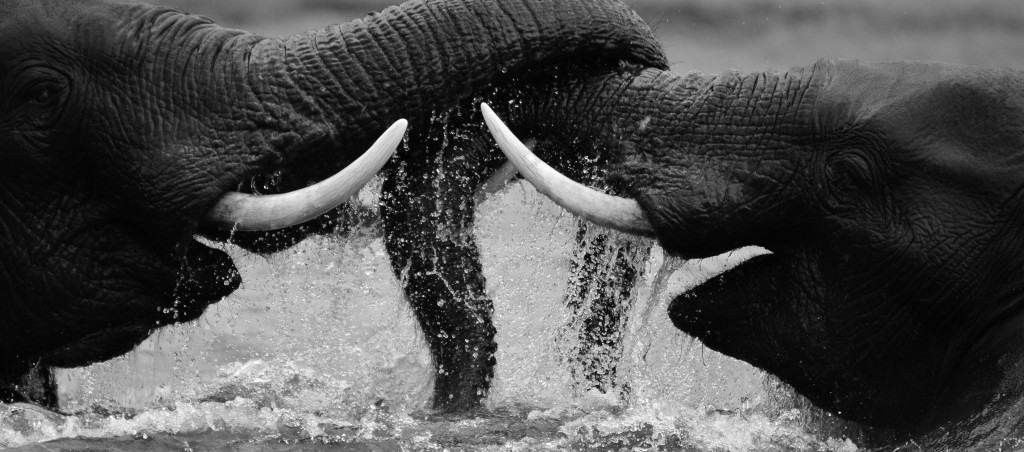 Each boat only takes a maximum of eight guests, making the cruises not only educational but also very exclusive. Using smaller boats they generally also travel further on the Chobe river. All guests staying at the new Pangolin Chobe Hotel enjoy these special experiences when booking the fully inclusive package. Generally on a two-night stay all guests would join two cruises (morning and afternoon cruise) plus a game drive.  The Chobe river can get busy, especially in the afternoons when all the Kasane Lodges take their clients on boat cruises. To avoid the crowds, Pangolin takes their guests further and also offers the alternative of quieter morning cruises.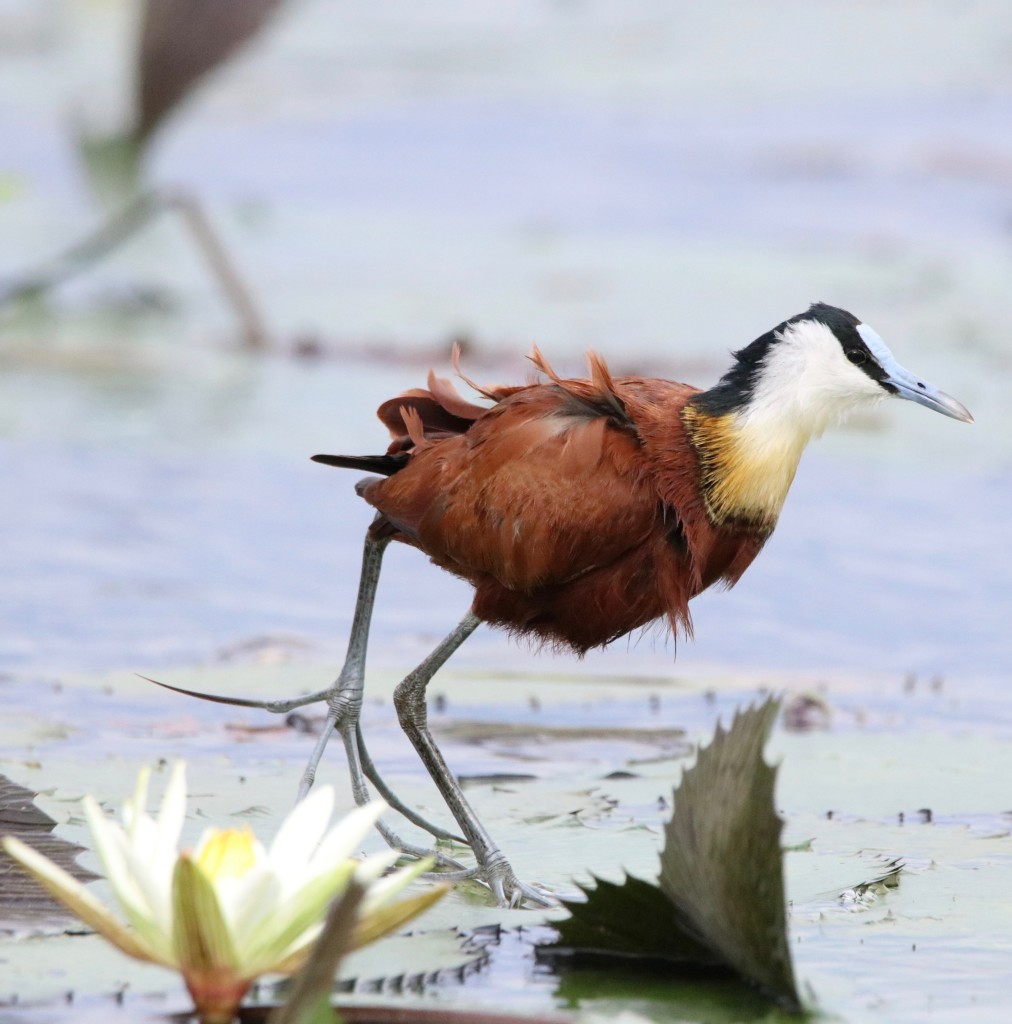 To make the most of this experience and to really have an impact on the rest of your clients' safari we suggest to include Pangolin Chobe  at the beginning of an itinerary. This way your clients can learn from the best and apply all they learnt during the rest of their safari. They will love Botswana even more and return home with fantastic memories.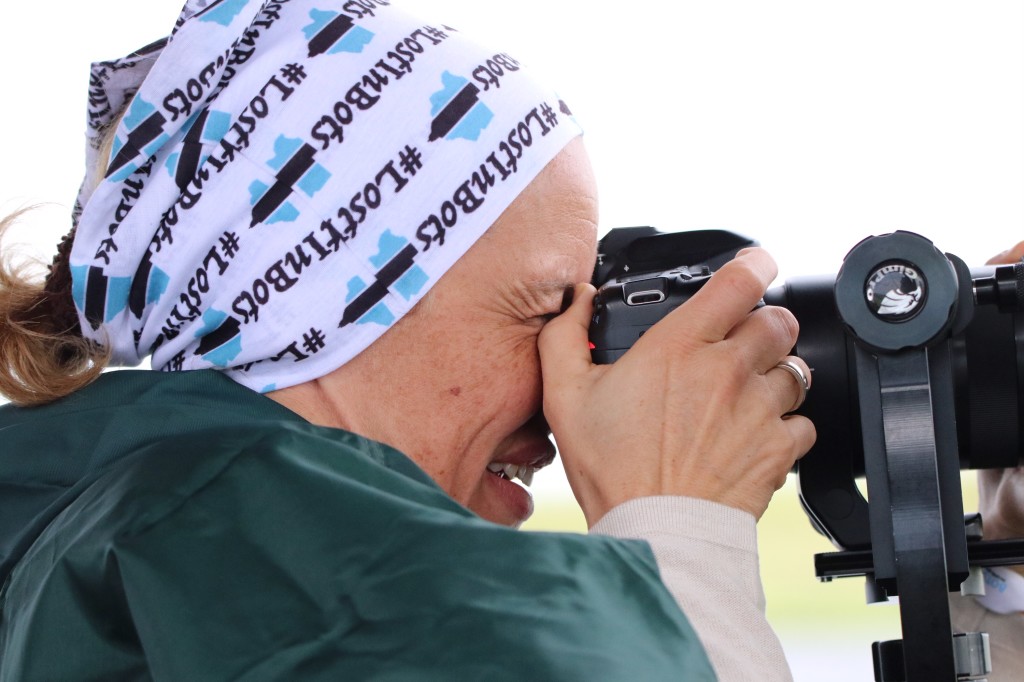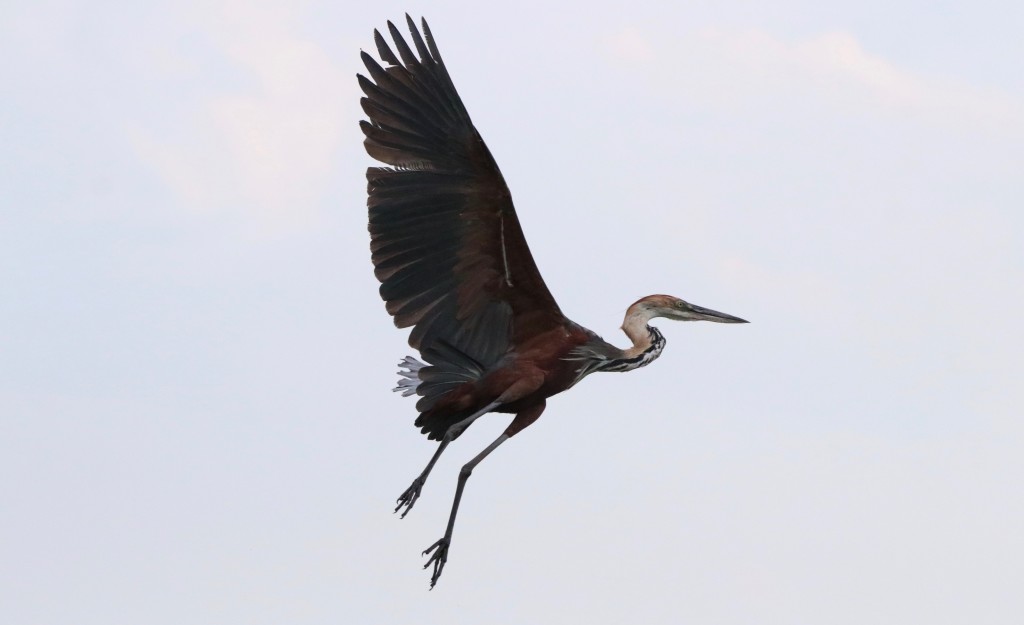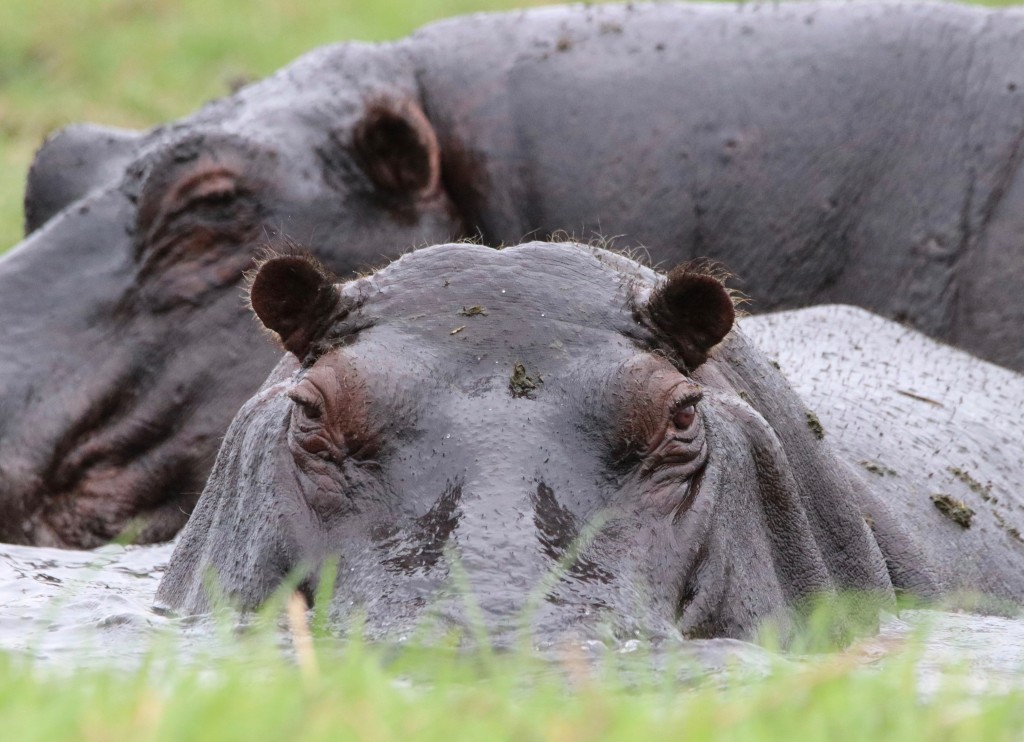 Perfectly positioned to watch the sun go down while sipping on a gentle gin & tonic or cooling off in the sparkling swimming pool after a sun-soaked day. Let the mind slowly unwind, the body recover and the soul rejuvenate! Rediscover tranquillity at the newly opened Setari Camp, located on a picturesque island in the Northern Delta.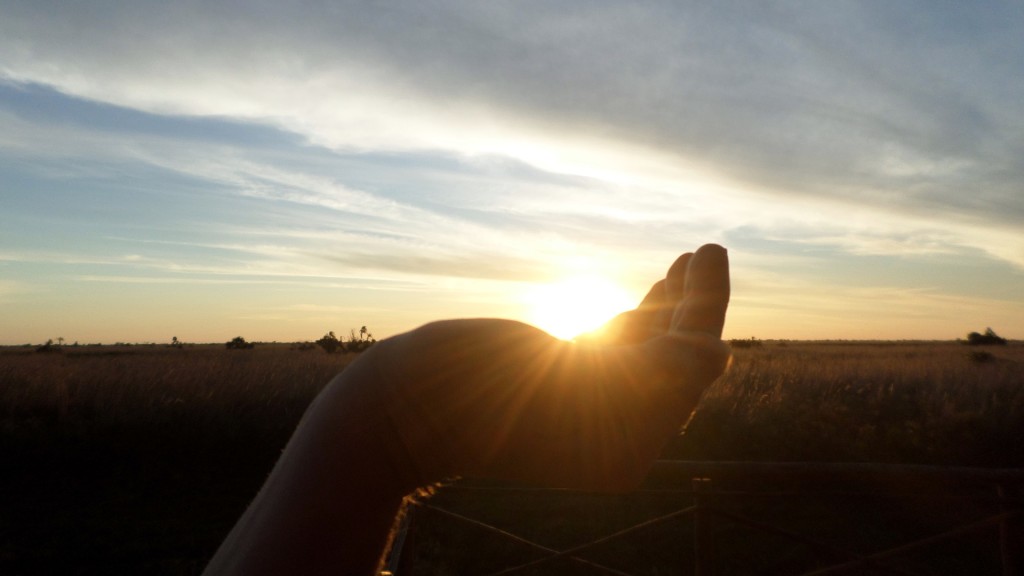 We had the pleasure of staying at Setari recently and were thoroughly spoilt with delicious food, a selection of drinks and heart-warming hospitality. The tents are spacious, well-appointed with everything you need and very private from the next.
There is a private viewing deck in front of each tent with endless views over the floodplains; the ideal spot to put your feet up, read a book or just relax and take in the stunning scenery. For those wanting to burn off some unwanted calories, there is a small gym on site…but even I could not drag myself there!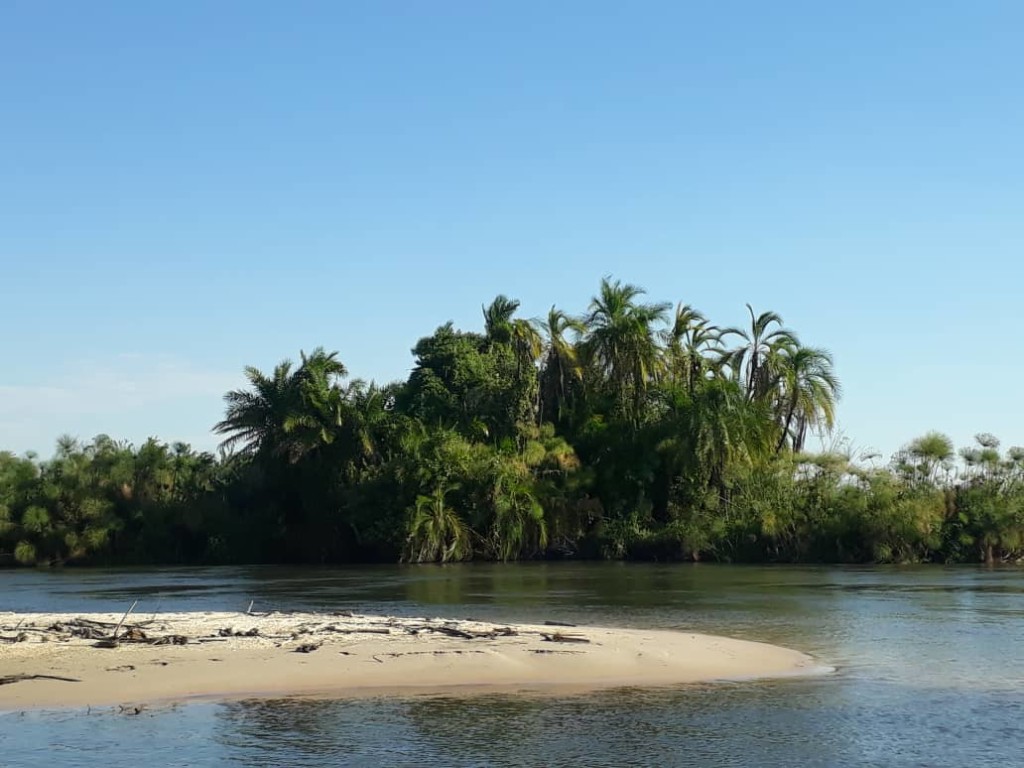 This camp is suitable for just about anyone, raised high off the ground, it is safe for children to move around freely between the tents, the main area and the swimming pool. Children can take part in boating, seasonal fishing and village visits, while there is also the option of mokoro activities and bush walks for adults. One of the greatest advantages at Setari is the year-round water availability which means boating and mokoro throughout the year.
Those wanting to wind down after a busy safari, will find their haven at Setari and equally those on honeymoon can enjoy the privacy and tranquillity in one of the remotest parts of the Delta.
Kick back, relax and ENJOY! Setari Camp settles the soul…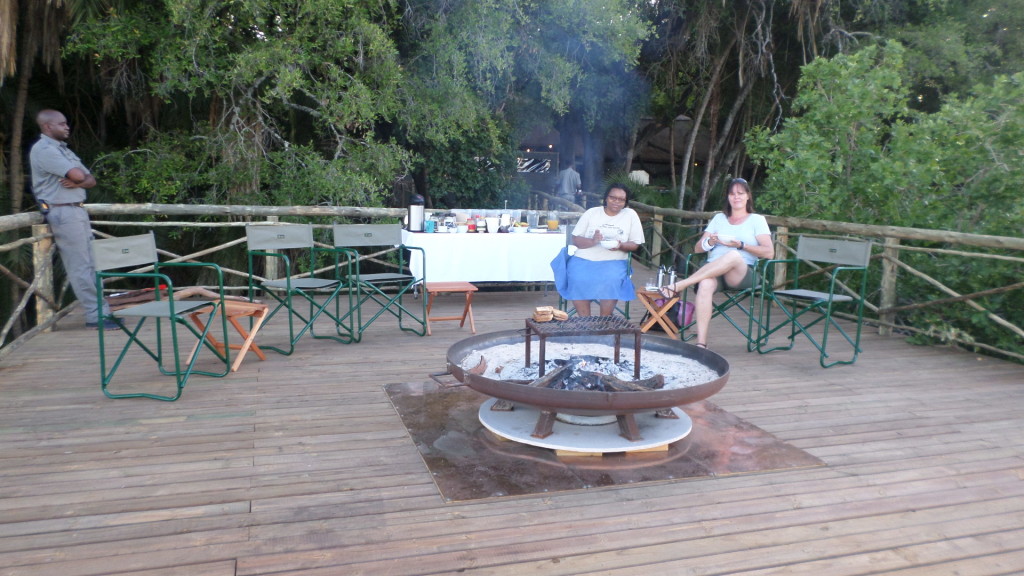 Fast Facts:
– Setari opened in October 2018
– located in the waterrich region of the Okavango Panhandle, a birders paradise
– 8 double tented suites and 1 family suite
– activities: motor boating, mokoro excursions, guided walks and village visits
Driving through Botswana can present some challenges – difficult road conditions, destinations far apart from each other, remote areas and confusing "road" networks. All the more important is it to be thoroughly prepared and use the tools at hand to make sure your journey will be the safari of your dreams.
One of the priorities of our recent self-drive adventure was to test the different tools available. We were super curious to test the app that everybody is talking about – Tracks4Africa. We compared it with the Shell Maps, our maps (which are great as a back-up) as well as the Garmin GPS. During our self drive trip through Savute, the Caprivi, and the Panhandle it became very quickly apparent that the Tracks4Africa app is a very effective tool!
The app is very user friendly and the best about it, it works offline! Even in the remotest areas, the app connects the dots via GPS signal and allows people travelling to easily find their way around the complicated and sometimes a bit chaotic bush network.
Tracks4Africa allows to search by accommodation, places, GPS coordinates, or when you see on the screen where you would like to go, you can simply tap on the screen and it will calculate the route for you. You also have the option of putting in so called "way points" along your way. This way you can literally map out your entire trip beforehand and it will lead you from stop to stop. The indicated estimated driving times are very accurate and if it changes along the way due to rest stops, slower driving etc. the system simply recalculates.
We know that some clients struggle with the costs for the app. It currently costs USD 50, but this includes regular updates. The app covers many African countries including South Africa, Namibia, Botswana, Zambia and Zimbabwe and many more. Users purchase it once and can use it again and again.
Driving through the bush, the app was most reliable. The ways leading up to the lodges usually are not mapped as some lodges do not advertise themselfes as self drive lodges, but by using the SD self drive maps with the accurate GPS points for the lodges, following signs or asking at gates even that was easily manageable.
For next season we are considering putting together self drive-kits including the paper maps of Tracks4Africa as well as the guide book. This can be pre-ordered through Safari Destinations and the clients would receive it on arrival. Our recommendation however is that clients study their itinerary beforehand, downloading the app (available for Android and iOS) and make themselves familiar with their route. Botswana is a demanding destination when self-driving and proper preparation is everything.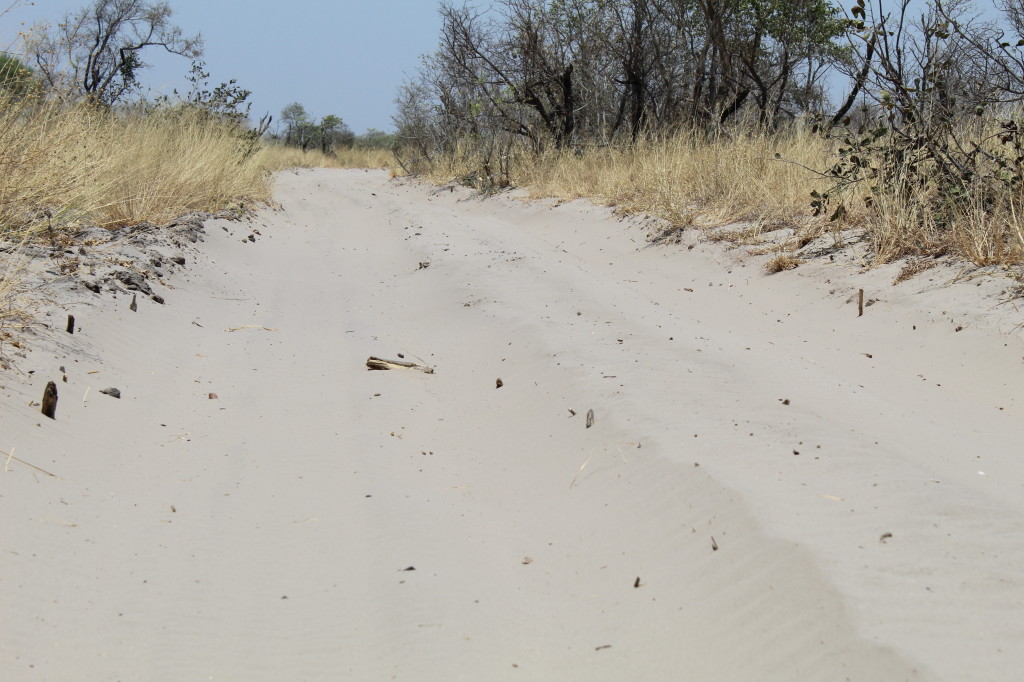 I tested the idea of combining 2 nights in Vic Falls with 2 nights in the nearby Zambezi National Park. We stayed at Zambezi Sands which is only an hour outside the fast-paced Victoria Falls town, but it felt like another world. A remote safari experience where you can fully immerse yourself in the wilderness and unwind in the peace and tranquillity of the Zambezi National Park. We had the river to ourselves to enjoy at leisure on our evening cruise compared with the typical sunset commotion experienced from town. Practically speaking, many visitors combine Victoria Falls & Chobe on a 4-night stay which involves two border crossings and double entry visas. Both can be avoided if you replace Chobe with a safari experience in the more exclusive but less wildlife dense Zambezi National Park.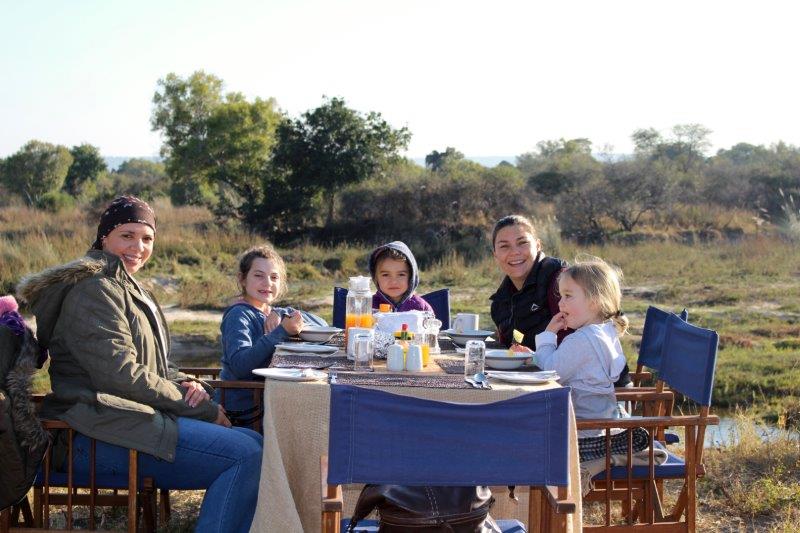 After doubting this combination for years, I feel like I have found the sweet spot, which has been underestimated by us all. Our 4-night stay was the perfect blend of adventure and relaxation, and provided for a well-rounded experience as outlined below, suited to both families and individual travellers.
Day 1:      Arrival at Zambezi Sands from Botswana in time for lunch and an afternoon siesta Sunset cruise where we had the river to ourselves (no traffic compared with VF & Chobe)
Overnight Zambezi Sands, Zambezi National Park
Day 2:      Game drive including an incredible bush breakfast on the banks of the Zambezi River
Afternoon canoeing on the Zambezi River (this activity was the highlight of my trip)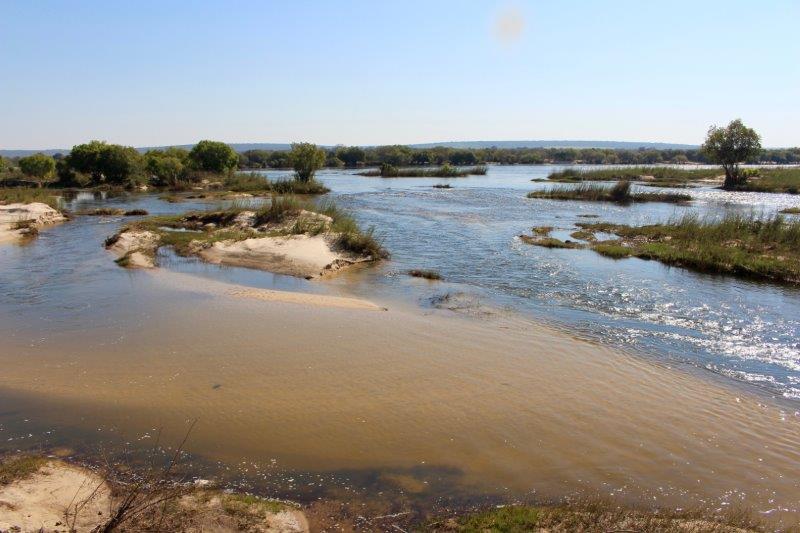 Overnight Zambezi Sands, Zambezi National Park
Day 3:      Morning game walk (another highlight) before our departure to Victoria Falls
Lunch at the Lookout Café overlooking the Batonka Gorge
Afternoon canopy tour, which was a thrill for both the kids and grown-ups alike
Dinner at the highly recommended Palm Restaurant and overnight at Ilala Lodge
Day 4:      Morning tour of the Victoria Falls followed by a flight of angels (it was a treat to fly over the path that we had just walked and see the falls from a different perspective)
Lunch on the terrace at the iconic Victoria Falls Hotel (you have to try the signature frozen lemonade)
Afternoon exploring the local market and curious shops (great arts and crafts to be found here not to mention the experience itself)
Dinner at The Boma Restaurant offering visitors a traditional dining experience with entertainment (the kids loved it and I got my mopane worm certificate)
Day 5:       Back to Botswana first thing in the morning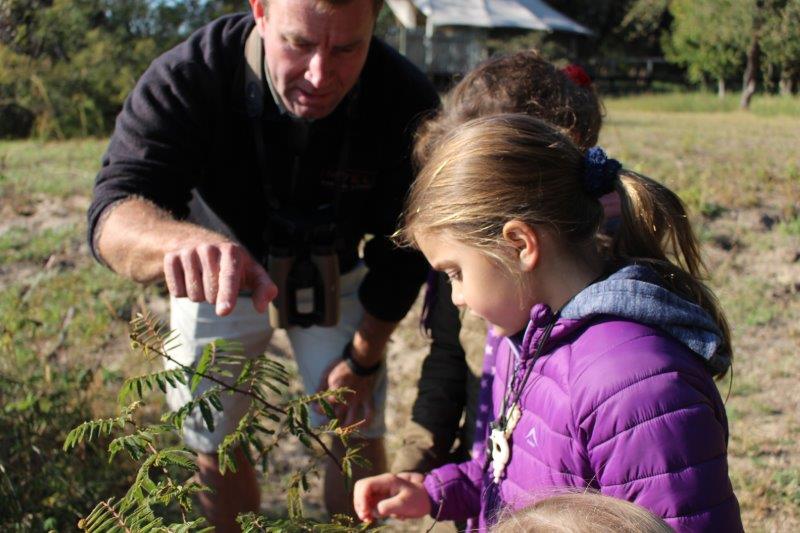 My guiding experience at Zambezi Sands was exceptional and the walking and canoeing activities stood out as the highlights of my trip. With all the new developments in this area, Safari Destinations are excited to present two new packages for 2019 showcasing this ideal combination:
4N Victoria Falls Full Monty – Deluxe
4N Victoria Falls Full Monty – Standard
Rounding off this 4-night package, I would recommend a 3 night stay in the game rich Hwange National Park. The trio showcases the best of Zimbabwe combining the beauty of the Victoria Falls, the peace & tranquillity of the powerful Zambezi River and the spectacular wildlife found in Hwange. For those wanting to combine a visit to Botswana, 3 nights at a game rich, land based camp in the Delta with a possible extension to the contrasting Makgadikgadi would be a match made in heaven.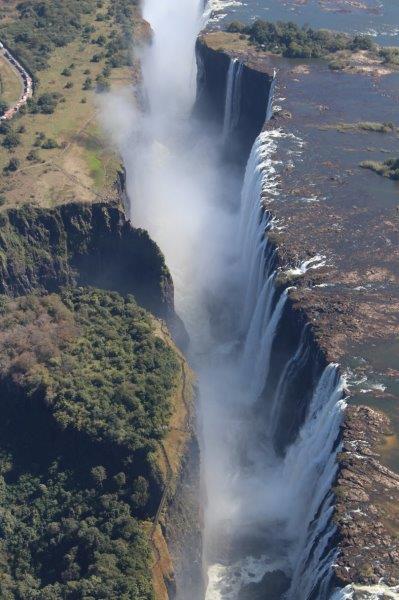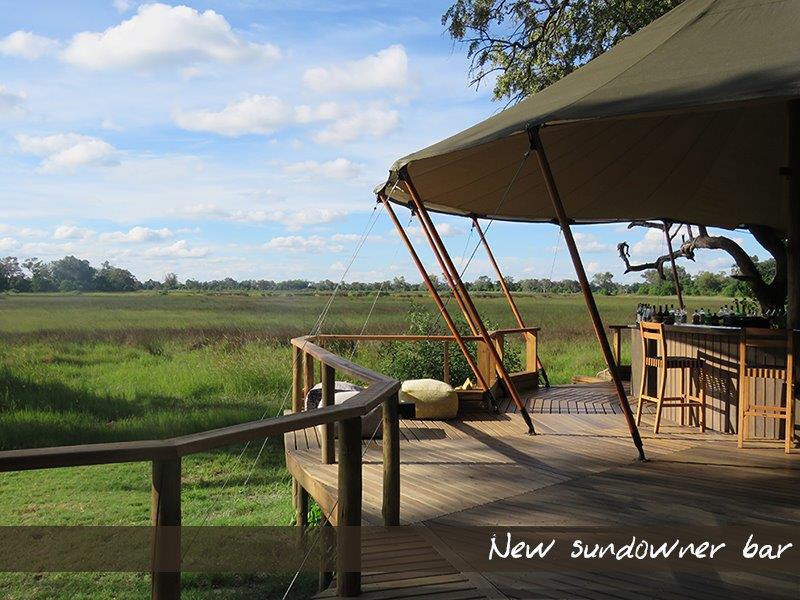 What was your overall impression of the Camp?
The newly rebuilt Stanley's camp is situated in the Southern reaches of the Okavango Delta. With a modern explorers theme, the camp is looking and feeling refreshed, but has still kept the classic safari feel.
In addition to game drives and mokoro excursions (no boating), Stanley's offers an Elephant interaction, which is one of the most unique experiences in the Delta (at an additional cost). This experience is very educational as you meet and get up close and personal with some of Africa's biggest giants.  You learn about their history, behaviour, biology and some of the human conflict threats these gentle beasts are facing.  This is all before going for a walk through the delta "hand in trunk" and sitting and having a delicious bush lunch accompanied by the elephants themselves grazing in the background.  Please note it is advisable to pre-book this activity as it is a first come first serve basis, with one activity a day only taking maximum 10 clients at a time.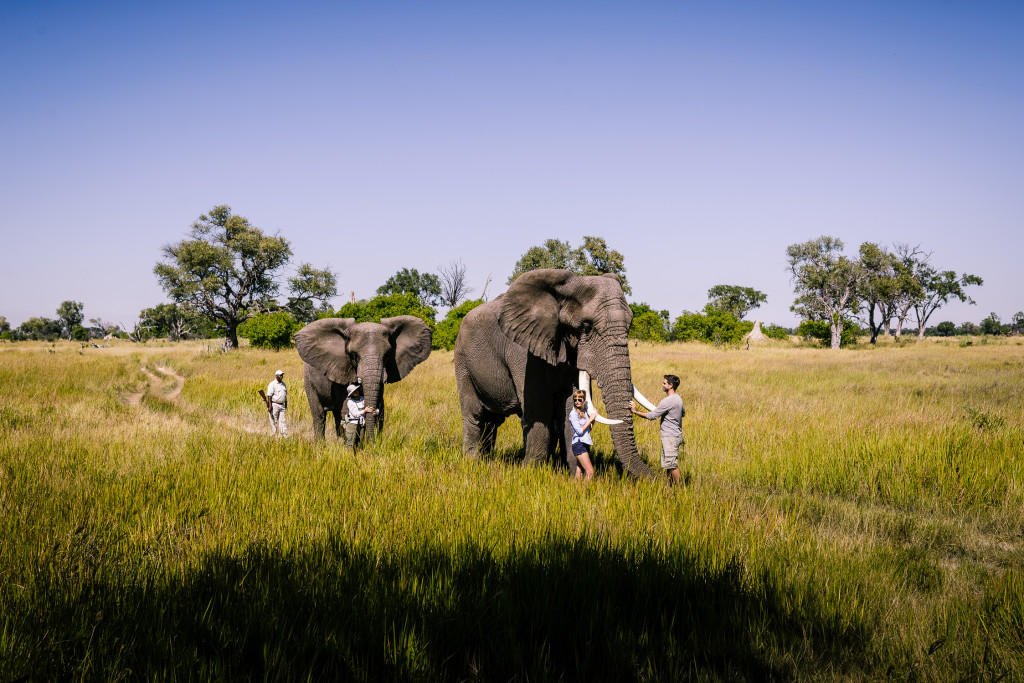 How does the camp compare to similar camps in terms of value and experience? 
After the rebuild Stanley's rates have experienced an increase for 2019. Being situated between the Boro and Santandadibe Rivers, Stanley's Camp does not guarantee a big game experience but has the unique advantage of being able to offer guests the elephant interaction year round, and the added benefit of being able to offer mokoro excursions during the flood (typically Jun – Sep), creating a varied itinerary on a 2 night stay. The hardware of the camp is brand new and being a Sanctuary Retreats property, it has the edge in terms of service, guiding and the food experience which helps justifying the price increase.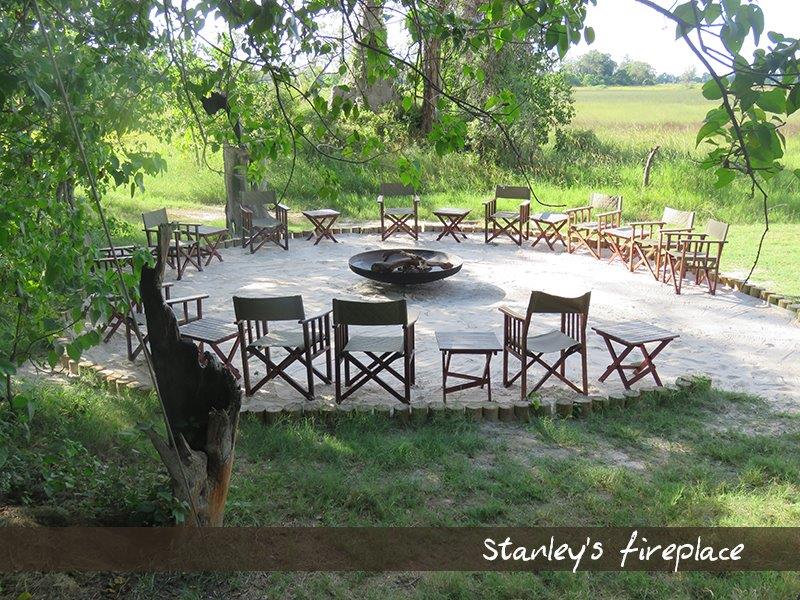 How would you combine this camp in an itinerary and why? 
Stanley's Camp would need to be combined with a stronger game area, that possibly has boating as well, as this activity is missing from Stanley's.  I would mix it with the newly re-built Splash Camp as strong game area, and they can boat all year round
You could combine it with Chief's Camp as long as you start with Stanley's, with this combination creating a circuit, you would then start to qualify for Long Stay rates, bringing the overall cost down a fraction.
What type of clients does this camp suit and why? 
This camp would suit all sorts of clients across the board.  Those wanting up close and unique wildlife experiences, clients that love elephants and are interested in conservation, and just simply those wanting to enjoy the Okavango Delta.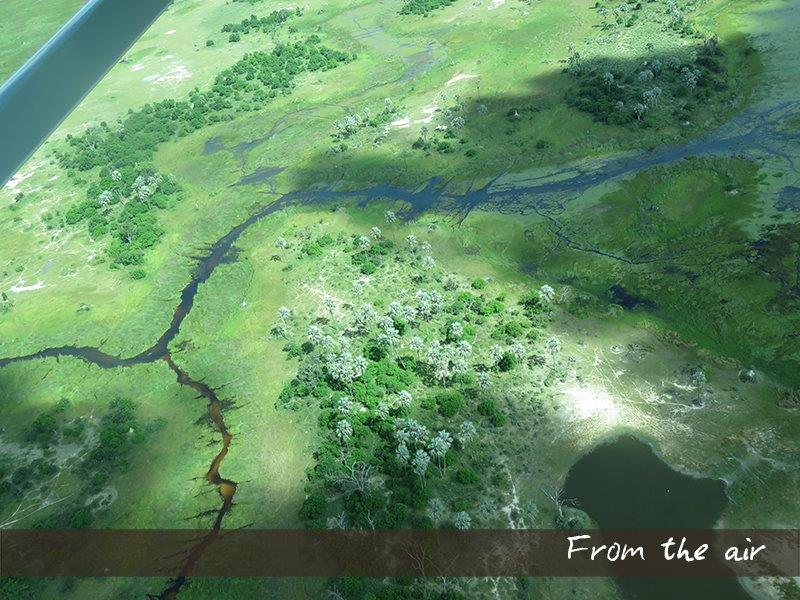 How does the seasonality of the area change through the year and what effect does it have on a visitor's experience, with specific reference to wildlife and activities?
Situated in the Southern part of the Delta, Stanley's Camp is greatly affected by the flood water levels.
During the high flood levels, June – August/September time, the water levels are high enough in order for you to enjoy Mokoro.  So the mix of land and water activities is offered during the winter months, which offers guests the variety in experience.  However, once the water levels start dropping towards September/October time, Mokoro excursions are affected and normally stop.  Boating is not offered at Stanley's Camp.
Although Stanley's Camp is not renowned for its excellent game viewing, we were lucky to see Lion, Elephant and general plains game.  Hyena are known to frequent the area.  We did travel at the end of the rainy season and so the grass was still long, making visibility more difficult than during the dry season, when the grass and bush has died down, making spotting game a lot easier.
Are there any areas that could be improved? Are there any issues that could impact guests' experience that should be highlighted to help manage expectations?
I must say that I was really impressed by the new camp.  Having stayed at Stanley's Camp a few years ago, the rooms are now substantially larger than what they were before, and there is plenty of room for guests to move around.  The bathrooms are done well.  Spacious and provide enough privacy, should guests be travelling together who don't know each other very well. Dietaries were catered for and we enjoyed a great 6 course fine dining experience which really enhanced our stay.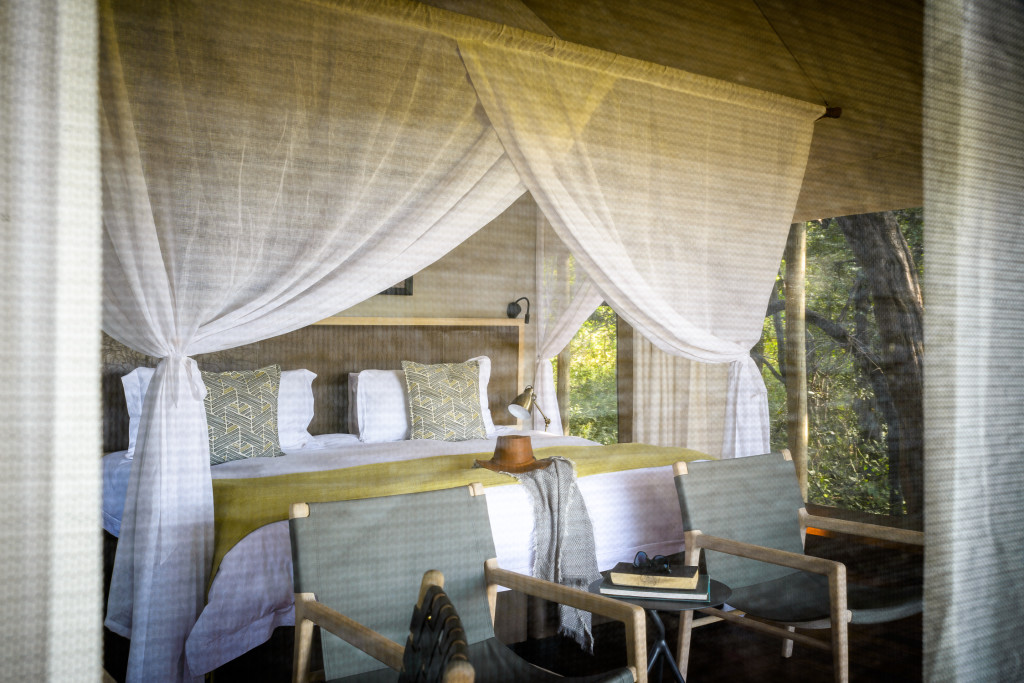 Safari Destinations itineraries showcasing this property: 
10N Northern Highlights Superior Safari
Let's start with the essential 2 rules about a stay here:
No matter what you do ALWAYS carry your camera with you, ready to shoot
No matter HOW freezing it seems in the morning: GET OUT THERE!!
Had I listened to the first rule myself, I could have added amazing shots of 2 honey badgers out in the open right in front of the lodge in some golden morning light, watched right from the breakfast table – instead I held on to a fluffy, moist blueberry muffin and a mug of freshly brewed cappuccino. You see: life can be full of tough choices at Belmond Savute!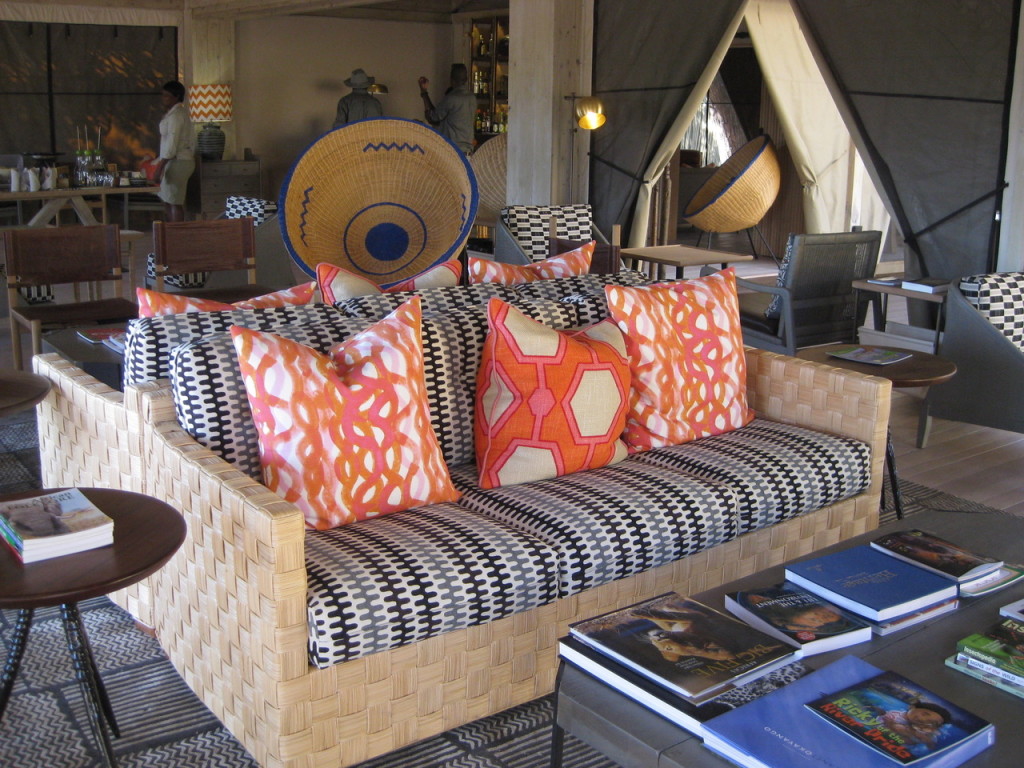 When climbing off the plane at Savute airstrip, the guests climbing on said: If you want to see animals, you need to go with Robert. And my heart sank. I am a huge fan of good guiding and always massively disappointed when sitting on a vehicle with a driver who is just racing from one photographic opportunity to the next. Luckily – I was to be proven very very wrong!
After settling in, freshening up and some tea time treats we headed out on our first drive. Driving through what smelled like a herb garden my curious 7 year old son showed interest in all these smells and Robert stopped, got us some wild basil and shared stories about it. "So do you think this would keep mosquitoes away?" Which got us on to some other herbs and traditional methods and a lively discussion, plus some more sample picking and smelling. While pointing out tracks and interpreting what we saw around us, we slowly made our way towards a spot where some cheetahs were hanging out earlier. Lucky us, most vehicles had already left the 2 sleeping males, who felt now it was time to get up and get active – and to get a good look from some elevation.
And yes: cheetahs are clearly NOT built for climbing 😉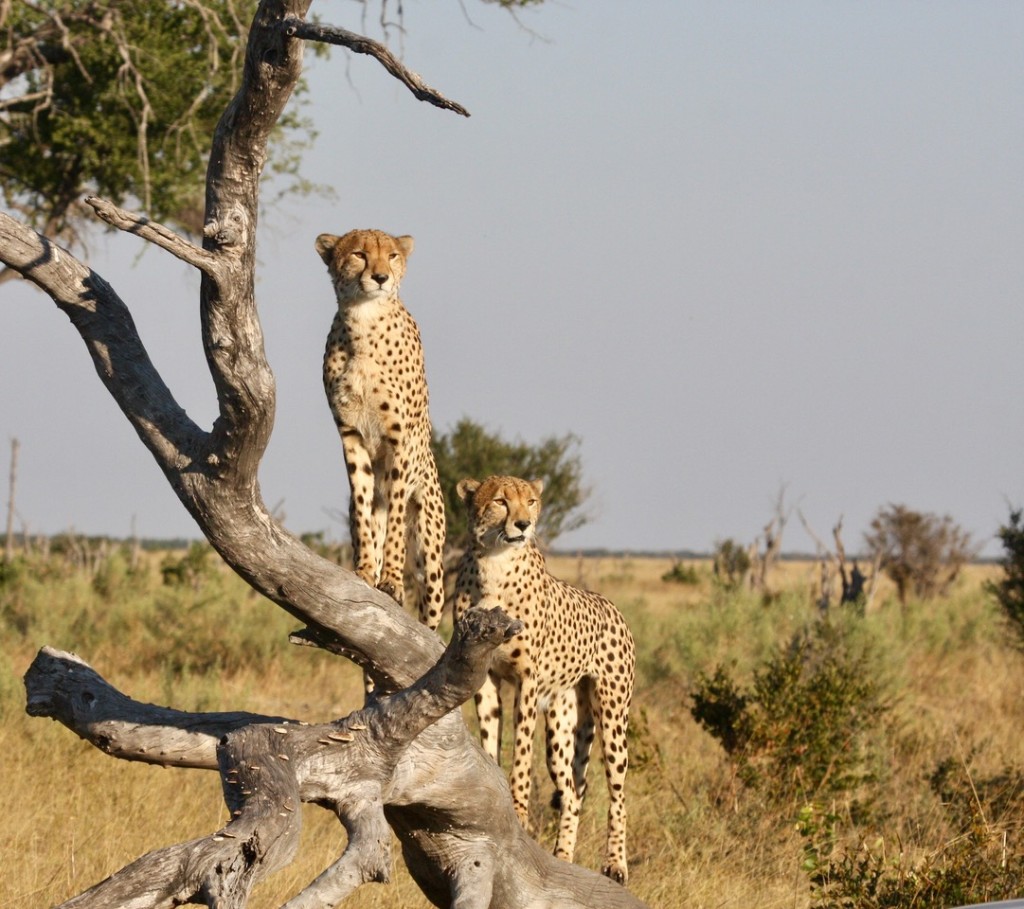 After this fabulous afternoon we were so excited, that we couldn't wait to go exploring the next morning – despite of being able to see the clouds of our own breath when exhaling. It was COLD!!
Robert had the perfect technique to battle this aspect as well – even my 6 year old daughter was comfy and toasty, after he wrapped her up in fleeces, blankets and a poncho: "ready to go to the moon". We tried to find the lions that we heard during the night, but they tried to play games with us. Tracks literally everywhere! In all directions, back and forth, right and left, and back again – hmmm. What happened here last night?? And our imaginations ran wild.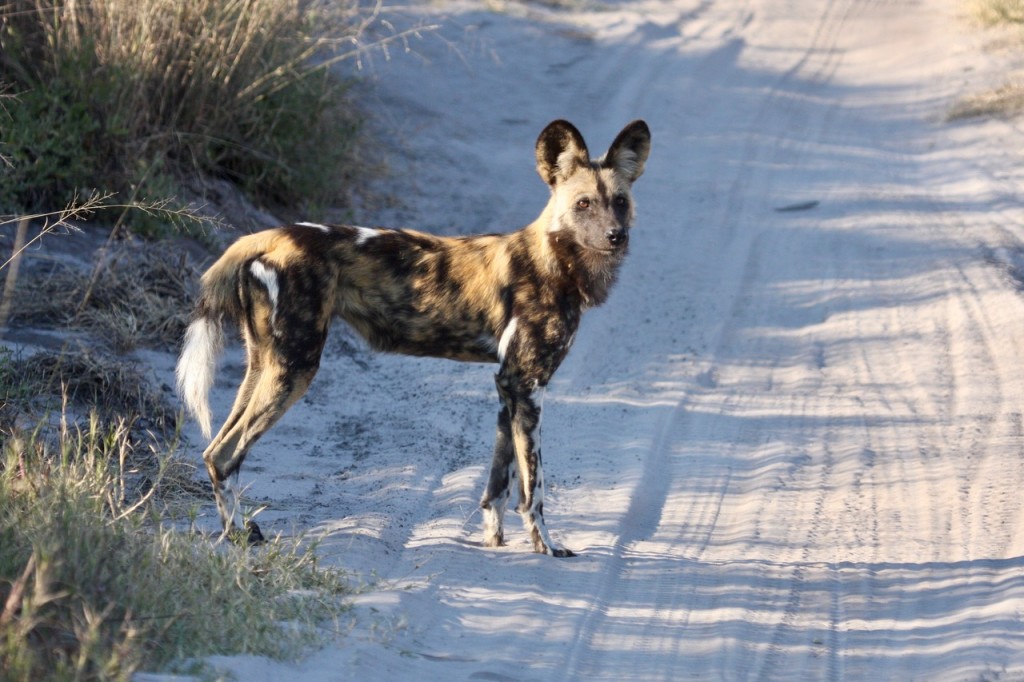 After some fun tracking, a pack of wild dogs were waiting for us in the middle of the road, just around the corner from a mother leopard trying to catch some guinea fowls. While most cars simply waited behind the dogs, Robert decided to approach them differently. We left all the cars behind, and moved to another area, trying to anticipate their next move – and it worked! Stotting impalas all over the woods, showing off their strength, and the pack chasing at top speed. How exciting was that!! We eventually said good bye to the dogs to have a look what was happening out on the marsh.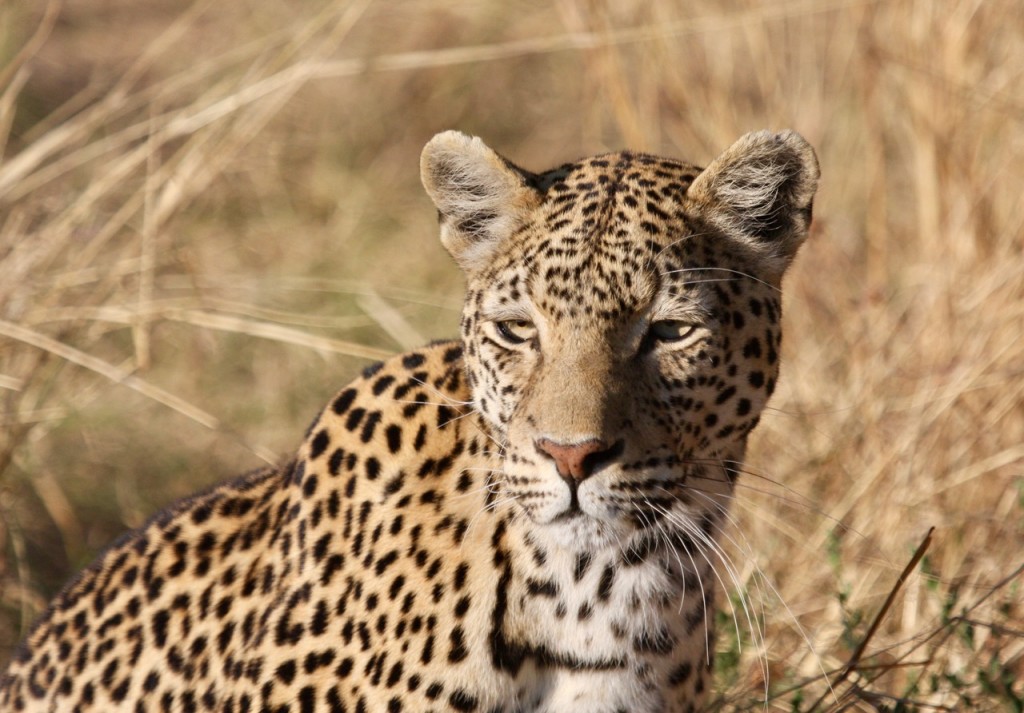 Some lonely male wildebeest were guarding their territories, then Robert noticed that one of the wildebeest FAR away held up his tail really high – hang on…. ????? So 2 big male lions were crossing the marsh, where were they heading to? We decided to go the same way and see – a little grassveld pipit joined us, flapping and running right in front of our car, for more than 1 kilometer. Now, yes, it made it! Oops, no, it's back…. The kids had so much fun watching it ALMOST flying off to the side, and back it was – giggles and laughs without end.
Guided by the direction of the male lions and following the pipit we ended up with the rest of the pride, some females feeding on a wildebeest and 5 cuddly little fur balls, roaring like their dads, schmoozing their mums and eventually, collapsing and falling asleep all on top of each other in a cub heap.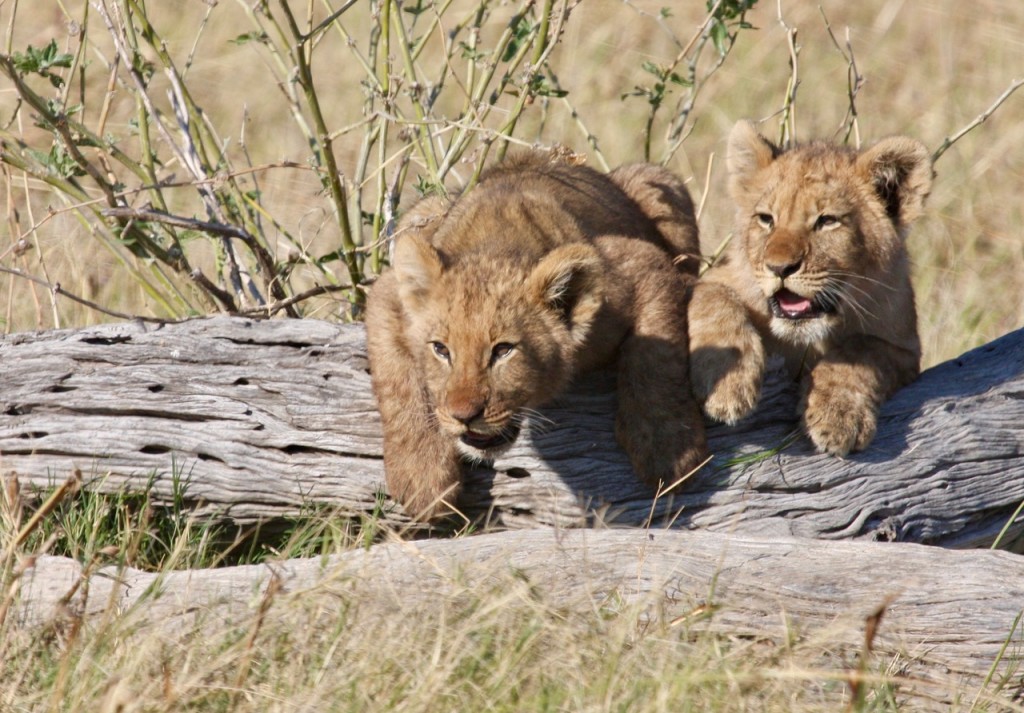 Back at home we hung the sage and the wild basil – to test how much of a mosquito repellent they are. And asking: "So what was your favorite bit in Savute?"
the cute little cubs
and remember the funny pipit who ran with us for SO long
and the honeybadgers at breakfast
and the elephants up close from the hide during tea time
oh – and of course: THE HEATED POOL !!!!
Thank you so much to Robert, our fantastic guide, for an all-round, all senses, mega fun experience. For teaching us about the bush, for putting it all into context and all the stories about the background and history of the animals we saw.
What a safari experience!
Keeping the fantastic Belmond Savute Elephant opening special in mind: Book some seats to Savute and get yourselves out there. Go experience!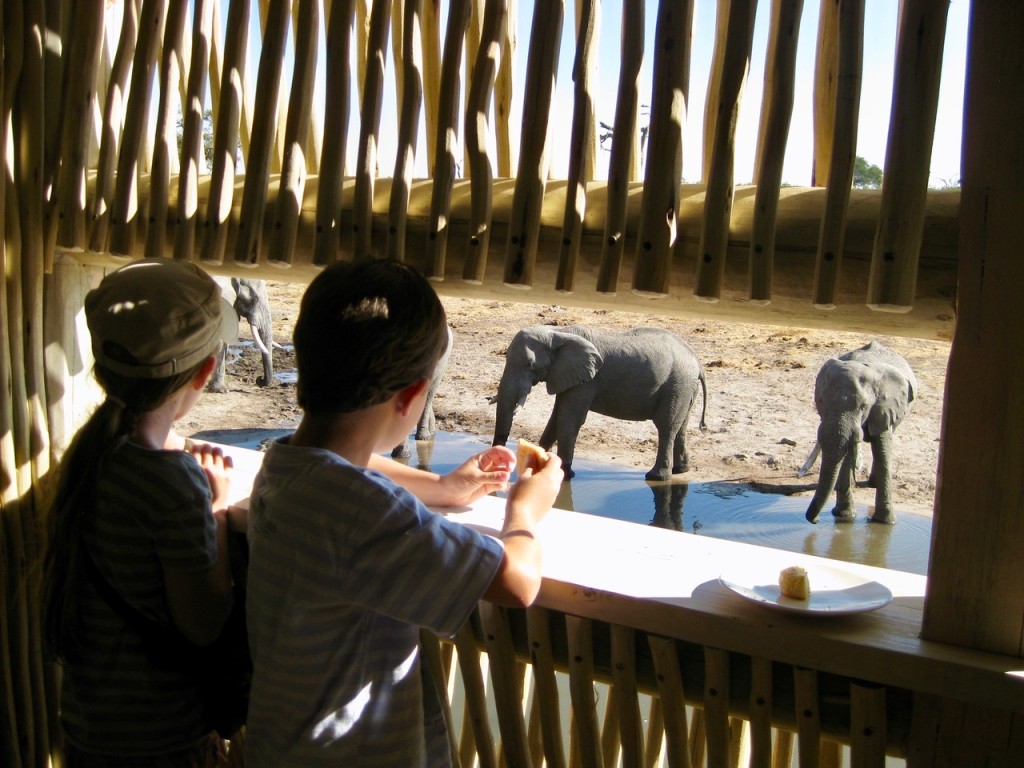 What was your overall impression of the camp?
Our handsome and very knowledgeable guide, Kyle, went out of his way to show us the very best of what Mapula has to offer. His passion for the bush and all the creatures and plants there within was contagious. Even after having done hundreds of safaris both Amandine and I learnt a whole pile more! Game was scare on our short visit but he made up for it by proposing to take us swimming in the flood water and sharing his "nature" books with us as we enjoyed tea and time-out in the bush.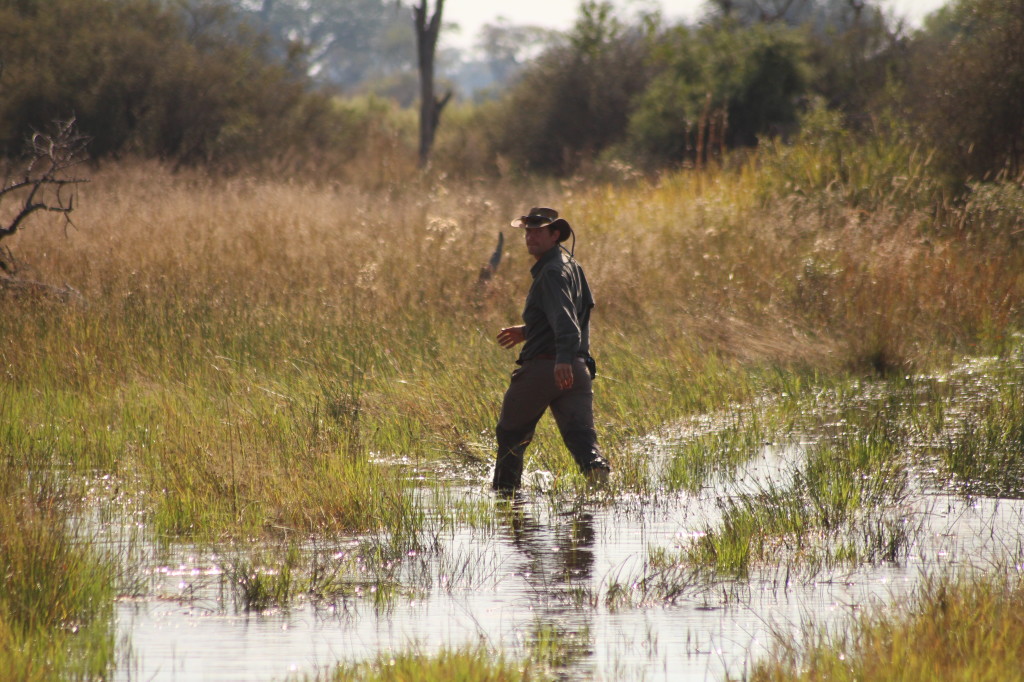 The area is generally rich in game, including Leopard, Cheetah, 2 packs of Wild Dog, Hyena, Sable Antelope, herds of Elephant, Giraffe and plains game all congregated in one big garden of safari Eden! Under the management of Uncharted Africa, Mapula has been tastefully transformed from a red-listed product to a much sought-after camp in the delta. With Eric at the helm and a well-trained and solid team I believe it will give similar camps a run for their mone
A particular mention for the swimming pool which is large enough to do a few lengths in but remains discreet at the same time. It's built in a way that it makes you feel like you are swimming in the lagoon, surrounded by palm trees and lush greenery.
There are plans to offer Hot-Air Ballooning and a fly-camp experience which we look forward to being able to promote to our clients.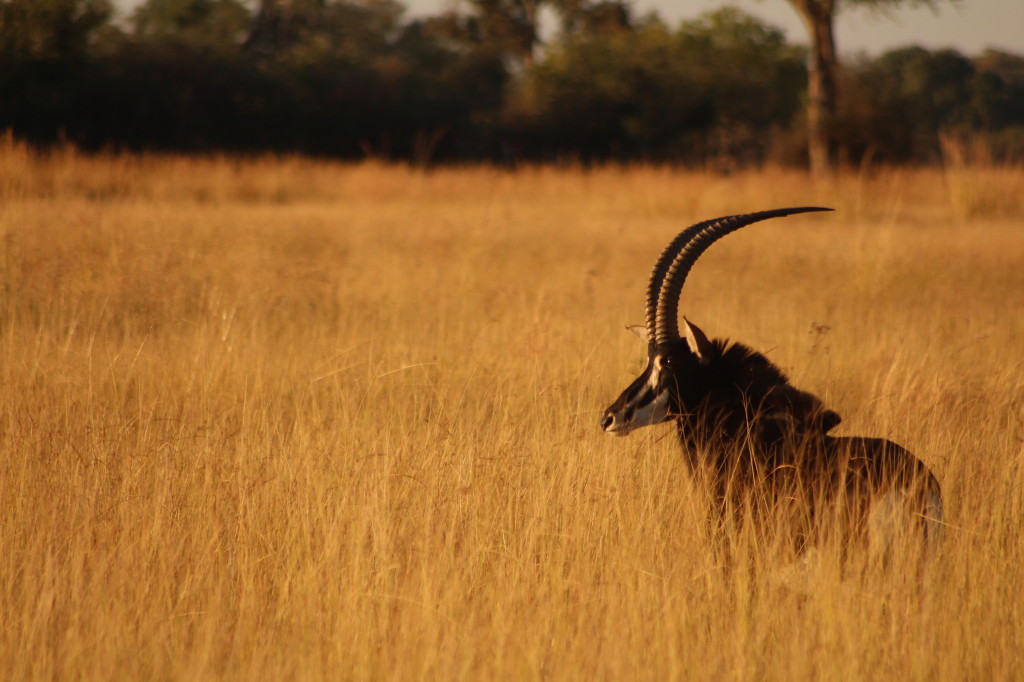 How does the camp compare to similar camps in terms of value and experience? Are there any notable special offers applicable?
I think it offers excellent value for money considering that it's a small camp on a fantastic private concession, has above average guides and is tastefully decorated in the immediately recognizable Ralph Bousfield Unchartered Africa taste, reminiscent of a bygone era.
The exception being during the month of August when a peak surcharge is applied. Further reduced long stay rates are available at Mapula when it is combined with Meno A Kwena – speak to your local expert.
How would you combine this camp in an itinerary and why? 
I would be confident in recommending 3 nights here in order to get the full experience and to discover what the concession has to offer completely. My suggestion would be to combine it with Savuti, Khwai, Makgadikgadi and of course Chobe, which fits into most itineraries.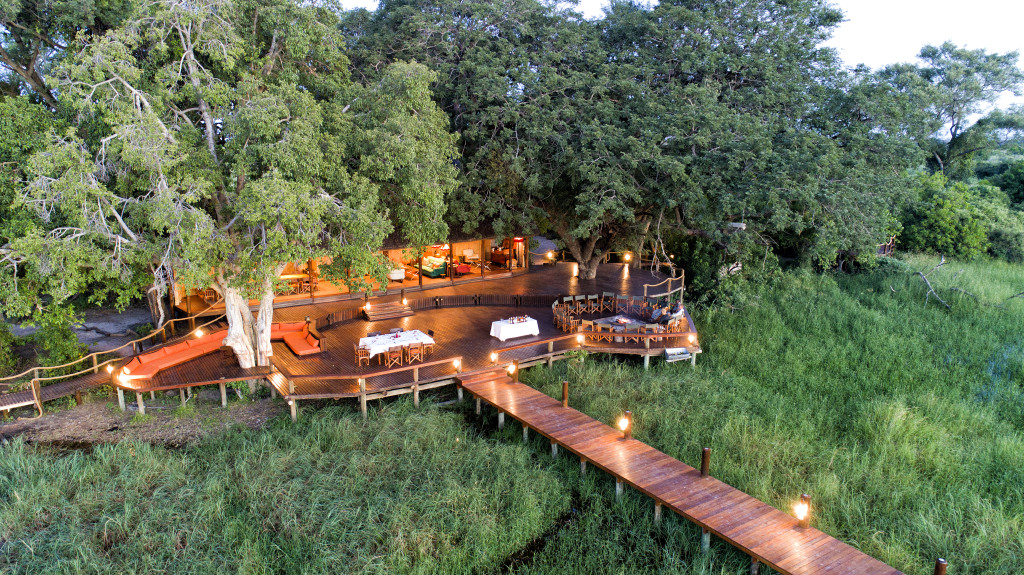 What type of clients does this camp suit and why? 
1 Unit is suitable for families: Consisting of 2 rooms separated only by a curtain. Each room has its own bathroom and outdoor shower.
As it is an intimate camp, I would suggest it to honeymooners and couples seeking peace and quiet.
The adventurous because Mapula can offer off the beaten track activities such as swimming in the fast-flowing flood waters that quickly fill the dusty tracks or having an afternoon siesta on mattresses out in the wilderness. The ballooning and fly-camp activity will appeal to this market once operational.
How does the seasonality of the area change through the year and what effect does it have on a visitor's experience, with specific reference to wildlife and activities?
The camp is set on a permanent lagoon. This makes fishing and boating possible all year long. However, the lagoon is home to a large number of happy hippos so if the water level goes down too much those activities would be suspended.
The camp being near the panhandle receives the first floodwaters of the year so they can start their mokoro activities earlier than those camps further down. The mokoro station is not in front of the camp. It's a 10-minute drive to the jetty. Although we enjoyed the activity, the water was still pretty low so we were wrapped up in cobwebs to start off with! As the water levels rise it will become more pleasant.
When the flood comes down the area where the camp is situated becomes an island. This means that sometimes there's good game in the immediate vicinity…. and sometimes not, the result being that guests may have to drive further afield in search of the herds.  During high flood levels, it may be advisable to combine it with another game rich area within the delta e.g. Shine, Splash…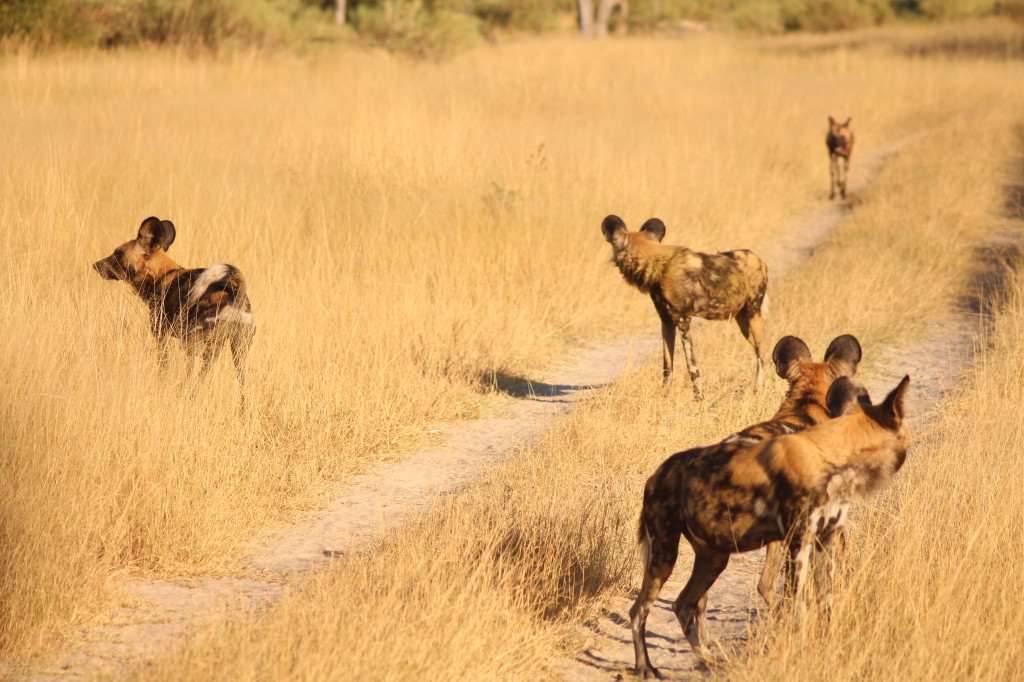 Are there any areas that could be improved? Are there any issues that could impact guests experience that should be highlighted to help manage expectations?
The food was imaginative, of good quality and nicely presented however the quantity for the first lunch we had was insufficient. Sundowner snacks were not original and could be improved – biltong / nuts / dried fruit.
Eric, the manager is running a good show. The staff seem genuinely happy to be working together and the service was attentive without being overbearing. They have kept 1 or 2 staff members on from the old camp. They clearly know the area intimately and you can tell that they love the area and are delighted to share information and stories with the clients.
Safari Destinations itineraries showcasing this property:
Until recently I thought that I had been to all the great places Botswana has to offer. I thought I knew it all – wow – was I wrong. It took me 15 years in Botswana to finally step into a secret gem, a place of wonders, Mashatu – one of THE best kept secrets in Southern Africa.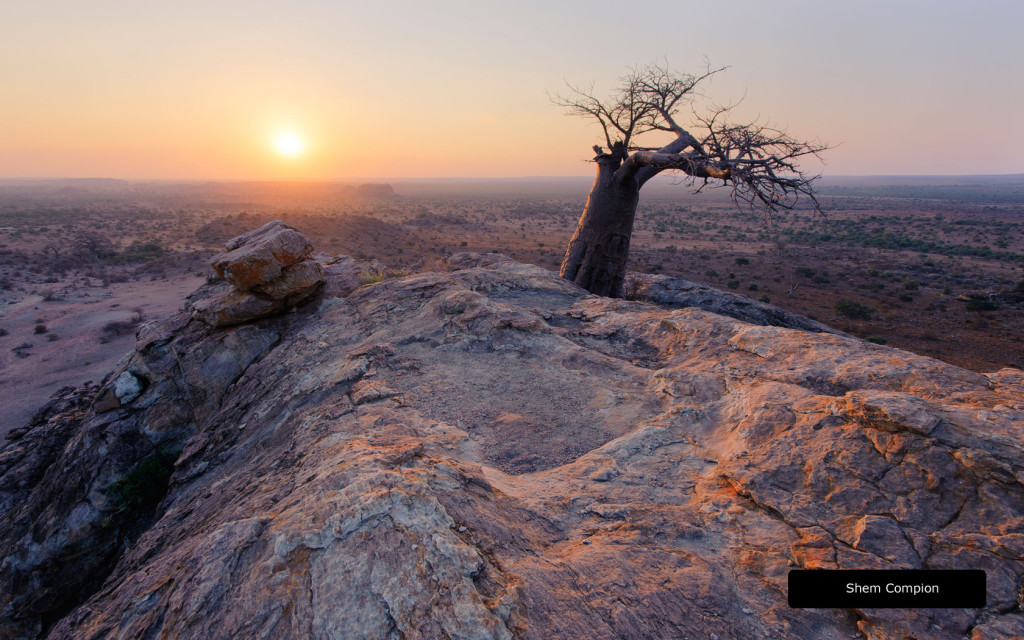 Our challenge until now was how to include and combine Mashatu with Northern Botswana. Thankfully, the introduction of special flying rates from either Johannesburg or Maun have enabled us to resolve this "tiny" issue and opened up access to this phenomenal and unique place.
What was your overall impression of the camp? 
Mashatu impresses with very varied landscapes, from dry river beds to rocky cliffs, soft hills or huge open spaces. Ones eye never tires from the overwhelming beauty of nature in this remote corner of Botswana. It was interesting to see that there is very little grass which makes game viewing and wildlife photography even more rewarding. Along the rivers you can find beautiful large Nyala Berries, the locals call them Mashatu Trees.
Game Viewing in the area is excellent all year round, chances of seeing the big cats are brilliant. In our short two game drives we saw cheetah on a hunt, several leopards and a lioness with her 2 month old cubs.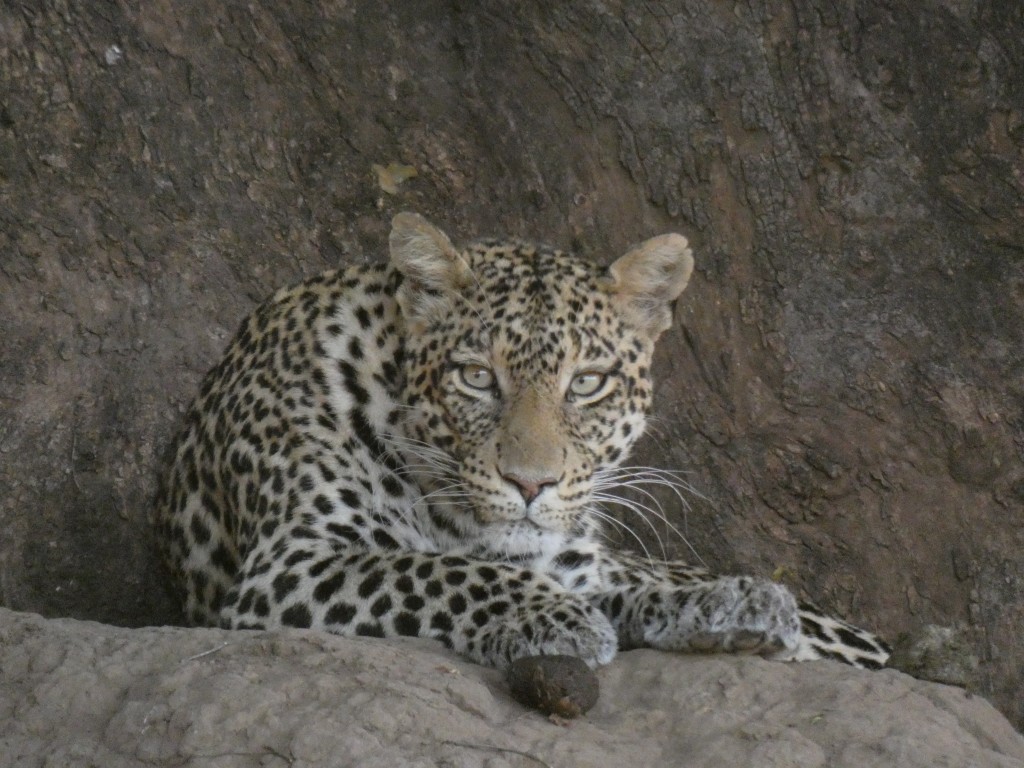 Unique experiences add to the charm of this jewel: we joined a mountain bike safari which offered us a totally different perspective of the bush. Our morning cycle was guided by Mosa, a very experienced ranger. We pedaled leisurely for about 20 km along ancient elephant paths, watching plains game in a distance and enjoying and absorbing the colors and smells of nature. Another brilliant way of getting up close to the animals is the Photo-Hide. which provides a safe place in which to view of the herds of elephants and even the occasional leopard who come and drink from the waterhole in front of the hide. Guests are also accompanied by a professional photographer who provides tips and tricks on how to use their cameras and can answer any questions they may have.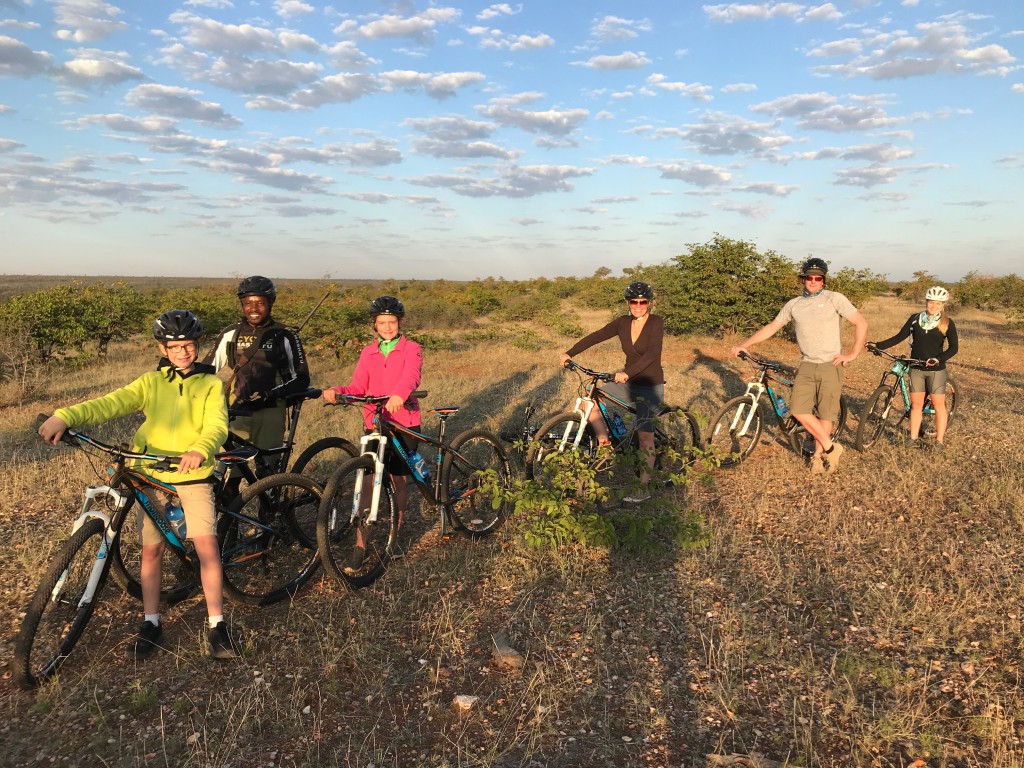 How does the camp compare to similar camps in terms of value and experience? Are there any notable special offers applicable.
There are actually no other camps offering a similar experience. Mashatu has a truly unique offering. The two camps in the reserve are very different in terms of look and design. Mashatu tented camp is an authentic safari camp, offering the safari addict a comfortable place to stay while enjoying the bush. It is ideally combined with camps like Pelo or Gunns Camp for the water experience, and in Vic Falls I would recommend Gorges or Little Gorges Lodge to complete the itinerary. The more upmarket Mashatu Main Camp is much bigger, with more rooms, a large new pool, different sitting areas and even a discovery centre. I see Mashatu main camp work wonderfully with the likes of Camp Okavango, Kanana or Splash in the Delta and in Vic Falls it could be completed with a place like Zambezi Sands or Old Drift.
Specials: Both camps offer a great 4 nights for the price of 3 special during the months of January to April.
How would you combine this camp in an itinerary and why? 
Ideally Mashatu is the first stop in an itinerary, flying in from Johannesburg Lanseria and continuing to Maun. There are daily flights from Joburg to Limpopo Airfield (Mashatu's gorgeous little airport). This way guests arrive on a positive note, the immigration officers in Limpopo are friendly and professional. Another advantage of starting your Botswana safari with Mashatu is to avoid the long immigration queues at Maun Airport (which can sometimes take up to two hours). The flight from Mashatu to Maun is either on a scheduled flight on Wednesdays or Saturdays or on a private charter.
Alternatively guests can arrive by car from South Africa before continuing their journey in Botswana or across the border to Zimbabwe.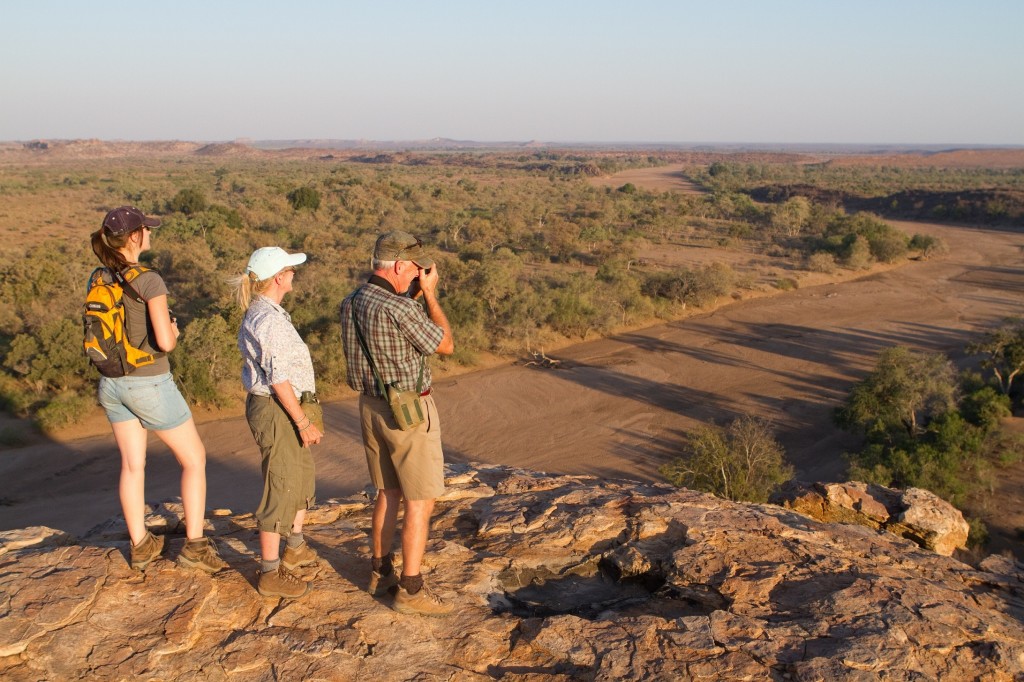 What type of clients does this camp suit and why? 
This camp basically suits all different target groups. Main Camp has a family unit and can accommodate families with children. The tented camp is better suited for couples or single travelers.
Adventure seekers found their heaven, Mashatu offers mountain biking, guided walks and horseback-safaris.
How does the seasonality of the area change through the year and what effect does it have on a visitor's experience, with specific reference to wildlife and activities?
The camps in Mashatu offer a year round experience. Excellent value for money from January to April with the 4 for 3 nights special. In Green season (rainfall is very low in this area, with more than 330 days of sunshine) the landscape miraculously changes into a colorful spectacle. Mashatu is much less seasonal than the northern parts of Botswana and offers excellent game viewing throughout the year.
Safari Destinations itineraries showcasing this property: