Let's start with the essential 2 rules about a stay here:
No matter what you do ALWAYS carry your camera with you, ready to shoot
No matter HOW freezing it seems in the morning: GET OUT THERE!!
Had I listened to the first rule myself, I could have added amazing shots of 2 honey badgers out in the open right in front of the lodge in some golden morning light, watched right from the breakfast table – instead I held on to a fluffy, moist blueberry muffin and a mug of freshly brewed cappuccino. You see: life can be full of tough choices at Belmond Savute!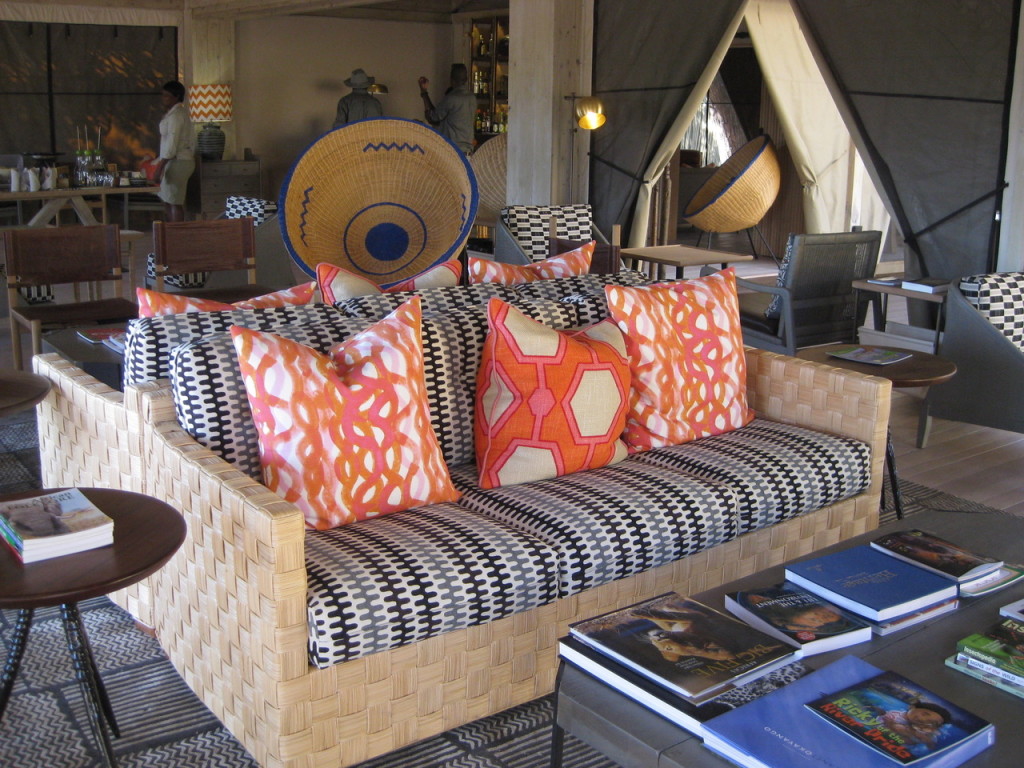 When climbing off the plane at Savute airstrip, the guests climbing on said: If you want to see animals, you need to go with Robert. And my heart sank. I am a huge fan of good guiding and always massively disappointed when sitting on a vehicle with a driver who is just racing from one photographic opportunity to the next. Luckily – I was to be proven very very wrong!
After settling in, freshening up and some tea time treats we headed out on our first drive. Driving through what smelled like a herb garden my curious 7 year old son showed interest in all these smells and Robert stopped, got us some wild basil and shared stories about it. "So do you think this would keep mosquitoes away?" Which got us on to some other herbs and traditional methods and a lively discussion, plus some more sample picking and smelling. While pointing out tracks and interpreting what we saw around us, we slowly made our way towards a spot where some cheetahs were hanging out earlier. Lucky us, most vehicles had already left the 2 sleeping males, who felt now it was time to get up and get active – and to get a good look from some elevation.
And yes: cheetahs are clearly NOT built for climbing 😉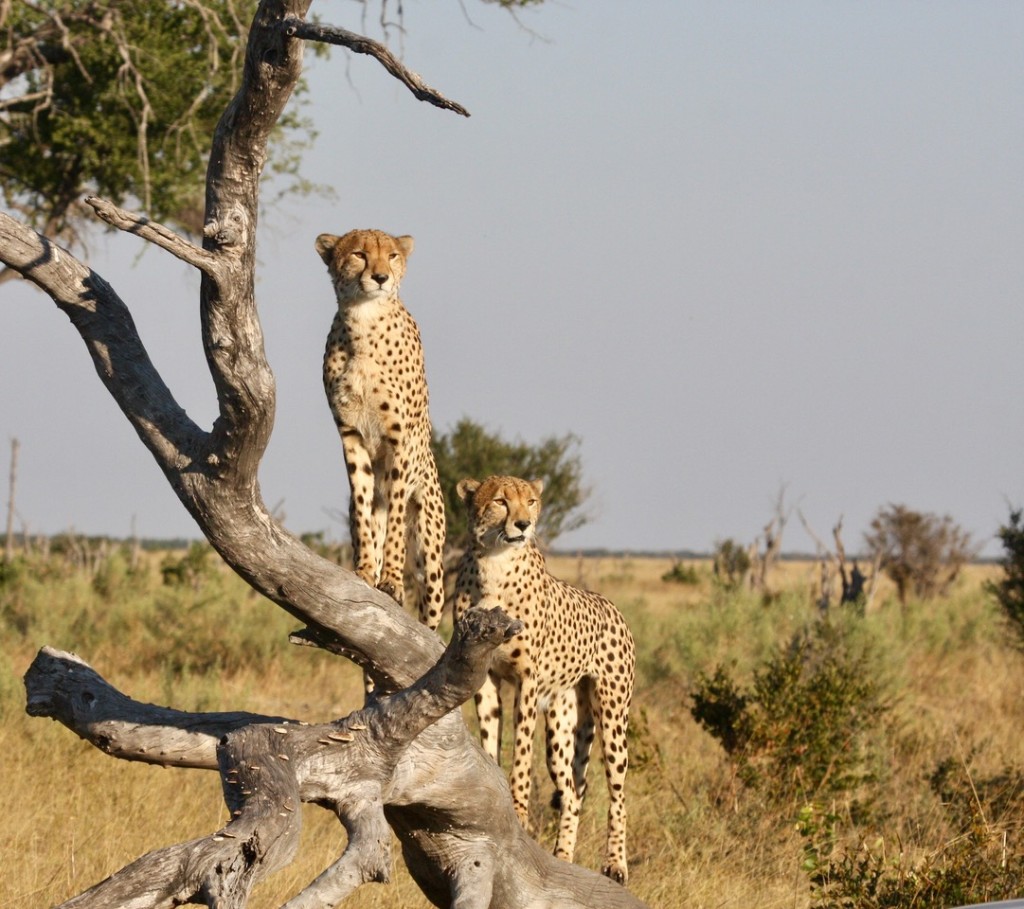 After this fabulous afternoon we were so excited, that we couldn't wait to go exploring the next morning – despite of being able to see the clouds of our own breath when exhaling. It was COLD!!
Robert had the perfect technique to battle this aspect as well – even my 6 year old daughter was comfy and toasty, after he wrapped her up in fleeces, blankets and a poncho: "ready to go to the moon". We tried to find the lions that we heard during the night, but they tried to play games with us. Tracks literally everywhere! In all directions, back and forth, right and left, and back again – hmmm. What happened here last night?? And our imaginations ran wild.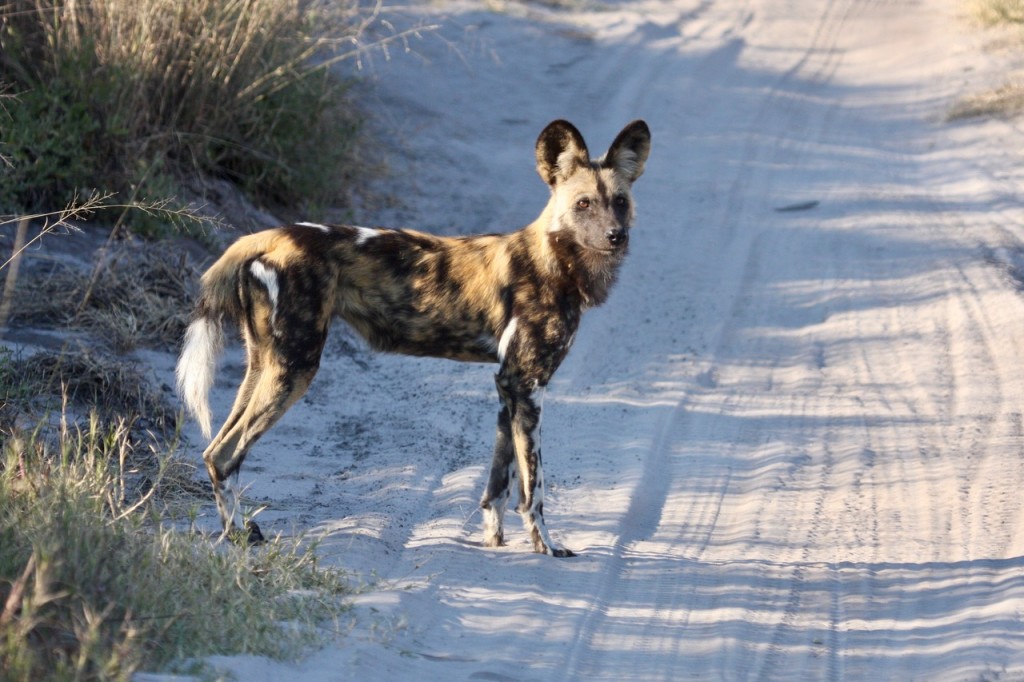 After some fun tracking, a pack of wild dogs were waiting for us in the middle of the road, just around the corner from a mother leopard trying to catch some guinea fowls. While most cars simply waited behind the dogs, Robert decided to approach them differently. We left all the cars behind, and moved to another area, trying to anticipate their next move – and it worked! Stotting impalas all over the woods, showing off their strength, and the pack chasing at top speed. How exciting was that!! We eventually said good bye to the dogs to have a look what was happening out on the marsh.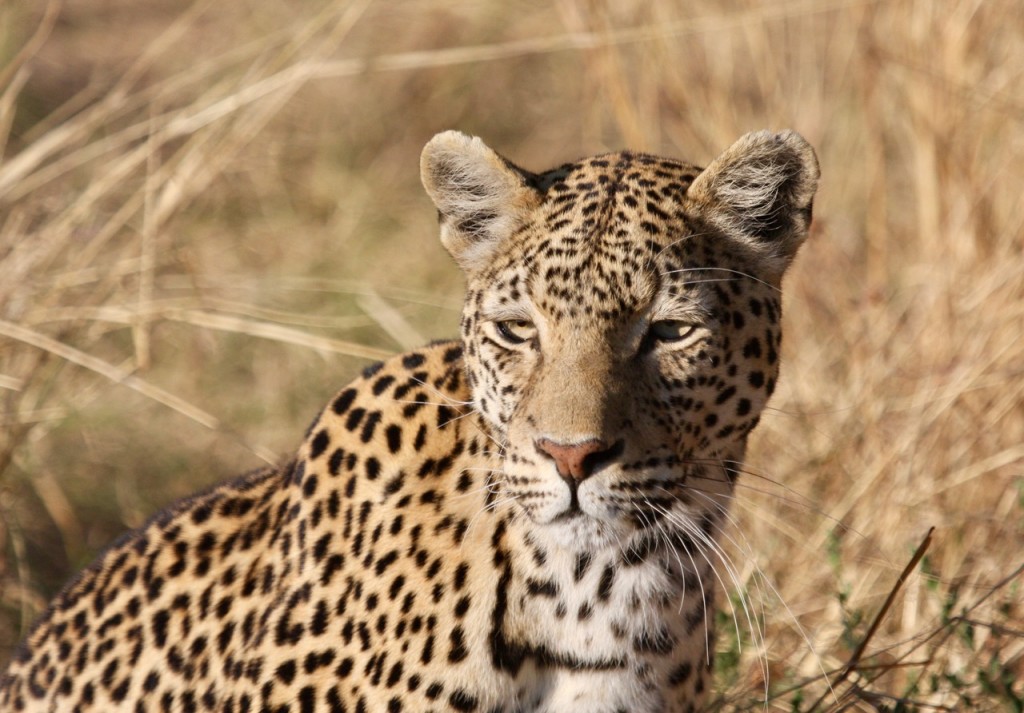 Some lonely male wildebeest were guarding their territories, then Robert noticed that one of the wildebeest FAR away held up his tail really high – hang on…. ????? So 2 big male lions were crossing the marsh, where were they heading to? We decided to go the same way and see – a little grassveld pipit joined us, flapping and running right in front of our car, for more than 1 kilometer. Now, yes, it made it! Oops, no, it's back…. The kids had so much fun watching it ALMOST flying off to the side, and back it was – giggles and laughs without end.
Guided by the direction of the male lions and following the pipit we ended up with the rest of the pride, some females feeding on a wildebeest and 5 cuddly little fur balls, roaring like their dads, schmoozing their mums and eventually, collapsing and falling asleep all on top of each other in a cub heap.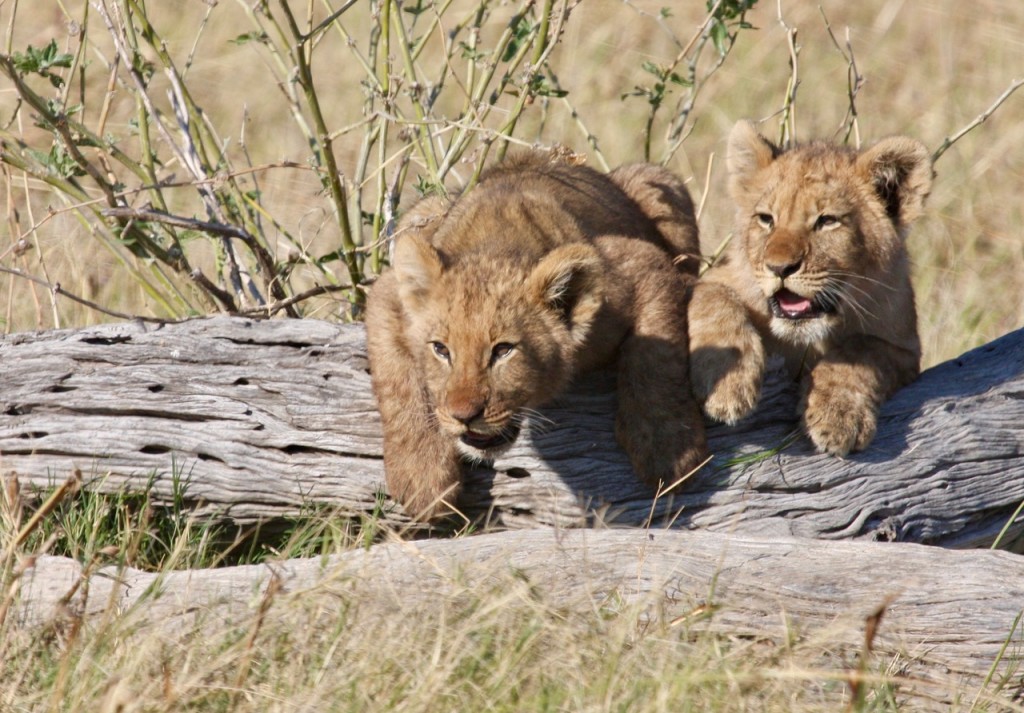 Back at home we hung the sage and the wild basil – to test how much of a mosquito repellent they are. And asking: "So what was your favorite bit in Savute?"
the cute little cubs
and remember the funny pipit who ran with us for SO long
and the honeybadgers at breakfast
and the elephants up close from the hide during tea time
oh – and of course: THE HEATED POOL !!!!
Thank you so much to Robert, our fantastic guide, for an all-round, all senses, mega fun experience. For teaching us about the bush, for putting it all into context and all the stories about the background and history of the animals we saw.
What a safari experience!
Keeping the fantastic Belmond Savute Elephant opening special in mind: Book some seats to Savute and get yourselves out there. Go experience!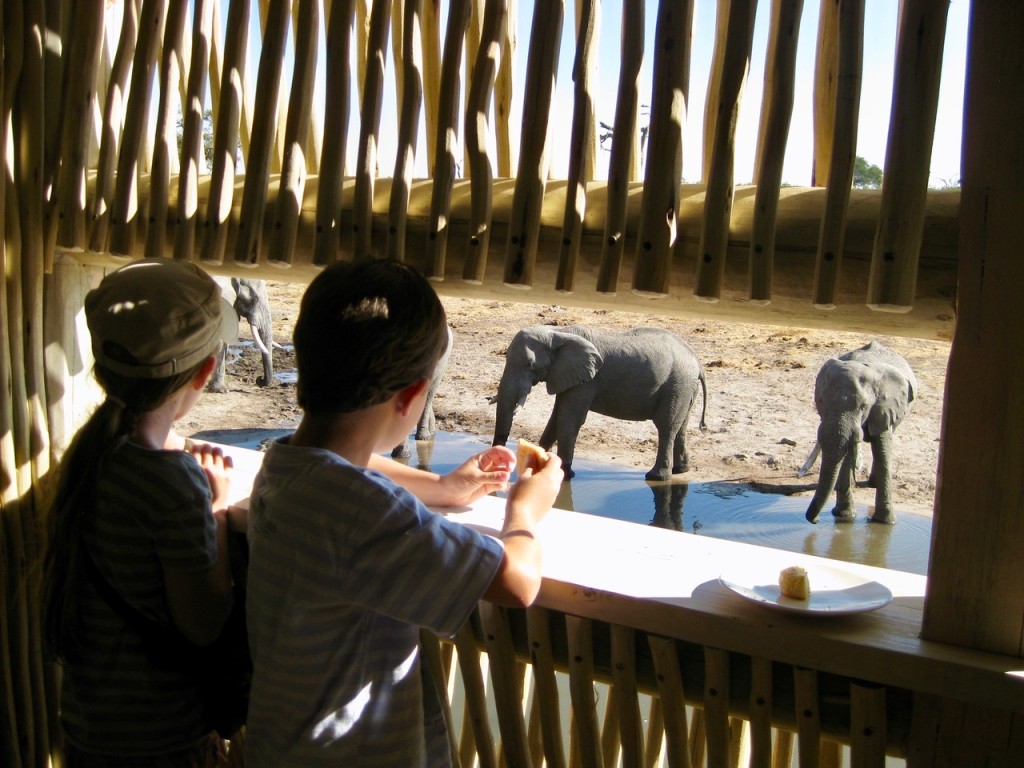 Until recently I thought that I had been to all the great places Botswana has to offer. I thought I knew it all – wow – was I wrong. It took me 15 years in Botswana to finally step into a secret gem, a place of wonders, Mashatu – one of THE best kept secrets in Southern Africa.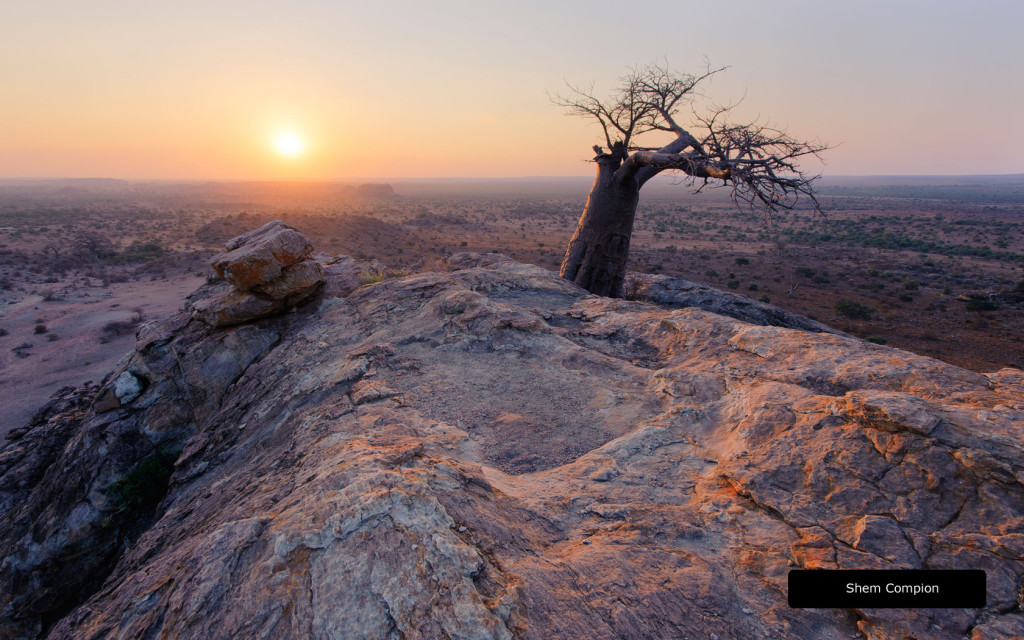 Our challenge until now was how to include and combine Mashatu with Northern Botswana. Thankfully, the introduction of special flying rates from either Johannesburg or Maun have enabled us to resolve this "tiny" issue and opened up access to this phenomenal and unique place.
What was your overall impression of the camp? 
Mashatu impresses with very varied landscapes, from dry river beds to rocky cliffs, soft hills or huge open spaces. Ones eye never tires from the overwhelming beauty of nature in this remote corner of Botswana. It was interesting to see that there is very little grass which makes game viewing and wildlife photography even more rewarding. Along the rivers you can find beautiful large Nyala Berries, the locals call them Mashatu Trees.
Game Viewing in the area is excellent all year round, chances of seeing the big cats are brilliant. In our short two game drives we saw cheetah on a hunt, several leopards and a lioness with her 2 month old cubs.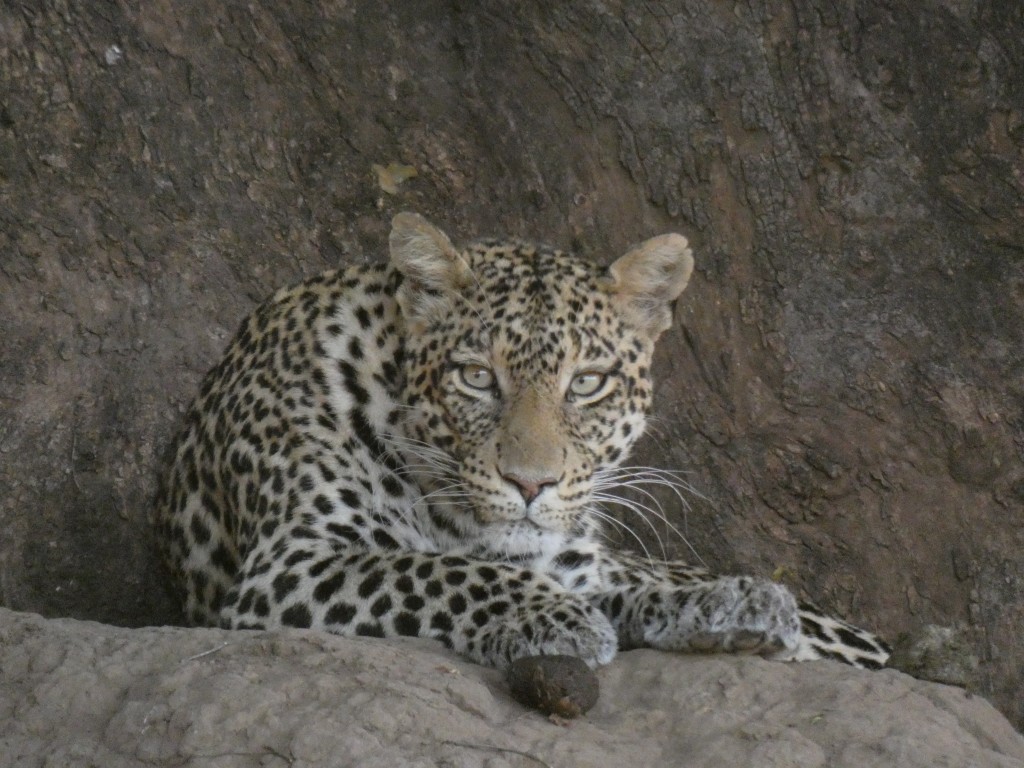 Unique experiences add to the charm of this jewel: we joined a mountain bike safari which offered us a totally different perspective of the bush. Our morning cycle was guided by Mosa, a very experienced ranger. We pedaled leisurely for about 20 km along ancient elephant paths, watching plains game in a distance and enjoying and absorbing the colors and smells of nature. Another brilliant way of getting up close to the animals is the Photo-Hide. which provides a safe place in which to view of the herds of elephants and even the occasional leopard who come and drink from the waterhole in front of the hide. Guests are also accompanied by a professional photographer who provides tips and tricks on how to use their cameras and can answer any questions they may have.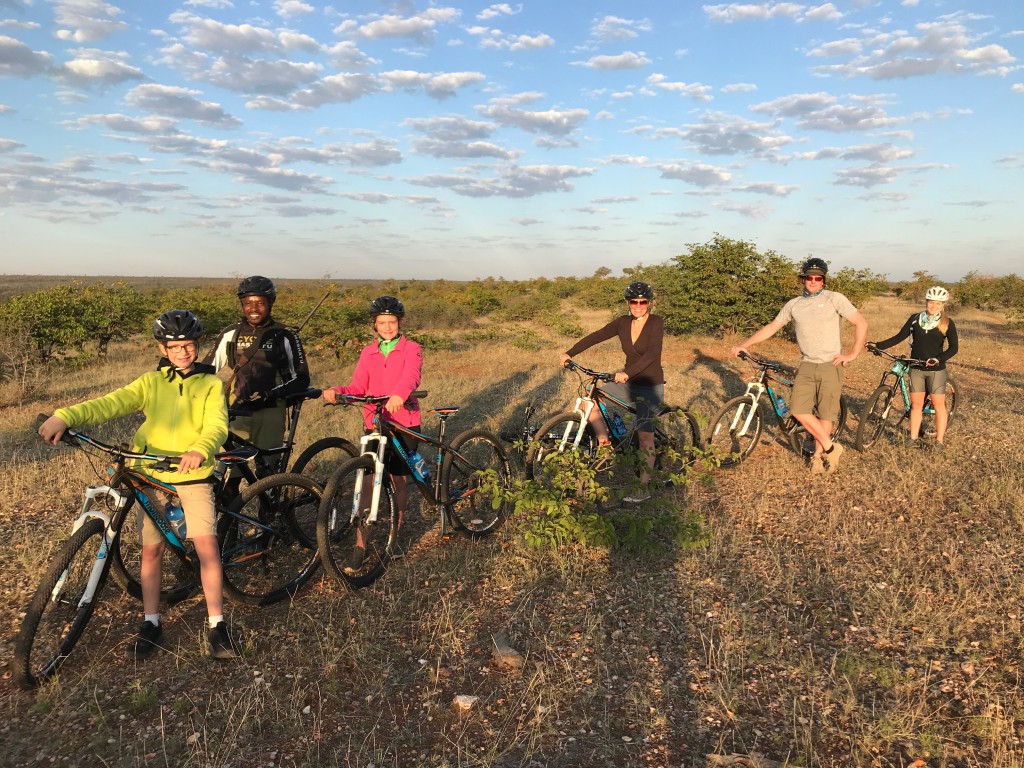 How does the camp compare to similar camps in terms of value and experience? Are there any notable special offers applicable.
There are actually no other camps offering a similar experience. Mashatu has a truly unique offering. The two camps in the reserve are very different in terms of look and design. Mashatu tented camp is an authentic safari camp, offering the safari addict a comfortable place to stay while enjoying the bush. It is ideally combined with camps like Pelo or Gunns Camp for the water experience, and in Vic Falls I would recommend Gorges or Little Gorges Lodge to complete the itinerary. The more upmarket Mashatu Main Camp is much bigger, with more rooms, a large new pool, different sitting areas and even a discovery centre. I see Mashatu main camp work wonderfully with the likes of Camp Okavango, Kanana or Splash in the Delta and in Vic Falls it could be completed with a place like Zambezi Sands or Old Drift.
Specials: Both camps offer a great 4 nights for the price of 3 special during the months of January to April.
How would you combine this camp in an itinerary and why? 
Ideally Mashatu is the first stop in an itinerary, flying in from Johannesburg Lanseria and continuing to Maun. There are daily flights from Joburg to Limpopo Airfield (Mashatu's gorgeous little airport). This way guests arrive on a positive note, the immigration officers in Limpopo are friendly and professional. Another advantage of starting your Botswana safari with Mashatu is to avoid the long immigration queues at Maun Airport (which can sometimes take up to two hours). The flight from Mashatu to Maun is either on a scheduled flight on Wednesdays or Saturdays or on a private charter.
Alternatively guests can arrive by car from South Africa before continuing their journey in Botswana or across the border to Zimbabwe.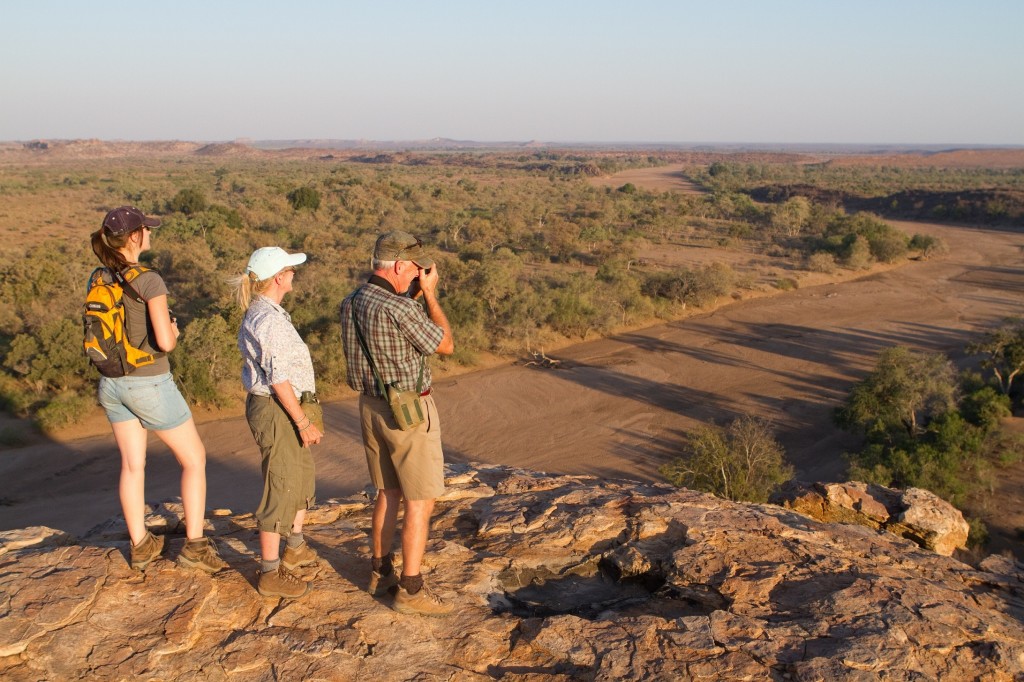 What type of clients does this camp suit and why? 
This camp basically suits all different target groups. Main Camp has a family unit and can accommodate families with children. The tented camp is better suited for couples or single travelers.
Adventure seekers found their heaven, Mashatu offers mountain biking, guided walks and horseback-safaris.
How does the seasonality of the area change through the year and what effect does it have on a visitor's experience, with specific reference to wildlife and activities?
The camps in Mashatu offer a year round experience. Excellent value for money from January to April with the 4 for 3 nights special. In Green season (rainfall is very low in this area, with more than 330 days of sunshine) the landscape miraculously changes into a colorful spectacle. Mashatu is much less seasonal than the northern parts of Botswana and offers excellent game viewing throughout the year.
Safari Destinations itineraries showcasing this property: