Category Archives: Kids on Safari
My recent visit to Sandibe Okavango Safari Lodge was a refreshing reminder of how special a green season safari in Botswana can be. Not all parts of Botswana are equal once the rains arrive, so the key is knowing which areas to visit and which to leave for the winter months. Many of the good year-round game viewing areas are in private concessions with higher price tags, but the good news is that discounted green season rates make them more accessible to those on tighter budgets. Visiting these areas in green season will give you a great bush experience, as well as the bells and whistles offered at these camps year-round, but for a fraction of the price.
The Chitabe concession, where you'll find Sandibe, is one area of Botswana which remains great year-round. On a two night stay we saw a cheetah, two prides of lions with their cubs, a female leopard calling for her mate from the tree tops, a pack of wild dog, two male giraffes fighting over a lady friend, countless elephants, plains game and spectacular bird life. The problem we encountered is that my five year old now thinks this kind of game viewing is normal! Although temperatures were soaring, we were treated to a spectacular evening thunder shower followed by the welcome relief of a cool and cloudy day.
I was travelling with my family, including my two young daughters Taylor and Megan. Travelling with small children presents its challenges but is equally rewarding. Megan may only be able to say a handful of words but she can now mimic a baboon beautifully! The staff at Sandibe catered to the kids perfectly and were ready to assist and entertain at every turn. Taylor was welcomed on arrival by a goodie bag filled with safari nick-nacks and squealed with delight when we stumbled upon a cooler box hanging from a tree during our afternoon drive, only to find it filled with home-made ice pops.
Meal times were flexible and the kiddies' menu put my home cooking to shame. Having our own private vehicle and guide allowed us the freedom to come and go as we liked without worrying about other guests and our guide and tracker were constantly engaging the children. For families saving up for a once in a lifetime safari, the minimum age of six years and up ensures kids experience the bush when they're at an age to appreciate and make the most of it.
Sandibe caters brilliantly to the grown-up kids as well. Whilst I have been lucky enough to visit many camps over the years, this was my second visit to &Beyond, and the second time I have been blown away by the food experience. So many operators fall short when it comes to what their kitchens produce, using the excuse that a safari is about the wildlife and not the food. With &Beyond, you can have your cake and eat it – Sandibe delivered to the very highest of standards, both on the game viewing and the culinary treats. Indulging in naughty delights is a big part of what being on holiday is all about and at Sandibe, they know how to make every calorie count.
The design and amenities at Sandibe are both cutting edge and controversial in the safari world. The lodge lacks the true sense of being in the outdoors that you'll get when staying in a more rustic tented camp. I didn't leave with my clothes smelling of campfire smoke, nor did I lie awake excited by the sounds of the night as the hum of air-conditioning blocked out external noises. I did however enjoy the luxury of a plunge pool during the heat of the day and cold drinks in my room during afternoon siestas, as well as the private butler and consultations with the chef during meal times, creating a very personal experience.
Whatever you prefer is a matter of choice and there are many first time safari guests who would take great comfort in the solid structure of the rooms (no canvas walls here!) and the modern comforts on hand. The design of the camp is spectacular, though I'm curious to see how the buildings will age under the challenges of maintaining a camp in the bush. Despite the money and expertise put into the design of the camp, there are a few obvious design flaws some guests may find frustrating. For the level of the camp, the rooms could have more room, and unless you're extremely comfortable with your co-traveller, a lack of privacy in the rooms will require advance coordination of shower times.
All in all we had an incredible weekend and I can highly recommend Sandibe on every level.
Back to the office and my diet on Monday!
Sharing a safari with children will give you completely new eyes for seeing the bush.  A child's excitement at spotting an impala for the first time is infectious enough to rub off on even the most seasoned of safari goers. When you start seeing the bush from a child's point of view, the priority of ticking off the big five quickly fades – replaced by the excitement of watching dung beetles at work and imagining the inner-workings of termite mounds.
A family safari is a whole new discovery of the natural world. Not just for kids, but also for adults who usually focus only on photographing the animals that live in it. Best of all, you'll have time to bond as a family while checking out fresh animal tracks and roasting marshmallows on the campfire.
So, what do you need to know when travelling with children?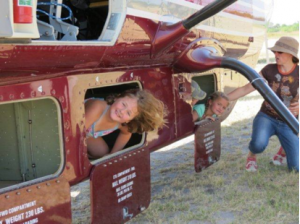 Don't chain me down
Ask a small child if their idea of a holiday is being asked to sit still for four hours, twice a day (or more!) and you'll probably get a firm no. Even the most disciplined of children will have a tough time containing their excitement when bumping into a pride of lions. They'll want to wiggle around a little, point at things and start a conversation about what they're seeing. So let them. Booking a private vehicle is the best way to relax at sightings without worrying about sideways glances from that empty-nester with the massive zoom lens. Private activities give parents space to relax without having to 'shhh' kids over stuff that's really quite exciting (who wouldn't want to tug someone's sleeve and gasp 'look!' when faced with their first elephant?). Private activities also allow you the flexibility to start and end activities at friendlier times for kids who sleep longer & tire out easier.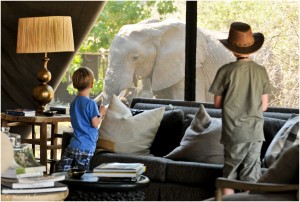 Variety is the spice of life
Mix up the schedule and keep the kids engaged on safari. Head off on a local village visit in Chobe or explore the salt pans with a quadbike and get introduced to the meerkats of the Makgadikgadi. Take the kids walking with the bushmen so they can practice speaking in clicks or give them a bush archery lesson. Many camps in Botswana offer child-friendly activities with some providing specialised programmes just for children. A private mobile safari is another sure fire way to give kids the space they need, as well as guaranteeing your guide's undivided attention.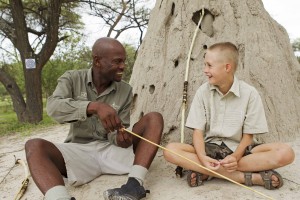 Where the Wild Things Are
Many camps have age restrictions for children to guarantee their safety in the bush, as well as the comfort of other guests in camp. Private vehicles are often a requirement for children under 12, however Chobe is one area where these rules are usually more relaxed. Children are required to share their room with at least one adult to guarantee their safety. Many camps now offer family accommodation to prevent parents splitting sleeping arrangements. Children are generally not allowed on bush walks below 16 years of age or mokoro activities below the age of 12, however certain camps will make exceptions or tweak these activities to make them safer for kids.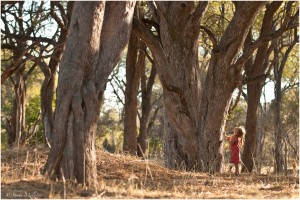 Recommended itineraries for families
At Safari Destinations, we've used our first-hand knowledge of Botswana's camps to create family-friendly safaris which help families get the most from their time in the bush. Download our suggested itineraries from our Agent's Corner or email us at info@safaridestinations.net to ask about the best options for family travel.
Last year Lorraine and I started a tradition of our two families going on safari together. This year our annual family safari took us to Hwange. Travelling with kids is an adventure. Seeing nature through their eyes makes you realize how wonderful our planet really is. Did you know that a wildebeest looks a bit like a Gruffalo. For all ignorant people out there, "The Gruffalo" is one of the best-loved children's books ever. "A gruffalo? What's a gruffalo?"
"A gruffalo! Why, didn't you know? He has terrible tusks, and terrible claws, and terrible teeth in his terrible jaws."
And so begins the story of a quick-witted mouse as he encounters a host of predators who seem to think he might make a tasty treat. As he ventures deeper into the deep dark wood, stumbling across a hungry fox, a not-so-wise owl, and a slimy snake, spinning ever-extraordinary yarns about the scary, scaly gruffalo, he quickly realises that the hungry beast he has been talking of isn't imaginary after all.
On Safari with the Gruffalo:
Three bush babies strolled through the Hwange vlei,
they saw some Lions lying in their way,
snoozing and dreaming of roasted Gruffalo on a spit,
the Bush Babies turned around and away they slid…
Our days in Hwange were filled with extraordinary gamedrives. Living in Botswana also means that our children grow up being spoilt safari-goers, but Hwange can easily compete. Especially the south-east of Hwange offered outstanding game viewing (Davisons, Bomani, Camelthorn and Little Makalolo). It never got boring, the kids loved every moment of it. Hwange in combination with Victoria Falls and Chobe is a great destination for a family safari!