Category Archives: Okavango Delta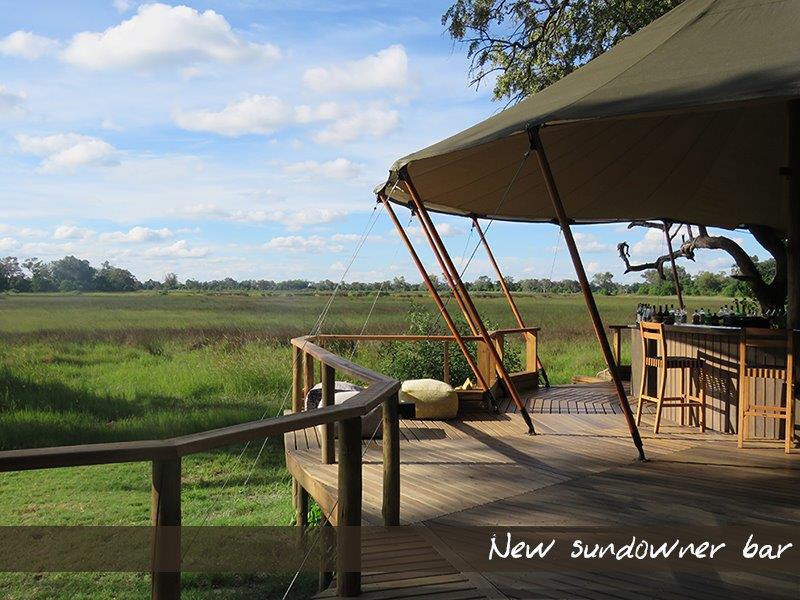 What was your overall impression of the Camp?
The newly rebuilt Stanley's camp is situated in the Southern reaches of the Okavango Delta. With a modern explorers theme, the camp is looking and feeling refreshed, but has still kept the classic safari feel.
In addition to game drives and mokoro excursions (no boating), Stanley's offers an Elephant interaction, which is one of the most unique experiences in the Delta (at an additional cost). This experience is very educational as you meet and get up close and personal with some of Africa's biggest giants.  You learn about their history, behaviour, biology and some of the human conflict threats these gentle beasts are facing.  This is all before going for a walk through the delta "hand in trunk" and sitting and having a delicious bush lunch accompanied by the elephants themselves grazing in the background.  Please note it is advisable to pre-book this activity as it is a first come first serve basis, with one activity a day only taking maximum 10 clients at a time.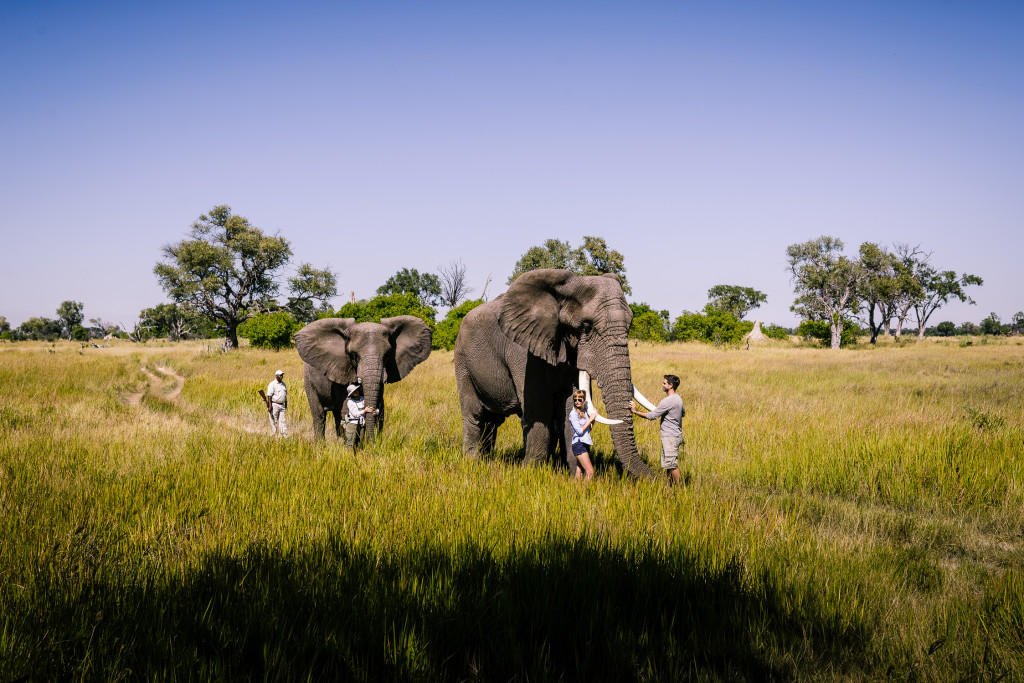 How does the camp compare to similar camps in terms of value and experience? 
After the rebuild Stanley's rates have experienced an increase for 2019. Being situated between the Boro and Santandadibe Rivers, Stanley's Camp does not guarantee a big game experience but has the unique advantage of being able to offer guests the elephant interaction year round, and the added benefit of being able to offer mokoro excursions during the flood (typically Jun – Sep), creating a varied itinerary on a 2 night stay. The hardware of the camp is brand new and being a Sanctuary Retreats property, it has the edge in terms of service, guiding and the food experience which helps justifying the price increase.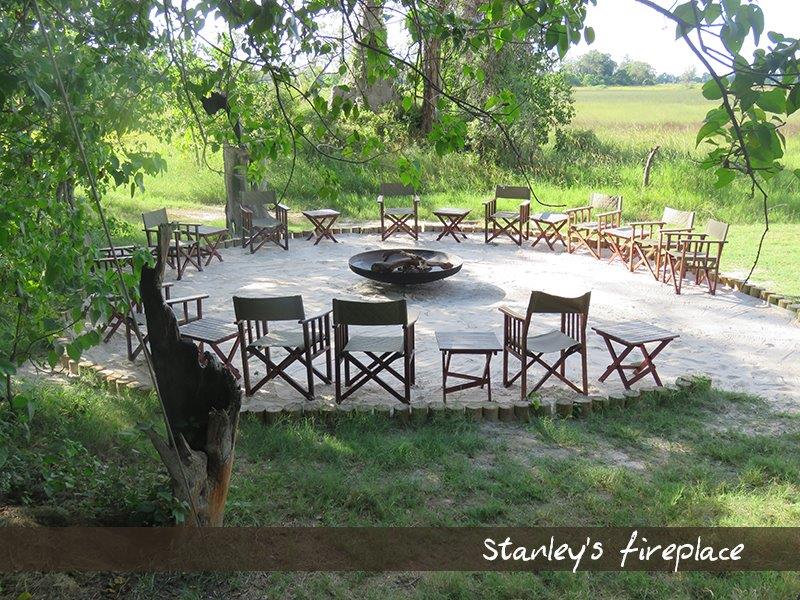 How would you combine this camp in an itinerary and why? 
Stanley's Camp would need to be combined with a stronger game area, that possibly has boating as well, as this activity is missing from Stanley's.  I would mix it with the newly re-built Splash Camp as strong game area, and they can boat all year round
You could combine it with Chief's Camp as long as you start with Stanley's, with this combination creating a circuit, you would then start to qualify for Long Stay rates, bringing the overall cost down a fraction.
What type of clients does this camp suit and why? 
This camp would suit all sorts of clients across the board.  Those wanting up close and unique wildlife experiences, clients that love elephants and are interested in conservation, and just simply those wanting to enjoy the Okavango Delta.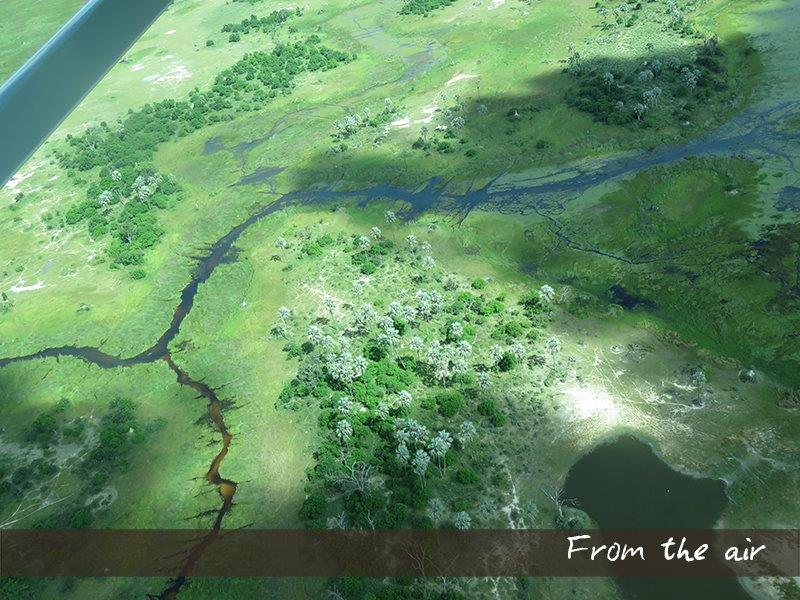 How does the seasonality of the area change through the year and what effect does it have on a visitor's experience, with specific reference to wildlife and activities?
Situated in the Southern part of the Delta, Stanley's Camp is greatly affected by the flood water levels.
During the high flood levels, June – August/September time, the water levels are high enough in order for you to enjoy Mokoro.  So the mix of land and water activities is offered during the winter months, which offers guests the variety in experience.  However, once the water levels start dropping towards September/October time, Mokoro excursions are affected and normally stop.  Boating is not offered at Stanley's Camp.
Although Stanley's Camp is not renowned for its excellent game viewing, we were lucky to see Lion, Elephant and general plains game.  Hyena are known to frequent the area.  We did travel at the end of the rainy season and so the grass was still long, making visibility more difficult than during the dry season, when the grass and bush has died down, making spotting game a lot easier.
Are there any areas that could be improved? Are there any issues that could impact guests' experience that should be highlighted to help manage expectations?
I must say that I was really impressed by the new camp.  Having stayed at Stanley's Camp a few years ago, the rooms are now substantially larger than what they were before, and there is plenty of room for guests to move around.  The bathrooms are done well.  Spacious and provide enough privacy, should guests be travelling together who don't know each other very well. Dietaries were catered for and we enjoyed a great 6 course fine dining experience which really enhanced our stay.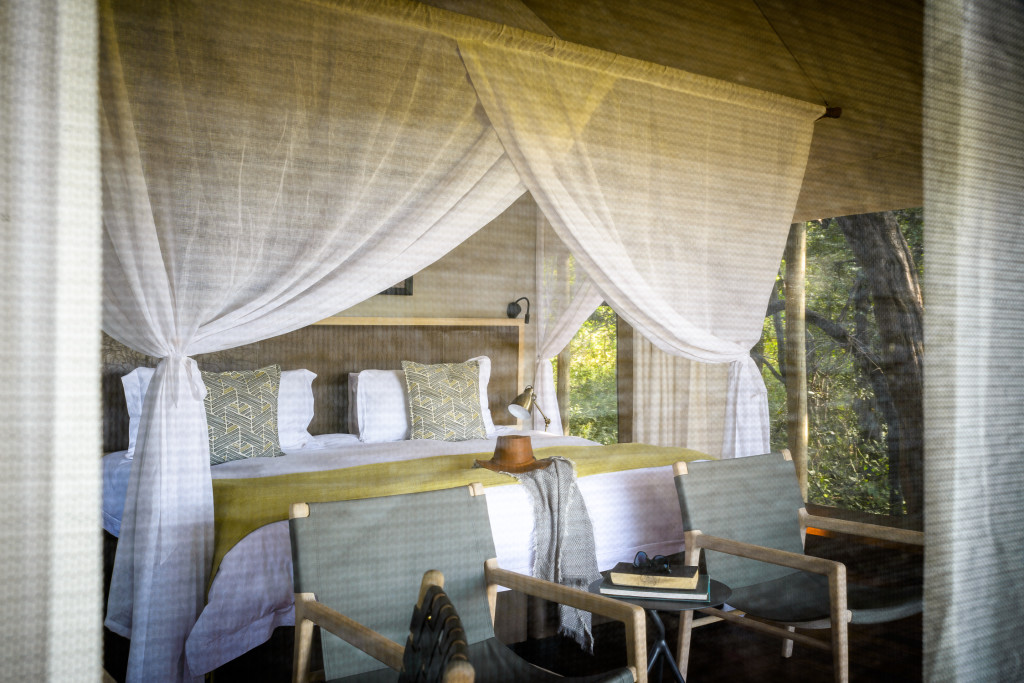 Safari Destinations itineraries showcasing this property: 
10N Northern Highlights Superior Safari
What was your overall impression of the camp?
Our handsome and very knowledgeable guide, Kyle, went out of his way to show us the very best of what Mapula has to offer. His passion for the bush and all the creatures and plants there within was contagious. Even after having done hundreds of safaris both Amandine and I learnt a whole pile more! Game was scare on our short visit but he made up for it by proposing to take us swimming in the flood water and sharing his "nature" books with us as we enjoyed tea and time-out in the bush.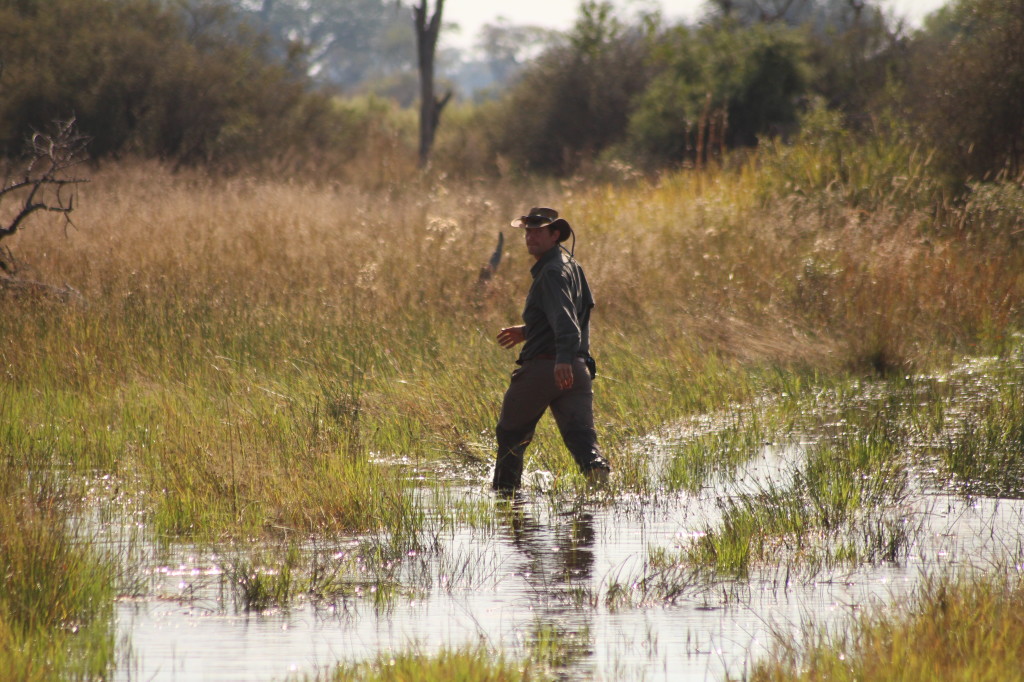 The area is generally rich in game, including Leopard, Cheetah, 2 packs of Wild Dog, Hyena, Sable Antelope, herds of Elephant, Giraffe and plains game all congregated in one big garden of safari Eden! Under the management of Uncharted Africa, Mapula has been tastefully transformed from a red-listed product to a much sought-after camp in the delta. With Eric at the helm and a well-trained and solid team I believe it will give similar camps a run for their mone
A particular mention for the swimming pool which is large enough to do a few lengths in but remains discreet at the same time. It's built in a way that it makes you feel like you are swimming in the lagoon, surrounded by palm trees and lush greenery.
There are plans to offer Hot-Air Ballooning and a fly-camp experience which we look forward to being able to promote to our clients.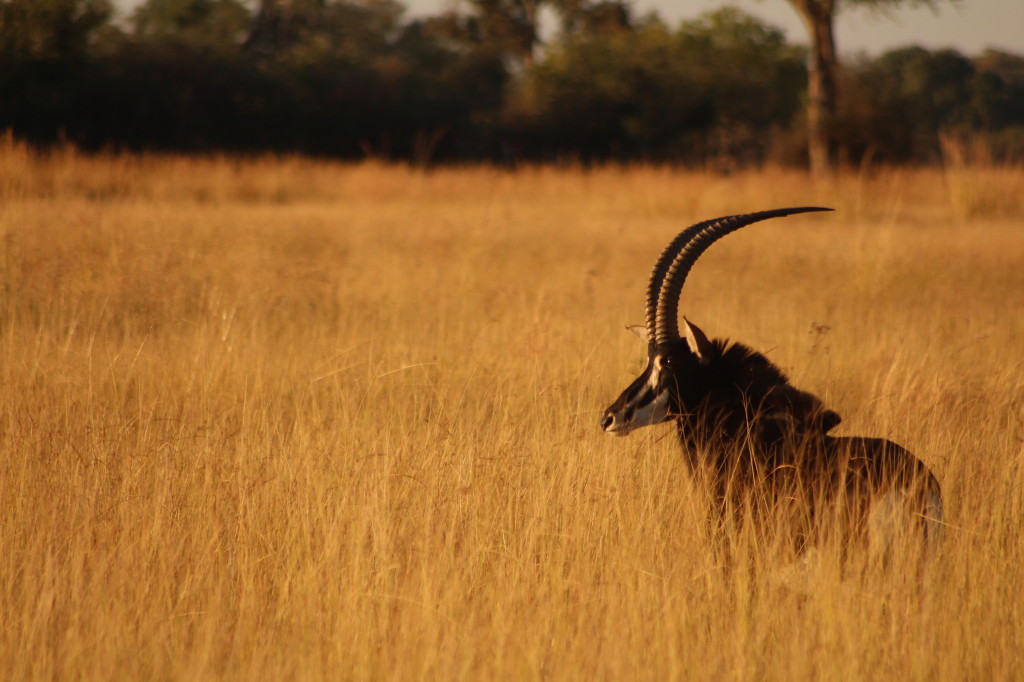 How does the camp compare to similar camps in terms of value and experience? Are there any notable special offers applicable?
I think it offers excellent value for money considering that it's a small camp on a fantastic private concession, has above average guides and is tastefully decorated in the immediately recognizable Ralph Bousfield Unchartered Africa taste, reminiscent of a bygone era.
The exception being during the month of August when a peak surcharge is applied. Further reduced long stay rates are available at Mapula when it is combined with Meno A Kwena – speak to your local expert.
How would you combine this camp in an itinerary and why? 
I would be confident in recommending 3 nights here in order to get the full experience and to discover what the concession has to offer completely. My suggestion would be to combine it with Savuti, Khwai, Makgadikgadi and of course Chobe, which fits into most itineraries.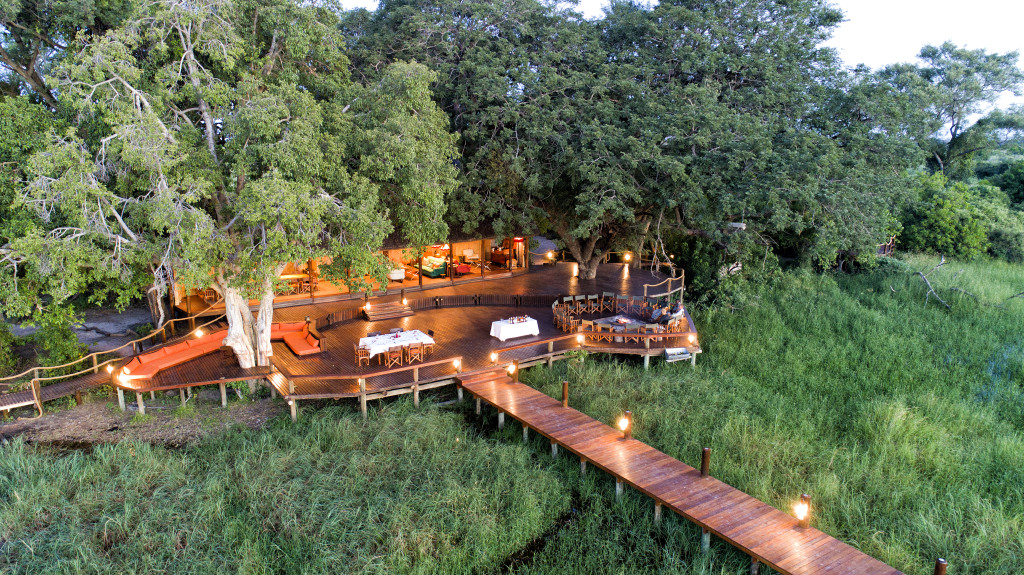 What type of clients does this camp suit and why? 
1 Unit is suitable for families: Consisting of 2 rooms separated only by a curtain. Each room has its own bathroom and outdoor shower.
As it is an intimate camp, I would suggest it to honeymooners and couples seeking peace and quiet.
The adventurous because Mapula can offer off the beaten track activities such as swimming in the fast-flowing flood waters that quickly fill the dusty tracks or having an afternoon siesta on mattresses out in the wilderness. The ballooning and fly-camp activity will appeal to this market once operational.
How does the seasonality of the area change through the year and what effect does it have on a visitor's experience, with specific reference to wildlife and activities?
The camp is set on a permanent lagoon. This makes fishing and boating possible all year long. However, the lagoon is home to a large number of happy hippos so if the water level goes down too much those activities would be suspended.
The camp being near the panhandle receives the first floodwaters of the year so they can start their mokoro activities earlier than those camps further down. The mokoro station is not in front of the camp. It's a 10-minute drive to the jetty. Although we enjoyed the activity, the water was still pretty low so we were wrapped up in cobwebs to start off with! As the water levels rise it will become more pleasant.
When the flood comes down the area where the camp is situated becomes an island. This means that sometimes there's good game in the immediate vicinity…. and sometimes not, the result being that guests may have to drive further afield in search of the herds.  During high flood levels, it may be advisable to combine it with another game rich area within the delta e.g. Shine, Splash…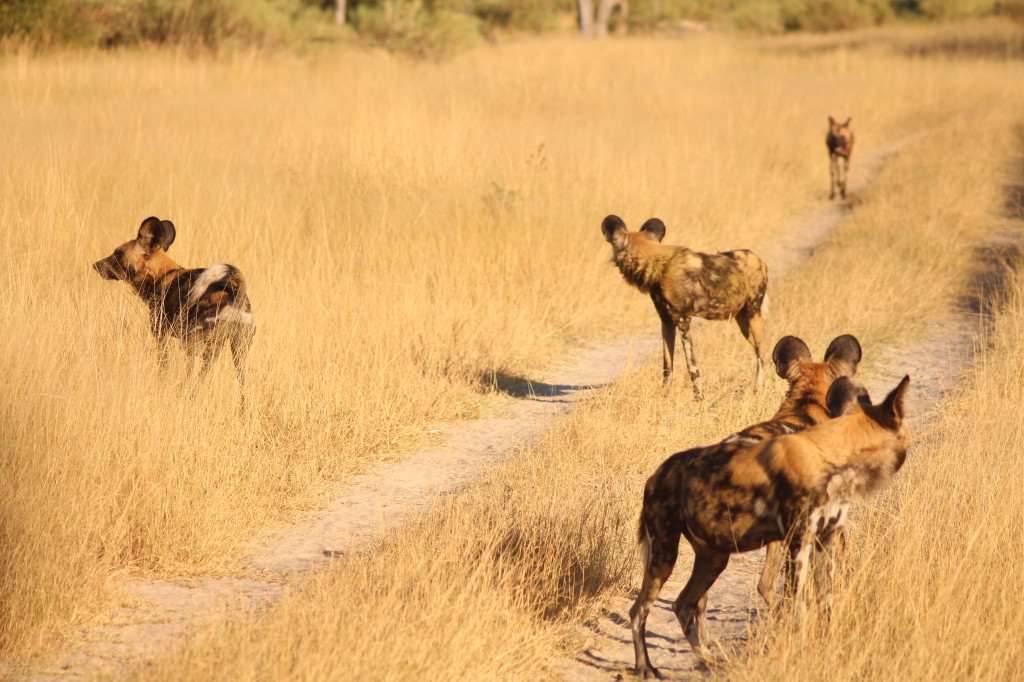 Are there any areas that could be improved? Are there any issues that could impact guests experience that should be highlighted to help manage expectations?
The food was imaginative, of good quality and nicely presented however the quantity for the first lunch we had was insufficient. Sundowner snacks were not original and could be improved – biltong / nuts / dried fruit.
Eric, the manager is running a good show. The staff seem genuinely happy to be working together and the service was attentive without being overbearing. They have kept 1 or 2 staff members on from the old camp. They clearly know the area intimately and you can tell that they love the area and are delighted to share information and stories with the clients.
Safari Destinations itineraries showcasing this property:
The combination of a mobile safari with time-out at a lodge or camp on either side provides the best of both worlds. There is time to get dirty and experience all the action up close and personal, and  time to dust off, relax and indulge in some modern comforts.
Ilala Lodge is conveniently located in close proximity to the Victoria Falls Hotel for afternoon tea, the local market for some shopping and the mighty falls themselves. Ilala is well known for having one of the best restaurants in town.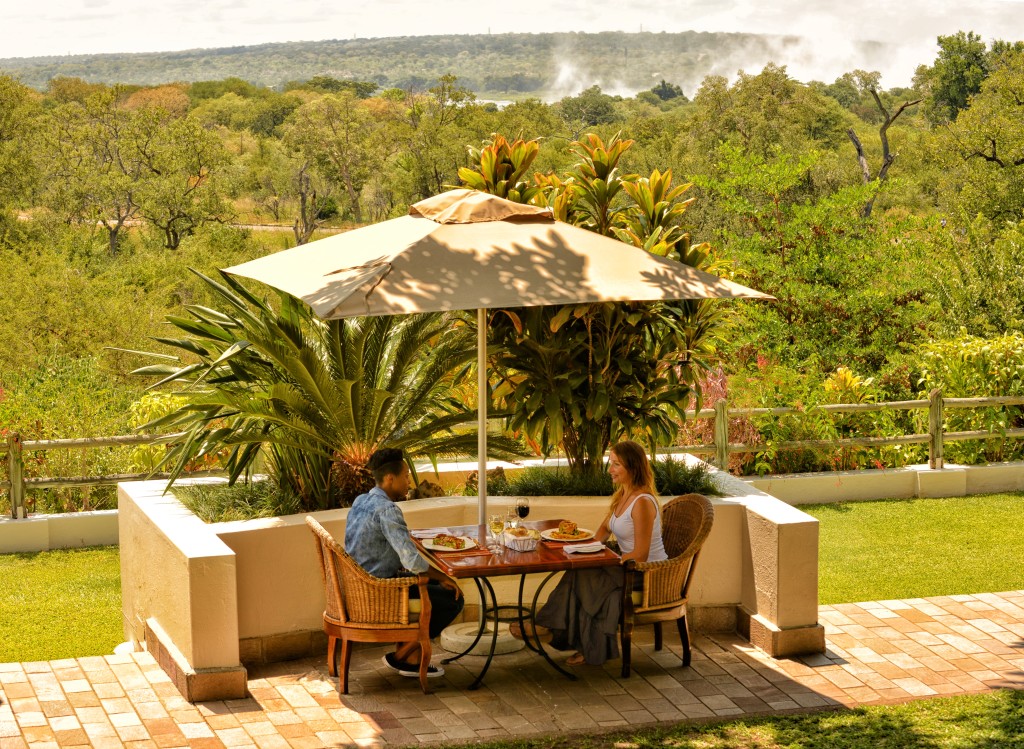 The Bush Ways Fully Serviced Safari is glamping at its best, an experience of the wild in comfort, covering some of the prime wildlife areas in Botswana, including the Chobe Riverfront, Savute marsh & Moremi Game Reserve.  This is the perfect balance of adventure, relaxation & comfort with all camp chores taken care of for you.  You'll enjoy a luxury camp set-up for you on arrival, including walk-in tents, en-suite bathrooms, comfortable camp beds and a guaranteed a window seat on game drives.
The mobile portion of the itinerary is easy to book and there is still availability for 2018.  Select departures run with German or French-speaking translators.  Click on the below to read a firsthand account from one of our experts.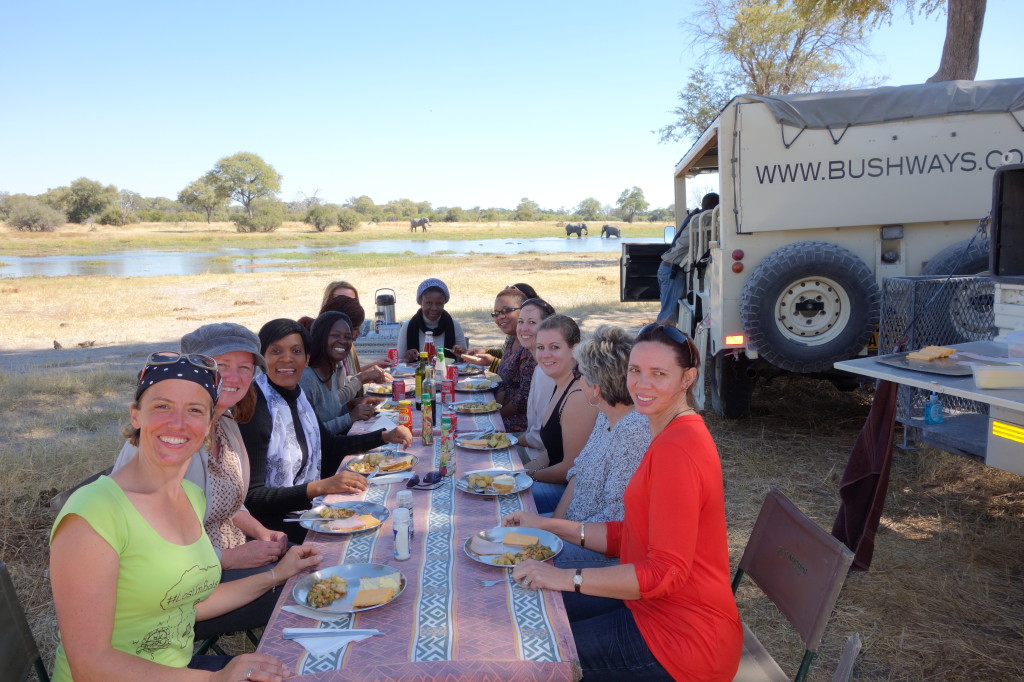 No safari to Botswana is complete without a fly-in to the Okavango Delta to view the waterways from the air and glide through the channels on a mokoro. Oddballs Enclave is an old classic whose style and intimate atmosphere works well in combination with the mobile safari.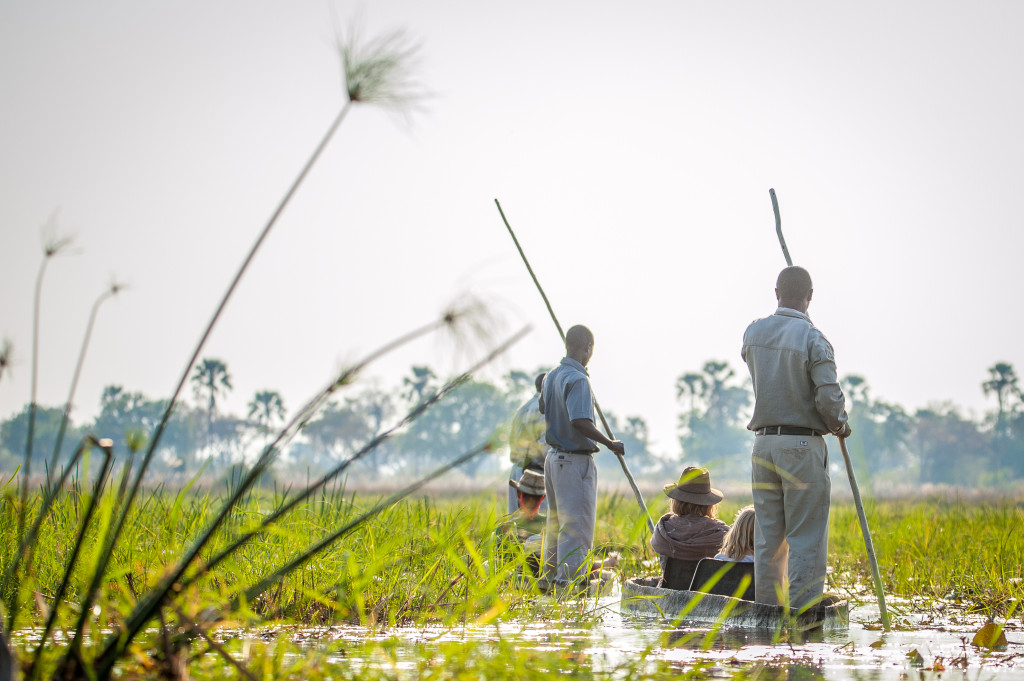 This safari offers excellent value for money !
Last but not least, we are passionate about mobile safaris because…
the guides are among the best and get to know their clients over the course of the safari, focusing on their interests and building on their knowledge.
travellers get to experience more of the country when they drive between locations, making it as much about the journey as the destination.
mobile safaris give you access to exclusive campsites in prime wildlife areas, and the flexibility for an extended exploration of areas en-route between locations.
mobile safaris take travellers out of their comfort zone, creating memories to last a lifetime.
mobile safaris offer a more intimate wildlife experience than most lodge stays.
mobile safaris offer great value for money, catering across all comfort and budget levels, and can be booked privately for families and small groups.
Click here to read more about the mobile safari experience: https://www.safaridestinations.net/we-get-around/bush-ways-safaris-mayonnaise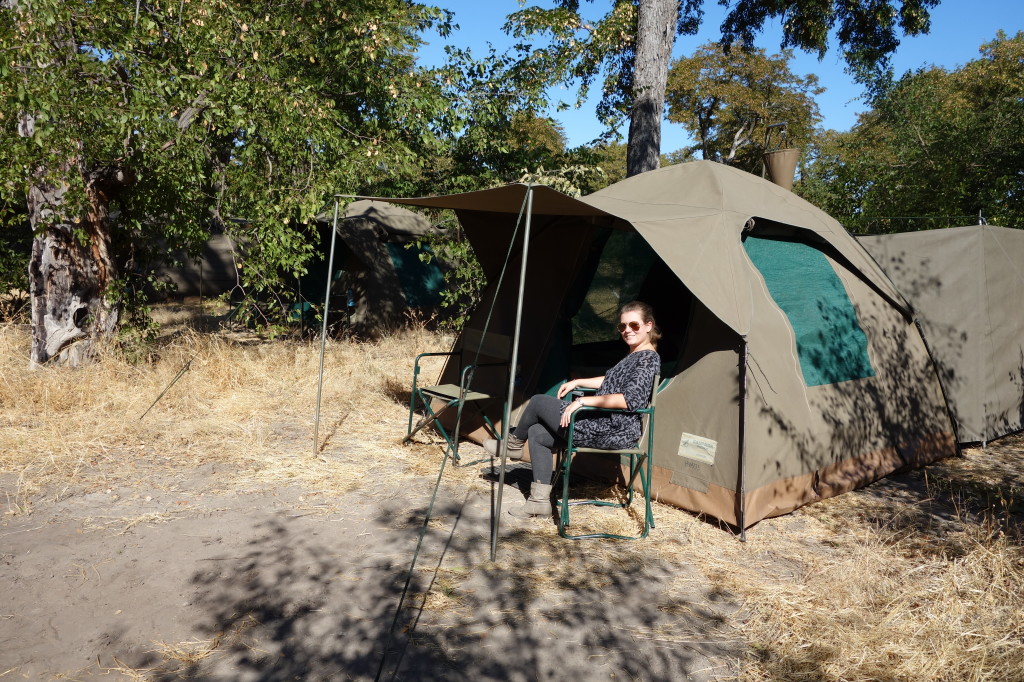 Set in the heart of the Okavango Delta, the renowned and brand new Duba Plains Camp is a wildlife haven and the perfect place to visit year-round.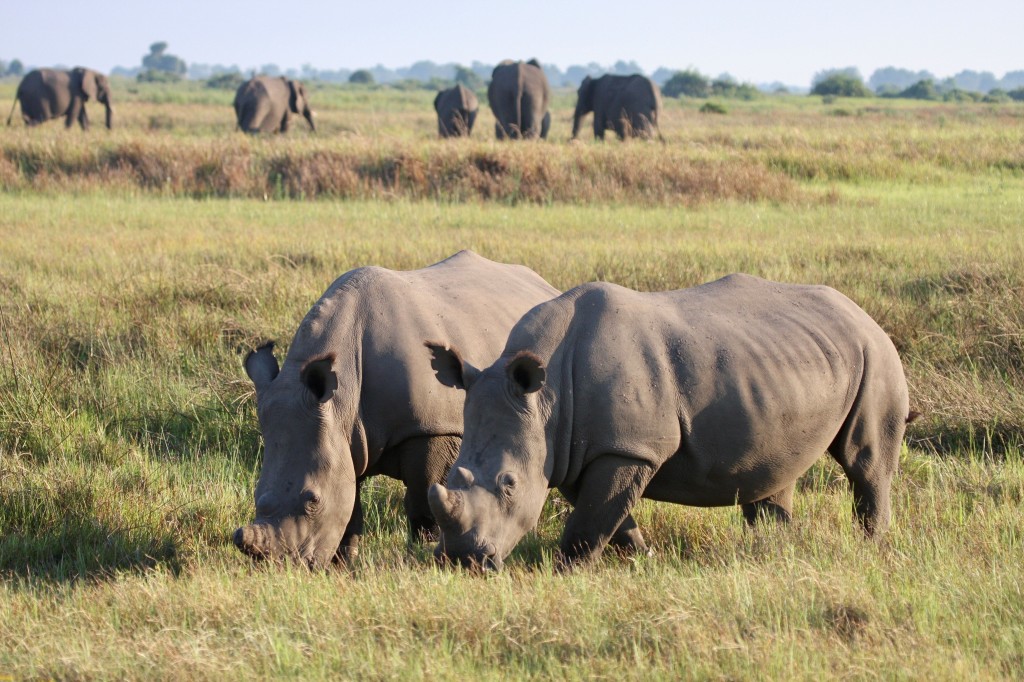 The constraint of the deep permanent waters of the delta means the wildlife on the 77, 000 hectare private reserve remain here across both wet and dry seasons. A matrix of palm-dotted islands, flood plains and woodland, one of the most beautiful concessions in the Okavango Delta.
Game viewing was mind-blowing, my short 24 hour stay in early January was filled with great sightings.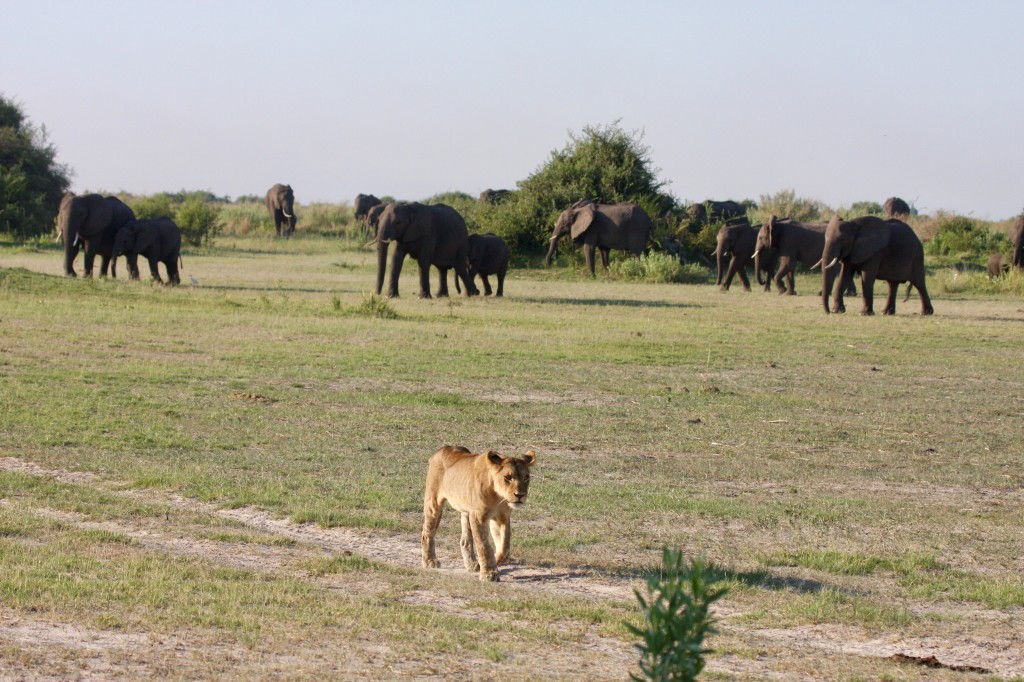 An enthralling experience from morning till night. Thank you to Great Plains & the managers & staff at Duba for hosting me last weekend. I was absolutely blown away by every aspect of my stay, in particular the surprise evening in the interactive kitchen, a truly unique experience, where chef Herrmann managed to captivate and entertain while preparing an array of gourmet dishes.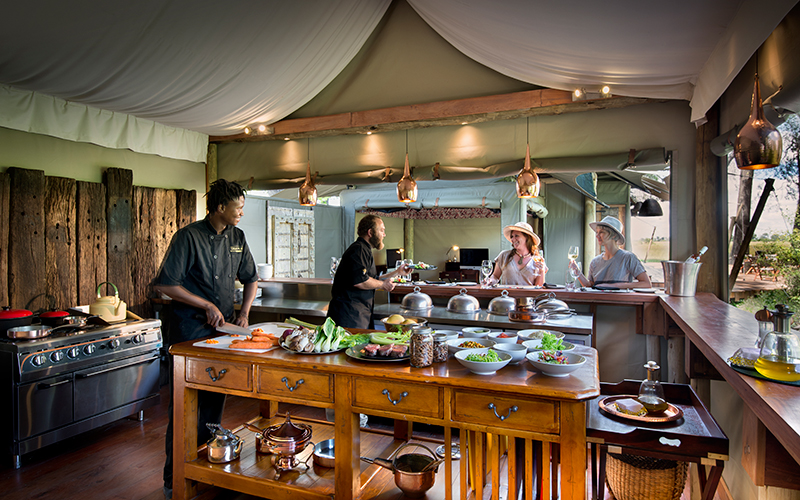 Quick Facts:
Belongs to Great Plains Conservation
Five tented rooms, max 10 guests
Activities: early morning and late afternoon/evening game drives, boating (water levels permitting)
If your client is looking for a unique, cozy, romantic and chilled camp, then Pelo is the answer.
Most of these requirements will already be met as the little aircraft descends over the palm tree dotted, flooded landscape of the Jao concession. Your eye gets caught by a tiny island in the shape of a heart; the Setswana word for heart is PELO.
All 5 tents are on stilts facing the water, the intimate terraces open up to the safari wonderland of the deep Delta and are filled with the beautiful cacophony of birdsong.
Pelo is a water camp, meaning there are no vehicles on the island. It therefore combines superbly with productive land camps in Khwai, Moremi Game Reserve or Savute. This camp is a little jewel and shines well at the end of a safari.
Here you come to glide silently over Delta Waters in a Mokoro and explore the endless diversity of the floodplains by boat. Most importantly you come to chill and enjoy yourself and the universe – it should also win the prize for the most stunning pool in the Delta!
Jao water levels vary greatly, your safari consultant will have the best advice for you. Pelo sits in fairly deep waters, which dry out last in the Delta – another reason to include Pelo in your next itinerary!
FACTS ABOUT PELO
Pelo is run by Wilderness Safaris as an Adventures camp.
Activities on offer include mokoro trips, boat based game viewing and seasonal catch and release fishing.
The camp has five guest tents, complete with a covered front veranda, and both an indoor and outdoor shower.
Pelo is open annually from 1 March to 30 November.
As much as I tried, I simply couldn't jump over the sunset!  Clearly I'm not fit enough, as it took a couple of attempts to get as high as I did! Lack of fitness aside, I'm sure you can see it was quiet fun to try! Fun and enjoyment sums up Rra Dinare camp, a new stunning camp on the Southern side of the Okavango Delta.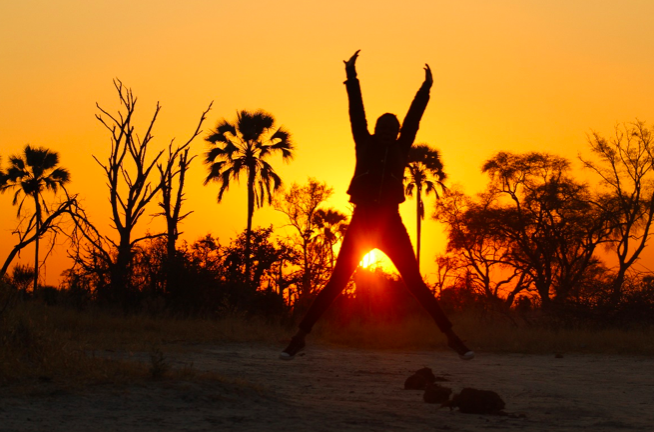 Upon arrival it's immediately apparent that everything is still super new. The wood still smells woody, the linen is nice and crisp the mosquito nets are super white and I'm sure there is not a single mosquito that can go through those! I absolutely loved this camp!
The food was delicious and generous with a wide assortment of drinks, teas and coffee. It was a really special thing for me to be brought a piping hot cup of tea in the morning! Talk about being pampered like a princess! Nobody has ever brought me tea at 6am! I could do this every morning.
The stilted Boma area overlooks the Gomoti River, where elephant, buffalo and hippo amble past. In the afternoon bushbucks are often around the camp nibbling on bushes underneath the tents…so cute! I got to relax by the pool and the amount of game viewing in front of the camp could easily make one think about opting out of a game drive – not that I did.   Despite my notions of relaxing poolside, the game drive did not disappoint – I saw loads. I'm no photographer so I really appreciated how the game always seemed to be right in front of me, at the right time, for me and my camera. At one point a lioness rolled upside down and looked like it wanted to be petted, waited for me to snap a couple of pictures, and  then turned over again.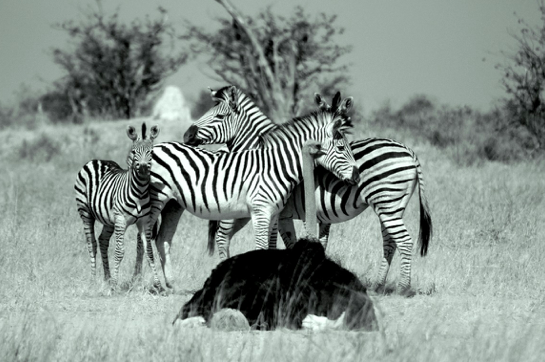 We also went on a Mokoro excursion. I´m not a big fan of water but after a lot of jiggling on the game vehicle a Mokoro was the best thing that could happen to me. It was so smooth and more than appreciated. Our Mokoro poler was knowledgeable and cautious and told us when we could not go further as there was a hippo "tanning" on the other side of the channel. I told him that I was very happy with his precautions! I don´t take risks!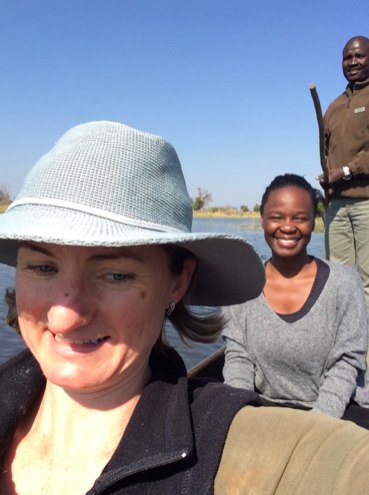 FACTS ABOUT RRA DINARE
Rra Dinare is an Under One Botswana Sky Camp, sister camp of Pom Pom Camp.
The camp is run on solar power.
Activities on offer are Game drives with each vehicle carrying 6 pax, Walking Safaris and seasonal Mokoro excursions are also available. The Guides are very knowledgeable and informative.
Rra Dinare has a maximum of 8 tents with one family room inter-leading. The rooms are very spacious with outdoor showers (no inside shower).
Wakeup with coffee/tea brought to the rooms every morning. The dining for all meals is communal. Private meals for honeymooners or for guests who prefer more privacy are available on request.
To get more info please click here and see recent images and general information about Rra Dinare.
I was fortunate enough to spend a week on safari during our so called green or secret season. Everything seemed to be bursting with life, from the lush green bush to the intermittent cloud bursts that warned us of their impending approach and of course there were babies – everywhere! I don't ever recall seeing a giraffe that small or the tiny blue wildebeest that was even smaller than the average Impala. The weather was perfect. It was certainly not a sweltering and unbearable heat and when it did rain (which of course was every day) it was more often over in an hour. Undoubtedly the biggest drawcard is the price tag as green season is the cheapest time to visit Botswana.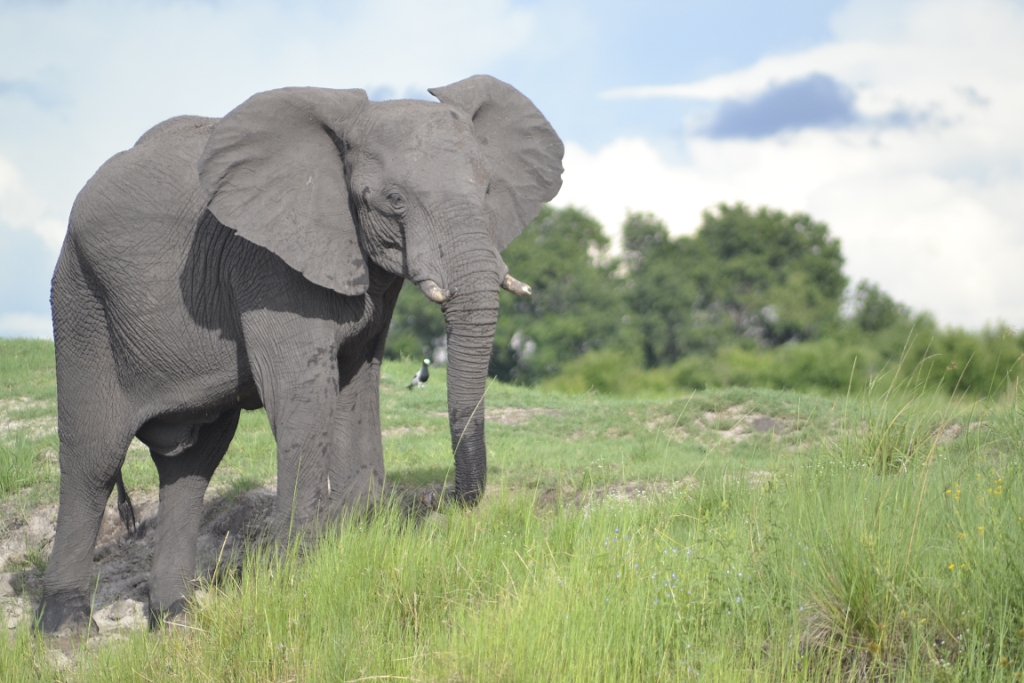 My journey started in Chobe but this time it was a completely different experience from my previous visits. I had the pleasure of staying on the Chobe Princess for the night and often this option is overlooked when starting or ending a safari in Botswana, yet it was the most relaxing and certainly the most rewarding game viewing experience. Feet up and reading a book, I would glance periodically at my surroundings only to find crocodile sunning on the bank, or a hippo out of the water. In fact it gave new meaning to the size of these animals, seeing them plunge from the bank into the water. Our guide took us out on a tender boat later in the afternoon and we watched a herd of Elephant come down to the water's edge – expecting them to quench their thirst and move on. But we witnessed something I had never seen before amongst elephants… whilst I had seen them in water before this time was different as 3 young bulls cavorted and tumbled around, disappearing completely under the water for a moment before resurfacing. The only obvious sign would be the trunk peering out every now and again. I loved every minute of this spectacle.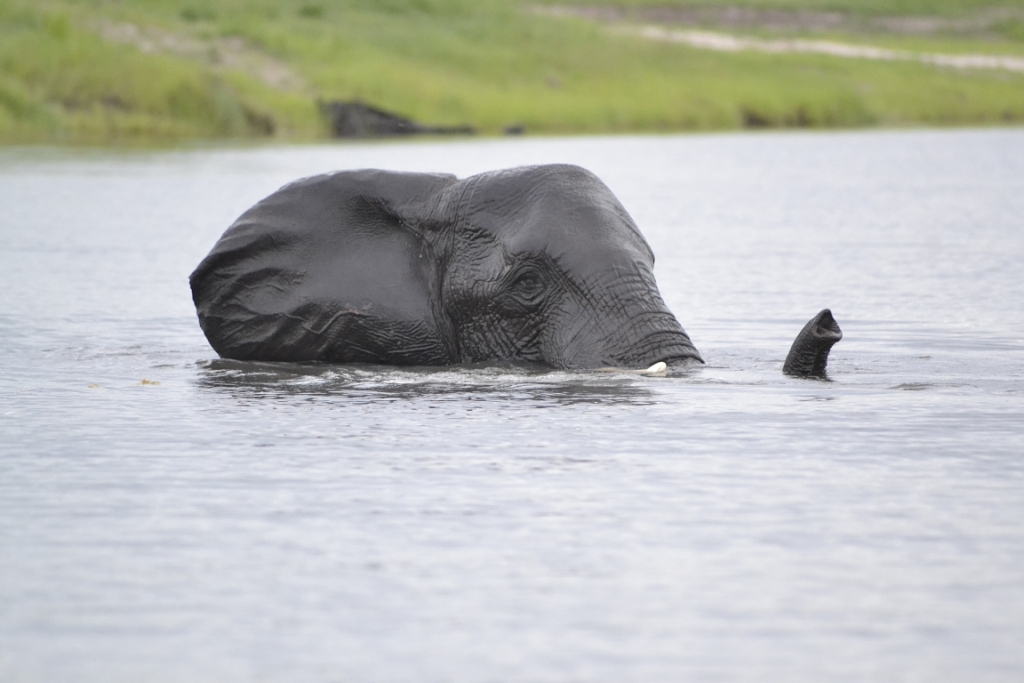 The highlight of my week away had to be the Xaranna concession in the Okavango Delta. With an expert guide and tracker to take care of our safari needs, we managed to see the Big 5 in 24 hours. Whilst this might be the normal expectation for most, very few concessions have the endangered Rhino. Through various means, White Rhino have been relocated from South Africa and reintroduced here over a period of time. It was certainly a proud moment to come across the magnificent prehistoric looking animals grazing peacefully in the bush nearby.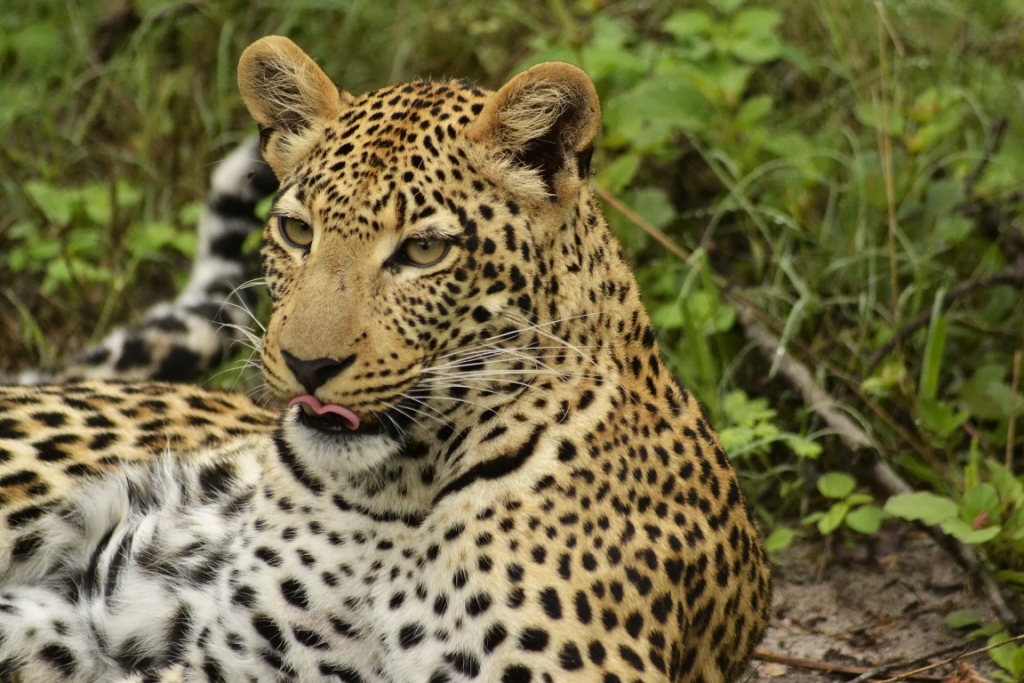 The rain showers did not keep us from our game drives and with a poncho readily available we embarked on both the morning and afternoon activity. The Delta was teeming with wildlife and though more scattered during the wet season, we were never disappointed. My husband, a professional photographer, commented on photography during this time of year, claiming that with less dust particles in the air, clarity in photographs was certainly better. I can only agree based on the stunning images he captured!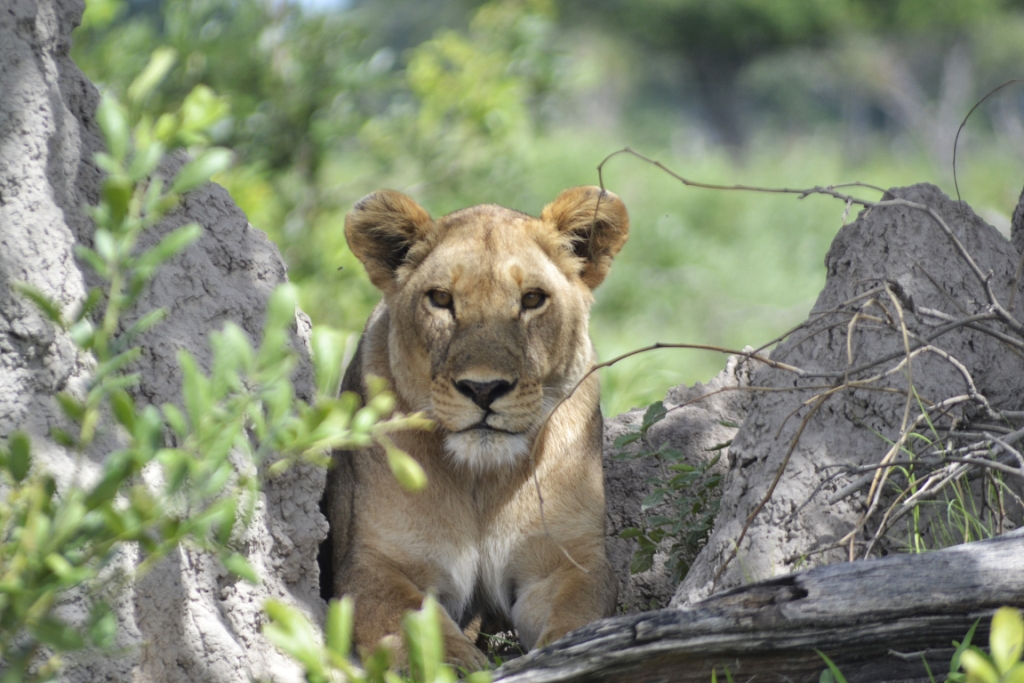 So in a nutshell, it will rain and probably more often than not. But with that comes the reward of new life, little lives finding their way; explosions of colour from the ground to the sky; a photographic playground; warm summer days and lastly a little more money in the bank account.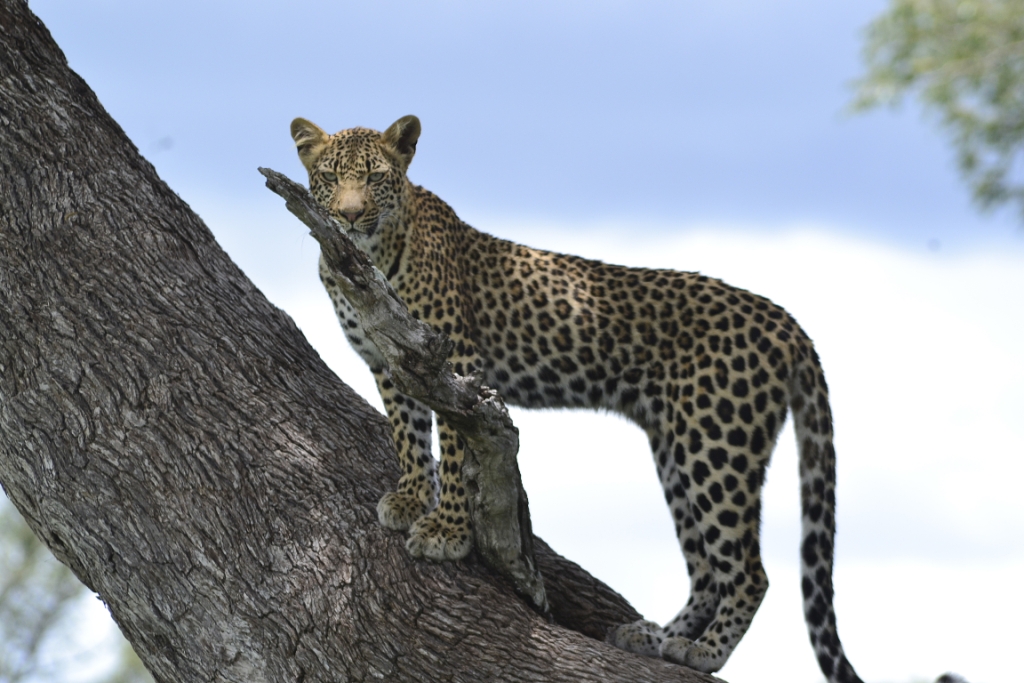 Kadizora is based in the north eastern part of the Delta in a beautiful concession that is fortunate enough to have the Selinda Spilway and Vumbura River running through it.
What next?  In the next week, the water activities will move to the Vumbura River, where there are permanent lagoons, making this a huge advantage for this camp, is having water activities most of the year round.
We experienced a classic safari style, and the food that came out of the kitchen was just too decadent, as usual I left after 3 days feeling like I'd been on an eating safari.  Other highlights from the camp was having elehant all around our tents all night feeding off the Marula trees that shade the main camp, hearing the lions roaring right close to camp at first light, there is nothing quite like that sound in the bush.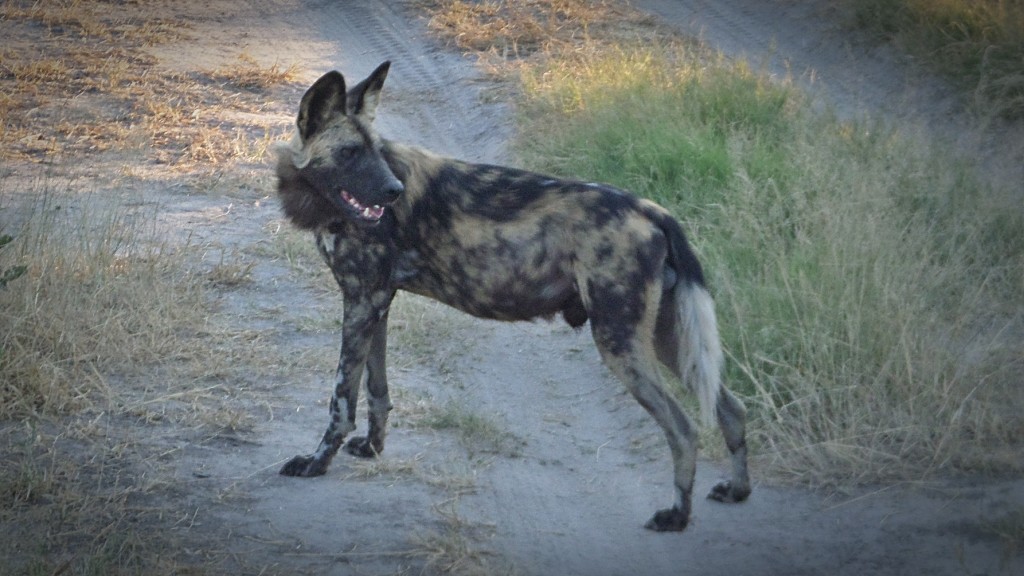 There is something about the private concessions in Botswana – they just never seem to fail! We were in for an absolute treat on our recent pre Indaba Famtrip where we hosted agents from around the globe. One of our agents had never been on a safari before and her expectations were completely exceeded when it came to the cats; and just as special, the African Wild Dog.
I recall sitting at the breakfast table at Shinde Camp, settling into a scrumptious spread, when an unknown voice from somewhere uttered the words … "wild dogs". We leapt up to take a closer look and in an instant blur of excitement and mere seconds, we were on the game drive vehicle with our trusted guide following the dogs. We found them and then lost them, found them again and then finally lost them when they disappeared into a thicket. They were on the hunt and it was not an easy task keeping up with them! Still we enjoyed those few precious moments and when we returned to the breakfast table our food had been keep warm and served once again.
We were lucky with the wild dogs in the Khwai concession too! This time it was a more relaxed setting and we watched a pack of 6 dogs go about the daily get up, walk 10 metres, lie down and take a break, get up and go another 10 metres, lie down and so forth. That was a special sighting and one I will remember for a long time still. Just when we thought our afternoon drive could not get any better, we came across a leopard walking in the road not far from our vehicle. My heart nearly skipped a beat … it had been nearly 10 years since I had seen a leopard in the wild. There is just something about a leopard sighting – it so magical watching this gracious and absolutely beautiful cat, so awe inspiring and a tick the box on the bucket list for most visitors to Africa.
Whilst we did not see any lion in the Khwai concession, we most certainly heard them that evening and that has to be the most incredible sound – the true call of the wild. Close your eyes for just a minute, imagine you are in your tent, separated only by a sheet of canvas to the bush around you, it is pitch dark and you cannot see your hand in front of your face….then the first call erupts from somewhere in the not too distant dark of night, a reply comes from another angle and then what sounded like a conference call amongst a pride, bellows through the silent, dark night. Nothing compares to that sound!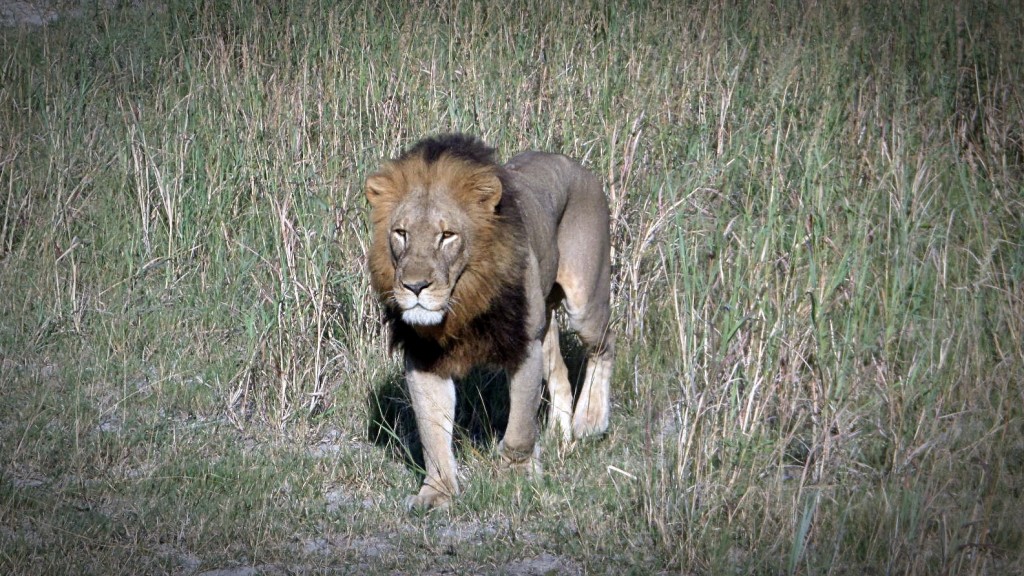 Selinda was probably my favourite concession, with vast open spaces dotted by a termite mound here and there. The grass was still high in places and we headed off to an area where a lioness and cubs had been seen the previous day. This was not an easy find and we all kept our eyes peeled on the bush around us, searching for that slight movement – something that might give their presence away. Our guide was committed and we continued searching, hoping to get a glimpse of these little cubs. Somewhere, someone noticed a small movement and there before our eyes were these absolutely gorgeous and perfect little cats! They were not perturbed with our presence and we were spoilt with a show in their African playground.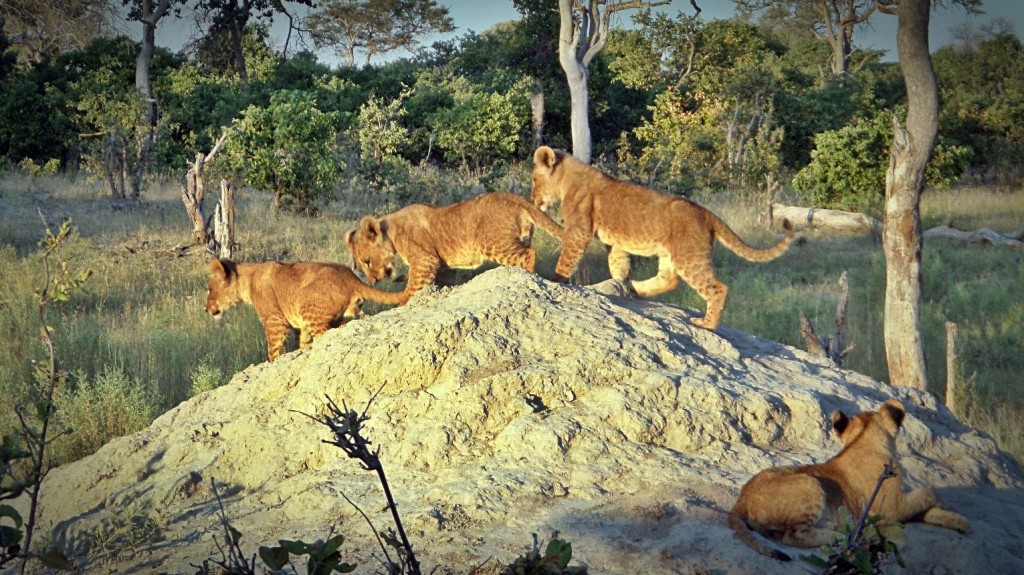 There are no guarantees when it comes to sightings, however I dare say, with strong concessions and committed guides, the experience of a lifetime is guaranteed.
What do termite mounds, elephants, river rafts and the Milky Way have to do with unforgettable food experiences?
While most people visiting Botswana expect to experience diverse wildlife & lush landscapes, what they don't often expect is a world-class culinary experience.
Here are our top six recommendations for unique dining experiences in Botswana
The Extraordinary Pizza Oven – Seba Camp
We all know how kids are… they love adventure and are busy exploring things all day long…until it comes to their palates. Once lunchtime arrives, there goes any spirit of discovery. But Seba Camp, deep in the magnificent Okavango Delta satisfies even the fussiest of eaters with their magnificent homemade pizza.
At Seba Camp, just as the kids think their morning game drive is wrapping up, they'll find themselves pulling up to a beautiful spot next to the water, where a stunning surprise bush picnic awaits with soft blankets and pillows for lounging, as well as a play area for the kids. And what piece-de-resistance awaits your adolescent explorers? A termite mound transformed into a pizza oven!
Kids have the opportunity to prepare their own pizzas with the help of a professional cook and an array of toppings (healthy is well disguised!). While pizzas bake in the termite mound oven, kids have time to play, giving parents a chance to close their eyes for a moment, or lazily watch elephants cross the river in the distance. Once the pizzas are wolfed down, the slow cruise back to camp by boat begins.
The Huckleberry Finn Experience – Xugana Island Lodge
Many people know the adventures of Huckleberry Finn who, together with a good friend, escaped the confines of daily life to raft down the Mississippi River. Fewer people know they can recreate the experience over a glass of wine and dinner for two while floating out into a star-lit lagoon from Xugana Island Lodge in the Okavango Delta.
Xugana Island Lodge appears to float above the waters of the Okavango Delta, surrounded by a papyrus-fringed oxbow lagoon. As the sunset fades and the tinkle of bell frogs begins, visitors can leave their island hide-away by pontoon, puttering out into the open water with nothing but the far-off snorting of hippos for company, far from the civilised world.
Once dessert is polished off, set a slow course back to camp, pulling into a jetty lined with hurricane lanterns to show you the way home.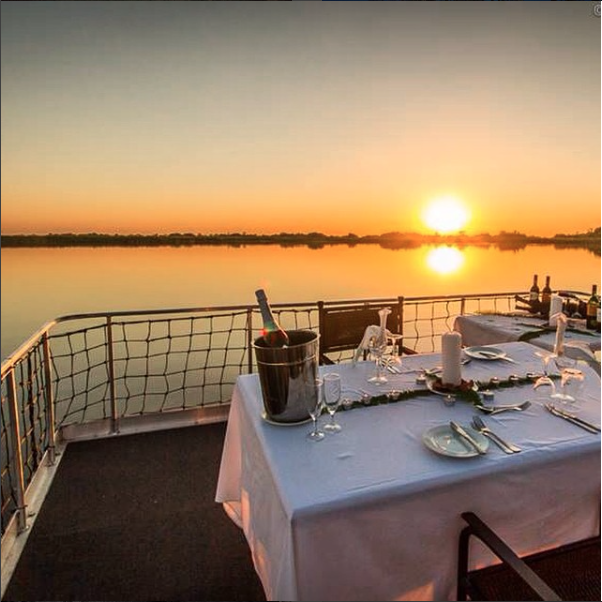 Starlight Dinner of Your 'Wildest Dreams' – Camp Kalahari
In her music video Wildest Dreams, Taylor Swift provides a small glimpse of the Makgadikgadi's breath-taking landscapes. Endless white saltpans surrounded by yellow grasslands dominate the area. In the evenings, as the sun sinks below the horizon, a curtain of brilliantly bright stars drops to the ground in all directions, creating the perfect backdrop for a night out in the nothingness.
At Camp Kalahari, open-air dining with a heavy dose of old-fashioned safari romance is the order of the day. Take a quad bike from camp and drive out towards the empty horizons, where the only objects to ever appear in the distance are the sun and the moon. While night descends, a twinkling of far-off light appears to be a new constellation at first, eventually revealing itself to be a lantern-filled dinner table, covered in fine china and gourmet food.
The silence and majestic surroundings perfectly complement the delicious menu Camp Kalahari serves up to create an unforgettable moment. Once the plates are cleared, you just might find your bed waiting close by, stuffed full of hot water bottles beneath the brightest stars you'll ever see (even in your wildest dreams!)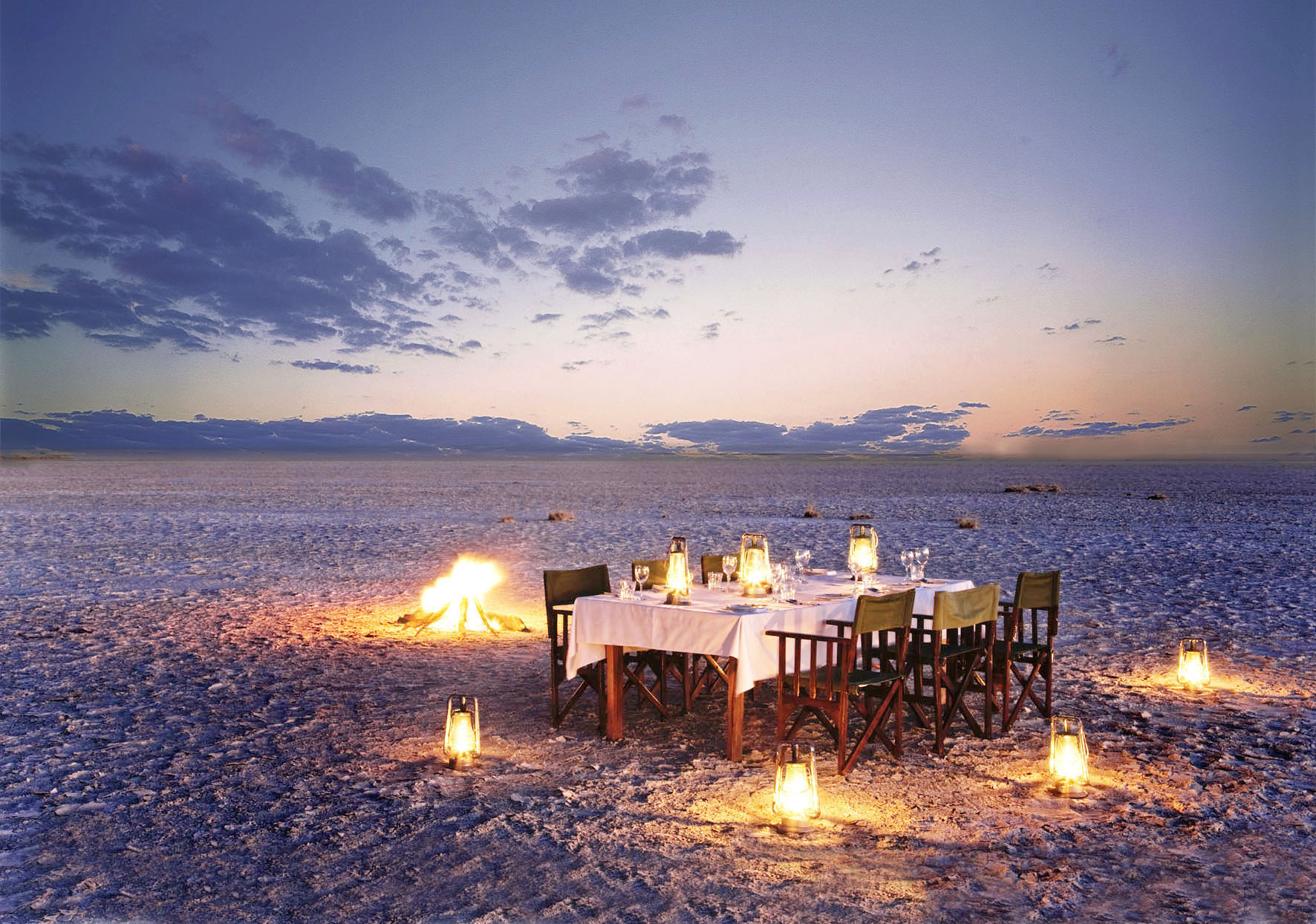 Brunch With the Giants – Stanley's or Baines' Camp
Elephants are one of the most fascinating creatures on our planet. Looming grey giants, they parade across the African savannah, completing the picture of a perfect wilderness. Usually, getting close enough to really appreciate an elephant's size isn't possible – unless you're visiting Stanley's or Baines' camp in the Okavango Delta.
Go walking through the bush with the elephants at Stanley's or Baines' Camp and be escorted by wrinkly-skinned hosts to a fantastic sit-down brunch, literally in the middle of nowhere. Walking with the elephants through the bush and talking to their guides allows you to understand elephants, and their behaviour, providing a real connection with nature. You'll sit down to eat, passing bread and butter along the table under the shade of your elephant hosts' umbrella-sized ears. Alice in Wonderland has nothing on this tea party!
Getting up close and personal with the elephants at Baines' Camp
Lunch at the Intersection of the Linyanti – Zarafa
Whatever waterway you see in the Linyanti, you can be guaranteed that the Zibadianja Lagoon has something to do with it. When water levels are good, this lagoon becomes more of a lake. And when bellies are empty, the best way to explore it is on board Zarafa Camp's luxurious barge, over the course of a decadent lunch.
The Zibadianja provides an intersection for many of Northern Botswana's waterways. Here, the Kwando River hits a fault-line, skimming the top of the lagoon before it changes its name to the Linyanti and makes a break for the Chobe. To the west, the Selinda Spillway reaches up from the Okavango Delta, connecting it to the lagoon in years of good rain. When the lagoon is full enough, it drains water south, feeding the Savuti Channel and eventually spilling out into the elephant-littered grasslands of the Savute Marsh.
Fully equipped with both lounge and dining area, the HMS Zib cruises the lagoon as elephants play in the shallows, birdlife skims the water, and guests enjoy the culinary delights of more-than-capable chefs. Top it all off with a cold glass of chenin blanc and you're guaranteed an afternoon not easily forgotten.
Testing the Waters in the Okavango Delta – Pelo Camp
Leonardo da Vinci once said, "Water is the driving force of all nature". At Pelo Camp, this is truer than ever, as guests merge with the unspoilt nature of Botswana's biggest UNESCO world heritage site during a bush brunch with a difference.
Heading out from camp by boat or mokoro, guests will find themselves perched on tables and chairs in the shallow floodplains of the Okavango Delta, atop bright, white sandbanks for a wet, but refreshing brunch.
Guests squish their feet into the clean, cool waters of the delta under their chairs, whilst savouring culinary delights in one of the most unique places on earth, surrounded by 360 degree views of palm tree dotted islands and open floodplains.
After brunch, a refreshing swim in the shallows of the Okavango Delta is on offer before a leisurely return to camp.